February 06, 2016
More money needed to fight dope cheats: WADA chief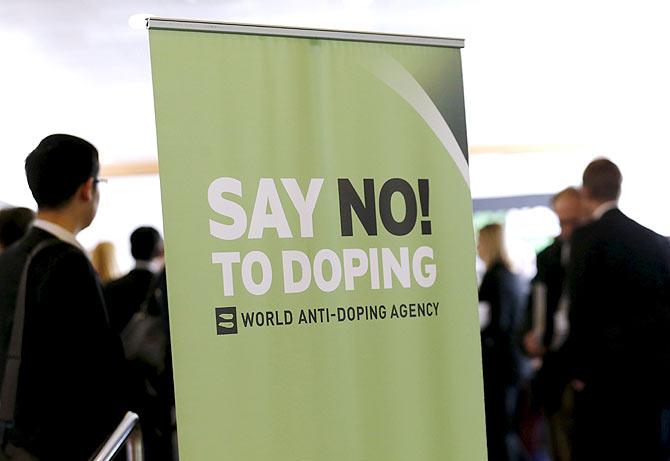 The World Anti-Doping Agency (WADA) faces a challenge to tackle cheating in sport while it has an annual budget of less than the income of many top athletes, its president Craig Reedie said.
India begin golden run at SAG, on top in medals tally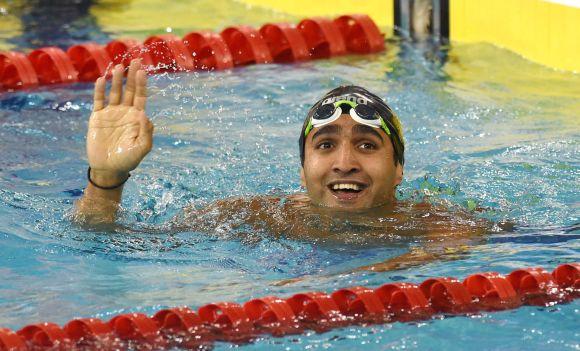 It was gold rush for India on the opening day of the South Asian Games with the country's wrestlers, swimmers and weightlifters showing their regional dominance by making a near clean sweep of top honours on Saturday.
February 05, 2016
PHOTOS: 12th South Asian Games open with a colourful ceremony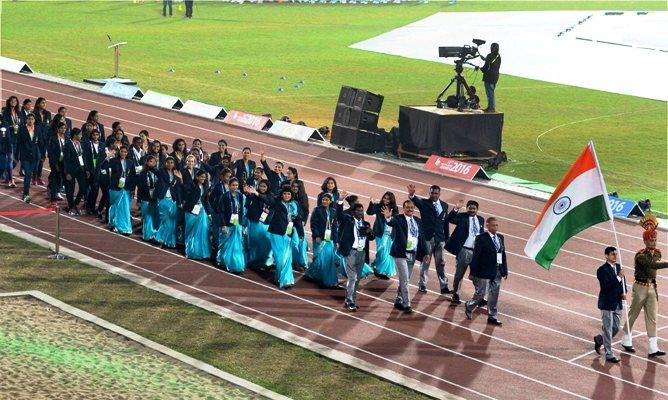 The rich and diverse culture of India's North East was on display in all its splendor as curtains went up on the 12th South Asian Games in a colorful opening ceremony with Prime Minister Narendra Modi and a host of other dignitaries in attendance.
New Zealand athletes given warnings on Zika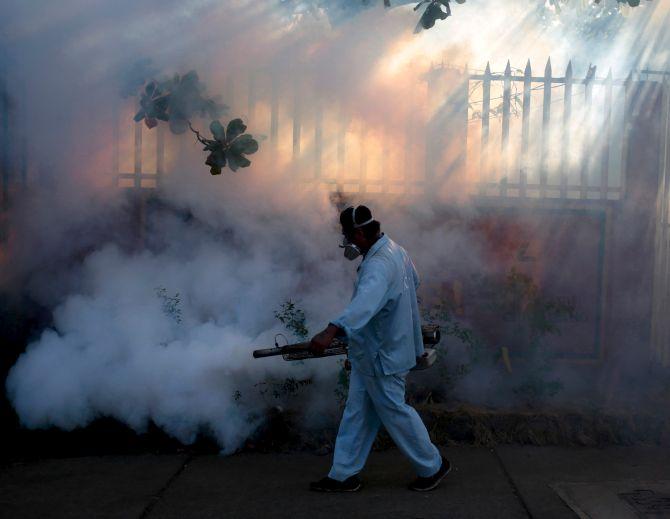 New Zealand's Olympic athletes and officials have been warned of the risk associated with the Zika virus on Friday, including the possibility that it could be sexually transmitted.
Can Sarah carve out a new career in male-dominated Extreme Sailing?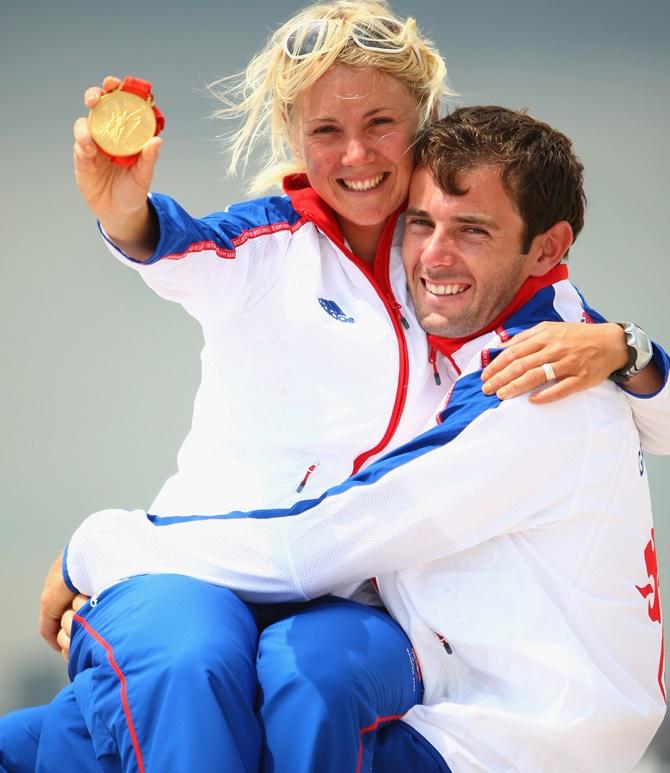 British sailor and double Olympic gold medallist Sarah Ayton is carving out a new career as a coach in the ultra-competitive, male-dominated world of high-performance sailing - a kind of Formula One on water.
February 04, 2016
Former World No.1 Westwood focused on golf again after marriage breakdown
Former world number one Lee Westwood wants to focus fully on his golf again this season after being distracted by a painful split from wife Laurae in 2015.
Saina, Kashyap ruled out of South Asian Games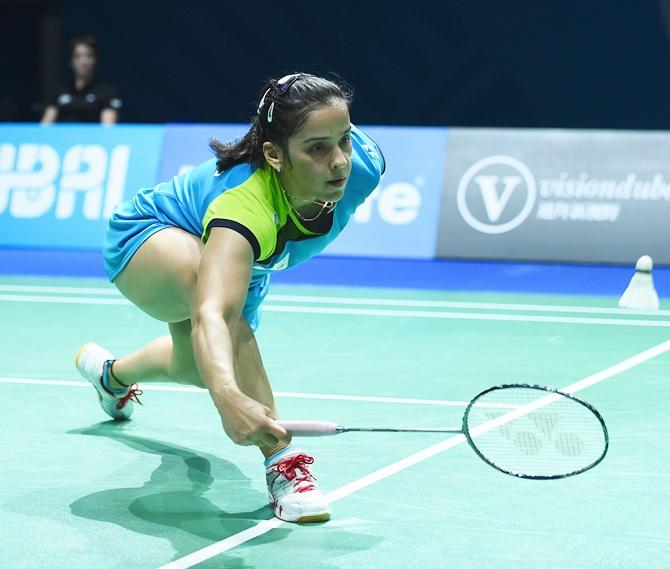 Indian badminton star and Olympic bronze medallist Saina Nehwal was Thursday ruled out along withParupalli Kashyap from the 12th South Asian Games due to injury concerns, the Badminton Association of India (BAI) informed the local organisers in Shillong.
Indian archers aim for 'Gold Rush'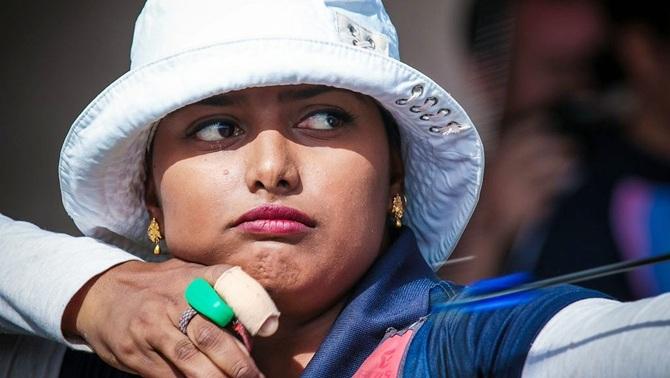 A strong Indian archery contingent will look to grab all the 10 gold medals on offer when they open their campaign with the qualification round in the 12th South Asian Games at the Jawaharlal Sports Complex Polo Ground on Friday.
'South Asian countries are fighting for glory, not bombs'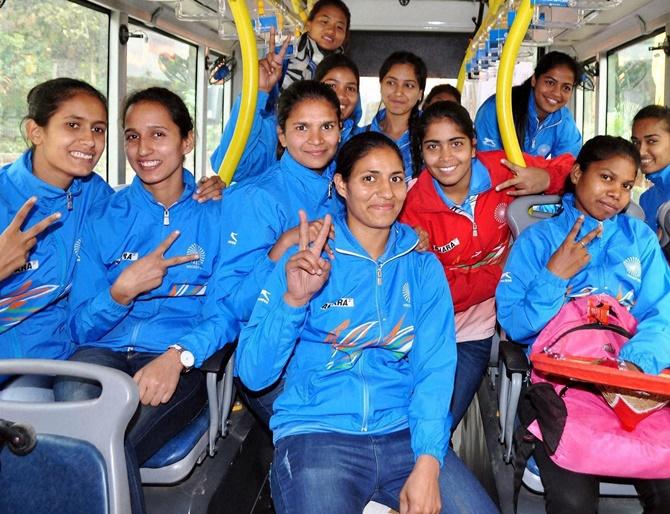 Postponed several times due to a variety of reasons, the much-delayed but the biggest South Asian Games ever begin, in Guwahati, on Friday, with hosts India expected to stamp their superiority in the regional spectacle.
Saina maintains 2nd spot, Sindhu slips to 12th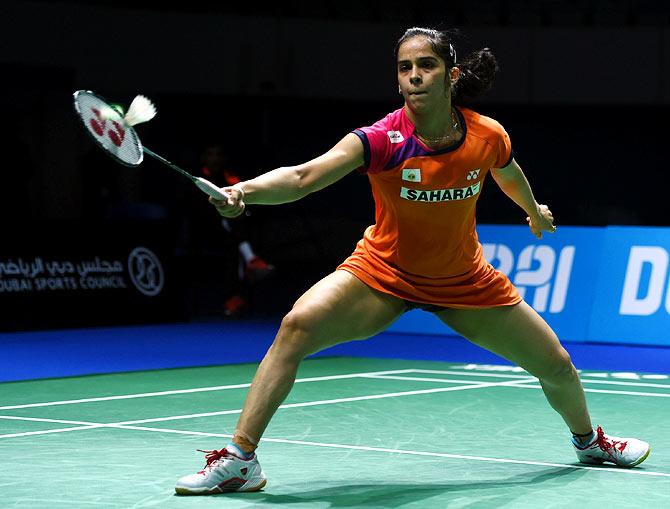 Despite clinching the Syed Modi Grand Prix Gold men's title, India's K Srikanth remained static at World No. 9 while P V Sindhu dropped a place to be No.12 in the latest Badminton World Federation rankings released on Thursday.
When the homeless were kicked out for San Francisco's Super Bowl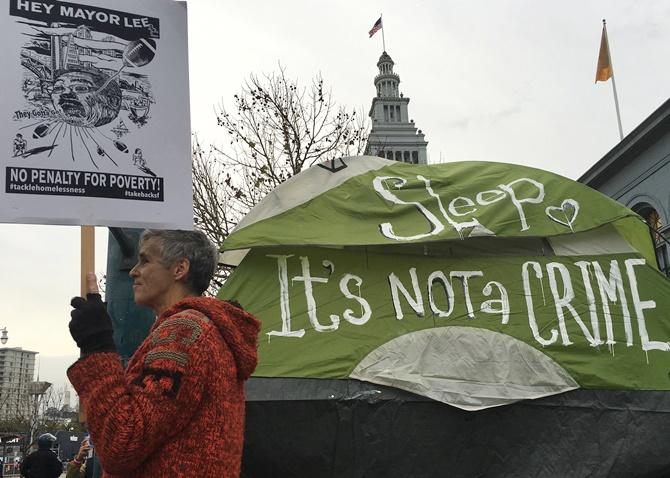 As many as 200 demonstrators rallied in downtown San Francisco on Wednesday near where Super Bowl festivities are being hosted, protesting what they say are the city's plans to clear away homeless people to make way for tourists and events.
February 03, 2016
How McIlroy is inspired by 'unreal' Djokovic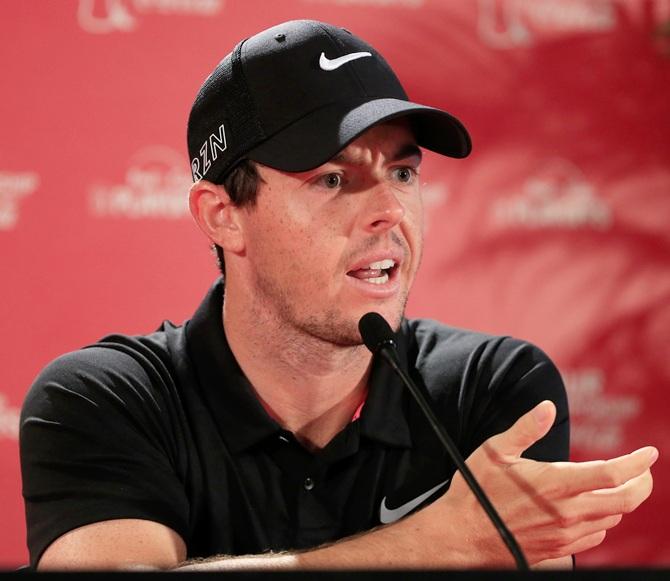 World No 3 golfer Rory McIlroy has lavished praise on tennis ace Novak Djokovic, saying he is inspired by the Serbian's dedication towards the sport.
Arsenal have now gone 270 minutes and 34 shots without scoring in EPL!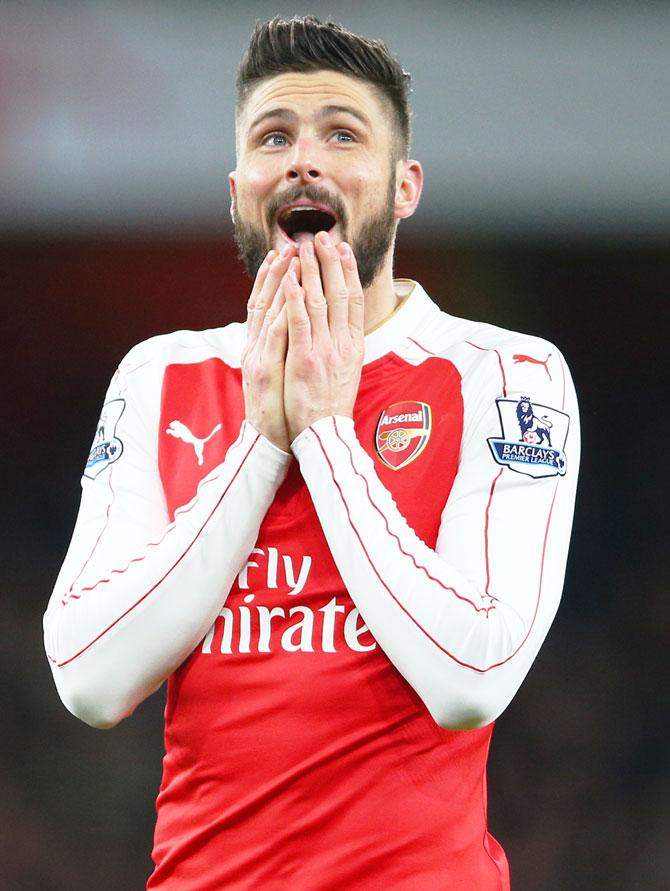 Arsenal manager Arsene Wenger has blamed his side's poor finish as the reason behind their goalless draw against Southampton in their Premier League clash at the Emirates Stadium.
Meet Sharapova, the gymnast!
Her ranking has dropped to number 6 in the WTA ranking charts after losing the Australian Open semi-final to Serena Williams last week but that hasn't dimmed the light in the Russian player's heart.
Zika virus prompts Aus to take bug spray maker on-board as Oly sponsor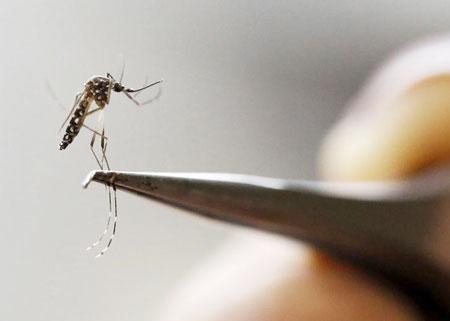 A small Australian maker of bug sprays became an unlikely beneficiary of the mosquito-borne Zika virus outbreak this week when the country's Olympic team signed it up as its first official insect repellent sponsor.
Sportswomen treated as 'second-class citizens'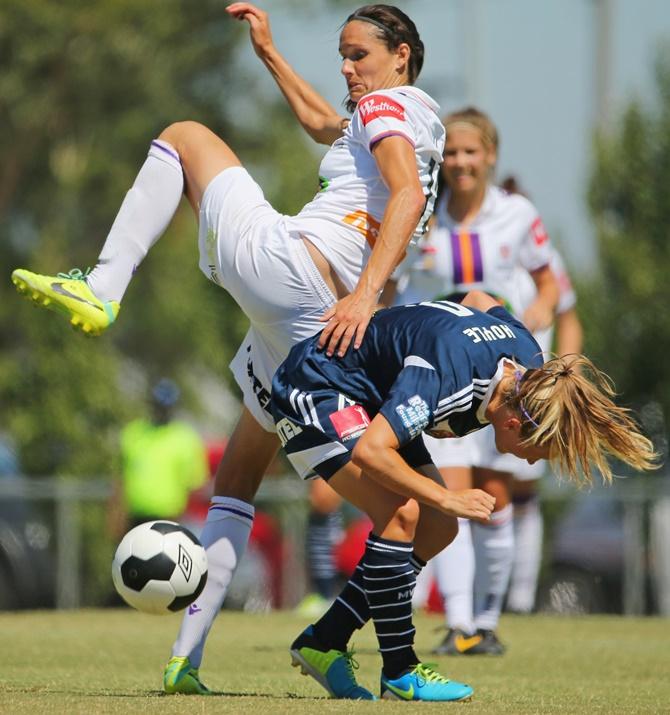 The Australian government has demanded the country's most funded sports rein in gender discrimination for travel arrangements to major events or risk having their support cut.
Saina picks Deepika as her FIRST choice for biopic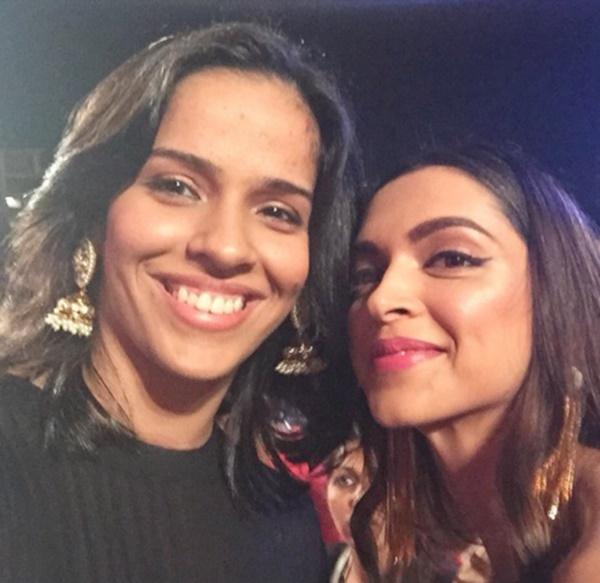 Ace shuttler Saina Nehwal wants Bajirao Mastani actress Deepika Padukone to portray her in the upcoming biopic
February 02, 2016
Vijender unfazed despite bout postponement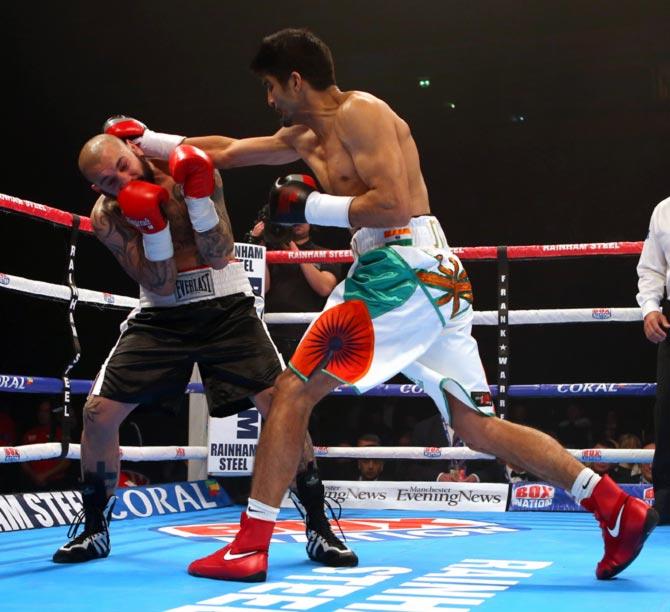 Star Indian boxer Vijender Singh's fourth professional bout was on Tuesday rescheduled from February 13 to March 12.
Asian qualifiers: Rajput seals Olympics shooting berth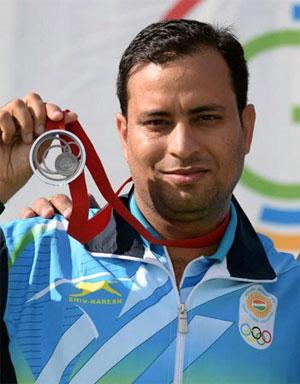 Indian shooter Sanjeev Rajput on Tuesday secured his spot for this year's Rio Olympics after finishing fourth in the men's 50m three-position rifle category at the Asian qualifiers in New Delhi at the Karni Singh Shooting Range.
Injured Kashyap begs for rest, says 'no one is listening to me'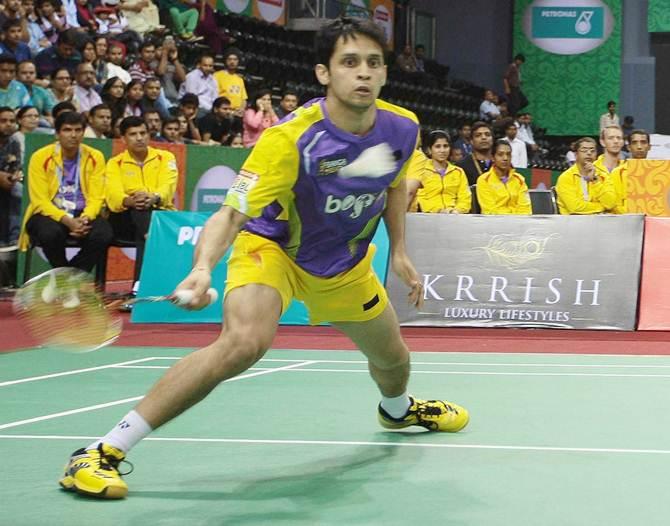 His repeated requests for rehabilitation ignored, Commonwealth Games gold-medallist Parupalli Kashyap is flummoxed after being sent air tickets to join the Indian badminton squad at the South Asian Games despite being laid low by an abdominal strain.
This car racer targets record 6th Olympics appearance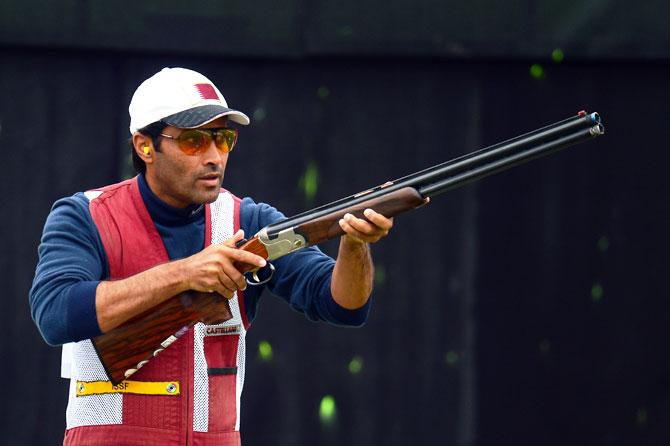 'I love both sport -- rally and shooting. And this was my dream for a long time, to be champion in rally and champion in shooting and this was really a good thing what I make for myself'
Government 'urged' to guarantee jobs for sportspeople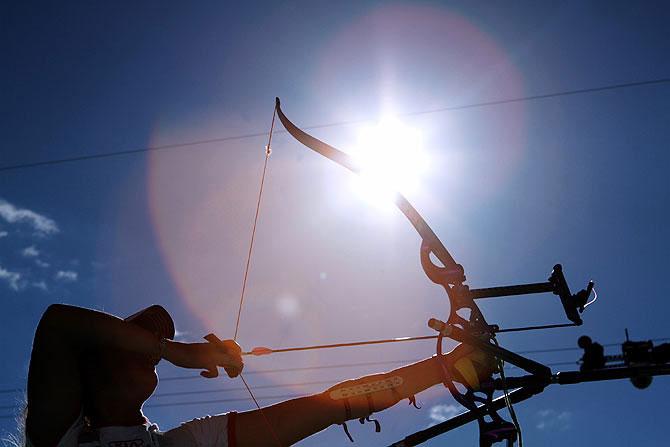 In a letter, Malhotra 'urged the Union Minister of State (Independent charge) for Labour & Employment to formulate a scheme to provide employment guarantee to national and international sportspersons
This video game featuring tattoos of NBA stars sparks lawsuit

Take-Two Interactive Software Inc has been hit with a copyright infringement lawsuit over its depiction of tattoos belonging to National Basketball Association stars LeBron James and Kobe Bryant in a popular video game.
Govt gives green signal to Pakistan contingent for South Asian Games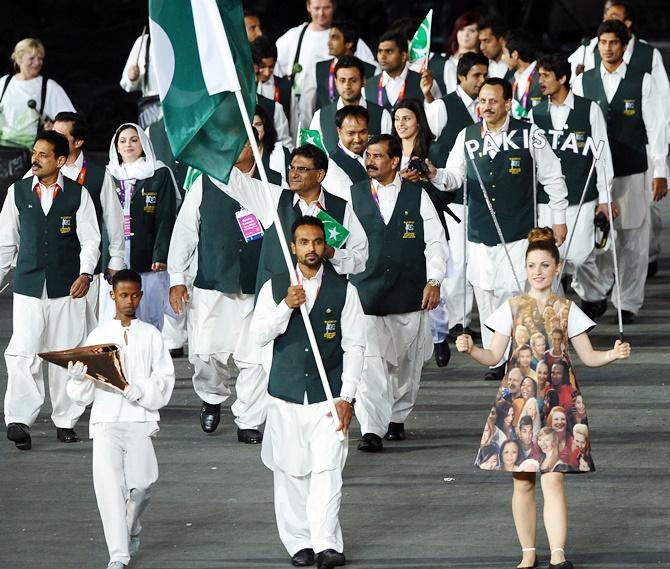 Pakistan's 456-strong contingent for the upcoming South Asian Games in India has been cleared by its government to participate in the event starting February 5.
Will Zika virus keep athletes away from Rio Olympics?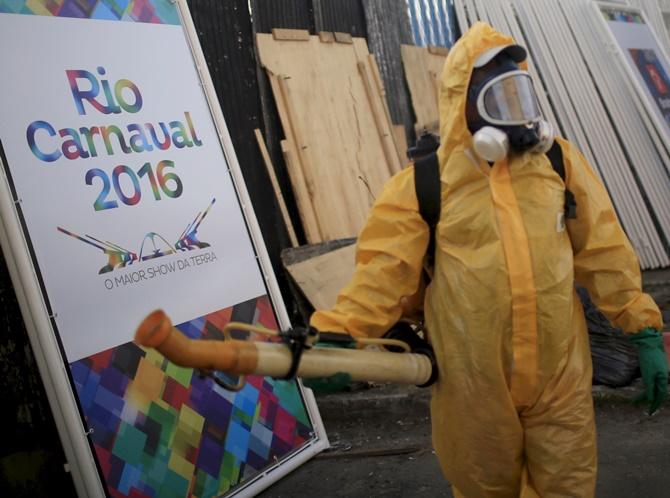 International Olympic Committee President Thomas Bach has welcomed measures being taken to tackle the mosquito-borne Zika virus and believes the spread of the virus across South America will not adversely affect the Rio de Janeiro Games in August.
January 31, 2016
Anand loses again; Harikrishna, Abhijeet among leaders in Gibraltar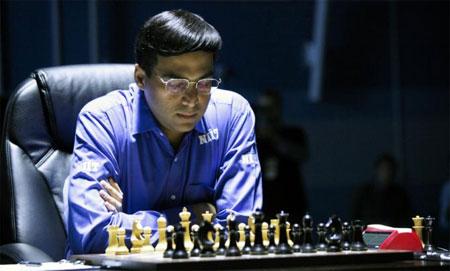 Five-time world champion Viswanathan Anand continued to struggle in his first open tournament in 23 years as he suffered a shock defeat at the hands of French Grandmaster Adrien Demuth in the fifth round of the masters section of Gibraltar chess festival in Gibraltar on Sunday.
Badminton: Srikanth clinches Syed Modi title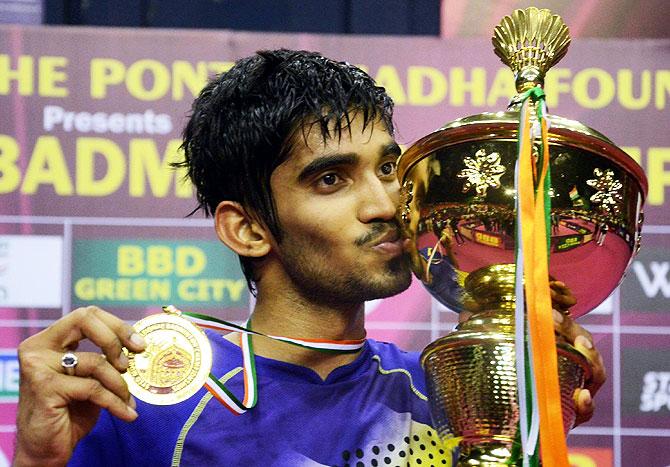 Top seed K Srikanth made a rollicking start to the new season as he clinched the Syed Modi Grand Prix Gold with a convincing win over China's Huang Yuxiang in the men's singles final in Lucknow on Sunday.
Serie A: Irresistible Juve thump Chievo for 12th league win in a row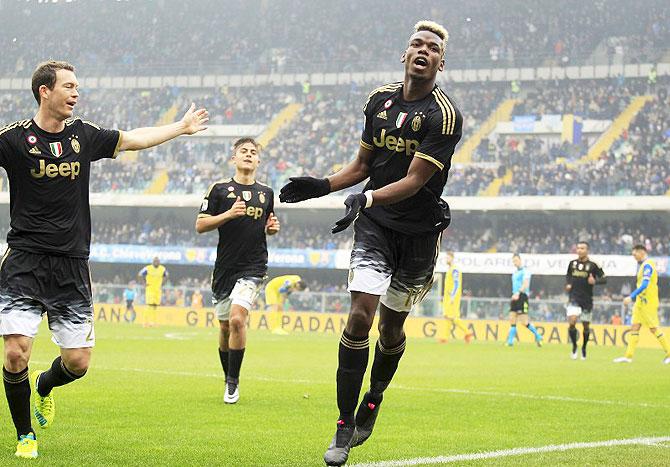 Juventus clocked up their 12th successive Serie A win on Sunday when they swept aside Chievo 4-0 away in a hopelessly one-sided encounter.
January 30, 2016
Pro Kabaddi: Aamir sings National Anthem as U Mumbai win thriller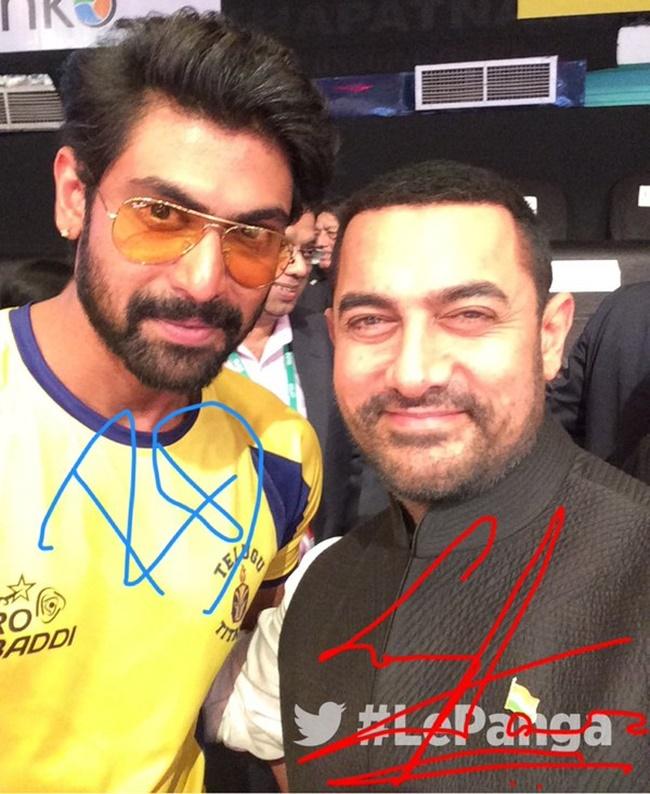 Defending champions U Mumba managed to pull off an exciting 27-25 win over hosts Telugu Titans to kick off their campaign in the Pro Kabaddi League on a rousing note at the Rajiv Gandhi Indoor Stadium, in Visakhapatnam, on Saturday.
Syed Modi badminton tourney: Srikanth, Pranaav-Akshay enter final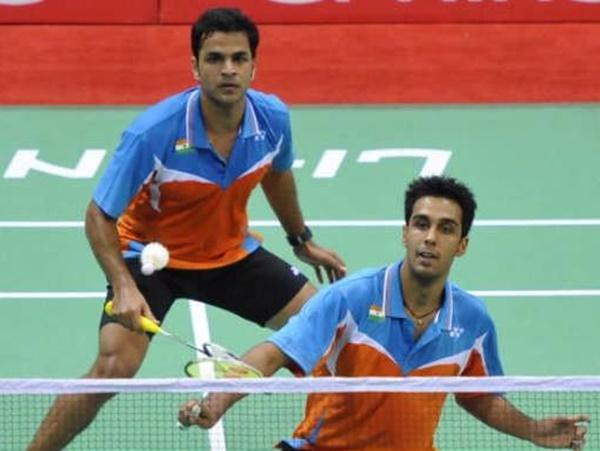 Rising Indian doubles duo of Akshay Dewalkar and Pranaav Jerry Chopra stunned World No 7 Koreans Kim Gi Jung and Kim Sa Rang in an edge-of-the-seat semifinals to seal their maiden Grand Prix Gold final, while K Srikanth also stormed into the men's singles final at the Syed Modi International, in Lucknow, on Saturday.
13 proved unlucky for this wrestling champion...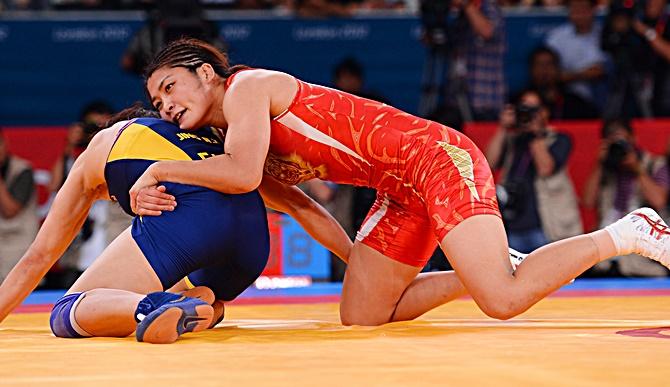 Triple defending Olympic wrestling champion Kaori Icho presented a window of hope for her Rio Games rivals after losing her first bout in 13 years on Friday to a 21-year-old Mongolian student.
With This Ring... Mary Kom and women's boxing in India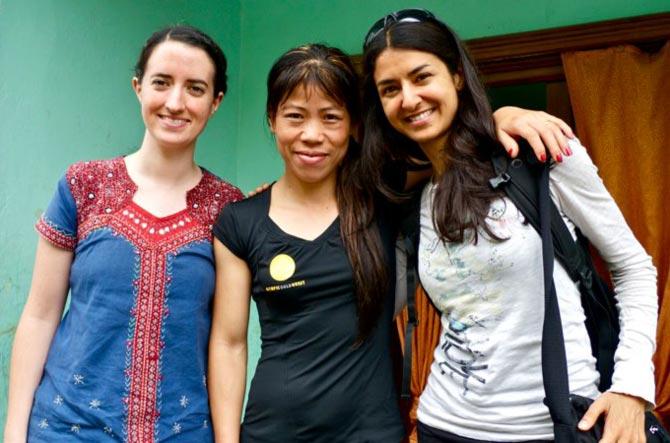 Ameesha Joshi tells Harish Kotian/Rediff.com what made her and Anna Sarkissian devote much of the last 10 years on a movie on women's boxing in India.
January 29, 2016
Syed Modi badminton tourney: Srikanth wins, Pranaav-Akshay stun World No 8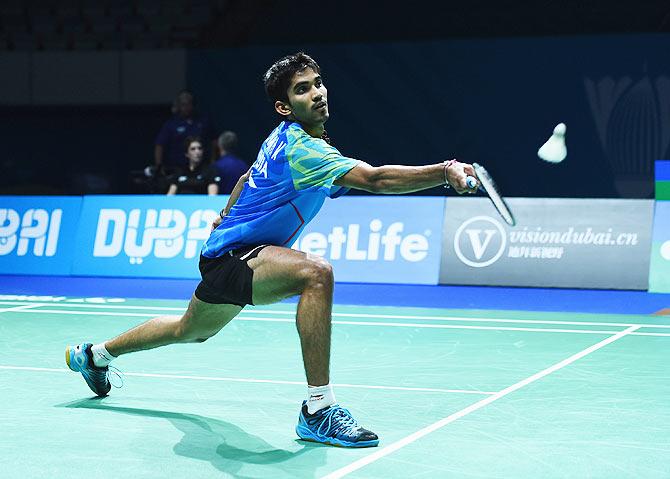 Defending champion P Kashyap bowed out while top seed K Srikanth entered the semi-finals but it was the stunning win of doubles pair of Pranaav Jerry Chopra and Akshay Dewalkar over their World No 8 opponents from Denmark that was the highlight of the day at Syed Modi Grand Prix Gold badminton tournament, in Lucknow, on Friday.
Shooting: Ayonika clinches India's 11th Olympic quota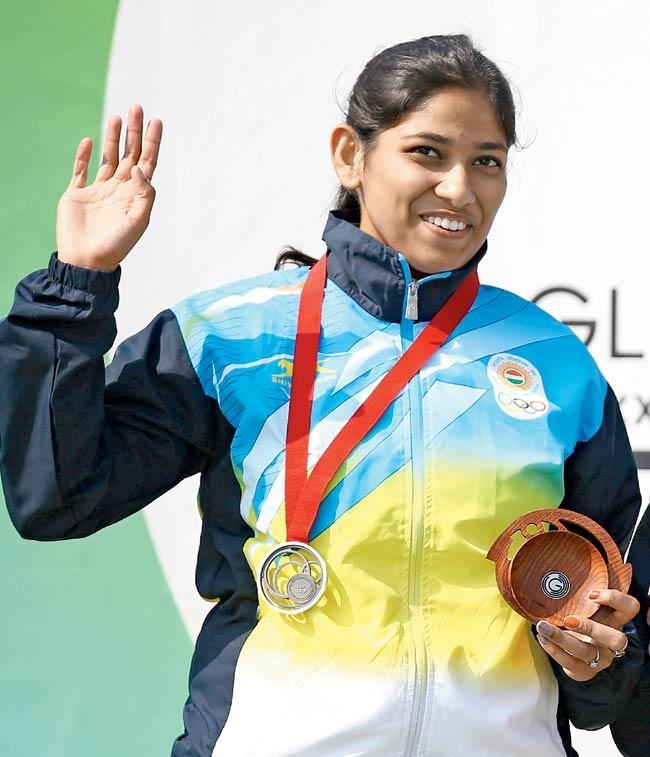 India secured their 11th Olympic quota from shooting, on Friday, when Ayonika Paul bagged the silver in women's 10m air rifle.
Australian Open is special, it's like home, says Sania Mirza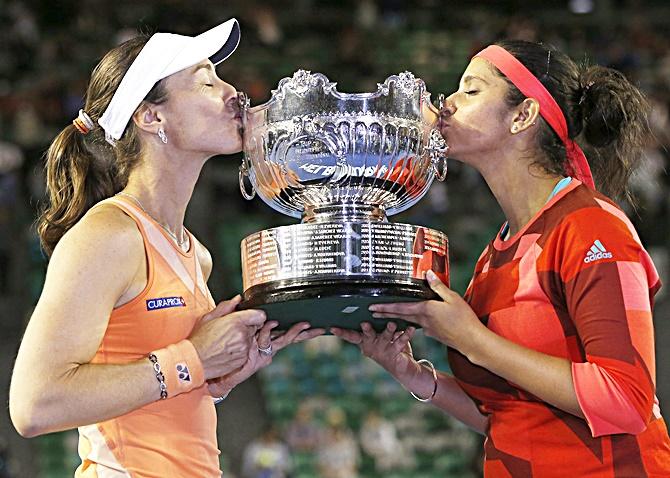 "I would like to thank everyone for coming out and supporting us. For me Australian Open is special, it's like home. I have special memories here," says Sania Mirza.
IOC to issue Zika guidance as virus spreads before Rio Olympics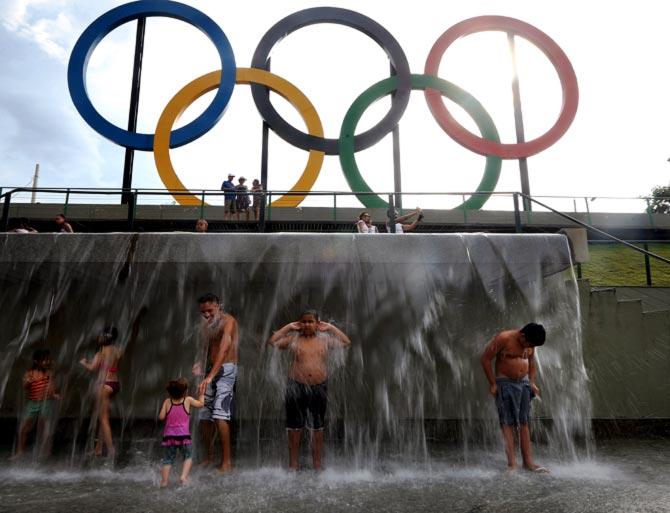 The International Olympic Committee will issue guidelines this week aimed at protecting athletes and visitors from Zika, a mosquito-borne virus spreading rapidly across South America months before the Rio de Janeiro Games in August.
January 28, 2016
HIL: Ranchi edge out Kalinga in a thriller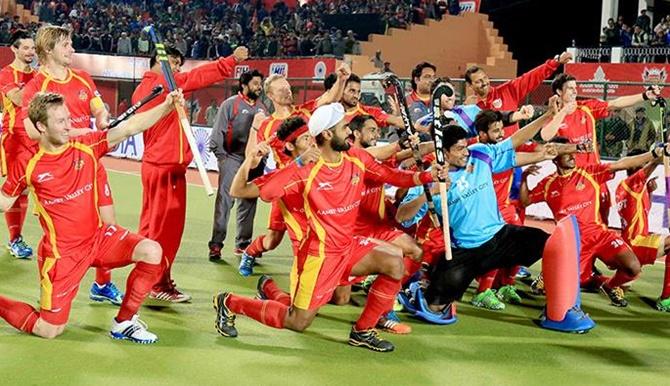 Defending Champions Ranchi Rays completed a hat-trick of wins after eking out a 3-2 win over table toppers Kalinga Lancers in a round robin match of the fourth Hockey India League, in Ranchi, on Thursday.
A refugee will be torch bearer at 2016 Rio Olympics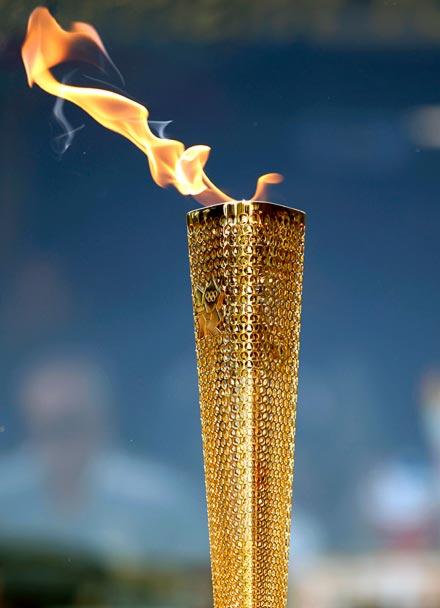 The flame for the 2016 Olympic Games in Rio de Janeiro will pass through a refugee camp in Athens and one refugee will be among the torch bearers, the head of the International Olympic Committee said on Thursday.
London Games silver medallist Vijay's hopes dashed; Kynan Chenai secures Olympic quota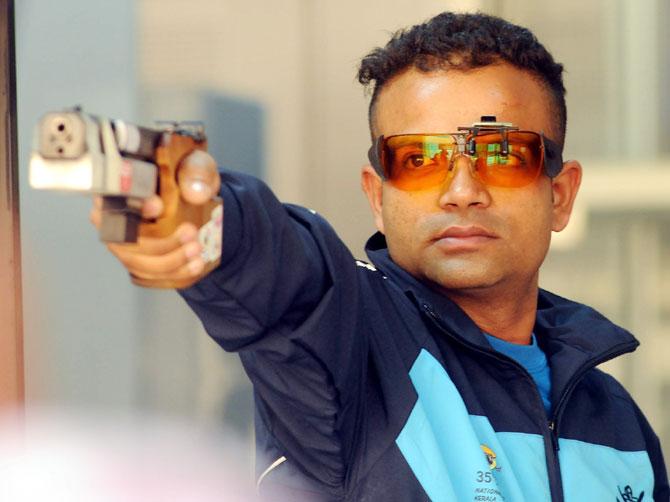 Kynan Chenai gave himself an advance birthday gift by securing a quota place for the Rio Olympics but London Games silver medallist Vijay Kumar's hopes of earning a berth went up in smoke at the Asia Olympic Qualifying Competition for shooting, in New Delhi on Thursday.
Syed Modi badminton: Srikanth, Kashyap enter quarters; Sindhu loses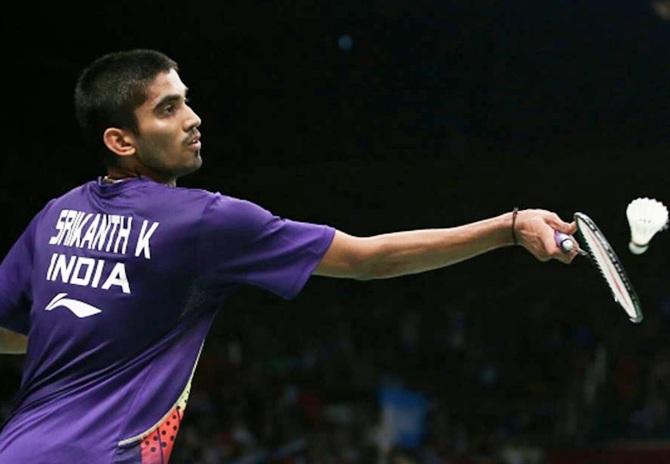 Top seed Kidambi Srikanth entered the quarter-finals but a heartbreak was in store for P V Sindhu, who suffered a shock defeat to Nitchaon Jindapol of Thailand in the second round of the $120,000 Syed Modi Grand Prix Gold badminton tournament, in Lucknow, on Thursday.
Badminton Rankings: Sindhu moves up; Saina still holds No 2 spot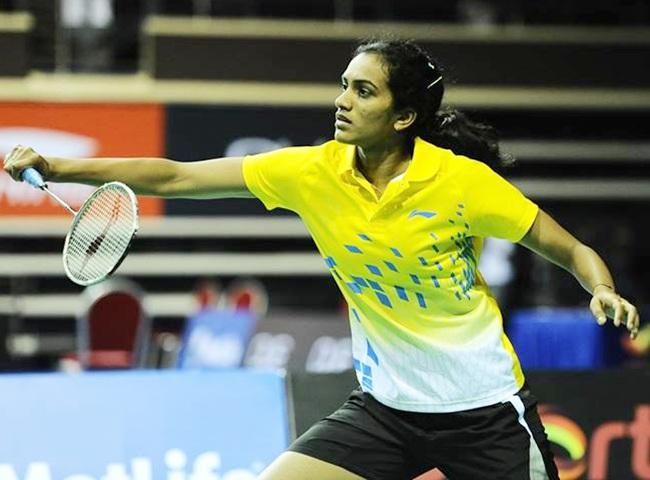 Riding on her title-triumph at the Malaysia Masters Grand Prix Gold, India's P V Sindhu, on Thursday, jumped one place to be just outside the top 10 in the latest BWF ranking.
January 27, 2016
Syed Modi badminton tourney: Srikanth, Kashyap, Sindhu in 2nd round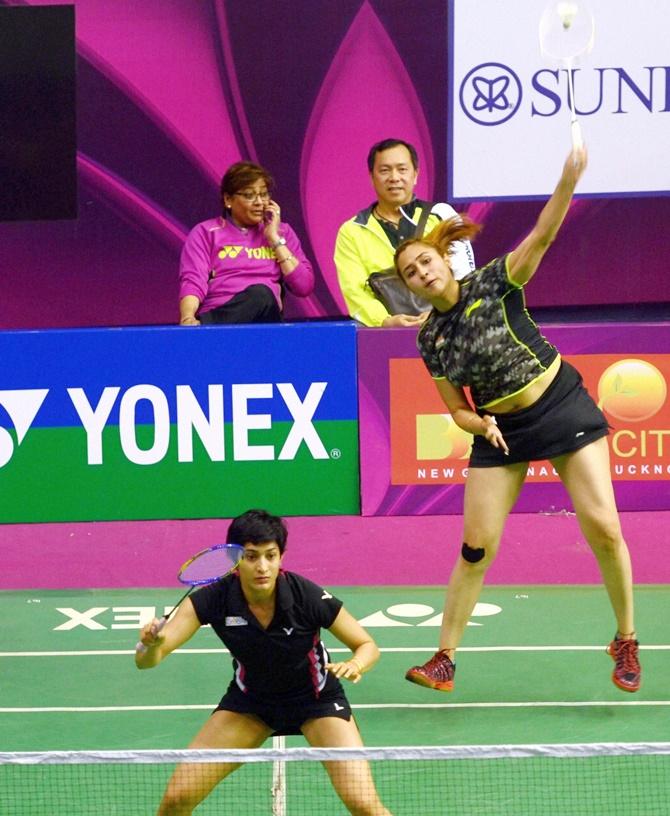 Top Indian shuttlers, including K Srikanth and Parupalli Kashyap in men's singles and P V Sindhu in women's singles, advanced to the second round after easy victories on the first day of the main draw in the Syed Modi International Badminton tournament, in Lucknow, on Wednesday.
'Indians don't know how to play mixed doubles'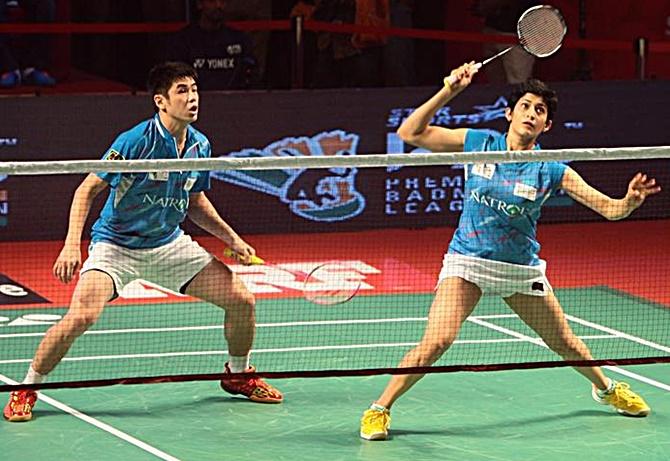 Ace shuttler Ashwini Ponnappa, on Wednesday, said that Indians do not do well in mixed doubles in the international stage as the male partners always want his female team-mate to play in a fixed position.
Shooter Heena secures Olympic quota with gold medal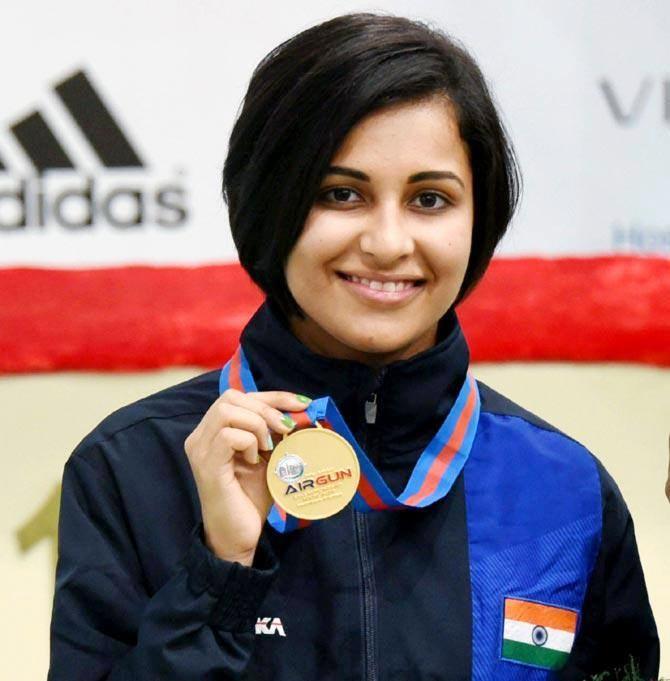 India's top pistol shooter Heena Sidhu secured an Olympic quota for the country after she led from start to finish and claimed the gold medal in women's 10-m air pistol on Day 1 of competition at the Asia Olympic Qualifiers for Shooting, in New Delhi, on Wednesday.
January 26, 2016
Unwell Saina pulls out of Syed Modi badminton tournament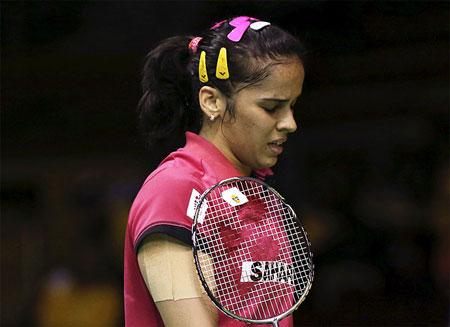 Still recovering from a foot injury and a recurring fever, defending champion Saina Nehwal has pulled out of the women's singles competition at the Syed Modi Grand Prix Gold badminton tournament in Lucknow.
January 25, 2016
Mary Kom, Devendro lead India's boxing contingent at South Asian Games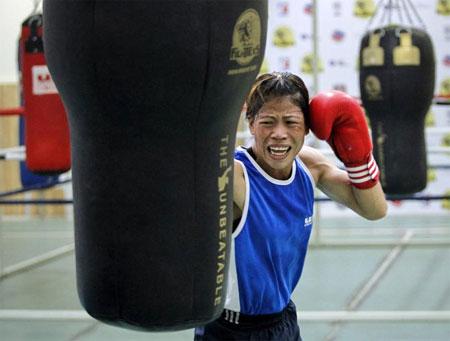 India have named a strong 10-member boxing team for the forthcoming South Asian Games to be held in Shillong from February 13 to 16.
Pistorius's murder conviction appeal challenged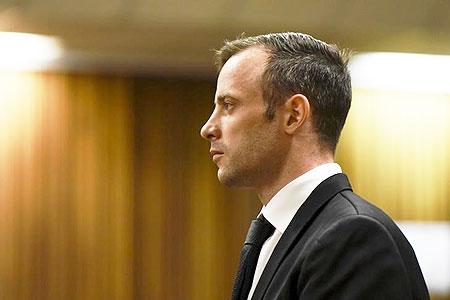 South African authorities are challenging Olympian Oscar Pistorius appeal against his conviction for the murder of girlfriend Reeva Steenkamp, the national prosecuting authority said on Monday.
Padma Bhushan for Sania, Saina; Deepika to get Padma Shri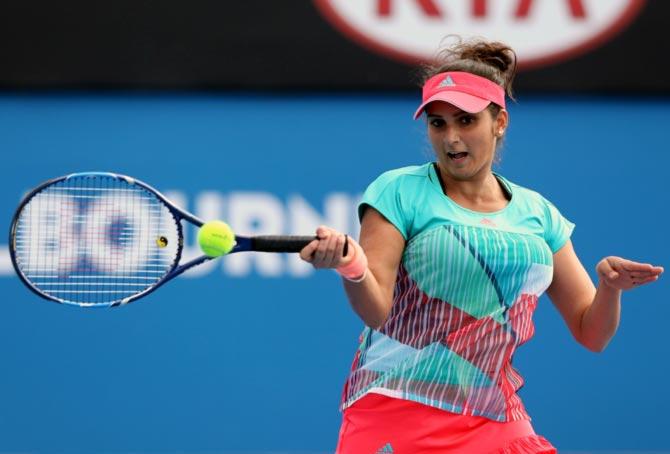 Women dominated this year's Padma awards for sports with tennis star Sania Mirza and ace shuttler Saina Nehwal getting the nod for the Padma Bhushan, while archer Deepika Kumari was chosen for the Padma Shri in New Delhi, on Monday.
10 BEST Sports Photos of the Week!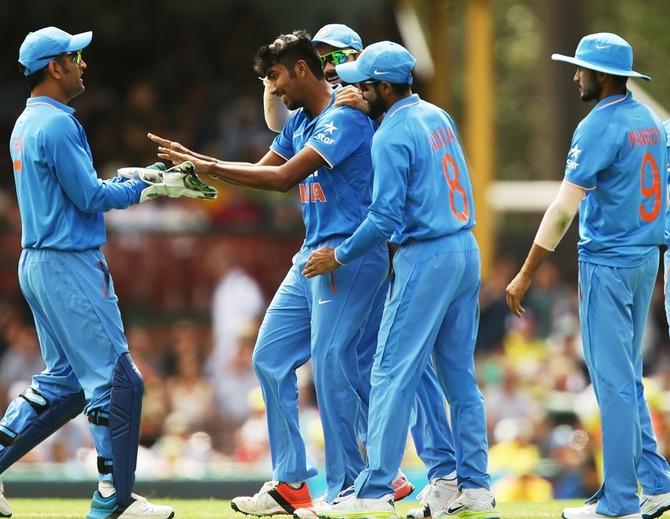 Be it some scintillating action from the Australia Open or Diego Costa's strike sealing the points for Chelsea against Arsenal.
January 24, 2016
What's Beijing Olympic gold medalist Bindra up to these days?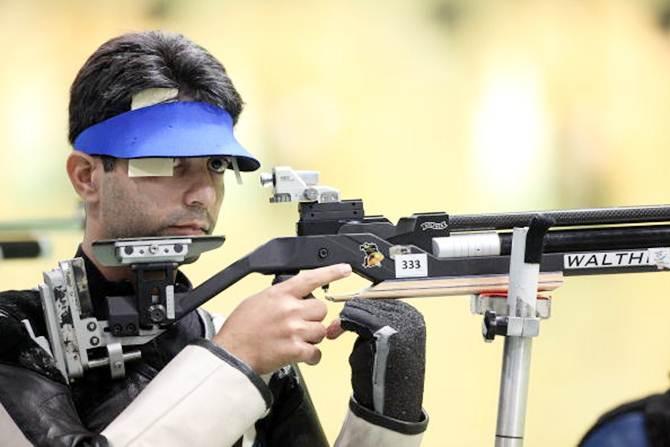 Geared up for the Rio Olympics this August, Beijing Olympic Games gold-medalist Abhinav Bindra on Sunday said he was hopeful of a medal once again.
Fantastic start to Sindhu's season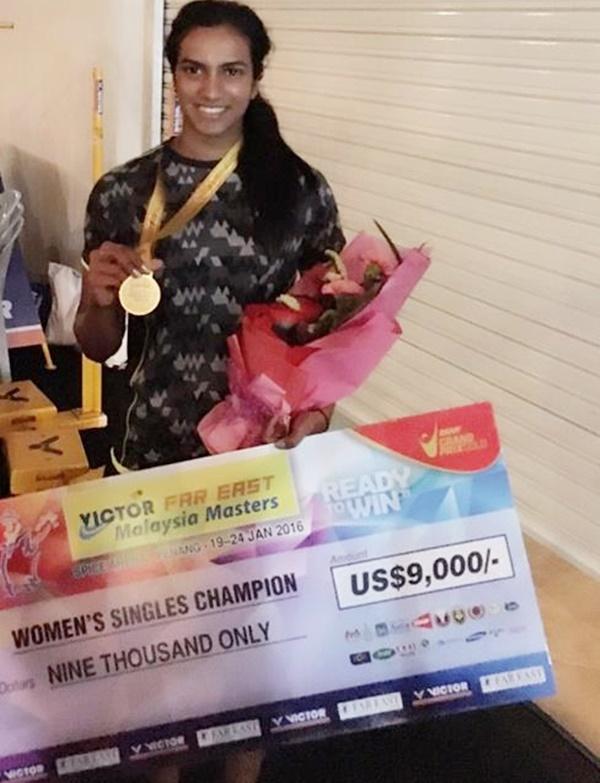 "It is a great win and a fantastic start to the season for me. I have been playing well and I was confident of winning ahead of the final," said PV Sindhu.
Sensational Sindhu clinches Grand Prix Gold title in Malaysia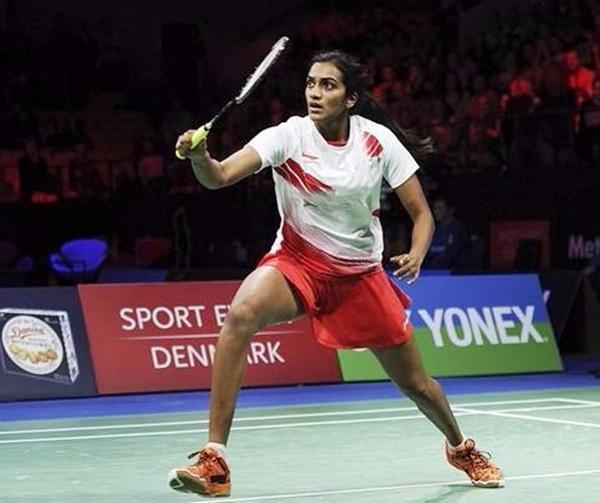 Two-time World Championship bronze-medallist, India's P V Sindhu made a rousing start to the new season as she clinched the Malaysia Masters Grand Prix Gold title after defeating Scotland's Kristy Gilmour in straight games in the final, in Penang, on Sunday.
January 23, 2016
Sindhu storms into Malaysia Masters badminton final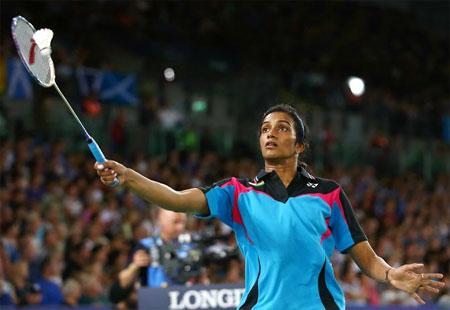 Ace Indian shuttler P V Sindhu scored an upset victory over top seed Ji Hyun Sung in a hard-fought three setter to storm into the women's singles final of the $120,000 Malaysia Masters Grand Prix Gold badminton tournament in Penang on Saturday.
January 22, 2016
Mary Kom, Sarita qualify for South Asian Games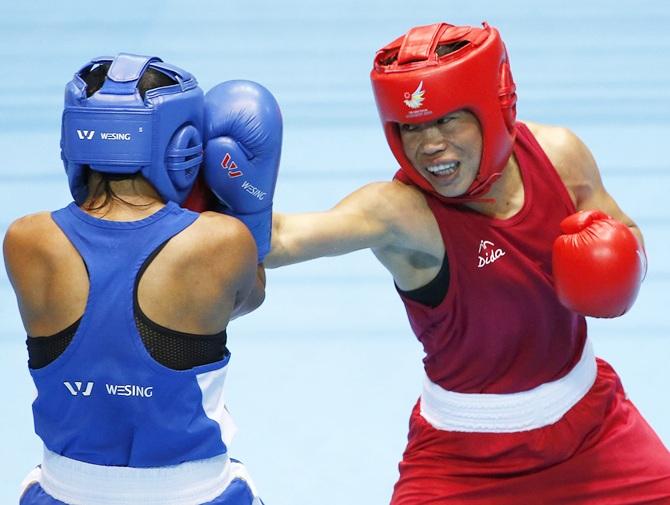 London Olympics bronze medalist MC Mary Kom, L Sarita Devi and Pooja Rani are all set to represent India in the upcoming 12th South Asian Games 2016 to be held in Guwahati and Shillong.
Sindhu, Srikanth sail into semis of Malaysia Masters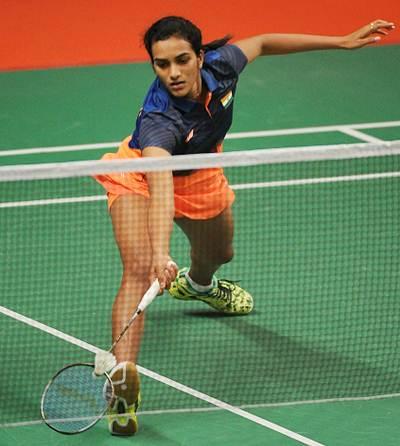 Third seed Sindhu beat Indonesia's Lindaweni Fanetri while Srikanth accounted for China's Huang Yuxiang.
Aus Open: Bopanna-Mergea in third round; Bhupathi-Muller exit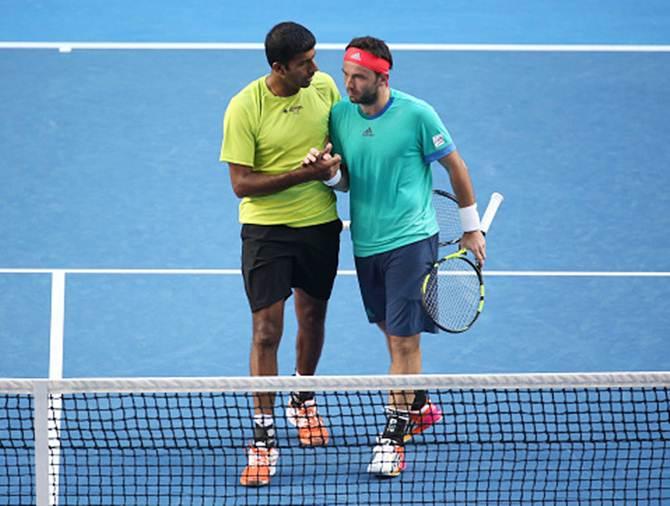 Rohan Bopanna and Florin Mergea breezed into the pre-quarter-finals of the men's doubles at the Australian Open, beating Lukas Dlouhy and Jiri Vesely, on Friday.
Boxing great Pacquiao confirms retirement after Bradley bout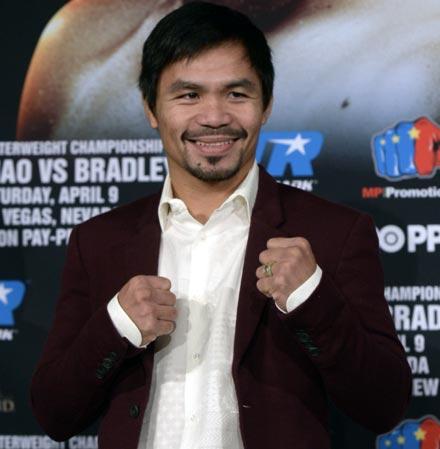 Filipino Manny Pacquiao insists his upcoming title bout against Timothy Bradley will be the last of his prodigious career and on Thursday said he is aiming for a convincing win to help bolster his campaign for a Senate seat.
Lahiri off to a sensational start, shares lead in La Quinta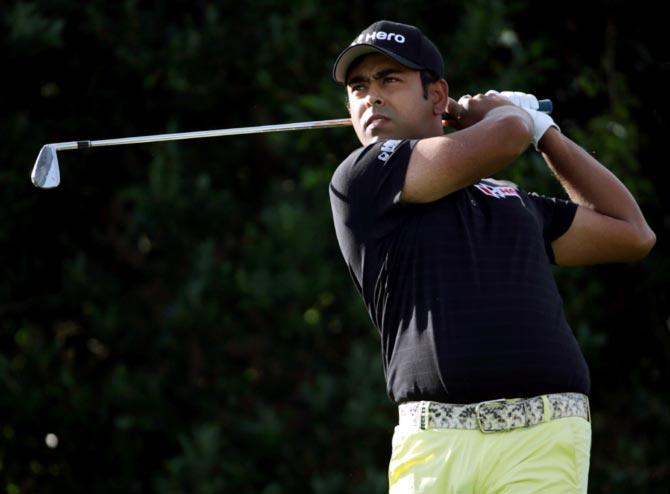 India's Anirban Lahiri got off to a flying start on his tournament-debut, firing eight birdies in a blemish-free opening round to grab a share of the lead at the PGA Tour's Career Builder Challenge in partnership with Clinton Foundation in La Quinta.
Keshavan pulls out of World Championships due to lack of funds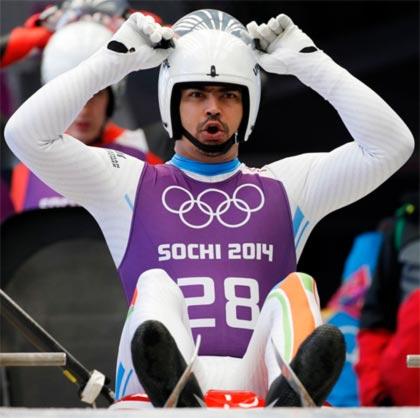 Five-time Olympian and poster boy of winter sports in India, Shiva Keshavan pulled out of the Luge World Championships in Germany and Luge World Cup circuit due to 'lack of funds'.
January 21, 2016
Mary Kom, Sarita Devi enter final round of SAG qualifiers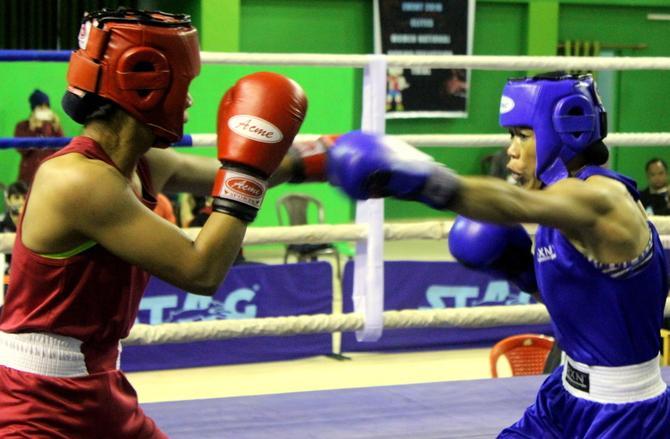 Olympic medalist MC Mary Kom, L Sarita Devi and Aruna Mishra, among others, booked their place in the final round of the South Asian Games in Shillong on Thursday.
Malaysia Masters: Sindhu, Srikanth in quarters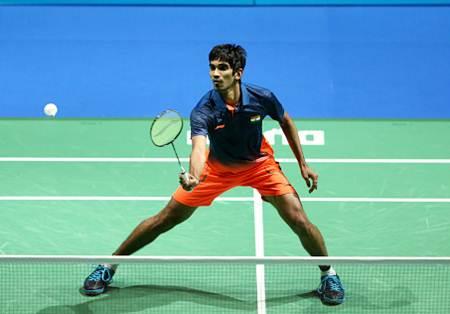 P V Sindhu and Kidambi Srikanth scored contrasting victories to enter the quarter-finals of the US $120,000 Malaysia Masters Grand Prix Gold badminton tournament, in Penang, on Thursday.
'I never dreamed of competing in the Olympics'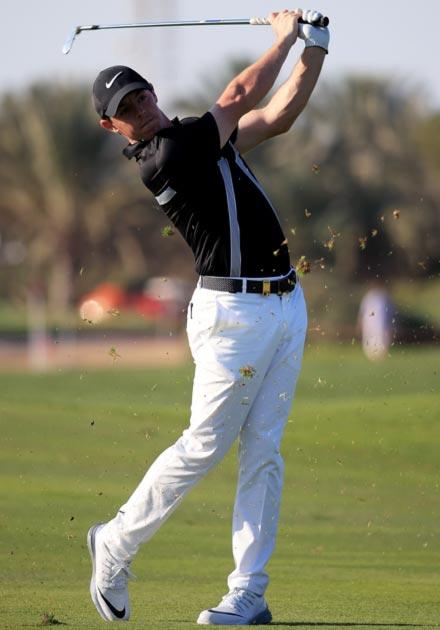 Golf is returning to the Olympics this August for the first time since 1904, although its inclusion has divided opinion with some players declaring it little more than an 'exhibition' sport.
January 20, 2016
Mary Kom, Sarita advance in South Asian Games qualifiers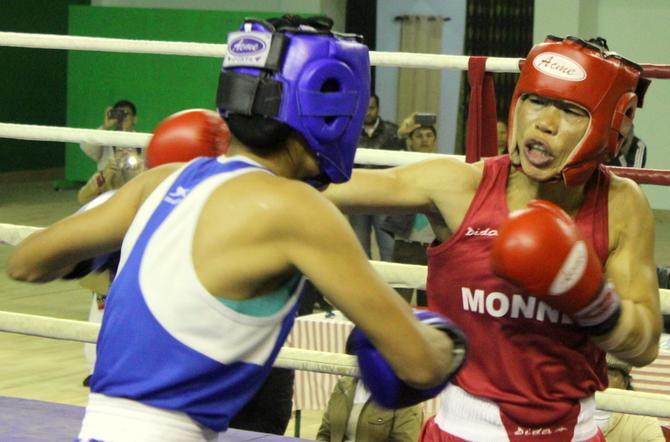 Five-time world champion Mary Kom and her colleague Sarita Devi continued to impress the crowd with agile movements for the second day in a row, outplaying their opponents in the South Asian Games qualifiers in Shillong on Wednesday.
Indian shuttlers make good start in Malaysia Masters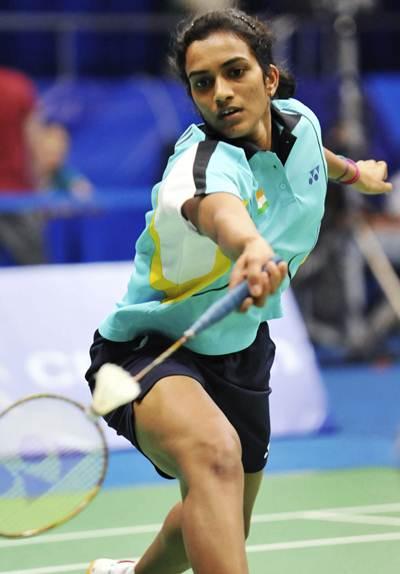 P V Sindhu, K Srikanth, Ajay Jayaram, Subhankar Dey, B Sai Praneeth and Sameer Verma scored easy first round singles victories, while the pair of Jwala Gutta-Ashwini Ponnappa shocked a fancied Malaysian pair to enter the second round of the women's doubles.
January 19, 2016
Athletics scandal worse than FIFA crisis: Johnson
The corruption scandal that has rocked athletics is worse than the one that has plunged soccer body FIFA into crisis because it punished clean athletes, four-times Olympic gold medallist Michael Johnson said on Tuesday.
January 18, 2016
HIL: UP Wizards beat Kalinga Lancers 8-6 in opening thriller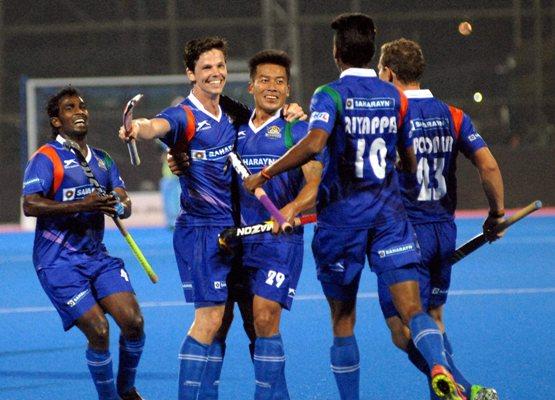 Uttar Pradesh Wizards eked out a dramatic 8-6 victory over Kalinga Lancers in a high-scoring thriller with two goals coming in the final minute as the fourth edition of Hockey India League made a sensational start under new field goal rules in Bhubaneswar.
PBL final PHOTOS: It's Akshay-Sindhu v Abhishek-Jwala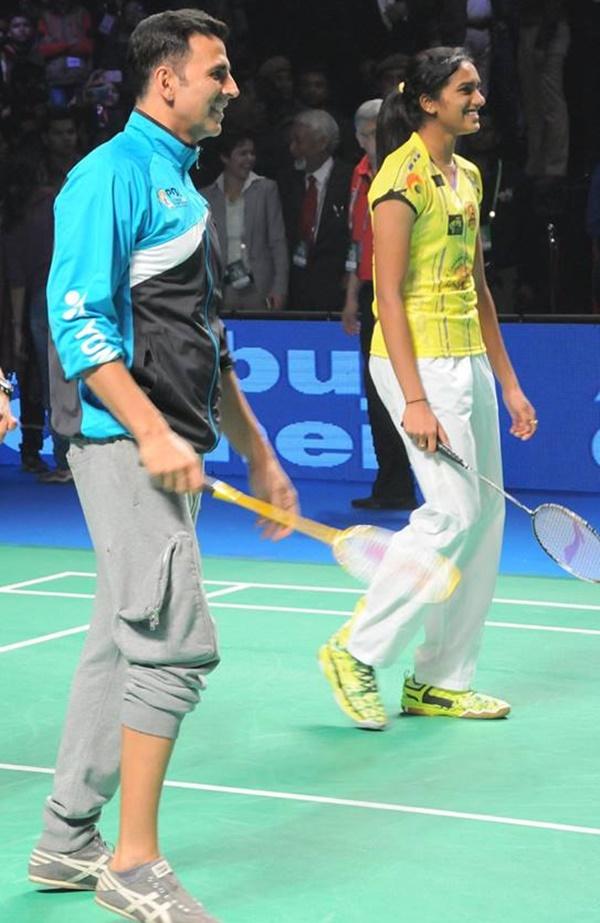 When Bollywood star Akshay Kumar joined hands with Premier Badminton League (PBL), only entertainment was expected.
Ronnie O'Sullivan shows why he is called Rocket!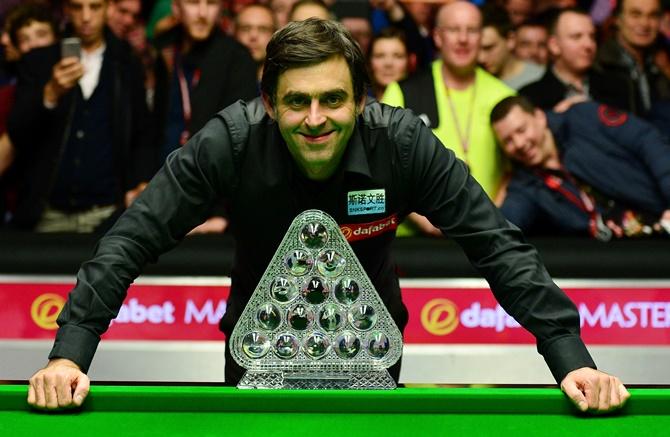 Ronnie O'Sullivan showed why he is called Rocket as he earned a record-equalling sixth Masters title by thrashing Barry Hawkins 10-1 in the final at London's Alexandra Palace on Sunday.
Spate of injuries hit Barca and Real Madrid: Problems for Messi, Bale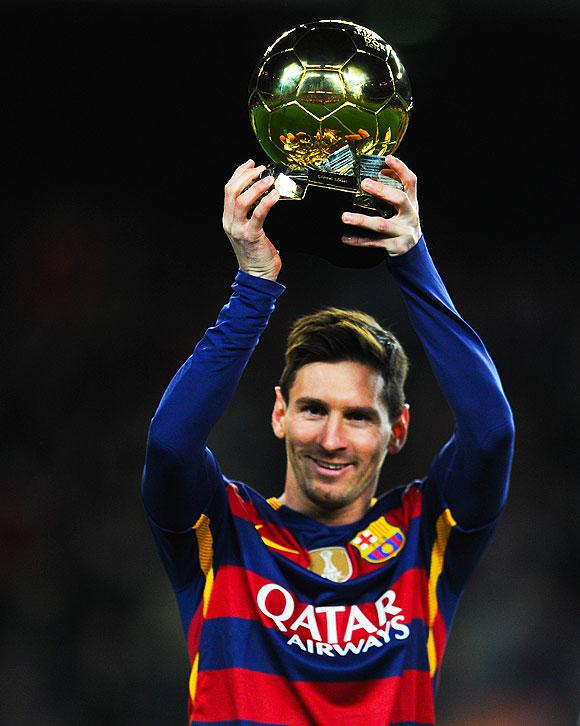 The injury list in the La Liga keeps growing as the season progresses and this time Lionel Messi and Gareth Bale are the unfortunate victims...
Aussie marathon man to run from Kanyakumari to Kashmir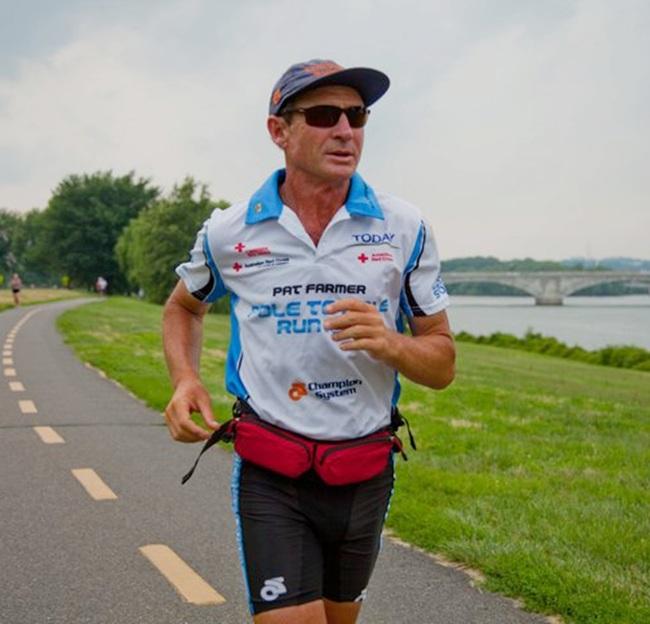 Pat Farmer on how he plans to conquer India, south to north, over 60 days and 4,600 km.
EPL PHOTOS: Arsenal go top after draw at Stoke; United win at Liverpool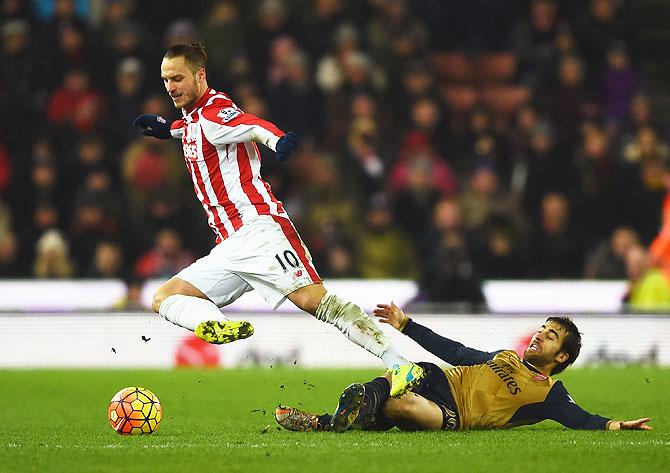 Arsenal ended Leicester City's brief stay at the top of the Premier League on Sunday despite being held to a 0-0 draw at Stoke City after Manchester United's Wayne Rooney struck late for a 1-0 win at Liverpool.
January 17, 2016
SPOTTED! Katrina, John, Madhavan at Mumbai Marathon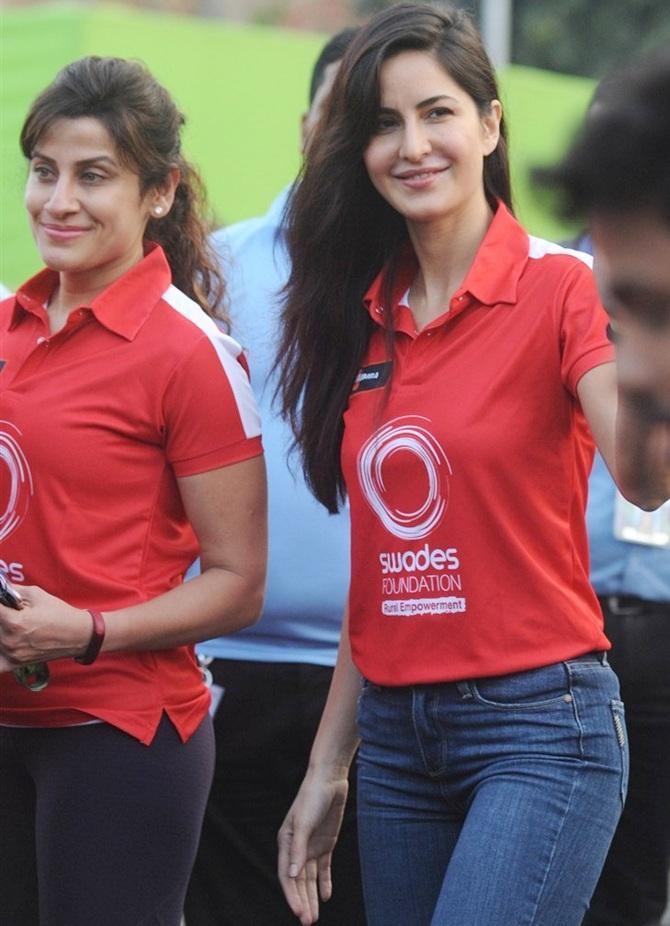 Actress Katrina Kaif wanted to participate in her first-ever Standard Chartered Mumbai Marathon, on Sunday, but things don't go as planned.
Kenyan Kipketer sets new course record time to win Mumbai Marathon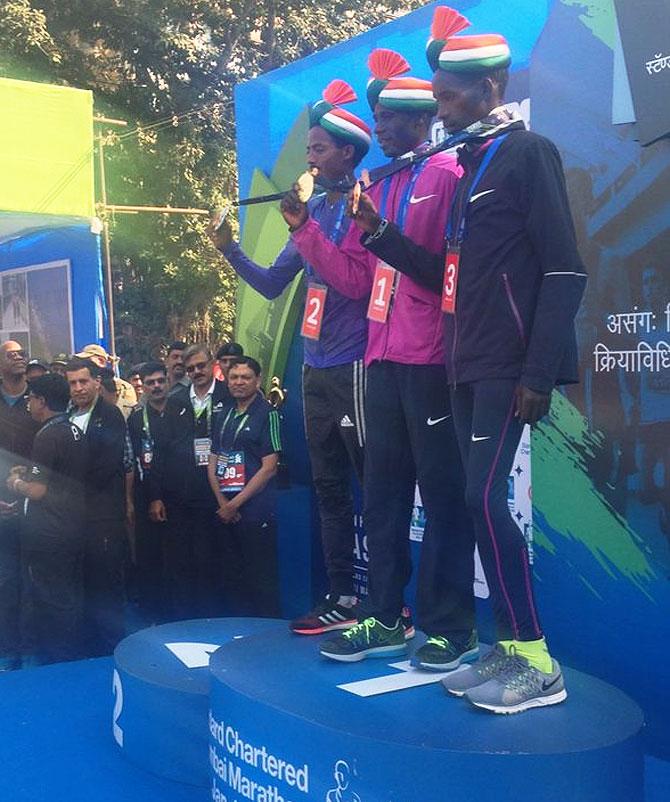 Kenyan pacesetter Gideon Kipketer won the men's race in an all-East African clean sweep of the podium by setting a new course record in the 13th Standard Chartered Mumbai Marathon on Sunday.
India's champion para-swimmer in dire straits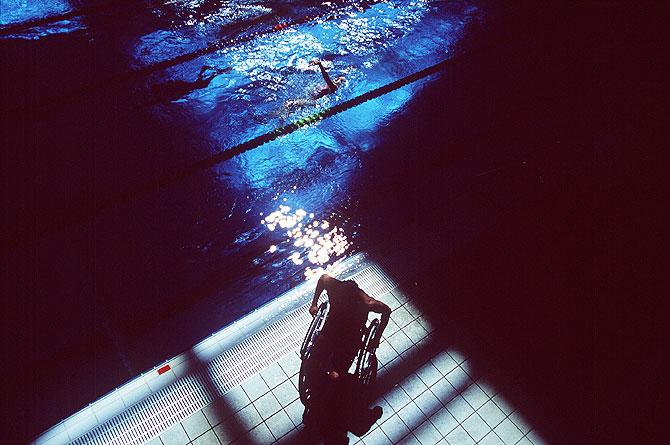 Bharat Kumar, who is a gold medalist in World Games, a silver medalist in the World Championship for India, has been forced to wash cars of others to earn his living
European soccer: Higuain extends Napoli's lead; Villareal drop points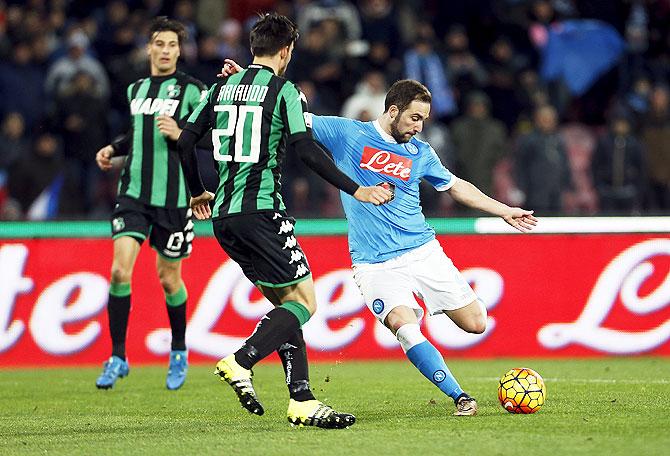 Photographic summary of the football matches played across Spain, Italy and France
January 16, 2016
Russia elects new athletics chief to clean up sport
Russia's new athletics head said his priority was to ensure Russian sportsmen and women compete at the 2016 Olympics as the sport tries to tackle rampant doping.
Bolt shocked by IAAF reports, against wiping records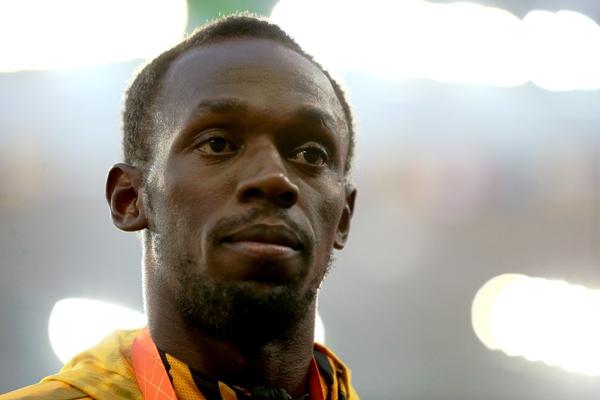 Six-times Olympic champion Usain Bolt said he felt shocked and let down by the scandal-hit IAAF, but the Jamaican sprinter was against resetting athletics world records as the sport attempts to move on from the doping crisis.
January 15, 2016
PBL PHOTOS: Saina sinks; Mumbai crush Awadhe Warriors to enter final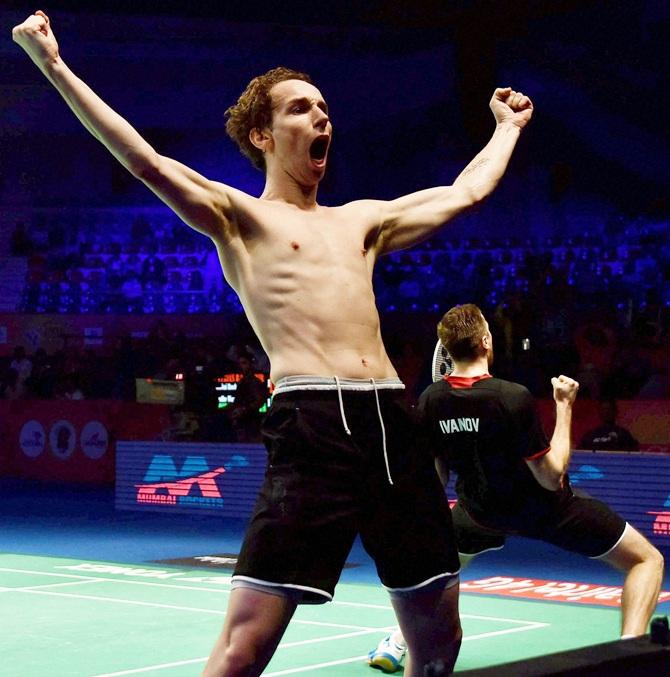 World No 2 Saina Nehwal suffered a crushing defeat in Awadhe Warriors' Trump match as Mumbai Rockets stormed into the finals with an emphatic 3-0 win in the second semifinals of the Premier Badminton League (PBL) at the Gachibowli indoor stadium, in Hyderabad, on Friday.
Rio cancels contract for Olympic tennis centre due to delays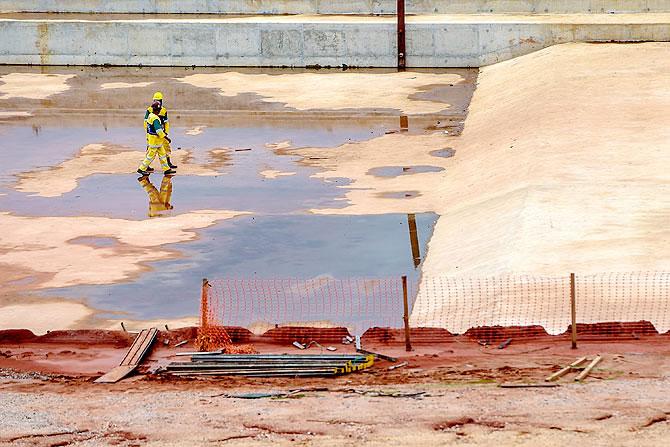 The city of Rio de Janeiro cancelled the construction contract for the Olympic tennis centre on Thursday, just 200 days before the start of the games, fining the consortium responsible for delays and breach of contract for the mostly finished venue.
'Fans don't need to see Bolt win all the time'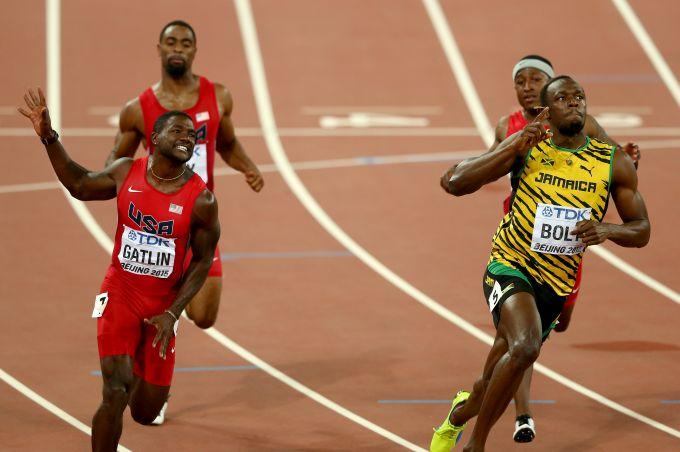 'They need to see Bolt compete and struggle and come back from losses,' says Edwin Moses, athletics legend.
January 14, 2016
10 Key points of WADA commission report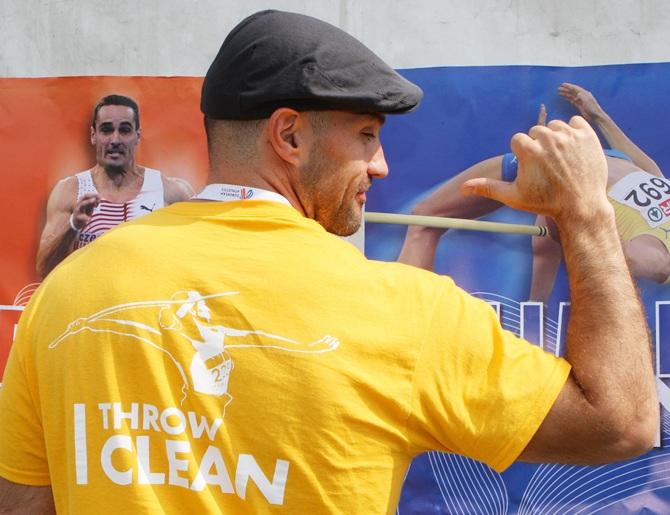 Key points from the independent commission of the World Anti-Doping Agency (WADA) report, released on Wednesday, and from comments made by co-author of the report, Dick Pound at a news conference.
'Former IAAF president behind corruption'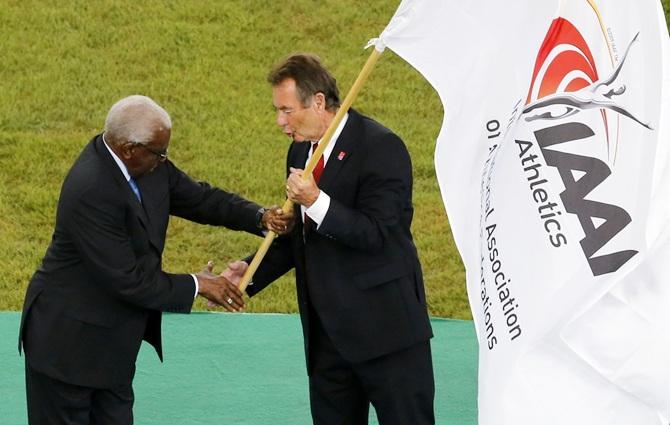 Lamine Diack, the former president of the International Association of Athletics Federations (IAAF), was responsible for organizing and enabling the conspiracy and corruption that took place in athletics' governing body, an independent commission of the World Anti-Doping Agency (WADA) said on Thursday.
Canada Olympics caught in sex harassment scandal
The Canadian Olympic Committee apologised to its employees on Wednesday and unveiled sweeping changes to workplace policies in the wake of a sexual harassment scandal that forced former president Marcel Aubut to resign.
Coe denies Russian doping was covered up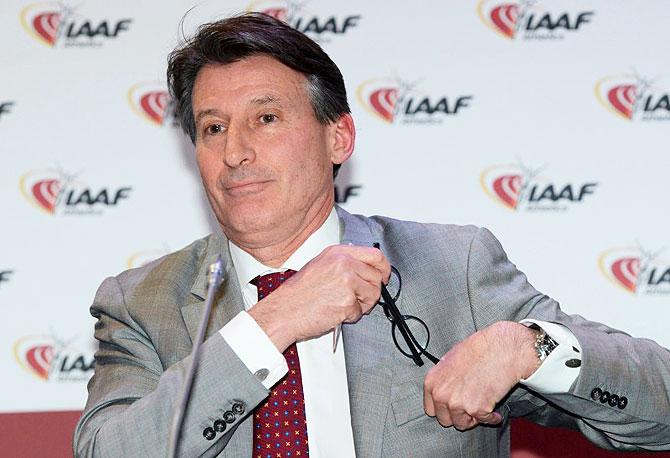 IAAF president Sebastian Coe says there has been no cover up of Russian doping cases despite the latest leaked documents appearing to show that officials of athletics' governing body were discussing how to suppress news of positive tests.
EPL PHOTOS: Fighting Leicester beat Spurs; Arsenal-Reds draw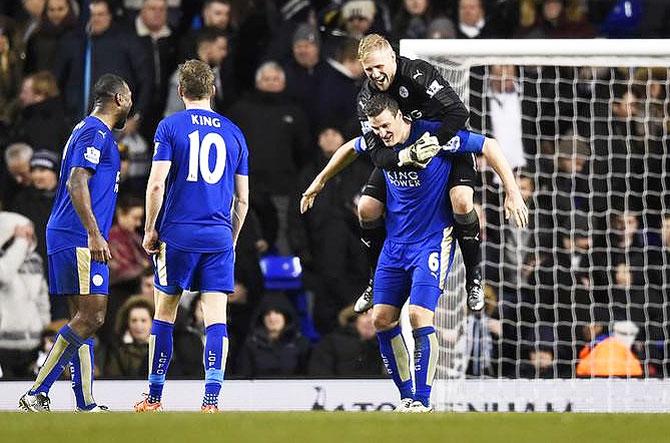 'Keep Calm And Carry On' could be Claudio Ranieri's motto for the second half of the season after Leicester City earned a 1-0 win at Tottenham Hotspur on Wednesday to put the heat back on Premier League leaders Arsenal.
January 13, 2016
PBL: Delhi on top; Chennai Smashers enter semis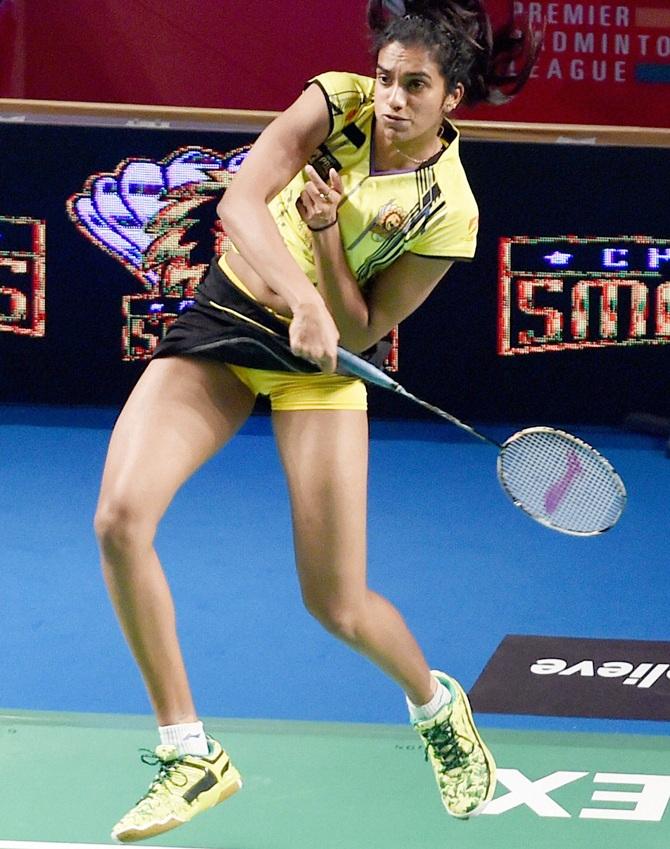 Chennai Smashers qualified for the semifinals after beating Bangalore Top Guns 3-2 in the last league match of the Premier Badminton League 2016 at Sri Kanteerava Indoor Stadium, in Bengaluru, on Wednesday.
Briton, five Germans charged with running doping lab for athletes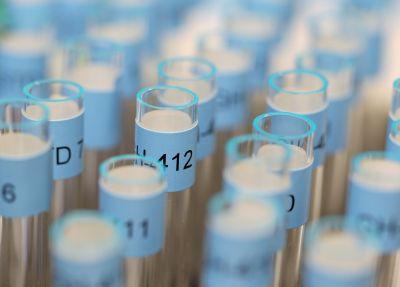 A British man and five Germans have been charged with producing significant amounts of doping substances for athletes in an underground laboratory and distributing the drugs across Germany, prosecutors said on Tuesday.
FIFA probe: Guatemala arrests ex-soccer chief Jimenez
Guatemalan police on Tuesday arrested fugitive former national soccer federation president Brayan Jimenez in connection with a corruption probe into the sport's world governing body FIFA.
IAAF under fire as more Russian doping allegations surface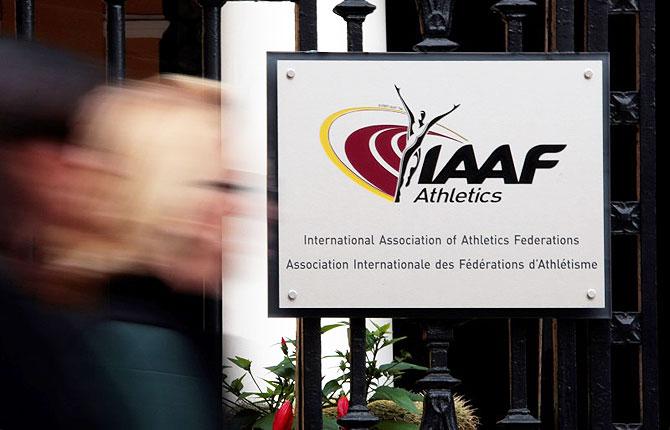 Athletics' governing body came under renewed fire on Tuesday following disclosures that top officials were aware of a potentially serious doping problem among Russian athletes as far back as 2009.
King's Cup: Deportivo stunned by second tier club Mirandes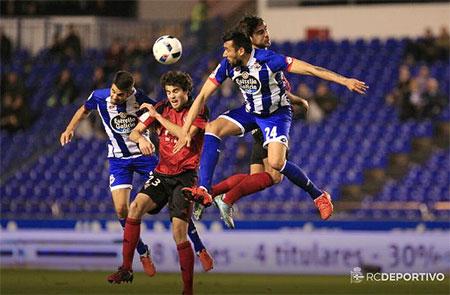 Second division Mirandes caused an upset by knocking Deportivo La Coruna out of the King's Cup on Tuesday and Sevilla joined them in the quarter-finals after making light work of city rivals Real Betis.
January 12, 2016
Aussie Rules Football rocked by dozens of drug bans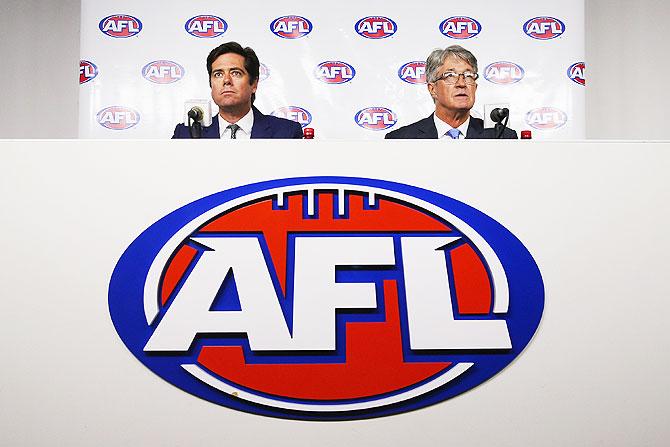 Thirty-four past and present players from Australian Rules team Essendon Bombers, one of the country's richest and most storied football clubs, were issued two-year bans for doping on Tuesday in a ruling that stunned the sports-mad nation.
'Never intended to sell kidney': Indian squash player retracts threat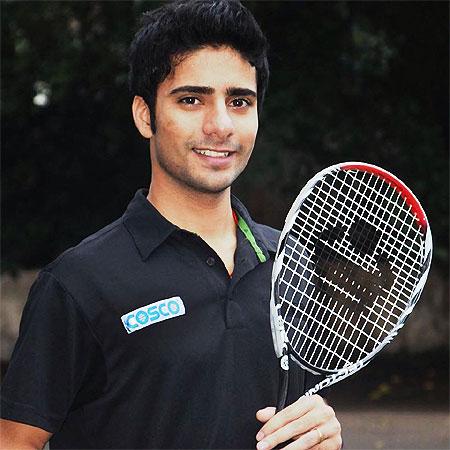 An Indian squash player has backtracked on a threat to sell his kidney to raise funds ahead of next month's South Asian Games, saying it was a "spur of the moment" decision that he was now regretting.
January 11, 2016
Bouchard heads to Melbourne Park with 'zero expectations'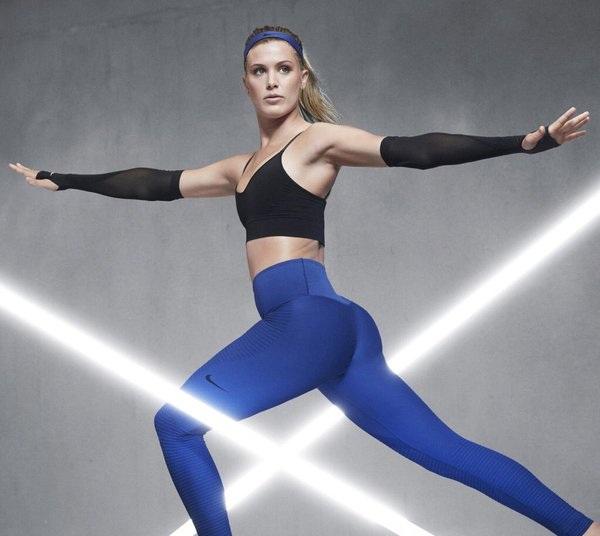 Former golden girl Eugenie Bouchard is heading into the Australian Open with 'zero expectations' of success after a year plagued by injury and poor form.
Awadhe score 4-1 win over Chennai, Hunters out of hunt in PBL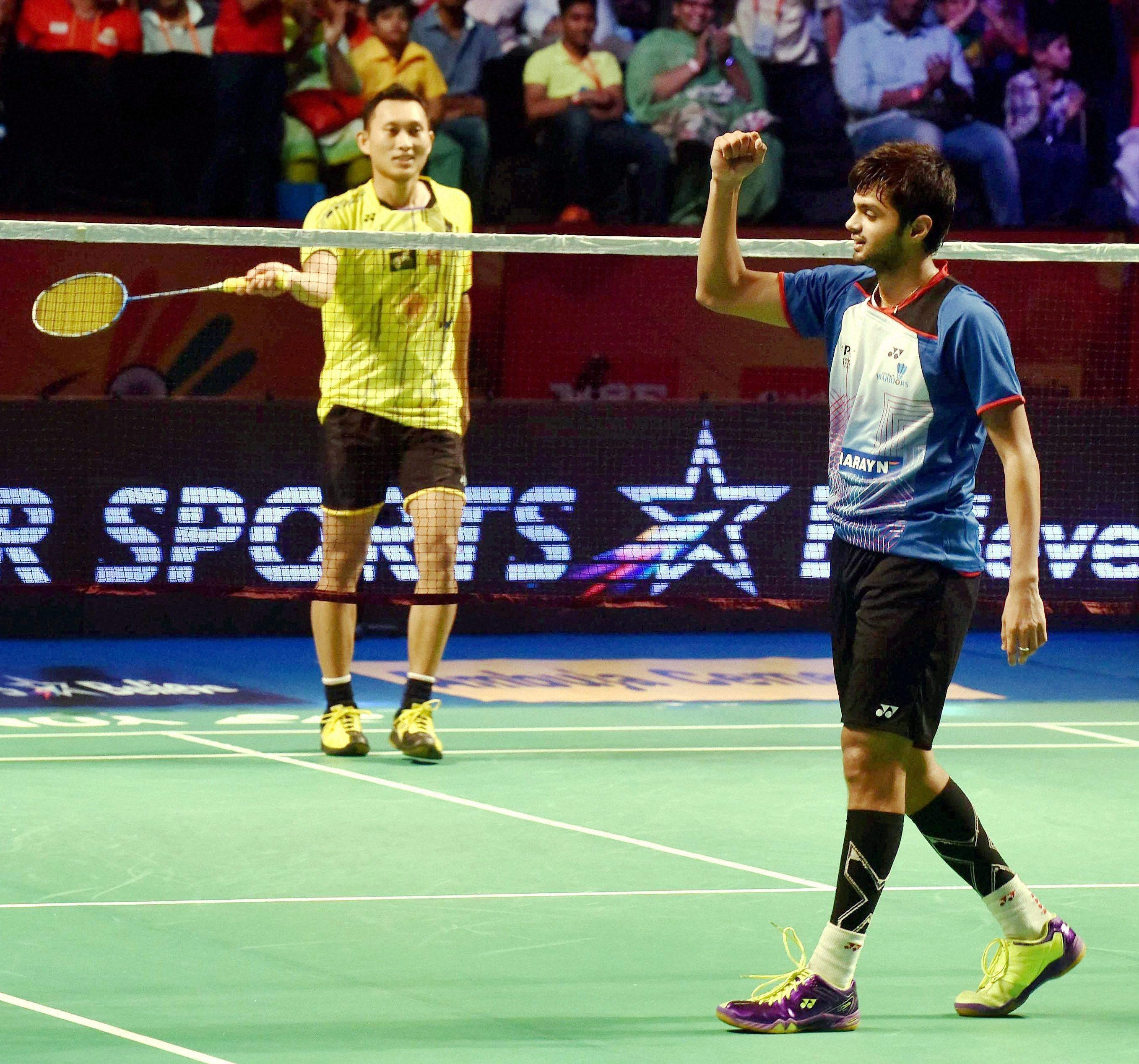 The Awadhe Warriors virtually assured itself a berth in the semi-finals but it turned out to be a disappointing day for the Hyderabad Hunters in the ongoing Premier Badminton League (PBL) here today.
January 09, 2016
PBL: Awadhe Warriors proves too good for Hyderabad Hunters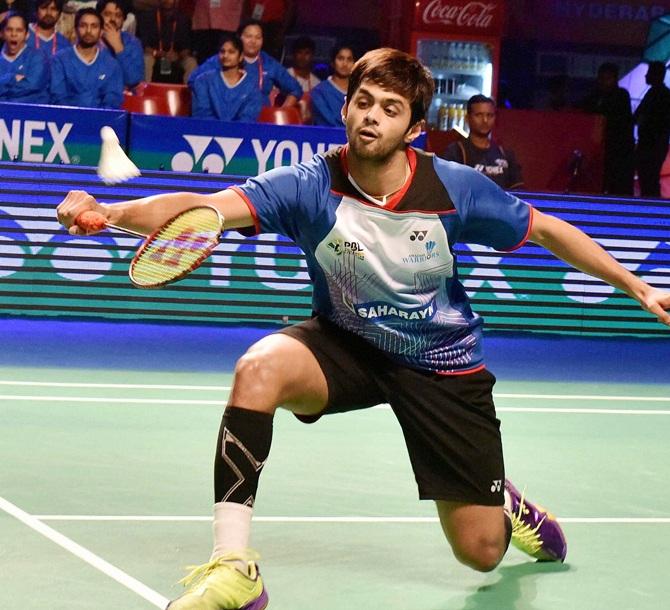 India's top shuttler Saina Nehwal was not part of the action but Awadhe Warriors still proved to be good enough for Hyderabad Hunters, as they eked out a 4-3 win in the Premier Badminton League (PBL) in Hyderabad on Saturday night.
January 08, 2016
Rumours are true! Ronda Rousey goes nude for SI Swimsuit issue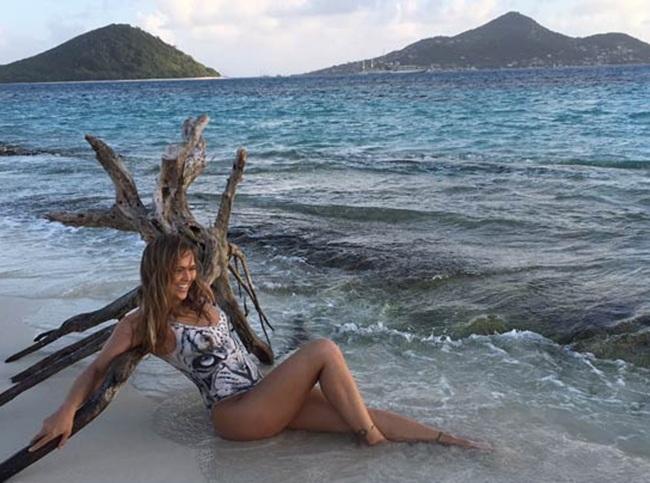 Former Ultimate Fighting Champion Ronda Rousey will pose nude in this year's Sports Illustrated Swimsuit issue and yes, this confirms all the speculations churned by the rumour mills till date.
PBL: Delhi Acers 'trump' Hyderabad Hunters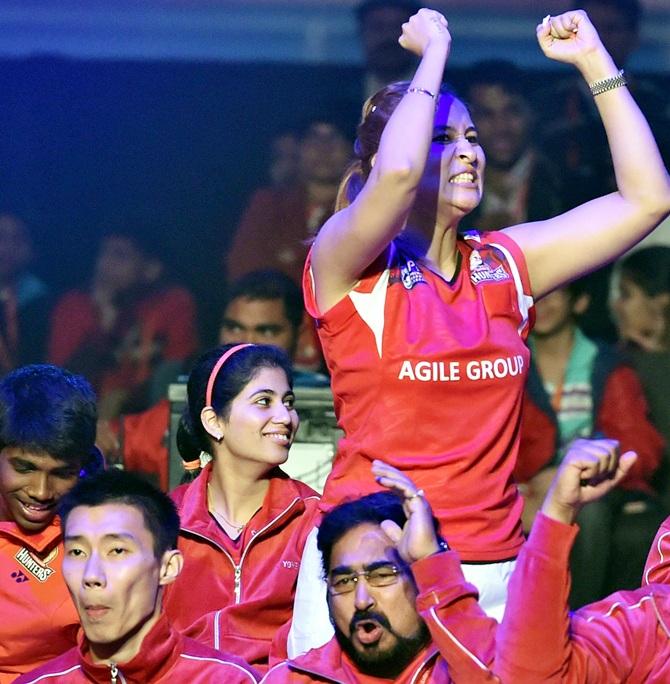 Two-time Olympic silver medalist Lee Chong Wei suffered his second successive loss in a crucial Trump match at the Premier Badminton League (PBL) as Delhi Acers notched up a thrilling 4-1 win over Hyderabad Hunters at the Siri Fort Stadium in New Delhi on Thursday.
January 07, 2016
3 top athletics figures get life bans for doping cover-up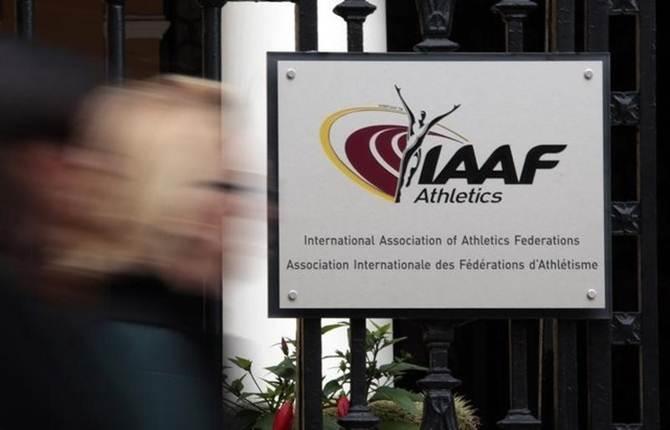 The former head of Russian athletics Valentin Balakhnichev, the country's former head coach Aleksey Melnikov, and Papa Massata Diack, the son of the former IAAF President Lamine Diack, have all been banned from the sport for life over corruption charges.
Indian shuttler Siril Verma ranked world No 1 junior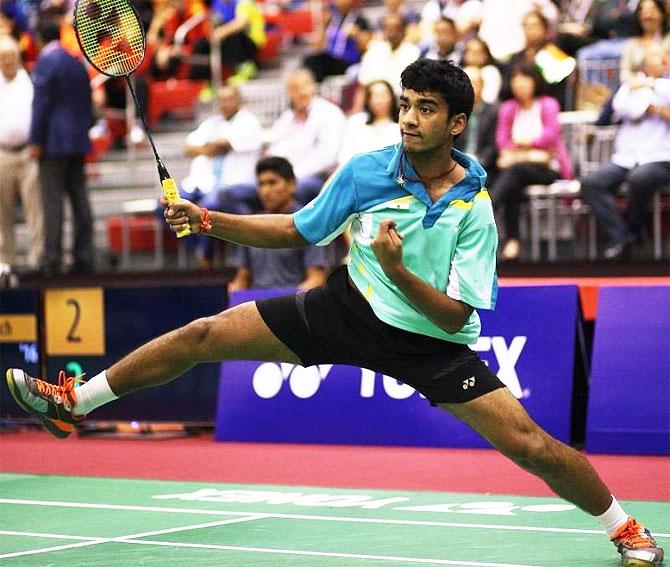 India's Siril Verma climbed a whopping 11 rungs to take the number one spot in the junior men's singles category of the Badminton World Federation (BWF) rankings on Thursday.
Schumacher's son close to signing deal with Ferrari-linked team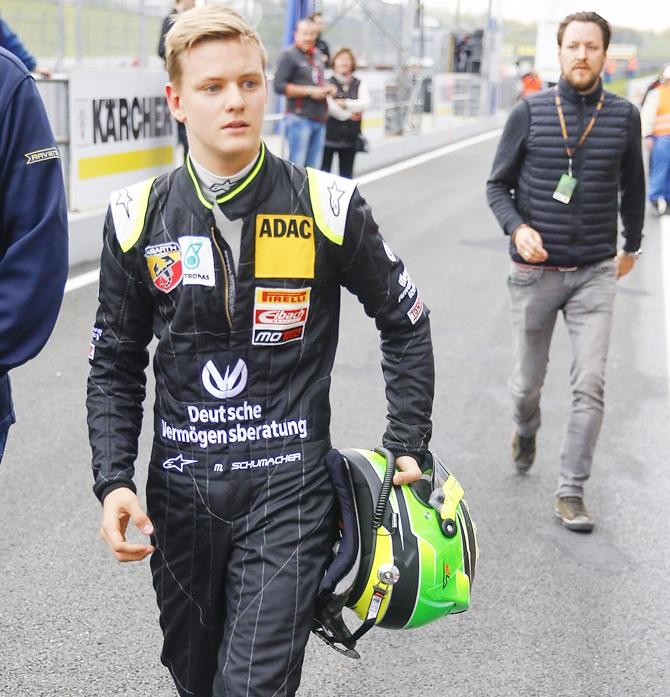 Formula One legend Michael Schumacher' son Mick is all set to sign a deal with a Ferrari-linked Italian junior team Prema.
Tournament's 'best shooter' Chandela wins another gold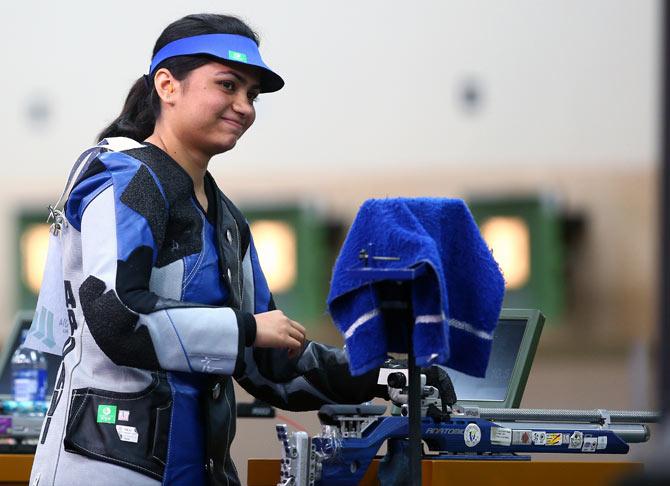 India's Apurvi Chandela shot her way to a second successive gold medal and emerged as the 'Shooter of the Tournament' in the Swedish Cup Grand Prix in Savsjo, Sweden.
January 06, 2016
'Laila Ali is naturally beautiful while Rousey needs to put the beauty on'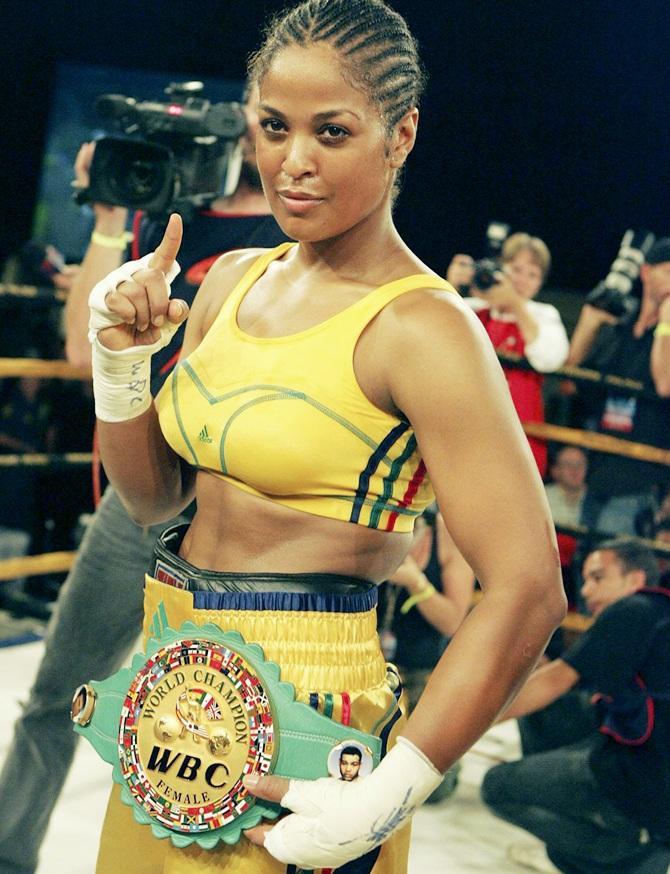 The greatest pound for pound welterweight boxer of all time Floyd Mayweather has delivered the ultimate backhanded compliment to former Ultimate Fighting Championship (UFC) women's Bantamweight champion Ronda Rousey in a rant about racism in the sport, saying her to be 'a good looking woman, when she put it on'.
January 05, 2016
Premier Badminton League: Chennai Smashers register 2nd win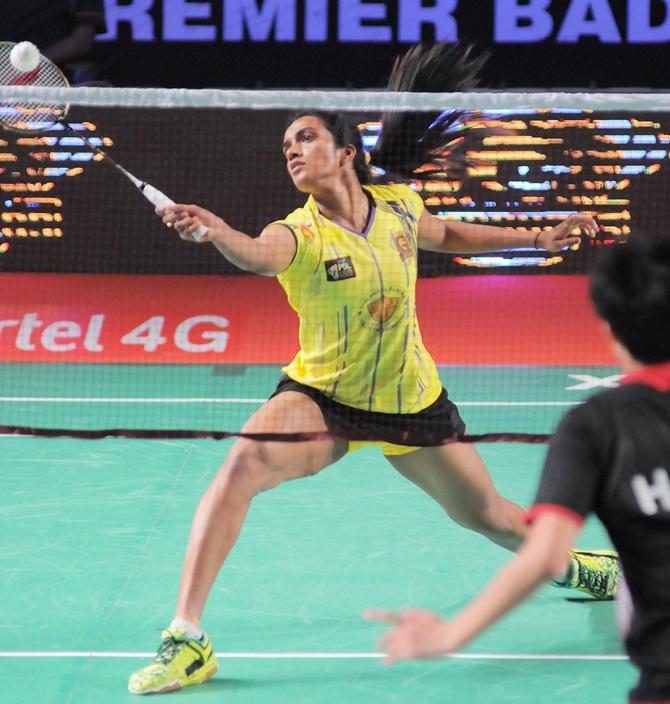 Chennai Smashers put up a clinical display to outplay Delhi Acers 4-3 and register their second consecutive win in an exciting Premier Badminton League (PBL) encounter in Lucknow on Tuesday.
Few Rio-bound Indian athletes to receive financial aid from Govt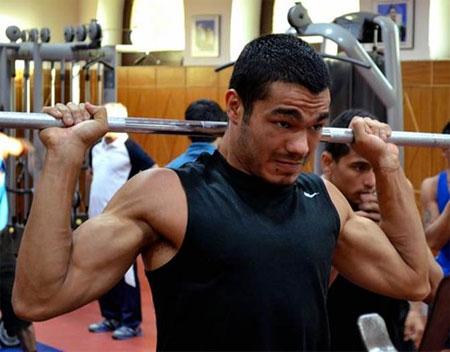 With an eye to enhance India's medal hopes in this year's Rio Olympics, the Sports Ministry has sanctioned financial assistance to boxers Vikas Krishan and Sumit Sangwan, female discuss thrower Seema Antil Punia and shooter Chain Singh.
Pacquiao 'to retire' after Bradley fight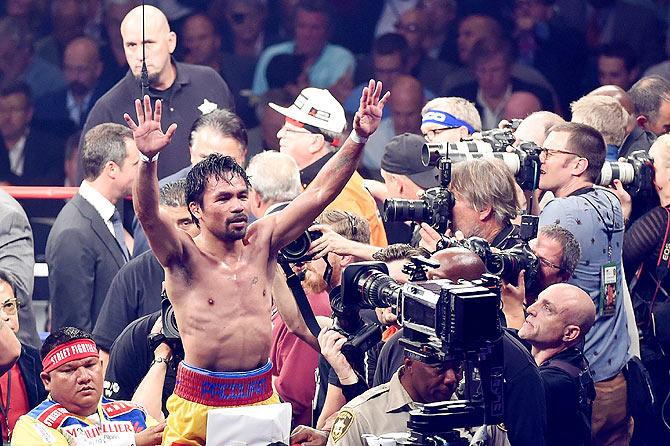 Filipino boxing champion Manny Pacquiao said he would end his legendary career after fighting Timothy Bradley in April to concentrate on his political career, dousing hopes for a rematch with Floyd Mayweather.
January 04, 2016
PBL: Cheered on by Akshay, Nimrat, Saina's Warriors trump Delhi Aces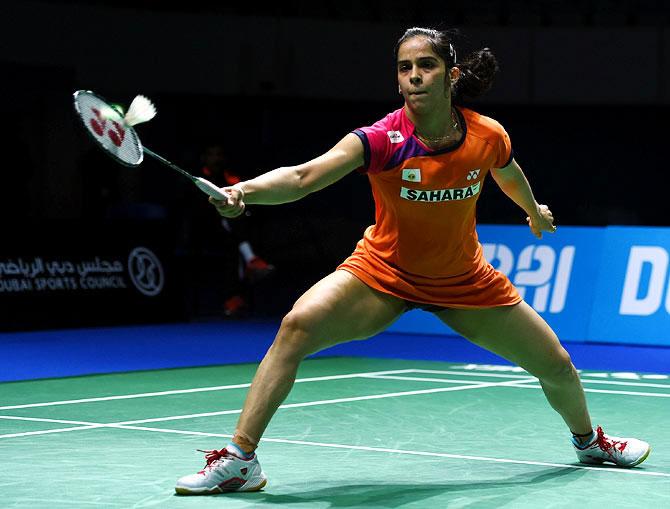 World No.2 Saina Nehwal notched up a comfortable straight-game victory in their Trump match over P C Thulashi in the women's singles event to guide Awadhe Warriors to a convincing victory over Delhi Aces in their Premier Badminton League (PBL) match in Lucknow on Monday.
10 BEST Sports Photos of the Week!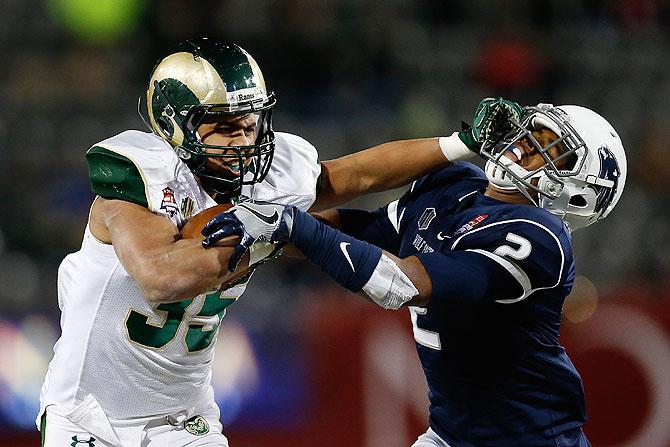 These and many more stunning photographs are encapsulated in this weekly, striking photo feature put together by Rediiff.com.
January 03, 2016
PBL: Hyderabad beat Bengaluru 3-2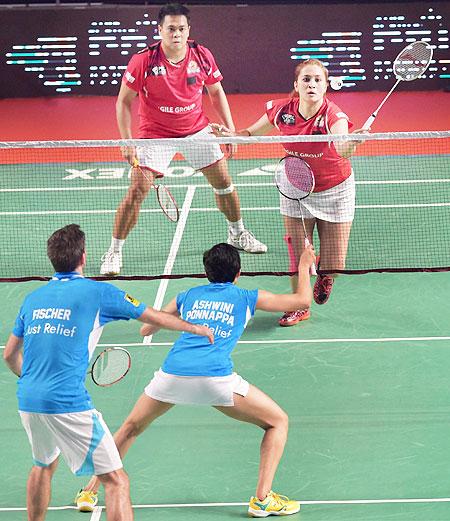 India's highest ranked male shutter, Kidambi Srikanth, pulled off an upset victory over former world No 1 Lee Chong Wei of Malaysia, but his team Bengaluru Hot Guns went down 2-3 to Hyderabad Hunters in the Premier Badminton League clash in Mumbai on Sunday.
Sandhu condoles death of shooting stalwart and martyr Fateh Singh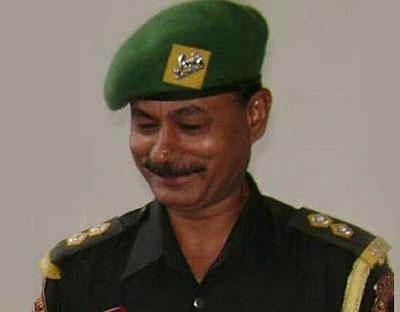 Veteran Indian trap shooter, Manavjit Singh Sandhu, has condoled the death of Subedar Major Fateh Singh, a former Commonwealth champion shooter who was martyred while fighting the terrorists at the Pathankot Air Force Station base.
Former Wigin and Ivory Coast defender Gohouri found dead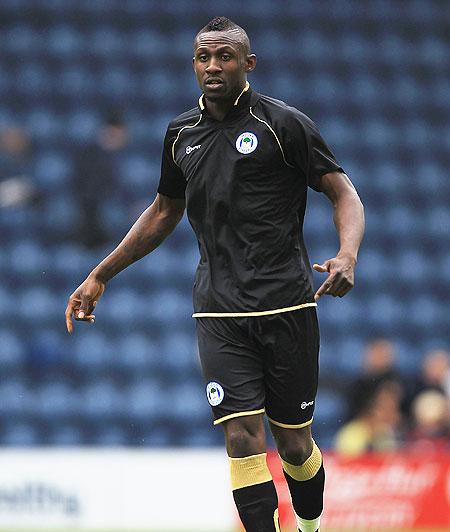 The body of former Ivory Coast defender Steve Gohouri has been recovered from the River Rhine after he went missing in mid- December, German regional league club TSV Steinbach said on Saturday.
January 02, 2016
PBL: Saina pulls out of opening tie due to foot injury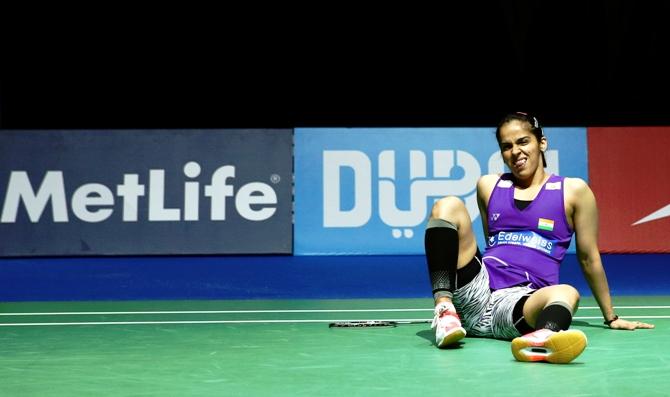 Disappointing the spectators at the Sardar Patel NSCI Stadium, Saina Nehwal pulled out of the Premier Badminton League (PBL)
January 01, 2016
Trump matches to heighten excitement at PBL tournament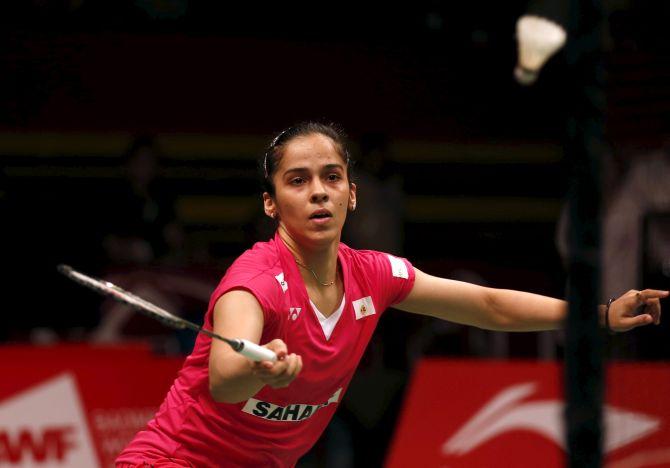 The revamped Premier Badminton League (PBL), commencing here tomorrow with hosts Mumbai Rockets taking on the Saina Nehwal-spearheaded Awadhe
'Stop misleading! We do not get any grant from government'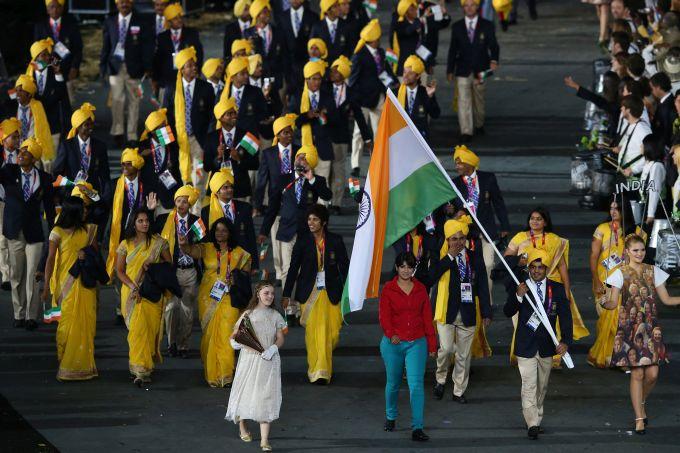 Terming the government's claim of allocating grants to IOA as 'misleading', the top sports body has asked the Sports Ministry to stop the practice as the money was only meant for meeting the expenses of the athletes during the multi-sporting events.
Tendulkar, Kohli, Serena celebrate the New Year in style...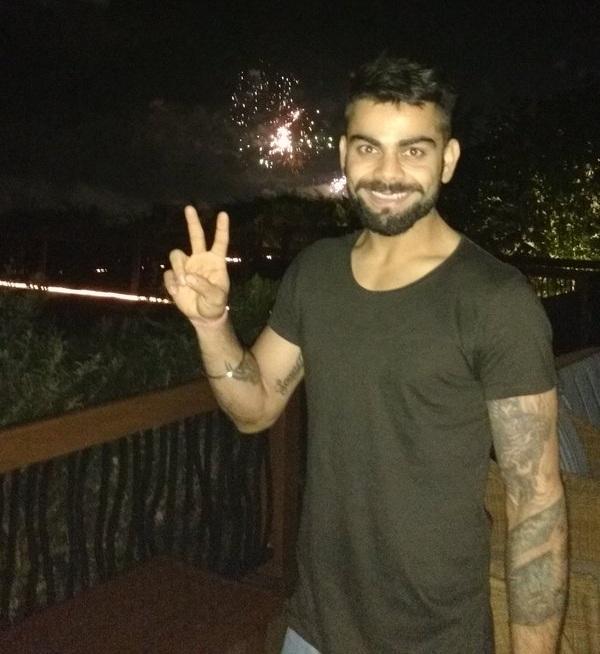 Rediff.com presents how the sporting stars welcomed 2016 in style with glamorous pictures.
December 31, 2015
Jeje strikes twice as India enter SAFF final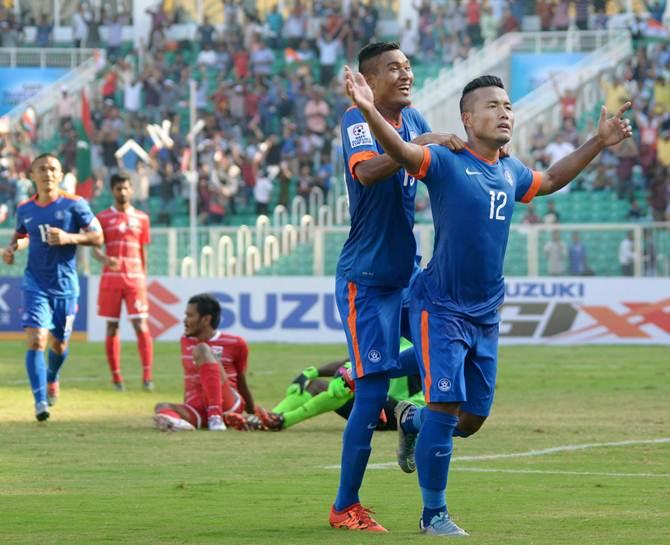 India overcame stubborn resistance to beat a spirited Maldives 3-2 and enter the final of the South Asian Football Federation (SAFF) Championships for a record 10th time after the in-form Jeje Lalpekhlua struck twice in a thrilling semi-final, in Thiruvananthapuram, on Thursday.
Bout against Bradley is Pacquiao's last right?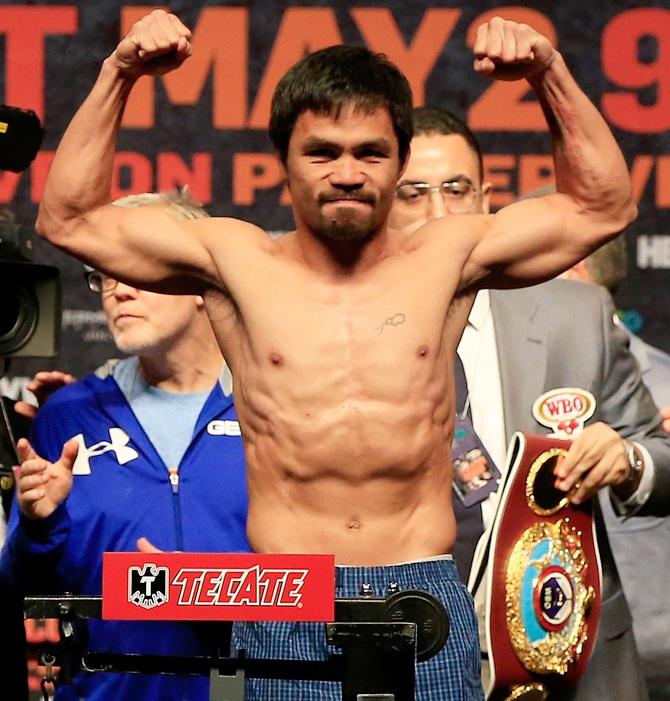 Manny Pacquiao will return to the ring for a possible swan song next April to take on American Timothy Bradley for a third time, the Filipino's promoter told Reuters on Wednesday.
FLASHBACK: BEST Sports Photos of the Year-Part 3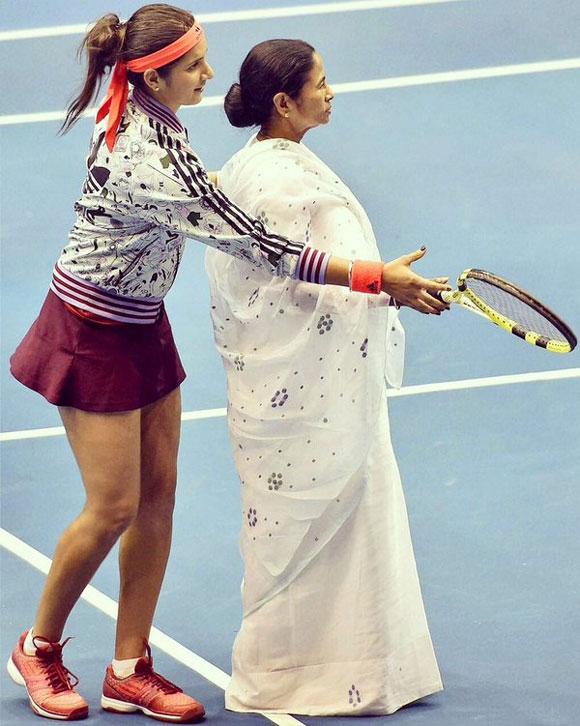 From a Sri Lanka cricket legend Kumar Sangakkara's final Test innings, Virender Sehwag's felicitation ceremony, FC Barcelona's Luis Suarez celebrating the La Liga title with his family, these and many more scintillating moments are frozen in time in this beautiful photo-feature.
December 30, 2015
'Being runners up in three events this year was not encouraging'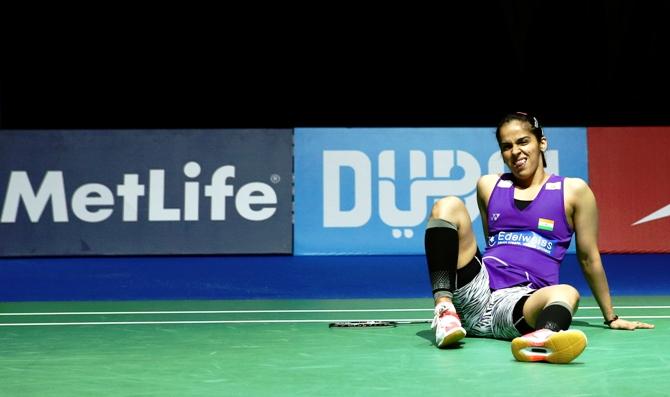 Saina Nehwal feels the year going by is one of the best of her career but rued that a series of injuries affected her chances of winning more titles.
Woods turns 40, in touching distance to record majors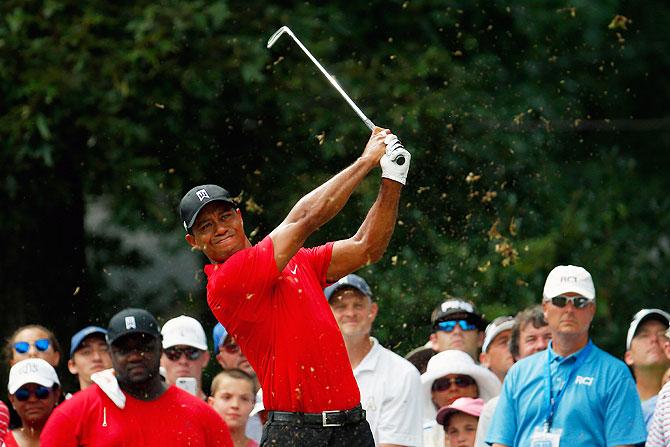 Woods had won five PGA Tour events in 2013 and, though major silverware had eluded him since 2008, there seemed no reason why he could not add to his haul of 14 majors as long as he stayed healthy.
FLASHBACK: BEST Sports Photos of the Year-Part 2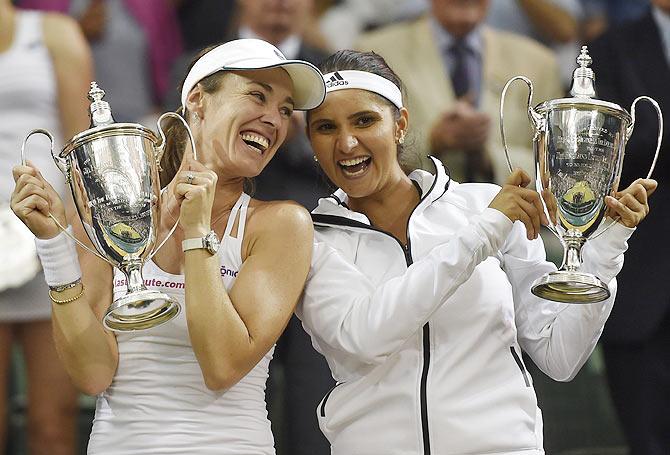 From a bloodied face of Spanish club Atletico's Madrid's Mario Mandzukic, to Australia's ICC World Cup triumph, Sania Mirza's fabulous run and more scintillating moments are frozen in time in this beautiful photo-feature.
FIFA president hopefuls invited by ESPN for TV debate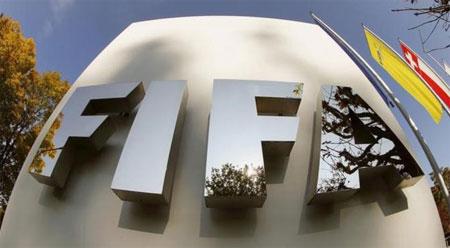 US sports television network ESPN has invited the five candidates in FIFA's presidential election to participate in a debate on the future of the crisis-hit governing body for world football.
Gay referee to be compensated after being deemed 'unfit' to officiate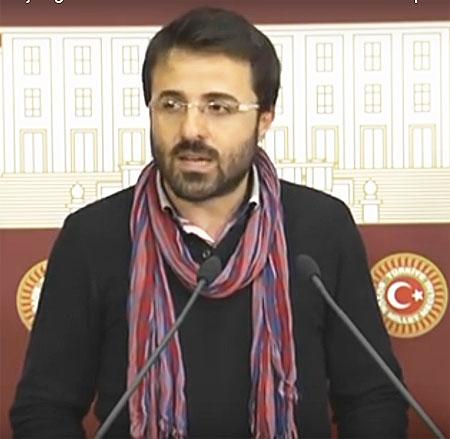 Turkish media said that Dincdag had been a football referee in Trabzon for 13 years when his license was revoked in 2009 and has been unable to officiate at any match since.
Former Newcastle 'keeper Srnicek dies aged 47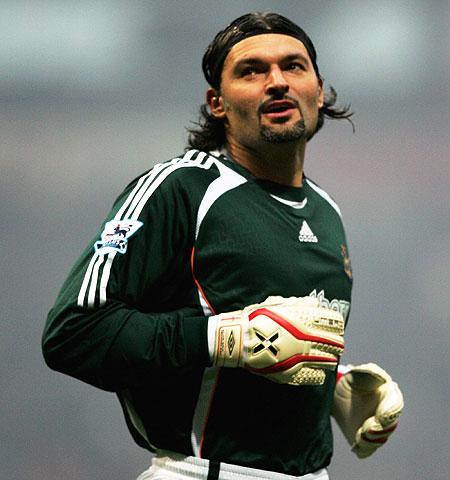 Former Newcastle United goalkeeper Pavel Srnicek died on Tuesday at the age of 47, nine days after suffering a cardiac arrest in the CzechRepublic.
Fresh trouble for banned Platini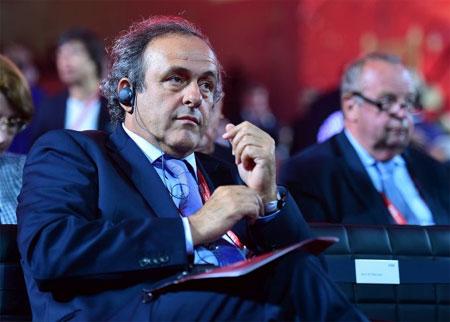 Banned UEFA president Michel Platini could face further investigation from FIFA's Ethics Committee after attending an awards ceremony and conference in Dubai despite being barred from "all football activity".
EPL PHOTOS: Leicester held by City, share top spot with Arsenal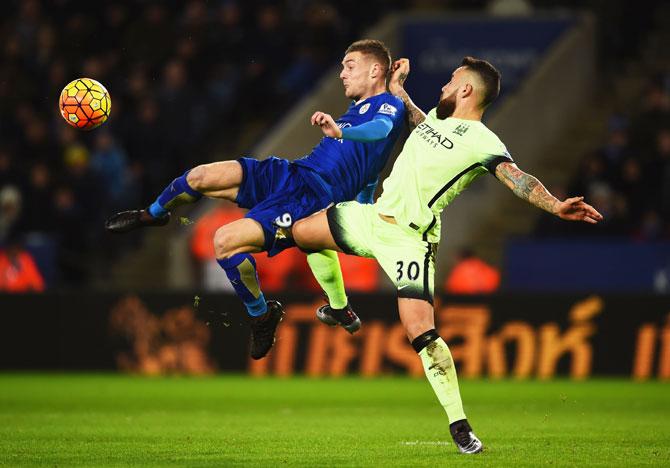 LeicesterCity went level on points with Premier League leaders Arsenal after drawing 0-0 with title rivals ManchesterCity at the King Power Stadium on Tuesday.
Para-athletes denied entry at Pro Wrestling final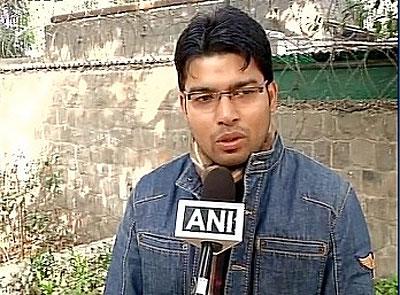 Two international para-athletes Pradeep Raj and Suvarna Raj were on Tuesday reportedly denied entry at Indira Gandhi Indoor Stadium to witness the final match of Pro Wrestling League.
Playing the perfect 'cover' drive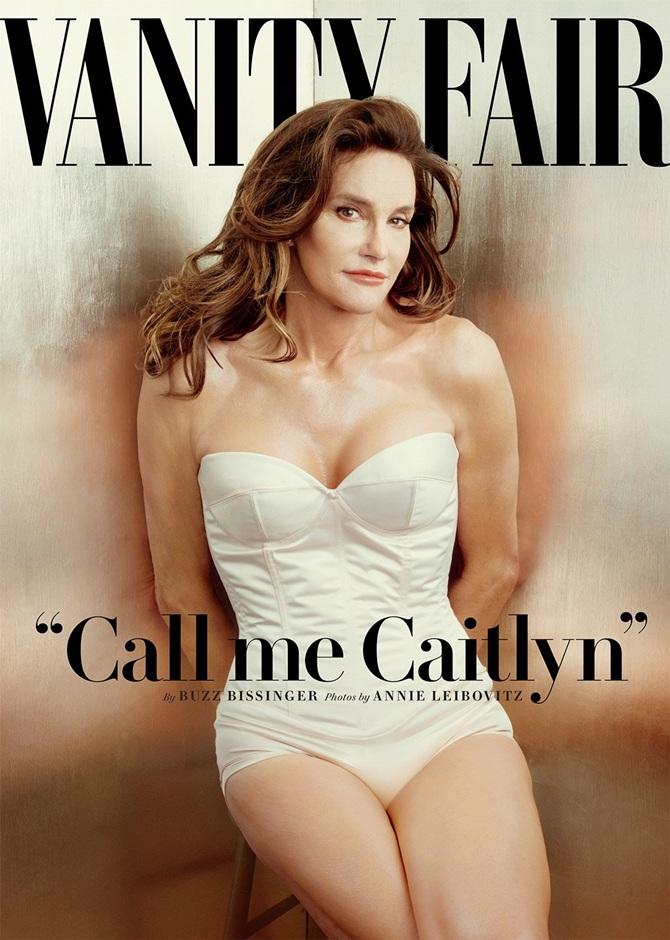 Vanity Fair's August issue, featuring Caitlyn Jenner, formerly known as 1976 Olympic gold medal-winning decathlon champion Bruce Jenner, on the cover was the magazine's best-selling issue in years.
December 29, 2015
Russia unlikely to compete in Rio Olympic Games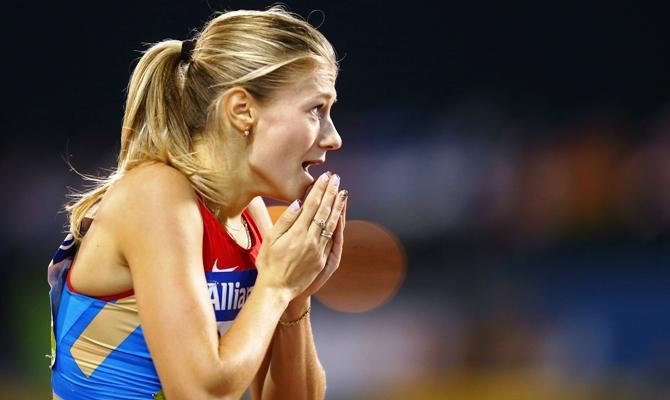 European Athletics president Svein Arne Hansen does not expect Russia to return to international competition in time for next year's Olympic Games in Rio de Janeiro.
Why sports in India is struggling to make a mark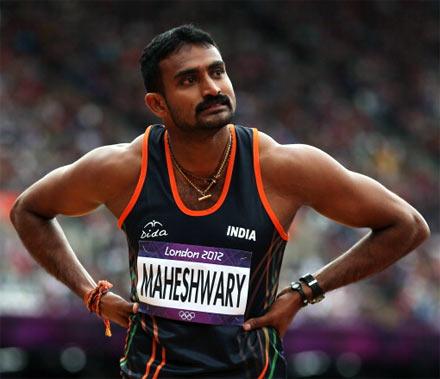 A Parliamentary Standing Committee praised the government for the wrestling and boxing facilities at the Sports Authority of India's Sonepat Center but pointed out that "excellence needs to be replicated for other sports disciplines".
10 Indian sports stars who left a mark on 2015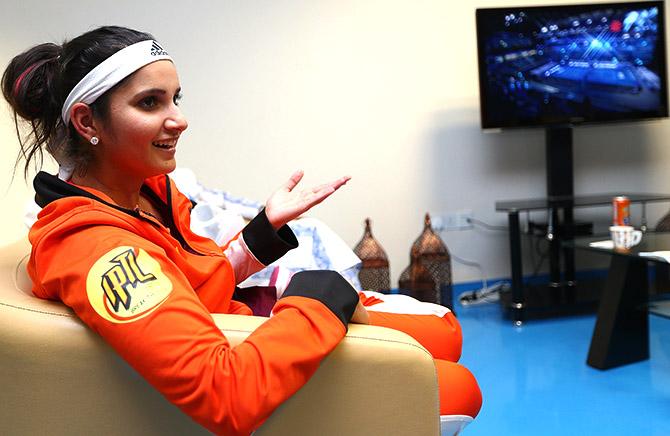 What a year Sania Mirza, Leander Paes, Saina Nehwal, Vijender Singh and Anirban Lahiri had!
December 28, 2015
Check out our sportsmen who tied the knot in 2015
Rediff.com brings a list of sportsmen who got hitched this year...
FLASHBACK: BEST Sports Photos of the Year-Part 1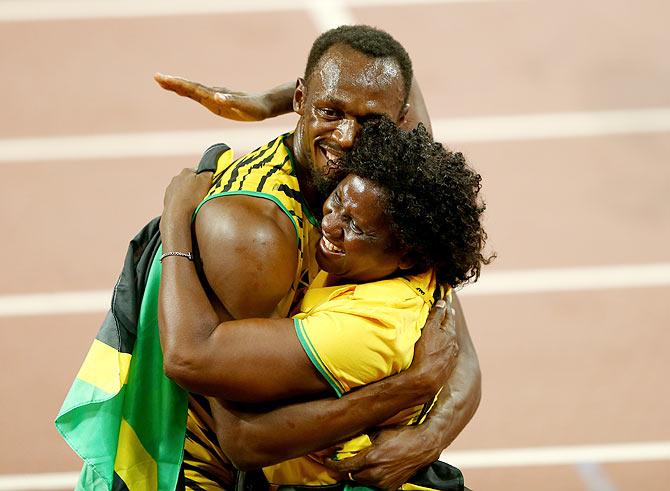 From Novak Djokovic's top performances to Australia's ICC World Cup victory and Sania Mirza's fabulous run, we have these and many more scintillating moments frozen in time and presented to you in this special photo-feature...
Ice melts as Pakistani shooters set to compete in India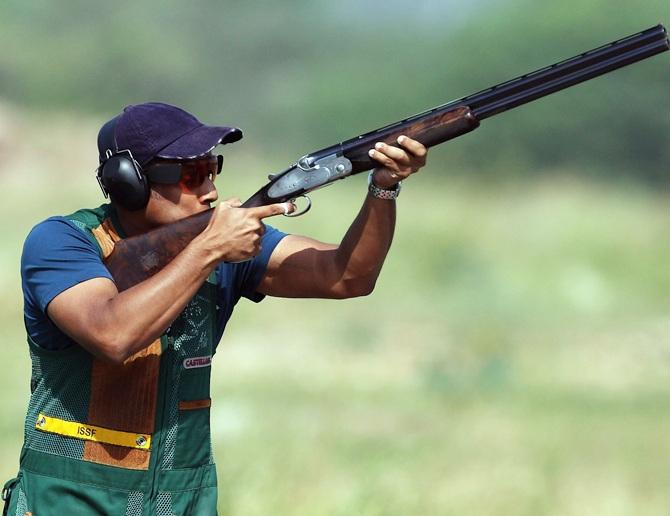 Pakistan shooters will compete in the Asian Olympic qualification competition to be held at the Dr Karni Singh Range, in New Delhi, from January 25 to February 3.
Tainted Salvadoran footballer Pacheco shot dead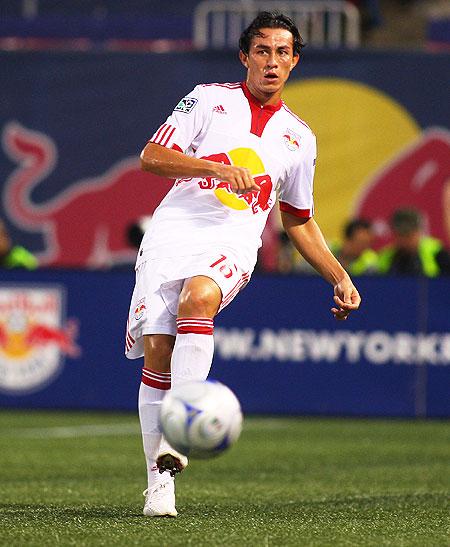 Alfredo Pacheco, a soccer player who played for the Salvadoran national side before being banned from the sport for life for his involvement in match-fixing, was murdered on Sunday, the Salvadoran attorney general's office said.
December 27, 2015
It's a wrap! Sania-Saina super show dominate 2015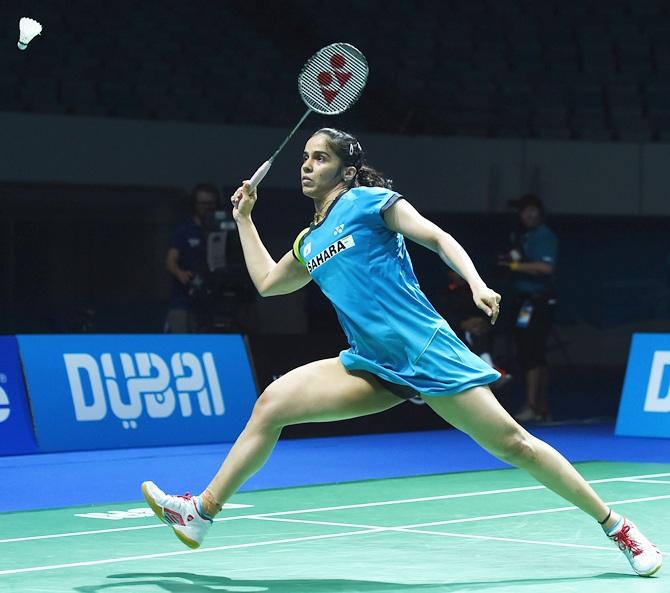 16 promises to be infinitely more exciting for the country's sportspersons.
Asian Championship: Shiva Keshavan bags silver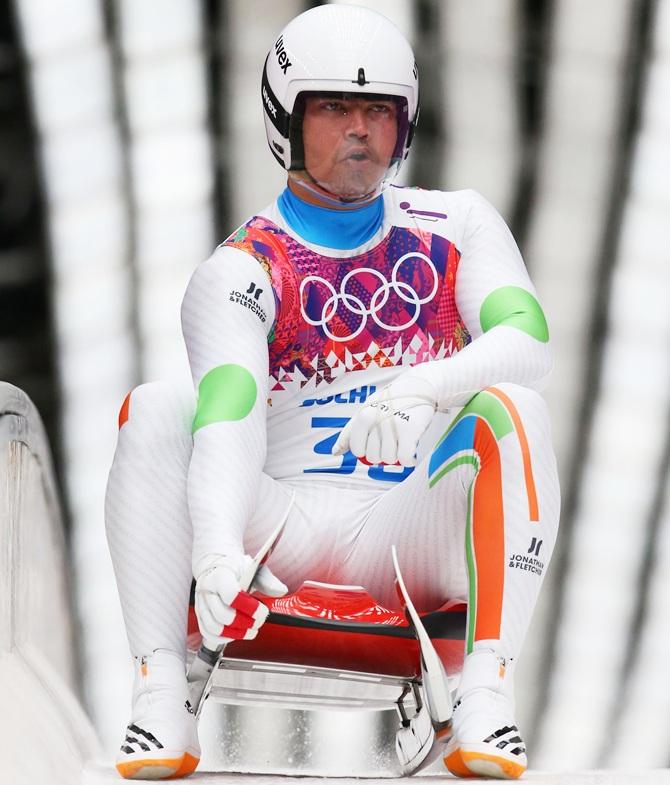 Seasoned Indian luger Shiva Keshavan on Sunday won a silver medal at the Asian Championship which concluded in Nagano, Japan.
December 24, 2015
1 movie that Tiger Woods can't wait to watch...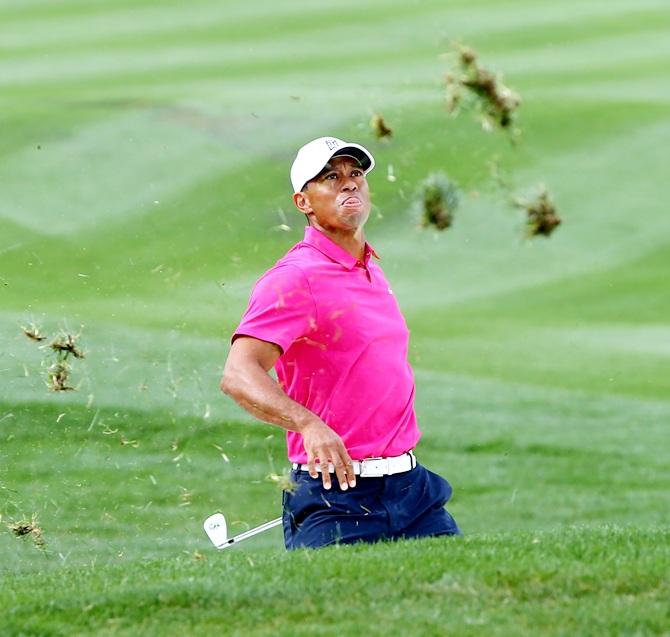 Tiger Woods was a 'geek,' used to have 'Star Wars' wallpaper in his room.
Vote: India's Sportsperson of 2015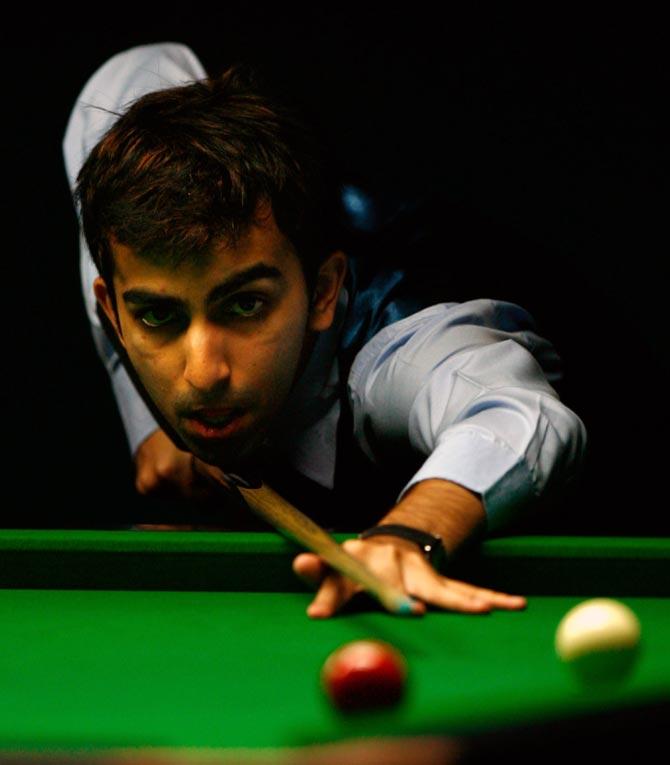 Leander Paes... Sania Mirza... Pankaj Advani.. Saina Nehwal... Ravichandran Ashwin... Anirban Lahiri... Vijender Singh...
Former SA spinner Boje to participate in Mumbai Marathon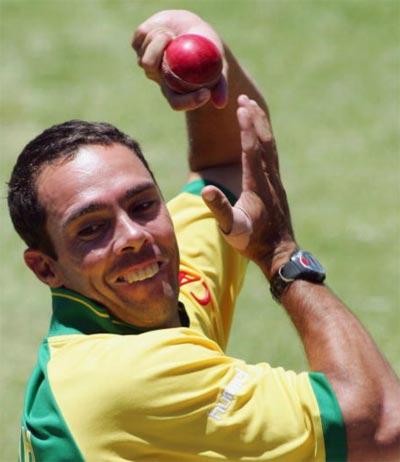 He may have once skipped the cricket tour of India in fear of being questioned for his alleged role in the 2000 match-fixing scandal, but former South African all-rounder Nicky Boje, who was later cleared of all charges, is set to participate in the Mumbai Marathon on January 17.
December 23, 2015
10 BEST Sports Images of the Week!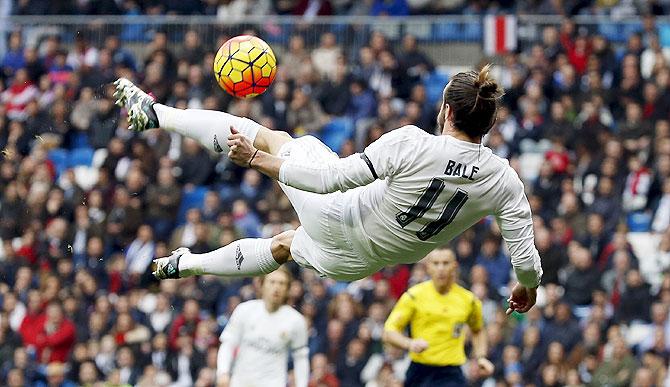 Get set to be amazed as Rediff.com has all that and more sporting action from the past week encapsulated in this super photo feature.
December 22, 2015
Can't leave our guards down during Premier Badminton League: Sindhu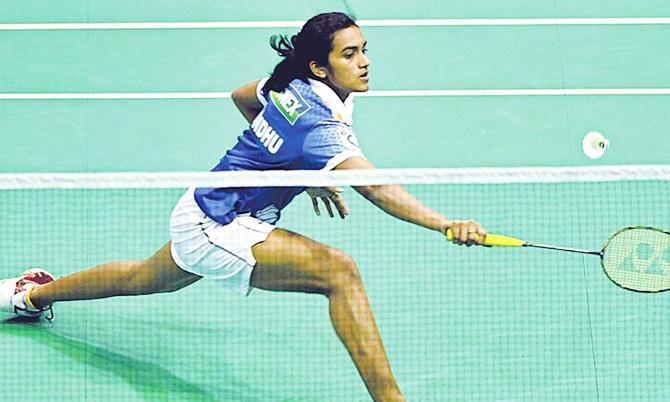 With the Premier Badminton League all set to kick-start on January 2, India top shuttler PV Sindhu said the new format of 15-point games will make the ties interesting and keep the shuttlers on their toes.
India hockey team face Germany, Holland challenge at 2016 Rio Olympics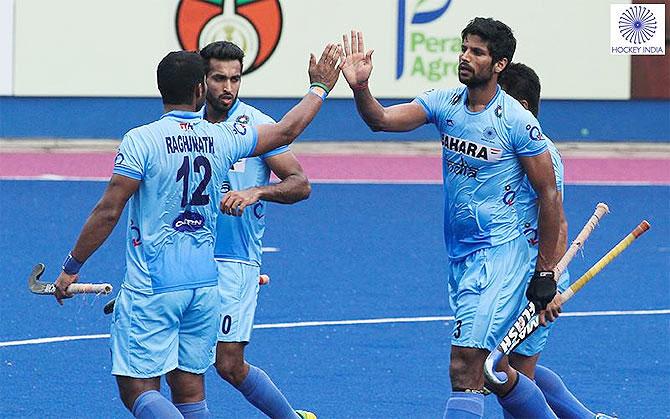 Eight-time champions India have been clubbed alongside title holders Germany and World No 2 Netherlands in Pool B at the men's hockey competition at the 2016 Rio Olympics.
December 21, 2015
Messi punched River Plate fan after being spat at?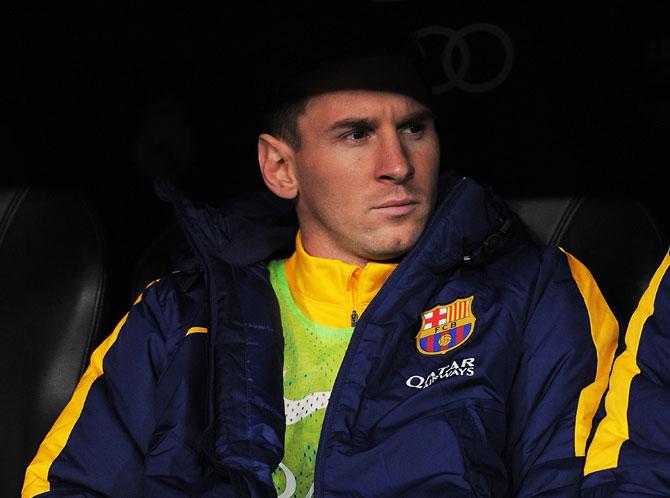 Madrid-based daily Marca added that the group of supporters were also heckling ex-River player Mascherano, criticising him for "forgetting" his roots
ISL: Zico apologises to fans for not fulfilling FC Goa's dream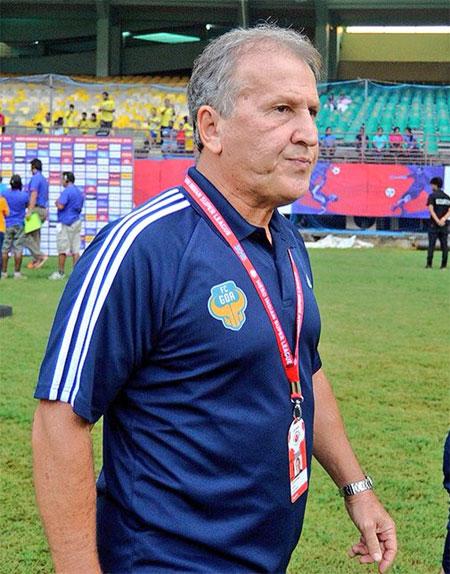 Brazilian football legend and FC Goa coach Zico has apologised to football fans of the state for failing to win the Indian Super League title but said that his team gave its all to win the tournament though unsuccessful in the end.
Elano incident unacceptable, says AIFF chief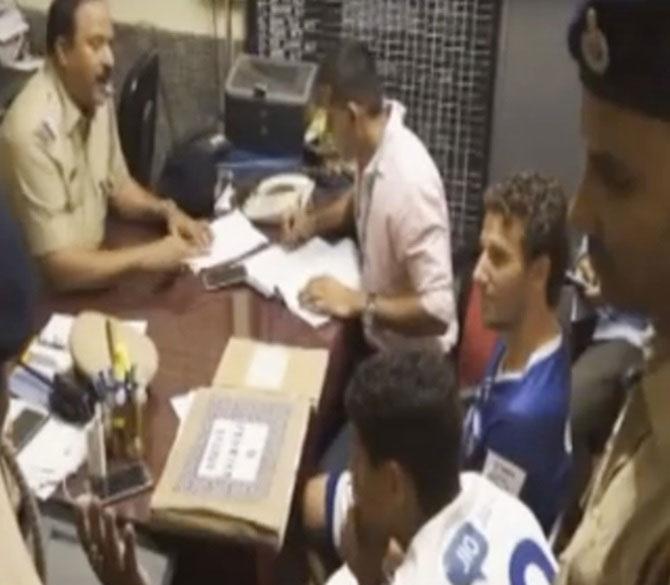 Expressing serious concern at the unsavoury incident that happened after the Indian Super League final in Goa on Sunday, All India Football Federation president Praful Patel said on Monday he was awaiting the match commissioner's report before cracking the whip on the wrongdoers.
UEFA support for banned Platini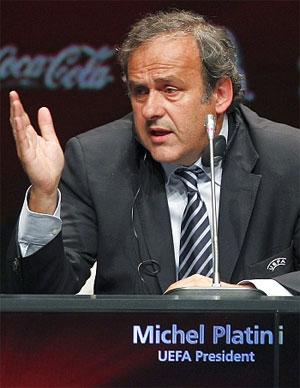 The European football federation (UEFA) said it was "disappointed" in FIFA's decision today to ban Michel Platini for eight years over an ethics violation, expressing support for the Frenchman's right to an appeal, according to AFP.
Champions League: 'Fearless' Arsenal ready for Barca's 'MSN' challenge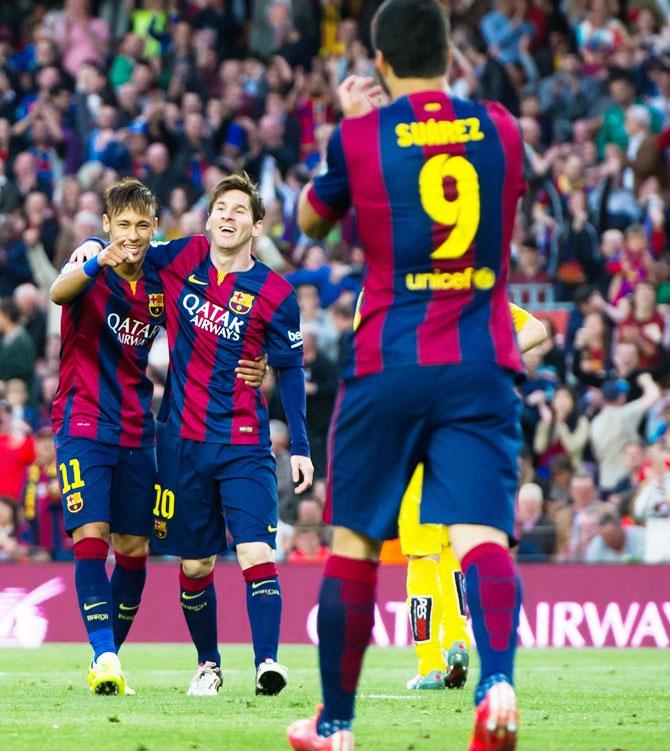 Arsenal's defence not afraid of Barcelona trio, says Ozil
PHOTOS: Time to show your skills at Asia's biggest ice skating rink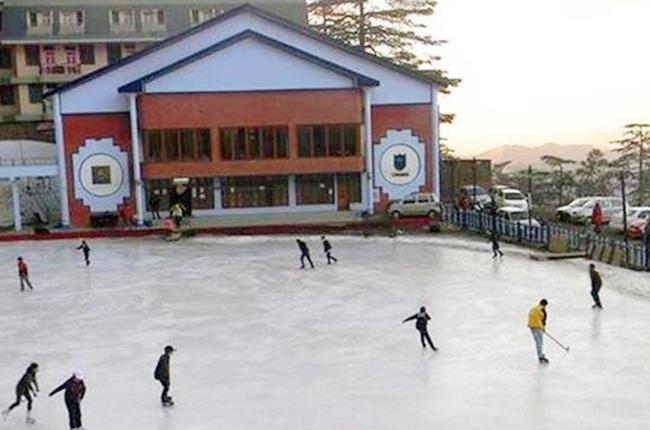 A successful trial run was held at Asia's biggest natural outdoor skating rink in Shimla, last week paving the way for regular skating sessions.
Virat Kohli and his lady love spotted in Goa!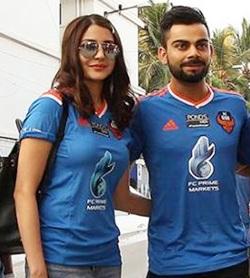 Virat Kohli was seen with his actress girlfriend Anushka Sharma before the final against Chennaiyin FC in Goa, on Sunday.
2015 Rewind: Sushil-Narsingh tussle, PWL hog spotlight in wrestling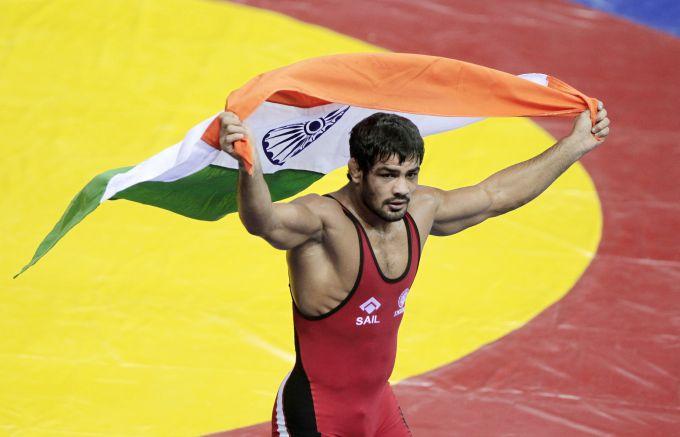 If a keen tussle for a ticket to Rio Games between double Olympic medallist Sushil Kumar and rising star Narsingh Yadav grabbed headlines off the mat, the youngsters showed the sport's bench strength in a country that gave the world the much-touted Pro Wrestling League this year.
December 20, 2015
PHOTOS: Mendoza stars as Chennaiyin FC clinch ISL 2 title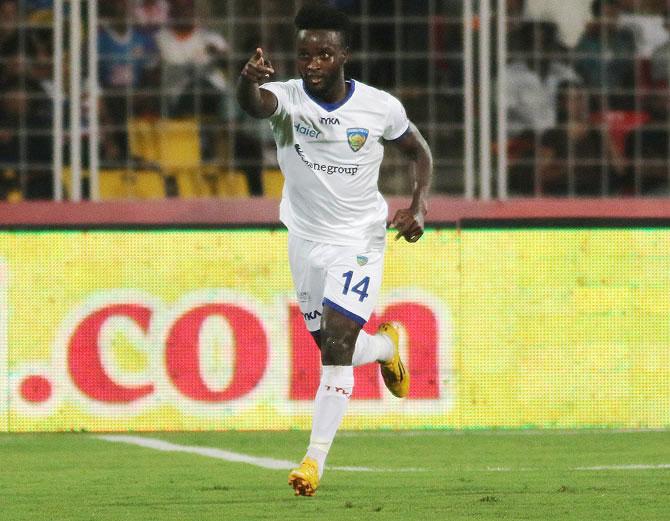 Stiven Mendoza was the star of the night as Chennaiyin FC beat FC Goa 3-2 in a dramatic final to clinch the 2nd edition of the Indian Super League at the Fatorda Stadium in Margao on Sunday.
Ancelotti to replace coach Guardiola at Bayern next season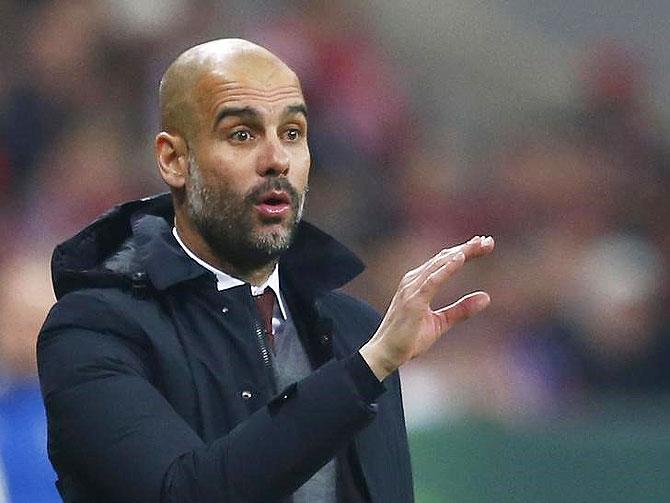 Bayern Munich and coach Pep Guardiola will part ways after three seasons at the end of the current campaign and Italian Champions League-winning coach Carlo Ancelotti will replace the Spaniard, club Chief Executive Karl-Heinz Rummenigge said on Sunday.
After KO, Vijender's opponent sings a different tune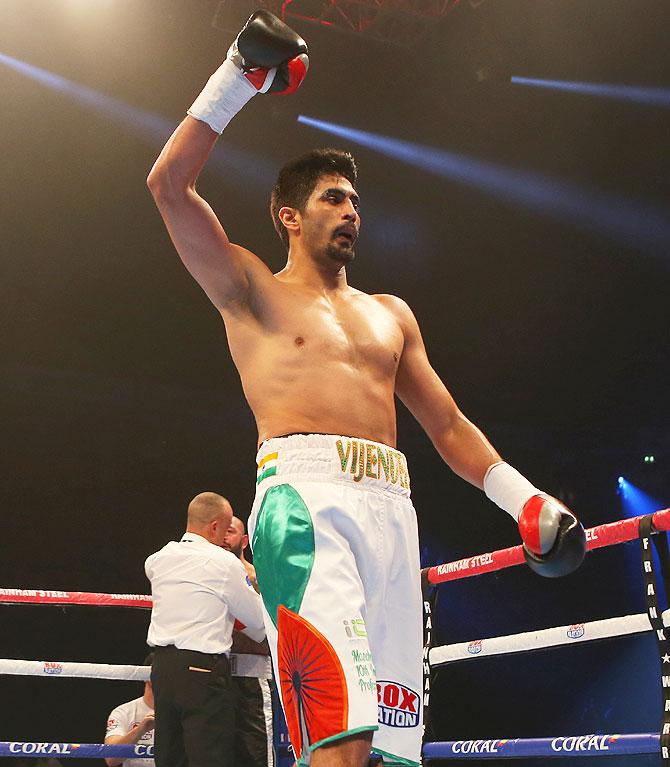 Sounding out a warning to future opponents after completing a hat-trick of Knockout wins, star Indian boxer Vijender Singh said his rivals should think twice before making tall claims as it gives him immense pleasure to demolish their threats with his punches.
Now, Virat Kohli wants to play tennis!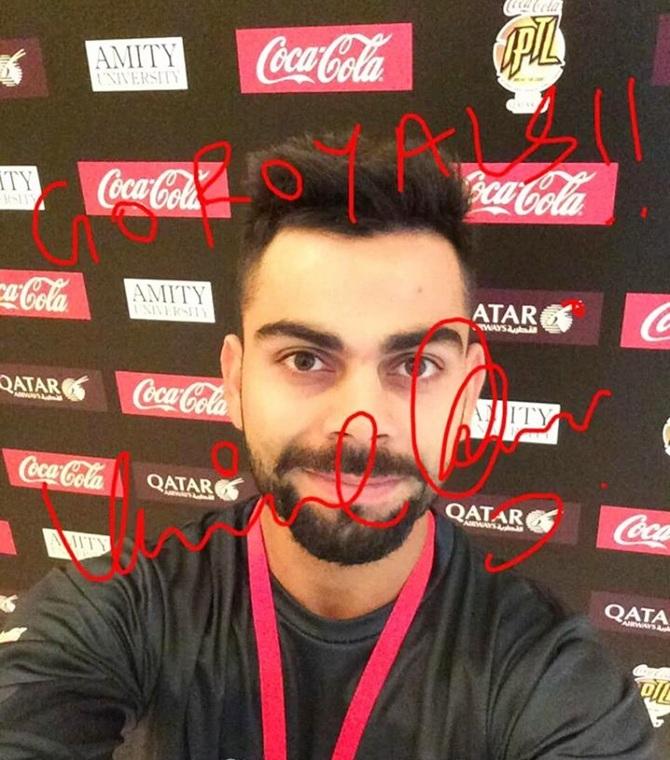 India's Test cricket captain Virat Kohli seems to be smitten by the International Premier Tennis League (IPTL).
On a roll, Vijender records hat-trick of knockout wins on pro circuit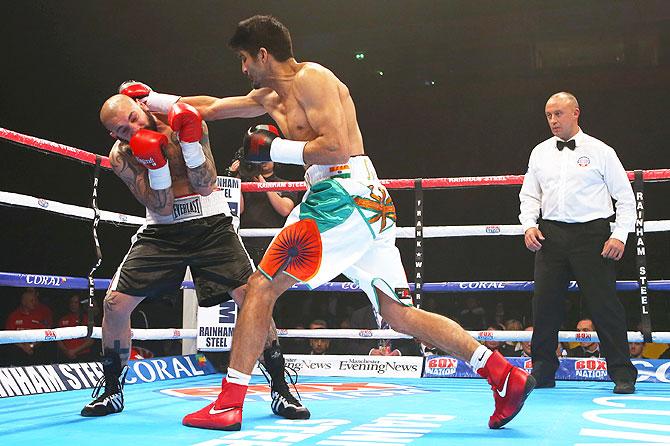 Star Indian boxer Vijender Singh continued his remarkably dominant run on the professional circuit, notching up a third successive knockout win by thrashing Bulgaria's Samet Hyuseinov in less than two rounds in Manchester on Saturday.
December 19, 2015
EPL PHOTOS: Chelsea thump Sunderland after Mourinho axe; United lose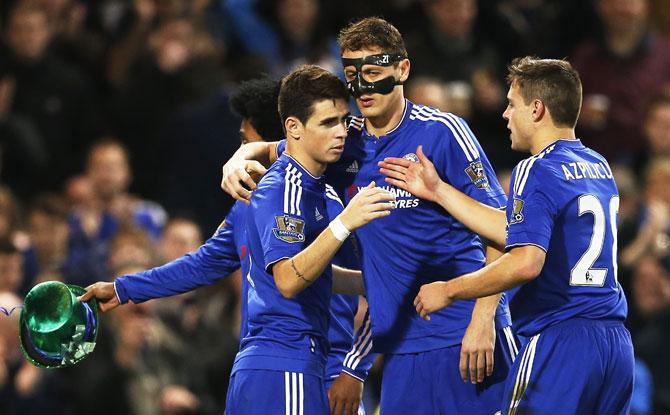 Leicester go five clear after win at Everton
EPL: Glum Chelsea fans lament Mourinho's exit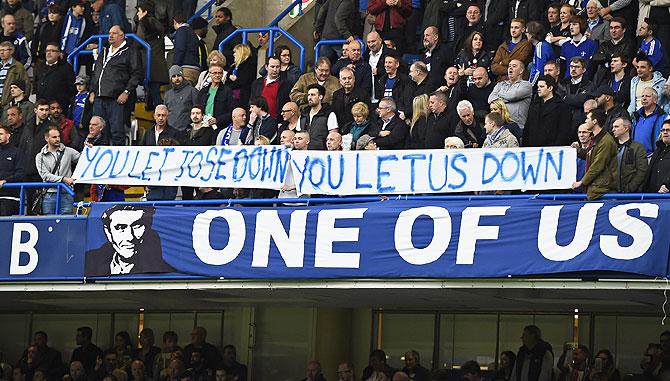 Despondent Chelsea fans expressed dismay and anger at the departure of the club's most successful manager Jose Mourinho as they arrived at StamfordBridge on Saturday for the first match since he was fired.
Singapore Slammers to meet Indian Aces in IPTL final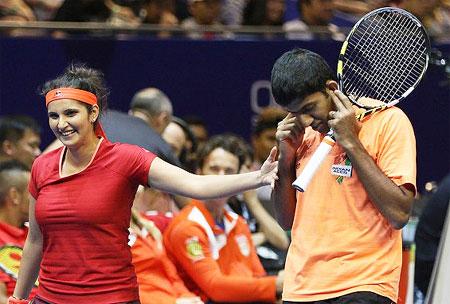 Singapore Slammers beat Indian Aces 27-21 in what turned out to be a dress rehearsal for the final of the International Premier Tennis League (IPTL), which the two teams will be vying for $1 million prize money.
Indian-origin footballer signs contract with EPL giants Liverpool FC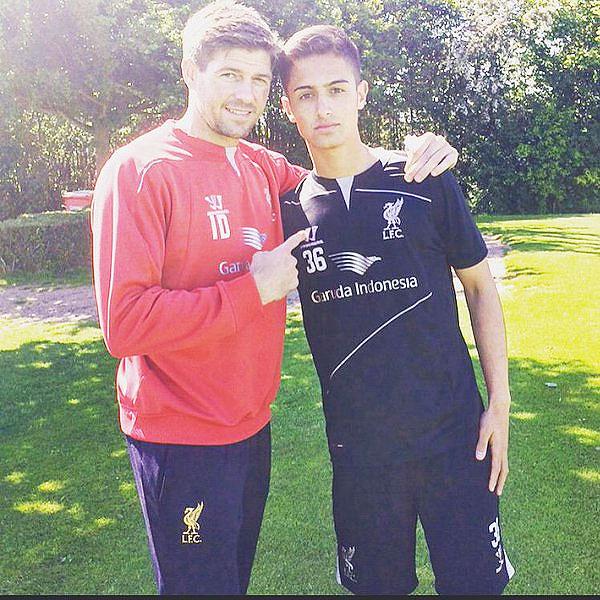 Birmingham-born playmaker Dhanda, 17, joined Liverpool FC's academy in July 2013 from West Brom, and has now signed a two-and-a-half-year deal with the Anfield-based club.
Can experienced Hiddink pull crisis-ridden Chelsea out of their misery?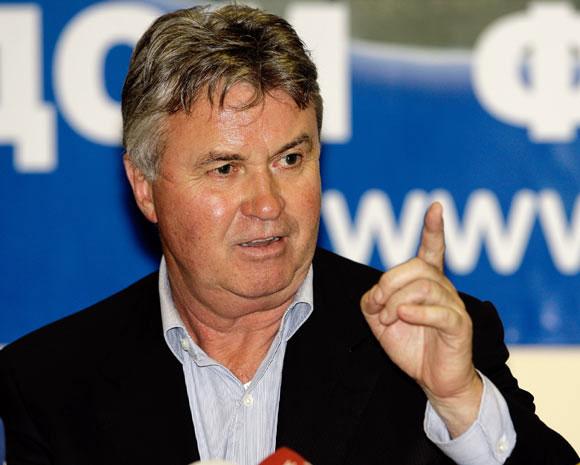 Chelsea turned again to experienced Dutchman Guus Hiddink to guide them out of a crisis when they named him interim manager on Saturday for the rest of the season following the sacking of Jose Mourinho.
Hiddink gets another chance to revive Chelsea's fortunes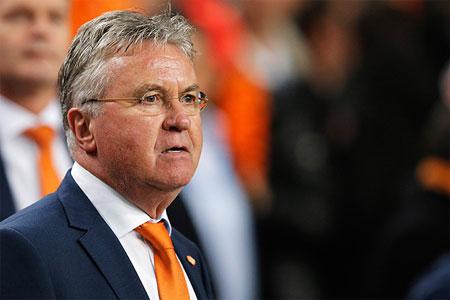 Dutchman Guus Hiddink was named as Premier League champions Chelsea's interim manager for a second time on Saturday following the sacking of Jose Mourinho, the club said in a statement.
What is sacked Mourinho's next plan of action?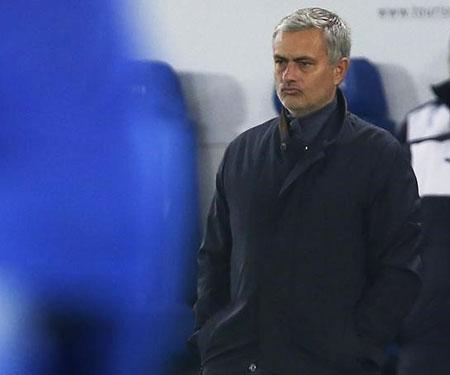 Sacked Chelsea manager Jose Mourinho will not be taking a sabbatical and remains proud of his two spells in charge at the west London club, a statement released by his sports management representatives said on Saturday.
Messi reveals Maradona was his inspiration for playing football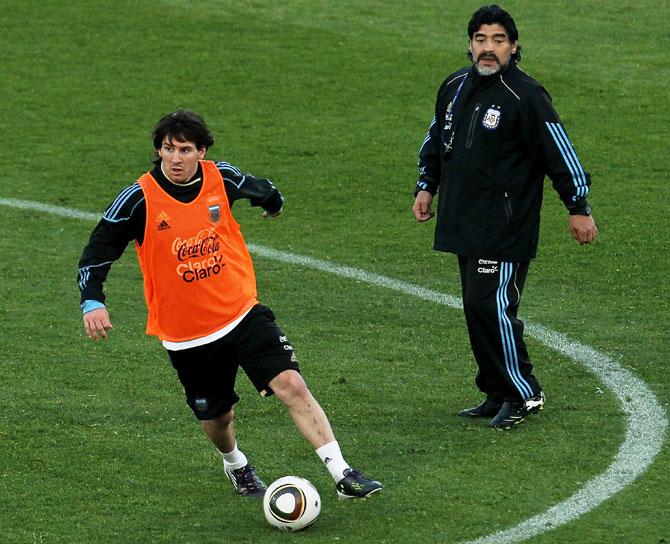 The duo has constantly been compared in terms of their playing style, in addition to having represented Spanish giant club Barcelona and captained Argentina.
Prices shoot up! Tokyo Olympics facing six-fold cost blowout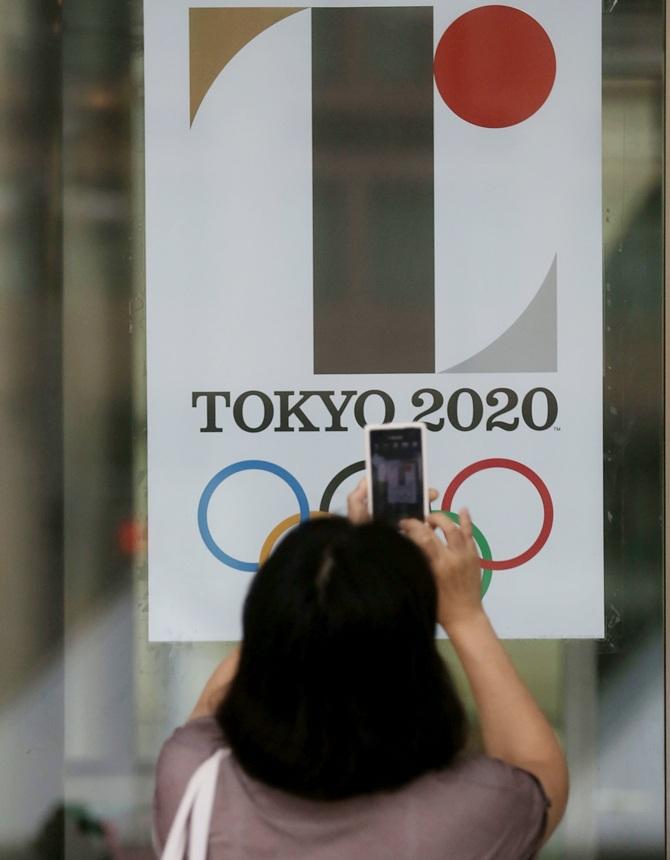 The Tokyo Olympics 2020 will cost the host organising committee six times more than their original estimate, and come in at around 1.8 trillion yen ($14.85 billion), public broadcaster NHK said on its website on Friday, citing people familiar with the matter.
'To win the election, I needed about 1.5 million euros'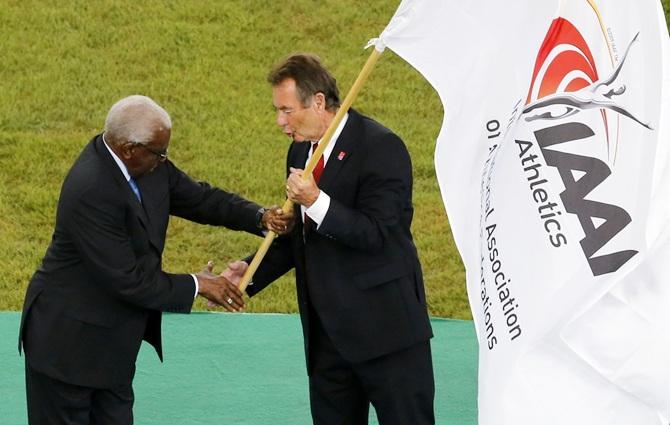 Former international athletics federation (IAAF) president Lamine Diack has told French police that he asked a Russian athletics boss for 1.5 million euros to finance political opposition in his native Senegal in 2011, the French daily Le Monde reported on Friday.
December 18, 2015
Athletics trio yet to decide between track and road events for Olympics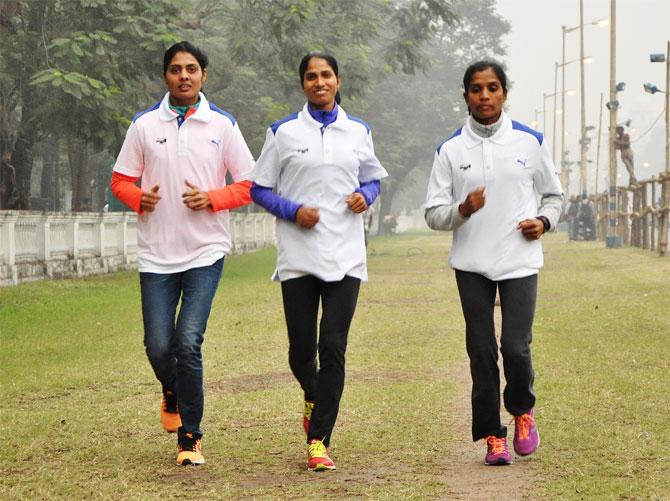 Still undecided about the events they will be competing in at the 2016 Rio Olympics, Indian athletics trio of OP Jaisha, Lalita Babar and Sudha Singh will take a final call after the Mumbai Marathon slated for January 17.
Kidney stone forces Messi to skip training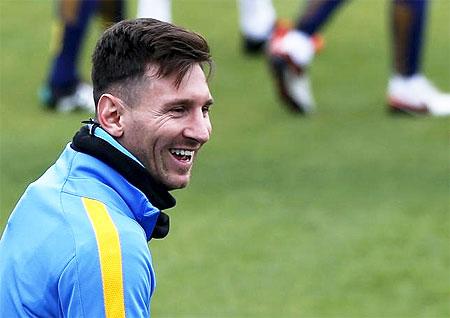 Lionel Messi has passed a kidney stone which ruled him out of their Club World Cup semi-final and Barcelona will now decide whether he will be fit for the final, the Spanish sports daily AS said on Friday.
IPTL: Easy day out for Japan; Federer leads Royals to victory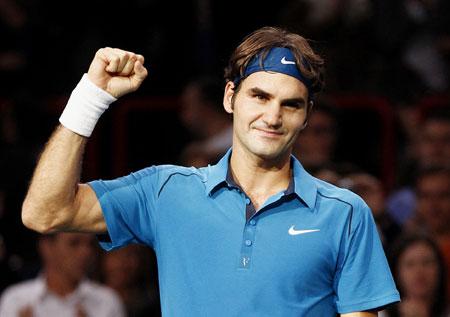 Japan Warriors did not have to break much sweat in getting past Philippine Marvericks 29-15 but it was a tough day out for UAE Royals, who edged out hosts Singapore Slammers 27-23 in their IPTL match, riding on Roger Federer's win in the deciding men's singles, in Singapore on Friday.
National coach accuses Railways of pressurising Rio-bound athletes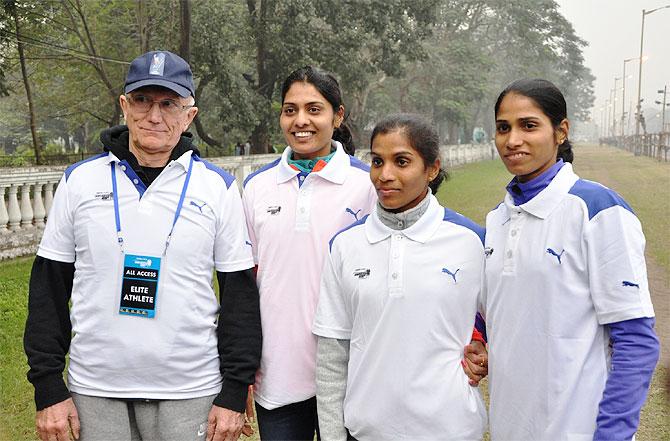 'They insist to compete in national cross country just a week ahead of the much important Mumbai Marathon where top runners will compete. Imagine, if your boss tells you each week, several times a day 'I stop your salary, I stop your salary', how you would feel...'
Terry, Fabregas salute outgoing Mourinho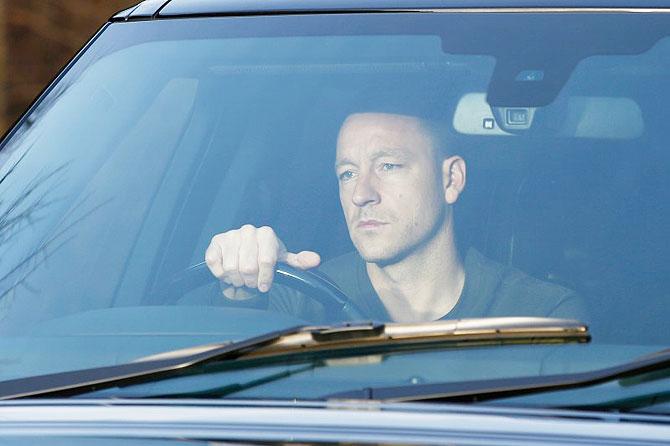 However, cracks in the relationship surfaced this season as the team's form slumped, with the first signs appearing as early as August when Mourinho hauled Terry off at halftime during a 3-0 defeat to ManchesterCity.
Will Vijender deal third straight knock-out?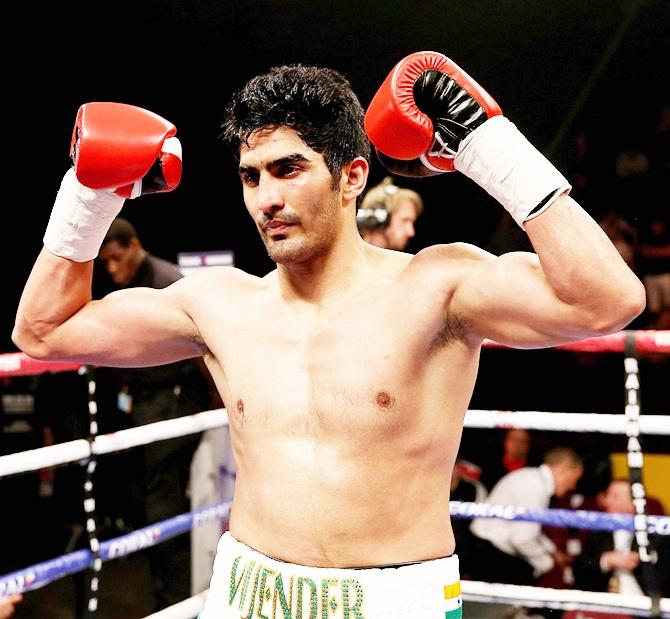 Vijender Singh would be eyeing a third successive knockout victory but the task seems easier said than done against an experienced and aggressive Samet Hyuseinov when the two square off in the star Indian boxer's maiden six-round professional contest in Manchester on Saturday.
Rio Olympic: 1st allegation of corruption crops up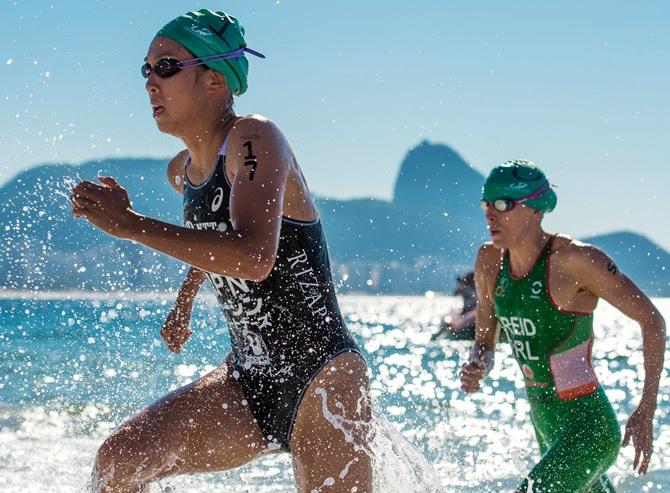 In the first allegation of corruption linked to next year's Olympics in Rio de Janeiro, Epoca magazine reported that construction company Carioca Engenharia allegedly bribed the speaker of the lower house of Congress in order to secure funds for a massive port area regeneration project.
December 17, 2015
Saina Nehwal's life on celluloid!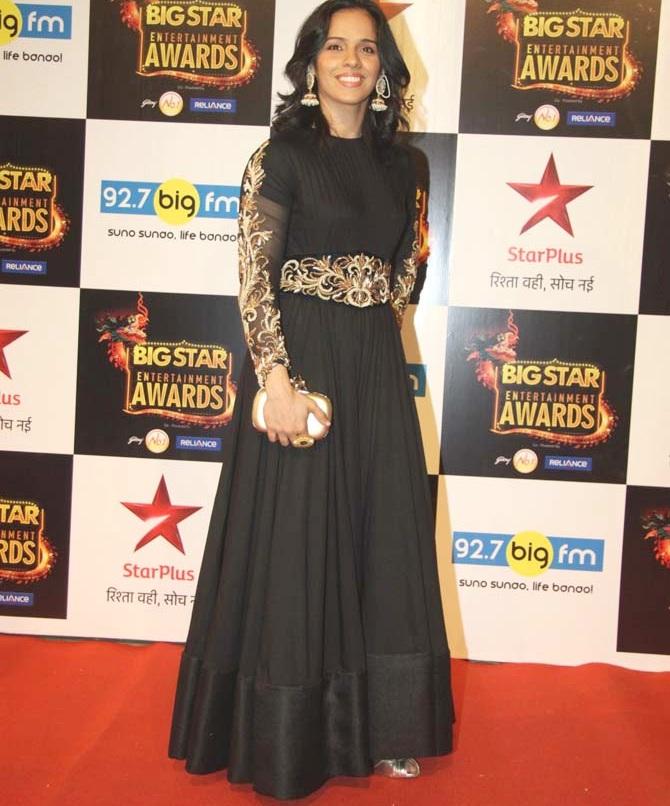 'Taare Zameen Par' director Amole Gupte will be making a biopic on the world's leading badminton player Saina Nehwal, the shooting for which will begin next year.
Latest badminton rankings: Saina No 2; Srikanth drops a place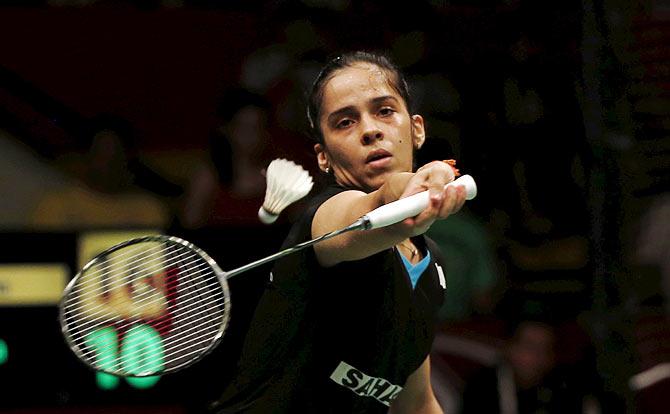 Saina Nehwal remained static at second position while Kidambi Srikanth dropped a place to be at ninth spot in the world badminton rankings released on Thursday.
PHOTOS: Football's most prolific goal-scorer bows out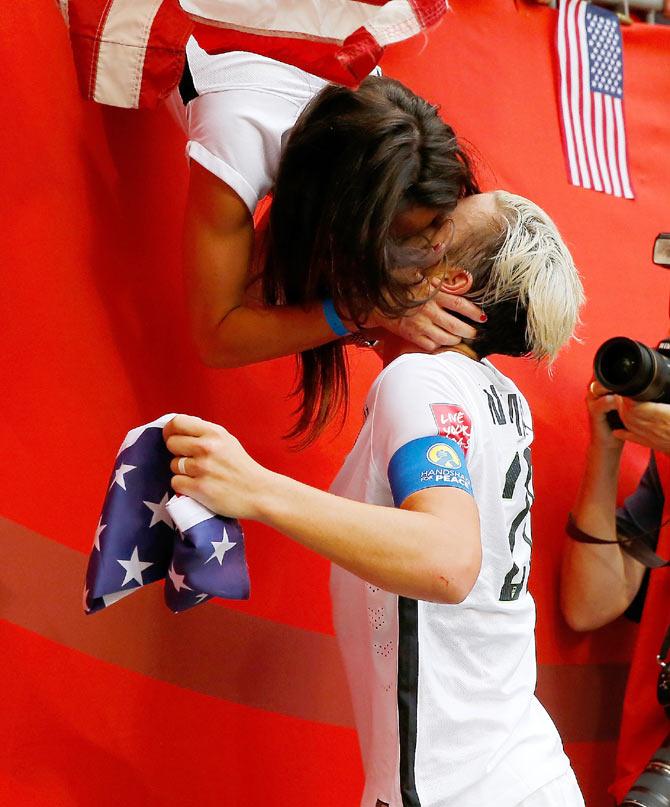 Abby Wambach, the most prolific goals-corer of all time in international football, bowed out of the game in defeat on Wednesday when the United States women's team lost 1-0 to China, ending an unbeaten run of 104 matches on home soil.
What you must not miss in the EPL this weekend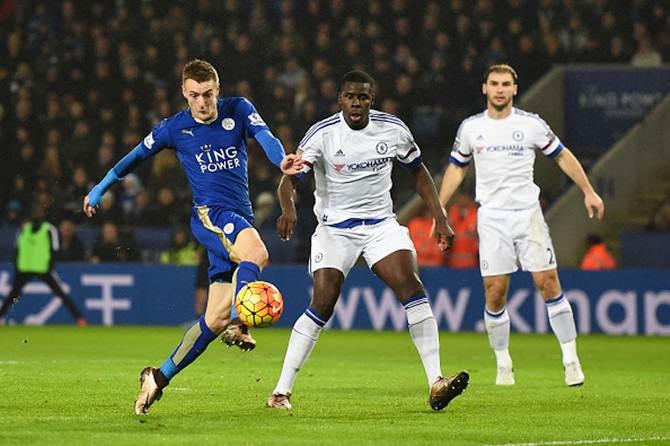 The Premier League's leading goalscorers will be on show at when surprise leaders Leicester City bid to move further ahead at the top with victory against Everton at Goodison Park on Saturday.
December 16, 2015
Bolt to warm up for Rio Olympics at London Anniversary Games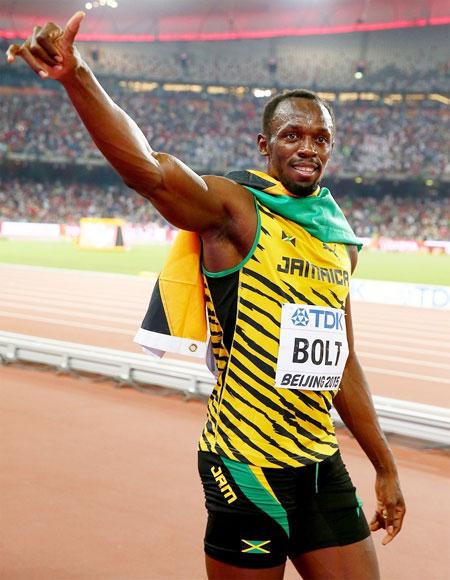 Jamaican sprinter Usain Bolt has announced that he will return to the London Anniversary Games next year in a bid to warm up for the 2016 Rio Olympics.
Shakhtar's Fred gets one-year ban for failing dope test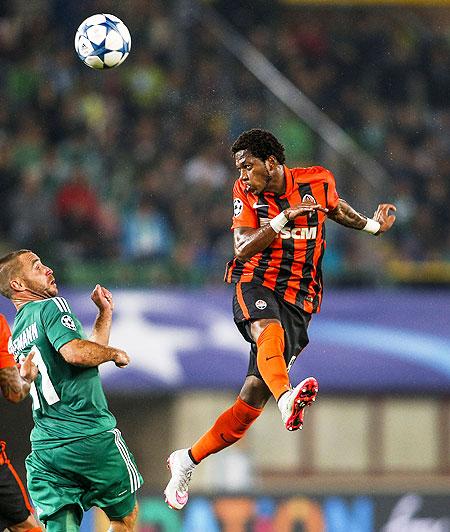 Brazil midfielder Fred, no relation to the veteran striker of the same name who used to play for the same country, has been suspended from South American football for a year for failing a drugs test.
Fabregas blames player attitude for Chelsea slump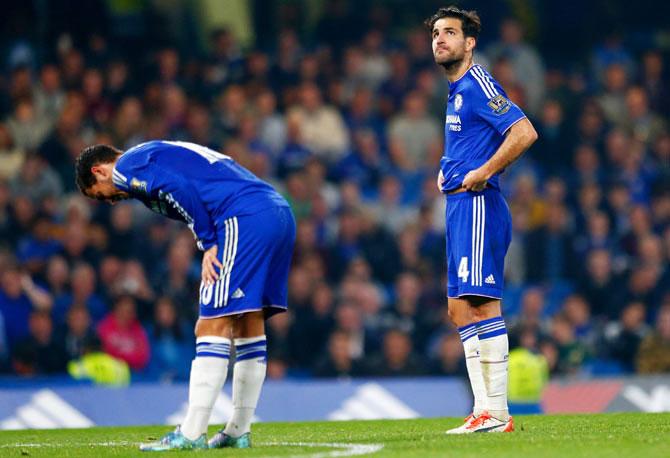 'If you are a big player, and paid like a big player, you must play like a big player and behave like a big player'
New study predicts leader of medals tally at Rio Olympics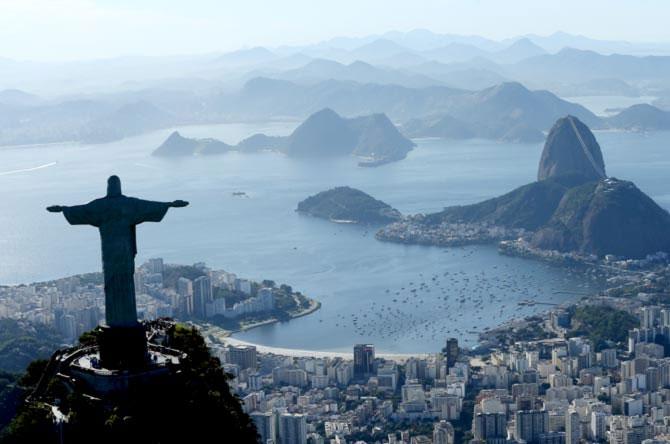 China is on track to return to the top of the medals table at the Rio de Janeiro Olympics next year ahead of the United States and Russia, according to a benchmark study released by the Australian Olympic Committee on Wednesday.
Two football officials plead not guilty in FIFA bribe case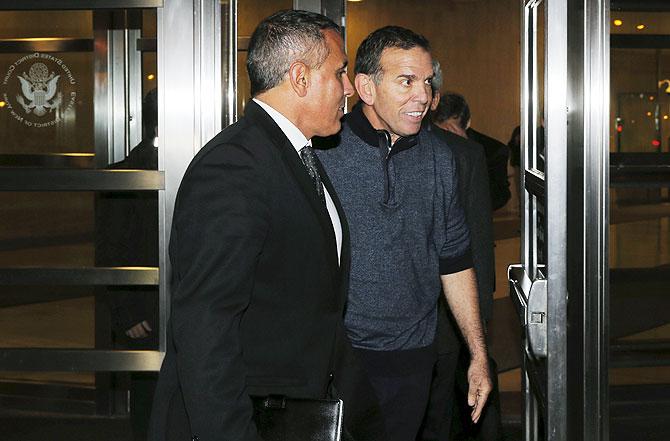 Two football bosses including a former president of Honduras pleaded not guilty on Tuesday to US charges they took bribes in exchange for media and marketing contracts in a scandal that has rocked the business of global football.
Italian Cup: Third tier Alessandria shock Genoa, Inter win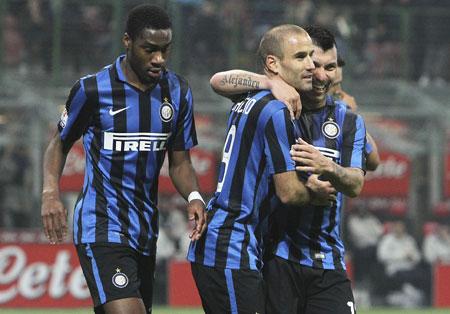 Alessandria became the first third tier club to reach the Italian Cup quarter-finals in more than 30 years as their giant-killing run continued with a 2-1 extra-time victory at Serie A strugglers Genoa on Tuesday.
Alonso goal sends Bayern into German Cup last eight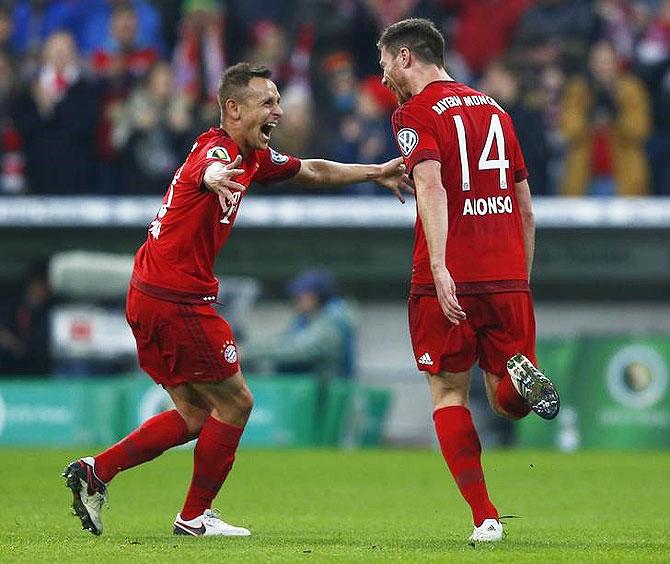 A lacklustre Bayern Munich needed a long-range goal from Spaniard Xabi Alonso to secure a 1-0 victory over Darmstadt 98 on Tuesday that put them into the quarter-finals of the German Cup.
December 15, 2015
McIlroy named European Tour player of the year again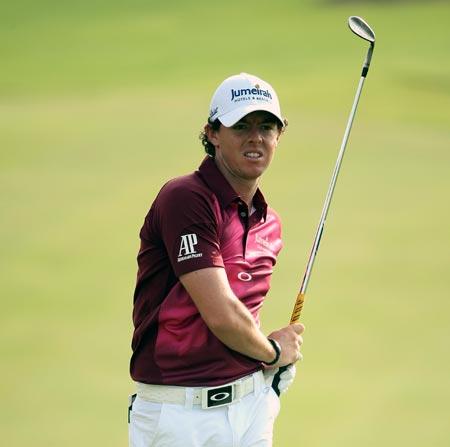 Rory McIlroy has been voted the European Tour's player of the year for the third time in four seasons despite missing key tournaments through injury.
10 BEST Sports Photos of the Week!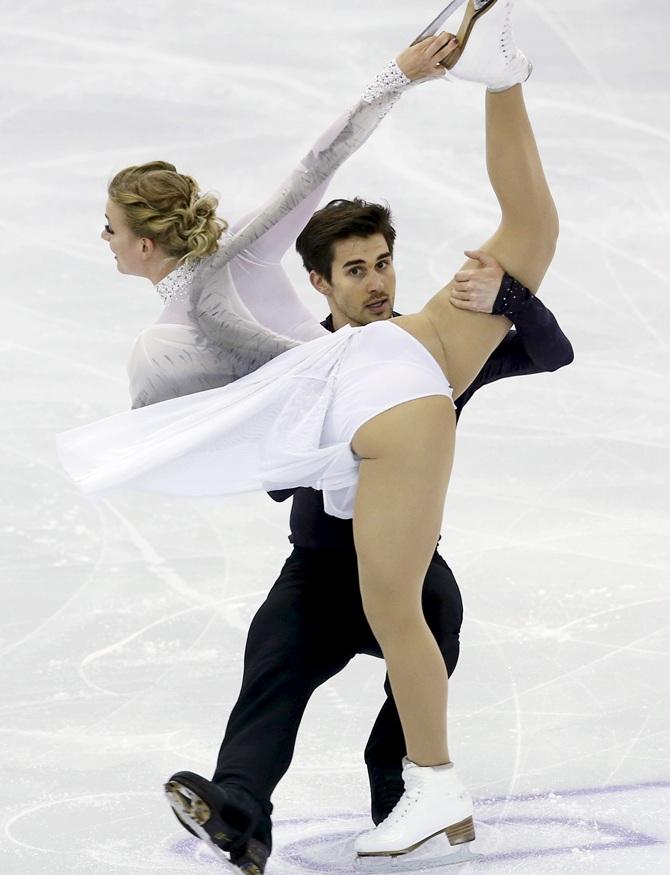 Be ready to be amazed as Rediff.com encapsulates all the sporting action from the past week in this super photo feature.
December 14, 2015
FIFA scam: Former Honduran president travels to US to face charges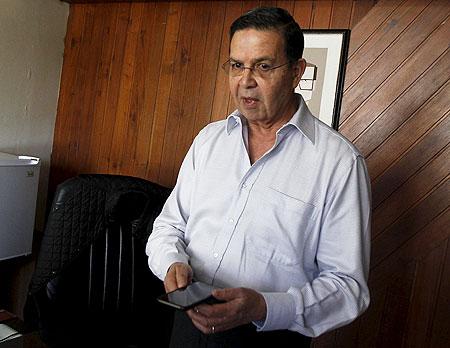 Rafael Callejas, the former president of Honduras, on Monday flew to the United States where he has been indicted for alleged links to a multimillion-dollar bribery scheme at the world soccer governing body FIFA.
IPTL: Indian Aces down Japan Warriors for seventh win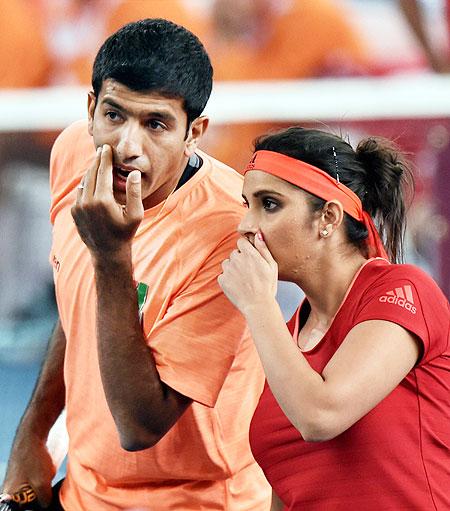 Indian Aces continued their dominance in IPTL 2 with a 25-18 win over Japan Warriors on the opening day of tournament's Dubai leg on Monday.
Manchester United to face unknown Midtjylland in Europa League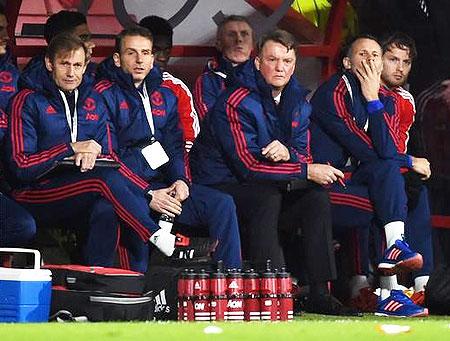 Triple European champions Manchester United and their under-fire coach Louis van Gaal face a tricky task against little-known Midtjylland in the last 32 of the Europa League following Monday's draw.
The reason why Atletico Madrid are 'getting under people's skin'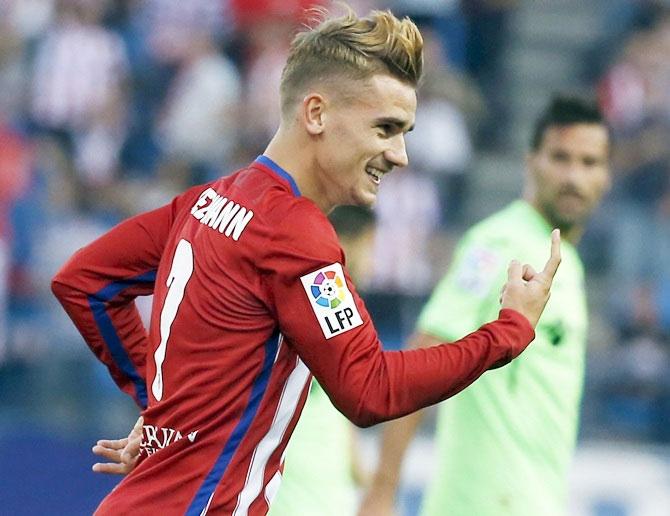 If Atletico Madrid's 2013 King's Cup triumph was a shock and their 2013-14 La Liga title a surprise, few would raise an eyebrow if Diego Simeone's ruthlessly efficient side were to win another major trophy.
Champions League draw: 'Everybody wanted to avoid Barca and Bayern'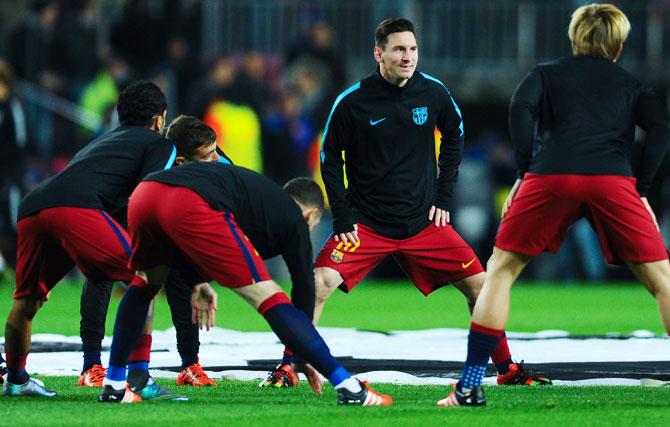 Holders Barcelona will play Premier League leaders Arsenal in the last 16 of the Champions League, 10 years after the sides faced each other in the final, following Monday's draw for the first knockout stage.
Complete list of Sports Illustrated's 'Sportsperson of the Year' winners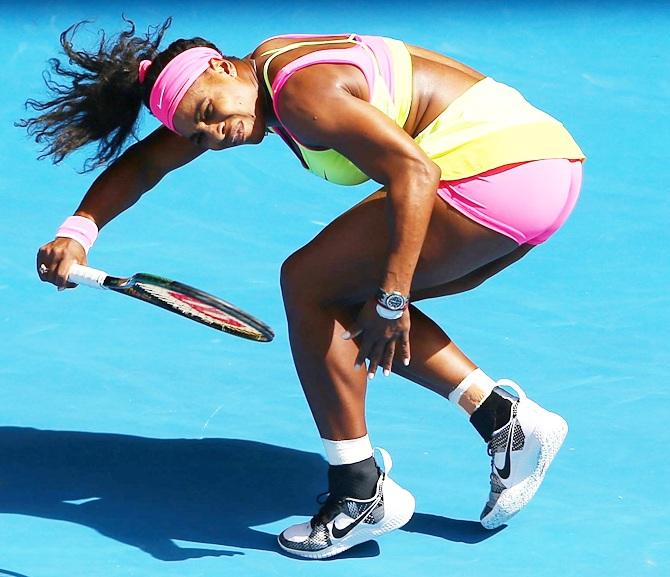 Following is a list of winners of the Sportsperson of the Year award by Sports Illustrated magazine.
Friends again! Squash stars Dipika, Joshna clear differences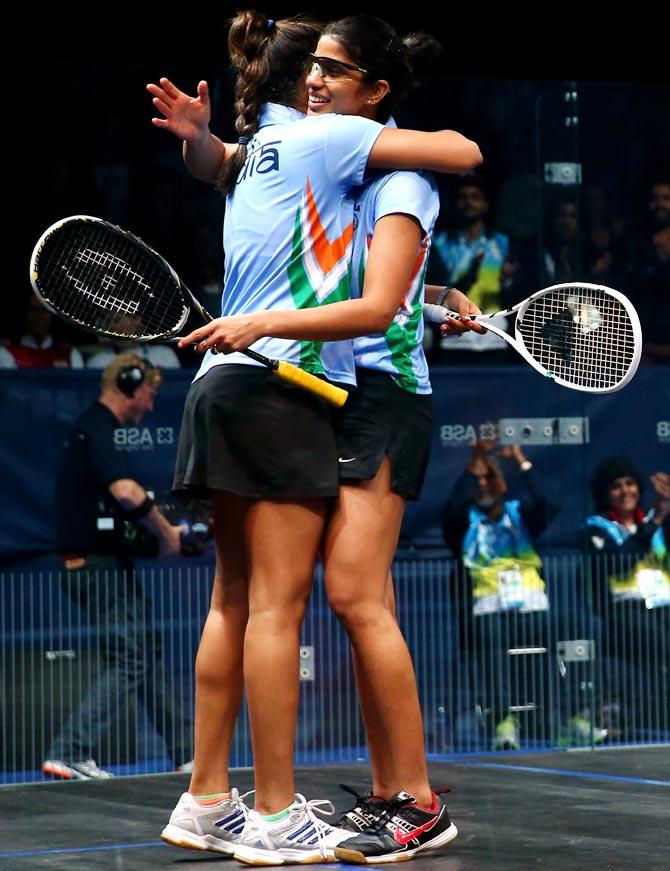 India's leading squash players Dipika Pallikal and Joshna Chinappa, who couldn't see eye to eye after an acrimonious quarterfinal in the Incheon Asian Games, have buried the hatchet to be friends again ahead of a busy upcoming season.
Vijender laughs off rival Hyuseinov's threat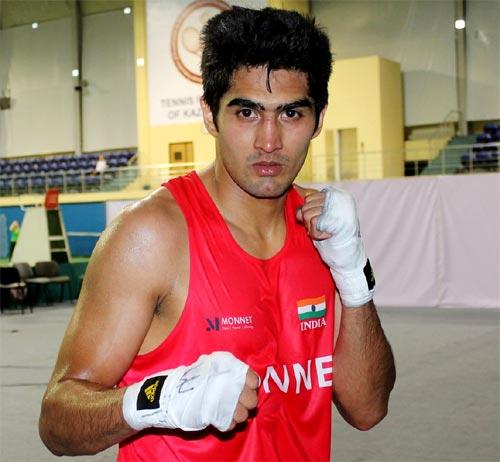 Samet Hyuseinov has promised to send Vijender Singh back to India 'beaten and broken' come December 19 but the Indian boxing star merely breaks into laughter at the very mention of the threat, saying he would respond in kind inside the ring.
EPL: Have inconsistent Newcastle turned the corner with Spurs win?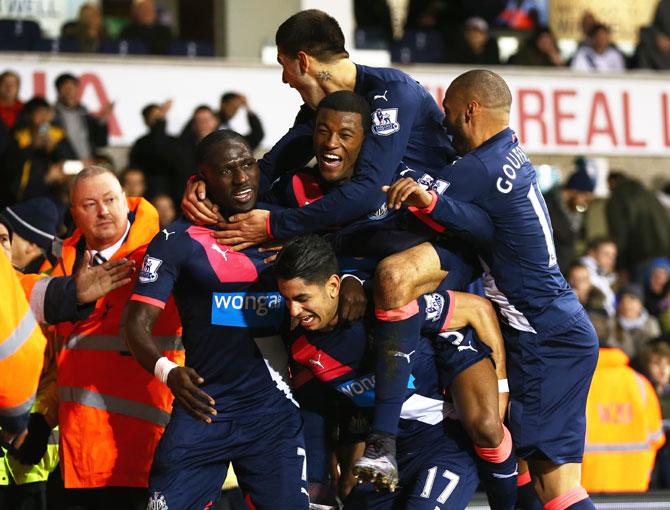 Manager Steve McClaren called for more of the same after Newcastle United beat Tottenham Hotspur on Sunday to put some daylight between themselves and the relegation zone, but stopped short of describing the win as a turning point in their season.
Champions League knock-outs: Holders Barca to face Arsenal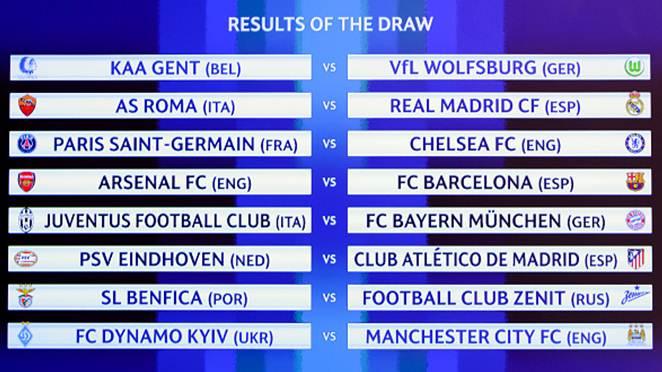 Last year's finalists Juventus will face-off against Bundesliga champs Bayern.
December 13, 2015
EPL: Can Leicester march to Premier League title?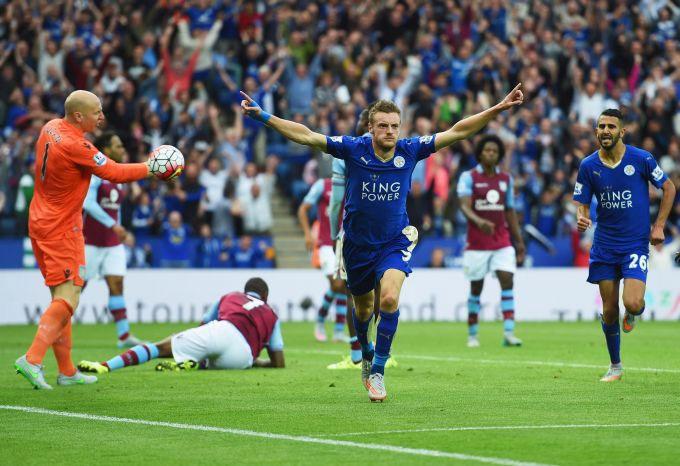 Mourinho, however, feared that the second-placed Leicester could lose their top scorer Jamie Vardy to one of the big clubs, the Daily Express reported.
PHOTOS: Giroud scores 50th EPL goal as Arsenal go back to top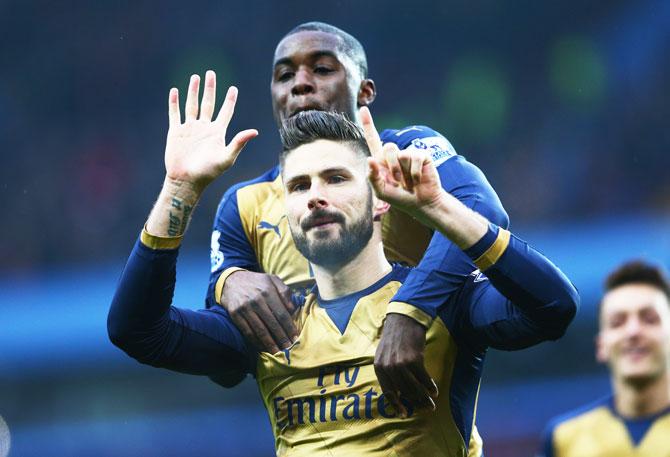 Arsenal enjoyed an easy 2-0 victory at Aston Villa on Sunday to soar to the summit of the Premier League and leave their hapless opponents rooted at rock bottom.
London Chess Classic: Anand in 9th spot after draw with Caruana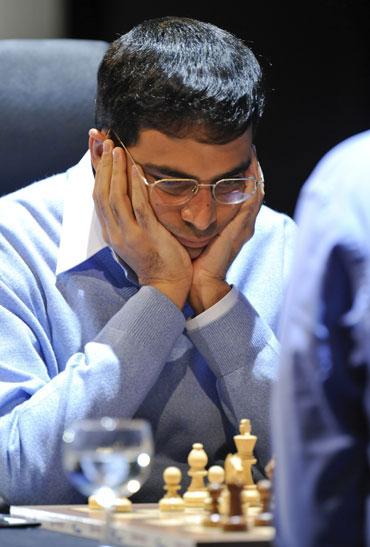 Former world champion Viswanathan Anand ended his three-game winless streak and drew with Fabiano Caruana of United States in the eight and penultimate round of the London Chess Classic in London on Sunday.
Defending champions Spain start Euro 2016 campaign against Czechs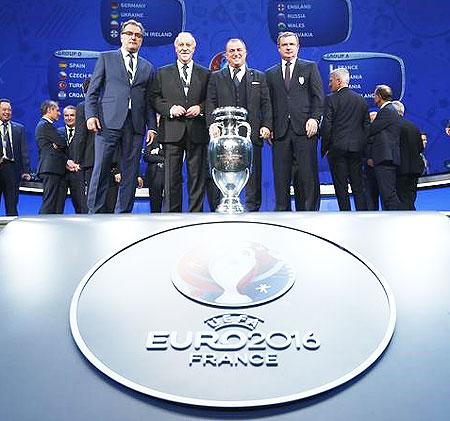 World champions Germany are to meet Ukraine, Poland and Northern Ireland in Group C.
December 12, 2015
ISL: Chennaiyin thrash Atletico in first leg semi-final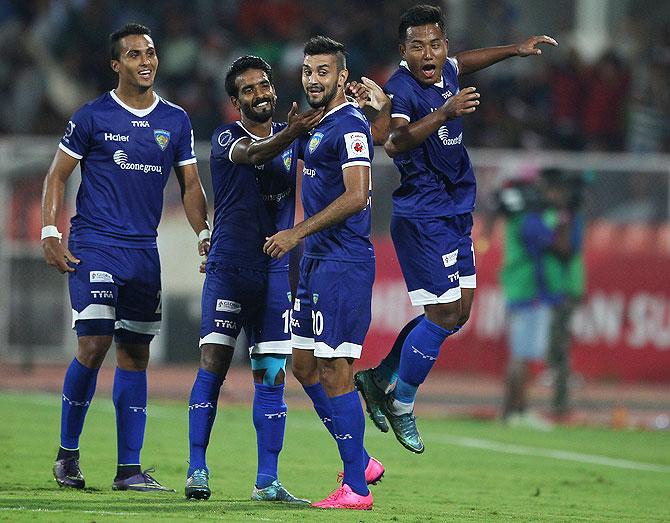 A clinical performance from Chennaiyin FC saw them thrash defending champions Atletico de Kolkata 3-0 in the first leg semi-final of the Indian Super League, in Pune on Saturday.
EPL: Norwich fight back to pull off home draw against Everton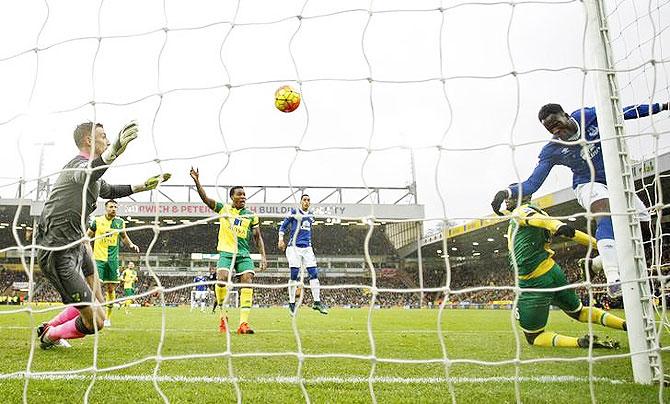 Norwich City fought back to draw 1-1 with Everton after Romelu Lukaku scored on Saturday for the sixth successive Premier League match to give the visitors an early lead.
IPTL: Nadal beats Federer in marquee final set to help Indian Aces win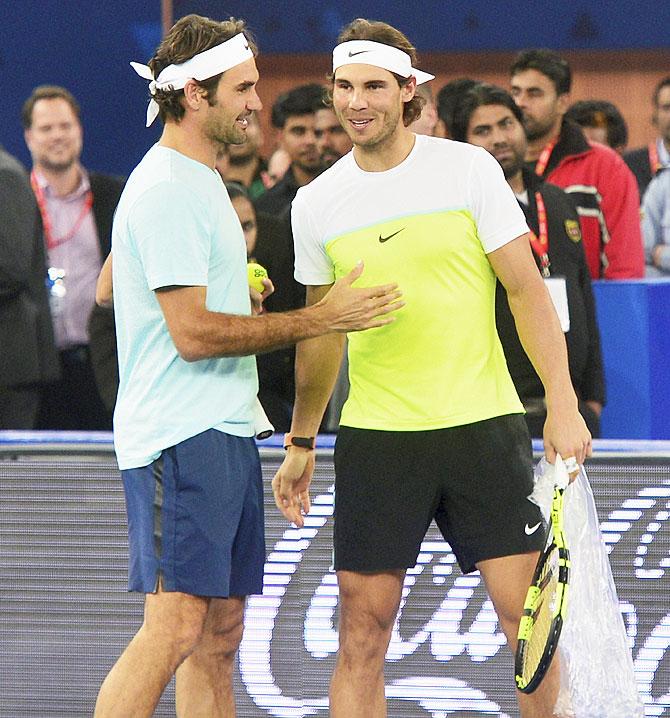 Indian Acres' Rafael Nadal beat UAE Royals' Roger Federer to win the last set 6-5 through a shoot-out to help the Indian team win the Delhi leg of the Indian Premier Tennis League in New Delhi on Saturday.
When Rafa met Deepika!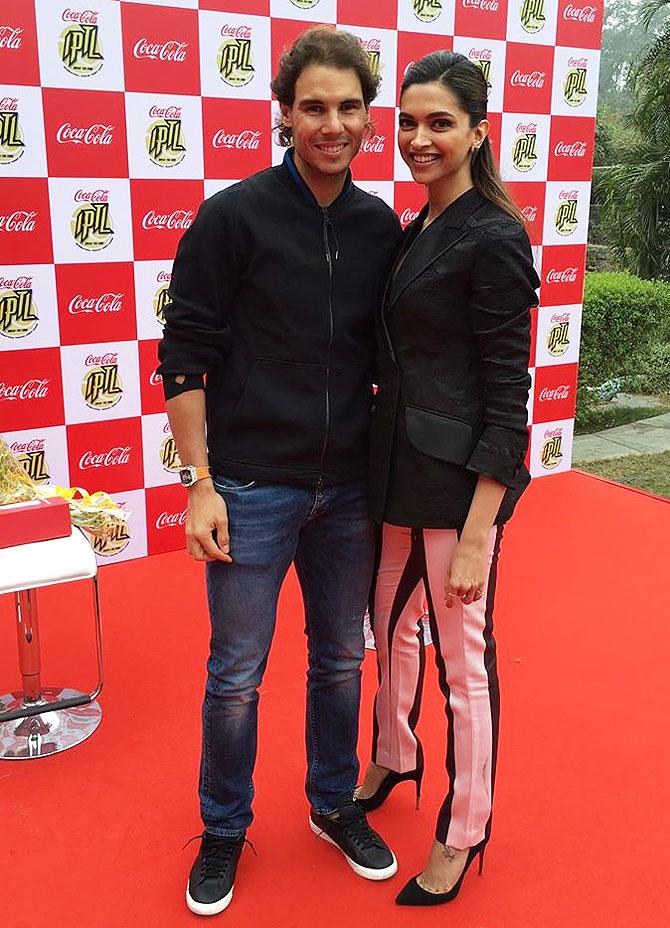 World No 5 Rafael Nadal was left impressed when he met Bollywood star Deepika Paudukone in New Delhi on Saturday.
London Chess Classic: Anand loses to leader Vachier-Lagrave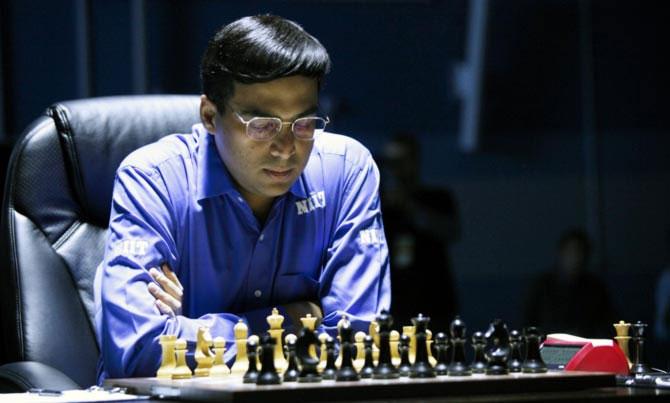 Anand went down to Maxime Vachier-Lagrave of France in what was his second straight loss following a defeat against Alexander Grischuk in the previous round.
Gowda qualifies for Rio Olympics after revision of entry standards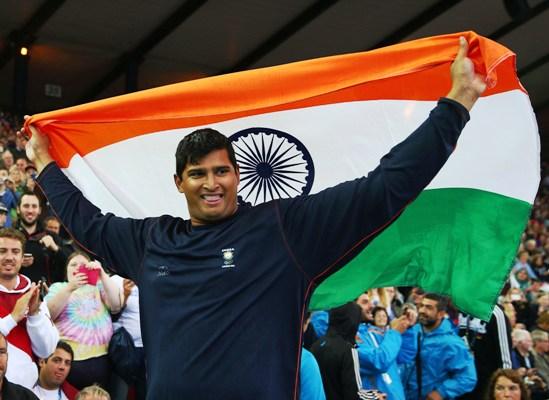 Ace Indian discus thrower Vikas Gowda has qualified for the Rio Olympics after the world athletics governing body, the IAAF lowered the entry standards "to have more athletes" taking part in the track and field events in the 2016 Games.
December 11, 2015
Real Madrid's bid to overturn King's Cup expulsion denied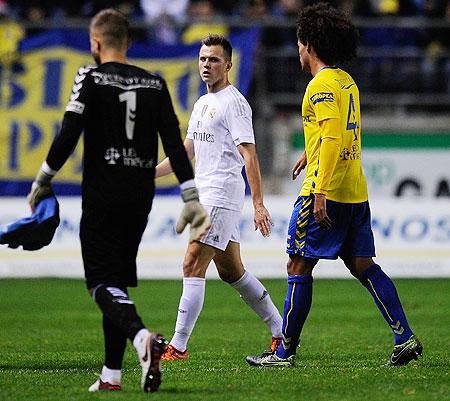 Real Madrid's bid to get their expulsion from the King's Cup temporarily suspended pending a final decision on their appeal has been rejected by the Spanish government's Disciplinary Committee for Sports (TAD).
Federer shows his choice of ride for India trip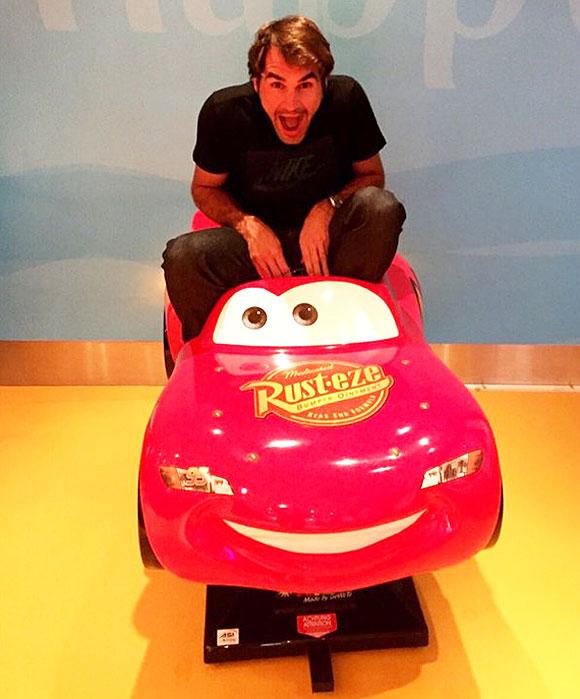 On Friday, the Swiss legend posted a picture of his 'vehicle of choice' for the journey, on his Twitter page.
ISL semi-final: Delhi Dynamos beat FC Goa in first leg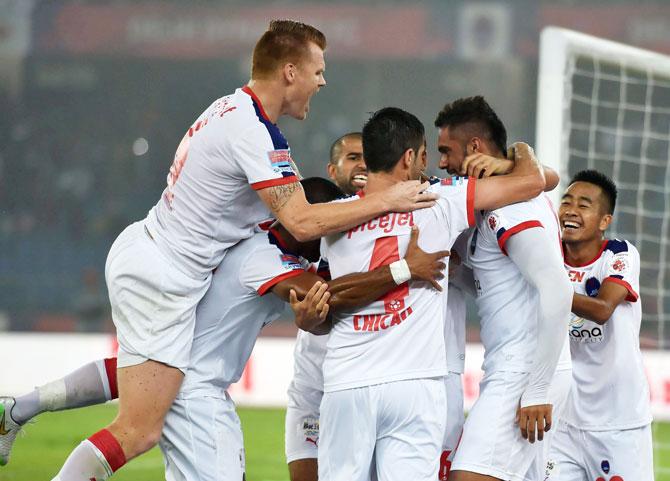 Delhi Dynamos beat FC Goa 1-0 to win the first leg of the Indian Super League semi-final in New Delhi on Friday.
BWF World Superseries Finals: Inconsistent Saina ousted by Tai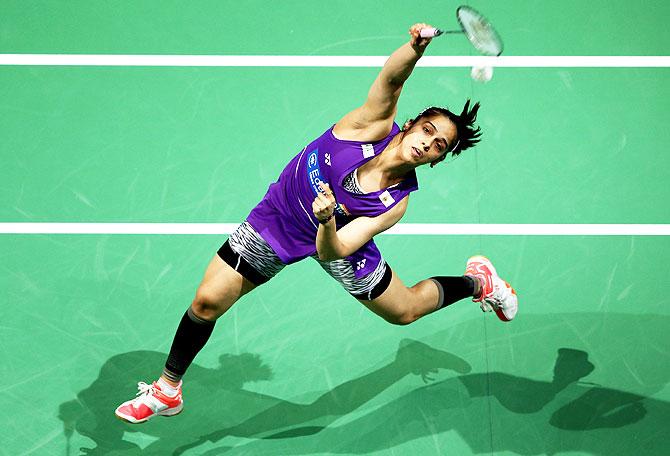 India's Saina Nehwal lost to Chinese Taipei's Tai Tzu Ying 21-16, 18-21, 21-14 and was knocked out of the BWF World Superseries Final in Dubai on Friday.
CAS order makes it bitter-sweet day for UEFA chief Platini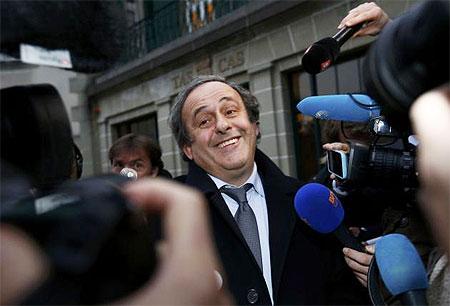 CAS orders FIFA not to extend his 90-day provisional suspension but will not be allowed to attend the Euro 2016 draw
Felt a bit nervous in comeback bout: Sarita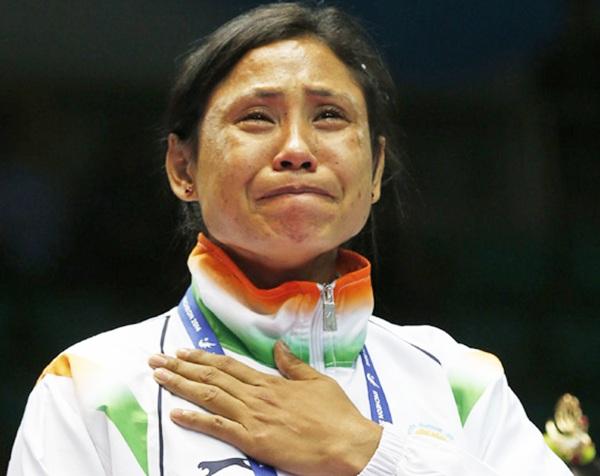 Sarita (60kg), who was banned for a year due to her emotional outburst at the Asian Games medal ceremony after losing a controversial semi-final bout, returned to the country from the Chinese city of Qian'an on Friday.
December 10, 2015
Saina scripts sensational win against world champion Marin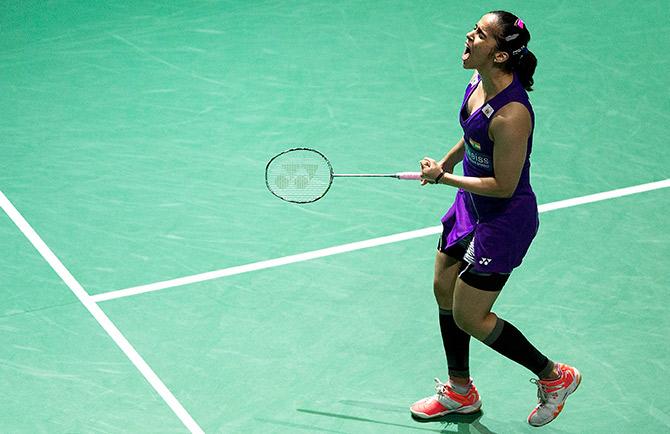 Saina Nehwal scripted a remarkable victory over reigning World Champion Carolina Marin to turn around her campaign at the BWF Super Series Finals even as Srikanth faced exit after suffering his second straight loss in the men's singles in Dubai.
BWF Super Series Finals: Srikanth on brink of exit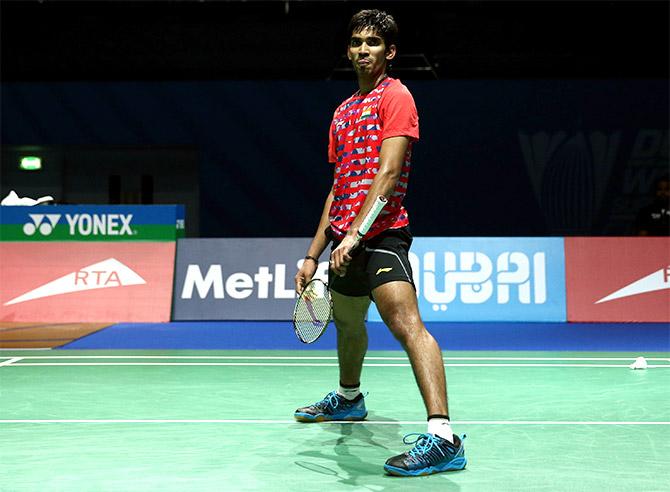 Indian shuttler Kidambi Srikanth was pushed to the brink of exit after he suffered his second consecuitve loss in the BWF Super Series Finals, losing in straight games to Denmark's Viktor Axelsen in the men's singles in Dubai.
December 09, 2015
BWF Super Series Finals: Saina, Srikanth lose openers in Dubai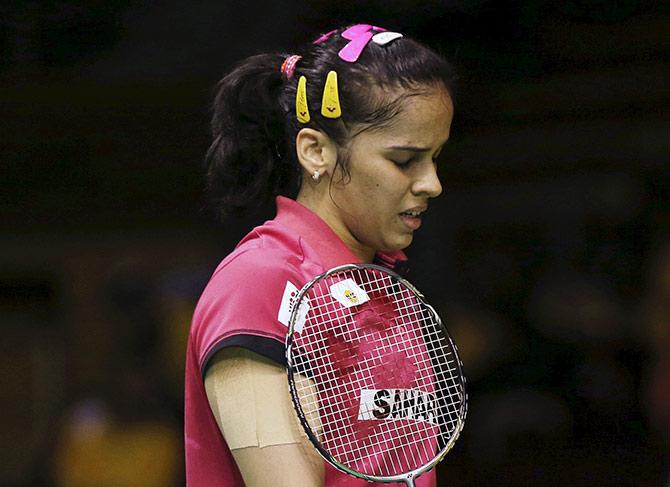 Ace Indian shuttlers, Saina Nehwal and Kidambi Srikanth, had a disappointing start to their campaign at the BWF Super Series Finals as they suffered straight-game defeats on the opening day of the prestigious event in Dubai.
Anand back in business after crushing Topalov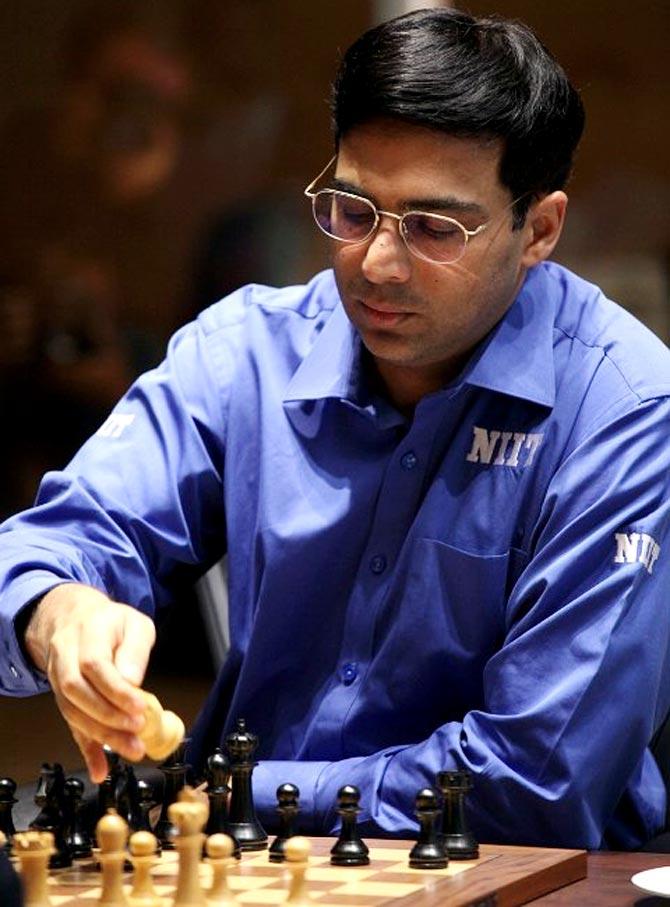 Five-time World Champion Viswanathan Anand bounced back from his fourth round loss and beat his former world championship challenger Veselin Topalov of Bulgaria on Wednesday in the fifth round of London Chess Classic, the concluding edition of the Grand Chess Tour.
'I believe a woman's best place is in the kitchen'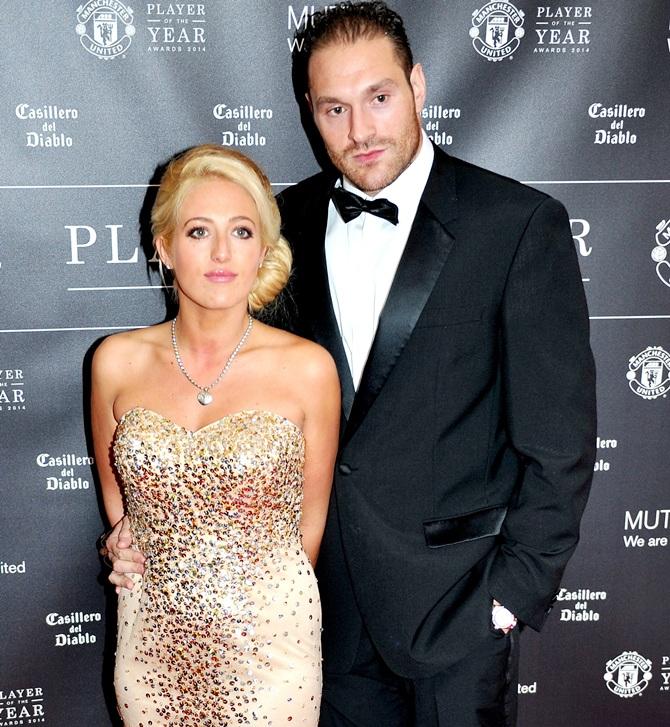 Tyson Fury has been provoking fury well beyond the ring with his pronouncements on homosexuality, women, fellow athletes and a range of other topics.
Rohit Sharma to be co-owner of Pro Wrestling League team UP Warriors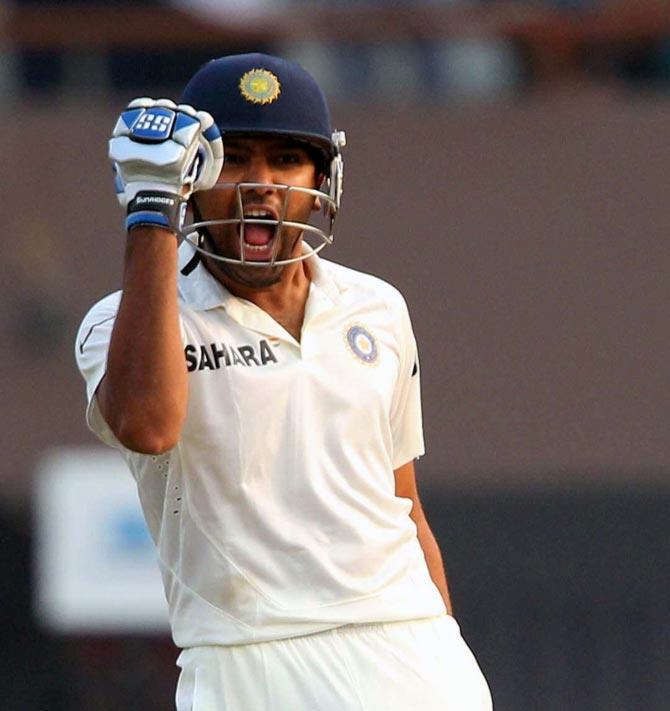 Indian cricketer Rohit Sharma was on Wednesday named as the co-owner of the Pro Wrestling League team UP Warriors.
Why World heavyweight champion Fury is stripped of IBF title...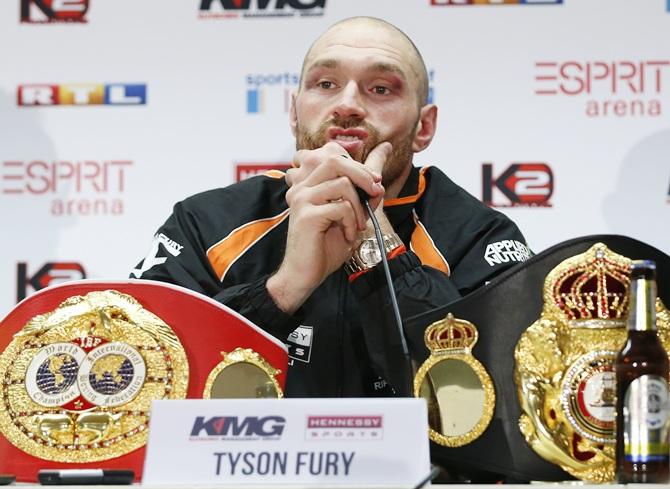 World heavyweight champion Tyson Fury has been stripped of his IBF title, one of three he won by beating Wladimir Klitschko, after agreeing to a contracted rematch with the Ukrainian instead of fighting the IBF's mandatory challenger.
How Dipa Karmakar is an inspiration to other gymnasts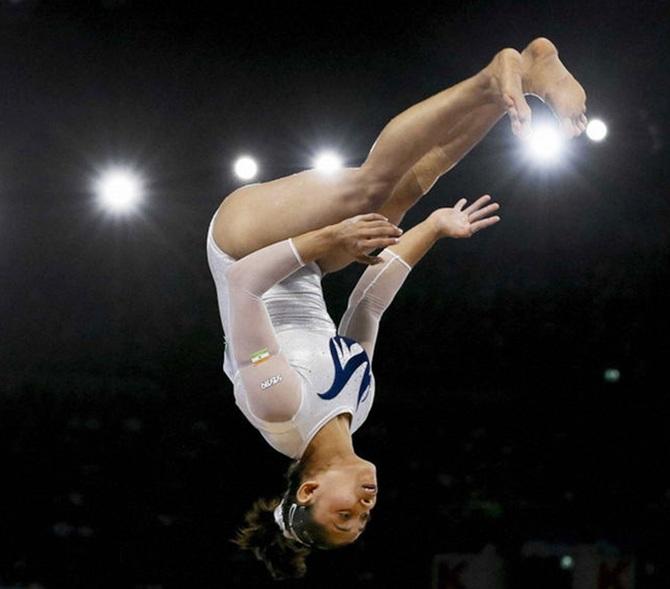 Dipa Karmakar, a recent recipient of the Arjuna award, is the first Indian to make enter the final of the World Championships and finished fifth in the rankings.
Ronda Rousey is feeling 'f****** sad'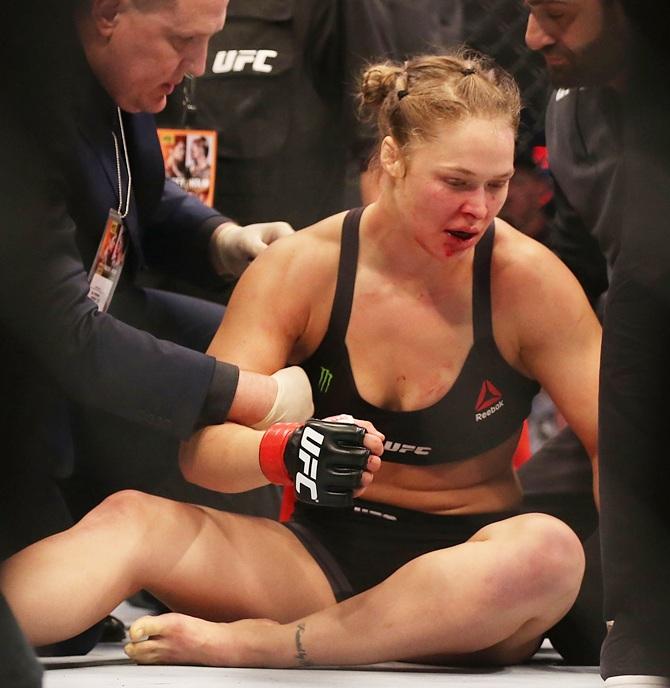 Former UFC bantamweight champion Ronda Rousey can't get over the fight she lost from Holly Holm.
December 08, 2015
Marin pips Saina for 'Female Player of the Year' award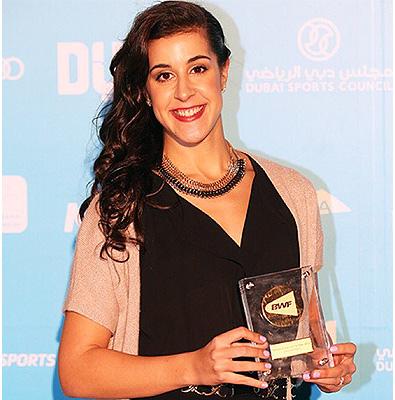 All-England and World champion Carolina Marin beat Indian ace Saina Nehwal to win the 'Female Player of the Year' award in Dubai on Monday night. Besides, Saina, Marin, who won five World Superseries titles, held off competition from China's Zhao Yunlei and Bao Yixin.
'Apart from Saina and Sindhu there's no depth in women's singles'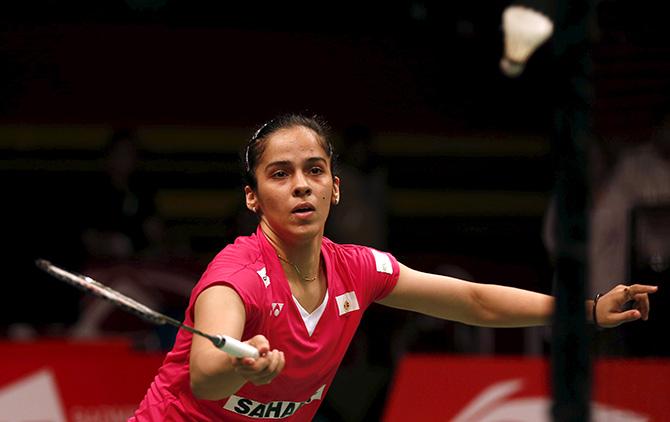 While praising the depth in the Indian men's ranks and expecting it to last for the next 10 years, badminton legend Prakash Padukone lamented that the women's side did not possess the same depth in class after world no. 2 Saina Nehwal and no. 12 P V Sindhu.
Pistorius gets bail on murder conviction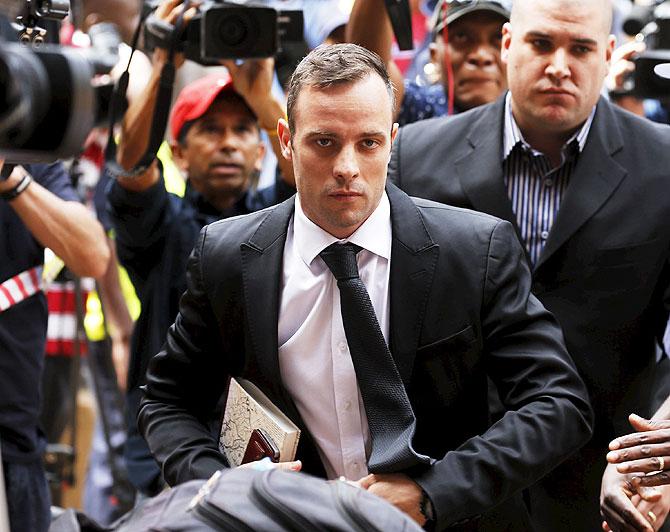 South Africa's Paralympic gold medallist Oscar Pistorius has been released on bail after judges changed his manslaughter conviction to murder last week.
Depleted Arsenal face Olympiakos in Champions League 'showdown'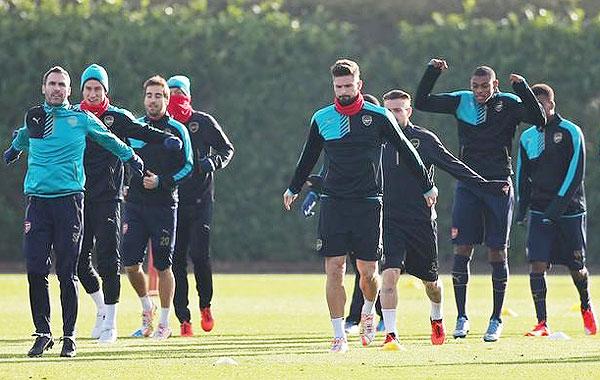 Arsenal will put one of the best Champions League records on the line when they face Olympiakos Piraeus in a showdown for second spot in Group F on Wednesday.
United's Schweinsteiger charged by FA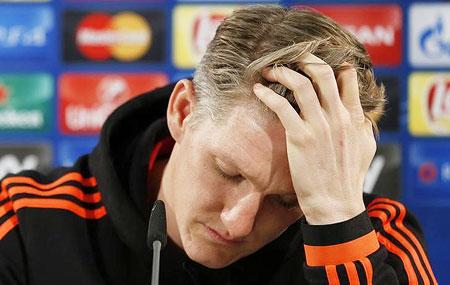 Manchester United midfielder Bastian Schweinsteiger has been charged with violent conduct by the Football Association (FA) after clashing with West Ham United's Winston Reid.
'Classy Klopp will make difference at Liverpool'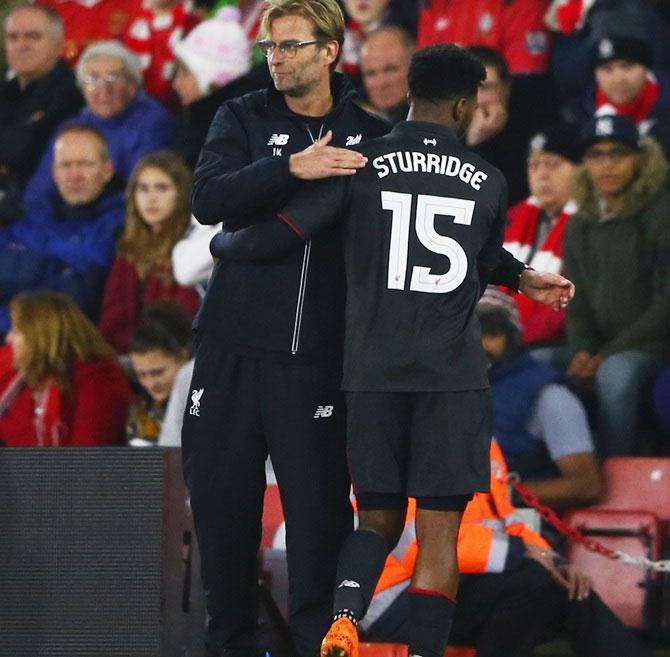 Former Manchester United manager Alex Ferguson said he was worried about the impact manager Juergen Klopp was having at his old team's great rivals Liverpool.
EPL PHOTOS: Lukaku's late goal saves Everton the blushes against Palace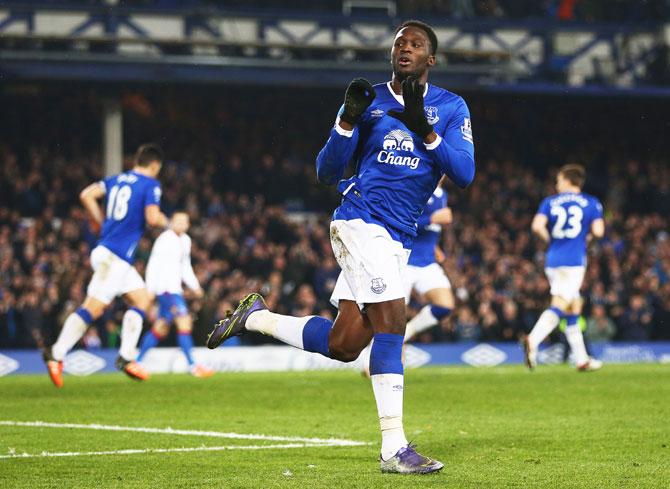 Everton striker Romelu Lukaku struck a late equaliser to salvage a 1-1 draw against a solid CrystalPalace side in an absorbing Premier League match at Goodison Park on Monday.
December 07, 2015
Wushu player alleges sexual harassment by coach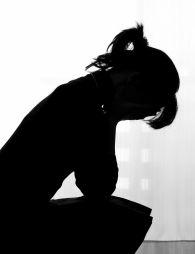 Two persons including a coach were booked on the charge of sexual harassment following a complaint lodged by an 18-year old Wushu player in Rohtak, police said on Monday.
Saina, Lee top buys at Premier Badminton League auctions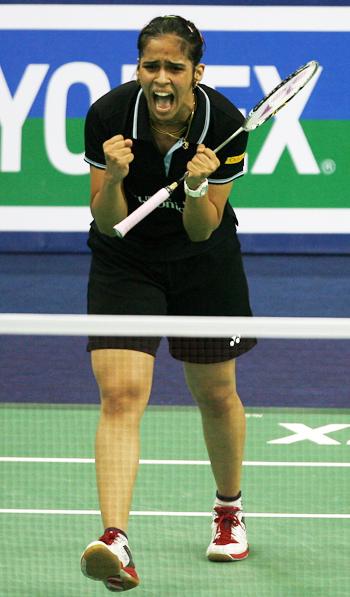 Top stars Saina Nehwal and Lee Chong Wei were the costliest buys, fetching the maximum prize of 100,000$, while Indian shuttlers P V Sindhu and Kidambi Srikanth were bought for a whopping 95,000$ and 80,000$ respectively at the rechristened Premier Badminton League
Vijender Singh's sternest test in pro boxing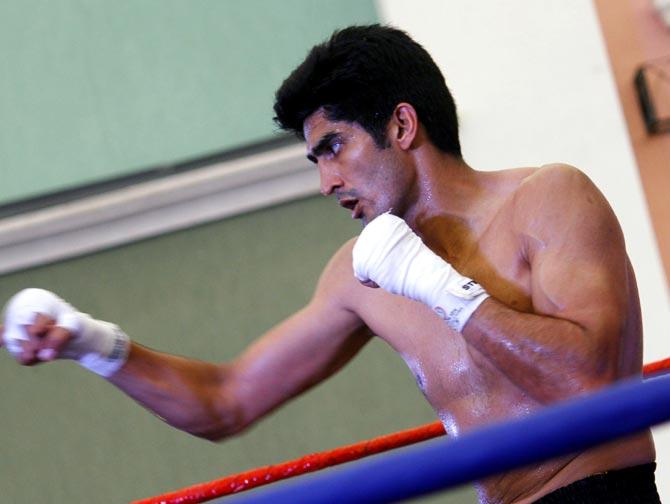 High on confidence after two knock-out wins, star Indian boxer Vijender Singh will face his most experienced opponent so far when he squares off against Bulgarian Samet Hyuseinov in his third professional bout at the Manchester Arena on December 19.
Champions League: Van Gaal realistic about United's chances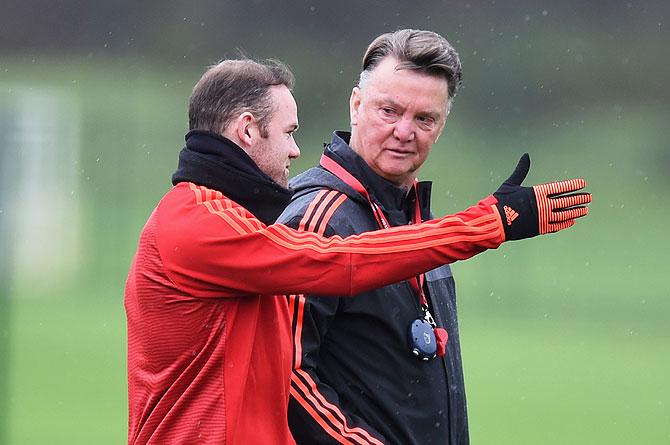 Since winning 2-1 at home to Wolfsburg in September, United have scored only twice in three Champions League games. In the Premier League the record is five goals in the last six games.
10 BEST Sports Photos of the Week!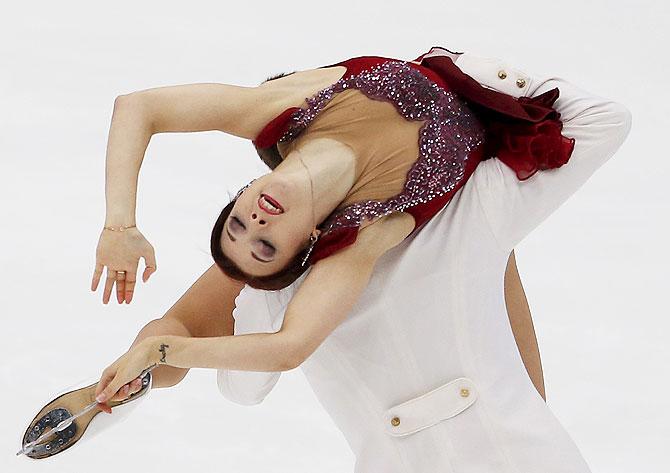 Be ready to be amazed as Rediff.com encapsulates all the sporting action from the past week in this super photo feature.
Italy's World Cup winner Toni to retire at season's end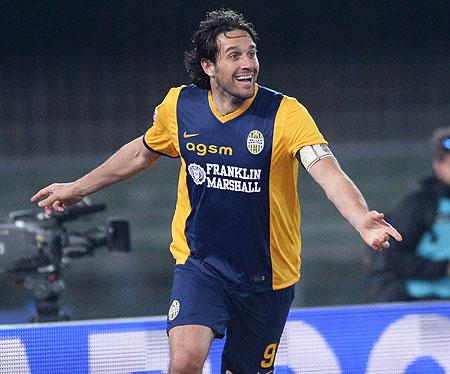 Luca Toni, who was part of Italy's World Cup winning side in 2006, has confirmed he will hang up his boots at the end of the Serie A season.
Not afraid of missing Euro, France needs me: Benzema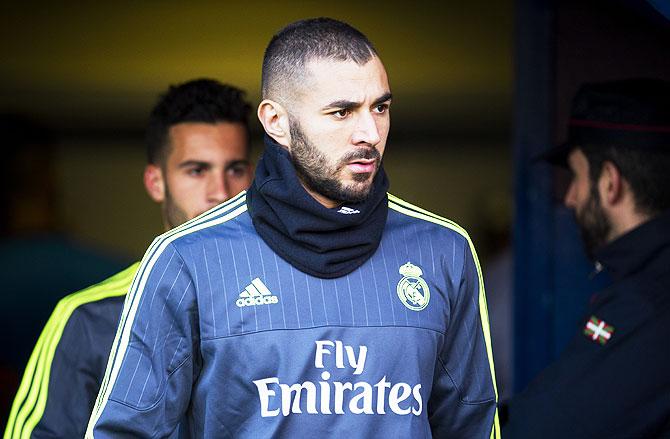 France international striker Karim Benzema, who is embroiled in a blackmailing scandal, is not afraid of possibly missing the Euro 2016 finals on home soil, the Real Madrid player said on Sunday.
Australia edge Belgium to win Hockey World League Final title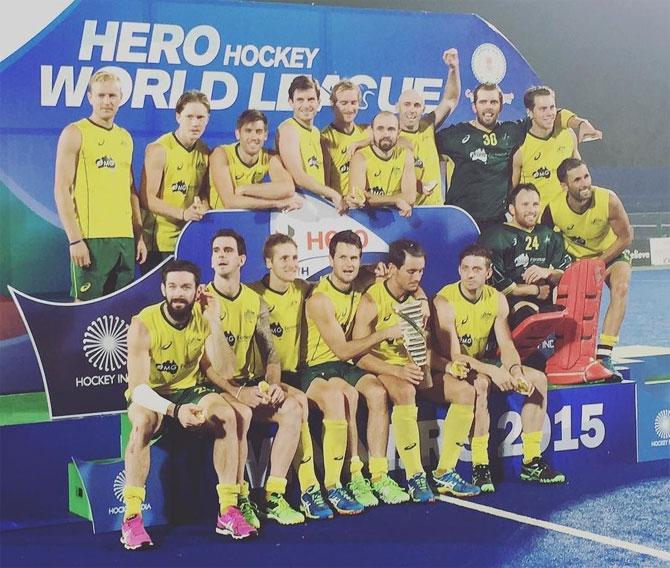 The Australian Men's Hockey team defeated Belgium 2-1, to lift the title of Hockey World League Final at Sardar Vallabh Bhai Patel Stadium, Raipur on Sunday.
Bundesliga: Werder rescue point at Stuttgart in relegation battle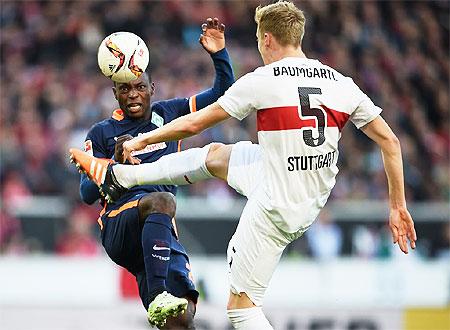 Werder Bremen snatched a 1-1 draw at VfB Stuttgart thanks to Anthony Ujah's second-half equaliser in a relegation derby of former German champions on Sunday to stay one point above the relegation zone.
La Liga: Bakambu helps Villarreal rally to win over Rayo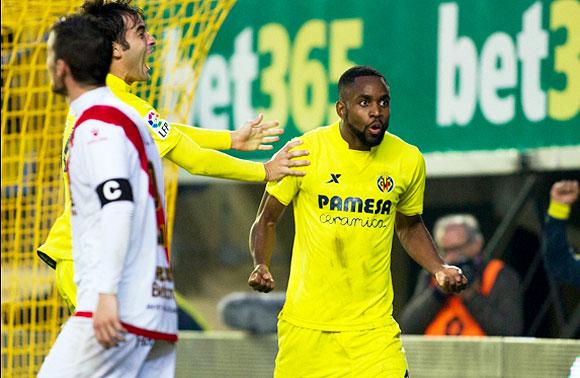 Stuttering Villarreal closed to within a point of the Champions League qualification places when a second-half Cedric Bakambu double secured a 2-1 comeback win at home to Rayo Vallecano in La Liga on Sunday.
EPL PHOTOS: Lowly Newcastle stun resurgent Liverpool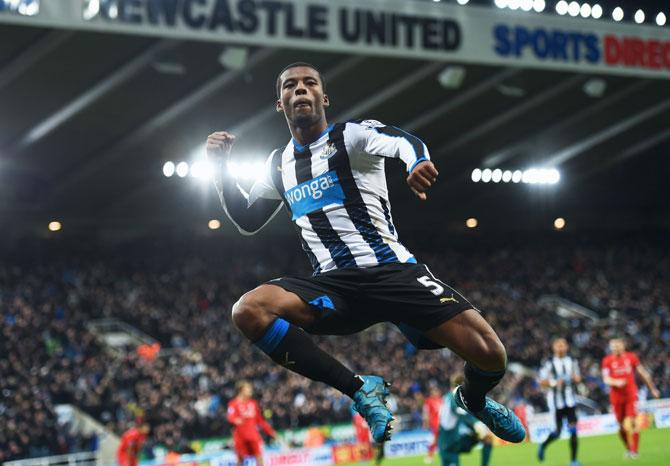 Juergen Klopp's side remain seventh, six points behind the Champions League places, after only their second defeat in the 12 games since the German took over in October
December 06, 2015
Dipika to donate Rs 2 lakh to Chennai flood relief fund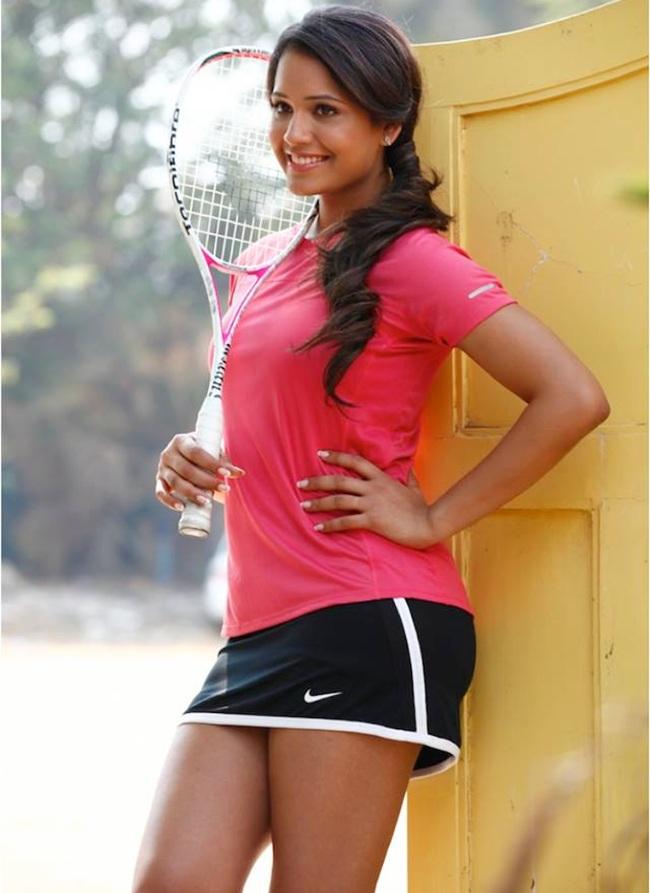 India's top squash player and Chennai resident Dipika Pallikal today pledged a contribution of Rs 2 lakh to Tamil Nadu Chief Minister's Public Relief Fund in the wake of the devastating floods that have hit the city and the state.
Mayweather shows off his Christmas gift, a pet tiger from INDIA!!!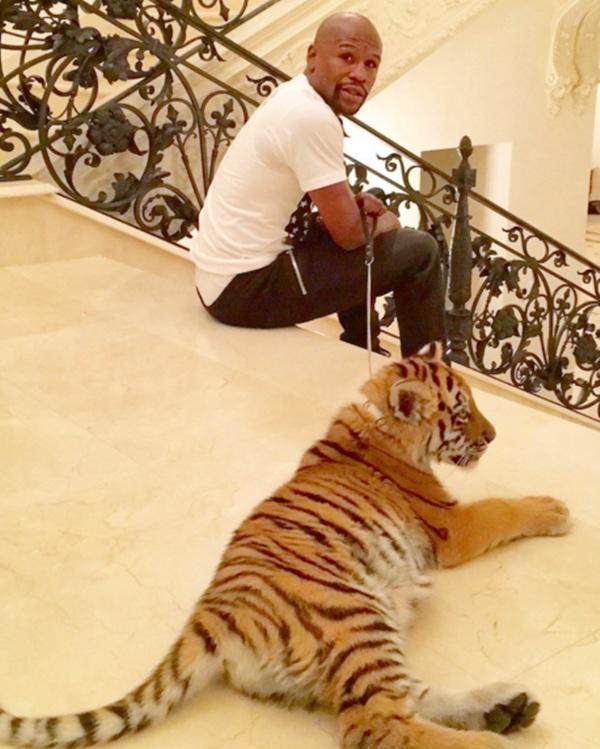 It seems like boxing champion Floyd Mayweather just got a Christmas gift that best suits his personality.
Indonesian Masters: Srikanth slips at final hurdle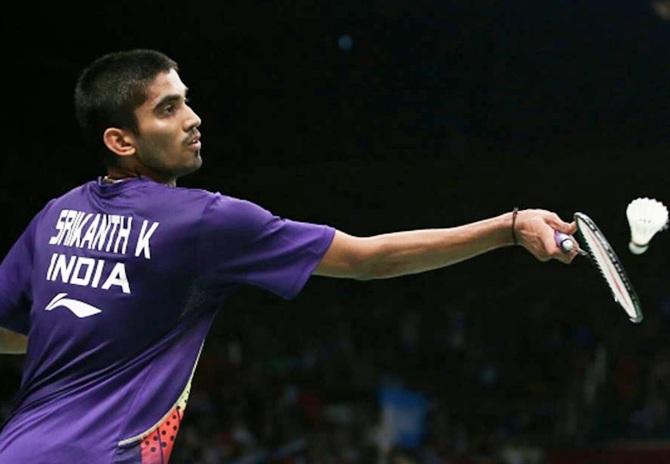 Indian ace Kidambi Srikanth's gallant fight ended with a narrow three-game loss against home favourite Tommy Sugiarto in the men's singles finals of the $ 120,000 Indonesian Masters Grand Prix Gold badminton tournament, in Malang, on Sunday.
Sexist remark from a champ: Woman's best place is in kitchen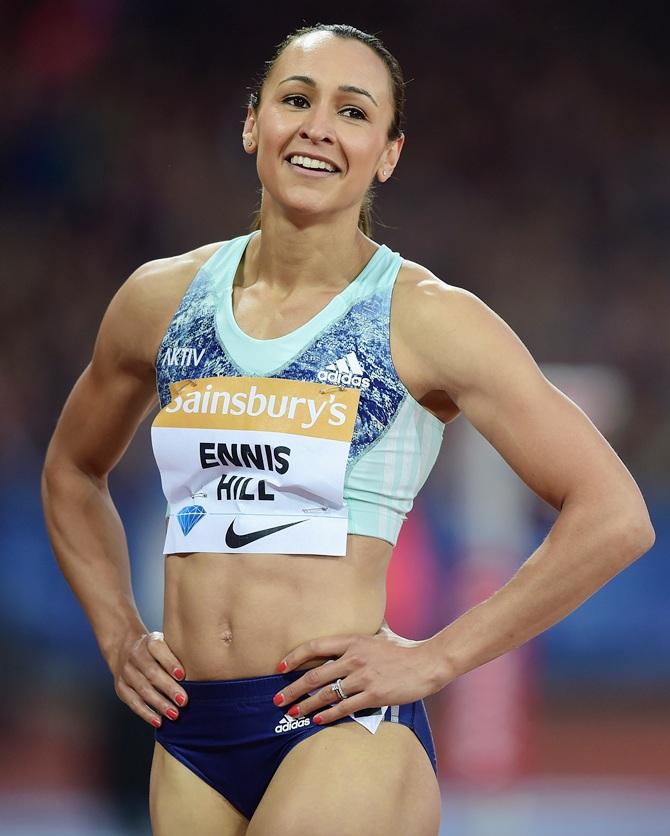 Newly crowned heavyweight champion Tyson Fury has attracted fresh controversy after making a string of sexist remarks, including some directing at Olympic and world heptathlete champion Jessica Ennis-Hill.
Find out why this national level shooter is selling noodles!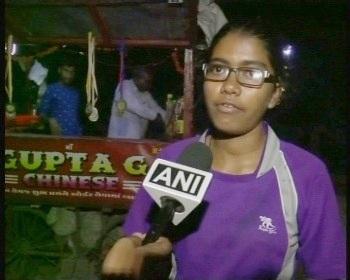 In a country like India, which boasts of some of the richest sportspersons in the world, there is a female champion who has been neglected to such levels that she now sells noodles on the roadside in order to earn her daily livelihood.
Mary Kom settles for bronze in Olympic test event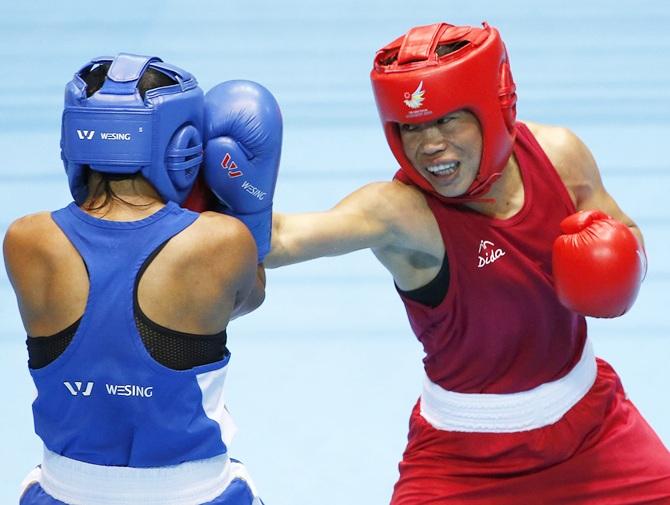 Five-time world champion M C Mary Kom settled for a bronze medal at the International Boxing Association's (AIBA) Olympic Test event in Rio de Janeiro after going down in the semifinals.
December 05, 2015
French TV show claims Real Madrid star Ronaldo is gay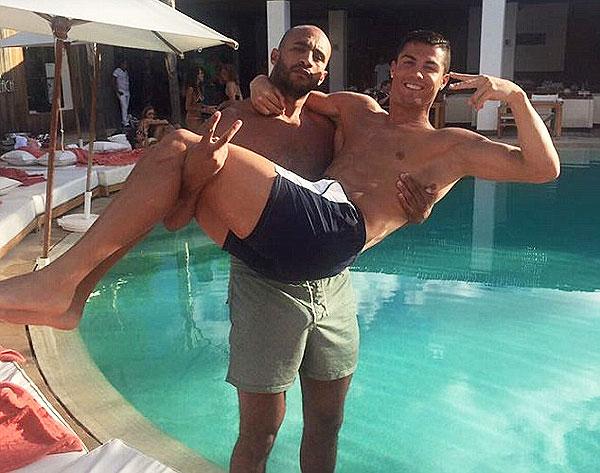 Several media houses have sensationalised Cristiano Ronaldo's 'bromance' with Moroccan kickboxer Badr Hari.
Bundesliga: Bayern go down to Gladbach in season's first league loss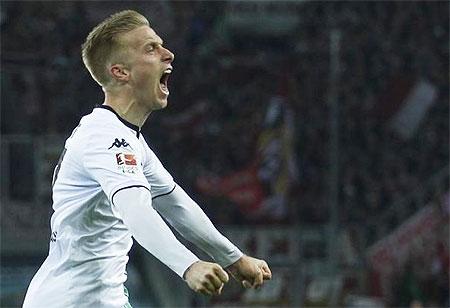 In-form Borussia Moenchengladbach struck three times in 14 minutes in the second half to floor champions Bayern Munich 3-1 on Saturday and inflict their first Bundesliga defeat of the season.
FIFA probe: Former Peru soccer chief claims innocence after arrest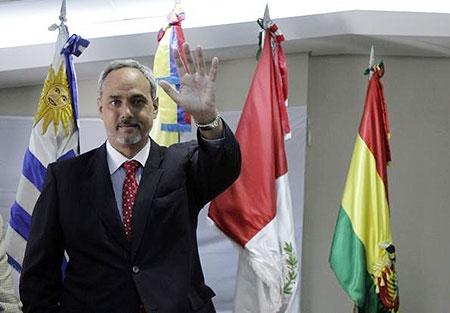 The former longtime president of Peru's soccer federation, Manuel Burga, has been arrested as part of an ongoing US-led investigation into corruption at the sport's world governing body, FIFA.
ISL: Chennaiyin edge Pune City to seal semi-final spot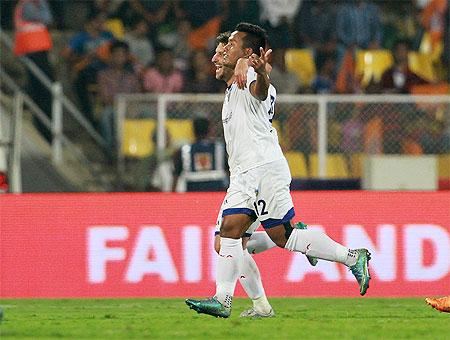 Chennaiyin FC rode on Jeje Lalpekhlua's 64th minute strike to beat Pune City FC by a solitary goal and book a semi-final spot in the Indian Super League football tournament in Pune on Saturday.
EPL PHOTOS: Shaqiri shines as Stoke sink ragged City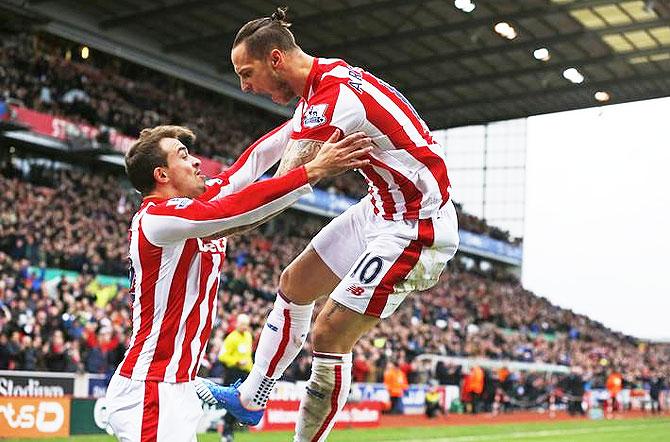 Xherdan Shaqiri inspired StokeCity to a convincing 2-0 victory over Premier League leaders ManchesterCity in blustery conditions at the Britannia Stadium on Saturday.
Arrested FIFA officials banned from football for 90 days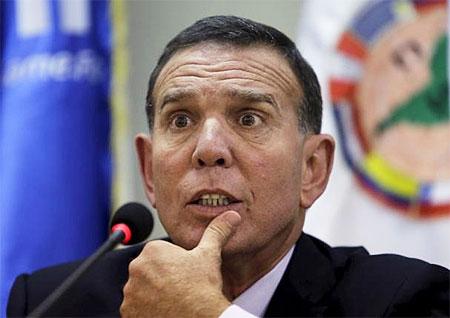 FIFA executive committee members Juan Angel Napout and Alfredo Hawit have been suspended from football for 90 days after their arrest in Switzerland, the ethics committee of the football's governing body said on Friday.
Kidambi Srikanth storms into final of Indonesian Masters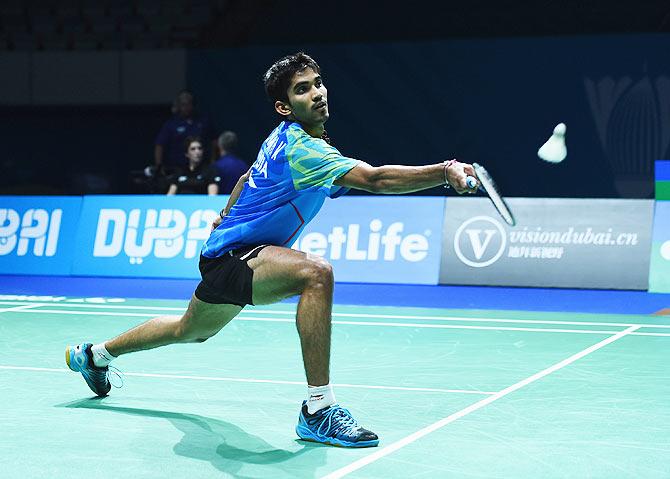 Top seed Kidambi Srikanth reached his fourth final of the year with a comprehensive victory over local hope Ginting Anthony in the Indonesian Masters Grand Prix Gold badminton event. The World No.9 defeated his 39th-ranked opponent 21-13, 21-19 in the semifinals.
December 04, 2015
Indonesia Masters GP: Srikanth sails into semis, Sindhu sinks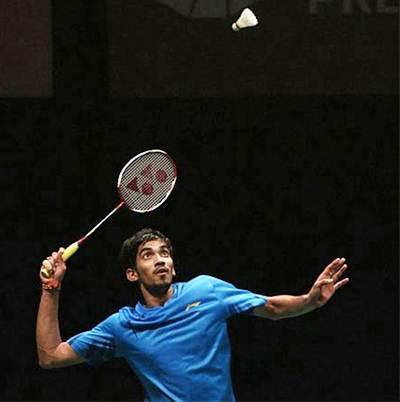 Top seed K Srikanth advanced to the semi-finals in the men's singles but P V Sindhu suffered heartbreak as she bowed out of the women's singles, at the US $120,000 Indonesia Masters Grand Prix Gold tournament, in Malang, on Friday.
Mary Kom enters semifinals of Rio Olympics Test event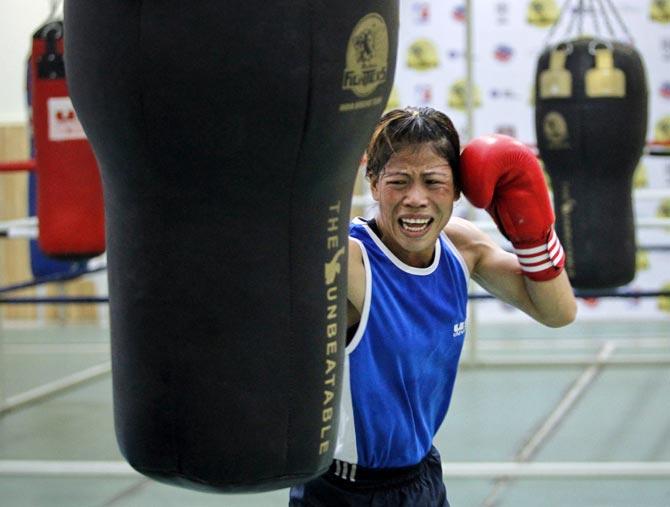 Competing for the first time in over a year, Olympic bronze-medallist M C Mary Kom (51kg) assured herself and India of at least a bronze medal by advancing to the semifinals of the International Boxing Association's (AIBA) Olympic Test event in Rio de Janeiro on Friday.
Pietersen's dramatic response over Pistorius's murder verdict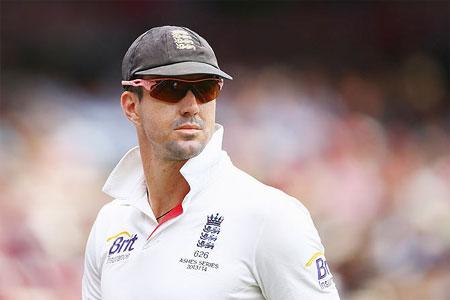 Former England batsman Kevin Pietersen expressed his delight after Paralympics runner Oscar Pistorius's culpable homicide conviction, for killing his model girlfriend Reeva Steenkamp in 2013, was upgraded to murder.
Saina to donate Rs 2 lakh to Chennai flood victims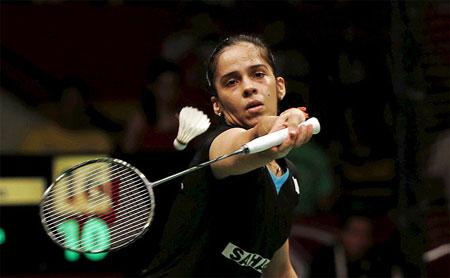 Star shuttler Saina Nehwal will donate Rs 2 lakh for the people affected by the heavy rains and flood in Tamil Nadu.
World No 2 Saina in contention for BWF Woman Player of the Year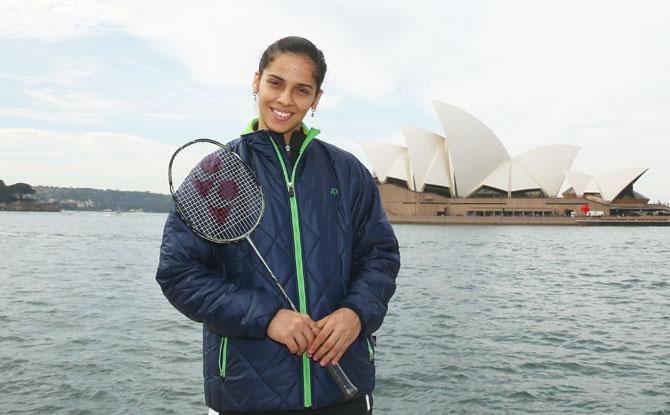 Ace Indian shuttler Saina Nehwal has been nominated for the Woman Player of the Year Award of the Badminton World Federation after a consistent season which saw her occupy the world number one spot for a brief period.
FIFA approves reform package, shelves World Cup expansion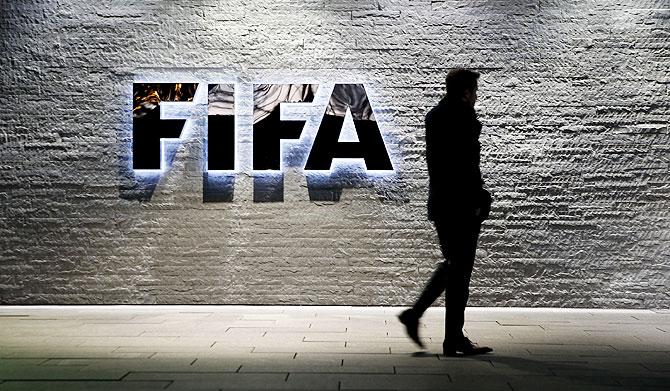 FIFA's executive committee approved a package of planned reforms on Thursday aimed at cleaning up soccer's scandal-plagued world governing body, proposing integrity checks and term limits for senior officials and a new separation of policy and management positions.
Cheryshev fiasco: Real Madrid say they have done no wrong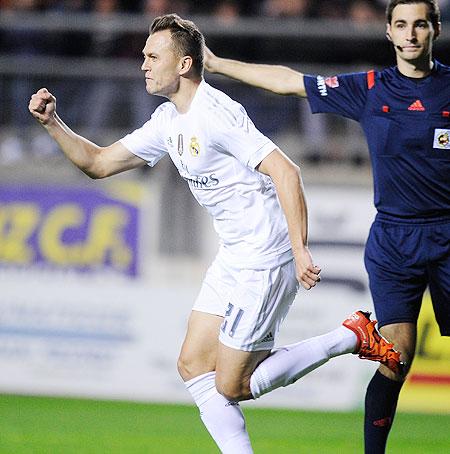 'Real Madrid did not know about it as we were not told by the player, Villarreal or the federation'
King's Cup: Villarreal lose at Huesca on bad night for top flight teams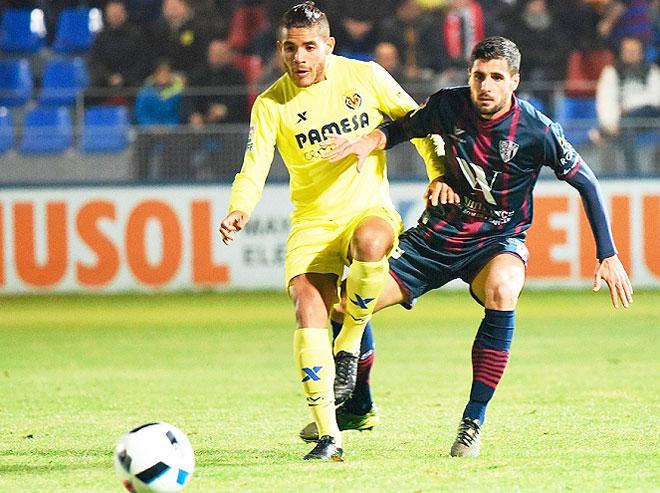 Following a bright start to the season it was another disappointing display by Villarreal, who have one win from seven games in La Liga, before the return at El Madrigal in two weeks.
December 03, 2015
UAE Royals thrash Japan Warriors to secure second successive win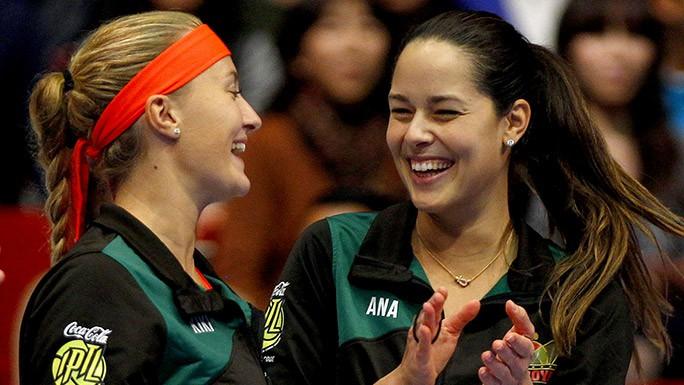 UAE Royals notched up their second consecutive win with a comprehensive victory over home team Japan Warriors on the second day of the International Premier League Tennis on Thursday.
IPTL: Kyrgios takes Slammers past Mavericks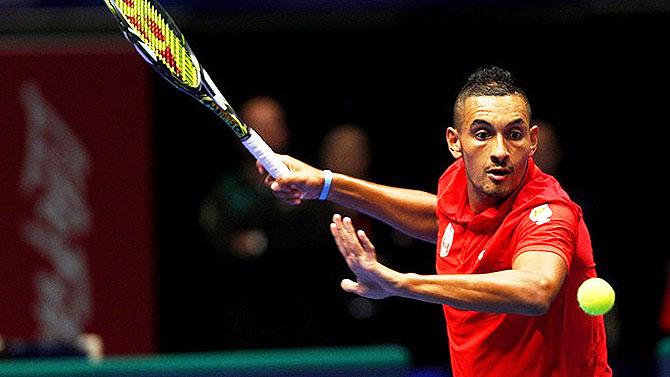 Mavericks won the men's doubles and men's legends singles rubber, but the Slammers clinched the women's singles, mixed doubles and men's singles to come out trumps.
Baku to make Formula One debut in 2016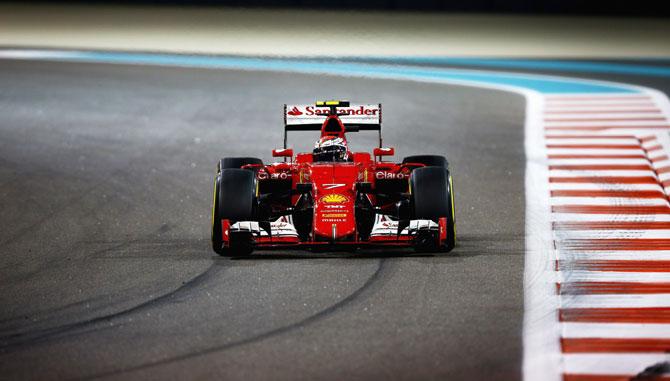 16 F1 calendar to feature record 21-race campaign
Pistorius trial: Steenkamp's father 'relieved' after new appeal verdict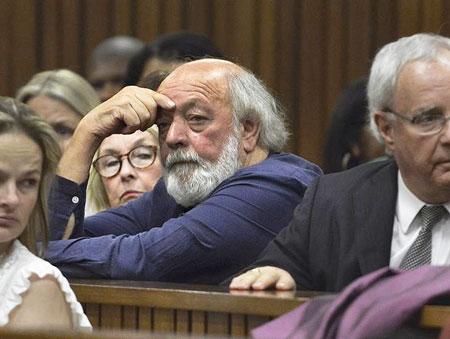 The father of slain model Reeva Steenkamp said on Thursday he felt a sense of 'relief' after South Africa's appeal court found that Oscar Pistorius was guilty of murdering Reeva, overturning the original lesser conviction of culpable homicide.
Saina, Sindhu static; Srikanth slips, Jayaram improves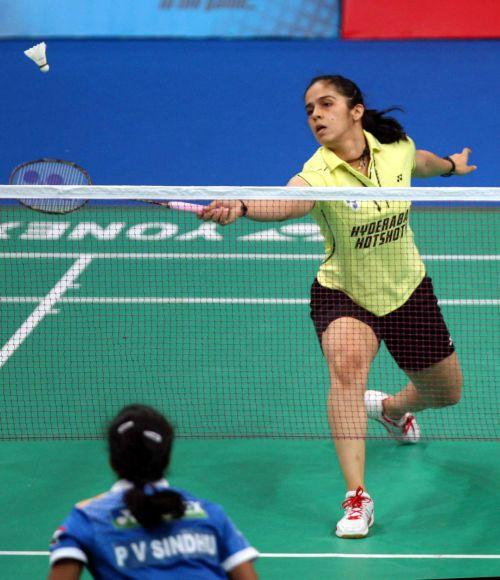 Despite clinching the Macau Open title for the third time, India's ace shuttler P V Sindhu remained static at 12th position in the latest BWF world ranking released on Thursday.
IPTL: Amitabh signs up as Singapore Slammers co-owner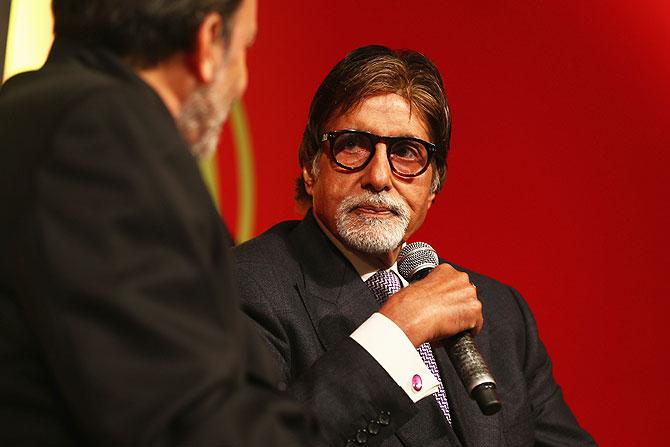 Superstar Amitabh Bachchan has followed in the footsteps of his Bollywood counterparts and invested in a sports team.
Did Sania ask for money, private jet to be chief guest?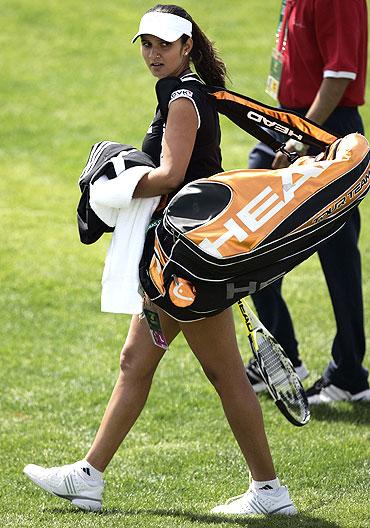 A day after Sania Mirza was accused of not attending Madhya Pradesh awards ceremony owing to her unacceptable demands, the agency which looks after the tennis star issued a statement saying that she didn't ask for any money to attend the event.
Neville faces Champions League challenge first up as Valencia manager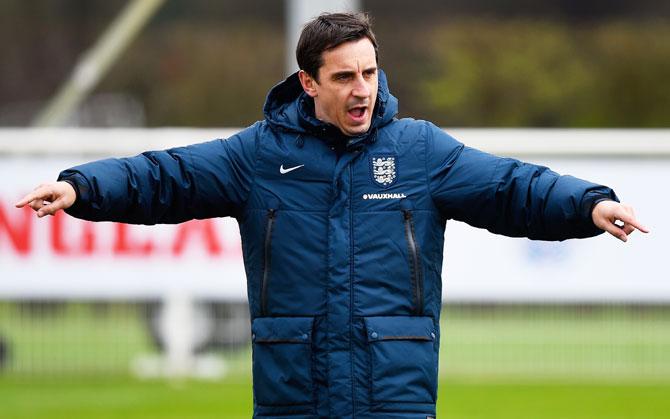 Former Manchester United manager Alex Ferguson has said his old skipper Gary Neville has the leadership skills to be a success as manager of Spanish side Valencia.
All you need to know about 'Blade Runner' Pistorius
A timeline of the life and trial of 'Blade Runner' Oscar Pistorius.
Indonesia Masters: Sindhu, Srikanth, Guru advance to Round 3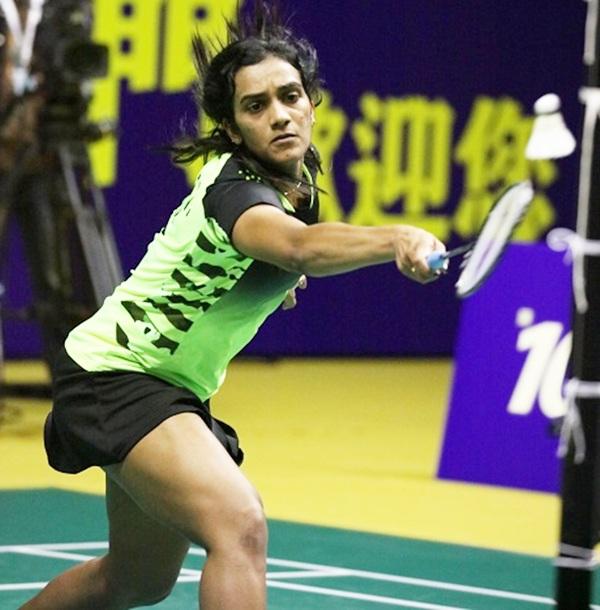 Top seeds P V Sindhu and K Srikanth notched up contrasting victories to advance to the third round of the $120,000 Indonesia Masters Grand Prix Gold tournament, in Malang, on Thursday.
Vimal Kumar 'pivotal' to Saina's resurgence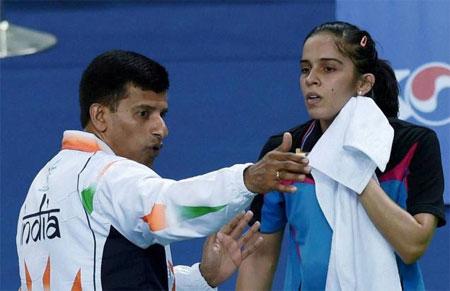 Ace Indian shuttler Saina Nehwal feels that year 2015 is one of the best of her career but rued that a series of injuries affected her chances of winning more titles.
'Blade Runner' Pistorius guilty of Steenkamp murder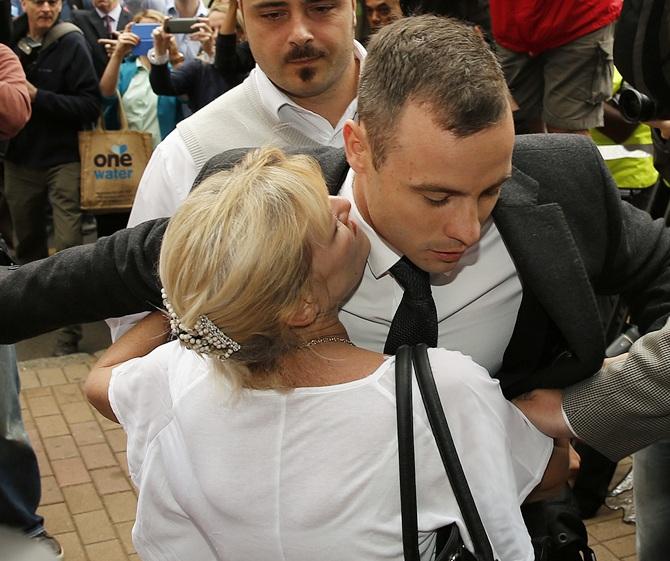 South Africa's Oscar Pistorius has been convicted of murder by South Africa's Supreme Court, overturning the manslaughter conviction against the multiple Paralympic champion.
BAN these 26 athletes!!!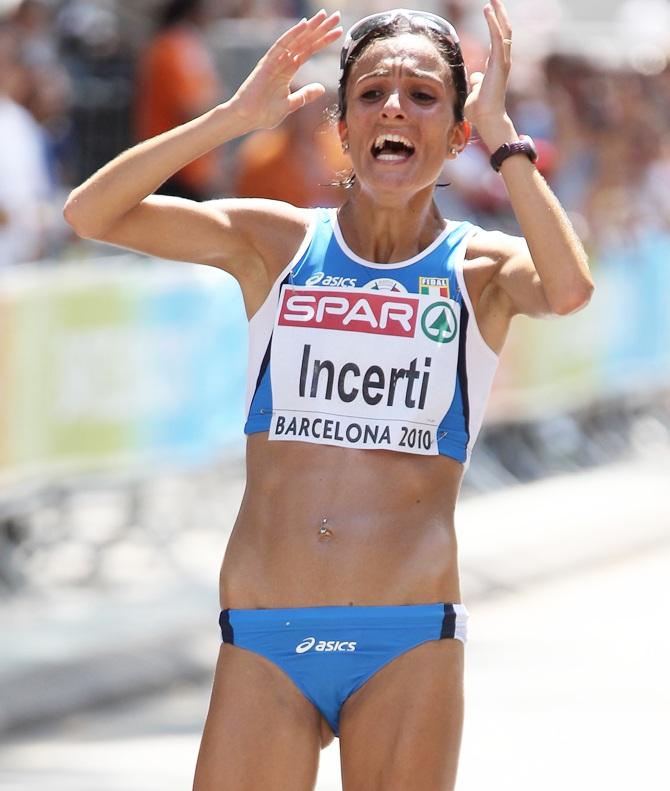 Italian anti-doping authorities have called for two-year bans on 26 athletes, including Olympic bronze medallist Fabrizio Donato and European champion long jumper Andrew Howe, for allegedly failing to provide doping samples.
December 02, 2015
'Golf in India will EXPLODE if Anirban wins in Rio'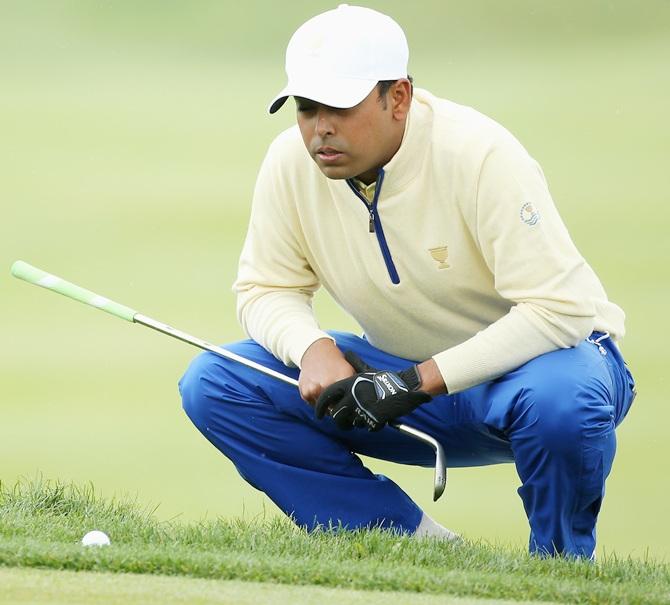 Lauding India's presence in the world of golf, Tiger Woods today said that Anirban Lahiri can make the game 'explode' in the Indian market by winning a medal in the 2016 Rio Olympics.
Can this Tiger roar back to glory?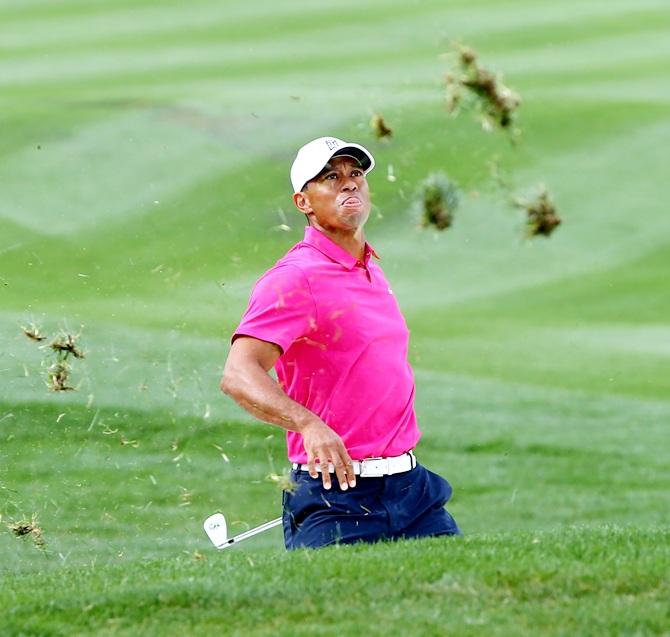 A downbeat Tiger Woods painted a bleak picture about his golfing future on Tuesday when he said he was not sure when he would be able to return to playing the game.
December 01, 2015
Pistorius's appeal decision due on Thursday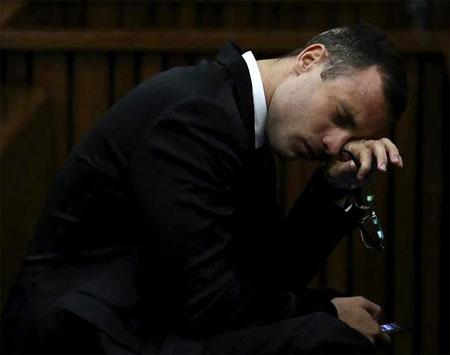 South Africa's Supreme Court of Appeal said on Tuesday it will announce on December 3 if it will overturn Oscar Pistorius's conviction of manslaughter for killing his girlfriend Reeva Steenkamp, a decision that could send the track star back to jail.
Axing of scandal-ridden Benzema backed by France PM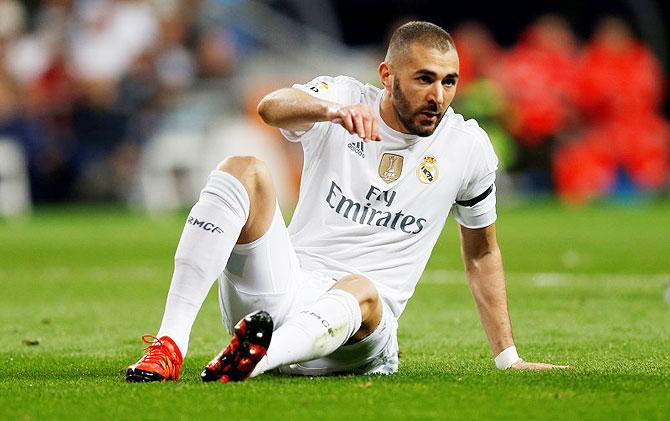 Karim Benzema, who is under investigation for alleged blackmailing, should not be called up to the France squad, French Prime minister Manuel Valls said on Tuesday.
Improving Liverpool can have a shot at one of titles: Milner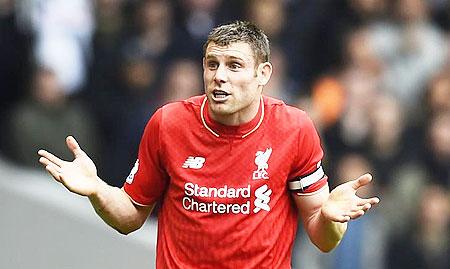 Liverpool have hit form at the right time ahead of a season-defining month with a first trophy possible under new manager Juergen Klopp, midfielder James Milner has said.
Real Madrid willing to sell Ronaldo back to United?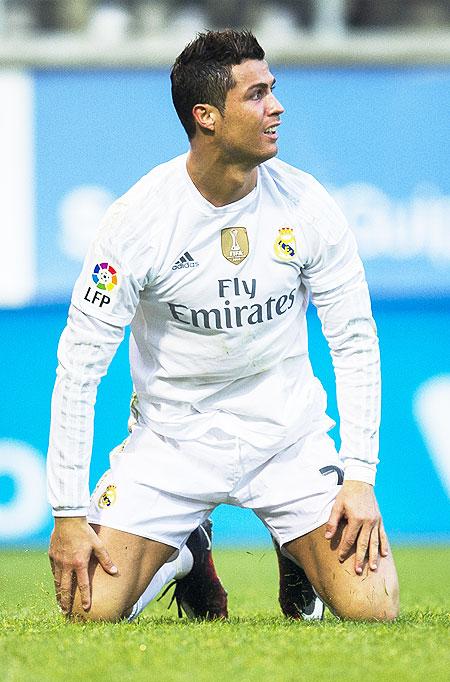 Rumours and speculations abound that Cristiano Ronaldo will be heading to Old Trafford soon.
Here is what Murray thinks about the future of British tennis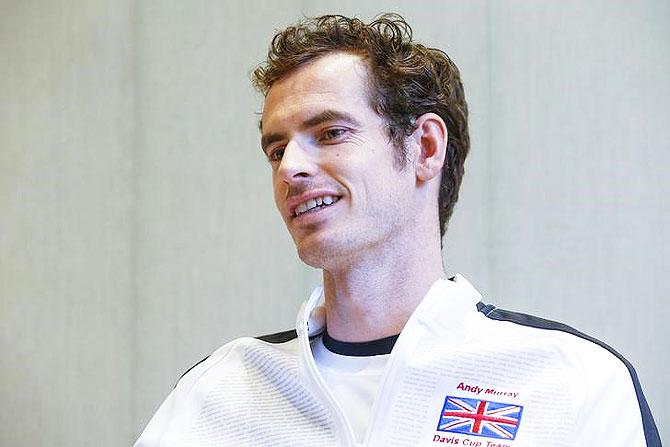 Andy Murray, who put Britain on top of the tennis world with victory in the Davis Cup at the weekend, says he has given up talking to the Lawn Tennis Association (LTA) about the future of the game back home as it is a waste of time.
Higuain takes refined Napoli top of Serie A table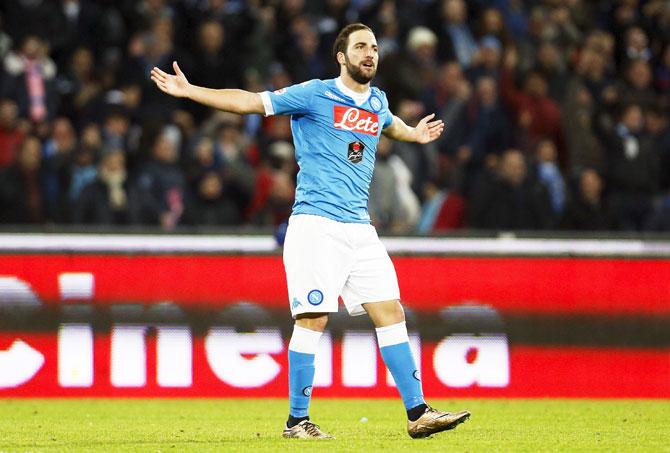 Napoli striker Gonzalo Higuain scored twice to put them top of Serie A with an extraordinary 2-1 win over Inter Milan who twice hit the woodwork in stoppage time after playing the entire second half with 10 men on Monday.
November 30, 2015
Sania Mirza holidays in Goa with actress Parineeti Chopra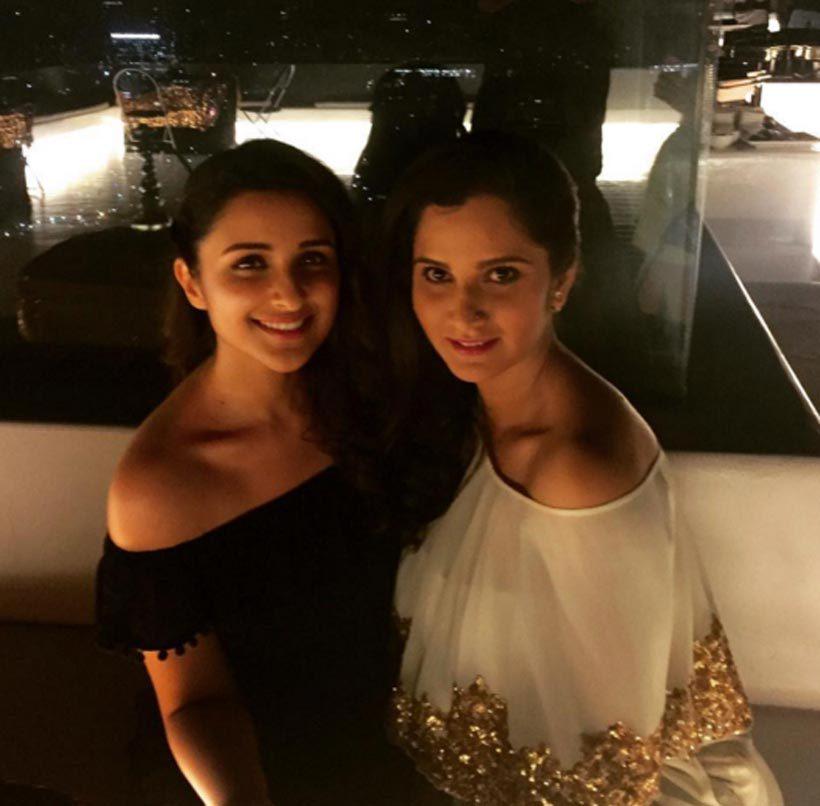 The tennis champ is now out on a mini-vacation with the Bollywood actress. Both Sania and Pareeniti shared pictures of them partying in Goa.
I still love Tiger Woods, says Lindsey Vonn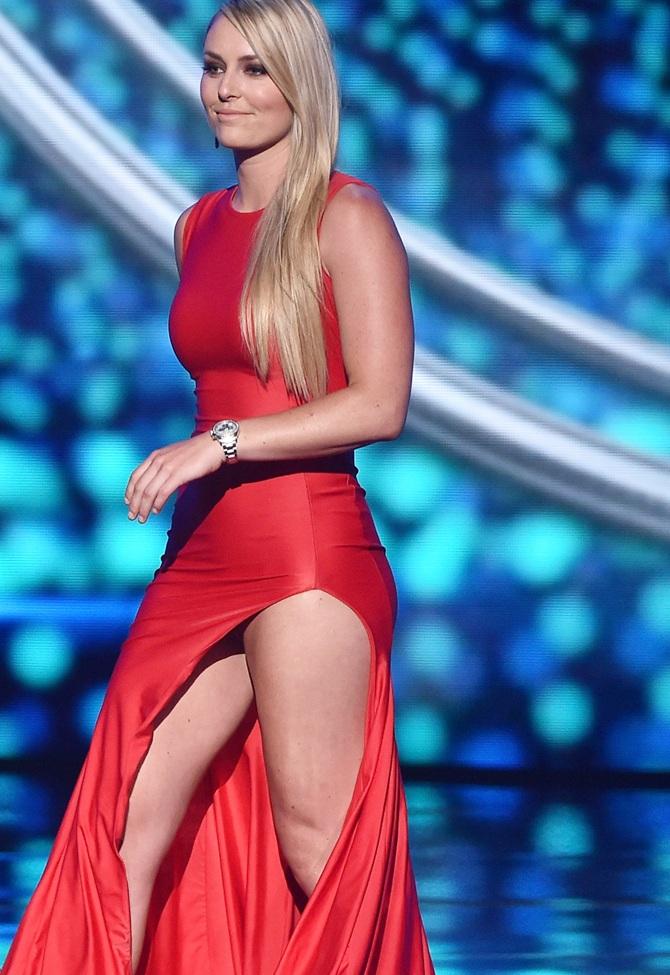 US skiing's golden girl, Lindsey Vonn opened up about her relationship with former World No 1 golfer Tiger Woods.
Sindhu on a high after Macau hat-trick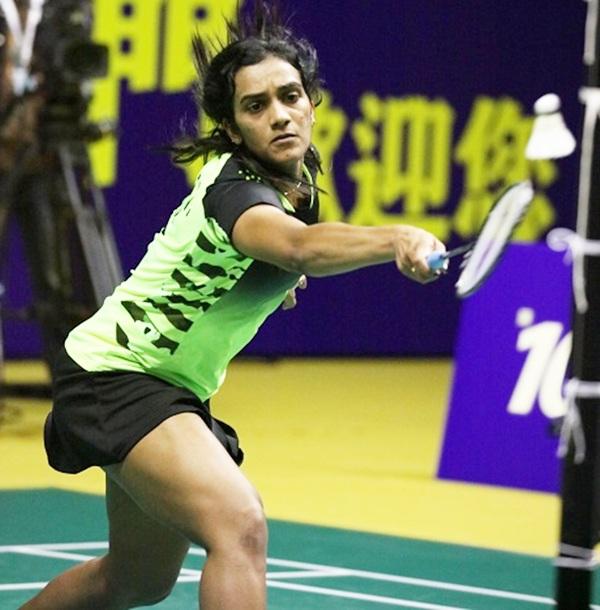 A foot injury early in the year derailed her plans but ace Indian shuttler P V Sindhu is happy to make a successful comeback with a good performance at the Denmark Super Series Premier and a third successive Macau Grand Prix Gold title.
PHOTOS: New Zealand bids farewell to Lomu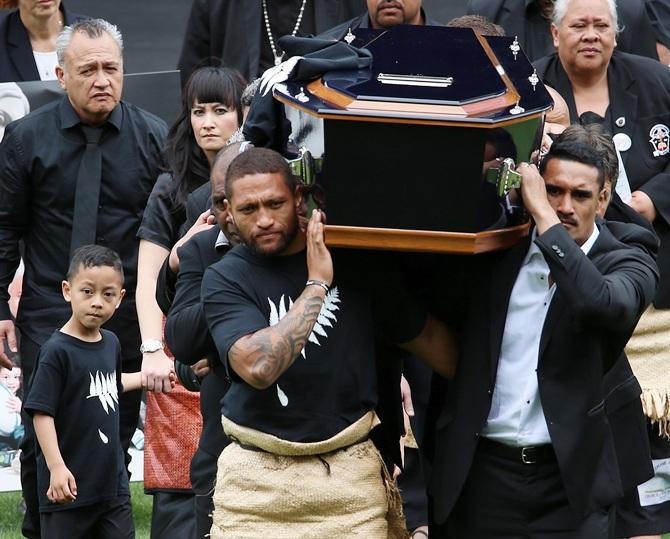 Six simple words eloquently summed up the impact Jonah Lomu had on rugby union when New Zealand paid its final respects to the former All Blacks winger on Monday.
It's the end of an era...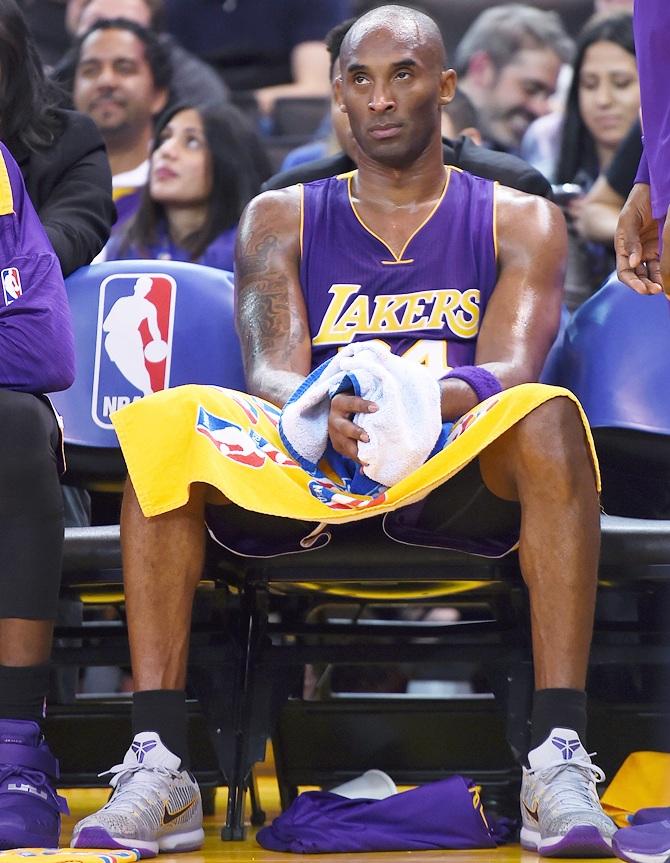 Los Angeles Lakers great Kobe Bryant, arguably the best player of his generation, announced on Sunday he will retire after the 2015-16 National Basketball Association season.
What do Beckham, Ronaldo, Messi, Nadal have in common?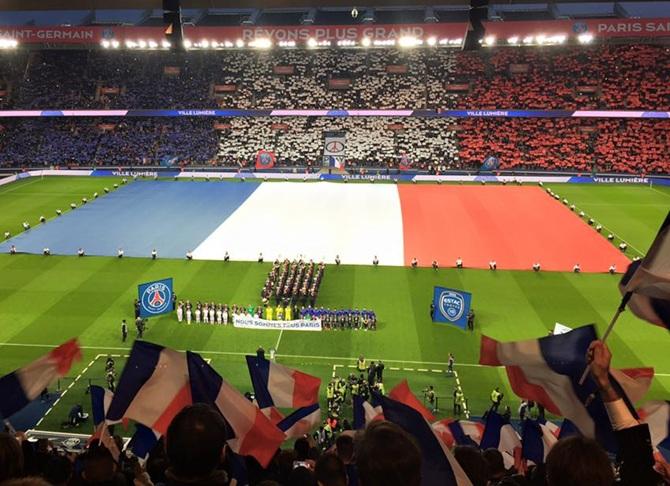 Beckham, Ronaldo, Messi, Nadal, Rooney, paid moving tribute to Paris victims.
November 29, 2015
La Liga: Bale, Ronaldo score in Real's win over Eibar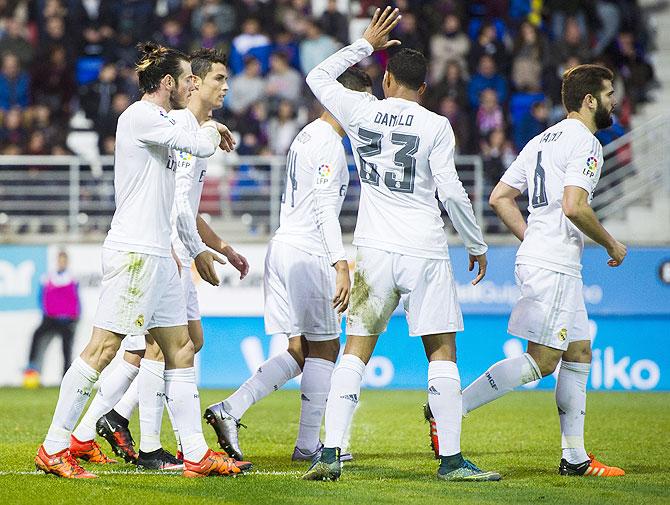 A Gareth Bale header and a Cristiano Ronaldo penalty gave Real Madrid a much-needed 2-0 victory over Eibar in La Liga on Sunday, following their hammering by leaders Barcelona last weekend, and put them six points off the top of the standings.
ISL: Goa plunder Kerala Blasters to reach semis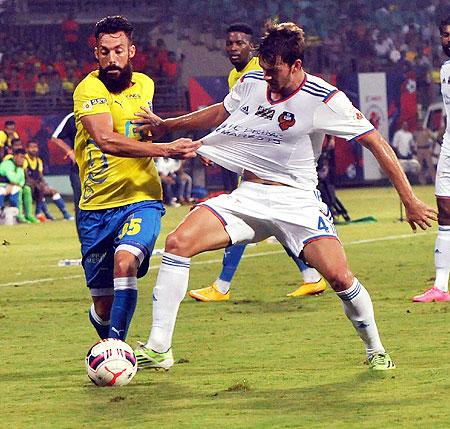 Reinaldo da Cruz Oliveira struck a hat-trick as FC Goa secured their place in the semi-final of the Indian Super League (ISL) with a record 5-1 win over Kerala Blasters, in Kochi on Sunday.
Murray beats Goffin to seal Davis Cup title for Britain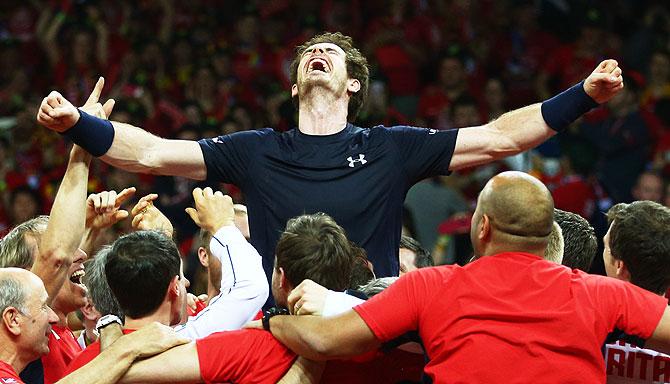 Andy Murray beat Belgium's David Goffin 6-3, 7-5, 6-3 to seal Britain's first Davis Cup triumph for 79 years on Sunday in the Flanders Expo in Ghent.
No regrets on exposing Russia doping: whistleblowers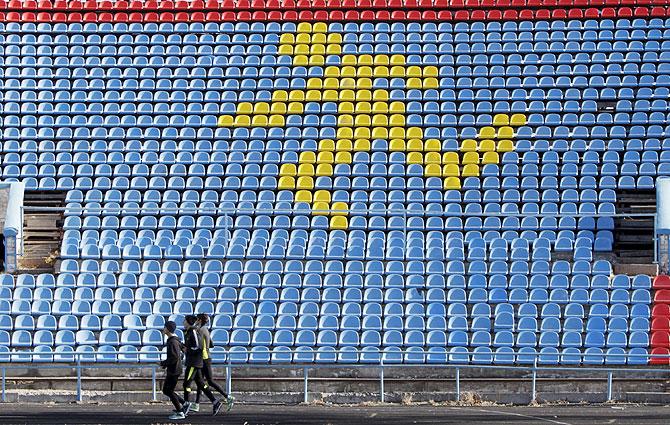 Yulia Stepanova, an international runner who was herself suspended for doping offences, and her husband Vitaly, a former Russian anti-doping agency official, secretly recorded Russian coaches and athletes over almost two years describing how they used performance-enhancing drugs.
Russian athletes to participate in events in Turkey, claims news agency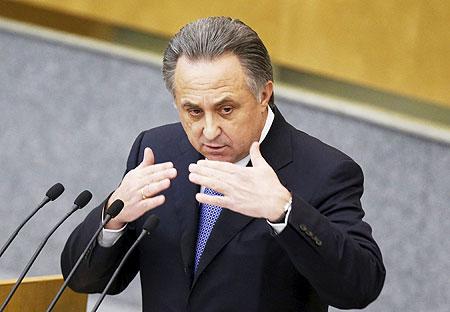 Russian athletes will participate in tournaments organised in Turkey, with maximum security ensured, RIA news agency cited sports minister Vitaly Mutko as saying on Sunday.
Sarita Devi on comeback trail after serving ban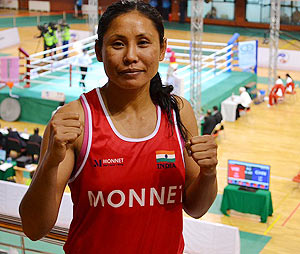 On a comeback trail after serving her one-year ban, Asian Games bronze-medallist L Sarita Devi will be seen in competitive action from December 1 as part of a 13-strong Indian team of 10 men and 3 women for the training-cum-competition event in the Chinese city of Qian'an.
Australian Open: Local Jones holds off Spieth, Scott to win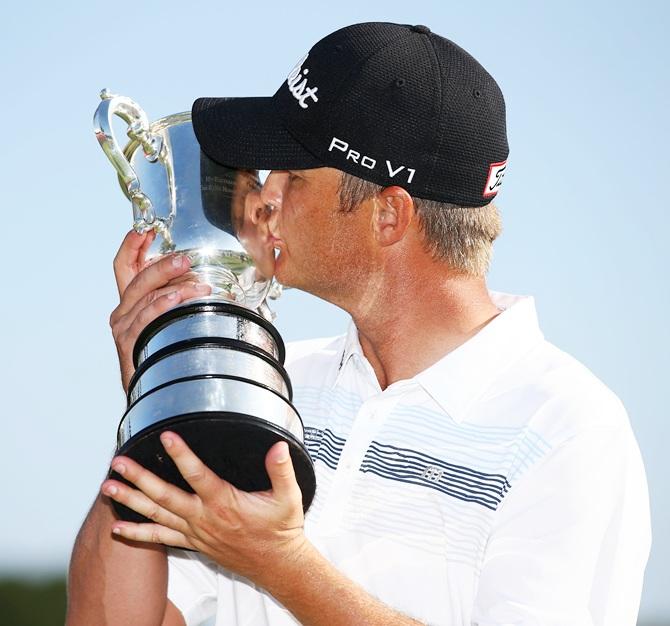 Matt Jones held off World No 1 Jordan Spieth and a charging Adam Scott on his home course to win the 100th edition of the Australian Open by a stroke after a dramatic final round on Sunday.
Sindhu clinches Macau Open title again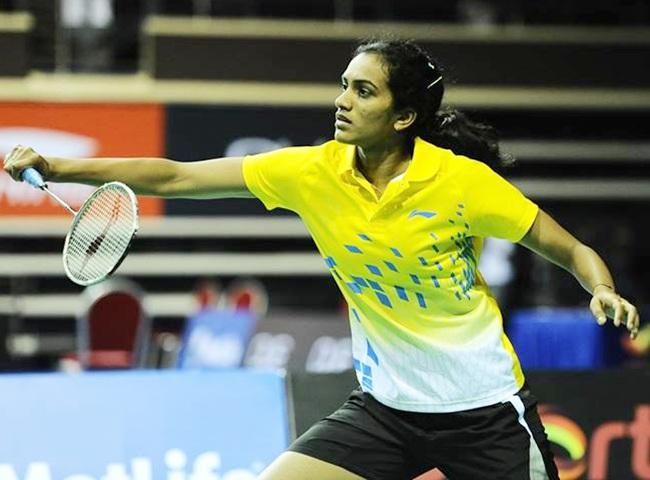 Ace Indian shuttler PV Sindhu proved once again how Macau Open Grand Prix is her favourite hunting ground.
Meet the new World Champ...Fury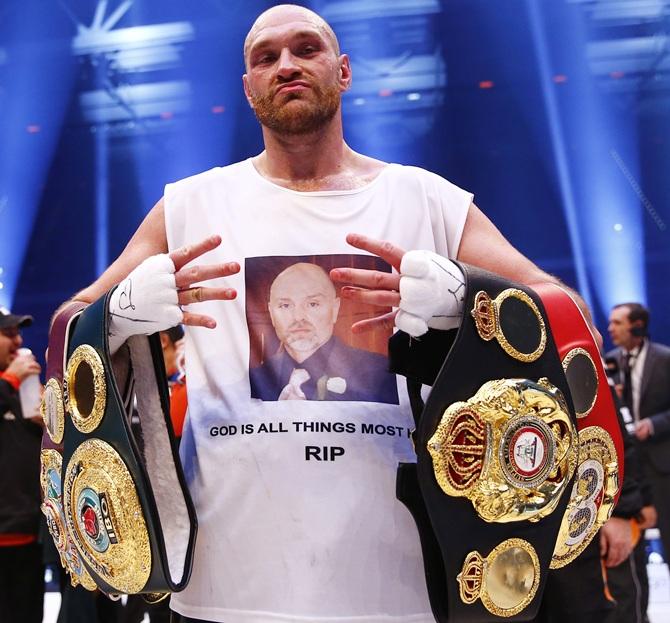 Underdog Tyson Fury caused a huge boxing upset on Saturday, stunning Wladimir Klitschko with a points victory to snatch the champion's four titles and become the first Briton to hold a world heavyweight crown since 2011.
November 28, 2015
Kenya bans seven more athletes for doping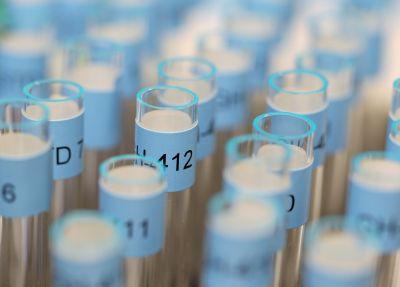 Kenya, facing scrutiny from world anti-doping officials and criticism that it is not doing enough to tackle the problem, has banned seven more athletes for doping offences, raising the total number of Kenyan drug cases in the last three years to 40.
Ukraine handed stadium ban for racism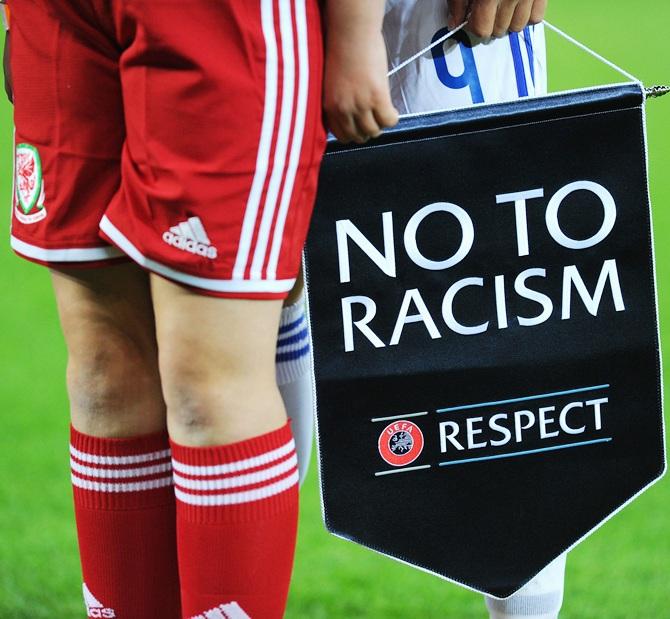 Ukraine was ordered to play a game behind closed doors as part of a UEFA punishment for racist behavior at last month's European Championship qualifier against Spain.
Brazil's Andrade Gutierrez to admit World Cup bribes: Folha paper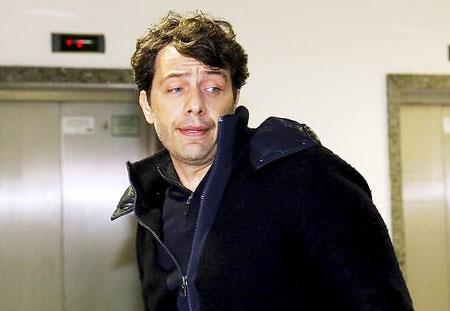 One of Brazil's largest builders, Andrade Gutierrez, will confess to paying bribes for 2014 FIFA World Cup contracts and business with state-run companies Petrobras and Eletrobras, a newspaper report said on Friday.
Shuttler Sindhu battles into Macau Open final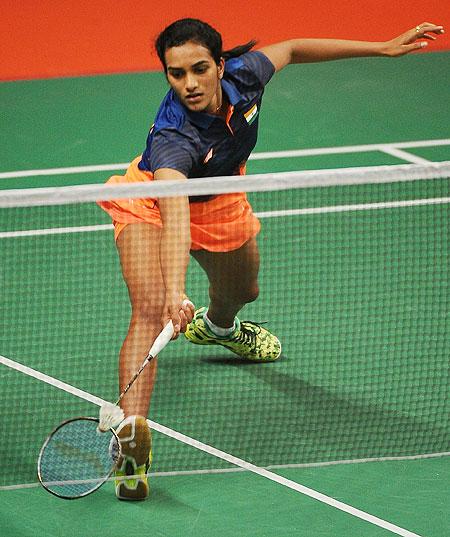 The double bronze medallist at claimed a 21-8, 15-21, 21-16 over second seed Yamaguchi in a thrilling semi-final contest
Cleared Radcliffe feels damaged by doping claims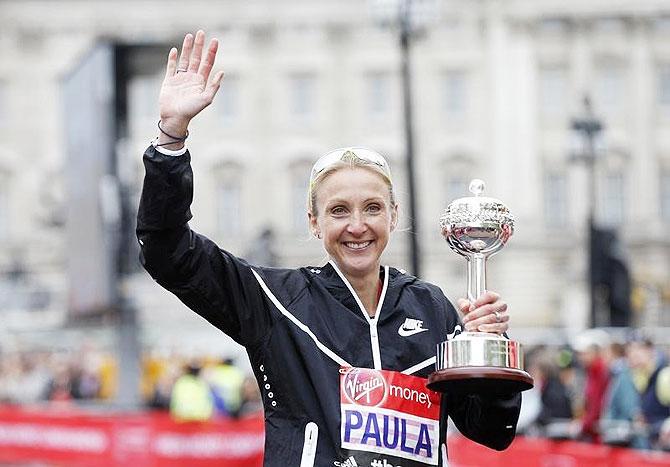 IAAF defends action against Radcliffe
November 27, 2015
Leander is my favourite mixed doubles partner: Navratilova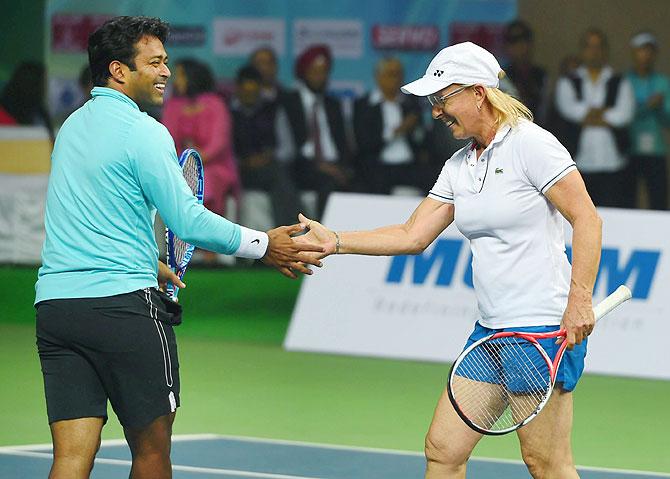 Tennis legend Martina Navratilova, on Friday, described multiple Grand Slam winner Leander Paes as her 'favourite' mixed doubles partner.
Hockey World League: Lacklustre India lose 0-3 to Argentina in opener
India dished out a lackluster performance to go down 0-3 to Argentina in the opening match of the Hockey World League (HWL) Final in front of a packed Sardar Vallabhbhai Patel Stadium in Raipur on Friday.
ISL: Hume 'tricks' again as ATK rout Pune 4-1 to storm into semis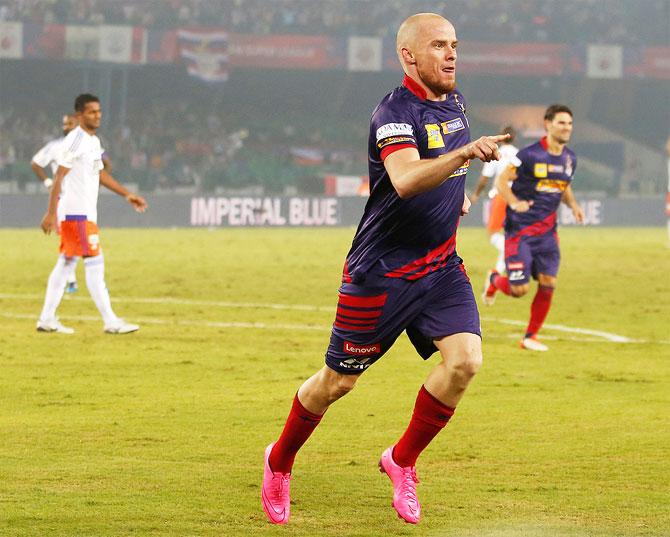 Iain Hume struck his second hat-trick of the season as defending champions Atletico de Kolkata today became the first team to seal a semifinal berth following their 4-1 rout of FC Pune City in the Indian Super League football tournament at the Vivekananda Yuva Bharati Krirangan in Kolkata on Friday.
Davis Cup final: Goffin fights back to give Belgium lead vs Britain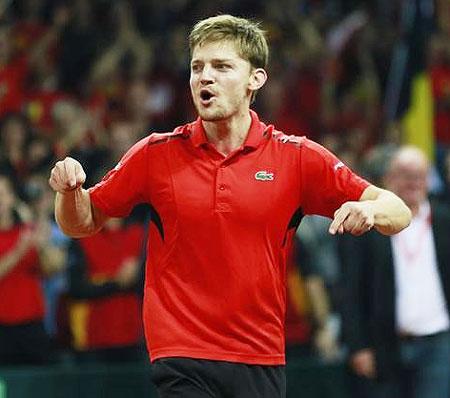 David Goffin recovered from a two-set deficit for the first time in his career to give Belgium a 1-0 lead in the Davis Cup final against Britain when he beat debutant Kyle Edmund 3-6, 1-6, 6-2, 6-1, 6-0 in Ghent on Friday.
Saina, Srikanth seal spot at Dubai World Superseries Finals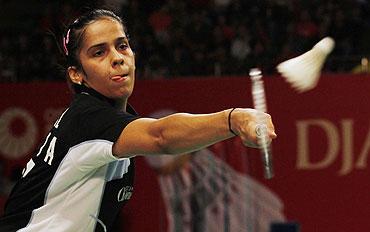 Top Indian shuttlers Saina Nehwal and Kidambi Srikanth have sealed their spots at the prestigious BWF World Superseries Finals for the second successive time.
Macau Open: Sindhu marches into semi-final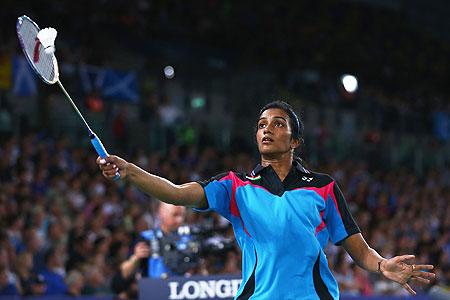 Two-time defending champion P V Sindhu remained on course for retaining her title as she reached the semi-finals with a hard-fought three-game win over China's Chen Yufei at the $120,000 Macau Open Grand Prix Gold tournament in Macau on Friday.
World Athletics boss puts his money where his mouth is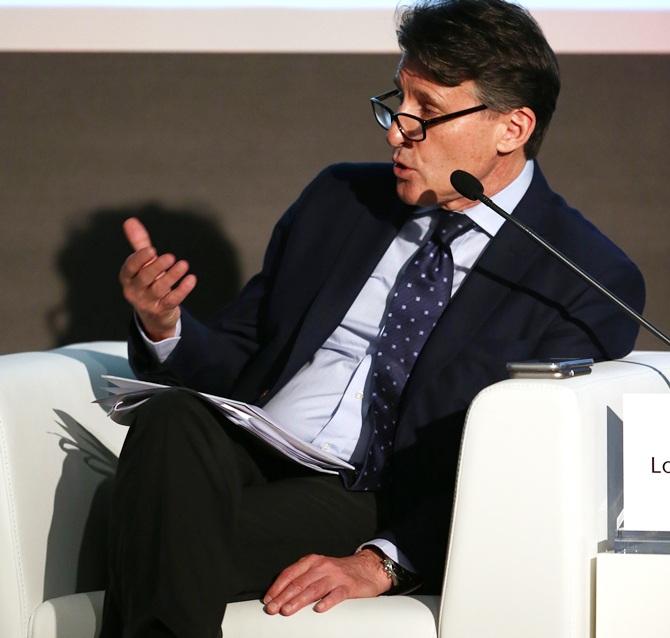 The global head of athletics, Sebastian Coe, has promised to do all he can to clean up the battered reputation of his sport and the organisation that runs it and has already made changes in the way the IAAF operates in Monaco.
Usain Bolt beaten, at last!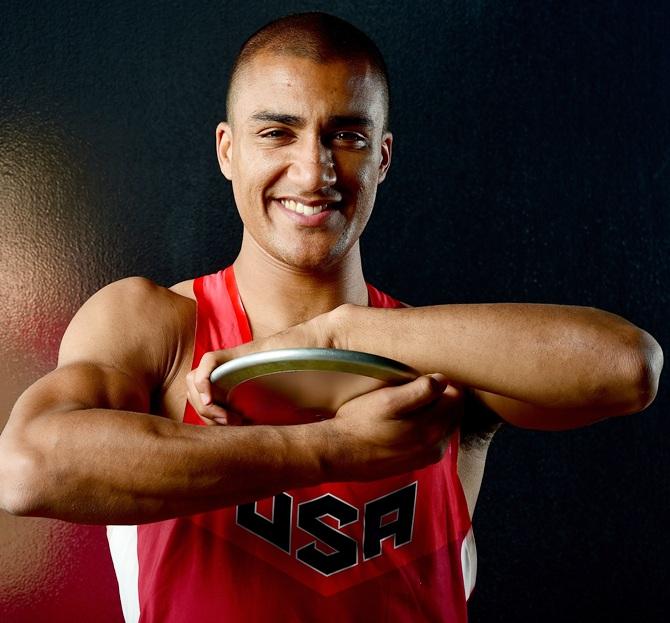 'I did not beat Usain and Christian... They are some of the most talented and beautiful performers of all time.'
Europa League PHOTOS: Spurs, Liverpool and Bilbao through, Dnipro out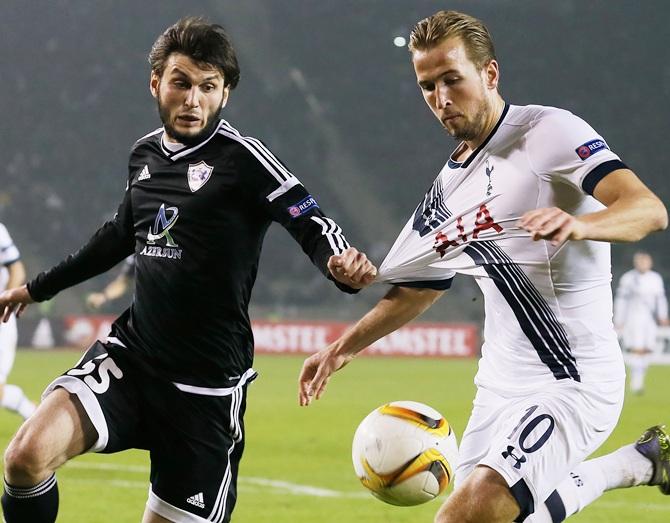 The value of an in-form striker was underlined as Tottenham Hotspur, Liverpool and Athletic Bilbao needed goals from pivotal front men to grab vital wins that booked places in the Europa League last 32 on Thursday.
Will Neymar eclipse Messi and Ronaldo by next year?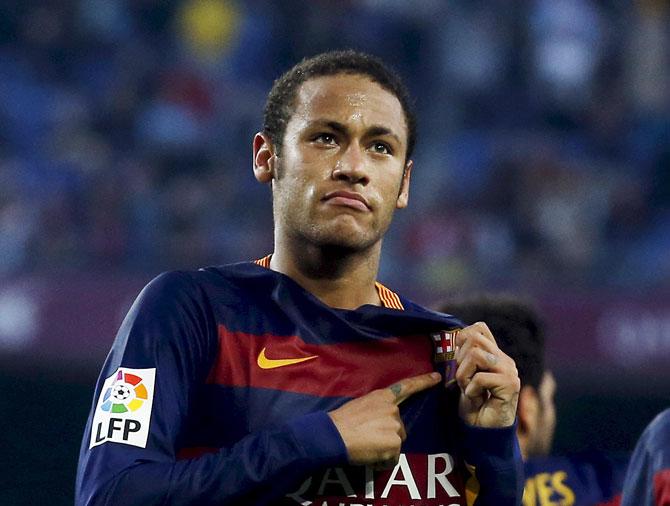 Cristiano Ronaldo and Lionel Messi are the two best players in the world right now but Neymar will eclipse them both next year, former Brazil striker Ronaldo told Reuters.
November 26, 2015
Russia accepts IAAF ban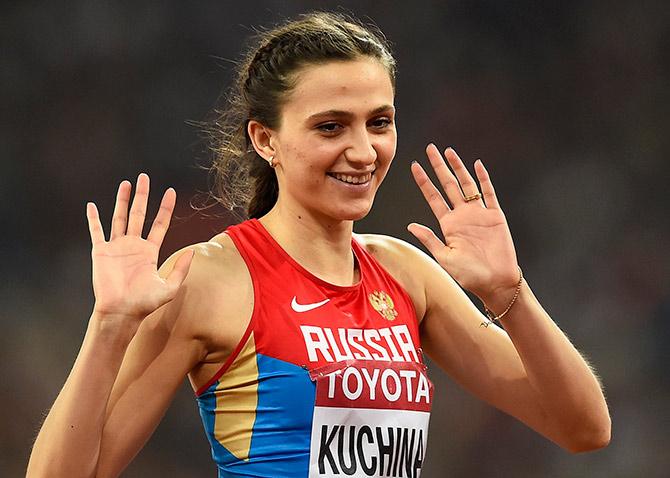 The Russian athletics federation has accepted its ban from the sport in the wake of widespread doping revelations, the International Association of Athletics Federations (IAAF) said on Thursday.
Sindhu, Prannoy, Praneeth enter quarter-finals of Macau Open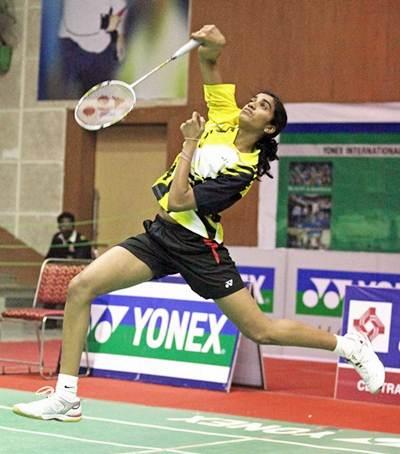 Indian shuttlers PV Sindhu, HS Prannoy, B Sai Praneeth enter quarter-finals of Macau Open
'Roadies' will not hinder my Rio preparations: Sushil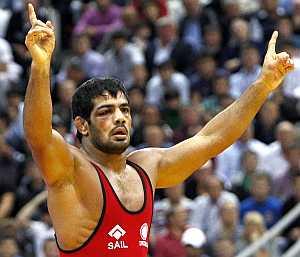 Double Olympic medallist Sushil Kumar has insisted that his participation in television reality show MTV Roadies is not going to affect his preparations for the 2016 Rio Olympics.
Chance for Vijay Kumar, Manavjit to seal Rio Olympics berth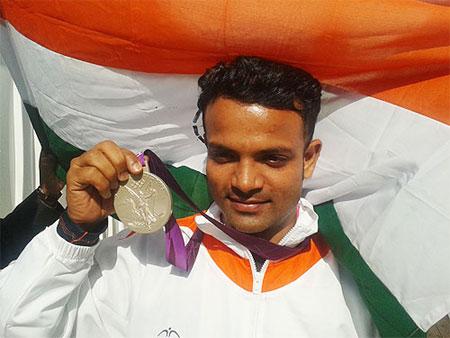 Vijay Kumar, Heena Sidhu, Manavjit Singh Sandhu and Ronjon Sodhi are some of the shooting stars who will fancy their chances when Delhi hosts the final Asia Olympic Qualifying Competition, where 35 tickets to Rio will be up for grabs from January 25 to February 3.
Double tragedy in US sports: Former boxer shot dead; Footballer injured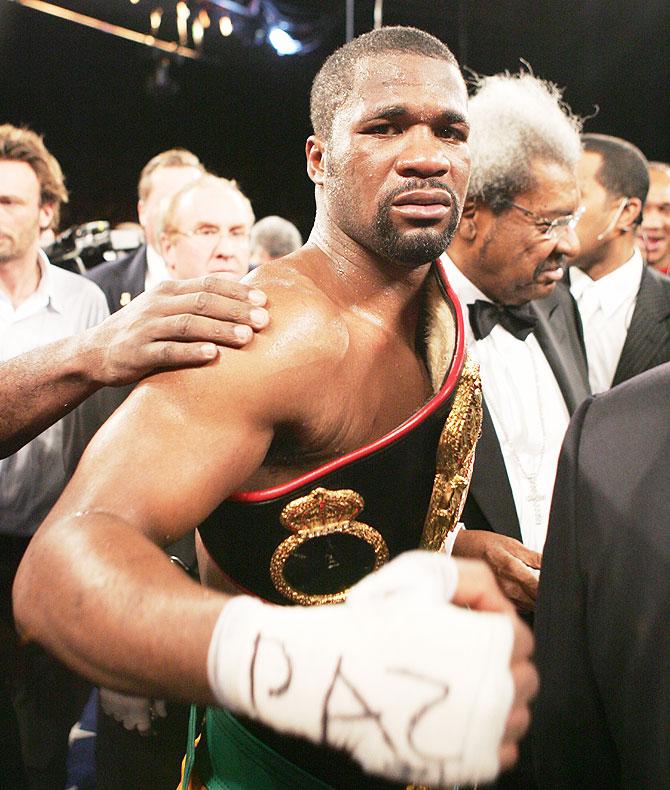 Forty-year-old O'Neil Bell was killed during a robbery in Atlanta, while suspended St. Louis Rams wide receiver Stedman Bailey underwent surgery after shootout
Humiliated Blatter says, I'll fight for me and for FIFA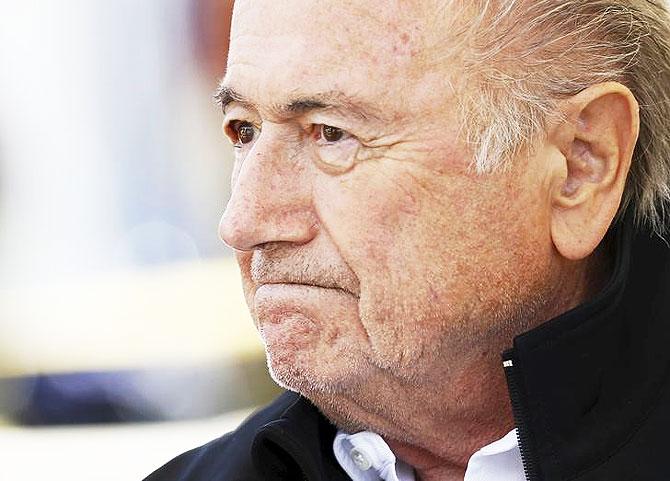 The suspended president of the international football body believes only FIFA Congress can bar him, not the Ethics Committee.
Champions League PIX: Ibra's PSG thrash Malmo; Atletico in last 16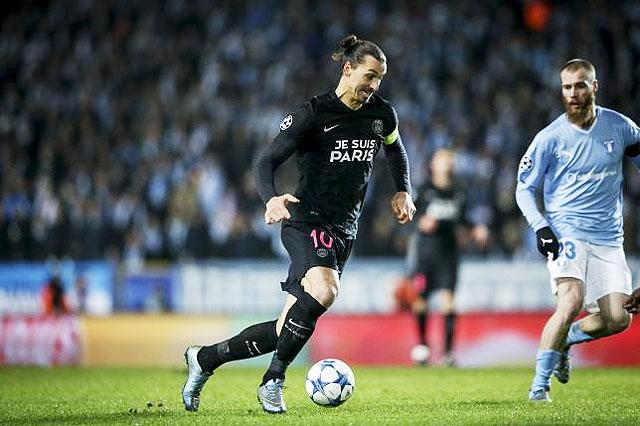 Sweden striker Zlatan Ibrahimovic crowned a triumphant homecoming with a second-half goal as Paris St Germain crushed Malmo 5-0 on Wednesday to book a place in the last 16 of the Champions League.
November 25, 2015
Macau Open: Sindhu, Prannoy, Praneeth in third round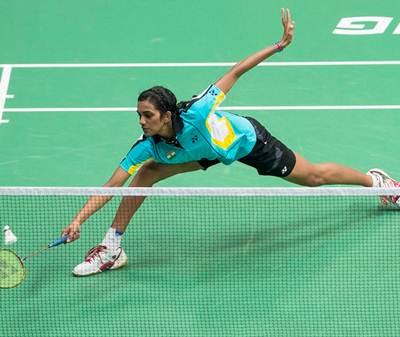 Three Indians, including P V Sindhu, advanced to the pre-quarter-finals in the US $120,000 Macau Open Grand Prix Gold badminton tournament, but it was curtains for Ajay Jayaram in the men's singles, on Wednesday.
Why the World Athletics boss is under fire again...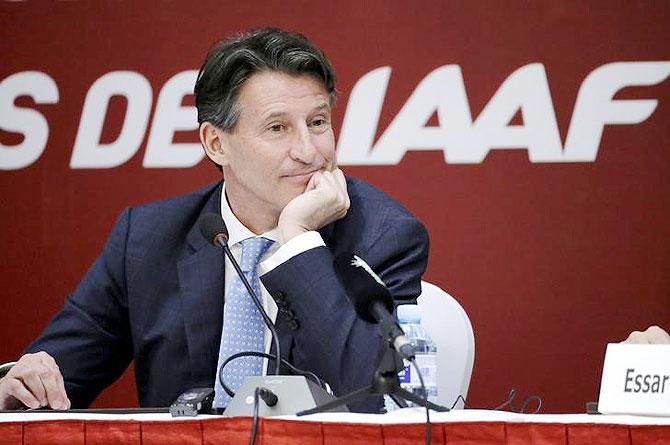 The head of world athletics Sebastian Coe faced fresh allegations about his involvement in the controversial award of the 2021 world championships to the American city of Eugene on Tuesday, but insisted he had acted fairly throughout.
November 24, 2015
Jayaram, Prannoy, Praneeth in second round at Macau Open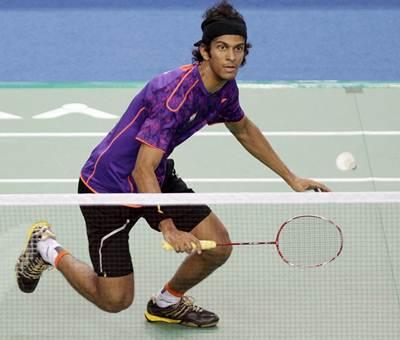 Top seed K Srikanth suffered a straight-games defeat, but three other Indians, including Ajay Jayaram and H S Prannoy, advanced to the second round of the US $120,000 Macau Open Grand Prix Gold on Tuesday.
November 23, 2015
Happy to be achieving in both billiards and snooker: Advani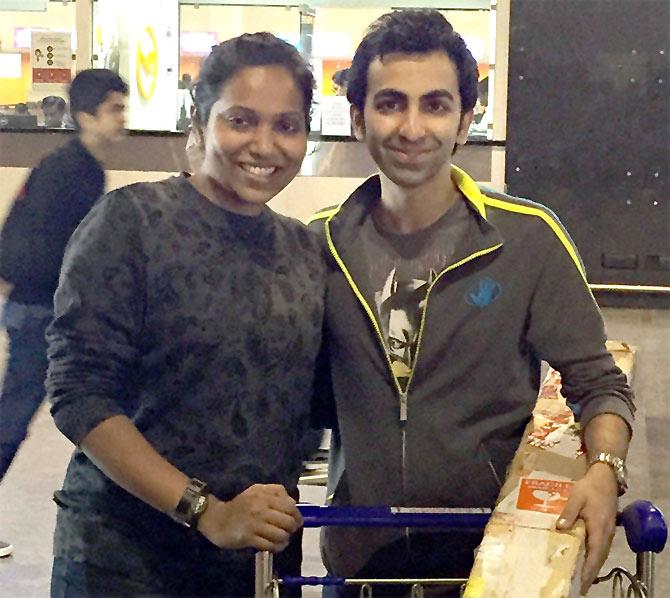 He has achieved a legendary status after pocketing 15th world title and India's most celebrated cueist Pankaj Advani derives a lot of satisfaction from the fact that he has successfully managed the tough balancing act of playing snooker and billiards at such a high level.
10 BEST Sports Photos of the Week!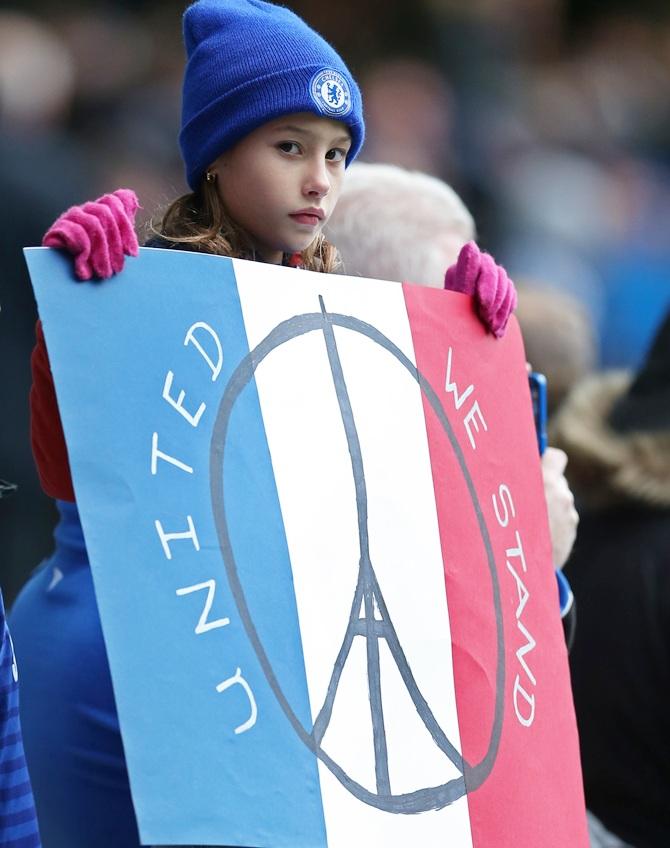 Rediff.com recaptures these and other exciting sporting moments from the week gone by....
La Liga: Villarreal snatch late draw against Eibar to go fourth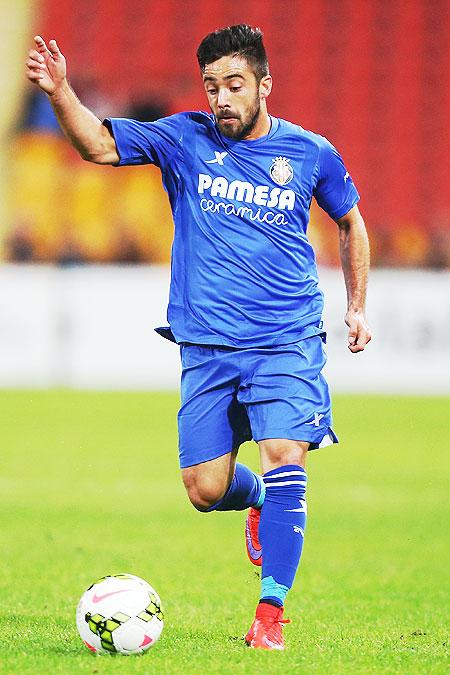 Jaume Costa atoned for giving away a first-half penalty when his strike five minutes from time rescued Villarreal a 1-1 draw against Eibar that put them fourth in La Liga on Sunday.
Serie A PHOTOS: Inter go top after Fiorentina held by lowly Empoli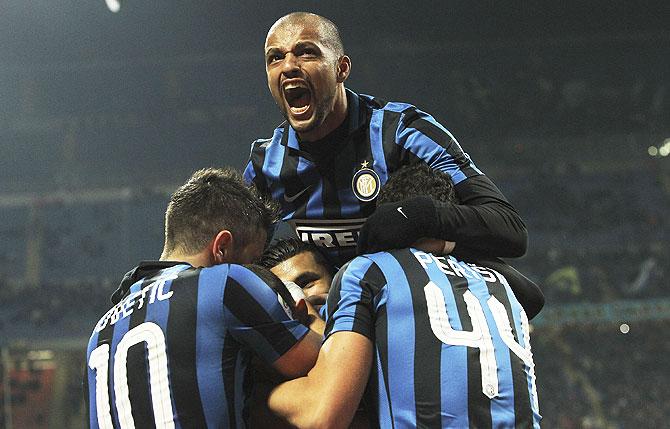 Inter Milan went on a rare scoring spree to thrash Serie A newcomers Frosinone 4-0 and go clear at the top on Sunday, the first time Roberto Mancini's team have won a league match by more than one goal this season.
Do Gunners have the Arsenal to qualify for Champions League play-offs?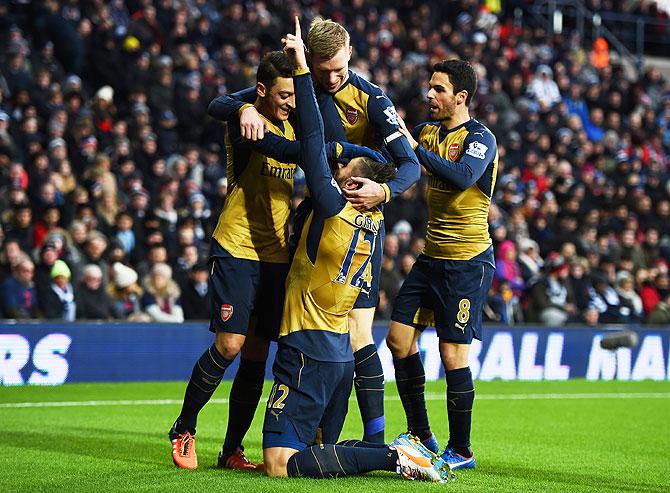 Arsenal manager Arsene Wenger still believes his side have a "strong chance" to qualify for the Champions League last 16 for a 16th consecutive season as the Premier League side and Croatian champions Dinamo Zagreb face a do-or-die contest.
Messi set for Champions League return in time for Roma visit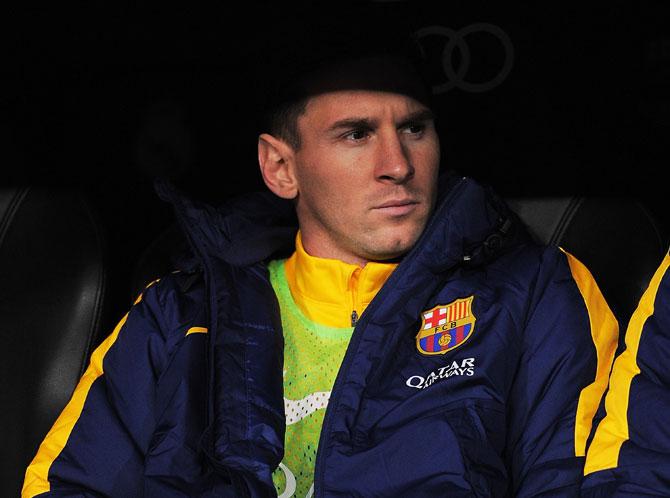 Lionel Messi is set for his first start for nearly two months when Barcelona, fresh from pulverising Real Madrid 4-0 at the weekend, set their sights on Champions League qualification when AS Roma visit the Nou Camp on Tuesday.
PHOTOS: Kane helps Spurs thrash West Ham in London derby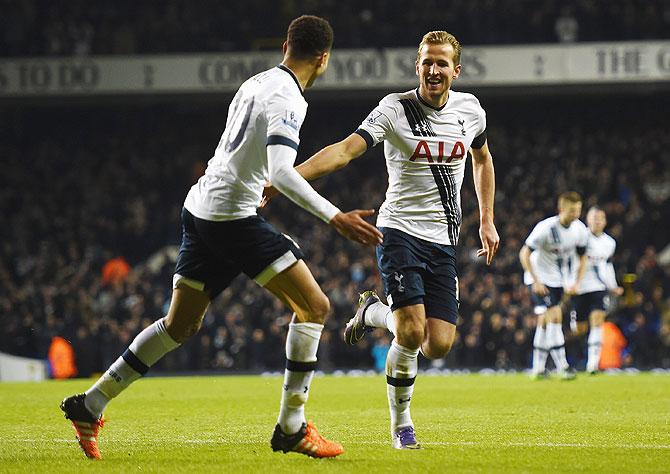 A double from Harry Kane, who scored in his fifth consecutive club match, inspired Tottenham Hotspur to a 4-1 win over London rivals West Ham United in the Premier League at White Hart Lane on Sunday.
PHOTOS: Djokovic caps brilliant year with Tour Finals win over Federer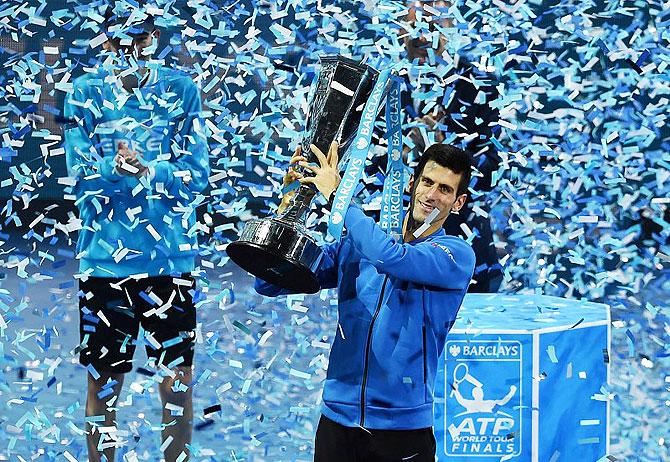 The immaculate Serb became the first player in the Tour Finals' 46-year history to claim the title four times in a row
November 22, 2015
McIlroy wins DP World Tour Championship, tops money list again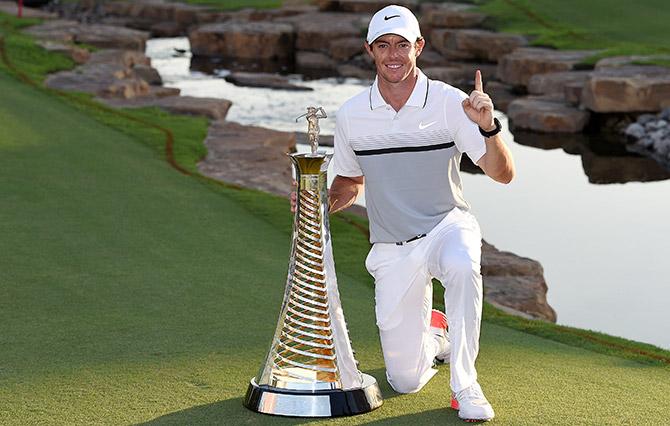 Rory McIlroy won Dubai's DP World Tour Championship on Sunday, overhauling overnight leader Andy Sullivan with four birdies on the back nine to also be crowned Europe's top money earner for a third year in four.
Hong Kong Open Super Series: Marin wins year's sixth title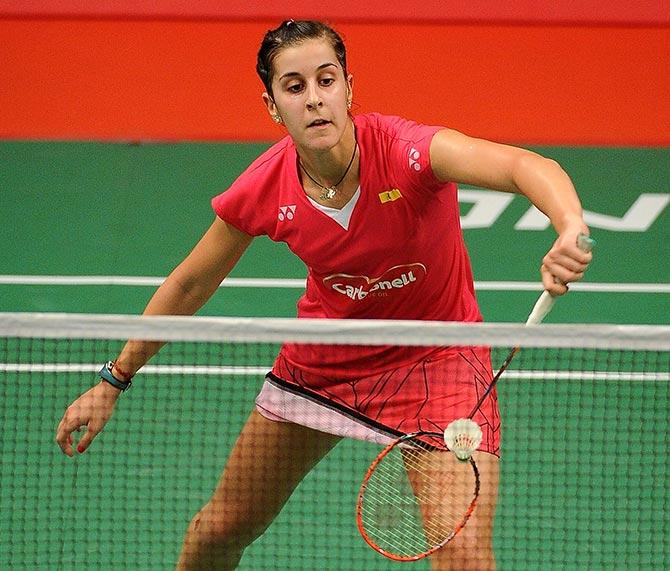 Carolina Marin of Spain beat Japan's Nozomi Okuhara 21-17, 18-21, 22-20 to win the Hong Kong Open.
November 21, 2015
Advani outclasses Xintong to clinch 15th World title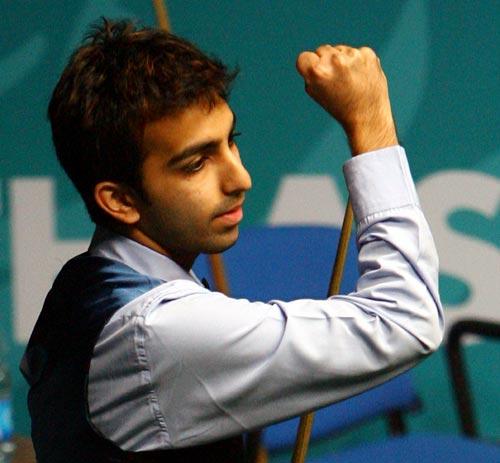 India's most successful cueist Pankaj Advani on Saturday added another feather in his cap by winning the IBSF World Snooker Championship after battling past his Chinese opponent Zhua Xintong in the final to take his World title count to 15.
Lahiri stays afloat with late birdies in Dubai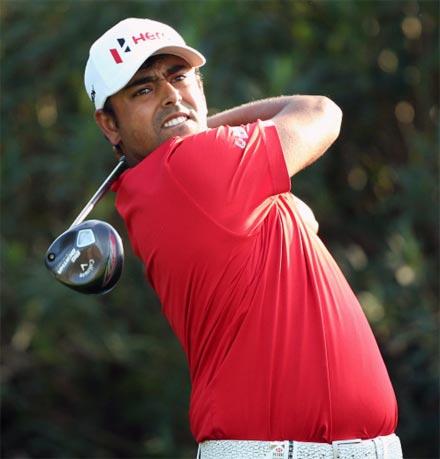 Anirban Lahiri battled for a good part of the day but managed to keep himself afloat with three birdies over the last five holes to finish even par and stayed at four-under for 54 holes at the DP World Tour Golf Championships in Dubai, on Saturday.
Indian shuttler Arvind Bhat quits badminton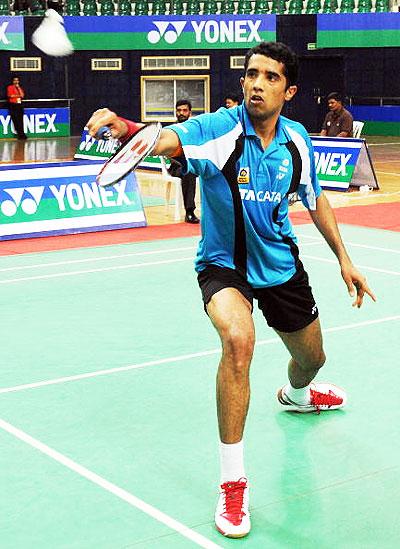 Former national champion and 2014 German Open winner, Arvind Bhat has retired from international badminton, citing his desire to concentrate on coaching stints with an academy in Hyderabad.
FIFA ethics committee requests sanctions against Blatter, Platini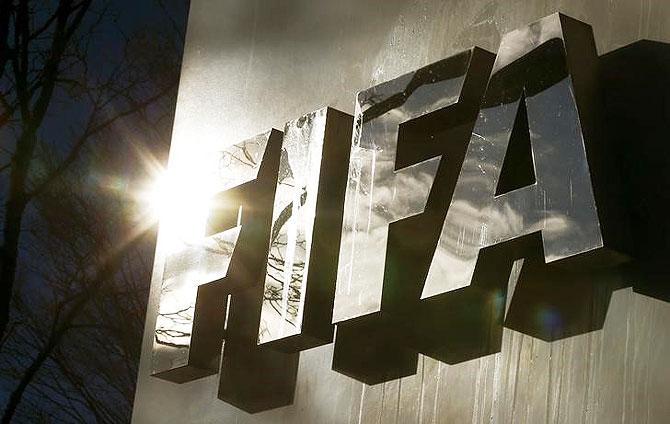 The ethics committee of world soccer governing body FIFA said on Saturday it had completed its investigation into the conduct of FIFA President Sepp Blatter and UEFA president Michel Platini and requested sanctions against them.
Dinamo's Ademi claims innocence after getting four-year ban for doping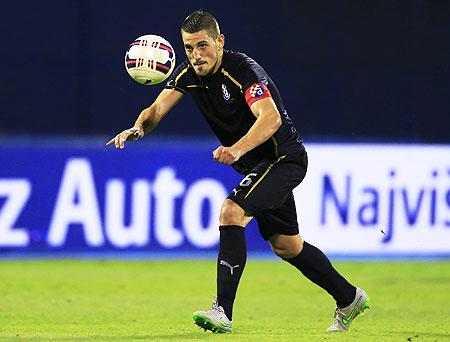 The 24-year old central midfielder, who has made three international appearances for Macedonia, failed the test after Dinamo's 2-1 home win over Arsenal in their Group F opener on September 16.
Crowds pay tribute to Paris victims as French league restarts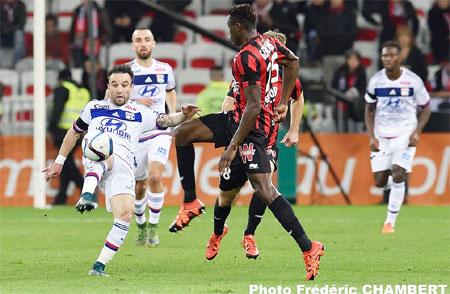 Nice defeat leaves Lyon 10 points behind leaders PSG
Bundesliga: Hamburg surprise Dortmund amid tight security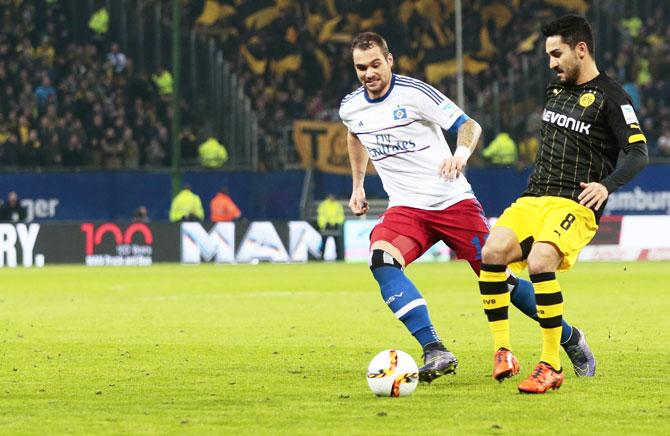 The game in front of 57,000 fans in Hamburg's Volksparkstadion started 15 minutes late due to heavy traffic and long queues for increased security checks following the attacks that left 130 dead and hundreds injured in the French capital last week.
Scottish Open: Pawar ousted, India's campaign ends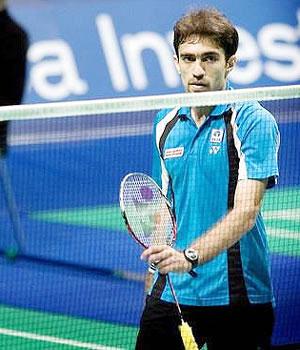 It was curtains for India at the Scottish Open after men's singles player Anand Pawar and men's doubles pair of Manu Attri and B Sumeeth Reddy bowed out of the 50,000 Grand Prix badminton tournament, in Glasgow.
November 20, 2015
Pankaj Advani breezes into World snooker semis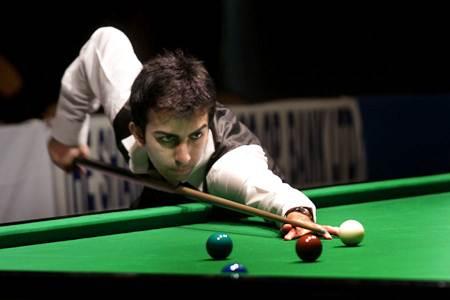 The ace cueist, the only Indian in the fray in the men's category, proved too good for Alex Borg of Malta in a 6-0 victory to improve upon his showing at the last championship when he was ousted in the quarter-finals in Bengaluru by Yan Bingtao 4-6 of China.
Bulgaria weightlifters handed Rio Olympics ban for widespread doping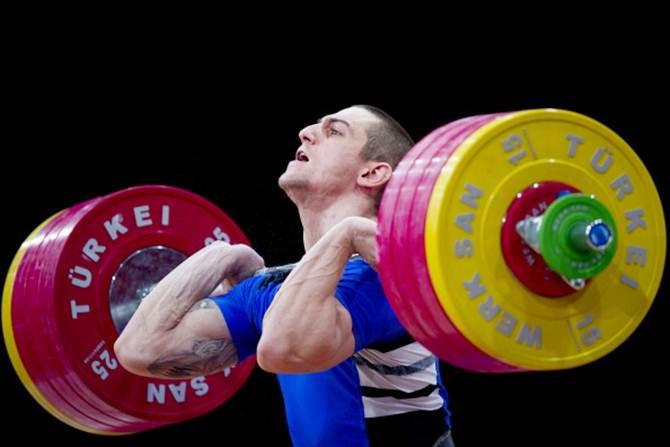 Bulgaria's weightlifters will be absent from next year's Olympics after the sport's governing body banned the country's athletes following a high number of doping cases, it said on Friday.
Dominguez stripped of 2009 steeplechase world title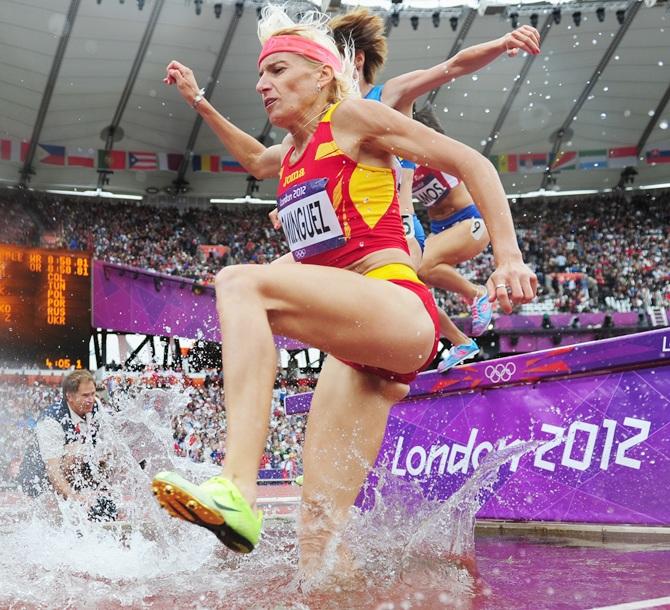 Spaniard Marta Dominguez Marta Dominguez has been stripped of her 2009 steeplechase world title and banned for three years due to anomalies in her biological passport that pointed to doping, the Court of Arbitration for Sport (CAS) said on Thursday.
No Russian athletes at the 2016 world indoor championships?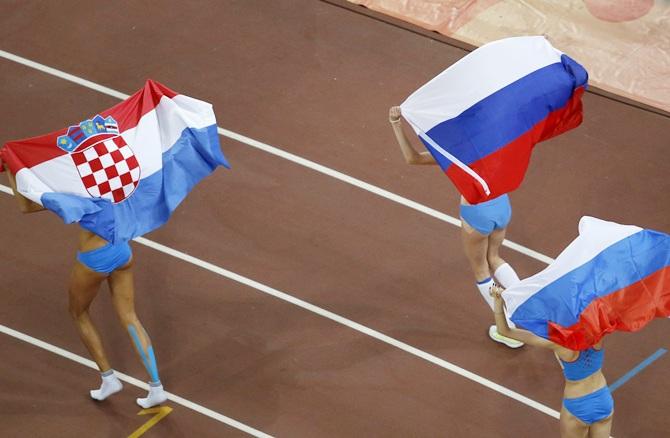 There will no be Russian athletes at the 2016 IAAF world indoor championships in Portland, Oregon next March, a source with knowledge of the decision said on Thursday.
November 19, 2015
Saina advised two-week rest, will play at the Superseries Finals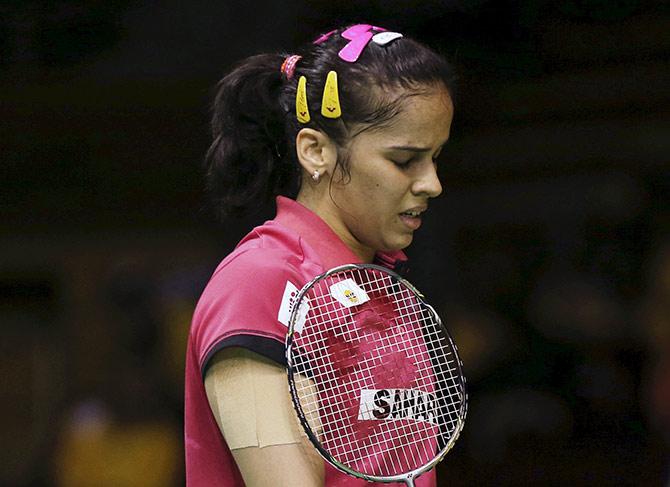 Saina Nehwal underwent a scan to diagnose her Achilles tendon problems and has been prescribed rest for a couple of weeks.
La Liga: Messi still doubtful starter for Clasico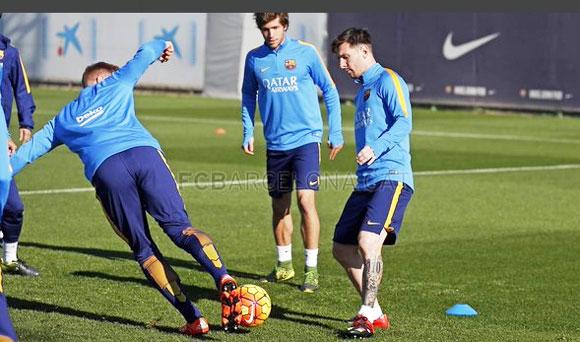 'Messi is a player that makes a difference in all games and in Clasicos he has always made a big impact but we will have to see if he is ready'
Ronda Rousey will be back for revenge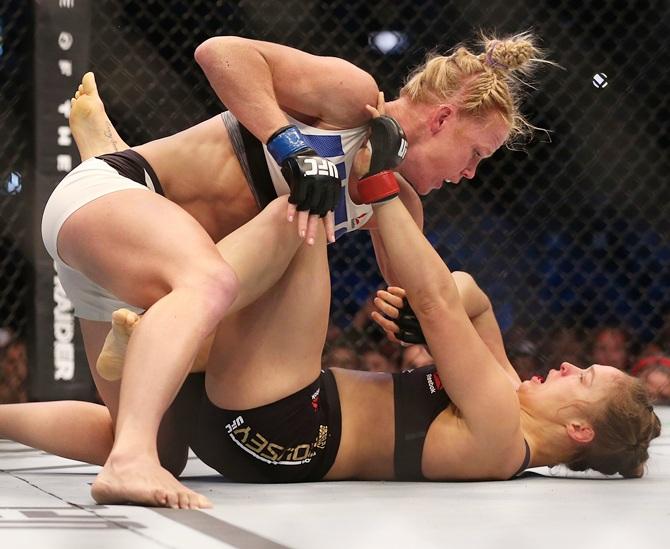 Last week, former Ultimate Fighting Champion Ronda Rousey was not only defeated by Holly Holm but was stifled from start to finish.
What you must not miss in EPL this weekend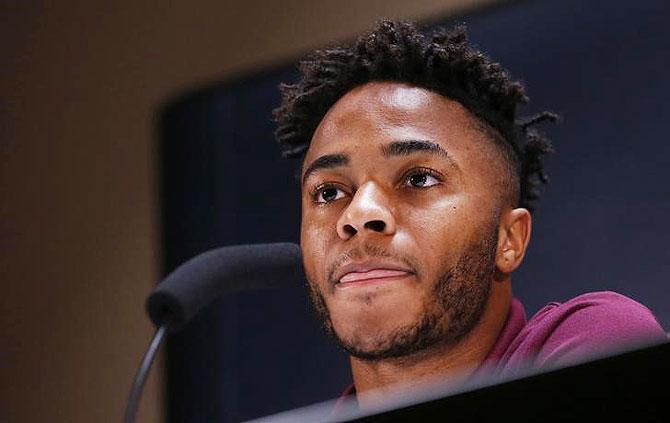 Four months after quitting Liverpool for ManchesterCity, Raheem Sterling will have the first opportunity to justify the move by getting one over his former employers when the teams meet at the Etihad Stadium on Saturday.
Russian anti-doping agency suspended for non-compliance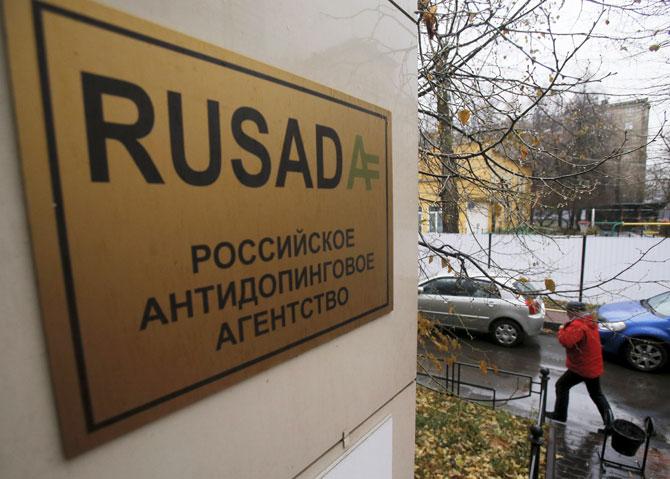 Israel, Andorra, Argentina, Bolivia and Ukraine were also found non-compliant of the WADA Code and can no longer conduct anti-doping programs
Paris attacks aftermath: Heightened security for 'El Clasico'; French league on alert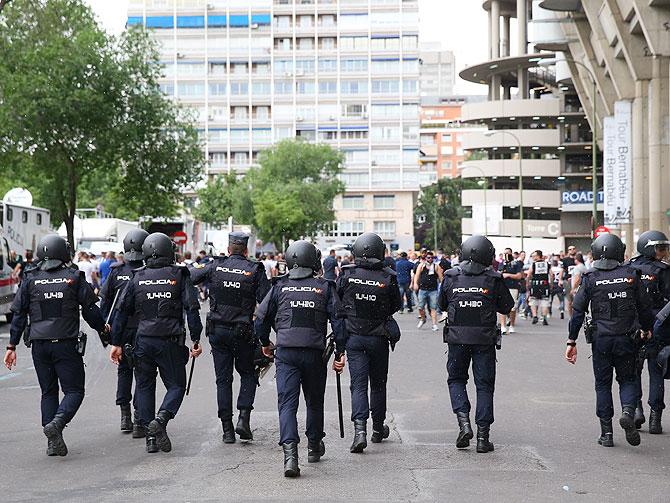 'We are on anti-terrorist alert four (with five a very high risk) and there will be extensive security so as to guarantee that the match takes place with complete normality'
'Samsonesque' Murray's strength lies in his hair!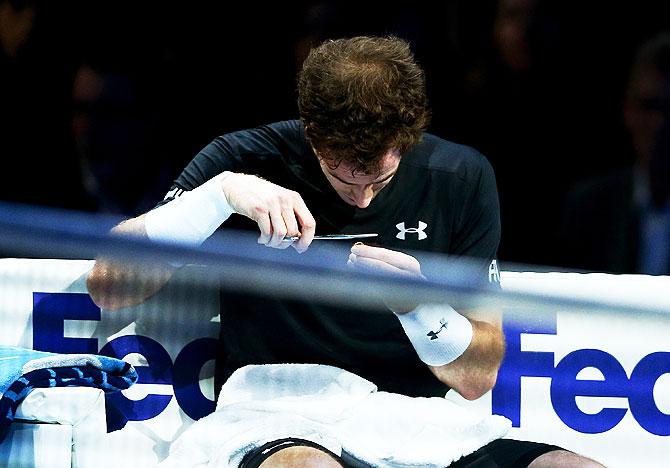 The Briton, who was playing fairly before the mid-match trim, slumped to a defeat against Nadal in their Round Robin match in the ATP Tour Finals on Wednesday.
Check out Gen Next's favourite sport!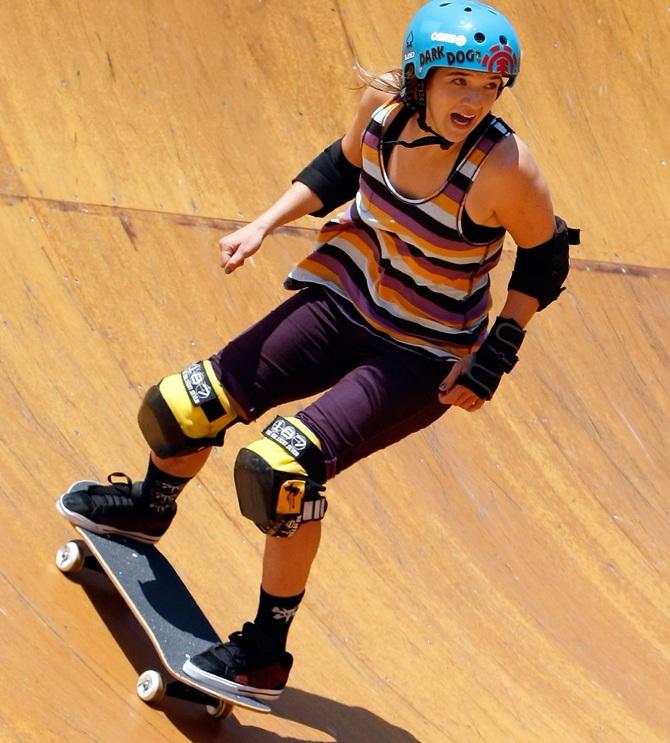 An overwhelming majority of Indians want to see more extreme sports, with a sizeable chunk voting for skateboarding to be made an Olympic sport, according to a new survey.
November 18, 2015
Swimming champ Phelps is going to be a father!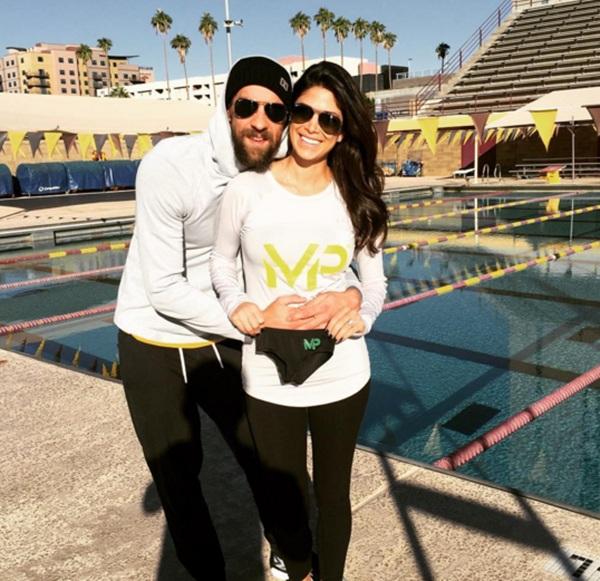 US swimming star Michael Phelps, the most decorated Olympian of all time, took to Instagram, on Wednesday, to share the news that he and fiancée Nicole Johnson, a former Miss California USA, are expecting their first child.
Bolt, Eaton, Taylor: Who will win Athlete of the Year award?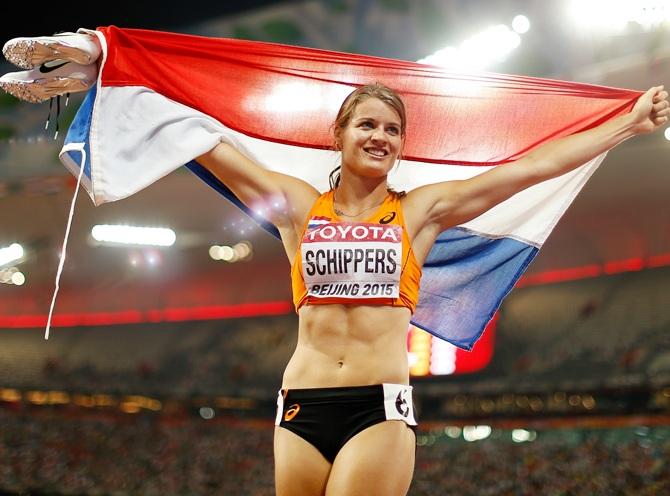 Usain Bolt, Ashton Eaton and Christian Taylor are the finalists for the 2015 World Athlete of the Year award, the International Association of Athletics Federations (IAAF) said on Wednesday.
10 sportsmen called to the Elysian fields early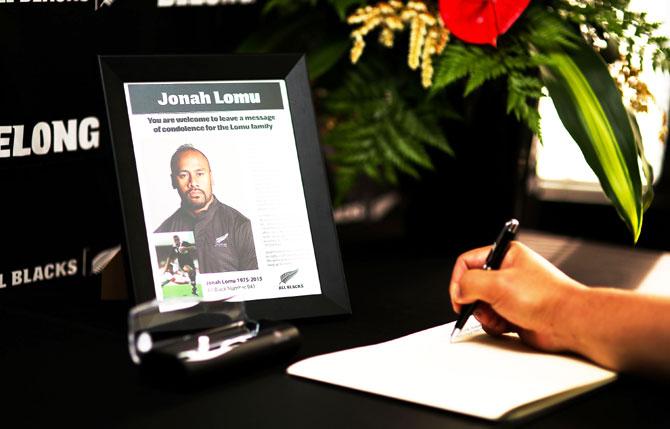 Rediff.com lists 10 athletes who died way before time.
DISASTROUS day for Indian shuttlers at Hong Kong Open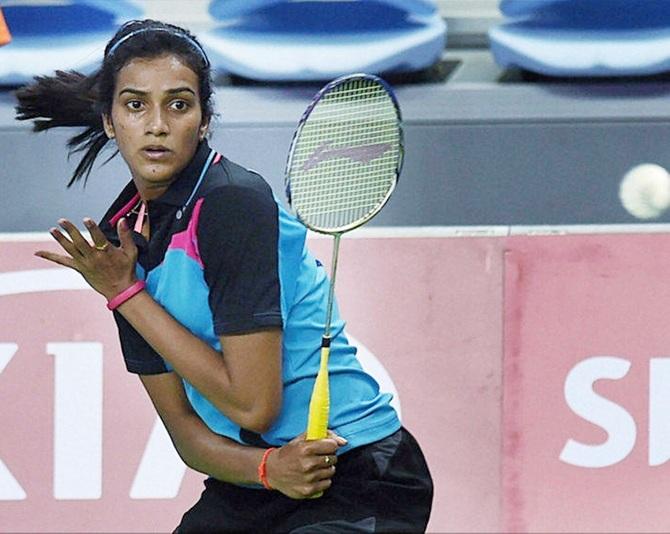 It turned out to be a disastrous day for Indian shuttlers at the Hong Kong Open as P V Sindhu, K Srikanth and Ajay Jayaram crashed out of the $ 350,000 Super Series event in the opening round, in Hong Kong, on Wednesday.
La Liga: No security threat for Sunday's El Clasico tie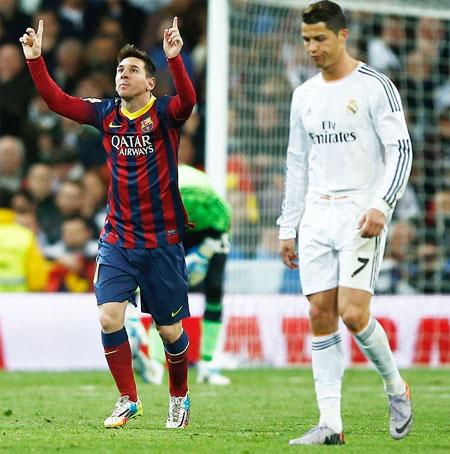 The Spanish government's top sports official has sent out a message of calm and said there is no reason for Saturday's La Liga 'El Clasico' between Real Madrid and Barcelona to be postponed following Friday's attacks in Paris.
Andre, Nani give experimental Portugal win in Luxemburg
Midfielder Andre broke the deadlock for the Euro 2016 finalists in difficult, wet conditions just after the half hour and Nani, celebrating his 29th birthday, scored direct from a free kick in the 89th minute.
WADA-accused Russian athletes to sue whistleblowers, German TV channel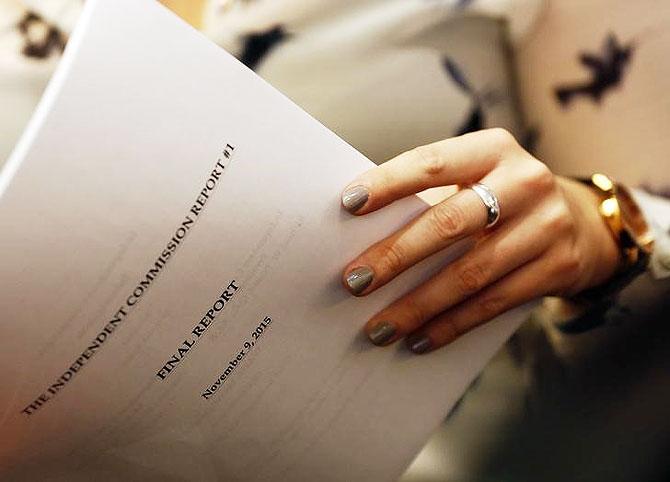 Russian athletes accused of using doping by the World Anti-Doping Agency (WADA) will file a lawsuit against a fellow athlete and her husband who have become the whistleblowers on doping in Russian athletics, RIA-Sport news agency reported on Wednesday.
Door still open for Russia to compete in Rio athletics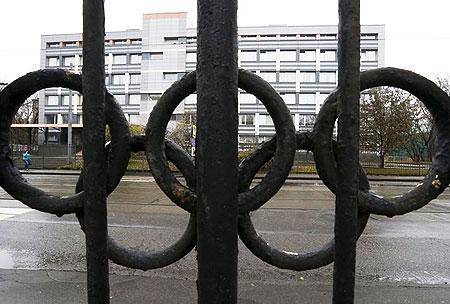 Russia still has a shot to compete in the athletics competition at the 2016 Olympics if they can prove they are drug free, the head of a probe into the country's doping scandal said on Tuesday.
All Blacks rugby legend Jonah Lomu dead at 40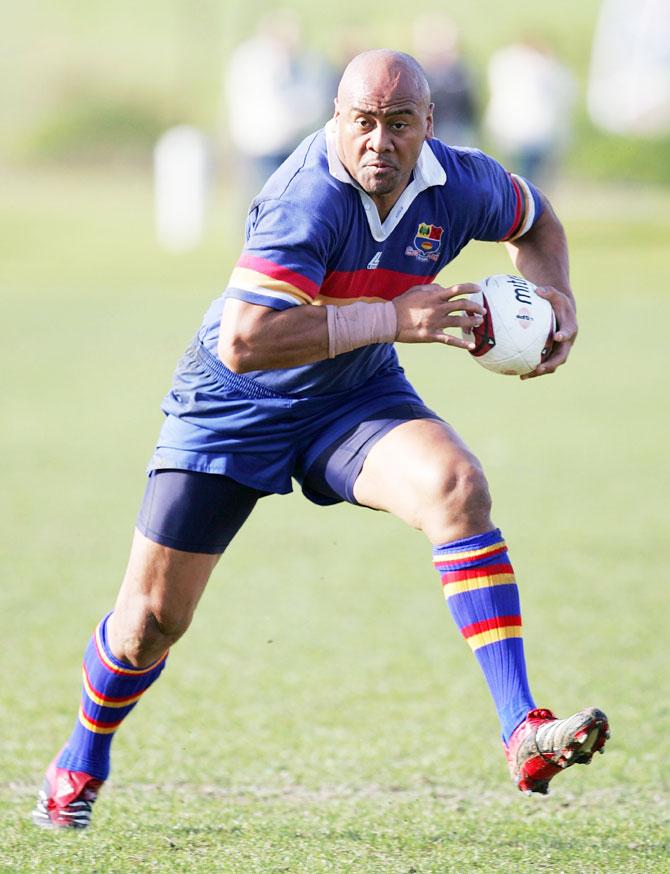 Rugby great Jonah Lomu, the game's first global superstar whose speed and power terrorised opponents, died unexpectedly at the age of 40 on Wednesday.
Euro 2016 qualifiers: Ibrahimovic double helps Sweden book berth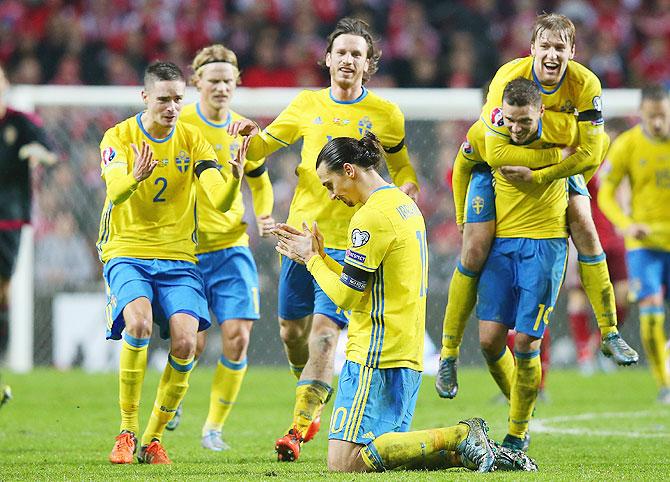 A stunning double from captain Zlatan Ibrahimovic gave Sweden a 2-2 draw away to Denmark as they qualified for Euro 2016 on Tuesday by winning 4-3 on aggregate against their Scandinavian rivals.
PHOTOS, World Cup qualifiers: Brazil crush Peru; Romania hold Italy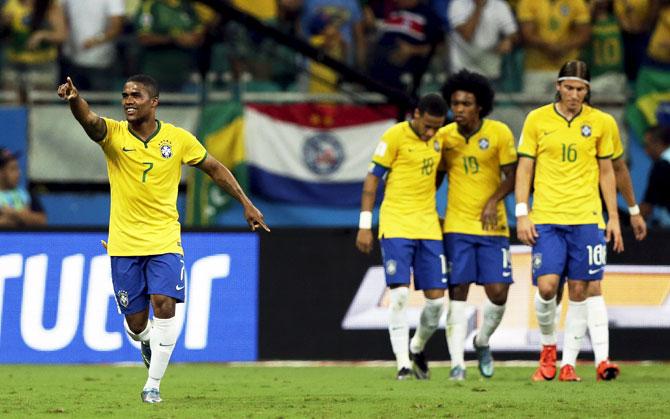 An inspired performance from Douglas Costa helped Brazil to a 3-0 win over Peru on Tuesday and lifted them into third place in the South American qualifying group for the 2018 World Cup in Russia.
PHOTOS: England beat France on night of solidarity at Wembley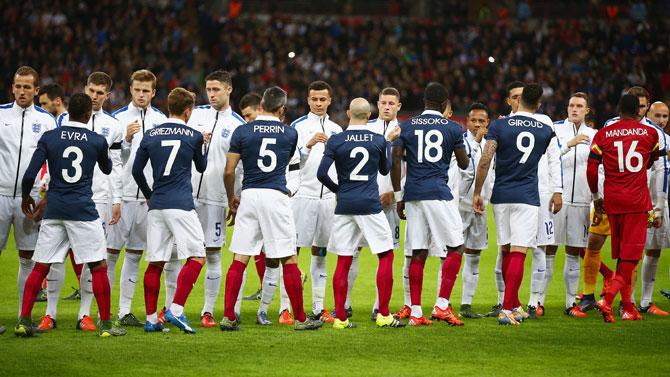 England beat France 2-0 in an emotional friendly at Wembley on Tuesday when more than 70,000 fans paid tribute to the victims of the Paris attacks with English fans roaring out a spine-tingling rendition of the visitors' national anthem.
November 17, 2015
How Angela is twisting her way to the top...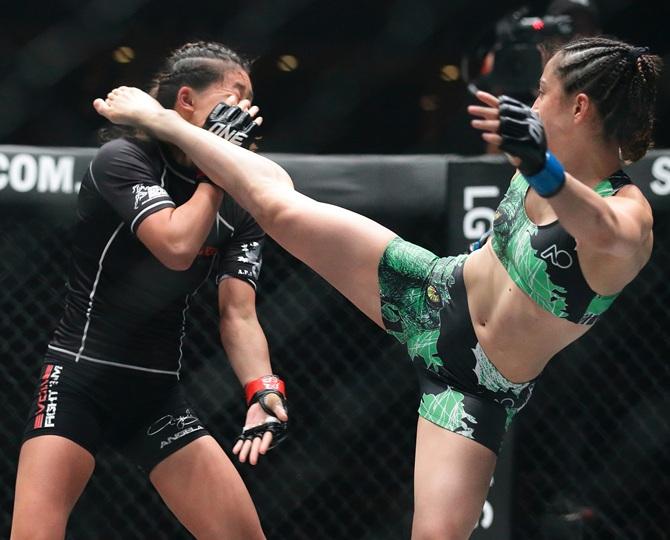 Victory moved Angela Lee to 3 victories and no losses in her career, and more significantly, carved her name into the annals of history.
Paris attacks fallout: Soccer match called off; Murray plays down fears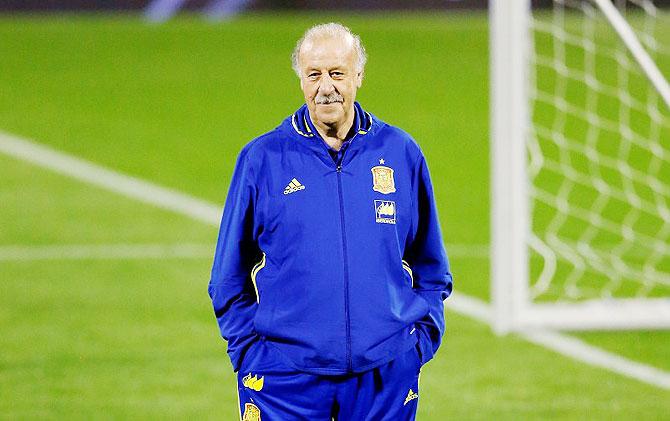 A soccer friendly between Belgium and Spain scheduled for Brussels on Tuesday has been postponed for security reasons after the Paris attacks, the Belgian soccer federation said in a statement.
Euro 2016 qualifiers: Ireland secure berth after Walters brace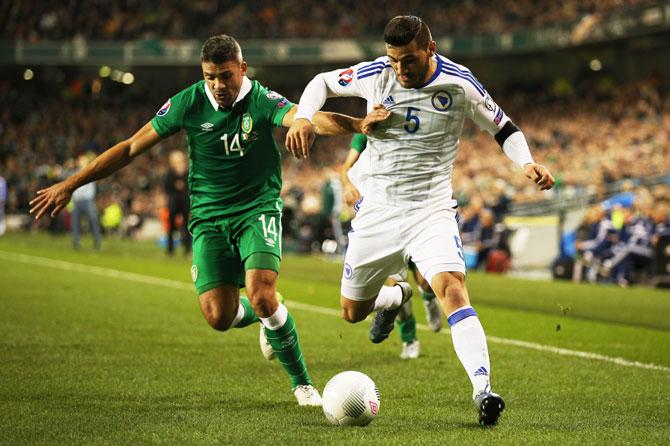 Ireland beat Bosnia 2-0 to qualify for their second successive European championship finals on Monday, progressing 3-1 on aggregate after a Jon Walters brace secured a second-leg playoff win at the Aviva Stadium.
November 16, 2015
Russia will not boycott Rio Olympics over doping ban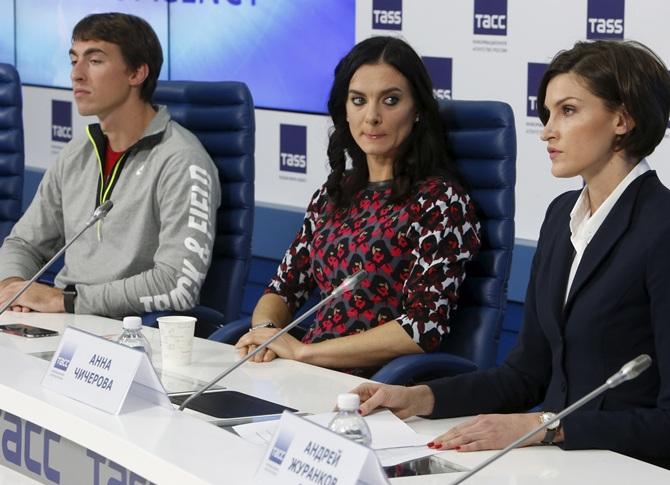 Russia will not boycott the Rio Olympics after being suspended from the International Association of Athletics Federations over a doping scandal, RIA news agency cited Russian Olympic Committee head Alexander Zhukov as saying on Monday.
Euro 2016 qualifiers: Hungary taste victory after 30-year wait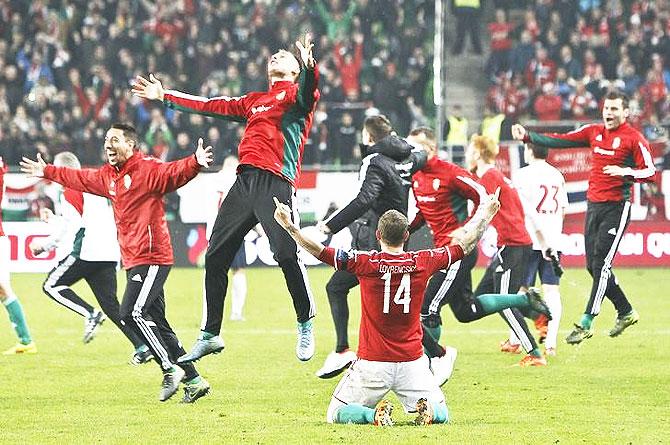 Hungary's 30-year wait to play on the major championship stage will end in France next year after their 2-1 victory over Norway ensured that one of football's most storied nations qualified for the Euro 2016 finals.
Doping threatens Kenya's credibility at Rio Olympics: Rudisha's coach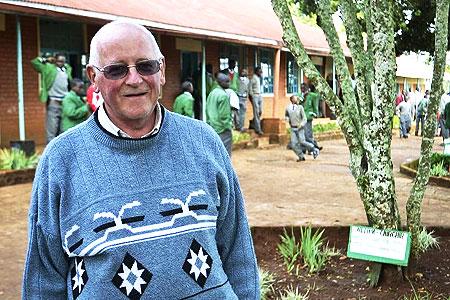 Doping could cast a shadow over Kenya at the 2016 Rio Olympics unless the East African nation implements credible systems to root out drugs cheats, said veteran Kenya-based coach Brother Colm O'Connell.
Will Ancelotti return to the helm at Chelsea?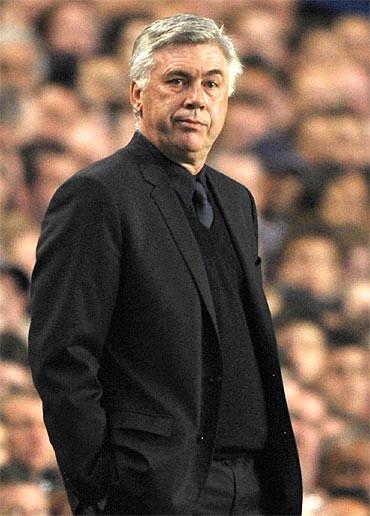 Carlo Ancelotti says he would like to return to England's Premier League but the Italian manager with one of the most garlanded records in world football is not interested in taking any new job this season.
FIFA scandal: Blatter, Platini facing six-year ban from football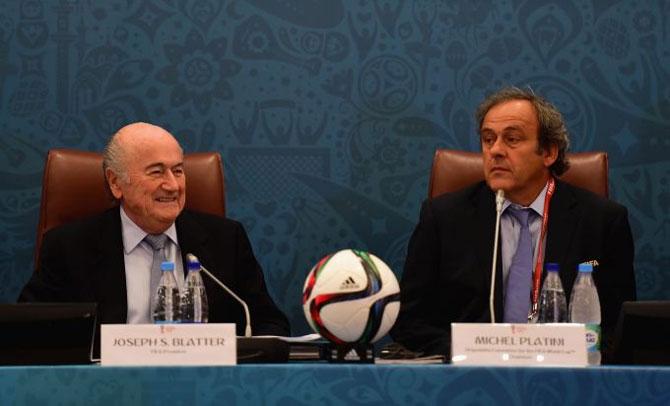 FIFA president Sepp Blatter and his UEFA counterpart Michel Platini could face a six-year ban from football-related activities due to corruption proceedings against them.
Fed Cup PHOTOS: Pliskova is hero as Czech rally to beat Russia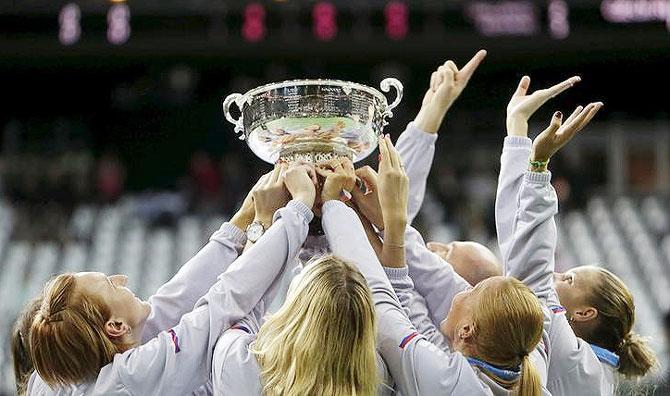 The Czech Republic defended their Fed Cup title on Sunday as Karolina Pliskova became the home team's hero with a starring performance in their thrilling 3-2 come-from-behind victory over Russia.
Maradona recovering well following gastric bypass surgery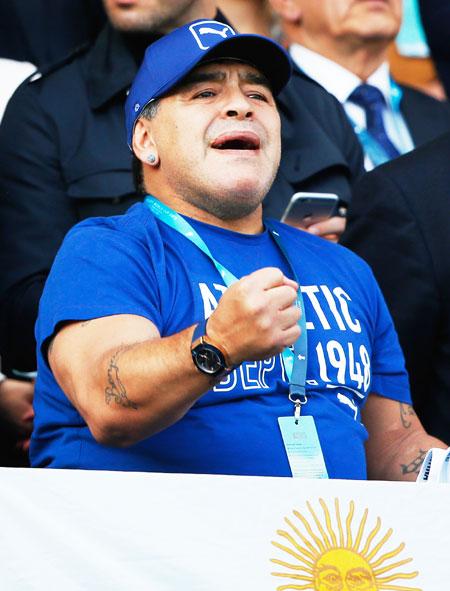 Argentine soccer great Diego Maradona underwent a gastric bypass in the western Venezuelan city of Maracaibo over the weekend and is recovering well, doctors said on Sunday.
Can Russian athletes compete under Russian Olympic flag? No, says IOC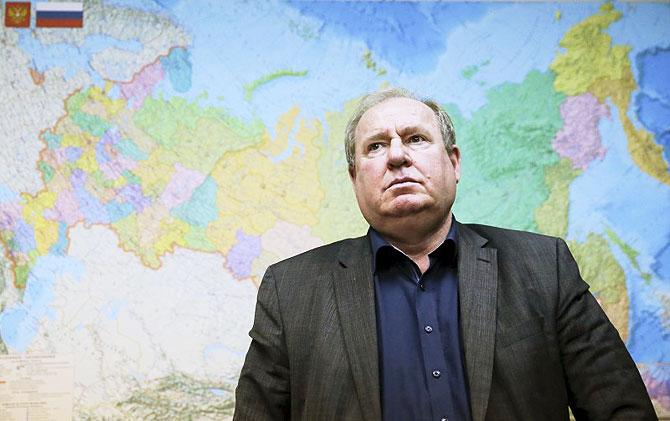 Olympic chief Bach said on Saturday that he was sure clean Russian athletes would compete at the 2016 Games
PHOTOS: Rosberg trumps Hamilton at Brazilian GP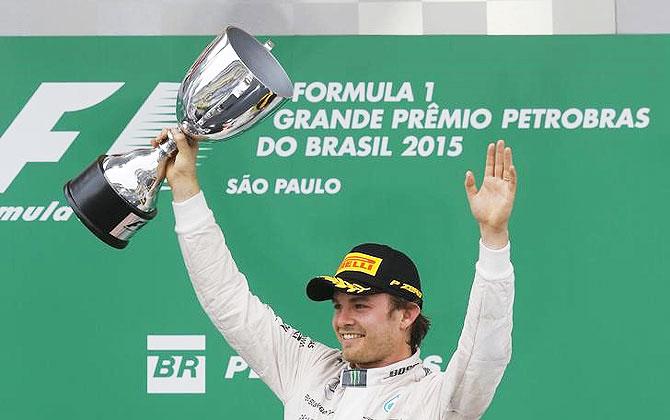 Nico Rosberg won the Brazilian Formula One Grand Prix for the second year in a row on Sunday and denied Mercedes teammate Lewis Hamilton a first success in the homeland of his late hero Ayrton Senna.
November 15, 2015
#PrayersforParis...Sporting world mourns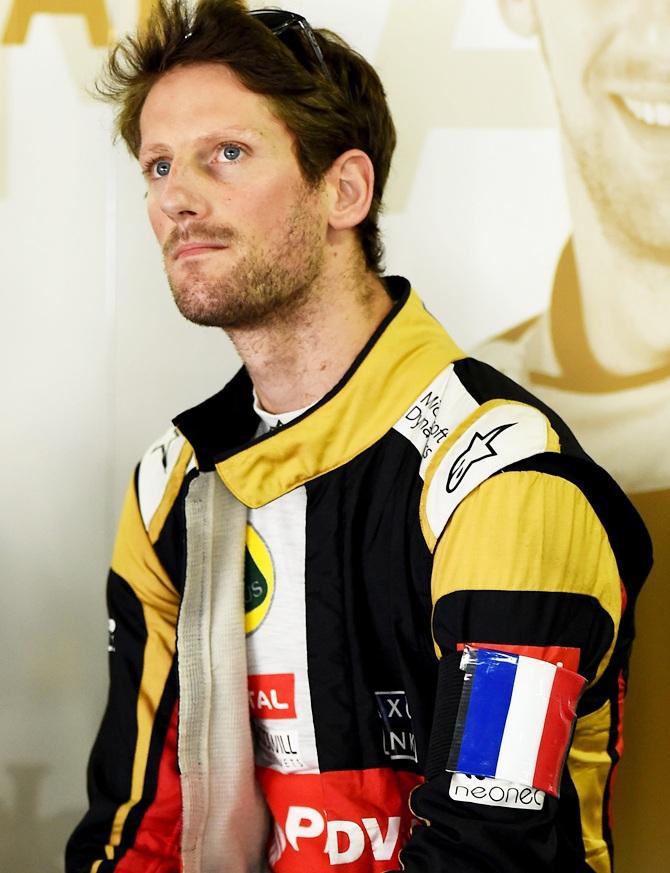 All major sporting events in the Paris region were suspended on Saturday as France mourned the victims of the attacks in the capital city the night before that left 129 people dead and 352 wounded.
China Open: Saina falls at final hurdle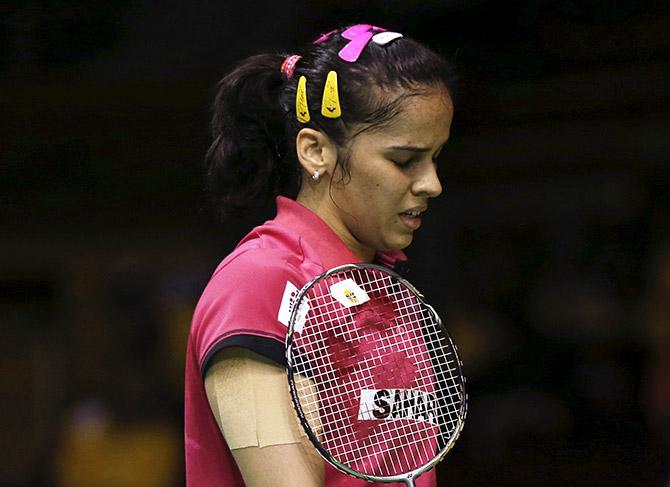 India's Saina Nehwal finished runner-up at the US $700,000 China Open Super Series Premier.
November 14, 2015
Brazil GP: Rosberg takes his fifth pole in a row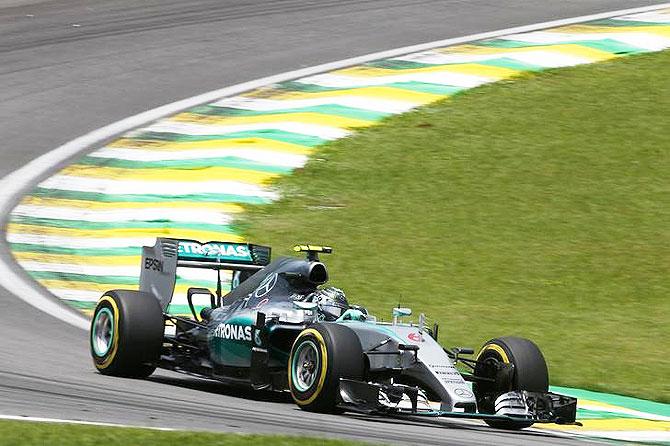 Nico Rosberg swept to his fifth successive pole position on Saturday with Mercedes team mate and triple Formula One world champion Lewis Hamilton qualifying alongside on the Brazilian Grand Prix front row.
ISL: Gadze equaliser ensures 3rd straight draw for Dynamos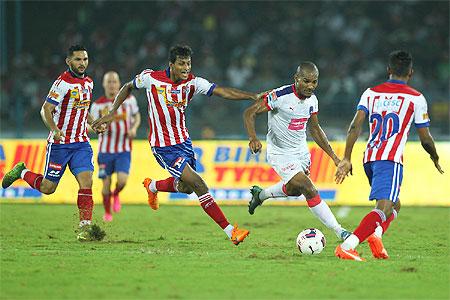 Delhi Dynamos played out their third draw on the trot at home as their Indian Super League (ISL) football match against defending champions Atletico de Kolkata ended in a 1-1 stalemate in New Delhi on Saturday.
Sports events in Paris called off in wake of attacks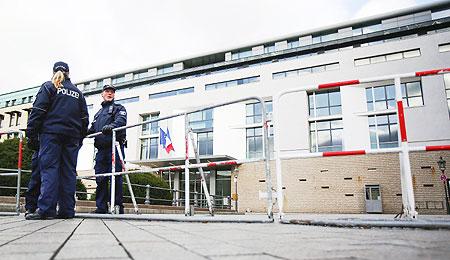 A friendly international against England scheduled for Tuesday in London will go ahead as planned, the French Football Federation said.
'Blade Runner' Pistorius starts community service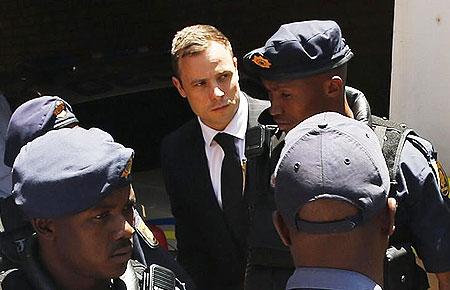 South Africa's 'Blade Runner' Oscar Pistorius on Saturday started performing community service as part of his parole conditions after being released from prison last month, local media reported.
Russia plays down athletics ban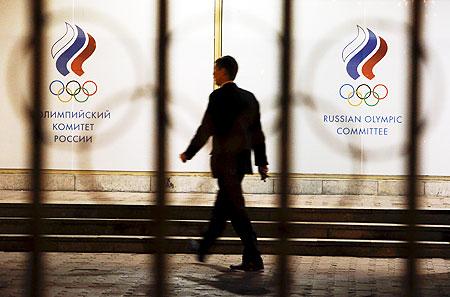 'What will happen? Yes, nothing will happen. Athletics will develop, the guys will train. Well, they will miss maybe one tournament'
Saina sails into China Open final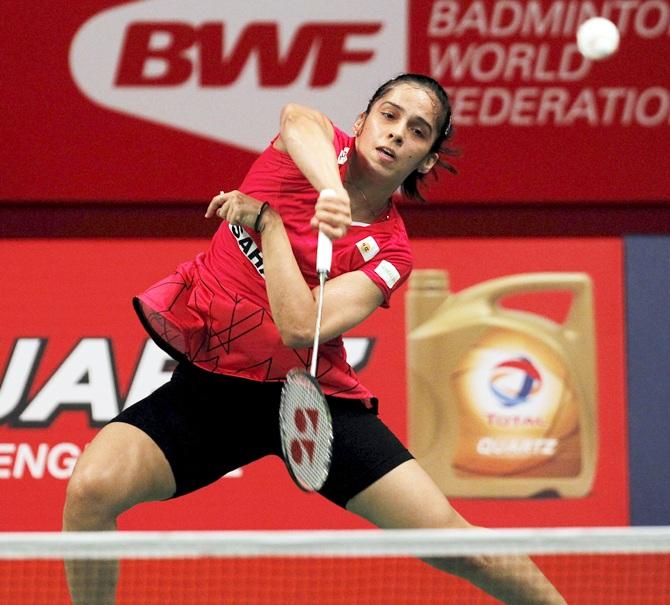 Defending champion Saina Nehwal sailed into the final of the US $700,000 China Open Super Series Premier after a 21-13, 21-18 win over local favourite Yihan Wang, at the Haixia Olympic Sports Centre, in Fuzhou, on Saturday.
Boxer Amir Khan rolls with the punches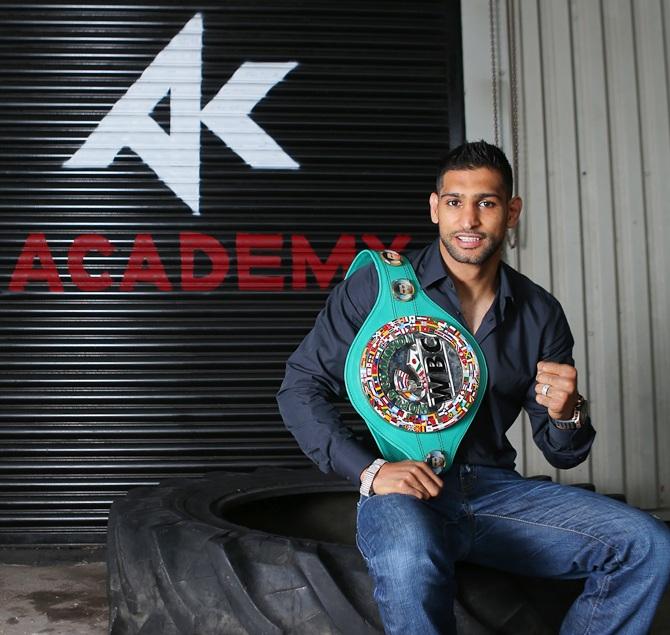 Besides fighting Manny Pacquiao, British boxer Amir Khan wants to channel boxing talent in India and Pakistan.
This is how the world reacted to Russia's suspension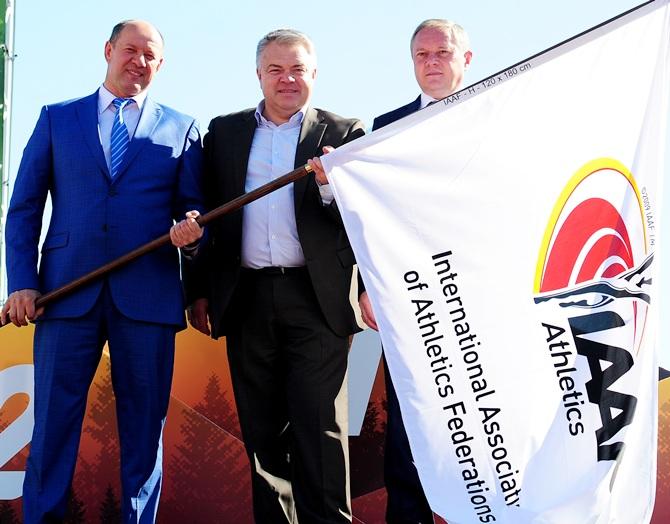 Reaction to the International Association of Athletics Federation (IAAF) council's vote to provisionally suspend Russia from the sport for widespread, state-sponsored doping
Athletics governing body suspends Russia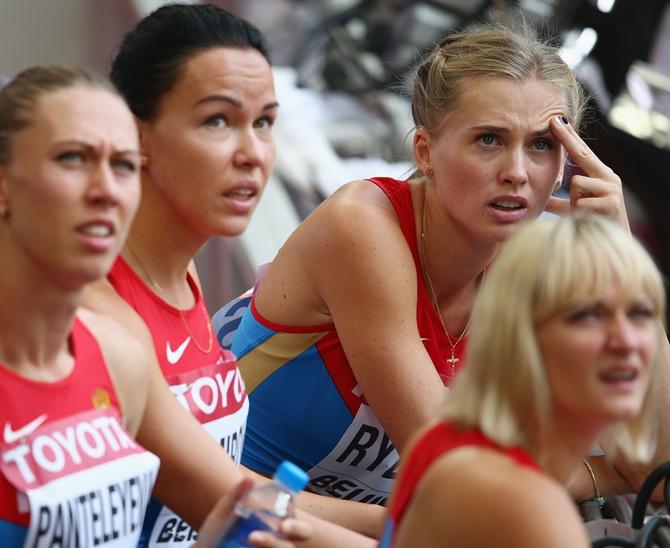 Athletics governing body suspends Russia after overwhelming vote
November 13, 2015
ISL: Mumbai, Pune play out stalemate in Maharashtra derby
Mumbai City FC and their state rivals FC Pune City played out a goalless draw in the Indian Super League football tournament at the D Y Patil Stadium in Navi Mumbai on Friday.
Federer calls for more out-of-competition dope tests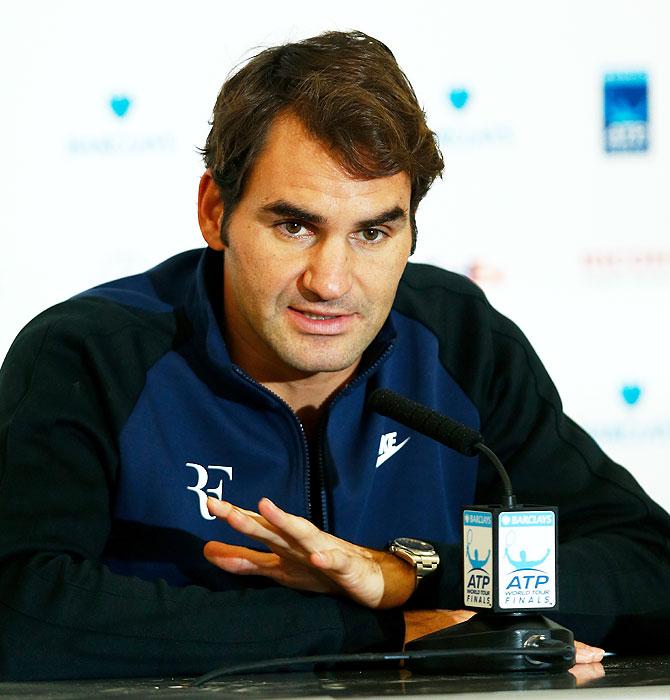 'I'm always surprised when I walk off court after a final and I'm like 'where is anti-doping?'
ATP World Tour Finals: Bopanna-Mergea to face Byran brothers in opener
They have been drawn in Group Ashe-Smith along with John Peers/Jamie Murray and Simone Bolelli/Fabio Fognini.
Saina to meet Wang Yihan in China Open semis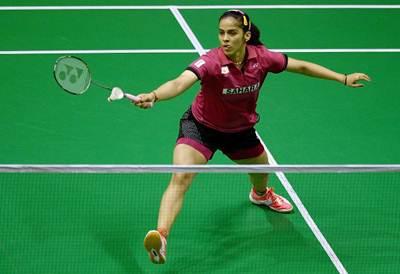 Defending champion Saina Nehwal sailed into the semi-finals of the US $700,000 China Open Super Series Premier after a straight games' victory over Japan's Nozomi Okuhara, at the Haixia Olympic Sports Centre, in Fuzhou, on Friday.
Russia says ready to investigate doping allegations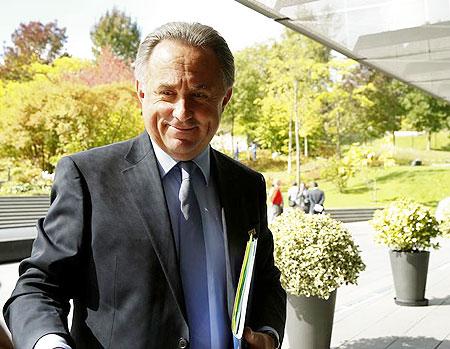 Russia is ready to carry out an investigation into doping allegations against its athletes in concert with independent organisations, Interfax news agency quoted Sports Minister Vitaly Mutko as saying on Friday.
Ronaldo is a casanova and you know it!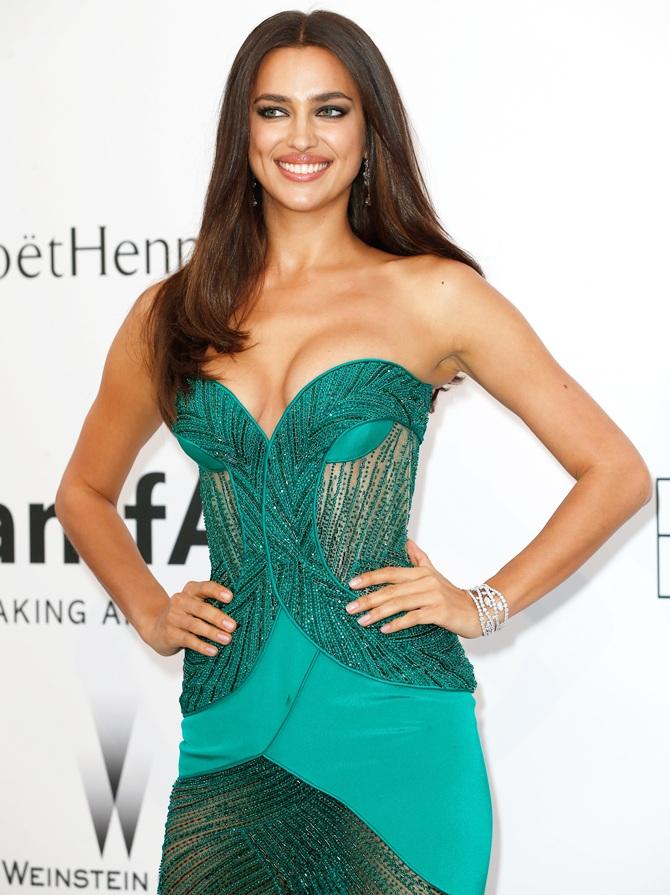 Real Madrid and Portugal record goal-scorer, Cristiano Ronaldo, who has always been in the news for his multiple flings, has now revealed that he is cheating on a lot of women at the moment.
Doping scandal: What will Sebastian Coe do now?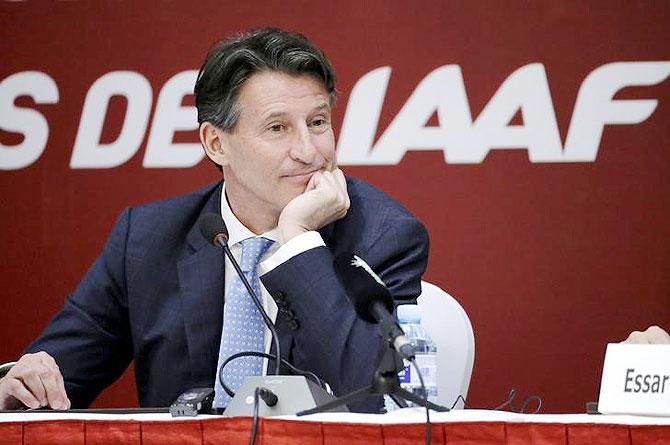 Sebastian Coe chairs a meeting of world athletics on Friday to discuss suspending Russia over allegations of state sponsored doping of its athletes, a crisis that has put his leadership under the spotlight barely three months into the job.
World champ Lorenzo suffers burns during title celebration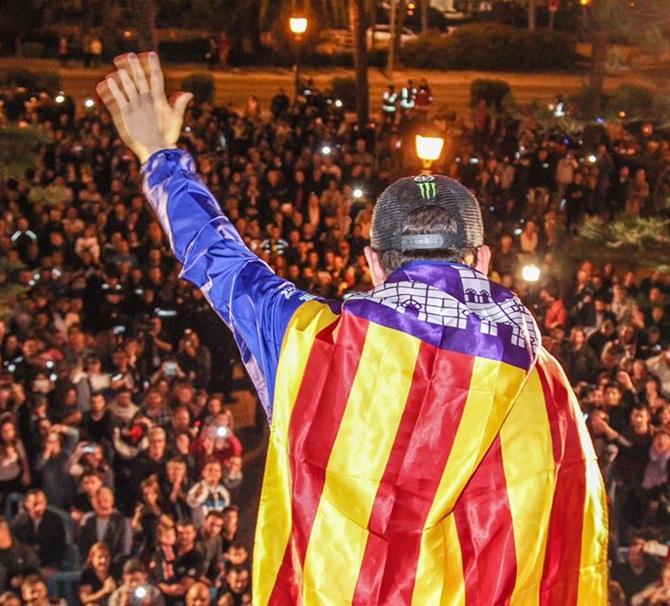 Jorge Lorenzo's celebration of his MotoGP world title on his home island of Mallorca on Thursday was interrupted unexpectedly when the Spanish Yamaha rider suffered what appeared to be minor burns to his leg from a motorcycle.
November 12, 2015
FIFA World Cup qualifiers: Finally win for India, edge Guam 1-0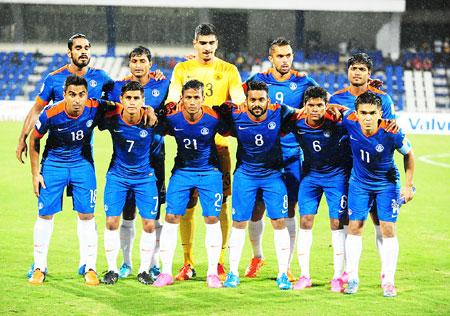 India finally tasted victory after five straight losses in their 2018 football World Cup qualifying campaign as they beat Guam by a solitary goal in Bangalore on Thursday.
Pune-based DSK Shivajians to make I-League debut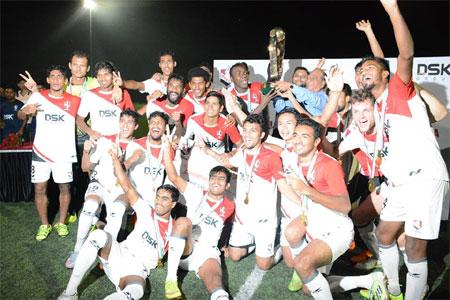 All India Football Federation (AIFF) is all set to welcome a new corporate team DSK Shivajians to infuse professionalism and raise the competitiveness of Hero I-League, the premier football tournament of the country.
Five enter FIFA presidency race; Bility, Platini sidelined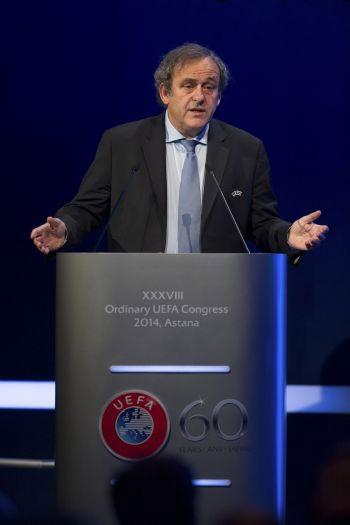 FIFA has approved five candidates for its February presidential election amid the worst crisis in its history, after barring Liberia's Musa Bility on integrity grounds and leaving out UEFA chief Michel Platini while he remains under suspension.
I've put Sweden and France football on world map: Ibrahimovic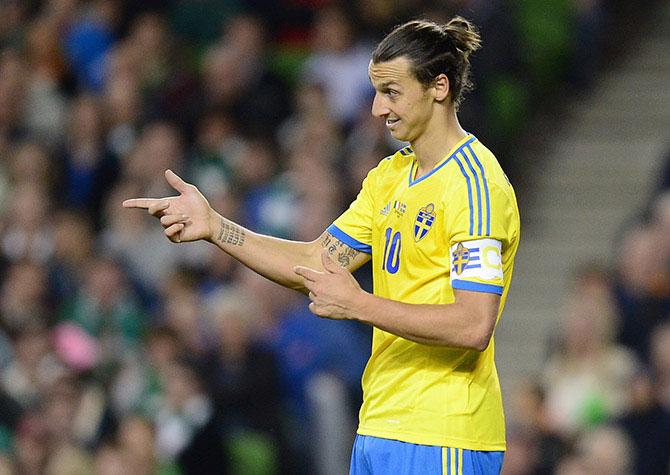 With two days to go before his country meet Denmark in the first leg of their Euro 2016 playoff at the Friends Arena, Ibrahimovic also hinted that the two games against Sweden's Scandinavian rivals could be his last for the national team.
Moscow anti-doping lab shared site with accused doctor: WADA report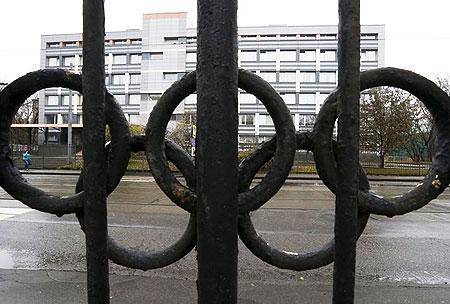 WADA identified Doctor Sergei Portugalov, former deputy director of the Russian Federal Research Centre of Physical Culture and Sports (VNIIFK), as the mastermind of the scheme, advising athletes on doping, administering injections and helping cover up positive drugs tests.
Putin says Russia to probe doping allegations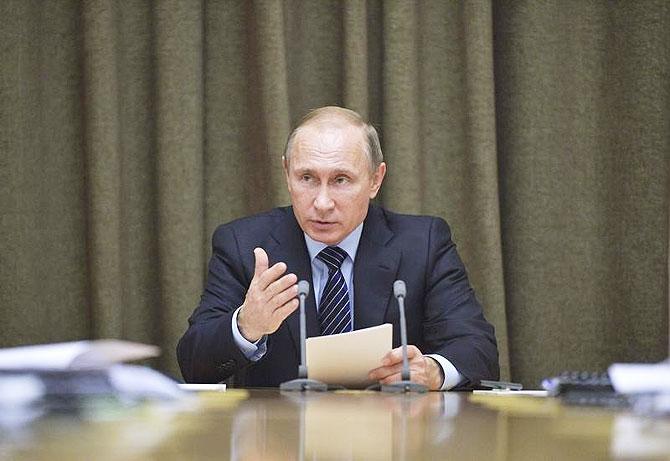 President Vladimir Putin said on Wednesday Russia needed to conduct its own investigation into allegations its athletes had systematically taken performance-enhancing substances and that someone needed to take personal responsibility for the problem.
WC qualifier: Mozambique, Zambia edge first legs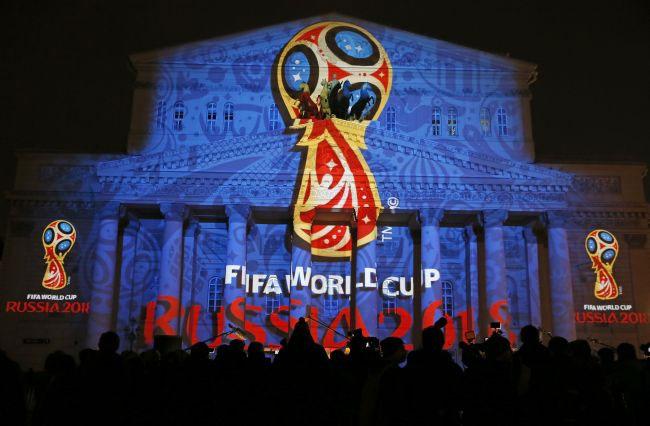 Mozambique's Helder Pelembe scored with a powerful strike early in the second half to secure a 1-0 home victory over Gabon and Zambia won by the same scoreline away in Sudan in the first legs of African World Cup qualifiers on Wednesday.
China Open: Saina marches on, Sindhu ousted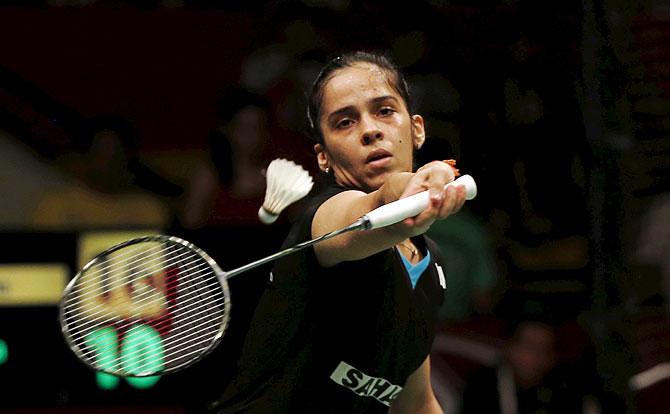 Defending champion Saina Nehwal was the lone Indian survivor at the $700,000 China Open Super Series Premier after P V Sindhu suffered a close defeat in the pre-quarterfinals of the women's singles competition in Fuzhou on Thursday.
F1 champion Hamilton involved in car accident in Monaco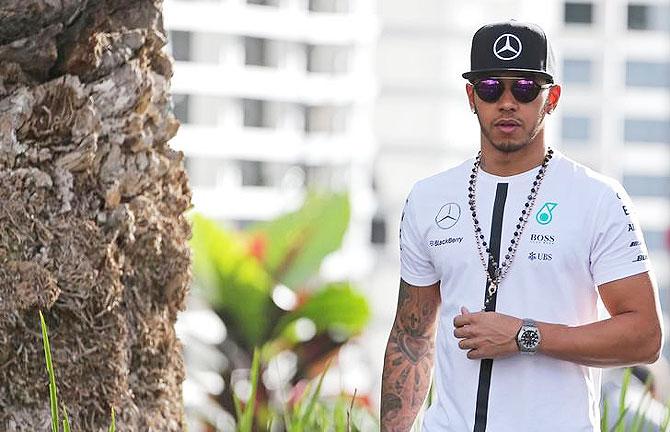 'NO problem. Nobody was hurt, which is the most important thing'
November 11, 2015
China Open: Saina, Sindhu advance; Jayaram, Srikanth exit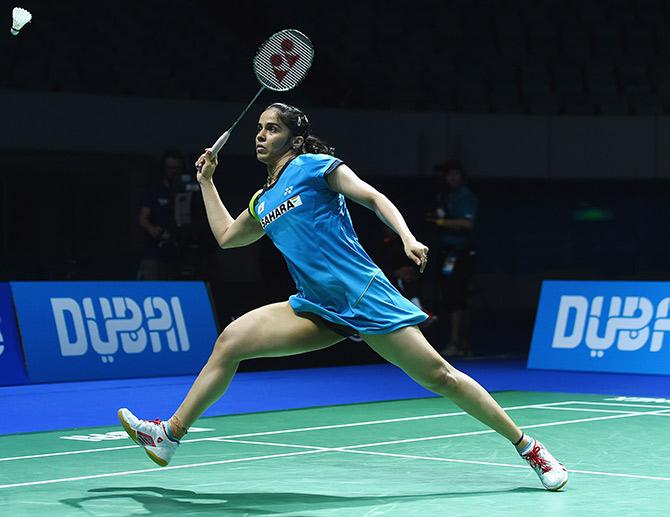 Indian shuttlers had a mixed day in the opening round of the China Open with Saina Nehwal and PV Sindhu easing into Round II, while Kidambi Srikanth and Ajay Jayaram making early exits.
November 10, 2015
ISL: Izumi helps Atletico Kolkata edge Kerala Blasters 3-2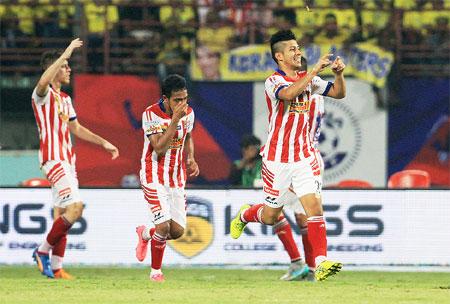 Substitute Arata Izumi rose to the occasion and struck two late goals to lead Atletico de Kolkata to a 3-2 victory over Kerala Blasters in an exciting Indian Super League (ISL) football match in Kochi on Tuesday.
Asian Shooting Championship: Gold for India's Kusale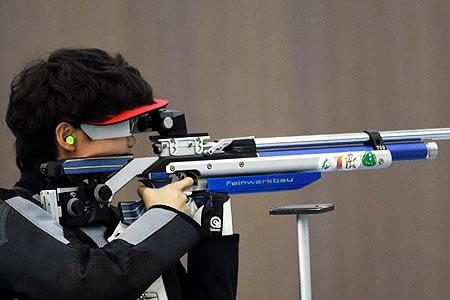 Swapnil Kusale shot his way to a gold in the 50m rifle 3 position event among junior men, as India added four more medals to their kitty on the penultimate day of the 13th Asian Shooting Championship in Kuwait City on Tuesday.
Top tennis stars in Amritraj's CTL commencing November 23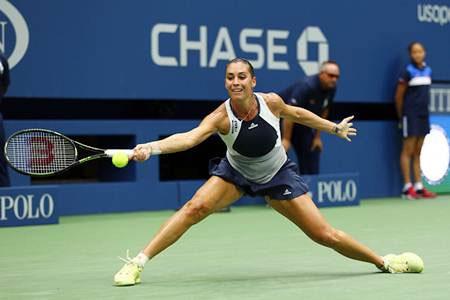 Martina Hingis, Flavia Pennetta, Jelena Jankovic, Thomas Johansson and other top tennis players would cross swords when the Champions Tennis League (CTL) 2015 begins on November 23.
Benzema files complaint over French sex tape probe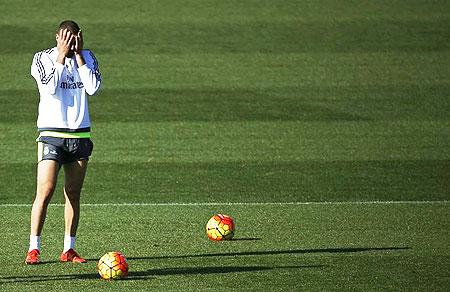 Real Madrid striker Karim Benzema will lodge a complaint for violation of judicial confidentiality after French radio Europe 1 published extracts of phone taps that could incriminate the France international, his lawyer said on Tuesday.
WTA rankings: Venus becomes oldest woman to enter top 10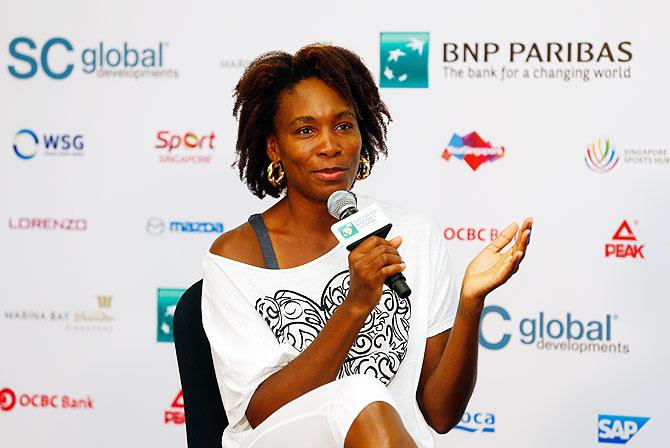 American tennis ace Venus Williams has entered the top ten of latest WTA ranking following her victory in the Zhuhai Masters in China.
Russia ready to cooperate with WADA in doping scam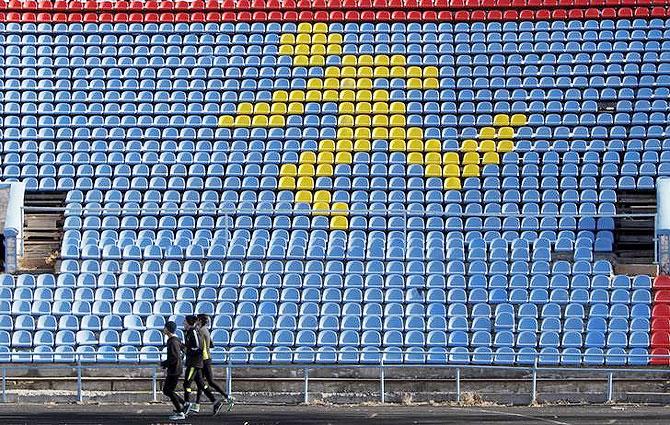 The Russian Sports Ministry said on Tuesday it was open for closer cooperation with the World Anti-Doping Agency (WADA) in order to eliminate any irregularities committed by the Russian anti-doping watchdog and its accredited laboratory.
Focus back on Beckenbauer after German FA boss quits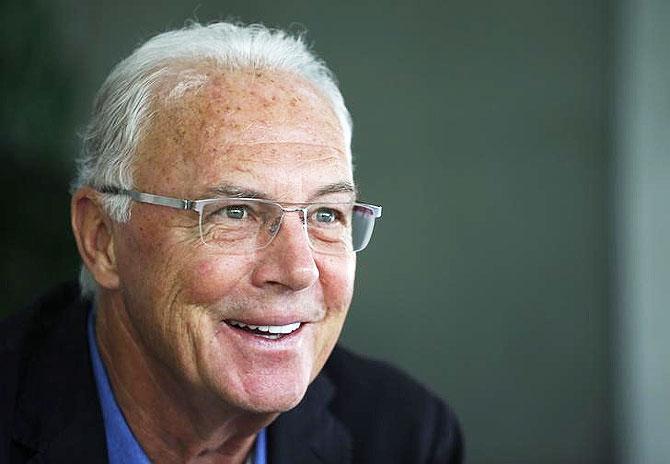 Pressure on Franz Beckenbauer to explain payments and provide answers over a 2006 World Cup scandal grew on Tuesday, a day after the president of Germany's FA (DFB) resigned despite insisting he had done nothing wrong.
Second season of IPTL to adopt changes in format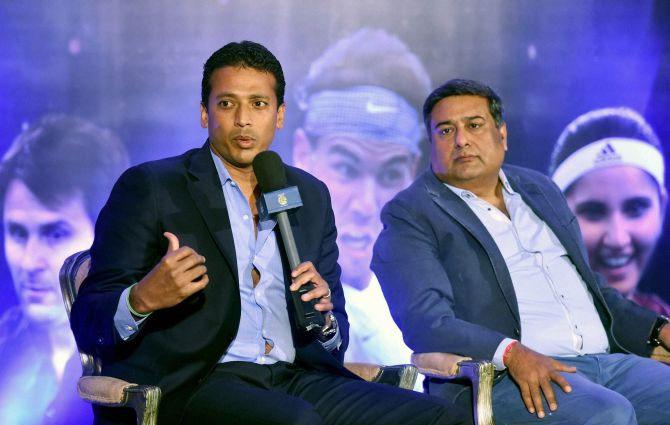 International Premier Tennis League (IPTL) cannot be called an Indian league, its founder managing director Mahesh Bhupathi has clarified though the new competition has borrowed heavily from the cricket-based IPL, especially in the franchise business model.
Aussie Tallent demands gold medal after Russia report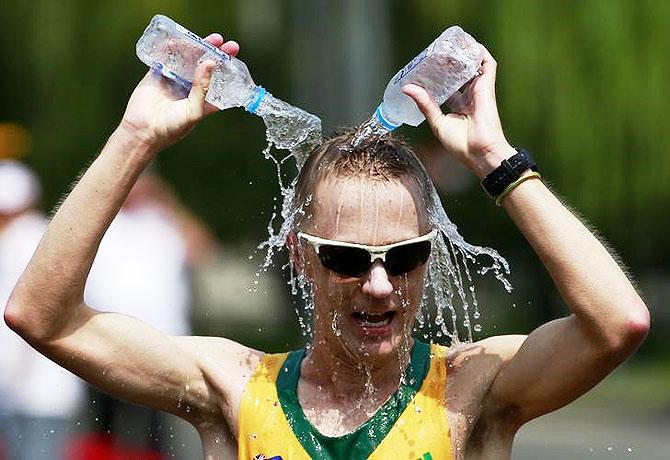 The WADA report also identified "systematic failures" at the IAAF, athletics' world governing body, which has been rocked by a French judicial investigation into fraud involving its former chief Lamine Diack and other senior officials.
Aus backs call to ban Russia from Rio Olympics after bombshell report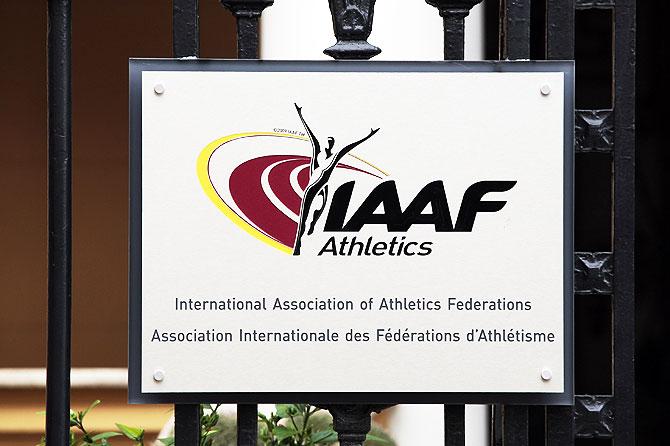 Australia has backed a World Anti-Doping Agency (WADA) recommendation that Russia be banned from international athletics, including the 2016 Olympics, after a report alleged systemic state-backed cheating.
Kremlin terms doping allegations against Russian athletes 'groundless'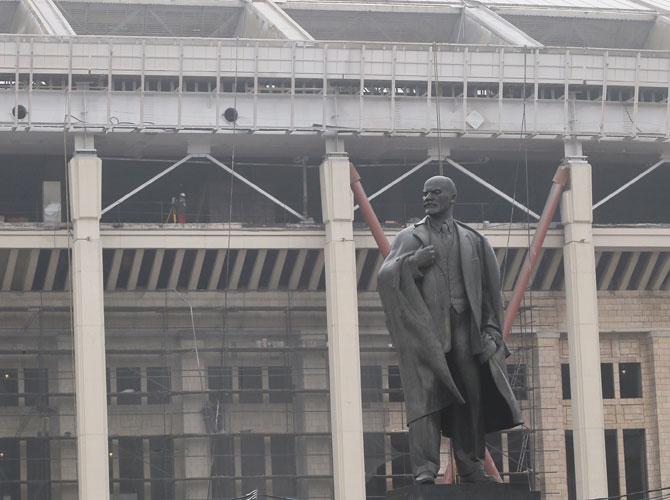 The Kremlin on Tuesday dismissed allegations from the World Anti-Doping Agency that Russian athletes were guilty of using banned performance-enhancing substances on a large-scale, saying the assertions were groundless.
Key points from WADA's damning report against Russian athletics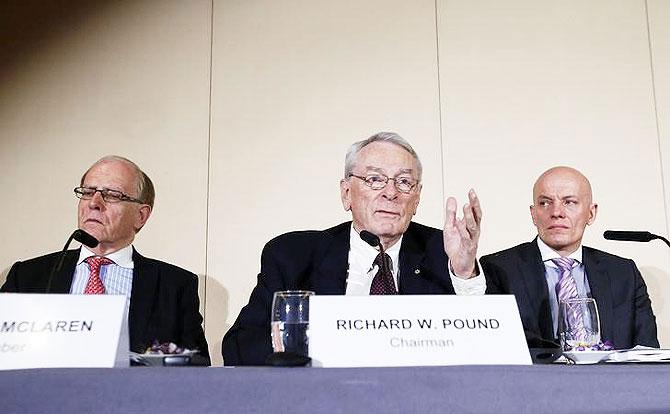 Some of the main points of the World Anti-Doping Agency (WADA) Independent Commission's (IC) report into allegations of widespread doping in Russian athletics.
WADA calls for ban on Russia for state-sponsored doping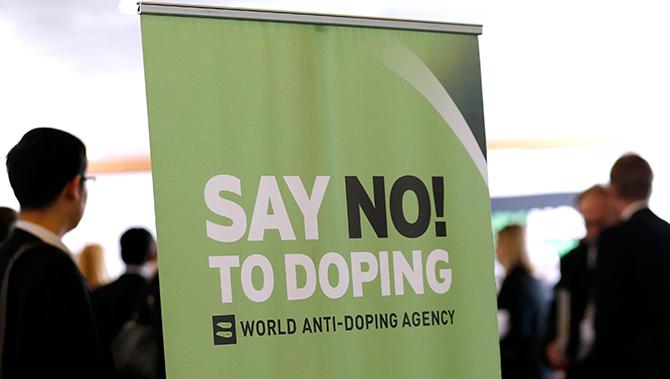 Russia could be banned from international athletics, including the 2016 Olympic Games, after an anti-doping commission report on Monday alleged widespread corruption and collusion that added up to a state-sponsored drugs culture in a sporting superpower.
November 09, 2015
I-League club Bagan to take Mallya's USL to court over unpaid dues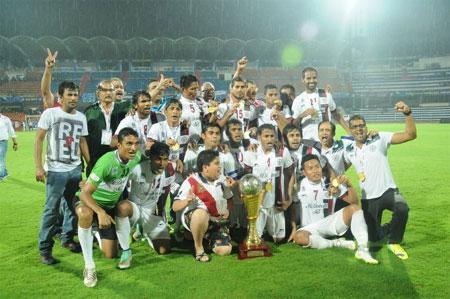 'USL owes us Rs 4.5 crore from November to March apart from the rest of this year. We will file a case of creditors' liquidation against USL within the next couple of days'
Russia faces ban from athletics for widespread doping offences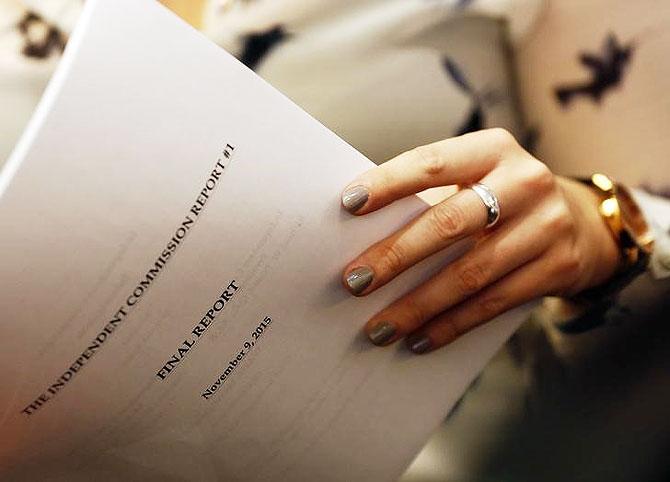 The scandal revolves around accusations that money was demanded from top athletes to 'bury' medical tests showing drug use
Diack faces provisional suspension from IOC's ethics commission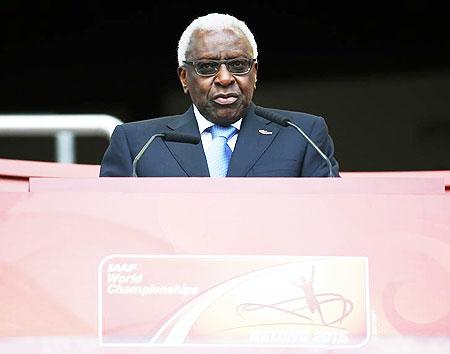 The International Olympic Committee's Ethics Commission recommended the provisional suspension of Lamine Diack as an honorary member of the IOC on Monday.
Pirouetting, volleying, and striking. Neymar has the Ronaldinho magic!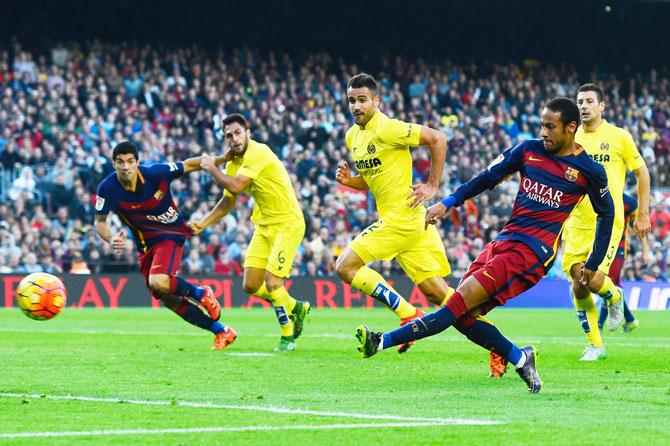 With sublime control, a back heel flick, a pirouette and a sweet volleyed finish, Neymar fashioned a glorious goal at the Nou Camp on Sunday to rekindle memories of Barcelona's greatest Brazilian wizards.
Doping alert! Damning revelations from WADA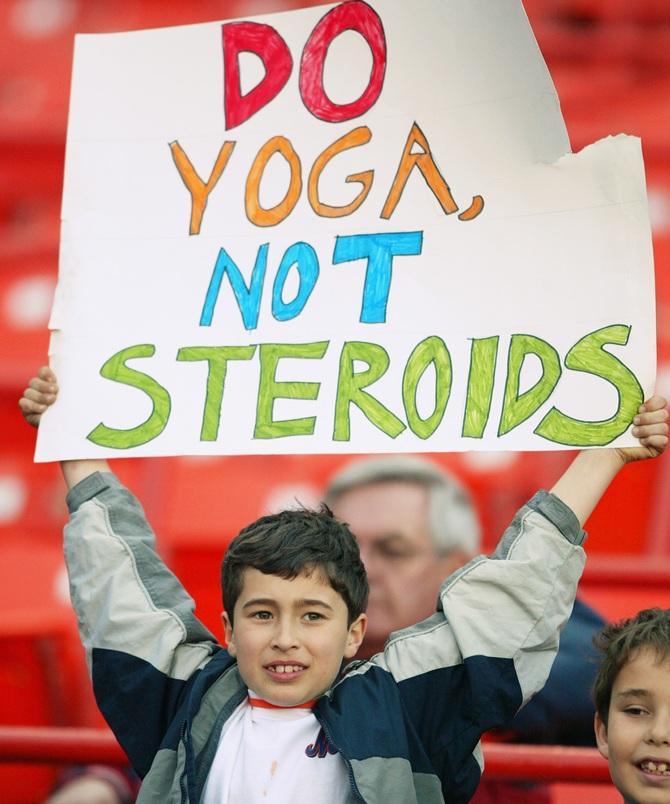 A report by the World Anti-Doping Agency on Monday is set to deepen an athletics scandal that, according to one of the document's authors, eclipses even the alleged corruption at football's governing body FIFA.
November 08, 2015
Fantastic feeling to get my first KO on my record: Vijender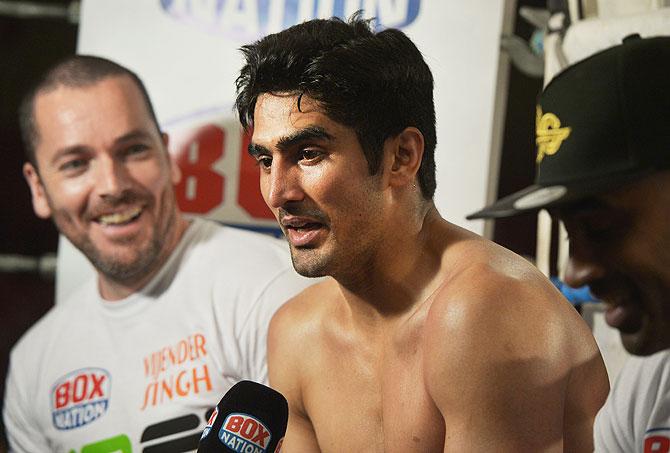 A second straight knockout victory under his belt, star Indian boxer Vijender Singh said he is improving rapidly in the professional arena even though he still has a long way to go before realising his dream of becoming a world champion in the circuit
Asian Shooting C'ships: India lead medal standings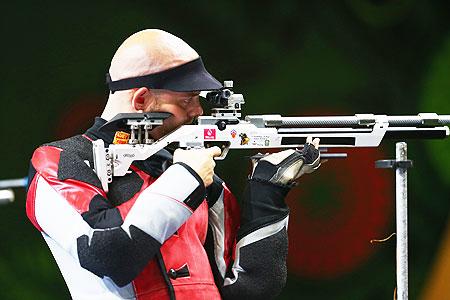 India jumped on top of overall medal standings at the 13th Asian Shooting Championship, adding with six more medals to their kitty on Day 6 of the competition in Kuwait City.
Shuttler Sameer Verma wins back-to-back titles in Bahrain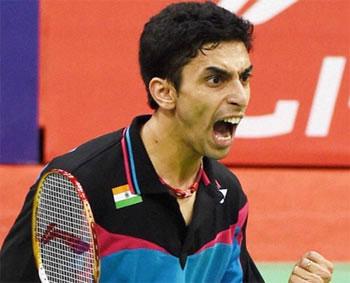 India's Sameer Verma bagged his second badminton title in a row by clinching the Bahrain International Challenge at Isa Town on Sunday.
India's Chiragh Kumar wins maiden Asian Tour title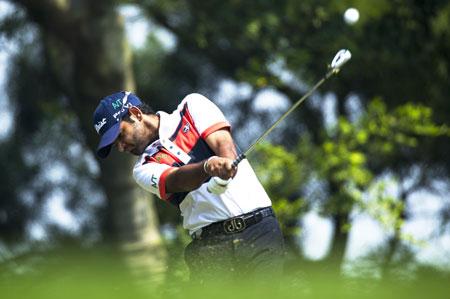 Chiragh Kumar used his familiarity with the Delhi Golf Club to help him win his maiden Asian Tour title at the Panasonic Open India on Sunday.
Venus returns to top 10 after four years!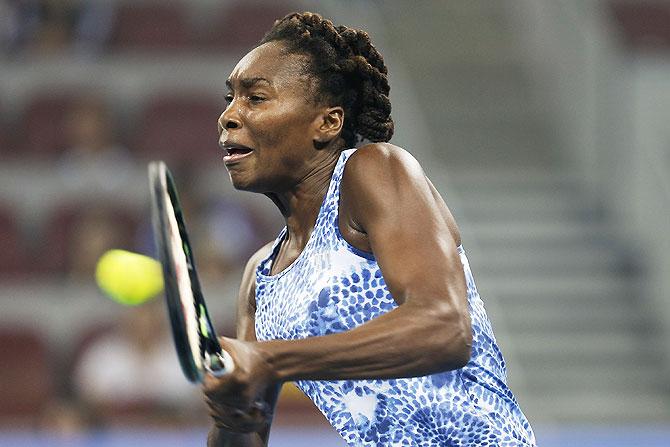 The top seed was forced to dig deep into her vast reservoirs of experience to stave off Pliskova's challenge and emerge a 7-5, 7-6(6) winner against the gutsy Czech.
We face long road to redemption, says IAAF chief Coe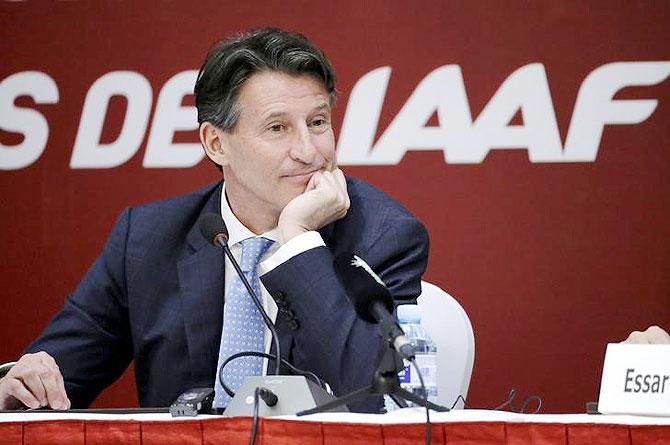 World athletics president Sebastian Coe said he reacted with "shock, anger and sadness" to this week's allegations of bribery, extortion and doping cover-ups and said the sport faces a "long road to redemption".
Bopanna-Mergea qualify for ATP Tour finale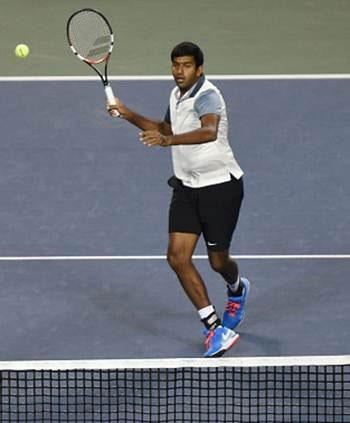 Rohan Bopanna and his doubles partner Florin Mergea qualified for the year-end ATP World Tour Finale when Vasek Pospisil and Jack Sock lost the Paris Masters final, on Sunday.
Bundesliga: High-flying Bayern thrash Stuttgart, Wolfsburg lose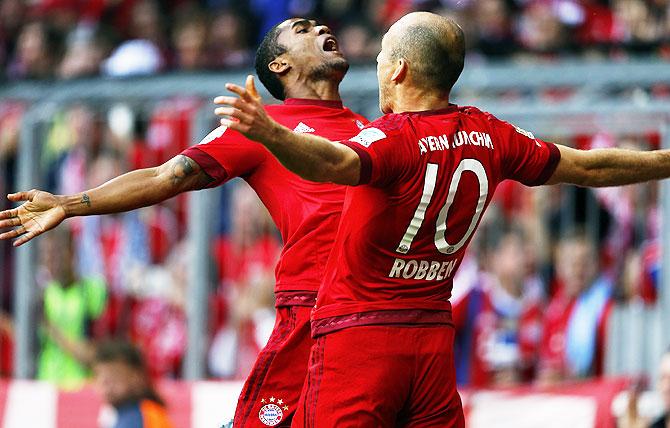 Champions Bayern Munich demolished VfB Stuttgart 4-0 on Saturday with all the goals coming in the first half as they increased their lead to eight points and stayed on course for a record fourth consecutive title on a day of red cards in the Bundesliga.
Serie A: Milan held by Atalanta, Bologna win at Verona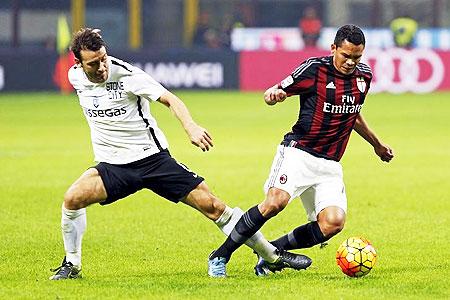 AC Milan's winning streak ended as they were held 0-0 at home by Atalanta in Serie A on Saturday while Bologna beat struggling Hellas Verona 2-0 away to move out of the relegation zone.
La Liga: Valencia slam five past high-flying Celta Vigo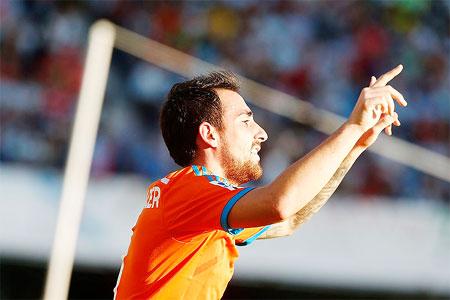 Valencia's Paco Alcacer and Dani Parejo both hit doubles in a surprise 5-1 away thrashing of high-flying Celta Vigo in La Liga on Saturday.
Ligue 1: Ibrahimovic double blast inspires PSG in big win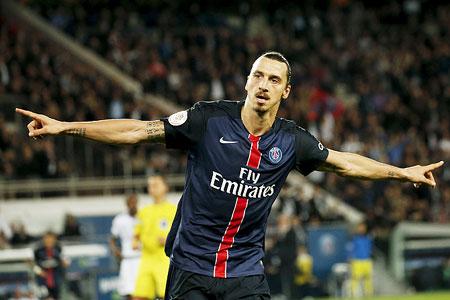 Zlatan Ibrahimovic struck twice as Paris St Germain made up for their midweek Champions League defeat by crushing Toulouse 5-0 to stretch their Ligue 1 lead to 13 points on Saturday.
PHOTOS: Another knockout win for Vijender in pro boxing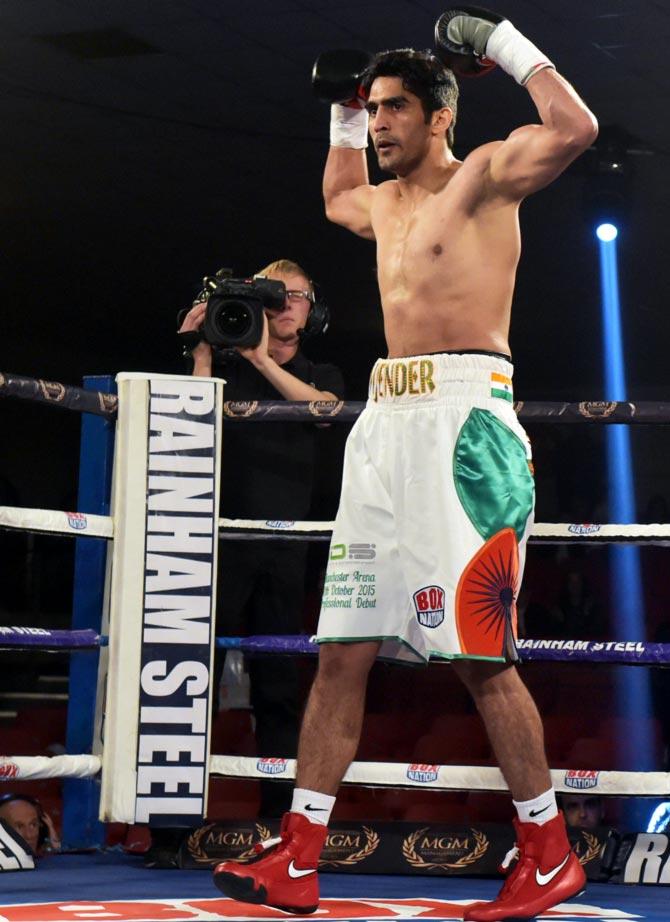 Star Indian boxer Vijender Singh continued his sensational foray into professional boxing with a second successive knockout triumph, demolishing England's Dean Gillen in the first round itself in Dublin, on Saturday.
November 07, 2015
When silence is not golden...peep into athletics latest crisis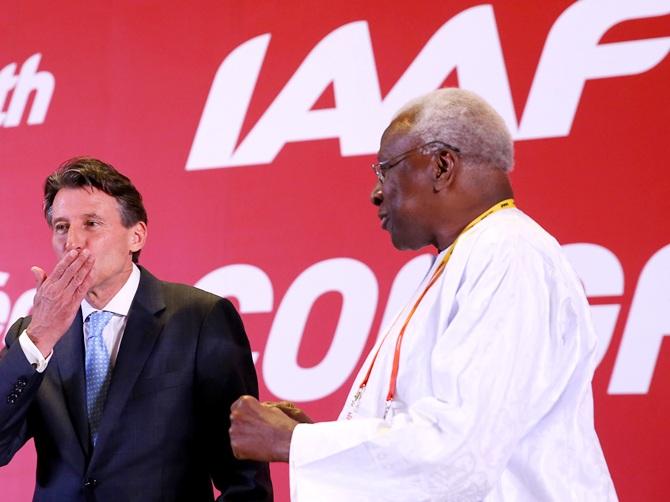 Sebastian Coe has long been one of the most outspoken critics of doping in athletics yet the newly-elected president of the sport's governing body has remained silent this week in the face of potentially its most damning drugs scandal yet.
November 06, 2015
Asian shooting C'ship: Heena Sidhu wins gold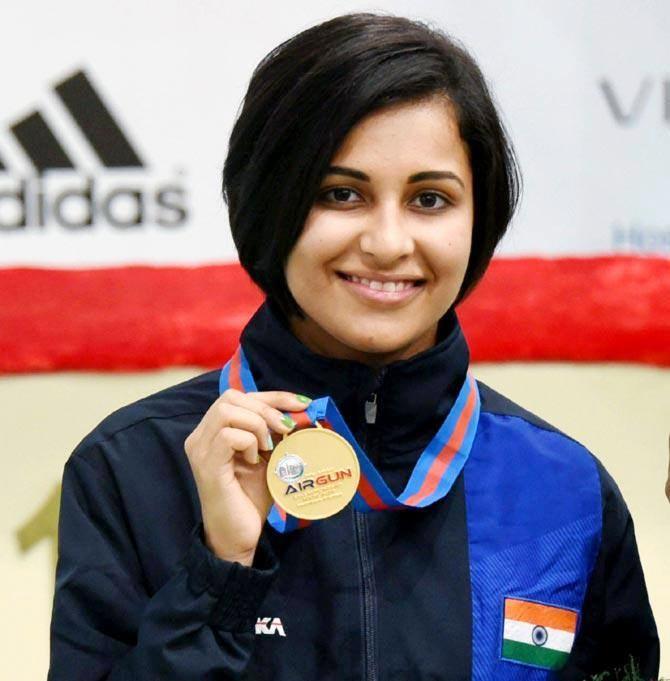 India's Heena Sidhu made a grand return to form by winning the gold medal in the 10m air pistol women's event at the 13th Asian Shooting Championship, in Kuwait City, on Friday.
Who will win USOC honours? Serena Williams or Simone Biles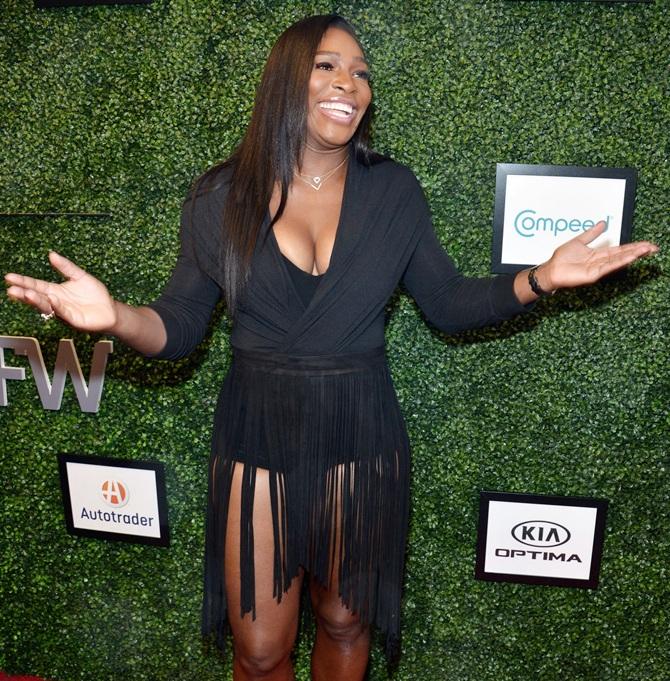 Serena Williams, Simone Biles and Ted Ligety were among the finalists for United States Olympic Committee (USOC) male and female athletes of year honours announced on Thursday.
Frenchman Llodra calls it quits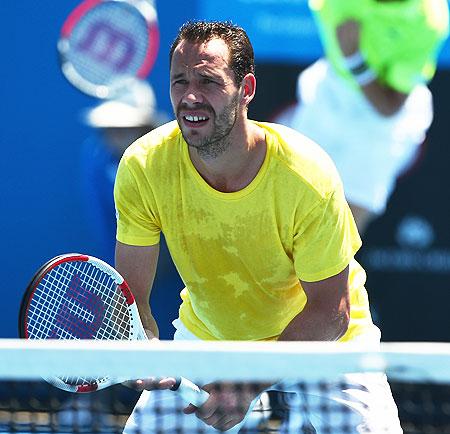 Frenchman Michael Llodra said on Thursday that he was ending his professional tennis career and would work as a consultant for Belgium ahead of this month's Davis Cup final.
West Brom boss Pulis fined for misconduct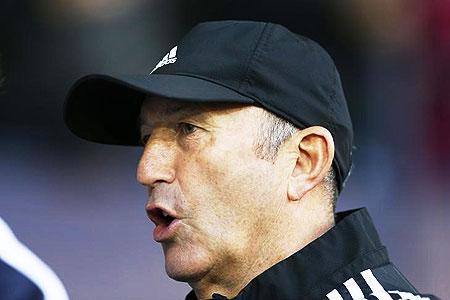 West Bromwich Albion manager Tony Pulis has been fined 8,000 pounds ($12,176) after admitting a misconduct charge following Saturday's 3-2 home Premier League defeat by Leicester City, the FA said on Thursday.
Benzema put under formal inquiry over French sex tape scandal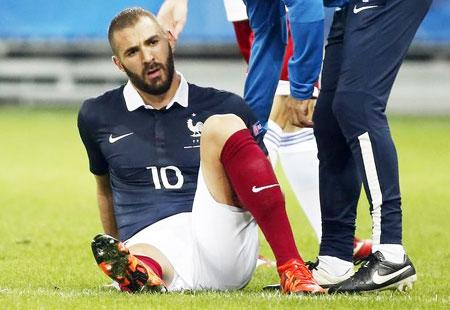 French Real Madrid striker Karim Benzema was placed under formal judicial investigation on Thursday in connection with an alleged attempt to blackmail fellow French soccer international Mathieu Valbuena using a sex video.
Former IAAF chief suspected of receiving bribes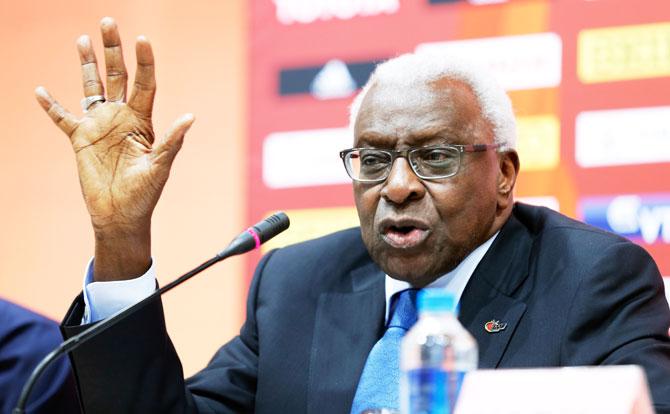 The former head of world athletics is suspected of receiving just over 1 million euros ($1.09 million) in bribes in 2011 to cover up positive doping tests of Russian athletes, the office of France's financial prosecutor said on Thursday.
Mourinho loses suspended stadium ban appeal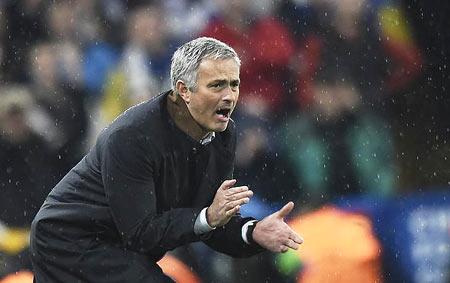 Chelsea manager Jose Mourinho has lost an appeal against the suspended one-match stadium ban and 50,000 pounds ($76,115) fine he received last month, the Football Association said on Thursday.
I'm a legend, declares Cristiano Ronaldo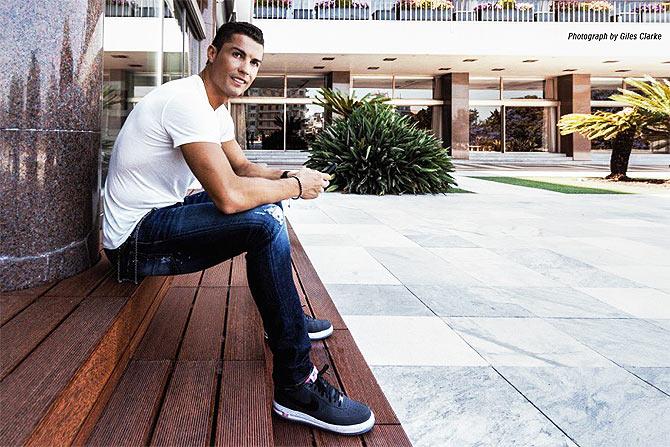 Real Madrid and Portugal record goal-scorer Cristiano Ronaldo is certain in his mind that he is the best footballer in the world.
Europa PIX: Wins for Liverpool, Spurs; Dortmund, Napoli in last 32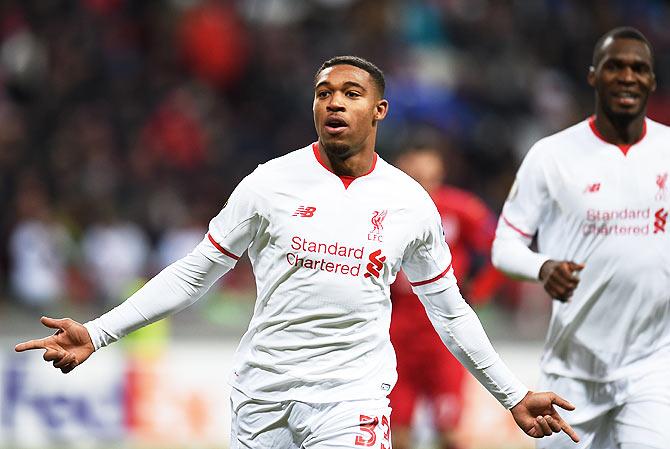 New Liverpool boss Juergen Klopp made it three wins from his last three matches with a 1-0 success at Rubin Kazan in Russia that left them second in Group B, two points behind Swiss club Sion on Thursday.
Paris Masters PHOTOS: Federer knocked out, Nadal survives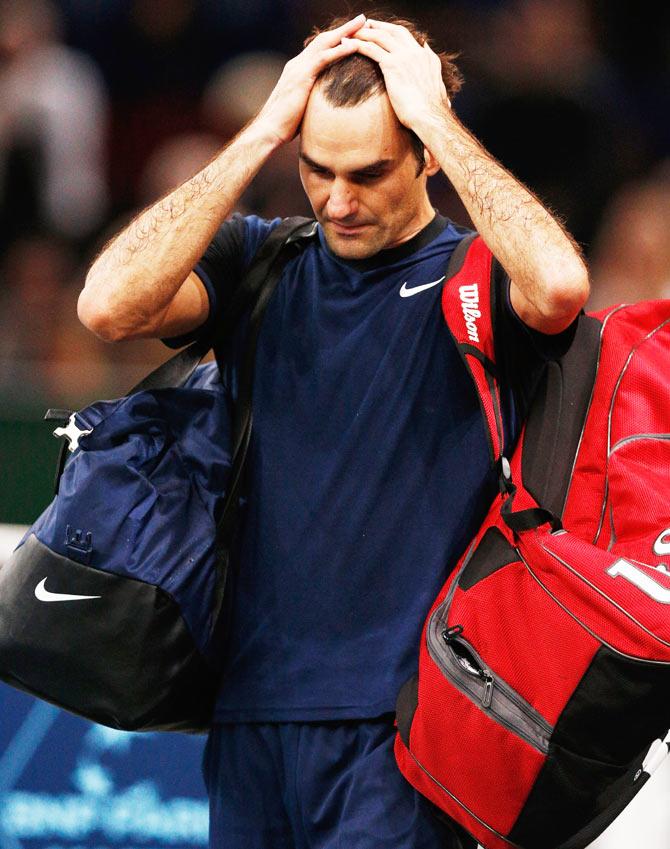 A long season took its toll on Roger Federer on Thursday as the Swiss was knocked out of the Paris Masters following a 7-6(3) 3-6 7-6(5) third-round defeat by big serving John Isner.
November 05, 2015
Asian Shooting C'ship: India add 7 more medals to their tally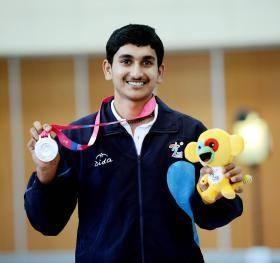 The Indian contingent added seven more medals, including five gold, to their kitty on day three of the 13th Asian Shooting Championship, in Kuwait City, on Thursday.
PHOTOS: Murray in thunderous form, sends Davis Cup warning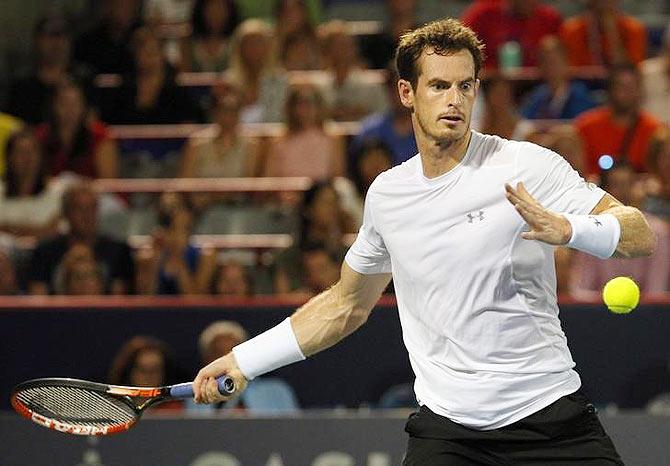 Andy Murray put down an early warning for the Davis Cup final when he dismantled David Goffin 6-1, 6-0 in awe-inspiring fashion to reach the quarter-finals of the Paris Masters on Thursday.
November 04, 2015
Former IAAF boss Diack targeted in corruption inquiry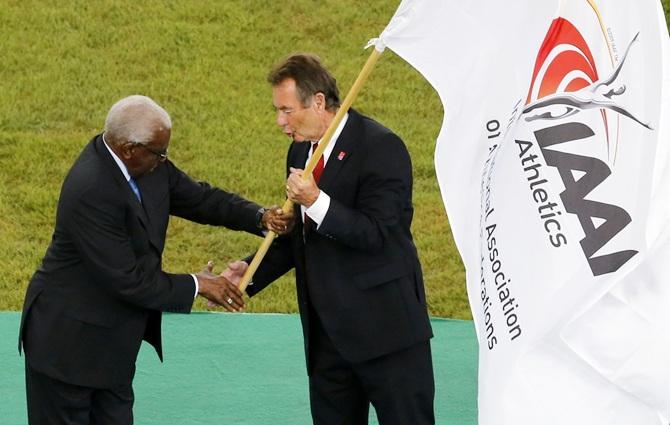 Lamine Diack, the former head of world athletics, has been placed under formal investigation in France on suspicion of corruption and money laundering following a complaint from the World Anti-Doping Agency (WADA).
Asian shooting championship: Jitu wins silver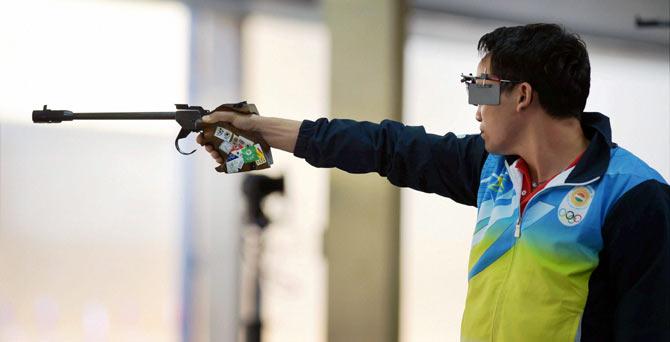 Ace shooter Jitu Rai won India's first senior medal at the 13th Asian Shooting Championship, finishing second behind Korea's Park Daehun in the finals of the men's 50m pistol, in Kuwait City, on Wednesday.
FIFA reform will be limited, says head of panel proposing changes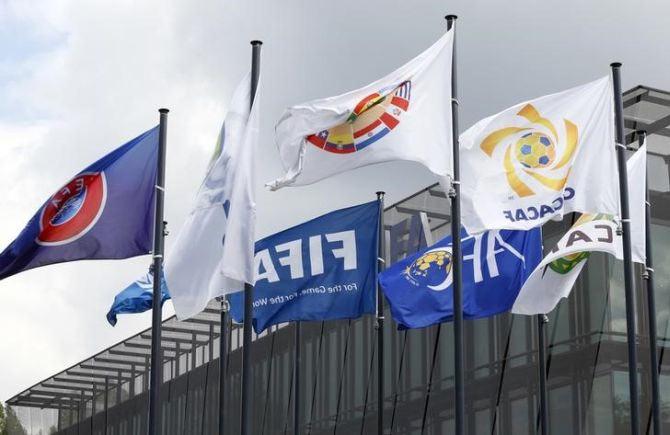 The Swiss lawyer heading up a committee charged with reforming the structure and management of world soccer body FIFA says major changes to the organization's voting structure and imposing term limits on executive committee members will be difficult to achieve in the short term.
French football star Benzema ARRESTED in sex-tape probe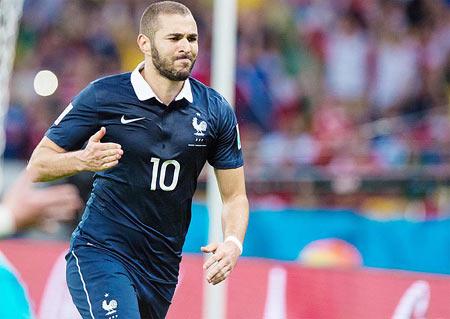 French football star Karim Benzema has been arrested on Wednesday in connection with an inquiry into an alleged attempt to blackmail fellow-France international Mathieu Valbuena, a police source said.
India captain Chhetri pleads for patience after poor WC campaign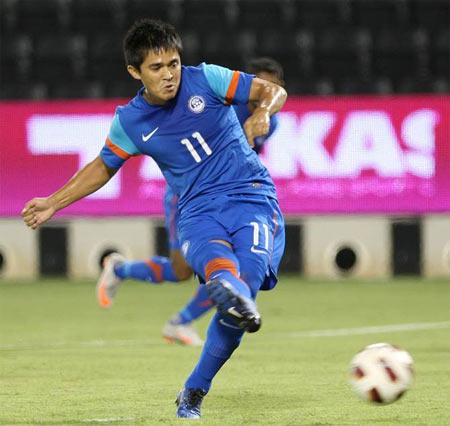 India captain Sunil Chhetri has urged fans to be patient with the team and coach Stephen Constantine after the national team's yet another shambolic qualification campaign for the 2018 soccer World Cup.
Lorenzo cannot intervene in Rossi appeal to CAS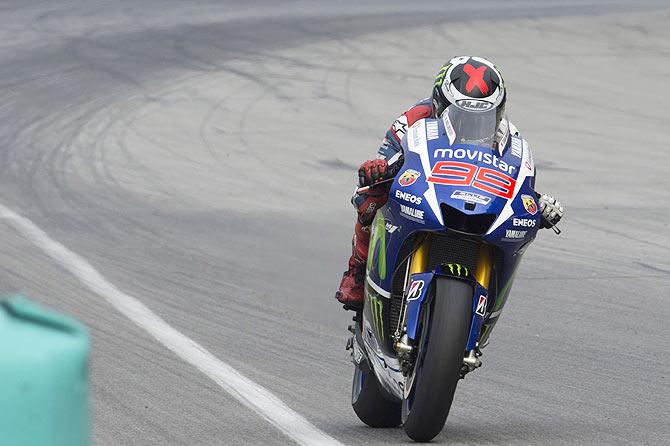 Championship leader Rossi wants a penalty, imposed on him after he allegedly kicked Honda's reigning champion Marc Marquez off his bike in Malaysia last Sunday, to be at least suspended so he can race on equal terms.
Mentally fatigued Nadal considered skipping World Tour finals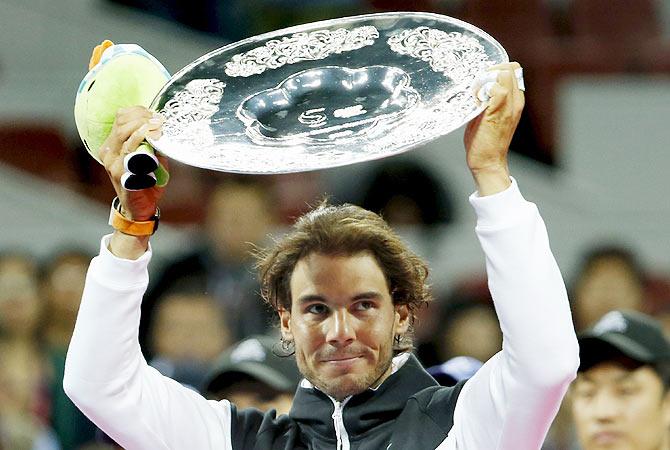 For all his renowned mental strength it was psychological exhaustion that made Rafael Nadal consider skipping the season-ending ATP World Tour finals this year, the 14-times grand slam champion said on Tuesday.
We have not been good enough this season: Chelsea's Terry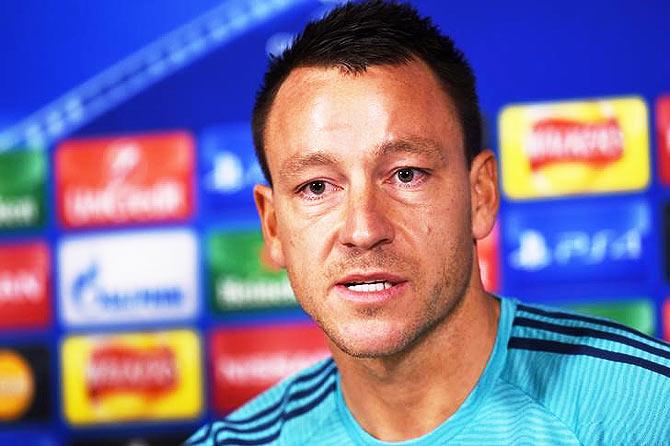 Blame players for slump, not Mourinho, says the Blues captain
Chelsea manager Mourinho denies player revolt within club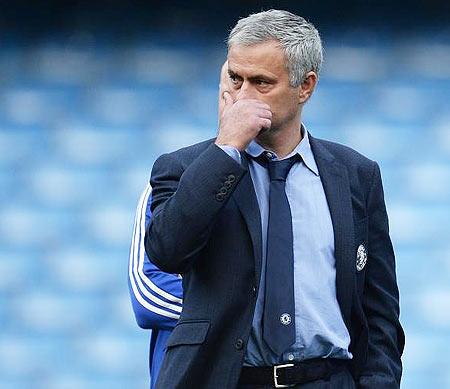 He also said he expected to be at Chelsea for the remainder of his four-year contract and that Chelsea would finish first or second in their Champions League group.
Paris Masters round-up: Paes-Nadal out; Djokovic, Wawrinka surge ahead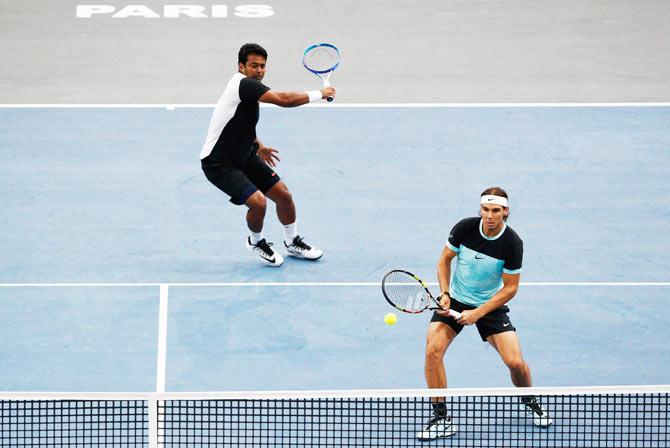 All the results from the matches played in the BNP Paribas Paris Masters on Tuesday
Champions League PHOTOS: Real, City into last 16; record for Rooney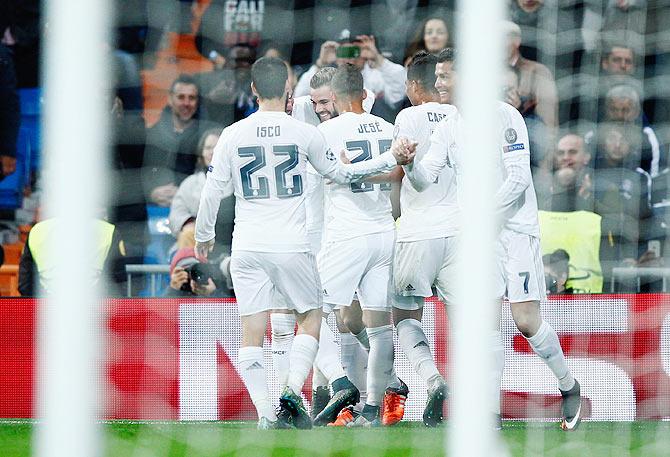 Photos from the Champions League matches played across Europe on Tuesday
November 03, 2015
ISL: Simao to the rescue as NE United snatch points from Delhi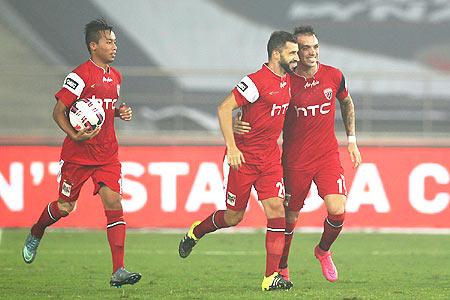 Delhi Dynamos now have the same number of points as FC Pune City (13 points) but are placed second with an inferior goal average. NorthEast United are in seventh spot with seven points from as many matches.
Pro Wrestling League: Yogeshwar costliest Indian wrestler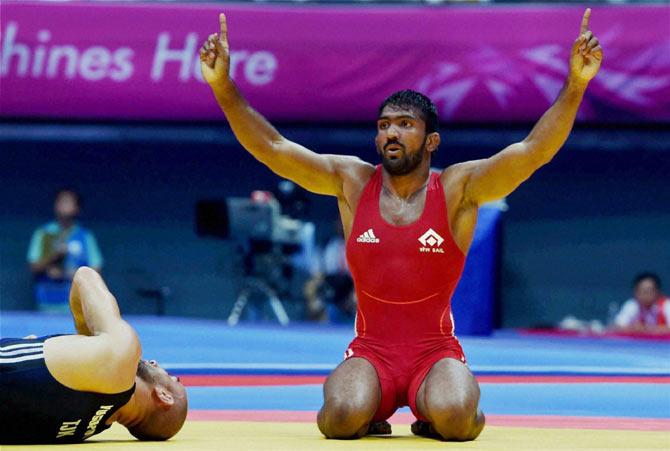 Yogeshwar Dutt emerged the costliest Indian grappler in the inaugural Pro Wrestling League (PWL) auctions in New Delhi on Tuesday.
Asian Shooting C'ship: India take five medals on opening day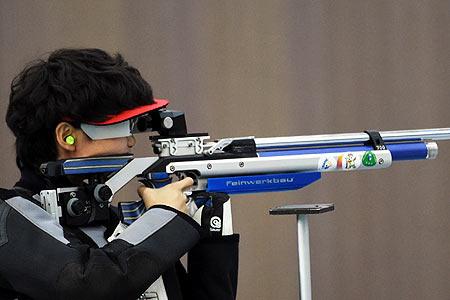 The Indian shooting squad began its campaign at the 13th Asian Shooting Championship on an impressive note as they bagged five medals on day one of competition in Kuwait City on Tuesday.
Prosecutors want Pistorius to be convicted of murder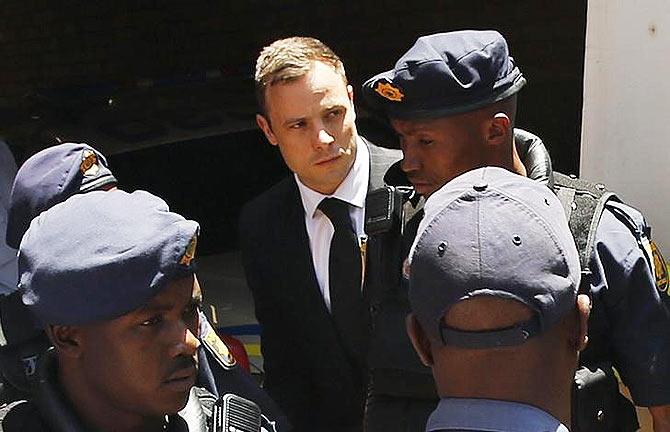 The Paralympic gold medallist was freed on parole last month after serving a fifth of the prison term given to him for the "culpable homicide" of Reeva Steenkamp, who he killed on Valentine's Day 2013.
Michelle Payne makes history in Melbourne Cup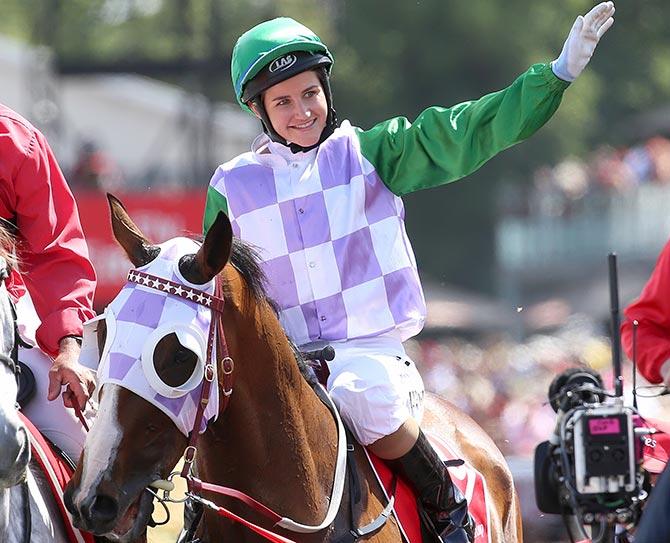 Michelle Payne became the first female jockey to win the A$6.2 million (£2.9 million) Melbourne Cup on Tuesday as she rode rank outsider Prince of Penzance to victory in Australia's richest and most prestigious race.
Captivating photos from the Indigenous World Games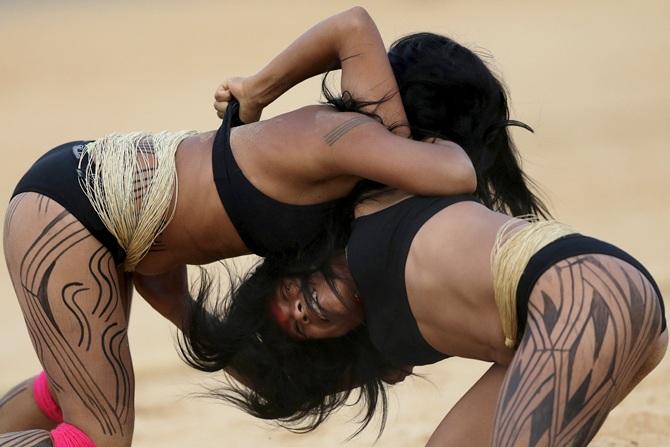 Here are some of the most captivating moments from the first World Indigenous Games in Brazil.
November 02, 2015
Dutchman Van Persie axed from national squad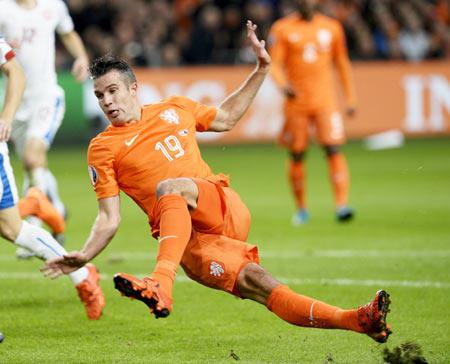 The 32-year-old, who captained the Dutch to third place at the 2014 World Cup in Brazil, has been overlooked by coach Danny Blind, who is not convinced about his form with Fenerbahce.
Qatar Classic squash: Joshna storms into quarters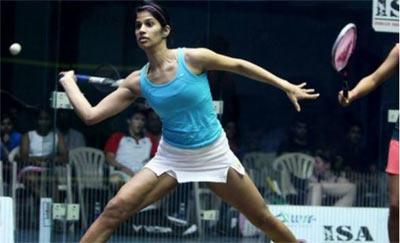 Joshna Chinappa continued her impressive run to reach the quarter-finals of the $115,000 Qatar Classic squash tournament in Doha on Monday.
Former Chelsea doctor Carneiro takes legal action against Mourinho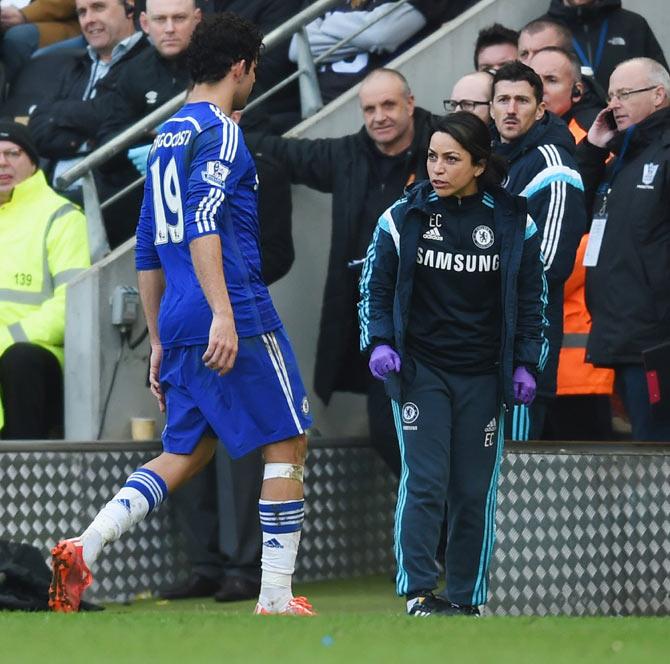 Chelsea manager Jose Mourinho has been a named a respondent in the legal action being brought against the club by their former team doctor Eva Carneiro for constructive dismissal, sources close to the case said on Monday.
Brazil legend Ronaldo gets ISL invite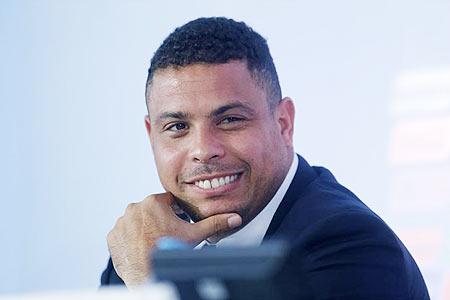 Brazilian football legend Ronaldo could soon make his maiden visit to India.
A perfect 10 for American Biles; You dethrones defending champ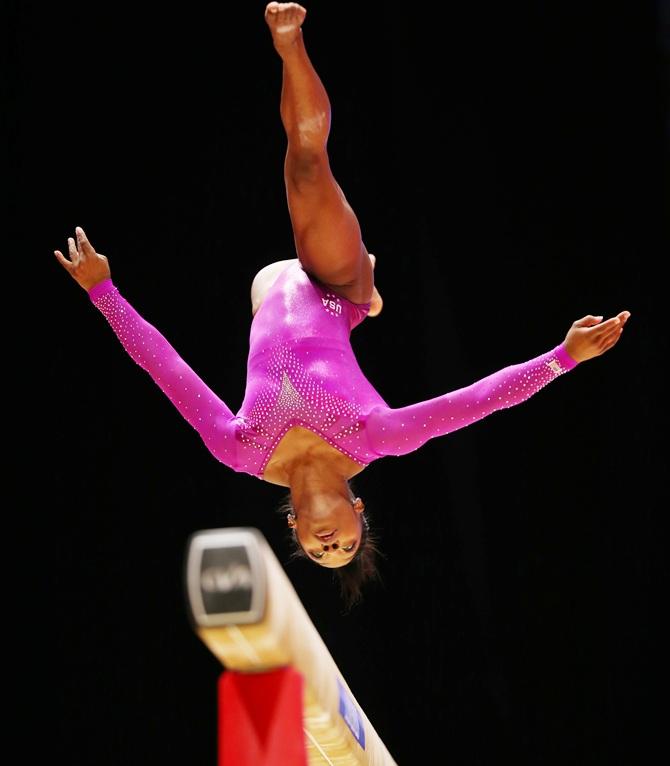 It's a wrap! Rediff.com presents a roundup of the World Gymnastics Championships, Glasgow, which were held from October 23 to November 1.
Squash Rankings: Pallikal jumps five places, Chinappa 17th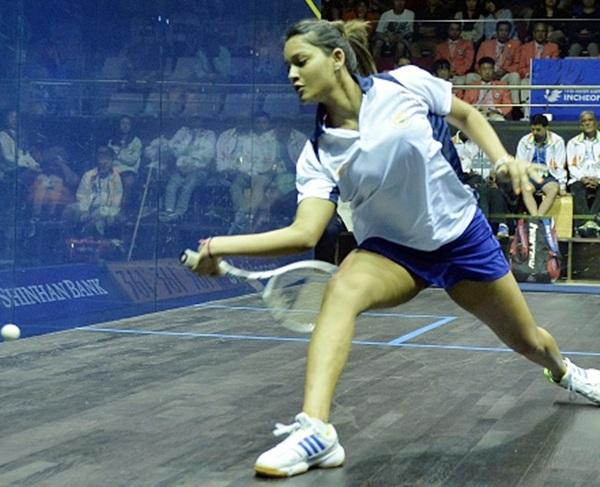 Dipika Pallikal jumped five places to be 14th while her longtime India teammate Joshana Chinappa gained three spots to be 17th in the latest Professional Squash Association (PSA) rankings.
10 BEST Sports Photos of the Week!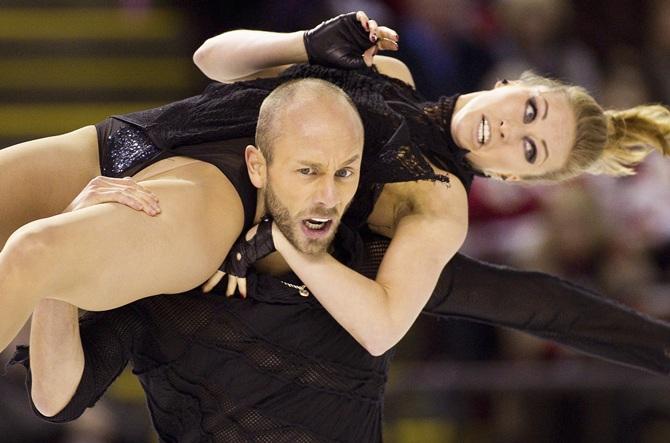 Rediff.com recaptures these and other exciting sporting moments from the week gone by....
November 01, 2015
Federer downs old foe Nadal; wins 7th Basel title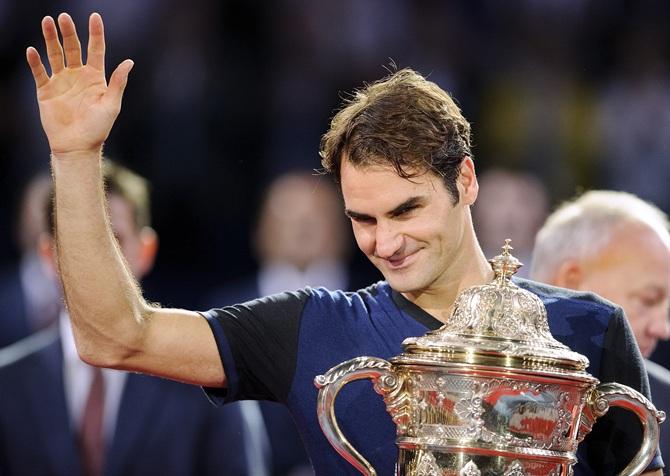 Roger Federer got the better of old foe Rafael Nadal for the first time in more than three years to win a seventh Basel title 6-3, 5-7, 6-3 on Sunday.
5 key points that star boxer Amir Khan made during his India visit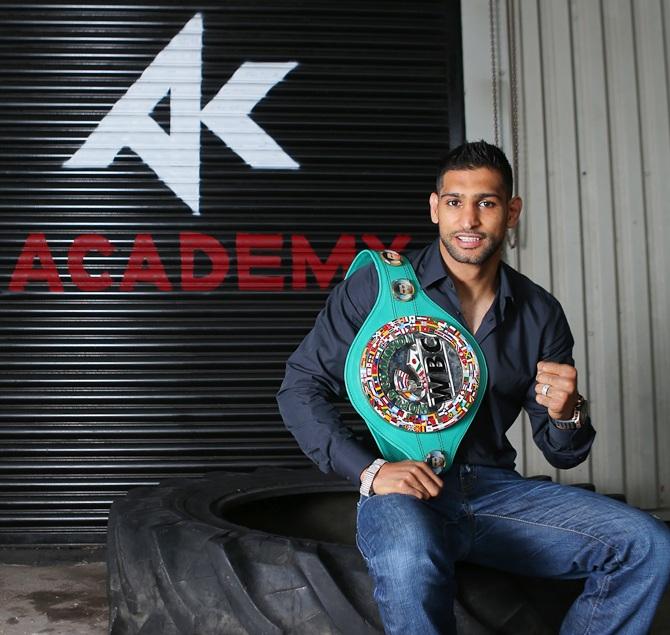 The International Boxing Association (AIBA) could soon allow professional boxers to compete in big-ticket amateur events like the Olympics, British professional boxing star Amir Khan has revealed, saying that he would grab the chance as and when it comes along.
Rugby WC: All Blacks overwhelm Australia to win epic 3rd title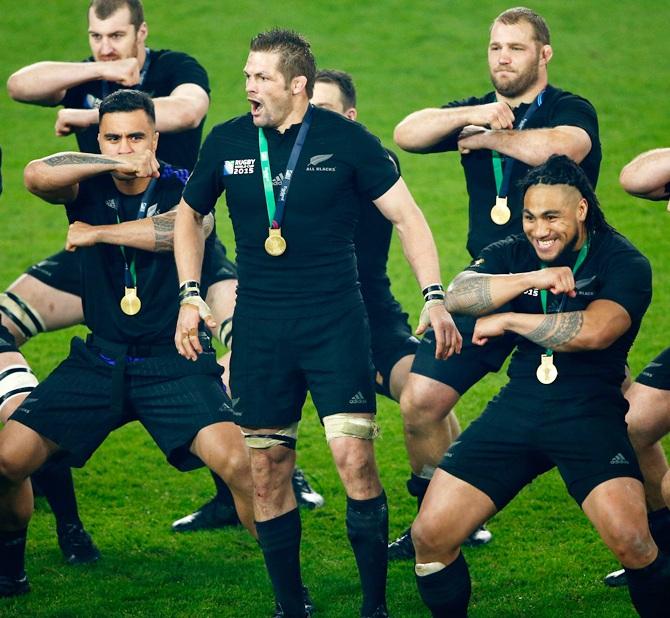 New Zealand cemented their status as the greatest team in rugby history when they overwhelmed Australia 34-17 at Twickenham on Saturday to become world champions for a record third time, and the first nation to retain the Webb Ellis Cup.
October 31, 2015
EPL PHOTOS: Coutinho sizzles in Liverpool's 'special' win at Chelsea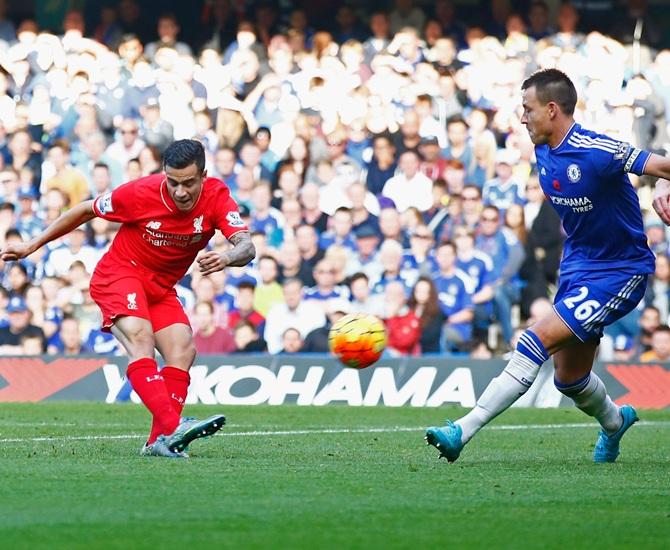 Philippe Coutinho scored twice as Liverpool recovered from an early deficit to beat struggling Premier League champions Chelsea 3-1 at Stamford Bridge on Saturday and pile more pressure on Blues manager Jose Mourinho.
1st World Beach Games in San Diego!!!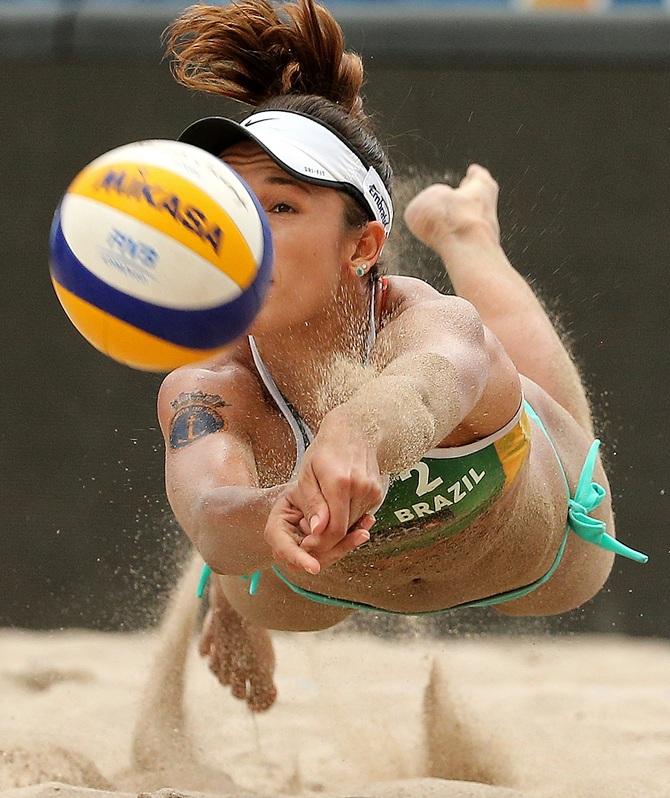 San Diego will host the inaugural World Beach Games in 2017 after the general council of the Association of National Olympic Committees (ANOC) voted on Friday to back the bid of the city in Southern California.
Qatar Classic Squash: India's Joshana upsets World No 1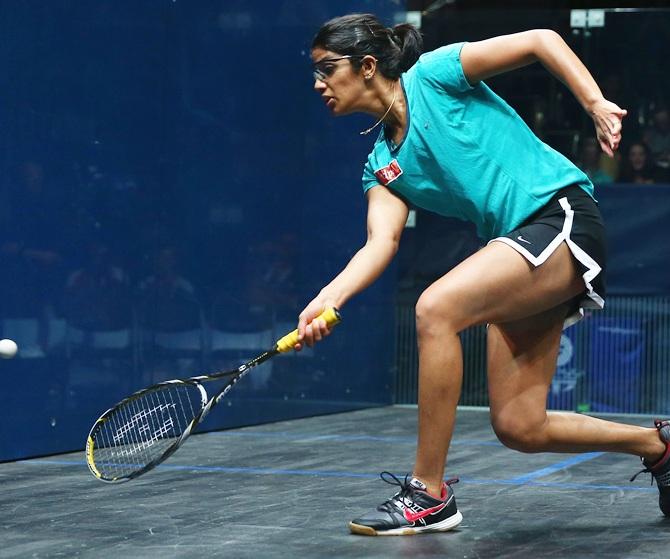 Joshana Chinappa registered one of the biggest upsets of the PSA World Tour season as she stunned World No 1 Raneem El Welily of Egypt in the first round of the Qatar Classic Squash Championship, in Doha, on Saturday.
I'm very lucky that my dad introduced me to gymnastics: Dipa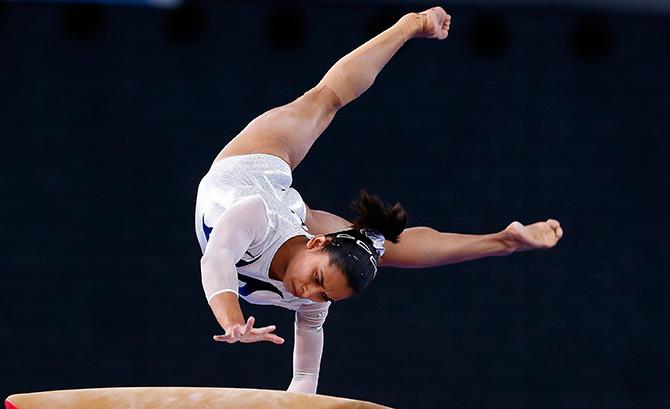 When Dipa Karmakar launches into her soaring vault at the world championships, chances are that none of her rivals will be aware that the foundations of the skill were built on makeshift apparatus made by stacking several crash mats on top of each other.
Bronze consolation as South Africa too strong for Argentina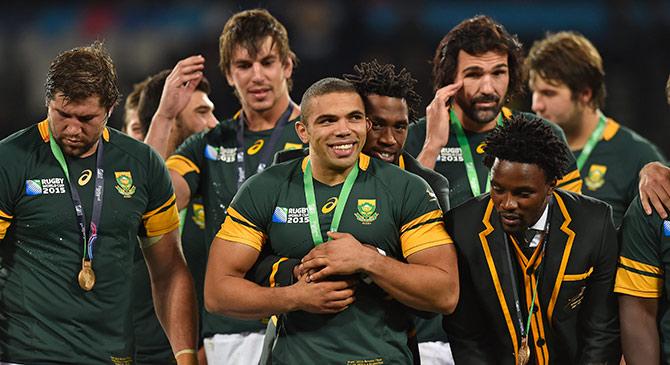 South African winger Bryan Habana and flyhalf Handre Pollard fell just short in their bids for individual records despite helping the Springboks to a 24-13 win over Argentina in the bronze medal playoff at the Olympic Stadium on Friday.
October 29, 2015
WTA Finals PHOTOS: Spotless Sharapova carries Radwanska into semis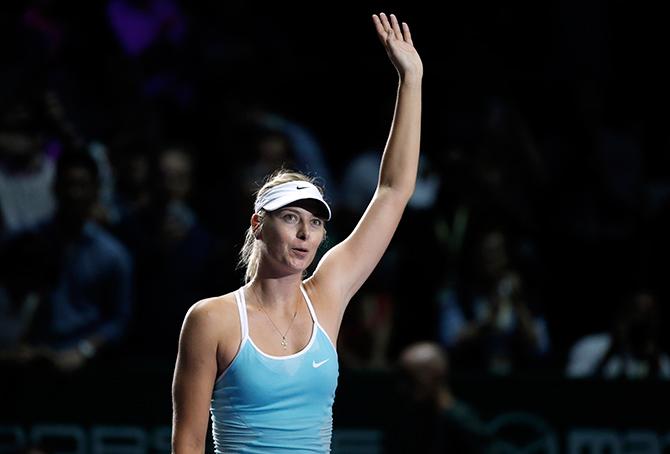 Maria Sharapova made light of her long injury layoff by advancing to the last four of the WTA Finals with an unbeaten record in round robin play after the Russian breezed past Flavia Pennetta 7-5, 6-1 on Thursday, and booked a surprise passage to the semi-finals for Agnieszka Radwanska.
Indian Super League: Chhetri 'tricks' as Mumbai trounce North East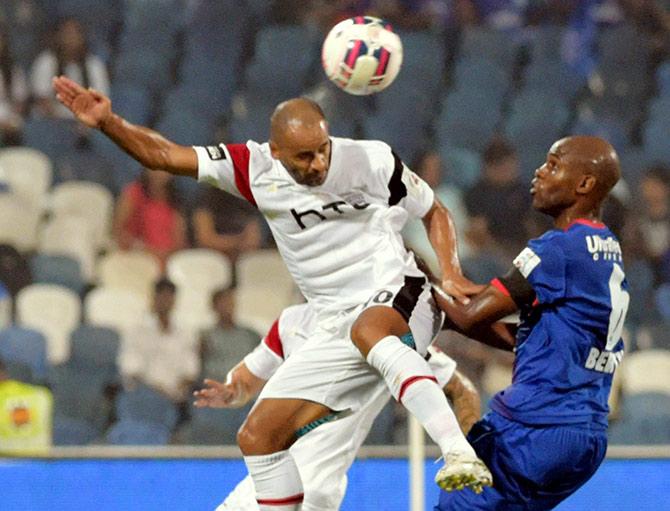 India football captain Sunil Chhetri capped a superb display with a fine hat-trick to orchestrate Mumbai City FC's 5-1 rout of North East United FC in the
Game, set, match: Has Serena found new love?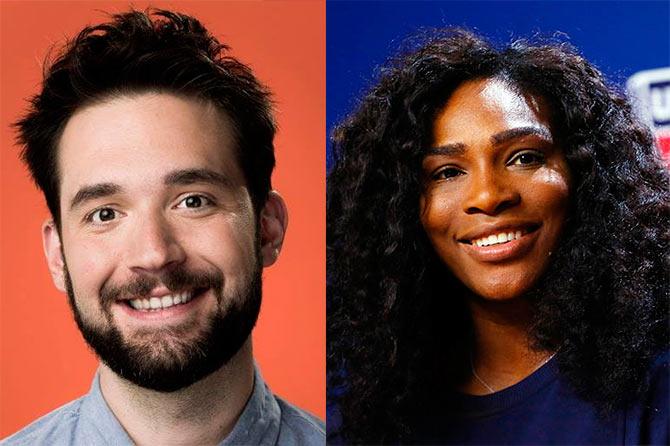 Tennis world No 1 Serena Williams's love-life is always in the news - that is when she is not doing anything spectacular on court.
Castro's leadership delights seven-goal Dortmund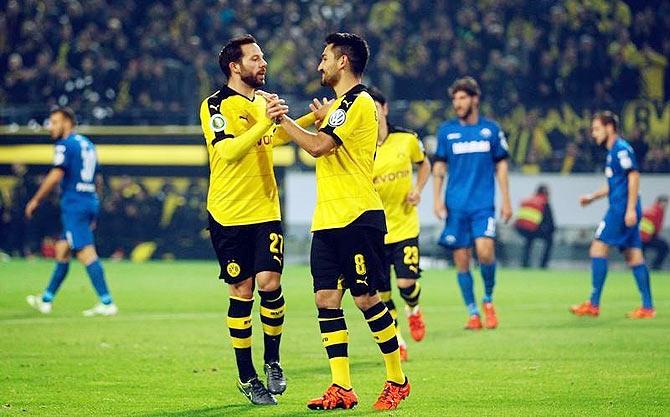 "We are pleased with the win, the many chances and the 70,000-plus spectators."
FIFA's Blatter planned for Russia and US to host World Cups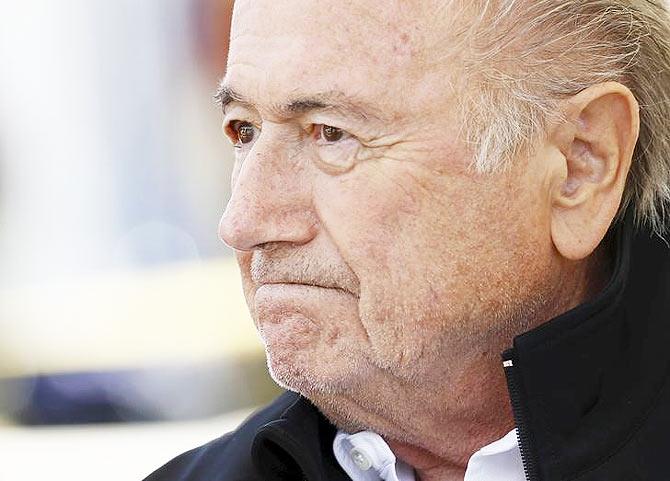 'It was not an agreement, this was his proposal and of course it (then) went to the vote at the (FIFA) executive committee'
A heart-wrenching tale of forgotten athletes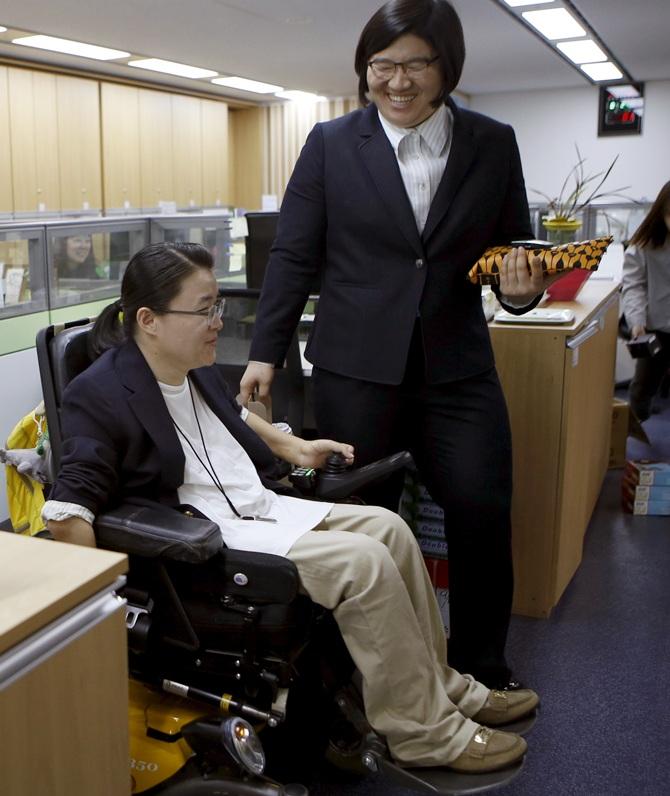 What lies ahead for Korea's forgotten athletes? Take a look.
What fun! F1 champion Hamilton wrestles with Mexican culture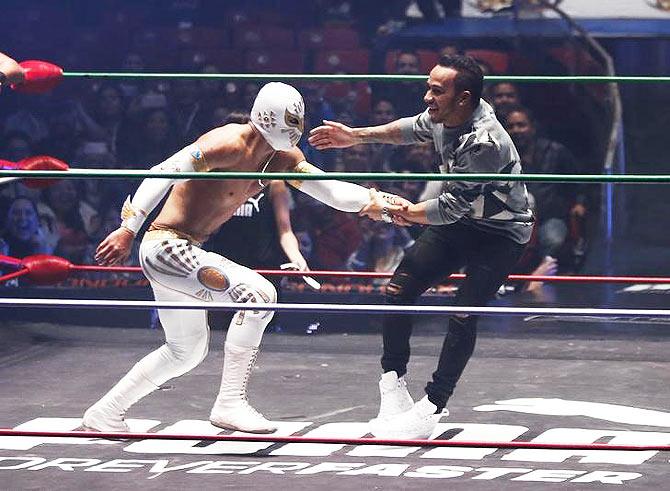 Lewis Hamilton still has to pinch himself to believe he is a three times Formula One world champion and a surreal afternoon in Mexico will give him further cause to question reality.
Mallya's Force India F1 team seeks advance on 2016 payments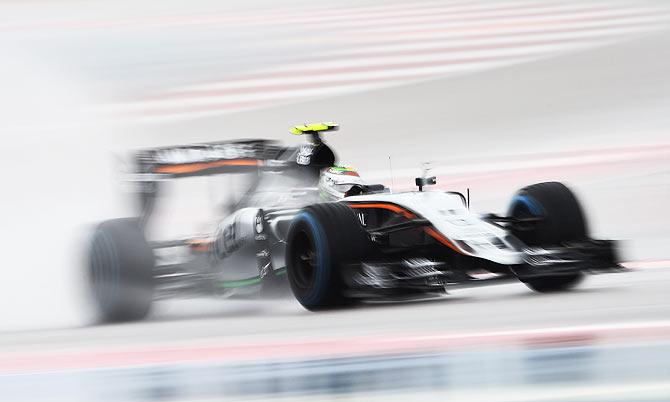 British-based Force India, who have Mexican Sergio Perez and Germany's Nico Hulkenberg confirmed as drivers for 2016 and use Mercedes engines, contract out much of their chassis work to keep costs down.
Serie A: Another surprise defeat for Juve as Roma go top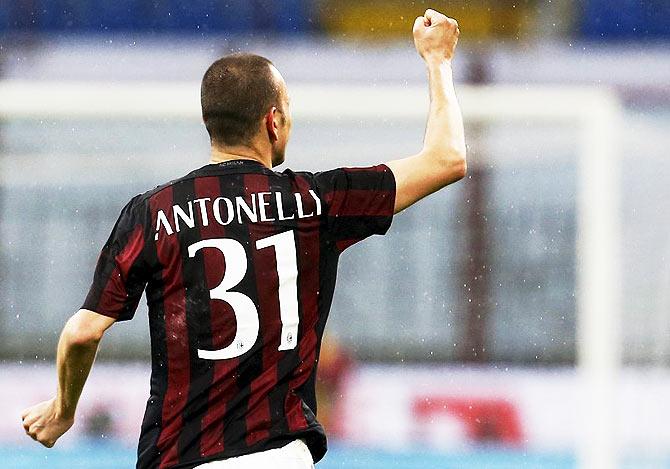 Juventus slumped to another surprise defeat on Wednesday when the champions lost 1-0 at Sassuolo while AS Roma reclaimed top spot in Serie A with a 3-1 home victory over Udinese.
How Nadal survived Basel battle to live another day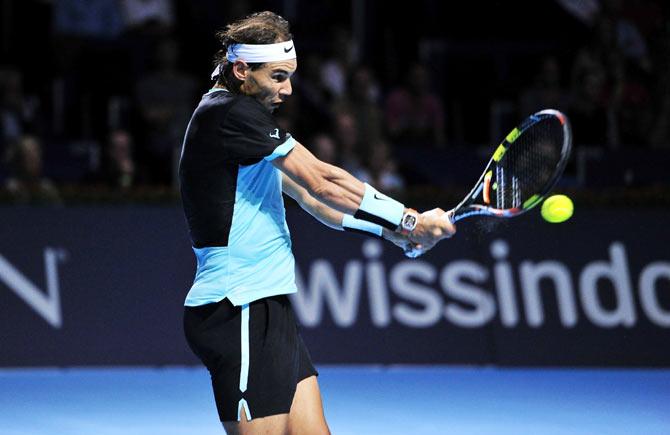 The 29-year-old Spaniard, who needed a final-set tiebreak to fight past Lukas Rosol in the first round, produced a performance of defiant persistence to fend off the challenge of the 24-year-old Dimitrov.
League Cup PHOTOS: Rooney, Carrick fail to convert as United crash out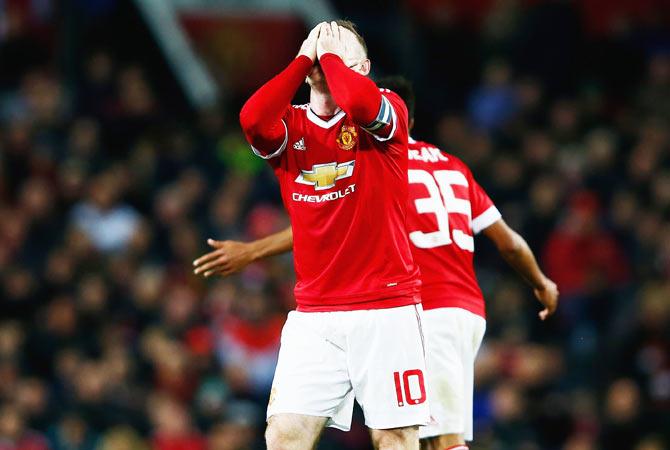 First win for Liverpool manager Klopp, City thrash Palace 5-1
October 28, 2015
WTA Finals PHOTOS: Muguruza wins again as Kvitova opens account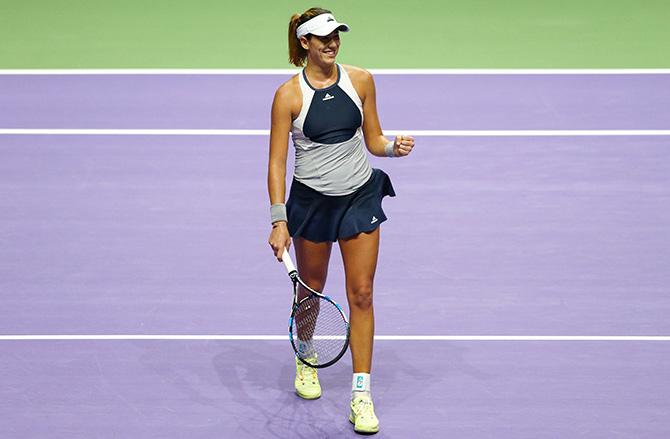 Spain's Garbine Muguruza moved to the brink of the WTA Finals last four with a 6-4, 6-4 win over Angelique Kerber on Wednesday after Petra Kvitova opened her account with a 7-5, 7-5 victory over fellow Czech Lucie Safarova.
4 reasons why US women gymnasts are world beaters...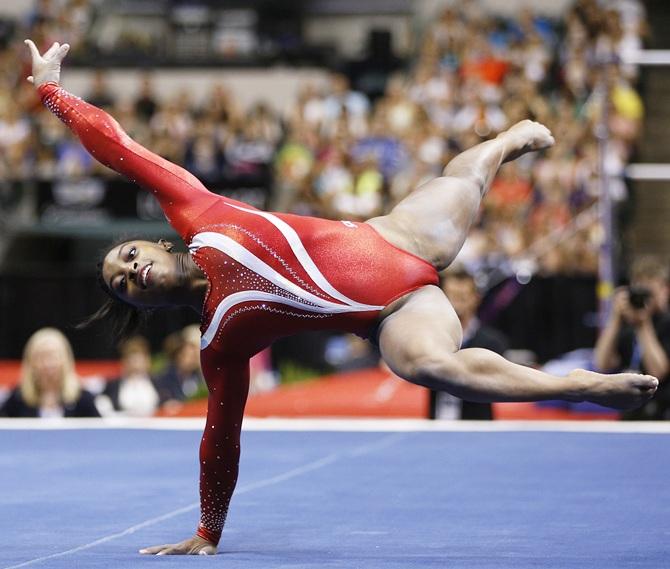 There are still more than nine months to go before the start of the Rio Games but it seems no amount of blood, sweat and tears shed by their rivals in training will be enough to topple the US women's gymnastics team from the top of the Olympic podium.
IOC bans Kuwait over government interference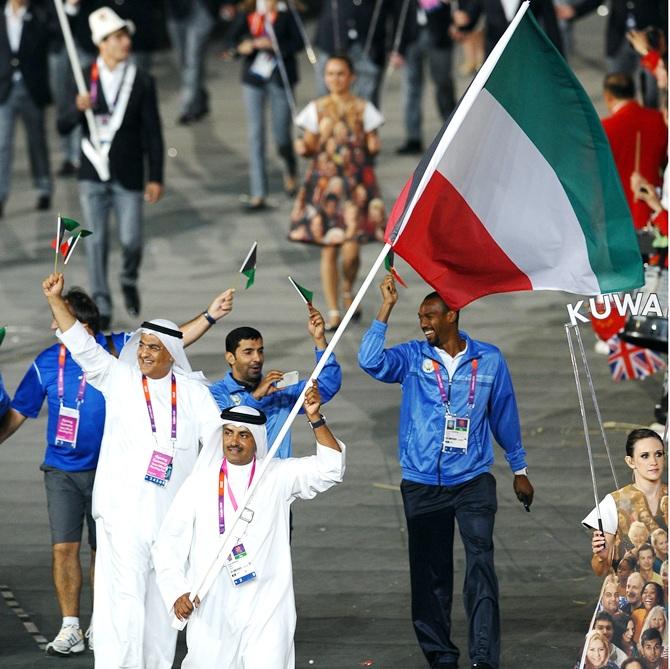 The International Olympic Committee (IOC) has suspended Kuwait for the second time in five years over government interference in the country's Games committee.
King's Cup: Barca and Villanovense want one-off decider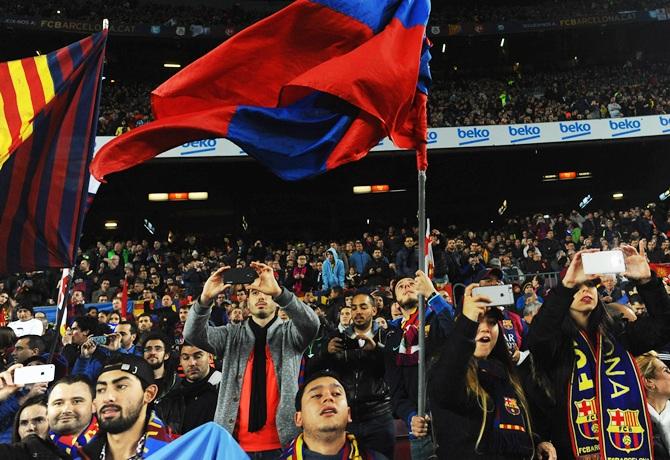 The excitement is building among fans of Spanish third-tier side Villanovense ahead of the visit of Barcelona in the King's Cup on Wednesday, but both sides would prefer the two-legged tie to be decided by a one-off match.
Brazil's most costly football stadium may not host Olympic games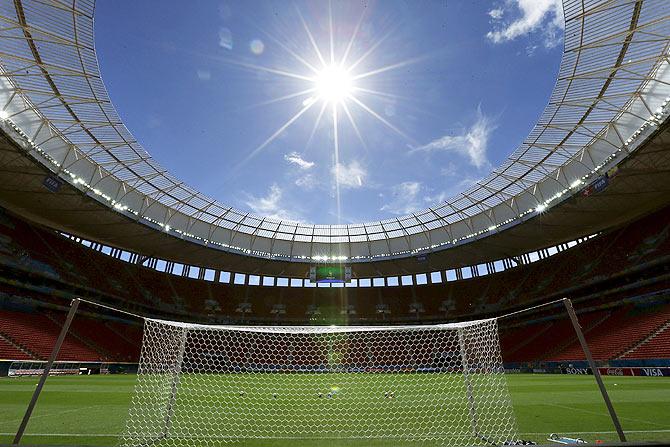 Tickets for matches in Brasilia have already been on sale for months and it remains unclear how fans, many of whom may have bought flights and booked hotels, would be reimbursed
'Chelsea a tough team to referee with Mourinho in charge'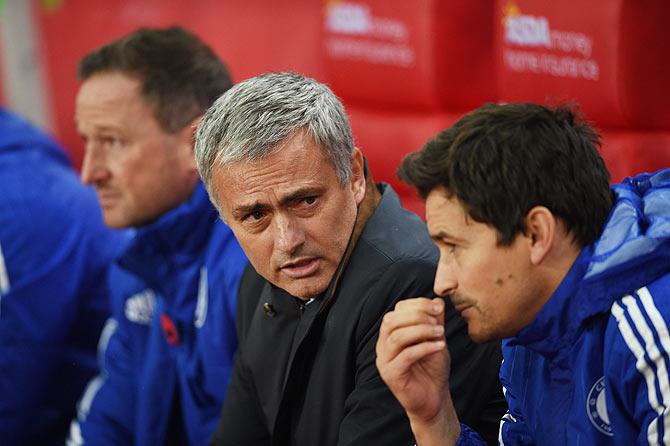 But the under fire Blues manager gets former player Frank Lampard's backing
Serie A: Ten-man Inter go top even as coach Mancini sent off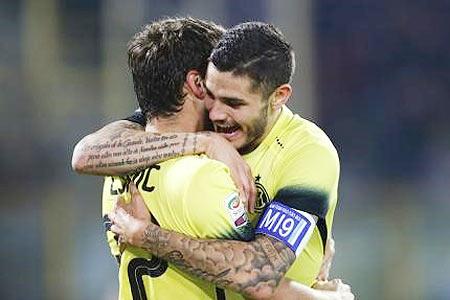 Ten-man Inter Milan replaced AS Roma atop Serie A, at least for 24 hours, after beating Bologna 1-0 away on Tuesday to end a run of four games without a win but coach Roberto Mancini, who was sent off at the end, wants more from his side.
German Cup: Dominant Bayern dump defending champions Wolfsburg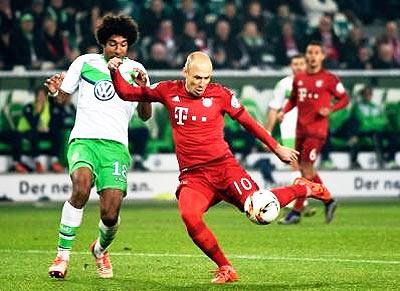 Unstoppable Bayern Munich scored three goals in the opening 34 minutes with Thomas Mueller grabbing two as they eased past holders VfL Wolfsburg 3-1 away on Tuesday and reached the German Cup third round.
Swiss Indoors: Federer makes comfortable start at home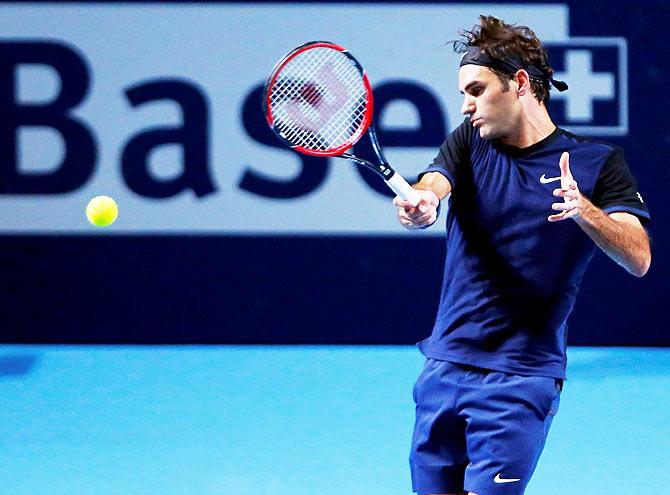 Roger Federer bounced back to form with a quick-fire win over Mikhail Kukushkin of Kazakhstan on Tuesday as he began his bid for a seventh title at his hometown tournament in Basel.
League Cup: Chelsea knocked out in penalties; Arsenal also shown door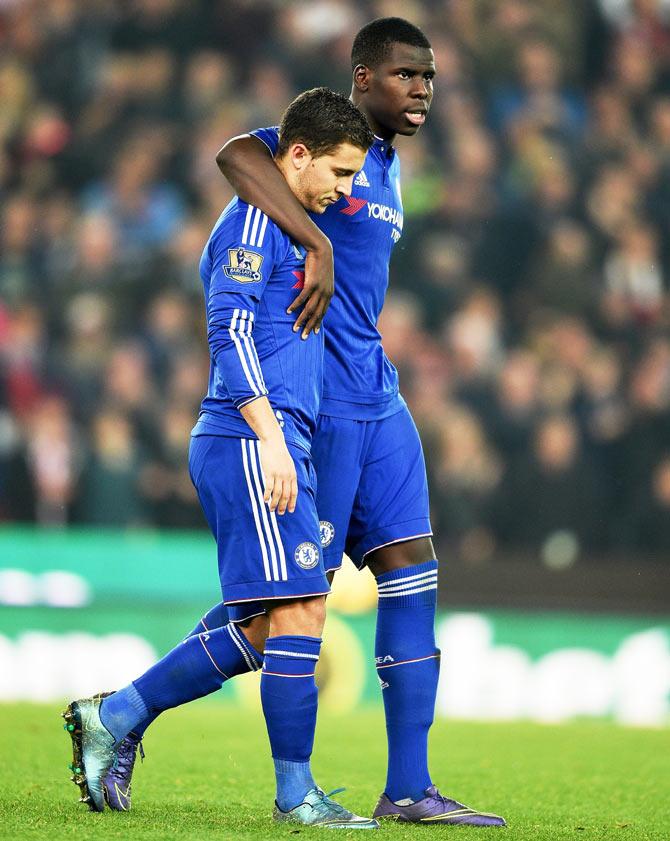 Chelsea's woes continued when the holders were dumped out of the Capital One (League) Cup fourth round following a shootout defeat by Stoke City on Tuesday, while Arsenal suffered a humiliating 3-0 defeat at second tier Sheffield Wednesday.
October 27, 2015
'Rio will be my last Olympics'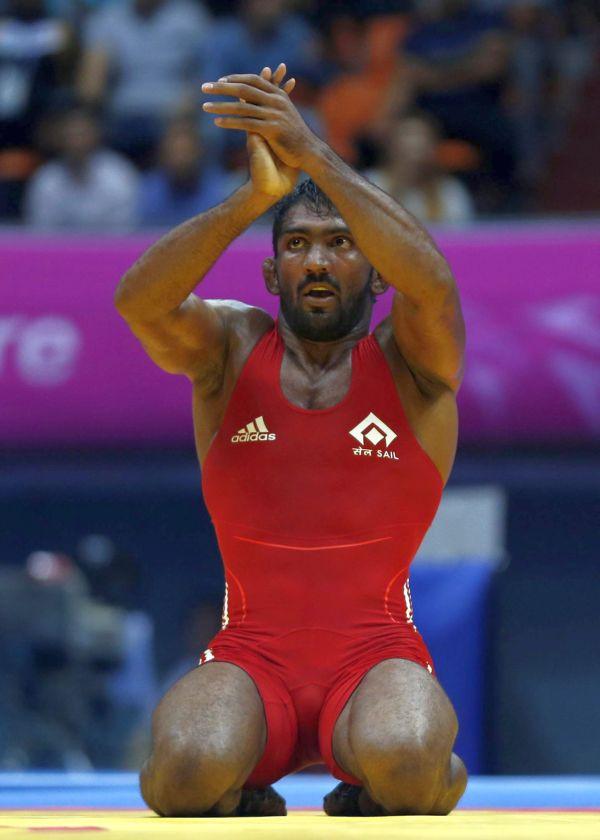 Olympic medallist Yogeshwar Dutt said that the 2016 Olympics in Rio de Janeiro will be his last appearance.
Bilbao Masters: Anand draws with Giri in opener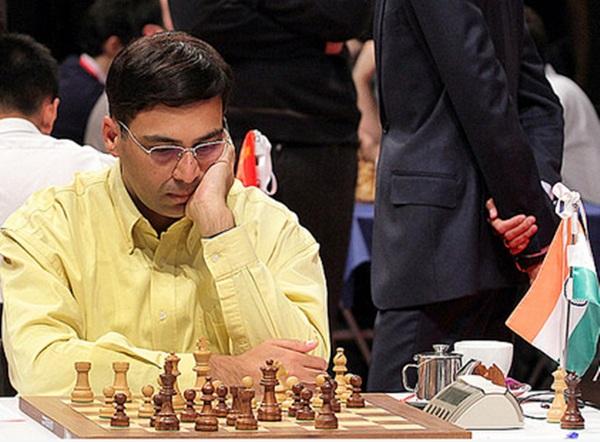 Defending champion Viswanathan Anand started his campaign with a draw against Dutchman Anish Giri in the first round of Bilbao Masters Final chess tournament.
Cheeky reactions to India football jersey for BRICS Cup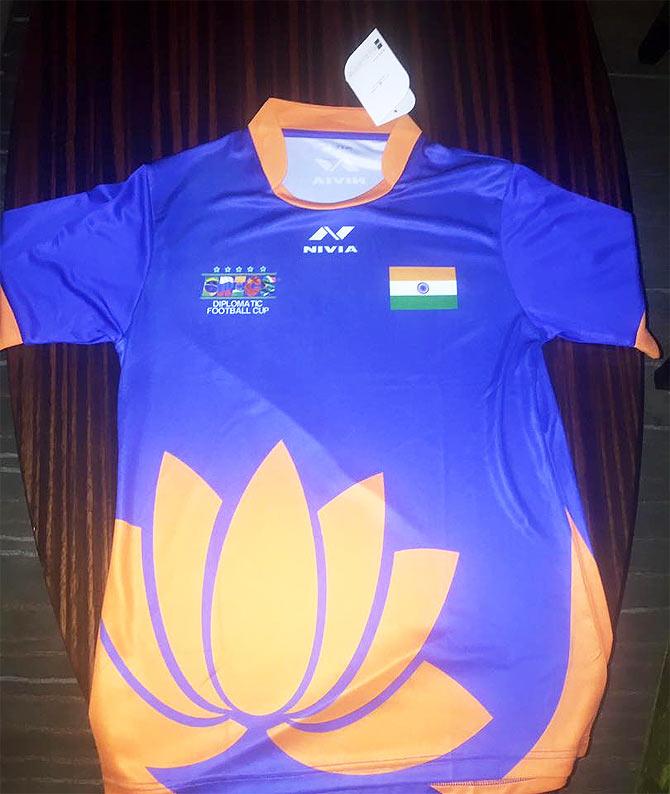 The Indian football team's jersey for the Under-17 BRICS Diplomatic Football Cup was unveiled last week.
2006 WC scam: Beckenbauer defends transfer of funds to FIFA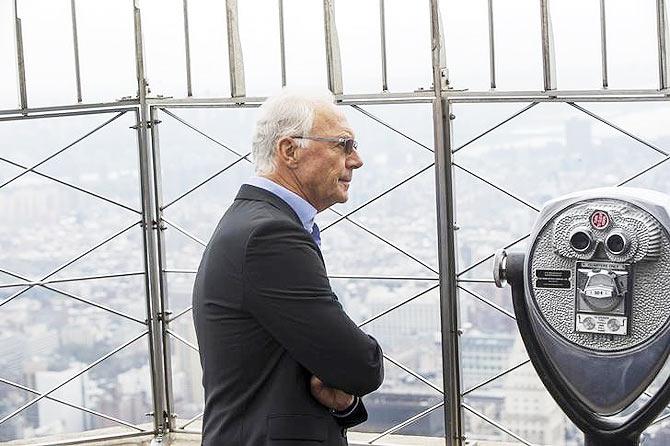 Franz Beckenbauer, who headed Germany's 2006 World Cup organising committee, said on Monday a transfer of 6.7 million euros to world football's governing body FIFA in 2005 was a mistake but rejected claims it was a return of a loan to buy votes in favour of the country's World Cup bid.
Platini's appeal against 90-day ban rejected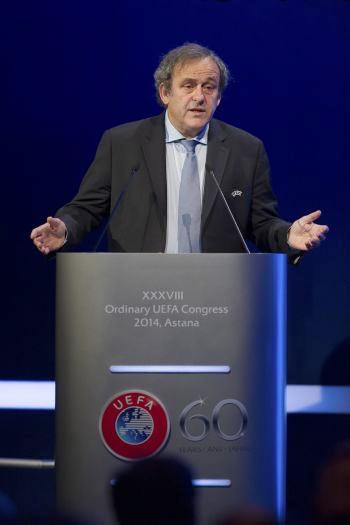 The first procedural appeal filed by under-fire UEFA president Michel Platini against his 90-day suspension from football-related activities has been rejected.
F1 Pit-lane tales: Ecclestone wants more races in America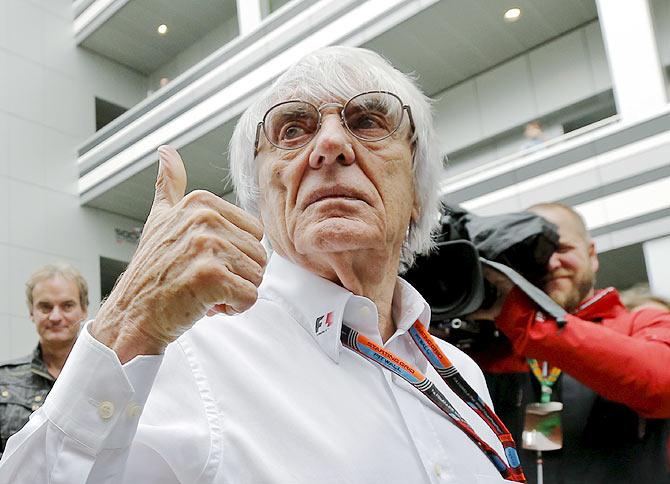 Speaking at last weekend's title deciding US Grand Prix in Austin, the 84-year-old Briton told reporters he hoped to add more American venues to a series that is already set for a record 21 races next year.
Refugee athletes can compete under Olympic flag at Rio Games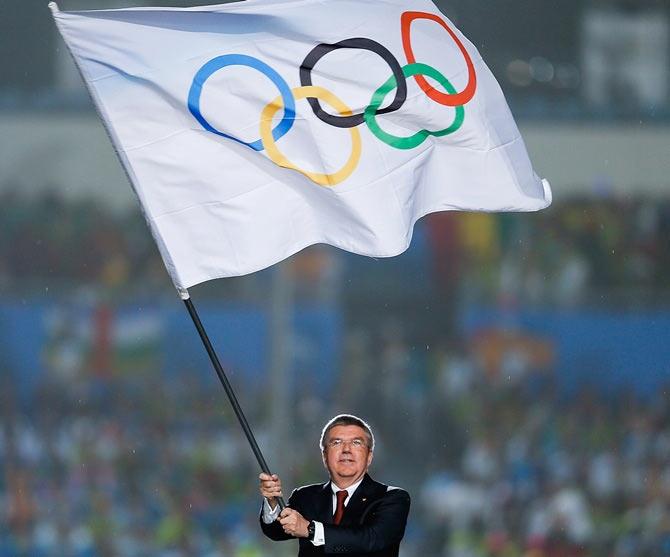 A resolution, which was supported by 180 out of the 193 UN member states, calls for the Olympic Truce to be respected from seven days before the start of the August 5-21 Olympic Games until seven days after the September 7-18 Paralympic Games.
Desperate Nadal resurrects from despair to advance in Basel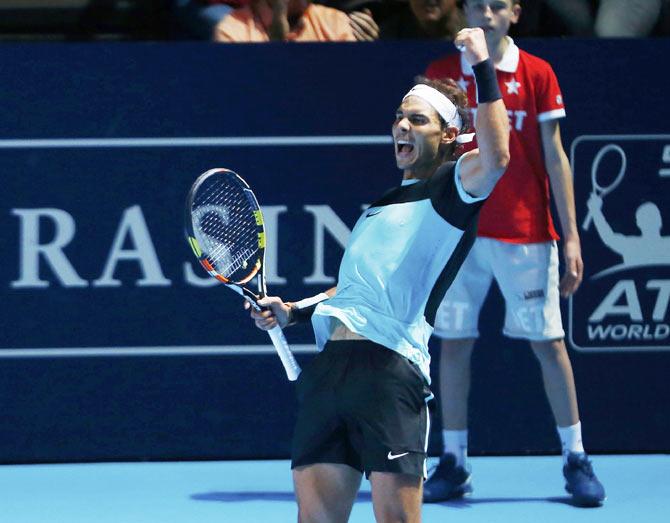 Spaniard Nadal was in all sorts of trouble, trailing by a set and 5-4 and with 69th-ranked Rosol serving at 30-0, but his Czech opponent framed a basic backhand volley at 30-15 and blew his chance, Nadal going on to win 1-6, 7-5, 7-6(4).
Mourinho sanctioned again by FA, this time charged with misconduct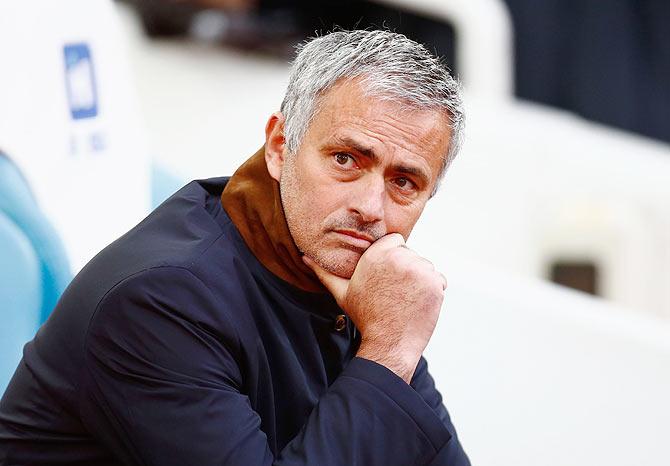 'Jose Mourinho has been charged with misconduct in relation to his language and/or behaviour towards the match officials in or around the dressing room area at halftime'
October 26, 2015
Archery World Cup: Deepika Kumari bags silver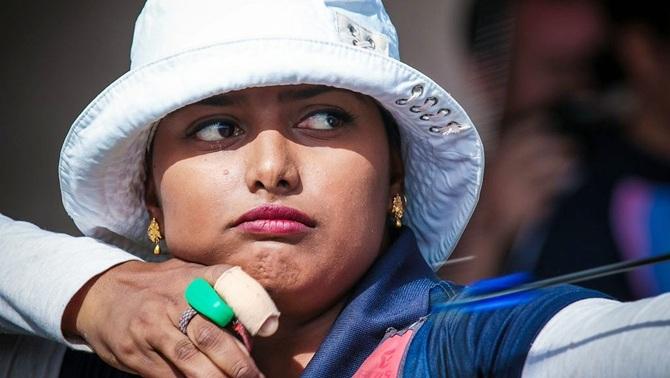 Deepika Kumari bagged her fourth silver medal in five years at the 'Archery World Cup Final' after going down to Korea's Choi Misun in Mexico City.
Chelsea fined 25,000 pounds and face probe for too many yellow cards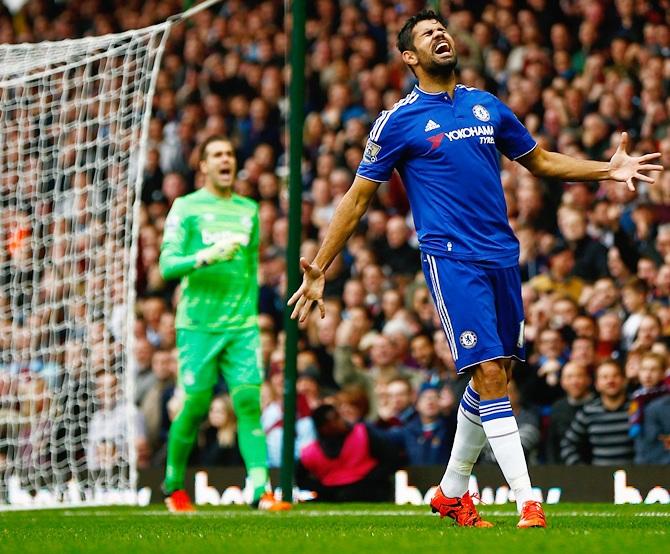 Chelsea will be fined 25,000 pounds ($38,327) and asked for their observations on three disciplinary incidents that occurred in Saturday's eventful 2-1 defeat at London rivals West Ham United.
Ko takes back No. 1 spot after nine-stroke win in Taiwan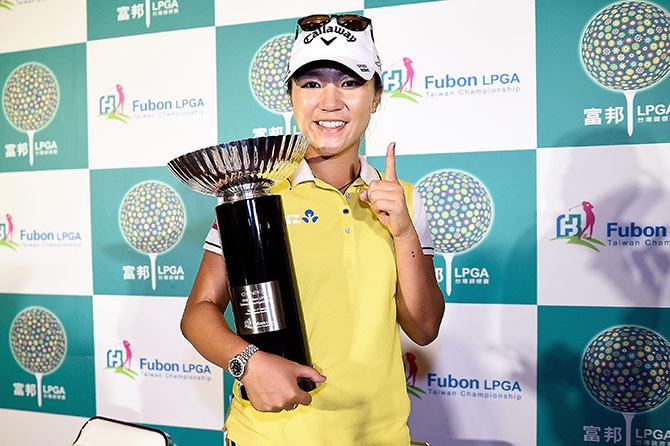 Lydia Ko cantered to a nine-stroke victory at the LPGA Taiwan Championship on Sunday to take back the women's world number one spot from South Korean Park In-bee.
Rugby World Cup: Ashley-Cooper hat-trick sends Australia into final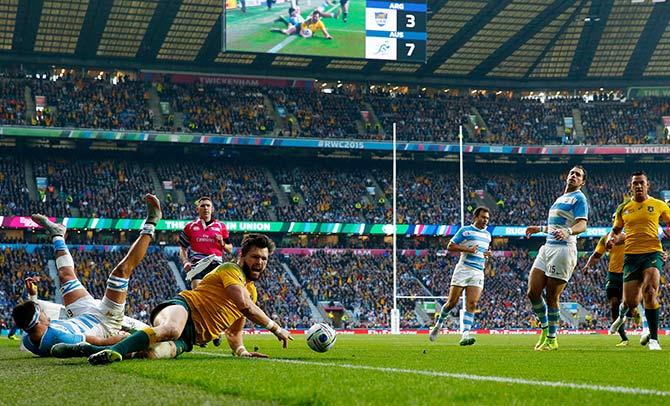 Winger Adam Ashley Cooper's hat-trick of tries sent Australia into a first World Cup final since 2003 after a 29-15 victory over Argentina on Sunday secured a showdown with holders New Zealand at Twickenham next weekend.
October 25, 2015
ISL: Chhetri, Piquionne score as Mumbai beat table toppers Goa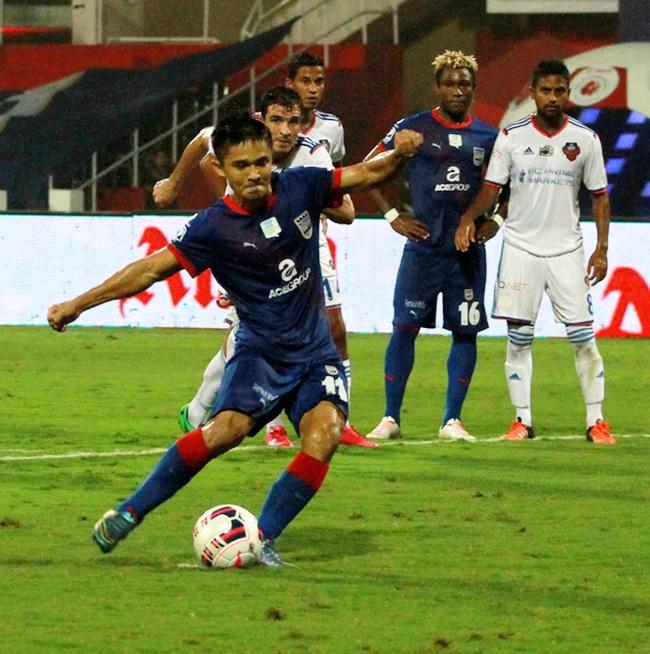 Goals in either half from Sunil Chhetri and Frederic Piquionne were enough to see Mumbai City FC record their second successive win of Indian Super League football against table toppers FC Goa, in Mumbai, on Sunday.
Archery World Cup: Verma bags historic silver
Delhi lad Abhishek Verma has bagged India's first ever 'Archery World Cup Final' medal in the compound section when he won a silver after being pipped by Turkey's Demir Elmaagcli in the summit clash in Mexico City.
He just rides to cause me some problems: Rossi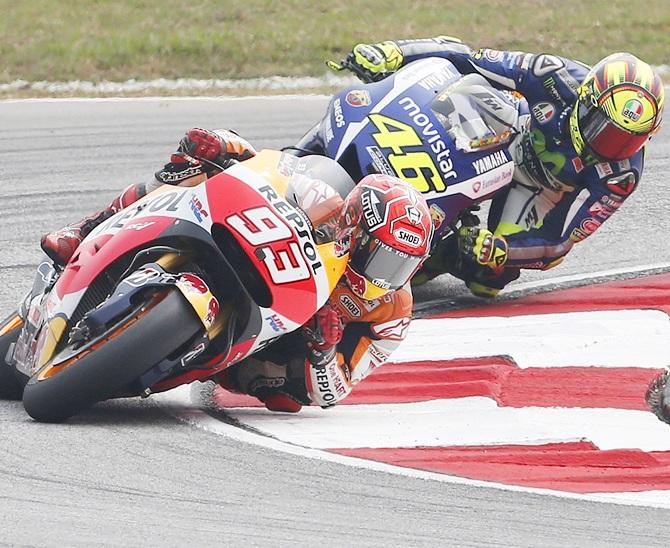 MotoGP championship leader Valentino Rossi will start the season finale in Valencia from the back of the grid after the Italian was penalised for clashing with Marc Marquez at the Malaysian Grand Prix on Sunday.
October 24, 2015
ISL: First win for Chennaiyin FC on home turf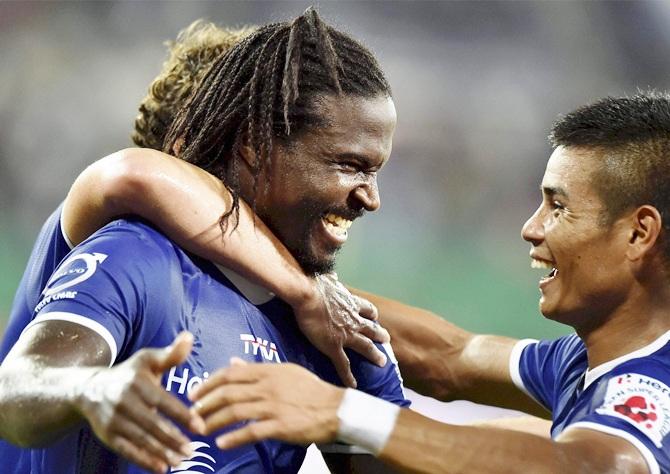 Bernard Mendy and John Stiven Mendoza struck on either side of the break as Chennaiyin FC recorded their first win at home this ISL season by getting the better of FC Pune City 2-1 in a fifth round match, in Chennai, on Saturday.
Red Bull had F1 talks with VW before emissions scandal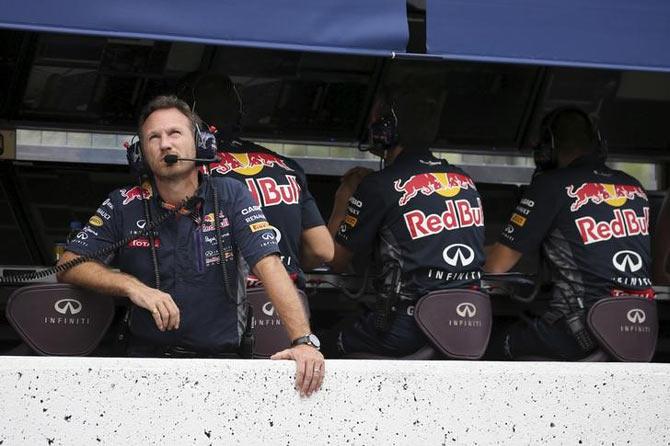 Red Bull were talking to Volkswagen about a Formula One partnership before a diesel emissions scandal seemingly scuppered plans, team boss Christian Horner said on Friday.
Hockey India lifts ban on Gurbaj Singh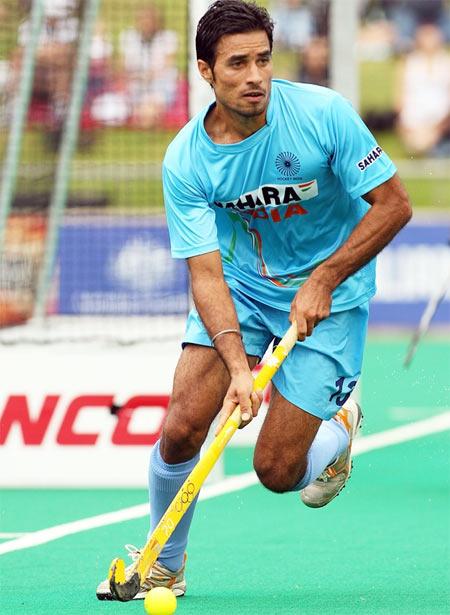 Hockey India (HI) has lifted the nine-month ban on Gurbaj Singh with immediate effect in the wake of Punjab and Haryana High Court's order that termed the suspension of the senior player "illegal".
Hamilton under no extra pressure as record title beckons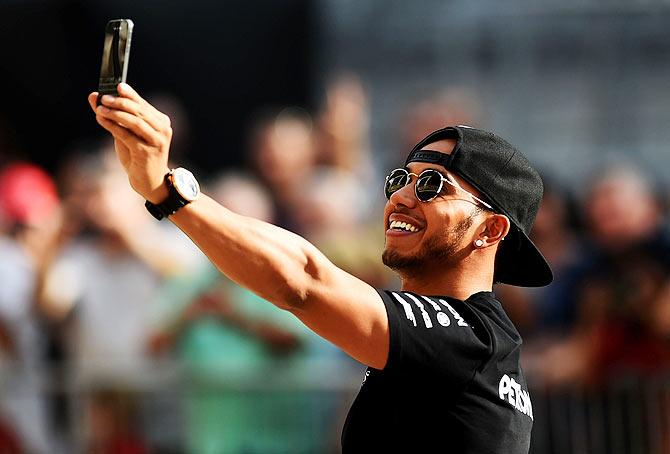 'I could imagine that, for me it would be like getting to the top of Mount Everest. I mean, what do you do next?'
Hamilton a champion driver but not yet an F1 'great'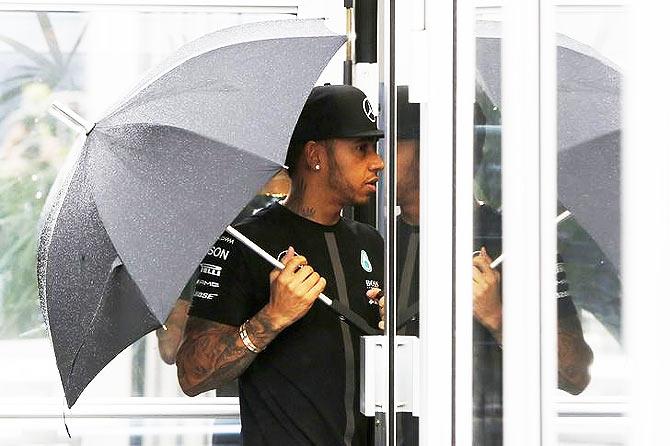 Lewis Hamilton can win his third Formula One world championship on Sunday but the Mercedes driver will have to wait a while longer before he can be truly hailed as one of the greats, according to Jackie Stewart.
It's true! Bribes given to acquire host rights for 2006 FIFA World Cup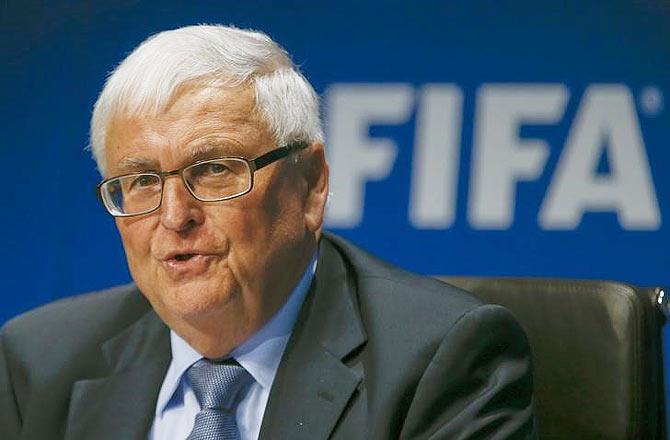 "It is clear that there was a slush fund for the German World Cup bid," Zwanziger told Der Spiegel magazine, which first reported the allegations last week.
US F1 Grand Prix: Second practice cancelled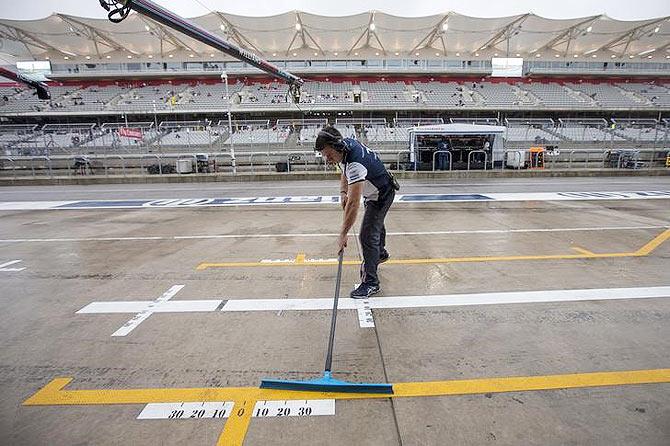 Thunder, lightning and torrential rain washed out second practice at the U.S. Formula One Grand Prix on Friday after Nico Rosberg went fastest for Mercedes in a largely meaningless morning session.
October 23, 2015
EPL: Reds sweating over Sturridge fitness for Southampton clash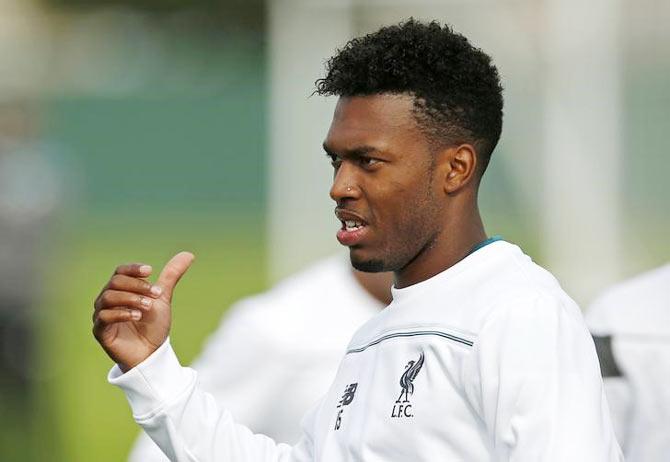 "It's not much better at the moment. With Daniel's injury we have to take it day by day, and see if he's better," Klopp told a news conference on Friday.
Halep, Sharapova drawn together at WTA Finals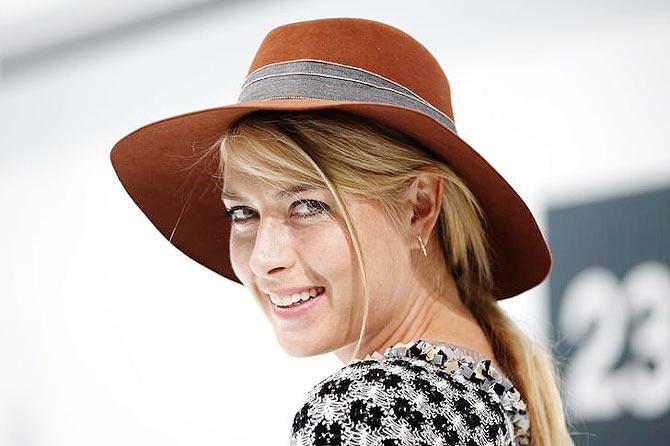 Top seed Simona Halep was pooled with grand slam winners Maria Sharapova and Flavia Pennetta in a formidable looking Red Group for the end-of-season WTA Finals on Friday.
French Open Super Series: Saina loses to Ratchanok in quarters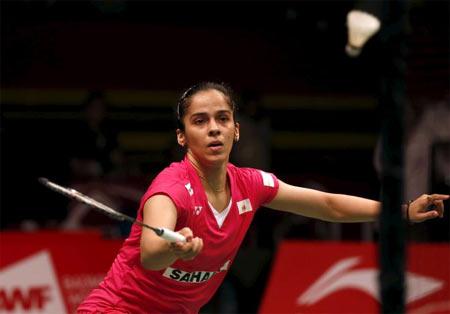 Indian challenge ended at the $275,000 French Open Super Series badminton tournament after top seed Saina Nehwal suffered a straight game defeat to Thailand's Ratchanok Intanon in the quarter-finals in Paris.
Football is no theatre and I'm no angel on the pitch: Costa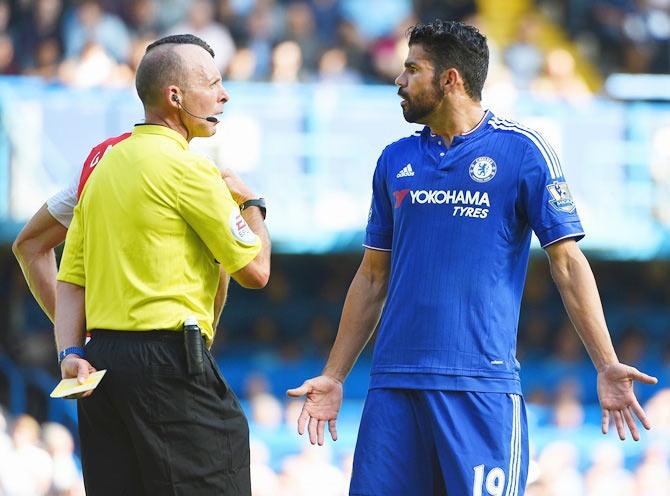 Portrayed as a pantomime villain in some quarters, Chelsea striker Diego Costa has said he will not be changing his aggressive style of play to win new friends.
'Next FIFA boss should be outsider with good human rights record'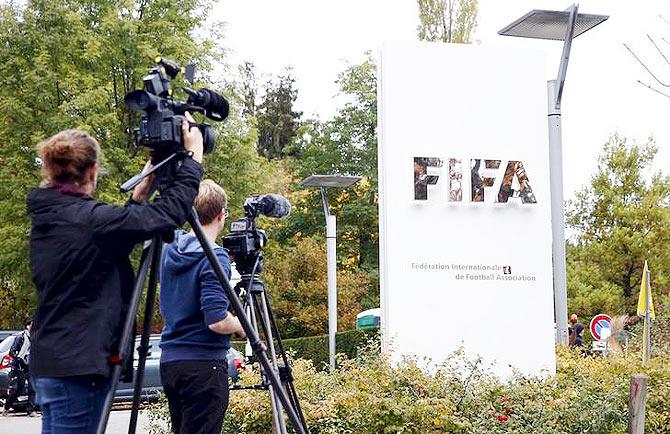 "A clean break from the past is essential for FIFA to climb out of the toxic pit which continues to produce serious accusations of corrupt behaviour on almost a daily basis," FIFPro said in a statement.
Will result of Sunday's Manchester derby hint at this season's winners?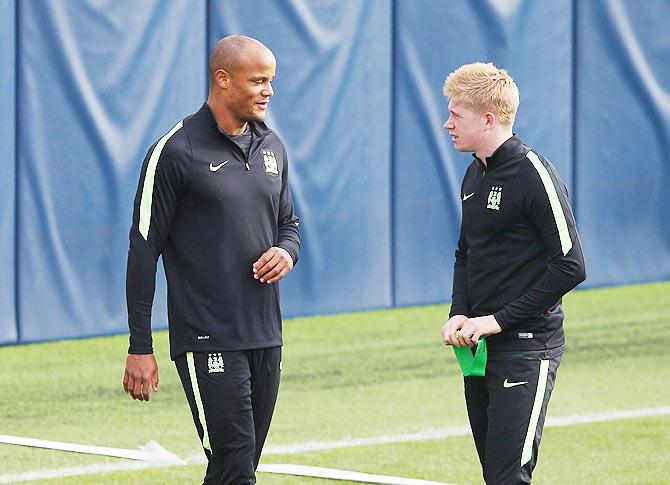 'If you take a point or even lose, it's not ideal but there are still almost 30 games to go so this result won't be the deciding factor in who wins the title'
October 22, 2015
Schweinsteiger to sue Chinese company over lookalike Nazi doll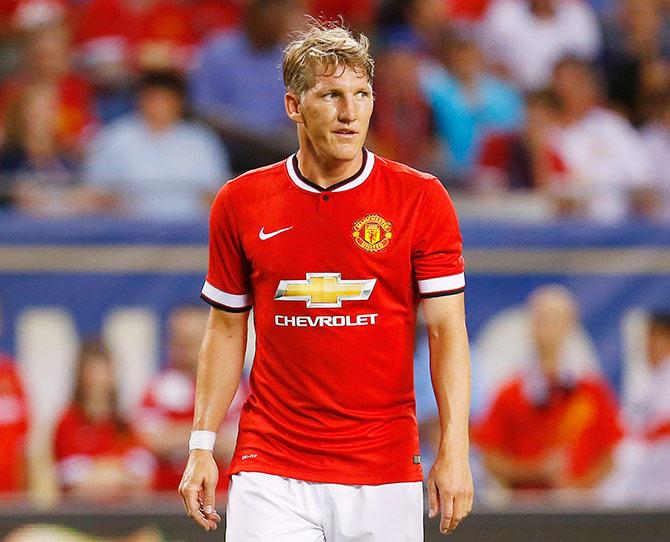 Germany captain Bastian Schweinsteiger is taking legal action against a Chinese company that manufactured a doll bearing the midfielder's resemblance and dressed in Nazi military uniforms, a spokesman for the player said on Thursday.
ISL: FC Goa beat Kerala, go atop table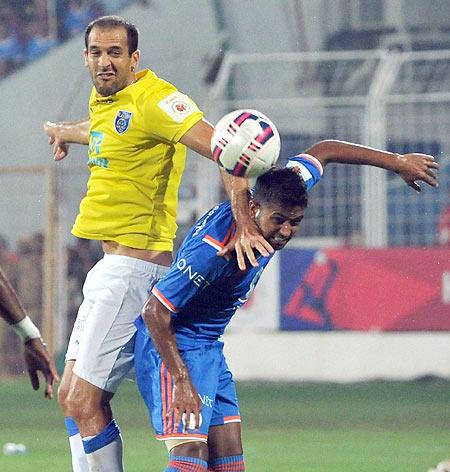 Frenchman Gregory Arnolin's 84th minute strike helped FC Goa edge past Kerala Blasters FC 2-1 in a keenly contested ISL football game and take top spot in the league table in Margao on Thursday.
French Open: Shuttler Kashyap retires in pre-quarters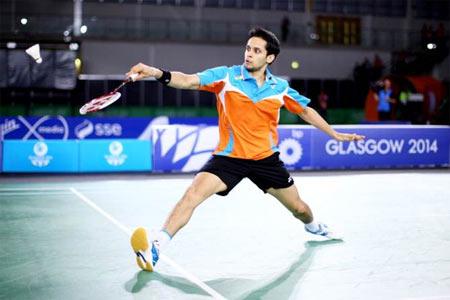 In the end of the 43-minute match, Rajiv advanced to the quarter-finals with a 21-11, 13-21, 4-2 win over the Indian at the Stade Pierre de Coubertin.
Total football exponent, Dutch great Cruyff diagnosed with lung cancer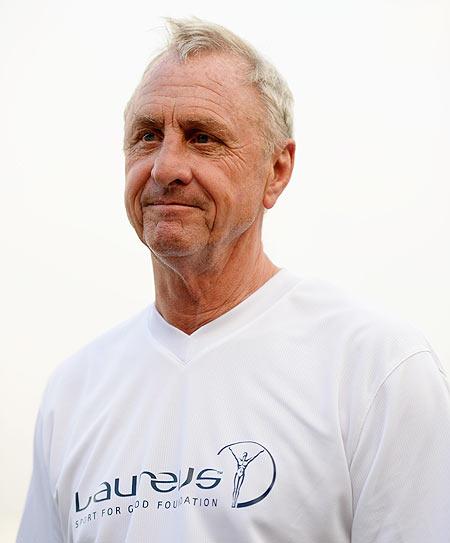 "Over the past weeks, Johan Cruyff has been undergoing medical examinations at a hospital in Barcelona. During these examinations, lung cancer has been uncovered. The examinations are still ongoing," the statement said.
UEFA open case against Man City after fans boo anthem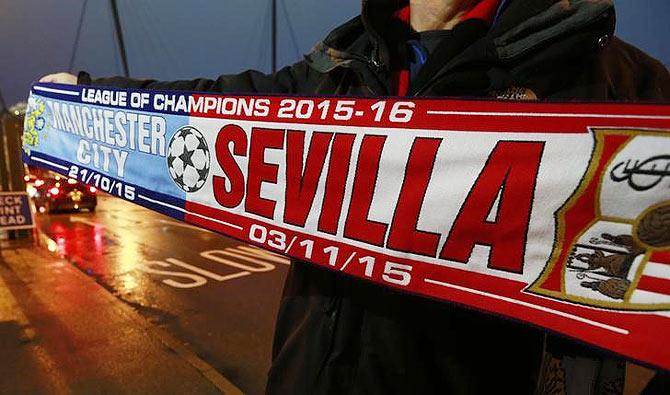 UEFA opened disciplinary proceedings against Dynamo Kiev on Thursday over alleged racist behaviour and crowd disturbances caused by their fans during Tuesday's Champions League match at the Olympiysky Stadium against Chelsea.
Champions League: Man United draw in Moscow; City win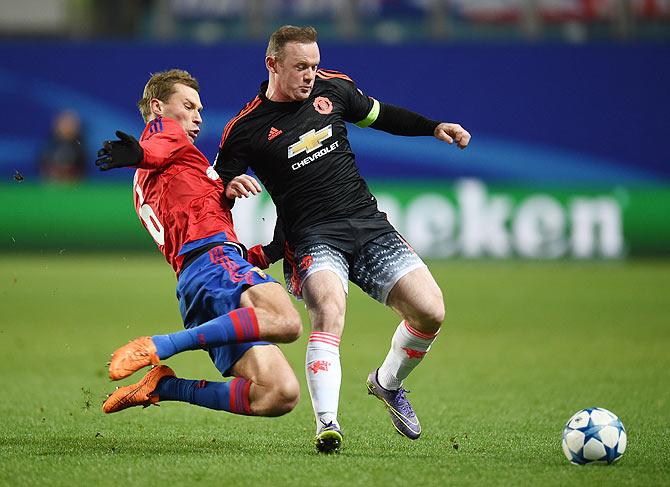 Anthony Martial went from villain to hero as his second-half equaliser earned Manchester United a deserved point in a 1-1 draw against CSKA Moscow in Champions League Group B on Wednesday.
Saina loses top ranking to world champion Marin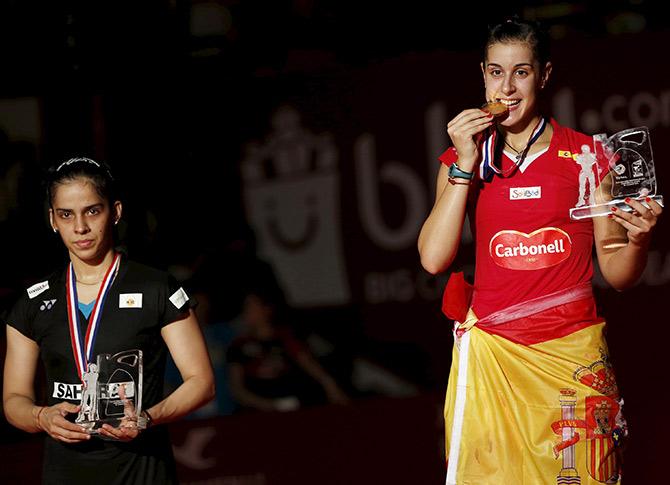 Early exits at Japan Open and Denmark Open proved costly for ace India shuttler Saina Nehwal as she lost her World No.1 crown to All England and
EPL: Manchester United prepare for Van Gaal's test against City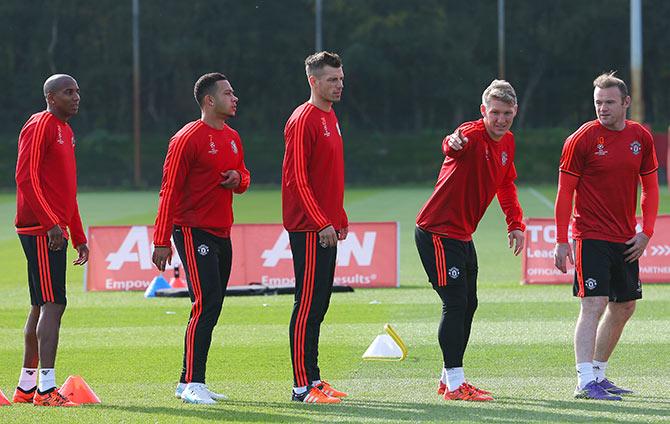 Manchester United and Manchester City must switch their focus from the Champions League to the Premier League when they meet at Old Trafford on Sunday in a derby that Louis van Gaal says will show whether United are true title contenders.
October 21, 2015
French Open: Prannoy shocks Lin; Saina, Kashyap in second round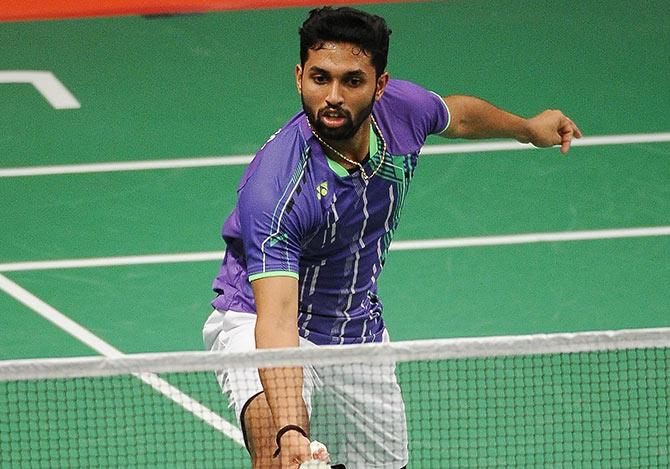 Indian shuttler HS Prannoy stunned reigning Olympic champion Lin Dan of China while Saina Nehwal and Parupalli Kashyap also crossed the opening hurdle to enter the second round of the USD 275,000 French Open Super Series.
Indian Super League: Chhetri scores twice as Mumbai outclass Delhi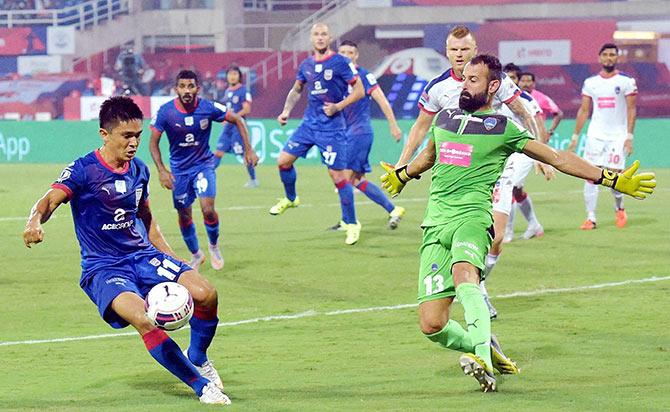 Star striker Sunil Chhetri finally found his goal-scoring touch and scored twice as Mumbai City FC swamped Delhi Dynamos 2-0 to notch up their maiden win in four games in the Indian Super League.
Pole vault star Isinbayeva to retire after Rio Olympics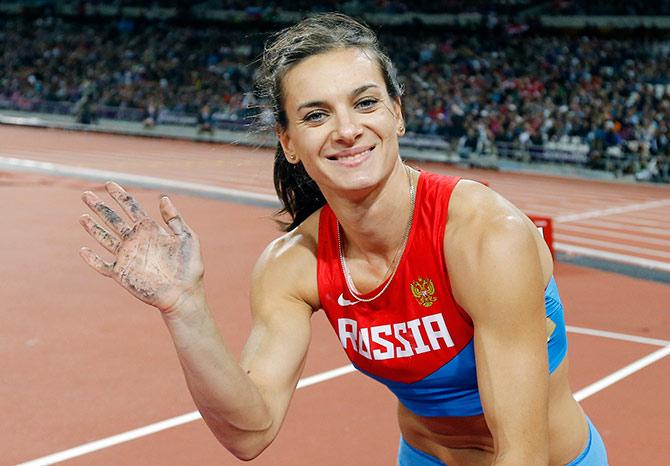 Russian star pole vaulter Yelena Isinbayeva said on Wednesday she plans to retire after the 2016 Olympic Games in Rio de Janeiro, where she has her sights sets on a third Olympic gold.
Giroud thanks helping hand of destiny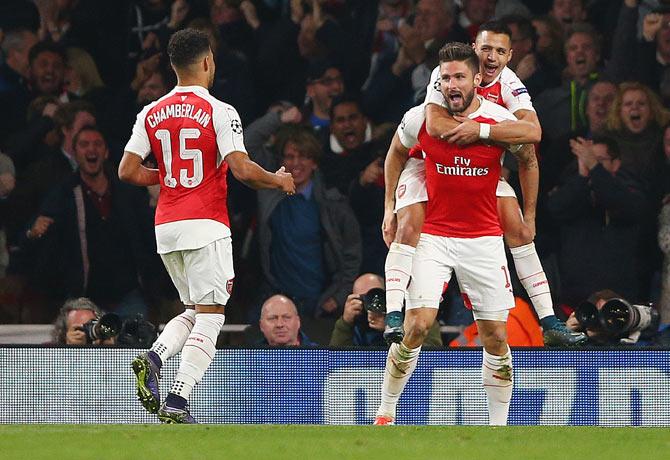 "I've had a bit more luck than in recent weeks, so I'm making the most of it. For a striker, it always works in cycles and I know that. You can't start doubting yourself," Giroud told reporters after the game.
Serena to start 2016 season with Hopman Cup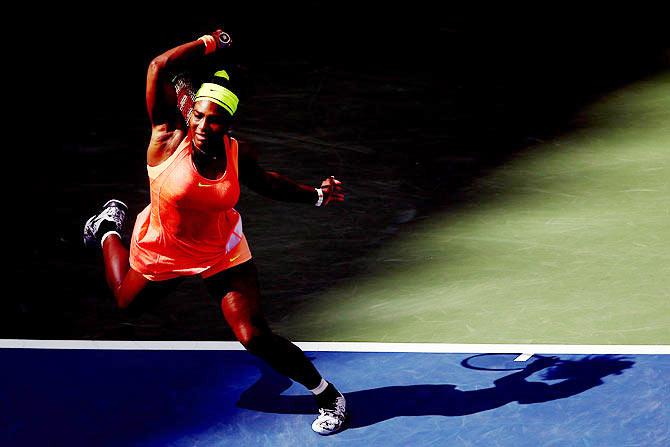 Williams reached the final of the mixed team event earlier this year with American compatriot John Isner to kick off a superb season where she won the Australian and French Opens and Wimbledon to take her grand slam singles haul to 21.
Mourinho rants again, compares refereeing to Rugby World Cup game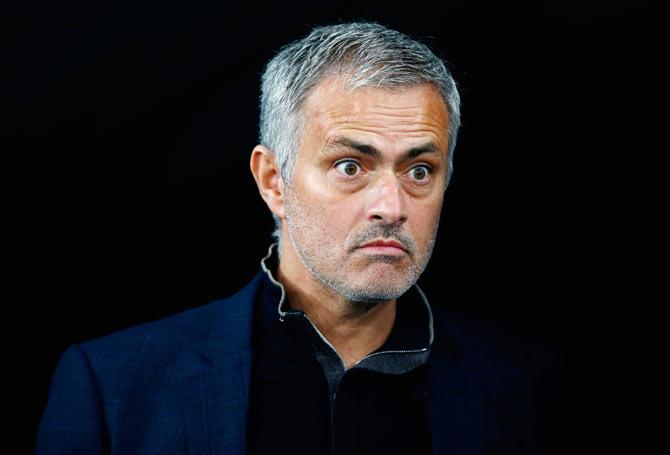 "I cannot understand what the official behind the goal does because he doesn't make a clear decision too."
With less time for acquaintance, draw good enough for Van Gaal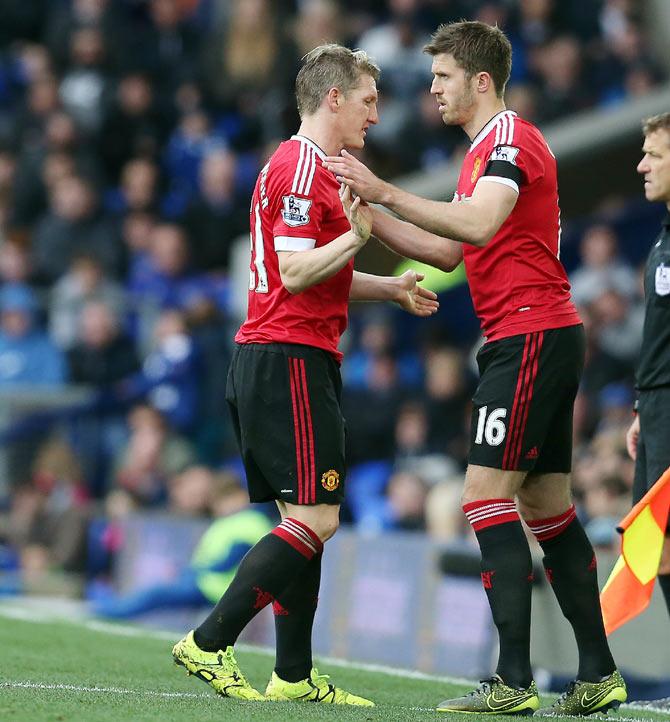 Manchester United would settle for a point away to CSKA Moscow in their Champions League Group B clash on Wednesday, according to manager Louis van Gaal.
Champions League: Plucky Arsenal beat Bayern; Rakitic stars for Barca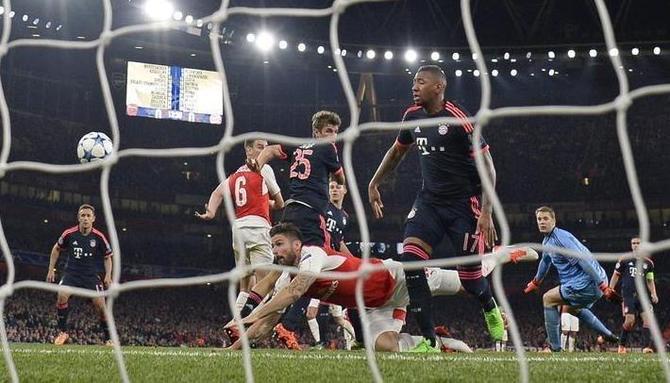 Chelsea struck the woodwork twice but could not find a breakthrough in an entertaining 0-0 Champions League draw at Dynamo Kiev on Tuesday that left everything to play for in Group G.
October 20, 2015
Indian Super League: NorthEast beat Chennaiyin in ill-tempered match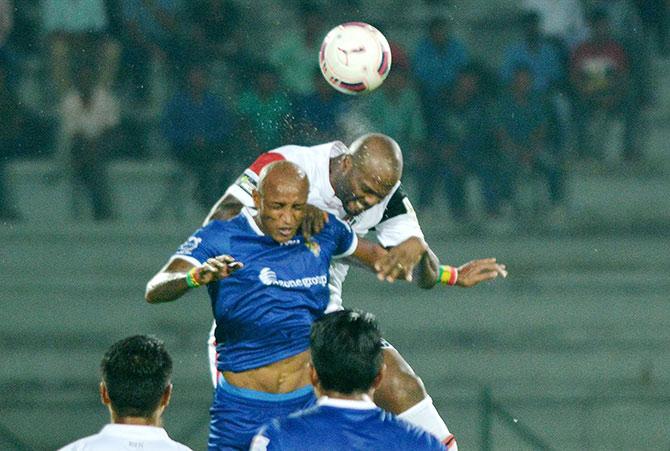 NorthEast United tasted their first win of the season with a 2-0 victory over 10-man Chennaiyin FC in an eventful Indian Super League football match that was marred by frayed tempers and violent conduct of players of both sides in Guwahati on Tuesday.
After winning debut, Vijender to face the heat against firefighter Gillen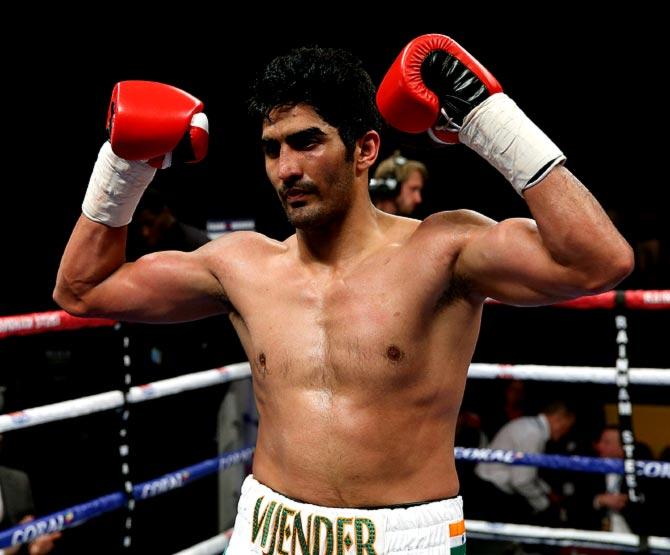 After a knockout debut, star Indian boxer Vijender Singh will face Englishman Dean Gillen in his second professional bout and the part-time firefighter has promised to be a 'dangerous opponent' in the bout scheduled in London, on October 30.
Aguero, Benzema join Ronaldo and Messi on Ballon d'Or shortlist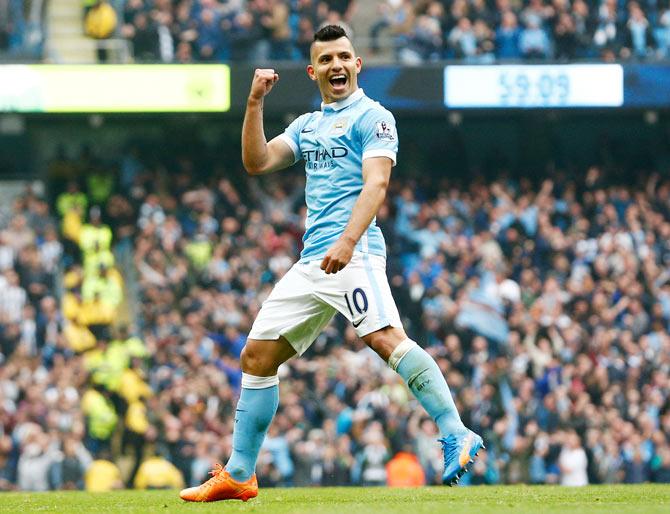 Real's Cristiano Ronaldo will be going in search of his third consecutive World Player of the Year award
Barca look to 'leader' Neymar for inspiration in Messi's absence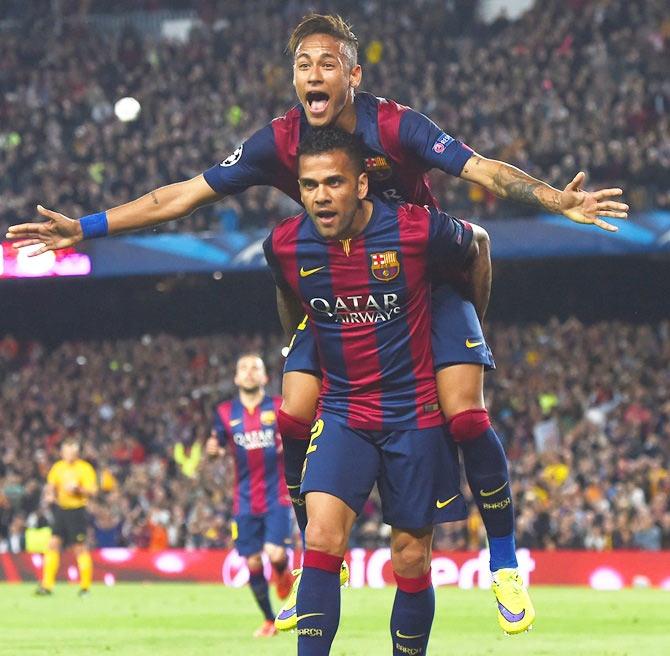 'The system is the same and we all have to contribute a bit more but it is impossible not to feel Messi's absence'
Barca to fight UEFA fine with all legal means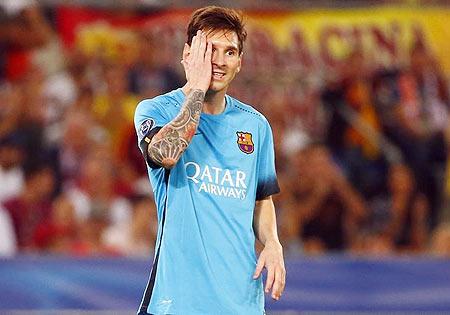 Barcelona have vowed to use all legal means to fight a second fine imposed by UEFA after fans displayed pro-Catalan independence flags during September's Champions League Group E match at home to Bayer Leverkusen.
Champions League: Guardiola wary of a desperate, difficult Arsenal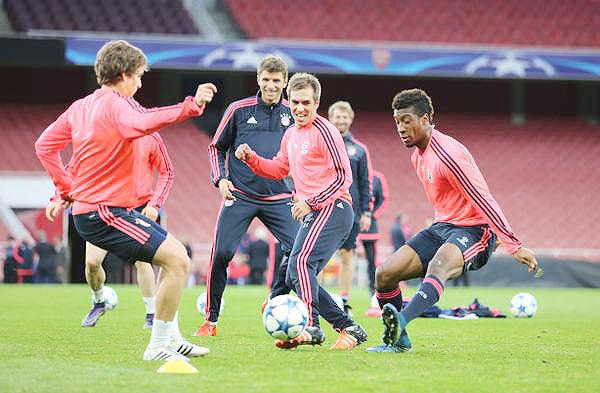 "Tomorrow we don't play six points against zero. We play at 7.45, at 0-0 with 90 minutes to go," he said.
Pistorius freed on parole but will stay under house arrest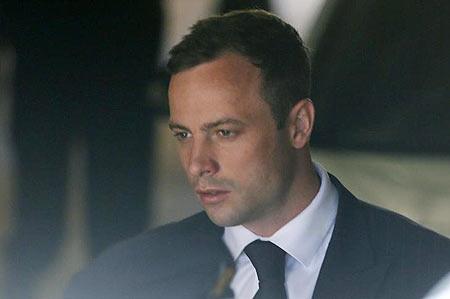 Oscar Pistorius, South Africa's 'Blade Runner', was released on parole on Monday, just short of a year into his five-year sentence for killing his girlfriend Reeva Steenkamp.
EPL PHOTOS: Krikic penalty gives Stoke victory at Swansea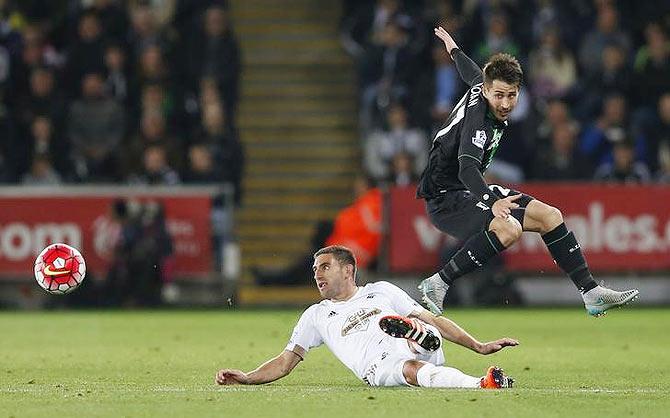 Former Barcelona forward Bojan Krikic earned and converted a fourth-minute penalty which sealed a scrappy encounter and left Swansea without a league win since August.
Fragile Chelsea face tough European test at Dynamo Kiev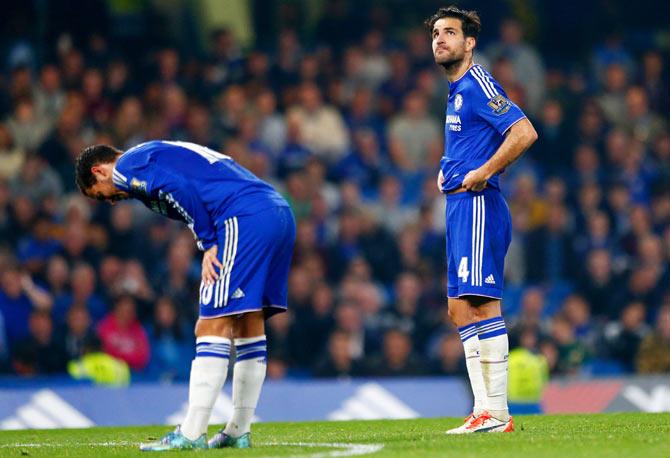 Chelsea enjoyed a somewhat fortuitous return to winning ways when they beat Aston Villa on Saturday but their fragile self-confidence will face a far more severe test at Dynamo Kiev in the Champions League on Tuesday.
October 19, 2015
German prosecutor to look into 2006 World Cup allegations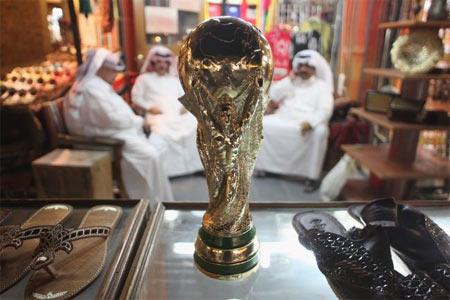 Frankfurt's state prosecutor will look into bribery allegations concerning the 2006 soccer World Cup after a magazine report suggested a slush fund had been used to buy votes for the German bid in 2000, an official said on Monday.
Ronaldo, Bayern mark record-breaking weekend in Europe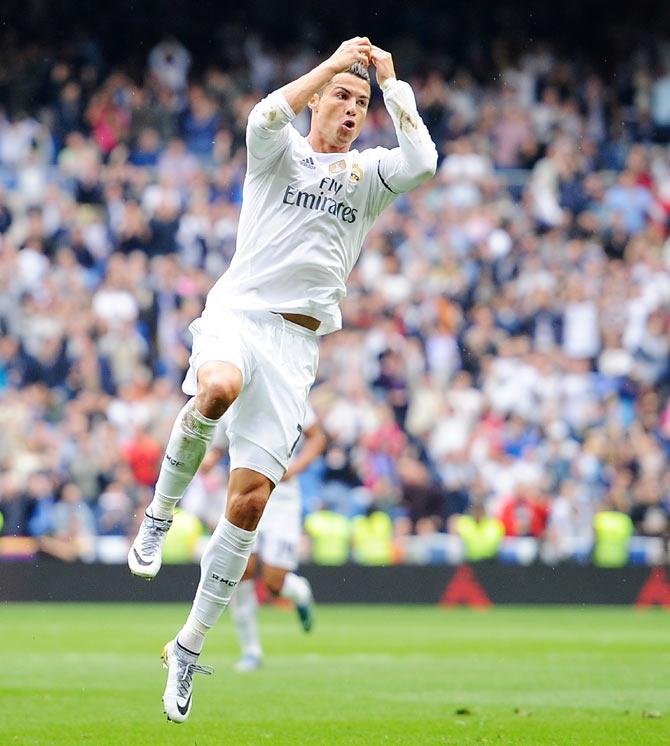 Cristiano Ronaldo finally became the highest scorer in Real Madrid's history while Bayern Munich set a record for the greatest number of successive wins at the start of a season in the Bundesliga this weekend.
Champions League: Can Arsenal upset Bayern at The Emirates?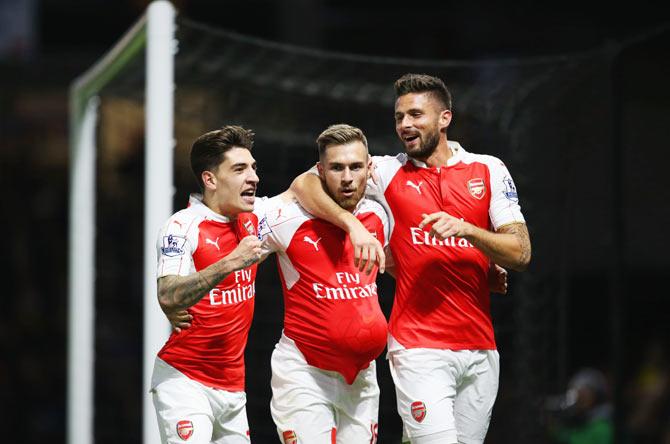 After damaging losses to Dinamo Zagreb and Olympiakos Piraeus in their first two fixtures, the Gunners have to win to advance to the knock-out stages
EPL: Wijnaldum scores four as Newcastle hammer Norwich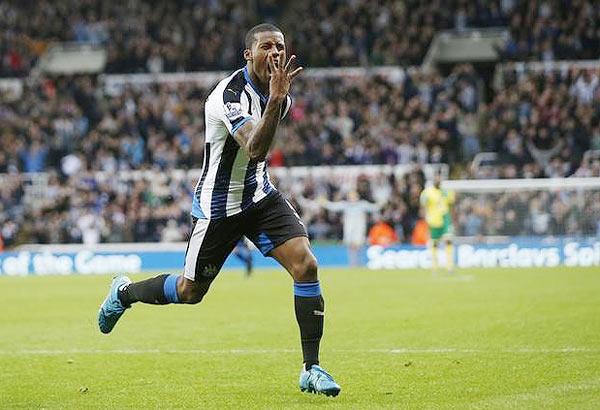 Newcastle United's Dutchman Giorginio Wijnaldum scored four times as they won their first Premier League match this season at the ninth attempt by thrashing Norwich City 6-2 to climb off the bottom of the table on Sunday.
October 18, 2015
ISL: Super-sub Gadze helps Delhi Dynamos edge Sachin's Kerala Blasters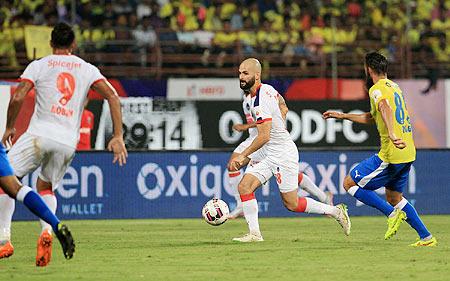 Ghanaian striker Richard Gadze's late strike in the 87th minute helped Delhi Dynamos beat hosts Kerala Blasters 1-0 in the Indian Super League football tournament in Kochi on Sunday.
Macau Open: So close yet so far... for Lahiri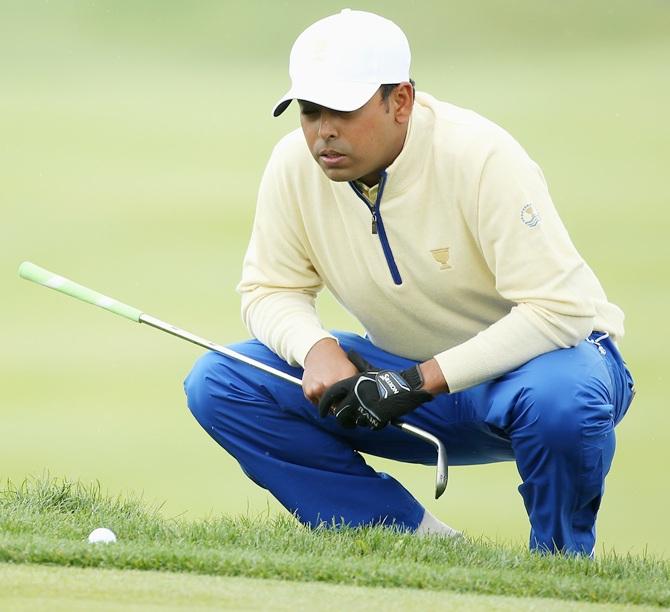 Big-hitting Australian Scott Hend came out top in his latest Macau Open Sunday shootout with Anirban Lahiri as he held off the Indian to win the Asian Tour title by three shots.
Denmark Open: Sindhu falls at final hurdle, loses to defending champ Li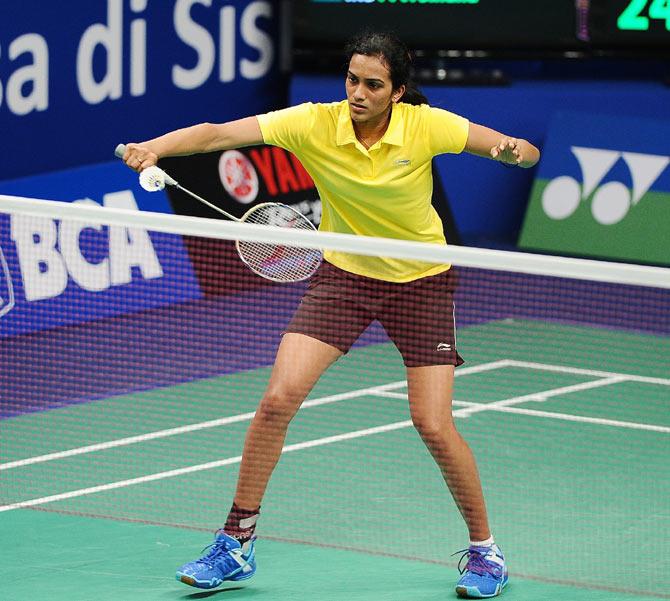 Xuerui retained her title beating Sindhu 21-19, 21-12 in a 47-minute encounter.
Former Livepool boss Houllier denies Anelka's claims of racism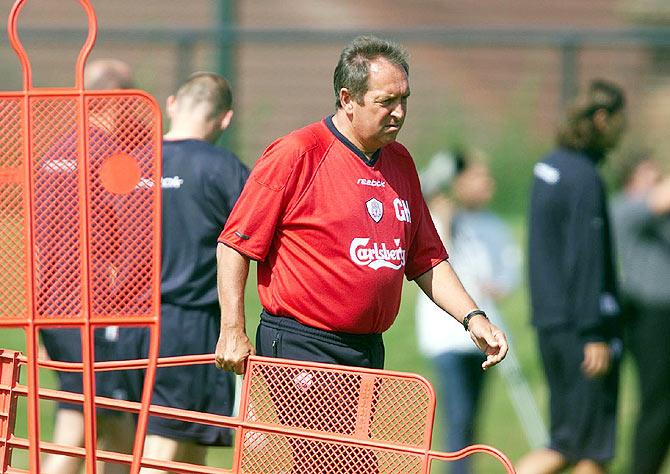 In a YouTube video post, Anelka said Houllier's comments were "of a racist nature" and he alleged that "it (was) not the first time".
Hong Kong Open: Jankovic outlasts Kerber to claim title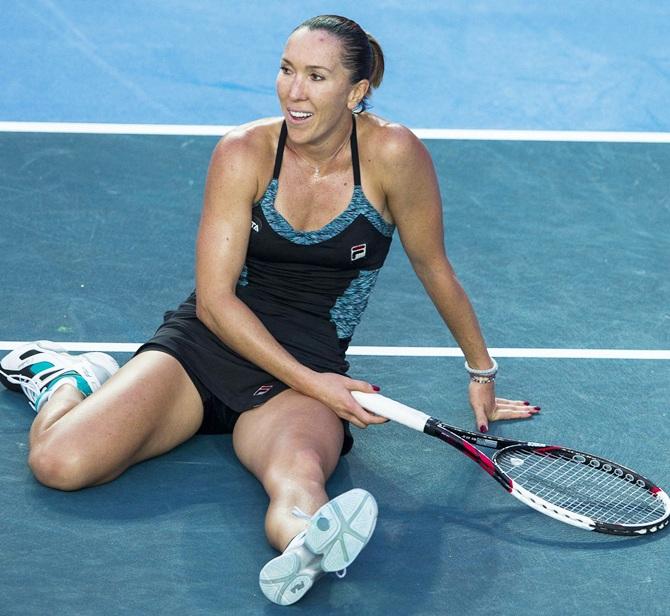 Jelena Jankovic made it a Serbian win double in Asia on Sunday as she fought back from a set down to beat Germany's Angelique Kerber to take the Hong Kong Open title.
'Unbelievable last lap' as Marquez snatches win in Australia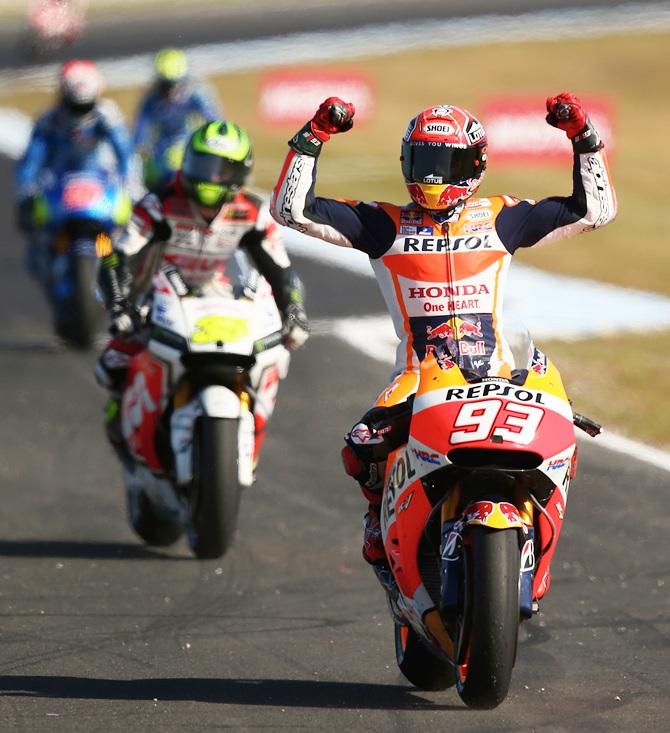 Outgoing MotoGP champion Marc Marquez snatched the lead from Jorge Lorenzo on a thrilling last lap to win a classic Australian Grand Prix.
La Liga PHOTOS: Neymar hits four; Ronaldo creates Real history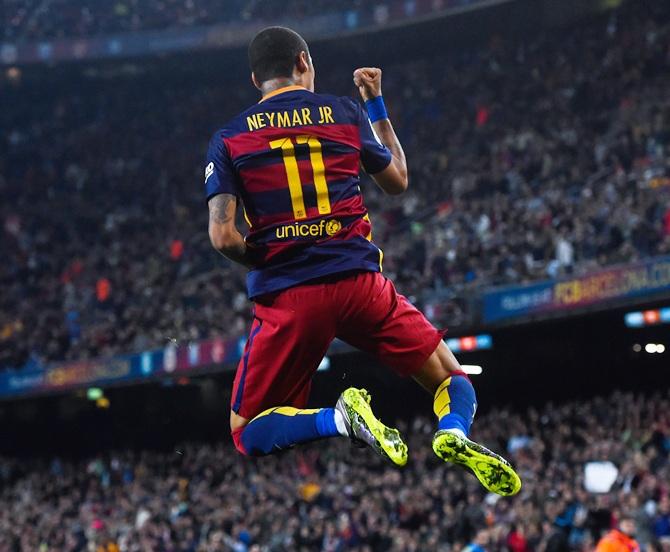 Real Madrid and Barcelona pulled two points clear in La Liga when Cristiano Ronaldo set a club scoring record in Real's 3-0 stroll against Levante and Neymar hit four as Barca beat Rayo Vallecano 5-2 on Saturday.
EPL PHOTOS: City, United in scoring spree, no goals for Klopp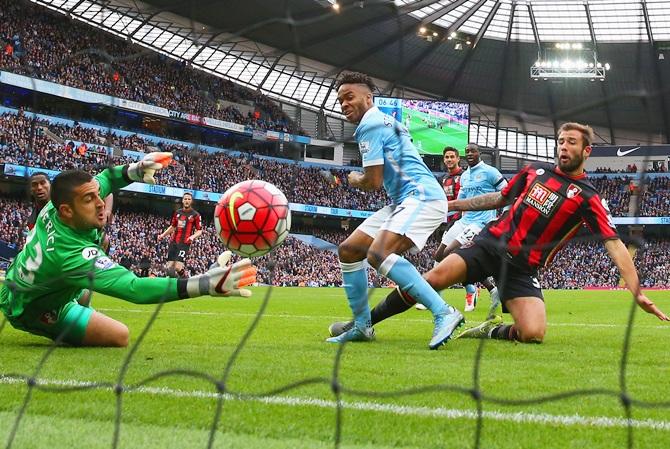 Goals rained in for Manchester City and Manchester United but Juergen Klopp's first game as Liverpool manager was solid rather than spectacular as they drew 0-0 at Tottenham Hotspur in the Premier League.
October 17, 2015
Sindhu shocks world champ Marin, in maiden Super Series final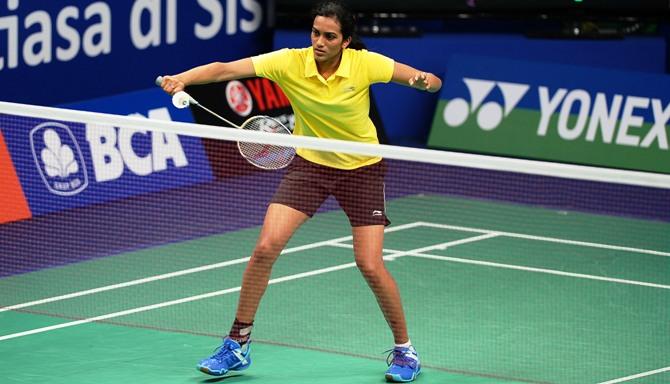 Ace Indian shuttler P V Sindhu made it to her maiden Super Series final with a stunning upset victory over reigning world champion Carolina Marin of Spain in the Denmark Open.
Premier League: Klopp's Liverpool reign begins with draw at Spurs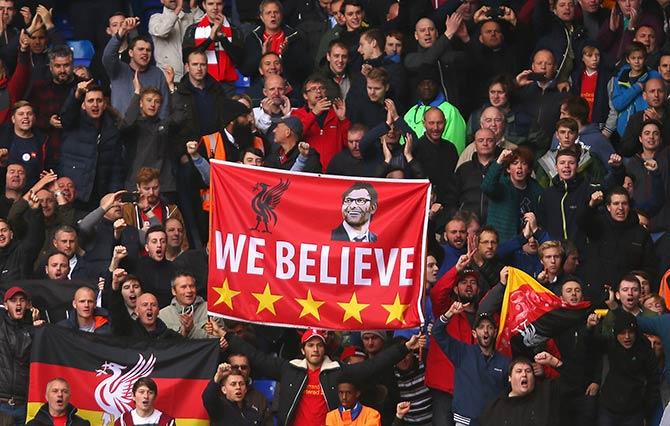 Juergen Klopp's reign as Liverpool manager began with a few points made but only one gained from an exciting, end-to-end 0-0 draw against Tottenham Hotspur at White Hart Lane on Saturday.
Bopanna-Kubot knocked out of Shanghai Masters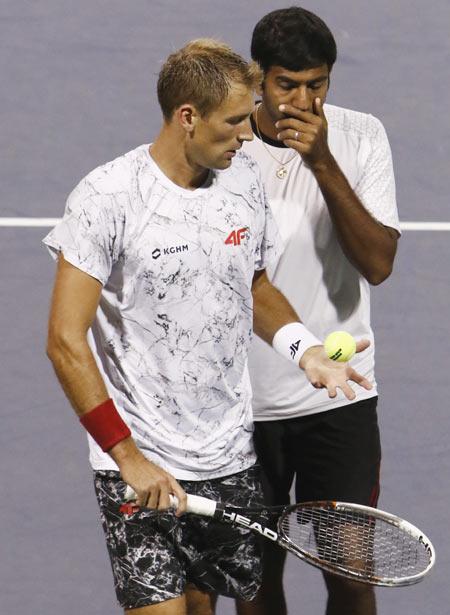 Bopanna and Kubot saved five of the seven chances while their rivals got broken only once, saving six other chances.
Victorious Radwanska closes on WTA Final place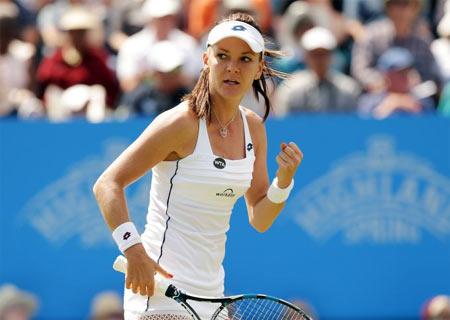 Poland's Agnieszka Radwanska moved within one win of securing a place at the WTA Finals after thrashing Czech Karolina Pliskova 6-3, 6-1 in the semi-finals of the Tianjin Open on Saturday.
Adidas dragged into 2006 Germany World Cup votes row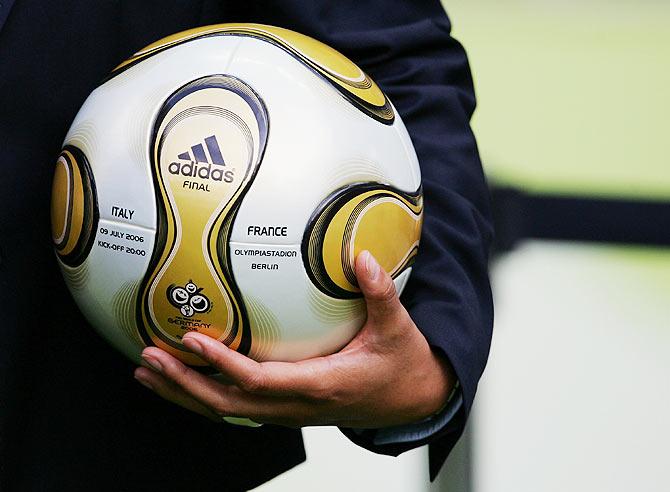 Slush fund allegedly used to buy votes for the World Cup, claims report
FIFA probing Neymar's Barca transfer deal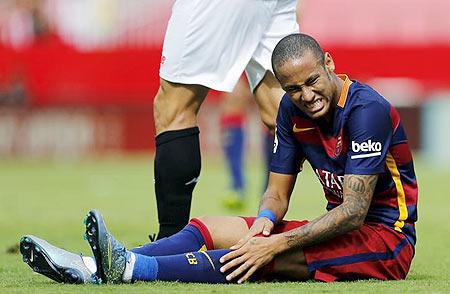 "We can confirm that we received a claim from the club Santos concerning the player Neymar and the club FC Barcelona," FIFA said in a statement.
Denmark Open: Sindhu beats Yihan to seal semis berth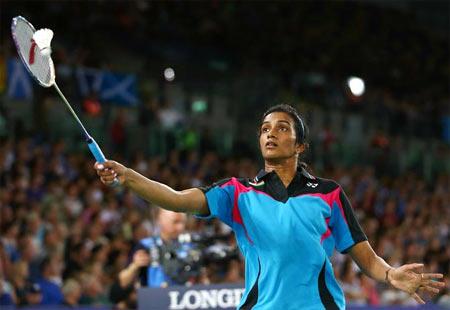 World No.13 Sindhu, who had lost to Yihan -- a 2011 World Champion and silver medallist at 2012 London Olympics - four times in the past, dished out a 21-18, 21-19 win over the sixth seed in 45-minute encounter.
October 16, 2015
Pele mesmerises fans in Delhi, graces Subroto Cup final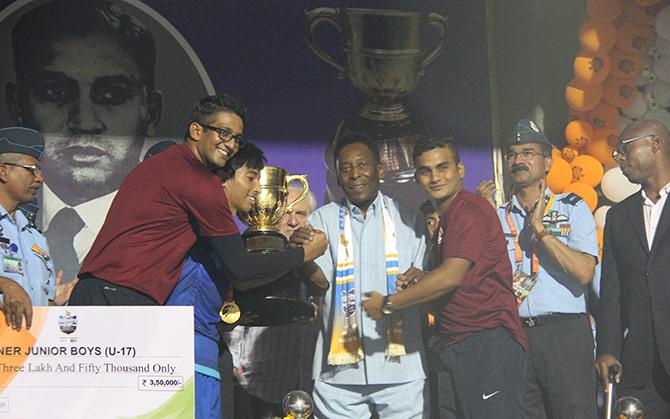 Football legend Pele wound up his six-day visit to the country as a big crowd turned up at the Capital's Ambedkar Stadium to have a glimpse of the Brazilian three-time World Cup winner who battled physical difficulties to give the fans an experience of a lifetime.
Indian Super League: Chennaiyin ease past Mumbai City FC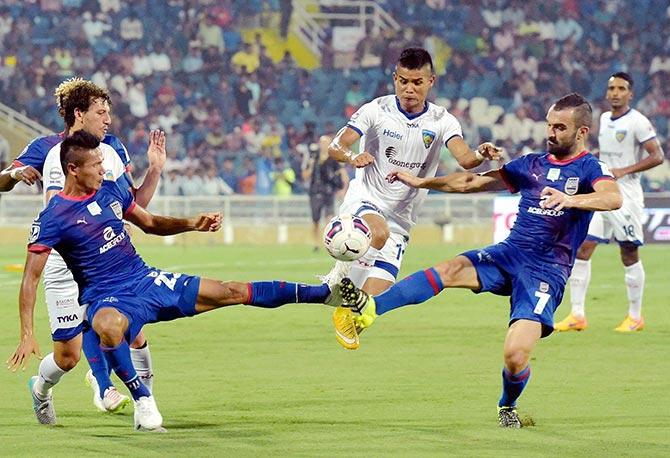 Laxmi Negi/Rediff.com lists the five talking points from the Indian Super League match between Mumbai City FC and Chennaiyin FC at the DY Patil stadium
Sindhu cruises into Denmark Open quarters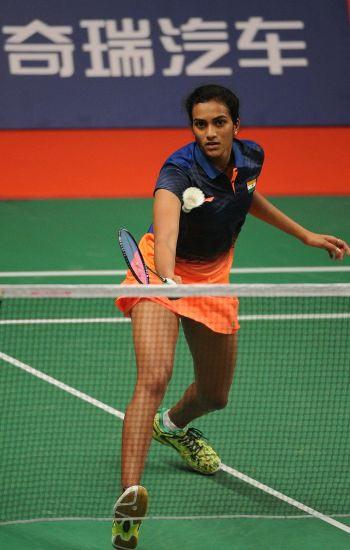 India's P V Sindhu secured a straight-game win over Chinese Taipei's Tai Tzu Ying to reach the quarter-finals of the Denmark Open in Odense on Friday.
Indian lifters sweep team trophies at Commonwealth C'ship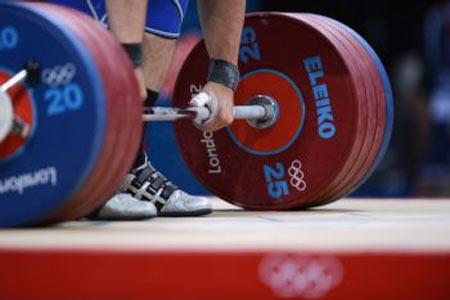 Indian lifting team ended their campaign in the 2015 Commonwealth Youth, Junior & Senior weightlifting championships on a high after emerging triumphant in as many as five categories out of six in Pune on Friday.
October 15, 2015
Out-of-form Anand finishes 22nd at World Blitz C'ship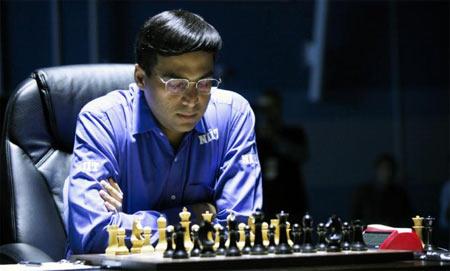 Former world champion Viswanathan Anand's bad form continued as he finished 22nd in the World Blitz Chess championship, which concluded in Berlin on Thursday.
Sultan of Johor Cup: Harmanpreet stars in India's 2-1 win over Malaysia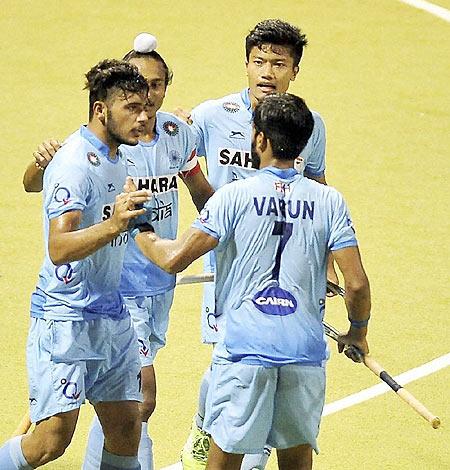 Harmanpreet Singh struck twice as India edged past hosts Malaysia 2-1 in their fourth league match of the 5th Sultan of Johor Cup, Junior Hockey tournament in Johor Bahru on Thursday.
ISL: Goa FC rally to beat NorthEast United 3-1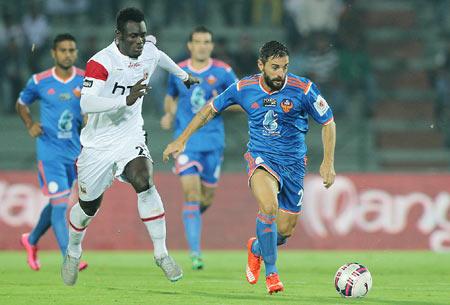 Goa FC recovered from an early blow to beat NorthEast United FC 3-1 in a third round Indian Super League (ISL) encounter at the Indira Gandhi Athletic Stadium, in Guwahati on Thursday.
Saina's shock loss marks bad day for Indian shuttlers at Denmark Open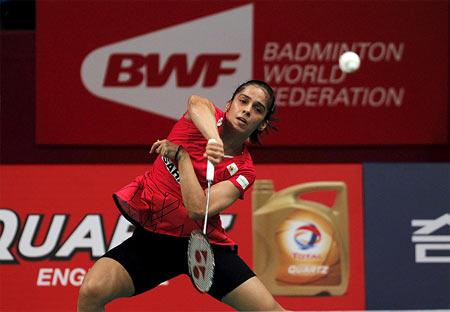 On an extremely bad for India at the Denmark Open, top seed Saina Nehwal suffered a shock second round defeat while Kidambi Srikanth also failed to clear the second round in men's singles of the $650,000 Super Series Premier event, in Odense on Thursday.
Oscar Pistorius to be released on parole and placed under house arrest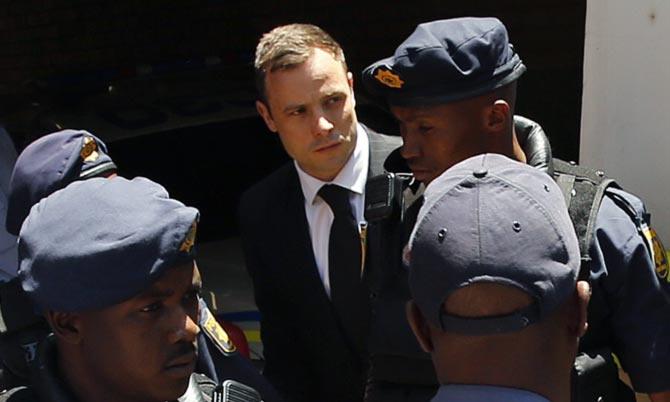 The department of correctional services said in a statement on Thursday that the Olympic and Paralympic track star would be placed under house arrest from Tuesday.
Shanghai Masters: Djokovic cruises but Murray, Nadal struggle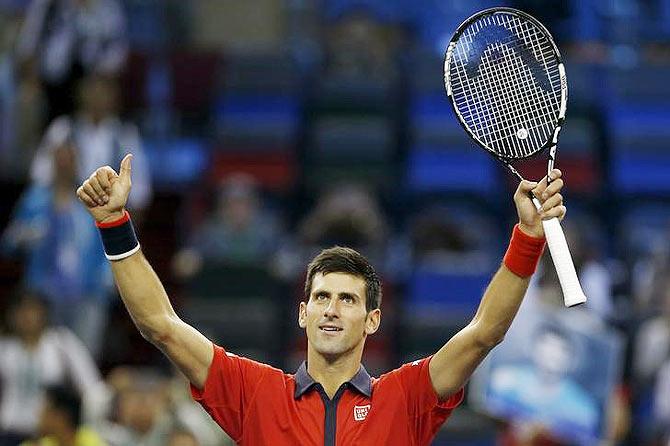 Novak Djokovic sauntered past Spaniard Feliciano Lopez to reach the quarter-finals of the Shanghai Masters on Thursday but Andy Murray had to claw past big-serving American John Isner after losing a first-set tiebreaker.
Van Persie's headers bookend dramatic Dutch rise and fall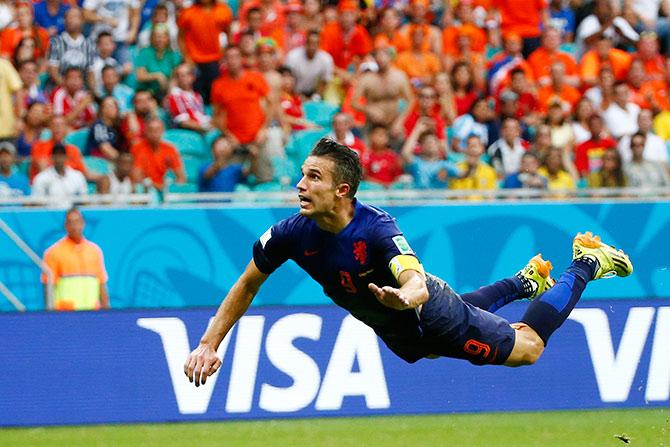 When Netherlands striker Robin van Persie put away a spectacular diving header against world champions Spain on a balmy afternoon at last year's World Cup it set them on the way to a 5-1 win and the promise of glory.
Manchester City post first annual profit since 2008 takeover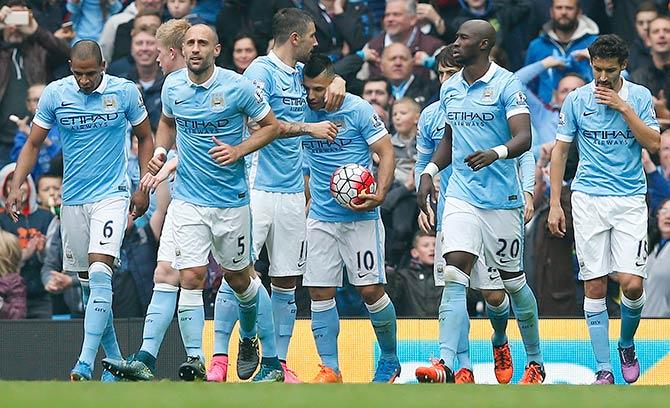 Manchester City, who were sanctioned last year for breaching UEFA's Financial Fair Play (FFP) rules, have posted an annual profit for the first time since the club was bought by Sheikh Mansour bin Zayed in 2008.
Pele gets warm reception in New Delhi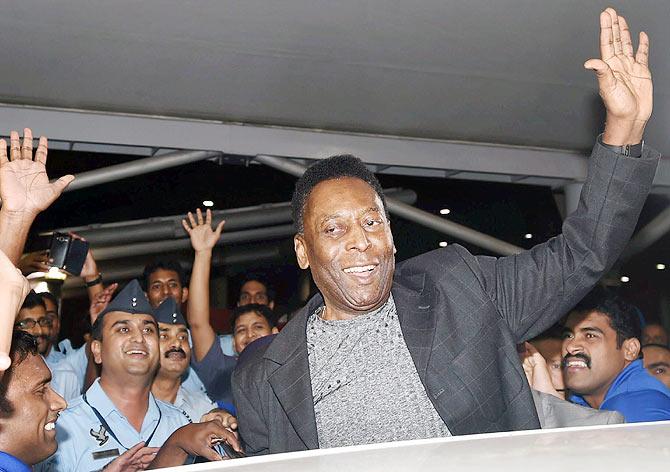 Brazilian football legend Pele was greeted to a warm reception in New Delhi on Wednesday, with around 100-odd enthusiastic fans and officials turning up to receive him at the airport in his first visit in the Capital.
October 14, 2015
ISL: Robin strikes as Dynamos beat FC Pune City 2-1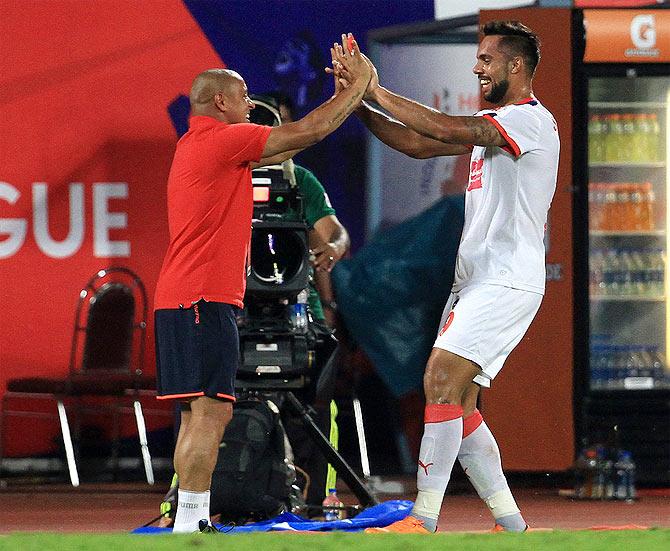 This was Dynamos' second win in three outings, while Pune suffered their first defeat at home at the Balewadi Stadium.
FA hands Mourinho suspended ban, fine for ref comments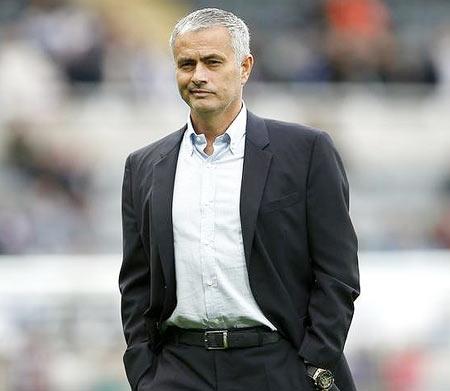 Mourinho admitted the misconduct charge following his comments after Chelsea's 3-1 home defeat by Southampton on October 3.
Boxer Shiva loses Olympic quota box-off, settles for bronze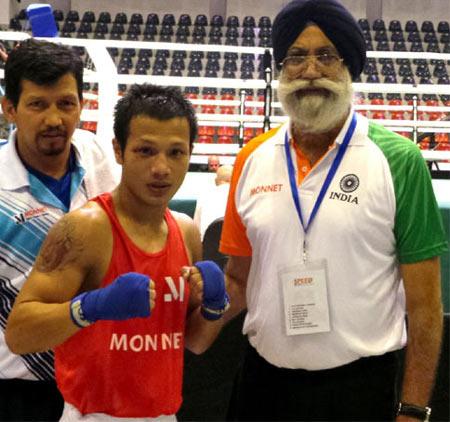 A bronze medal in his kitty, Indian boxer Shiva Thapa could not add the Olympic quota place to it despite a valiant effort in a hard-fought box-off of the World Championships in Doha on Wednesday.
Shanghai Masters: Djokovic saunters through, Nadal toils for win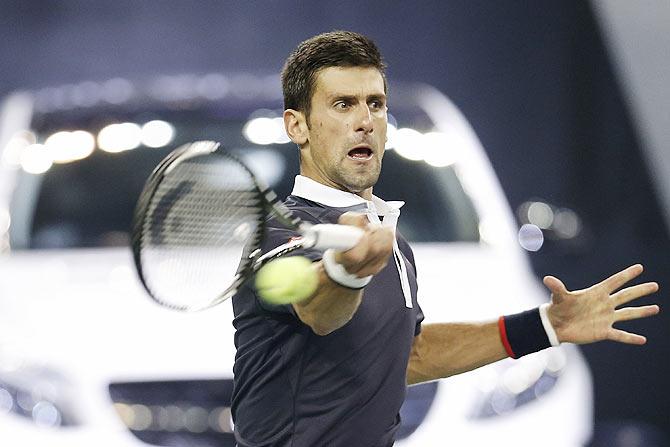 Djokovic dropped only three games against Klizan.
Johor Cup hockey: India junior men team Argentina 3-2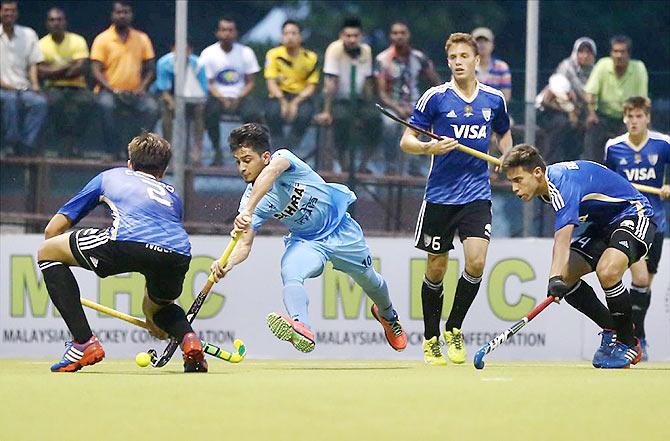 India's junior men's hockey team came back strongly in the ongoing 5th Sultan of Johor Cup as they defeated Argentina 3-2 in the third league match in Johor Bahru on Wednesday.
Hope to come back again, says Pele as he leaves Kolkata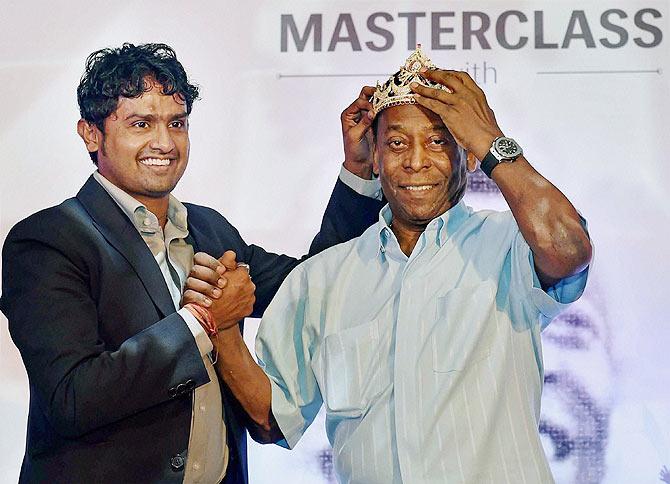 "I want to thank god for giving me the opportunity to travel this distance, for only the second trip of my life to India."
Denmark Open: Saina overcomes Busanan challenge to advance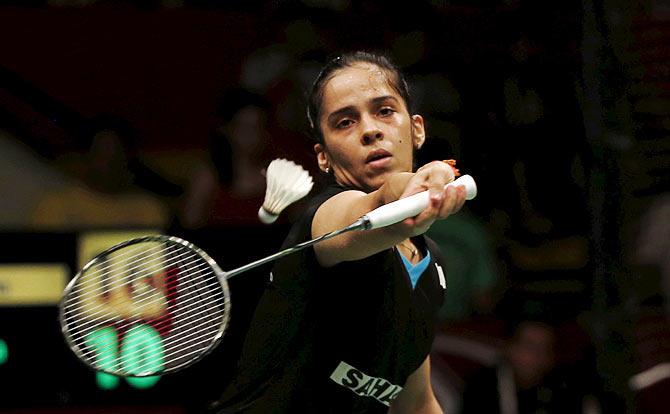 World No. 1 Saina Nehwal survived a scare before prevailing over Thailand's Busanan Ongbumrungphan in the opening round of the Denmark Open Super Series Premier badminton tournament on Wednesday.
Ex-NBA star found unresponsive at brothel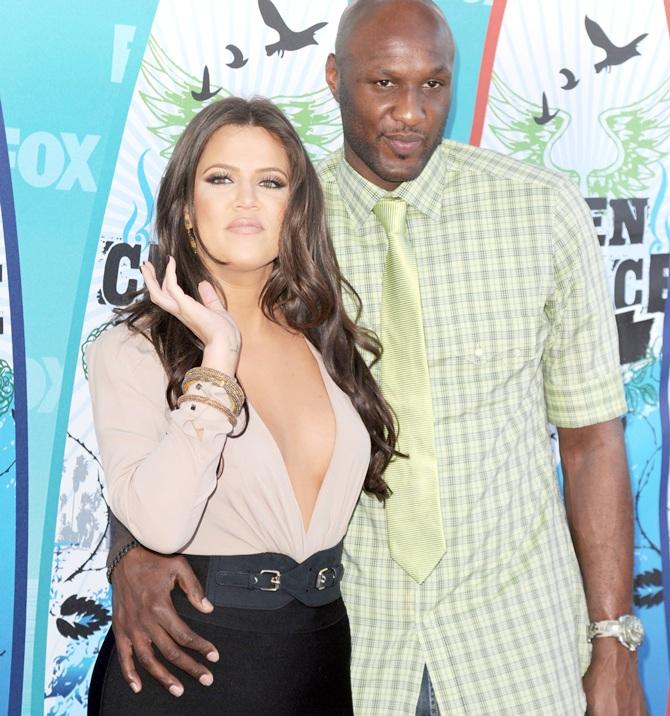 Former NBA star Lamar Odom was hospitalized on Tuesday after he was found unresponsive at a Nevada brothel, law enforcement officials said.
US Open squash: Dipika progresses, Joshna loses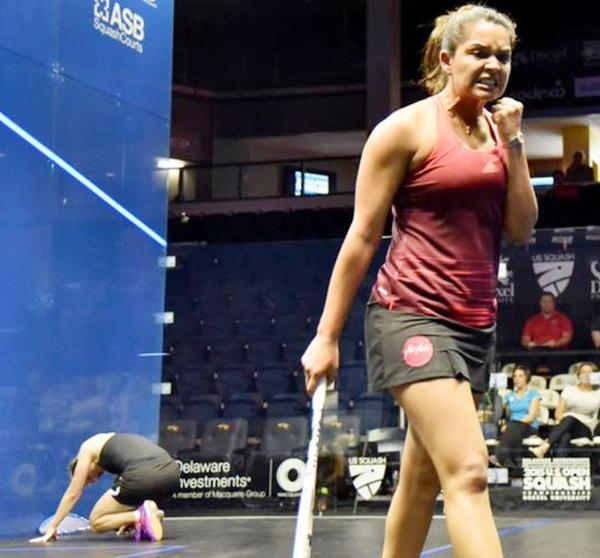 India's Dipika Pallikal returned to top form after two forgettable tournaments as she notched up one of the best wins of her career.
'Don't delay FIFA elections'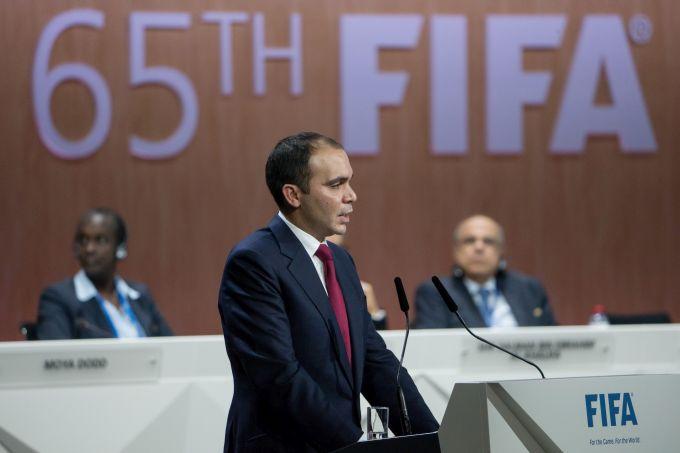 FIFA presidential candidate Prince Ali bin Al Hussein of Jordan has warned that delaying the Feb. 26 elections would further harm the credibility of world soccer's crisis-hit governing body.
Another foul-mouthed outburst from Nick Kyrgios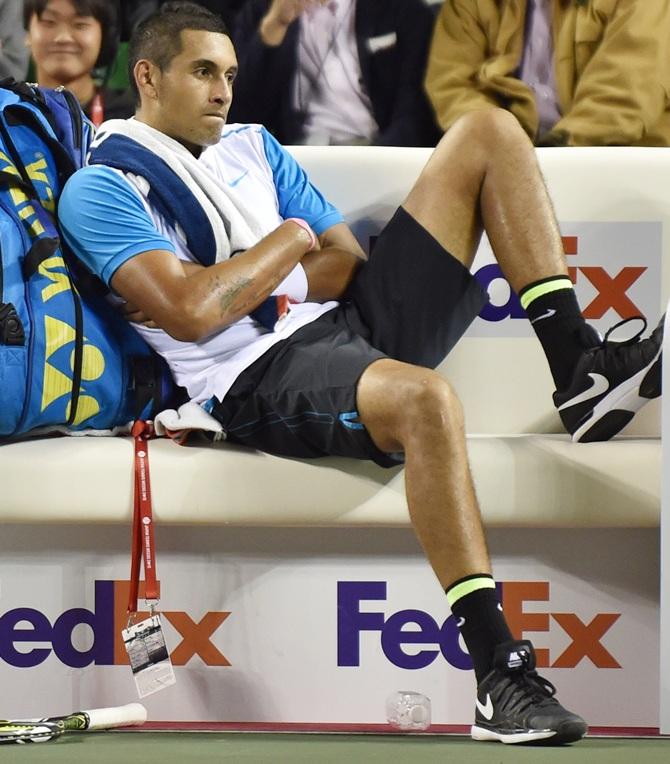 Australian wild thing Nick Kyrgios edged a step closer to a possible ATP ban when he was fined for a verbal outburst in his first round match at the Shanghai Masters.
WC qualifiers: Uruguay, Ecuador set pace, Argentina get first point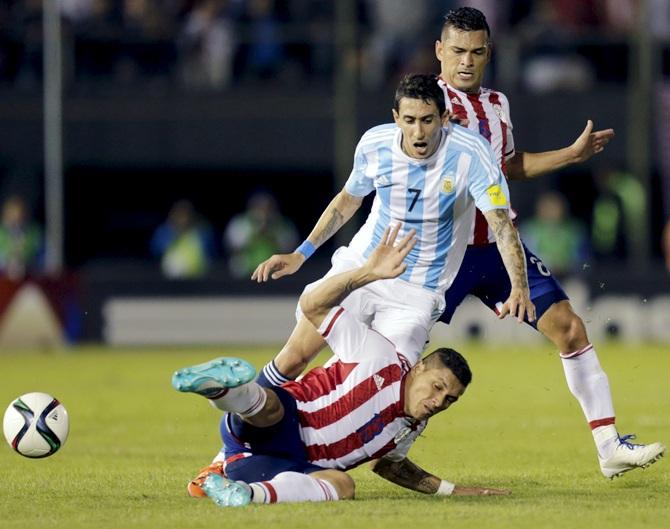 Argentina remain winless in South American qualifying for the 2018 World Cup after struggling to a 0-0 in Paraguay on Tuesday, while Uruguay and Ecuador both made it two wins from two games to top the group.
Dutch disaster! Fail to qualify for Euro 2016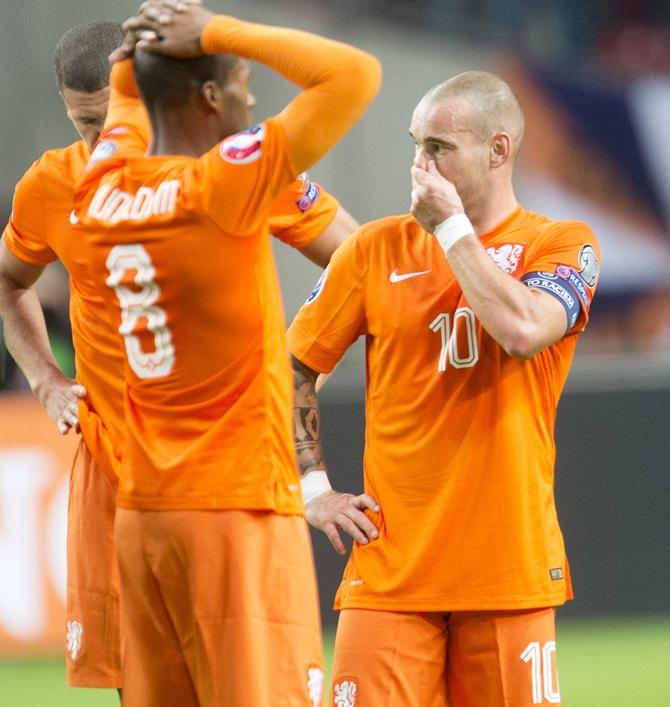 The Netherlands failed to reach the European Championship for the first time since 1984 as they lost 3-2 at home to the 10-man Czech Republic in their final qualifier on Tuesday to miss out on Euro 2016.
What happens when fans streak on the pitch...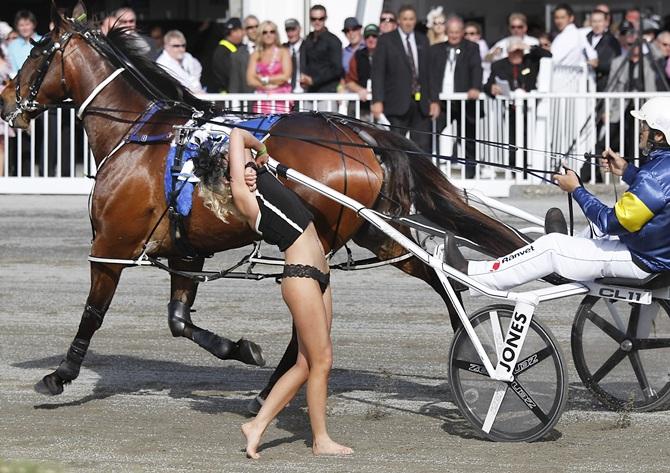 Rediff.com brings you a selection of images of fans taking to the field of play to make a point or gain attention.
October 13, 2015
Indian Super League: Atletico de Kolkata beat Kerala to go top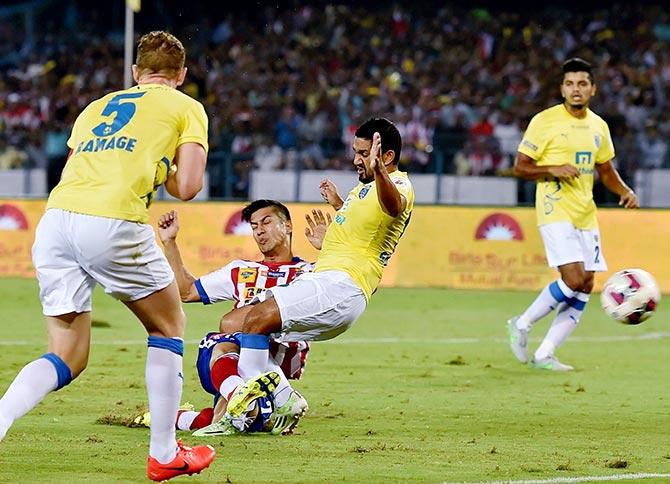 Inspired by the presence of Brazilian great Pele, defending champions Atletico de Kolkata climbed to the top of the table with a 2-1 win over last year's runners-up Kerala Blasters in their first home match of the Indian Super League.
He did? No he didn't!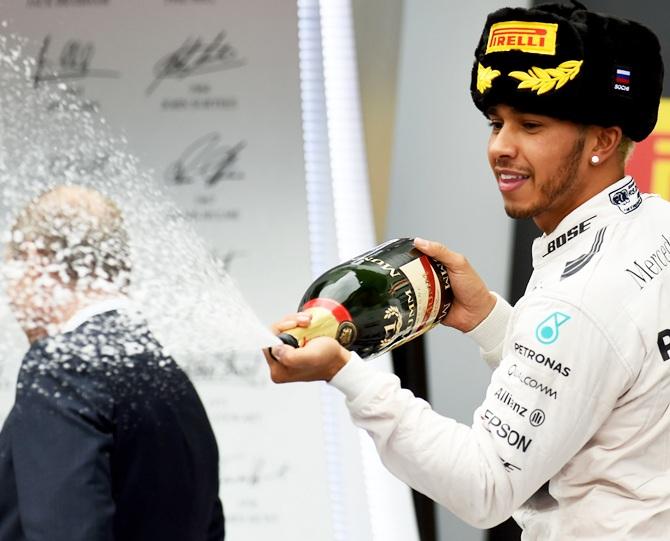 Formula One world champion Lewis Hamilton has dismissed as wide of the mark reports that he sprayed Russian President Vladimir Putin with the winner's champagne after Sunday's grand prix in Sochi.
Can Bolt crack 19 seconds in 200 metres? Tell Us!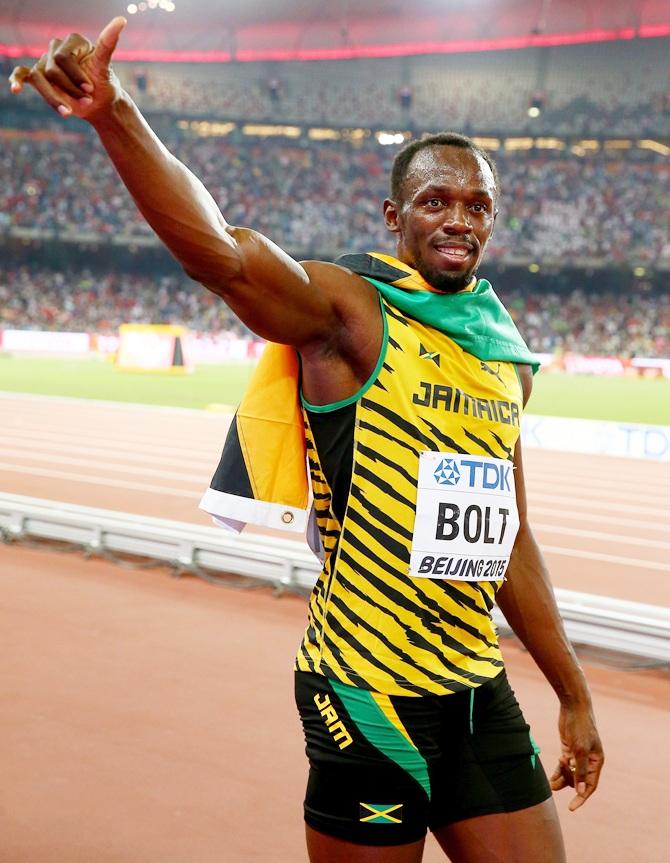 Usain Bolt has already started his preparations for next year's Rio Games and has sent a warning to his competitors.
Euro Roundup: Ruthless England complete perfect 10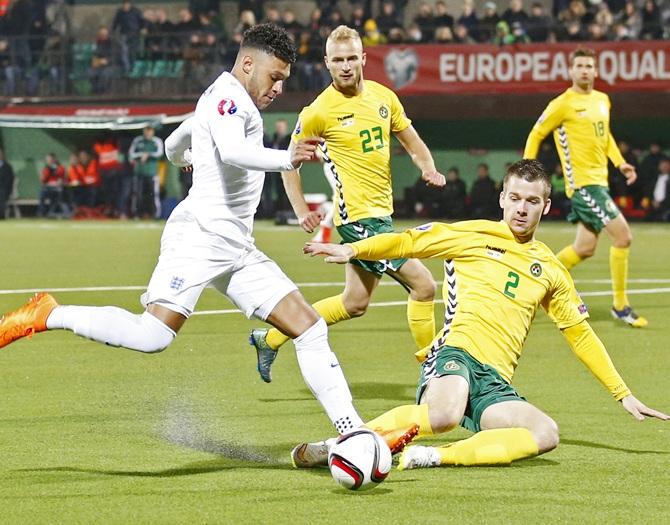 England became only the sixth team to end a European qualifying campaign with a 100 percent record when they beat Lithuania 3-0 in their final Group E match on Monday.
Euro qualifiers: Zlatan strikes again as Sweden head for playoffs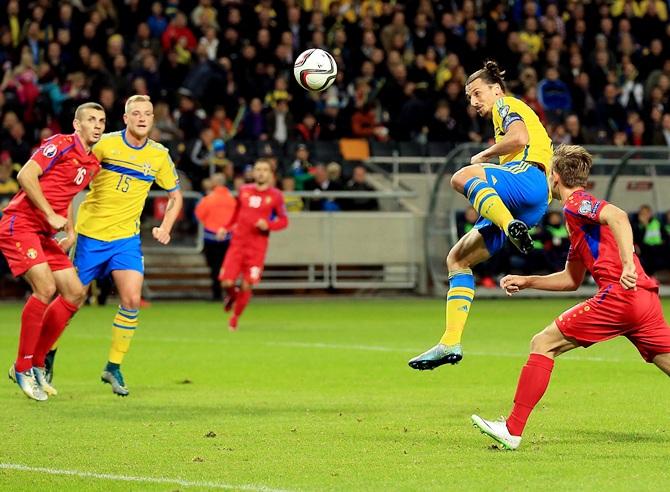 Zlatan Ibrahimovic scored his eighth goal in eight Euro 2016 qualifiers as Sweden beat Moldova 2-0 in Stockholm.
Caption this: Is Pele 'Didi' ka diwana?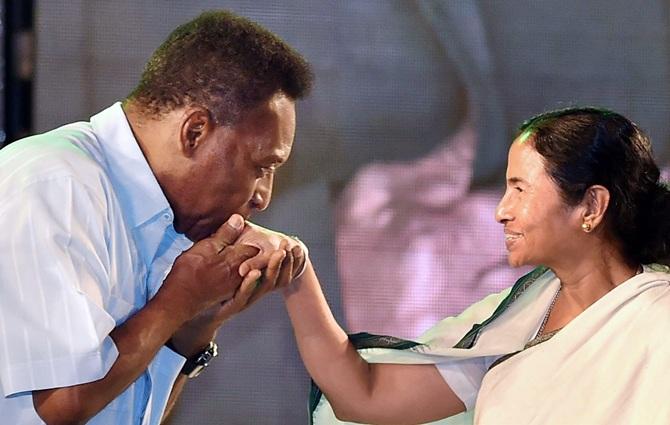 Post your tongue-in-cheek captions in the message board below.
October 12, 2015
In my team I would love to have both Messi and Ronaldo: Pele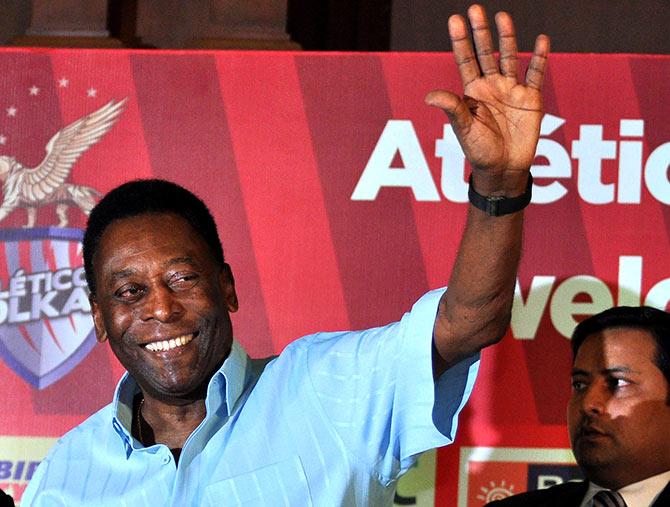 Football legend Pele has termed Argentine forward Lionel Messi as the "best in last 10 years", but also spoke highly of his fellow Brazilian Neymar and Portugal's Ronaldo.
10 BEST Sports Photos of the Week!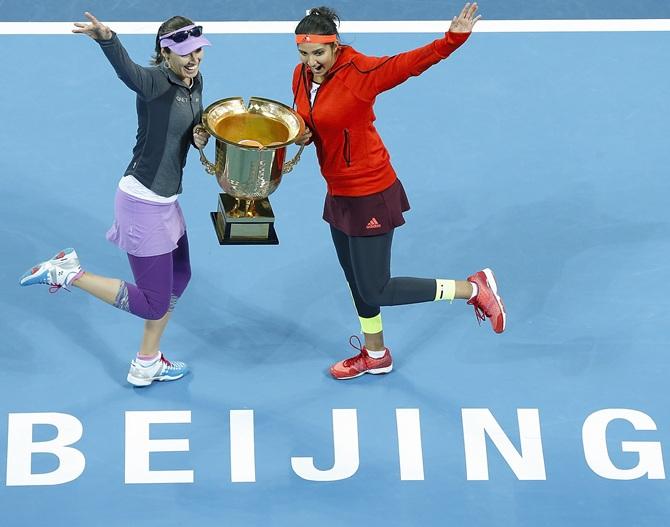 Rediff.com recaptures these and other exciting sporting moments from the week gone by....
Force India's Perez hails 'special day' after Russian GP podium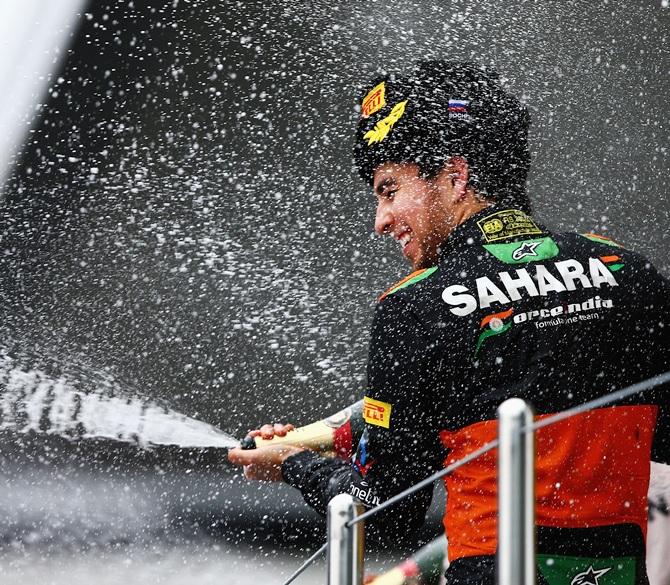 Mexican Sergio Perez said he was on the up after finishing third in Sunday's Russian Grand Prix to hand Force India only the third podium finish in the team's Formula One history.
This is how Albanians celebrate reaching first major football finals...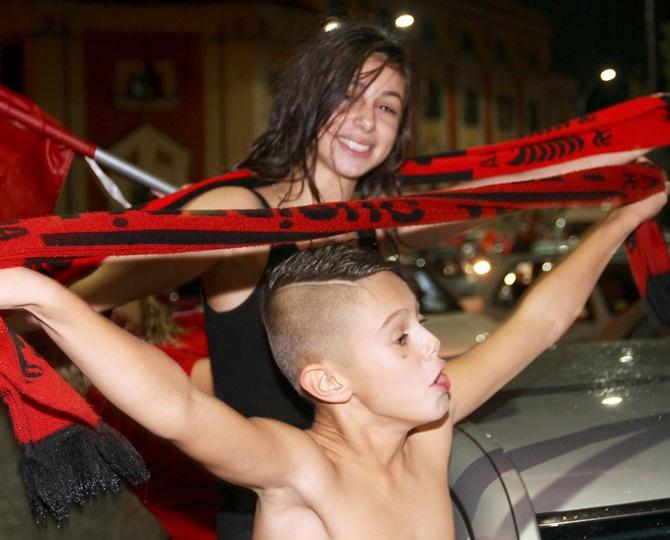 Albania qualified for Euro 2016, their first ever major tournament, when a 3-0 away win over Armenia clinched second place in Group 'I' above Denmark on Sunday sparking wild celebrations across the country.
Just who is Robert Lewandowski?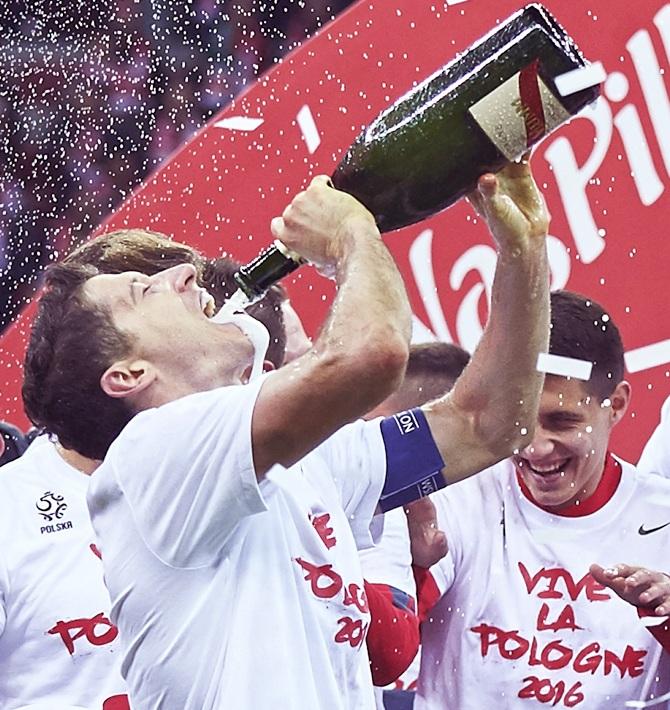 Poland's star striker Robert Lewandowski scored the winner to secure Poland a place at Euro 2016 with a 2-1 victory in Warsaw on Sunday.
Kenya's Chumba wins slow Chicago Marathon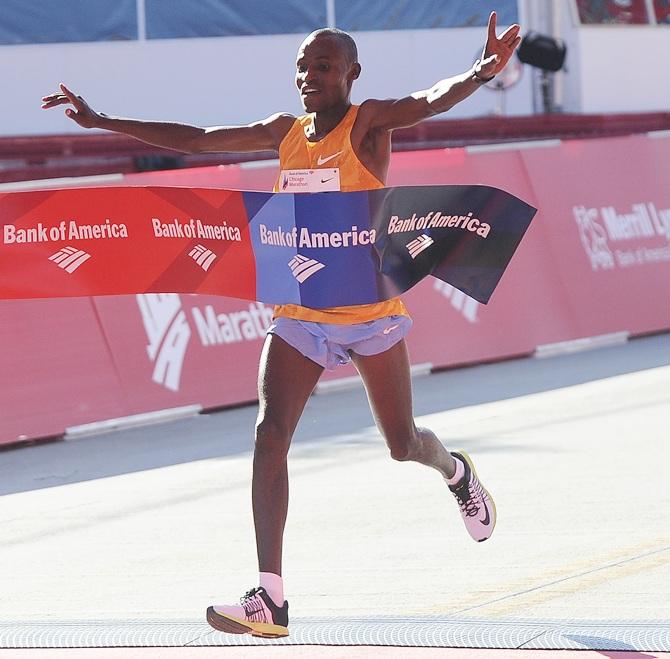 Kenyan Dickson Chumba pulled away from compatriot Sammy Kitwara and comfortably won a slow Chicago Marathon in a sweep for the African nation on Sunday.
Euro Qualifiers: Germany, Romania, Poland join 2016 party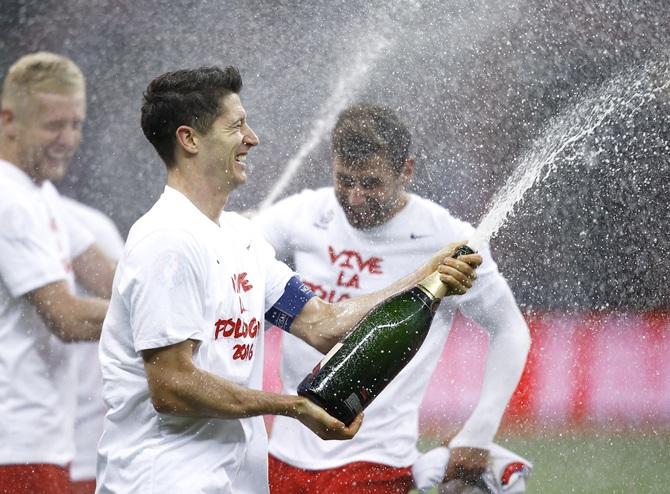 World champions Germany and perennial also-rans Albania do not share much in common in football but both were united in joy on Sunday when they qualified for Euro 2016 in France along with Romania and Poland.
October 11, 2015
ISL: Chennaiyin's Mendoza tricks to sink FC Goa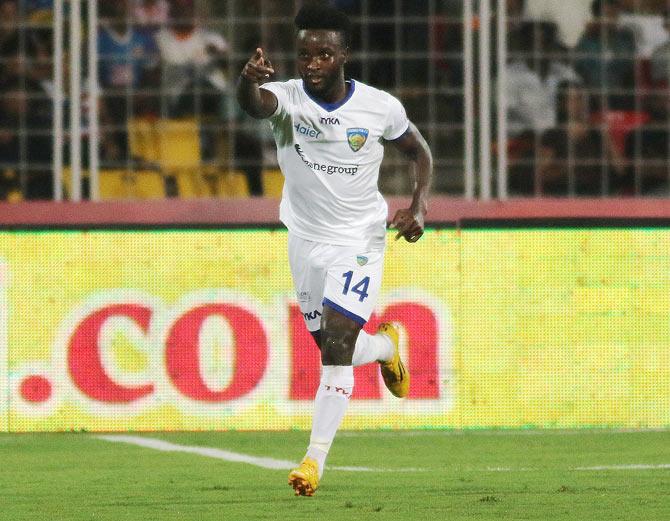 Stiven Mendoza scored the first hat-trick of the tournament as Chennaiyin FC thrashed FC Goa 4-0 in a third round match of Indian Super League football in Margao on Sunday.
Anand falters in World Rapid chess, Gujrathi on song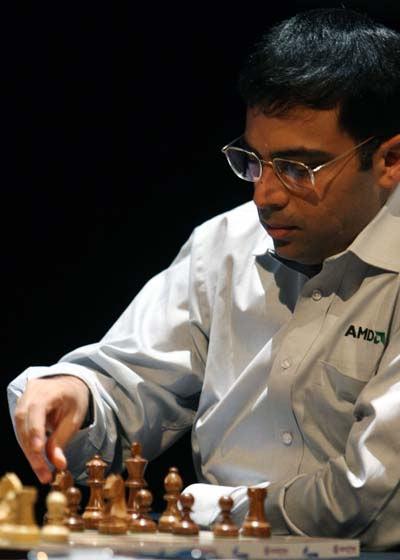 Five-time world champion Viswanathan Anand squandered away a good start and could just end Day 1 on a fifty percent score after the end of the fifth round of World rapid chess championship in Berlin.
Djokovic tames Nadal to become king of Beijing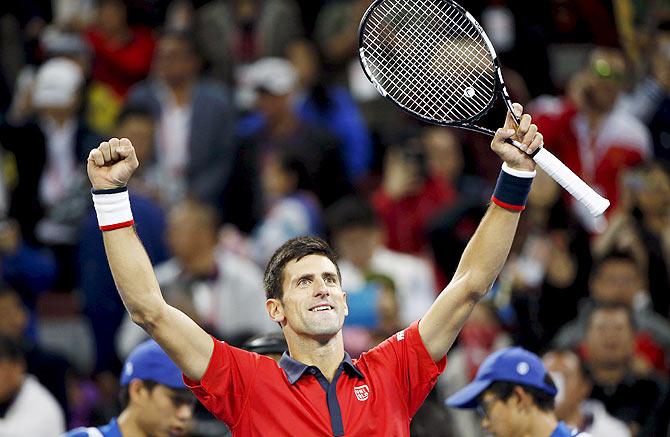 The Serbian showed no mercy against the Spaniard as he cruised to a 6-2, 6-2 victory at the National Tennis Centre to claim the China Open title
Junior hockey: India thrash Pakistan 5-1 in Sultan of Johor Cup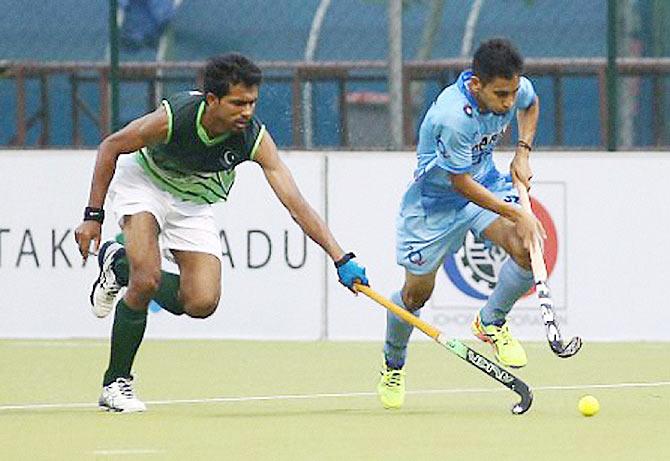 The Indian boys dominated the entire match as they registered an easy win in their opening match.
India's Jayaram defends title to win Dutch Open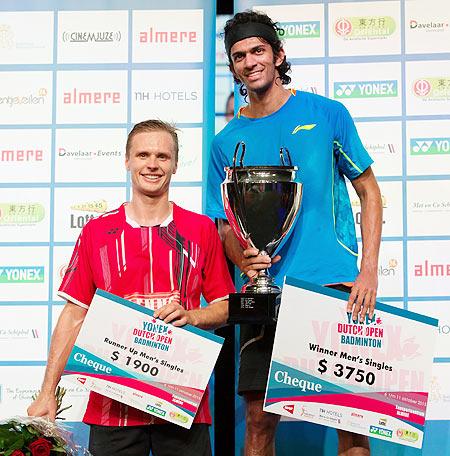 Indian shuttler Ajay Jayaram notched up a superb straight-game win over Estonia's Raul Must in the finals to defend his men's singles title at the Dutch Open Grand Prix in Almere, The Netherlands on Sunday.
Russian GP PIX: Hamilton closes in on F1 title; Force India on podium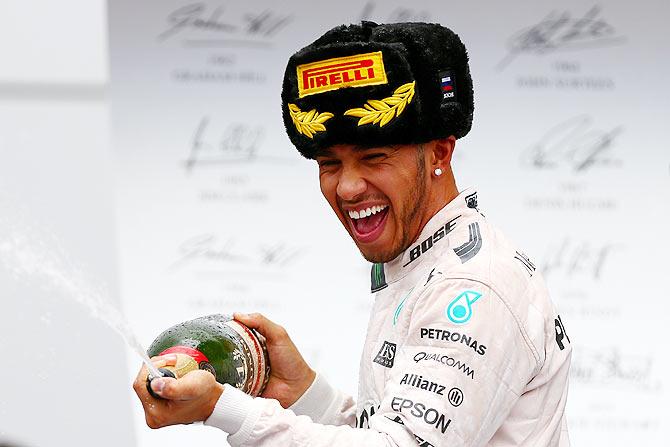 Lewis Hamilton won a dramatic Russian Formula One Grand Prix on Sunday to take a huge step towards his third world championship after Mercedes teammate Nico Rosberg retired with throttle failure.
Hockey Test: India hold NZ to 1-1 draw, win series 2-1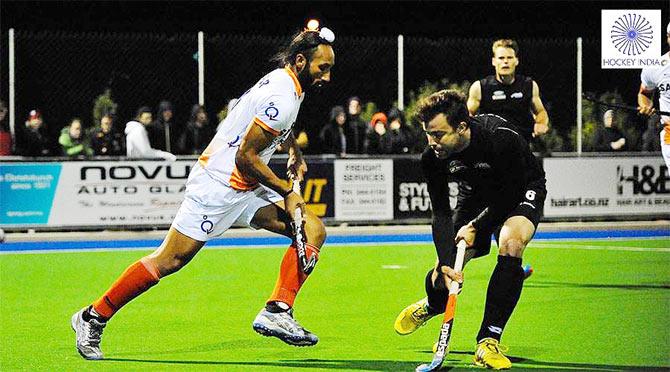 After a goalless opening two quarters, Nick Ross broke the deadlock for New Zealand in the 41st minute. But the hosts' joy was short lived as India equalised two minutes later through a field goal from SV Sunil (43rd).
President's Cup golf: Sleepless nights await Lahiri after missed putt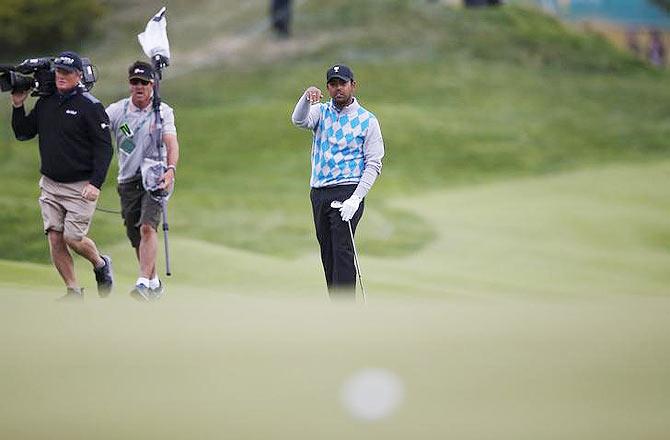 Lahiri was the first Indian to ever qualify for the President's Cup and had been thoroughly looking forward to representing the International Team.
Euro qualifiers: Wales lose but make finals with Belgium and Italy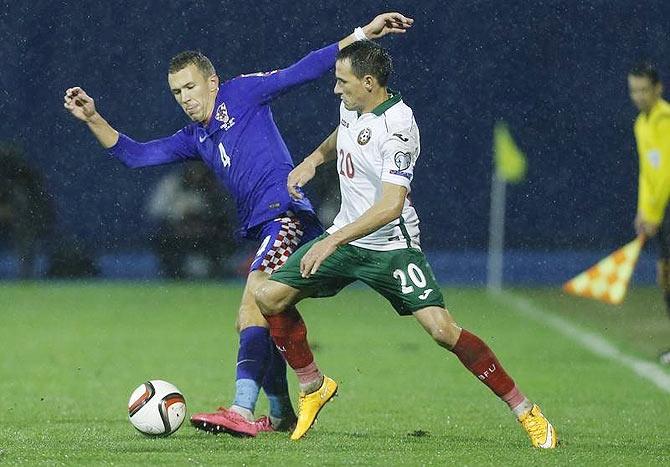 The Dutch, who have not missed a Euro finals since 1984, kept their playoff chances alive with a 2-1 win in Kazakhstan
Muguruza clinches women's China Open, climbs to 4th in rankings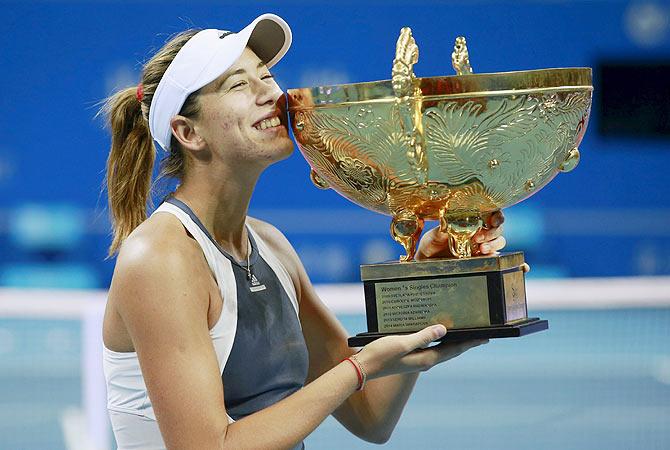 Spain's Garbine Muguruza, one of the rising stars of women's tennis, beat Switzerland's Timea Bacsinszky to win the China Open on Sunday, her biggest title to date.
Pele returns to rousing welcome in Kolkata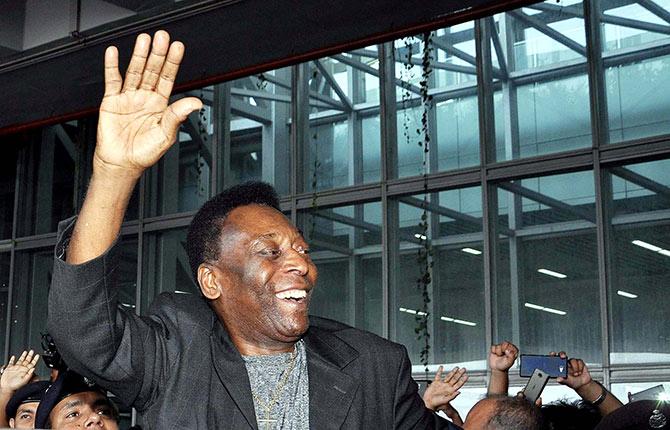 Frenzied scenes were witnessed at the airport this morning when Pele landed in the Kolkata after 38 years as the 74-year-old Brazilian turned emotional and stood on the floor of his SUV to wave at the crowd, who kept chanting his name.
Wawrinka wins Japan Open, takes career title count to 11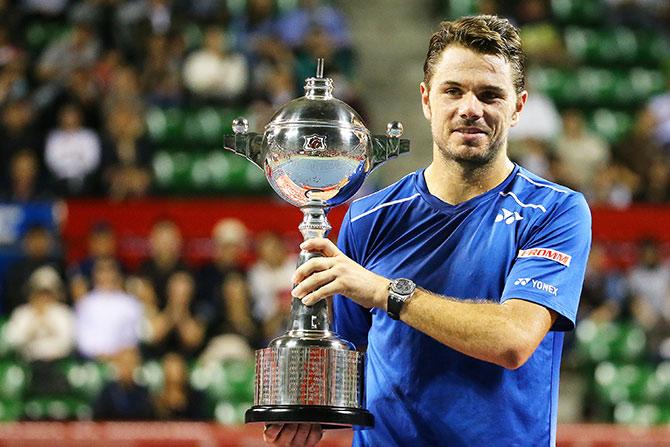 Switzerland's French Open champion Stan Wawrinka captured his fourth title this year when he beat his good friend Benoit Paire 6-2, 6-4 in the final of the Japan Open on Sunday.
Dani Pedrosa wins Japanese MotoGP, Rossi extends title lead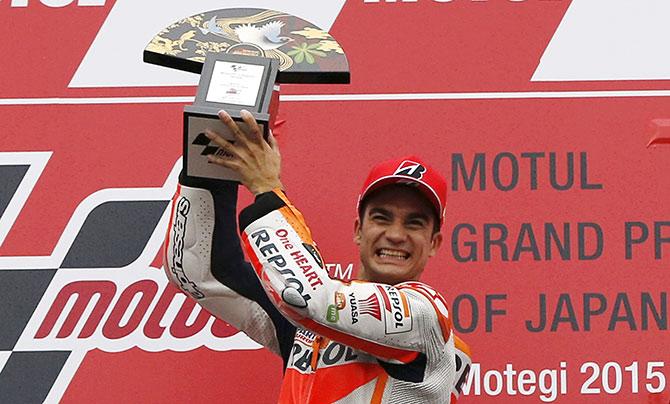 Spain's Dani Pedrosa claimed the 50th Grand Prix win of his career on Sunday, taking victory in the Japanese MotoGP as runner-up Valentino Rossi extended his lead in the championship standings.
Mexico clinch CONCACAF Cup with 3-2 win over United States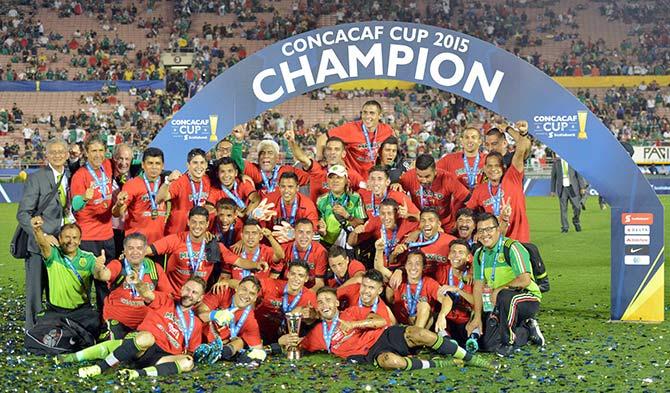 Mexico won a pulsating CONCACAF Cup playoff match against the United States 3-2 in extra time at the iconic Rose Bowl Stadium on Saturday to book their place in the next Confederations Cup.
October 10, 2015
Lip smacking China Open final! Nadal to meet Djokovic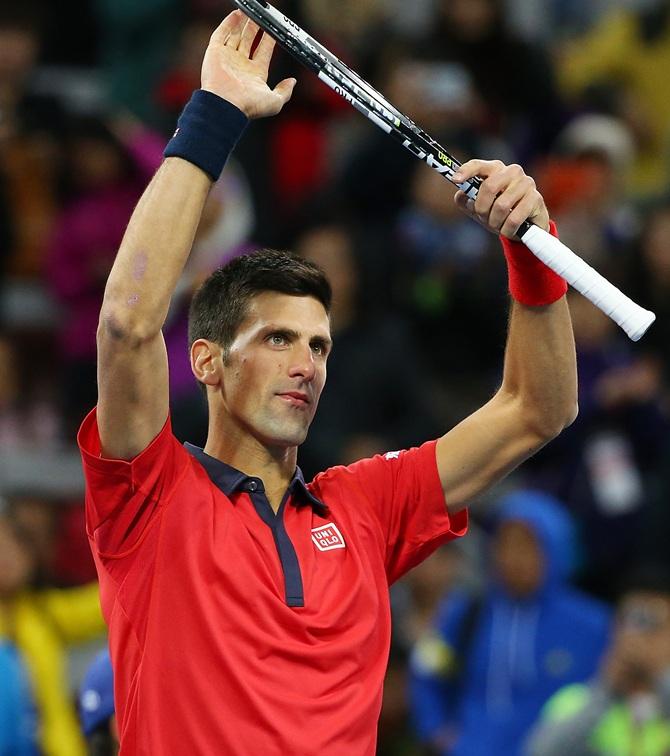 World No 1 Novak Djokovic swept aside opponent David Ferrer of Spain in straight sets to set up China Open summit clash against third-seed Rafael Nadal.
What a debut! Vijender KOs opponent in pro boxing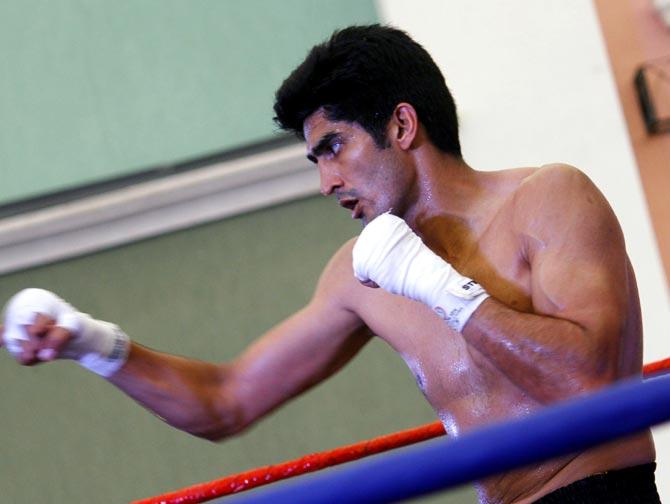 Star Indian boxer Vijender Singh made a smashing professional debut by knocking out Britain's Sonny Whiting in the middleweight category ruthlessly demolishing the man, who promised to put him through hell at the Manchester Arena, on Saturday.
ISL: Kerala Blasters, Mumbai City FC share points after a goalless draw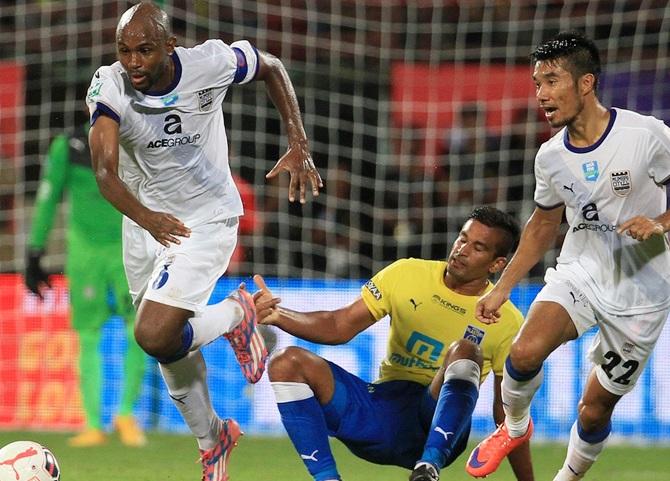 Hosts Kerala Blasters managed to hold Mumbai City FC ended in a goalless draw in an Indian Super League football tournament encounter that never rose to dizzy heights.
Incredible Sania-Hingis conquer Beijing too!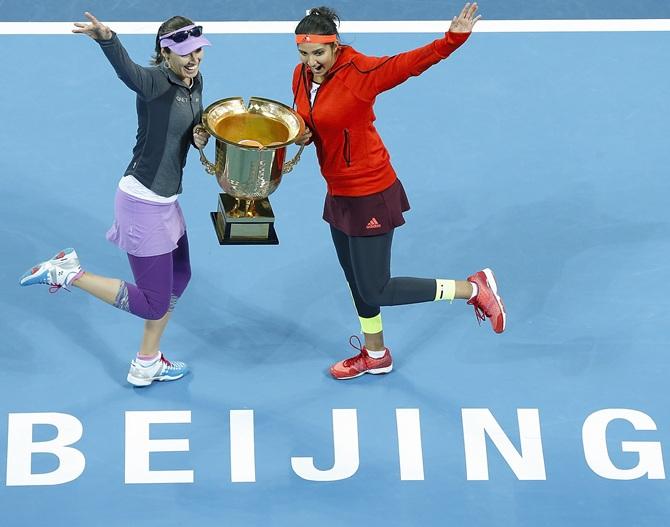 Extending their unbeaten record, India's Sania Mirza and Switzerland's Martina Hingis lifted their eighth trophy of the season and fourth in a row, winning the WTA China Open.
Boxing World Championships: Shiva assured of medal, eyes Olympic berth next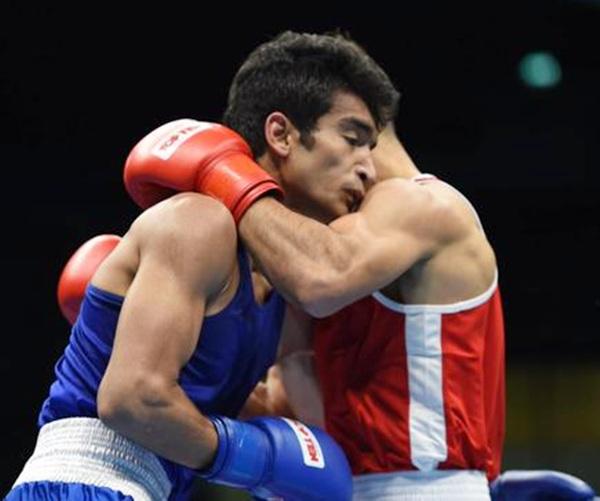 Shiva Thapa became only the third Indian boxer ever to assure himself of a World Championships medal besides inching closer to an Olympic berth as he advanced to the semifinals with a dominating victory, in Doha, on Saturday.
Russian GP: Rosberg again denies Hamilton his 50th pole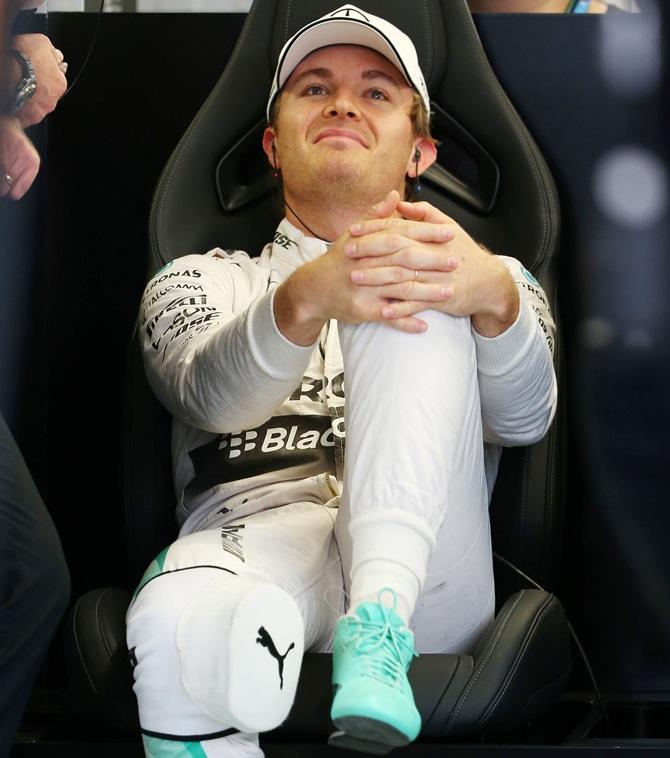 Nico Rosberg seized pole position for the Russian Formula One Grand Prix on Saturday with world champion Lewis Hamilton joining his team mate on the front row in a perfect qualifying for Mercedes.
MotoGP: Lorenzo takes pole in dramatic qualifying in Japan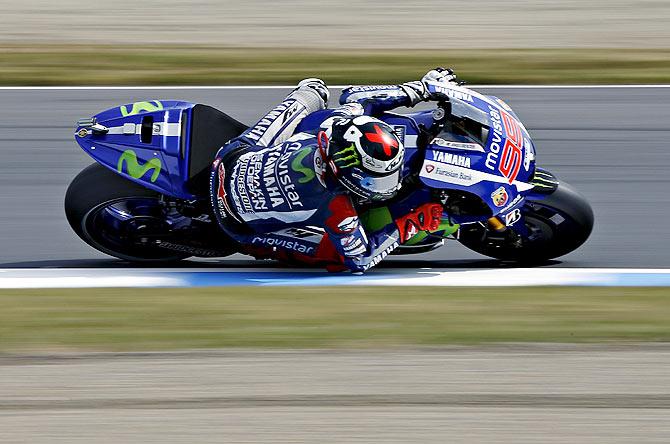 San Marino rider Alex de Angelis was airlifted to hospital after a heavy crash during final practice at the Japanese MotoGP on Saturday before a dramatic qualifying session saw Jorge Lorenzo grab pole from title rival Valentino Rossi.
Hamilton ever grateful to McLaren's Ron Dennis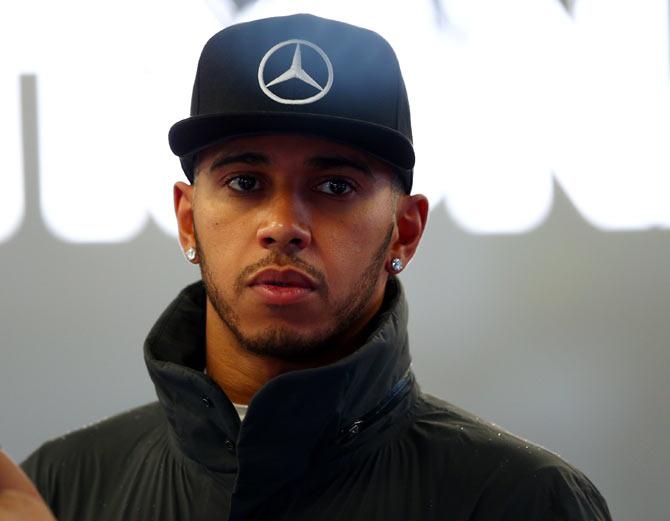 The 30-year-old, who could clinch his third world title within a matter of weeks, told British reporters at the Russian Grand Prix that he would always owe an immense debt to his former McLaren boss Ron Dennis.
Japan Open: Paire upsets Nishikori, faces Wawrinka in final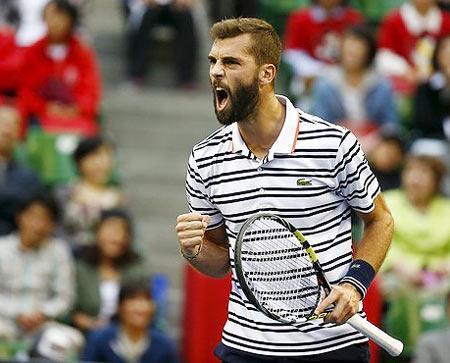 Paire won his first ATP Tour title on the clay at Bastad in July and will go in search of his second against French Open champion Wawrinka, who served strongly in taking out Gilles Muller of Luxembourg.
Platini could still fight polls for FIFA president's job. Here's how...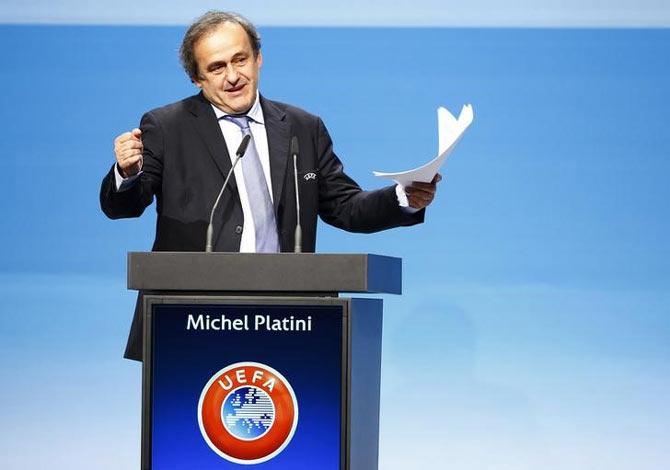 England's Football Association, which has supported Platini's candidature, said on Friday it was among a number of other groups who had called for a FIFA crisis meeting where the election would be discussed.
Presidents Cup returning to Melbourne in 2019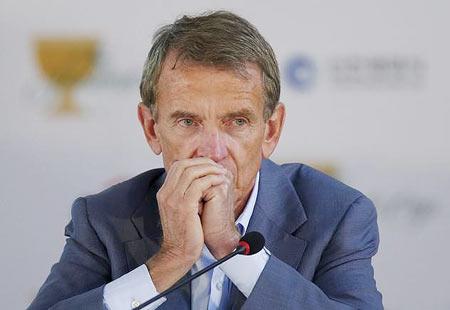 Melbourne will host the 2019 edition of the Presidents Cup, as well as next year's World Cup of Golf, PGA Tour Commissioner Tim Finchem announced on Saturday.
Hockey Test: India edge past Kiwis 3-2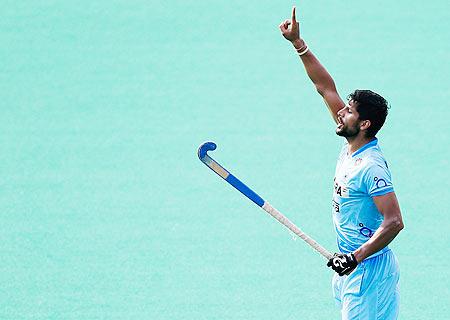 The Indian men's hockey team secured a 3-2 win over New Zealand in a nail-biting third game to take an unassailable 2-1 lead in four-Test series at Christchurch on Friday.
City's Aguero out for a month after picking up injury in WC qualifier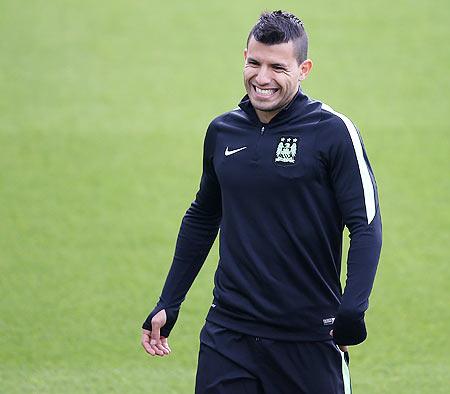 Striker Sergio Aguero, injured during Argentina's shock 2-0 home defeat by Ecuador in a World Cup qualifier, said on Friday he would be out for a month.
Barcelona stand by Messi in tax fraud case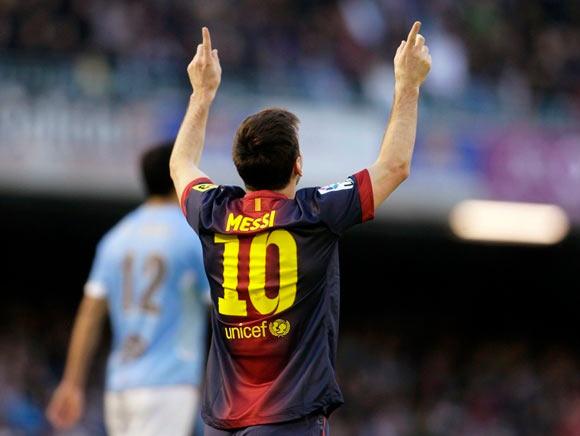 Barcelona have given their full backing to Lionel Messi in the Argentina forward's tax fraud case and vowed to fight "external decisions" they say are unfairly targeting the club.
PHOTOS: Spain, Switzerland seal Euro 2016 berth with emphatic wins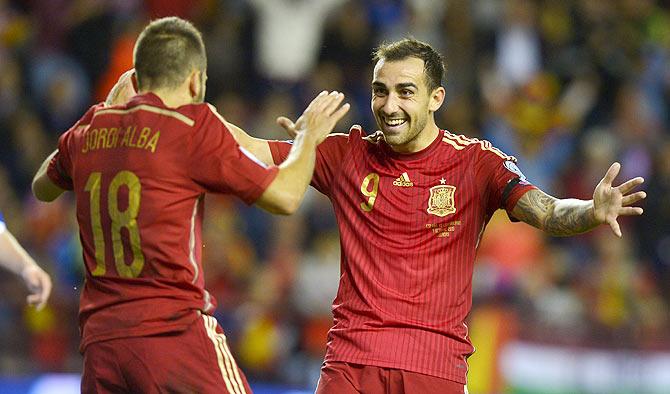 Photos from the Euro 2016 qualifying matches played across Europe on Saturday
October 09, 2015
Djokovic and Nadal through to China Open semi-finals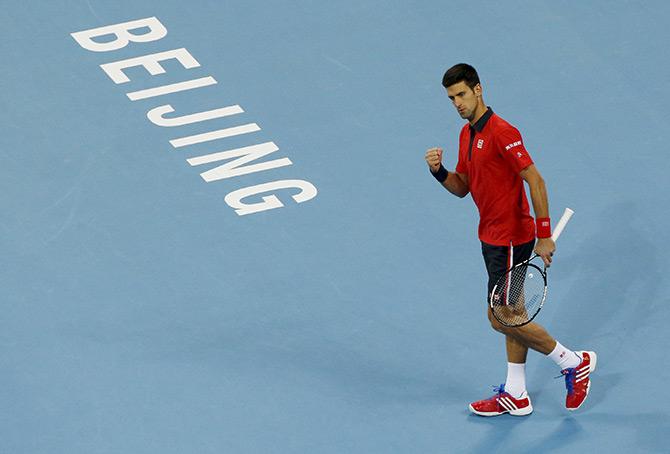 Novak Djokovic extended his winning streak at the China Open to 27 matches with a 6-2, 6-2 demolition over big-serving American John Isner on Friday.
Indian Super League: Pune edge past NorthEast by a solitary goal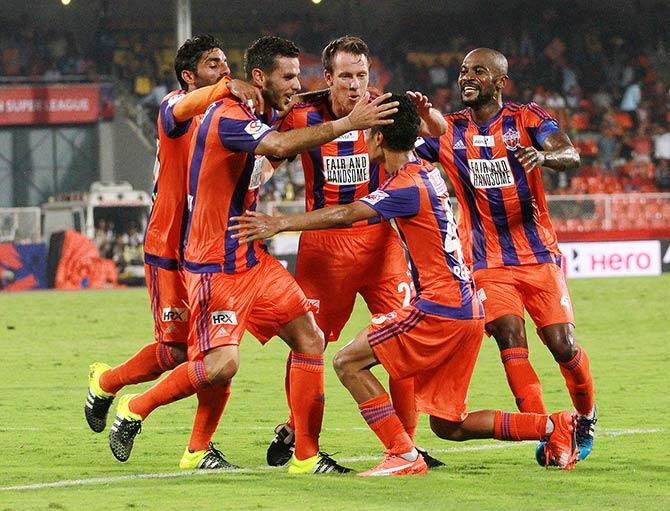 FC Pune City maintained a clean sheet by recording their second consecutive win with a solitary goal victory over NorthEast United in an Indian Super League football match on Friday.
Will Klopp keep his promise at Anfield?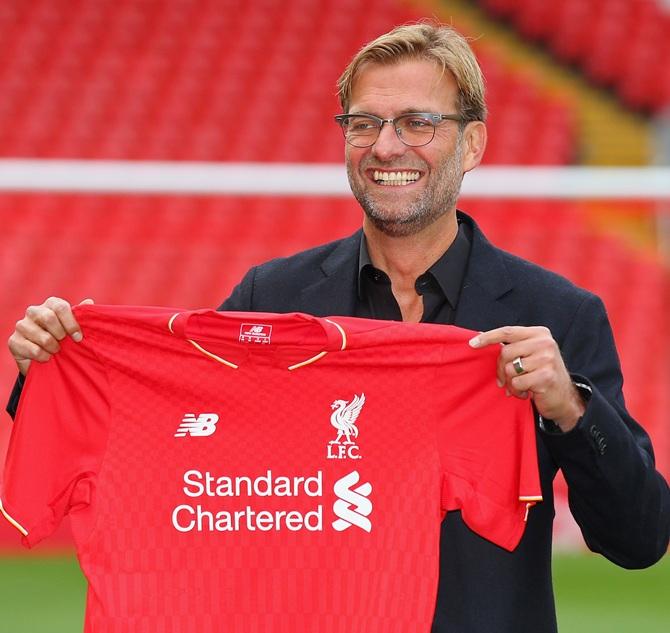 Liverpool's new manager Juergen Klopp promised to bring 'full throttle' football with a 'big heart' to Anfield in his first comments since the German was unveiled as the Merseyside's club new manager on Thursday night.
Dutch Open: Jayaram, Guru reach quarter-finals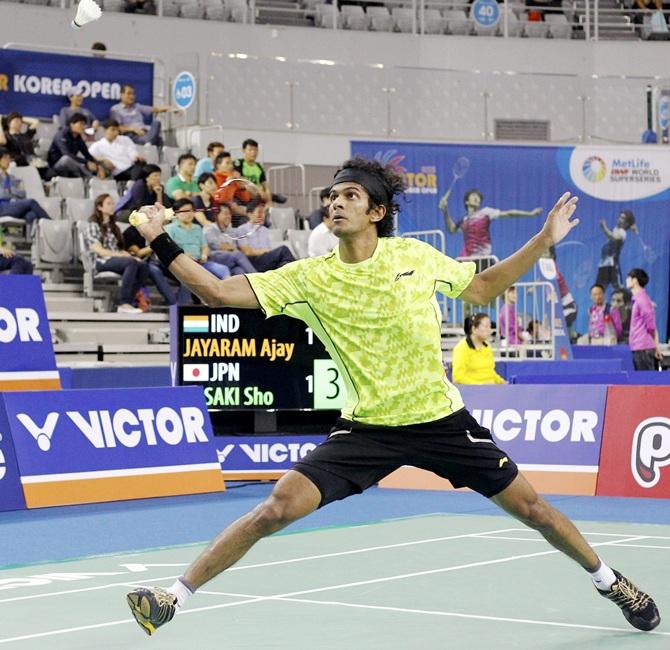 Defending champion Ajay Jayaram and Commonwealth bronze-medallist RMV Gurusaidutt reached the men's singles quarterfinals of the $ 50,000 Dutch Open Grand Prix, in Almere.
China Open: Djokovic extends hot streak; Muguruza's memorable 22nd birthday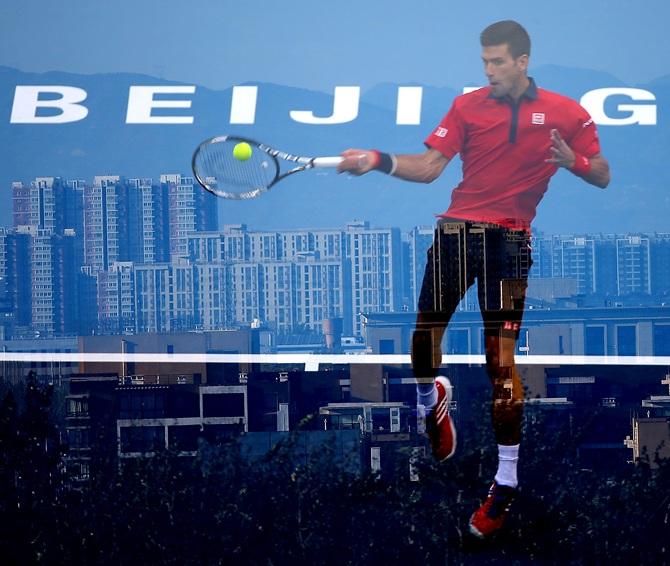 Novak Djokovic kept his juggernaut rolling at the China Open by improving to 26-0 with a 6-2, 6-1 win over local hope Zhang Ze on Thursday.
20 AMAZING facts you didn't know about soccer legend Pele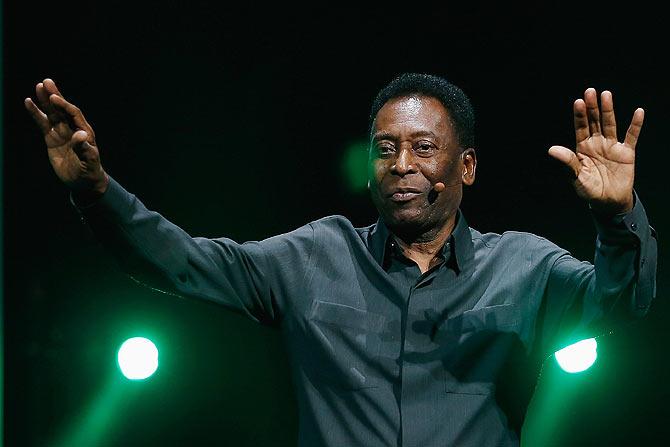 As Pele readies to awaken the 'sleeping giant of football' with his presence, Rediff.com lists some lesser known facts from the legend's life. Read on and be amazed...
PIX: Irish fans savour memorable night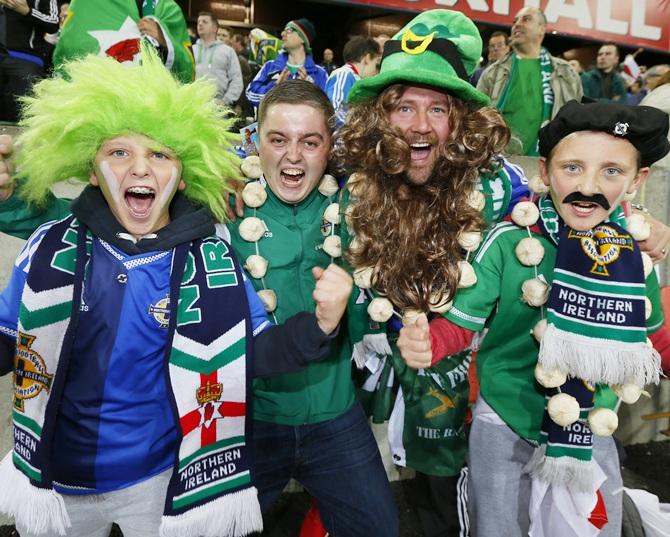 Northern Ireland reached their first major tournament in 30 years and their neighbours south of the border beat world champions Germany to take a big step towards joining them at Euro 2016 in a memorable night for Irish football on Thursday.
No Messi, no Neymar in WC qualifiers: Giants Brazil, Argentina lose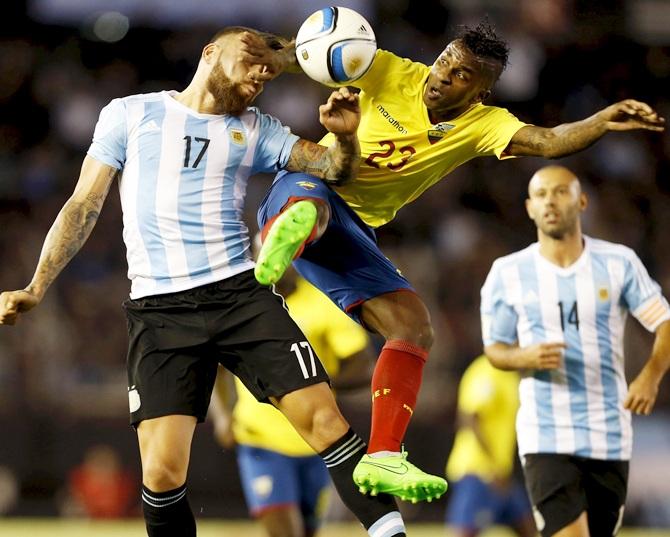 Argentina and Brazil both lost their opening World Cup qualifiers on Thursday as the South American campaign for Russia 2018 started in unexpected fashion.
Euro Qualifiers: Ireland stun Germany; Portugal seal spot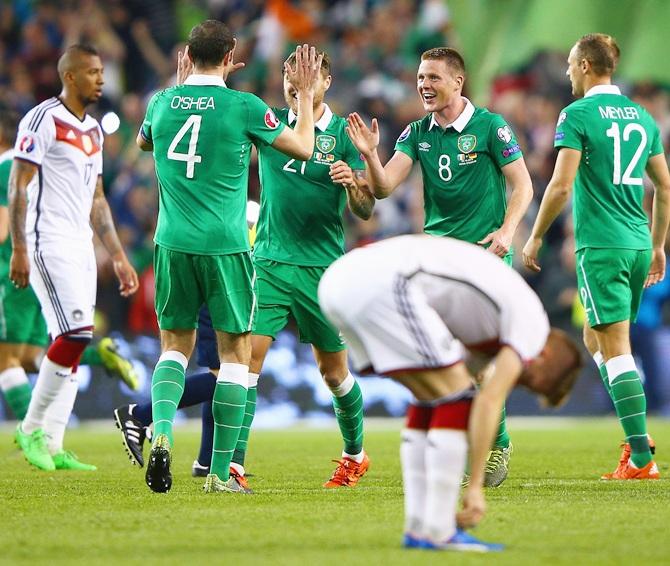 Ireland stunned world champions Germany 1-0 thanks to Shane Long's 70th-minute strike on Thursday to throw Euro 2016 qualifying Group D game.
It's official! Liverpool appoint fiery Klopp as manager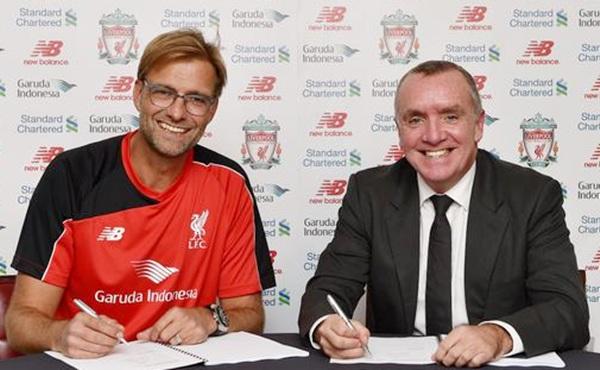 Liverpool named former Borussia Dortmund coach Juergen Klopp as manager on Thursday with the club posting photos of him signing his contract on their official Twitter account.
October 08, 2015
Lahiri rues poor start at Presidents Cup as US dominate Day 1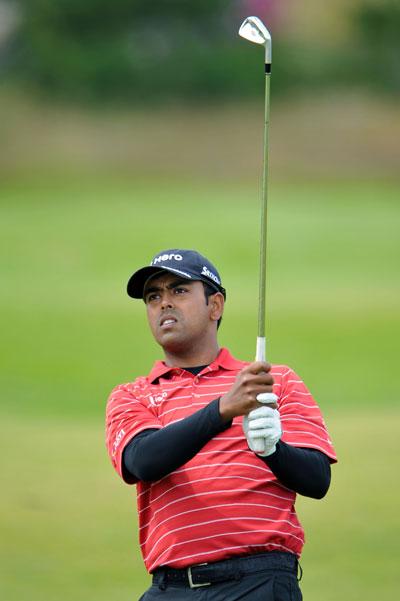 Anirban Lahiri is savouring the 'extremely special' experience of being the first golfer from India to play at the Presidents Cup but admits he and playing partner Thongchai Jaidee did not do themselves justice on Thursday.
Meet the men in line for the job of FIFA interim boss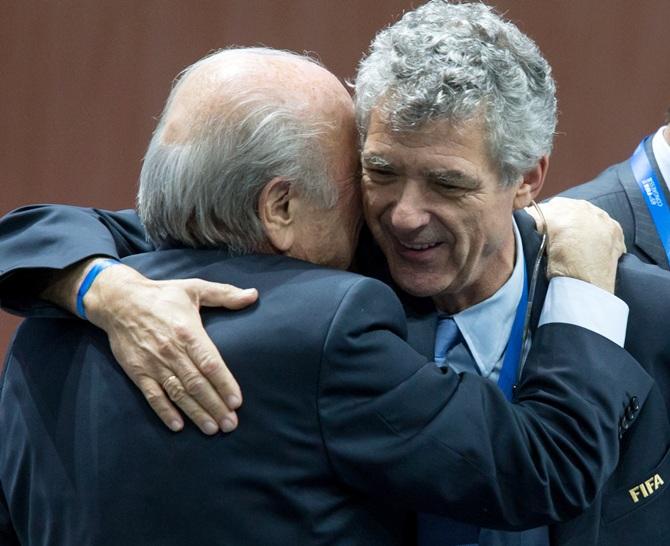 Will it be Cameroon's Issa Hayatou or Spain's Angel Maria Villar?
How much will it cost tax payers to host an Olympics?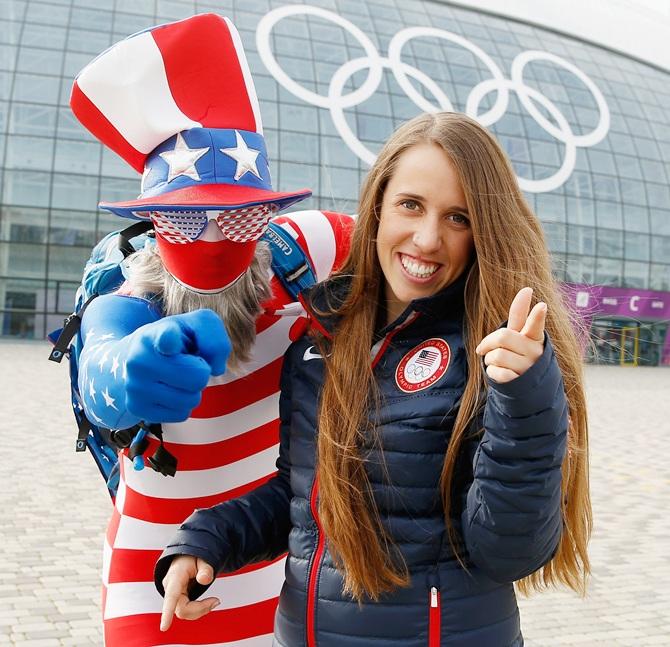 Holding the 2024 Olympics in Hamburg would cost taxpayers a projected 7.4 billion euros ($8.4 billion) with a total overall budget for the world's biggest multi-sports event estimated at 11.2 billion, the candidate city's mayor said on Thursday.
Kuwait threatened with FIFA ban for government interference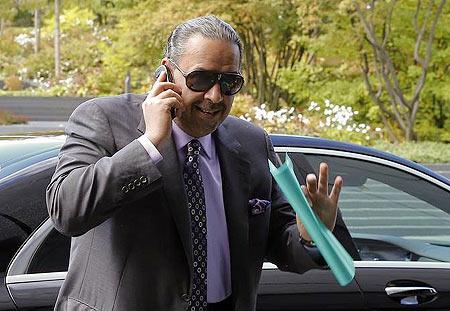 Kuwait, home to influential sports power broker Sheikh Ahmad Al-Fahad Al-Sabah, has been threatened with a ban by FIFA because of government interference in the running of the local football association.
Mourinho gives me confidence; he is best man for Chelsea: Fabregas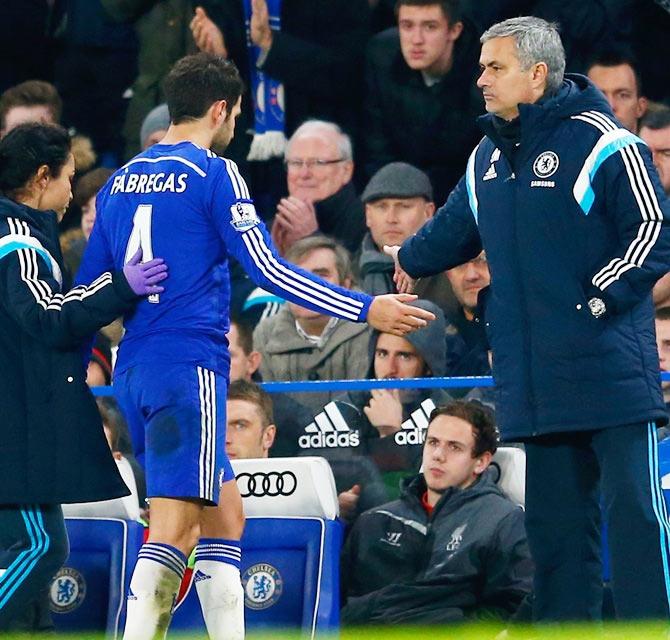 Chelsea midfielder Cesc Fabregas has joined captain John Terry in backing manager Jose Mourinho after the Blues' abysmal start to their Premier League title defence.
'Getting an Olympic medal in athletics is my one-point agenda'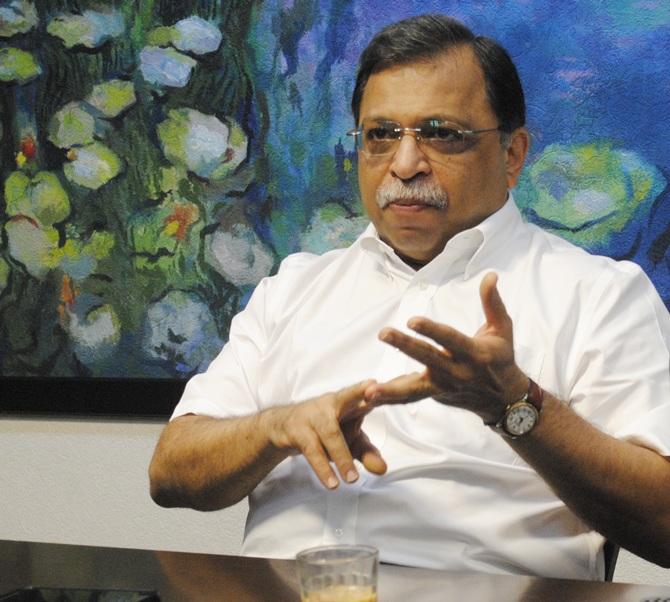 'We keep climbing one step and slipping three. In 2004, our relay team was 7th in the world. Then we slipped from there. Otherwise, today our 4x400 metres relay team would have been gearing for a medal at the Rio Games.'
'Sania Mirza is an inspiration but singles are the real deal'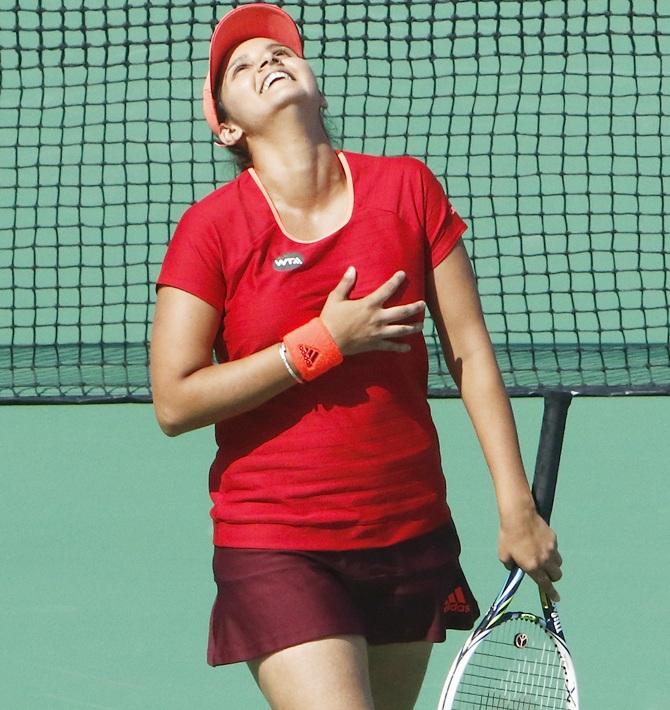 The franchise-based Champions Tennis League, which will begin its second season next month, will help end India's search for quality singles players, its promoter and former Davis Cupper Vijay Amritraj said.
Dutch Open: Shuttlers Jayaram, Guru, Thulasi advance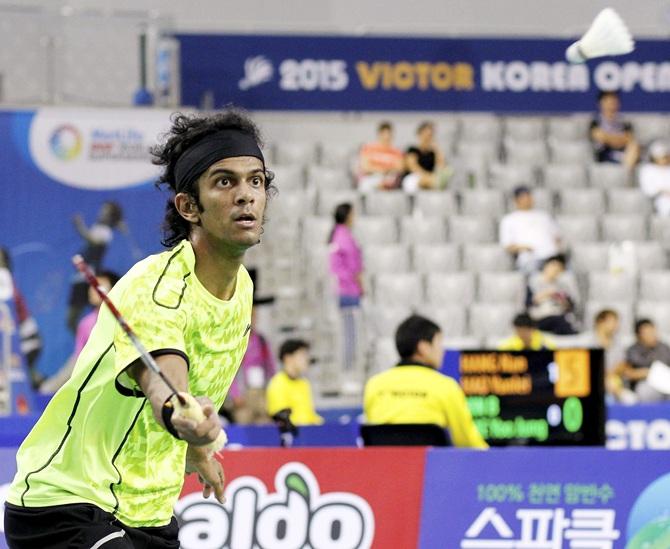 Defending champion Ajay Jayaram and Commonwealth bronze medallist RMV Gurusaidutt advanced to the pre-quarterfinals of the Dutch Open Grand Prix after notching up srRound.
US charges Honduran football club chief with laundering drug money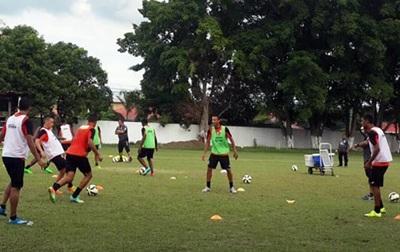 The president of a top Honduras football club and two family members were charged by US authorities on Wednesday with engineering a decade-long scheme to launder drug trafficking and foreign bribery proceeds through US accounts.
Champions League: Dinamo player probed for failed drug test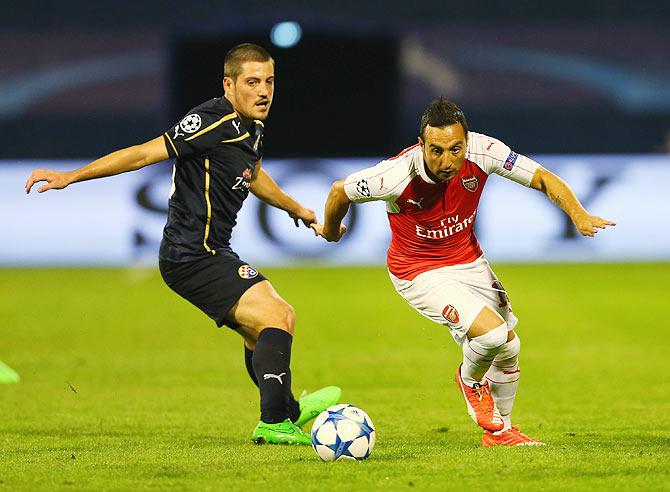 Dinamo Zagreb midfielder Arijan Ademi failed a drug test after their Champions League match against Arsenal last month and is under investigation by UEFA, the club said on Wednesday.
India thrash Kiwis 3-1 to level Hockey Test series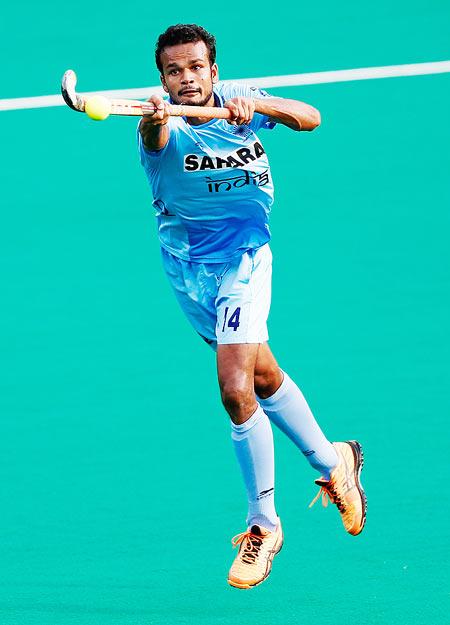 The Indian men's hockey produced a much-improved performance on Wednesday as they defeated New Zealand in the second match to level the four-Test series 1-1 in Nelson, New Zealand.
Sania-Hingis advance to China Open semis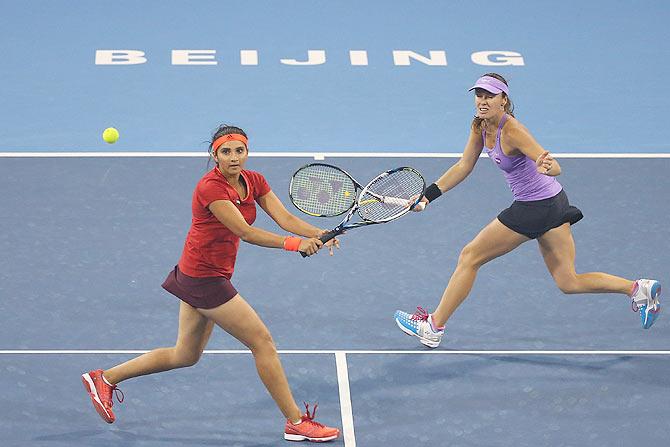 Eyeing their eight title of the season, Indian tennis ace Sania Mirza and her doubles partner Swiss Martina Hingis entered the semi-finals of the China Open in Beijing on Thursday.
Ethics body suspends Blatter, Platini from world football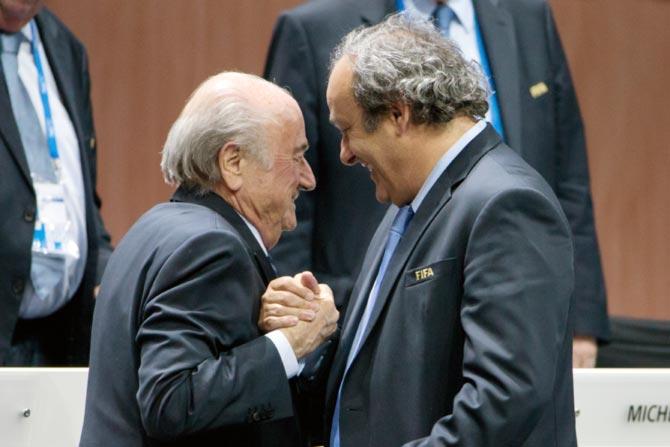 The committee also handed out a 90-day suspension to FIFA Secretary-General Jerome Valcke, who had already been put on leave by the football body, and banned former FIFA Vice-President Chung Mong-joon for six years and fined him 100,000 Swiss francs (£67,021).
October 07, 2015
ISL: FC Goa rally to hold Atletico de Kolkata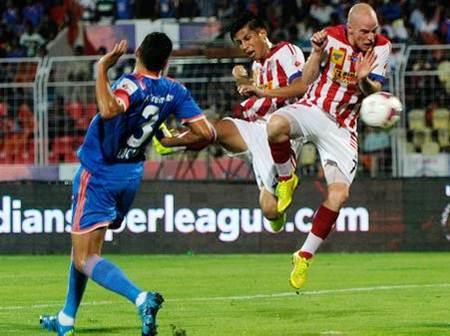 FC Goa fought back from a goal down to hold defending champions Atletico de Kolkata 1-1 in their second round match of the Indian Super League at the Nehru stadium, in Fatorda, Goa, on Wednesday.
Fiery Klopp due to land in Anfield on Thursday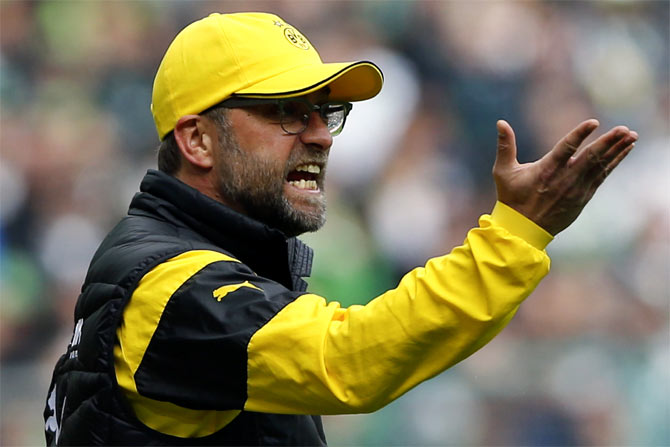 Former Borussia Dortmund manager Juergen Klopp is expected at Anfield on Thursday as the German edges closer to becoming Brendan Rodgers' successor at Liverpool.
7 reasons why Juergen Klopp is perfect for Liverpool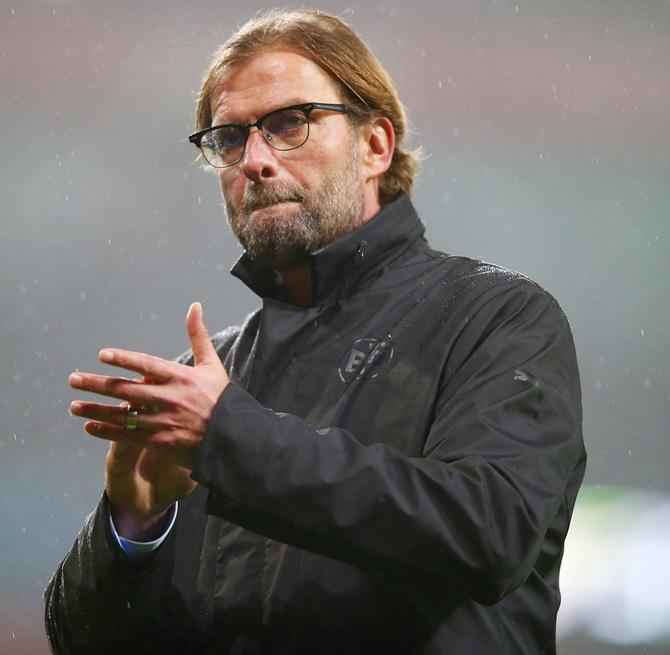 Juergen Klopp could not find a more fitting club to take his successful coaching career to the next level. Take a look why...
'I will fight, for myself, for FIFA'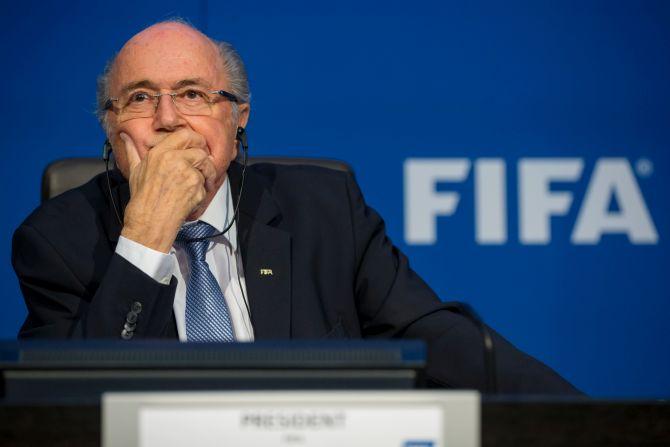 Outgoing FIFA President Sepp Blatter said a Swiss criminal investigation against him was 'not correct' and defended his decision not to step down sooner as head of the world soccer body, according to a German magazine.
Check out who will be missing out on Euro qualifiers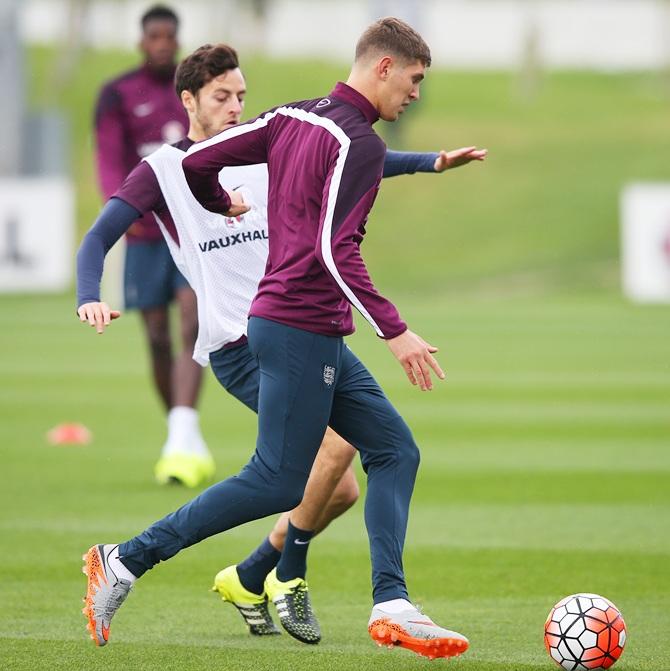 England defender John Stones has been ruled out of their final two Euro 2016 qualifiers through injury, the FA said in a statement.
China Open: Nadal, Djokovic breeze into second round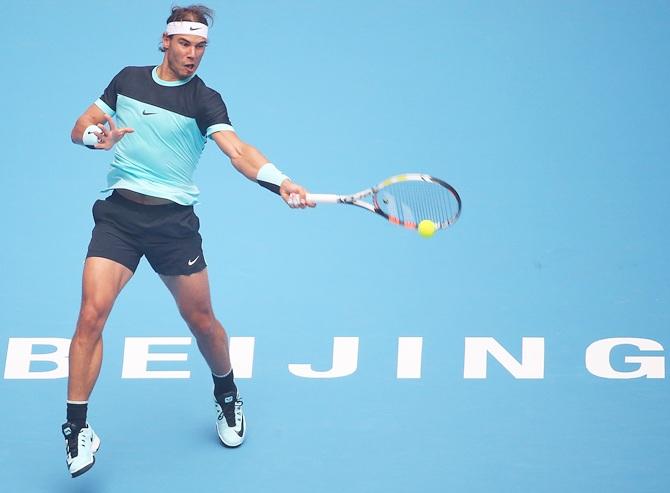 Spain's Rafael Nadal defeated local boy Di Wu in straight sets to reach the second round of the China Open on Tuesday.
Snubbed by BCCI, Srinivasan is 2nd most influential man in Asian Sport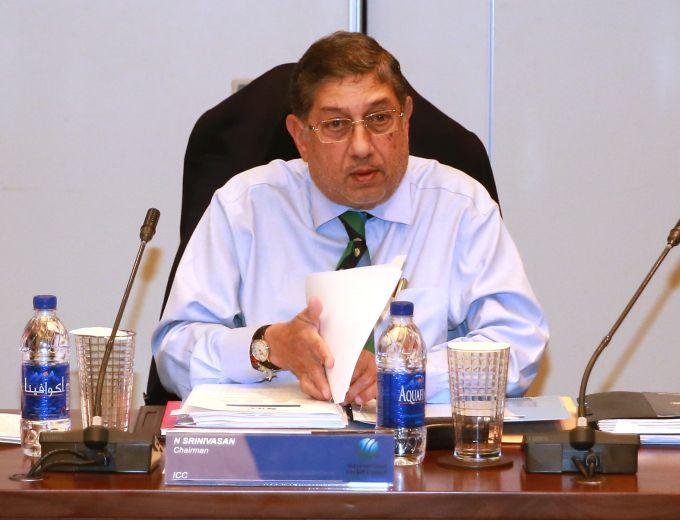 A definitive guide to the movers and shakers who sit at the helm of the Asian sports boom.
HOTTEST Sporting Buzz: Serena flaunts her killer curves!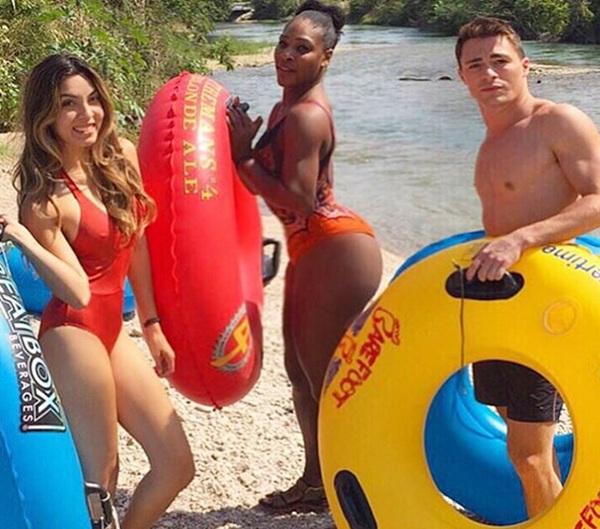 Tennis star Serena Williams recently shared a photograph, showing off her killer curves in a beachwear.
Three parties interested in buying Formula One, says boss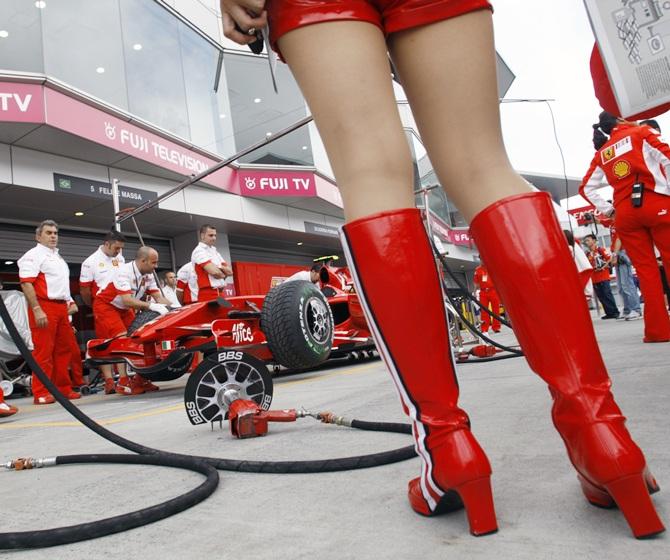 Formula One could have new owners by the end of the year with three parties currently interested, the sport's commercial supremo Bernie Ecclestone said on Tuesday.
October 06, 2015
Indian Super League: Kerala Blasters thrash NorthEast United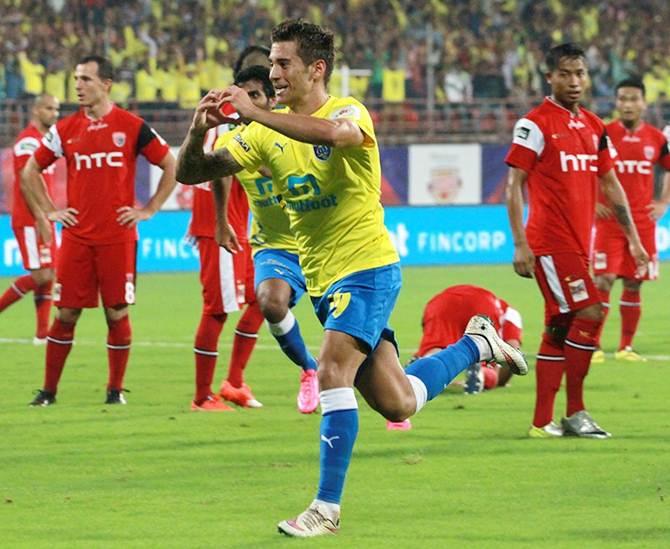 Their super star co-owner Sachin Tendulkar cheering them from the stands, Kerala Blasters FC got their campaign off to a rollicking start, recording a
Vijender 'in shape' for pro debut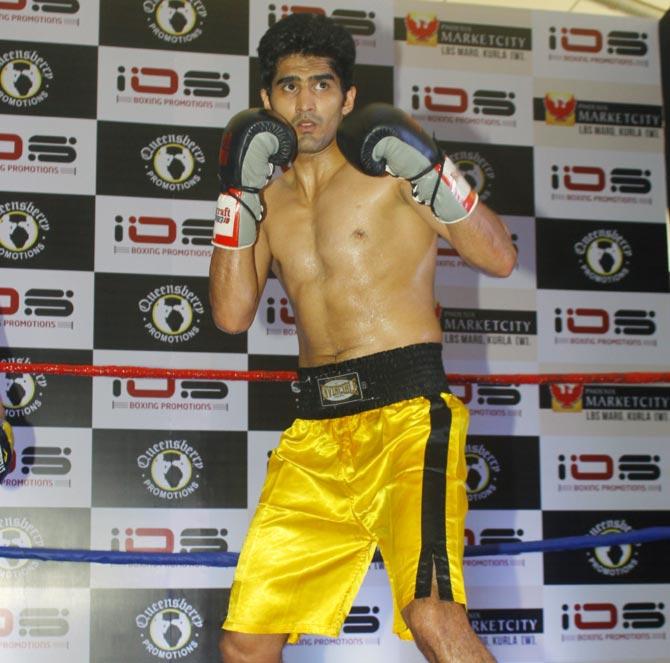 The transition from amateur to professional hasn't been easy, but star Indian boxer Vijender Singh cannot wait for the beginning of a new life when he makes his pro debut on October 10 against Englishman Sonny Whiting.
Giggs would be managing United now if he retired at 35: Ferguson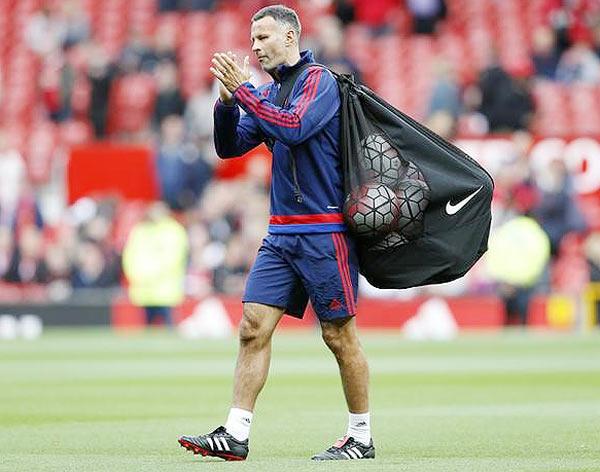 Ferguson, who makes the comments in the documentary 'Sir Alex Ferguson: Secrets of Success', to be screened on BBC One on October 31, also defends David Moyes' ill-fated appointment as his successor.
Former Dortmund manager Klopp to sign three-year deal with Liverpool?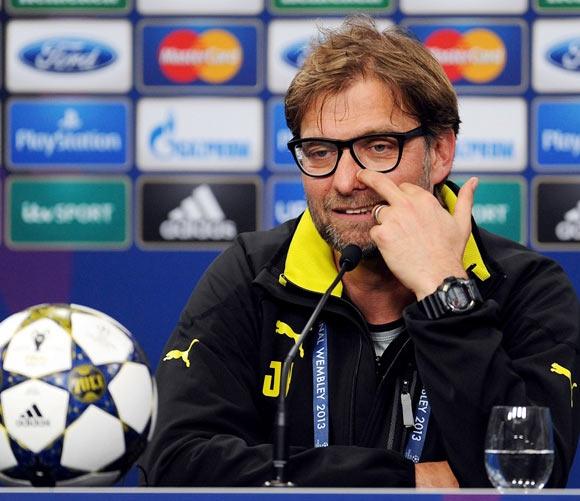 Klopp is understood to be open to the idea of a move, the reports said, adding that talks between Liverpool and his representatives were progressing well.
Berdych wins rain-delayed Shenzhen Open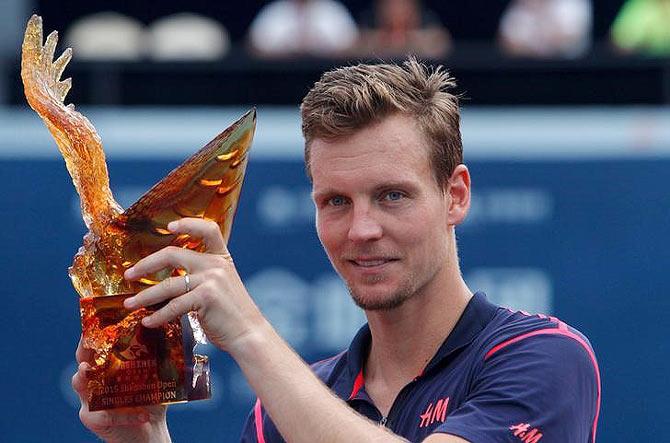 Held over because of heavy rain that drenched parts of southern China over the weekend, Berdych maintained his composure through another frustrating weather interruption to win in straight sets.
'Disappointed' Rodgers leaves Liverpool with 'memorable moments'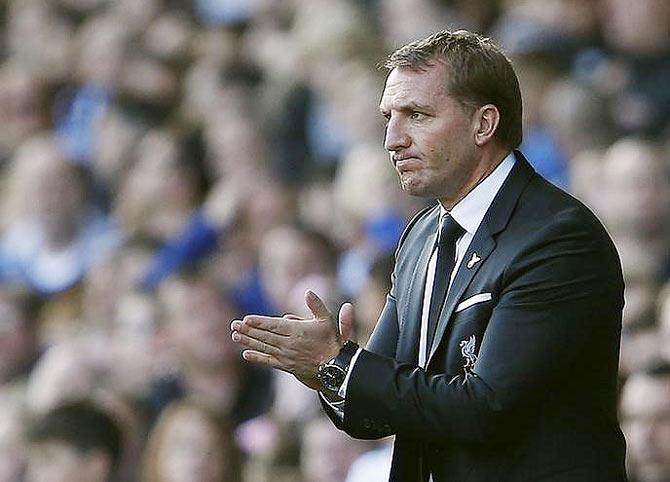 'The current squad is one in transition, but they have some real talent and are showing a strong sense of togetherness'
More misery for Chelsea boss Mourinho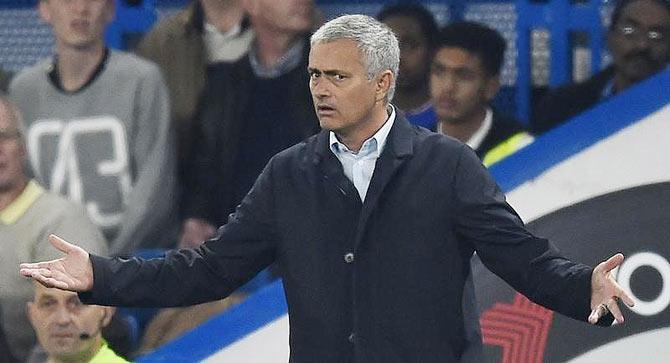 He has been charged by the FA for remarks against match-officials
Honed in Barca school of football, Josue ready to wow India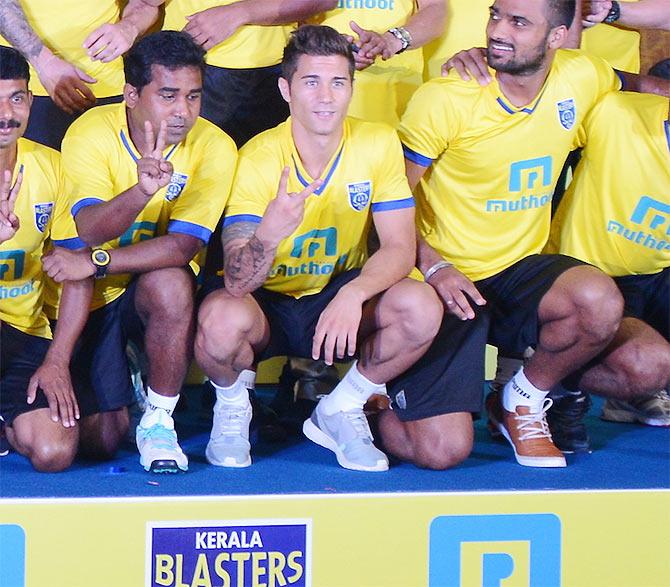 As Kerala Blasters kick-off their ISL campaign against NorthEast United FC in their opener in Kochi on Tuesday, October 6, Spaniard Josue Currais-Preito is looking forward to wow Indian crowds with his technical acumen.
ISL: Sanli's brace takes Pune City past Mumbai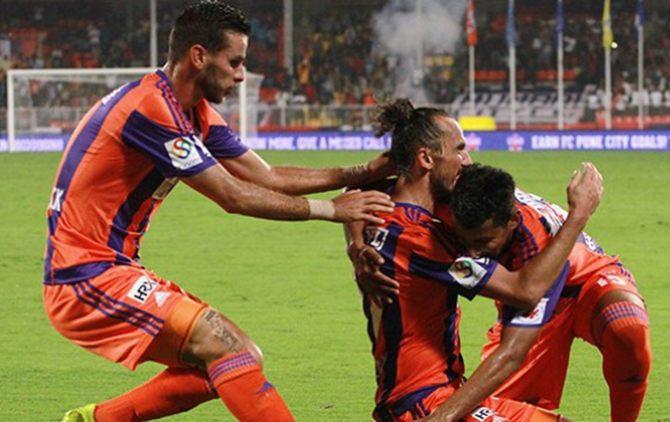 Tuncay Sanli scored twice to guide Pune City FC to a 3-1 victory over Mumbai City FC in their opening game of the Indian Super League season 2 in Pune on Monday.
October 05, 2015
Don't see why Indian athletes can't achieve success at world stage: Coe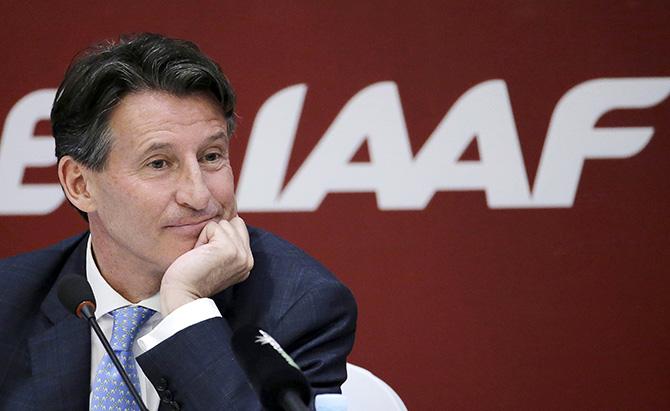 On his first official visit to a member country after assuming office in August, world athletics chief Sebastian Coe urged India to promote track and field at the school level if it wants to excel on the international stage.
Malaysia sanctioned for crowd trouble at World Cup qualifier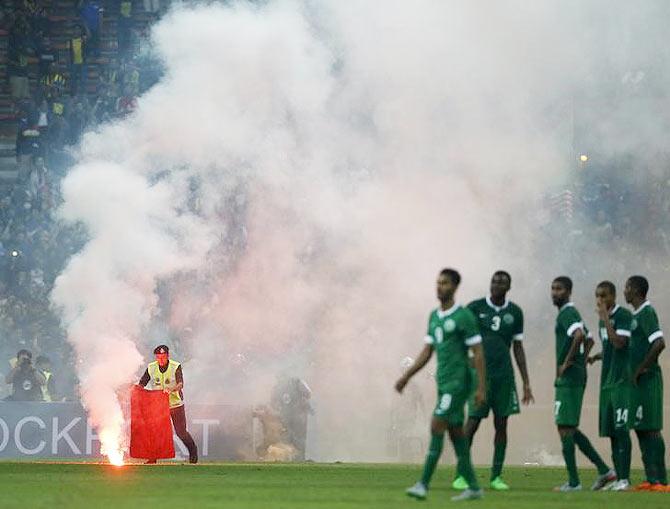 Malaysia have been issued with a formal warning and a raft of other sanctions from soccer's world governing body FIFA after their World Cup qualifier against Saudi Arabia last month was abandoned because of crowd trouble.
'FIFA chief Blatter to quit in February, to publish memoir'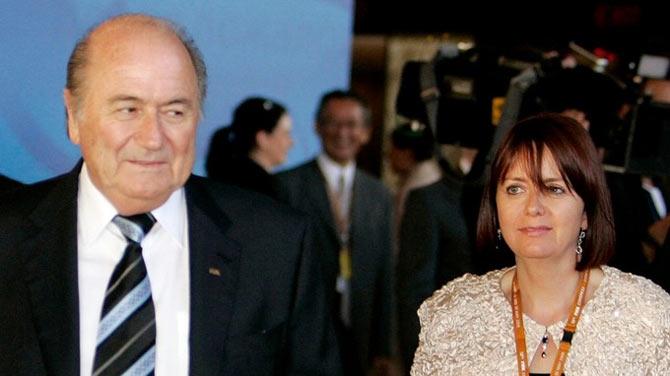 'I know he wants to quit, and he will do it'
Wenger quiets doubters as he celebrates anniversary at Arsenal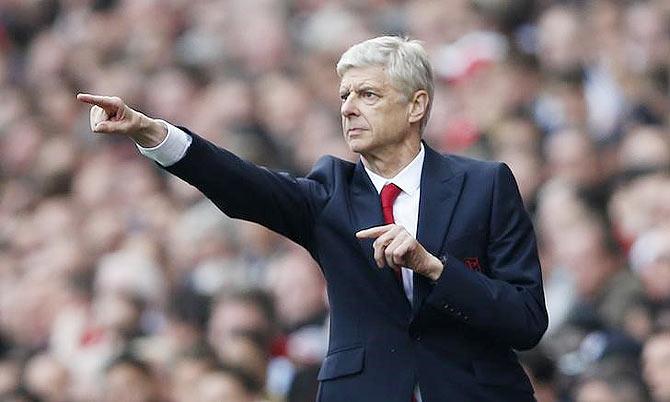 'It gives a strong answer to all the questions that were raised during the week'
PIX: Ibra's PSG record, Bayern's big win decorate Euro weekend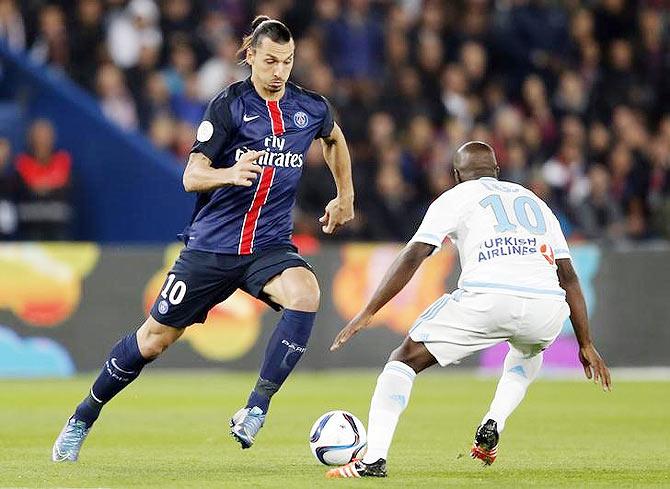 All the latest football news from around Europe.
Amid crisis, Terry backs Mourinho as 'best man for Chelsea'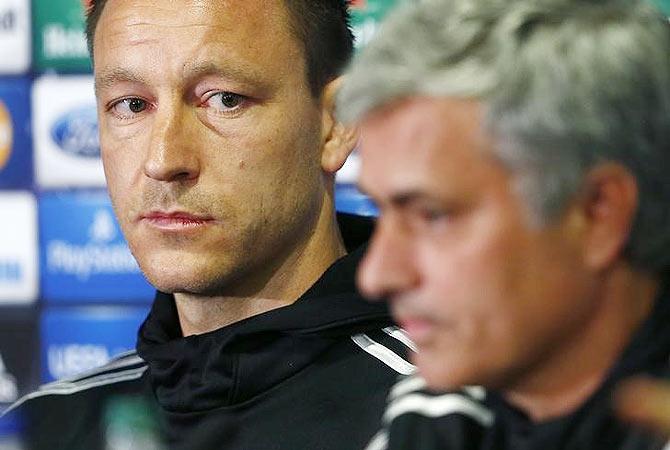 Chelsea captain John Terry has said the players remain behind manager Jose Mourinho and need to rediscover the hunger of old to improve on a dreadful start to their Premier League title defence.
Ronaldo made to wait for record as Atletico's Vietto does rescue act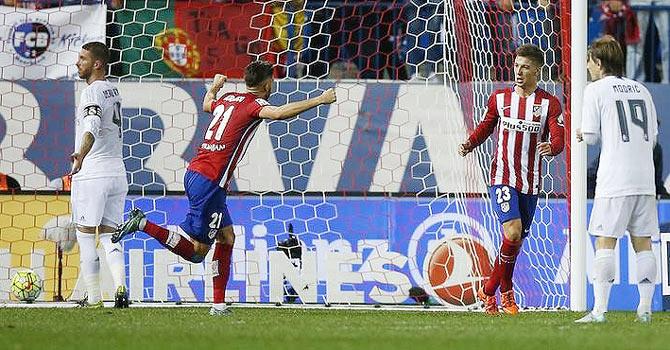 Vietto slotted the ball home with seven minutes to go after Karim Benzema had given visitors Real the lead early on.
'It is not difficult for me to play with quality players like Anelka'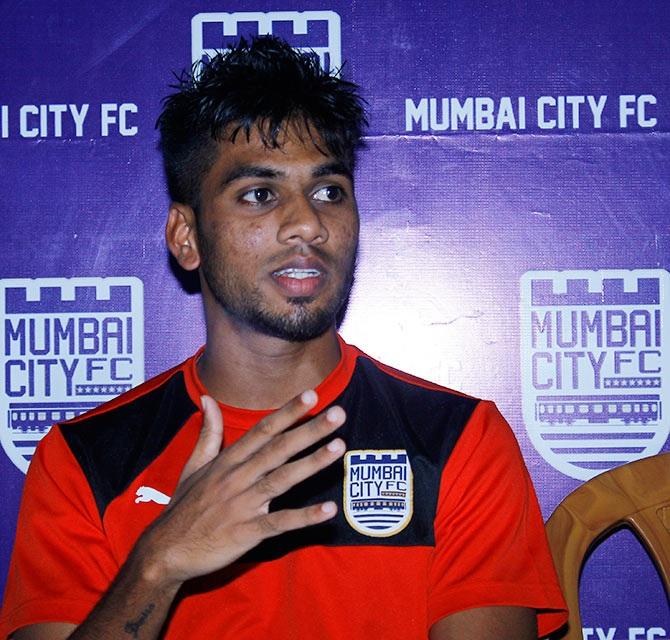 Having missed out in the first season of the ISL, young Brendon Fernandes tells Laxmi Negi/Rediff.com he is determined to prove his worth with MumbaI City FC in Season-2.
October 04, 2015
Liverpool sack Brendan Rodgers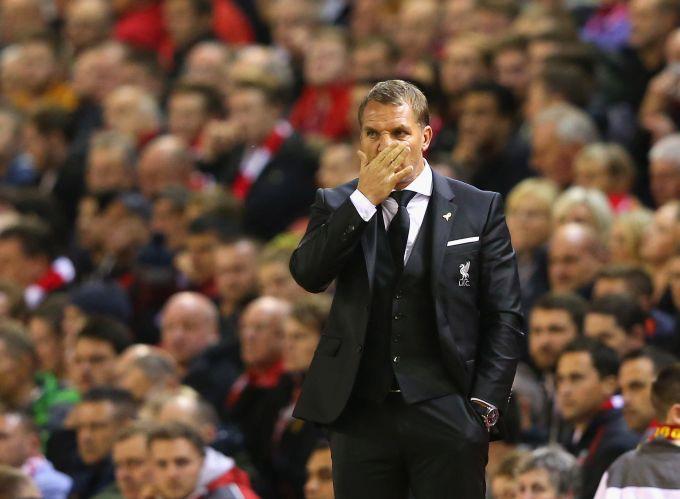 Liverpool's 1-1 draw at Everton could not save manager Brendan Rodgers from the sack.
ISL: FC Goa off to winning start; beat Delhi Dynamos 2-0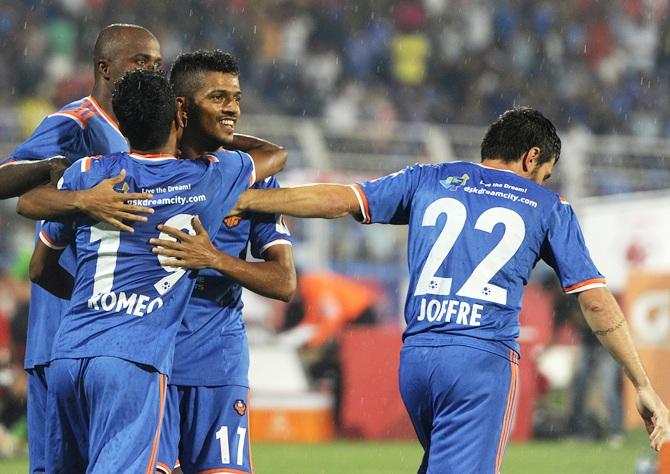 FC Goa started their Indian Super League (ISL) football campaign on a convincing note after dispatching Delhi Dynamos 2-0 at the Nehru Stadium, Fatorda, in Goa, on Sunday.
EPL PHOTOS: 2 goals in 7 minutes! Arsenal crush United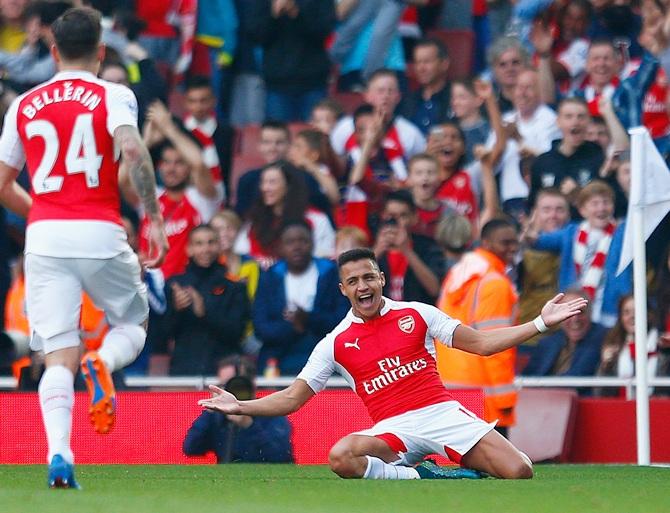 Arsenal scored twice in the opening seven minutes and ended the match as a contest with a third in the 19th as they crushed Manchester United 3-0 to move above them into second place in the Premier League at the Emirates on Sunday.
Advocaat quits as Sunderland manager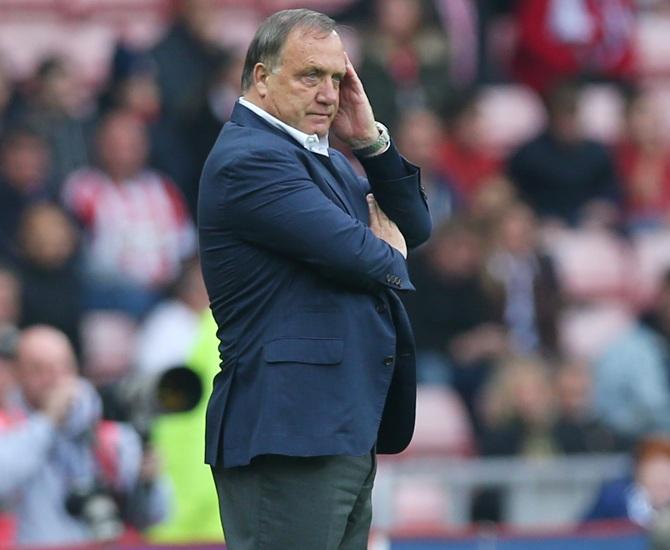 Dick Advocaat has stepped down as manager of Premier League Sunderland after less than seven months in the job, the club said in a statement on Sunday.
Malaysian Open: Ferrer beats Lopez to win title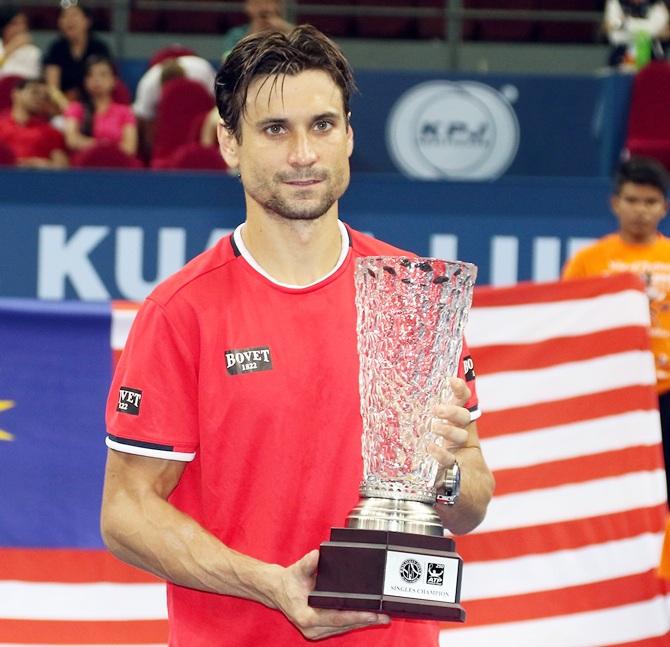 David Ferrer beat his fellow Spaniard Feliciano Lopez 7-5, 7-5 in the final of the Malaysian Open on Sunday to capture the 25th title of his career and his fourth this year.
ISL Opening Ceremony: Aishwarya, Alia steal the show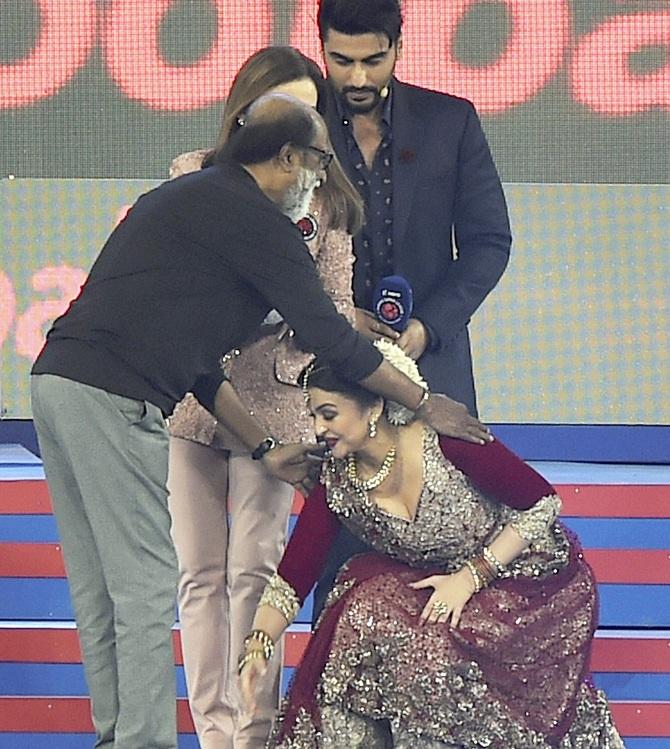 Bollywood stars' Aishwarya Rai Bachchan and Alia Bhatt's breathtaking moves mesmerised the spectators during a short opening ceremony to kick off the second season of Indian Super League (ISL), in Chennai, on Saturday
5 Reasons why Barca's coach is a worried man...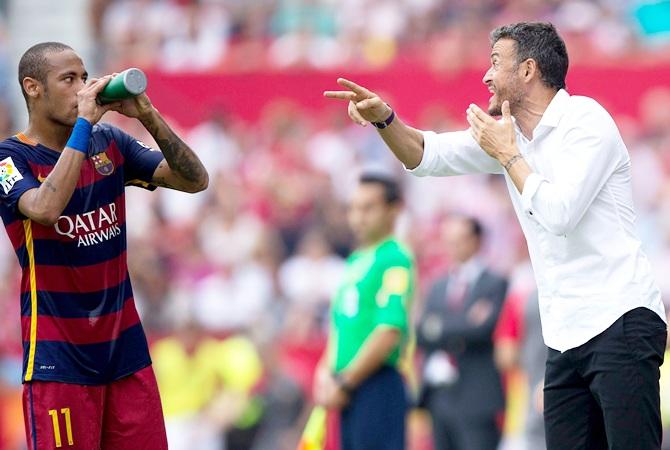 Barca, with Lionel Messi absent through injury, hit the woodwork on four occasions but luck was not on their side as they lost their second consecutive away game following their 4-1 defeat by Celta Vigo.
No way I will resign but Chelsea can sack me, says Mourinho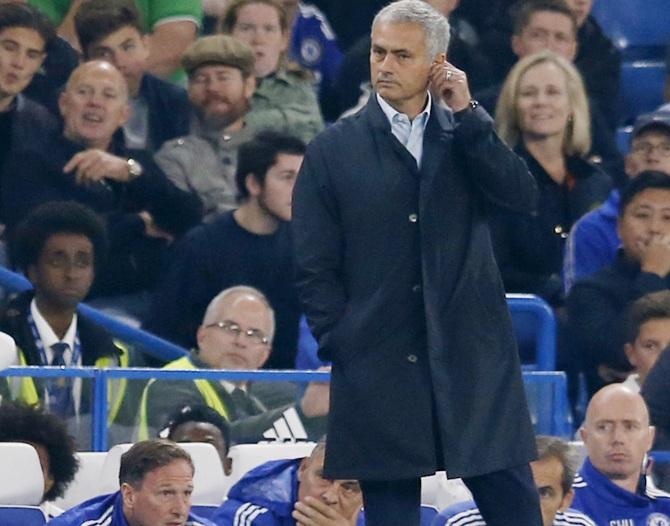 With as much bravado as he could muster, a grim-faced Jose Mourinho said he would not walk out of Chelsea despite his champions suffering their fourth defeat in eight Premier League matches and languishing 16th in the table.
You're not special any more...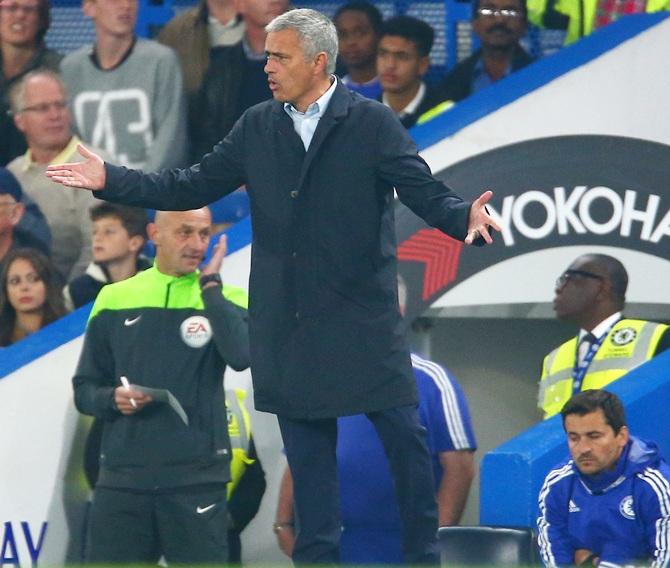 If, as former British Prime Minister Harold Wilson once said, a week is a long time in politics, four and a half months in football clearly represents an eternity.
October 03, 2015
Aguero hits five as Man City crush Newcastle to go top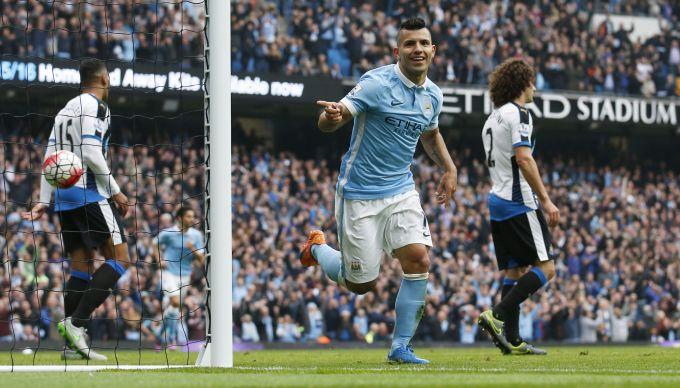 Sergio Aguero scored five times in 20 minutes including an eight-minute hat-trick as Manchester City came from behind to thrash Newcastle United 6-1 and go back to the top of the Premier League table on Saturday.
ISL: Postiga's brace guides Kolkata to thrilling win over Chennaiyin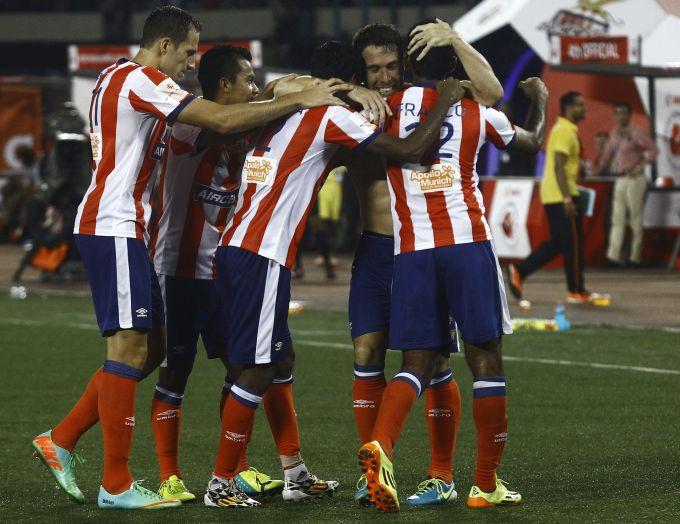 Portuguese striker Helder Postiga scored twice as defending champions Atletico de Kolkata (ATK) started their campaign on a winning note beating Chennaiyin FC 3-2 of the cash-rich Hero Indian Super League (ISL) in Chennai.
Platini called French sports ministry to insist he's clean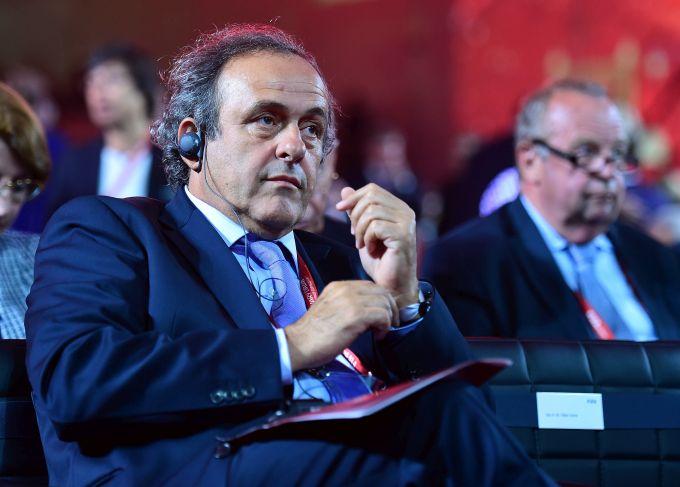 UEFA president Michel Platini, freshly embroiled in the FIFA scandal over a 1.8-million euro payment he received from president Sepp Blatter, called the French sports ministry to insist he had done nothing wrong.
India beat second-string New Zealand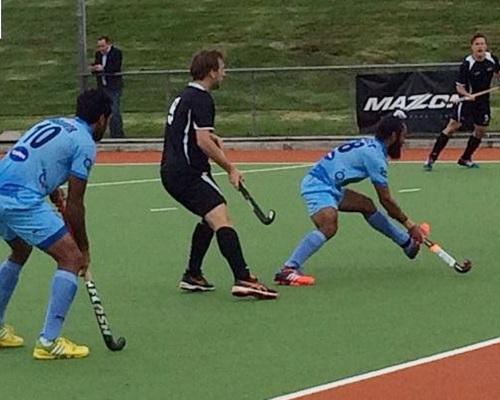 Riding on forward SK Uthappa's twin strike, the Indian men's hockey team posted yet another win against New Zealand 'A' in the second game of the Kiwi tour, in Auckland, on Saturday.
Venus Williams wins Wuhan Open title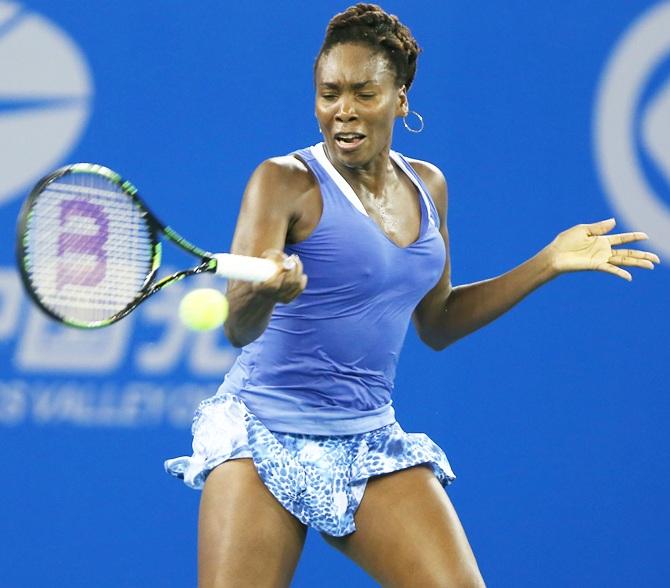 Venus Williams captured her 47th WTA career title on Saturday, and her biggest in five years, when she won the Wuhan Open in China, beating Wimbledon runner-up Garbine Muguruza.
Meet Real Madrid's all-time leading goalscorer...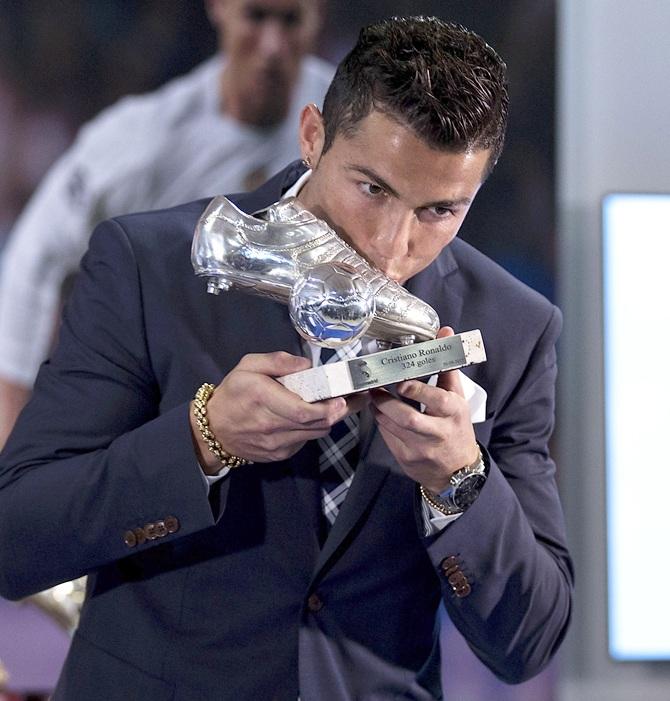 Real Madrid paid homage to Cristiano Ronaldo as their outright leading scorer on Friday even though the official statistics show he has yet to overhaul former Spain striker Raul.
Here's why Neymar will be missing from Brazil qualifiers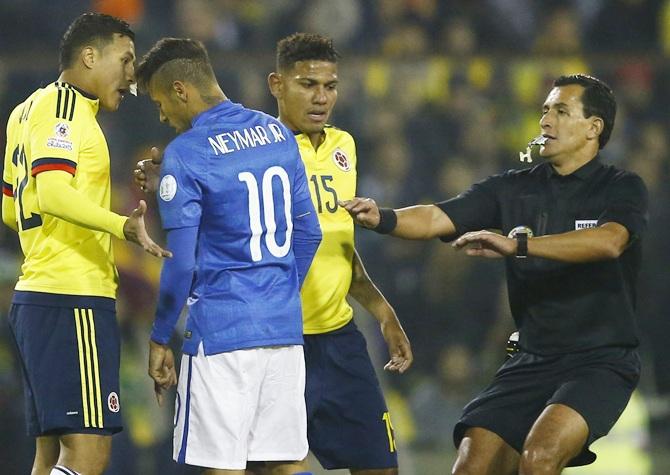 Brazil's appeal against Neymar missing their first two South American 2018 World Cup qualifiers this month has been turned down, the Court of Arbitration for Sport (CAS) said on Friday.
Aishwarya, Rehman to perform at ISL 2 opening ceremony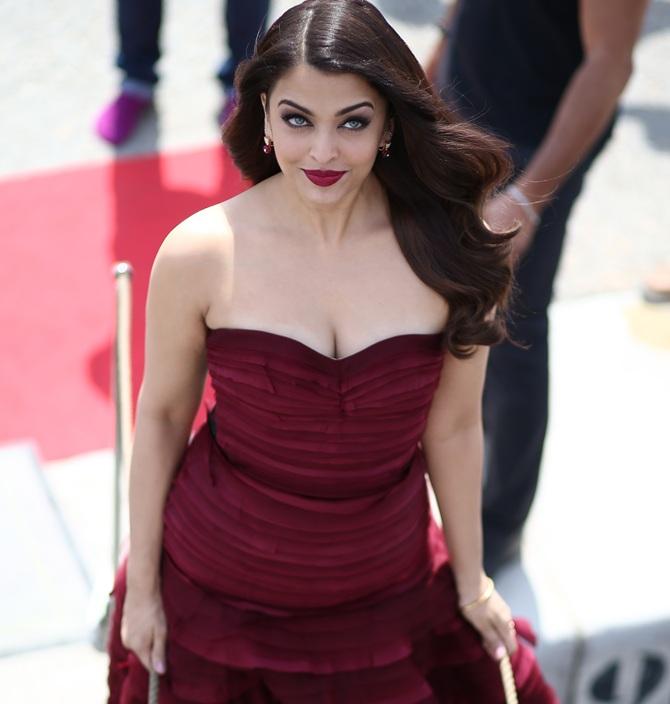 As the country gears up for two-month long football extravaganza, second edition of the Hero Indian Super League, a colourful ceremony will flag off the first match between the defending champions, Atletico de Kolkata and the home team Chennaiyin FC, at the Jawaharlal Nehru Stadium, in Chennai, on Saturday.
Wuhan Open: Sensational Sania and Hingis lift women's doubles title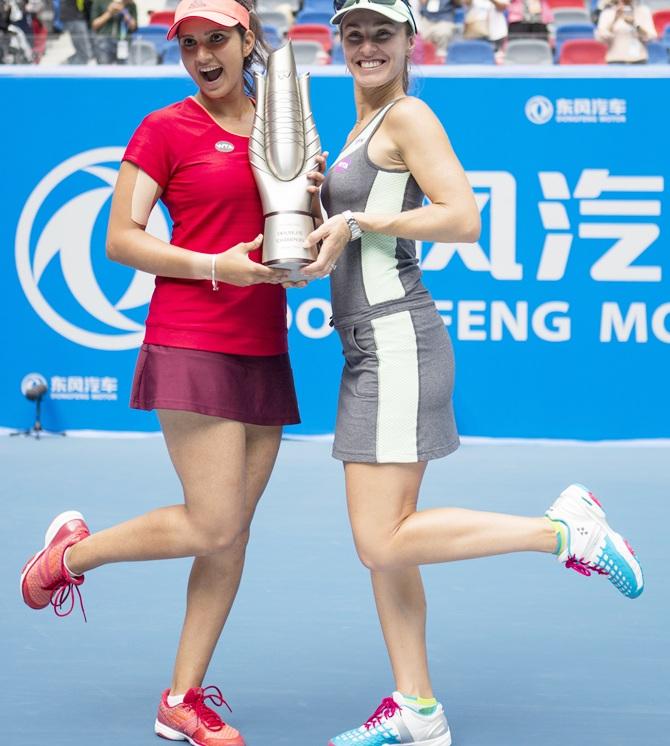 Wuhan
Is this the worst period of Mourinho's career? Tell us!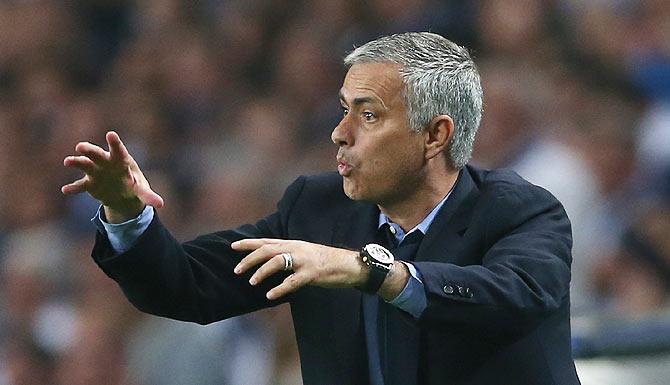 Jose Mourinho says he is going through the worst period of his managerial career.
Major sponsors call for FIFA's Blatter to resign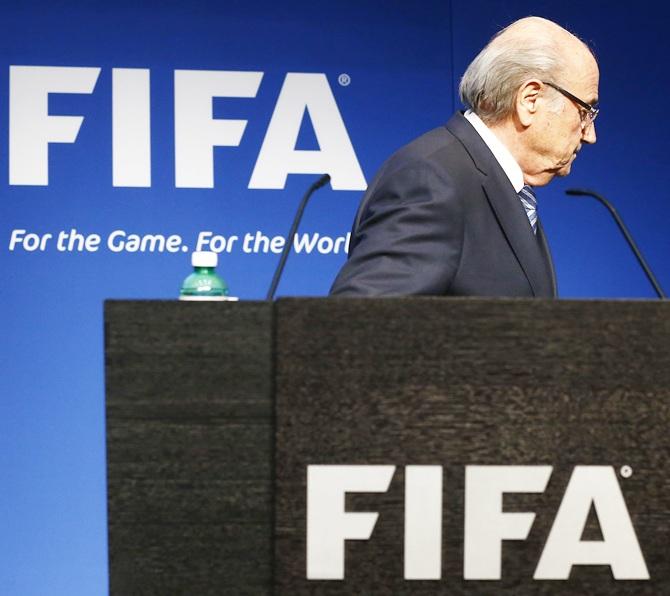 Major football sponsors on Friday issued coordinated calls for the immediate resignation of FIFA president Sepp Blatter in the most significant move by companies supporting the sport since a bribery and corruption scandal erupted at world football's governing body last May.
October 02, 2015
Muguruza to meet Venus in Wuhan final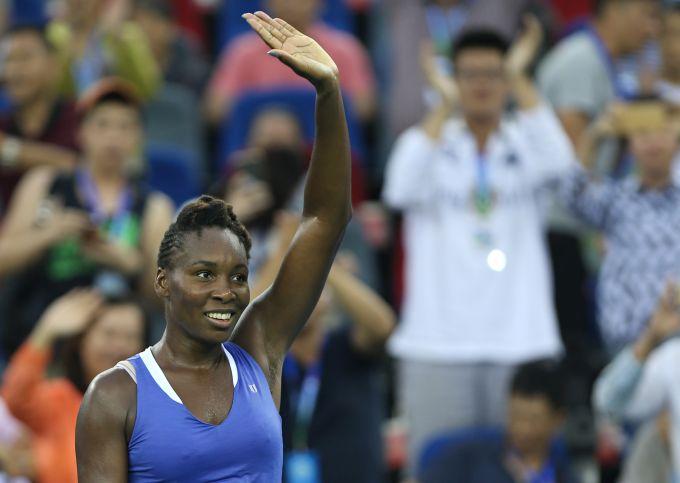 Former world number one Venus Williams salvaged a small bit of family pride when she fought back from a set down to see off Italy's Roberto Vinci 5-7, 6-2, 7-6(4)and reach the final of the Wuhan Open on Friday.
PHOTOS: Nadal and Djokovic go sightseeing in Bangkok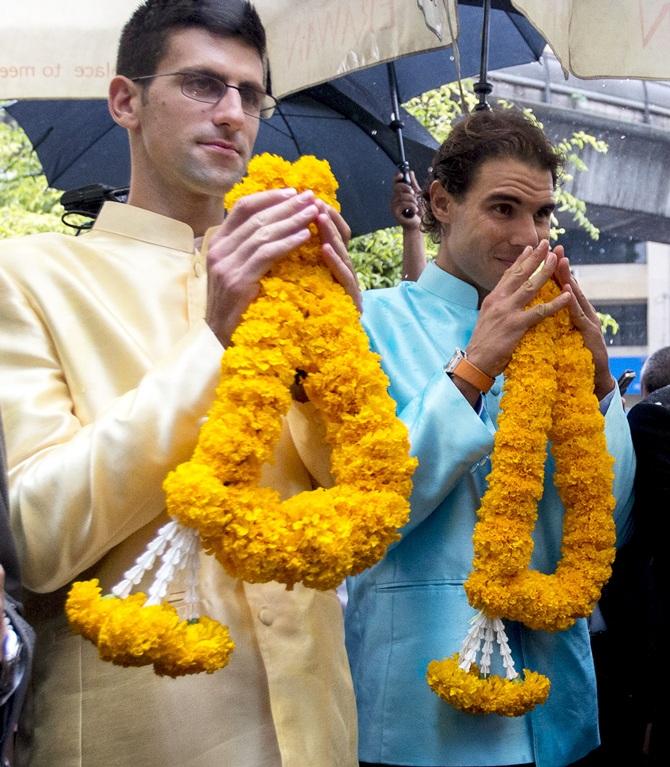 Tennis titans Rafael Nadal and Novak Djokovic met with Thai Prime Minister Prayuth Chan-ocha on Friday and visited the site of a deadly Bangkok bomb blast.
Chennaiyin FC eyeing home advantage against ATK in ISL opener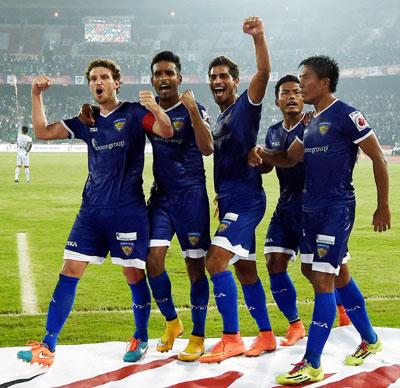 Defending champions Atletico de Kolkata (ATK) will kick off their Indian Super League campaign against a formidable Chennaiyin FC coached by World Cup champion Marco Materazzi on Saturday.
Tracing Indian golfing ace Lahiri's phenomenal rise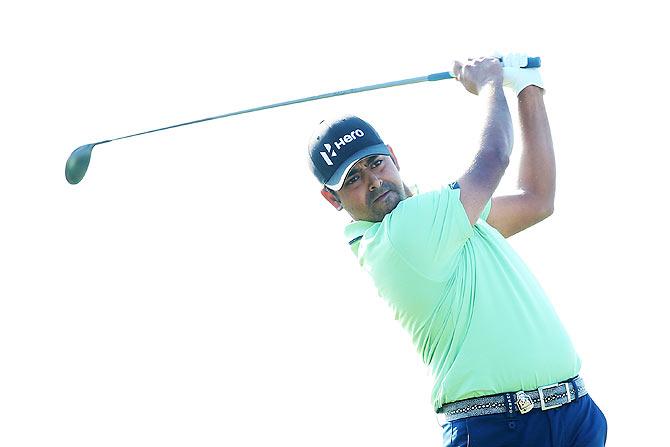 The first Indian to compete at the prestigious Presidents Cup in Korea next week, Anirban Lahiri on how he realised his dreams which got ignited only last year.
Shocking! Special athletes ill-treated!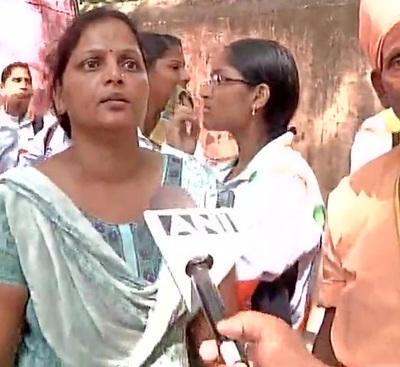 In yet another case of apathy towards athletes, members of the Indian team bound for the Asia Pacific Deaf Games (APDG) were forced to sleep on pavements in their wait for visa ahead of the competition beginning in Taoyuan, Chinese Taipei on Saturday.
Dunhill Links Championship: Disappointing start for Indian trio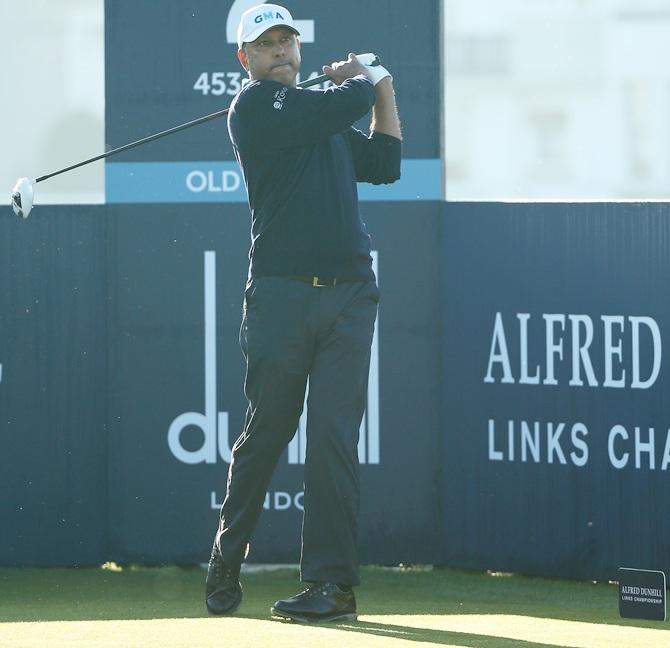 It was a very disappointing start for the Indian trio of Shiv Kapur, Jeev Milkha Singh and SSP Chowrasia at the Alfred Dunhill Links Championship in Scotland.
Here's what threatens the Singapore World Cup meet...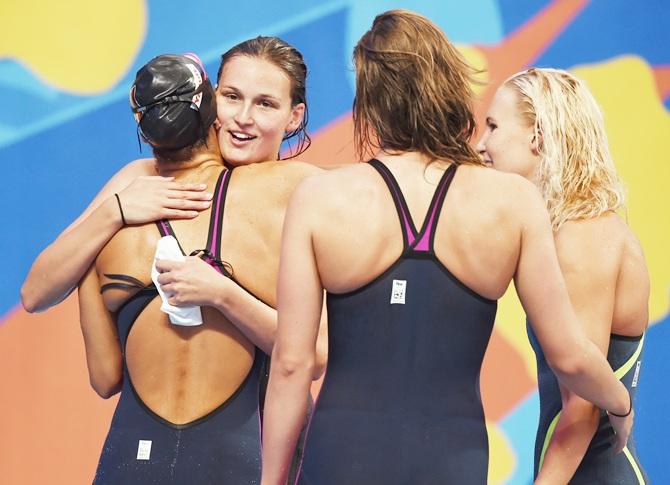 The thick haze that has blanketed parts of Southeast Asia is threatening to disrupt this weekend's World Cup swimming meet in Singapore, with officials considering cancelling the two-day event if the air quality worsens further.
Eight players of Iran's women's football team are 'MEN'!!!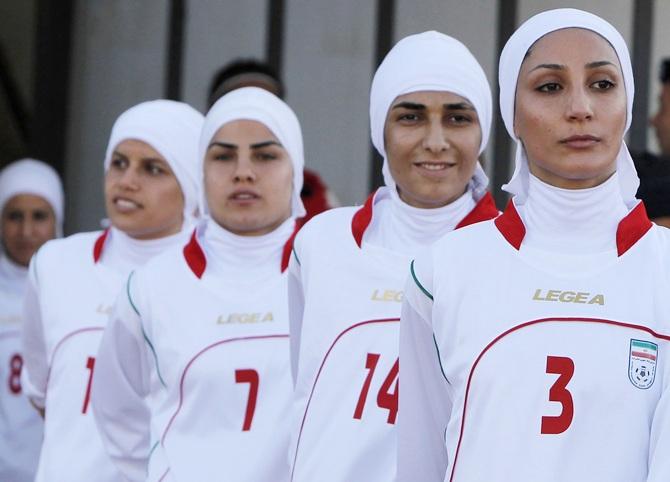 Eight players of Iran's women's national football team are apparently men
Wuhan Open: Sania-Hingis storm into doubles final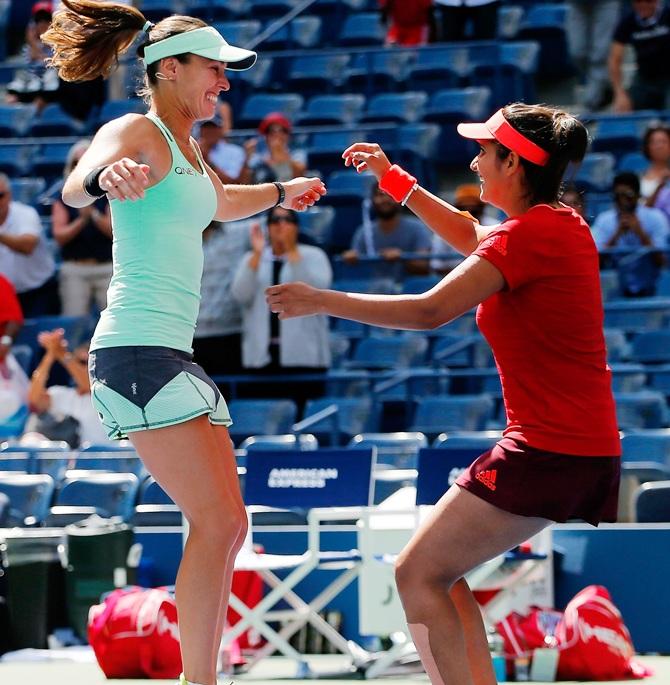 The Indo-Swiss duo of Sania Mirza and Martina Hingis reached the final of Wuhan Open tennis tournament and is eyeing their seventh title together.
'Mourinho should have apologised...'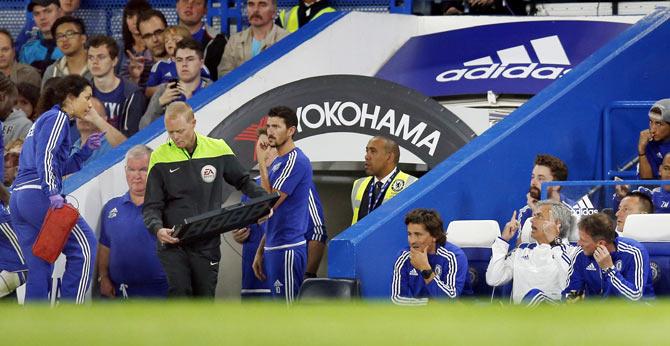 Chelsea manager Jose Mourinho should have apologised to former team doctor Eva Carneiro for his criticism of her, Football Association chairman Greg Dyke has said.
Europa League: Super-sub El Shaarawy makes a point for Monaco against Spurs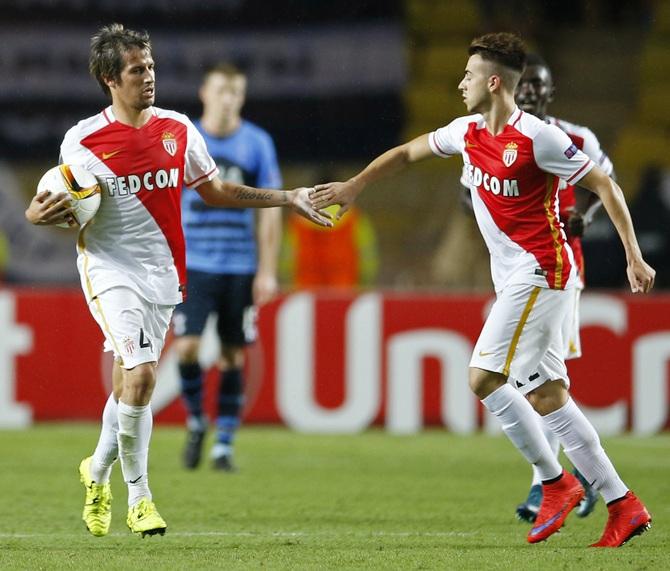 Stephan El Shaarawy took a small step towards refuelling his career at Monaco when the AC Milan loanee came off the bench to rescue a late 1-1 draw against Tottenham Hotspur in the Europa League's second round of group matches on Thursday.
Hodgson uncertain of Rooney's England future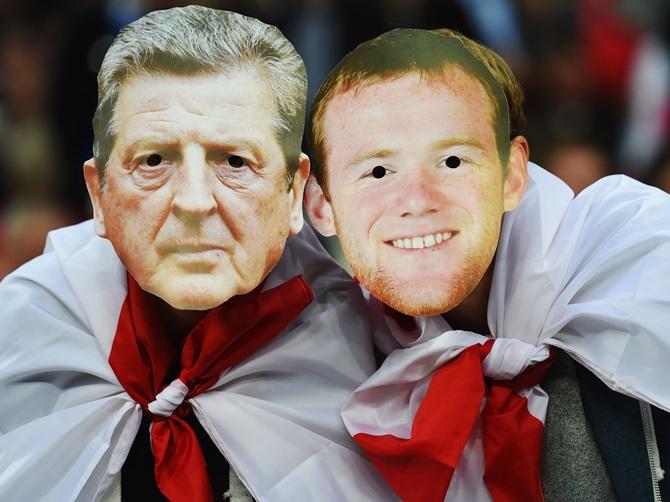 England coach Roy Hodgson can give Wayne Rooney 'no guarantees' that he will always pick him for the national team and said the current crop of forwards he has to choose from is the best he has seen during his tenure.
October 01, 2015
Mascherano to appear in court on tax fraud charges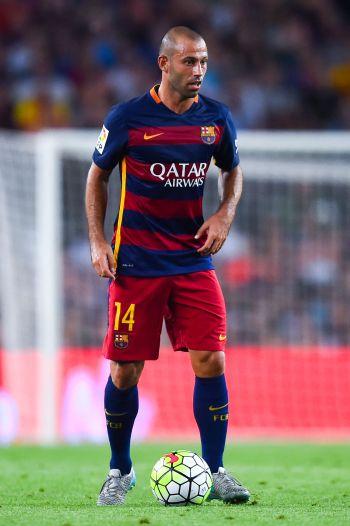 Barcelona's Argentina international Javier Mascherano has been ordered to appear in court on October 29 to answer charges of two counts of defrauding the Spanish tax authorities of a total of more than 1.5 million euros ($1.67 million).
Venus ends Briton's run, Muguruza powers on in China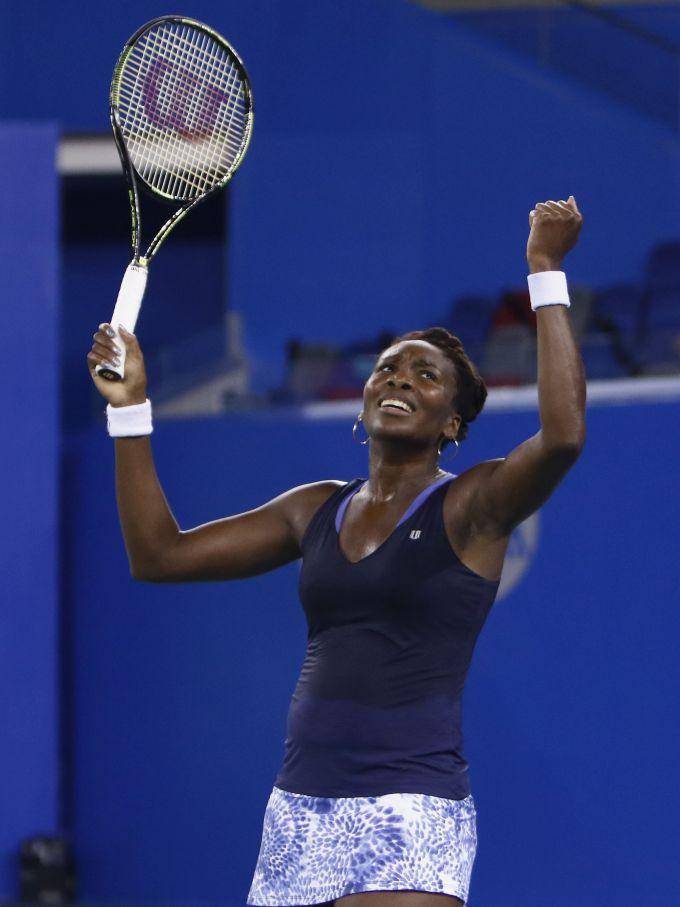 Grand Slam finalists Garbine Muguruza and Roberta Vinci stormed into the last four of the Wuhan Open in China on Thursday while Venus Williams ended the giant-killing run of Briton Johanna Konta.
FA allows Mourinho to go scot-free over spat with team doctor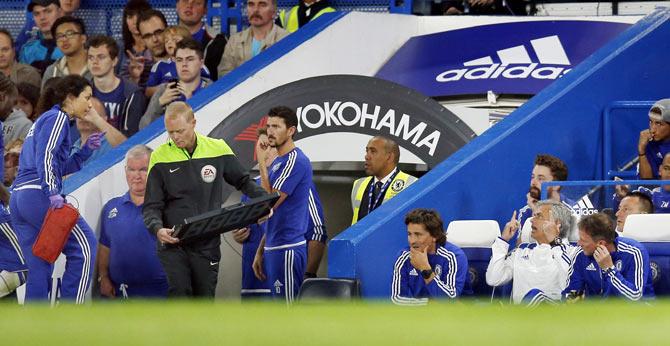 "After receiving the report from the expert, The FA is satisfied that the words used do not constitute discriminatory language under FA Rules," the FA said in a statement.
Serena pulls out of WTA finals citing injury issues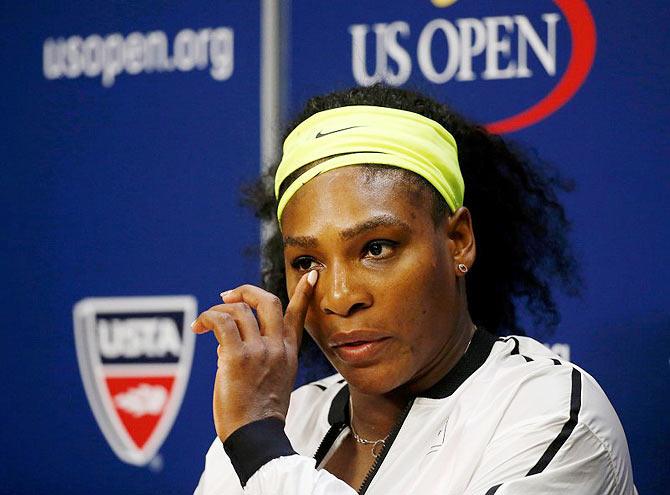 'I've played injured most of the year -- whether it was my elbow, my knee, or in the finals moments after a certain match in Flushing, my heart'
NASCAR champ Stewart to retire after 2016 season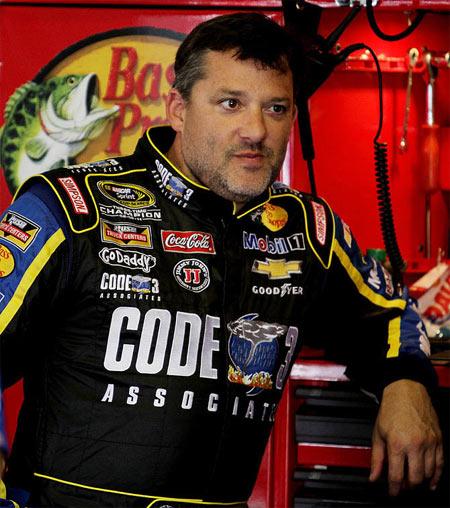 Tony Stewart, one of auto racing's biggest names, announced on Wednesday he would retire from NASCAR driving after the 2016 season, saying: "Deep down you know when it's time to do something different."
McLaren's Button quashes retirement rumours, set to race in 2016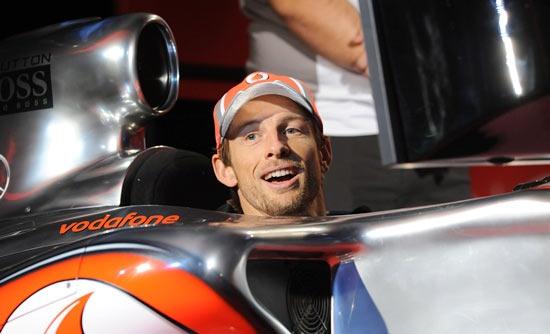 Button said he was confident the team would overcome its "current difficulties" to achieve great successes in the future.
Miami police drop charges against Tomic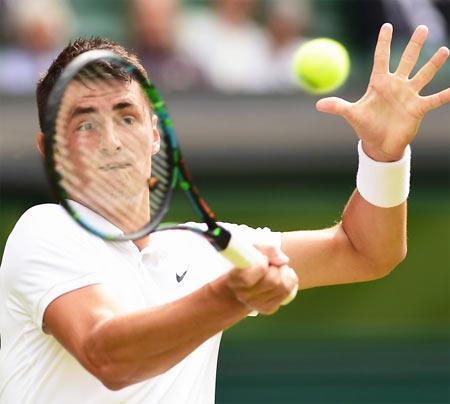 Tomic's lawyer told Australian Associated Press that prosecutors had dropped the case over inconsistencies in reports lodged by hotel security and police.
Goalie Sreejesh gets confidence lift after training under Staniforth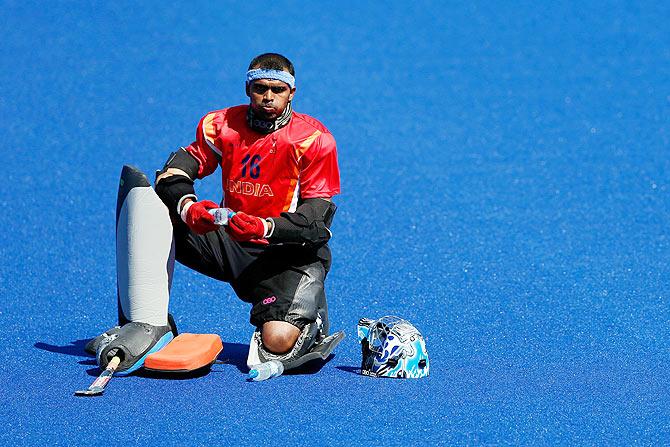 The Indian men's hockey team has started their training session in Auckland for the upcoming series, which commences on October 2. The series is in preparation for the Hero Hockey World League Final 2015.
How 'mythical and legendary' Ronaldo scripted history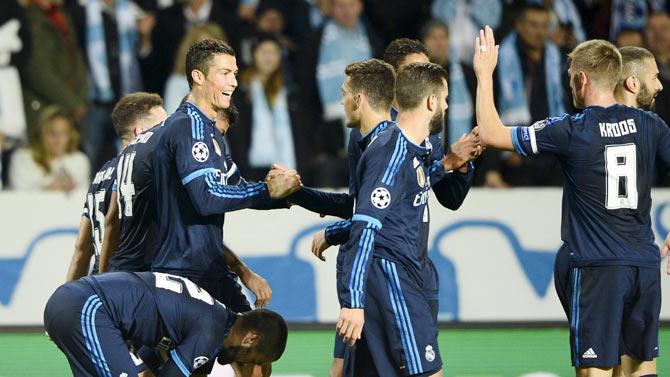 'What he has done in half as many matches as Raul is incredible'
Champions League PIX: A special night of records and own-goals!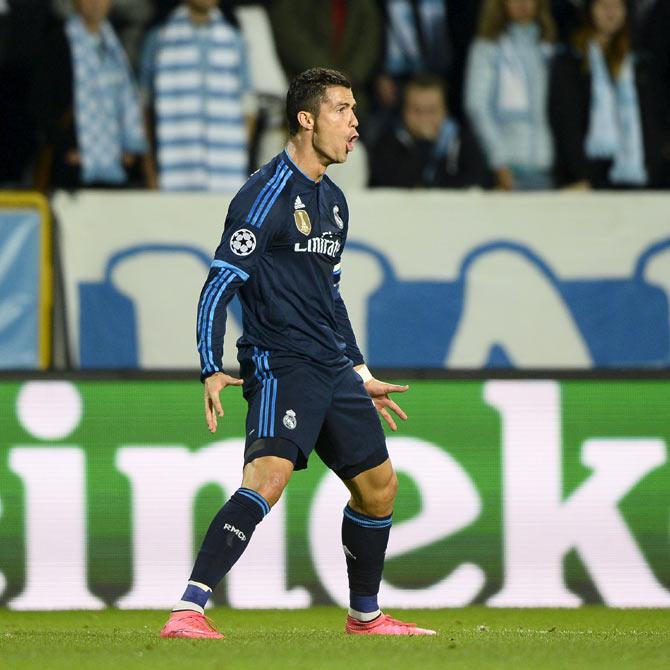 Ronaldo equals Raul Real Madrid record while Morata emulates Del Piero after scoring in five consecutive matches
Champions League PHOTOS: Manchester clubs record hard-fought victories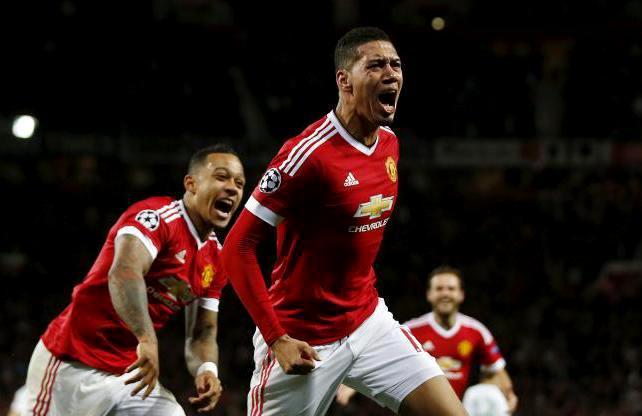 Photos from the Champions League matches played on Wednesday.
September 30, 2015
'People don't come to see a game where the teams play for a tie'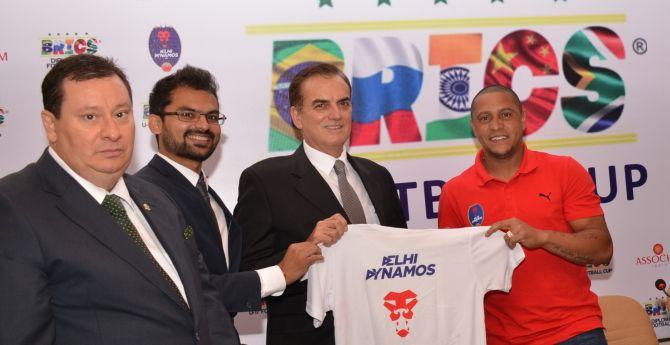 They may have had a poor outing in the inaugural season of the Indian Super League, but ask Delhi Dynamos' manager-cum-player and he would tell you that he is here to win the trophy for the team.
Heena shoots gold as India finish off on a high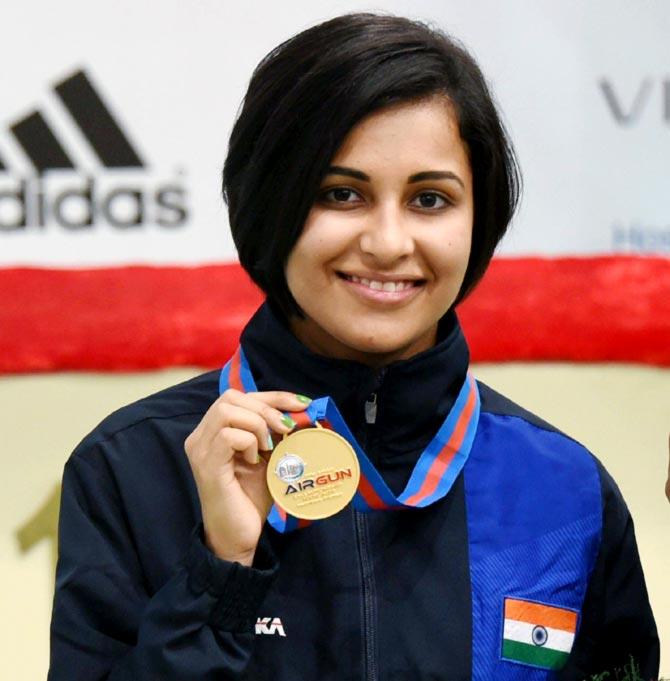 Former World No. 1 Heena Sidhu sizzled on the final day as she clinched the gold medal in the women's 10m air pistol to cap off India's campaign at the 8th Asian Air Gun Championship on a winning note in New Delhi, on Wednesday.
PHOTOS: Face frames of the 'Special One'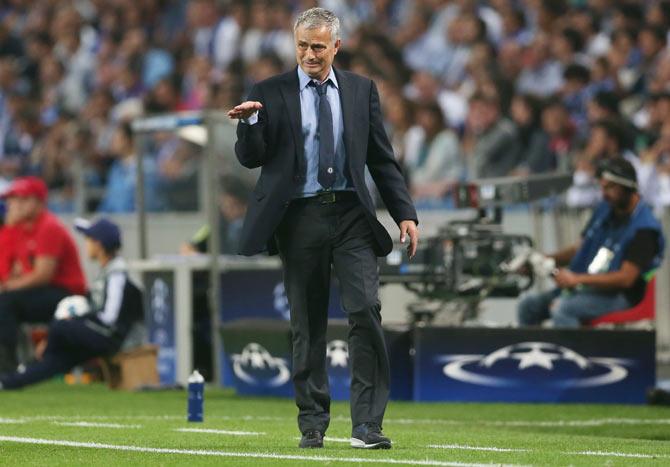 But Mourinho grabbed the attention of photographers on the sideline as his frustration at his team's showing forced a range facial expressions that would give 'Mr Bean' serious competition.
As ban ends... Sarita says she's now 'a better, thinking boxer'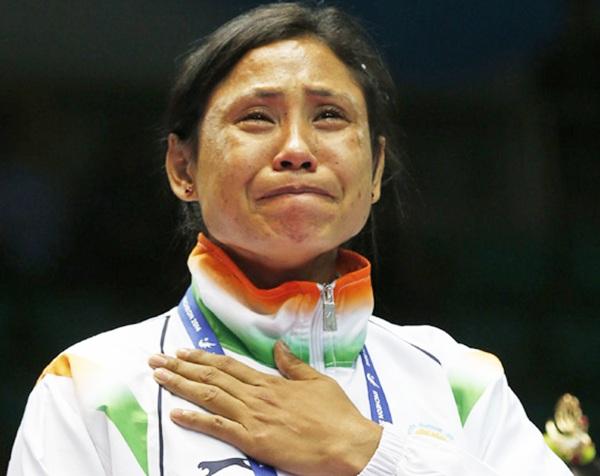 As the one-year ban for the tearful outburst at the Asian Games ends on Thursday, former World champion Laishram Sarita Devi says the forced sabbatical proved a blessing in disguise and helped her become a thinking boxer and calmer person.
Blatter still wants to be in office!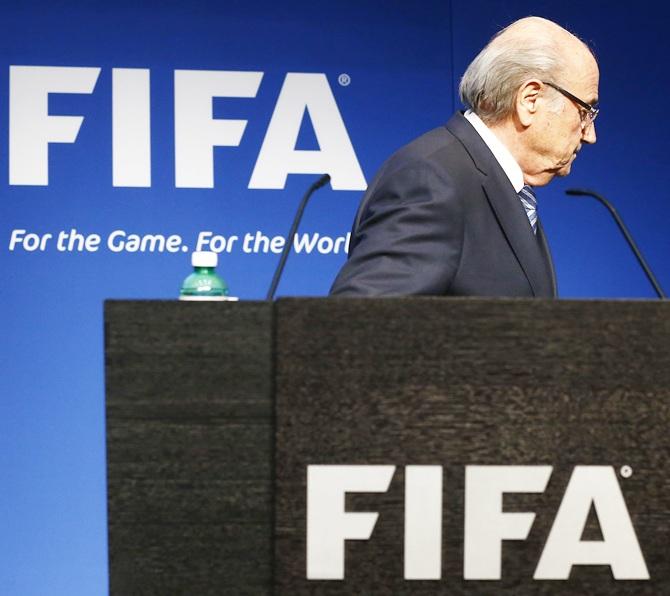 Sepp Blatter has not ruled out trying to stay on as FIFA's president beyond February's scheduled election, despite facing a criminal investigation and a possible internal ethics probe.
Fifa staff will not be used for Blatter's defense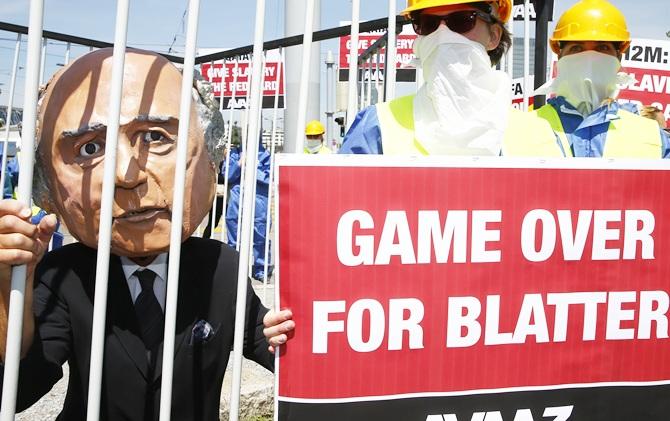 FIFA President Sepp Blatter has agreed with the organization's lawyers that he will not use official FIFA platforms or personnel to issue statements in his defense in response to an investigation by Swiss prosecutors, two sources close to the matter said.
'Two ridiculous mistakes' that cost Chelsea the game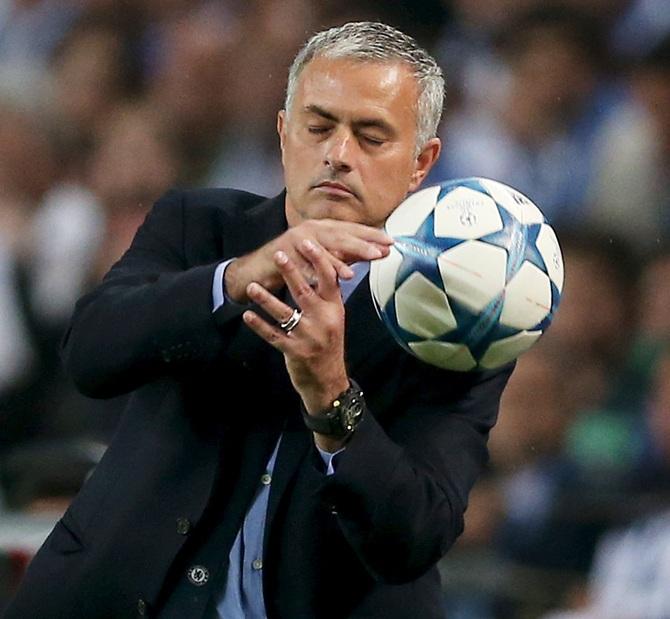 Jose Mourinho lamented Chelsea's defending from set-pieces but was otherwise satisfied with his team's display after they suffered a fifth defeat of the season on Tuesday, 2-1 at Porto in the Champions League.
At last! Official behind the goal takes centre stage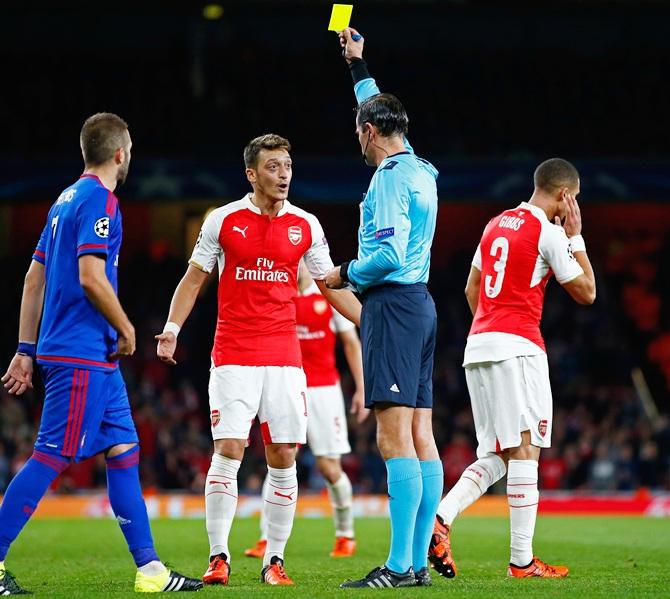 Ever since they were introduced by UEFA in 2012, fans all over Europe have been asking the same question: what does the official behind the goal do?
Champions League PHOTOS: Porto sink Chelsea; Arsenal lose again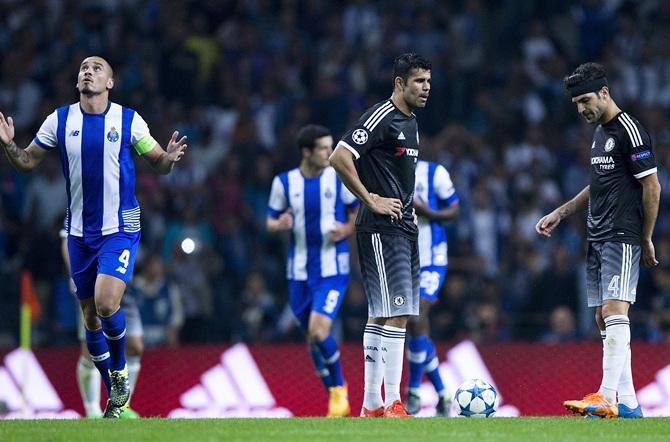 Jose Mourinho suffered a nightmare homecoming as Porto, the club he led to the Champions League title in 2004, inflicted a 2-1 defeat on his woefully out-of-sorts Chelsea side in Group G on Tuesday.
Champions League PIX: Sergi, Suarez rescue Barca; Bayern thrash Dinamo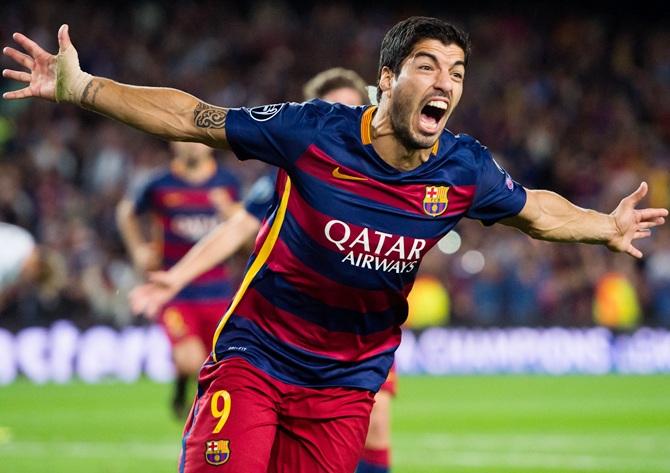 Two late goals in two minutes from Sergi Roberto and Luis Suarez gave European champions Barcelona a dramatic 2-1 win over Bayer Leverkusen in the Champions League on Tuesday.
September 29, 2015
Gurpreet, Rai stunned by Iran's Safari at Asian Air Gun Championship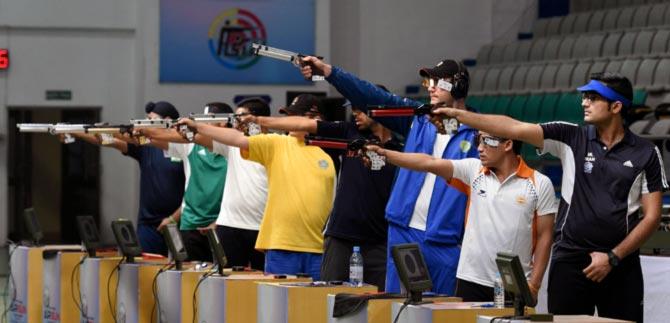 Iran's Sepehr Boroujeni Safari emerged as the surprise gold medal winner ahead of the Indian fancied duo of Gurpreet Singh and Jitu Rai, who settled for silver and bronze respectively in the men's 10m air pistol event at the 8th Asian Air Gun Championship in New Delhi, on Tuesday.
Sauber, Force India lodge complaints against Formula One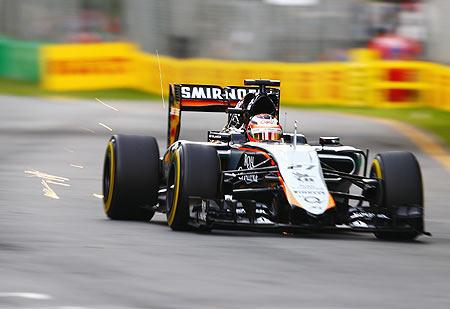 Second-tier Formula One teams Sauber and Force India lodged official complaints with the EU's competition regulator, alleging that the sport's governing body mismanages prize money.
Former FIFA vice-president Warner gets life ban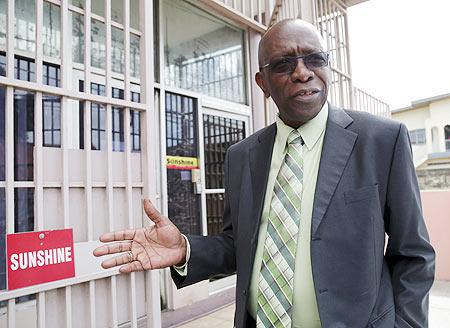 "He was found to have committed many and various acts of misconduct continuously and repeatedly during his time as an official in different high-ranking and influential positions at FIFA and CONCACAF"
EPL PHOTOS: Lively Lukaku sparks Everton comeback at West Brom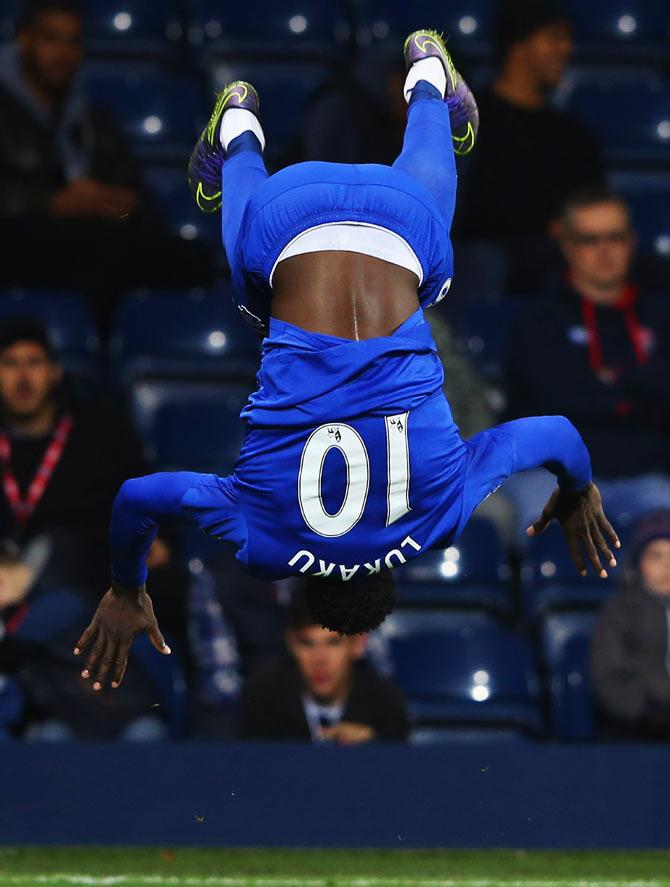 Everton now go to up to fifth in the table with 12 points from seven games
When football ref pulled a GUN on the pitch!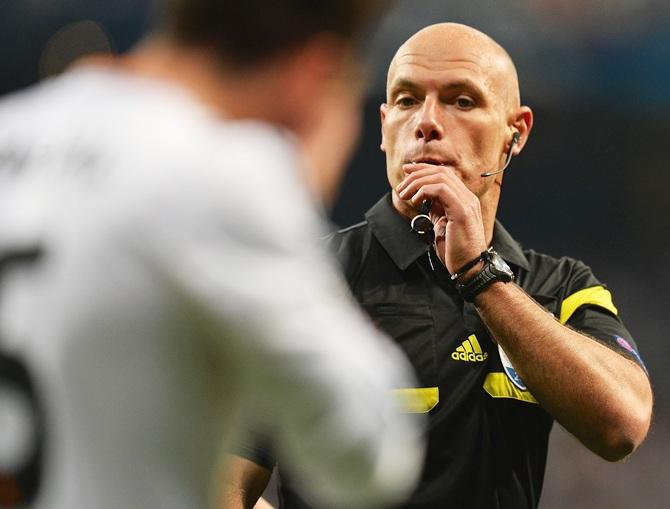 A lower-league match in Brazil turned bizarre when a referee pulled out a gun and pointed it towards players after tempers boiled over.
Can Pune FC stint enhance Romanian Mutu's chances for national recall?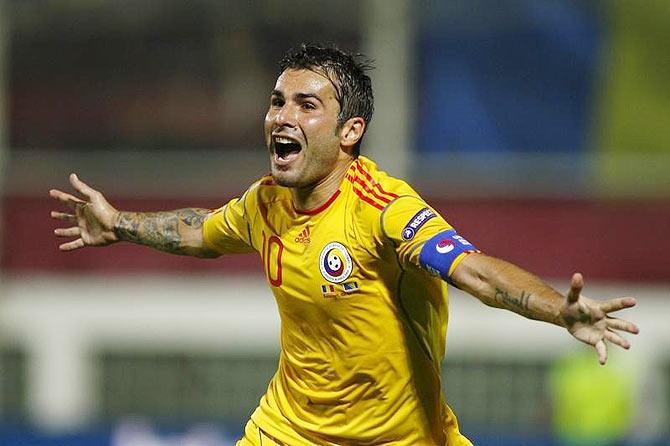 'He has told me that if I continue playing football even after ISL, then he will consider me for the European Championship next year'
Rooney reveals he's a poet, his 'transfer request' and more...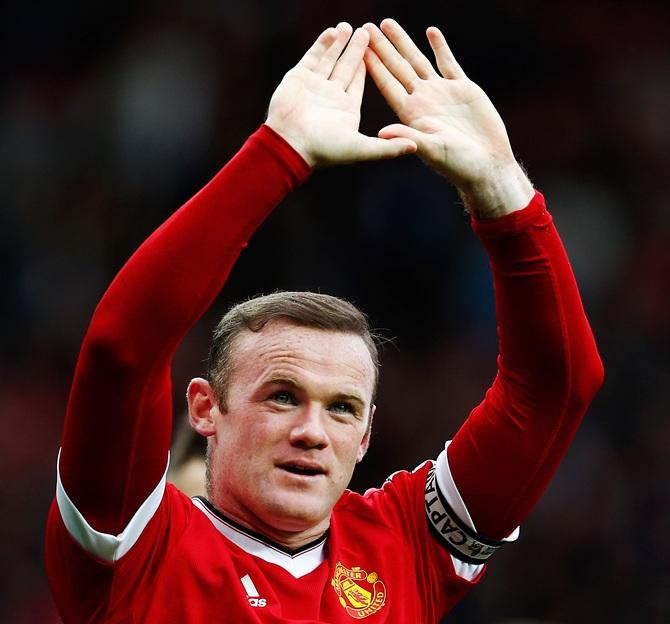 England captain Wayne Rooney has opened up about his clashes with Manchester United manager Alex Ferguson, how having children calmed him down and why he should not have gone to the 2006 World Cup for a new BBC television film.
Meet Manchester United's next big player!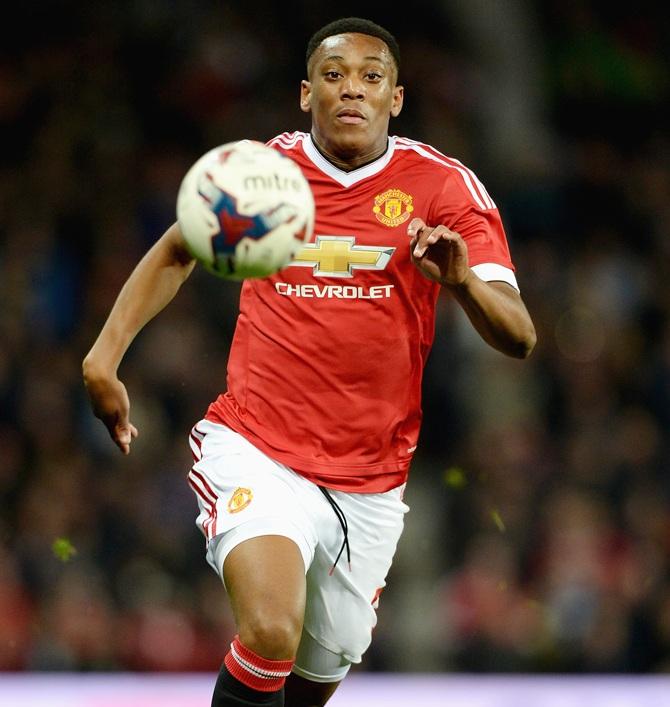 Having set one record as football's most expensive teenager, Manchester United's recent signing Anthony Martial has another one in sight.
'Vettel needs lottery winners' luck to win F1 championship'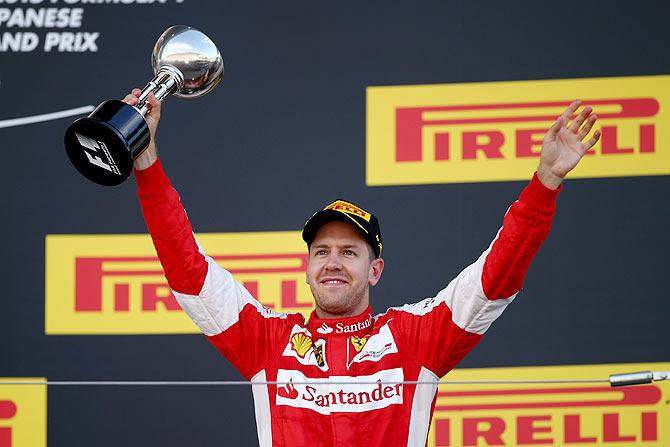 'The chance is there -- and what kind of racing driver would I be if I stopped believing?'
Sharapova not bogged down by latest injury
Maria Sharapova's return from injury after an almost three-month break was cut short on Monday after the world number three suffered an arm injury at the Wuhan Open in China.
'I know what you're going to ask,' Mourinho snaps at reporter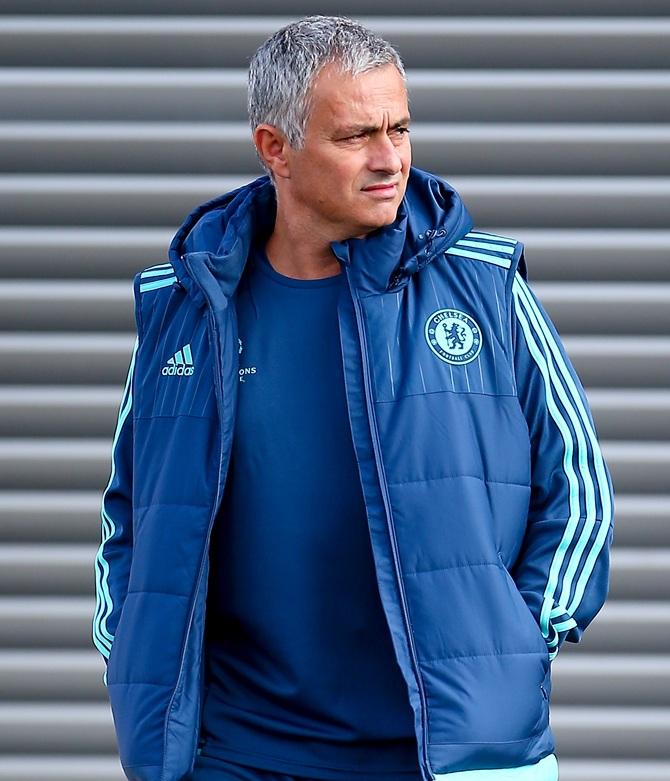 Chelsea manager Jose Mourinho refused to be drawn on Porto goalkeeper Iker Casillas, a player he had a strained relationship with during their time together at Real Madrid.
Mourinho complains again! Says there is a 'witch-hunt' against Costa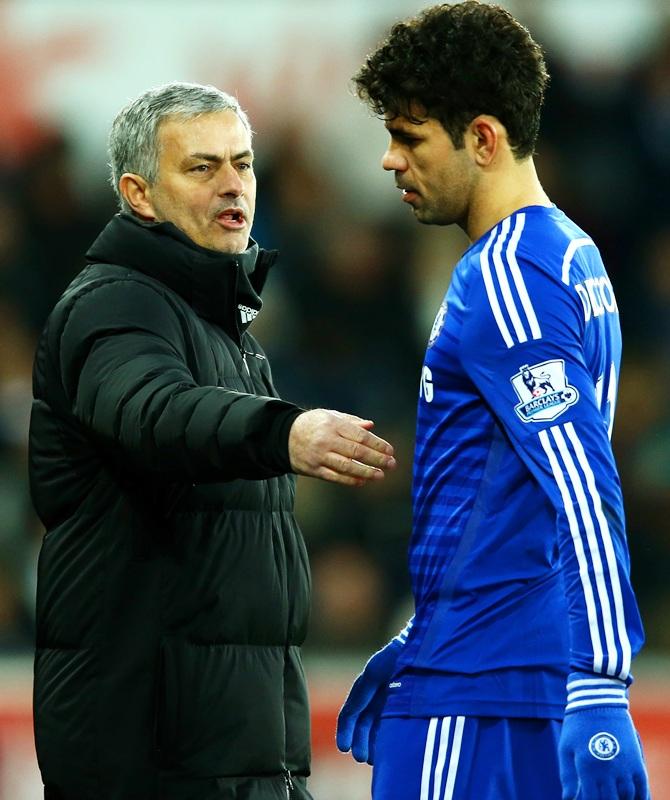 Chelsea manager Jose Mourinho complained about a 'witch-hunt' by the footballing authorities against Diego Costa ahead of Tuesday's Champions League Group G match at Porto.
Champions League Preview: Shoestring Swedes hope to upset mighty Madrid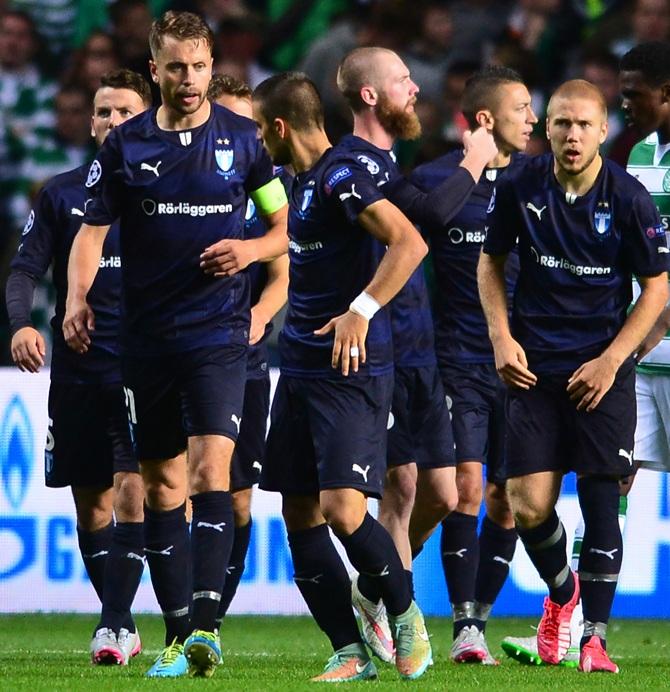 When Swedish champions Malmo take on mighty Real Madrid on Wednesday they do so knowing they would probably have to sell their entire squad just to be able to afford a single player from the bench of the Spanish giants.
Extreme sports star dies in skydiving accident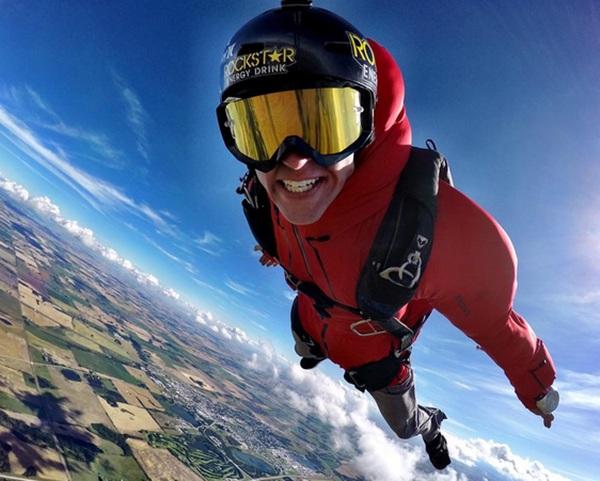 Extreme sports performer Erik Roner died in a skydiving accident near Lake Tahoe, California, on Monday after he struck a tree, authorities said.
Champions League: United banking on 'Martial arts' against Wolves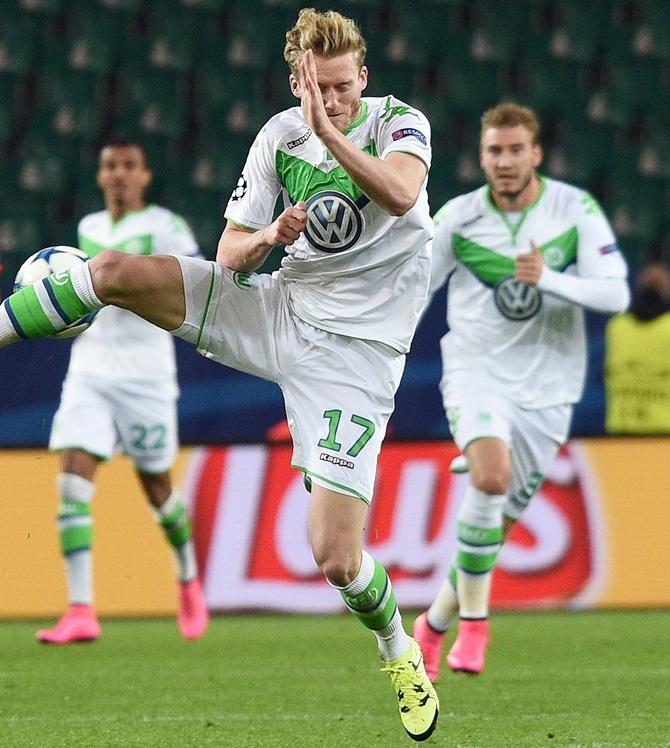 Wounded VfL Wolfsburg, who drew 1-1 with Hanover 96 on Saturday after being crushed 5-1 by Bayern Munich last week, will meet Manchester United in Wednesday's Champions League game.
10 Reasons why Michel Platini is sidelined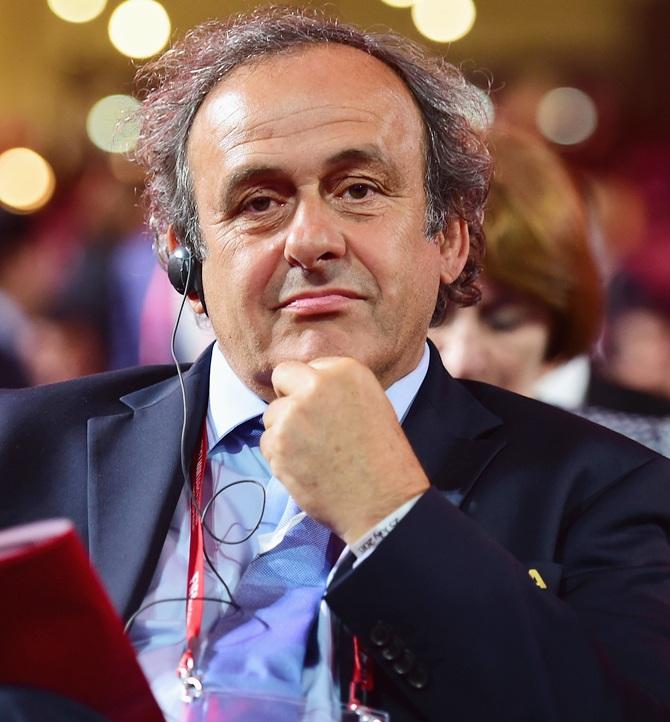 Favourite to win February's FIFA presidential election until the end of last week, Michel Platini is suddenly facing the same doubts and criticism which he has himself cast upon incumbent Sepp Blatter.
September 28, 2015
Asian Air Gun Championship: Ayonika shoots bronze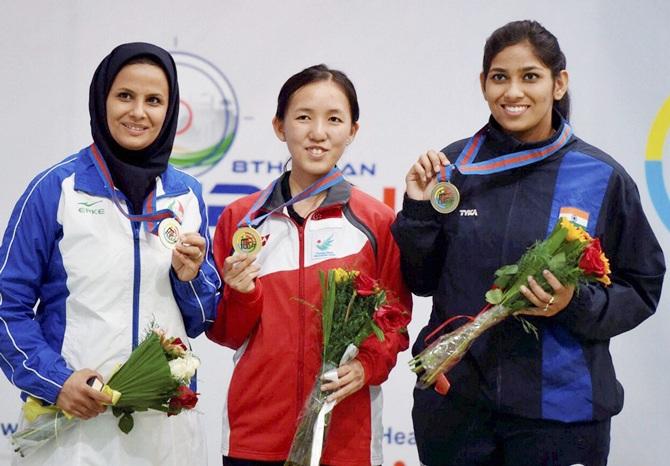 India's Ayonika Paul wobbled a bit towards the end but still managed to bag the bronze medal at the 8th Asian Air Gun Championship in New Delhi on Monday.
How Messi's injury hurts but also motivates this player...
Lionel Messi's injury is a painful blow for Barcelona but is also a motivation for the rest of the squad, midfielder Ivan Rakitic said before the holders host Bayer Leverkusen in Champions League Group E on Tuesday.
Ronaldo on celluloid: watch the trailer...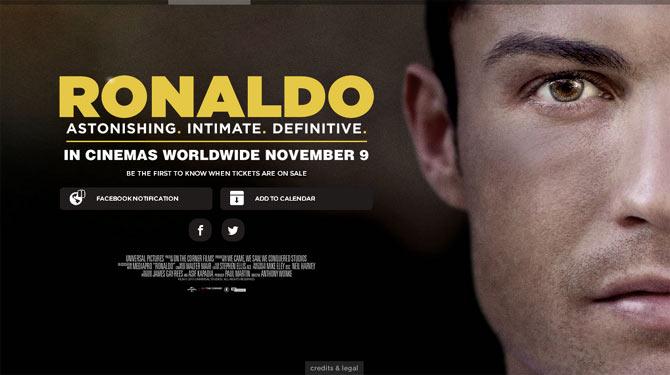 The trailer of the documentary film, titled Ronaldo, which was released by the man himself on his Twitter page, captures moments of his on-field brilliance and provides an in-depth look into the person beyond the footballer.
Hazard's excellence put pressure on Schurrle at Chelsea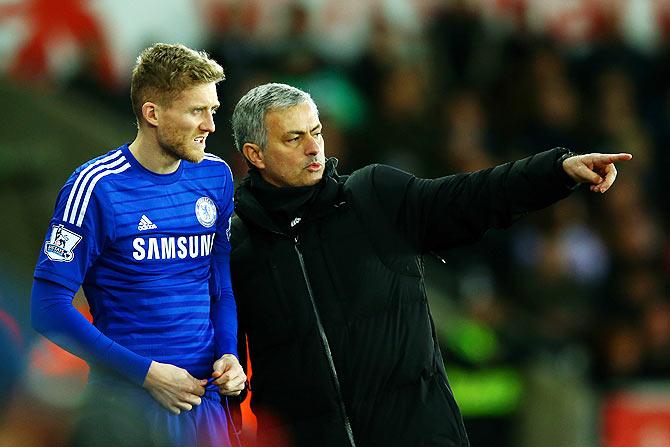 The Wolfsburg winger reckons he didn't enjoy Jose Mourinho's trust during his stay at Stamford Bridge
Squash 'devastated' by Tokyo Olympics snub
The head of the World Squash Federation (WSF) said he was devastated for the sport's millions of followers after squash was again overlooked for the 2020 Tokyo Olympics.
5 sports recommended for inclusion at 2020 Tokyo Games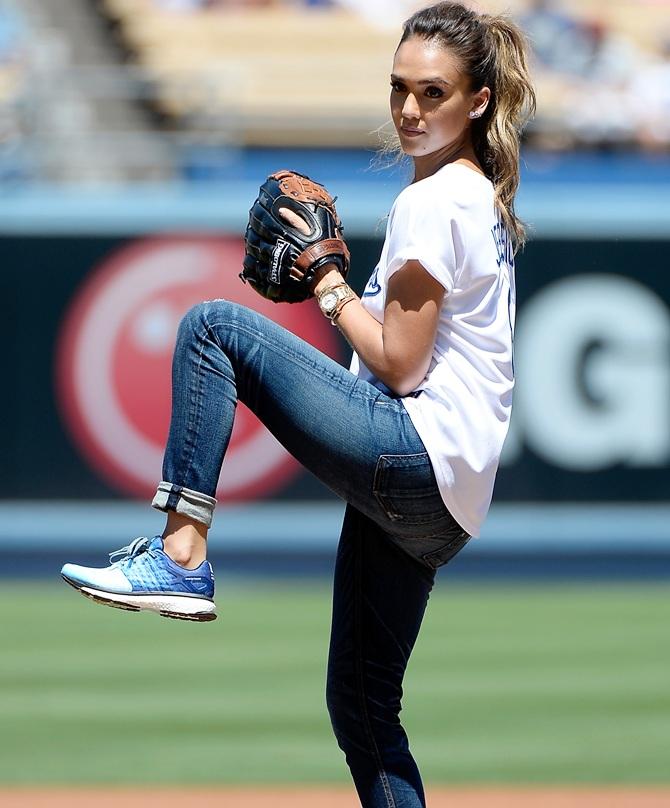 Organisers of the Tokyo Olympics have recommended five more sports -- baseball/softball, karate, skateboard, sports climbing and surfing -- be added to the programme for the 2020 Summer Games.
10 BEST Sports Photos of the Week!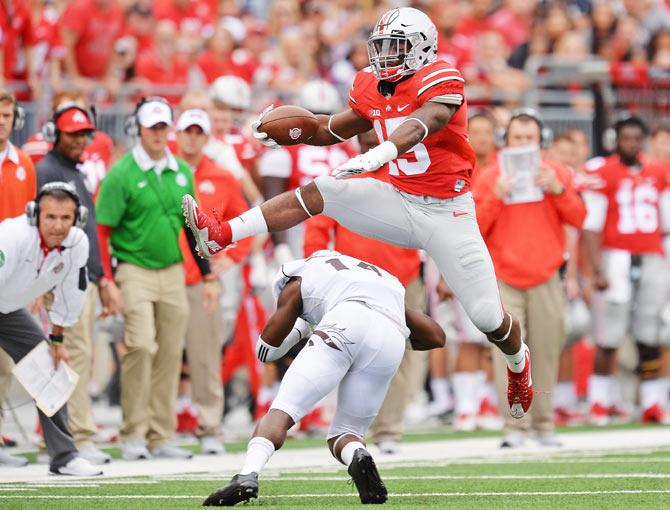 Rediff.com takes you in flashback as we rewind the best from the sporting world in the week gone by.
Under-fire Rodgers alleges conspiracy even as he gets team backing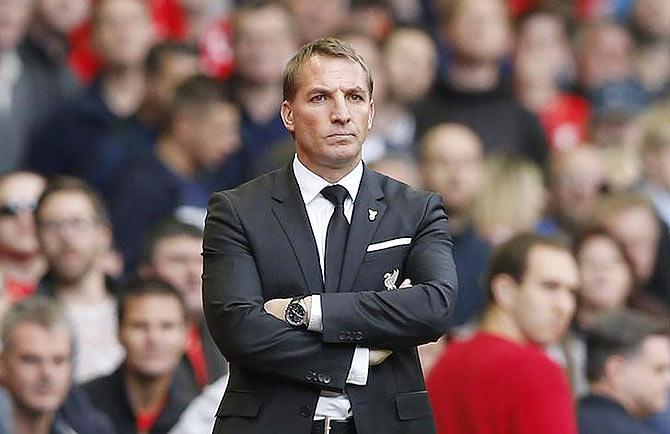 'I am talking about people outside of here. I think it is pretty clear. Sometimes we haven't lost games and the hysteria around it is pretty clear. There is maybe something else going on from behind'
Sensational Spieth caps season with $11.48 million double win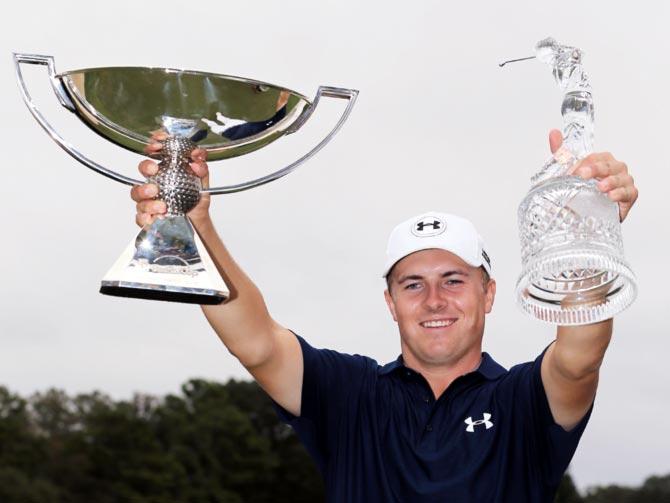 Jordan Spieth capped a brilliant season in sensational style as he scored a four-stroke victory at the Tour Championship on Sunday that also won him the FedExCup playoffs title for an $11.48 million pay day.
Lauda ponders the mystery of the vanishing Mercedes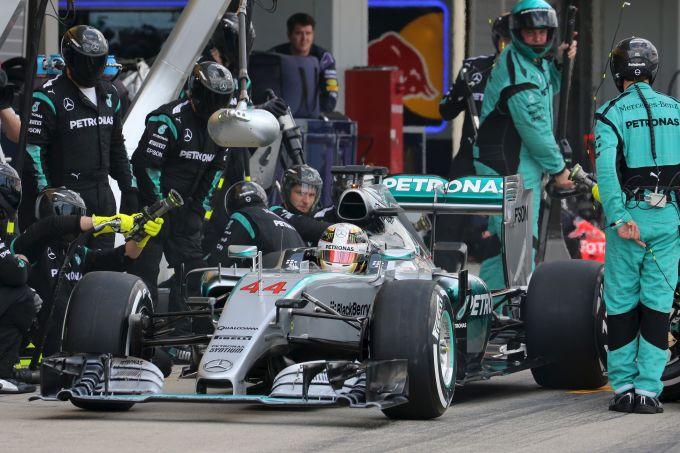 Niki Lauda pondered the mystery of the disappearing Mercedes on Sunday after Lewis Hamilton and Nico Rosberg finished one-two in the Japanese Grand Prix but barely featured in television coverage.
September 27, 2015
Raonic ends title drought with St. Petersburg triumph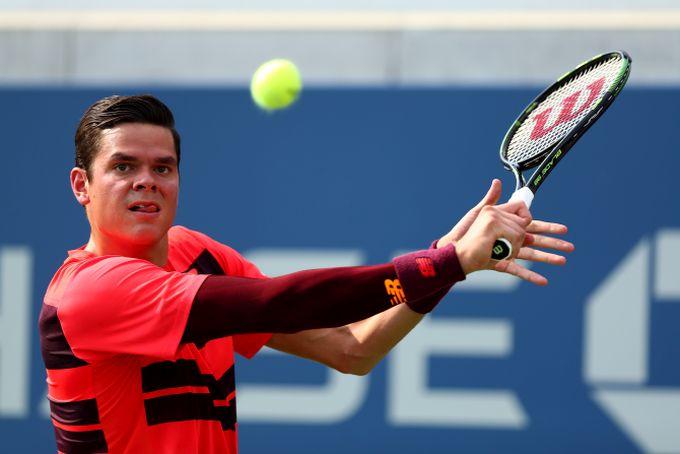 Canada's Milos Raonic boosted his chances of qualifying for the lucrative ATP World Tour Finals after capturing his first title of the season with a 6-3, 3-6, 6-3 win over Portugal's Joao Sousa in the final of the St. Petersburg Open on Sunday.
Dominant Advani crushes Gilchrist to claim 14th World title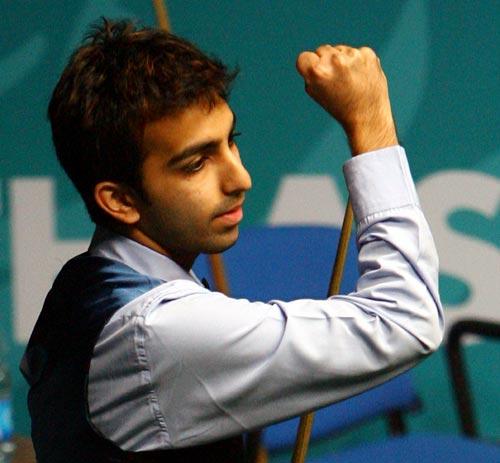 India's most successful cueist Pankaj Advani won the IBSF World Billiards Championship after a dominating performance against Singapore's Peter Gilchrist in the final to claim his 14th World title.
September 26, 2015
FIFA has been "decimated" by scandals, says Prince Ali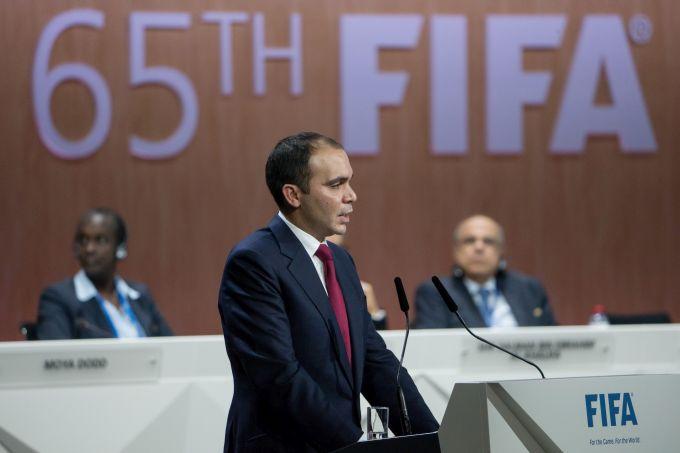 FIFA presidential candidate Prince Ali Bin Al Hussein of Jordan said that soccer's governing body has been "decimated" by the recent wave of scandals and that he has heard from "many member associations" in the last 24 hours.
EPL: Rooney on target as Man United replace Man City at top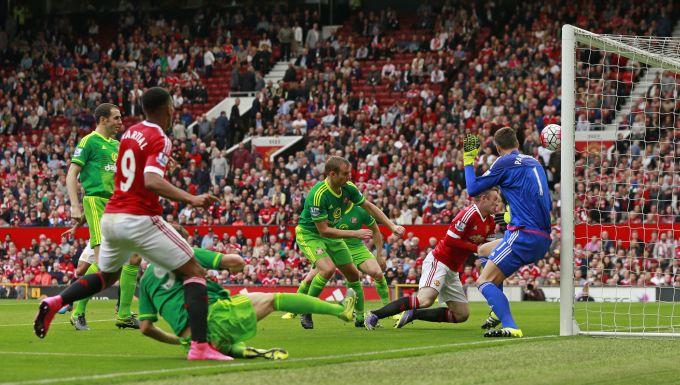 Manchester United replaced Manchester City as Premier League leaders with Wayne Rooney ending an 11-match run without a league goal in his side's comfortable 3-0 win over Sunderland at Old Trafford on Saturday.
United's Shaw out for at least six months, says Van Gaal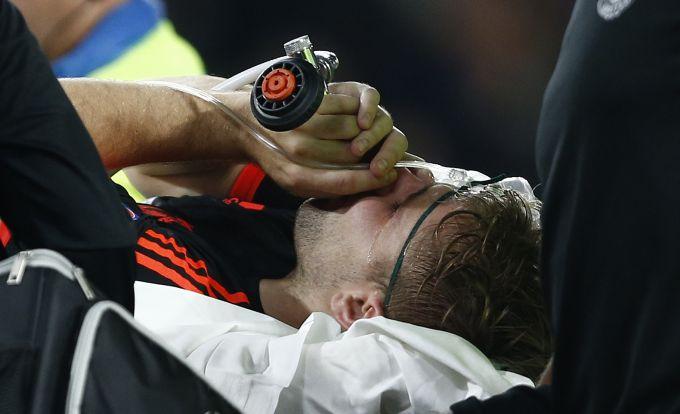 Manchester United defender Luke Shaw is expected to be sidelined for at least six months after breaking his right leg in two places, manager Louis van Gaal said on Friday.
Button hits back at Lauda comments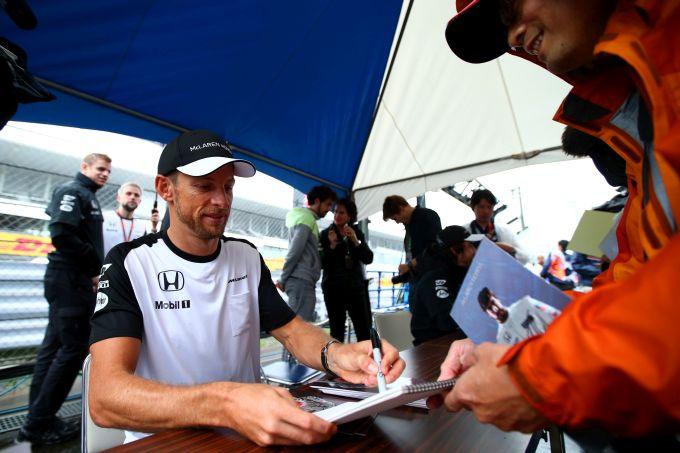 Jenson Button hit back at Niki Lauda on Saturday after the Austrian Formula One great suggested the driver had told him he wanted to stay at McLaren next year and any uncertainty was about money.
Wozniacki through to Tokyo semis, Ivanovic beaten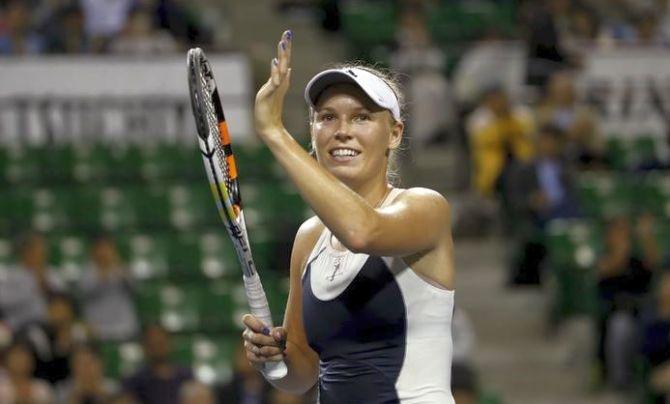 Denmark's Caroline Wozniacki battled back after a mid-match slump to beat Angelique Kerber of Germany on Friday and book a place in the semi-finals of the Pan Pacific Open.
September 25, 2015
Beckham agrees with Ferguson, admits he wasn't a 'world class' player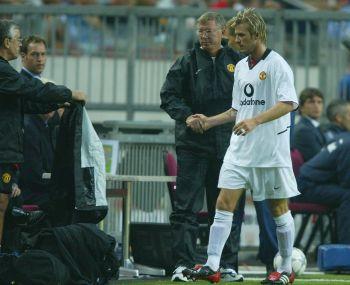 Former England footballer David Beckham has admitted that he was not a 'world-class' player following his omission from Sir Alex Ferguson 's list of top players he had worked with.
Swiss investigate Blatter for criminal mismanagement of FIFA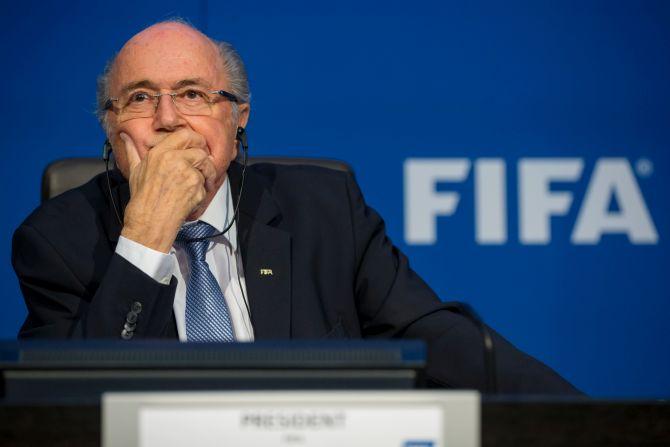 Swiss prosecutors have opened a criminal investigation into Sepp Blatter, the head of world soccer body FIFA, on suspicion of criminal mismanagement and misappropriation, the Swiss attorney general's office said on Friday.
Van Gaal tries to play down hype over Martial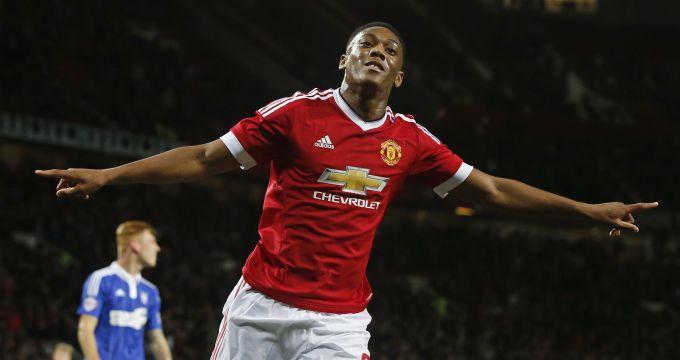 Having set one record as football's most expensive teenager, recent signing Anthony Martial has another one in sight when Manchester United play at home to struggling Sunderland at Old Trafford on Saturday.
Chelsea's Costa sending wrong message, says Pele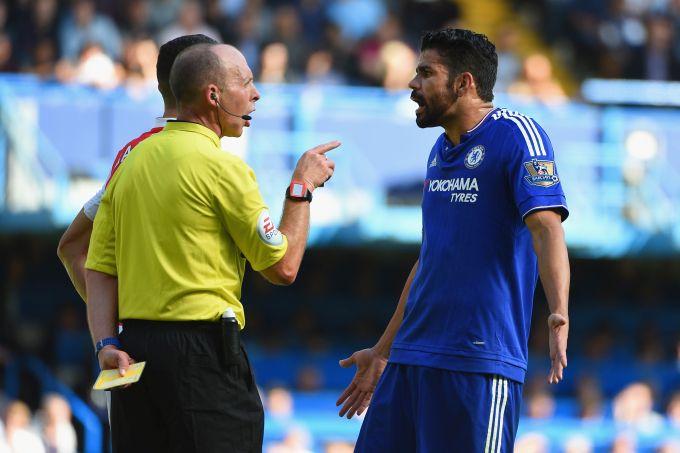 The behaviour of Chelsea's Diego Costa against Arsenal last weekend was bad for football's image and sent the wrong message to children, Pele has said on the eve of an art exhibition in London to celebrate his 75th birthday.
Rodgers admits his future as Liverpool manager is in doubt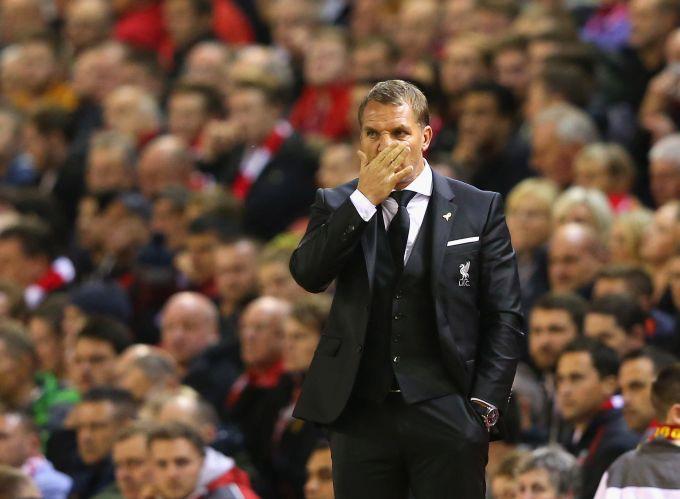 Brendan Rodgers has admitted that his job is on the line, but has pledged to keep working towards improving Liverpool's results whether he stays on as manager for "one day more, one month, another year, or whatever".
September 24, 2015
Teary-eyed Mary Kom alleges regional bias in selection
Olympic bronze medallist MC Mary Kom on Thursday broke down and accused the Indian selectors of regional bias during boxing selection and trails.
PHOTOS: FC Goa ready for ISL 2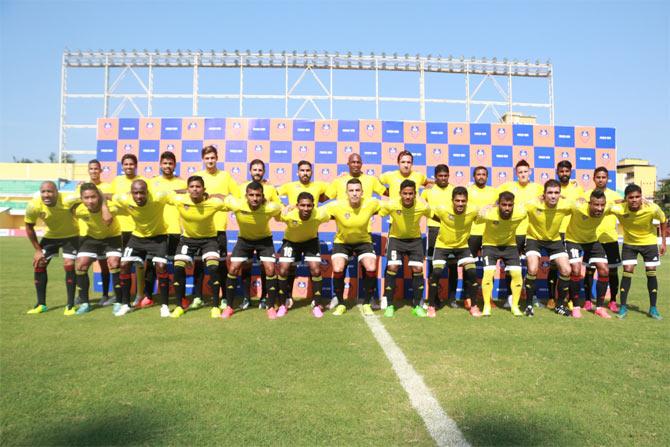 "The team has gelled well as a team and we are looking forward to do well this time. I have seen that the team players are disciplined, physically strong and most importantly they are eager and ready to learn more about football.
How tyres are allocated to F1 teams... without bias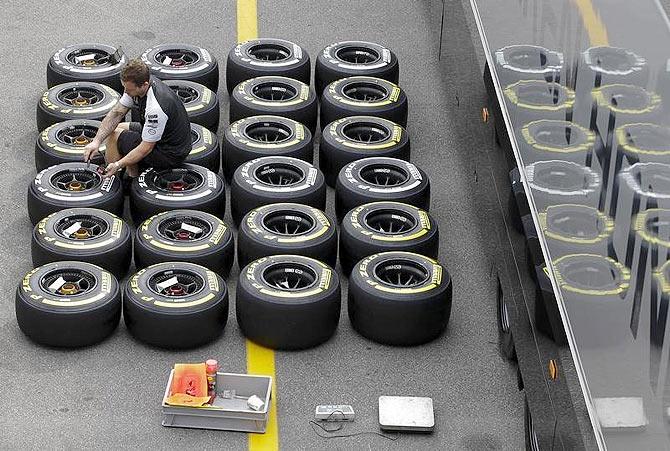 In a statement explaining how the tyres are marked at their Turkish factory with embedded and traceable bar codes that cannot be swapped, Pirelli said their process was designed to be tamper-proof and random.
What it takes to be a pro boxer? Hear it from Vijender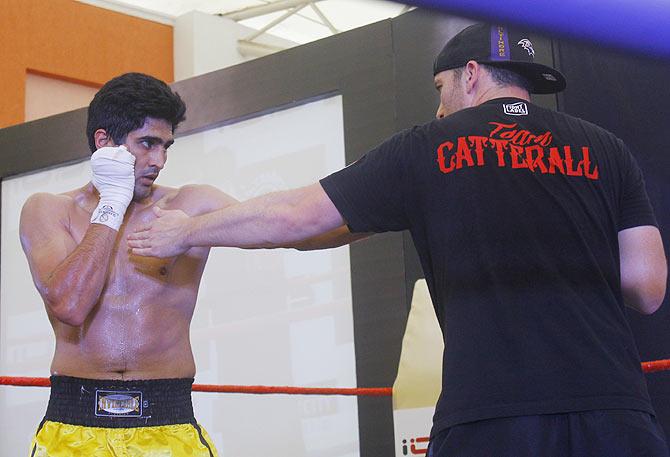 'It is gruelling but I am enjoying the grind. My body hasn't felt better'
What you must not miss in the EPL this weekend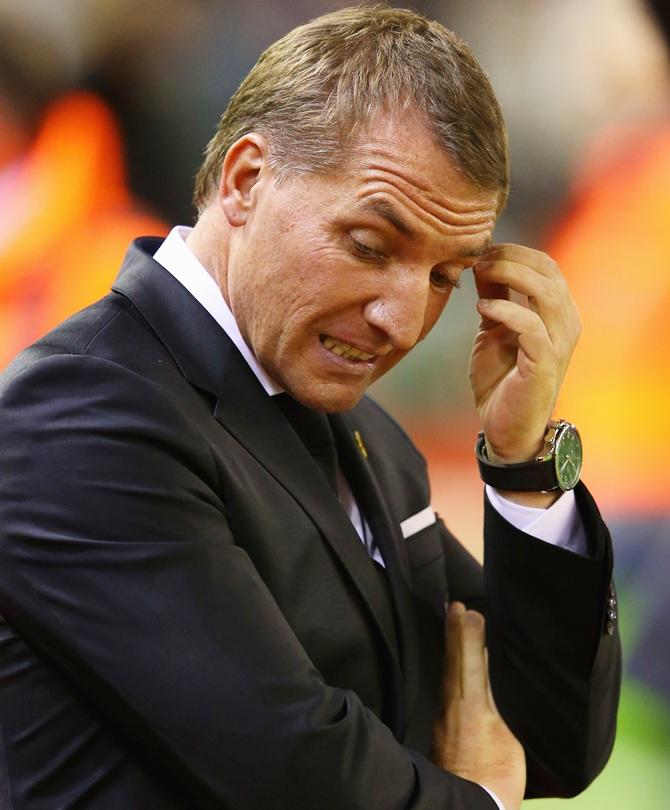 Pressure is something that Liverpool manager Brendan Rodgers says comes with the territory, but after a dismal run, the odds on him becoming the season's first managerial casualty are swiftly shortening.
Find out how Lotus F1 team was locked out of hospitality...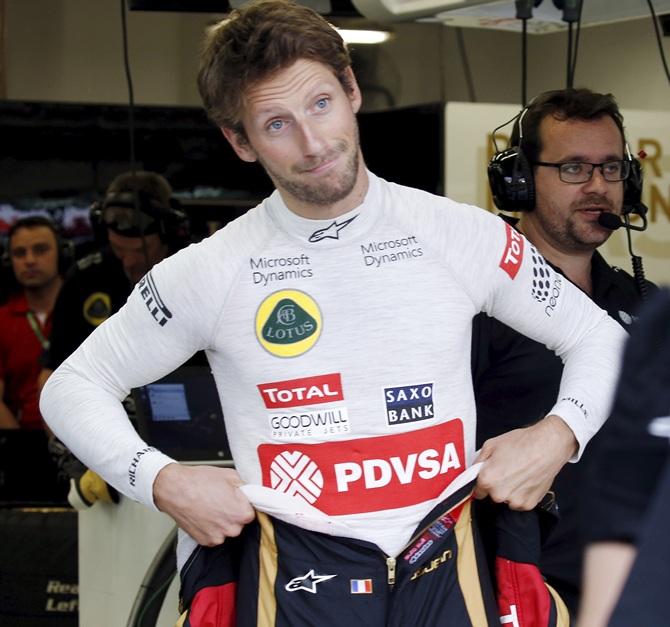 The troubled Lotus Formula One team were locked out of their paddock hospitality at the Japanese Grand Prix on Thursday while freight, including engines, was also held up by payment problems.
Davis Cup: India gets bye in 1st round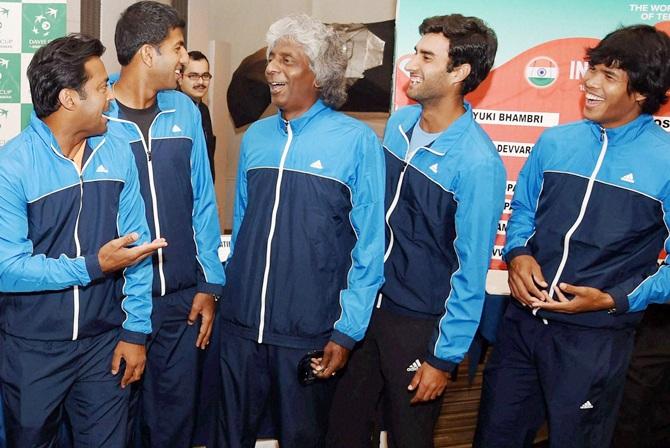 Being the top seeds, the Indian Davis Cup team received a bye for the first round of the Asia/Oeceania Group I 2016 competition.
Have you met the 'Golden Bolt'?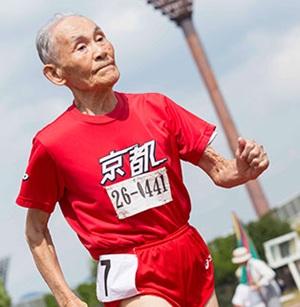 A fleet-footed Japan's 105-year-old raced into the Guinness World Records book on Wednesday.
Topsy Turvy day for champion clubs! Find out here...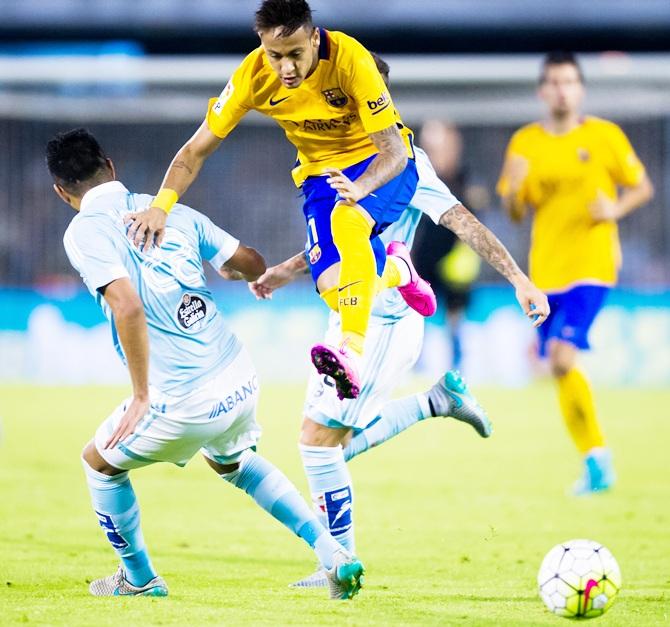 Celta Vigo thrashed Barcelona 4-1 on Wednesday with Iago Aspas hitting a double.
Who needs $10 million? He just wants the trophy!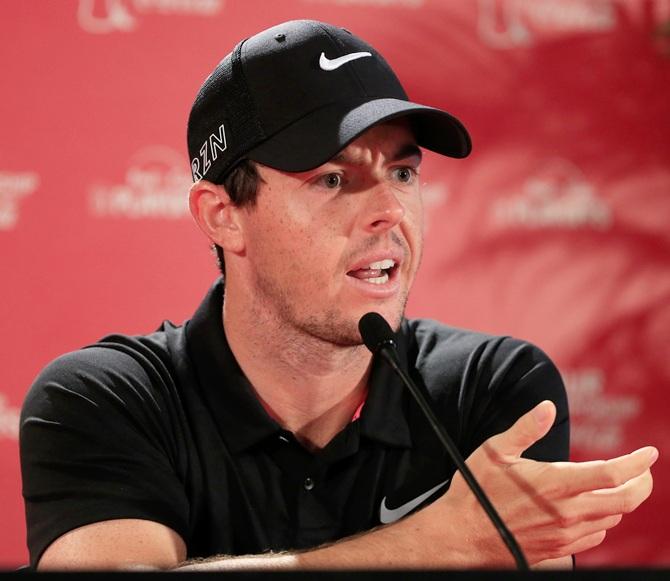 Rory McIlroy, whose season was interrupted by injury, said he just wants to get back to winning and does not care about the $10 million bonus that could come with victory at the Tour Championship.
League Cup: Liverpool survive scare; easy evening for Chelsea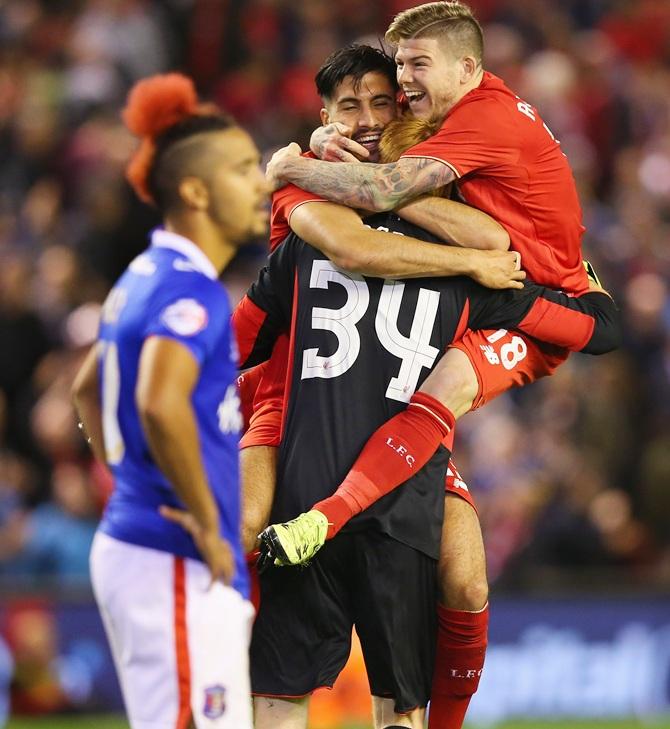 Liverpool flirted with what would have been an embarrassing low in their poor start to the season as they were taken to penalties by fourth tier Carlisle United, but came through to reach the League Cup fourth round on Wednesday.
September 23, 2015
US Open champ Pennetta to play for Mumbai in CTL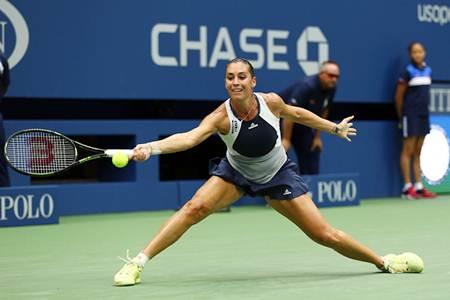 Flavia Pennetta, Italy's newly-crowned US Open women's singles champion, will represent Mumbai Masters in this year's Champions Tennis League along with 1996 Wimbledon men's champion Richard Krajicek of the Netherlands following the players' draft, in Mumbai, on Wednesday. The second edition of the Champions Tennis League, the brainchild of former India Davis Cup captain Vijay Amritraj, will be played from November 23 to December 6, an increase of four days from last year's ten-day duration, announced Amritraj at a media conference after the players' draft.
Higuain axed by Argentina, Dybala gets first call-up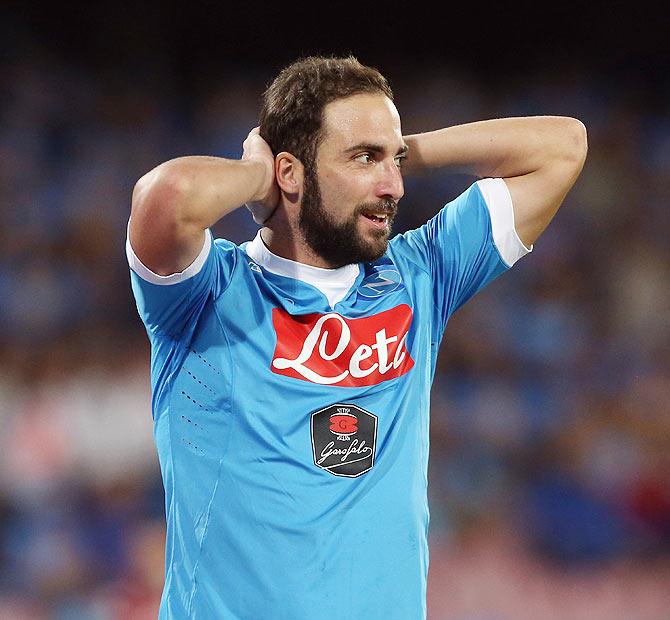 Higuain had a disappointing Copa America tournament in July, scoring two goals during the competition and missing his spot kick as Argentina lost on penalties to Chile in the final.
Chelsea doctor leaves after Jose Mourinho row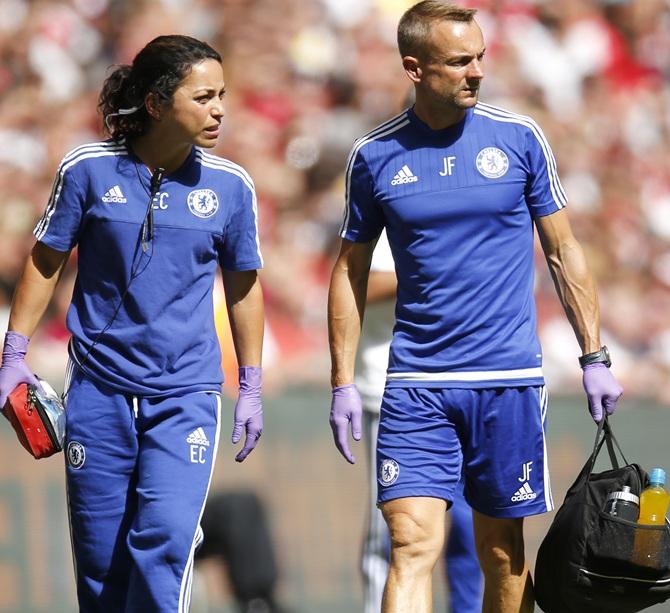 Doctor Eva Carneiro has left Premier League champions Chelsea in the wake of last month's public spat with manager Jose Mourinho, according to several media reports on Tuesday.
Baseball legend Yogi Berra dies aged 90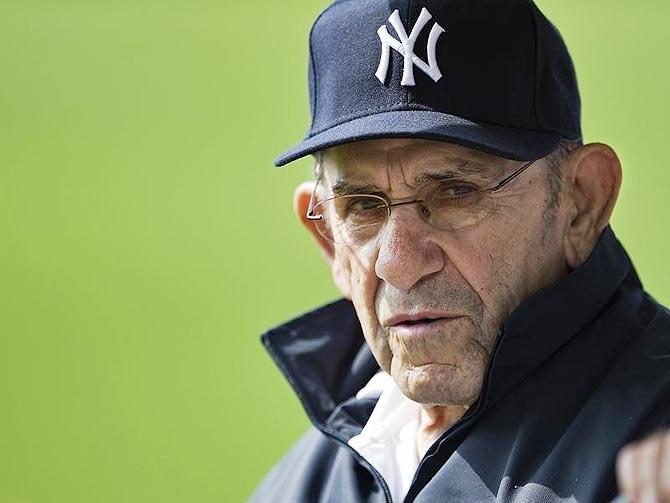 He played almost his entire 19-year baseball career for the New York Yankees.
Defensive crisis for Van Gaal as Rojo, McNair injured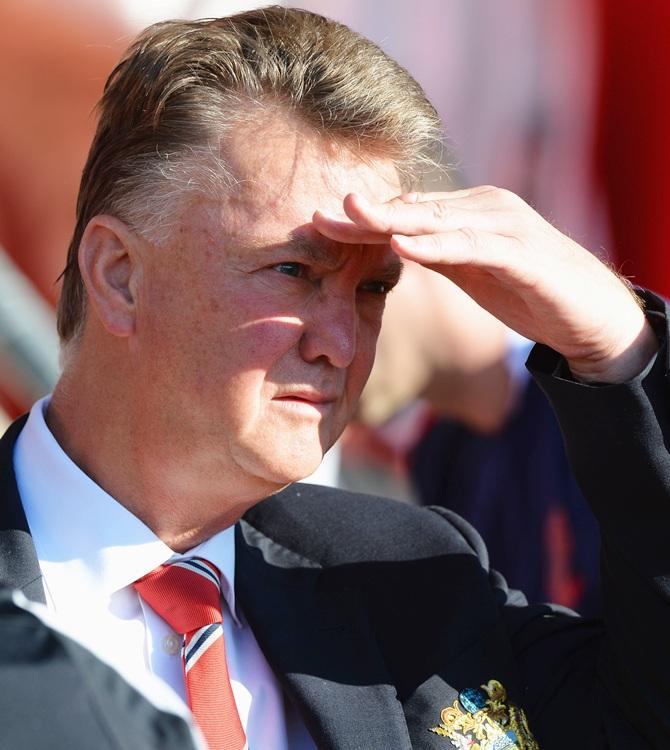 Manchester United defenders Marcos Rojo and Paddy McNair suffered injuries against Southampton and will miss Wednesday's third-round League Cup clash against Ipswich Town at Old Trafford, manager Louis van Gaal has confirmed.
Roundup: Balotelli, Ibrahimovic get in the groove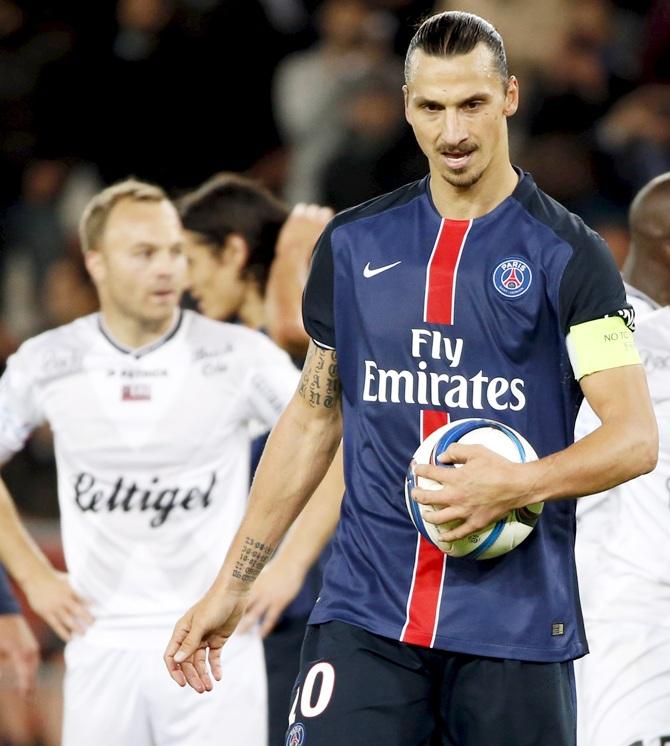 Paris St Germain's Zlatan Ibrahimovic scored his first Ligue 1 goal this season before missing a penalty as they beat En Avant Guingamp 3-0 to extend their lead to four points on Tuesday.
Costa guilty! Arsenal defender Gabriel's ban overturned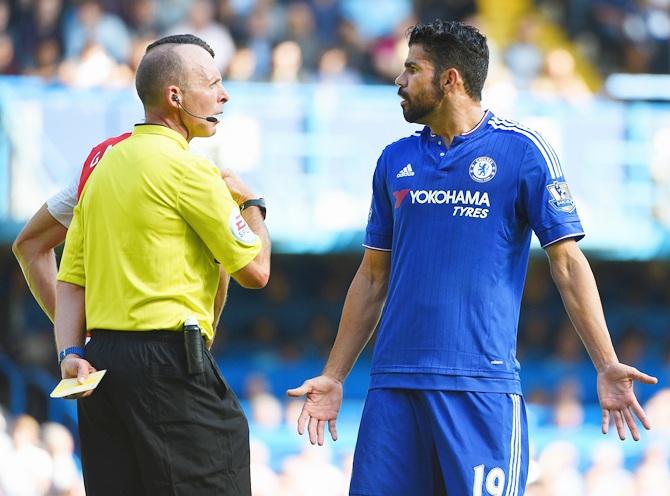 Arsenal defender Gabriel has had his claim of wrongful dismissal in the feisty local derby against Chelsea upheld by the FA, but Chelsea's Diego Costa has been banned for three matches with immediate effect.
FC Goa coach Zico says FIFA elections outdated, lack legitimacy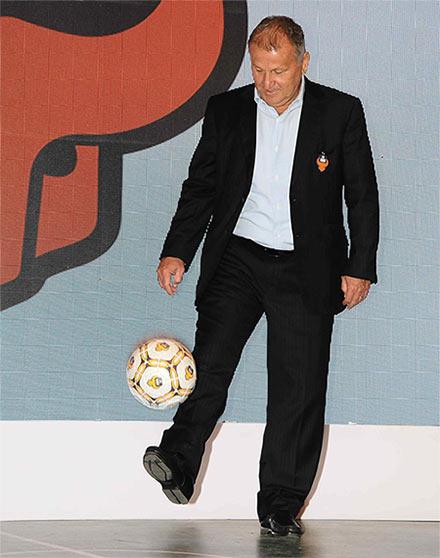 FIFA presidential candidate Zico believes that the rules for electing the head of soccer's governing body are unfair, outdated and subject voting federations to outside pressure.
League Cup PHOTOS: Stylish City down Sunderland, Villa win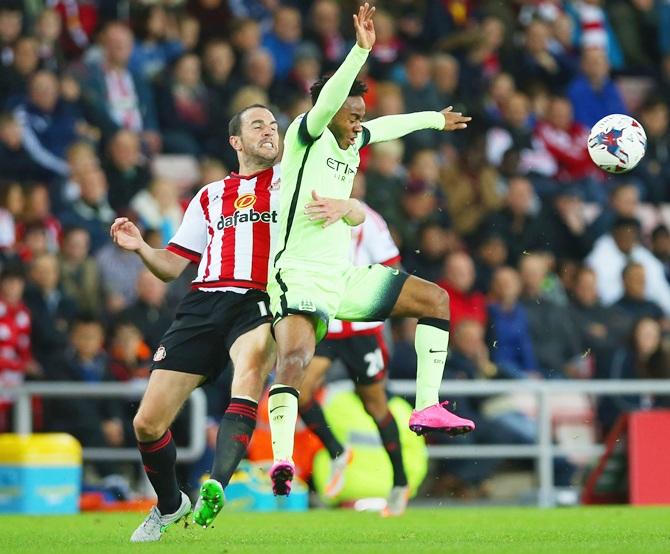 Manchester City produced a blistering first-half performance to win 4-1 at Sunderland in the League Cup third round on Tuesday, inflicting more misery on Dick Advocaat's struggling side.
Bayern's Lewandowski scores 5 goals in 9 minutes!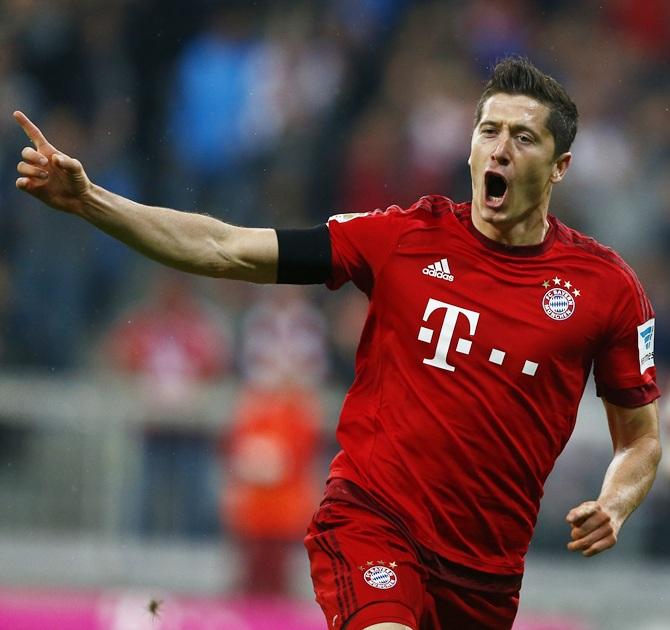 Bayern Munich striker Robert Lewandowski netted the Bundesliga's fastest hat-trick on his way to a sensational five-goal haul as a halftime substitute in their 5-1 demolition of VfL Wolfsburg on Tuesday.
ISL's costliest buy ready for first taste of the action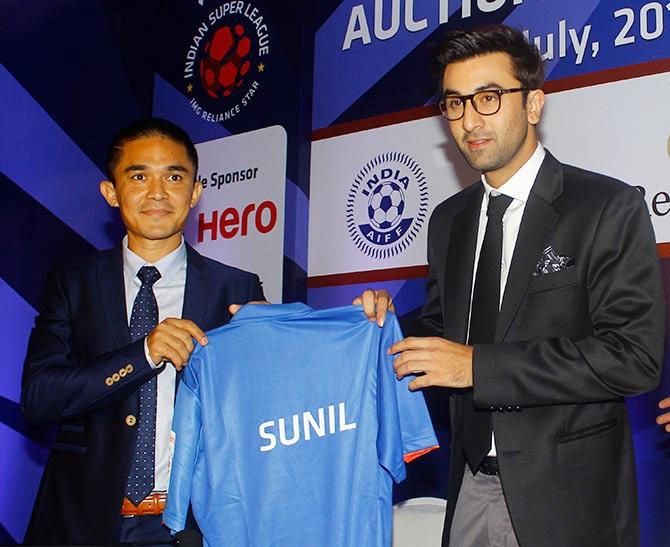 Having missed out on lucrative offers in the inaugural edition after his I-League club, Bengaluru FC, refused to release their players for the tournament, Indian football ace Sunil Chhetri is raring to go in the second second season which kicks-off on October 3.
September 22, 2015
Singer Noah is 100 per cent France's Davis Cup captain for now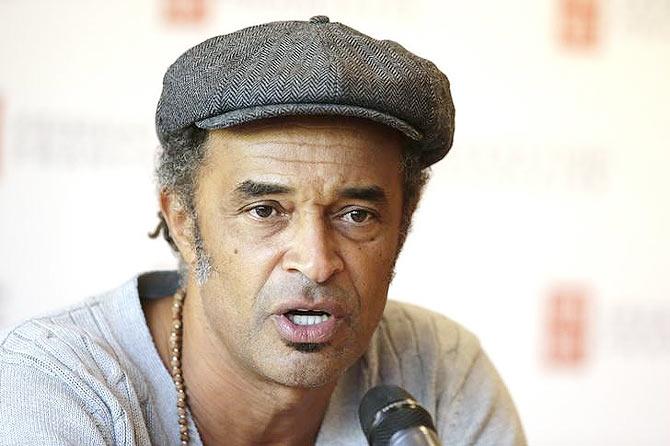 Yannick Noah is looking to restore old-fashioned values to the French Davis Cup team as he embarks on his third stint as captain.
Pistorius appeal date set, state wants murder conviction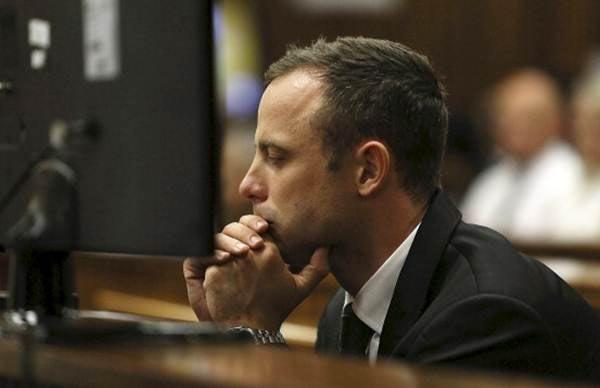 Oscar Pistorius should have been convicted of murder for killing his girlfriend, South African state prosecutors will argue at an appeal hearing set for Nov. 3, the supreme court of appeal said on Tuesday.
Wawrinka to defend Chennai Open 2016 crown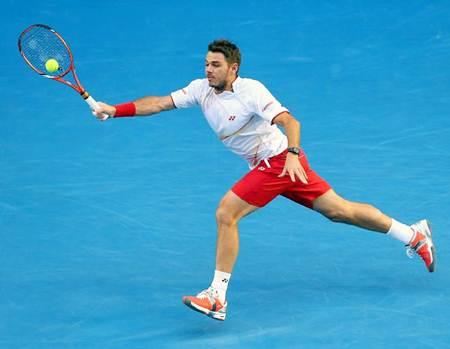 Two-time Grand Slam champion Stanislas Wawrinka will be back in Chennai to defend his title at the Aircel Chennai Open 2016, India and South Asia's Premier ATP World Tour tennis event, scheduled to be held at Chennai's SDAT Stadium from January 4 to 10.
Injury phase made me hungry to get back on court: Jayaram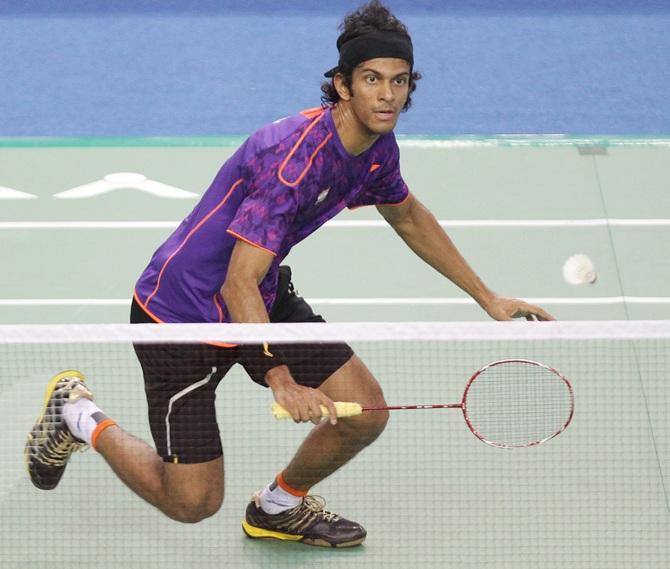 More than a year after recovering from a shoulder injury, Ajay Jayaram earned a final appearance at the Korea Open last week and the Indian shuttler said it was a big moment for him after enduring a challenging seven-month layoff.
Former F1 champ and McLaren's British driver Button set to retire?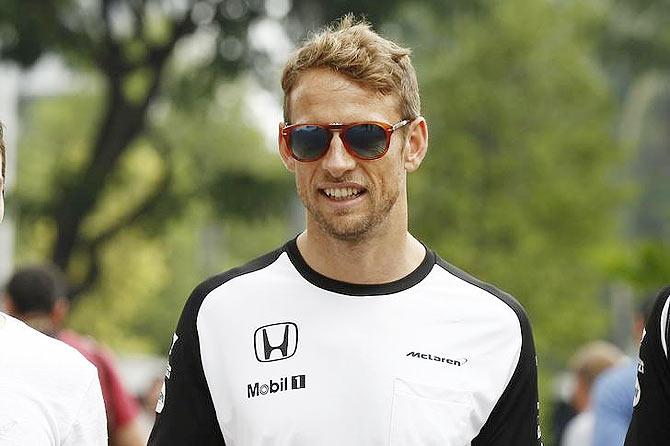 Media reports suggested the McLaren driver, whose wife is Japanese, was likely to announce at this weekend's Japanese Grand Prix that he would be leaving Formula One at the end of the year.
REVEALED! Ferguson wanted Pep as successor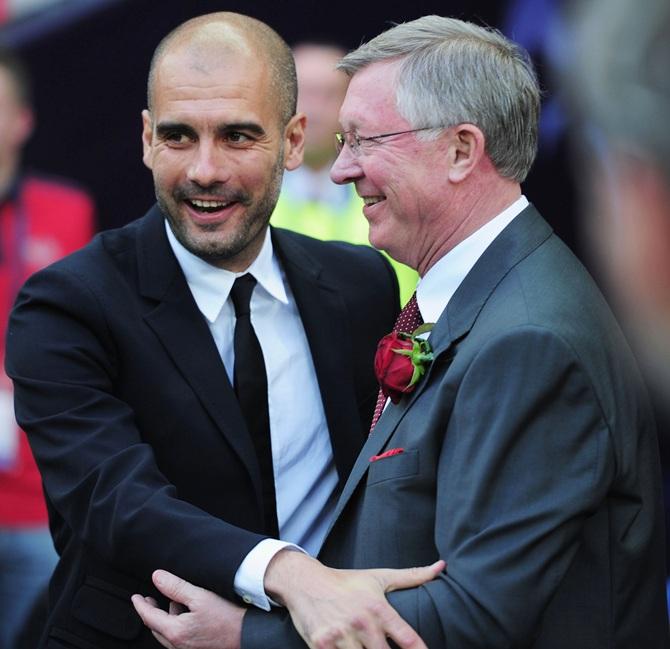 Alex Ferguson has revealed that David Moyes, the man chosen as his managerial successor at Manchester United, was sixth on a list of ideal replacements headed by Pep Guardiola and four others, who were all 'unavailable' at the time.
He hasn't lost his touch!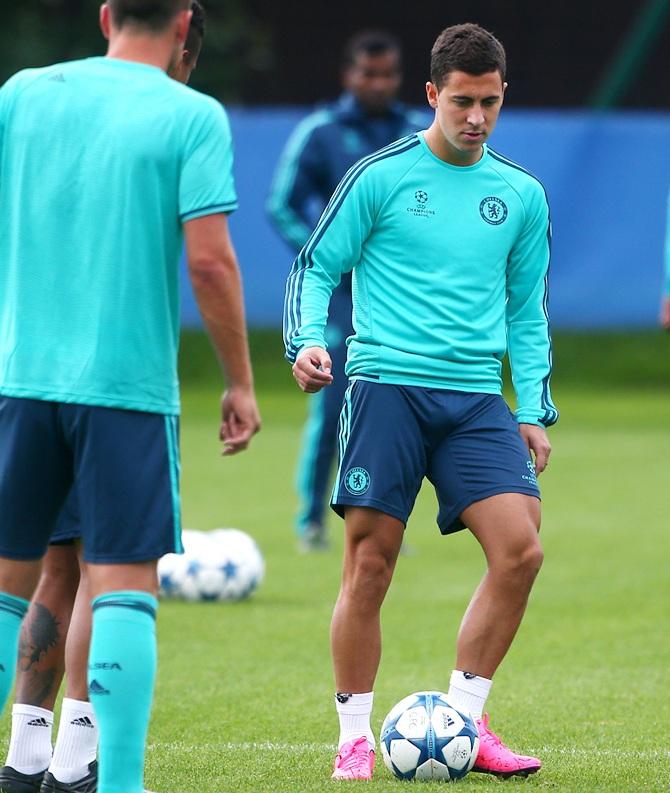 Chelsea midfielder Eden Hazard is convinced he has not lost his magic touch that was on full display last season and is taking confidence from his goal against Arsenal as he seeks to rediscover the same form this campaign.
Why are Arsenal fans boycotting this coffee brand?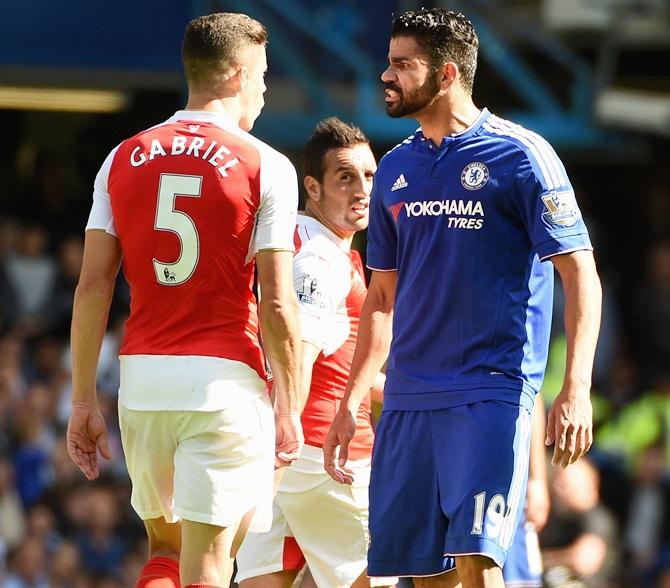 Champions Chelsea beat 9-man Arsenal 2-0 in a heated match at Stamford Bridge last week but a coffee brand had to bear the brunt of angry Arsenal supporters.
Murray is dedicated to Davis Cup and how!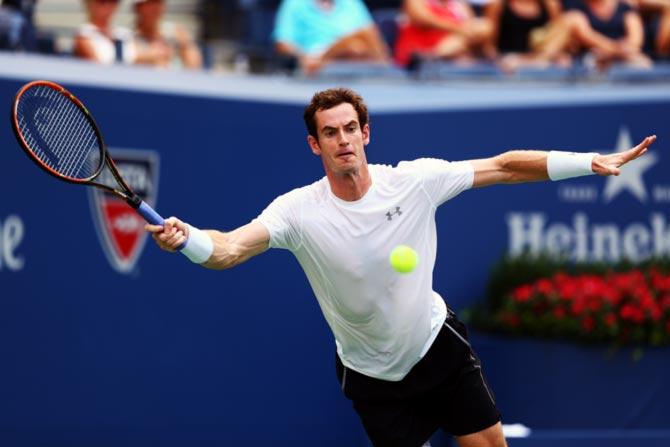 Andy Murray's dedication to the Davis Cup has proved invaluable to the British team, but it may also rob the ATP Tour Finals of one of it's biggest draws this year.
Soccer Updates! Costa, Gabriel charged after Stamford Bridge battle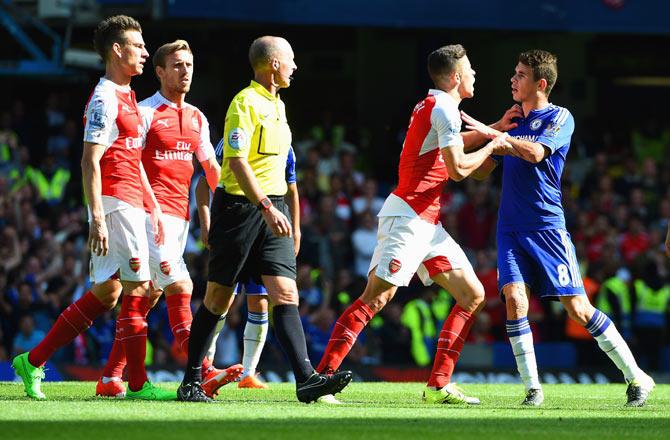 Chelsea striker Diego Costa and Arsenal's Gabriel Paulista have both been charged by the Football Association after incidents in Saturday's bad-tempered Premier League derby at Stamford Bridge.
PHOTOS: Women paragliders soar through Kabul's skies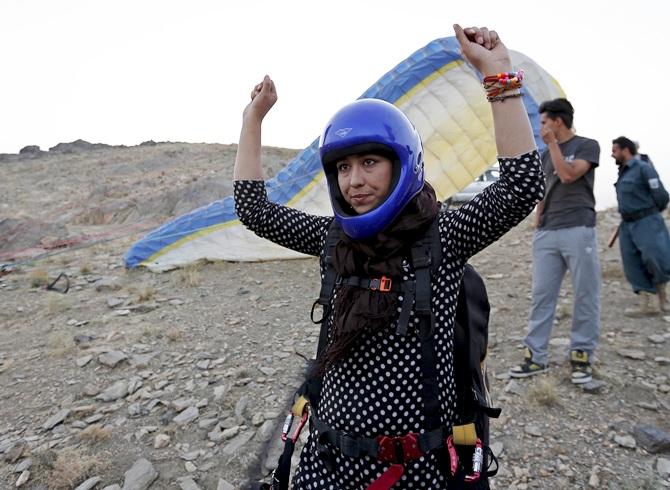 Group of young Afghans take to the skies of a capital where military helicopters and surveillance balloons are a far more familiar sight.
'Go and play tennis if you do not like my combative style'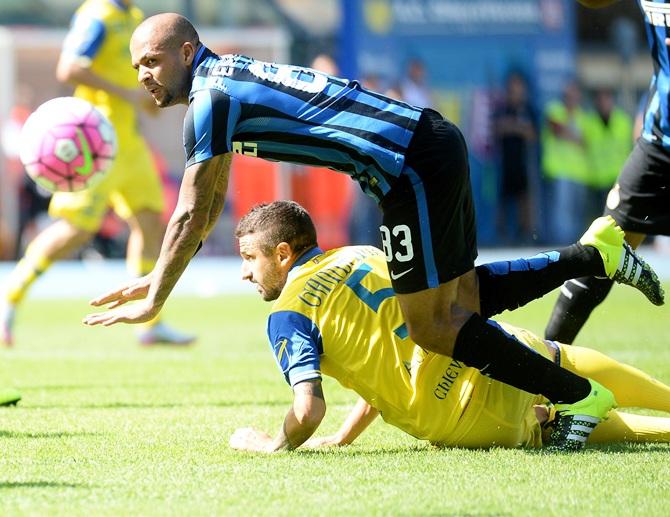 Back in Italy after a four-year absence, Felipe Melo has quickly made his mark on Serie A and told those who do not like his combative style to 'go and play tennis'.
September 21, 2015
10 Best Sports PHOTOS of the Week!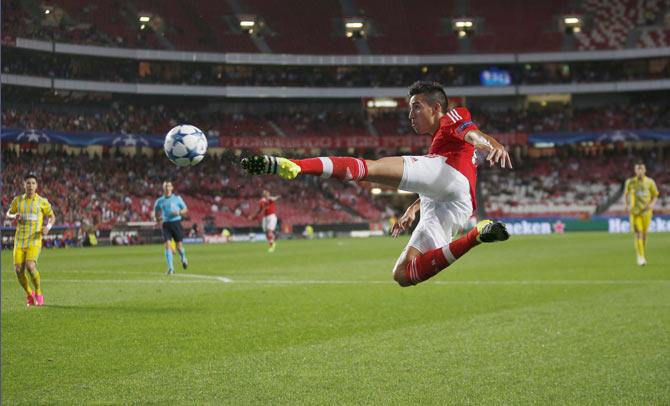 Rediff.com gives you a glimpse of the best sporting action from the week gone by.
Hamilton pursuit of Senna mark ends in frustration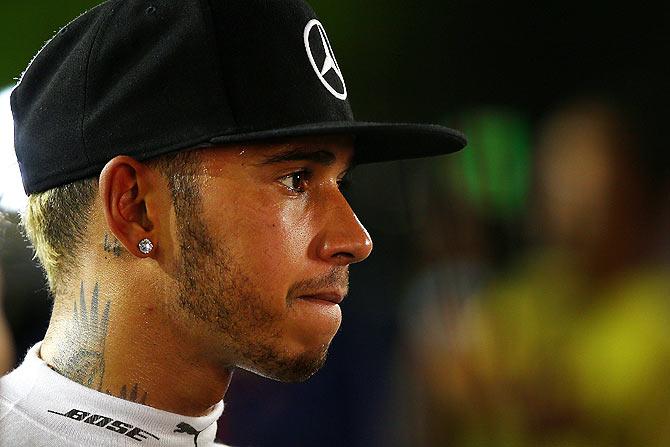 'It's still a long way to go and I know I lost some points today but I was fast and on form and I will make sure I bring that out to Suzuka to fight back'
When Ferrari's Vettel got the fright of his life...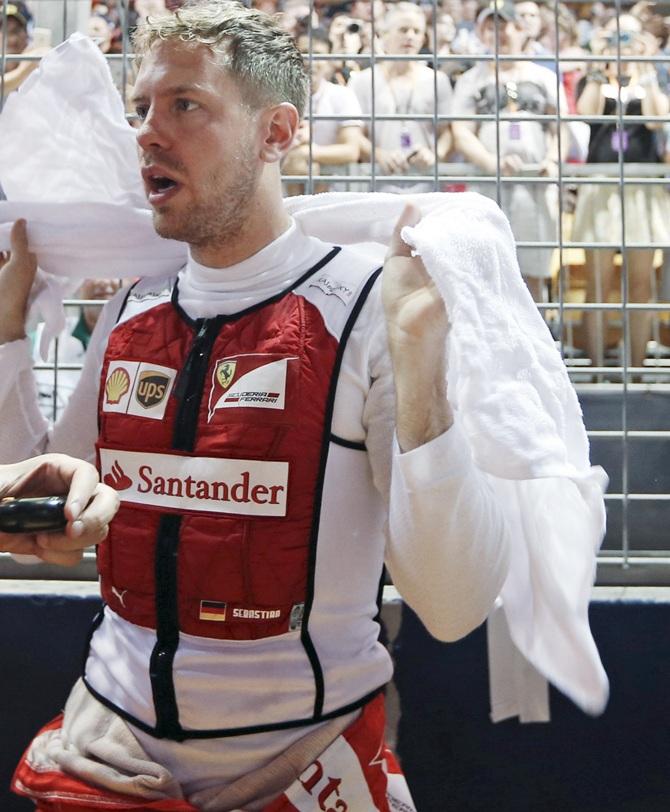 A lone intruder set pulses racing at the Singapore Grand Prix on Sunday when he walked on to the circuit midway through the Formula One race.
Bizarre! Men will have to sacrifice pay for women: FFA boss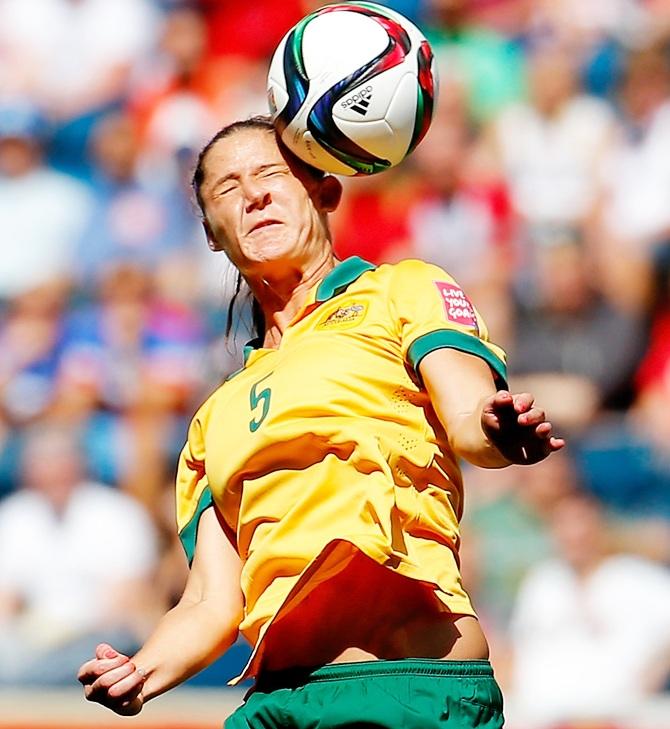 Improving pay and conditions for Australia's disgruntled women's team would require the country's top male players to give up a portion of their incomes, the country's FA boss David Gallop said on Monday.
La Liga PHOTOS: Messi strikes as Barca sweep aside Levante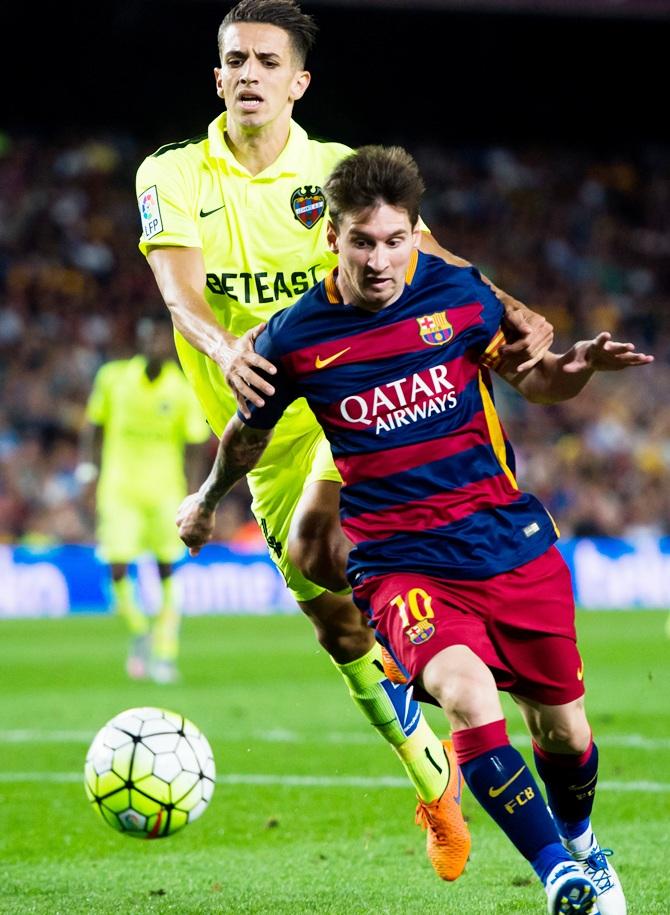 Lionel Messi scored one penalty and missed another as his double helped Barcelona sweep Levante aside in the second half in a 4-1 victory on Sunday to maintain their perfect La Liga start.
Davis Cup Roundup: Federer helps Swiss win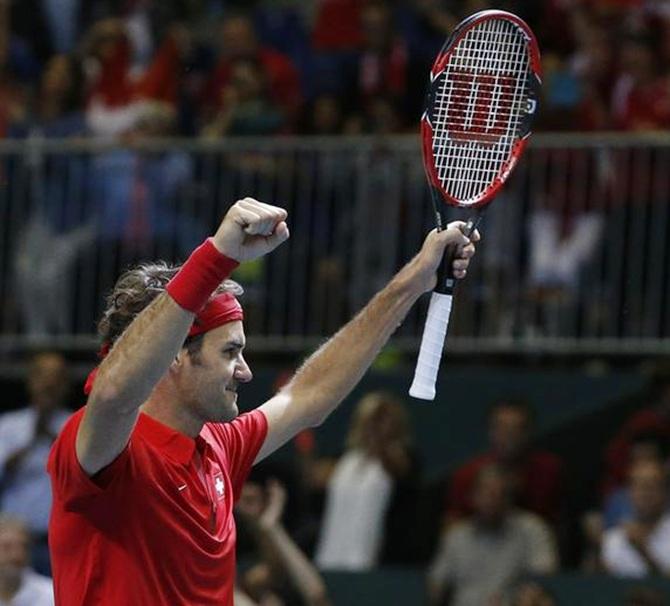 Roger Federer guided Switzerland to victory in their Davis Cup World Group playoff tie against the Netherlands with an easy 6-3, 6-2, 6-4 victory over Thiemo de Bakker on Sunday.
A very special EPL weekend for Norwich's Martin. Find out why...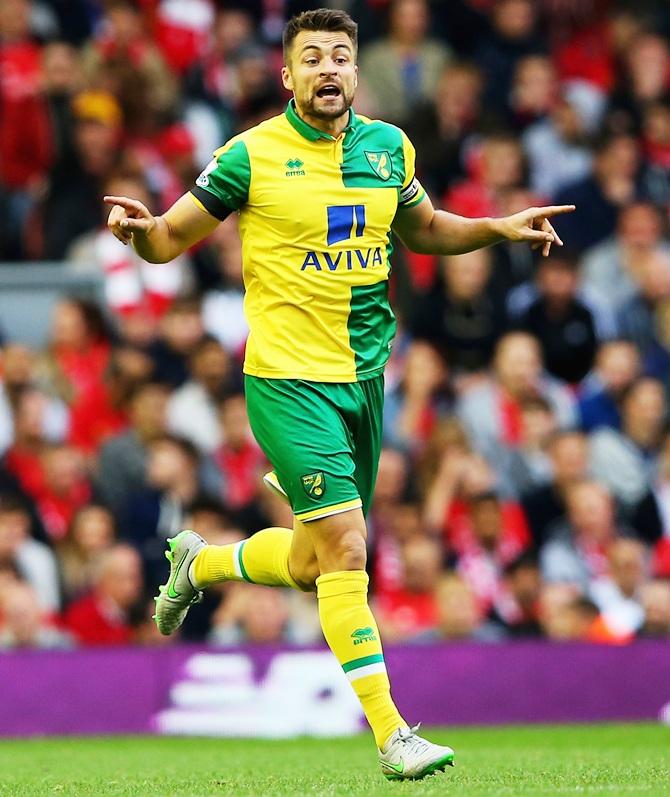 Few footballers can have had such a rewarding weekend as Norwich City captain Russell Martin, who rushed home from Liverpool to attend the birth of his son before flying back in time to score the equaliser in a 1-1 draw at Anfield.
September 20, 2015
Teenager Martial scores twice as United go second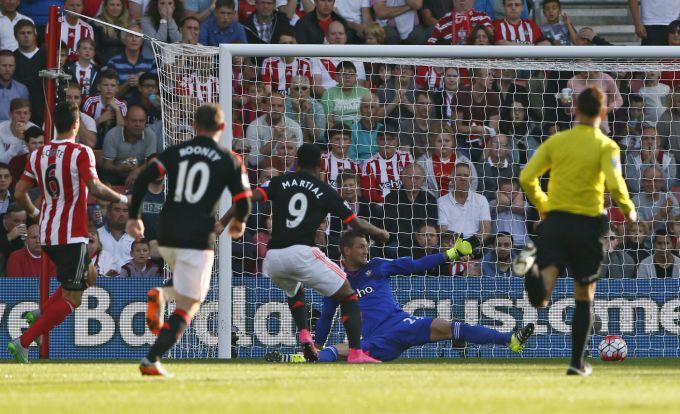 French teenager Anthony Martial, having scored as a substitute on his Premier League debut in Manchester United's last game, added two more goals to earn his team a 3-2 win at Southampton on Sunday.
Hulkenberg pays penalty for Singapore slam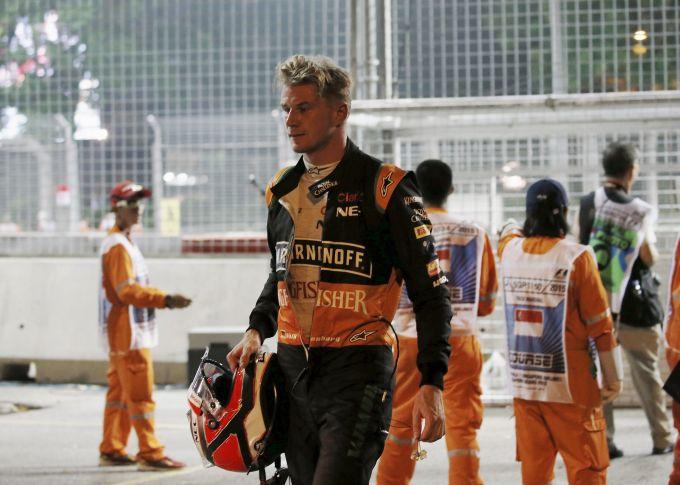 Force India's Nico Hulkenberg had a Singapore Grand Prix to forget on Sunday when the German crashed out after 12 laps following a collision with Felipe Massa's Williams and was immediately given a grid penalty for the next race.
Vettel claims victory in Singapore Grand Prix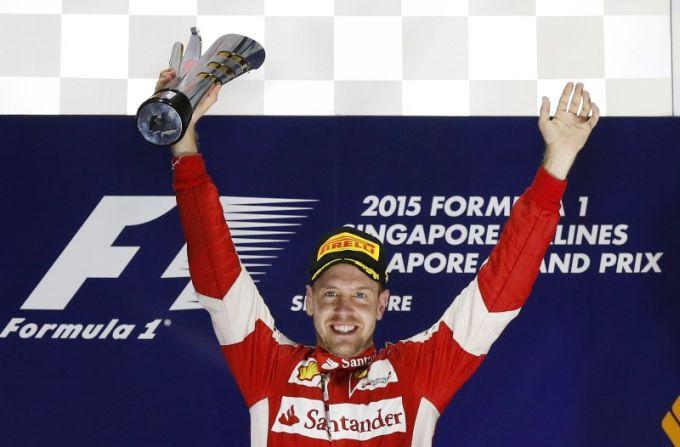 Ferrari's Sebastian Vettel won an incident-packed Singapore Formula One Grand Prix on Sunday after world champion Lewis Hamilton retired early for the first time this season and an intruder set heart rates fluttering when he strolled on to the track.
We lost the tie yesterday, admits Amritraj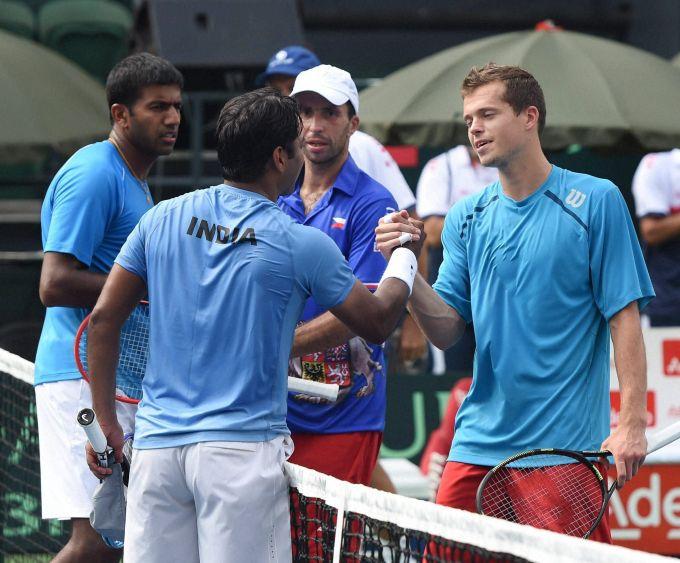 India's non-playing captain Anand Amritraj said that the doubles team's "shock" defeat on day two resulted in the hosts ultimately losing the Davis Cup World Group Play-off tie against Czech Republic.
Why Carlos Tevez wants to apologise to defender Ezequiel Ham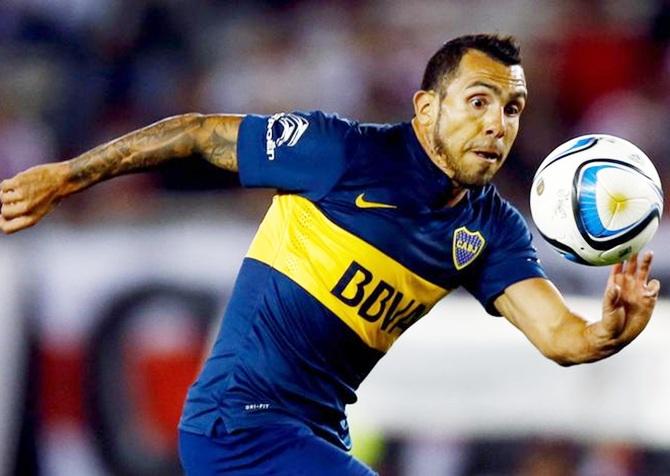 Carlos Tevez scored twice for Boca Juniors on Saturday but the main talking point from their 3-1 win over Argentinos Juniors in a stormy Argentine league game was his studs-up challenge that left defender Ezequiel Ham with a broken ankle.
Davis Cup: Britain's Murray brothers win tense doubles against Australia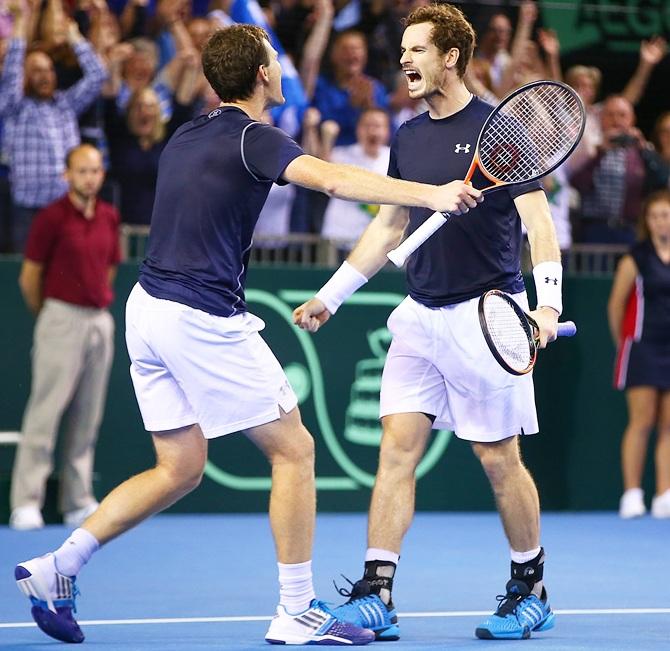 Brothers Jamie and Andy Murray claimed a tense four-hour doubles rubber against Australian pair Lleyton Hewitt and Sam Groth on Saturday to put Britain 2-1 up and on the verge of a first Davis Cup final since 1978.
Davis Cup: Yuki loses; Czech Republic seal world group spot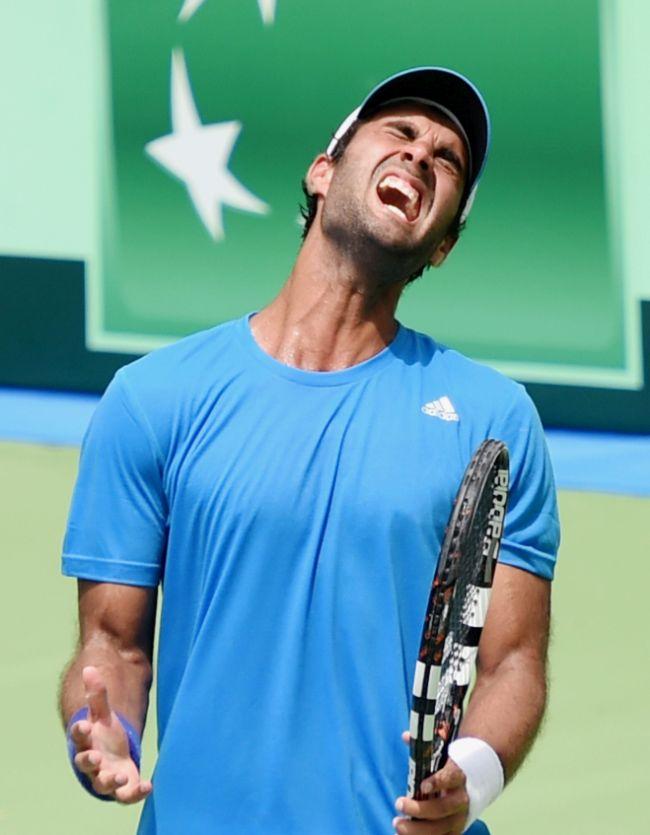 A profligate Yuki Bhambri missed chances galore in a tame defeat against world number 40 Jiri Vesley as India lost the Davis Cup World Group Play-off tie against top seeds Czech Republic 1-3.
Korea Open: Jayaram's dream run ends in final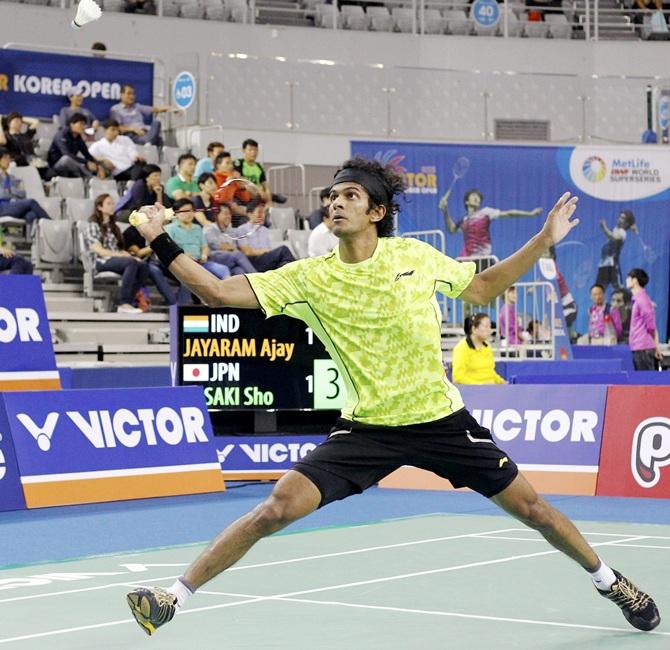 A fairytale ending eluded him as Indian shuttler Ajay Jayaram's rampaging run was brought to a halt by defending champion and World No 1 Chen Long of China in the final of the $ 600,000 Korea Open Super Series event, in Seoul, on Sunday.
PHOTOS: A contrasting day in EPL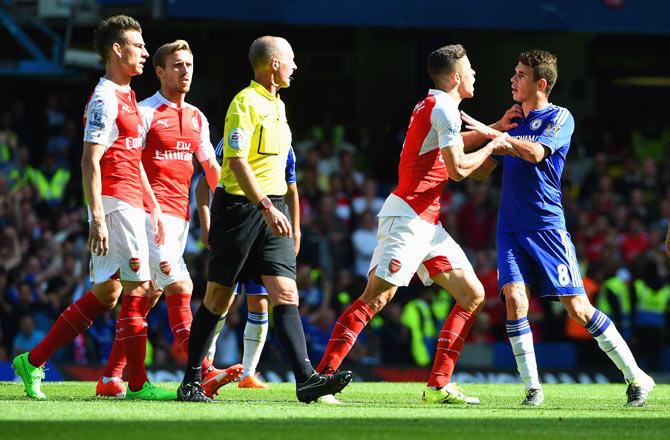 Chelsea ended their slump with a win over Arsenal while seemingly invincible Manchester City lost their 100 per cent record to West Ham United on a day of contrasting fortunes for the Premier League title favourites on Saturday.
Club footballers want stability, not more transfers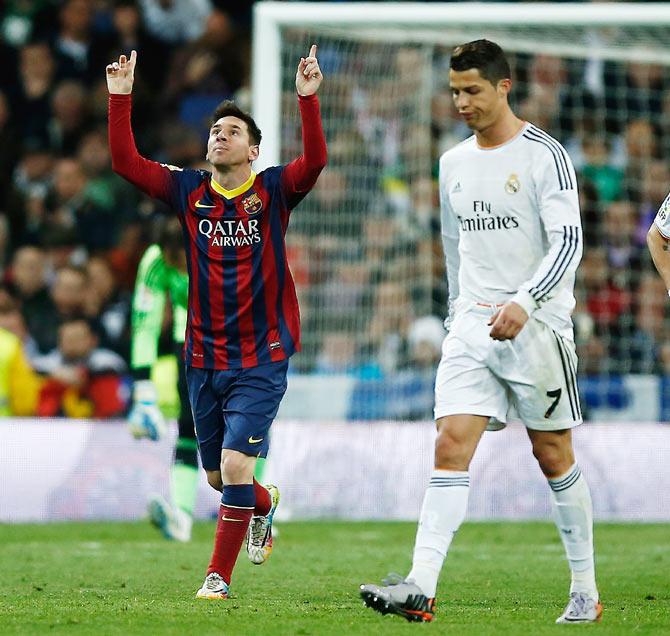 'More than 95 percent of the players are happy with their contract and happy with their club; they want the kids to go to school, they have a normal life; so I don't think that will happen'
Maroon 5 enthrall F1 fans in Singapore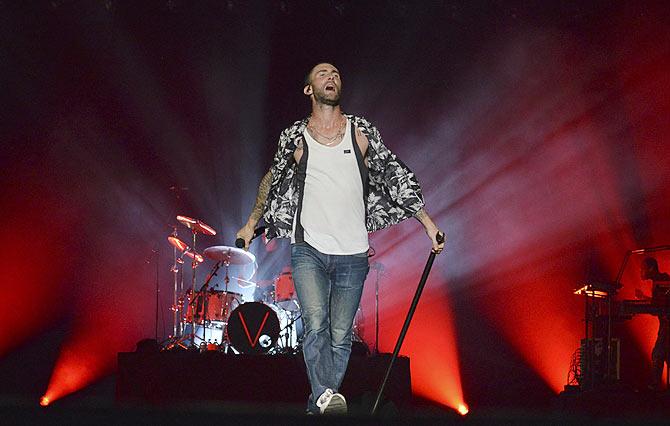 Rediff.com brings you pictures from that live-wire concert held late on Saturday...
September 19, 2015
La Liga: Misfiring Real beat Granada after Benzema header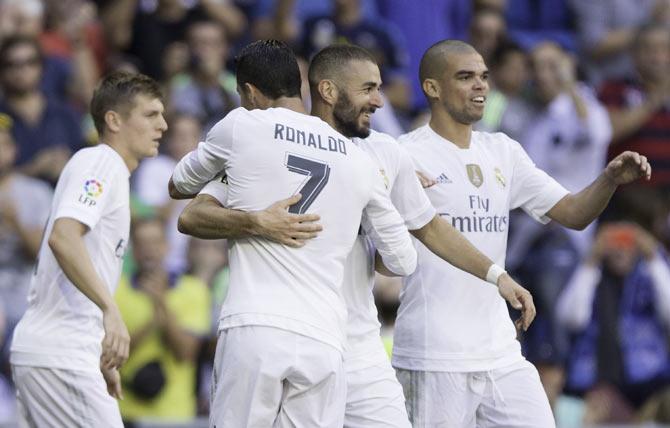 The Frenchman nodded home an Isco cross after 55 minutes against a well-organised Granada side that attacked with pace.
Bundesliga: Bayern go top after Vidal and teenager Coman strike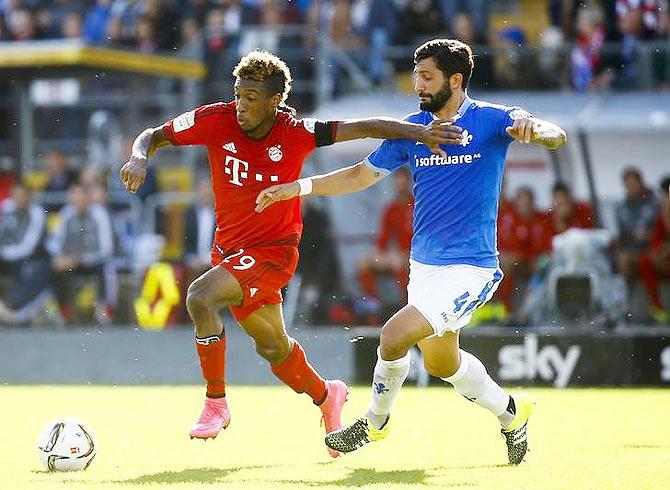 In other matches, VfL Wolfsburg edged past Hertha Berlin 2-0; promoted Ingolstadt snatched a last-gasp 1-0 win at Werder Bremen
UP Govt promises to construct football stadium in Lucknow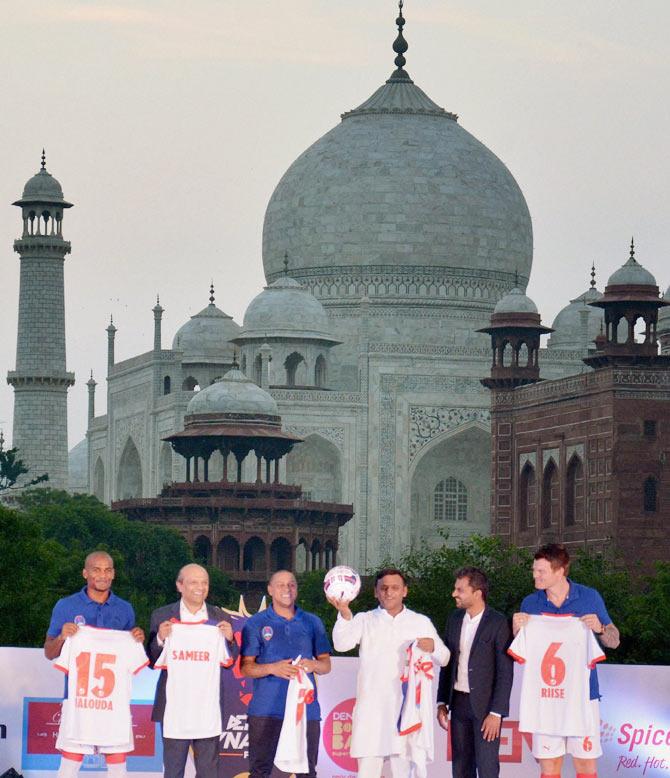 Uttar Pradesh Chief Minister Akhilesh Yadav announced that a football stadium of international standard will be constructed in Lucknow for which a Memorandum of Understanding (MoU) would be signed soon.
Virat, Sania have some healthy advice for young sportspersons...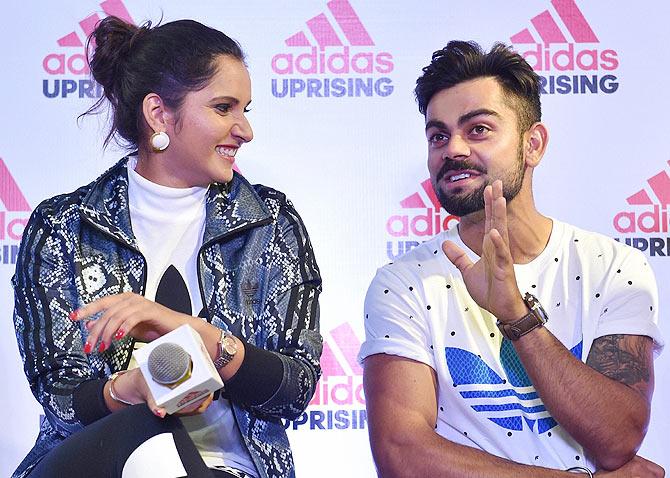 Kohli said people should also understand the sacrifices made by the sportspersons in their career and should not criticise them during their failures.
Wenger, Mourinho in war of words after ill-tempered match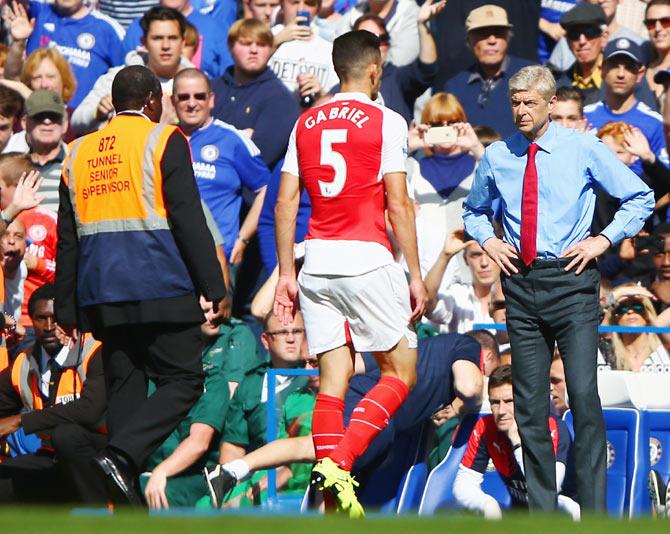 'I think it's unacceptable what he does to Koscielny. He pushes him down, he hits him in the face. I do not understand Mike Dean's decision at all. Why does Diego Costa stay on the pitch and Gabriel is sent off?'
After shock loss, Paes praises 'excellent' Czech youngster Adam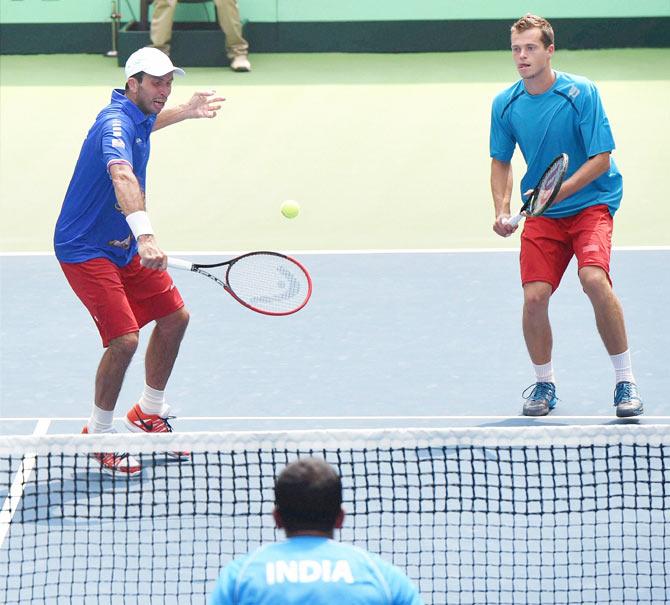 Leander Paes was, on Saturday, gracious in defeat and conceded that Czech player Adam Pavlasek played "phenomenal" tennis in the Davis Cup doubles game in New Delhi.
Ferrari's Vettel takes pole in Singapore, ends Mercedes' reign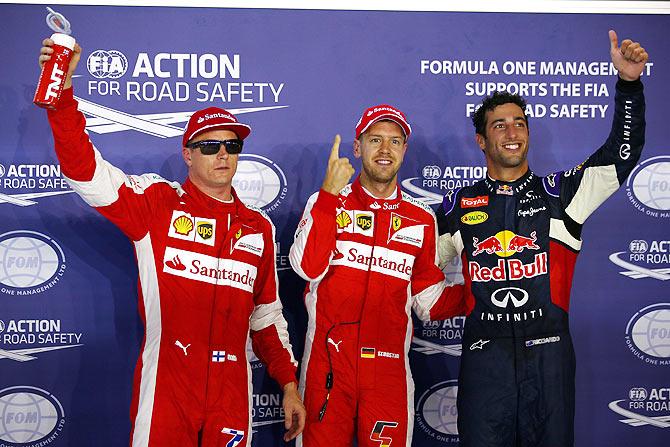 Vettel came out on top, giving Ferrari their first pole position since 2012 with a masterful lap around the floodlit Singaporean track.
Liverpool's Henderson out for two months with broken foot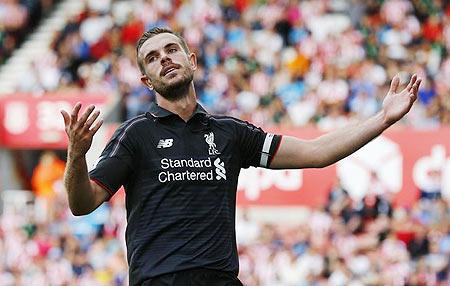 Liverpool skipper Jordan Henderson is facing up to two months on the sidelines after breaking a bone in his foot during a training session, British media reported on Saturday.
EPL PHOTOS: Chelsea beat Arsenal in scrappy London derby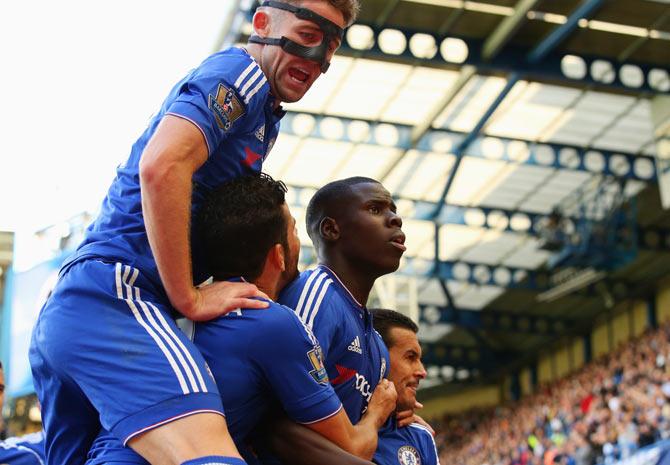 Kurt Zouma and Eden Hazard scored the goals the goals in a match that saw Diego Costa play central character.
Paes reckons belief in the partnership can win India Olympic medal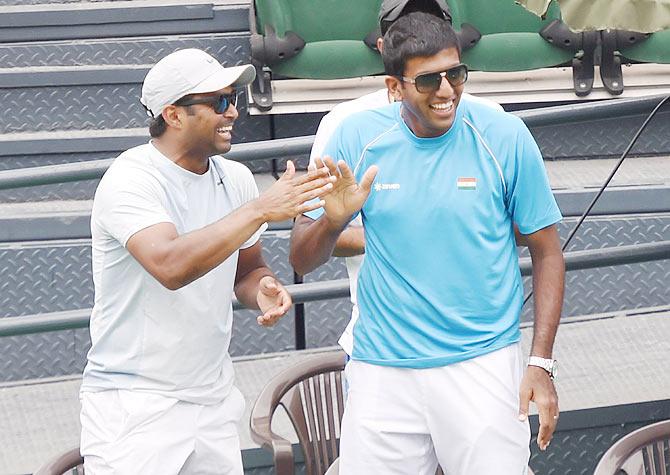 'The belief in each other is what is going to get us the medal'
Pistorius's parole review hearing postponed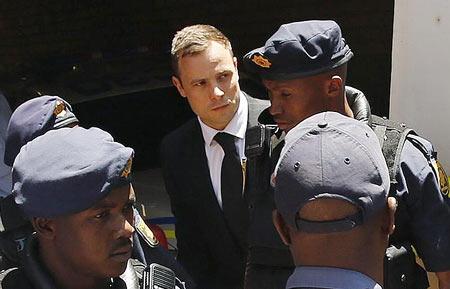 The delay was because the board had been unable to finalise all its cases on Friday, when it had been due to meet to decide if Pistorius should be freed on parole or serve a longer period in jail, local television station 'ENCA' reported.
Korea Open: Jayaram shocks world No 7 to reach final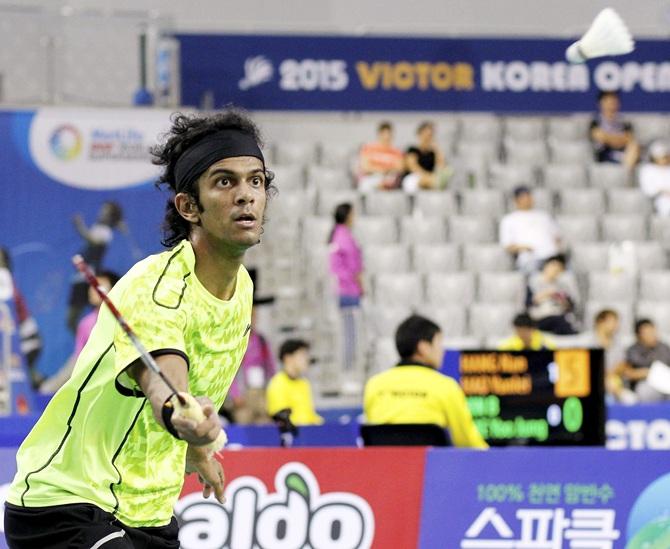 Indian shuttler Ajay Jayaram continued his rampaging run at the Korea Open notching up a sensational straight-game upset victory over world No 7 Chou Tien Chen of Chinese Taipei to storm into the finals of the $ 600,000 Super Series event, in Seoul, on Saturday.
Davis Cup: Paes, Bopanna lose; Czech Republic take 2-1 lead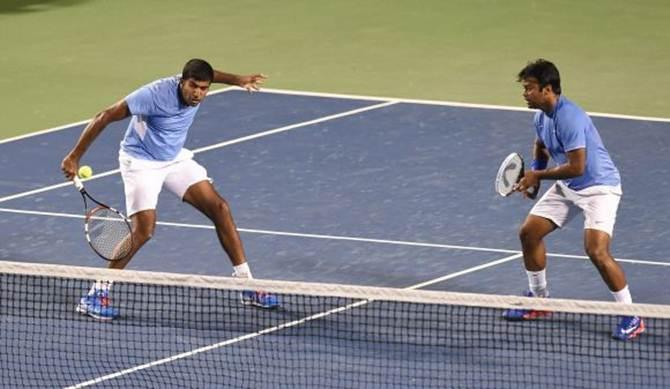 Leander Paes, partnering Rohan Bopanna, suffered a rare doubles defeat in the Davis Cup as Radek Stepanek and Adam Pavlasek gave Czech Republic a 2-1 lead over India in the World Group play-off tie, in New Delhi, on Saturday.
Davis Cup Roundup: Nadal wins on return to national duty
Rafael Nadal returned to Davis Cup action for the first time in two years on Friday with his victory putting Spain ahead in a Group One relegation playoff against Denmark.
Tiger Woods is done for 2015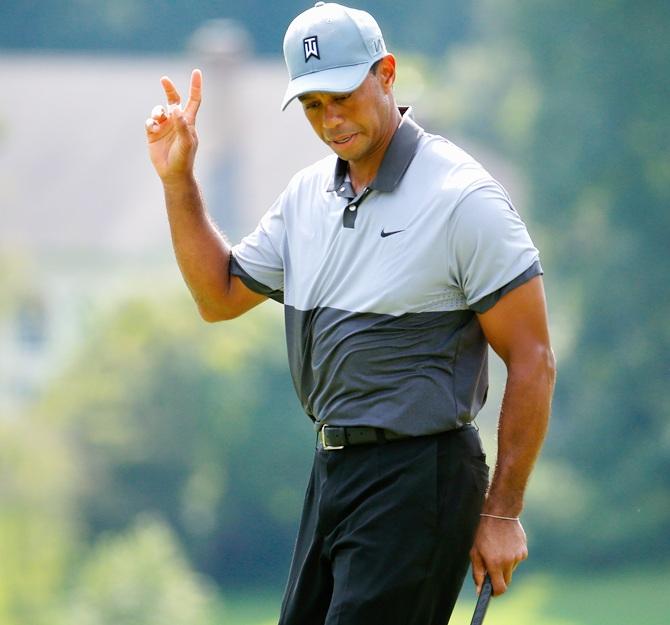 Tiger Woods has back surgery, out for rest of 2015.
World Cup chess: Sethuraman crashes out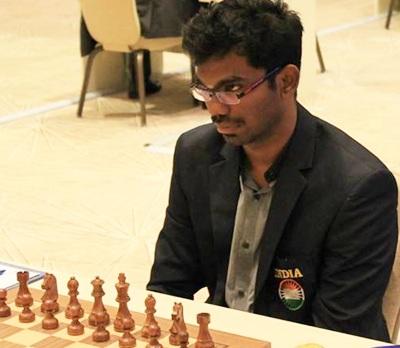 Indian Grandmaster S P Sethuraman crashed out of the World Cup of chess after a draw with Azerbaijani superstar Shakhriyar Mamedyarov in the second game of the third round in Baku.
September 18, 2015
One of the best serving days of my career, says Somdev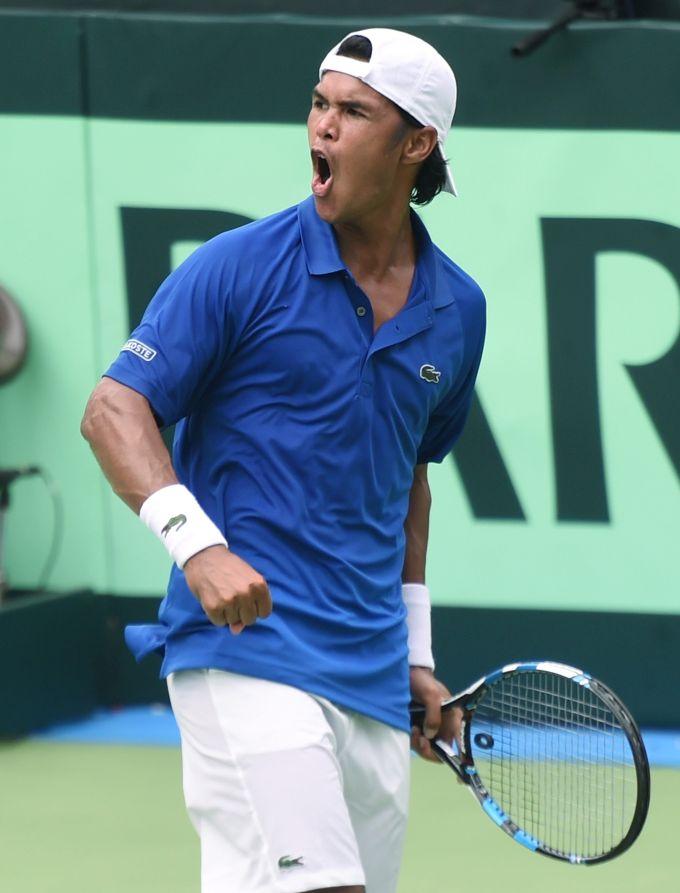 Having fired 20 aces in his straight-set victory over the Czech Republic's number one, Jiri Vesley, in the Davis Cup World Group play-off tie in Delhi on Friday, Somdev Devvarman declared it was one of the best serving days of his career.
Clement sacked as France Davis Cup captain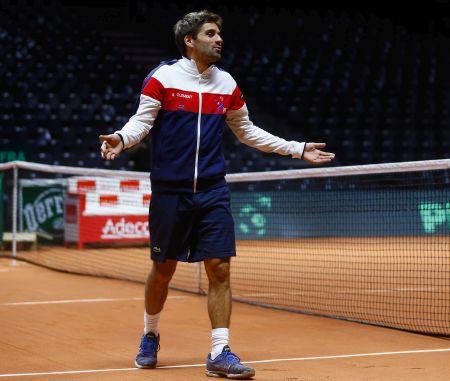 Davis Cup captain Arnaud Clement has been sacked following France's quarter-final defeat against Britain, the French federation (FFT) said on Friday.
Korea Open: Jayaram stuns Sasaki to enter semis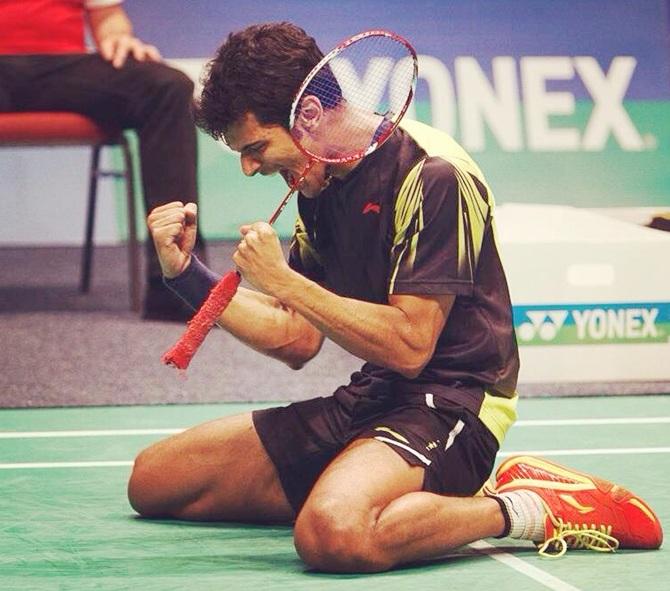 Indian shuttler Ajay Jayaram notched up a stunning three-game victory over higher-ranked Japanese Sho Sasaki to reach the men's singles semifinals of the Korea Open Super Series badminton tournament, in Seoul, on Friday.
PHOTOS: Somdev draws India level after Rosol gives Czechs lead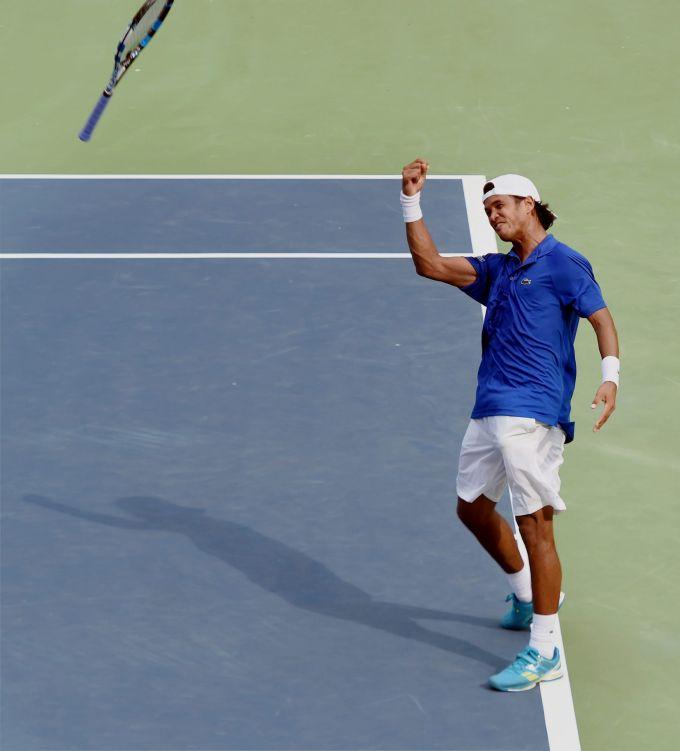 Somdev Devverman kept India's hopes alive in the Davis Cup World Group play-off tie with a 7-6, 6-4, 6-3 victory over Jiri Vesely of the Czech Republic, in Delhi, on Friday.
Soccer Shorts: 'Shaw set for second operation on Friday'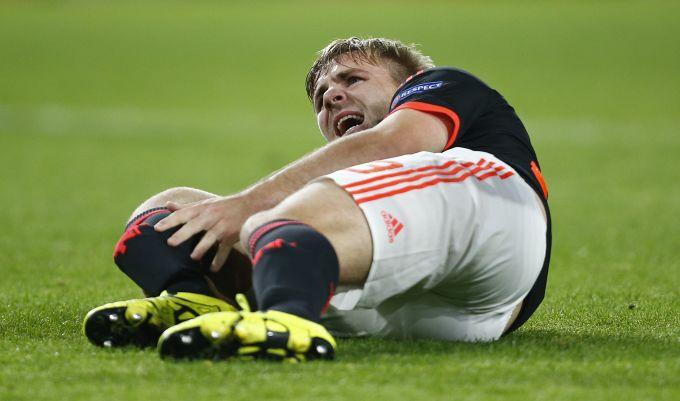 Manchester United's Luke Shaw is set to undergo a second operation on Friday after breaking his right leg in two places in Tuesday's 2-1 loss to PSV Eindhoven, according to British media reports.
PHOTOS: Shah Rukh beats Saina Nehwal in badminton!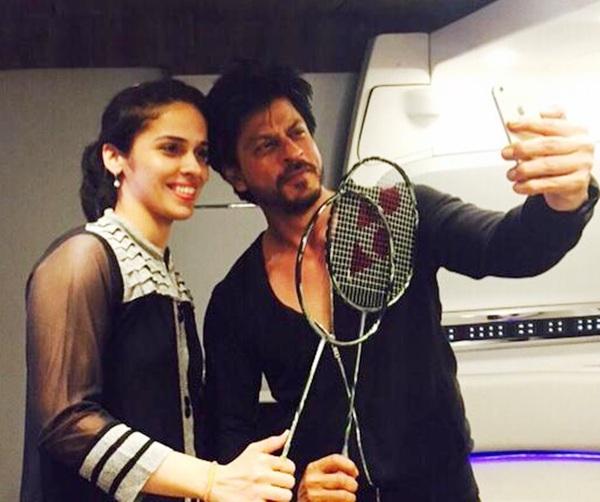 With a badminton racquet in hand and a song on mind, Bollywood superstar Shah Rukh met Indian ace badminton player Saina Nehwal on the sets of his upcoming film Dilwale.
Fresh blow for FIFA! Suspends No 2 official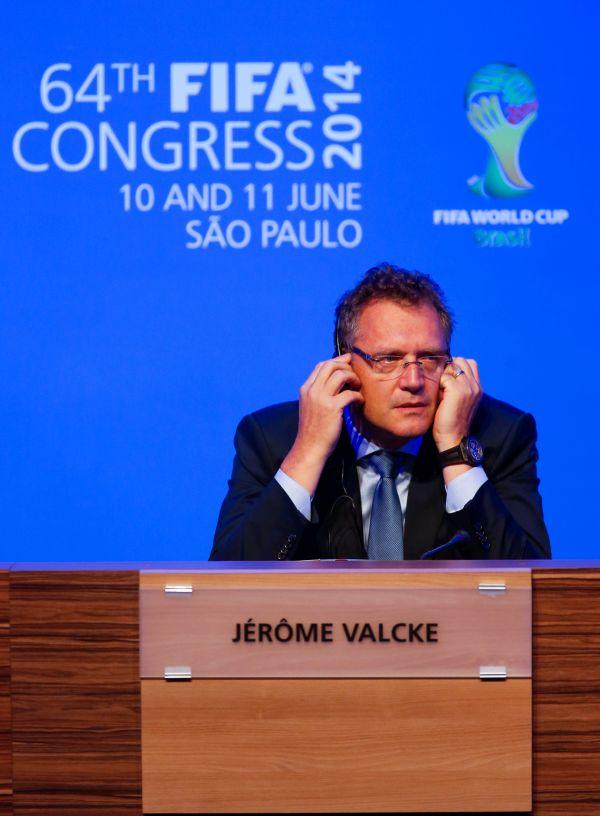 World football body FIFA put Jerome Valcke, its second-ranking official, on leave on Thursday just hours after an ex-footballer raised allegations he was involved in a plan to resell 2014 World Cup tickets for a lucrative profit.
World Cup chess: Sethuraman loses to Mamedyarov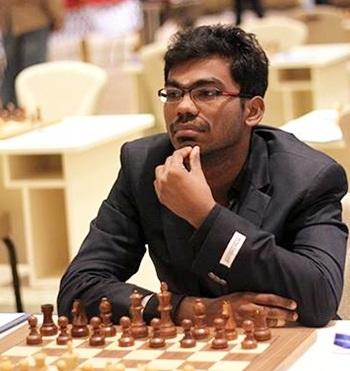 Indian Grandmaster S P Sethuraman went down to higher ranked Shakhriayar Mamedyarov of Azerbaijan in the first game of the third round of World Cup of Chess now underway in Baku.
Europa League: Napoli thrash Bruges, Dortmund win again
Napoli began their Europa League group stage campaign in scintillating fashion.
Murray pledges to make every ace count for refugees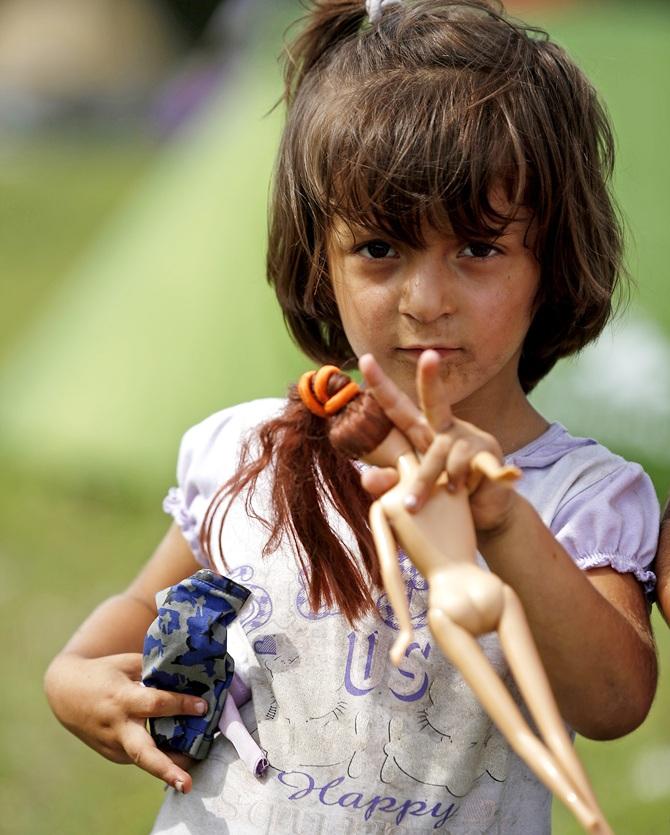 Andy Murray has pledged 50 pounds ($77.59) to children's charity UNICEF for every ace he hits for the rest of the year after being moved by television images of refugees fleeing to Europe.
Is Beckham's 16-year marriage on the rocks?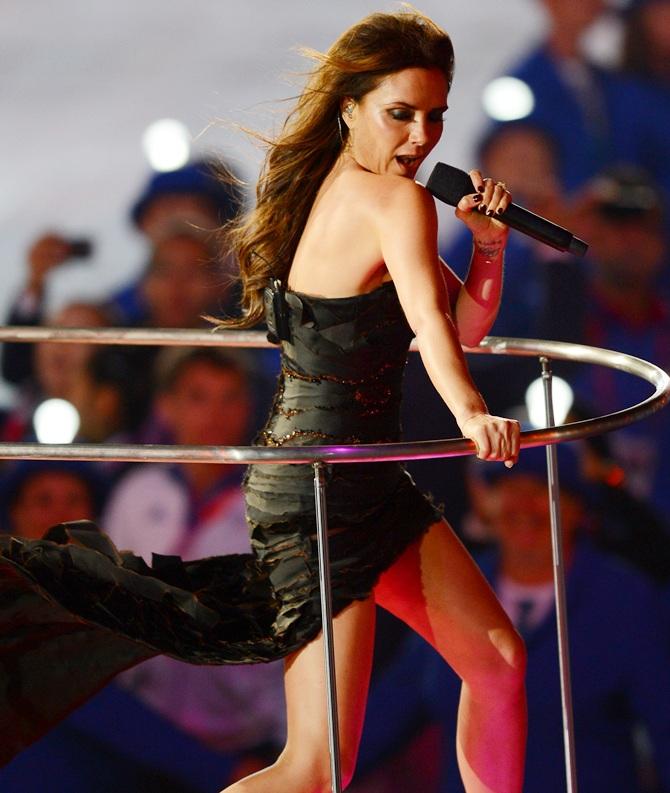 Victoria Beckham has reportedly undergone laser treatment to get her tattoo dedicated to the football legend husband, David Beckham, removed.
September 17, 2015
Soccer Updates! Bale sidelined by calf muscle injury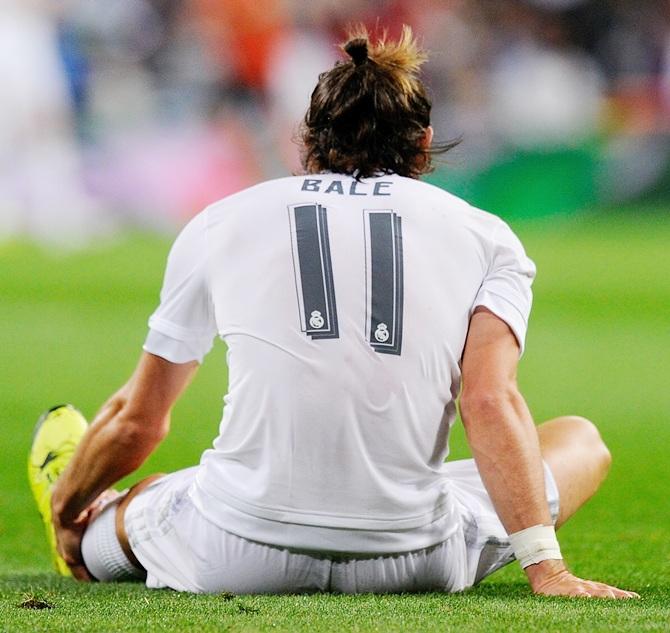 Real Madrid midfielder Gareth Bale damaged a calf muscle in his left leg during Tuesday's 4-0 Champions League Group A victory at home to Shakhtar Donetsk, tests confirmed on Thursday.
Korea Open: Jayaram lone Indian survivor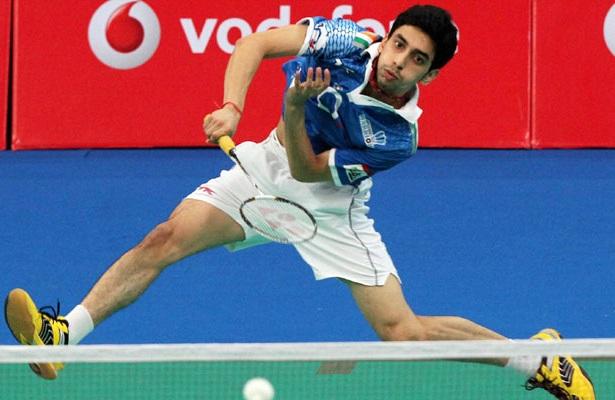 Indian shuttler Ajay Jayaram emerged as the lone survivor at the Korea Open after he defeated Hong Kong's Wong Wing Ki Vincent to reach the quarterfinals of the men's singles event even as P V Sindhu bowed out of the Super Series tournament, in Seoul, on Thursday.
HIL auction: Germany's Fuerste wins highest bid; poor return for Sardar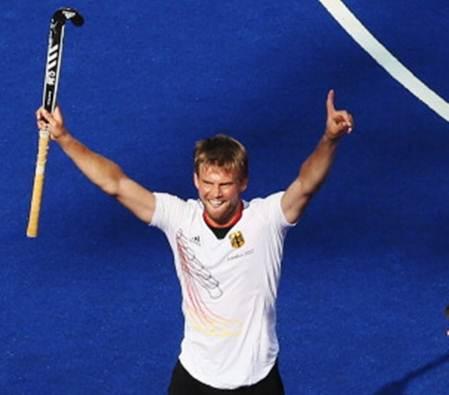 India captain Sardar Singh fetched a poor return of US $58,000 while Germany's Moritz Fuerste drew the highest ever bid in the history of the Hockey India League auction, bought by Kalinga Lancers for a whopping US $1,05,000 in Delhi on Thursday.
Davis Cup play-off: Yuki meets Rosol in opening singles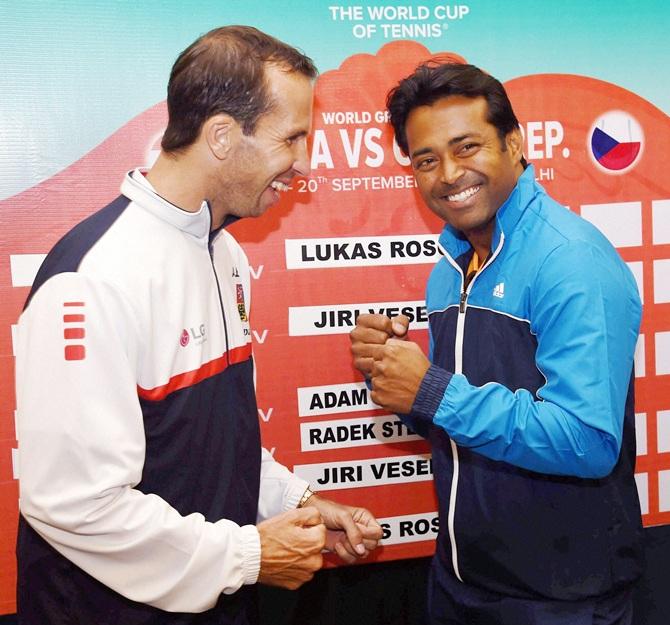 Yuki Bhambri, the country's No 1 singles player, will open India's Davis Cup campaign when he takes on world No 85 Lukas Rosol in the first singles of the World Group play-off match against the Czech Republic, in Delhi, on Friday. The second singles will be played between Somdev Devvarman and Czech No 1 Jiri Vesley.
Iranian women's football captain banned... by husband!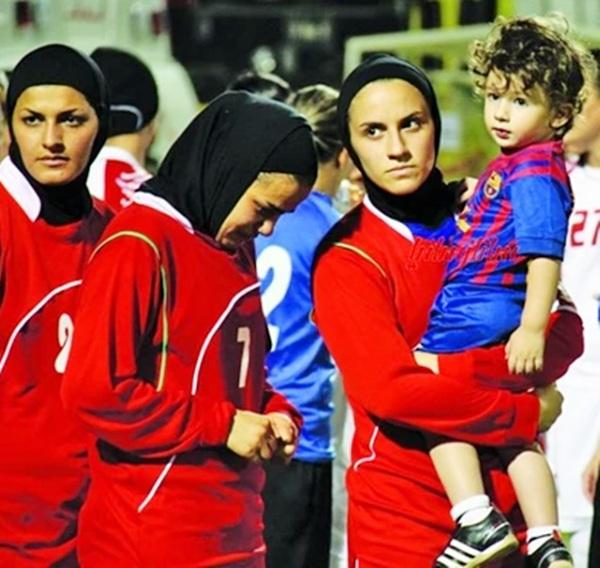 The Iranian woman's football captain, Niloufar Ardalan, will miss the Asian Cup tournament as her husband has confiscated her passport in a domestic quarrel.
How Britain rose from Davis Cup lightweights to title contenders!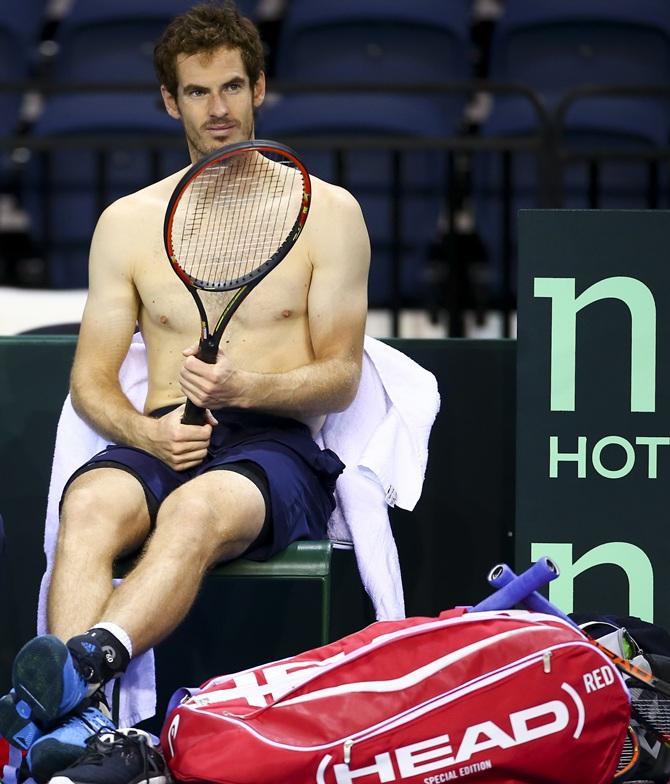 Britain's rise from embarrassing Davis Cup lightweights to title contenders has been nothing short of spectacular and they will begin slight favourites to reach a first final in 37 years against Australia on Friday.
Why Mourinho doesn't want City, United, Arsenal to lose in Champions League...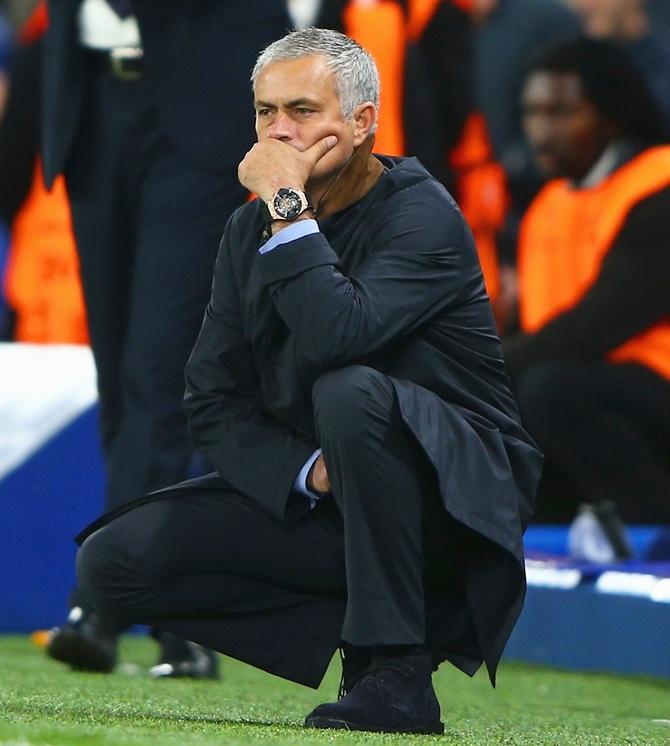 Jose Mourinho was delighted that Chelsea made a winning start to their Champions League campaign on Wednesday, but said he was not happy that Manchester United, Manchester City and Arsenal had all lost their opening matches.
'I believe that a young one should come and take me out of my job'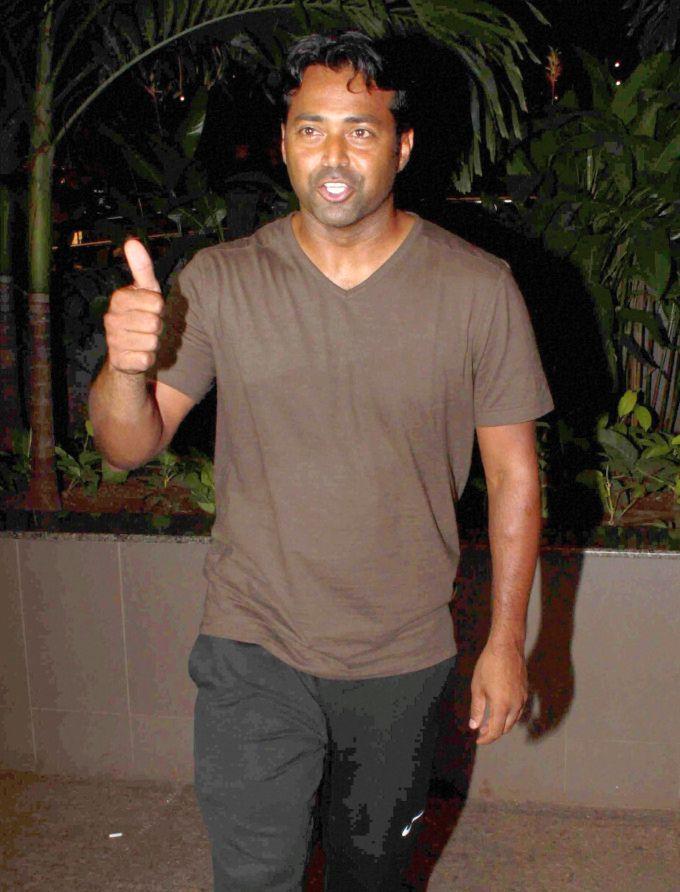 India's Davis Cup legend Leander Paes made it clear that he opted to play World Team Tennis during India's last tie against New Zealand in order to give youngsters a chance to prepare for the bigger battles ahead of them.
Champions League PHOTOS: Bayern see off Olympiakos; Roma hold Barca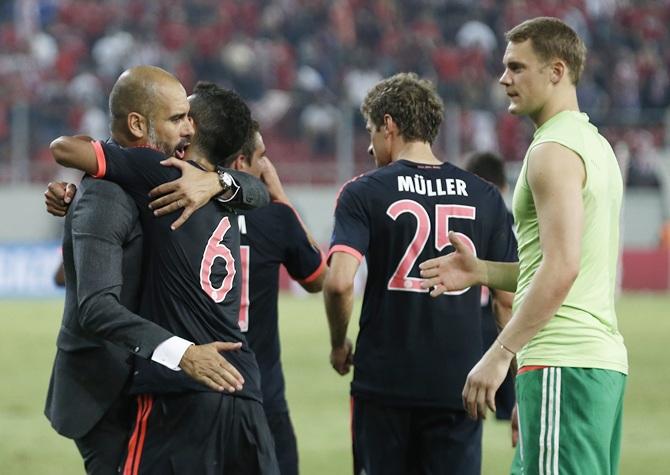 Two goals from Thomas Mueller and one from substitute Mario Goetze helped Bayern Munich kick off their Champions League campaign with an impressive 3-0 victory over Olympiakos.
Manpreet shatters national record, qualifies for Rio Olympics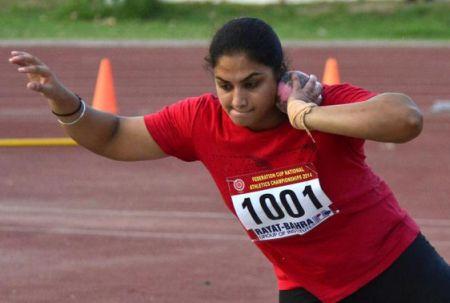 Shot putter Manpreet Kaur smashed an 18-year-old national record to win gold and qualify for next year's Olympics as Railways dominated the show on the opening day of the 55th National Open Athletics Championships in Kolkata.
September 16, 2015
First Look: Saina presents her racquet to PM Modi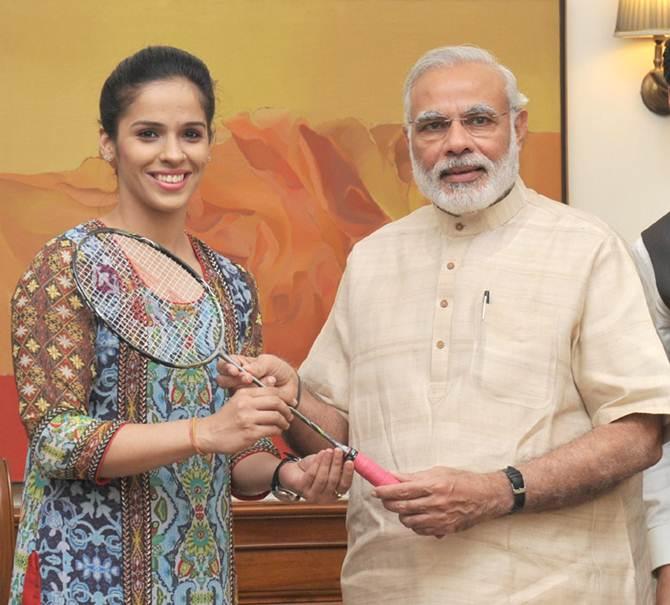 World No 1 shuttler Saina Nehwal presented the racquet with which she won a silver medal at the Badminton World Championships to Prime Minister Narendra Modi as an advanced birthday present, on Wednesday.
Bopanna confident India can beat mighty Czechs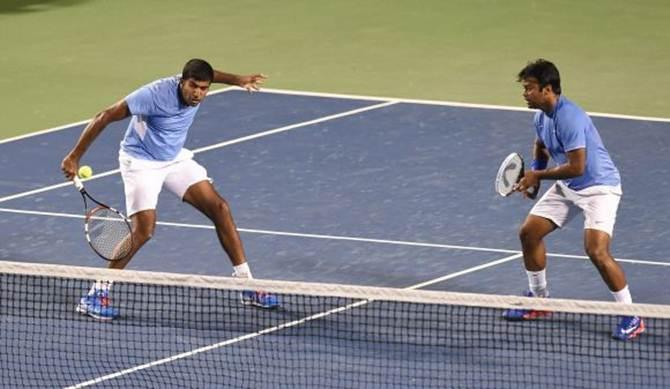 It's an acid test against the Czech Republic in the World Group Play-off tie, but Rohan Bopanna is confident India's Davis Cup team can tame the world number one three-time champions.
Hangzhou to host 2022 Asian Games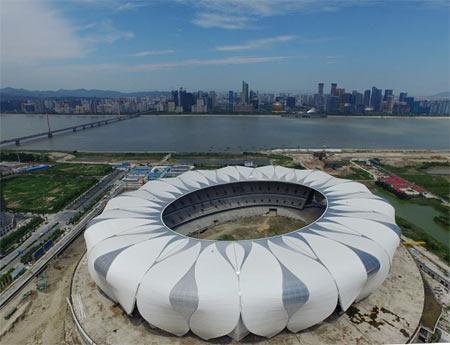 The capital of China's Zhejiang province, Hangzhou, was the sole bidder to stage the 19th edition of Asia's biggest multi-sports event.
Hamilton 'pushing for hat-trick' with Senna's record in sight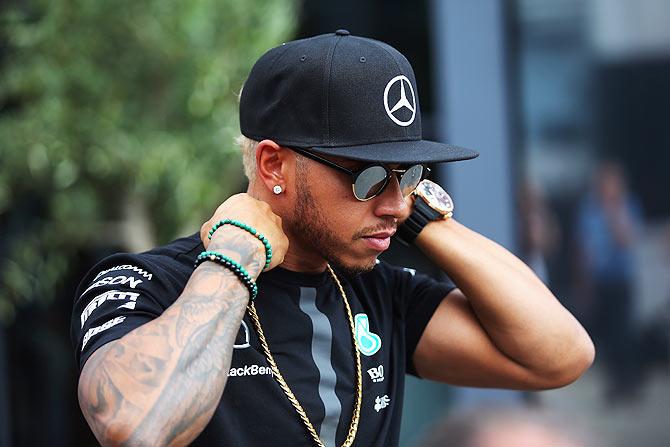 'I watched Senna as a child and it would be an honour to match him. Now I'm just one win away but I hope to do even better'
Kashyap crashes out in first round of Korea Open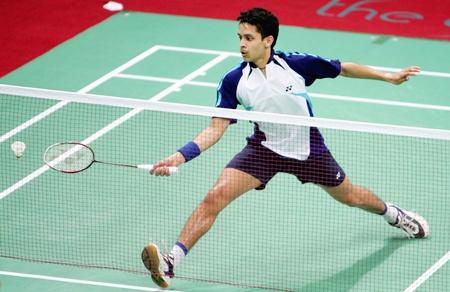 Top Indian shuttler P V Sindhu started her campaign at the US$ 600,000 Korea Open with a hard-fought win over Thailand's Ratchanok Intanon, but it was curtains for Parupalli Kashyap in men's singles event at the Super Series tournament in Seoul, on Wednesday.
World Cup chess: Sethuraman knocks out Harikrishna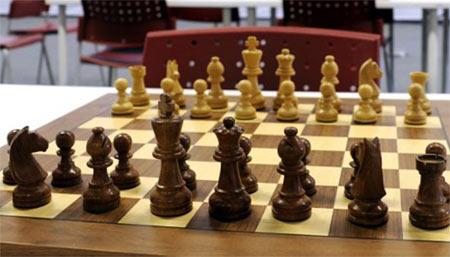 Grandmaster and National champion S P Sethuraman clicked when it mattered and defeated world number 21 and compatriot P Harikrishna to enter the third round of World Cup of chess in Baku, Azerbaijan.
Good chance for Chelsea to pull out of slump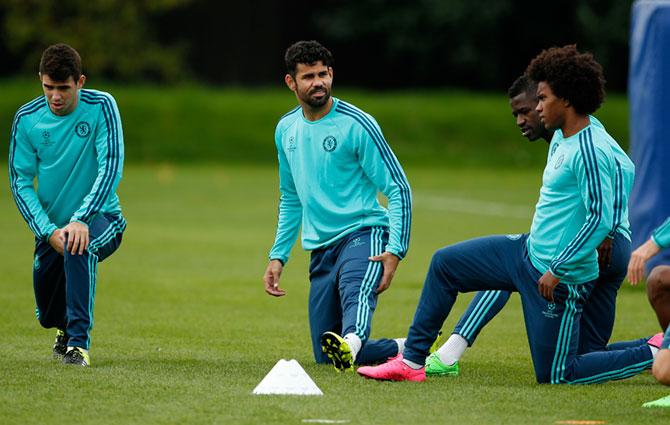 Out-of-sorts Chelsea have a golden opportunity to restore battered self-confidence when they face Maccabi Tel Aviv in their opening Champions League Group G match.
Champions League PHOTOS: Manchester clubs go down; Record for Ronaldo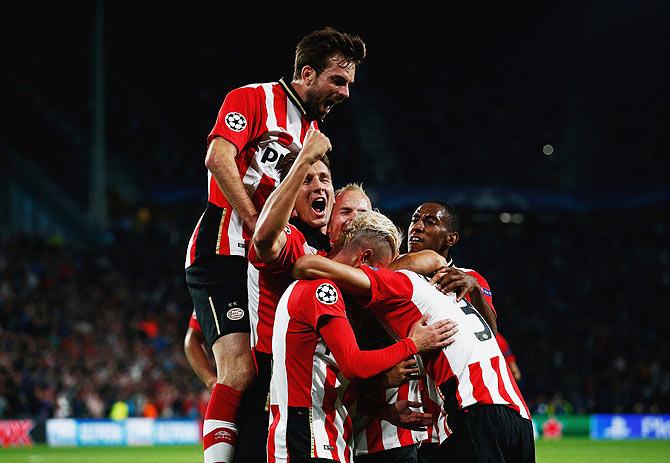 Photos from the Champions League matches played across Europe on Tuesday
September 15, 2015
Barcelona begin title defence against apprehensive Roma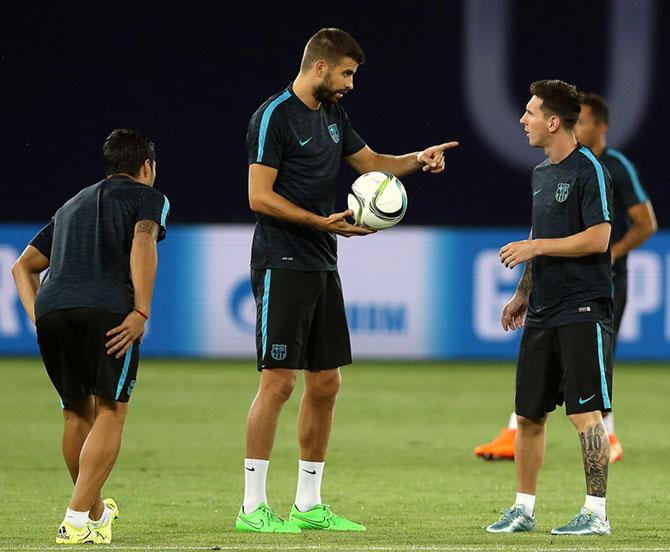 AS Roma supporters may be looking ahead to Barcelona's Champions League visit with some trepidation and coach Rudi Garcia certainly does not seem to be bursting with optimism.
Liverpool inks deal with Baseline, to launch coaching programmes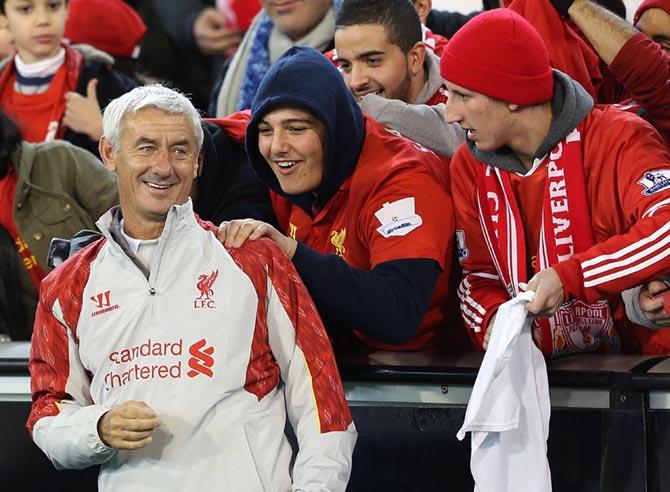 Baseline, a sports marketing, entertainment and licensing start-up company, has facilitated Liverpool Football Club to launch of the Club's first full-time coaching programme in the United Arab Emirates.
I don't pay attention to what a few people have to say: Sania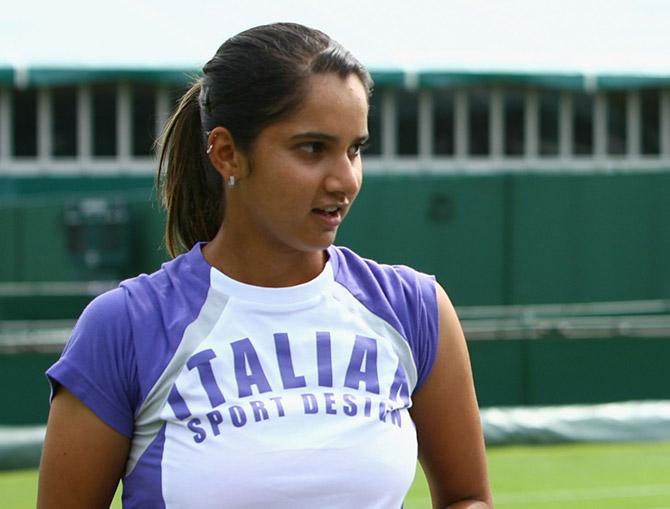 She has always found her stupendous success on court go hand-in-hand with controversies off it and that is precisely the reason why Sania Mirza is hardly bothered about what a few people have to say about her.
Finally, TOP boost for badminton stars Jwala-Ashwini for Rio Olympics!
After much dilly-dallying, the Sports Ministry has included Jwala Gutta and Ashwini Ponnappa in the 'Target Olympic Podium Scheme' (TOP) scheme, putting an end to the controversy surrounding the doubles duo's complaint of bias against the Ministry and chief national coach Pullela Gopichand.
Djokovic in his prime and threatening record books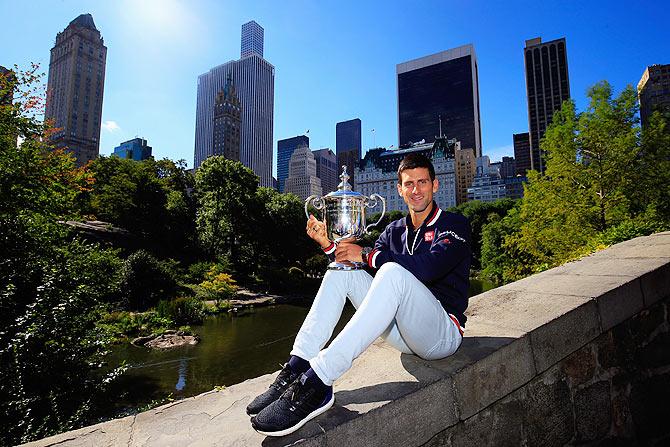 The 28-year-old Serb's initial slow accumulation of major silverware after his breakthrough at the 2008 Australian Open has accelerated to such an extent that talk of him surpassing the likes of Bjorn Borg, Rafael Nadal and even Roger Federer is no longer fanciful.
'America's Christ on a bicycle' Armstrong's disgrace revisited in film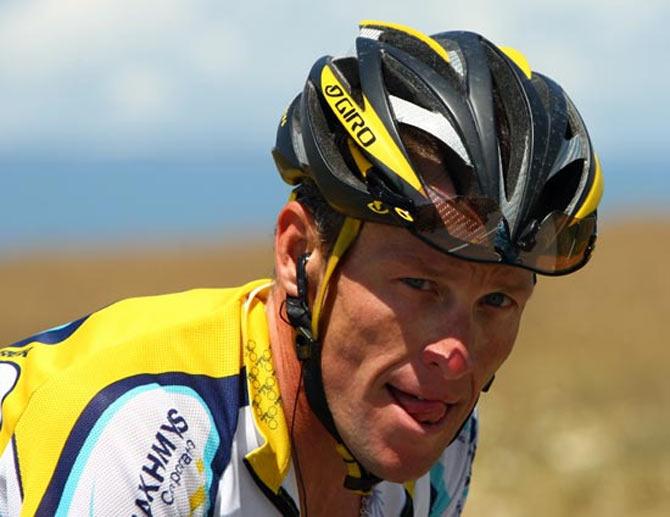 The Program documents the dark side of professional cycling, which still struggles to shake off suspicions of cheating amid a culture of loyalty to a team's star
Boxing India stands suspended, sets AGM for October 3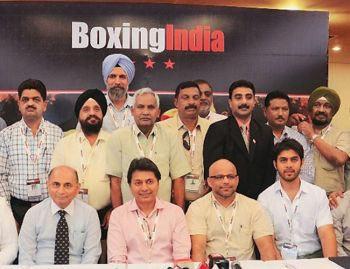 The chairman of the International Boxing Association (AIBA) ad-hoc committee Kishan Narsi has reiterated in an e-mail communication that Boxing India stands provisionally suspended after the derecognised national body in a notification had scheduled its Annual General Meeting in Guwahati on October 3.
PSV to play fearless football against favourites Manchester United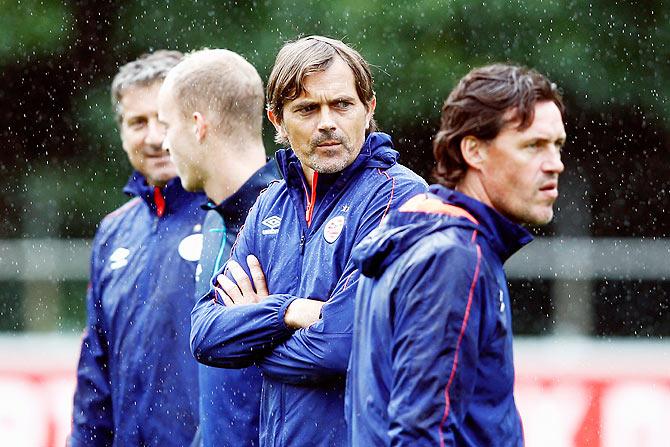 The Dutch club are returning to the group phase of the competition for the first time in seven years.
United's Depay returns to PSV, will celebrate if he nets
But the 21-year-old is leaving sentiment behind in his new job with United, whose opening Group B game is at the Philips Stadium, and has no intention in following the trend of not celebrating scoring goals against former clubs.
How Hollywood star Butler inspired Djokovic to US Open triumph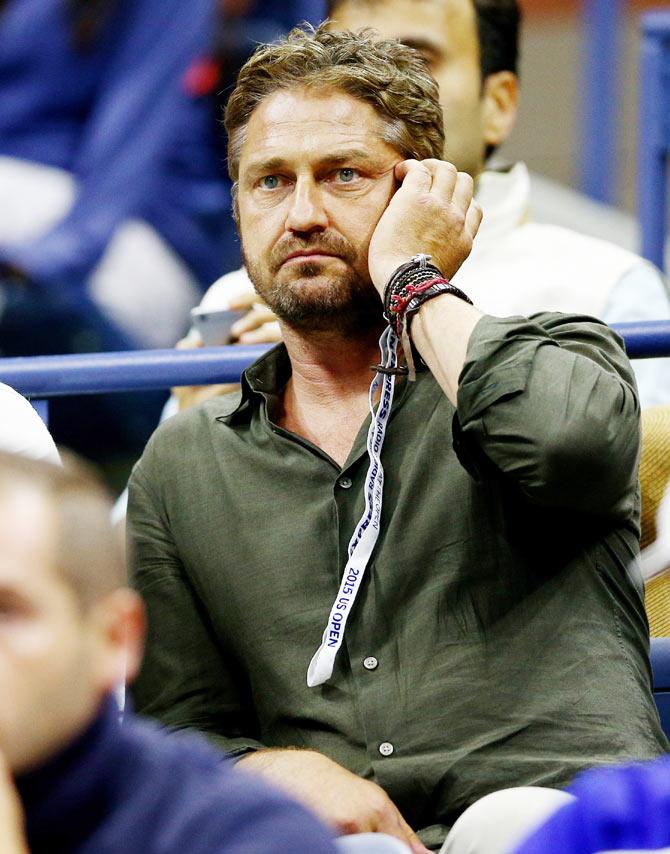 Novak Djokovic summoned some cinematic inspiration to help him conquer grand slam king Roger Federer and silence the roaring supporters of the Swiss at Sunday's US Open men's final.
EPL PHOTOS: Hammer Payet's double sees Newcastle slide to bottom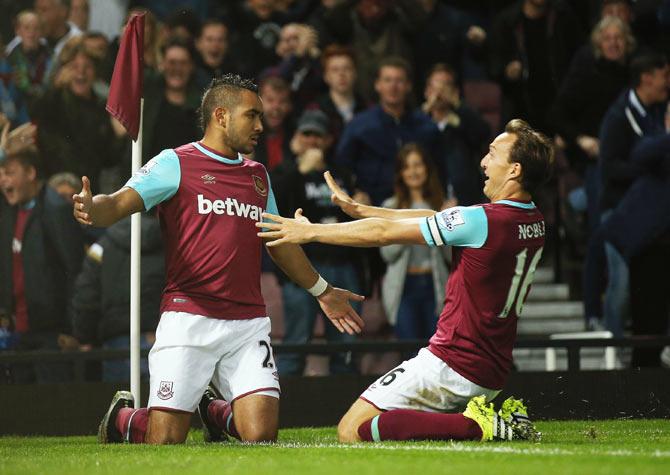 Dimitri Payet struck a brace for the Hammers against a tired Newcastle, whose players had to trudge the last mile to West Ham United's stadium after their team coach became stuck in London's rush-hour traffic before Monday's Premier League fixture.
September 14, 2015
'I don't think Rafa Benitez liked me as a person, not sure why'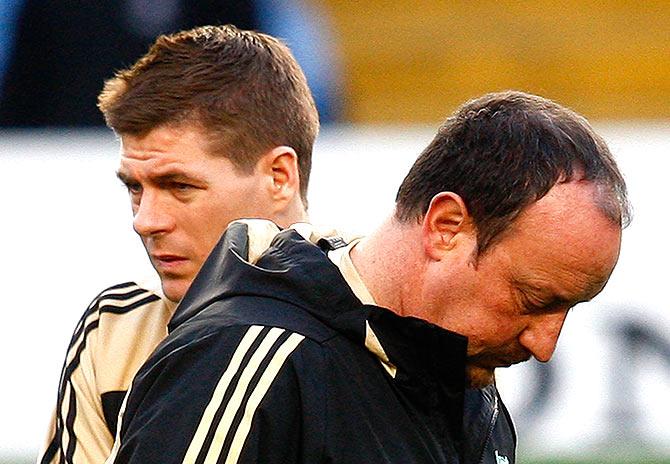 Rafael Benitez was the best tactical manager Steven Gerrard ever played under but the former Liverpool captain said he felt the Spaniard did not like him as a person, according to an extract from his autobiography being serialized in the Daily Mail.
Brilliant Ko relieved to get major monkey off her back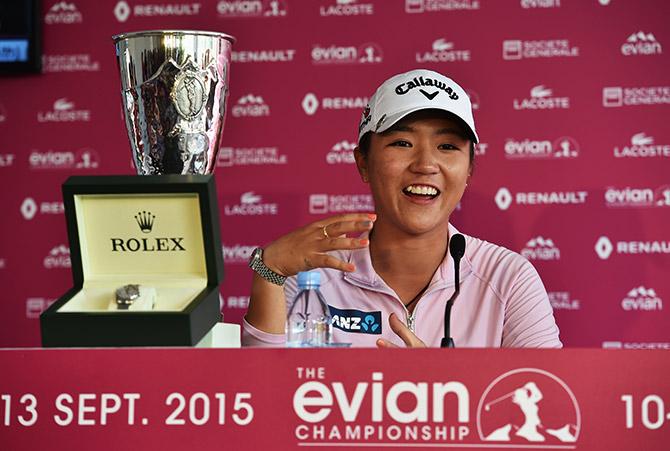 That a golfer could be under pressure to win a major at the age of 18 has been one of the LPGA Tour's more absurd talking points this season, so Lydia Ko was naturally delighted to torpedo the debate with her victory at the Evian Championship.
Champions League: In-form City target ailing Juventus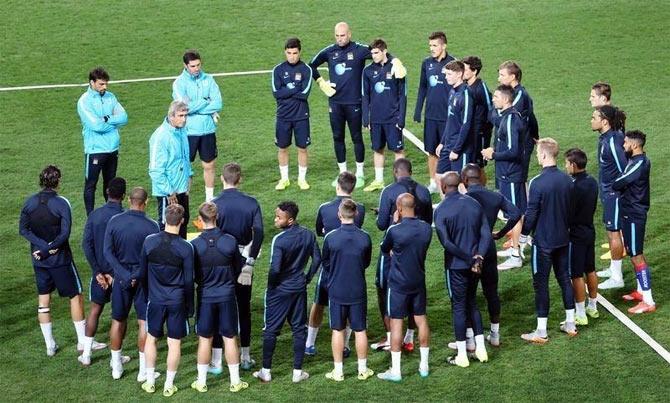 Manchester City embark on a fifth Champions League campaign buoyant after a perfect start to their domestic season but still searching for the secret formula against Europe's top brass.
Indian golfer Lahiri fights back to finish sixth on Web.com debut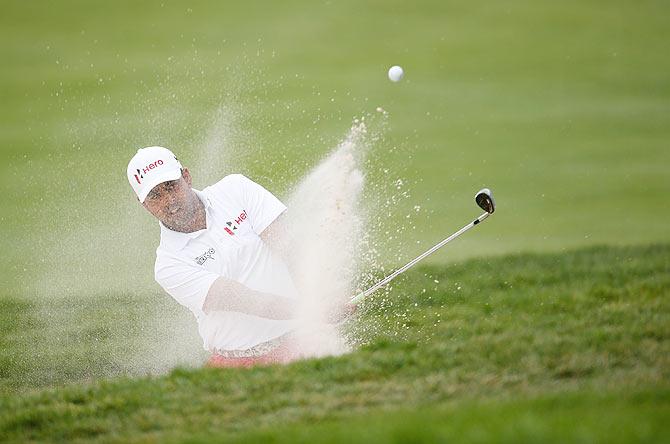 Ace Indian golfer Anirban Lahiri fought back well from an early stumble in the final round of the Hotel Fitness Championships and ended tied-6th in the first of the four-event Web.com Final series.
India youngsters bag bronze in Archery World Cup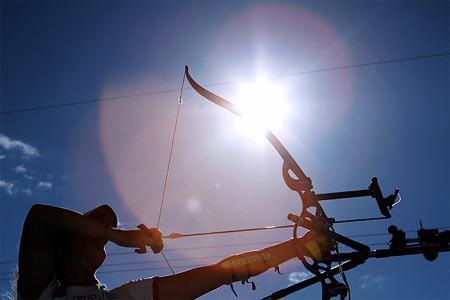 The Indian trio of Sarvesh Pareek, Sandeep Kumar and Isaiah Rajender Sanam, who were seeded sixth, beat a higher ranked Venezuela 231-222 in a one-sided bronze playoff.
Champions League: Dutch links add familiar flavour to United visit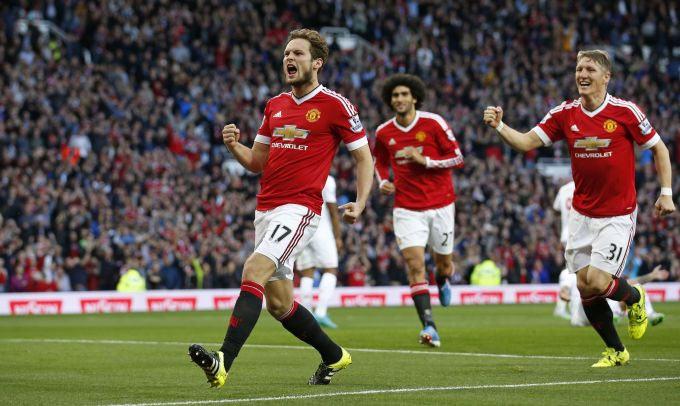 An air of familiarity will pervade the Champions League return of PSV Eindhoven and Manchester United when they open their Group B campaign in the Netherlands on Tuesday.
Djokovic plays pantomime villain in US Open final to cap great season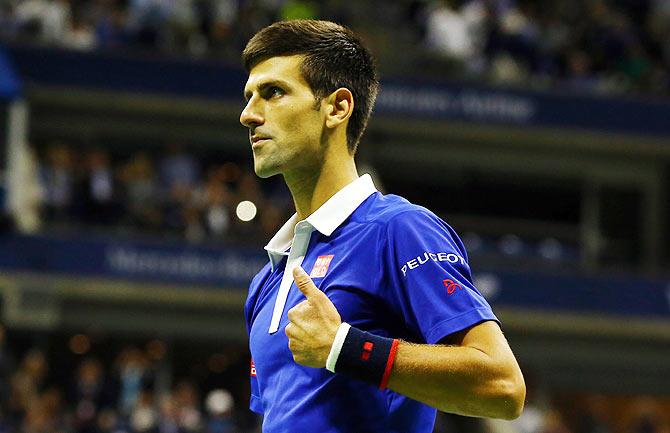 'As a father and a husband, experiencing a different variety of things in my life, it's a completely different approach to tennis today. I feel more fulfilled. I feel more complete as a player today than I was in 2011. Physically stronger, mentally more experienced and tougher as well'
Personal glory for Real hero Ronaldo as big teams fall across Europe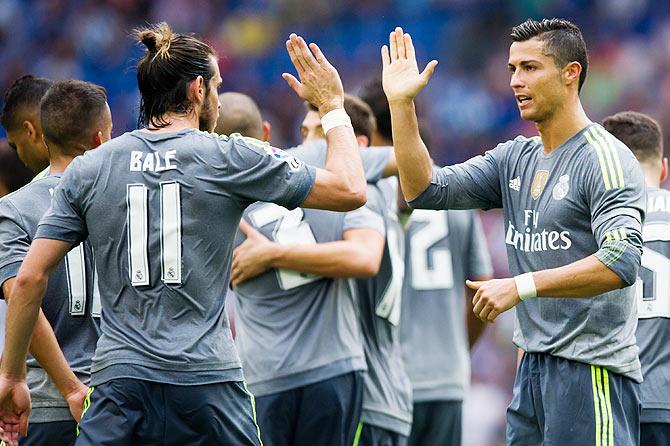 Manchester City made it five wins out of five in the Premier League and Cristiano Ronaldo scored five goals for Real Madrid but Chelsea and Juventus continued to struggle at the weekend as the Champions League looms.
Age-defying Federer shrugs off retirement talk on 'tough night'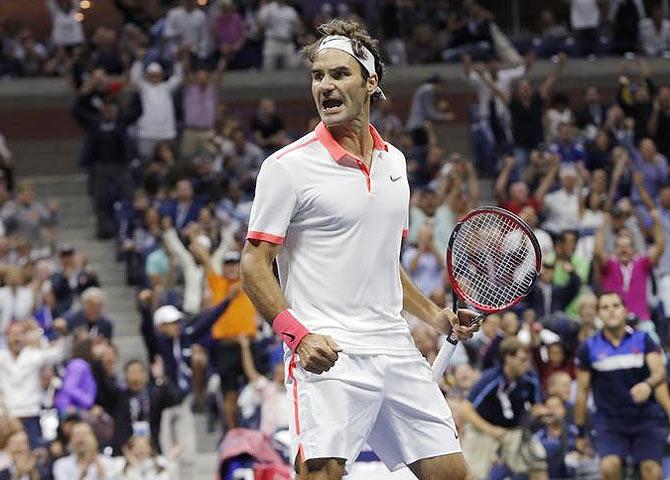 Unlike the women's US Open final there was no centre court retirement announcement on Sunday with Roger Federer putting aside the disappointment of losing to Novak Djokovic in the men's final to tell fans he will be back.
Yuki wins Shanghai Challenger title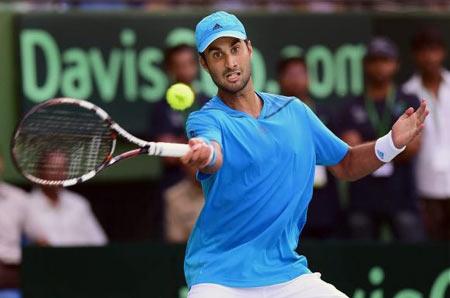 Yuki Bhambri geared up for India's Davis Cup tie against Czech Republic by annexing his first Challenger level singles title of the season as he defeated local favourite Di Wu in the final of the $50,000 tournament, in Shanghai on Sunday.
In PHOTOS: Djokovic's rise ten years since Grand Slam debut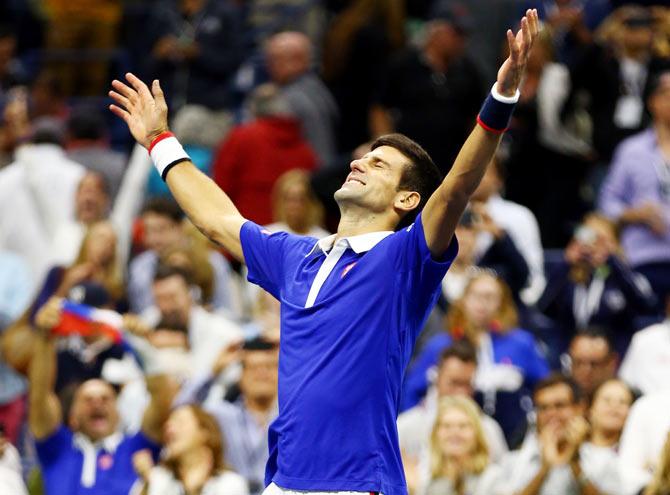 A summary of Novak Djokovic's rise in the tennis circuit in photos.
La Liga: Bilbao end dismal start with win over Getafe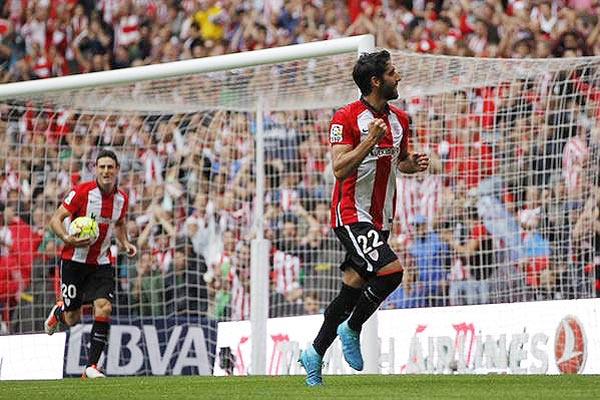 Striker Aduriz opened the scoring in the sixth minute at the San Mames with a trademark header before midfielder Garcia, who joined from Atletico Madrid last month, nodded in a second in the 24th minute.
Djokovic overpowers Federer to win US Open crown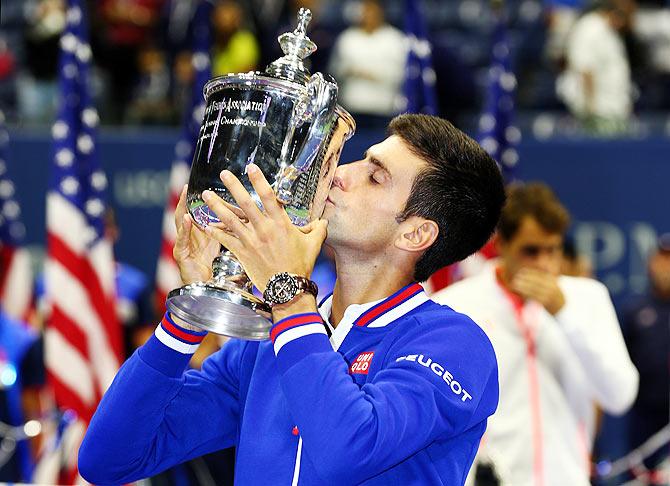 World No 1 Novak Djokovic beat Roger Federer 6-4, 5-7, 6-4, 6-4 to win the US Open title at the Flushing Meadows in New York on Sunday.
Leicester storm back to beat Villa and go second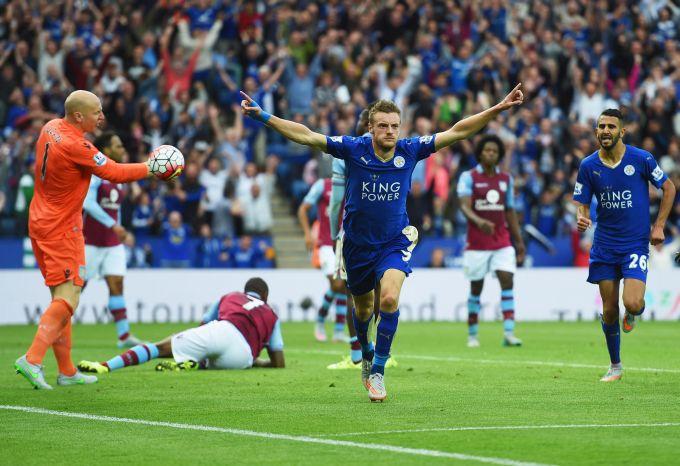 Leicester City staged a thrilling comeback from two goals down to beat Aston Villa 3-2 and go second in the Premier League table on Sunday, scoring three times in 17 minutes.
Ko becomes youngest woman to win a major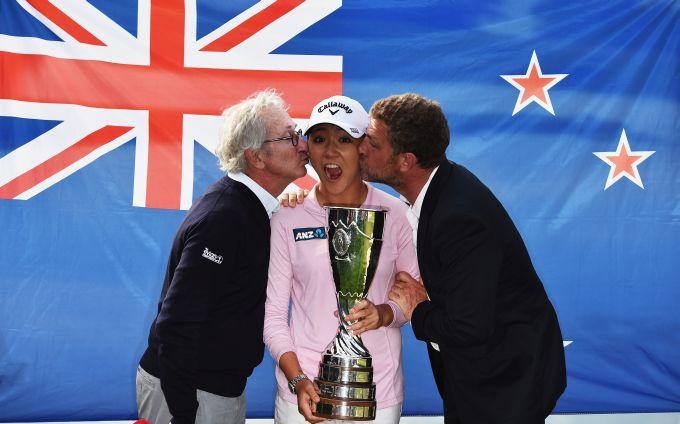 New Zealander Lydia Ko became the youngest woman to win a major when the 18-year-old carded a final-round 63 to claim the Evian Championship at Evian-Les-Bains, France, on Sunday.
September 13, 2015
Hingis, Sania end perfect U.S. Open with doubles title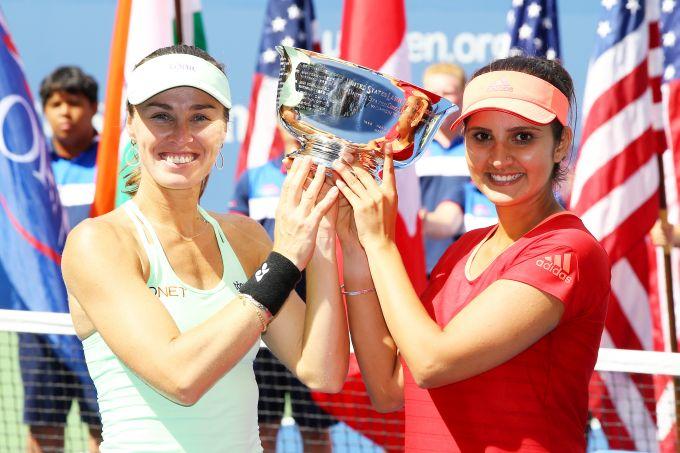 Sania Mirza and Martina Hingis continued their domination in the women's doubles by winning the U.S. Open crown, their second Grand Slam of the season, after a crushing victory over Casey Dellacqua and Yaroslava Shvedova, in New York.
Super-sub Martial's wonder-goal makes United manager Van Gaal smile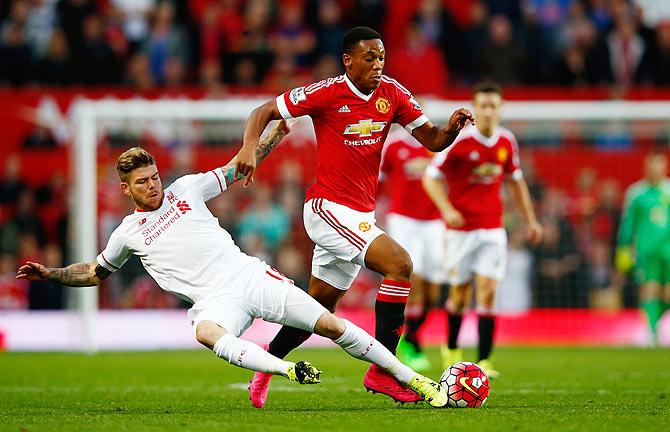 United manager Louis van Gaal, who had come under scrutiny for sanctioning the deadline-day deal this month and had even been accused of 'panic-buying', was suitably impressed if typically understated.
India's Lahiri stays in contention for maiden title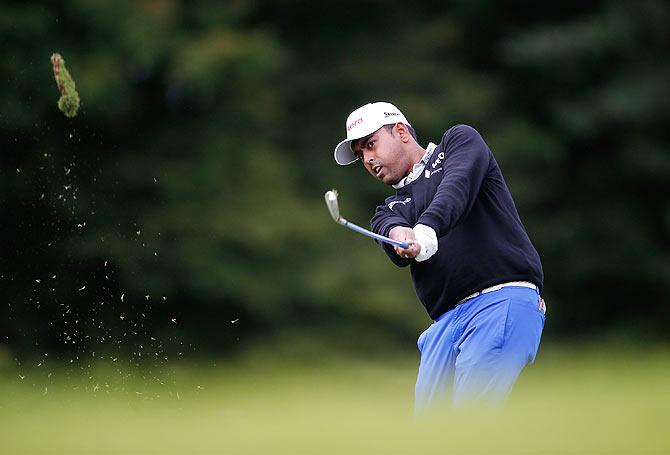 Anirban Lahiri, making his debut at the Web.com Tour, stayed within striking distance of his maiden title in the United States as he took the sole second place at the end of the third round of the Hotel Fitness Championship.
'Michelle Obama congratulates Serena over successful 2015 season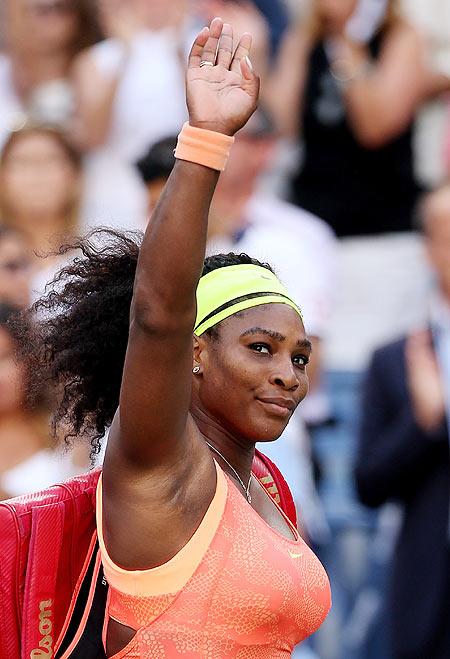 Italian Roberta Vinci crushed the world number one's hope of completing a calendar grand slam by reaching the women's singles US Open final for the first time in her career.
An even battle on cards as Djokovic faces-off against sublime Federer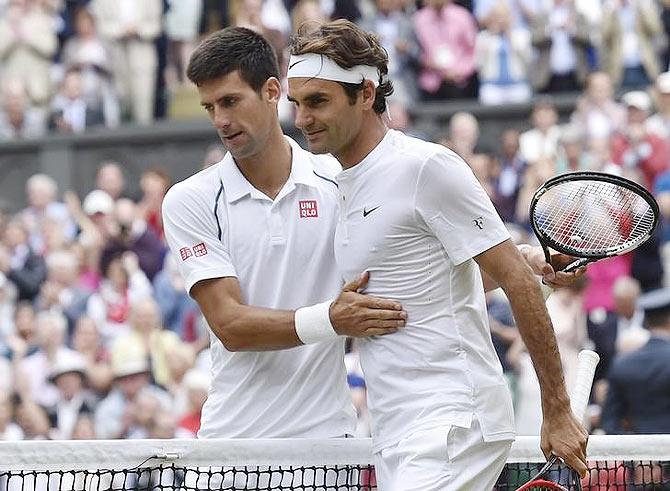 Both players burn with heaps of motivation to hoist the winner's trophy at Arthur Ashe Stadium in the last grand moment of the 2015 slam season.
Boxer Mayweather beats Berto in farewell bout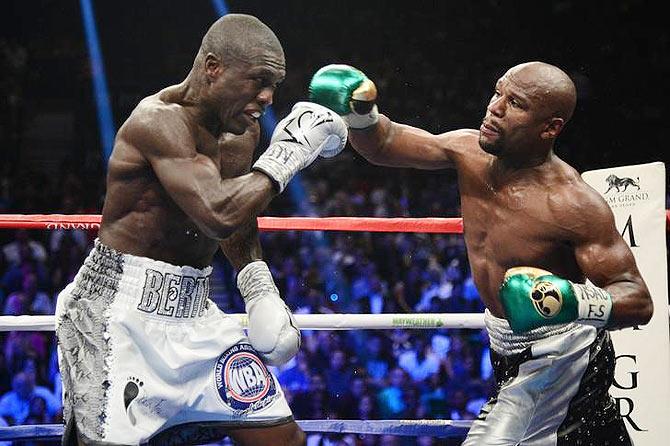 Mayweather, 38, outboxed his younger opponent over the 12 rounds to retain his WBC and WBA welterweight titles and improve his perfect career record to 49-0, matching the benchmark set by former heavyweight champion Rocky Marciano.
Wrestler Narsingh wins bronze at Worlds, books Olympic berth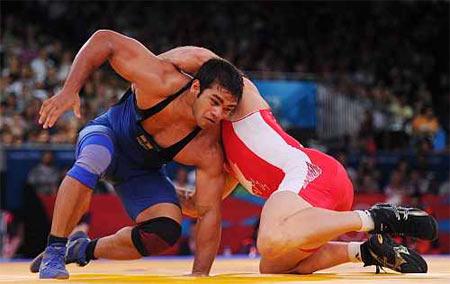 This is the first time that an Indian wrestler has earned an Olympic berth with a medal at the World Championship.
Blake says New York cop should be fired for abusing power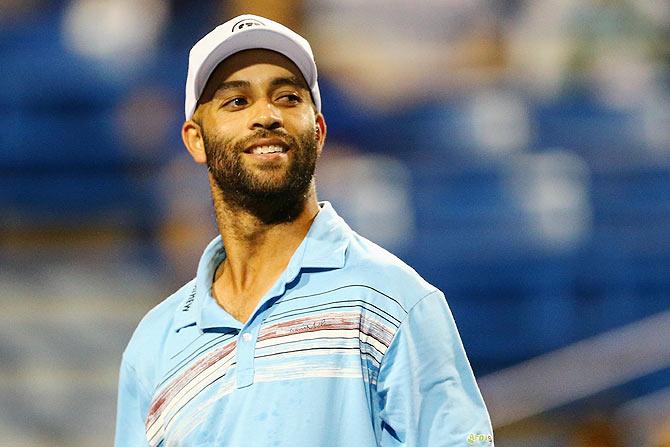 'If you have someone out there that's having this kind of rogue justice, they're tarnishing that image, and they don't deserve to be in the same sentence with the heroes of the NYPD, and they don't deserve to have that badge'
Junior Hockey Asia Cup: Indian eves lose to Japan in semis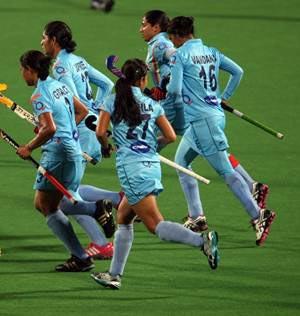 The Indian women's junior hockey team crashed out of the 7th Asia Cup after suffering a 2-3 defeat in penalty shootout against Japan in a nail-biting semi-final in Changzhou, China on Saturday.
Juve in fifth after late penalty helps avoid another defeat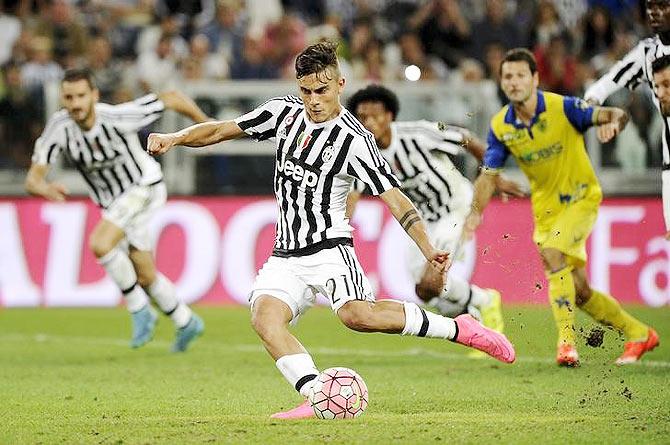 Juventus' wretched start to the season continued when they needed a late penalty to avoid defeat as the Serie A champions were held to a 1-1 home draw by early leaders Chievo Verona on Saturday.
Bundesliga: Aubameyang scores twice to help Dortmund leapfrog Bayern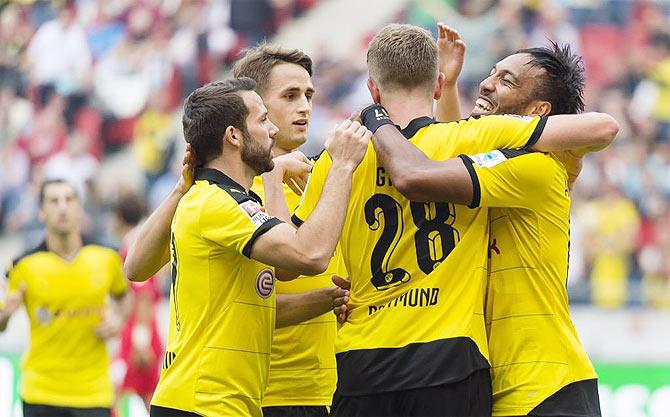 It was the ninth consecutive victory for Dortmund in all competitions this season and showed they had put last season's disappointing performances behind them.
La Liga PHOTOS: Ronaldo in record books as Real's highest goal-scorer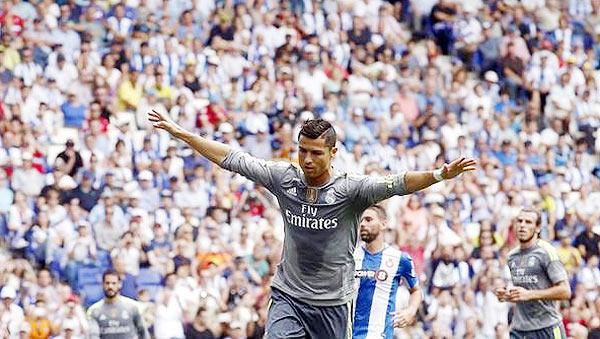 In other matches, super-sub Messi helped Barca romp past Atletico
Vinci can't stop gushing after 'miraculous' run at US Open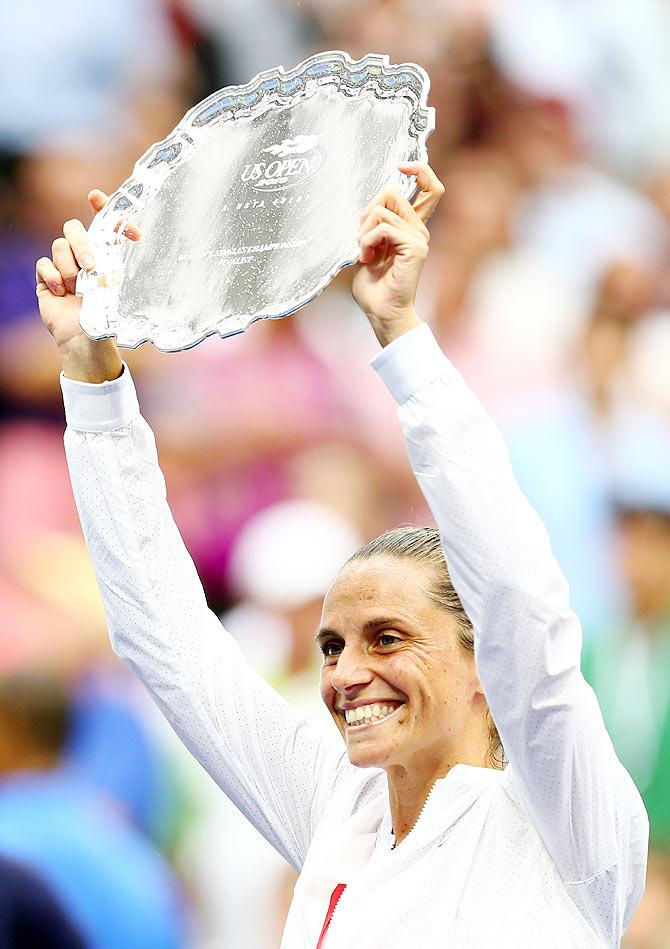 Roberta Vinci, playing in her first grand slam singles final, lost twice at the US Open on Saturday after coming up short in an all-Italian clash against her closest friend on tour.
US Open champion Pennetta says 'goodbye to tennis' moments after win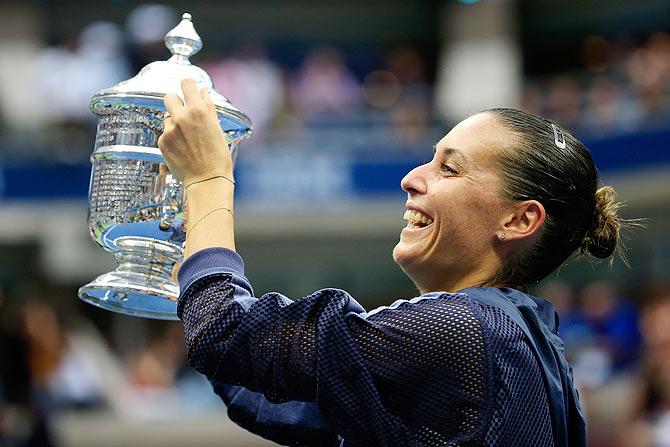 'I was trying to play every match like it was my last one. Trying to play best all the time'
Pennetta beats Vinci to win US Open title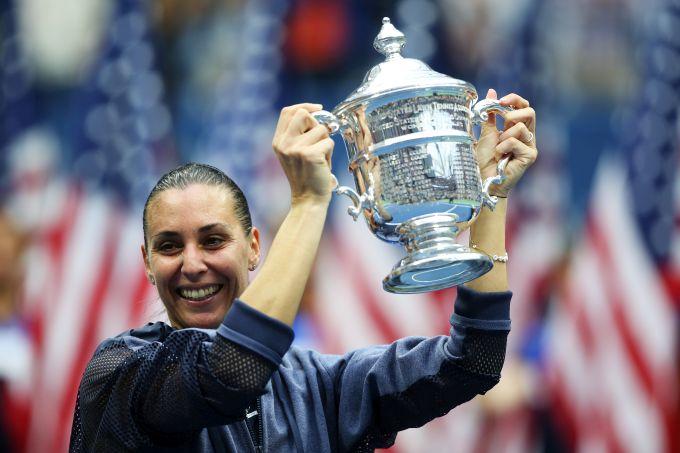 Flavia Pennetta beat unseeded Italian compatriot and childhood friend Roberta Vinci 7-6(4) 6-2 to win the US Open women's singles title on Saturday.
Herbert, Mahut first French pair to win U.S. Open doubles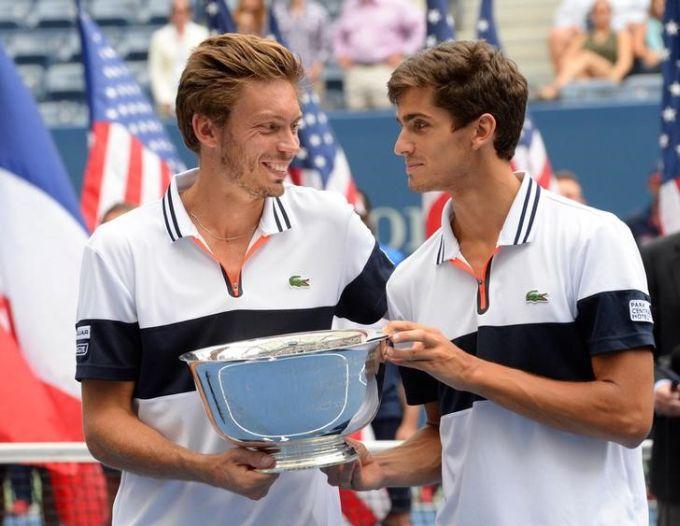 Pierre-Hugues Herbert and Nicolas Mahut became the first all-French duo to win the U.S. Open men's doubles title after easing past Britain's Jamie Murray and Australian John Peers 6-4, 6-4 on Saturday.
September 12, 2015
Five-goal Ronaldo becomes record Real scorer in La Liga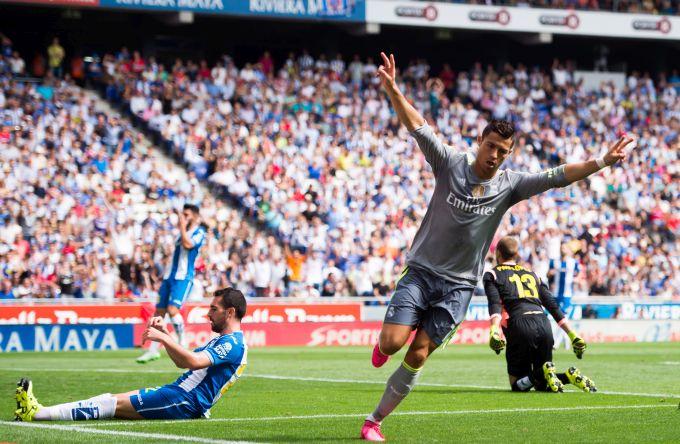 Real Madrid forward Cristiano Ronaldo ended his early-season drought in emphatic style when he hit five goals in a 6-0 romp at Espanyol on Saturday to become the club's record scorer in La Liga.
Yuki reaches final of Shanghai Challenger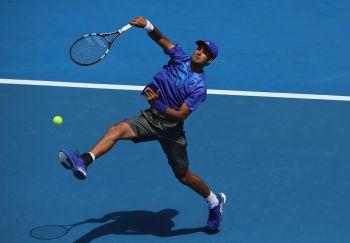 Yuki Bhambri is in line to win his second Challenger level singles title of the season as he advanced to the summit clash after his opponent withdrew due to a lower back problem in Shanghai.
Martial scores stunning effort as United down Liverpool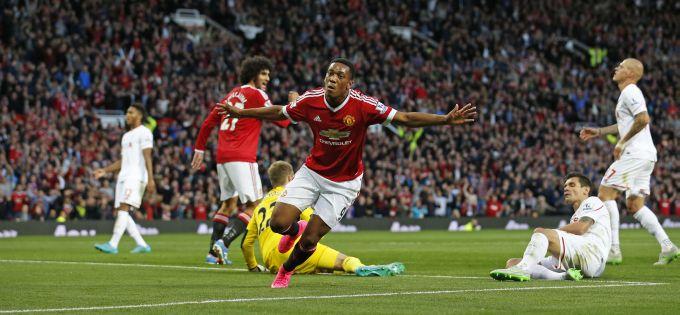 Anthony Martial introduced himself to Manchester United fans with a superb goal to complete a 3-1 win over bitter rivals Liverpool and cap a much-improved performance from Louis van Gaal's side on Saturday.
US Open: Italy PM to travel to New York to watch women's final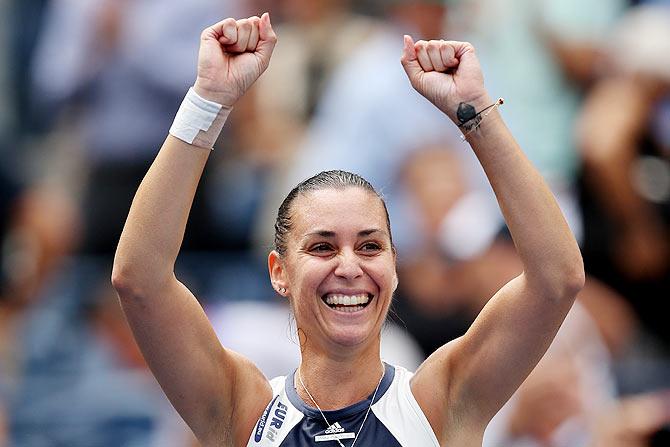 Italian Prime Minister Matteo Renzi dropped his busy weekend schedule and headed to New York on Saturday for the first all-Italian women's final at the US Open.
Serena finally falls after riding her luck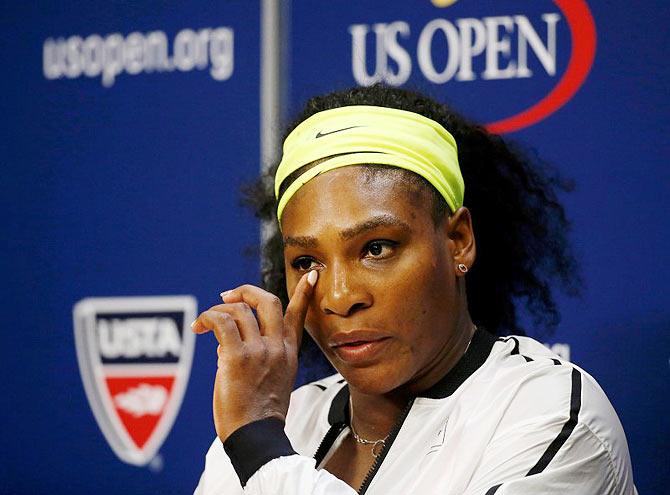 Serena Williams had been a vulnerable conqueror at this year's majors, living dangerously and dicing with defeat on numerous occasions as she tried to become only the fourth woman to complete the calendar Grand Slam.
Lahiri's birdie-spree takes him to second place at Indiana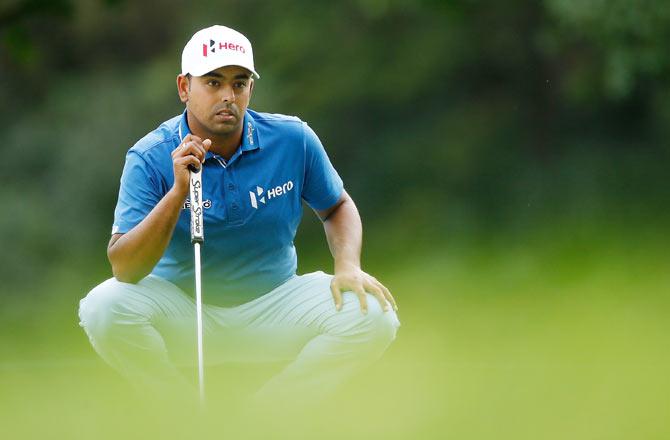 Anirban Lahiri shot seven-under 65 to rise to the second place at the halfway stage of the Hotel Fitness Championships, the first of the four Web.com Tour Finals series in Fort Wayne on Friday.
World Junior boxing: India's Sachin loses in semis to settle for bronze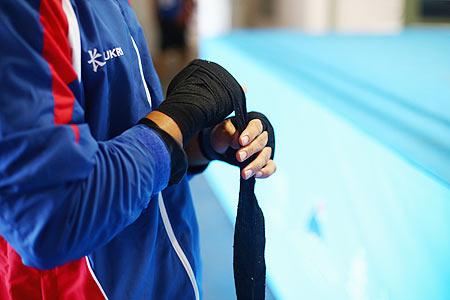 Sachin lost 0-3 to American Rey Diaz, bringing down the curtains on India's run in the event.
PM congratulates Paes-Hingis for record-breaking US Open victory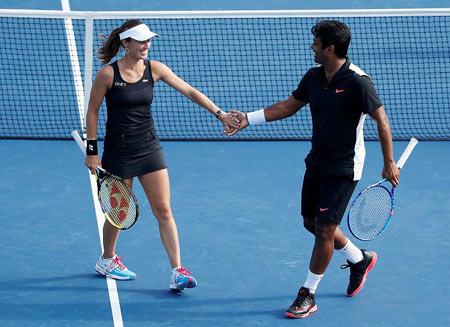 Prime Minister Narendra Modi congratulated veteran Indian tennis player Leander Paes and his Swiss partner Martina Hingis for winning the US Open mixed doubles title in New York on Friday.
Vinci finds it tough to stitch up words after upsetting Serena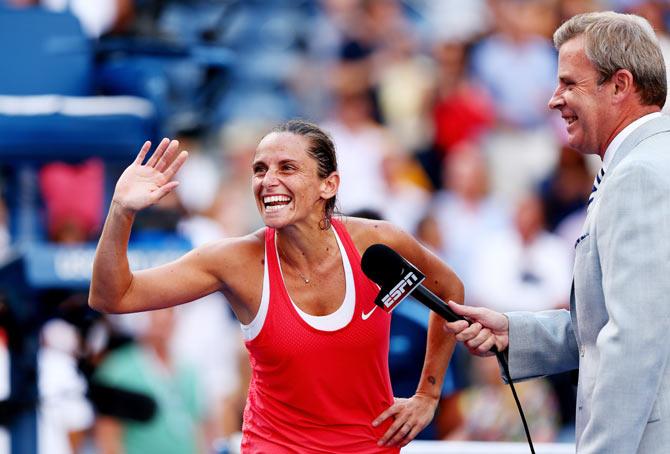 'I don't know. It's tough to explain my emotion right now. Maybe tomorrow morning I can tell you something, but now it's amazing'
World Chess Cup: Mixed day for Indians as Harikrishna, Sethuraman win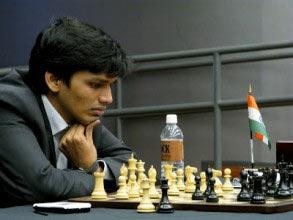 Highest rated Indian P Harikrishna crushed Max Illingworth of Australia to virtually book a second round berth in the World Chess Cup now underway in Baku, Azerbaijan.
Sprint queen Schippers defeats Felix in Brussels Diamond League finale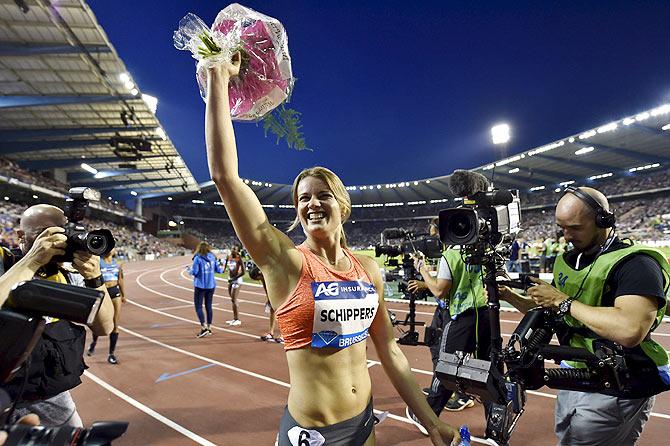 World champion Dafne Schippers proved she will be the sprinter to beat over 200 metres at next year's Rio Games with victory over Olympic champion Allyson Felix at the Diamond League athletics finale in Brussels on Friday.
European football round-up: Lasogga lifts Hamburg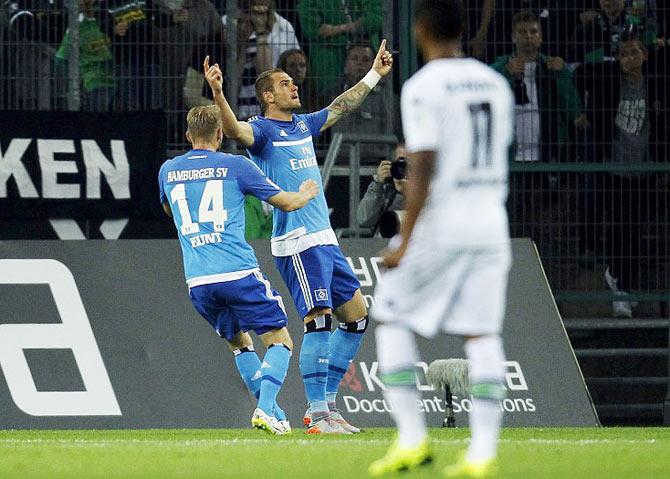 The win lifted Hamburg, who needed a relegation playoff to stay up last season, to seventh on six points.
La Liga: Sevilla throw away early lead after draw at Levante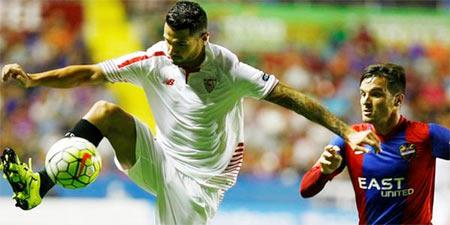 Sevilla missed a chance to get their La Liga campaign up and running when the Europa League holders surrendered the lead and were held to a 1-1 draw at Levante on Friday.
'Gutsy' Paes says he learns a lot from Hingis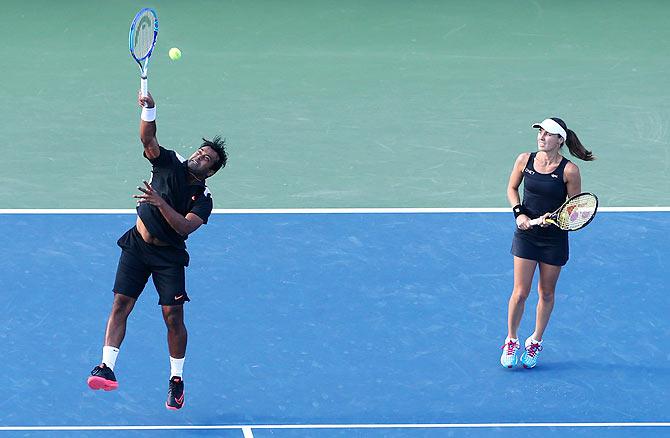 Soon after he won his historic US Open title, Paes said more than technique it is his never-say-die spirit that has got him success.
Paes wins US Open mixed doubles and scripts record. Congratulate him!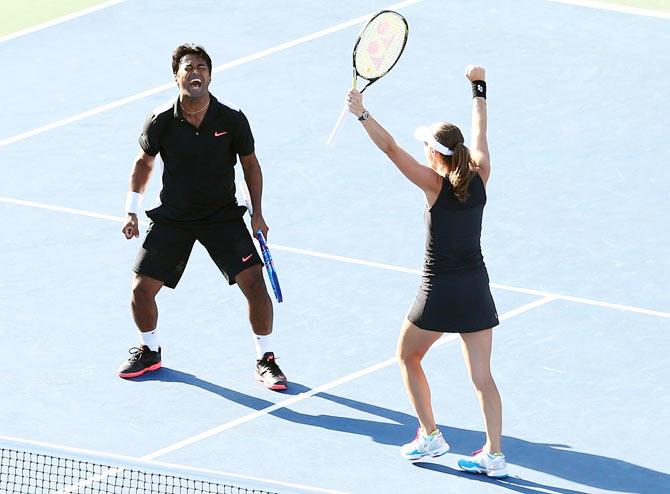 The 42-year-old Paes now has won nine Grand Slam mixed doubles titles, surpassing compatriot and former partner Mahesh Bhupathi's record of eight titles.
Vinci makes rare list in women's tennis after upset win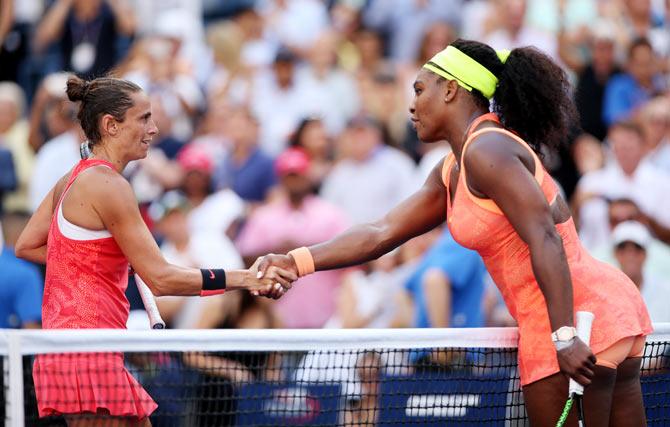 Following is a list of biggest shocks in women's tennis after Italian outsider Roberta Vinci, ranked 43rd, beat world number one Serena Williams in the US Open semi-finals on Friday to deny the American a chance to complete a calendar year Grand Slam.
How Serena's Grand Slam bid was brought to a grinding halt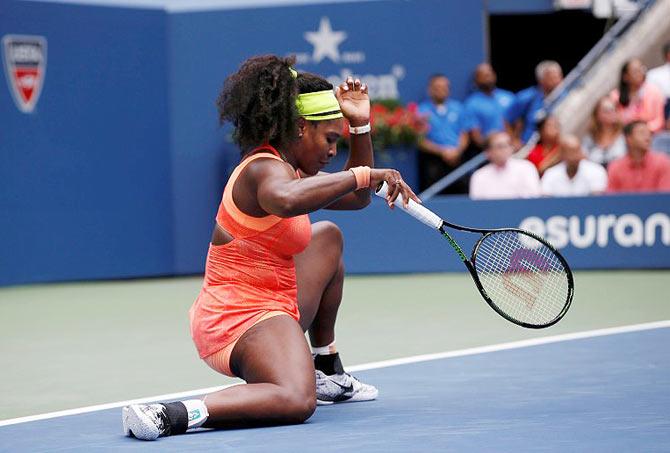 Inspired Vinci rallies to beat World No 1 and then tells US crowd: 'But today is my day. Sorry guys'
US Open PHOTOS: Classic Federer sets up showdown with Djokovic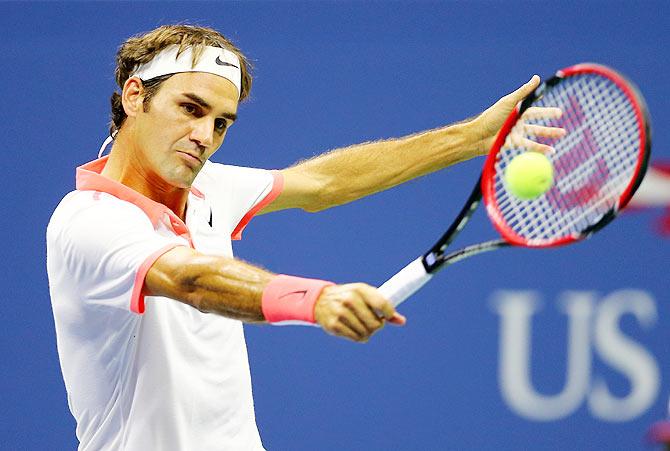 Five-times champion Roger Federer reached his first US Open final in six years as he raced past fellow Swiss Stan Wawrinka 6-4, 6-3, 6-1 at Flushing Meadows in the semi-finals on Friday.
Paes-Hingis lift US Open mixed doubles title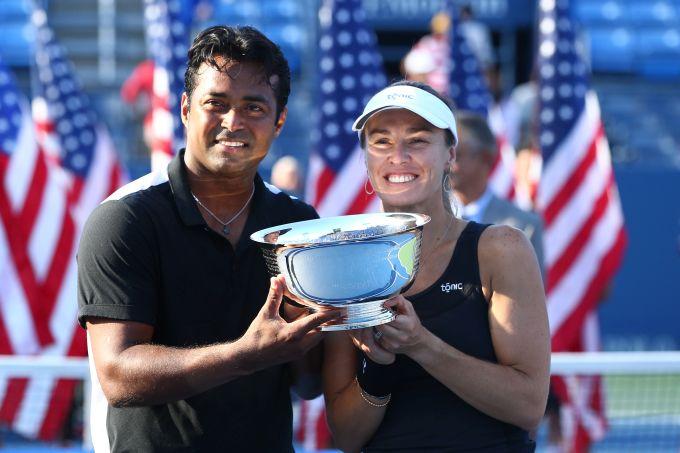 Entering their third Grand Slam final of the year, Leander Paes and Martina Hingis continued their golden run as mixed doubles pair as they beat Bethanie Mattek-Sands and Sam Querrey 6-4, 3-6, 10-7 to win the U.S. Open Mixed Doubles title at the Louis Armstrong stadium on Friday.
Vinci stops Serena's bid to complete calendar Grand Slam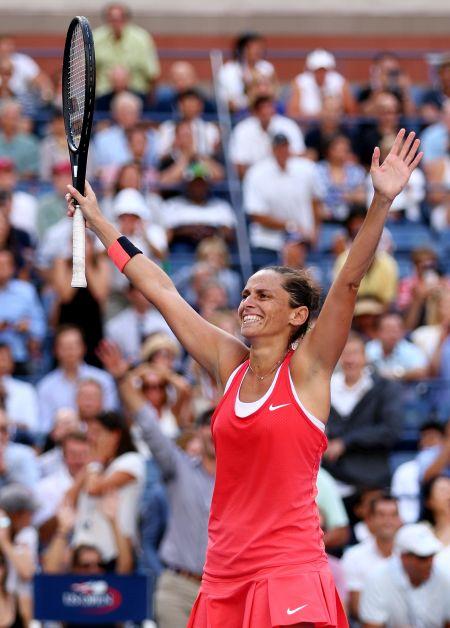 Serena Williams' bid for a rare calendar-year Grand Slam came to a shuddering halt at the U.S. Open on Friday when the three-times defending champion suffered a stunning 2-6, 6-4, 6-4 loss to unseeded Italian Roberta Vinci.
September 11, 2015
Pennetta stuns Halep to reach U.S. Open final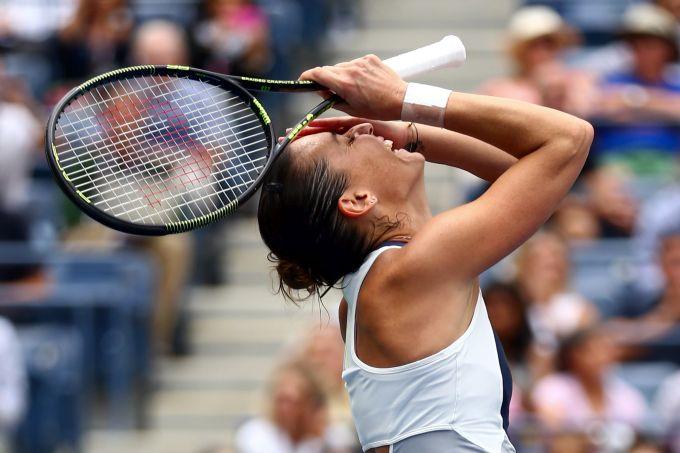 Flavia Pennetta crushed Romanian second seed Simona Halep 6-1, 6-3 to kick off a packed day of action at the U.S. Open on Friday with a stunning upset that put the Italian into her first Grand Slam final.
Annoyed Serena tells media she's sick of repetitive questions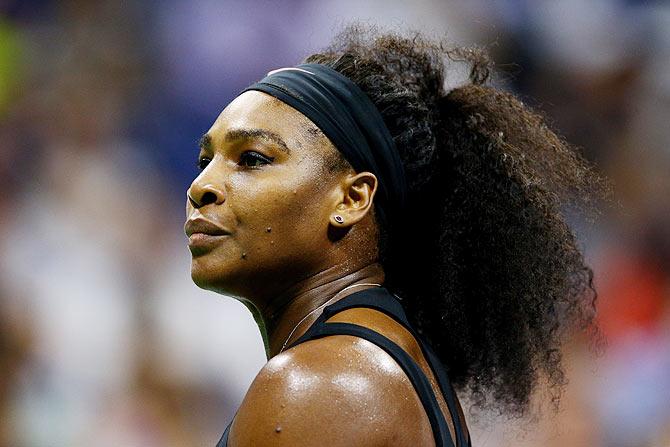 Following her US Open quarter-final win over elder sister Venus, the 21-year-old tennis player said that she did not want to answer any media queries, according to E! Online.
Soccer shots: De Gea signs new four-year United contract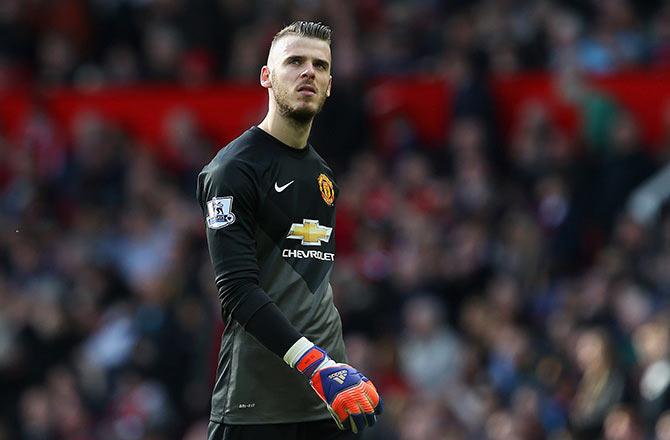 Here is a summary of stories from the English Premier League
India win tennis singles gold medals at C'wealth Youth Games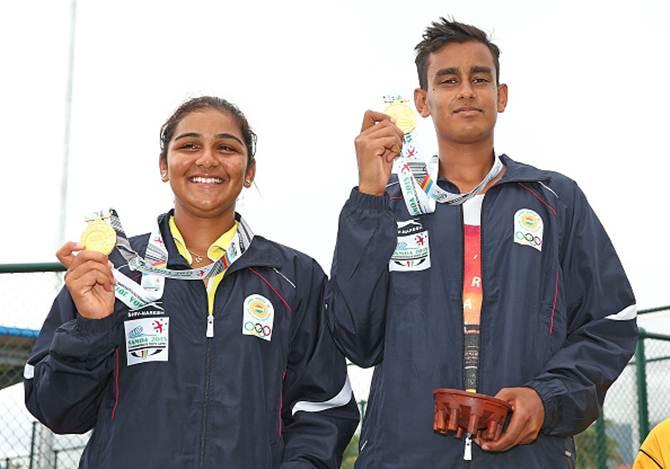 The Indians clinched the boys' and girls' singles titles in tennis through Sasi Kumar Mukund and Dhruthi Tatachar Venugopal, following their mixed doubles success together earlier.
'I could have still been at Liverpool had they offered coaching role'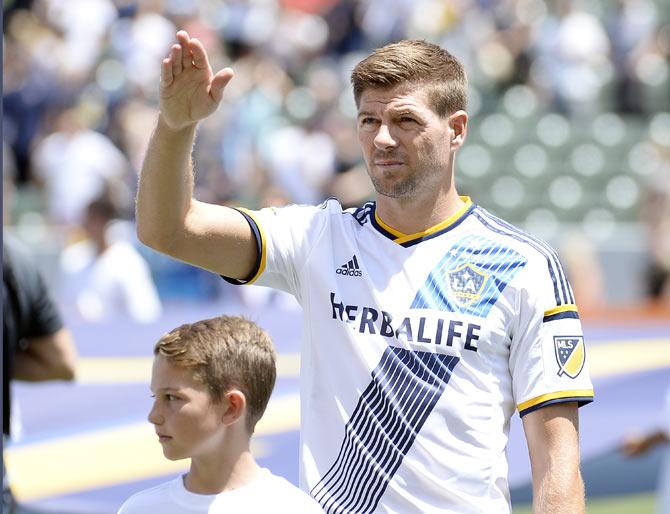 'I was surprised a role wasn't mentioned when chief executive Ian Ayre sat down with my agent, but maybe it might happen one day'
Lahiri makes a steady start in quest of PGA card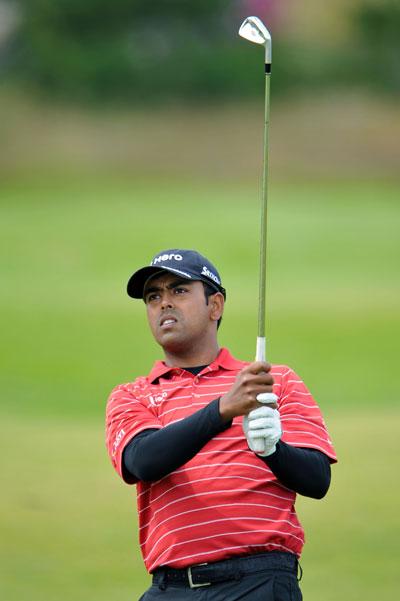 India golfer Anirban Lahiri turned in a creditable three-under 69 to be placed tied 16th after the first round of the Hotel Fitness Championship in the Web.com finals series at the Sycamore Hills Golf Club, in Fort Wayne, US.
Gatlin confident of beating Bolt in Rio Olympics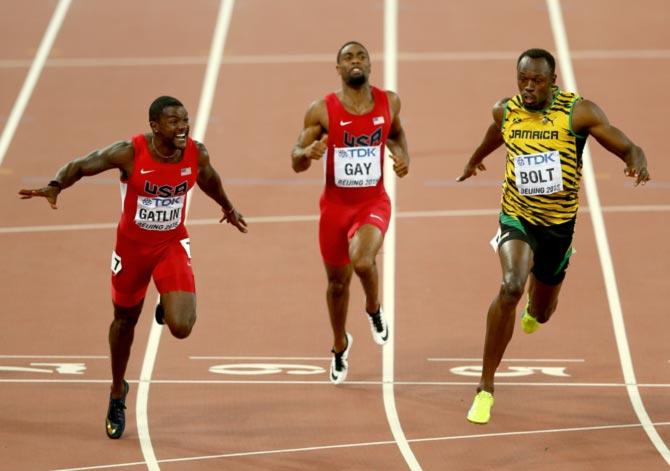 US sprinter Justin Gatlin believes he is steadily catching up with Olympic and world champion Usain Bolt as the two head towards a likely showdown at the Rio de Janeiro Summer Games next year.
Mayweather has never been an undisputed champion: Holyfield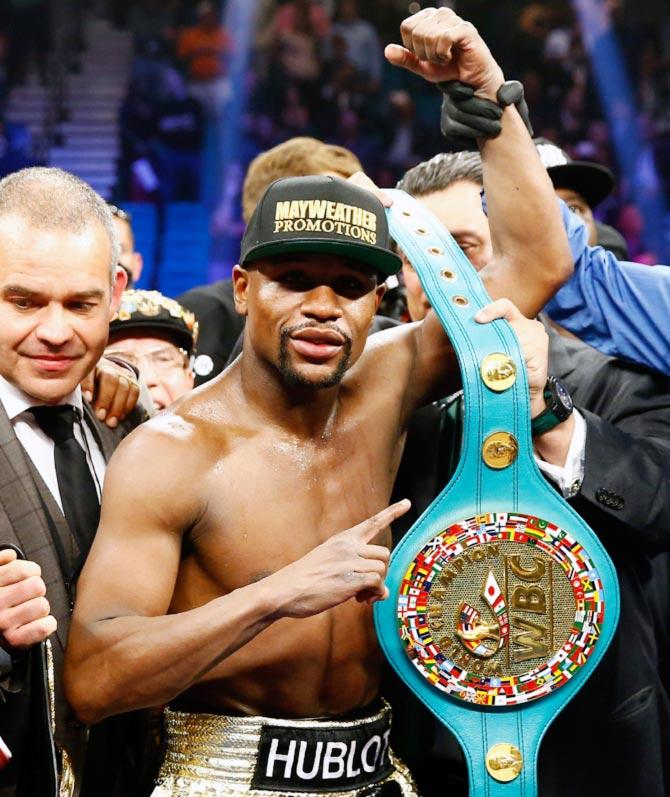 Should Floyd Mayweather Jr end his boxing career on Saturday as planned, his legacy will be underpinned by the extraordinary numbers he has brought to the sport, says former world heavyweight champion Evander Holyfield.
Kashyap loses in quarters as Indian challenge ends at Japan Open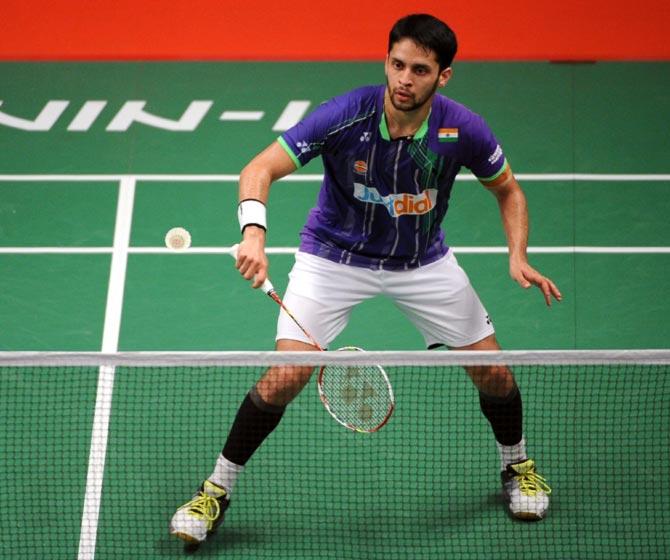 Indian challenge ended at the Japan Open on Friday as Parupalli Kashyap was beaten by sixth seed Chou Tien Chen of Chinese Taipei in the men's singles quarter-finals.
Why these six-decade old shoes were sold for a massive $412,000!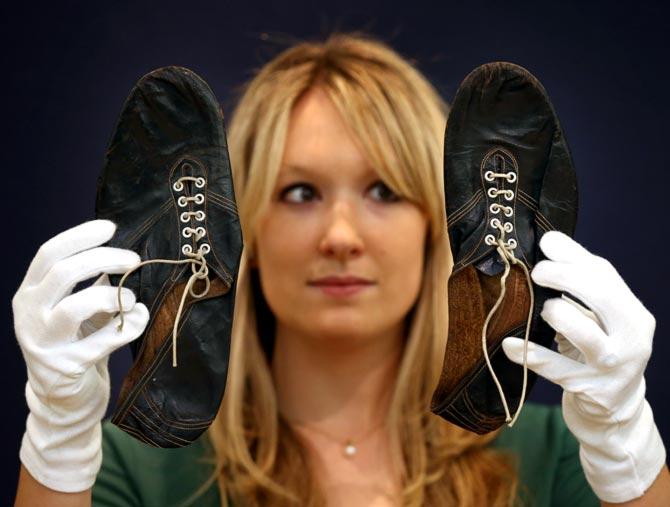 The pair of running shoes worn by Roger Bannister when the Briton ran the first sub-four minute mile in 1954 were sold by auctioneers Christie's on Thursday for 266,500 pounds ($412,062.30).
September 10, 2015
Wawrinka becomes fourth player to seal ATP Tour Finals spot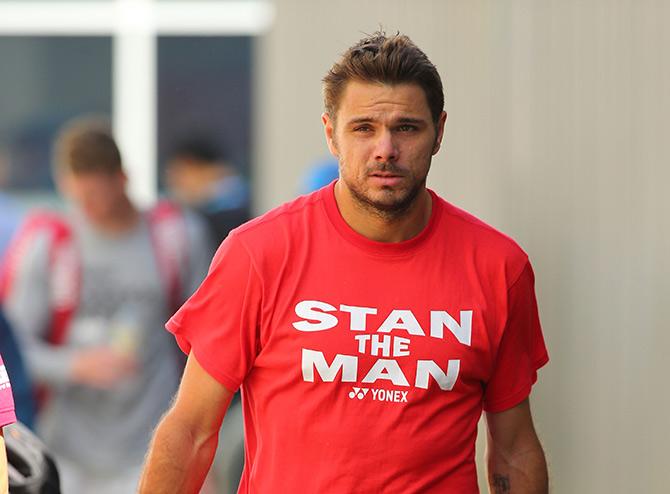 French Open champion Stan Wawrinka has become the fourth player to qualify for the season-ending ATP World Tour Finals in London.
C'wealth Youth Games: Prachi Singh wins archery gold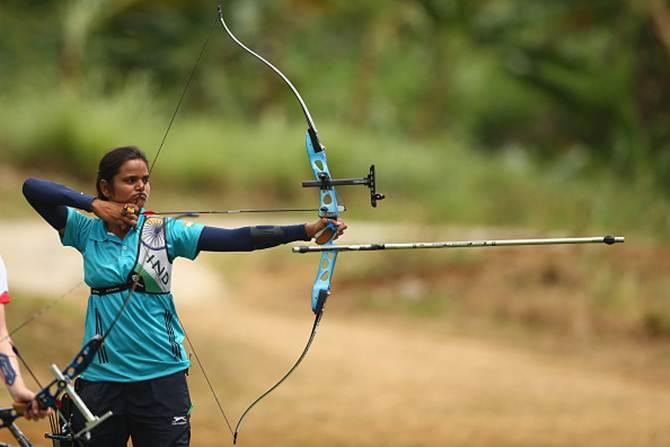 India added seven more medals, including two gold, to their kitty on the penultimate day of competition at the fifth Commonwealth Youth Games in Apia, Samoa, on Thursday. Archer Prachi Singh, in the girls' recurve individual event, and the tennis mixed doubles team of Sasikumar Mukund and Dhruthi Tatachar Venugopal accounted for the gold medals.
UAE Royals co-owner Virat Kohli signs up Roger Federer for IPTL 2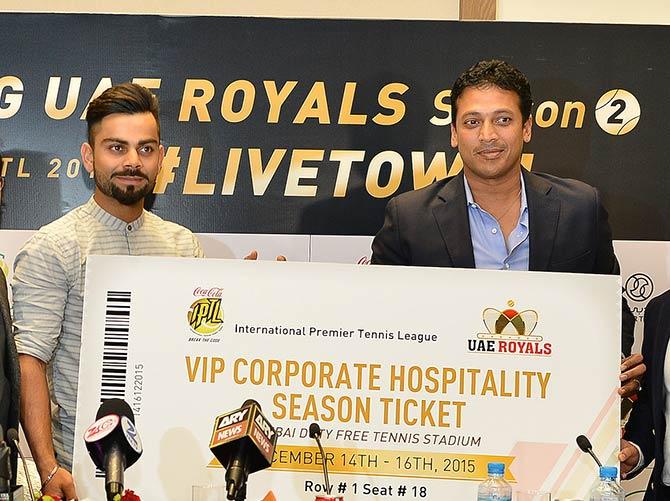 One of the greatest tennis players of all time and current world number two, Roger Federer has joined the UAE Royals franchise in the second season of the Coca-Cola International Premier Tennis League (IPTL) 2015 that will be held from 2nd to 20th December 2015.
World No. 1 Saina loses to 18th-ranked Mitani in 2nd round of Japan Open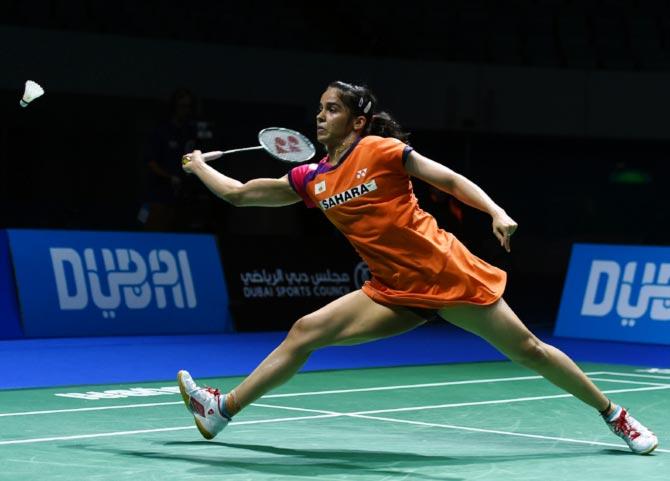 Commonwealth Games champion Parupalli Kashyap emerged as the lone survivor at the Japan Open in an otherwise disappointing day for India as top shuttlers Saina Nehwal and Kidambi Srikanth made an early exit from the Super Series tournament in Tokyo, on Thursday.
September 09, 2015
US Open: Bopanna-Mergea crash out of men's doubles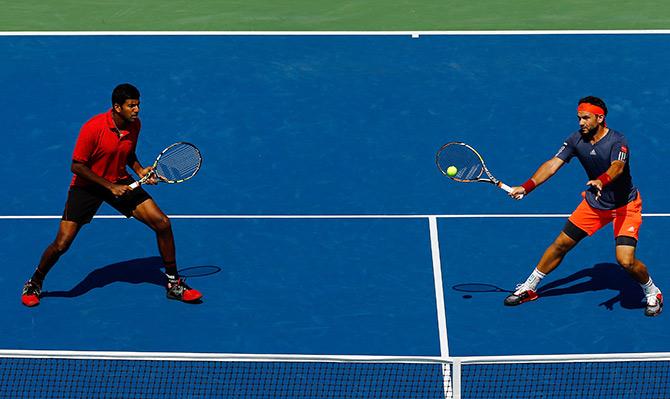 Rohan Bopanna, along with his Romanian partner Florin Mergea, crashed out of the quarter-finals of the men's doubles at the US Open.
Livermore to escape ban for cocaine use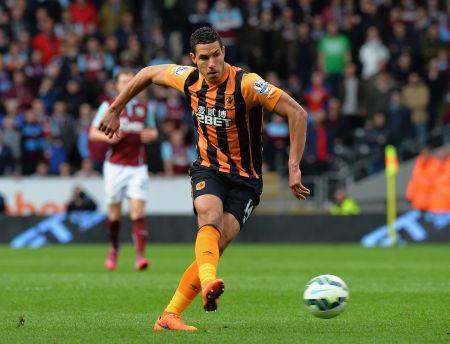 Hull City midfielder Jake Livermore, who tested positive for cocaine in April, is set to avoid a ban due to extenuating circumstances, British media reported on Wednesday.
Delhi Dynamos FC add Ghanian Richard Gadze to their line-up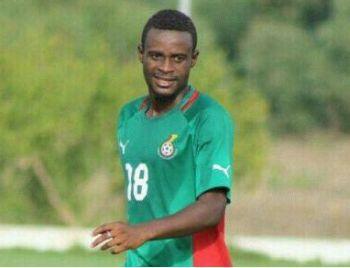 Richard Gadze, one of the brightest prospects from Ghana, has been signed up by Delhi Dynamos for the upcoming second season of Indian Super League football.
C'wealth Youth Games: Manuel, Das win bronze in athletics
India won two bronze medals from track and field through Abitha Mary Manuel and Anamika Das on the third day of competition at the fifth Commonwealth Youth Games in Apia, Samoa, on Wednesday. Manuel and Das placed third in the girls' 800 metres and shot put respectively.
PHOTOS: Best of Hollywood at the US Open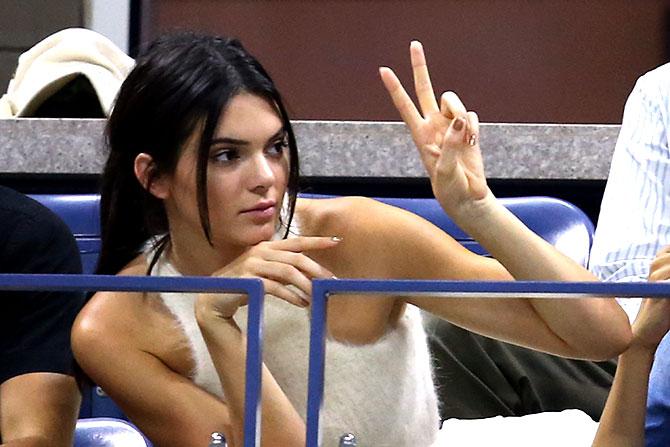 US Open has over the years seen an increase in celebrity attendance. Rediff.com takes a look at a few known names seen in the Flushing neighborhood of the Queens borough of New York.
Japan Super Series: Easy for Saina; Sindhu, Jayaram lose in Round 1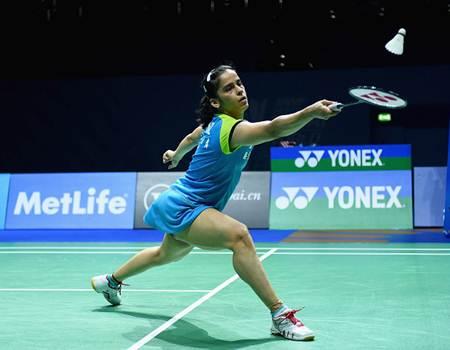 A much-anticipated second round meeting of India's top two women shuttlers, world No 1 Saina Nehwal and P V Sindhu, failed to materiliaze as the latter came a cropper in her opening match at the Japan Open Super Series badminton tournament, in Tokyo, on Wednesday.
September 08, 2015
World Cup qualifiers: India suffer third straight defeat; beaten by Iran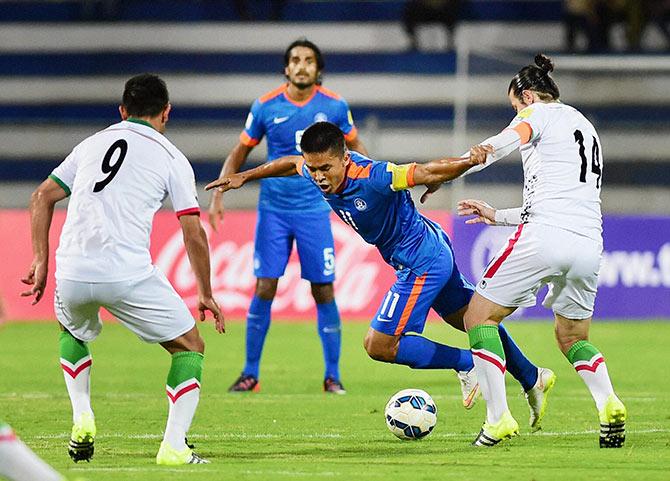 India slumped to their third successive loss in the 2018 FIFA World Cup qualfiers as they suffered a 0-3 thrashing at the hands of mighty Iran in a group match.
No problem between Van Gaal and De Gea, says Mata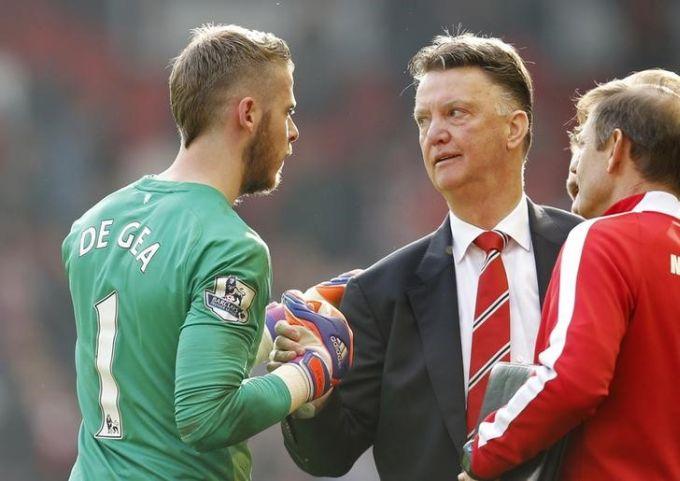 There is no problem between goalkeeper David de Gea and Manchester United manager Louis van Gaal after his failed move to Real Madrid and midfielder Juan Mata expects his fellow Spaniard to have a fine season.
Force India say steering wheel stolen at Monza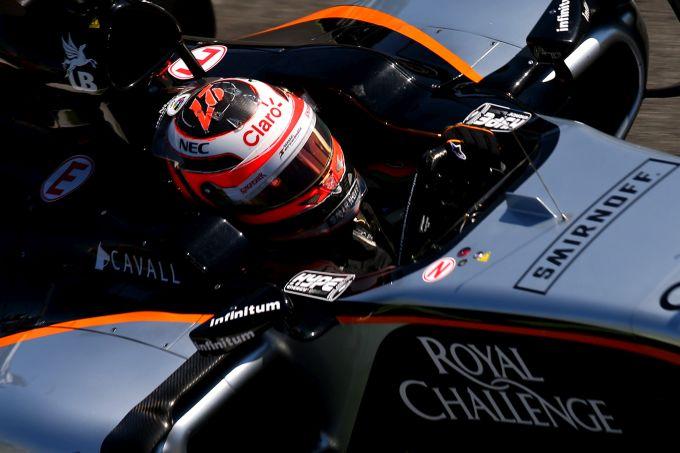 Italian police are investigating the theft of a steering wheel from the Force India garages at Monza before last Sunday's Italian Grand Prix, the Formula One team said on Tuesday.
Will Beckham make a good James Bond?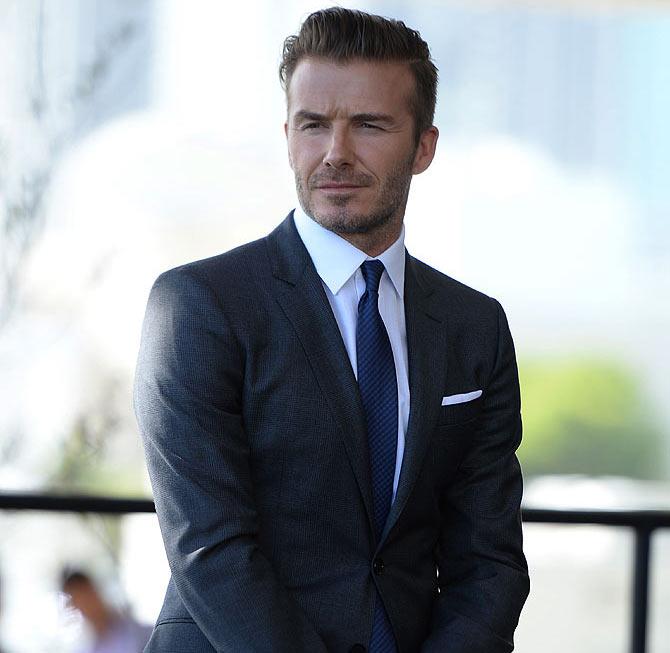 David Beckham has reportedly added his name in the probables list as the next James Bond after sources said that he was considering himself playing the lead as famous British agent.
Williams sisters to put family ties to ultimate test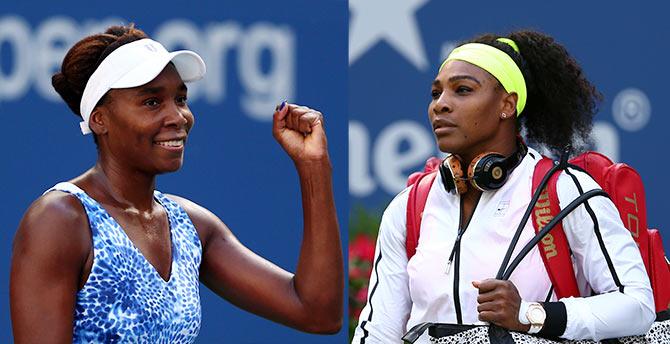 A win by Venus would keep the 35-year-old on track for a first grand slam title since 2008 Wimbledon and a possible return to the US Open final where she first made the final in her debut in 1997.
Another high for golfer Lahiri! 1st Indian to qualify for President's Cup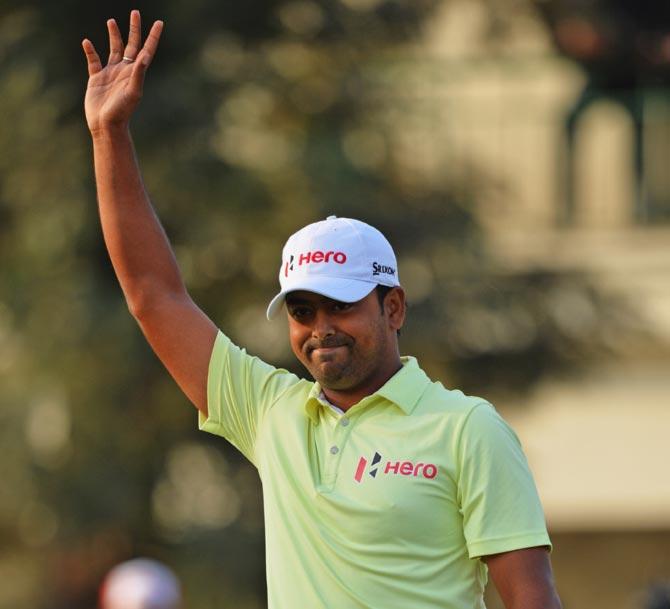 World No. 40 Anirban Lahiri will be a part of the International Team, which will take on United States in the biennial Presidents Cup in Korea.
C'wealth Youth Games: Lifter Lather, javelin thrower Hadish give India gold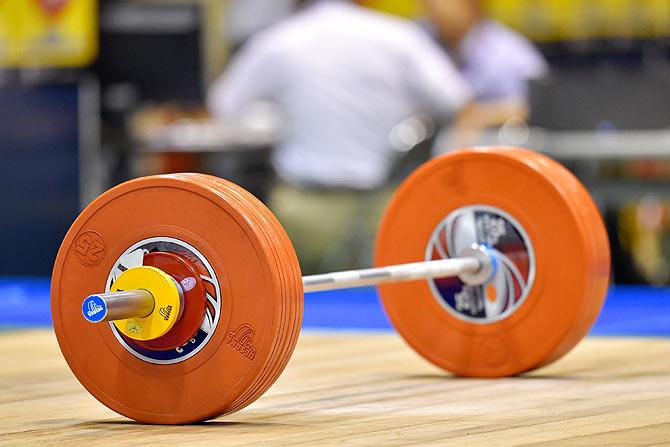 Indians continued their strong show at the fifth Commonwealth Youth Games, winning five medals, including two gold, on the second day of competition in Apia, Samoa, on Tuesday. Weightlifter Deepak Lather (boys' 62kg category) and javelin thrower Mohd Hadish won a gold each in their respective events, while Jisna Mathew won a silver in the girls' 400 metres.
US Open: How Anderson upset Murray and advanced to last 16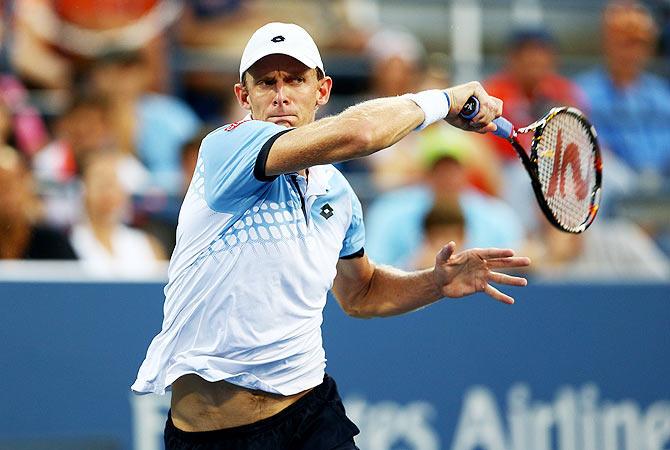 Anderson is the first South African in New York's last 16 since Wayne Ferreira in 2002.
Euro qualifiers, PHOTOS: Germany put Scots on the rocks; Portugal win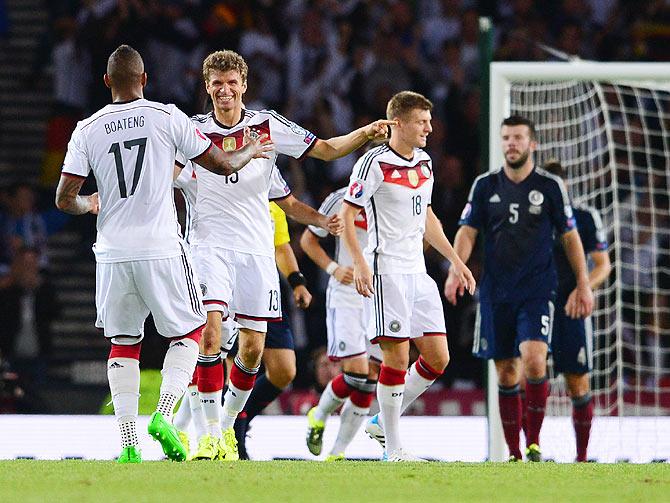 The world champions now have 19 points while Poland, 8-1 winners over Gibraltar, are on 17.
US Open PHOTOS: Murray stunned by Anderson; Federer, Halep in quarters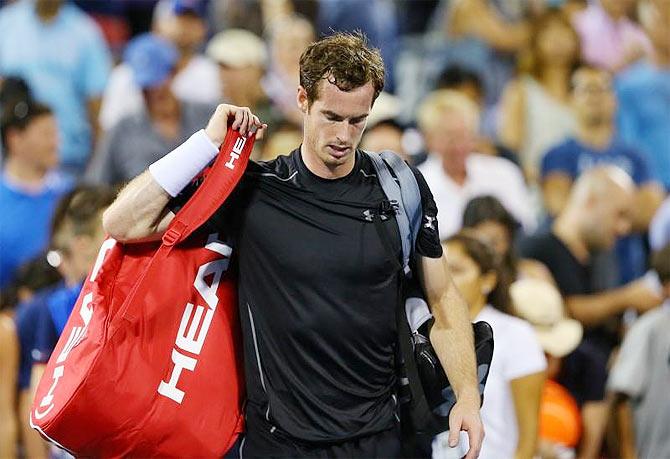 Murray had battled his way back from two sets down in the second round against France's Adrian Mannarino, but could not work another miracle against the 14th-ranked, 29-year-old Anderson, who swept the final tiebreak 7-0.
September 07, 2015
World's fastest man Bolt won't race again in 2015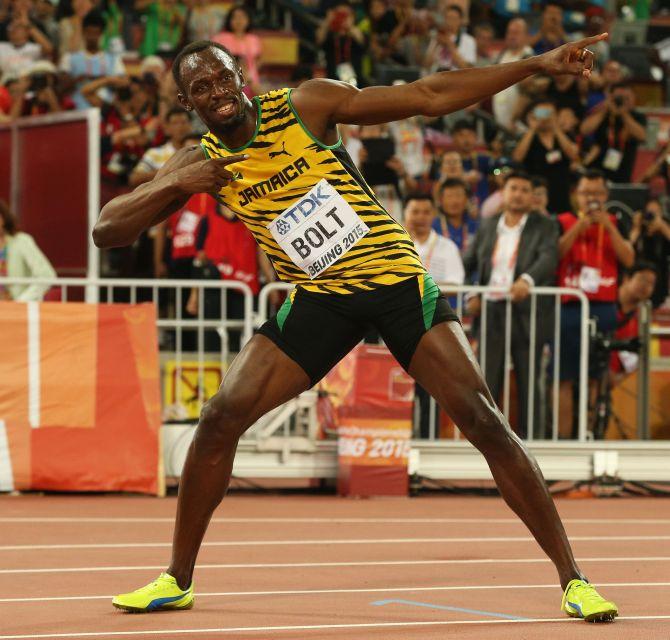 Six-times Olympic champion Usain Bolt has decided not to race again this year after his triple gold medal haul at last month's World Championships in China.
After 38 years, Pele set for another India visit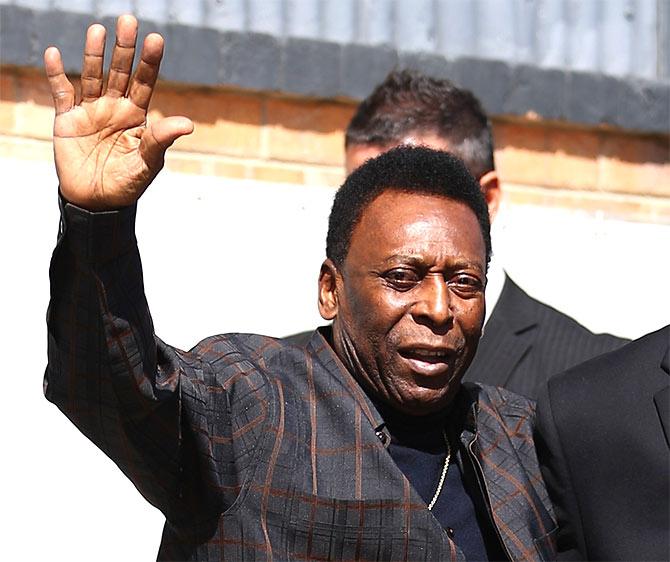 It's time for the 'sleeping giant' to wake up from its slumber as the King of football Pele will grace India in October, adding to the festive mood in the country that hosted him 38 years ago.
Vikas laments underestimating opponent, says 'overconfidence cost me'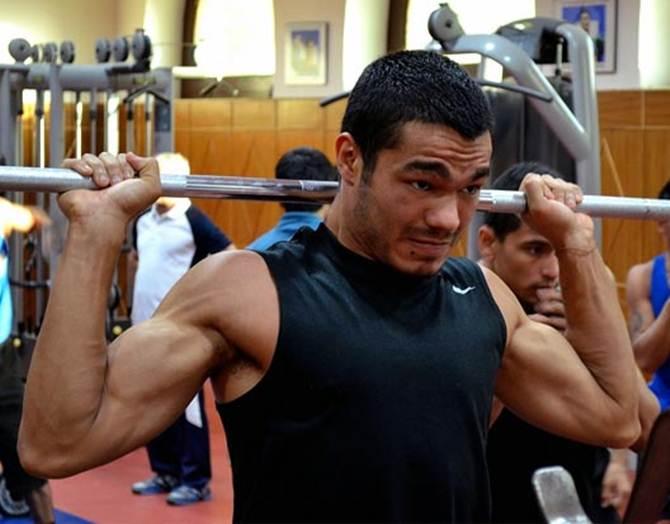 Vikas Krishan regrets underestimating 19-year-old Youth Olympic champion Bektemir Melikuziev of Uzbekistan in the final at the Asian Boxing Championships in Thailand.
C'wealth Youth Games: Lifter Deru, high jumper Shankar win gold
Delhi boy Tejaswin Shankar produced a record-shattering performance as Indians struck two gold and a silver medal to launch their Commonwealth Youth Games campaign on a rousing note in Apia, Samoa, on Monday.
Euro 2016 qualifiers: Dutch football in crisis after losing to Turkey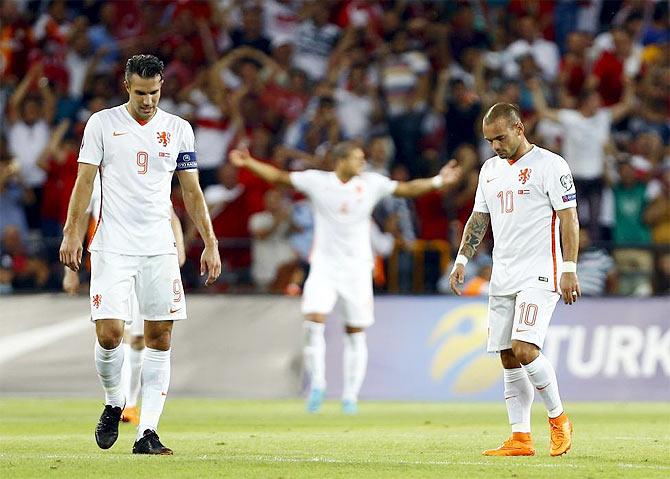 The two losses in Blind's first two games left the Dutch floundering in fourth place in Group A, needing to overhaul a two-point deficit on third placed Turkey with two games to play in October to have any chance of reaching the Euro 2016 finals via the November play-offs.
Formula One: Ferrari's Raikkonen keeps it cool after engine failure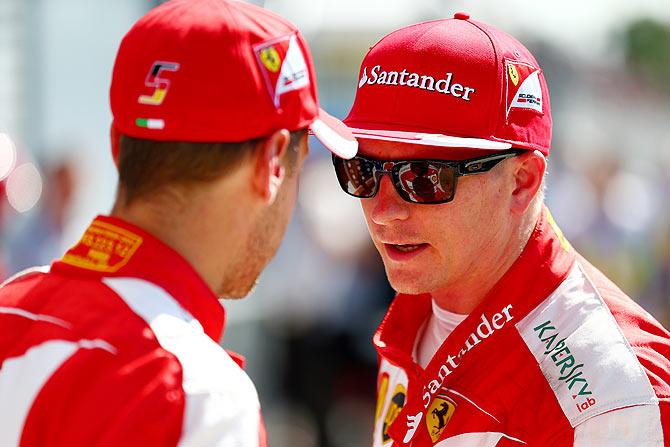 The glass was half full for Ferrari team boss Maurizio Arrivabene after Sunday's Italian Grand Prix, even if Kimi Raikkonen filled it almost to the brim before sloshing the contents around.
US Open: Does Venus have the game and stamina to halt Serena's surge?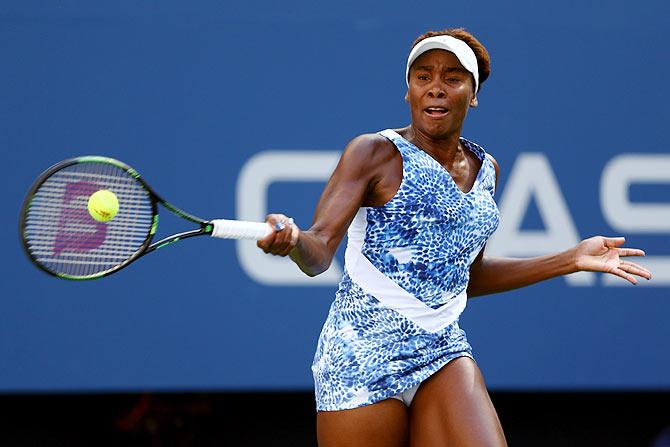 With Serena bidding to become just the fourth woman to win all four grand slams in the same year, the US Open hype machine that already had been in top gear is now set to crank into overdrive.
Indians at the US Open: Sania-Martina cruise into last eight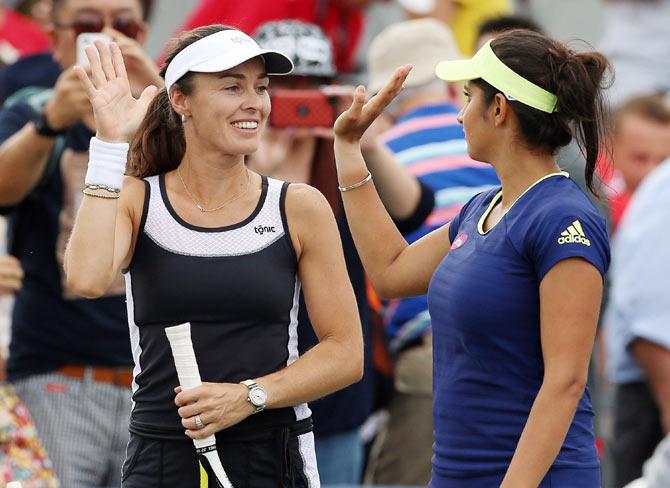 Sania-Martina will next face ninth seeds Yung-Jan Chan and Hao-Ching Chan of Chinese Taipei, who rallied to beat unseeded Romanians Irina-Camelia Begu and Raluca Olaru 5-7, 6-1, 7-6 (4).
Euro qualifiers: Italy win in Buffon's 150th match; Iceland through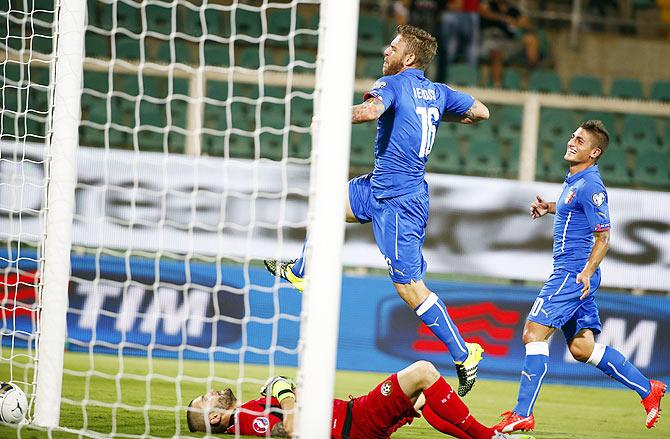 Belgium make Wales wait after Hazard's strike, while Czechs beat Latvia to qualify
US Open PHOTOS: Venus, Serena set up quarters clash; Djokovic stretched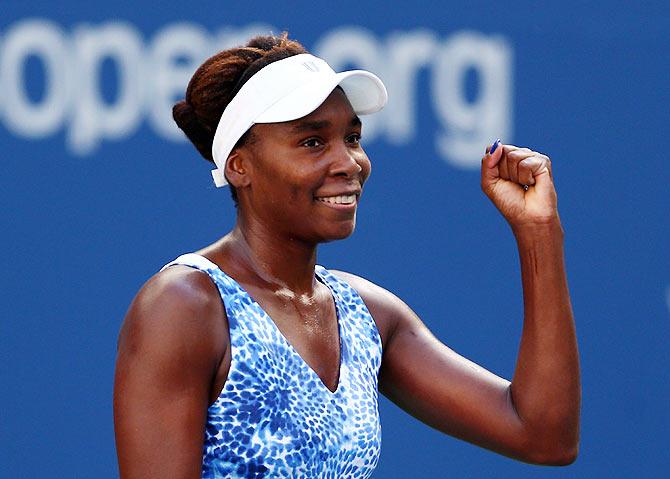 Venus Williams stands in the way of younger sister Serena's bid for a calendar-year Grand Slam after reaching the quarter-finals with a 6-2, 6-1 rout of Estonian teenager Anett Kontaveit on Sunday.
September 06, 2015
PHOTOS: Grid penalties make headlines in Monza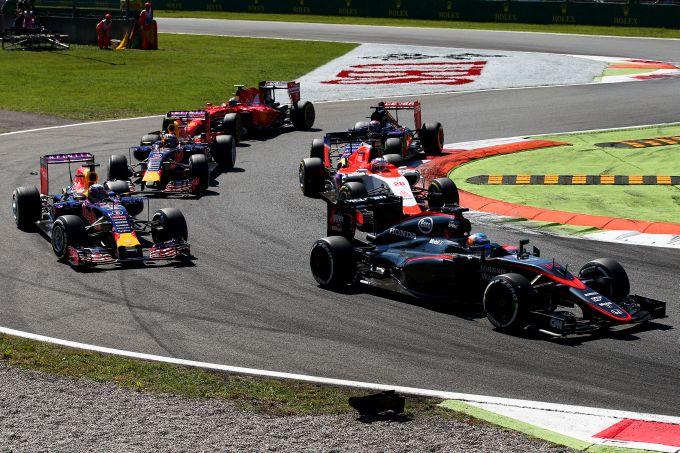 Former world champions Fernando Alonso and Jenson Button are among six drivers hit with a plethora of penalties on the grid for Sunday's Italian Grand Prix at Monza.
Hamilton roars to 53 point lead over Rosberg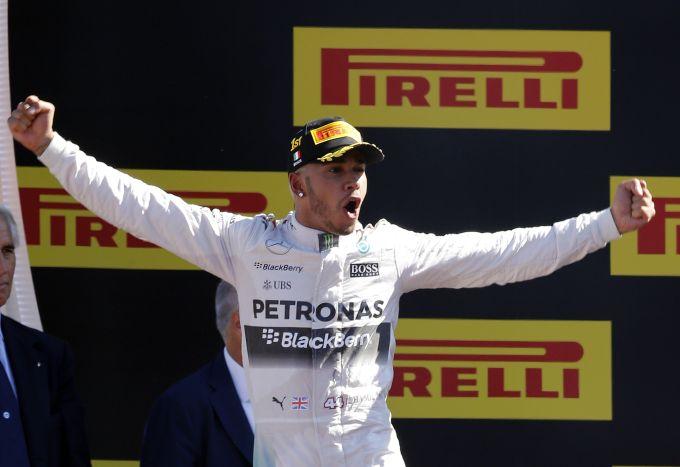 Lewis Hamilton enjoyed an utterly dominant Italian Grand Prix victory on Sunday to take a 53-point lead in the Formula One championship after Mercedes team mate and closest rival Nico Rosberg retired with his engine in flames.
Junior Hockey Asia Cup: Indian eves hammer South Korea 13-0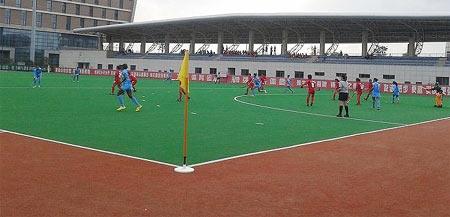 The Indian women's junior hockey team got off to a sensational start in the 7th Asia Cup as they hammered Democratic People's Republic of Korea (DPRK) 13-0 in their opening match at Changzhou on Saturday.
Goetze brace inspires Germany to 3-1 win over Poland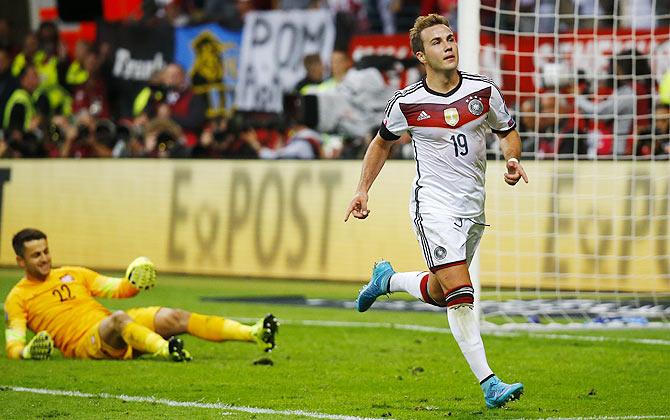 Mario Goetze scored twice as world champions Germany outclassed rivals Poland 3-1 to take over the top spot in European Championship qualifying Group D at Allianz Arena on Friday.
Indians at the US Open: Sania, Bopanna advance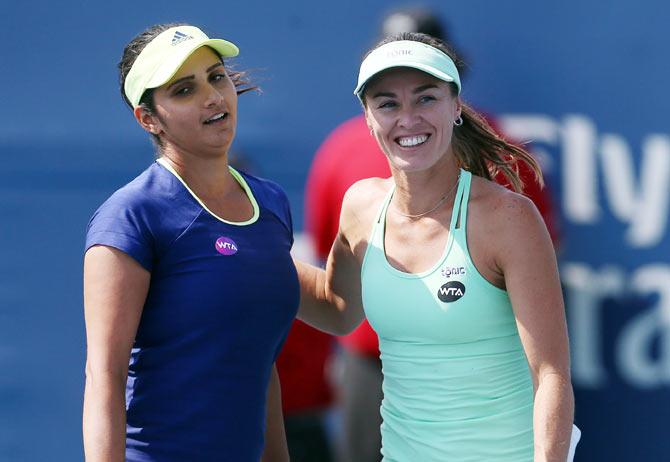 India's Sania Mirza and Rohan Bopanna notched up contrasting victories in their respective doubles matches to reach the round of 16 at the US Open in New York on Saturday.
India's Narang becomes Asia's No.1 shooter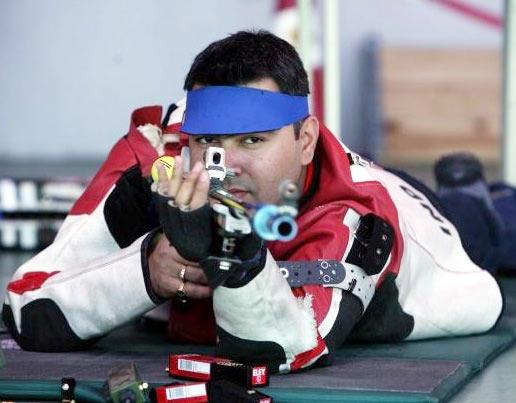 The 32-year-old Narang topped the list with 971 points ahead of Shengbo Zhao of China, who has 896 points.
Football friendlies: Hulk shines in lacklustre Brazil's win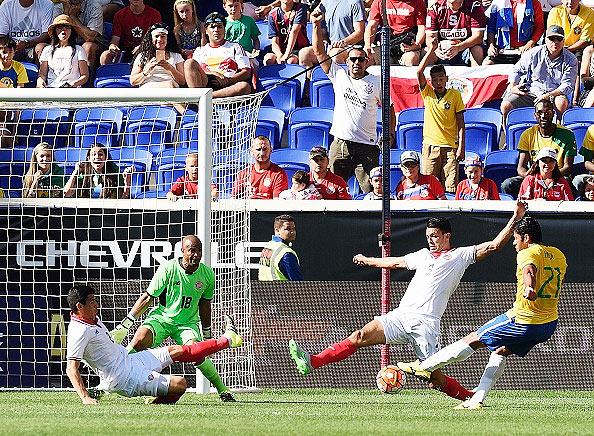 Zenit St Petersburg striker Hulk scored after nine minutes when he muscled his way past a defender and fired home from 12 metres.
Euro qualifiers: Swiss script remarkable rally against stout Slovenia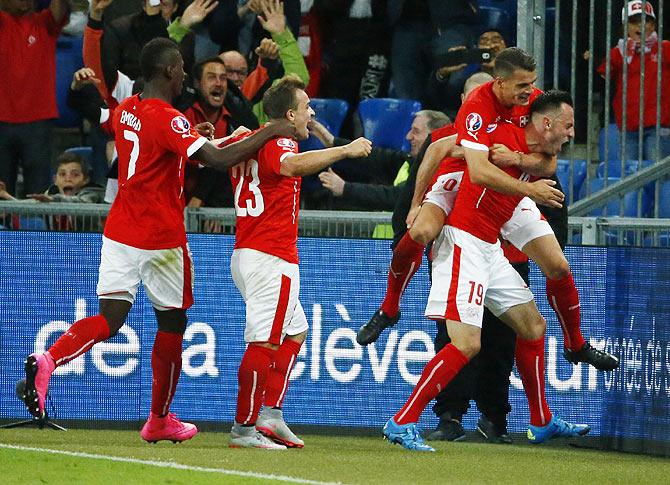 'It was a crazy game where we had the bit of luck that we didn't have in Slovenia'
US Open PHOTOS: Federer, Murray and underdogs share spotlight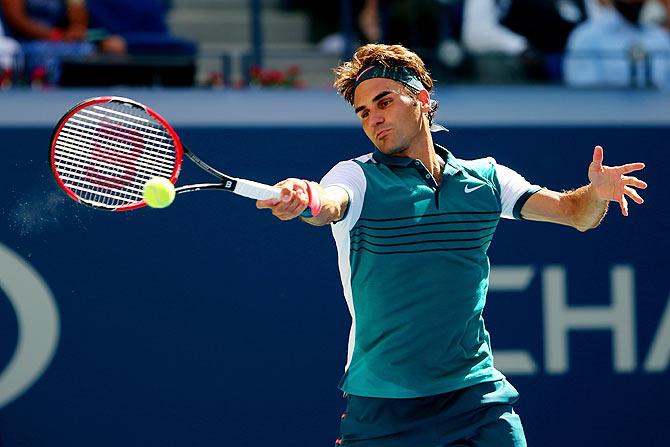 Konta first British woman in US Open last 16 since 1991
September 05, 2015
England qualify for Euro 2016 as Rooney equals record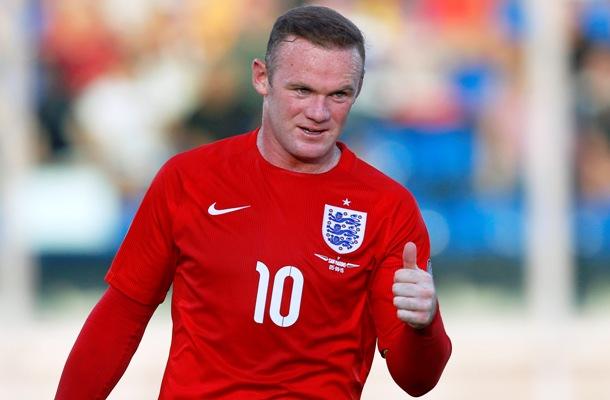 England qualified for Euro 2016 after crushing San Marino 6-0 on Saturday, with Wayne Rooney equalling Bobby Charlton's all-time scoring record of 49 goals for his country.
Italian F1 Grand Prix: Hamilton storms to 11th pole in 12 races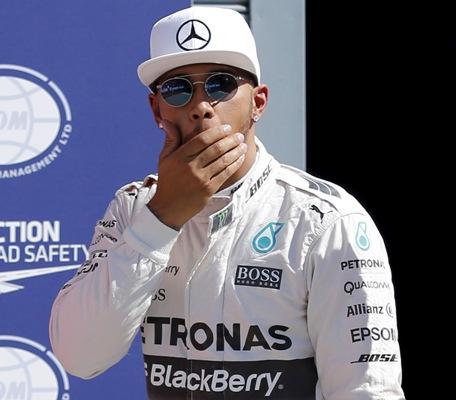 Formula One world champion Lewis Hamilton saw off a strong Ferrari challenge at the Italian team's home Grand Prix to seal his seventh pole position in a row and 11th in 12 races on Saturday.
ISSF Rifle and Pistol World Cup Finals: Chandela wins silver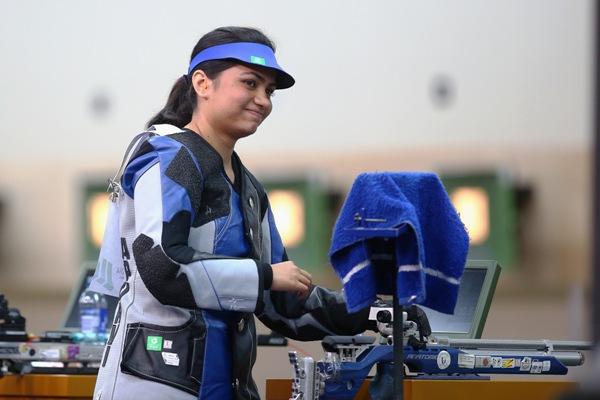 Young Indian shooter Apurvi Chandela impressed again as she clinched the silver medal in women's 10m air rifle event of the ISSF Rifle and Pistol World Cup Finals in Munich.
US Open: Defending champion Cilic fights back to live another day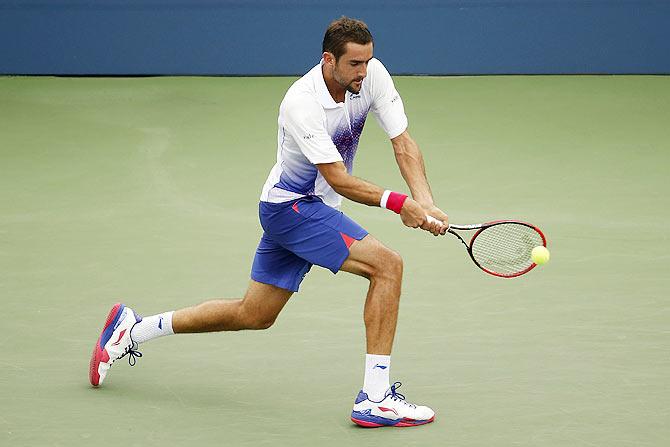 Defending champion Marin Cilic had to battle hard before beating Kazakhstan's Mikhail Kukushkin 6-7, 7-6, 6-3, 6-7, 5-1 in their 3rd round match of the US Open on Friday.
September 04, 2015
NYC teacher arrested for flying drone at US Open stadium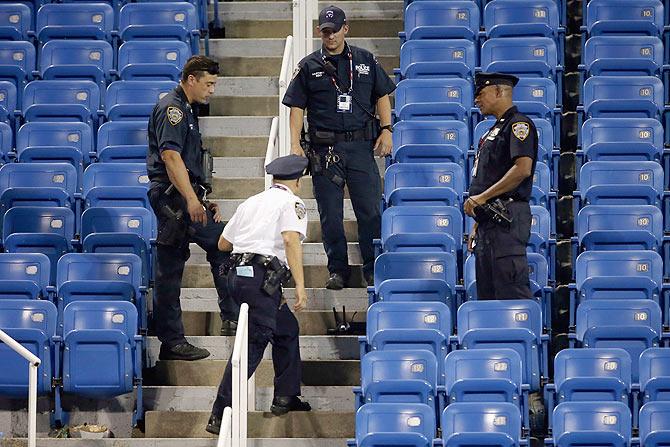 Daniel Verley, 26, was charged with reckless endangerment, reckless operation of a drone and operating a drone in a New York City public park outside of a prescribed area for doing so, according to police reports.
Indians at the US Open: Paes-Verdasco knocked out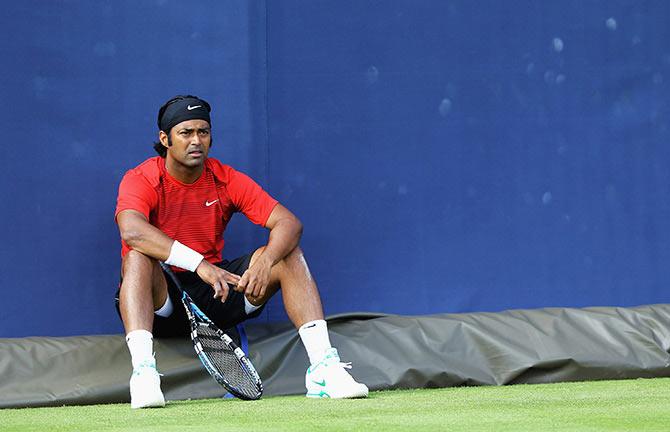 A round-up of results of Indian players at the US Open.
I-League is India's main league, maintains AIFF president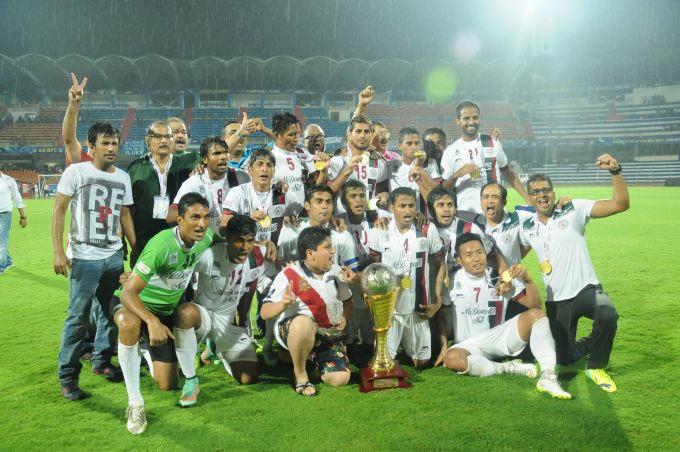 Even as I-League and Indian Super League merger is being mulled, AIFF stresses that the popular ISL 'is, in fact a tournament, like the Rovers Cup'.
My discipline may have cost United says Ferguson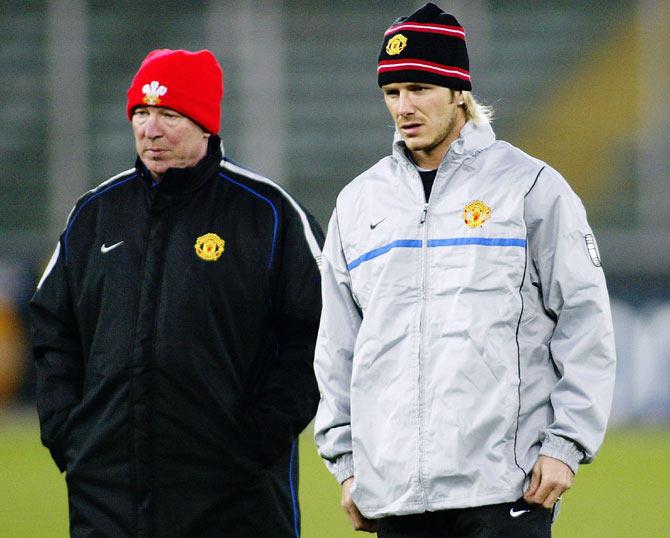 In his new book Leading, the most successful manager in British football history said that does not mean he would do anything differently.
Vikas in Asian boxing final; bronze for Satish, Devendro, Thapa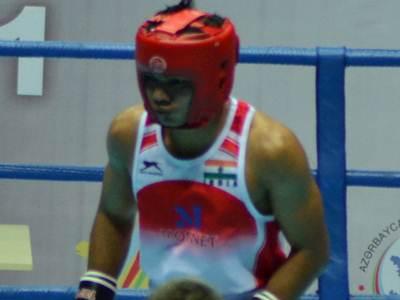 Former World Championships bronze medallist Vikas Krishan (75kg) was the lone Indian to make it to the finals, as three others settled for bronze medals after losing hard-fought semi-final contests, in the Asian Boxing Championships, in Jakarta, on Friday. He defeated Iraq's Waheed Abdulridha 3-0 to set up a clash with Uzbekistan's Bektemir Melikuziev in Saturday's final.
The Real truth behind De Gea not making it to Madrid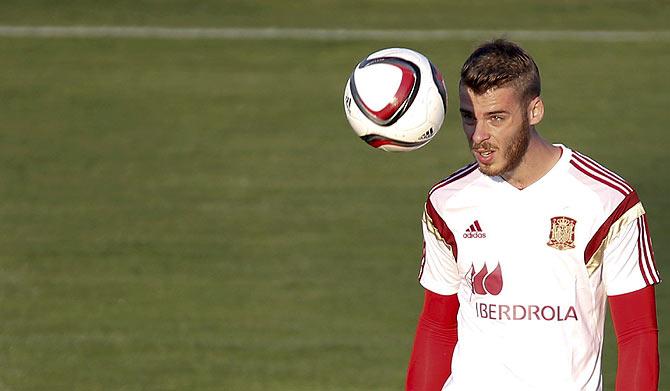 Real Madrid president Florentino Perez has blamed Manchester United's "lack of negotiating experience" for the failure of goalkeeper David De Gea's move to the Spanish capital on Monday.
Euro qualifiers PHOTOS: Iceland beat horrendous Dutch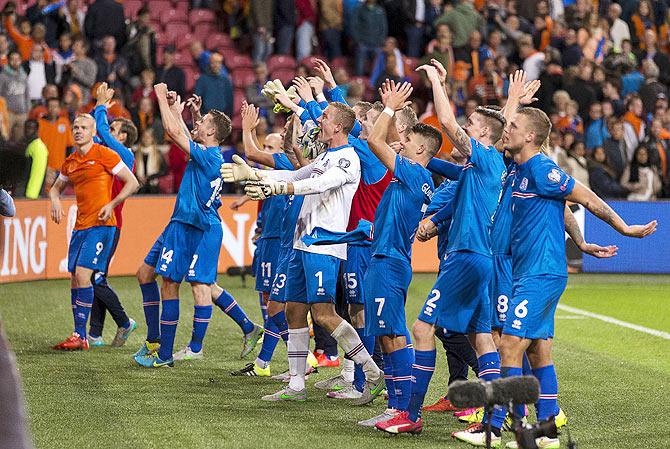 Malta make Italy sweat, while Bale takes Wales closer to competition
World Cup qualifiers: 15-goal Qatar leads routs in Asia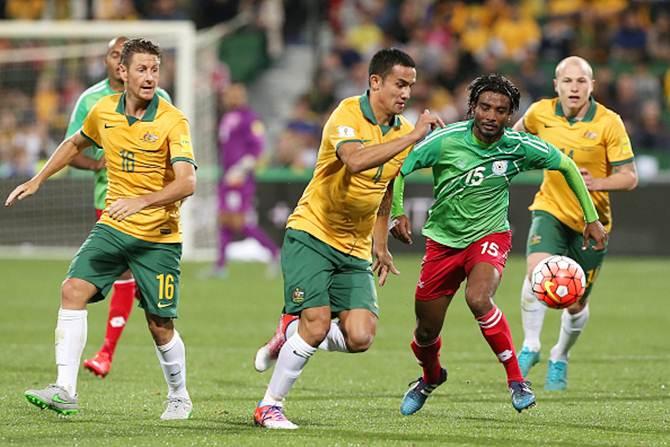 Qatar smashed 15 unanswered goals past Bhutan and the United Arab Emirates knocked in 10 against Malaysia in a lopsided round of World Cup qualifiers across Asia on Thursday
Marin a tough opponent but can be beaten, says Saina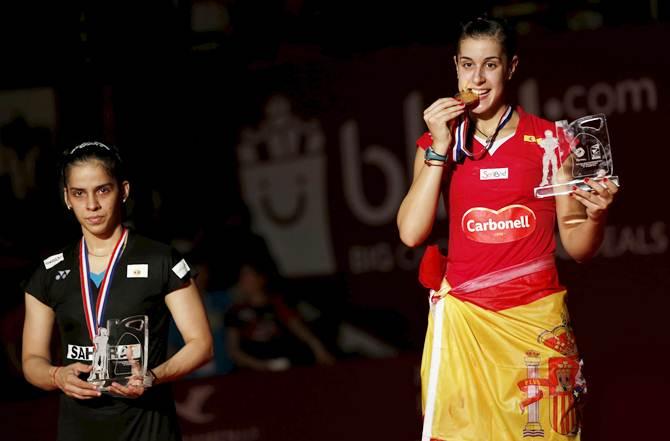 The Indian ace will be looking to get the better off the Spaniard in Japan Super Series, starting next week, and avenge her recent defeat at the World Championships.
September 03, 2015
Manchester United to give De Gea chance to reclaim spot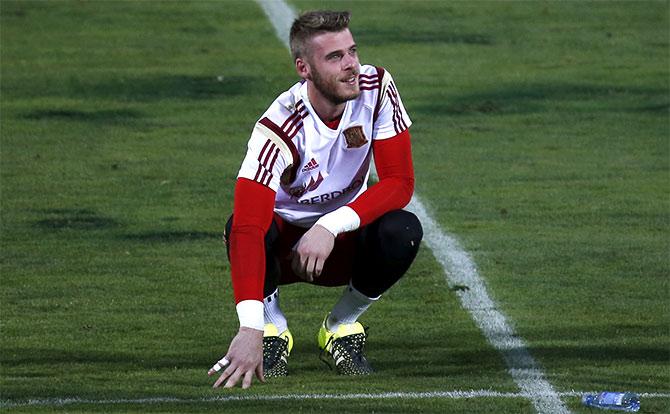 Manchester United will welcome David de Gea back into the fold even if, as expected, the goalkeeper refuses to sign a new contract following his failed attempt to move to Real Madrid, British media reported on Thursday.
Wipro to be Chelsea's partner in its digital game plan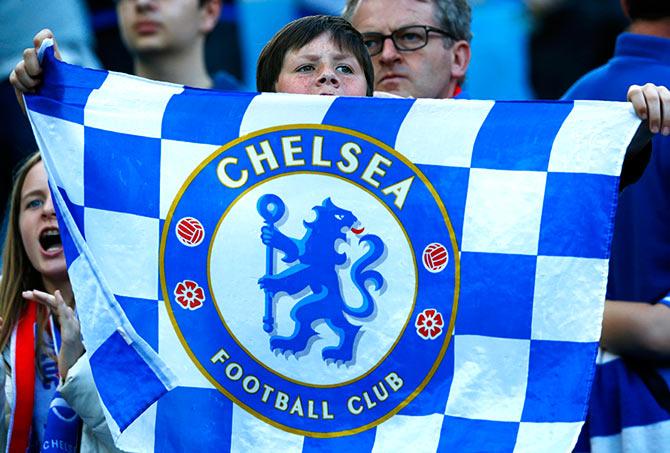 Country's third-largest software services firm Wipro has said it has been chosen as the official digital and IT partner for Chelsea Football Club.
Mayweather ready to hang up gloves as 'the best ever'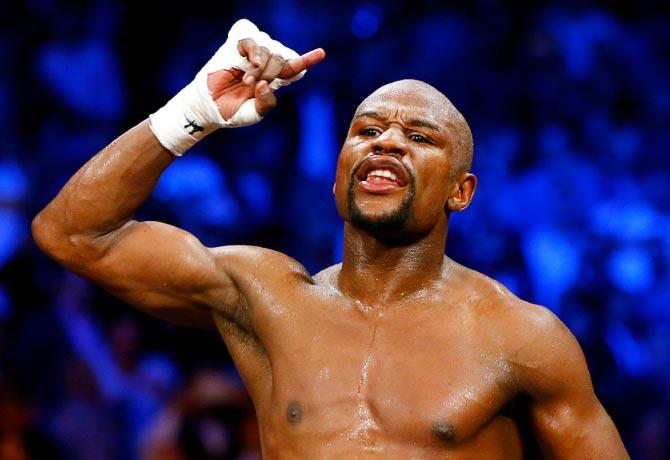 Floyd Mayweather Jr. plans to go out unbeaten and on his own terms, as 'The Best Ever', when he ends his boxing career in Las Vegas next week with his welterweight title defence against fellow American Andre Berto.
Transfer Truths: The EPL's biggest gambles this summer

Rediff.com makes an assessment of the biggest gambles made by the leading Premier League teams this summer.
September 02, 2015
Sinquefield Chess: Anand draws with Carlsen, finishes ninth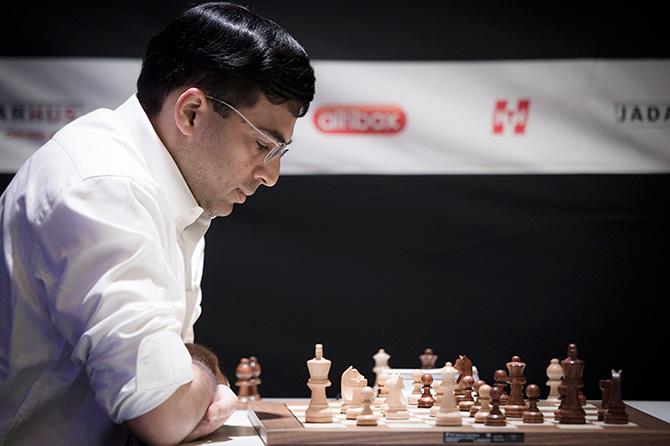 Viswanathan Anand ended his stint with a draw against World Champion Magnus Carlsen of Norway and finished at ninth position in the Sinquefield Cup in St Louis.
Satish Kumar joins three other Indians in semis of Asian boxing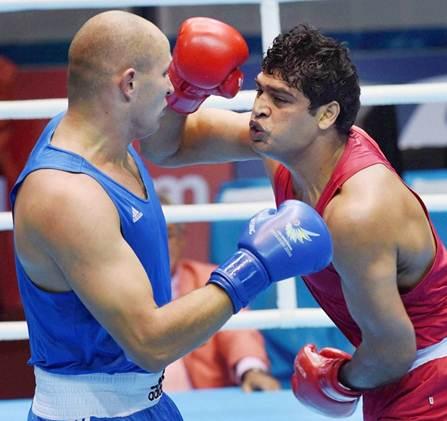 Satish Kumar (+91kg) entered the semi-finals of the Asian Boxing Championships, joining L Devendro Singh (49kg), Shiva Thapa (56kg) and Vikas Krishan (75kg) who had earlier assured themselves of medals and places in the October World Championships.
Yoga's promotion as sport not on communal lines: Government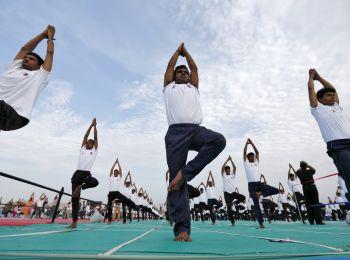 The government insisted that recognition of Yoga as a competitive sport was not on communal lines and it was actually high time that it is seen as a proper game since it is an age old practice in India.
Constantine blasts officials; asks AIFF to synchronise its calendar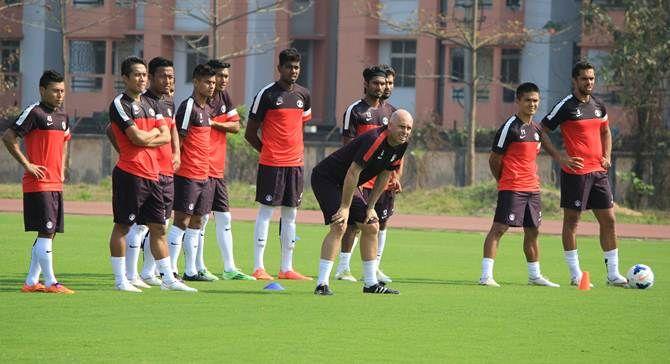 India football coach Stephen Constantine has told his bosses to stand up to the dominating television companies if they ever want local football to flourish in the floundering South Asian nation.
10 facts you must know about Manchester United's new signing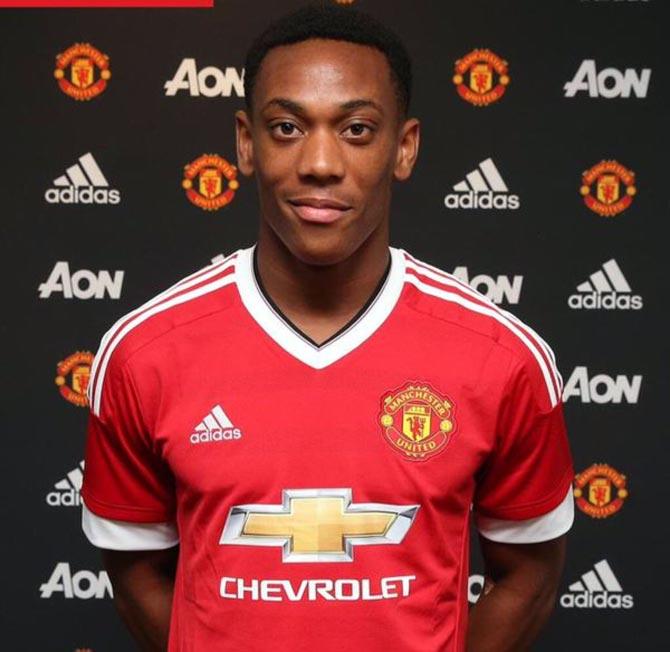 What you must know about Anthony Martial, the world's most expensive teenage footballer.
Water will be clean in time for Rio Olympics, says Games chief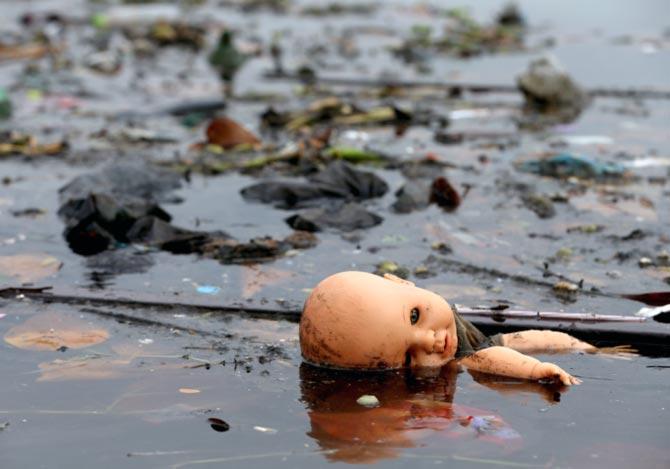 The water quality at the Olympic sailing venue in Rio de Janeiro is a serious issue but will be resolved by the time the Games begin next year, Rio Organising Committee president Carlos Nuzman said on Tuesday.
September 01, 2015
Sinquefield Chess: Anand draws with Aronian; remains joint eighth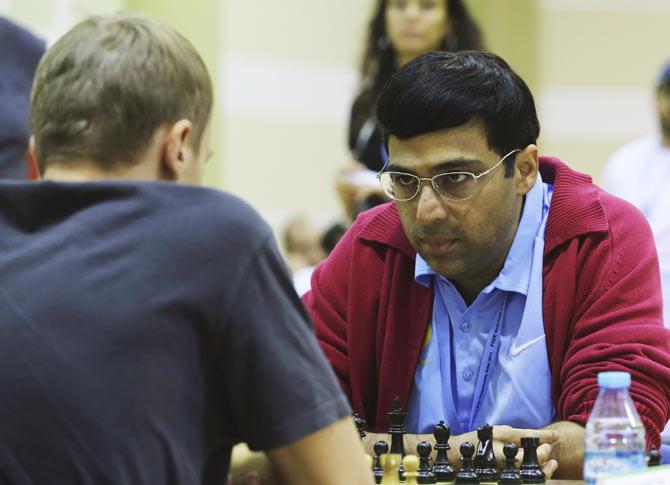 Former world champion Viswanathan Anand did not have a change in fortunes as he played out his sixth draw in a row, signing peace with tournament leader Levon Aronian of Armenia in the eighth and penultimate round of the Sinquefield Cup chess meet.
Sports Ministry recognizes 'Yoga' as a sports discipline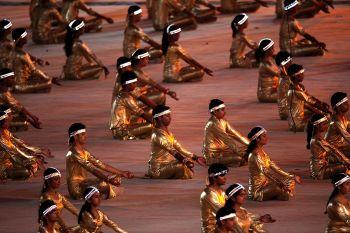 The Sports Ministry decided to recognize 'Yoga' as a sports discipline and place it in the 'priority' category.
Pirelli to reveal reasons for Vettel's Belgian GP tyre blow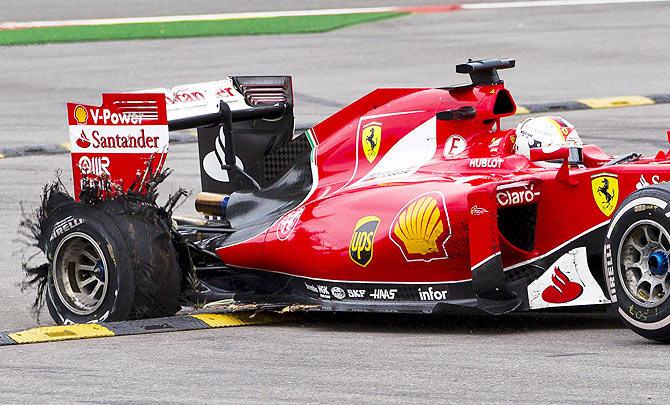 'We have finalised the investigation into Sebastian Vettel's tyre at Spa. Detailed conclusions from the technical analysis will be presented at Monza'
Federer commences US Open bid against challenging Mayer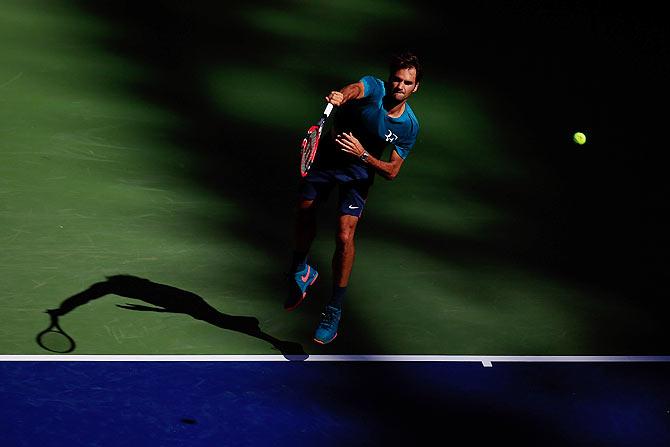 World number two Roger Federer launches his bid for a sixth US Open title, and his first since 2008, with a first-round match against Argentina's Leonardo Mayer at the Arthur Ashe Stadium on Tuesday.
Boxer Devendro qualifies for World Championships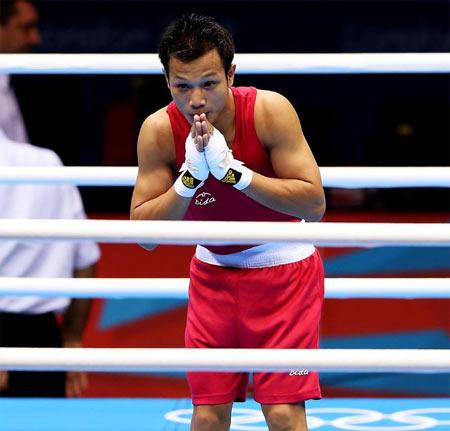 Commonwealth Games silver-medallist L Devendro Singh (49kg) assured himself of a medal and a place in the upcoming World Championships by storming into the Asian Championships semi-final in Bangkok on Tuesday.
Di Maria reveals he did not share a good relationship with Van Gaal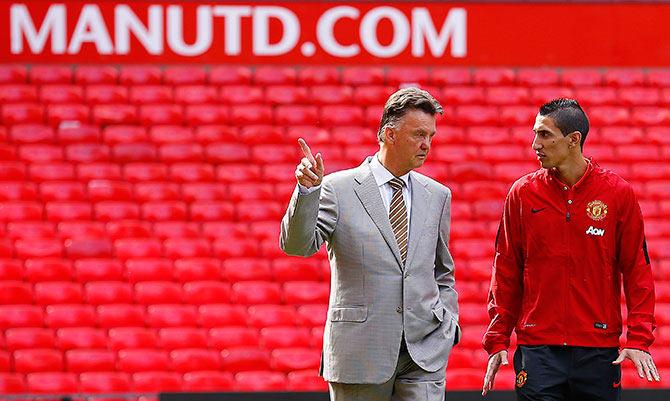 Angel Di Maria has admitted to clashing with former manager Louis Van Gaal during his ill-fated stint at Manchester United and hinted that his poor relationship with the Dutchman contributed to a dip in his performance.
Transfer Talk: Rooney as clueless as Man United fans about Martial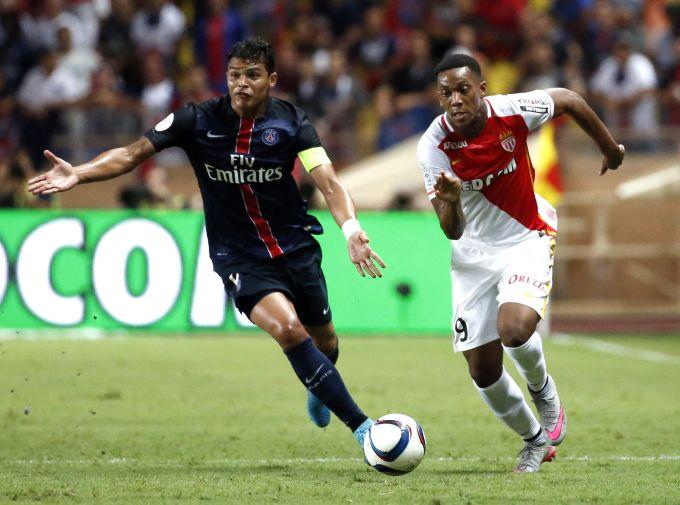 Manchester United captain Wayne Rooney did not have the faintest idea who Anthony Martial was when the Monaco forward was linked with a move to Old Trafford earlier this week, according to team mate Morgan Schneiderlin.
US Open PHOTOS: Williams scripts ruthless win; Djokovic, Nadal advance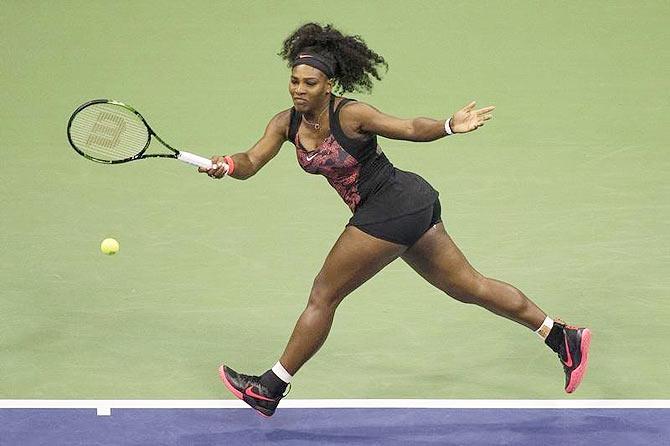 Photos from the US Open matches played on Monday
Juventus suffer side effects of dismantling a winning squad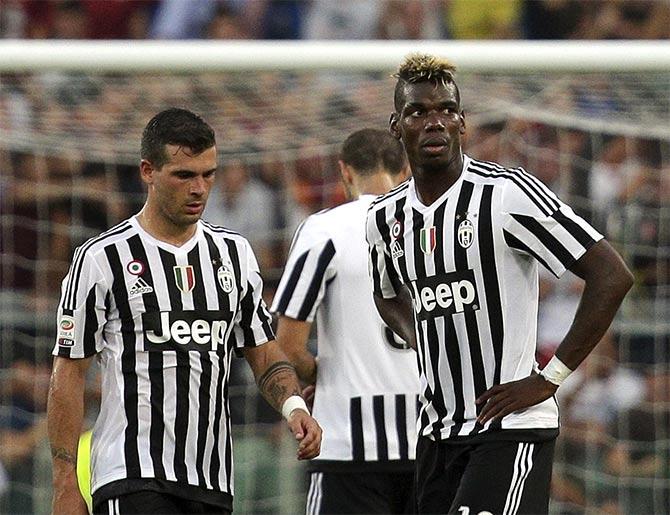 Juventus appear to be suffering from a predictable early-season slump in the wake of a summer spent fumbling around the transfer market in a bid to rebuild a team that had grown to dominate Serie A.
Upsets on Day 1 at the US Open: Nishikori, Ivanovic out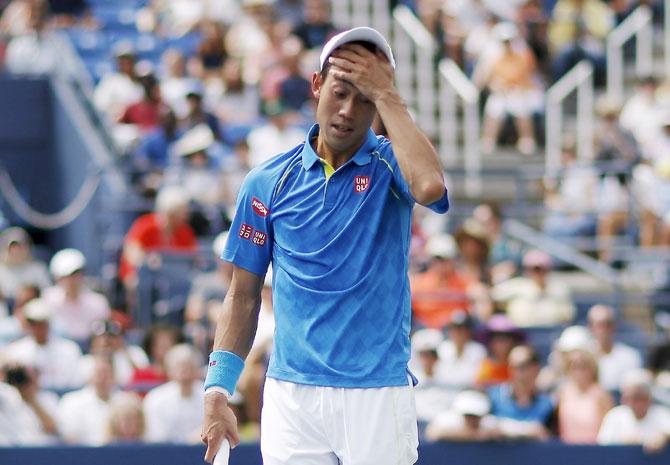 Fourth seed Kei Nishikori's hopes of making another magical U.S. Open run came to a quick end on Monday as last year's runner-up fell at the first hurdle, falling 6-4, 3-6, 4-6, 7-6 (6), 6-4 to Frenchman Benoit Paire.
August 31, 2015
Transfer news: Manchester United's Januzaj joins Dortmund on loan
Borussia Dortmund have signed Manchester United winger Adnan Januzaj on loan for a season, the German club said on Monday.
Sinquefield Chess: Anand draws again; held by Wesley So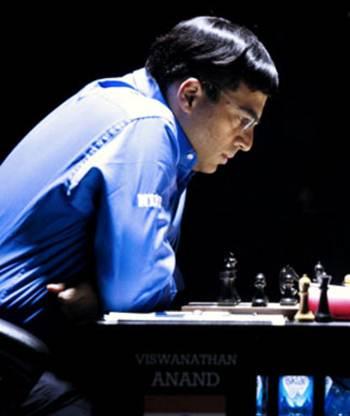 Viswanathan Anand's hunt for an elusive victory continues. The five-time World champion failed to break the solid defences of Wesley So of the United States in the seventh round of Sinquefield Cup, which is part of the Grand Chess tour, in St Louis, and settled for his fifth draw in the last five games.
Transfer Talk: Man City sign Belgian De Bruyne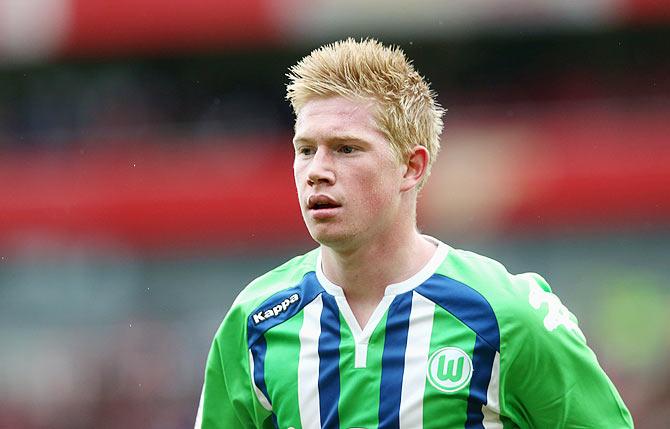 "I want to reach the highest level possible as a player and I think the most important thing is that at the end of the season we can be happy and maybe have some titles," playmaker De Bruyne told the City website (www.mcfc.co.uk).
Euro soccer round-up: Roma hand Juve second successive defeat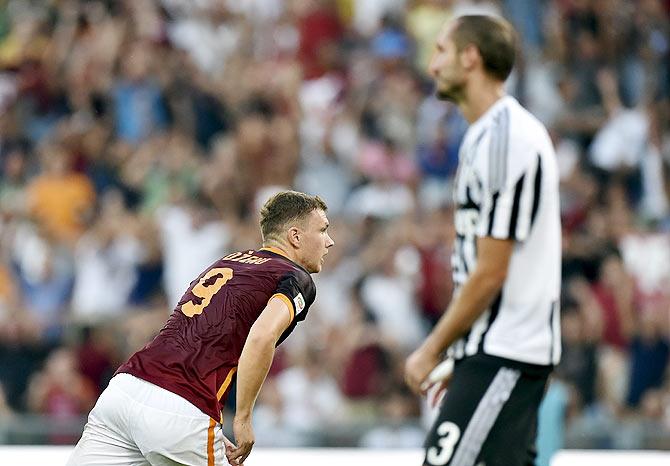 After losing only three league games last season Juventus have now lost the first two of the new campaign as a deserved 2-1 defeat at AS Roma on Sunday condemned the champions to their worst-ever Serie A start.
US Open leading men cheering for a Serena Grand Slam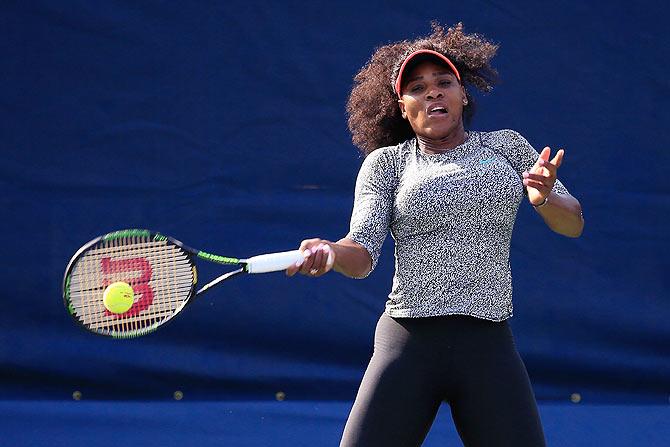 Serena Williams is on the brink of the grandest achievement in tennis, the single season Grand Slam, and even the leading men at the US Open championships starting on Monday are cheering her on.
Blessed with Monk's presence, Swansea are 'a force in the EPL'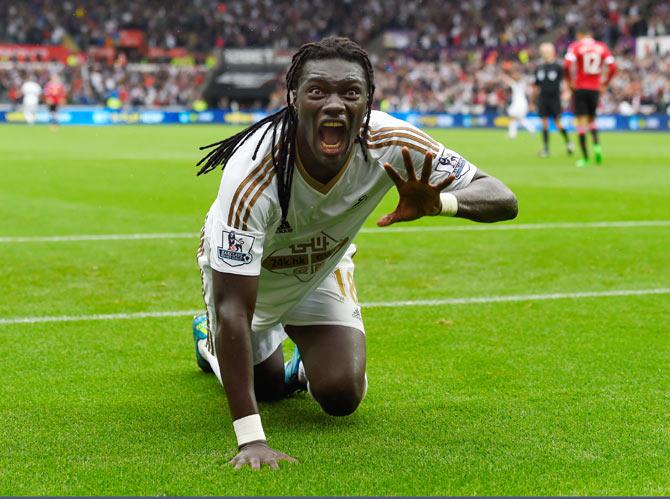 Swansea City are becoming a force in the Premier League after maintaining their unbeaten start with am impressive come-from-behind 2-1 victory over Manchester United, manager Garry Monk said.
La Liga PHOTOS: Martinez opens Atletico account in tough win at Sevilla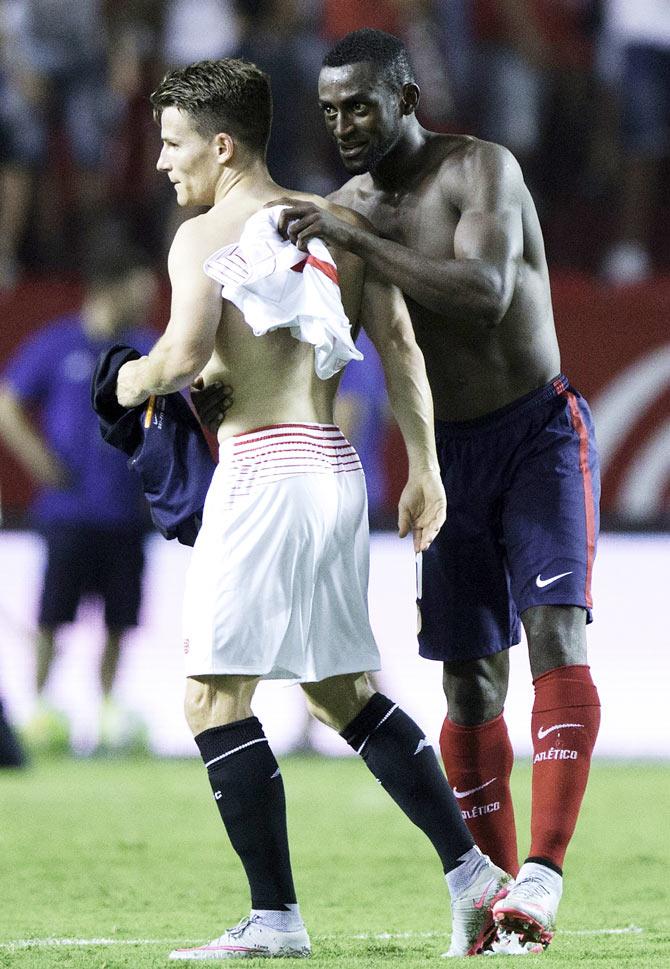 Atletico Madrid's Jackson Martinez scored his first goal for the club when he came off the bench and curled in a superb effort to seal a hard-fought 3-0 victory at Sevilla in La Liga on Sunday.
US Open: In-form Federer, Murray acknowledge opening round challenges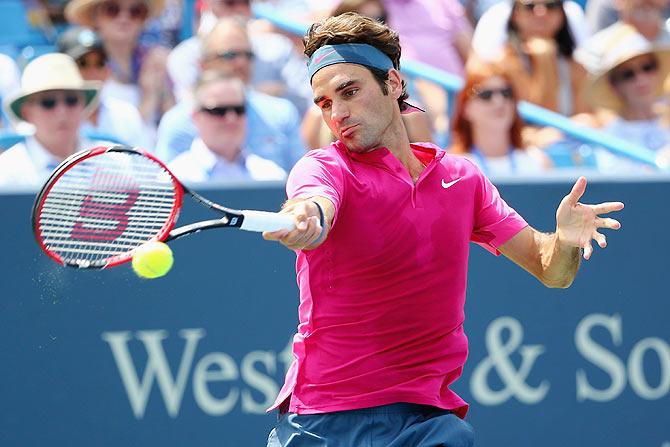 Federer has been brandishing an aggressive style of play, forcing the action and rushing in to half-volley weak second serves to forge an advantage.
US Open to miss star power as Sharapova pulls out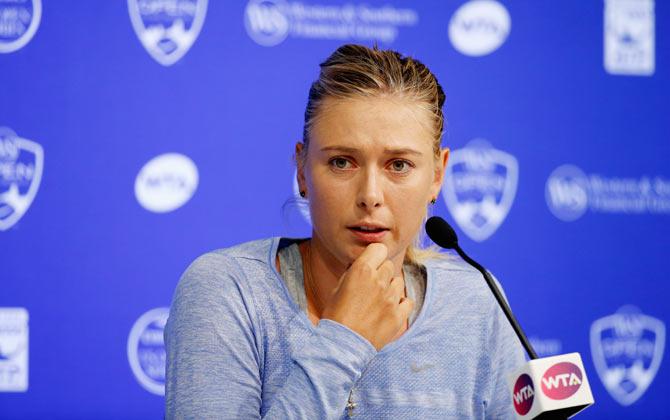 Russian Daria Kasatkina will replace Sharapova in the main draw
August 30, 2015
Swansea end United unbeaten start, Southampton win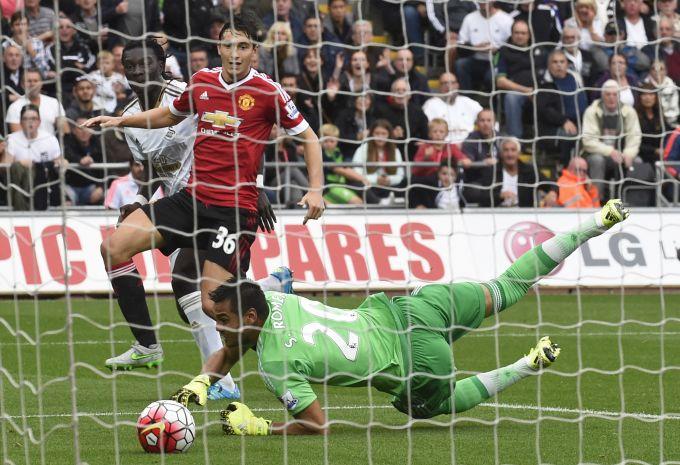 Swansea City came from behind to end Manchester United's unbeaten start to the Premier League season with an impressive 2-1 victory at the Liberty Stadium on Sunday.
Djokovic confident as he aims to win his third slam this year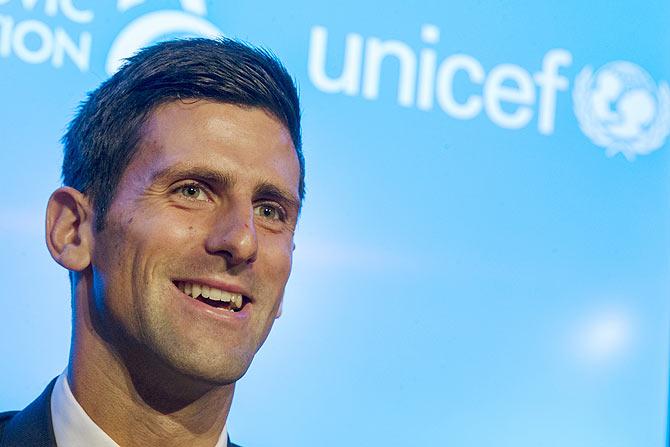 World number one Novak Djokovic lost to rivals Roger Federer and Andy Murray in the finals of US Open warm-up events but the Serb insists those defeats have aided his preparations for the last grand slam of the season.
Our sport is more than test tubes, blood and urine: Coe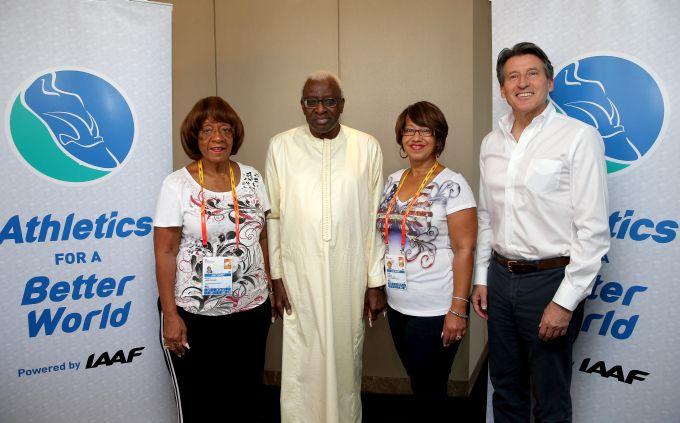 Part of Sebastian Coe's new job as head of world athletics will be to shift the conversation about his "ostensibly clean" sport from doping to spectacular performances, he said on Sunday.
Transfer Talk: Manchester United defender Evans signs for West Brom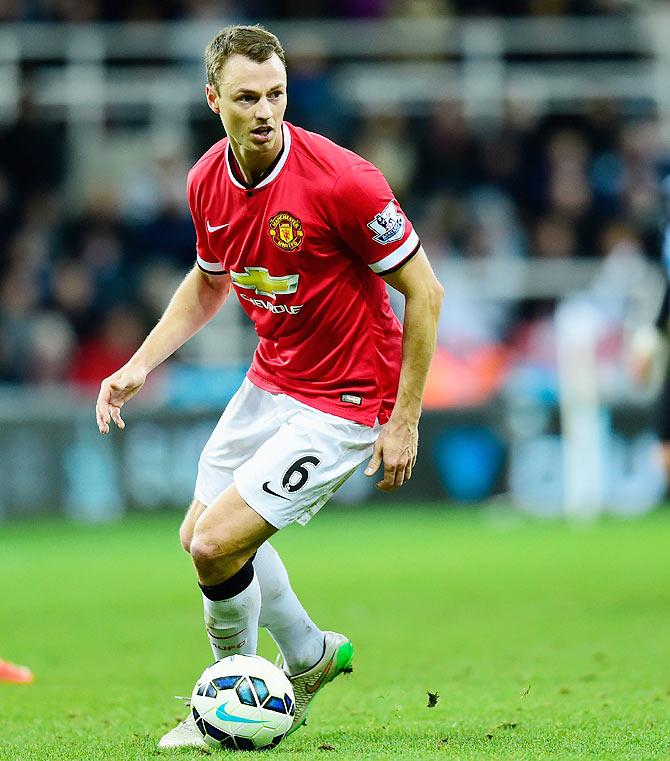 West Bromwich Albion have bolstered their defensive ranks by signing centre half Jonny Evans from Manchester United on a four-year deal.
'The Ministry's award selection policy is fair and transparent'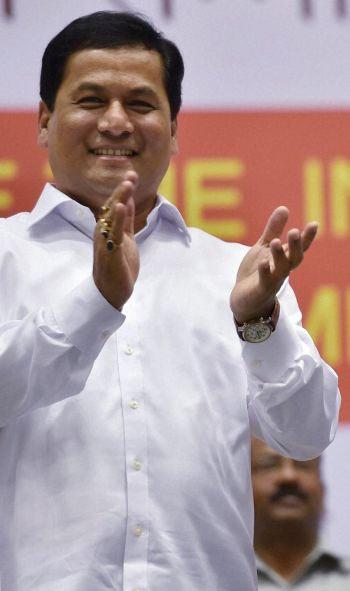 Over the last few years, National Sports Awards have been in the news for creating controversies, but Sports minister Sarbananda Sonowal has said there is no need to review the selection policy for them.
New blood infuse Milan with fire, record first Serie A win of season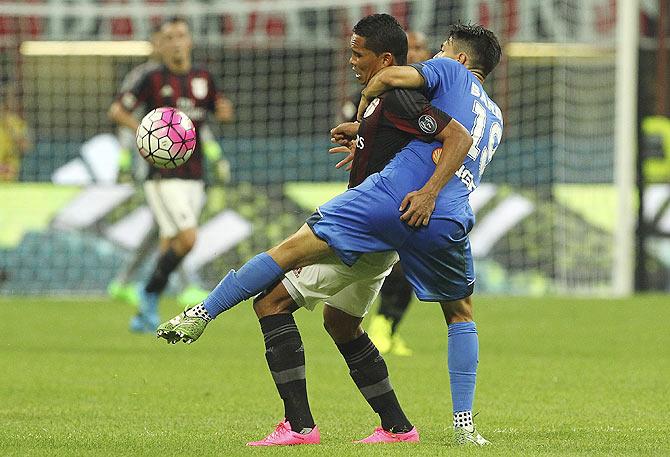 New strikers Carlos Bacca and Luiz Adriano bagged their maiden Serie A goals to give AC Milan their first points of the season with a 2-1 home win over Empoli on Saturday.
La Liga PHOTOS: Real hand Betis a 5-0 thrashing while Barca labour to victory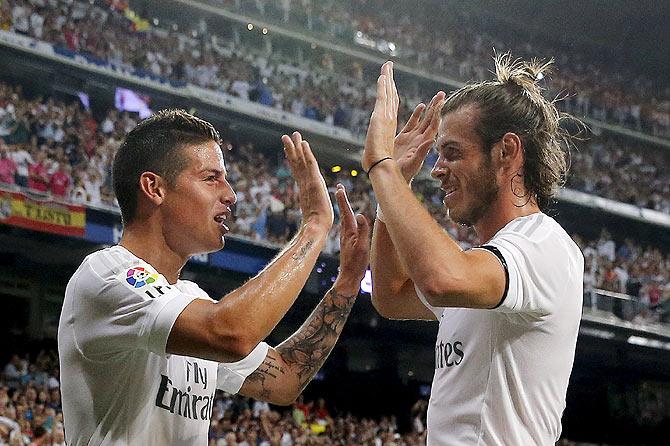 Gijon spoiled Asier Illarramendi's return to Real Sociedad's midfield after rejoining from Real Madrid this week when they held the Basque club, coached by Scot David Moyes, to a 0-0 draw in San Sebastian.
Mueller scores brace in is 200th Bundeliga match
Mueller scores brace in is 200th Bundeliga match
Big ticket showdowns on Day 1 at US Open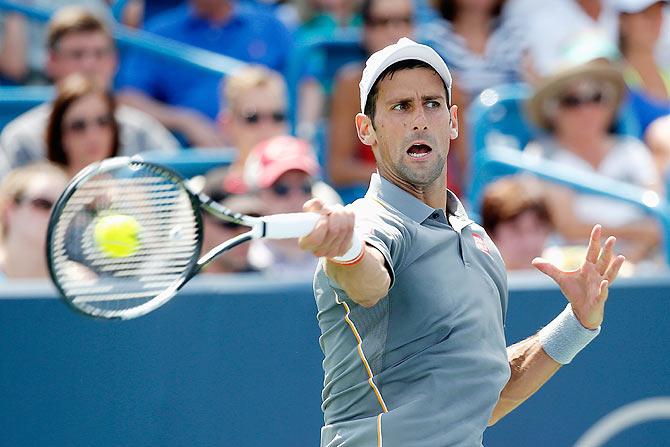 Top-seeded world number ones Serena Williams and Novak Djokovic help launch the US Open tennis championships on Monday's opening day of the year's final Grand Slam.
Tennis: Kvitova, Anderson get in form before US Open with title wins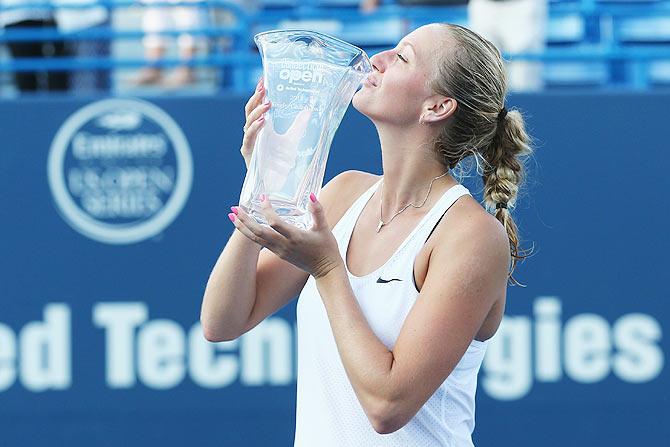 Defending champion Petra Kvitova used a dominant serve to beat Lucie Safarova 6-7(6), 6-2, 6-2 in their all-Czech final at the Connecticut Open on Saturday.
World Athletics: Ayana denies Dibaba with stunning 5,000m gold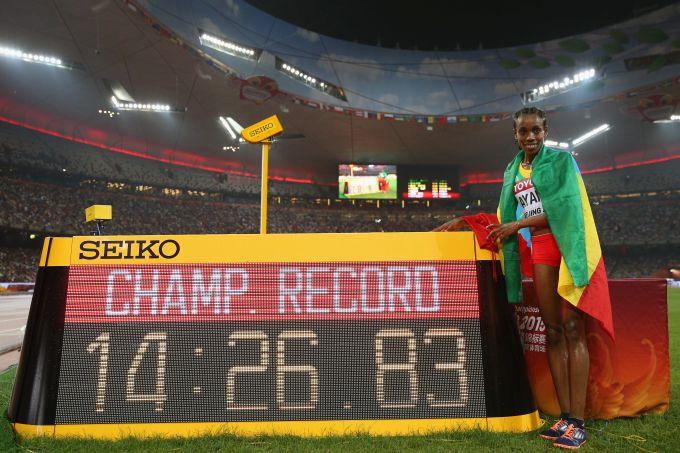 Ethiopia's Almaz Ayana put on a brilliant display of front-running to win the women's 5,000 metres at the world championships on Sunday and deprive compatriot Genzebe Dibaba of an unprecedented double gold.
August 29, 2015
EPL: Man City maintain perfect start, Chelsea slump at home
Manchester City maintained their perfect start to the season with a 2-0 victory over promoted Watford as champions Chelsea suffered a shock 2-1 home defeat by Crystal Palace on Saturday.
PHOTOS: Kuchina takes high jump gold, Malachowski ends long wait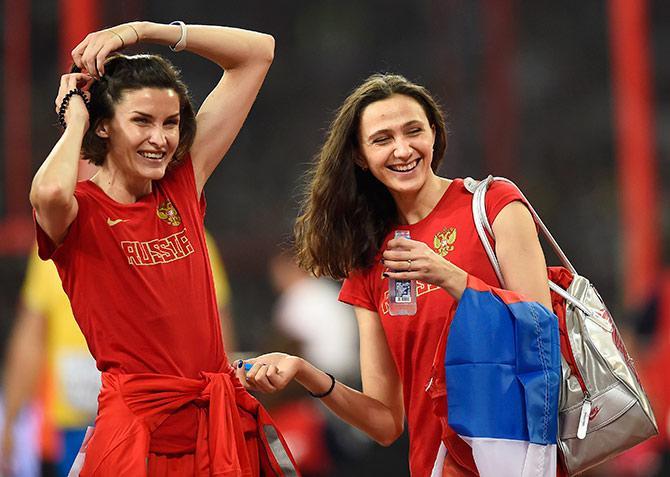 Mariya Kuchina won thewomen's high jump with a clearance of 2.01 metres on Saturday to become Russia's second gold medallist at this world championships. The 22-year-old from Moscow had a blemish-free card to that height, her lifetime best performance.
Peerless Eaton breaks decathlon world record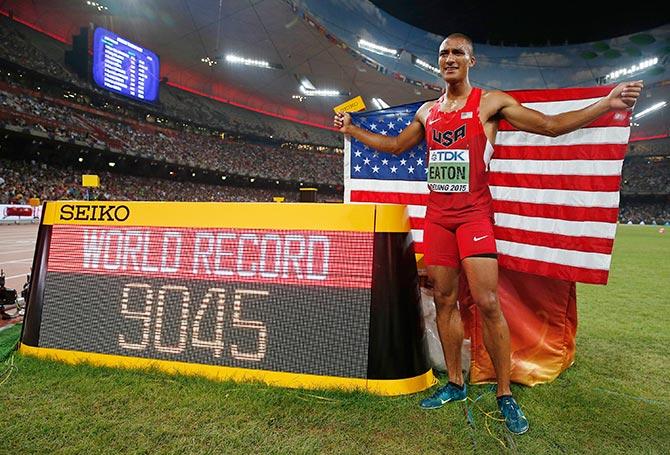 American Ashton Eaton retained the decathlon world title on Saturday and broke his own world record with a score of 9,045 points.
Premier League: Arsenal labour to victory over 10-man Newcastle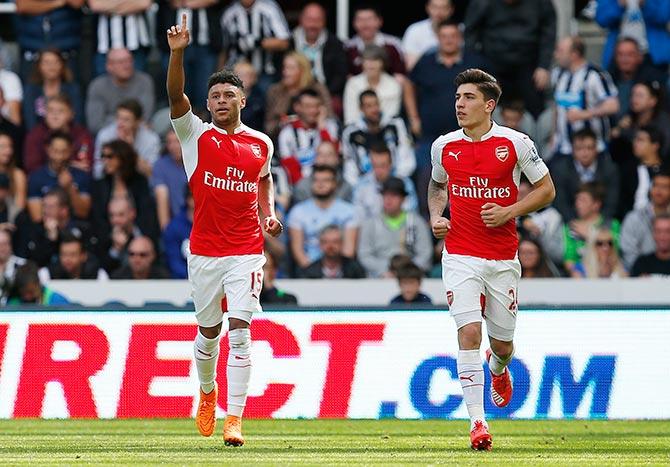 Arsenal laboured to their second win of the season with a highly-charged 1-0 victory against 10-man Newcastle United at St James' Park on Saturday.
Sania Mirza conferred Khel Ratna, Arjuna awards also given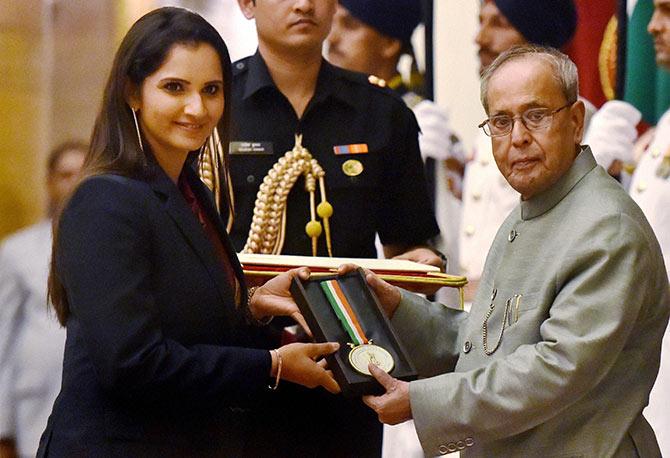 Sania Mirza was on Saturday conferred with the prestigious Rajiv Gandhi Khel Ratna, the country's highest sporting honor, while shooting sensation
Manpreet, Satish advance at Asian Boxing Championships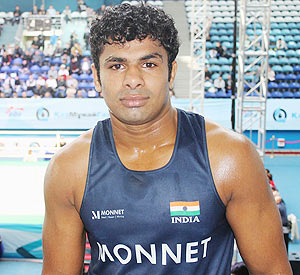 Former Asian Games silver-medallist Manpreet Singh (91kg) and Satish Kumar (+91kg) sailed into the quarter-finals with comprehensive wins as India rounded off a reasonably good day at the Asian Boxing Championships in Bangkok.
World Athletics: Bolt, Mo Farah set the tracks on fire in Beijing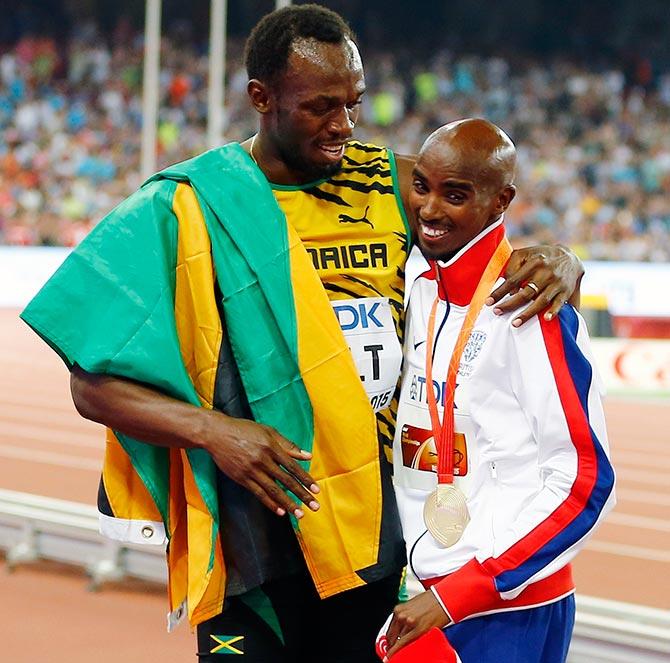 Britain's Mo Farah stormed to victory in the 5,000 metres on Saturday to secure an unprecedented third successive distance double at major global championships.
Delhi Dynamos sign West Bromwich Albion's Adil Nabi on loan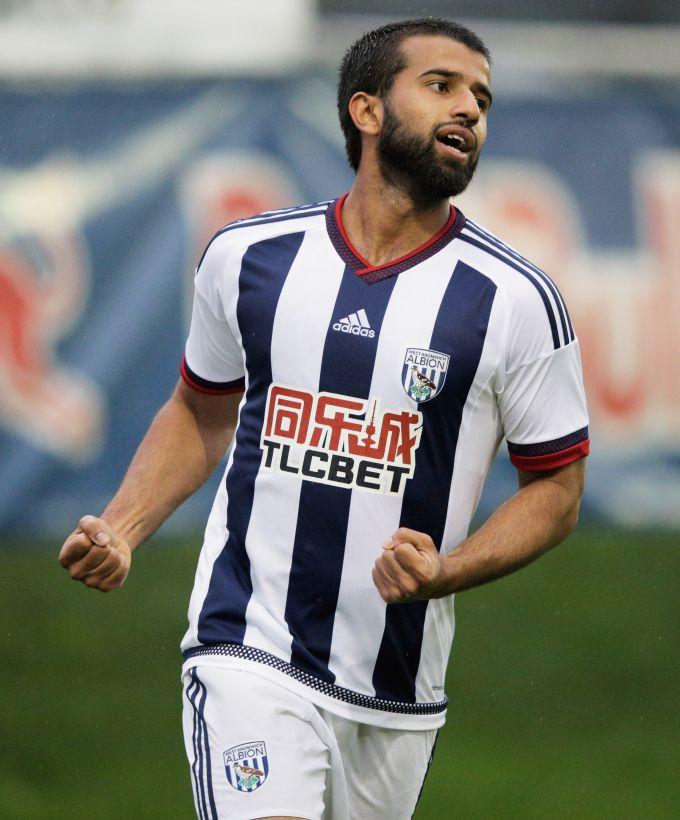 Delhi Dynamos have signed English Premier League side West Bromwich Albion's talented youngster Adil Nabi on loan for the second season of the Indian Super League beginning in October.
Grand Slam question: Who can challenge Serena?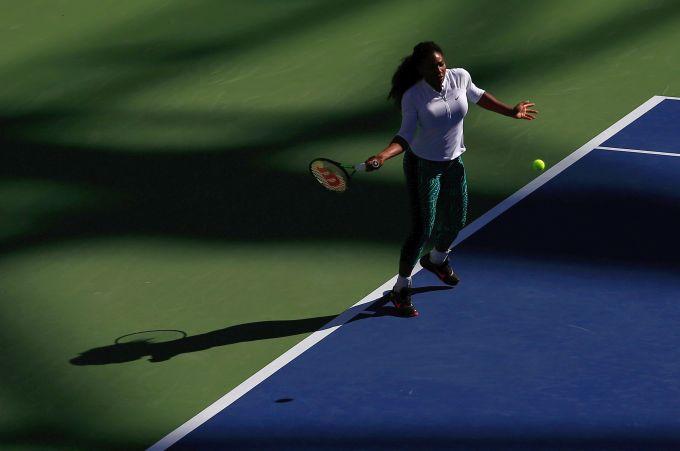 Serena Williams has been vulnerable this Grand Slam season but unbeaten in the year's first three major championships.
August 28, 2015
Yogeshwar's coach Vinod Kumar to get Dronacharya after HC ruling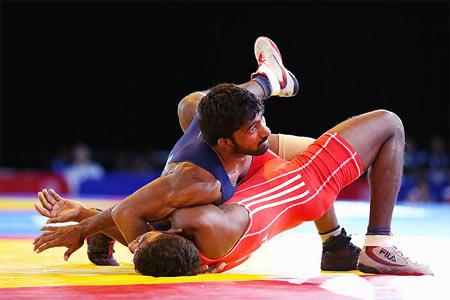 Former chief national wrestling coach Vinod Kumar expressed relief and contentment over Delhi High Court's directive to the Centre to confer him with the Dronacharya award.
Wrestler Ankus wins silver in Cadet World Championship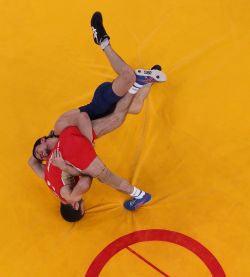 Asian bronze medallist Ankus (38kg) has bagged the silver medal in the ongoing Cadet World Wrestling Championship in Sarajevo, Bosnia.
Verma ousted from Vietnam Open Grand Prix badminton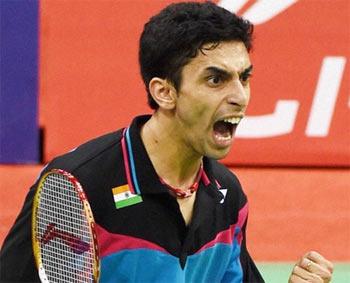 India's campaign came to a halt at the Vietnam Open Grand Prix badminton tournament after Sameer Verma went down to second seed South Korean shuttler Lee Hyun-il in straight games in Ho Chi Minh City, Vietnam, on Friday.
Platini 'serving last term as UEFA chief'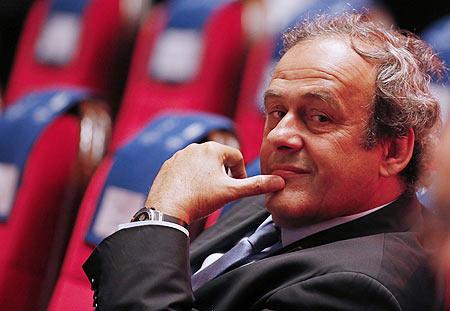 The Frenchman declined to talk about his bid for the FIFA presidency in his first news conference since announcing one month ago that he would stand as a candidate to replace Sepp Blatter.
World Athletics PHOTOS: Williams stuns favourites to take hurdles gold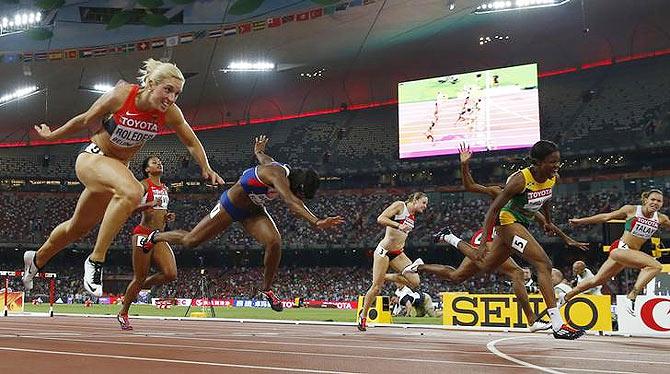 Hansle Parchment of Jamaica was second in 13.03 and Olympic champion and world record holder Aries Merritt claimed bronze in 13.04 seconds.
Former European champions Ajax, Celtic meet in Europa League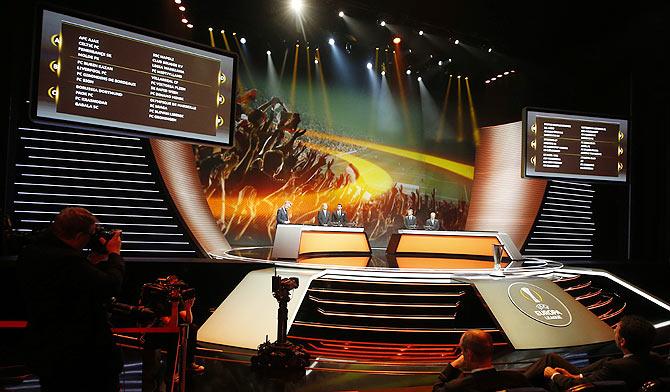 Former European champions Ajax Amsterdam and Celtic, who both suffered the indignity of being knocked of the Champions League qualifiers by underdogs this season, will meet in the Europa Leagueafter being drawn together in the group stage on Friday.
Champions League draw: About predictability, sub-plots and homecoming!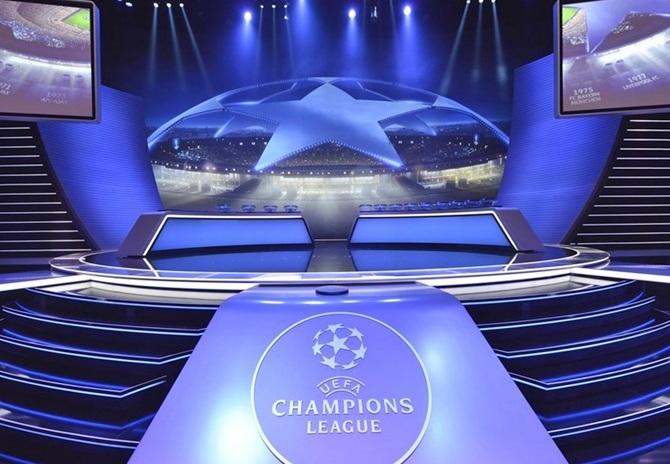 Ahead of the UEFA Champions League proper, which kicks-off next month, Bikash Mohapatra/Rediff.com tells football fans what to expect in this year's competition.
Bolt mulls retirement after Rio Olympics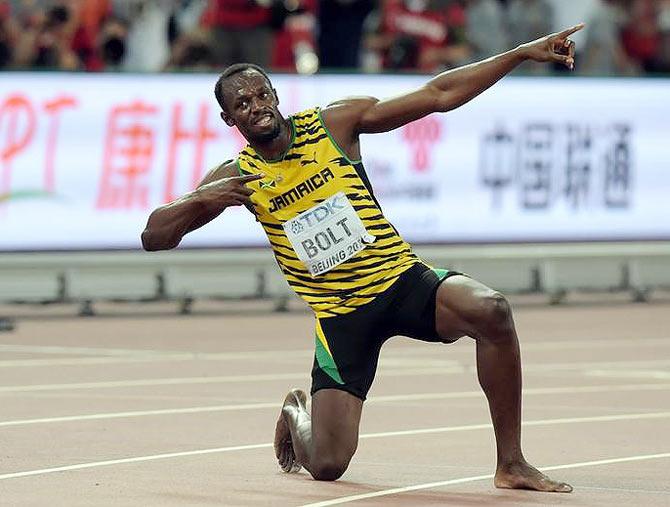 "So it's all about how I feel after Rio, if I feel I can really put my body through one more season. If I'm going to be focused and I'm going to be determined. That will determine if I compete after Rio. So we'll see how it goes."
Serena in heavy American quarter; Djoko, Nadal on collision course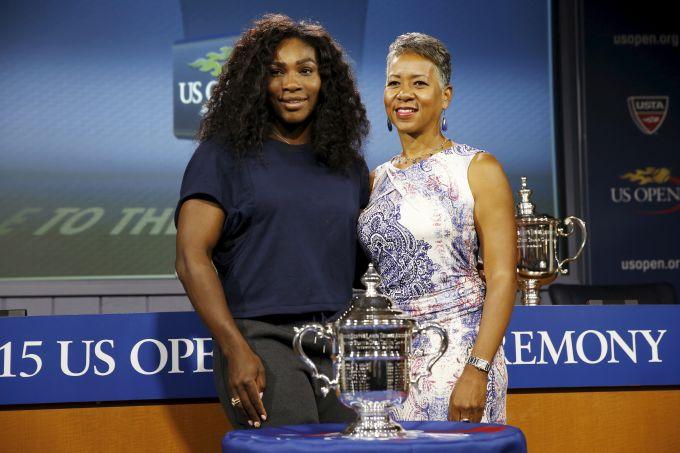 Serena Williams must navigate a heavily American quarter of the draw including sister Venus to complete a calendar sweep of the four Grand Slams, while two sensational quarter-finals loom on the men's side after Thursday's U.S. Open draw.
Is Gisele Bundchen, Tom Brady marriage on the rocks?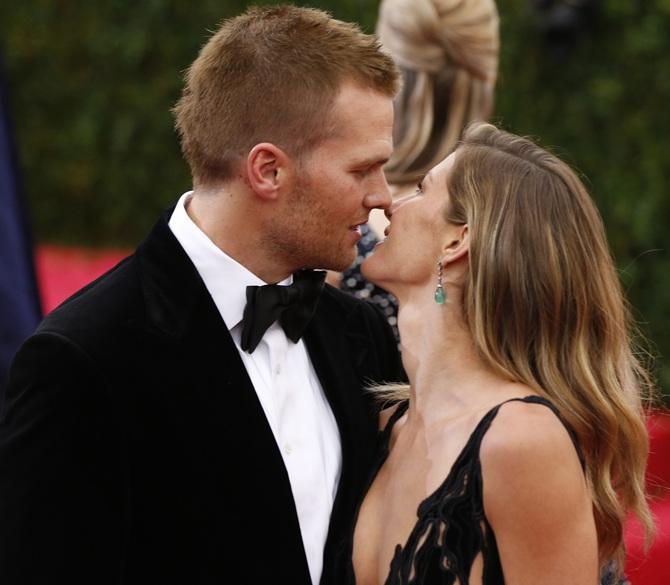 Gisele Bundchen and American football ace hubby Tom Brady as it has been rumored that the duo have been through lot of arguments.
Mandeep sails into pre-quarters of Asian Boxing C'ships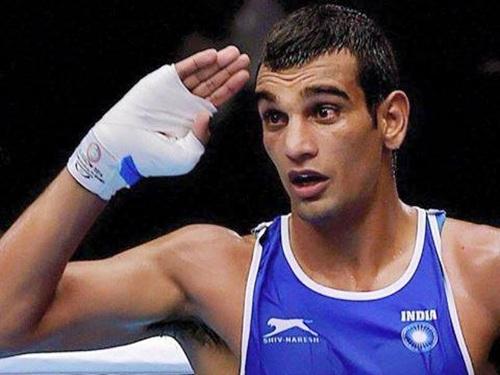 Commonwealth Games silver-medallist Mandeep Jangra took just over a minute to force his rival out of the contest with a bloodied face and book a pre-quarterfinal berth in the Asian Boxing Championships in Bangkok.
World Athletics: Khushbir finishes 37th in 20km race walk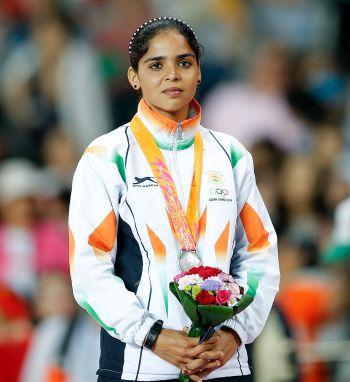 National record holder Khushbir Kaur finished a disappointing 37th while compatriot Sapna was disqualified from the women's 20km race walk event on the seventh day of the World Athletics Championships in Beijing.
Football shorts: West Brom rule out Berahino move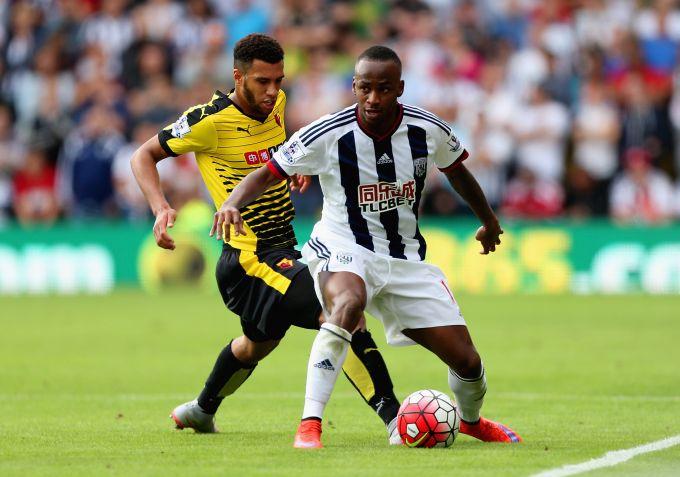 West Bromwich Albion have ruled out the prospect of Saido Berahino leaving the club during the current transfer window, leading Tottenham Hotspur manager Mauricio Pochettino to compare his club's pursuit of the striker to a frustrated love affair.
Sinquefield Cup: Anand draws with Vachier-Lagrave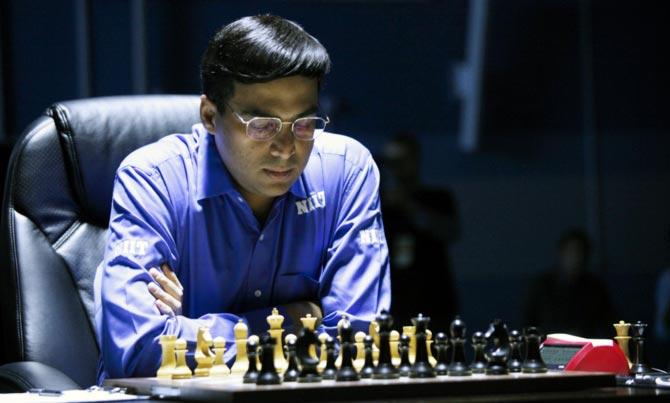 Former world champion Viswanathan Anand's hunt for an elusive victory continued as he was held to a draw by Maxime Vachier-Lagrave of France .
Best Player in Europe: Messi beats Ronaldo again!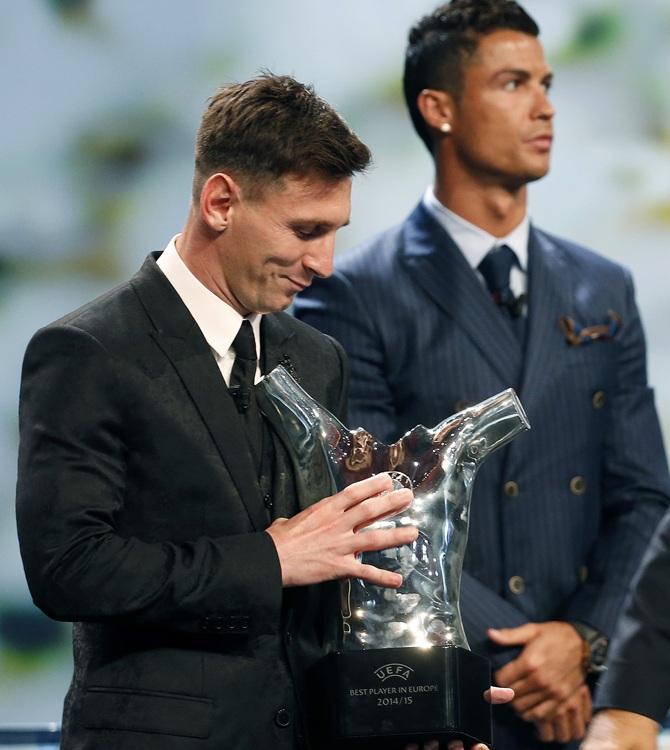 Barcelona's Lionel Messi beat Real Madrid's Cristiano Ronaldo to take home the UEFA Best Player in Europe Award on Thursday.
Champions League draw: Group-by-group breakdown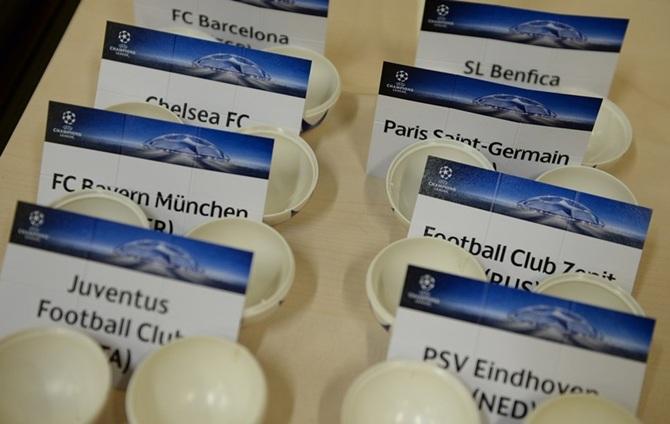 The Champions League group stages took on a less predictable look after Thursday's draw, helped by UEFA's decision to tweak the seeding system.
Europa League: Surprise defeats for Southampton and Steaua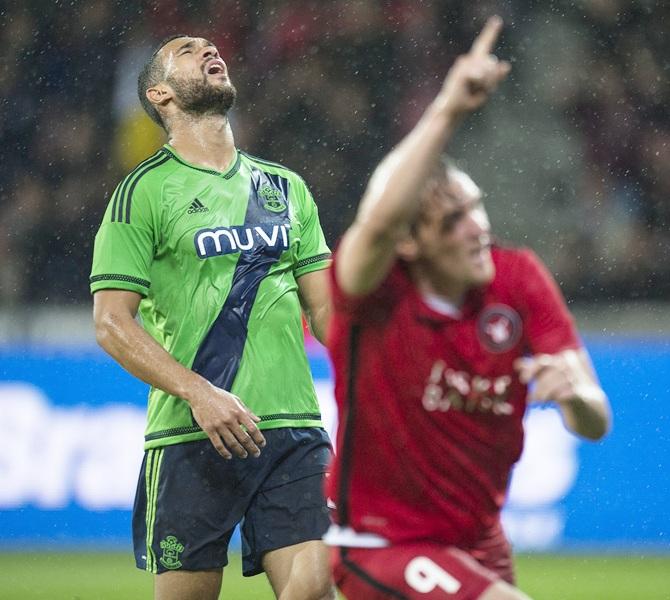 Former European champions Steaua Bucharest and English Premier League Southampton suffered shock defeats by Scandinavian teams in Europa League qualifiers on Thursday.
Check out what is at stake for Serena Williams at US Open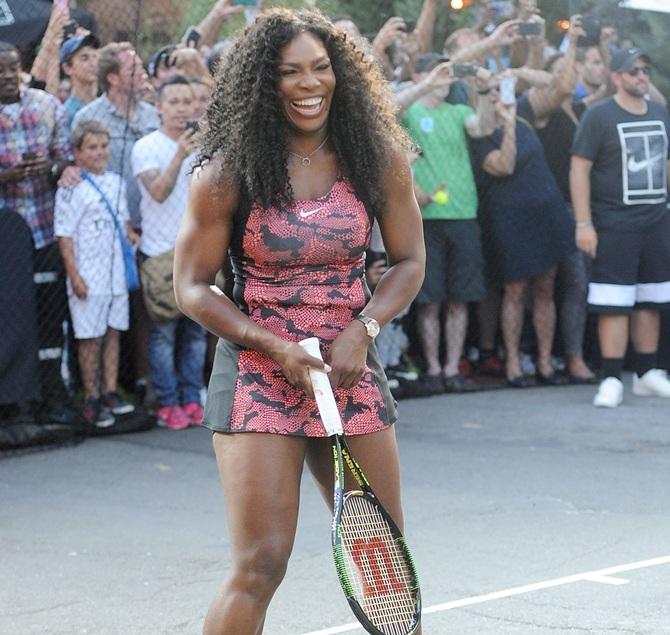 Serena Williams said on Thursday she is treating the upcoming US Open just like any other, even though she is well aware of the historical impact the year's final Grand Slam may have.
World Athletics: Liu and Lu claim China one-two in walk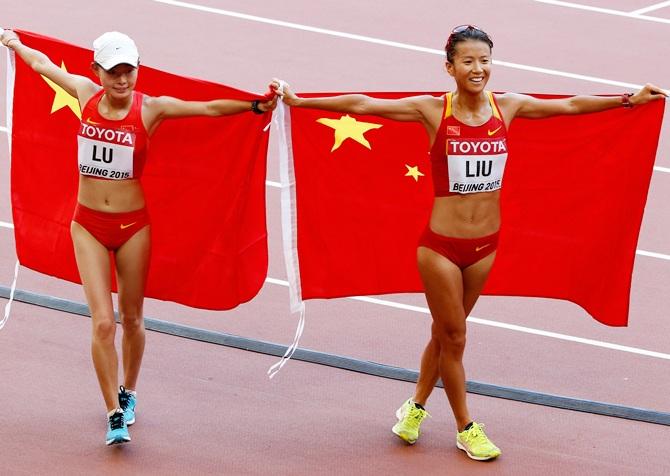 China picked up a first gold medal at their home world athletics championships when Liu Hong led Lu Xiuzhi across the line after the duo blew away the field in the women's 20 kilometre walk on Friday.
When Gatlin was second best again...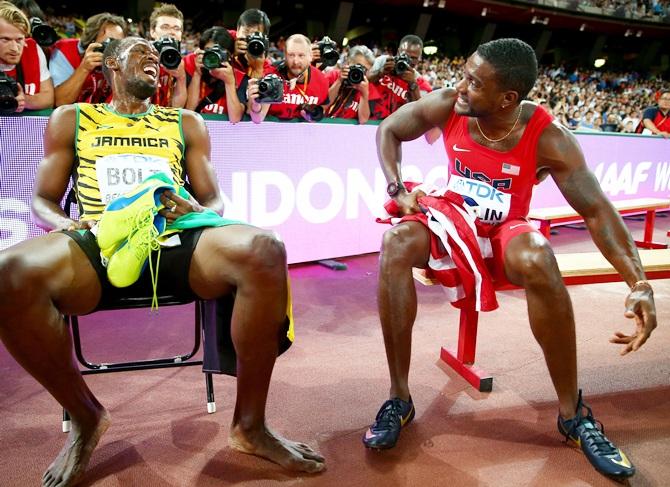 After two decisive defeats at the hands of Usain Bolt in the space of five days, Justin Gatlin is showing the strain.
August 27, 2015
Champ Usain Bolt knocked down by photographer on Segway scooter!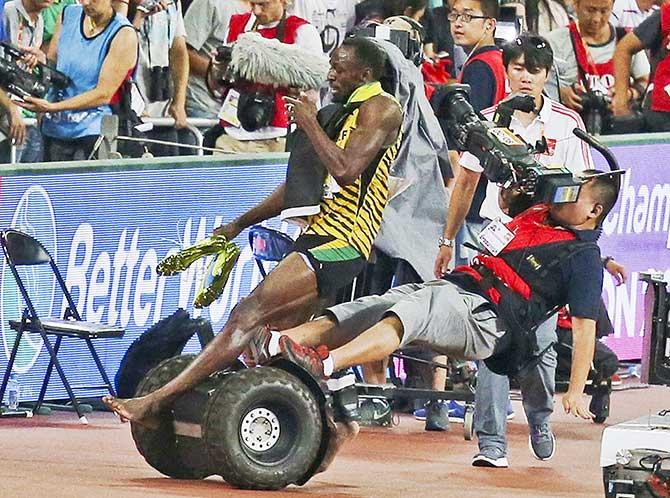 Usain Bolt's 200 metres triumph at the IAAF World Athletics Championships in Beijing came at a price. The Jamaican took a tumble in bizarre accident, after he was knocked over by a photographer on Segway scooter.
Champions League draw: Barca clubbed with Roma; Real to face PSG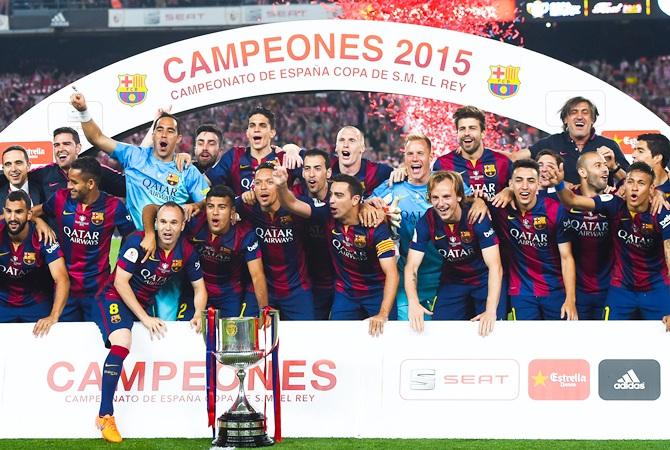 Holders FC Barcelona have been placed in Group E, along with Bayer Leverkusen, AS Roma, Dinamo Zagreb.
PHOTOS: Taylor wins triple jump gold with second-longest ever leap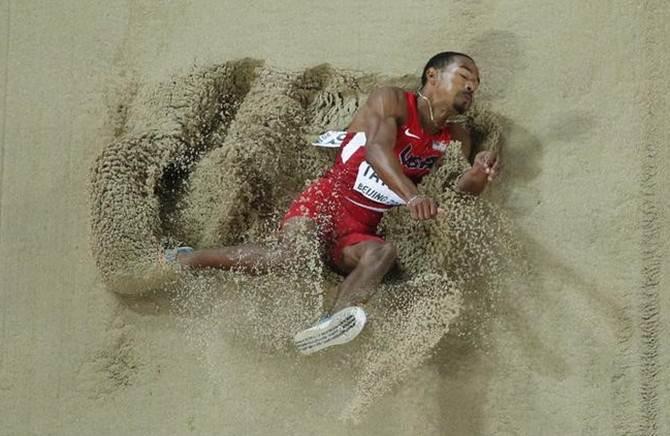 A summary of Thursday's events at the World Athletics Championships.
Sinquefield Chess: Anand plays out easy draw with Caruana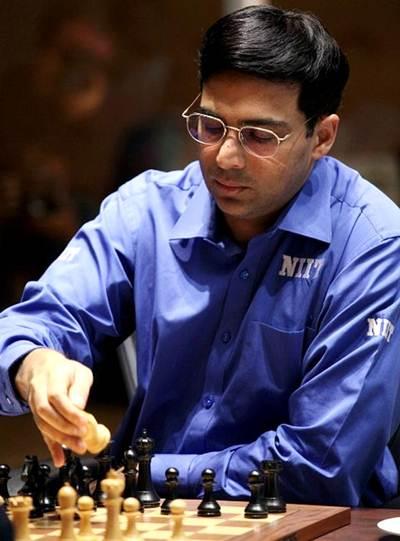 Former World champion Viswanathan Anand played out a second straight draw by holding Fabiano Caruana of the United States easily in the fourth round of the Sinquefield Cup, which is part of the Grand Chess tour.
Bolt completes 100-200m double at Worlds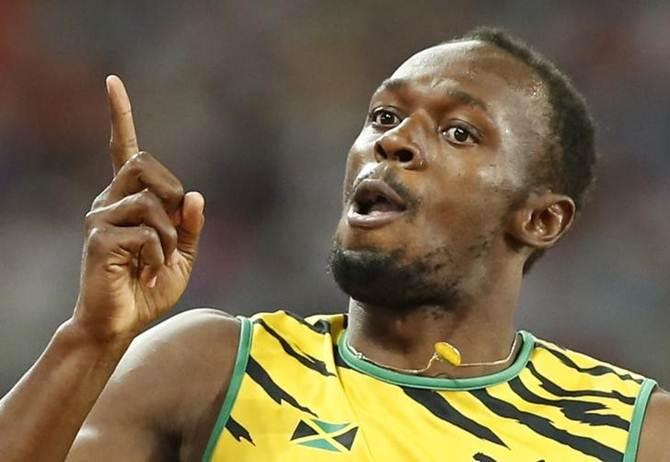 Usain Bolt completed another 100-200 double at the IAAF World Championships when he bested rival Justin Gatlin to the 200 metres title at the Bird's Nest.
World Athletics: Vikas Gowda qualifies for discus final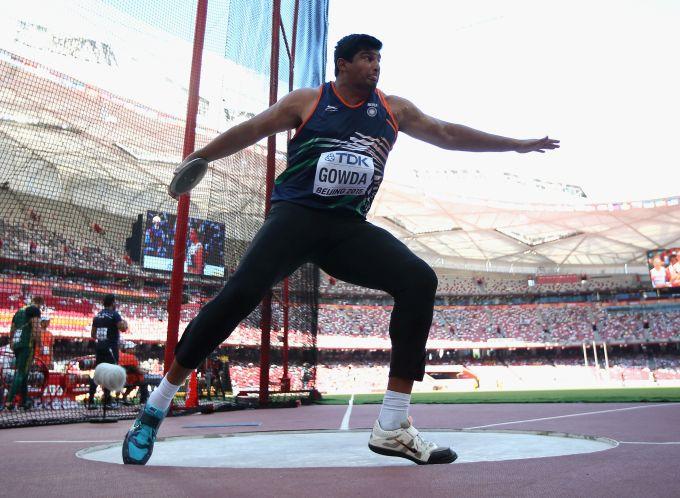 Vikas Gowda qualified for the final round of the men's discus throw event with a modest effort of 63.86m on the sixth day of the World Athletics Championships in Beijing.
Soccer shots: Balotelli completes loan move to Milan from Liverpool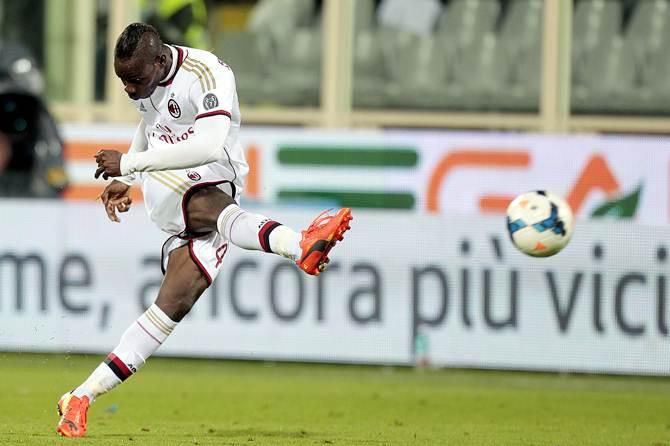 Get the latest from the world of football and more on Rediff.com.
Nadal makes 'brief' appearance in new 'steamy' underwear ad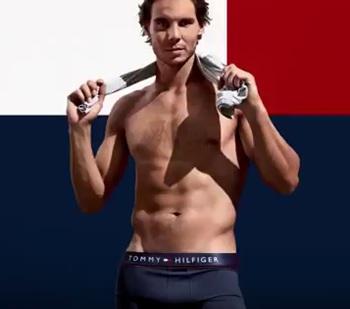 After his early exit from Wimbledon this year, Spanish tennis star Rafael Nadal seems to taking to commercials, as he recently stripped down for designer Tommy Hilfiger's steamy underwear advertisement.
World Athletics Updates! Dibaba and Kiprop coast, holder Reese out of long jump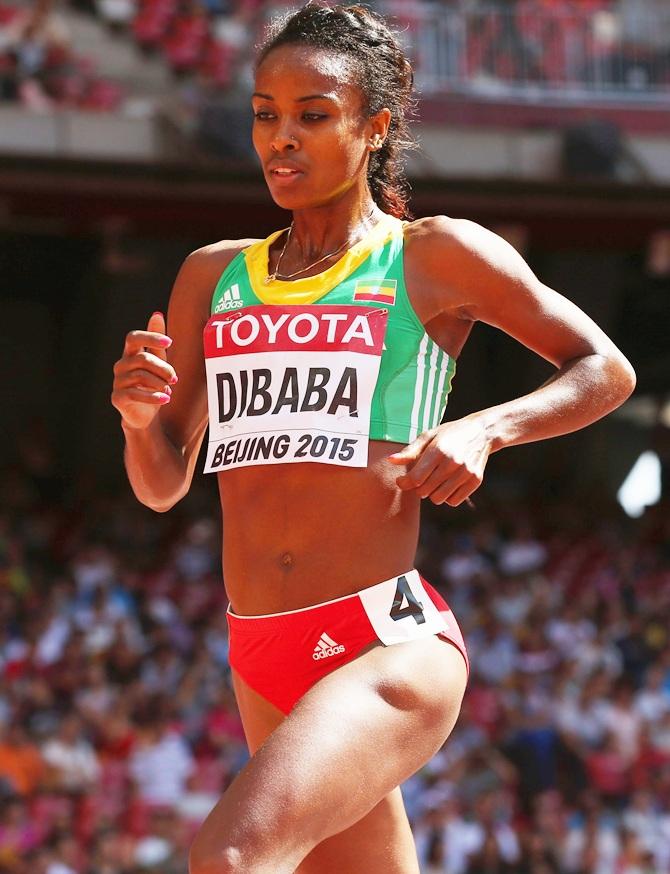 Ethiopia's Genzebe Dibaba eased through to the finals of the women's 5,000 metres on Thursday to stay on course for a world athletics championships double, while American Brittney Reese saw her six-year long jump reign end.
League Cup: Everton survive scare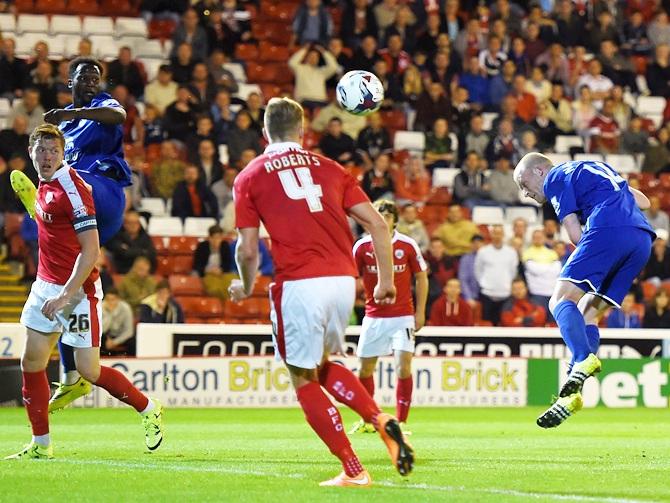 Premier League Everton survived a mighty scare to beat League One Barnsley 5-3 after extra time in the League Cup second round on Wednesday.
Champions League PHOTOS: When Rooney is on the rampage...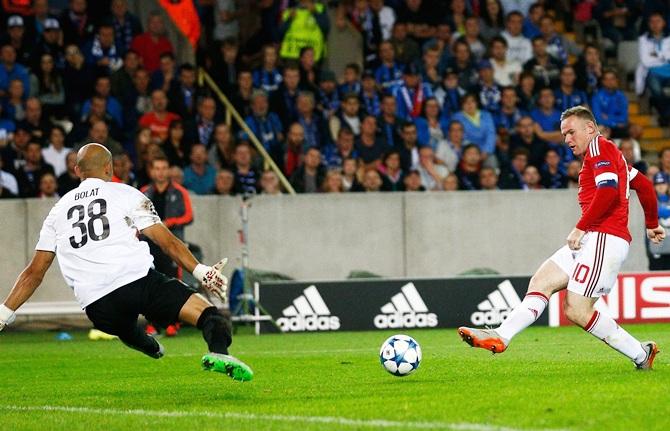 Manchester United ended their one-year Champions League hiatus in emphatic style when Wayne Rooney struck a hat-trick in a 4-0 destruction of Club Bruges that sent the three-times winners through 7-1 on aggregate on Wednesday.
August 26, 2015
PHOTOS: South Africa's Van Niekerk stuns champions to win 400m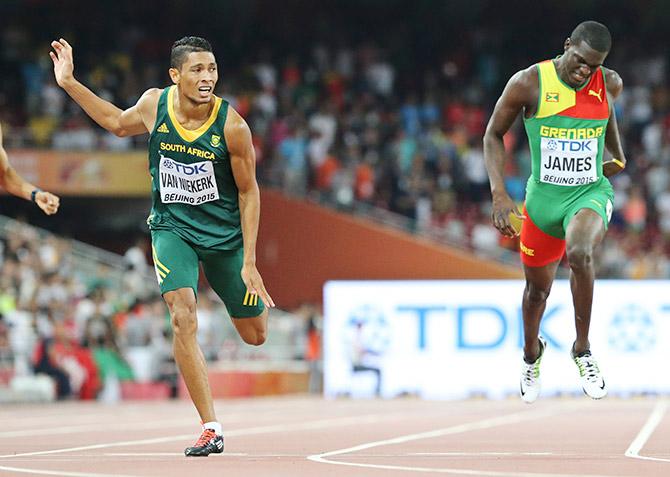 Wayde van Niekerk ran the fastest 400 metres since 2007 to become the first South African to win a World Championship sprint title on Wednesday.
'In better shape now', Nadal ready for US Open challenge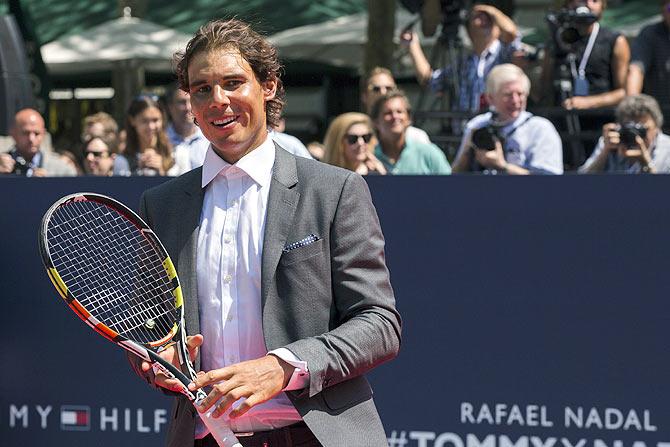 Former world number one Rafael Nadal is feeling confident about his chances of competing for a third US Open title when the tournament starts in New York next week.
Two Kenyan runners banned for doping at world championships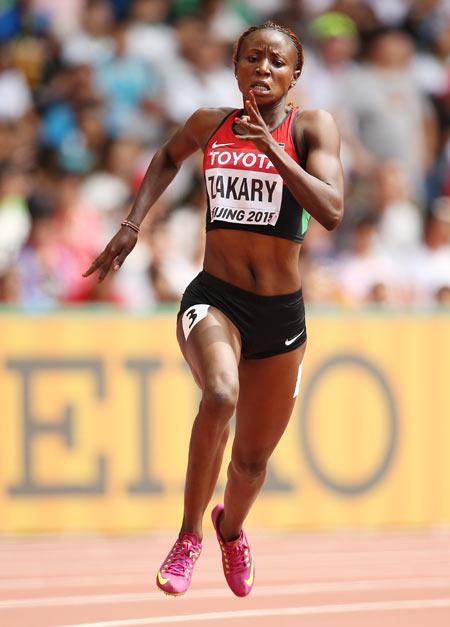 Kenyan athletes Koki Manunga and Joyce Zakary have been handed provisional bans after testing positive for the use of banned substances at the world championships, the International Association of Athletics Federations said on Wednesday.
Lalita finishes creditable 8th, but Tintu disappoints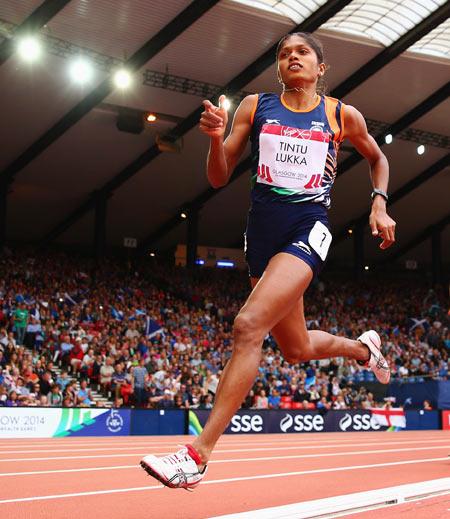 Lalita Babar, who competed in the women's 3000m steeplechase, became the first Indian track athlete (male and female) to finish in the top eight in a World Championship but Tintu Luka crashed out in the heats of the women's 800 metres.
Court stays Sania's Khel Ratna award following paralympian Girisha's plea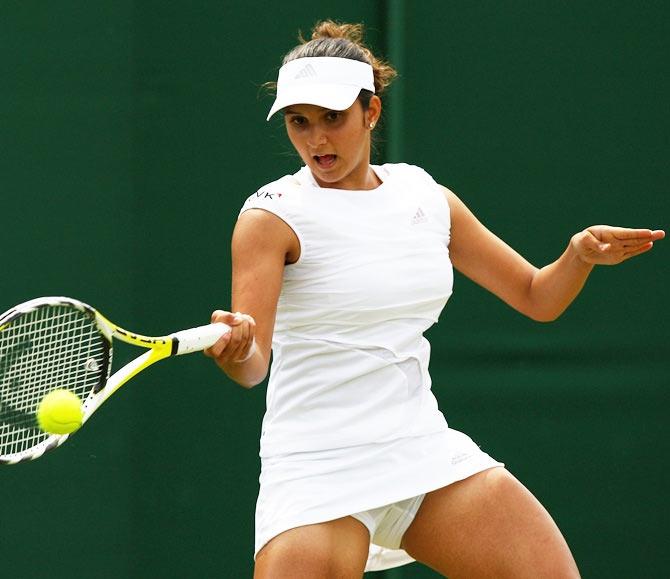 The Karnataka high court brought a stay on the Rajiv Gandhi Khel Ratna to be conferred on tennis ace Sania Mirza on Wednesday following paralympian H Girisha's plea against it. The court also issued notice to the Centre on the development.
Is Fellaini the answer to Manchester United's strike problems?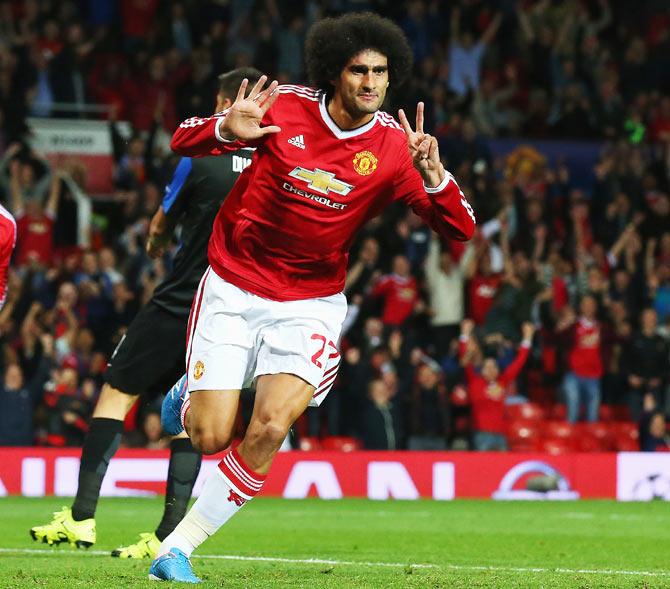 "It is different to play midfield and striker but I enjoy all the positions I can play," the former Everton midfielder added.
'Super' Mario will follow a 'code of conduct'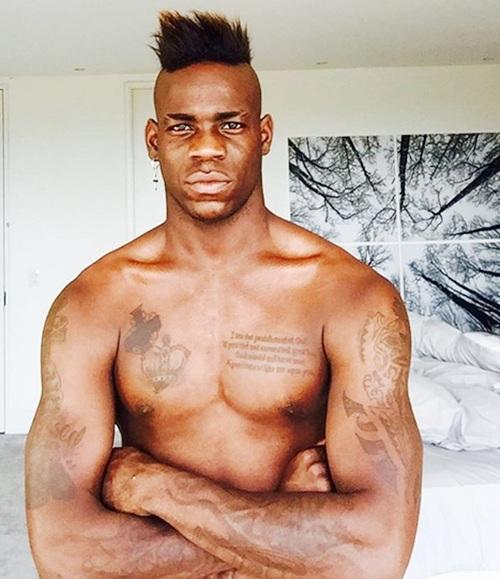 Maverick striker Mario Balotelli will have a good behaviour clause inserted into his contract with AC Milan, banning extravagant haircuts and clothing and committing him to a healthy lifestyle.
Russian Shobukhova's ban reduced after assisting WADA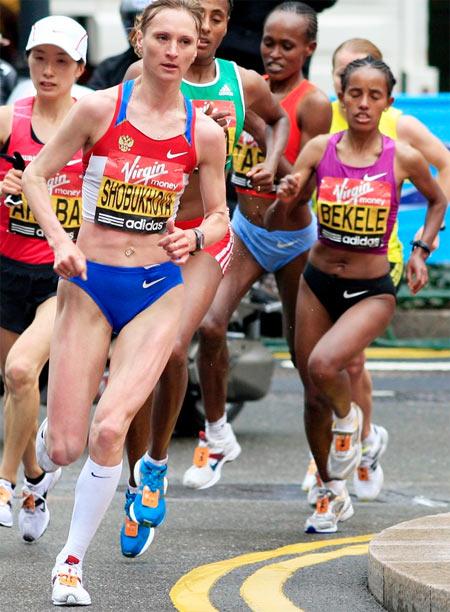 The World Anti-Doping Agency cut the doping ban on Russian Liliya Shobukhova by seven months on Monday, saying the marathon runner had provided "substantial assistance" and was eligible for a lighter sentence.
League Cup: Watford ousted but other Premier League teams progress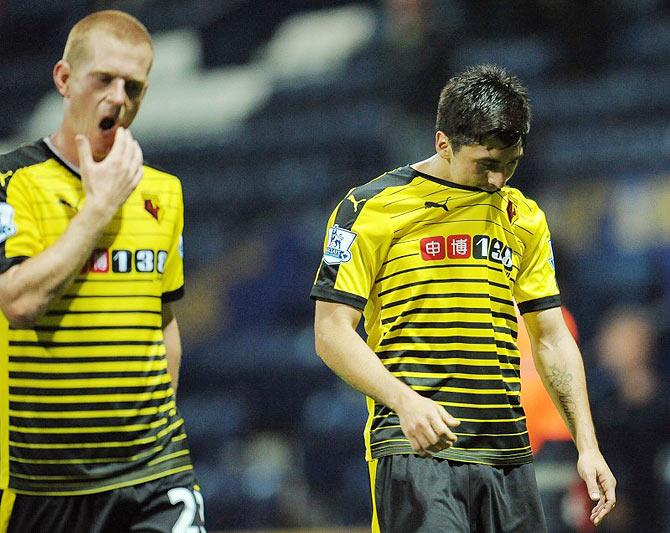 Premier League newcomers Watford suffered a League Cup upset in a 1-0 loss at Preston North End while five-times champions Aston Villa overcame plucky Notts County 5-3 after extra-time to reach the third round on Tuesday.
Soccer Roundup: Meet United's new 'bully' and more...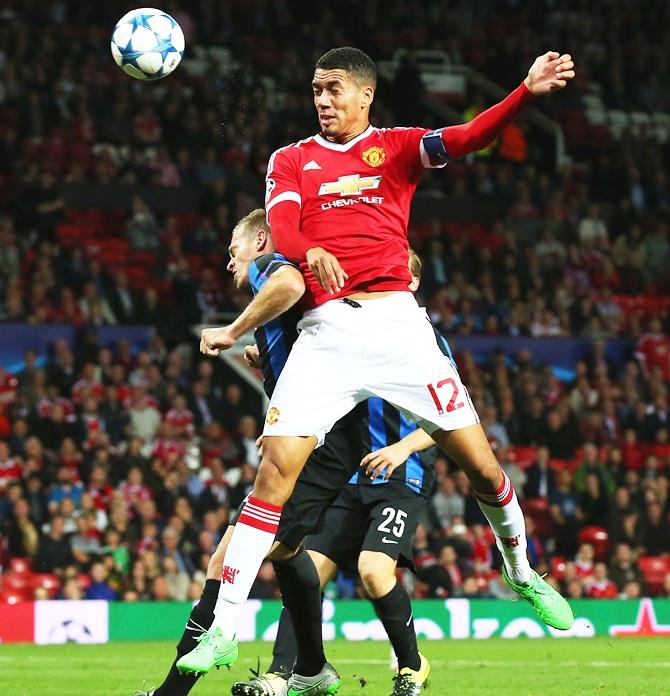 Get the latest from the World of ootball news and more on Rediff.com.
Grand Chess tour: Anand finally logs points after draw with Topalov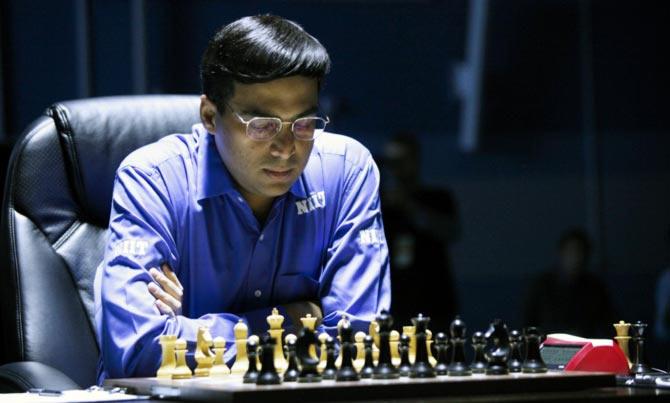 Former world champion Viswanathan Anand played out a draw with table-topper Veselin Topalov of Bulgaria in the third round to open his account in the Sinquefield Cup -- a part of the Grand Chess tour.
World Athletics Updates! Farah recovers from stumble to reach 5,000m final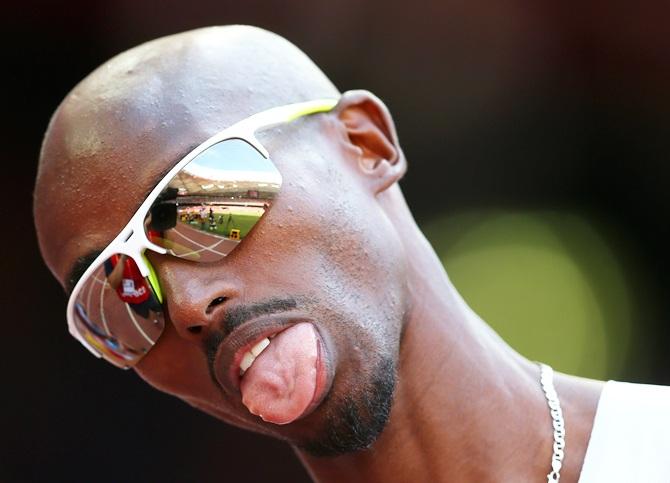 Britain's Mo Farah regained his balance after stumbling and almost falling to the track in Wednesday's heats at the world athletics championships to book his spot in the final of the men's 5,000 metres.
Serena Williams and Drake are officially an item!
player Serena Williams was recently spotted getting cozy with rapper Drake at a fancy downtown restaurant in Ohio.
How many years did you take to hit a hole-in-one?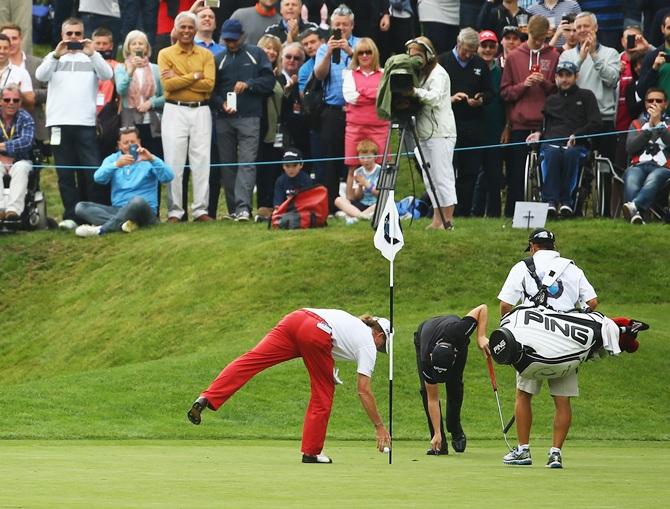 Peter Phillips has finally quenched his thirst of hitting his first hole-in-one after more than 50 years of concerted efforts.
US Open: Top seeds Serena, Djokovic look sharp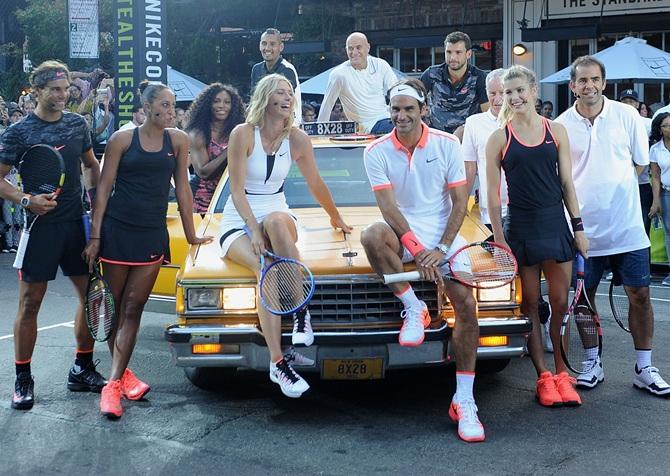 World number ones Serena Williams, aiming to complete the first calendar-year Grand Slam in 27 years, and Novak Djokovic have been named the top seeds for the US Open championships starting on Monday in New York.
Champions League will have strong Spanish flavours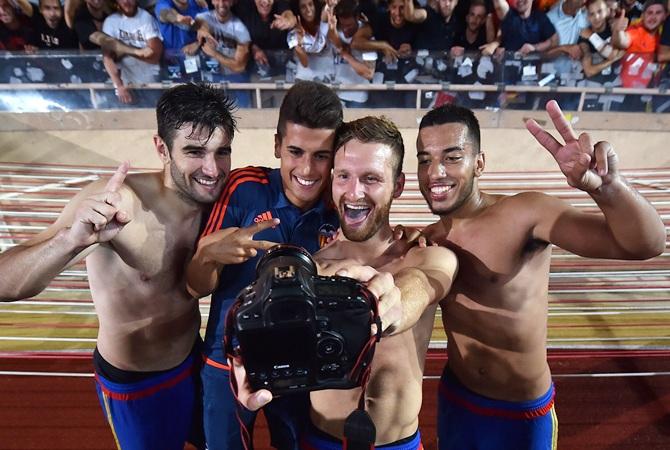 Spain became the first country to have five teams in the Champions League group stage in one season after Valencia squeezed past Monaco .
Dipika Pallikal's BEST bridal look: sari or gown? Vote!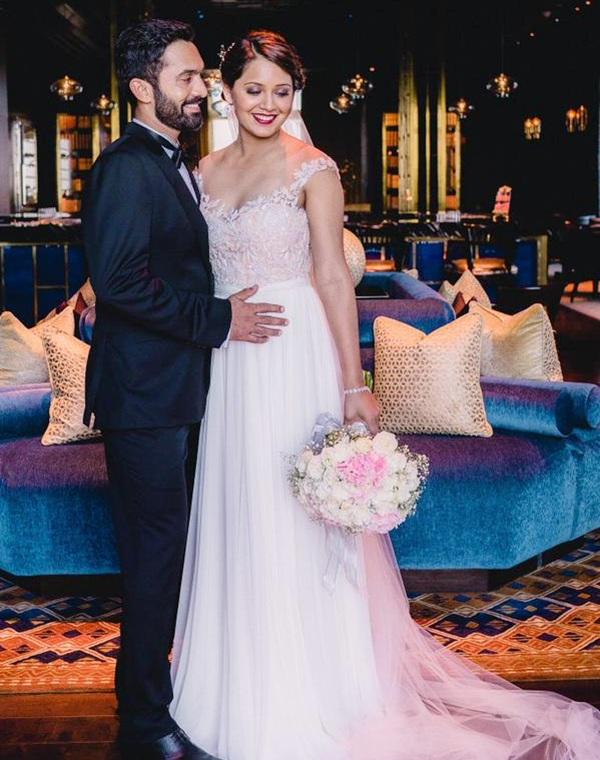 India's top-ranked squash player Dipika Pallikal married her fiancé and long time beau, cricketer Dinesh Karthik last week. We present both of the looks for you. Take a look and VOTE which was best!
August 25, 2015
Tired Bolt and Gatlin take it easy in 200 metres heats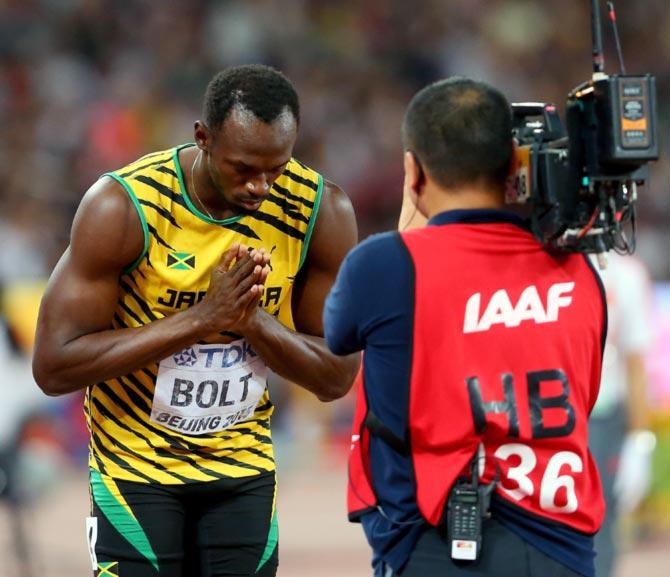 A tired Usain Bolt and an emotionally fatigued Justin Gatlin progressed towards their second blockbuster sprint showdown of the World Athletics Championships by easing through the 200 metres heats in Beijing, on Tuesday.
World Athletics: Rudisha regains 800m title, Dibaba wins 1,500m gold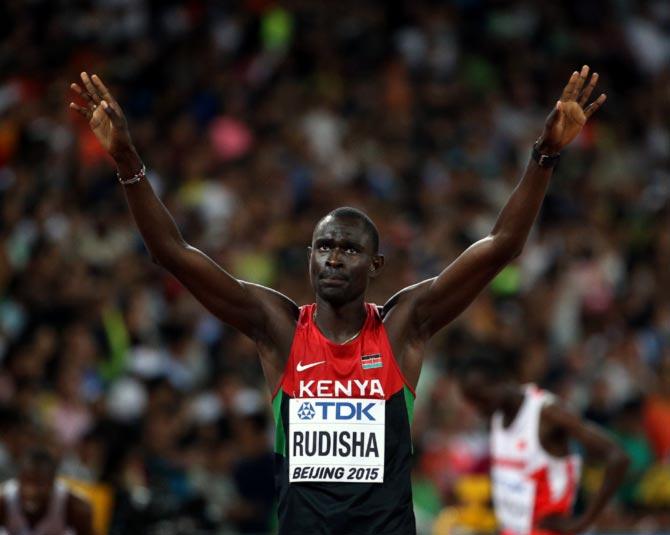 Olympic champion and world record holder David Rudisha ran from the front and trusted his finishing pace to regain the world 800 metres title at the World Athletics Championships in Beijing, on Tuesday.
After Messi, Ibra... Indian football uses Player Tracking System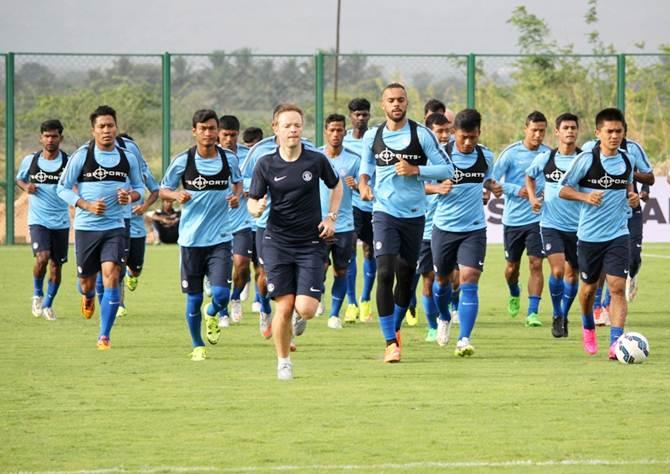 In a first of sorts for Indian football, the national team implemented the 'Player Tracking System' at its ongoing preparatory camp at the DSK Dream City, the home of DSK Shivajians Football Club, in Pune.
Transfer moves: Chelsea's Juan Cuadrado to Juve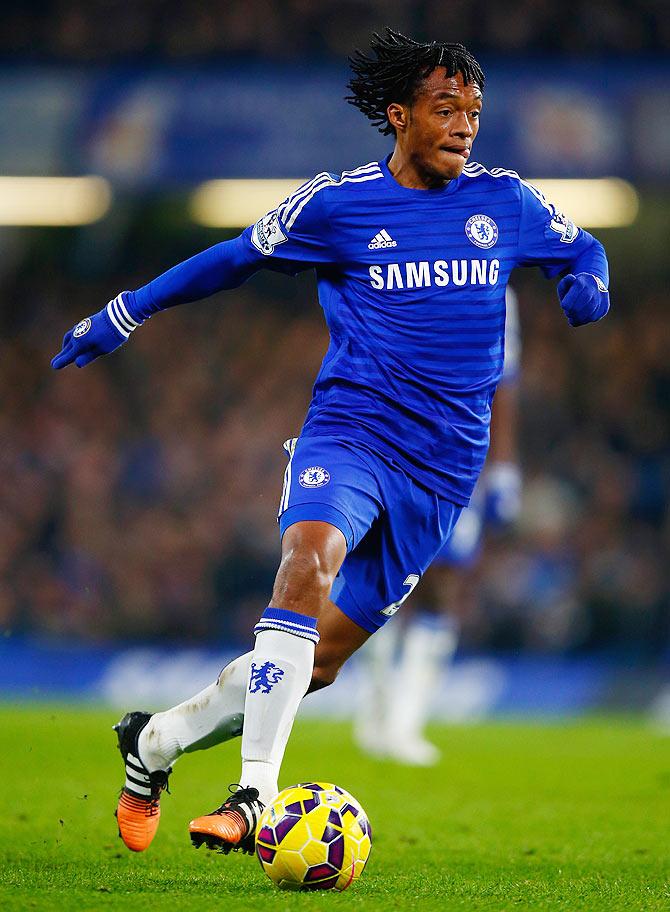 The Colombian forward is heading to Italian champions Juventus on loan.
Under utilized at Barca, Pedro says Chelsea move a gamble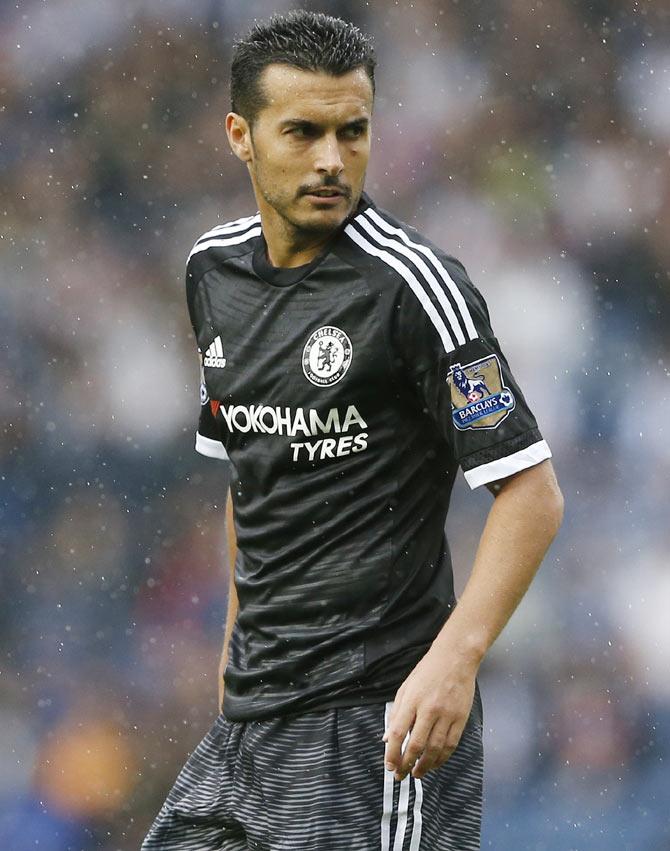 Chelsea's new signing Pedro has said he took a "gamble" by leaving Spanish champions Barcelona after eight successful years, but one driven by his desire for more playing time.
Grand Chess tour: Out-of-form Anand loses again, goes bottom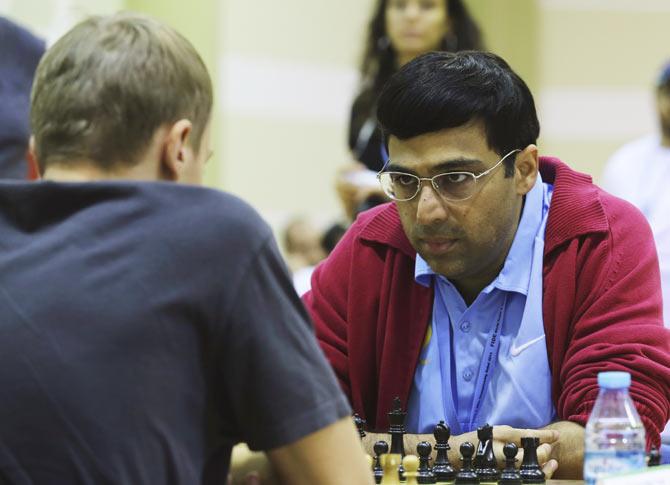 Five-time world champion Viswanathan Anand suffered his second defeat in as many games losing to Alexander Grischuk of Russia in the second round of Sinquefield Cup, a part of the Grand Chess tour.
There is no corruption in football, reckons FIFA chief Blatter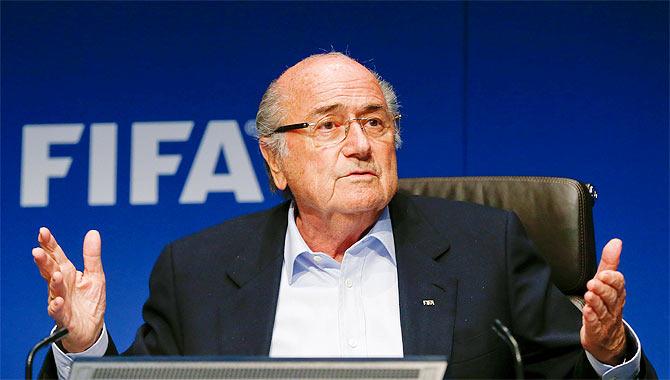 "If there are people who don't like the organisation or don't like me, they will realise they have been wrong... they will realise that."
Olympian Sushil Kumar's coach nominated for Dronacharya Awards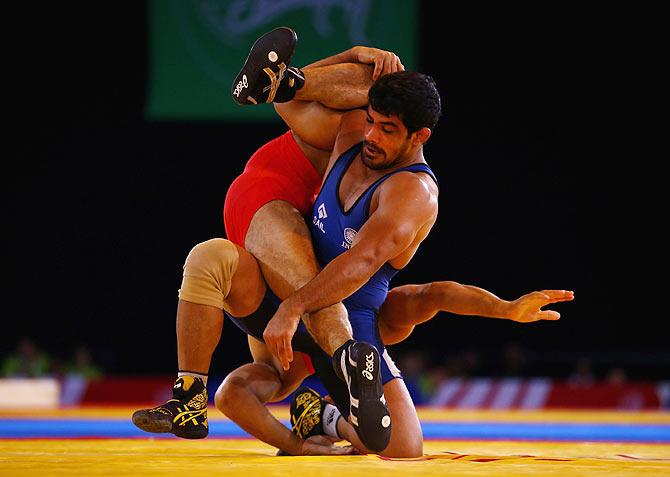 Wrestling coach Anoop Singh and Paralympics coach Naval Singh among other nominees get Sports Ministry approval
ISL: Former Liverpool defender Riise joins Delhi Dynamos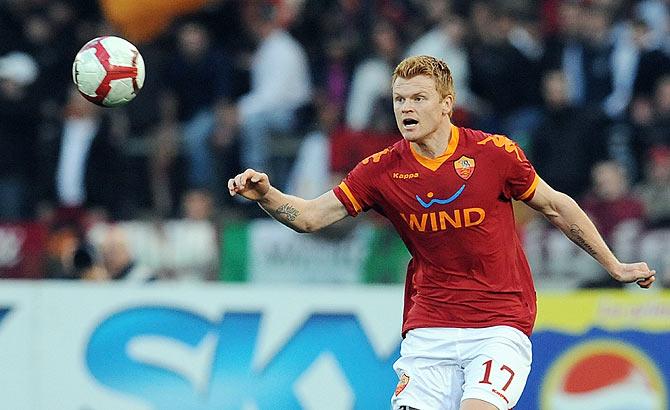 FC Pune City also bolstered their defence by signing former Espanyol and Deportivo La Coruna defender Diego Colotto for the second edition of the eight-team league beginning on October 3.
EPL PHOTOS: Splendid Cech denies impressive Liverpool at the Emirates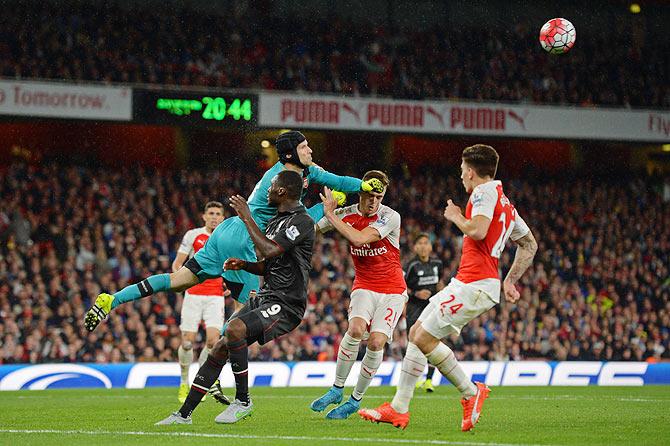 Cech's solid 'keeping and Liverpool's staunch defence ensured the match ended in a goalless stalemate
World champion Bolt 'ran his toughest race on Sunday'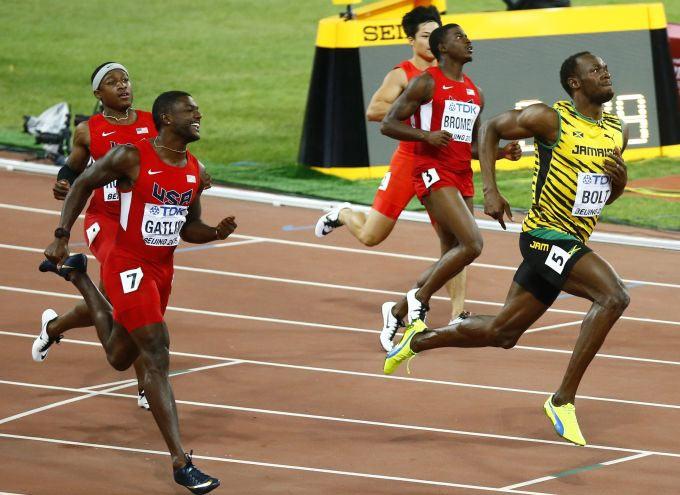 "It was a very trying time and it took a lot of skill and work and determination for him to get (to) what he was able to achieve by defending his championship."
Former F1 driver Wilson dies after IndyCar wreck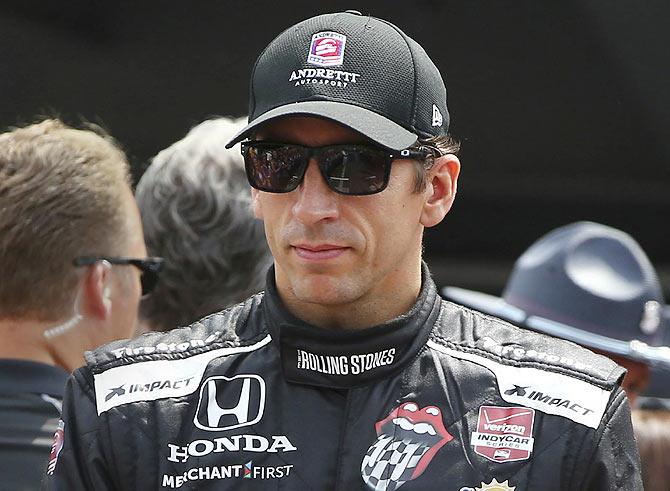 Wilson's car careened out of control and into a wall after he was hit by a large piece of debris from the car of Sage Karam on the track in Long Pond, Pennsylvania.
F1: Vettel, Rosberg and a lucky escape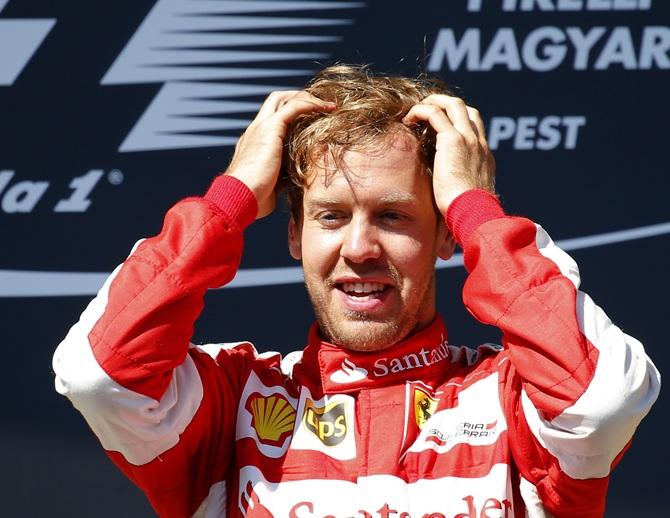 Formula One can count its lucky stars after Sebastian Vettel and Nico Rosberg escaped unscathed from high-speed tyre blowouts at the Belgian Grand Prix.
August 24, 2015
Wawrinka rant earns Kyrgios 28-day ban, fine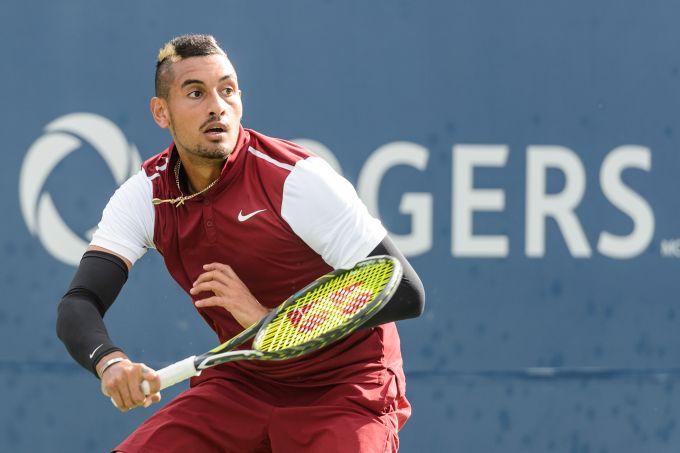 Australia's tennis badboy Nick Kyrgios was on Monday handed a suspended ban and fine by the ATP for his lurid verbal attack on Stan Wawrinka at the Rogers Cup in Montreal.
World Athletics: Fraser-Pryce wins third world 100 metres title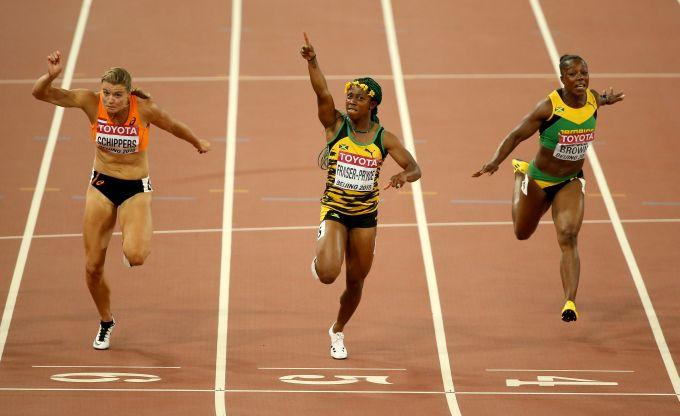 Jamaica's Shelly-Ann Fraser-Pryce rallied to claim an unprecedented third world championship 100 metres title in 10.76 seconds at the Bird's Nest stadium on Monday.
Federer back as world number two ahead of U.S. Open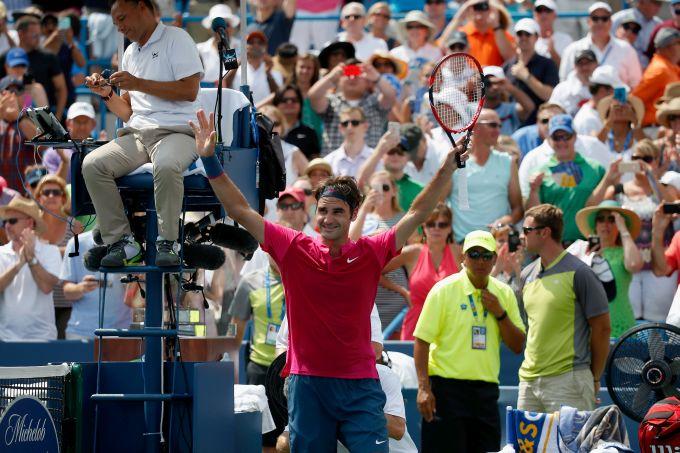 Five-times winner Roger Federer will go into next week's U.S. Open as the world number two after beating Novak Djokovic in the final of the Western & Southern Open in Cincinnati at the weekend.
Anand beaten by Nakamura in Sinquefield opener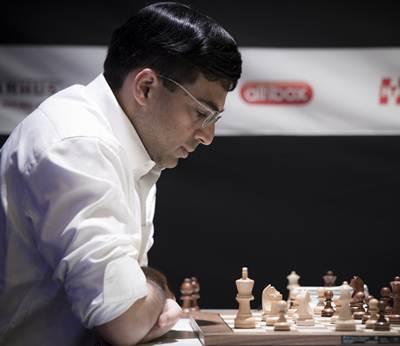 Five-time world champion Viswanathan Anand, with a double black, suffered a surprising first round loss at the hands of Hikaru Nakamura of United States in the Sinquefield Cup, in St Louis, the United States.
10 BEST Sports Photos of the Week!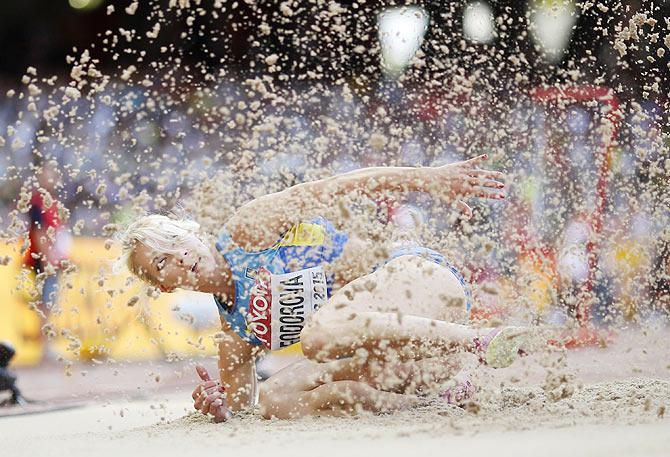 Rediff.com recaptures these and other exciting sporting moments from the week gone by....
Steenkamps question court ruling, say Pistorius killed their daughter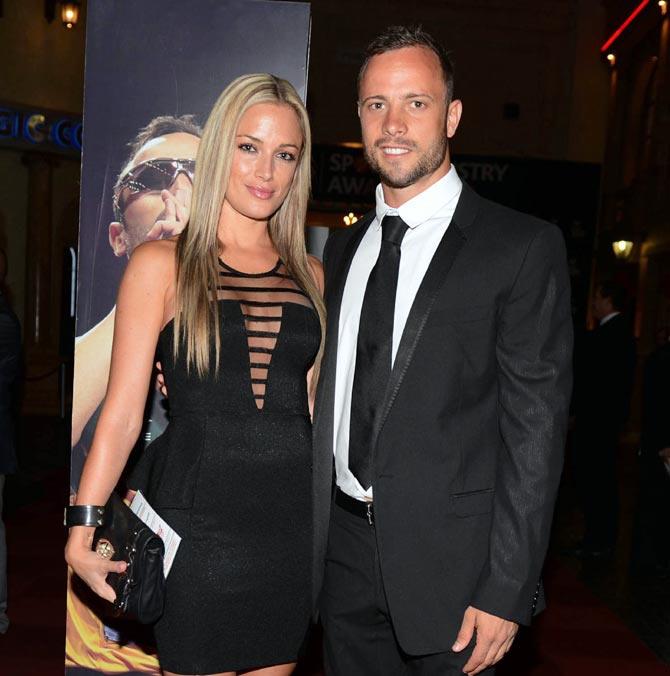 Oscar Pistorius shot dead his girlfriend Reeva Steenkamp deliberately, her parents said, ahead of an appeal hearing in which prosecutors are seeking to overturn a South African court ruling that the athlete was not guilty of murder.
Everton's lack of composure did them in against 'in-control' City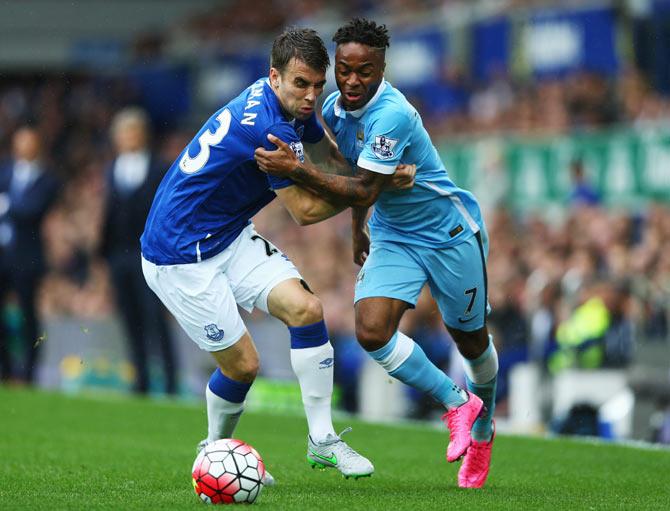 'We always knew it was going to be an important one playing against a quality side, but I think it affected us a little bit too much.
The happy hunting grounds for Roger Federer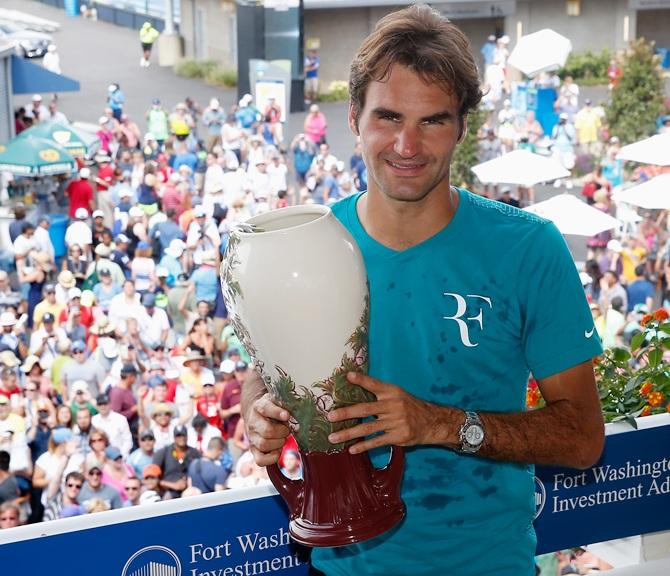 Roger Federer has now won all the seven finals he has contested in Cincinnati. Rediff.com takes a look at a few other events that have ensured prolific returns for the Swiss master.
La Liga PHOTOS: Hard time for big clubs in Spain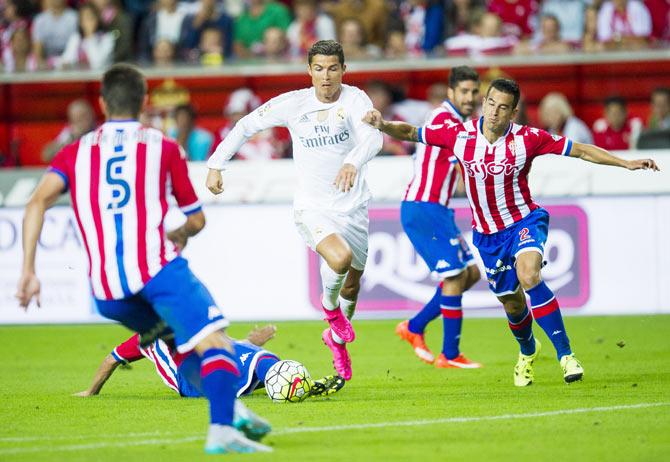 Barca overcome solid Bilbao challenge to scrape through 1-0.
Indians at World Athletics: Babar enters 3000m steeplechase final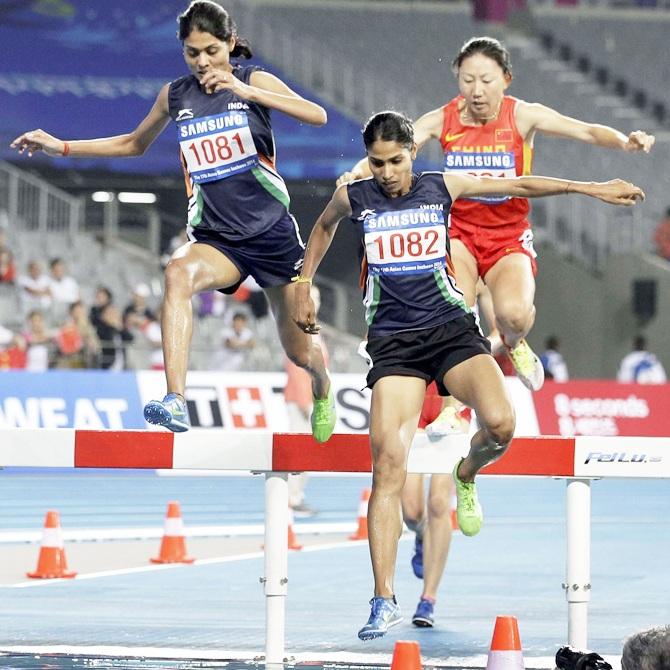 Lalita Shivaji Babar smashed her own national record in a creditable performance to qualify for the women's 3000m steeplechase final in the World Athletics Championships, in Beijing, on Monday.
EPL PHOTOS: Record-equalling City begin season in ominous form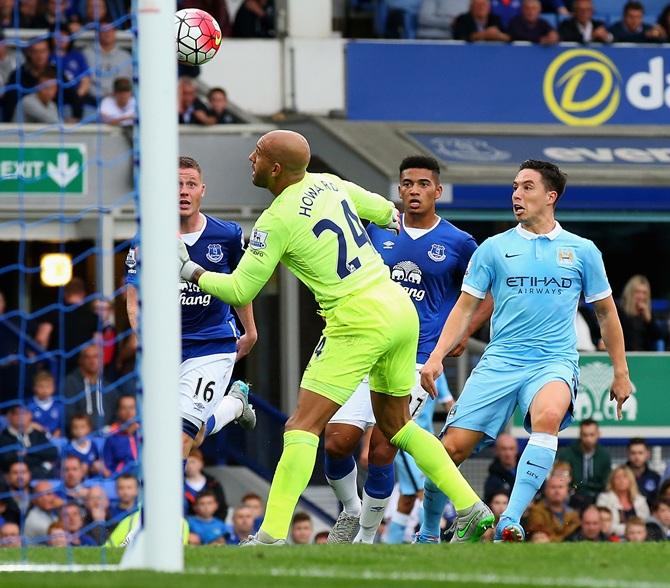 Manchester City's impressive 2-0 victory at Everton on Sunday equalled a club record of nine successive Premier League wins.
PHOTOS: Dhoni, Alia, Katrina sizzle at Pro Kabaddi final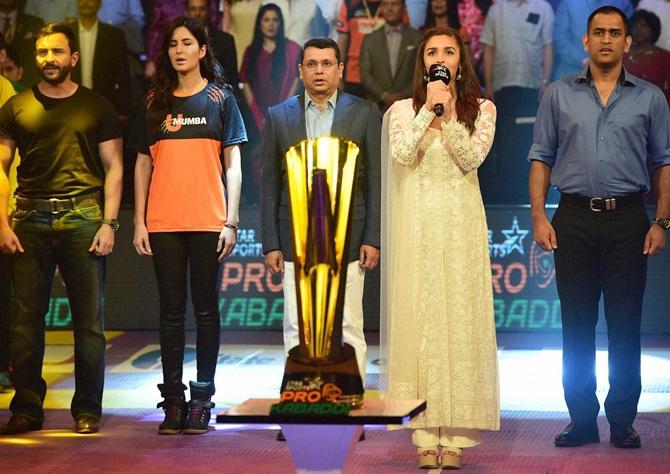 The Pro Kabaddi season 2 final proved to be a star studded affair, with Bollywood stars like Alia Bhatt, Saif Ali Khan and Katrina Kaif cheering for U Mumba.
Serena all set for US Open with Cincinnati title in bag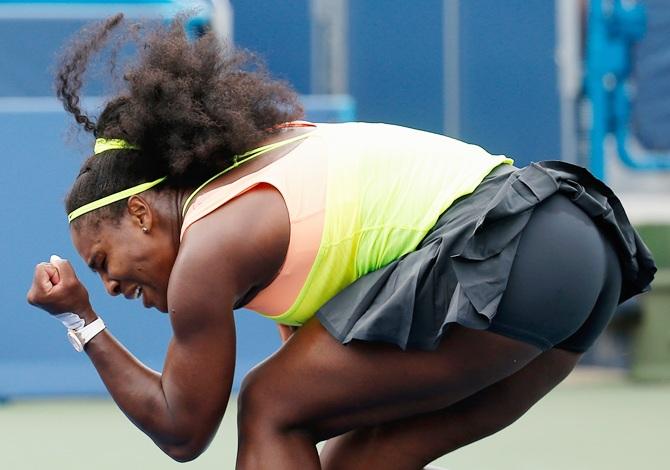 Defending champion Serena Williams finished her last US Open tune-up in style by beating Romanian third seed Simona Halep 6-3, 7-6(5) to win the Western & Southern Open on Sunday.
Cincinnati Open: Federer denies Djokovic history bid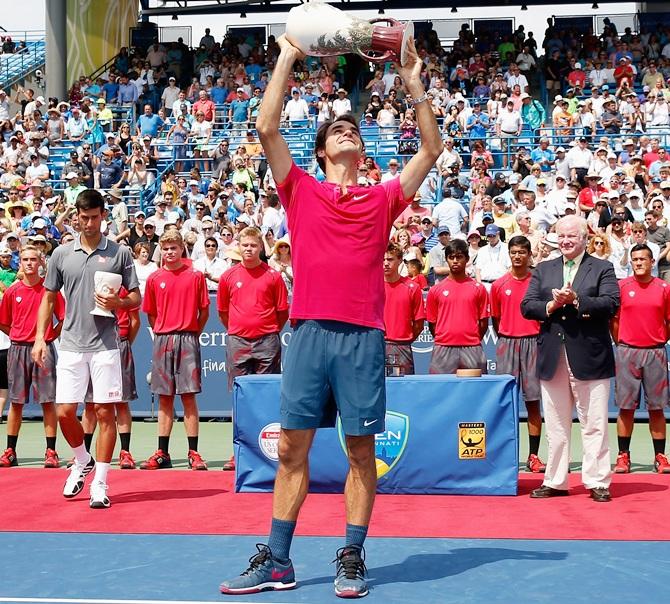 Roger Federer avenged his Wimbledon final loss to Novak Djokovic by beating the top-seeded Serb 7-6(1), 6-3 on Sunday to capture his second consecutive Western & Southern Open title.
August 23, 2015
Pedro shines on debut and highlights worth to Chelsea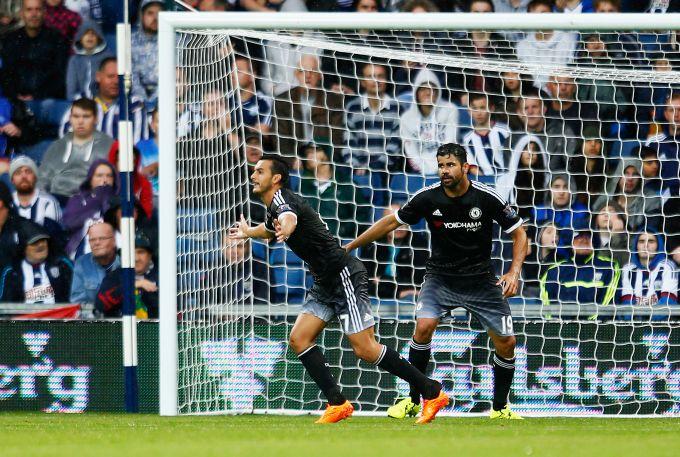 Newly-acquired Spain forward Pedro highlighted his potential worth to Premier League champions Chelsea with a goal, assist and eye-catching performance in their 3-2 win at West Bromwich Albion on Sunday.
Usain proves Bolt does strike twice at same place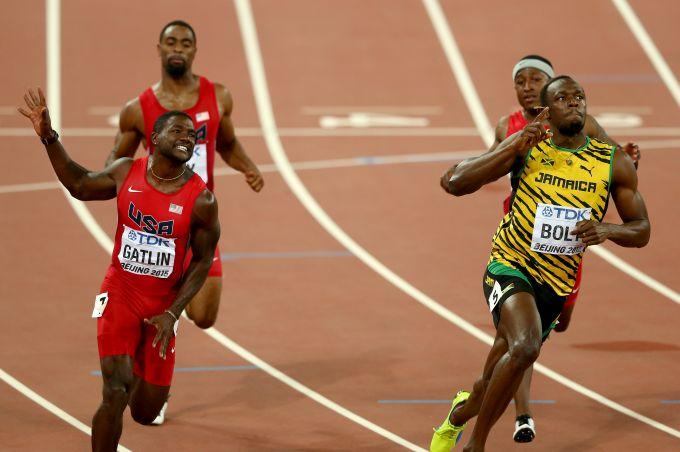 Usain Bolt once again produced his best when it mattered most to retain his 100 metres world title and reassert his status as the number one sprinter on the planet at a rocking Bird's Nest Stadium on Sunday night.
Hamilton wins Belgian F1 Grand Prix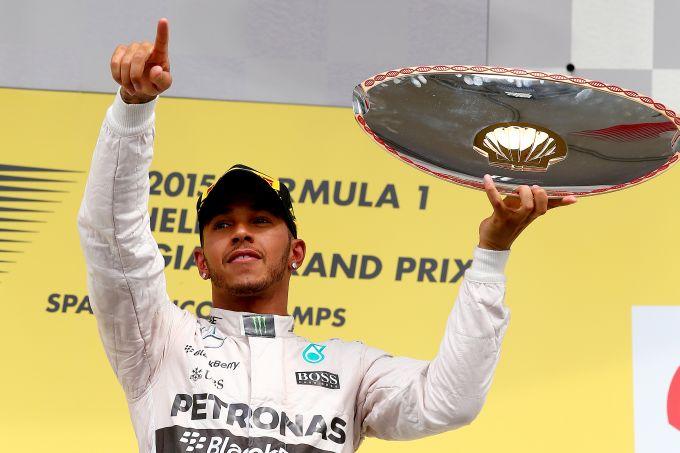 Formula One world champion Lewis Hamilton won the Belgian Grand Prix from pole position on Sunday to increase his lead over Mercedes team mate Nico Rosberg to 28 points with eight races remaining.
Malouda joins Delhi Dynamos during EPL game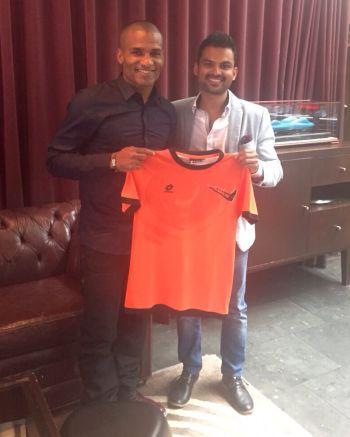 Former Chelsea winger Florent Malouda will join Brazilian Roberto Carlos at the Delhi Dynamos for the second season of the Indian Super League, the club announced on Sunday.
Soccer Roundup: Atletico make winning La Liga start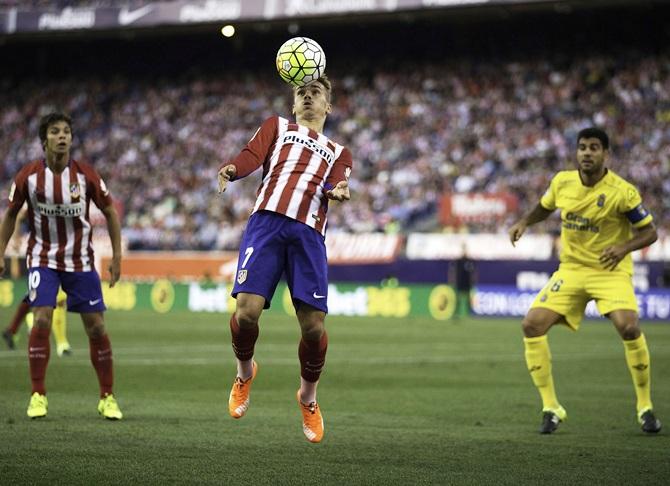 Atletico Madrid got their La Liga campaign up and running in less than convincing fashion when Antoine Griezmann's deflected free kick secured an edgy 1-0 win at home to promoted Las Palmas on Saturday.
Heartbreak for Sania and Hingis in semis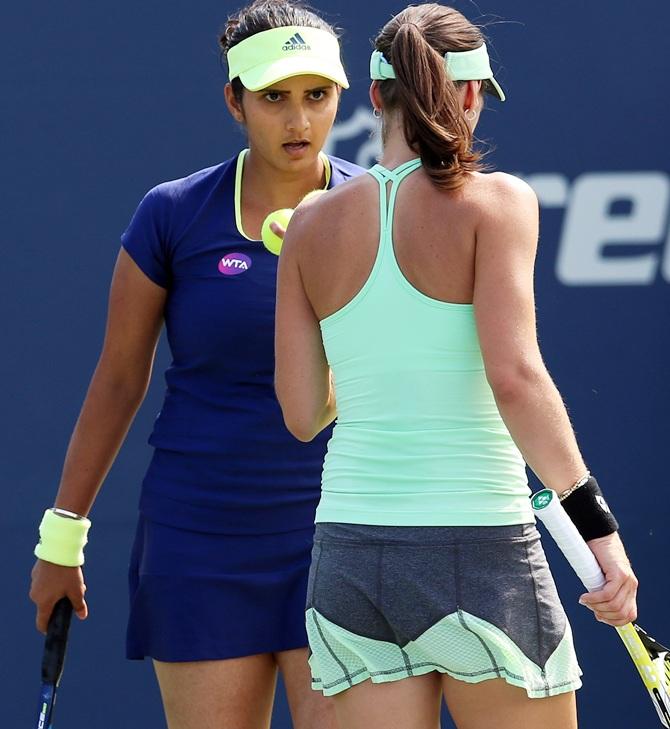 India's campaign came to an end at the Western and Southern Open after Sania Mirza and her Swiss partner Martina Hingis crashed out.
Russian Grand Prix could become night race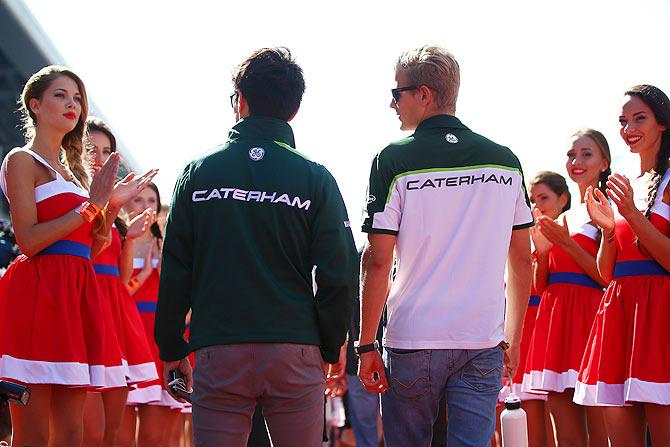 The Russian Grand Prix could become a night race as early as 2017, according to Formula One supremo Bernie Ecclestone and organisers.
Why Politics and sports should not be mixed...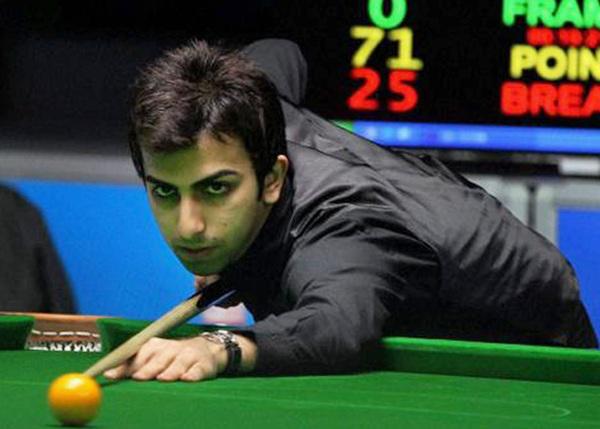 Amid escalating tensions between India and Pakistan, ace cueist Pankaj Advani believes politics should not be mixed with games and Indo-Pak sporting ties should go on.
Indians at World Athletics: Inderjeet qualifies for finals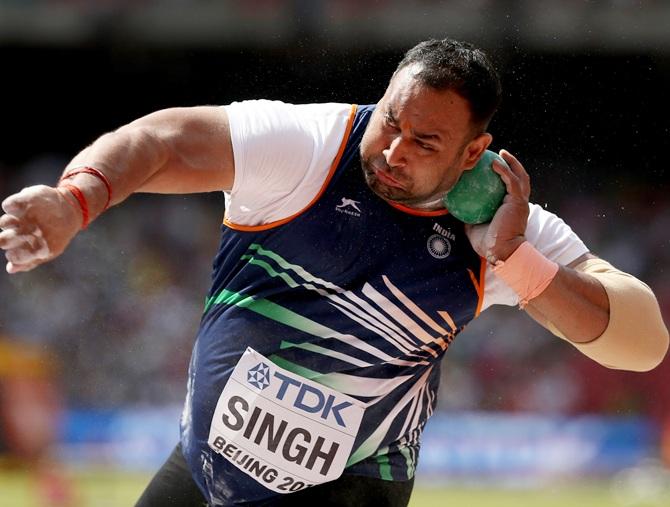 Inderjeet Singh became the first Indian shot-putter to enter the final round of World Athletics Championships, in Beijing, on Sunday.
Why is Tottenham Hotspur's manager angry?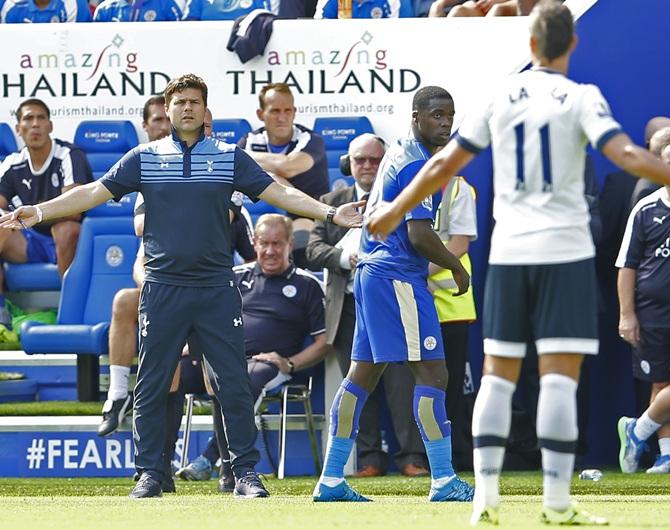 Tottenham Hotspur manager Mauricio Pochettino was angry after his side surrendered the lead for the second straight week in a 1-1 Premier League draw at in-form Leicester City on Saturday.
Drogba's MLS debut spoiled!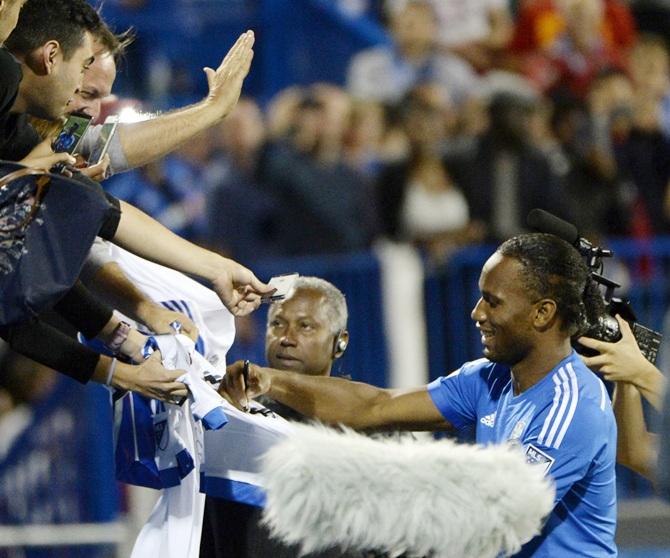 Former Chelsea striker Didier Drogba made a tame Major League Soccer debut for Montreal Impact in their 1-0 home loss to Philadelphia Union on Saturday.
Lightning Bolt strikes again!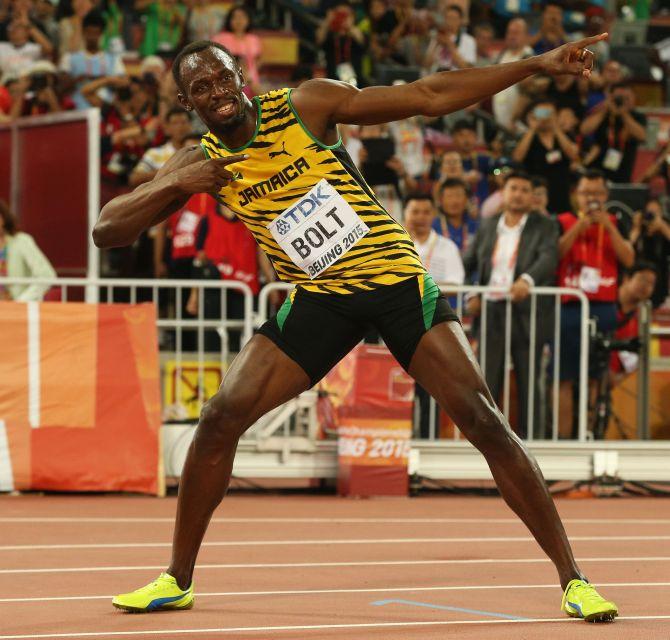 Usain Bolt retained his 100 metres title at the IAAF World Championship, in Beijing, on Sunday.
Lip smacking Cincinnati final! Serena Williams to meet Halep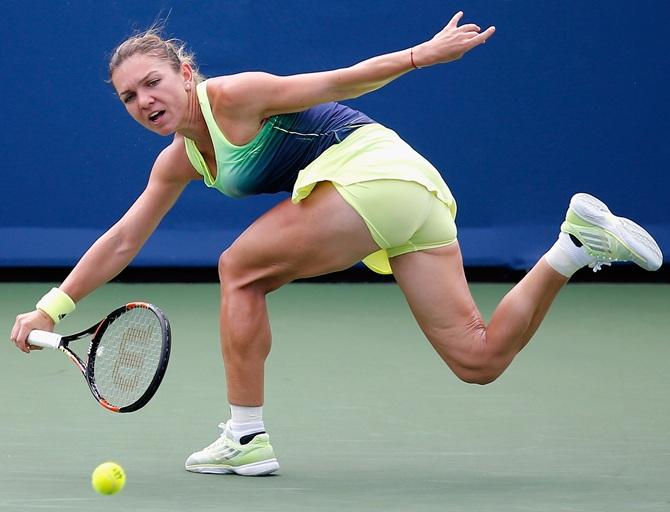 Serena Williams brushed off some serving troubles before cruising to a 6-4, 6-3 win over Elina Svitolina on Saturday and will meet Simona Halep in the Western & Southern Open final.
August 22, 2015
Grocery store chain must pay $8.9 million to basketball star Jordan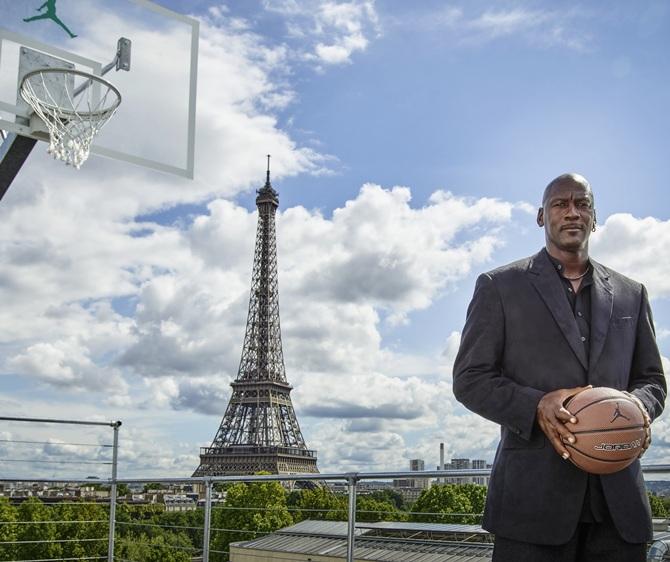 A jury awarded retired basketball player Michael Jordan $8.9 million in his lawsuit against a grocery store chain.
Shake-up ahead: AIFF may merge I-League, ISL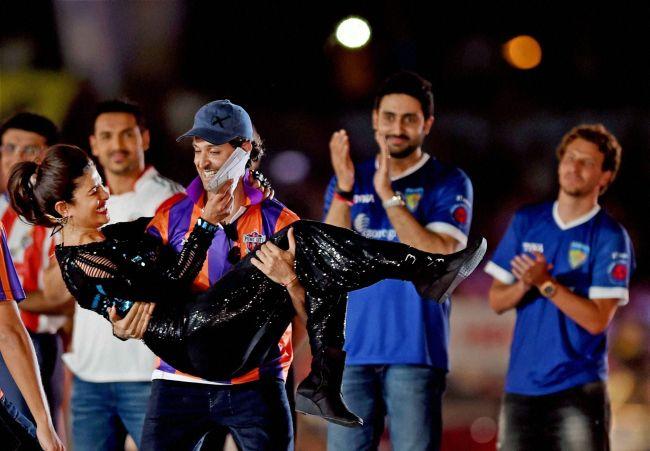 The All India Football Federation said that there would be a shake-up in the sport in the country and the roadmap ahead is to have just one league in near future.
Check out the fastest Bundesliga goal!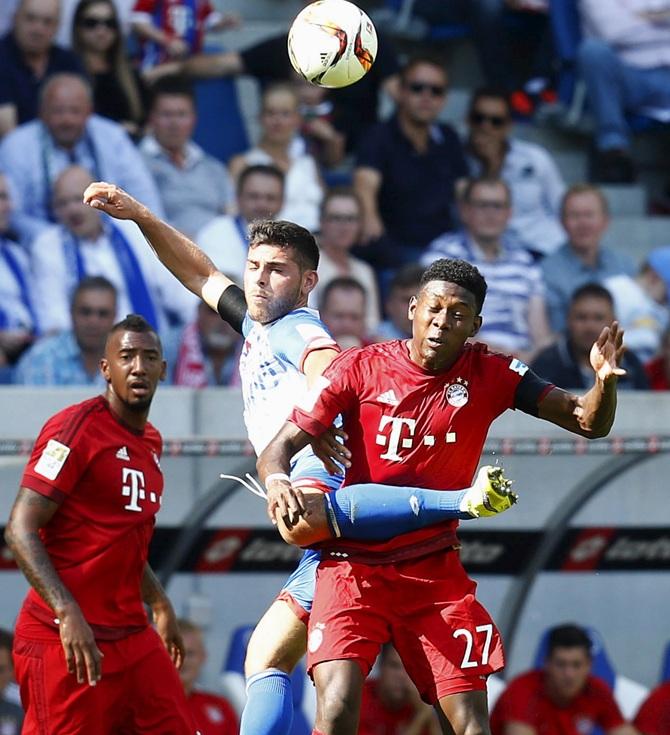 Kevin Volland ties record for fastest Bundesliga goal.
EPL PHOTOS: Newcastle hold United; 1st win for Bournemouth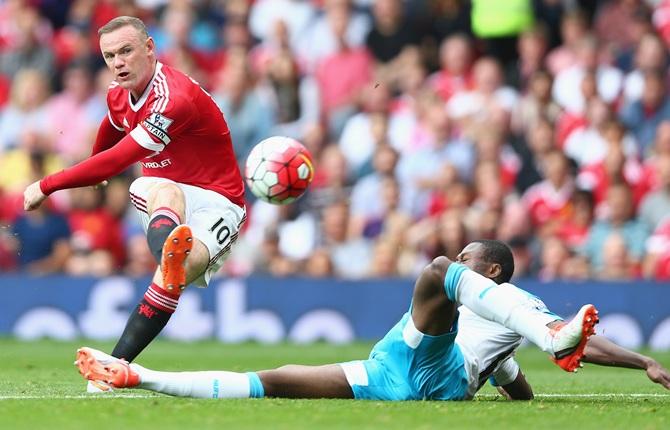 Manchester United's 100 per cent start to the Premier League season ended when they were held to a goalless draw against Newcastle United at Old Trafford on Saturday.
World Athletics Updates! Farah storms to victory in 10,000 metres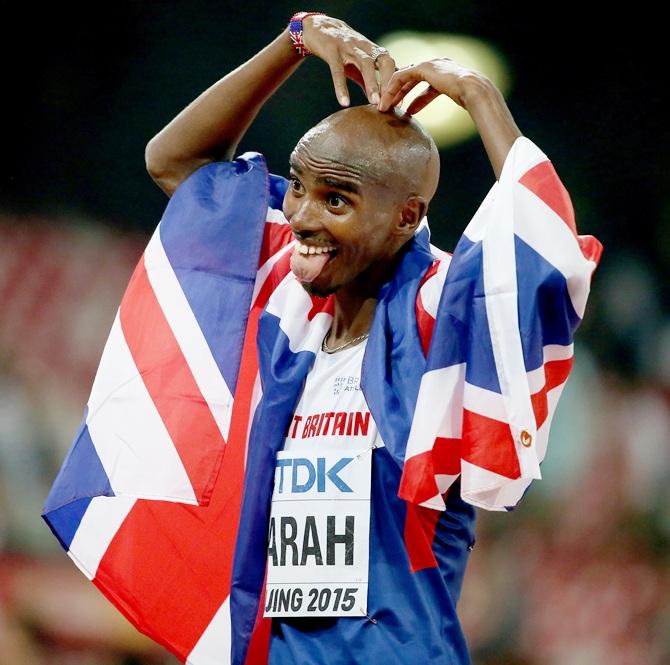 Britain's Mo Farah stormed down the final straight to retain his 10,000 metres world title in some style on Saturday and extend his dominance of men's distance running at major championships.
Belgian Grand Prix: Hamilton takes 10th pole in 11 races
Formula One world champion Lewis Hamilton took his 10th pole in 11 races on Saturday with Mercedes team mate Nico Rosberg qualifying second on the Belgian Grand Prix grid.
Meet the Indians in action at the World Athletics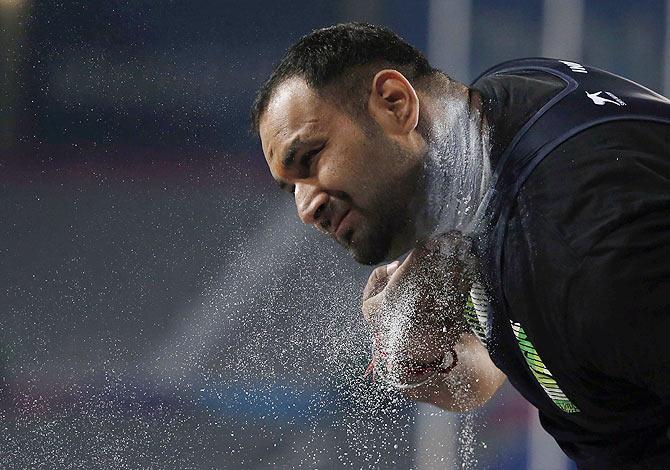 Indian athletes will begin their campaign in the World Championships in Beijing, on Sunday.
Sania in Cincinnati semis; Bopanna, Paes bow out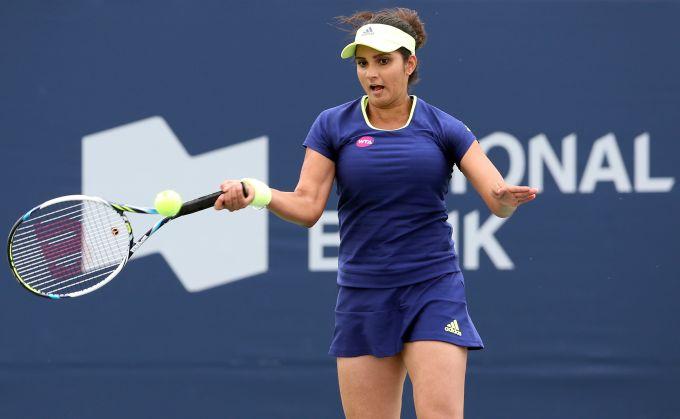 Sania Mirza was the only Indian left competing in the Western and Southern Open by reaching the semi-finals as Leander Paes and Rohan Bopanna were ousted from the men's doubles with their respective partners in Cincinnati.
Serena survives Ivanovic scare in Cincinnati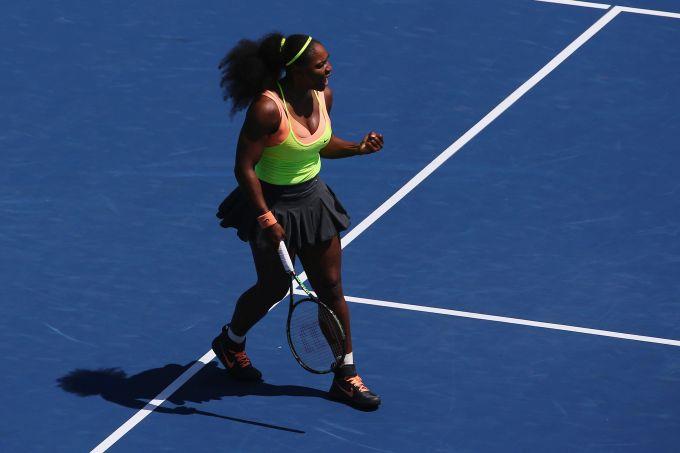 Defending champion Serena Williams reached the semi-finals of the Western & Southern tournament in Cincinnati but not before having her mettle tested in a 3-6, 6-4, 6-2 win over sixth-seeded Serb Ana Ivanovic on Friday.
Double delight for Yuki as he enters singles semis and doubles final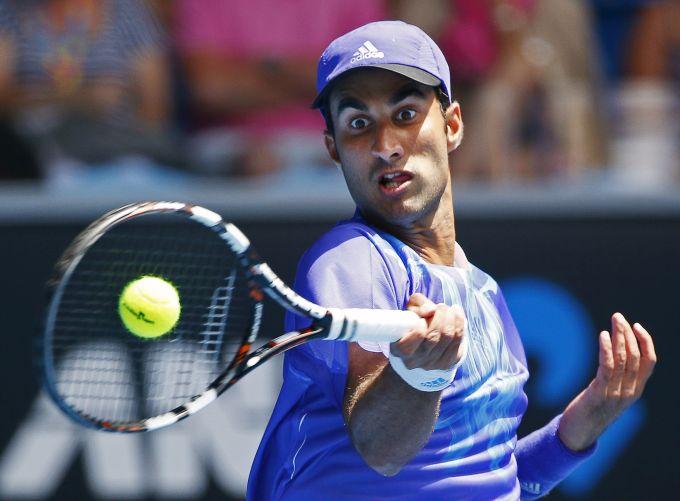 Yuki Bhambri enjoyed a fruitful day at the $100,000 Odlum Brown Vanopen as he reached the singles semi-final with a hard-fought win over Farrukh Dustov and also made his second consecutive doubles final at the Challenger level in Vancouver.
PHOTOS: Favourites cruise at heats on opening day at worlds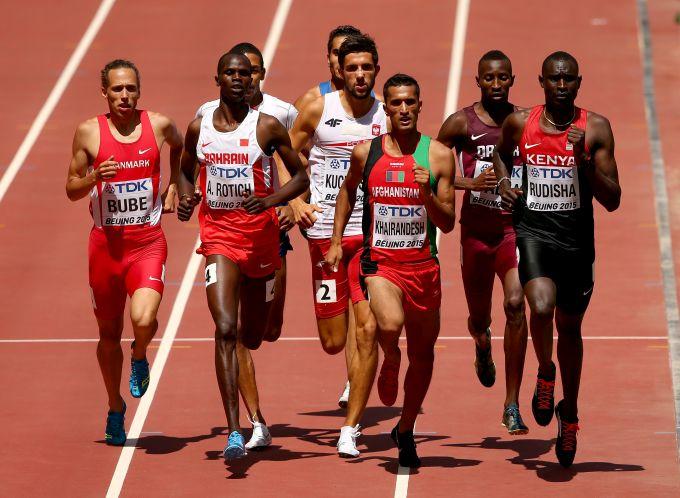 World record holder David Rudisha of Kenya and Ethiopia's defending champion Mohammed Aman cruised through the heats for the 800 metres on a hot and humid opening morning at the world athletics championships in Beijing on Saturday.
Murray sets up revenge chance against Federer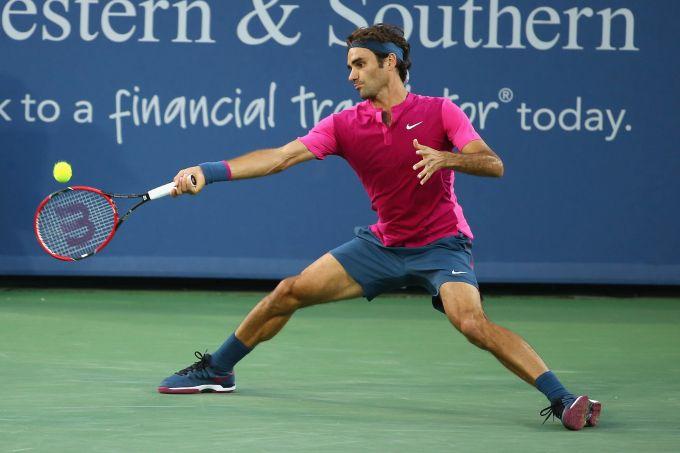 Roger Federer and Andy Murray advanced to the semi-finals of the Western & Southern Open in contrasting fashion on Friday to set up a rematch of their Wimbledon clash.
August 21, 2015
Alonso and Button demoted to back of grid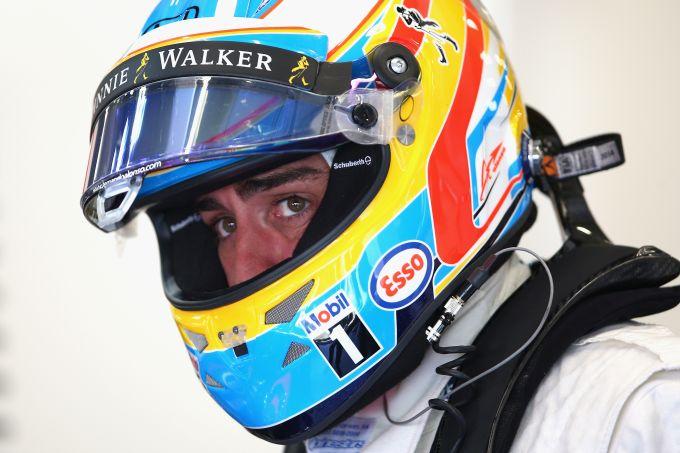 McLaren drivers Fernando Alonso and Jenson Button will start last in Sunday's Belgian Formula One Grand Prix after being hit with heavy grid penalties for changes to their Honda power units.
Can the in-form Gatlin beat sprint king Bolt at World Championships?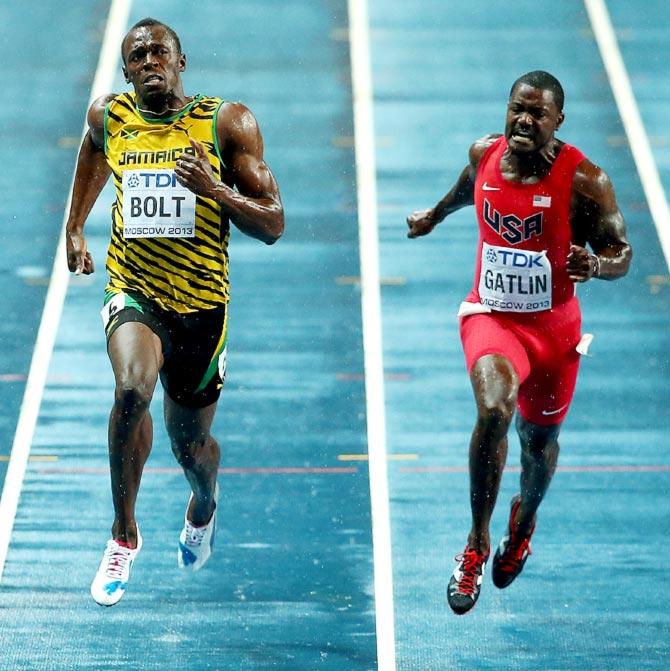 In-form American Justin Gatlin should beat Usain Bolt to win both the sprints at the World Athletics Championships but it would be foolhardy to write off the Jamaican, three-times world 100 metres World champion Maurice Greene said on Friday.
Along with Hazard, 'Chelsea now have a match-winner in Pedro'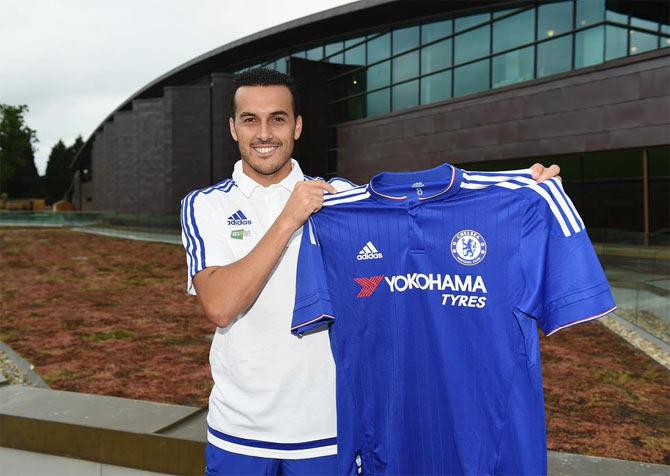 "I think Hazard will be able to get a breather every now and again now," said Hudson.
Pistorius parole ruling could take four months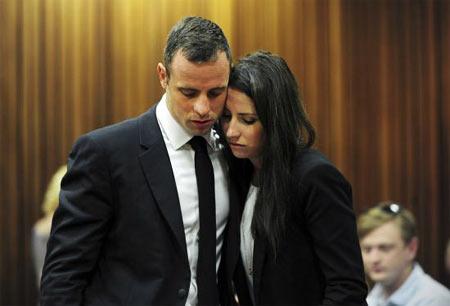 South Africa's parole review board has up to four months to conclude its decision on when Oscar Pistorius can be released from prison, a Justice Ministry spokesman said on Thursday.
Not just Barca and Madrid, there are other contenders for La Liga crown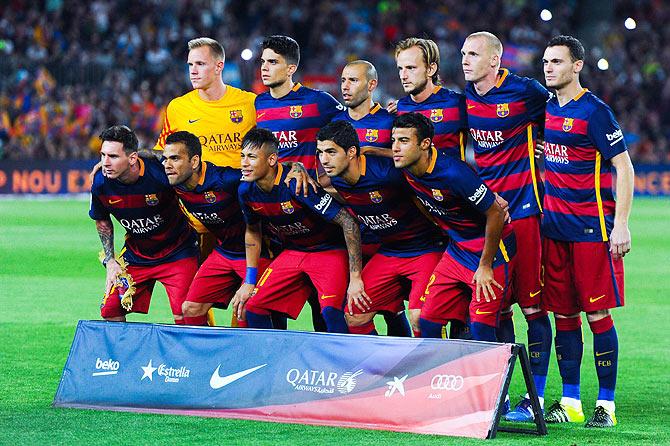 Champions Barcelona begin their bid for a sixth La Liga title in eight years at Athletic Bilbao on Sunday knowing that fellow heavyweights Real Madrid could, unusually, be just one of several challengers for their crown.
PGA: Woods back in rhythm, cards lowest score in two years at Wyndham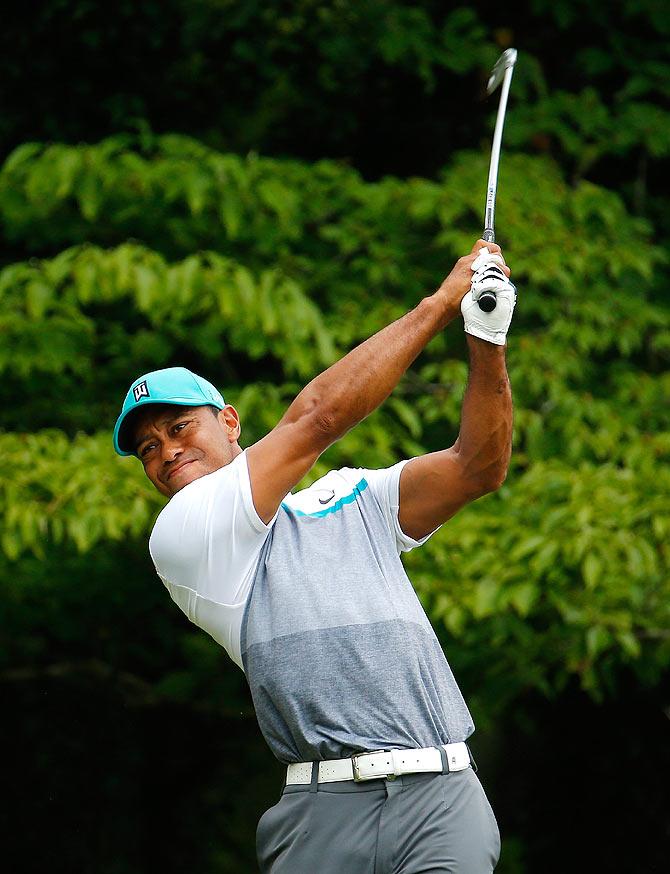 Tiger Woods fed off an "electric" atmosphere to card his lowest score in two years on the PGA Tour, a six-under 64 that put him within two shots of the early first round lead at the Wyndham Championship on Thursday.
Cincinnati Open: Former champion Nadal ousted; Serena in quarters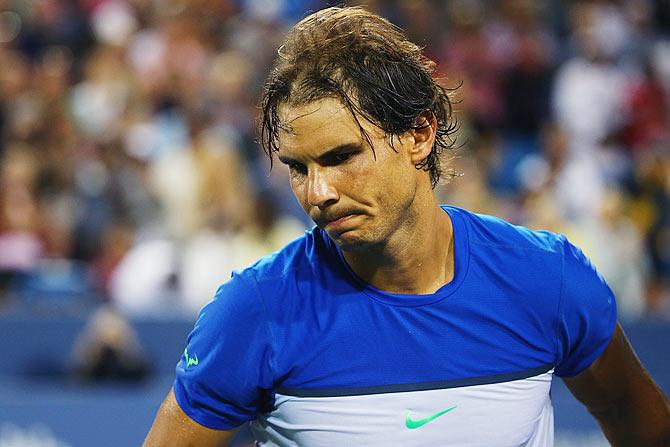 Photos from Day 5 action at the Western & Southern Open at Cincinnati on Thursday.
What you must not miss in the EPL this weekend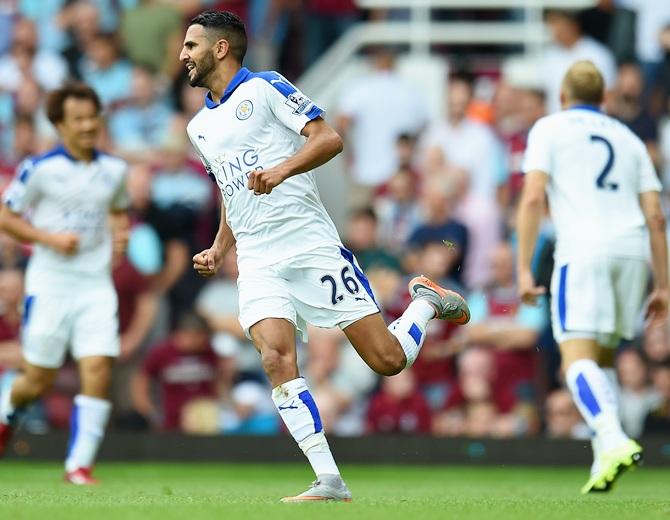 Leicester City has a chance to go top of the English Premier League table with a maximum nine points.
August 20, 2015
Saina signs up with IOS Sports Management Group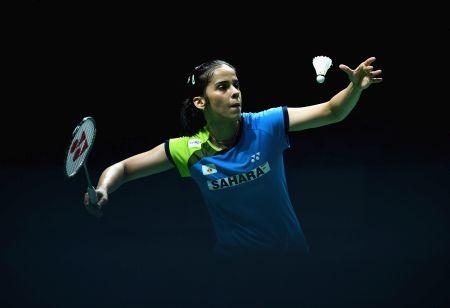 Star India shuttler Saina Nehwal has signed a two-year deal with leading sports management group, IOS Sports & Entertainment. IOS will now manage Saina's endorsements, appearances, brand profiling, patents, licensing and digital rights, images and visibility on social networking sites.
How Tendulkar inspired badminton ace Srikanth...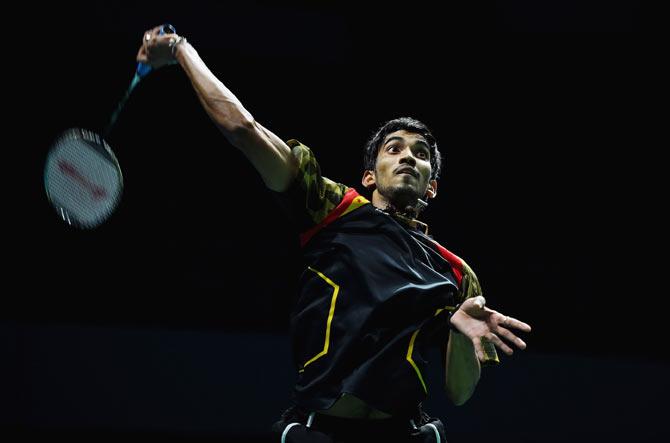 Sachin Tendulkar told me I will become World No 1, says badminton ace Srikanth.
Saina regains No. 1 ranking; Kashyap rises two places to 8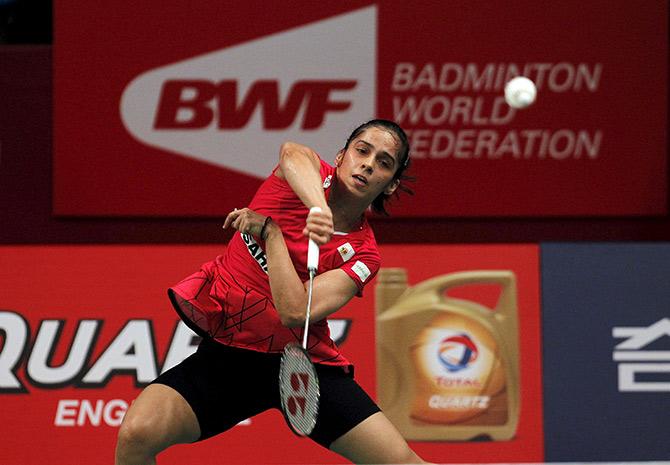 The London Olympics bronze medallist displaced Spain's Carolina Marin, who defeated her in the women's final of the World Championships in Jakarta last Sunday.
Bolt refuses to see himself as savior of dope-tainted athletics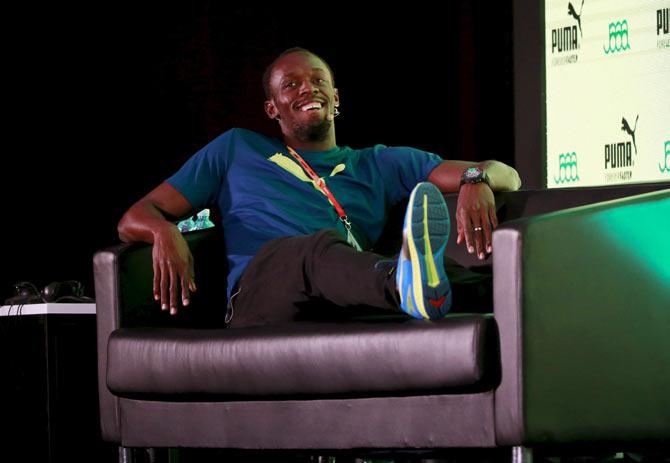 'People are saying I need to win for the sport but there's a lot of other athletes out there running clean, and who have run clean throughout their whole careers'
Squash sensation Dipika Pallikal marries cricketer Dinesh Karthik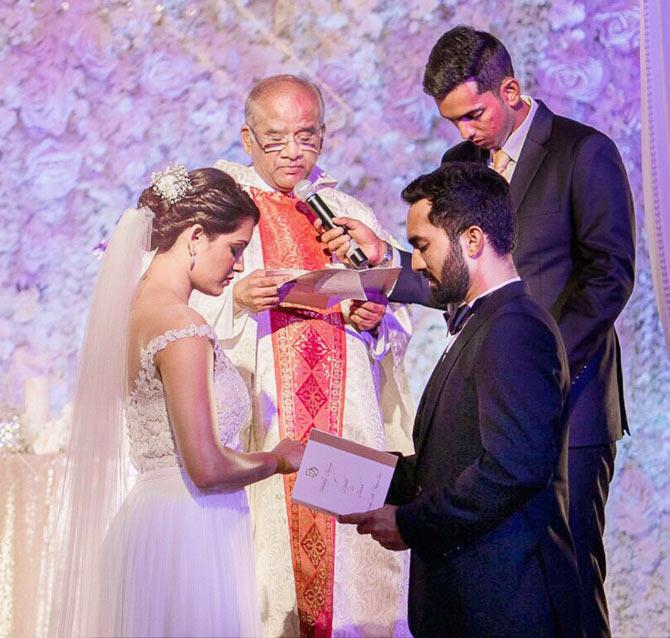 India's top-ranked squash player Dipika Pallikal married her fiancé and lond-time beau, cricketer Dinesh Karthik in a traditional Christian ceremony on Wednesday.
Soccer Roundup: Women call for 30 per cent representation in FIFA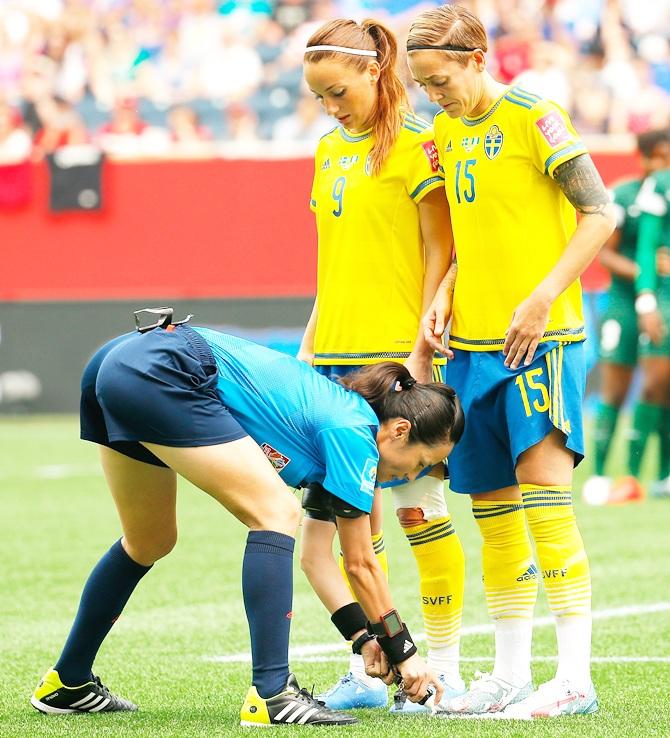 FIFA's Task Force for Women's Football has called for a target of 30 percent women's participation in the governing body's leading structures and top jobs, FIFA said on Thursday.
Cincinnati Open round-up: Wawrinka unfocussed but wins; Serena advances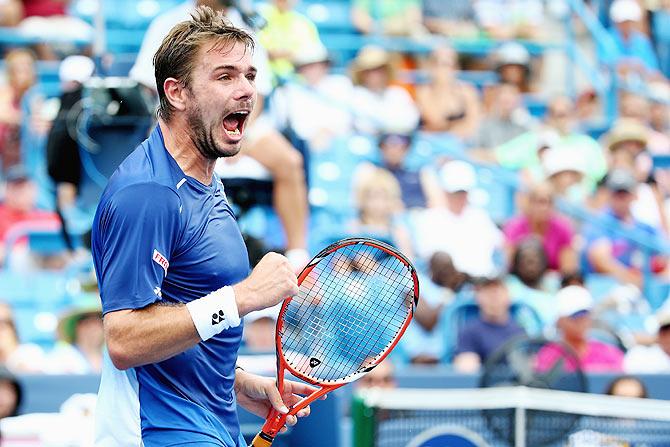 Stanislas Wawrinka had to dig deep to beat Borna Coric at the Western & Southern Open in Cincinnati on Wednesday and conceded his thoughts had been far from tennis over the past few days.
Valencia put one leg in Champions League group stages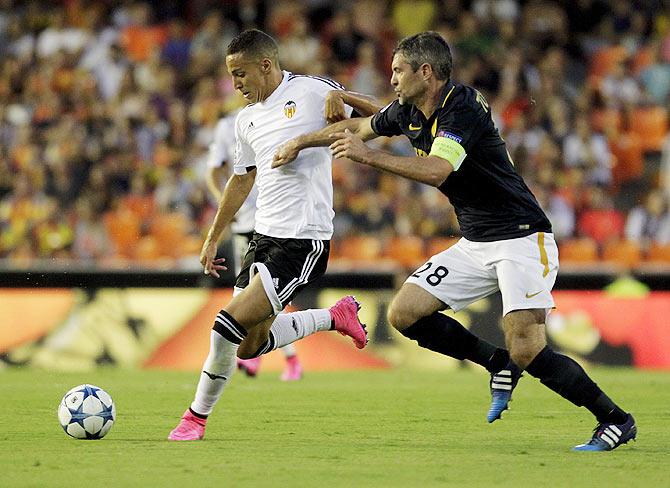 Sofiane Feghouli's late goal eased the nerves at Valencia's Mestalla as the Spanish club grabbed a 3-1 victory over Monaco in the first leg of their Champions league play-off round tie on Wednesday.
World awaits more Bolt magic after athletics marred by doping scandals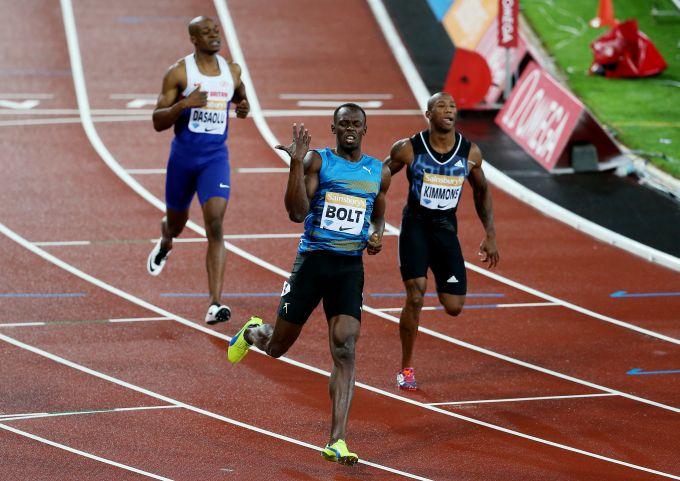 Usain Bolt returns to the site of his first global triumph this week for a world championships showdown with a convicted dope cheat that has ramifications for athletics beyond just establishing who is the fastest man in the world.
FIVE women to watch out for at world athletics championships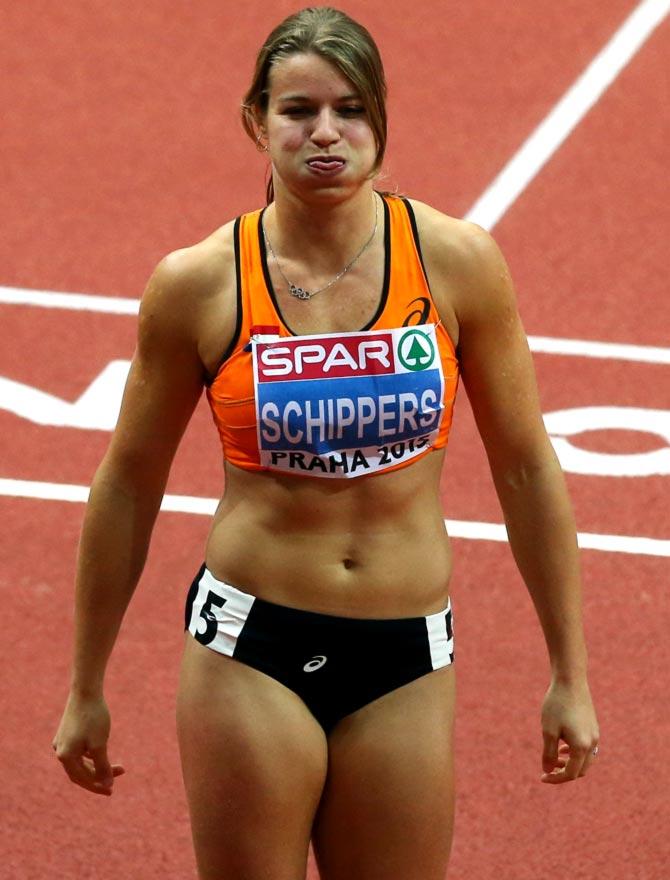 Check out five female athletes to watch out for at the August 22-30 world athletics championships in Beijing.
August 19, 2015
South African justice minister blocks Pistorius parole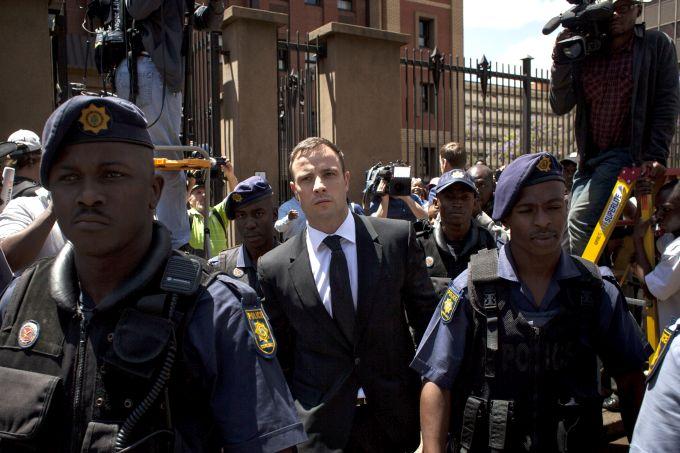 Oscar Pistorius will not be freed on parole this Friday because the decision to do so was made without the right legal basis, South Africa's justice minister said on Wednesday, shocking the athlete's family as they prepared for his homecoming.
Old Trafford in seventh heaven as Memphis makes mark in iconic jersey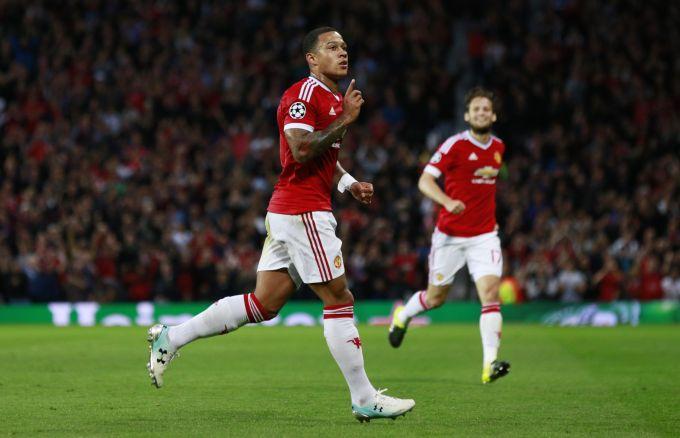 Old Trafford rejoiced on Tuesday in anticipation of their next famous No. 7 after Dutch forward Memphis Depay scored two sublime goals to inspire Manchester United to a 3-1 victory over Club Bruges.
PHOTOS: Walmiki brothers play hockey, dance with Rashtriya Rifles jawans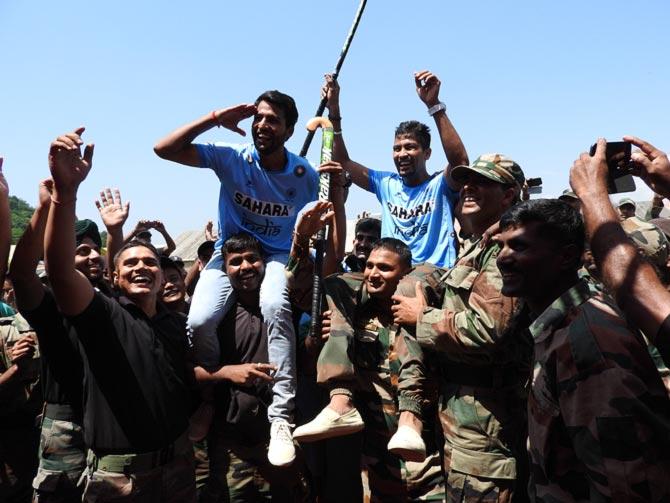 India hockey players Yuvraj and Devender Walmiki attend Rashtriya Rifles for their silver jubilee year celebrations in Anantnag earlier this week.
Saina hopes to stay injury-free in run up to Olympics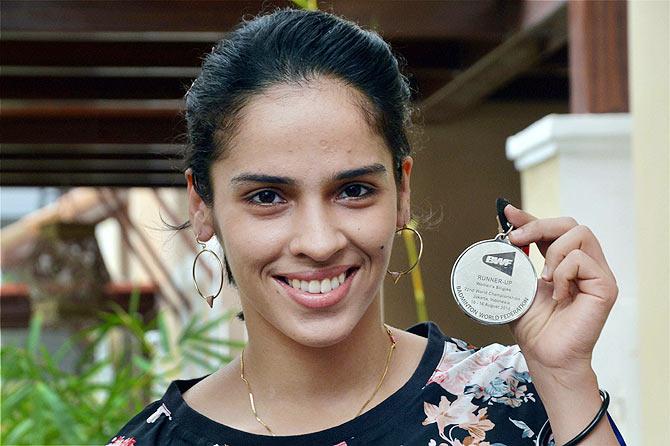 World Championship silver-medallist shuttler Saina Nehwal is aiming to remain injury-free and excel in all the Super Series tournaments in the run up to next year's Rio Olympics.
SAfrica justice minister seeking legal advice on Pistorius parole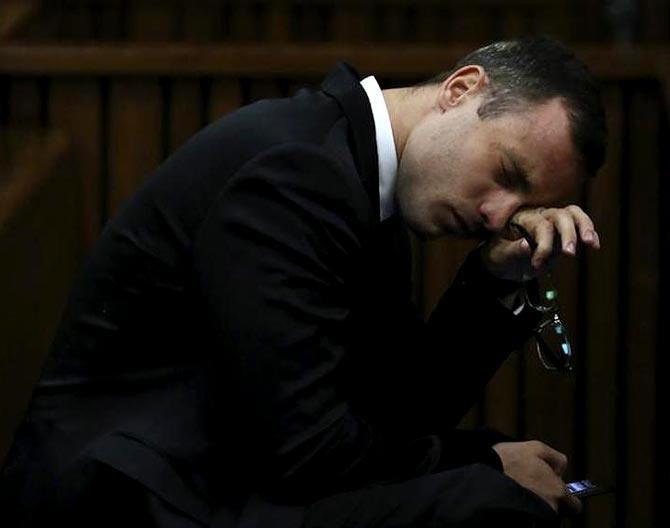 South Africa's justice minister said on Tuesday he was seeking legal advice on whether its parole board was right to decide to free Oscar Pistorius on house arrest on Friday after serving a sixth of his five-year sentence for killing his girlfriend.
WADA considering banning countries of dope-tainted athletes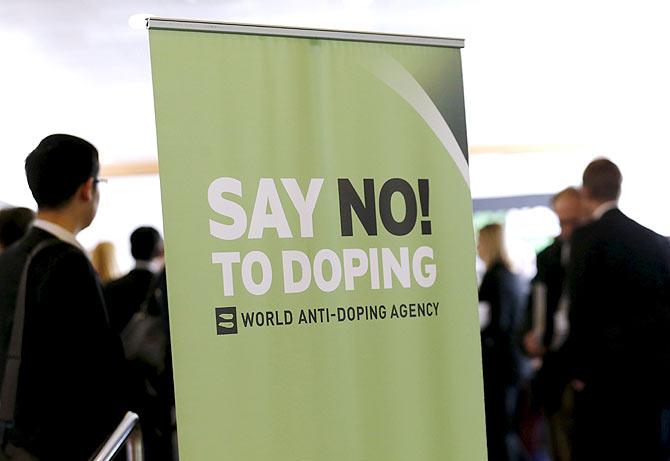 The World Anti-Doping Agency (WADA) is considering a blanket ban on countries whose athletes regularly dope in the wake of a series of damaging blows for the sport in recent days, according to its president Craig Reedie.
Soccer updates: Inter's Kovacic agrees big-money move to Real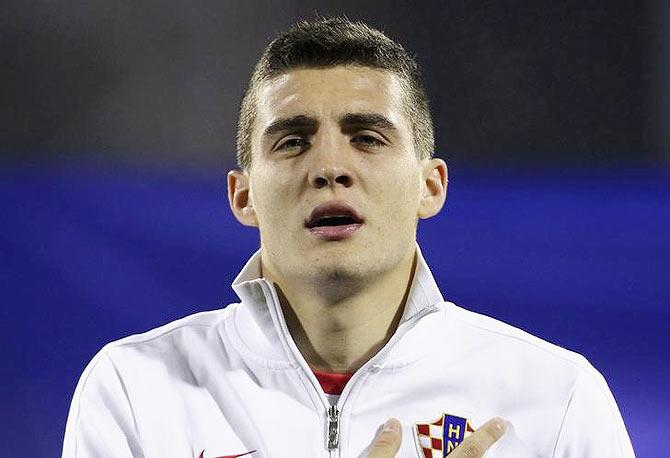 Bringing you all the news from the summer transfer window and other snippets from the soccer world...
Cincinnati Open round-up: Federer eases through; Bencic rolls on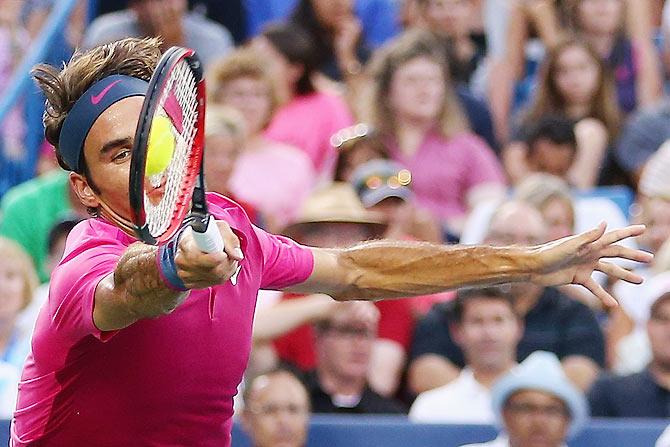 Roger Federer returned from a month-long layoff with a 6-4, 6-4 second round victory over Roberto Bautista Agut on Tuesday at the Western and Southern Open in Cincinnati.
US Open wildcards for former champion Hewitt and cancer-survivor Duval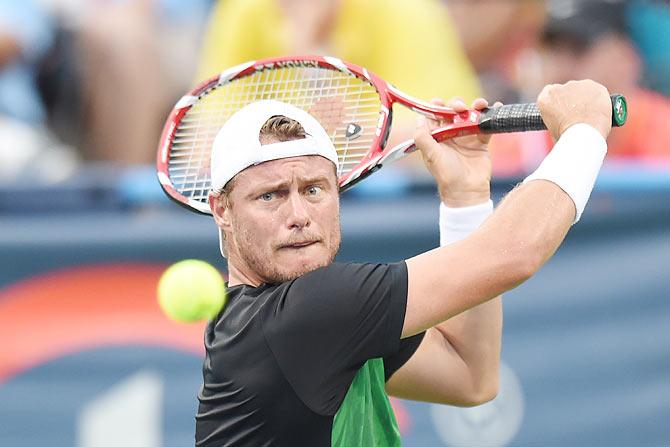 Hewitt, the 2001 champion, received his wildcard via a reciprocal agreement with Tennis Australia, which will grant an American a wild card into next year's Australian Open, and was among 16 players who received wildcard entries.
Sebastian Coe is new IAAF president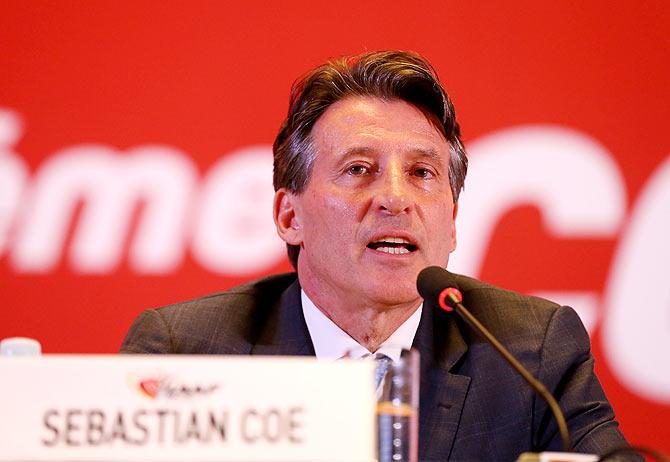 Beat Sergie Bubka by 115 votes to 92 in a ballot of the governing body's 50th Congress
Champions League: Memphis stamps his mark for United; Record for Astana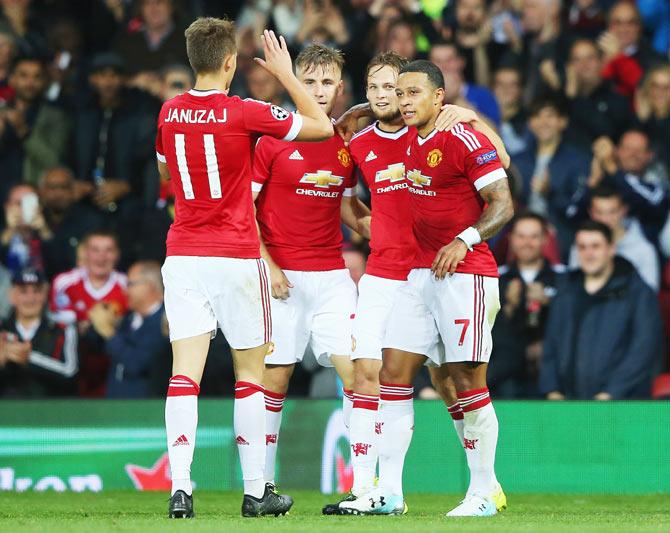 On a night of close finishes in all five first-leg playoff games, the 21-year-old Dutch winger opened his United account with a memorable performance in the famous number seven shirt previously worn by George Best, Eric Cantona and David Beckham.
Leaving champion clubs... for English Premier League also-rans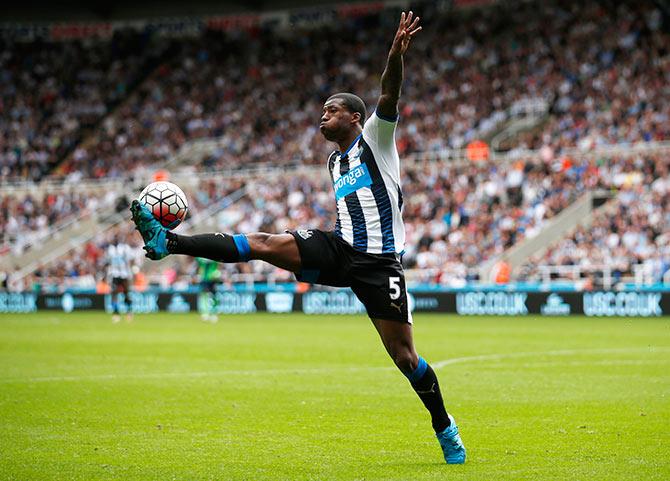 Rediff.com takes a look at a few other players who shunned champion sides for mediocre clubs in the Premier League.
August 18, 2015
Hard for Pedro to stay focussed, mourns Barca manager Enrique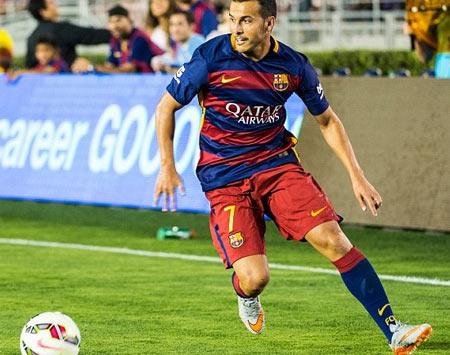 'I want the market to damn well close so that I know who I can count on'
'Vimal Sir made me believe I can be number one'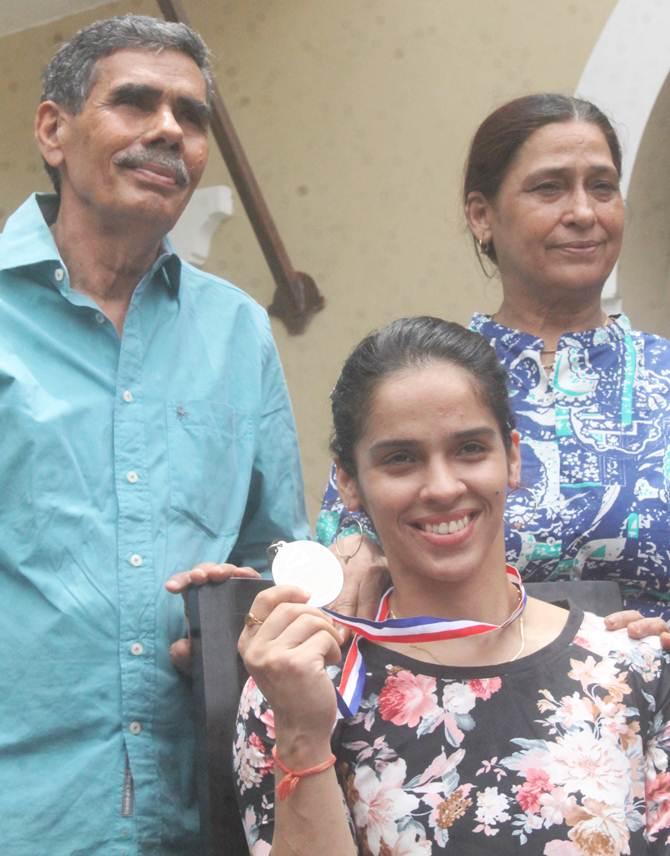 World Badminton Championships silver medallist Saina Nehwal feels her decision to shift base to Bangalore and train under Vimal Kumar turned out to be a masterstroke.
Paes-Wawrinka fight back from a set down to advance at Cincinnati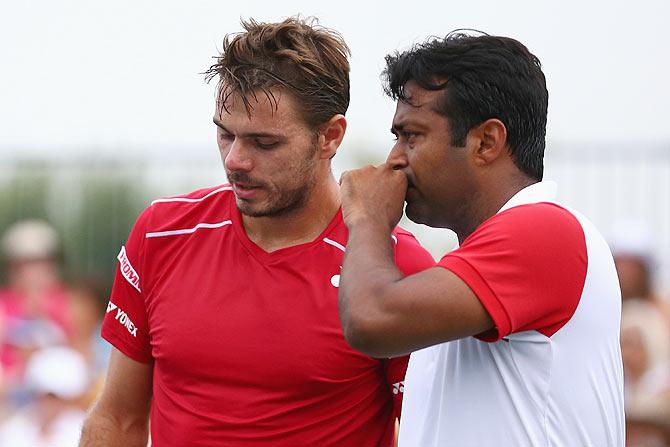 They now face eighth-seeded pair of Canada's Vasek Pospisil and local boy Jack Sock, whom they beat 6-1, 6-4 in Paris.
A nearly-6000 points gap and No 1 spot still distant dream for Murray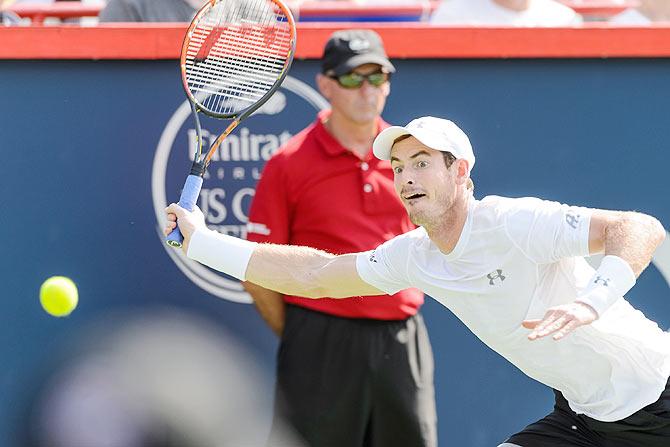 Murray, 28, moved up above Federer to second in the ATP's latest rankings on Monday, courtesy of his dazzling displays in Montreal culminating in 6-4, 4-6, 6-3 victory over Serb Djokovic in an absorbing three-hour duel.
Champions League: Januzaj optimistic of regaining his Midas Touch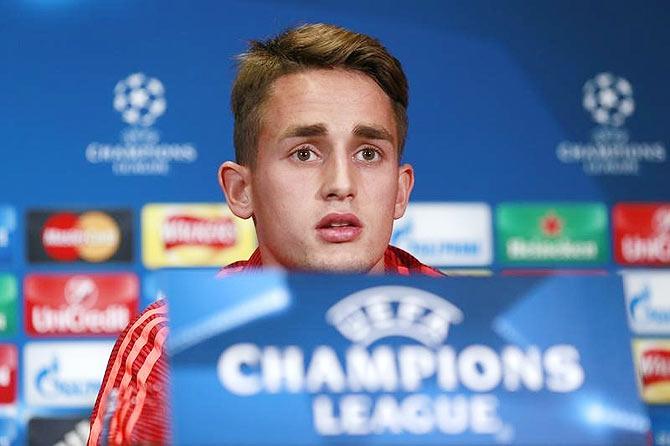 Manchester United winger Adnan Januzaj is confident he can rediscover the form he displayed in his breakthrough season in 2013-14 and feature more regularly for the club.
Multi-faceted Benteke impresses on Liverpool debut with all-round play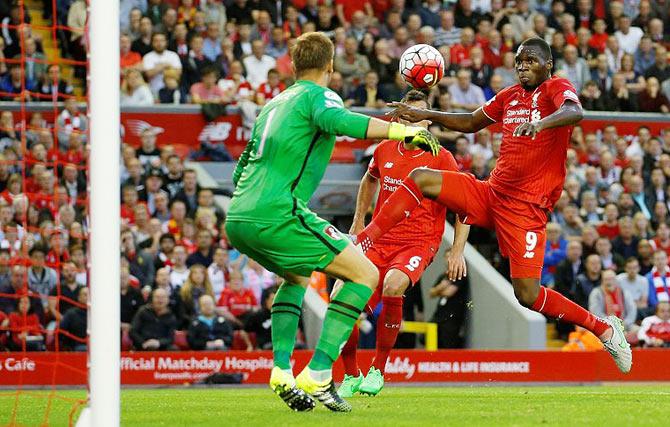 'His hold-up play is outstanding, he's got a wonderful touch for a big guy and you saw that this evening'
Can Petr Cech boost Arsenal defence?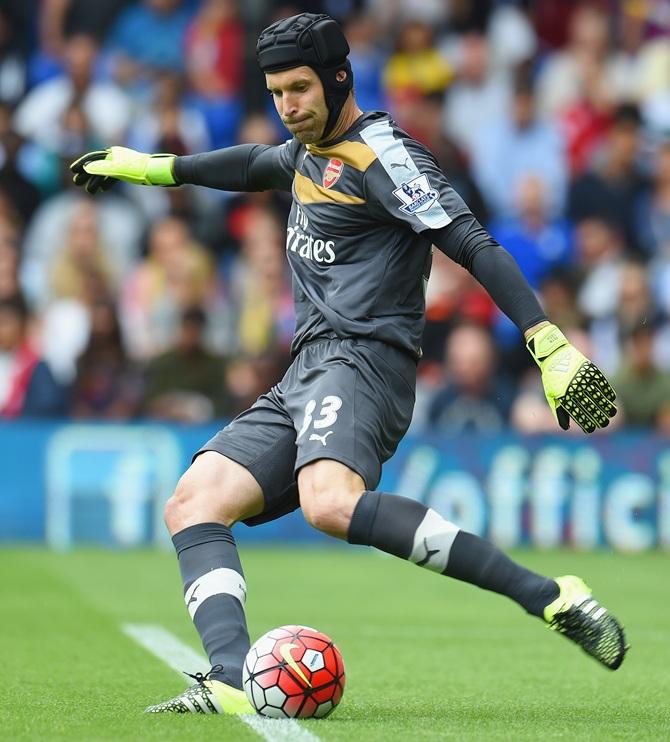 Per Mertesacker is confident new goalkeeper Petr Cech will enhance Arsenal's defence and the centre back said he has already developed an understanding with the Czech international.
'Tanking' controversy strikes men's tennis again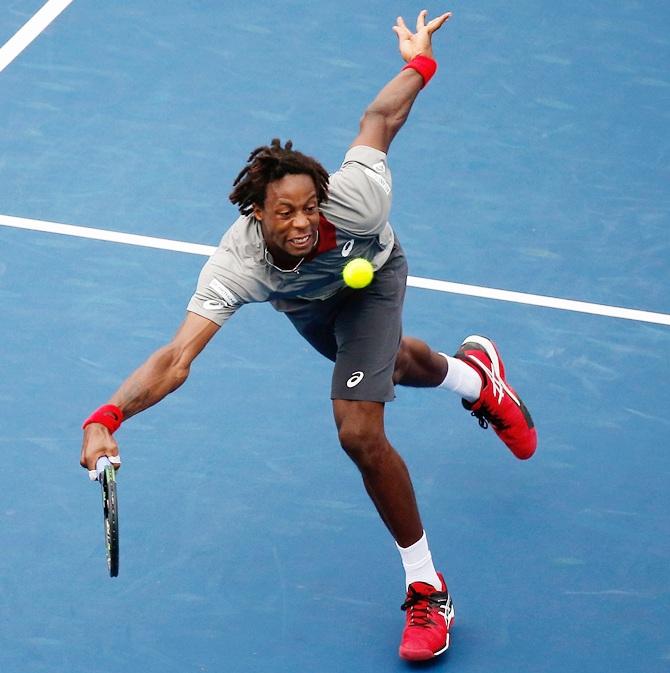 Gael Monfils loses in Cincinnati amid accusations of tanking.
FIFA mess: Blatter hits back at Chung over 'corrupt' comments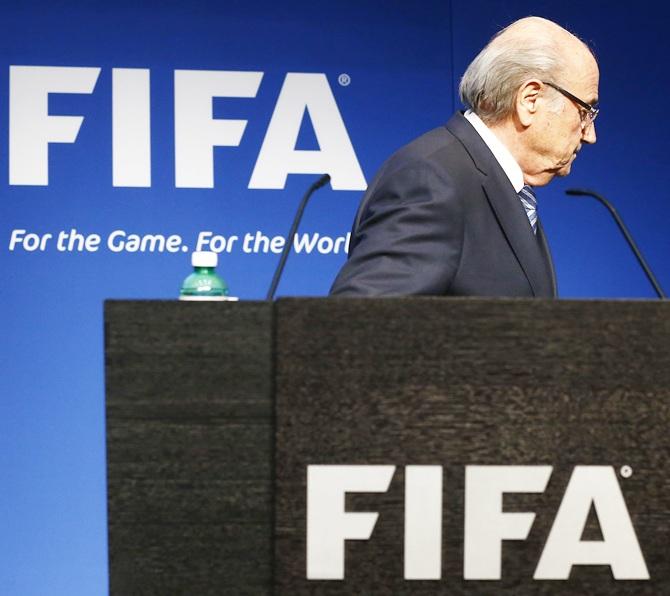 Outgoing president Sepp Blatter hit back at Chung Mong-joon, one of the candidates to replace him, for labelling FIFA a 'corrupt organisation' on Monday and said the South Korean's remarks were 'disturbing'.
How 'the ant' trumped mighty Barcelona...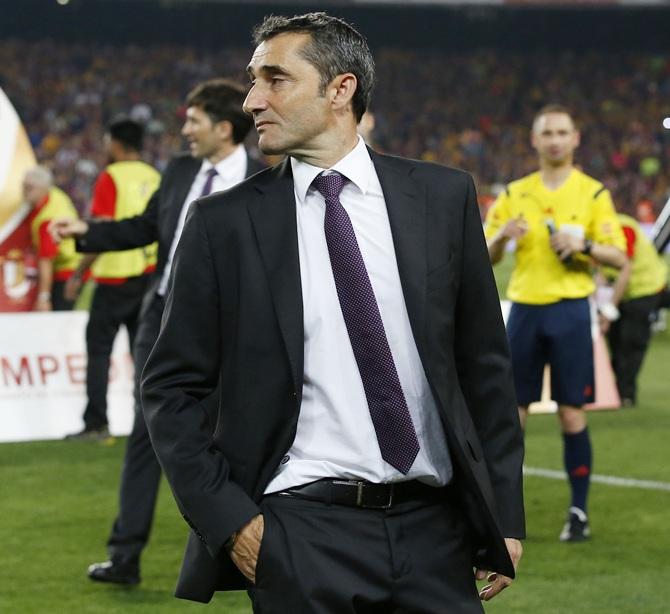 Athletic Bilbao's Spanish Super Cup victory against Barcelona not only earned them their first major trophy in 31 years but also ended coach Ernesto Valverde's long wait for silverware.
EPL PHOTOS: Disputed goal ruins Bournemouth's show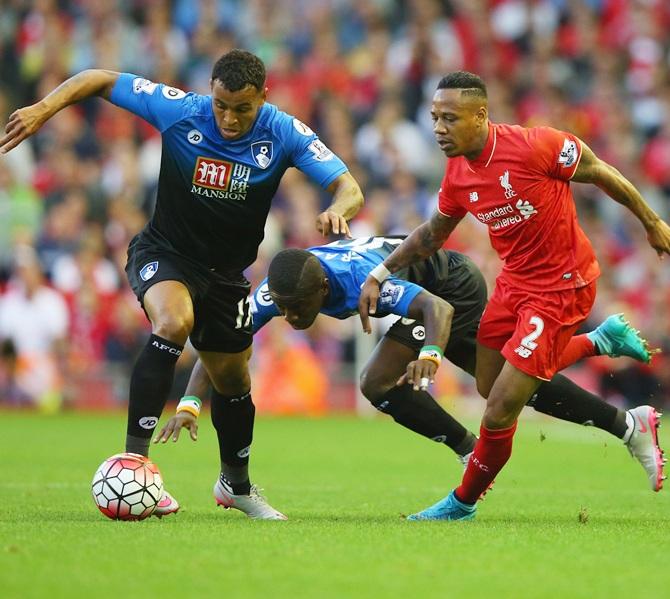 Promoted Bournemouth are still waiting for their first Premier League points after succumbing to a controversial Christian Benteke goal in a 1-0 defeat at Liverpool on Monday.
Unless she wins a Major title, Saina won't be one of the greats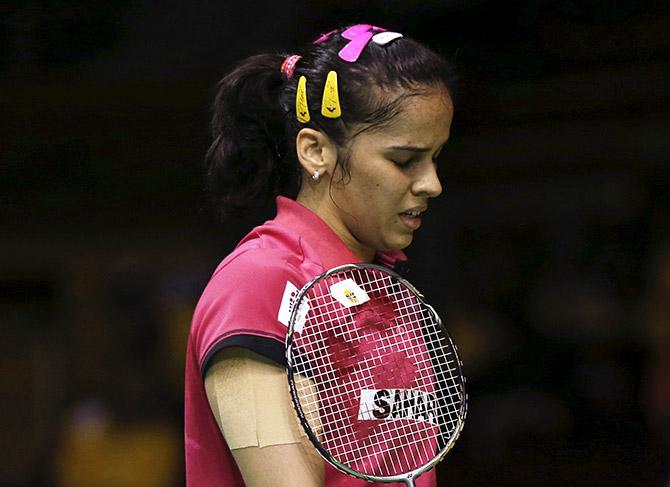 For all her achievements, says Bikash Mohapatra, Saina is yet to win either the Worlds, Olympics or All England, badminton's flagship events.
Soccer Updates: Bilbao stun Barcelona for historic Super Cup win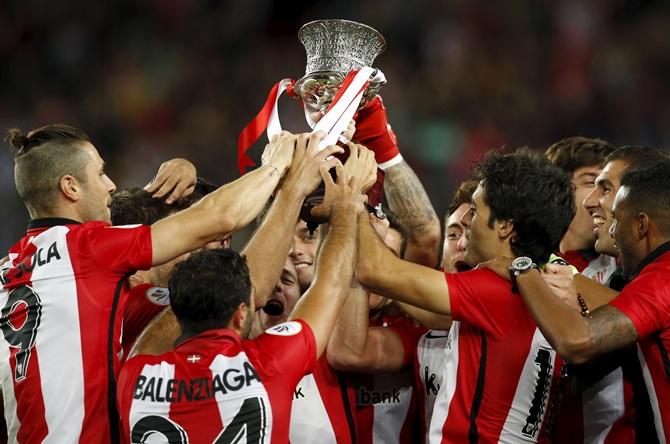 Athletic Bilbao claimed their first silverware in more than three decades when they wrapped up a 5-1 aggregate win over 10-man Barcelona to win the Spanish Super Cup on Monday and unleash ecstatic celebrations in the Basque city.
August 17, 2015
'There is pressure because our aim is to reach the Champions League'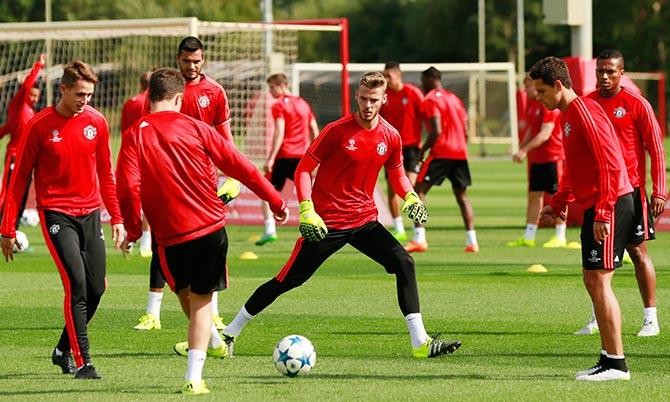 Manchester United are feeling the pressure ahead of their Champions League qualifier against Club Bruges on Tuesday, according to manager Louis van Gaal.
10 Best Sports Photos of the Week!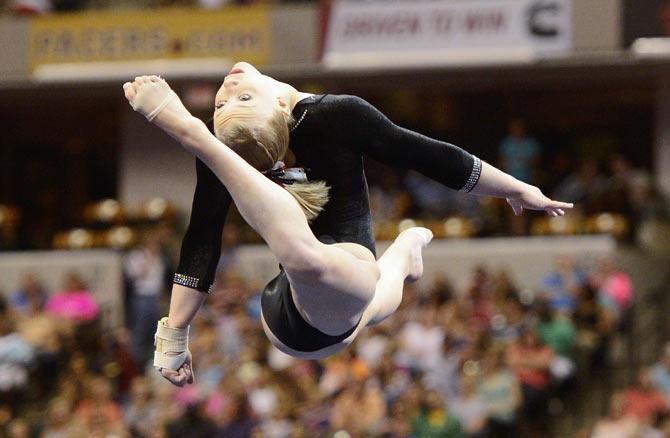 Rediff.com brings you this and a lot more gripping sporting action from the week gone by...
FIFA prez candidate Chung says Platini, Blatter like 'father and son'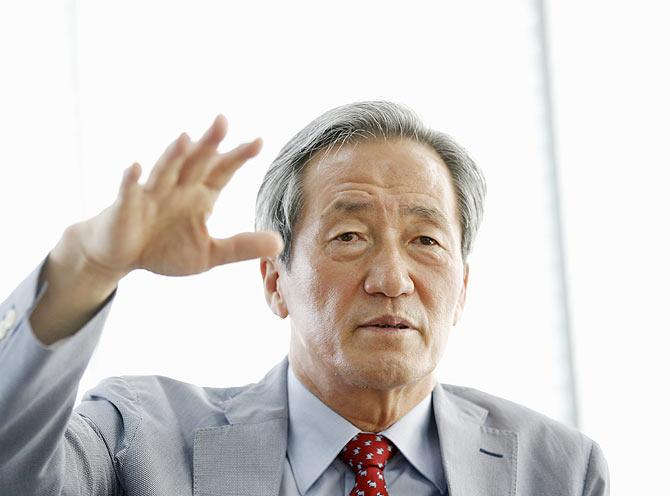 Launching his bid in Paris, Chung told a news conference "Michel Platini was a great football player, and he is my friend. His problem is he does not seem to appreciate the seriousness of the corruption crisis at FIFA."
Why rising Aussie tennis stars are 'losing the plot'?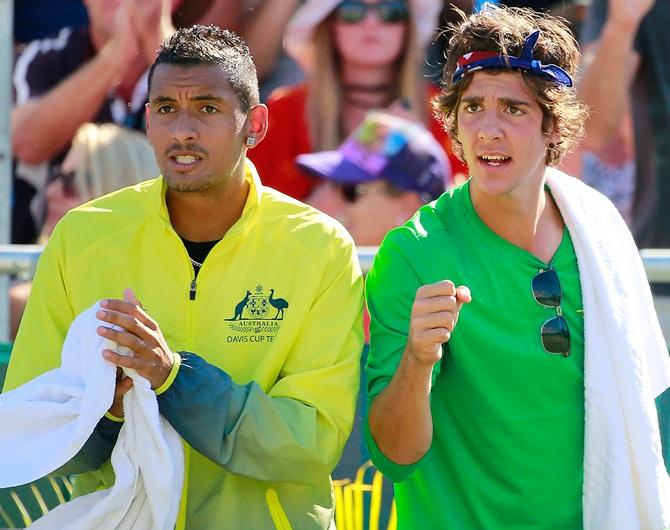 After Nick Kyrgios, another Aussie involved in verbal volley as tempers flare in Ohio.
Ramos signs five-year extension deal with Real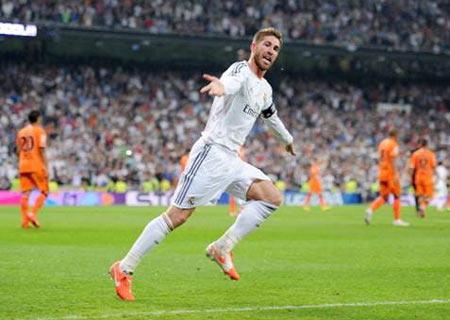 Local media reported the team captain, a dressing-room heavyweight and a huge fan favourite, would earn 10 million euros a season after tax, making him one of the best-paid members of Real's expensively assembled squad
After prison, Pistorius set for house arrest in his uncle's mansion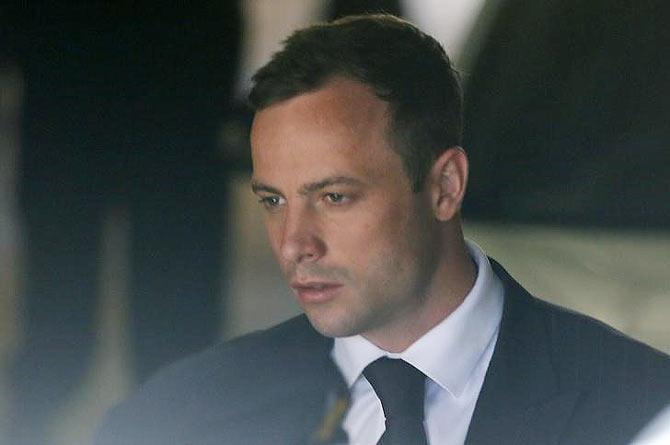 The release of Pistorius, whose lower legs were amputated when he was a baby, is in line with South African sentencing guidelines that say non-dangerous prisoners should spend only one-sixth of a custodial sentence behind bars.
Saina set to become World No 1 again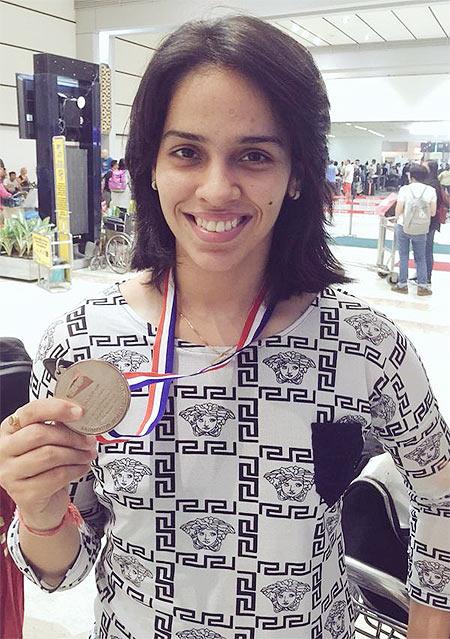 But Saina, who had lost in the quarter-finals last year, is set to gain 3600 points having made it to the World Championships final this year. Saina will therefore, now have 82, 792 points to her tally, giving her the World No 1 title again.
PHOTOS: Eugenie Bouchard 'almost' suspended in the air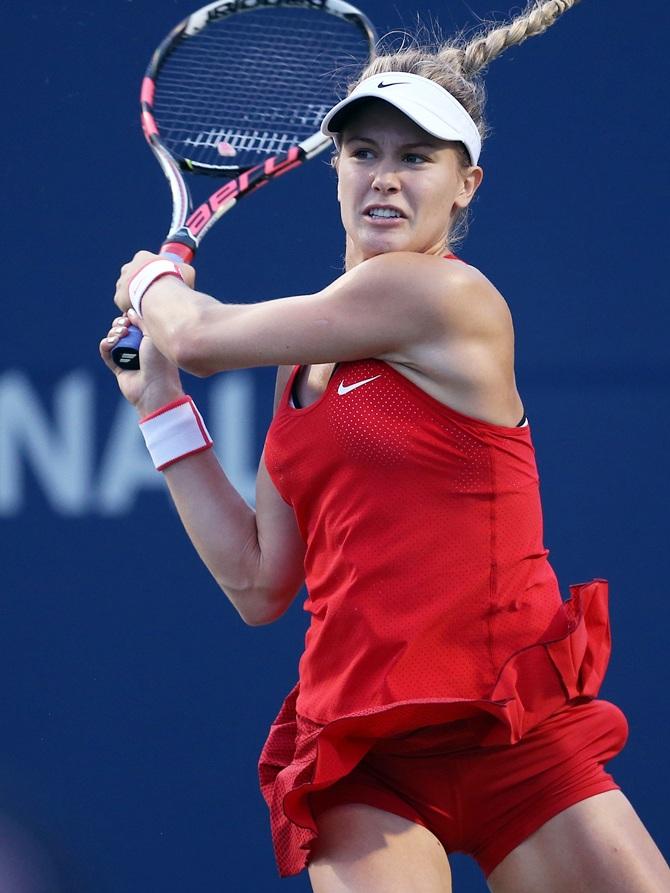 Eugenie Bouchard tried to forget her poor results on the court.
Once a boxing champ, he now cleans drains for a living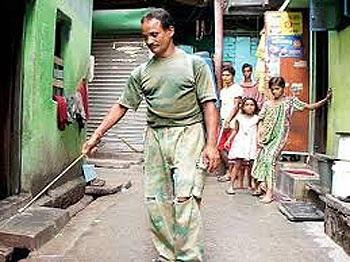 Once a boxing champion, life has dealt Krishna Routh a severe blow.
As Liverpool welcome Bournemouth, Lallana eyes first home win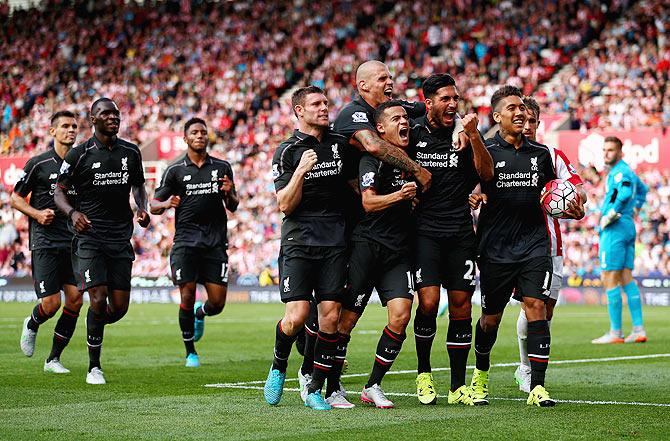 Liverpool must take all three points when they welcome newly promoted Bournemouth to Anfield on Monday to keep up their momentum in the Premier League, midfielder Adam Lallana has said.
Is there a problem brewing in Mourinho-Terry partnership?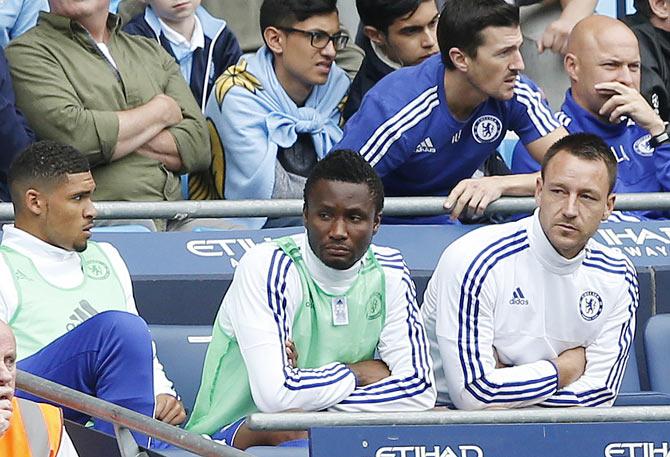 Mourinho dropped a big bombshell when long-term captain and defensive colossus John Terry was substituted at halftime for tactical reasons -- the first time Mourinho had ever taken his trusty skipper off in the heat of battle.
Disillusionment and ignominy for Mourinho and Chelsea after City loss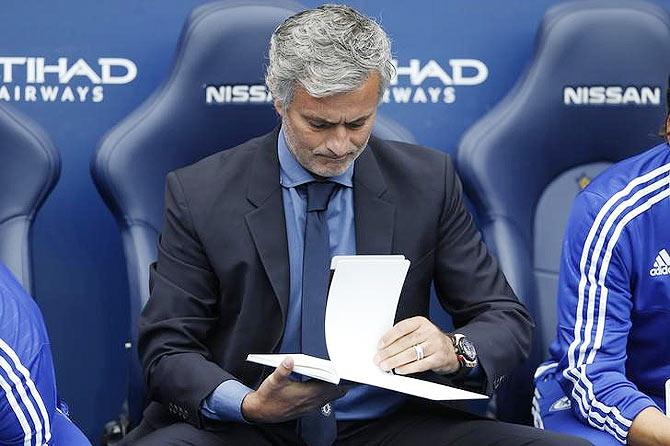 With the 3-0 loss, Chelsea and the Gaffer have now matched the club's worst records -- Mourinho suffered his joint-heaviest defeat as a Premier League manager, while, for the first time in 17 years, the Blues have failed to record a win in either of their opening league games
Lahiri makes Indian golf history with top-5 finish at PGA Championship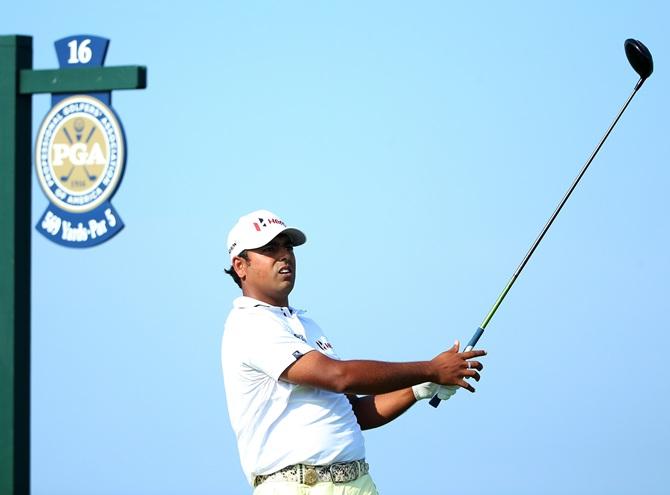 Asian Tour star Anirban Lahiri wrote a small slice of Indian sporting history with an eye-catching equal fifth place finish at the PGA Championship on Sunday and reinforced his growing reputation in world golf.
It was Jason's 'Day' at PGA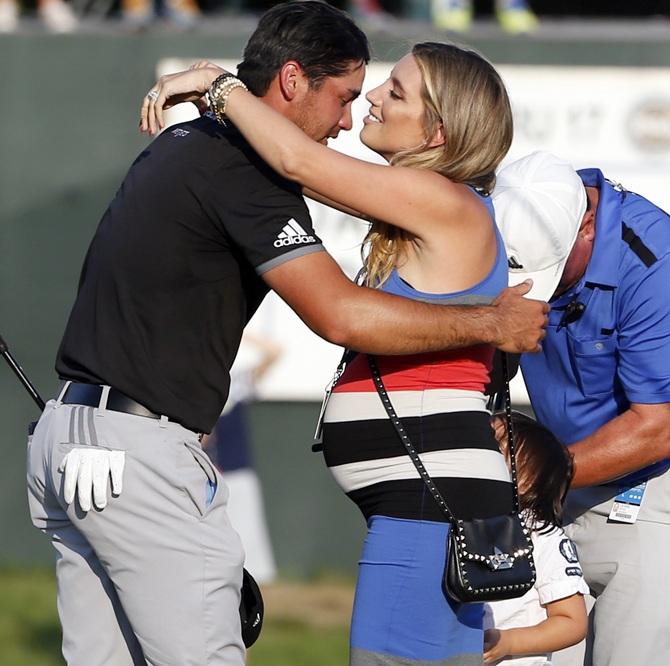 Australia's Jason Day endured several close calls at the majors before finally landing one with a three-shot victory at the PGA Championship on Sunday.
There is an Indian connection to PSV's Luciano Narsingh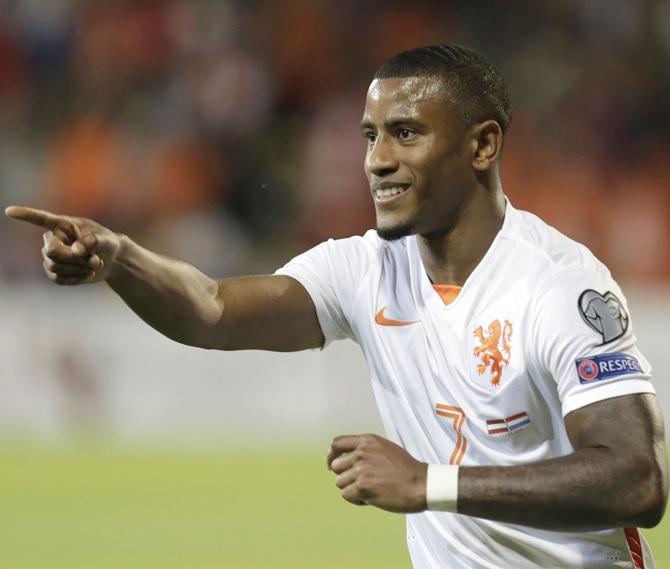 Luciano Narsingh's grandparents were immigrant workers from Andhra Pradesh who worked at plantations in Suriname.
4 reasons why City were better than Chelsea on Sunday...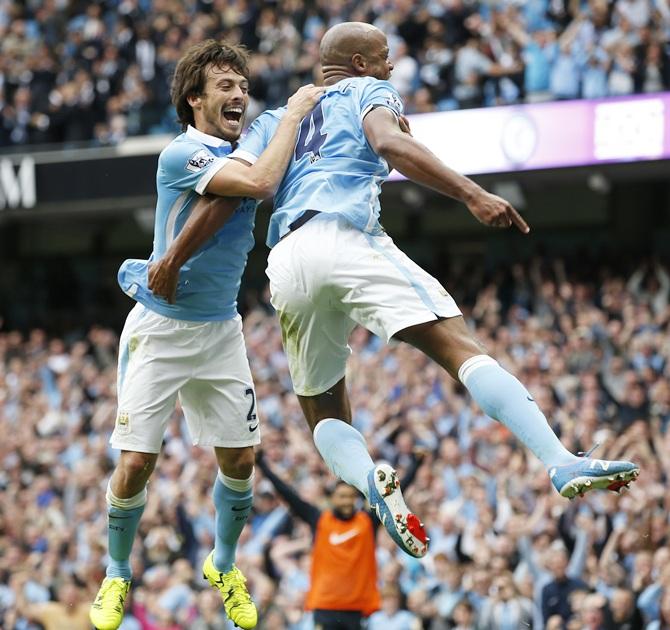 Anger driving City to new heights, says City manager Manuel Pellegrini.
Someone was smoking weed and Djokovic could smell it!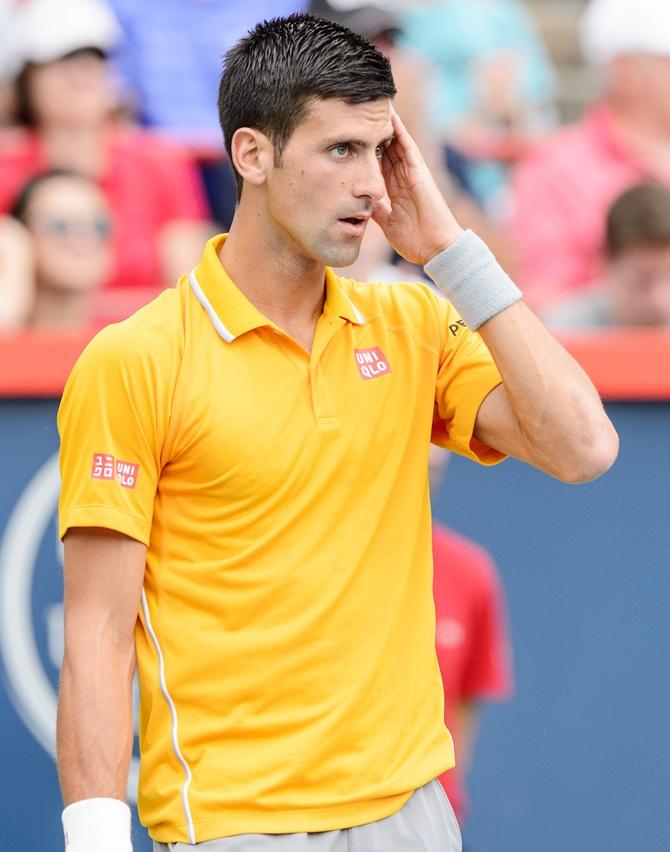 World No 1 Novak Djokovic during his semifinal match against Jeremy Chardy at the Rogers Cup on Saturday, complained to the umpire that someone's cigarettes were making him dizzy.
Latest from the world of tennis: Swiss teen Bencic claims Rogers Cup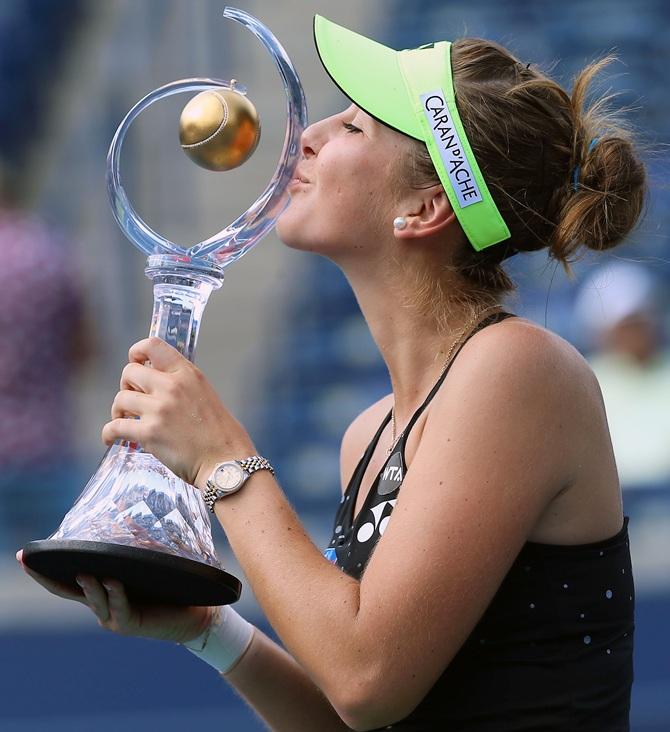 Swiss teenager Belinda Bencic capped a brilliant run to the Rogers Cup title on Sunday.
August 16, 2015
EPL: Man City thrash misfiring Chelsea, Arsenal win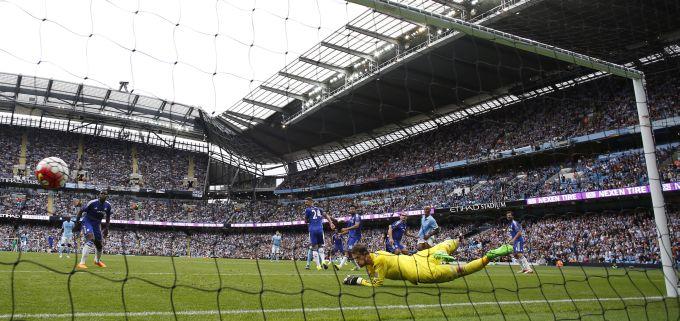 The Premier League season is only a week old and the problems are already piling up for misfiring champions Chelsea after a 3-0 thrashing at Manchester City on Sunday.
IAAF suppressed study of admitted dope cheats: Sunday Times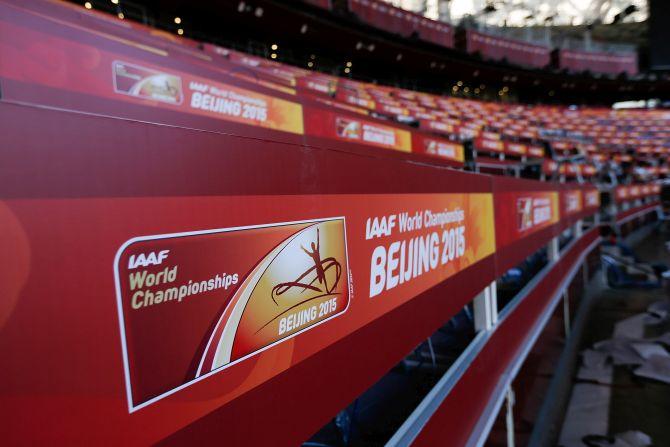 World athletics' governing body has suppressed a 2011 survey that reveals that up to a third of the world's top competitors admitted using banned performance-enhancing techniques, Britain's Sunday Times and German broadcaster ARD/WDR reported.
UEFA complain to FIFA over alleged Platini smear campaign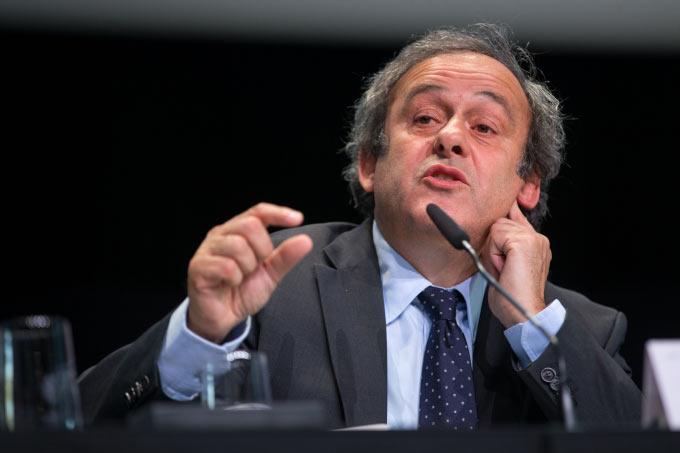 European soccer's governing body have asked FIFA to investigate the alleged distribution from their headquarters of an anonymous heavily critical 'dossier' on UEFA president Michel Platini, German newspaper Welt am Sonntag reported on Sunday.
PHOTOS: Did pressure get the better of Saina at World C'ships?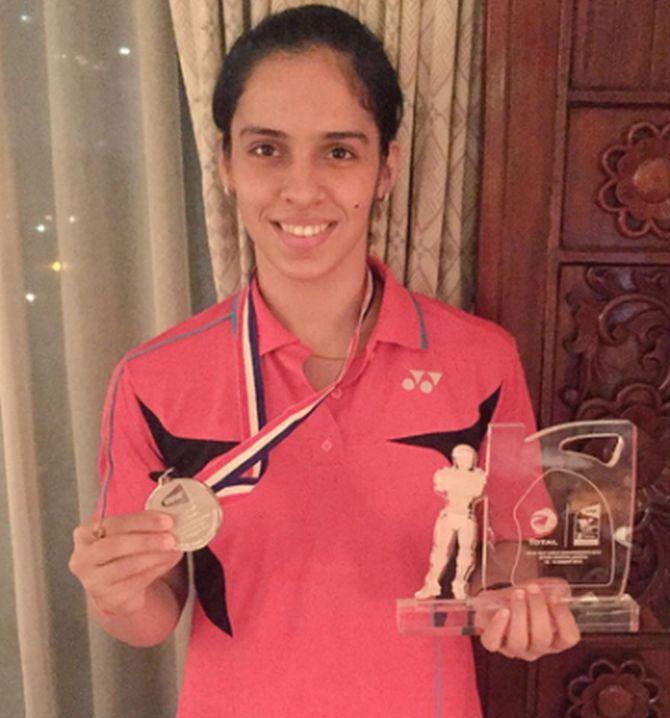 Carolina Marin broke Indian hearts as the World No.1 beat second seed Saina Nehwal in straight game to lift the World Championships title in Jakarta.
MLS: Keane double lifts Galaxy top in the West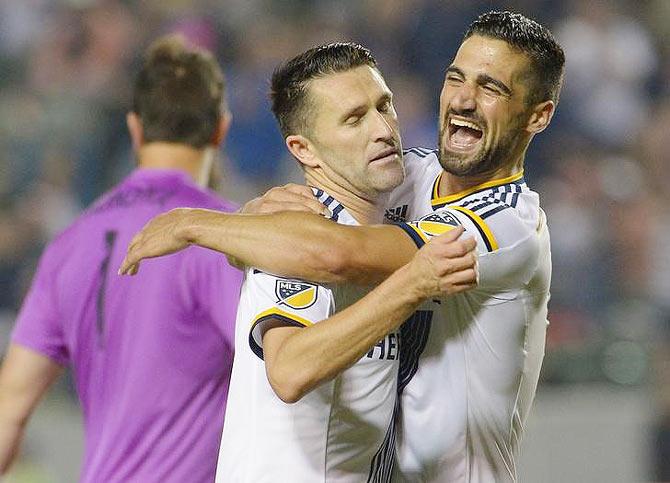 Two headers from Robbie Keane just after halftime gave LA Galaxy a 2-1 win over Dallas in Major League Soccer on Saturday, lifting them top of the Western Conference after Vancouver lost to Sporting Kansas City.
EPL updates: Advocaat calls meeting to discuss Sunderland's woes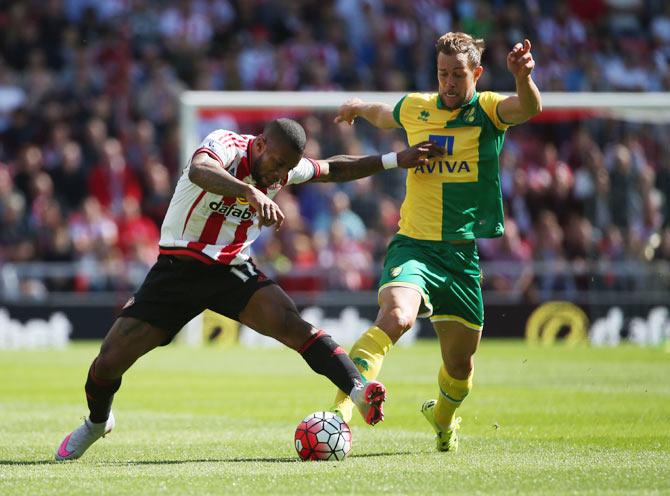 Follow the latest developments from all the on-field and off-the-field action in the Premiership.
Rio Olympic village workers living in squalor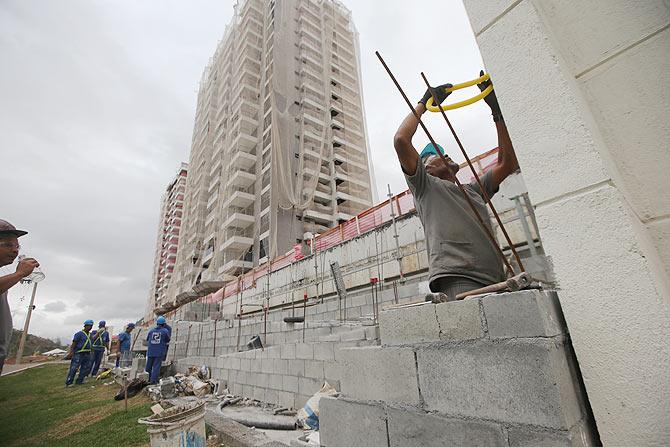 A company working on the Olympic village that will receive athletes in Rio de Janeiro next year has housed some of its own workers in conditions that public prosecutors compared to slavery.
PGA: Struggling Woods misses cut at third major in a row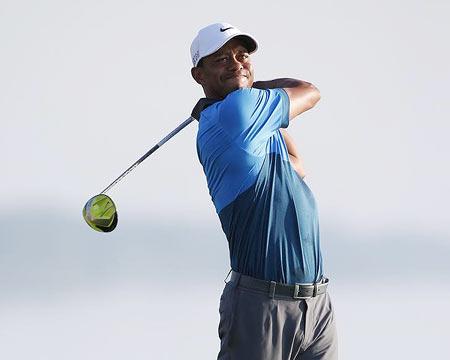 Tiger Woods plumbed new depths when he missed the cut in a third successive major for the first time in his career at the storm-delayed PGA Championship on Saturday.
Bundesliga: Mkhitaryan brace as Dortmund hit four; Schalke crush Werder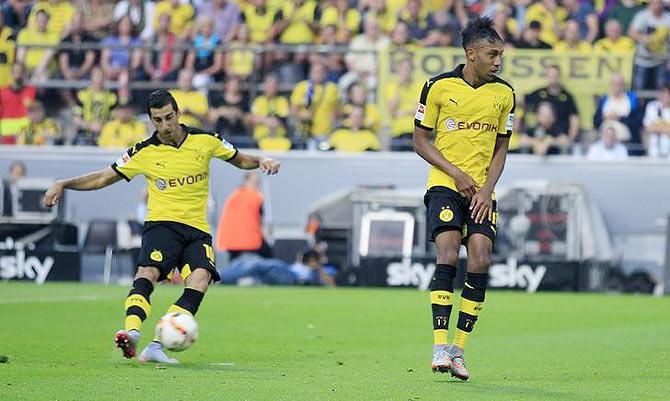 Armenia midfielder Henrikh Mkhitaryan scored twice as Borussia Dortmund thrashed Borussia Moenchengladbach 4-0 on Saturday to launch their season with a bang on coach Thomas Tuchel's Bundesliga debut with the club.
Saina reveals reasons behind loss at Badminton Worlds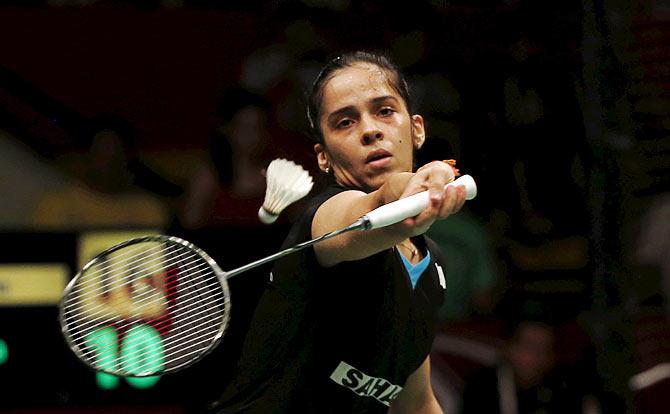 "In the second set, I was on the slower side. I was trying to make rallies happen but the points went very quickly," she added.
IAAF blocked study showing 'widespread doping among elite athletes'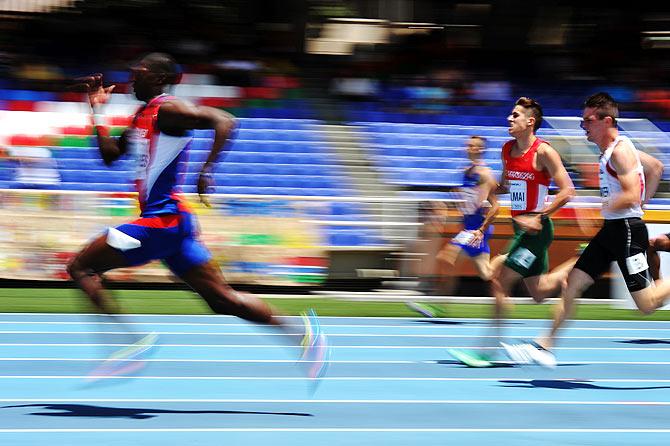 "The IAAF's delaying publication for so long without good reason is a serious encroachment on the freedom of publication," the researchers said in a statement.
Indian tennis round-up: Sania-Hingis ousted from Rogers Cup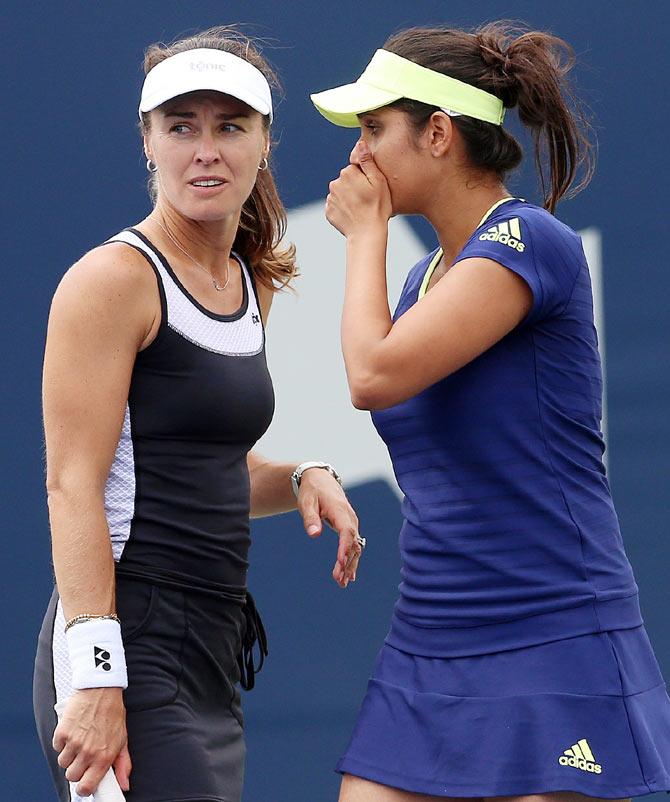 Bolt skips training camp ahead of world championships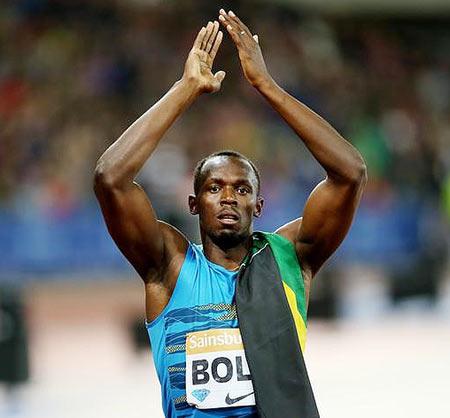 Six-times Olympic gold medallist Usain Bolt will miss Jamaica's training camp in Japan before the world athletics championships in Beijing later this month, the manager of the Caribbean island's delegation said.
Murray to meet Djokovic in Rogers Cup final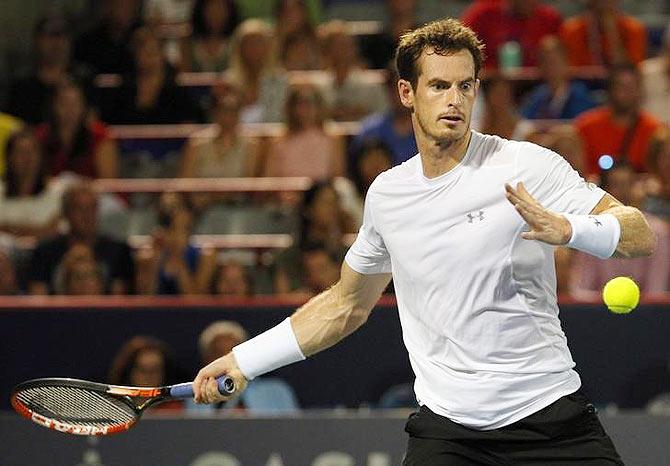 Second Andy Murray breezed to a 6-3, 6-0 semi-final victory over Kei Nishikori on Saturday to set up a final with Novak Djokovic at the Rogers Cup in Montreal.
Saina settles for silver, loses to nemesis Marin at Badminton Worlds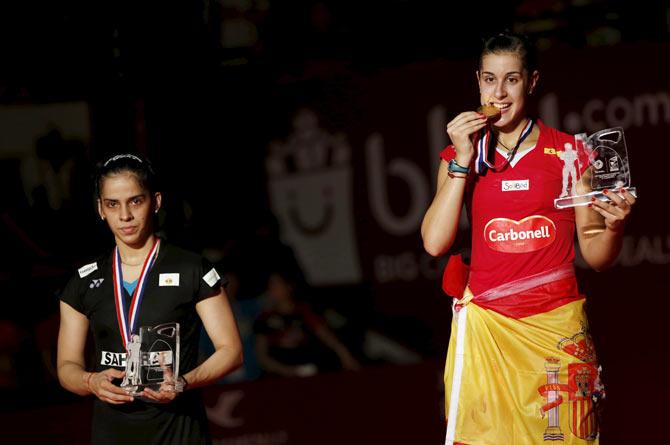 Marin retained the world title with a 21-16, 21-19 win over the Indian ace.
PGA C'ship: Indian golfer Lahiri in record books on Independence Day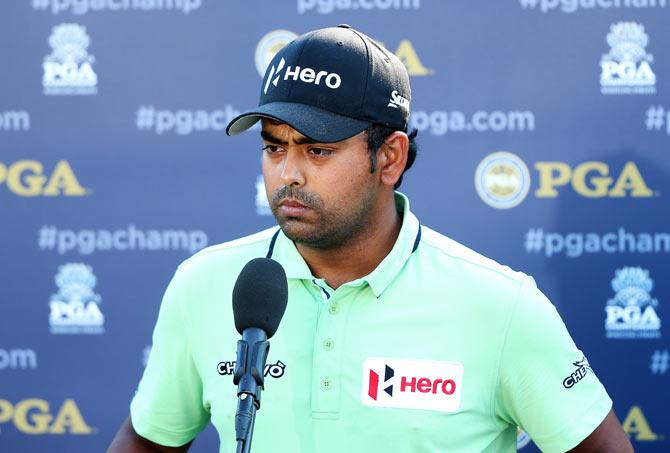 India golfer Anirban Lahiri is making the country proud and on India's 68th Independence Day, he gave his countrymen a couple of big reasons to be proud.
Swiss teen Bencic stuns Serena in Rogers Cup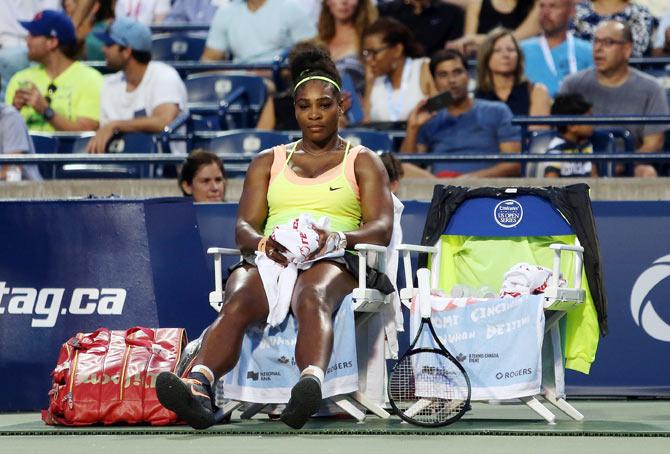 The unseeded Bencic, who also beat former world number ones Caroline Wozniacki and Ana Ivanovic in Toronto, wore a look of disbelief after the 18-year-old's forehand winner whizzed past Williams to seal the match.
EPL: Leicester flying high after win at West Ham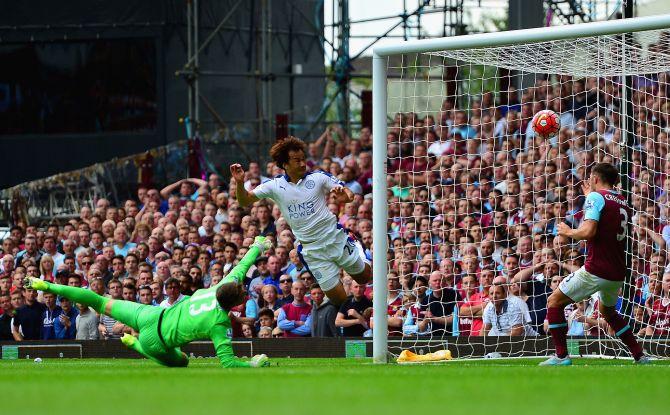 The momentum that swept Leicester City away from relegation last season continued unabated at West Ham United on Saturday as their 2-1 win left them top of the Premier League.
August 15, 2015
Sania-Hingis in Rogers Cup semis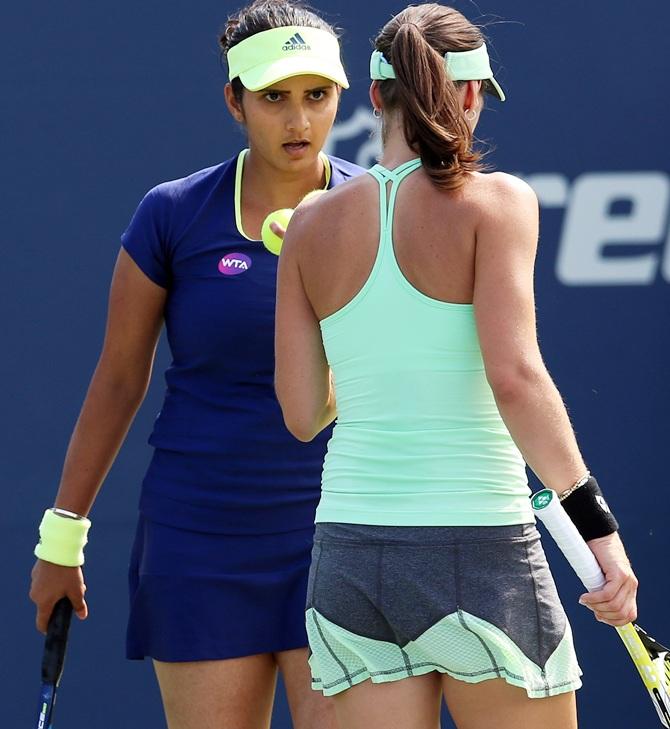 Top seeds Sania Mirza and Martina Hingis eased into the semifinals of the WTA Rogers Cup.
IT'S A FIRST: Saina Nehwal in World Championships final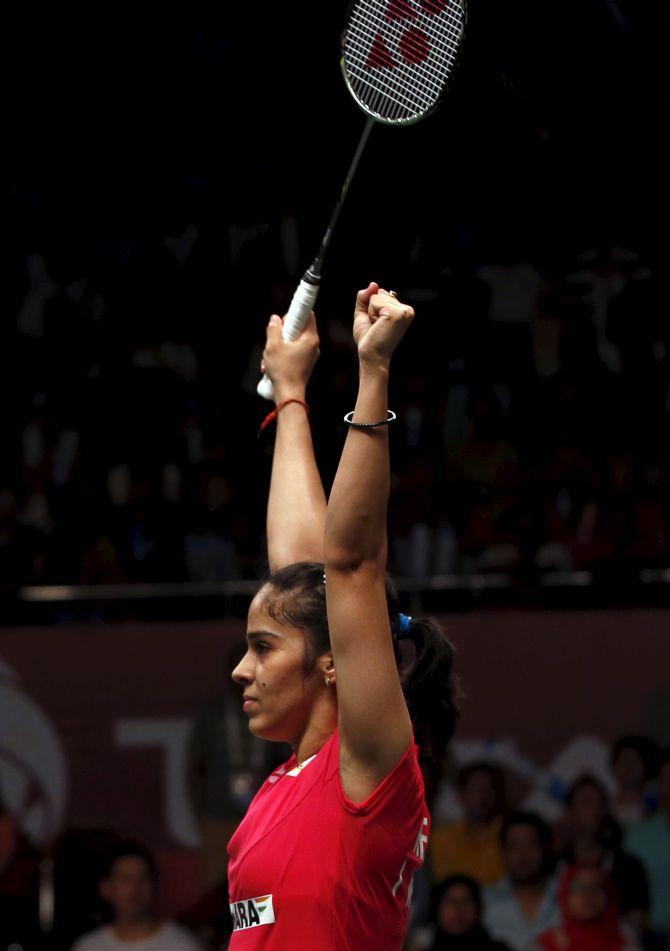 India's Saina Nehwal breezed into the women's singles World Badminton Championships final after beating local girl Lindaweni Fanetri in Jakarta, on Saturday.
PHOTOS: Sportsmen celebrate India's Independence Day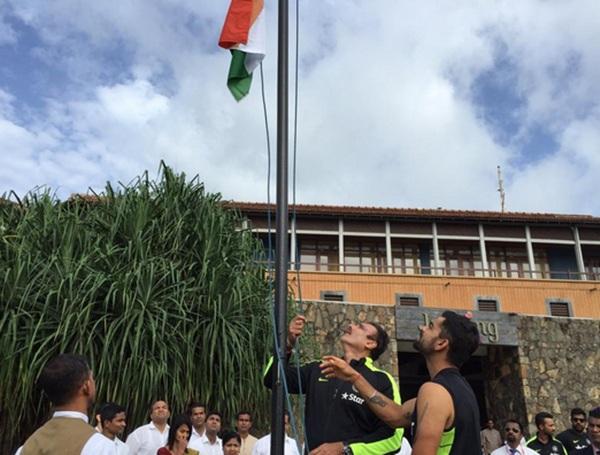 Rediff.com brings how the sportsmen celebrated India's 69th Independence Day.
Soccer Updates! Bilbao hammer Barca 4-0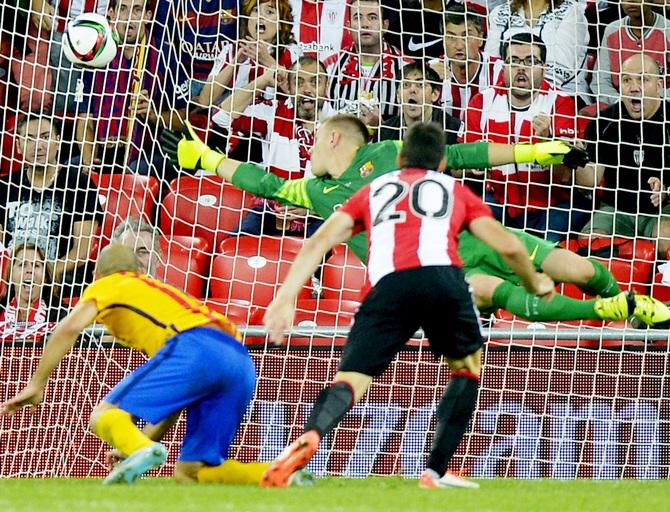 Aritz Aduriz's second half hat-trick sent Barcelona spinning to a shock 4-0 defeat at Athletic Bilbao in the first leg of the Spanish Super Cup on Friday.
Latest from the world of tennis: Nishikori stuns Nadal; Serena in semis
Kei Nishikori swept aside Rafael Nadal in the quarter-finals of the Rogers Cup.
August 14, 2015
It took lots of patience and a little bit of luck: Saina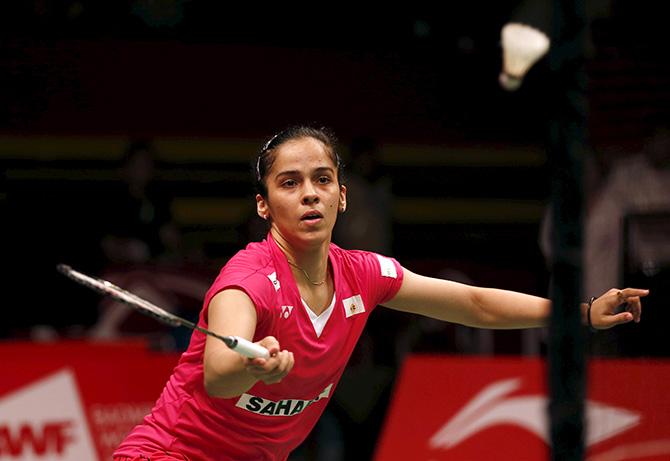 Assured of atleast a bronze at the World Badminton Championship, ace shuttler Saina Nehwal described her quarterfinal win as "special" and said patience was the key to her success.
It's official! Khel Ratna for Sania; Arjuna for 17 other sportspersons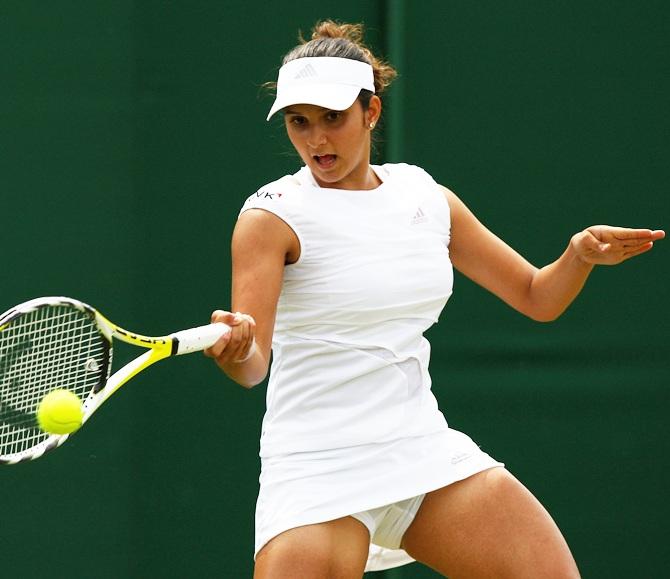 Sania Mirza's was officially named for the coveted Rajiv Gandhi Khel Ratna award on Friday. The Hyderabadi lady is only the second tennis player to be nominated for the country's highest sport honour.
Mourinho praises medical staff but Carneiro not on bench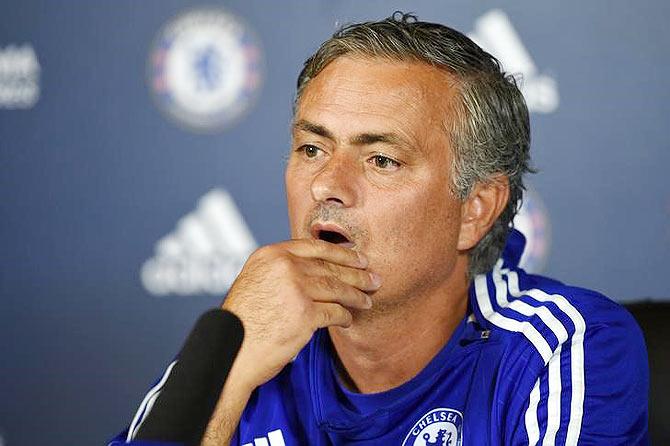 Chelsea manager Jose Mourinho said he has "fantastic" medical staff but the club's first team doctor Eva Carneiro will not be on the bench against Manchester City on Sunday following her treatment of an injured player in a Premier League match.
Rifle shooter Chain Singh earns India 7th Olympics quota place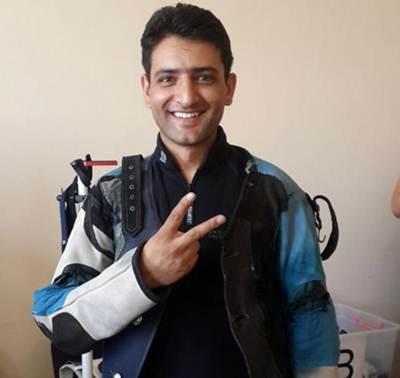 Rifle shooter Chain Singh became the seventh Indian marksman to clinch an Olympic quota place after finishing eighth in the 50m Rifle 3 Position event of the ISSF World Cup in Gabala, Azerbaijan, on Friday.
Sidelined Balotelli set for 'loyalty bonus' if he goes unsold!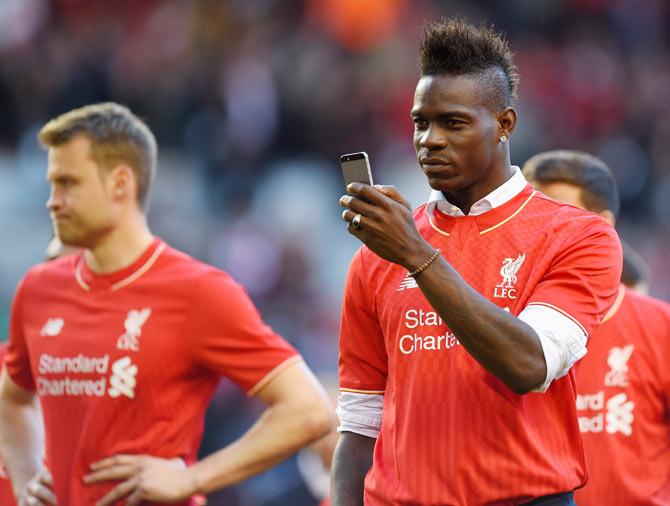 Out-of-favour Liverpool striker Mario Balotelli will receive a six-figure loyalty bonus if he is still at the club when the transfer window closes on September 1, according to British media reports.
Justin Gatlin: Cheat or victim?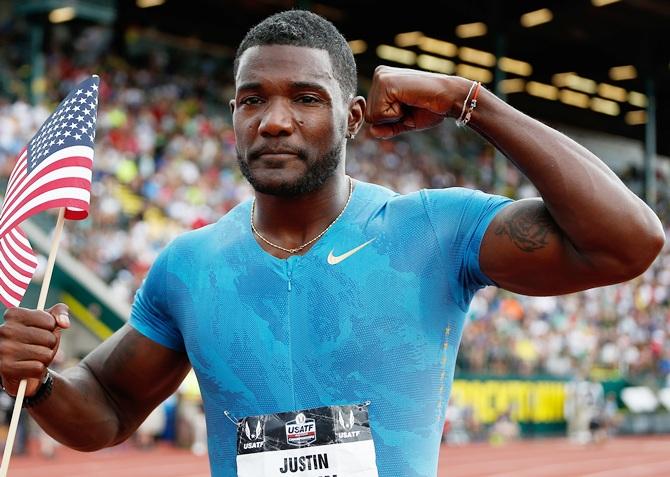 Justin Gatlin will run for the United States in Beijing but to much of the athletics world he might as well appear in a vest bearing a giant syringe such is his position as the tangible manifestation of the sport's wretched doping past.
Parliamentary Panel demands person with credential to lead SAI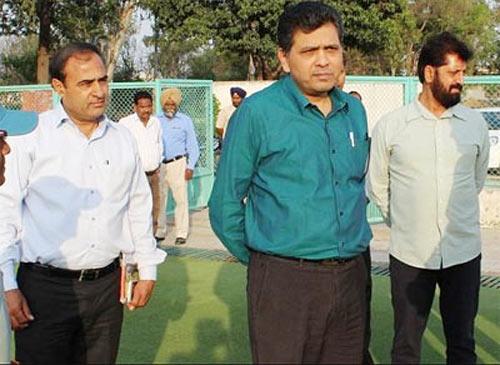 Parliamentary Standing Committee on Human Resource Development headed by Satyanarayan Jatiya has slammed SAI for not roping in sportspersons even 20 years after being asked for restructuring of the "unwieldy and monolithic bureaucratic organisation
5 men to watch out for at World Athletics Championships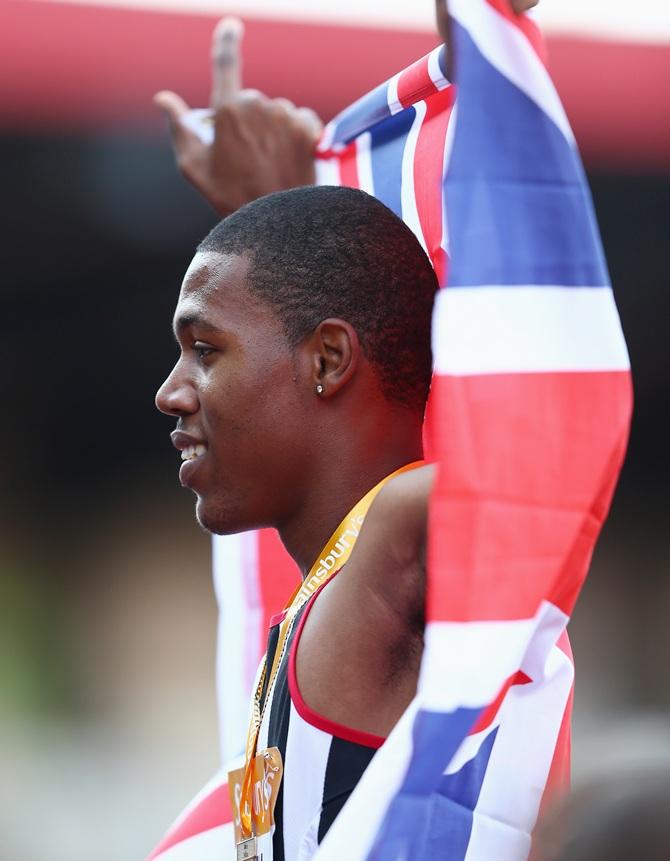 Brief profile of five male athletes to watch out for at the August 22-30 world championships in Beijing.
Soccer updates! United to continue without De Gea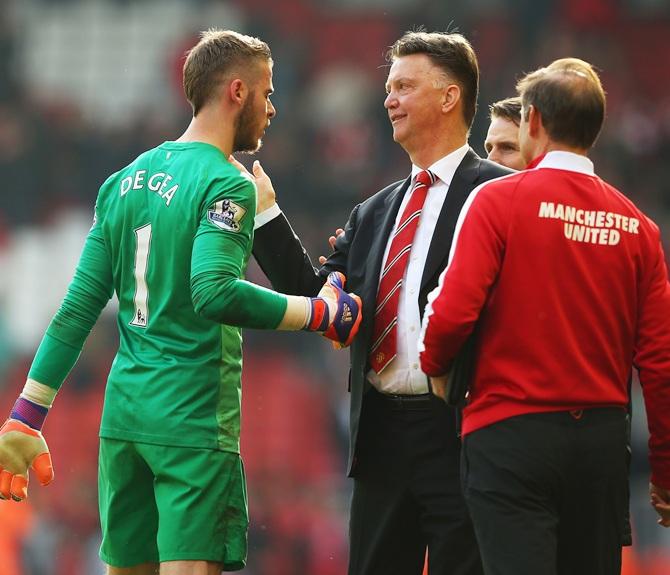 Rediff.com brings the latest news on English Premier League, results, and transfers around the world of soccer.
World Badminton: Saina in semis; Sindhu fails to make it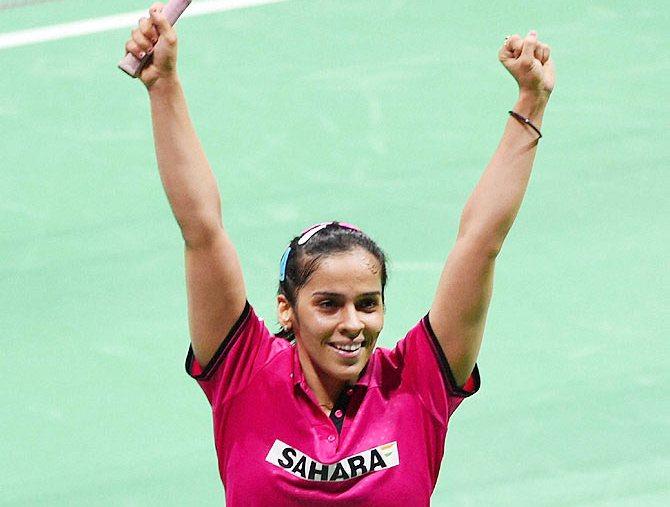 Twice World Championships bronze medalist P V Sindhu ran out of steam and was beaten by Korea's Sung Ji Hyun in the quarter-finals of badminton's showpiece event, in Jakarta, on Friday. The 20-year-old from Hyderabad, who had beaten Olympic champion and former world No 1 Li Xuerui of China in the previous round on Thursday, lost 17-21, 21-19, 21-16 in 82 minutes.
6 reasons why Mourinho is WRONG to ban Chelsea doctor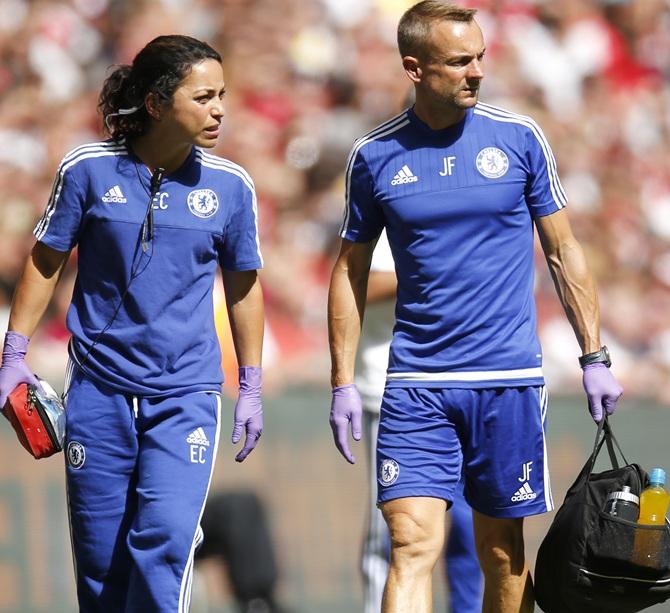 FIFA say managers cannot dictate to doctors over injuries.
Latest from the world of tennis: Serena rolls on, Halep struggles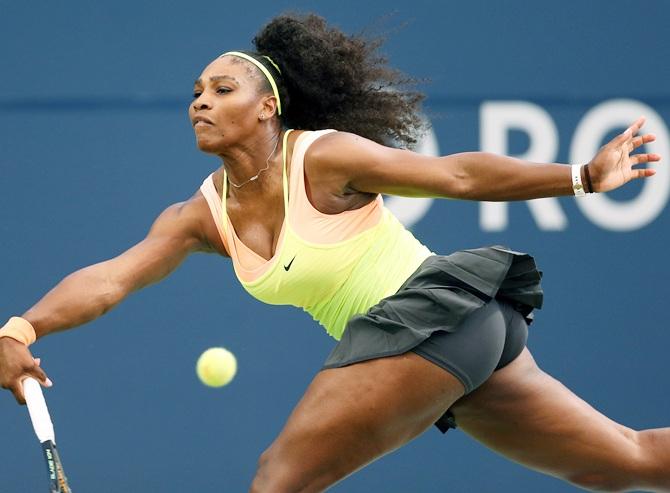 World No 1 Novak Djokovic, second seed Andy Murray and three-time champion Rafael Nadal were all cheered into the quarter-finals of the Rogers Cup on Thursday.
After the sledge, here come the boos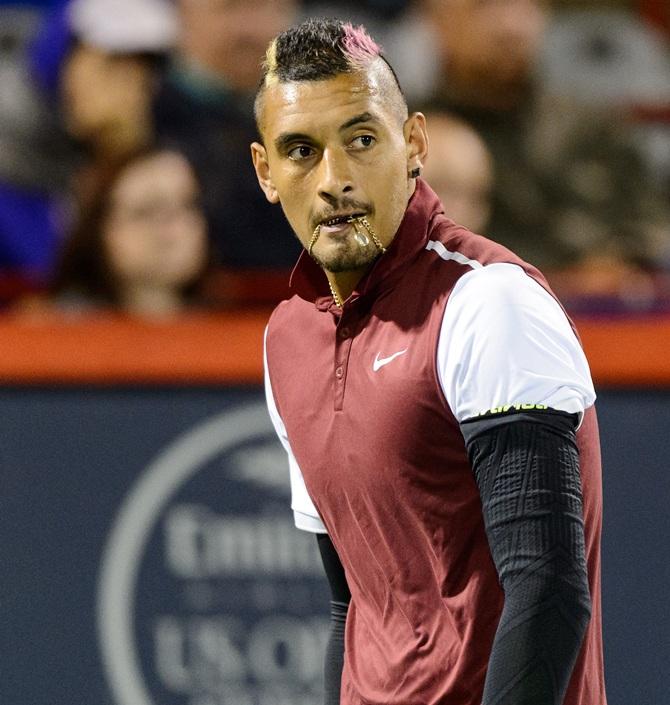 Australian Nick Kyrgios exited the Rogers Cup to boos and a hefty fine from the ATP for insulting remarks.
What you must not miss in the EPL this weekend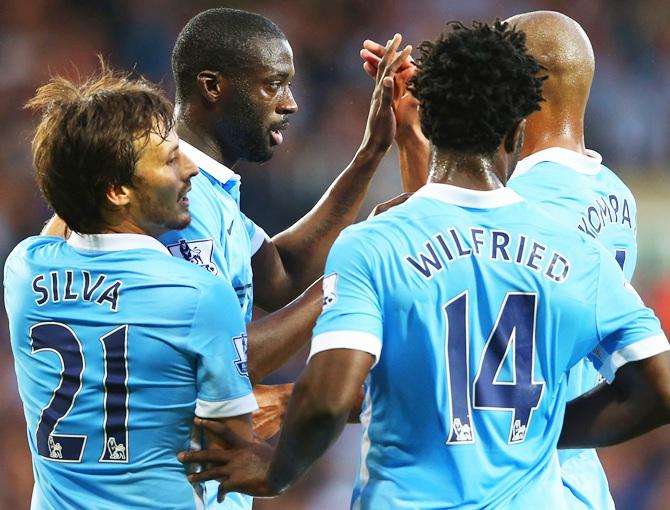 The destination of the Premier League trophy will not be decided when current champions Chelsea meet their immediate predecessors Manchester City.
August 13, 2015
Paes returns to Davis Cup team; Rohan, Somdev, Yuki also named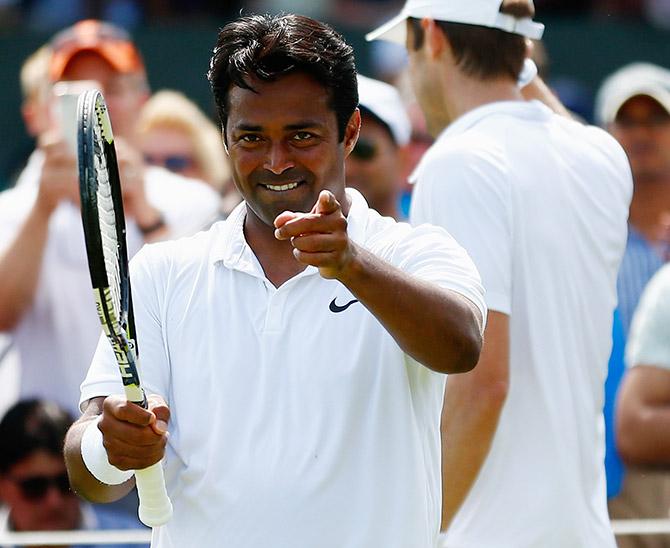 Leander Paes makes a return to the country's Davis Cup team as India named a four-member squad for the World Group play-off tie at home against top seeds Czech Republic from September 18-20.
Ramandeep scores twice as India win Spain hockey series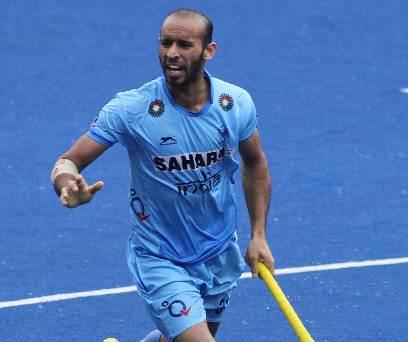 India's hockey team ended its European tour on a high, comfortably defeating Spain 4-2 in its last engagement to win the three-Test series by a 2-1 margin, in Terrassa, on Thursday.
Nick Kyrgios 'courts' another controversy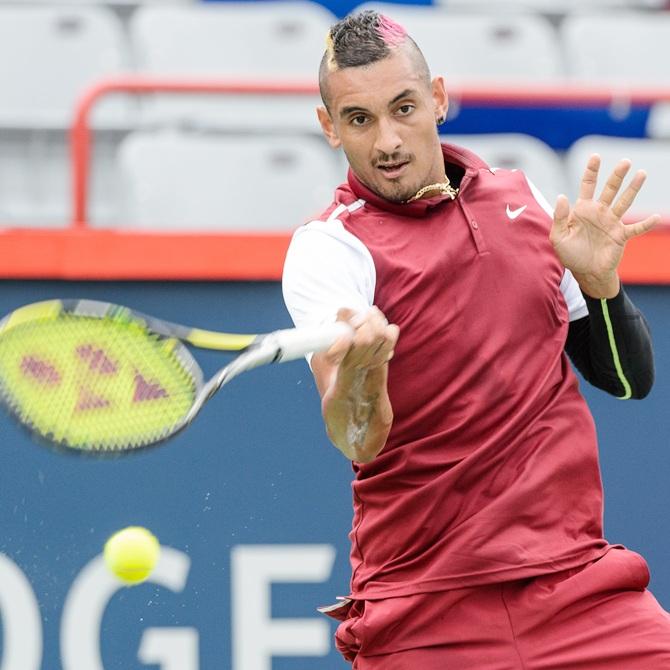 Australia's Nick Kyrgios courted more controversy with an off-colour remark to his opponent Stanislas Wawrinka during the second round at the Rogers Cup.
World C'ships: Saina, Sindhu march into quarters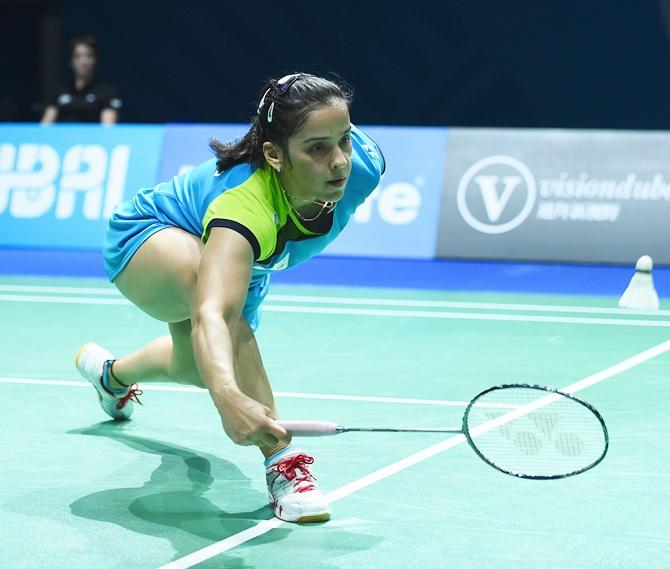 India's shuttle queen Saina Nehwal emphatically progressed into the quarterfinals of the World Badminton Championship.
Why Caroline Wozniacki is criticising the WTA...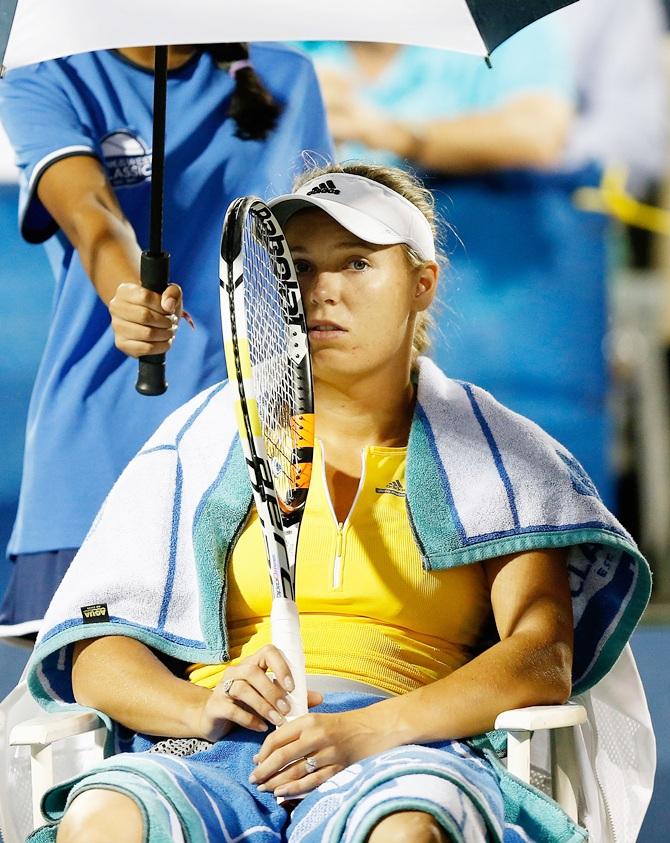 Wozniacki blasts WTA Tour for forcing her to play in the tournament without proper preparation.
Why Dzeko will continue to be Manchester City fan?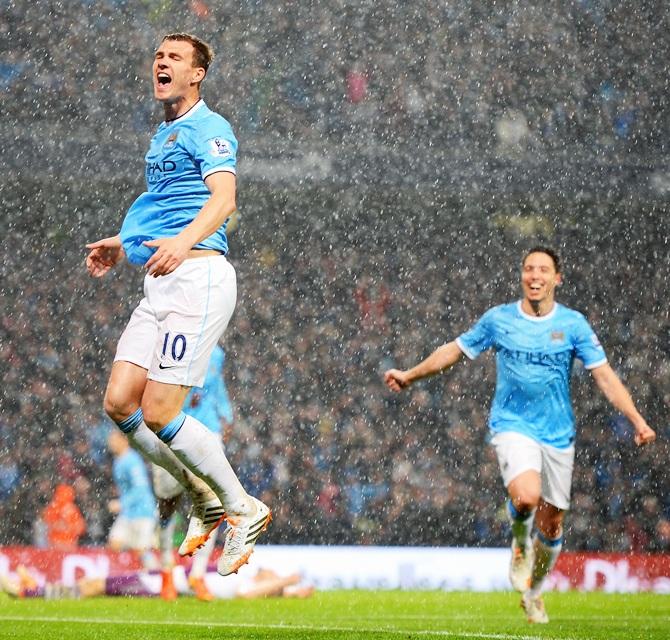 Edin Dzeko has bid an emotional farewell to Manchester City fans after joining Roma.
5 reasons why Serena plays second fiddle to Sharapova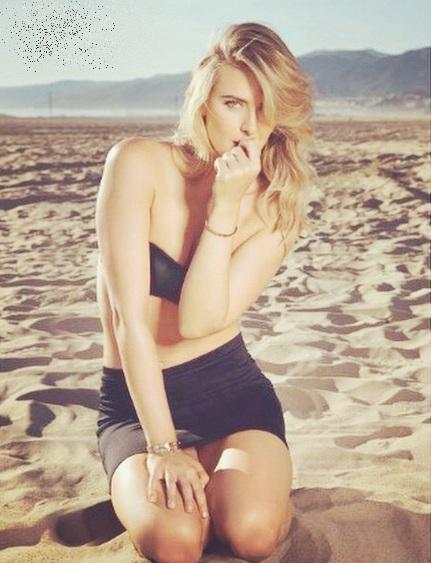 Williams is arguably the greatest female athlete, but sponsors have often avoided the 21-time Grand Slam singles champion.
Sensational Sharapova: 11 years of domination and counting!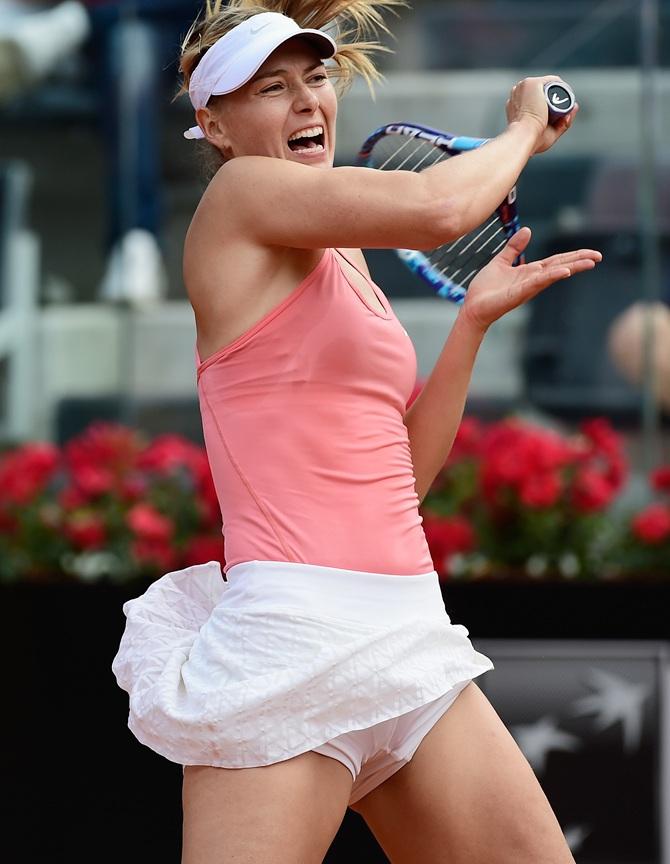 Tennis star Maria Sharapova again tops the list of highest earning female athletes over the past year, according to Forbes.
Rogers Cup: Murray, Nadal advance; but other seeds tumble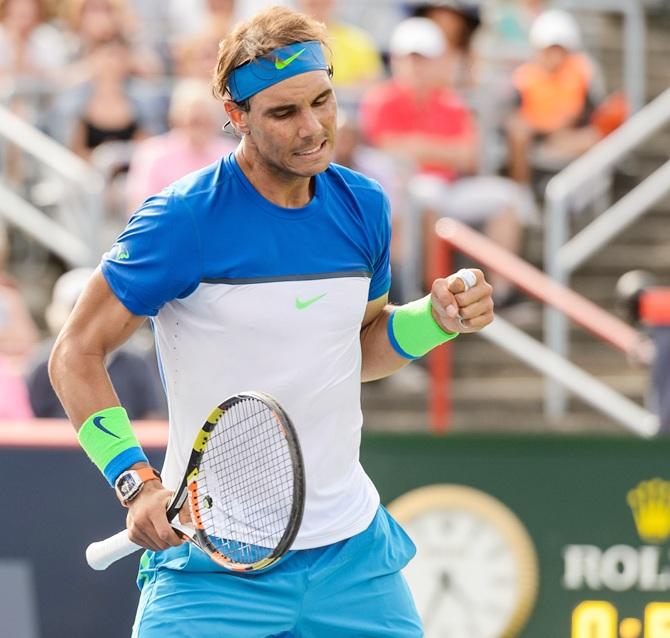 Andy Murray and Rafael Nadal were winners but six seeds were beaten in a day of upsets in the second round at the Rogers Cup in Montreal on Thursday.
August 12, 2015
Glasgow to host Britain's Davis Cup semi-final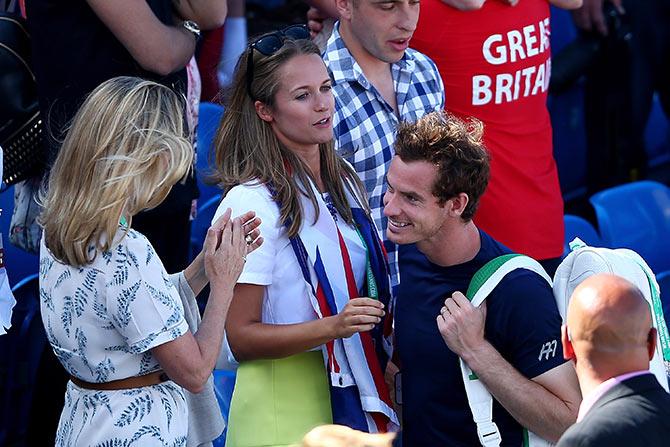 Andy Murray believes the unique Glasgow atmosphere can fire Britain to the Davis Cup final after the Scottish city was on Wednesday confirmed as the venue for the semi-final against 28-times champions Australia.
Europe hockey tour: India score over Spain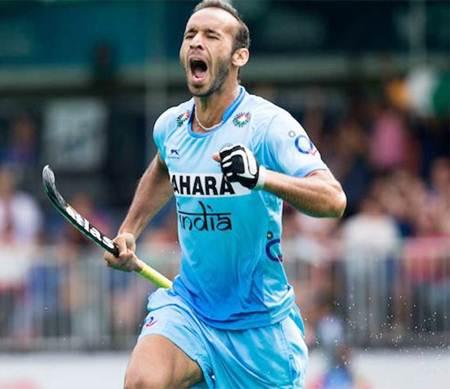 The Indian men's hockey team returned to winning ways with a 2-0 victory over Spain in the fourth match of their ongoing tour of Europe, in Sant Cugat del Valles (Spain), on Wednesday.
Srikanth, Prannoy progress at World C'ships; Kashyap loses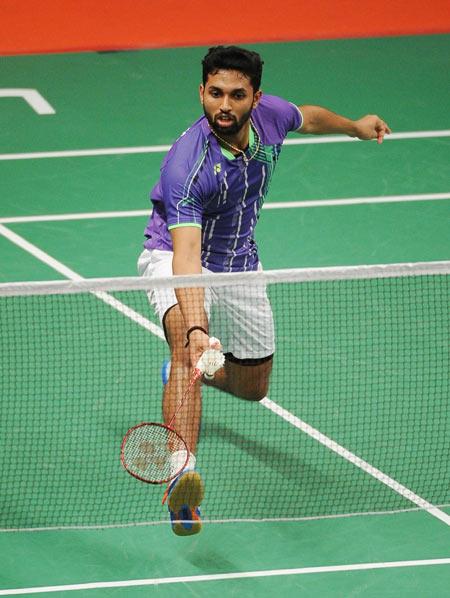 Kidambi Srikanth and H S Prannoy sailed into the pre-quarter-finals, but it was heartbreak for Parupalli Kashyap in the men's singles at the World Badminton Championships in Jakarta on Wednesday.
Chelsea doctor Carneiro restricted from matches and training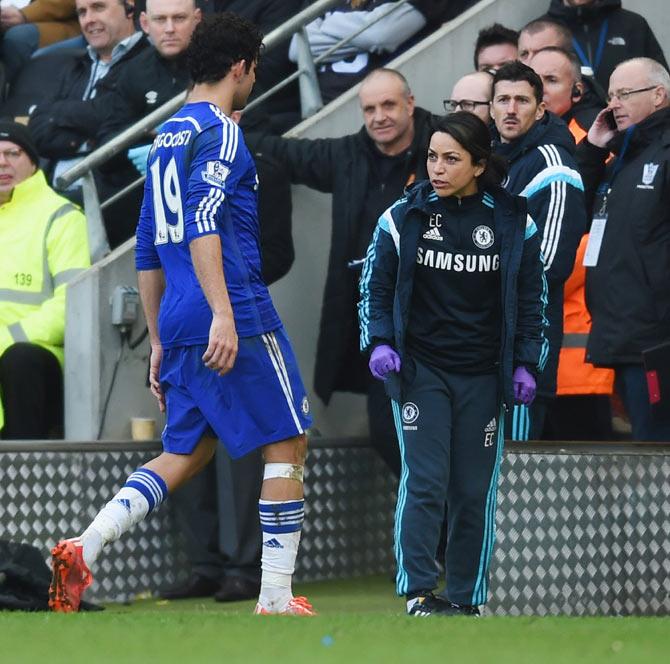 Eva Carneiro set to lose place on bench after Mourinho criticism
Controversy's child, Barton loses West Ham deal following fan protest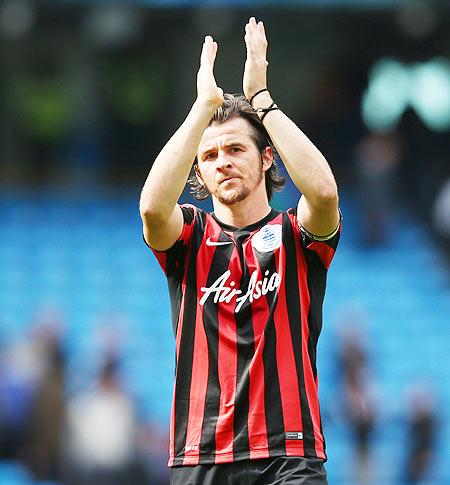 Midfielder Joey Barton has confirmed he will not join West Ham after the club pulled out of talks over a potential deal following protests from their fans.
Courtois to miss Man City game after losing red card appeal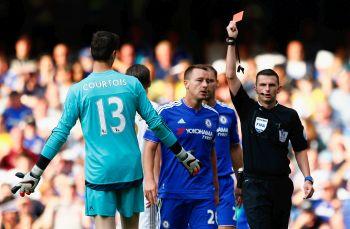 Chelsea goalkeeper Thibaut Courtois will miss the champions' visit to Manchester City on Sunday after an appeal against a red card for the Belgian international was rejected by the Football Association.
Error-prone Bouchard positive despite another early exit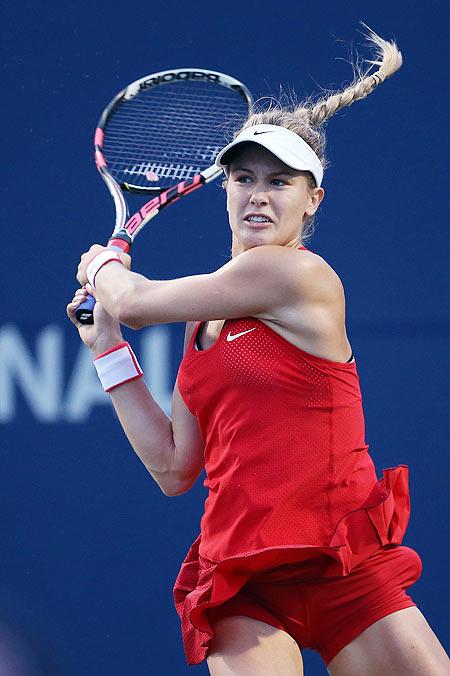 Eugenie Bouchard was hailed as the new face of women's tennis just 12 months ago but the Canadian's downward spiral continued on Tuesday with a humbling 6-0, 5-7, 6-2 loss to Swiss Belinda Bencic in the opening round of the Rogers Cup.
Broken four times by Panetta, rusty Williams advances despite glitches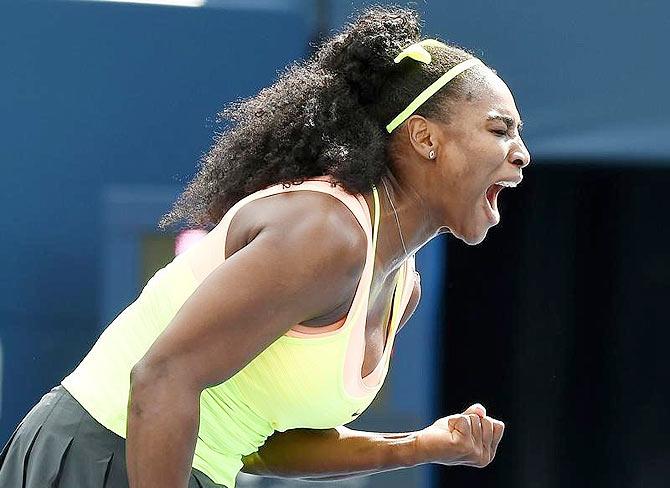 Playing her first match of the North American hard court swing after pulling out of last week's event in Stanford with a sore right elbow, Williams played a ragged opening set in which she was broken four times while firing four double faults.
IPL-like league possible in snooker, billiards: Advani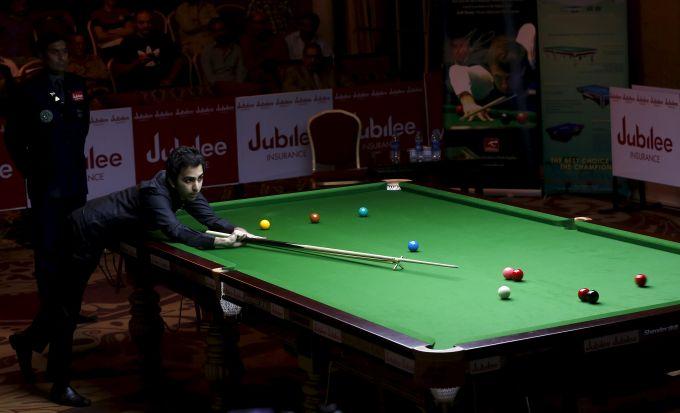 Pocketing his 13th World title, ace cueist Pankaj Advani feels that an IPL-like league in snooker or billiards would be a possibility in the game that has become financially rewarding.
Rogers Cup: Djokovic struggles; Karlovic 'aces' tennis history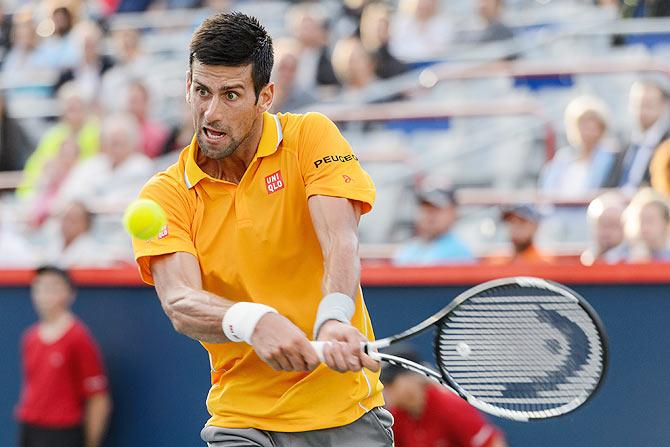 World No 1 Novak Djokovic kicked off his bid for a fourth Canadian crown with a 6-3, 7-6(4) second round win over a stubborn Thomaz Bellucci at the Rogers Cup on Tuesday.
In a nine-goal feast, Messi brace, Pedro winner hand Barca Super Cup!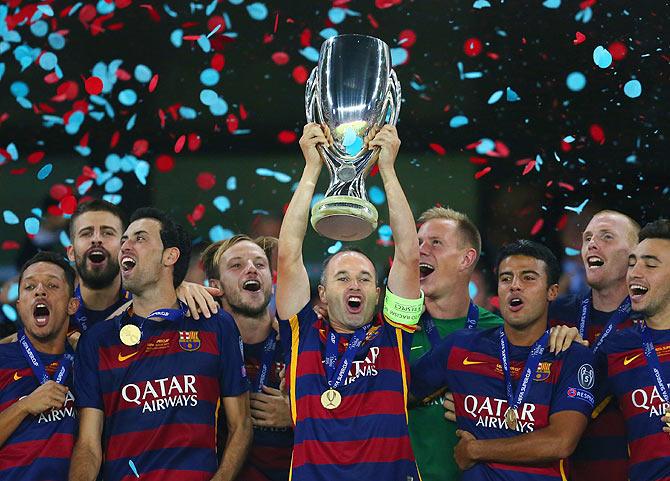 With five titles, Barca are now level with AC Milan on all-time UEFA Super Cup winners list
Man United playing risky game over De Gea saga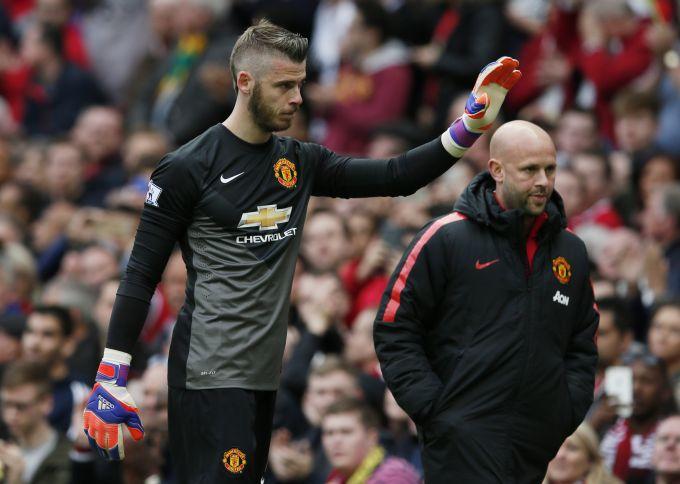 Former Manchester United manager Alex Ferguson once said he would not sell Real Madrid "a virus" let alone Cristiano Ronaldo but, as even he found out, when the Spanish giants come knocking they usually get what they want.
August 11, 2015
IAAF bans 28 after 2005, 2007 world champs retests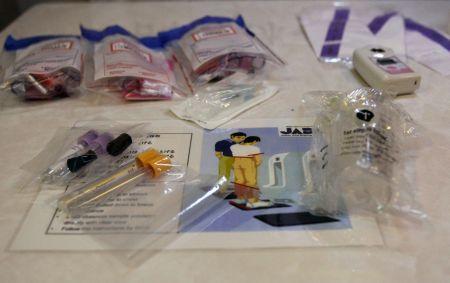 Turning to new technology to uncover previously undetected substances, the IAAF has initiated disciplinary action against 28 athletes after retested samples from the 2005 and 2007 World Championships found 32 adverse doping findings.
Pankaj Advani bags 13th world title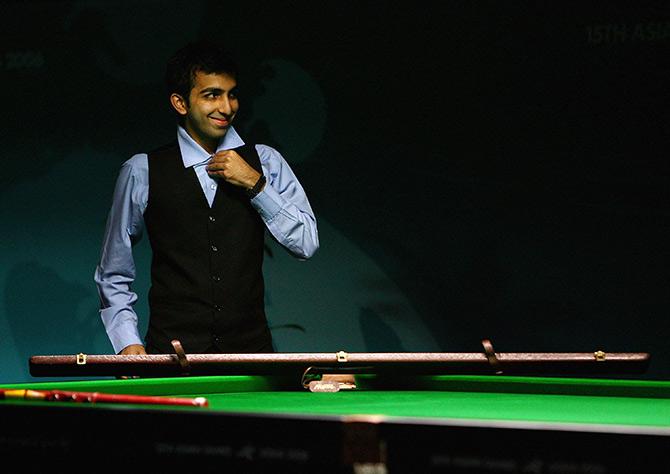 India's poster boy of cue sports Pankaj Advani clinched his 13th world title after winning the World 6-Red Snooker Championship in a convincing manner in Karachi.
Stoke City break club record to sign Xherdan Shaqiri from Inter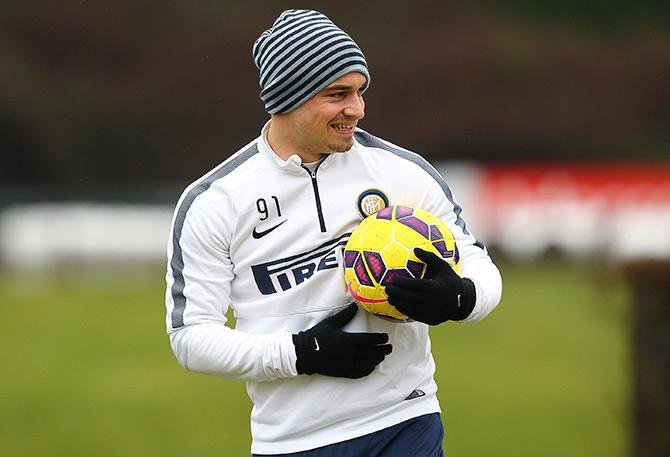 Stoke City signed Swiss international winger Xherdan Shaqiri from Inter Milan for a club record 12 million pounds on Tuesday, the Premier League club said on their website.
'Manchester United want to be challenging on all fronts'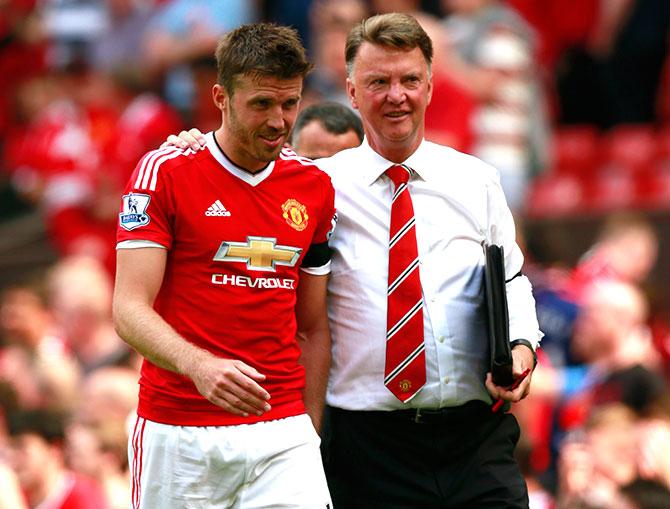 Midfielder Michael Carrick thinks Manchester United's summer signings have quickly settled at Old Trafford and will do their bit in helping the club challenge for major honours this season.
Ex-IOC official Carrard to head FIFA reform task force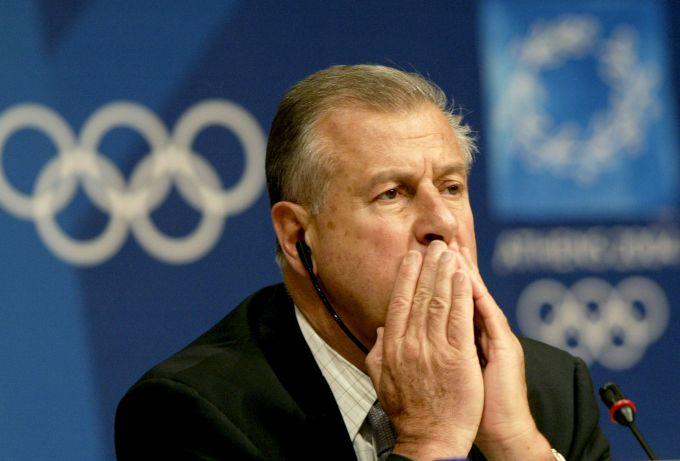 Scandal-plagued FIFA have turned to the man who helped the International Olympic Committee (IOC) out of their corruption crisis, appointing Swiss Francois Carrard as chairman of their reform committee.
Khel Ratna recommendation most amazing news: Sania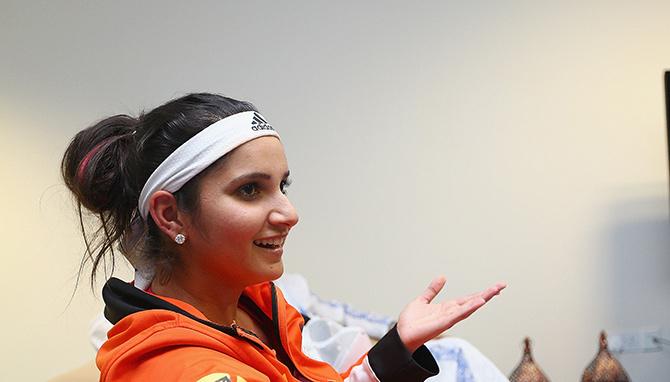 Sania Mirza reacted with delight at her being recommended for the prestigious Rajiv Gandhi Khel Ratna, describing it as the "most amazing" development.
Now, I can proudly say that I am an Arjuna awardee: Poovamma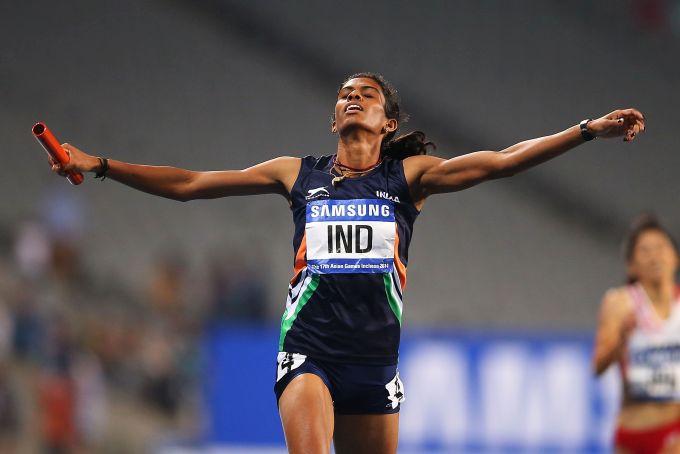 Expressing happiness at the recommendation for the coveted Arjuna Award, ace quartermiler M R Poovamma described it as a "dream come true".
5 lesser known facts about Sania Mirza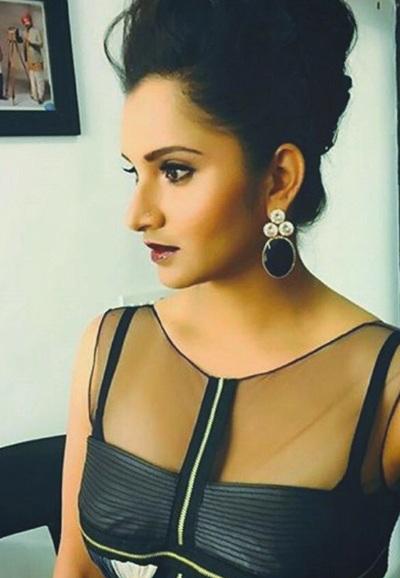 Tennis ace Sania Mirza wins the Khel Ratna award. Last week, the Sports Ministry confirmed that Wimbledon doubles champion Sania Mirza had been recommended for the Rajiv Gandhi Khel Ratna.
Sania is only second tennis player to be named for Khel Ratna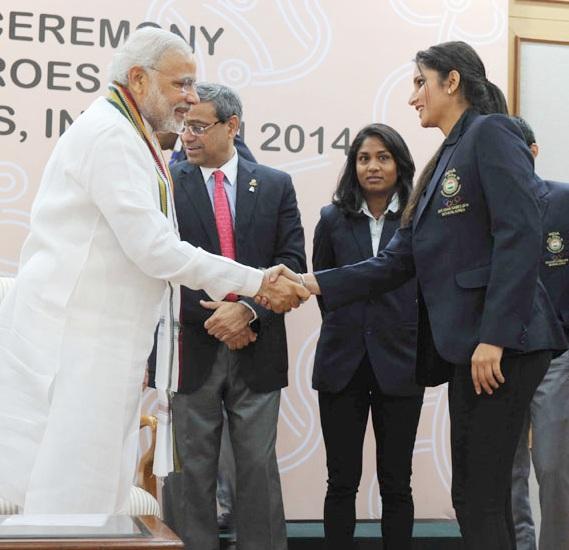 Sania Mirza was recommended for the prestigious Rajiv Gandhi Khel Ratna award on Tuesday. She is only the second tennis player ever to be named for the country's highest sporting honour.
Where are the home-grown youngsters in the EPL?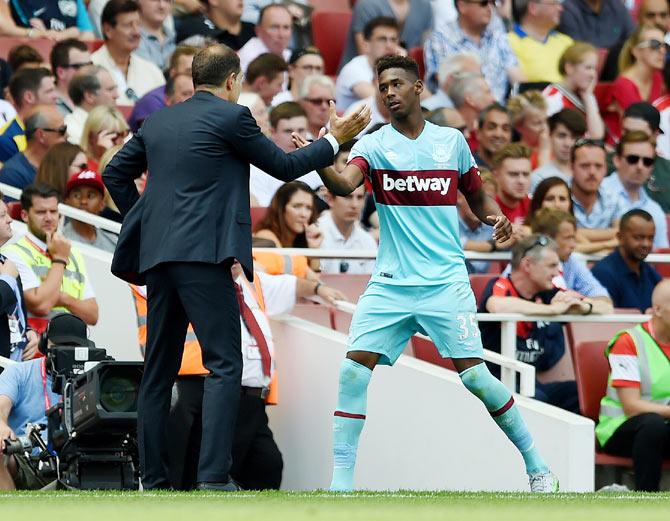 Of the 220 players who started for Premier League clubs at the weekend, only 73, or 33.2 per cent, were eligible to play for England.
EPL: What Blind lacks in height he makes up with clever play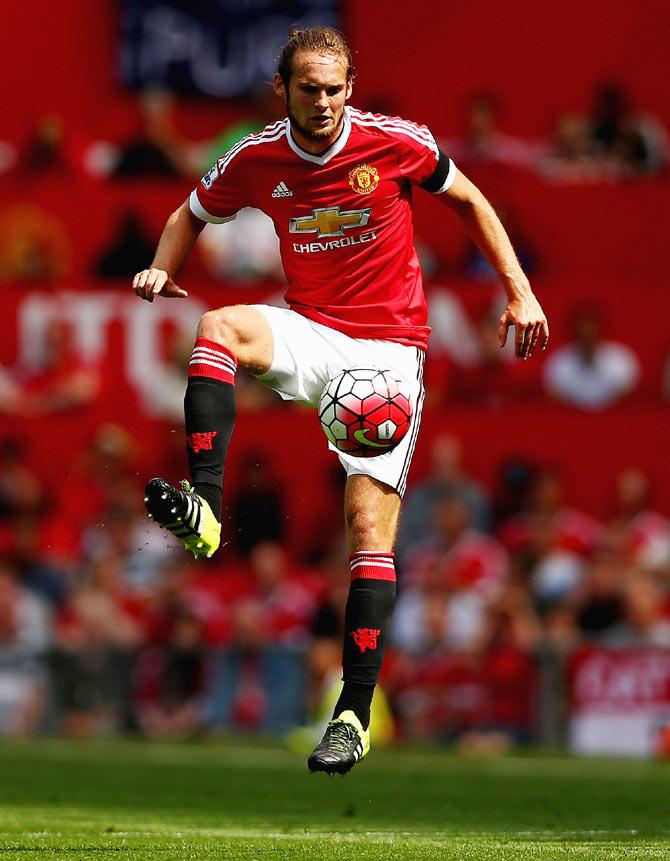 Daley Blind may lack the height and power but the Manchester United midfielder insists he possesses the footballing intelligence to flourish as a centre-back.
Shooter Nanjappa seals Rio spot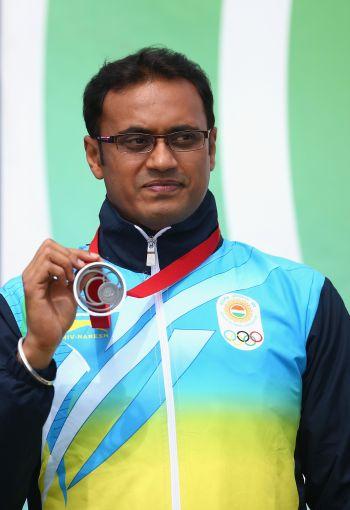 India's Prakash Nanjappa has earned a quota place for the 2016 Rio Olympics after finishing eighth in the finals of 50-metre men's pistol event at the ISSF World Cup in Gabala, Azerbaijan.
Sindhu, Srikanth off to a winning start at World Championships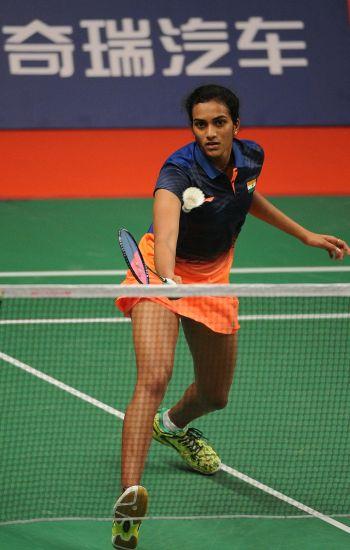 Two-time bronze medallist, P V Sindhu and Kidambi Srikanth started their campaign at the World Badminton Champion with contrasting victories in the women's and men's singles competition respectively in Jakarta.
Watch out Barcelona, six trophies up for grabs!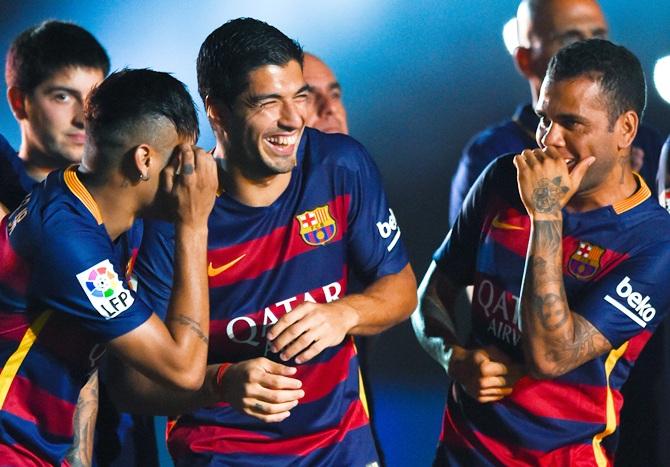 Winning the treble last season has spurred Barcelona to try and win all six trophies up for grabs this year and replicate the feat they achieved in 2009, midfielder Andres Iniesta said on Monday.
Thibaut Courtois: Chelsea appeal red card shown to goalkeeper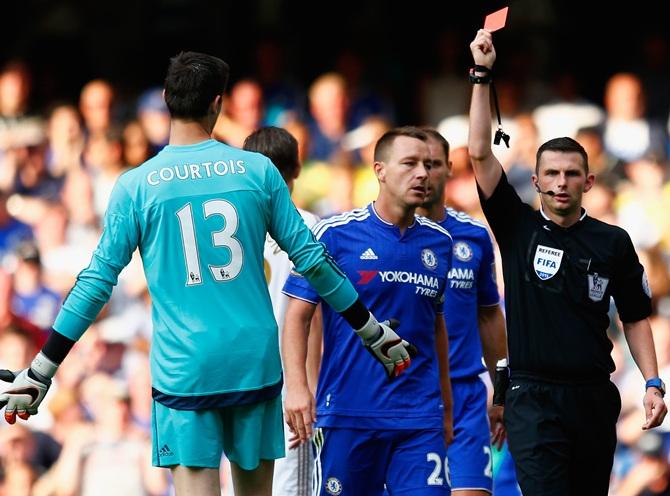 Premier League champions Chelsea have decided to appeal against the red card shown to Belgium goalkeeper Thibaut Courtois in the 2-2 draw against Swansea City, according to several media reports on Monday.
Europe hockey Tour: India go down to Spain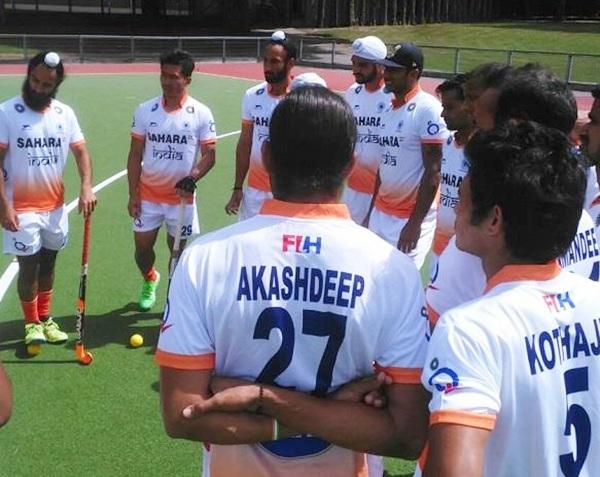 Failing to sustain an aggressive start, the Indian men's hockey team went down to Spain 1-4 in its third match of the ongoing Europe Tour in Sant Cugat del Valles.
10 BEST Sports Photos of the Week!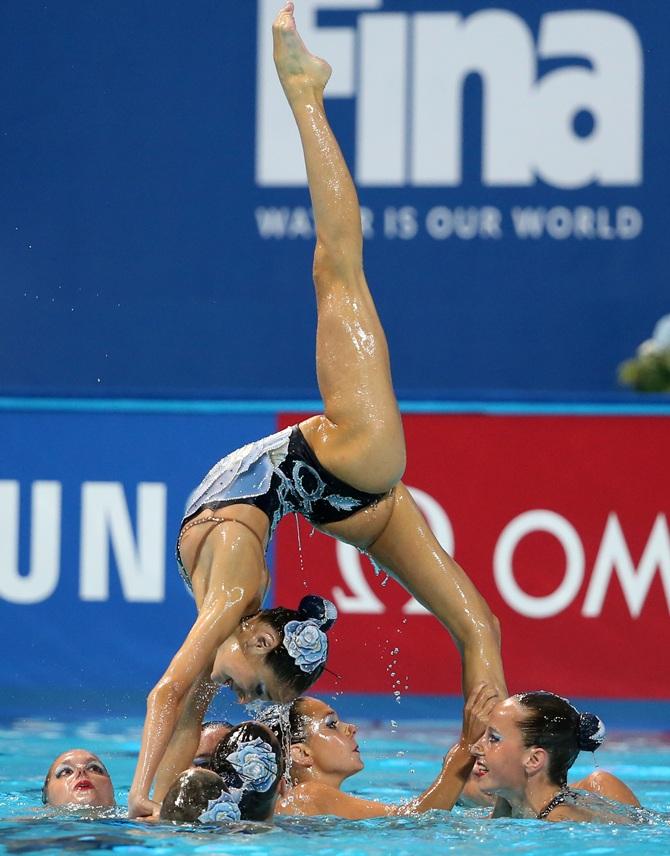 Here's a glimpse of all that happened around the world of sport last week, in 10 images.
History-chasing Serena wants to be in the 'here and now'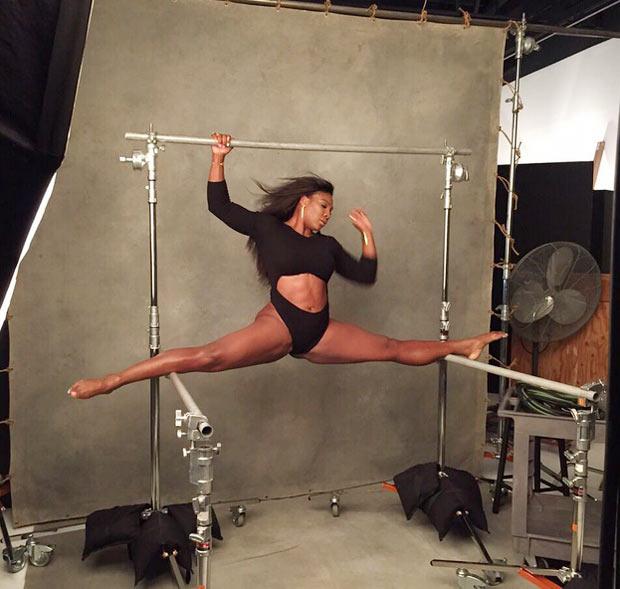 'I'm not thinking ahead to the Open right now because I am here in Toronto and I haven't really played a hard court match in awhile. I'm thinking I want to get some of this under my belt and the Open will happen when the Open happens.'
Flying Frenchman Monfils, Simon advance in Montreal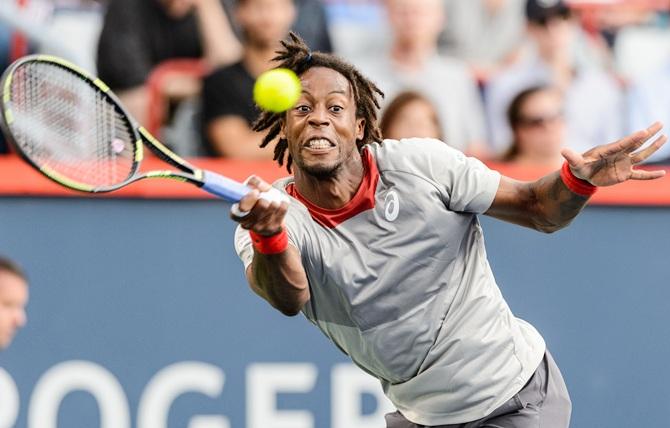 The French flag flew proudly in Montreal on Monday as Gilles Simon and Gael Monfils advanced to the second round of the Rogers Cup.
After a lengthy rain delay, Lisicki routs Venus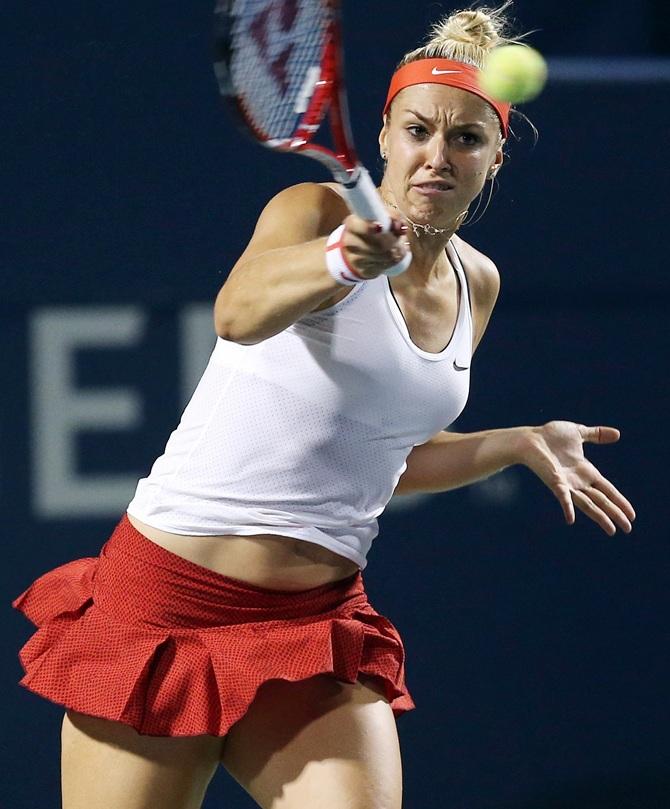 After a long rain delay Germany's Sabine Lisicki made quick work of Venus Williams, strolling into the second round of the Rogers Cup on Monday after routing the American 6-0 6-3.
EPL: Toure dazzles for slick City at powerless West Brom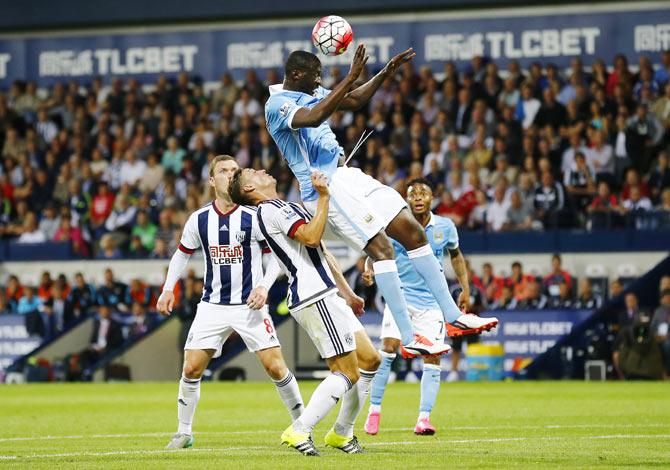 Photos from the EPL match played between Manchester City and West Bromwich Albion on Monday
Manchester United and South American players: Not quite a perfect mix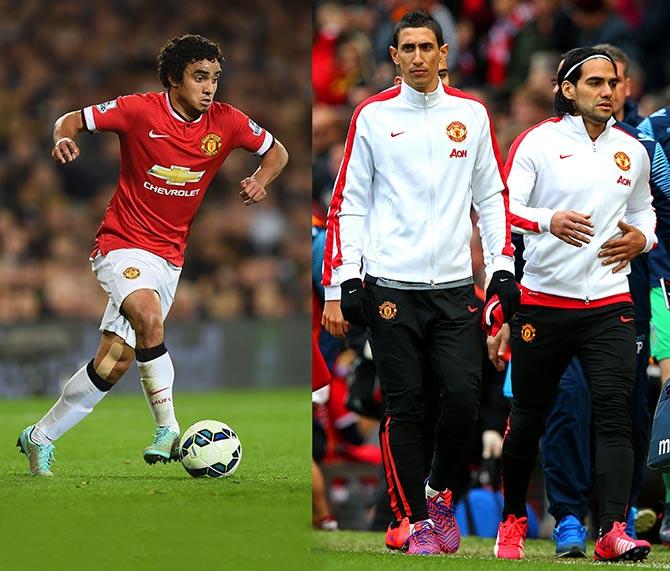 Following Angel Di Maria's nightmare stint, Bikash Mohapatra/Rediff.com says the 'Theatre of Dreams' has never been a happy a hunting ground for players from the continent
Lesser lights sparkle in opening round of EPL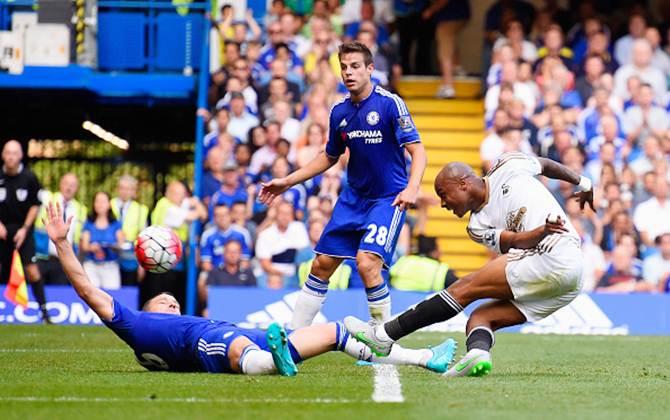 Despite a splurge of summer spending of more than 500 million pounds and counting, it was a free transfer from France who provided one of the standout moments of the Premier League's big kickoff.
August 10, 2015
Nadal says mental strength has returned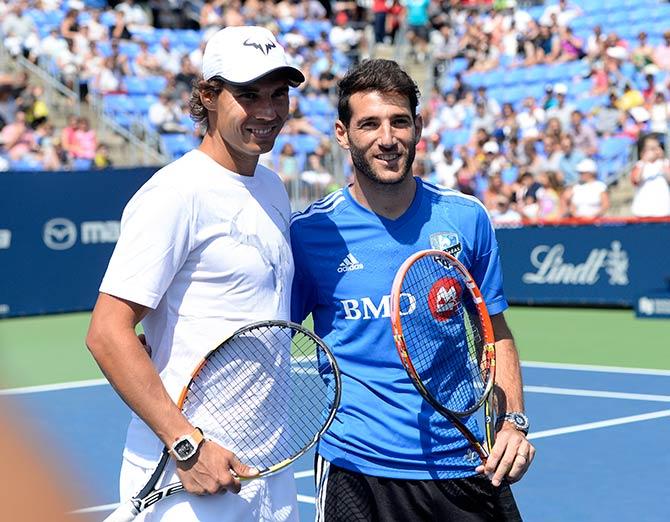 Rafa Nadal says his mental stability has returned after a topsy-turvy year for the former world number one.
West Brom break club record to sign Venezuelan striker Rondon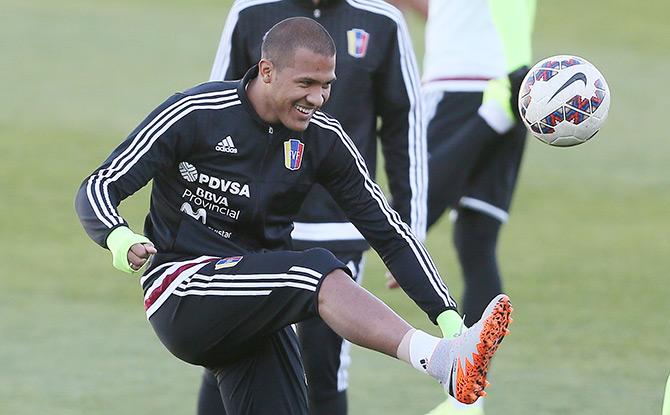 West Bromwich Albion broke their club-record transfer fee to sign Venezuelan striker Salomon Rondon from Russian club Zenit St Petersburg, the Premier League club said on Monday.
REVEALED! West Ham teenager was rejected by Tottenham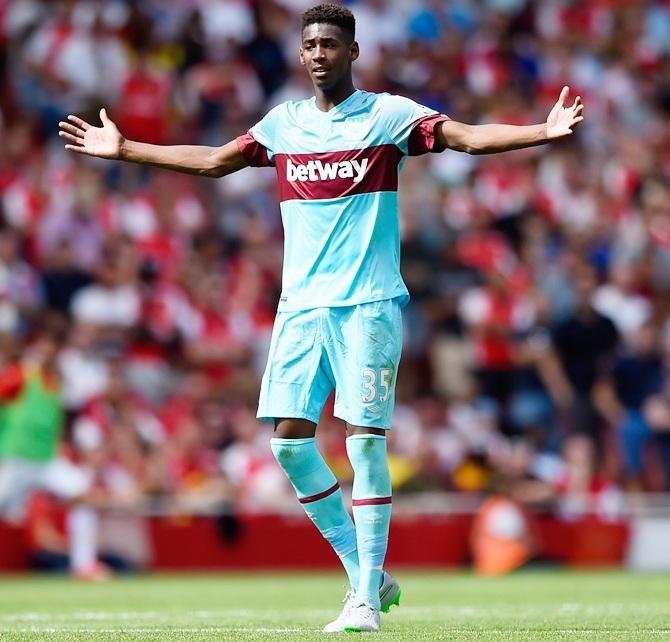 Tottenham rejected Reece Oxford before he joined West Ham.
Depay proud to wear United's famous No 7 shirt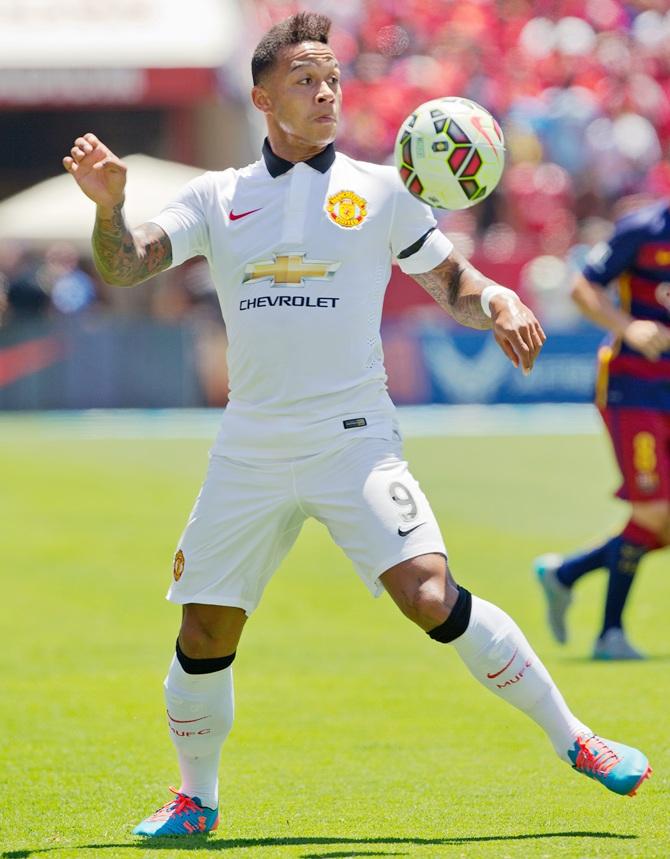 Memphis Depay keen to prove worthy of Manchester United's No 7 shirt.
Gurbaj suspended for 9 months for 'disciplinary issues'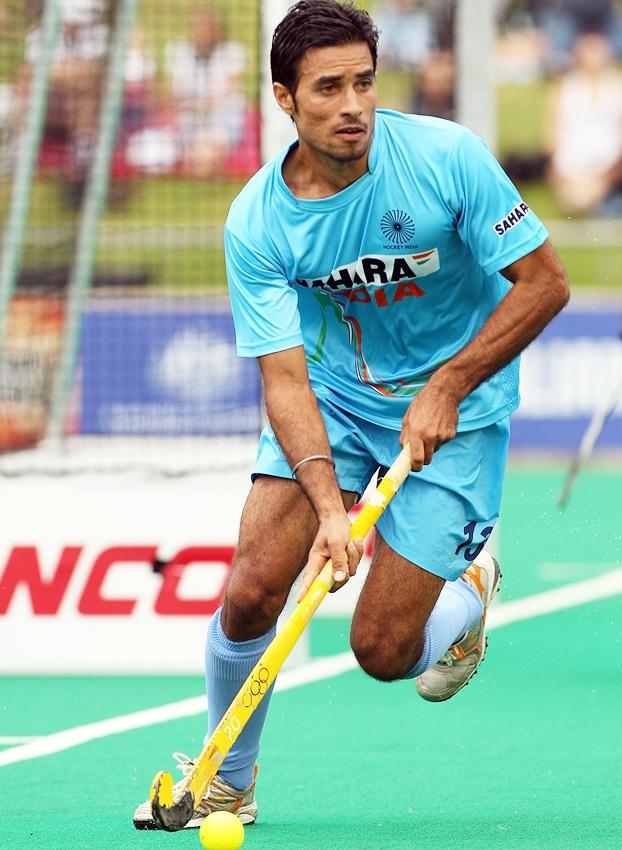 Senior India hockey player Gurbaj Singh was suspended for nine months on Monday for allegedly indulging in groupism and creating disharmony within the team.
PHOTOS: Scooterists reign in the dirt and rain!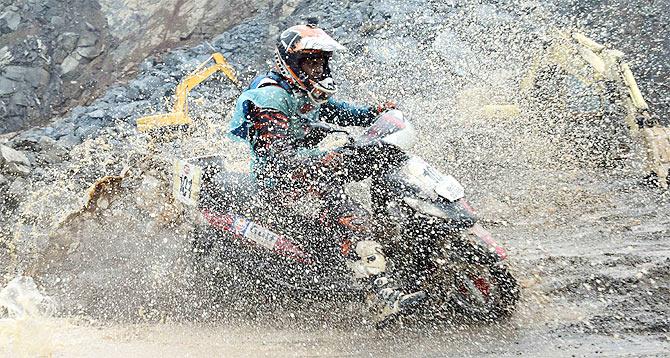 Come the rains and two-wheeler racing fanatics line-up for the popular off-beat challenge. The latest edition was on Sunday, August 8. There were entries from Mumbai, Nashik, Pune, Thane, Bangalore, Bhopal, and Jodhpur. Like previous years, this time too Sportscraft chose the backwoods of Navi Mumbai to give riders a chance to test their driving and racing skills in a safe environment.
Super Cup: Pedro to step in for Neymar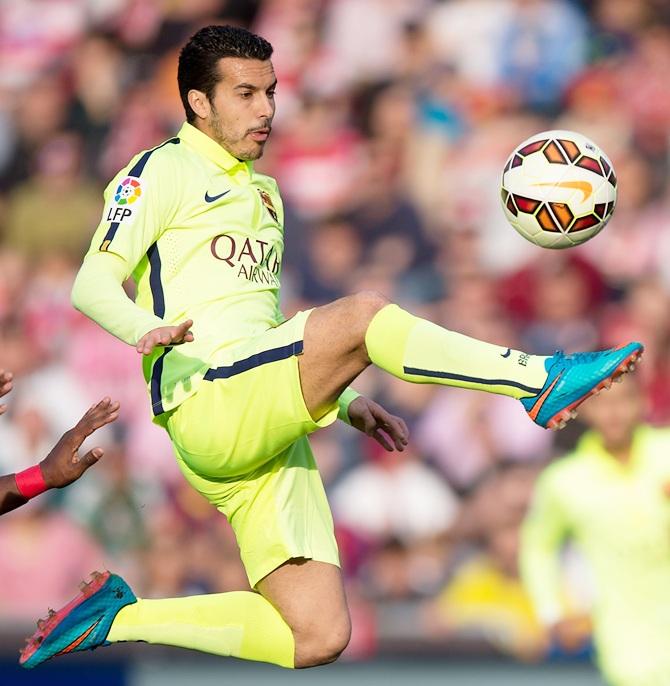 Barcelona will be missing the lethal touch of Neymar in attack for the UEFA Super Cup against Sevilla.
Leicester striker Vardy apologises for racial slur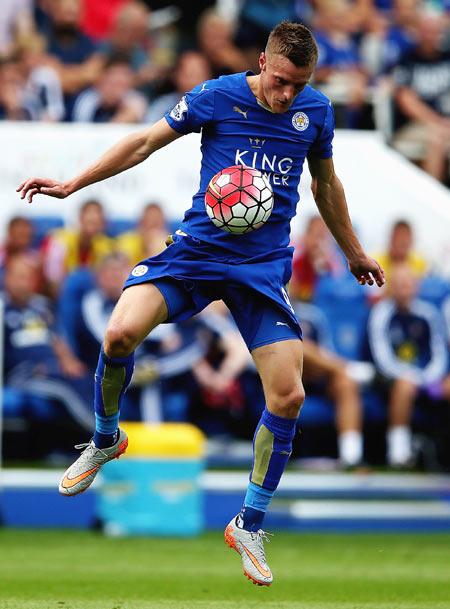 The Sun on Sunday published a video showing the alleged incident, which is believed to have taken place in July.
Badminton Worlds: Kashyap, Prannoy advance to Round 2 after easy wins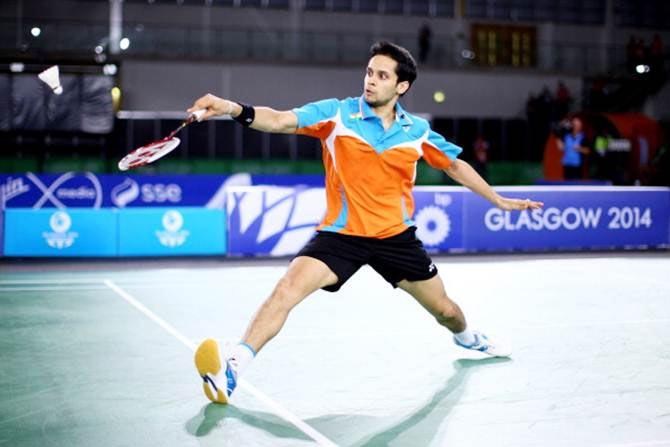 But the Indian mixed doubles pair of Arun Vishnu and Aparna Balan suffered a close 18-21, 21-10, 22-24, loss to Russian pair of Evgenij Dremin and Evgenia Dimova, while another pair of Tarun Kona and Sikki N Reddy too went down 13-21, 17-21 against Liao Min Chun and Chen Hsiao Huan of Chinese Taipei.
Giroud did not suffer concussion following collision in West Ham tie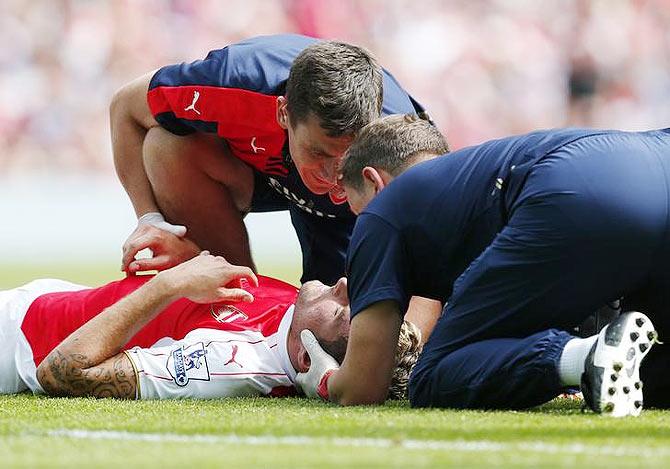 The 28-year-old France international collided with Tomkins in the 76th minute at the Emirates and appeared to be dazed by the clash, but was left on the pitch after being assessed by his team's medical staff.
How swimmers will deal with Rio night races?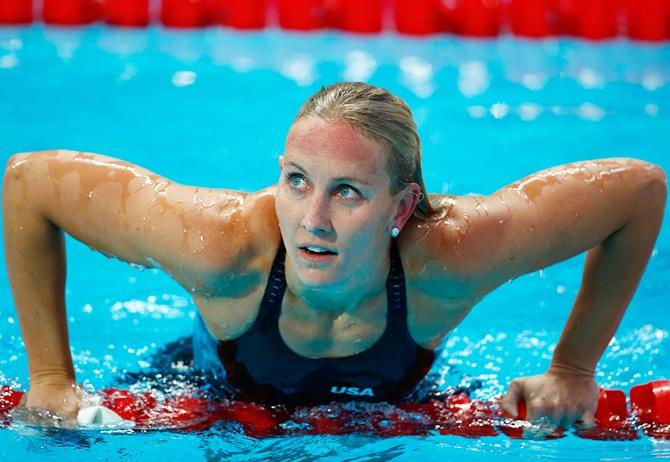 Swimming's top nations are setting their sights on how to deal with midnight finishes during the Rio 2016 Olympics.
Chelsea don't miss 'keeper Cech: Mourinho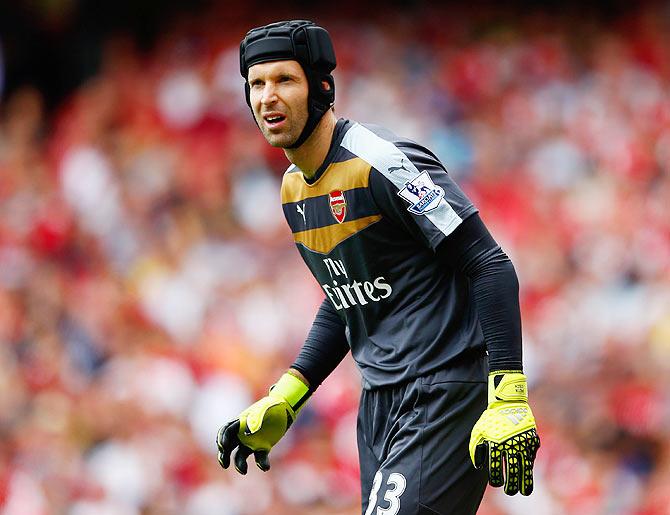 'The problem with Petr is that an opponent is better than before'
Chinese Olympic champ Sun in middle of controversy once again!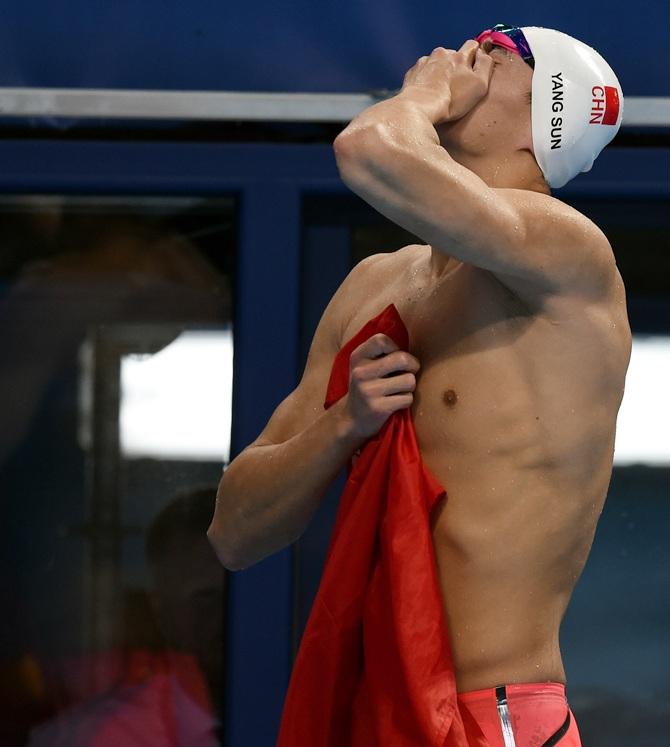 The coach of Brazil's national swimming team says China's Olympic champion Sun Yang tried to elbow and kick a female swimmer.
Football weekend scarred by violence on and off the pitch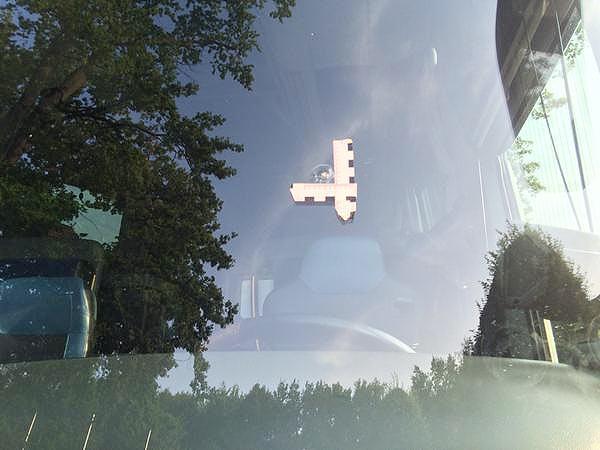 Hertha Berlin team bus shot at by motorcyclist and penalty prompts riot police to protect referee in Brazil league match.
Check out Europe's chaotic soccer weekend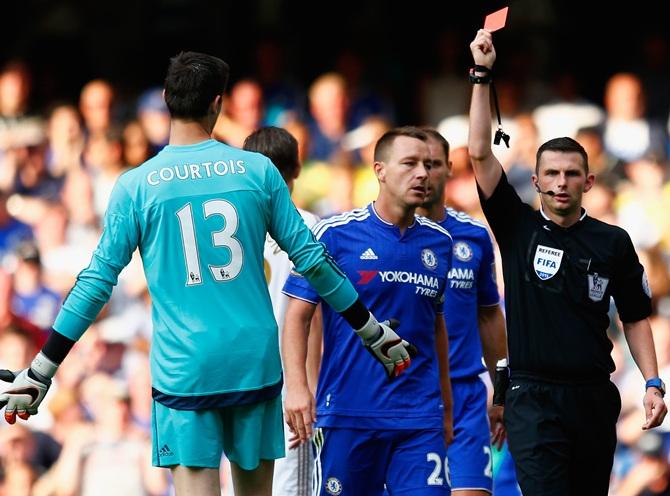 Rediff.com brings you the top highlights of the soccer weekend.
German Cup: Fourth-tier Jena stun Hamburg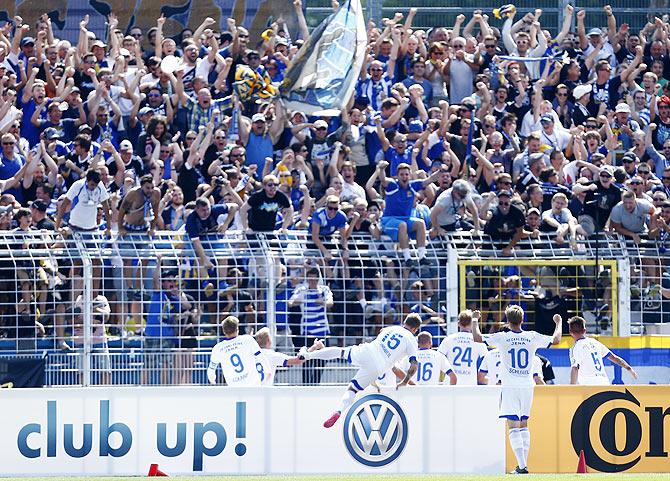 Fourth division club Carl Zeiss Jena stunned Hamburg SV 3-2 in the German Cup on Sunday, taking the scalp of the Bundesliga's former European champions to cause the biggest sensation of the competition's first round.
EPL: Gut instinct over tactics pays off for Liverpool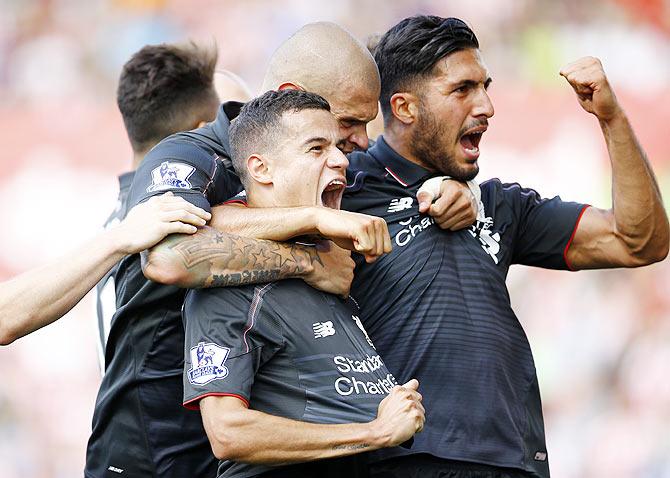 'We were looking at making a positive change -- so Coutinho was going to come off and we were going to put Danny Ings on. I'm glad I kept him on'
Kerber matches Serena's title record this season with Stanford triumph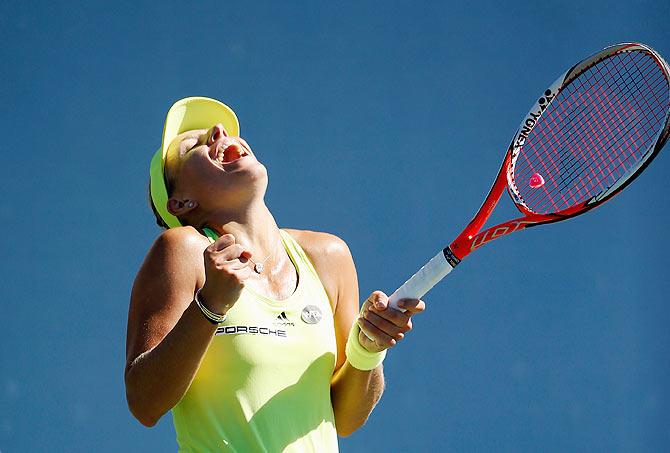 Runner-up Pliskova will move into the top-10 of the world rankings for the first time in her career
EPL: Hammers' 16-year-old Oxford enjoys dream debut vs Arsenal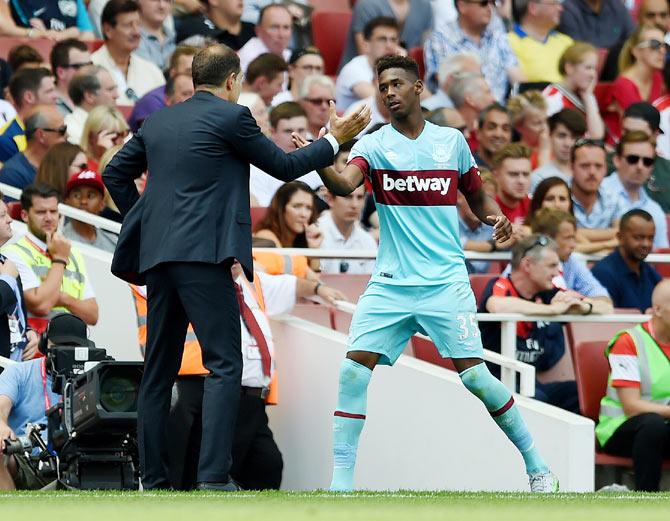 'I thought we need someone to sit in front of the defence who is cool and can be a third defender, but who can also play on the ball. I am very proud of him.'
Leaked doping data casts doubt over major marathons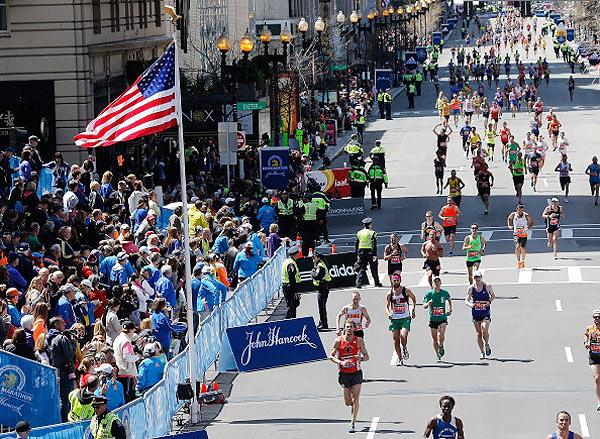 Britain's Sunday Times and Germany's ARD say the results from the database of the sport's governing body, the International Association of Athletics Federations (IAAF), show evidence of widespread cheating among long distance runners.
Nishikori rises in the rankings after claiming Washington title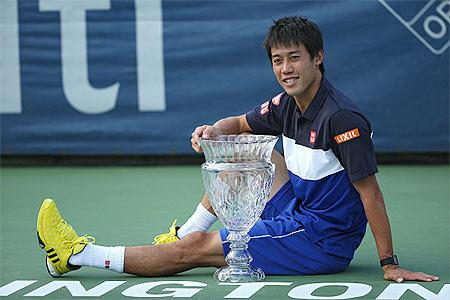 "It's been an amazing year so far," said the 25-year-old Nishikori, who will move up to fourth from fifth in the world rankings.
August 09, 2015
Arsenal optimism punctured as West Ham claim shock win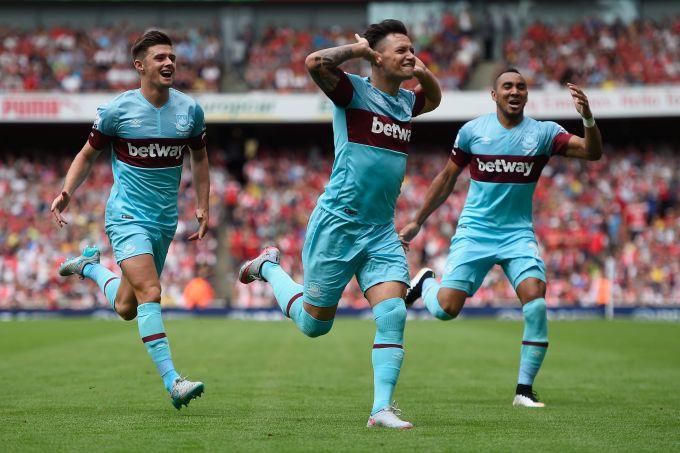 West Ham United capitalised on two mistakes from Arsenal's new goalkeeper Petr Cech to claim a surprise 2-0 victory at the Emirates and bring the Gunners' early Premier League optimism down to earth with a bump on Sunday.
Why Mourinho is angry with Chelsea's medical staff?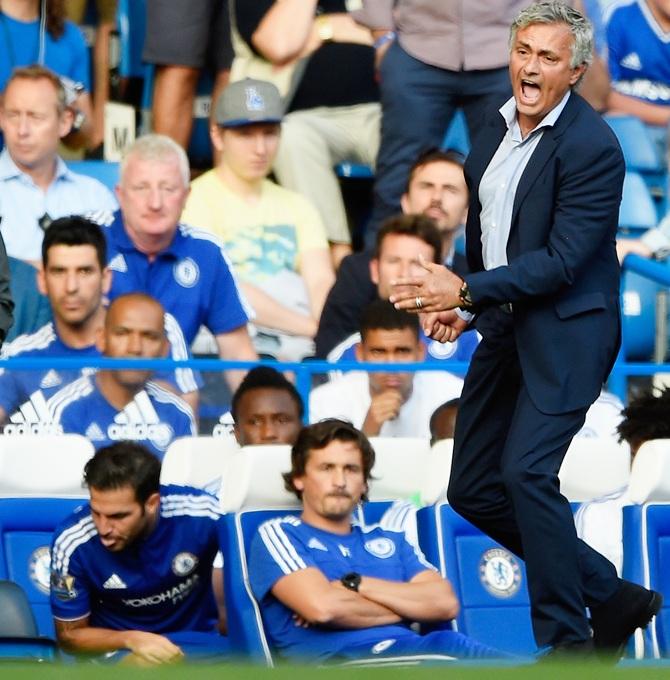 Chelsea's Jose Mourinho, who hoped to celebrate his new contract with victory at an expectant Stamford Bridge, ended up grateful his team did not become the first Premier League champions to start their title defence with a defeat.
Dramatic start to Chelsea's EPL season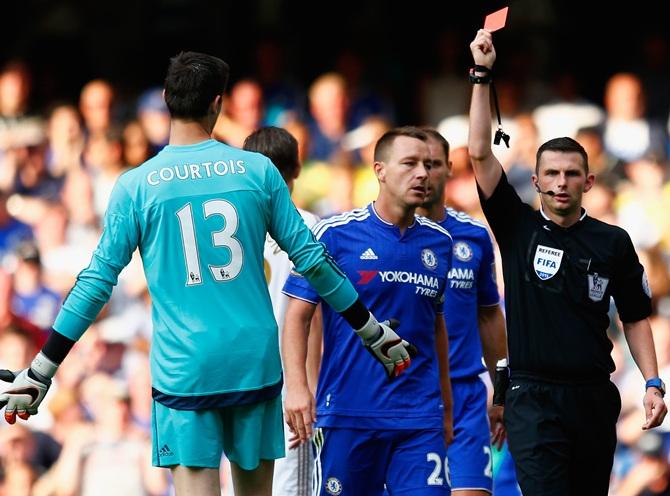 Ten-man Chelsea held amid high drama.
Phelps, beware! Le Clos is here!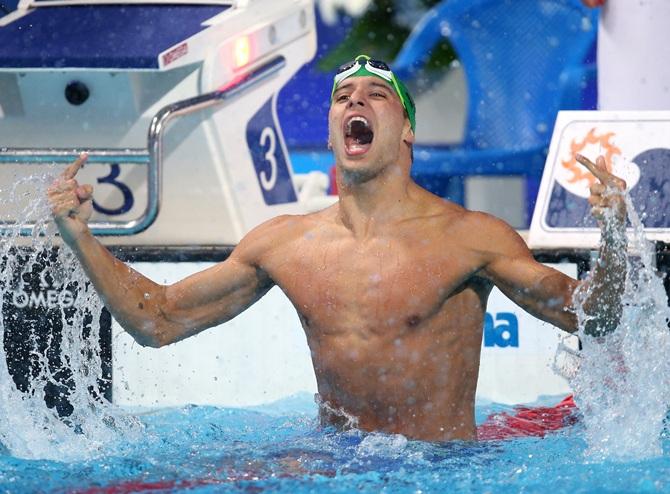 South African Chad le Clos threw down the gauntlet to rival Michael Phelps with a cheeky grin after powering to the 100 metres butterfly gold.
Will Karolina Pliskova be fourth time lucky?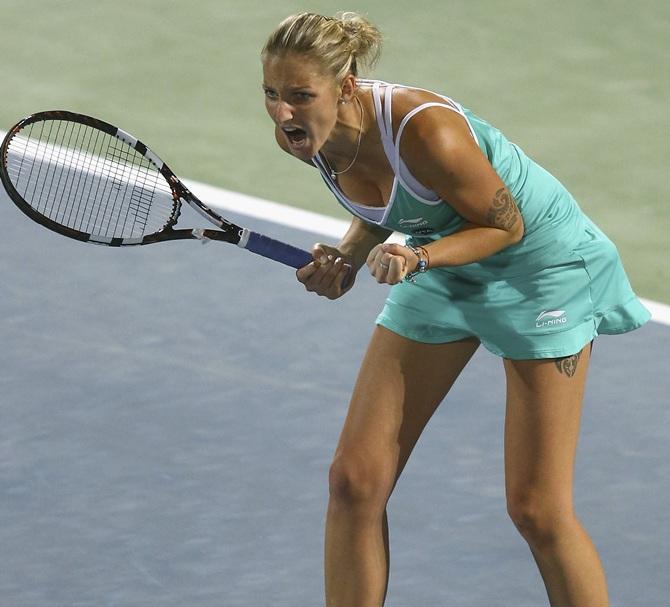 Czech Karolina Pliskova stopped upset-maker Varvara Lepchenko in the semi-finals at the Bank of The West Classic in Stanford, California, on Saturday.
Nishikori reverses 2014 US Open result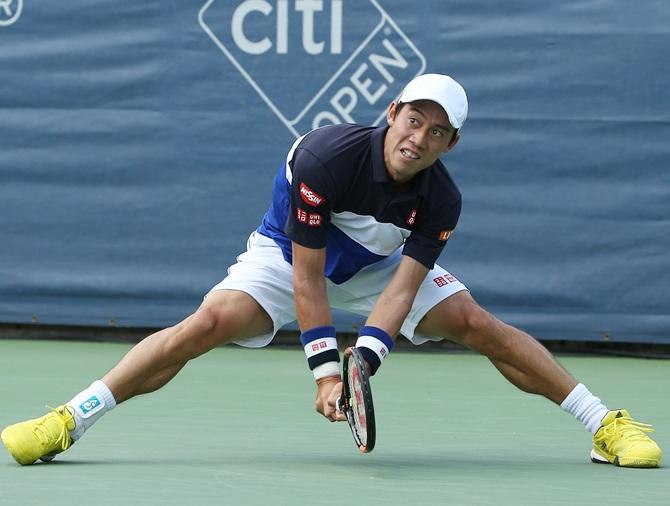 Kei Nishikori exacted a measure of revenge against Marin Cilic when the Japanese world number five overcame the Croatian in the semi-finals of the Citi Open.
August 08, 2015
World Swimming: Ledecky breaks 800m freestyle world record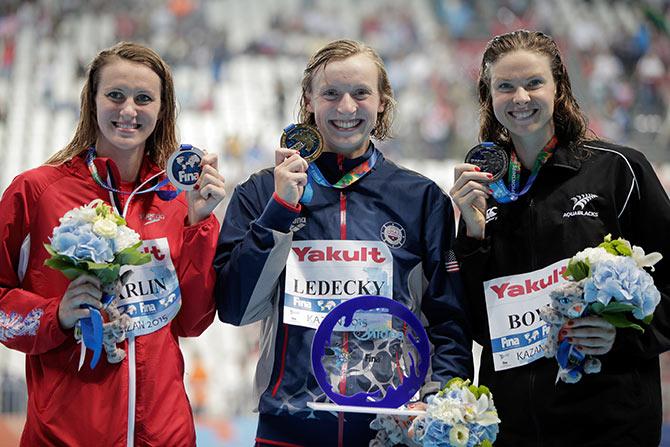 Katie Ledecky of the United States broke her own world record for 800 metres freestyle at the world swimming championships on Saturday.
Italian Super Cup: Mandzukic, Dybala help Juventus beat Lazio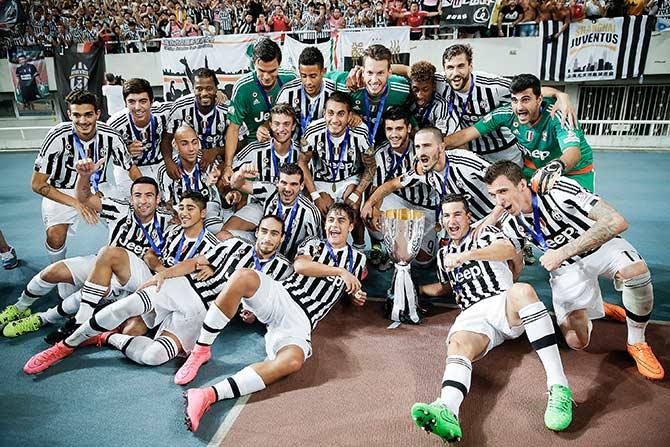 Italian double winners Juventus claimed their third Super Cup title in four seasons as new signings Mario Mandzukic and Paulo Dybala struck in the second half to secure their 2-0 win over Lazio in Shanghai on Saturday.
Walker own goal gifts Man United win in Premier League opener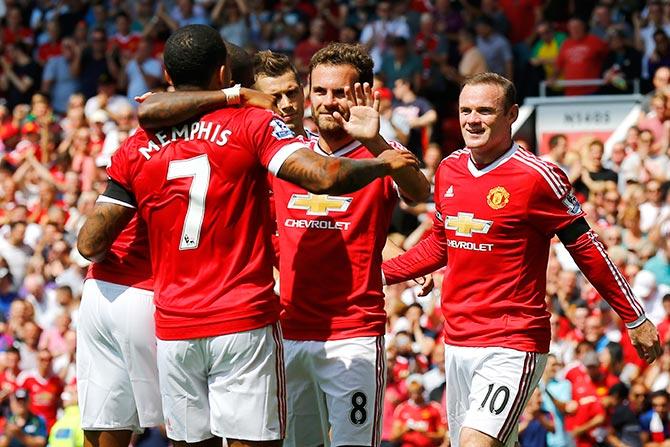 The Premier League kicked off in unique fashion on Saturday as an own goal by Tottenham Hotspur's Kyle Walker gave Manchester United a 1-0 victory in an undistinguished season opener at Old Trafford.
Australia stun All Blacks to win first Rugby Championship title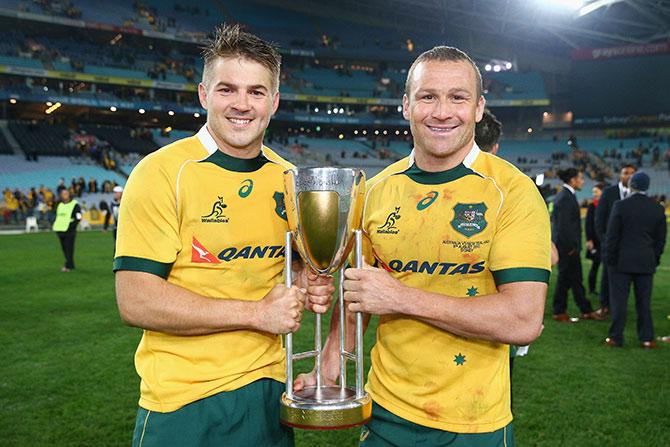 Australia stunned world champions New Zealand 27-19 to claim a first Rugby Championship title in the fourth year of the competition and a welcome boost ahead of the World Cup on Saturday.
Independent commission to urgently probe doping allegations: WADA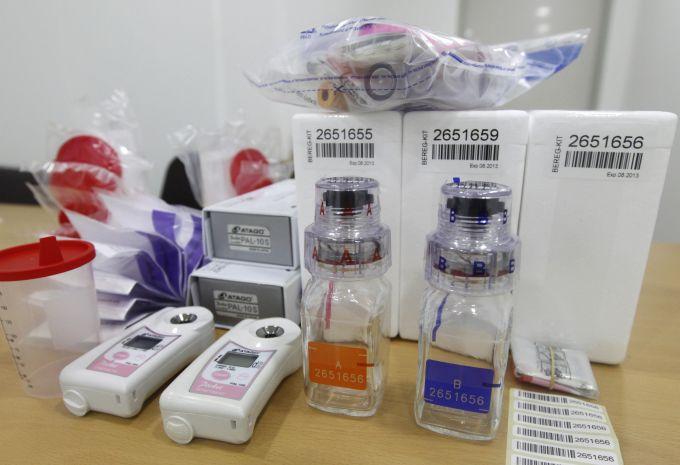 The World Anti-Doping Agency (WADA) said on Friday its Independent Commission will urgently launch an investigation into widespread doping allegations against international athletics.
No proof Button was gassed in burglary: prosecutor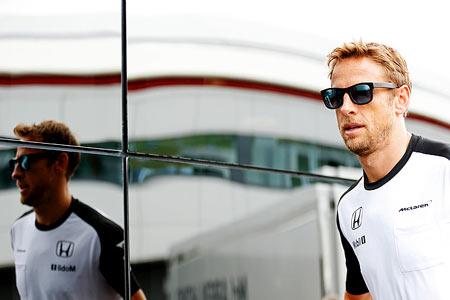 "For now, there is no proof (gas was used). This is based solely on their personal conviction as they had stomach aches when they woke up," he said.
10-man PSG make winning start to Ligue 1 campaign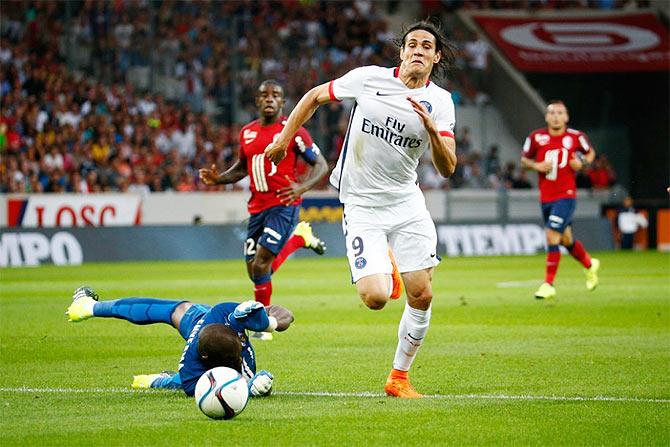 Ten-man Paris St Germain got the defence of their Ligue 1 title off to a good start when Lucas's second-half strike earned them a 1-0 win at Lille on Friday.
PIX: Australian duo Larkin and Campbell set records at swimming Worlds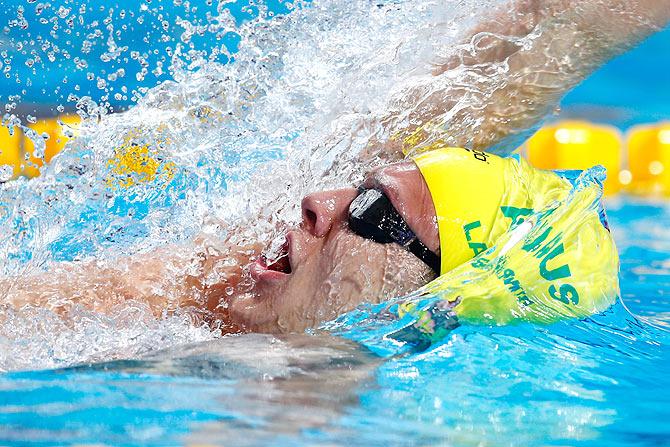 Mitchell Larkin completed a rare backstroke double and Bronte Campbell won the blue riband women's 100 metres freestyle title as Australia celebrated another golden night at the world swimming championships.
Cilic and Nishikori set for US Open rematch in Washington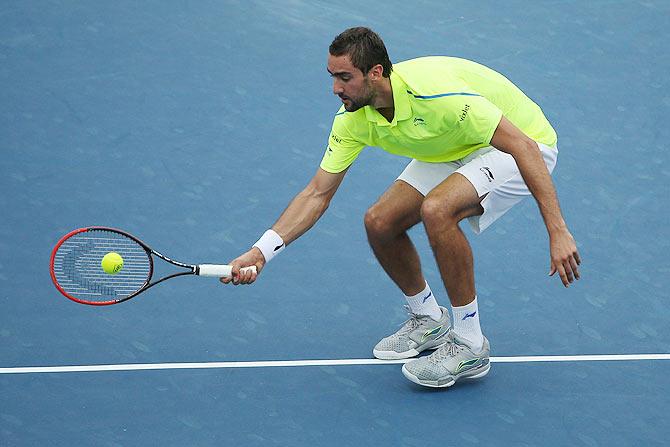 Marin Cilic and Kei Nishikori will meet in the semi-finals at the Citi Open in Washington on Saturday, their first encounter since the final of last year's US Open.
Mourinho renews contract with 'the club closest to heart'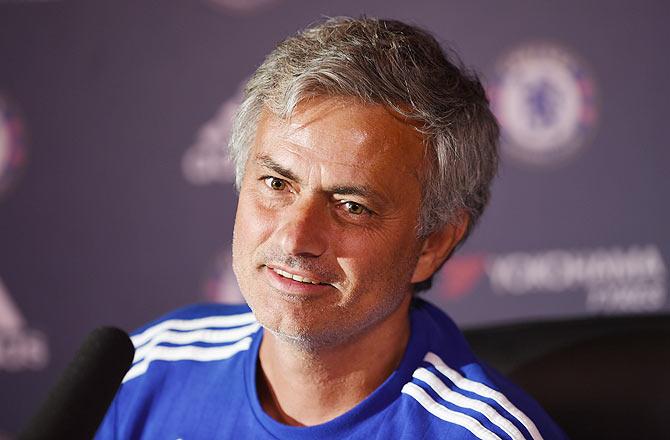 Jose Mourinho has committed himself to Premier League champions Chelsea until at least 2019 after signing a new four-year contract as manager, the west London club said on Friday.
Tennis: Sharapova withdraws from Rogers Cup; Pliskova now among top-10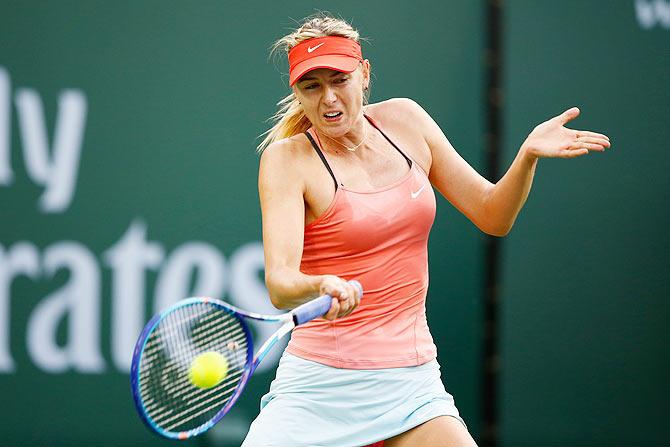 Maria Sharapova's US Open preparations took a major blow with the Russian World No 2 forced to withdraw from next week's WTA event in Toronto.
EPL: Why three is the perfect number for Mourinho going into the season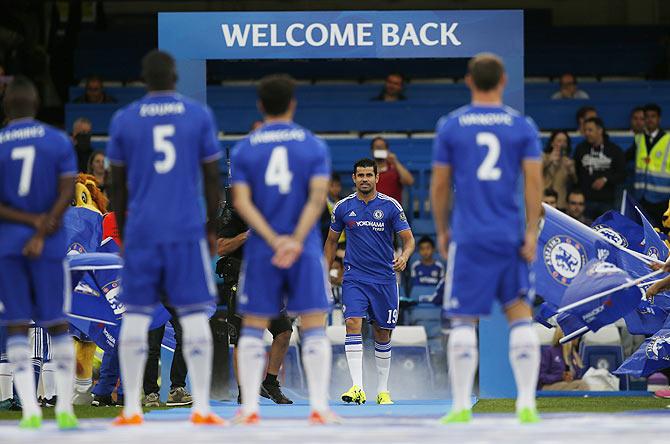 Chelsea banking on other big strikers with Costa still doubtful
August 07, 2015
Champions League play-offs: United have stiff Bruges challenge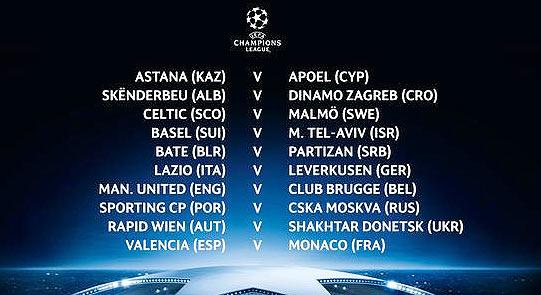 Manchester United were given a troublesome tie against Club Bruges in the draw for the Champions League playoff round on Friday, although it could have been worse as they avoided Lazio, CSKA Moscow or Monaco.
Struggling with spasms Lahiri cards disappointing 77 at World Golf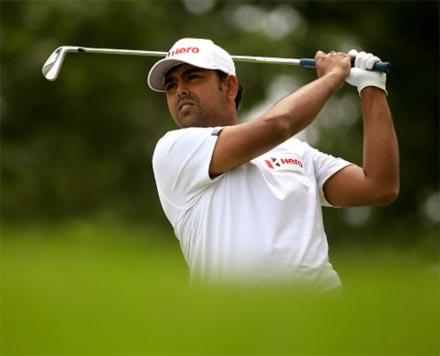 Anirban Lahiri, coming in after a short break following events in Europe, was hit by back spasms early in his first round as he carded a 77 in the World Golf Championships-Invitational in Akron, Ohio, United States.
Only 10, she is the youngest ever at the World Swimming Cships!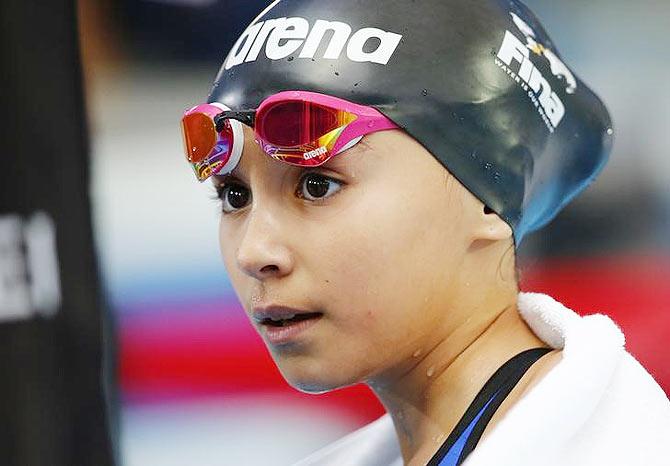 Alzain Tareq finished a distant last among the 64 competitors in the women's 50-metre butterfly, reaching the end of the pool in a time of 41.13 seconds but the Bahraini says she wants to swim at the Rio Olympics
'Multi-functional' Young commits another three years to United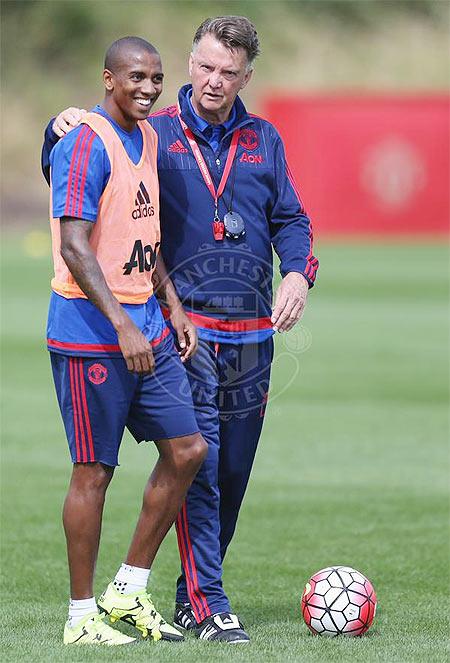 'Delighted to extend my stay with this amazing club. Thanks to the staff, players and also, you, the fans, for your incredible support #mufc.'
'Keeper De Gea to miss United's EPL opener amid Real speculation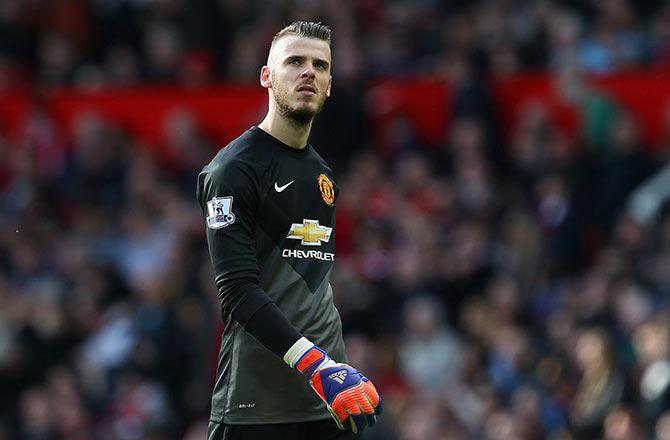 David De Gea will not play in Manchester United's opening Premier League game against Tottenham Hotspur, manager Louis van Gaal said on Friday, amid reports linking the goalkeeper with a move to Real Madrid.
Reasons for Benteke's Liverpool move revealed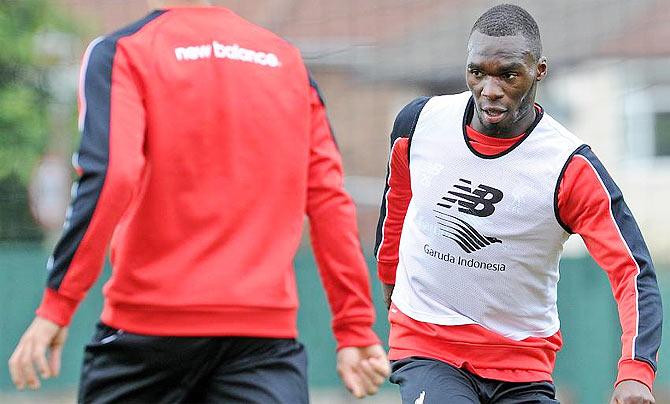 'If Liverpool bought me then they know how to use me. That's why I came here -- I'll show I can play with my feet too'
FIFA Rankings: Guess where India stands?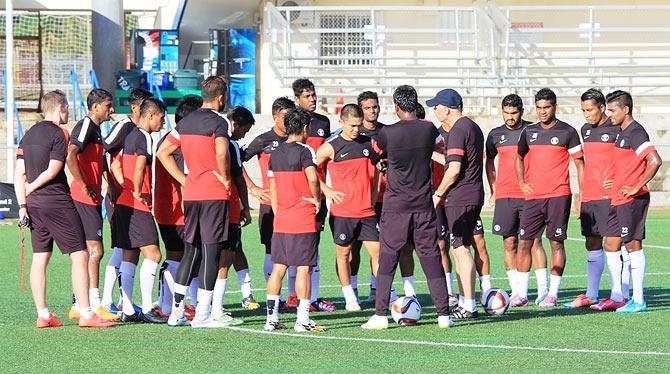 The Indian football team continued to paint a grim picture as they are languishing down at 156th spot in the latest FIFA rankings.
Olympic champ Lewis pleads with athletes to save the sport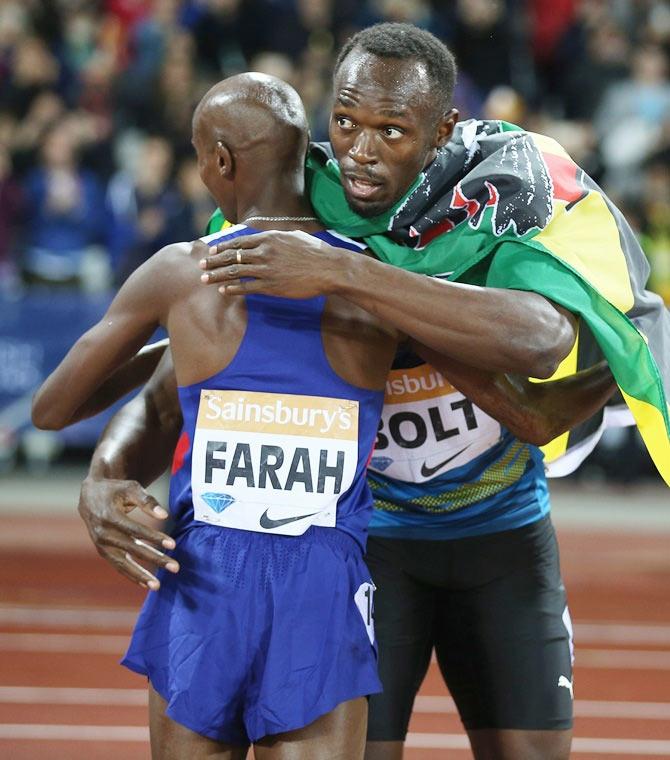 "The future of athleticism depends on the athletes," Lewis told Reuters ahead of the inauguration of the NACAC athletics championships in Costa Rica.
F1 driver Button and wife 'gassed' in burglary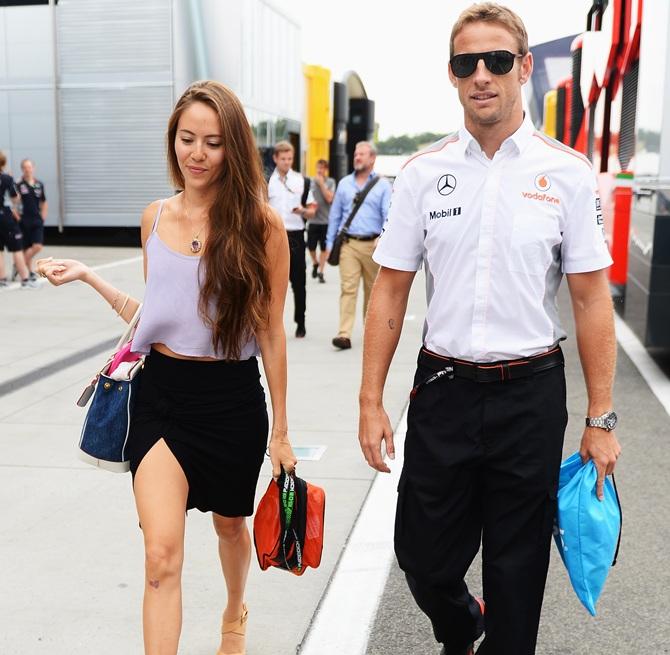 Jenson Button may have been gassed during a burglary at a rented villa in St Tropez.
Citi Open: Bopanna and Mergea reach semis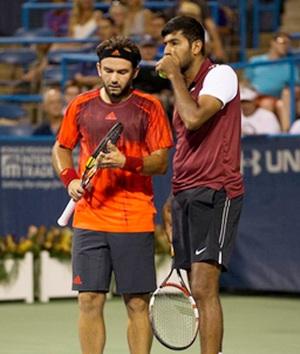 Third seeds Rohan Bopanna and Florin Mergea progressed into the men's doubles semifinals.
Di Maria to United fans: I am sorry it did not work out as I had wished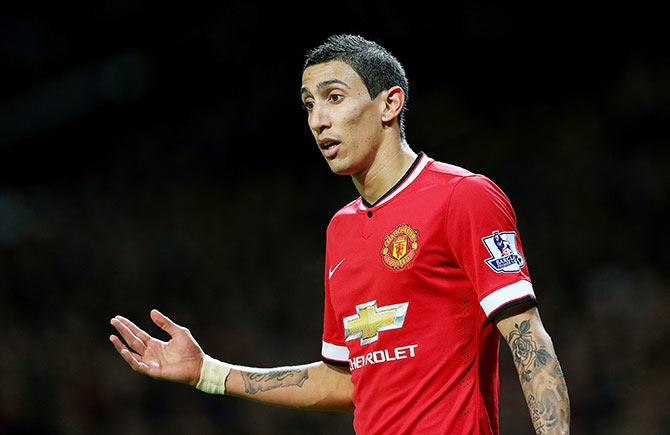 "I write this note to thank all the Manchester United family for the great support received during the year I've been part of this Club," Di Maria told United fans in an open letter, published widely by the British media.
Mrs Andy Murray is pregnant!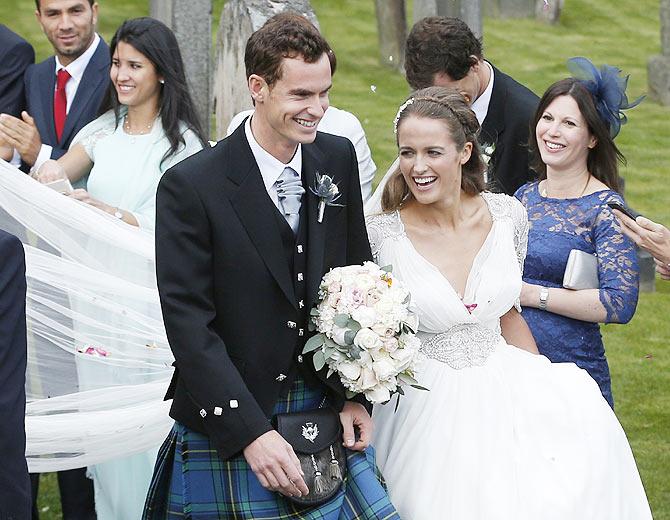 Great Britain's tennis star Andy Murray and his wife, Kim Sears, are expecting their first baby.
In PIX: The many faces of synchronised swimming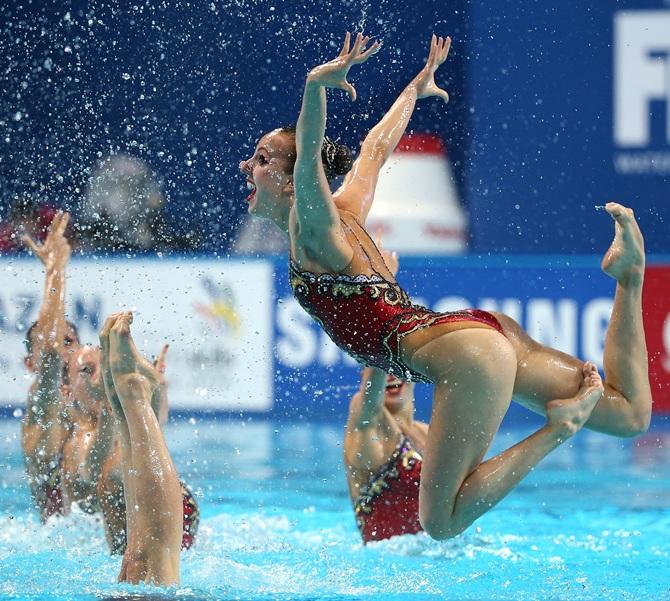 Synchronised swimming can be described as 'water ballet', as it consists of dance-like elaborate movements that swimmers make to music.
For the 1st time since 2000, Palestinian territories come together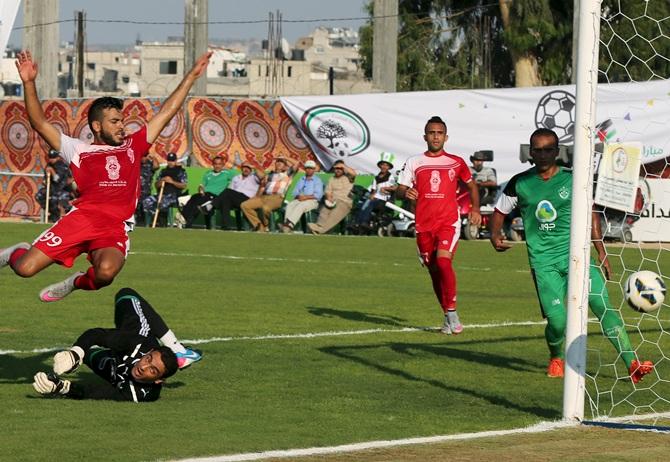 Palestinians long riven by geography and factional feuding enjoyed a rare show of unity on Thursday in a soccer match that brought together teams from their two territories.
Exclusive! A year to go as Mary Kom set sights on gold at Rio Olympics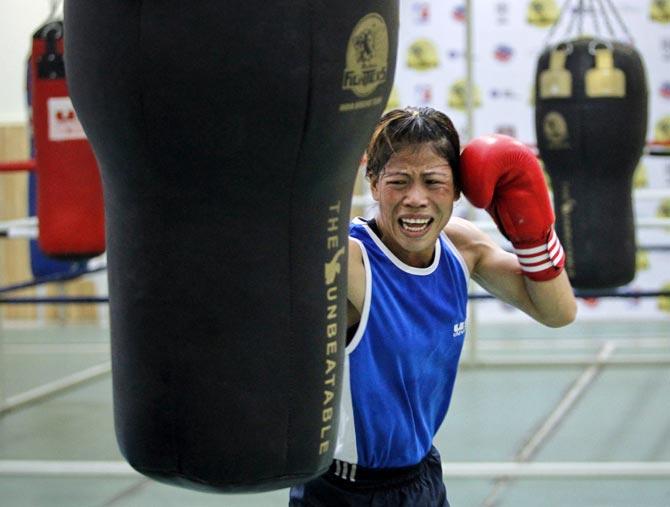 'I will try my best to win gold at the Olympics. You can be assured that I will put in more than 100 per cent to achieve it.'
Europa League: West Ham knocked out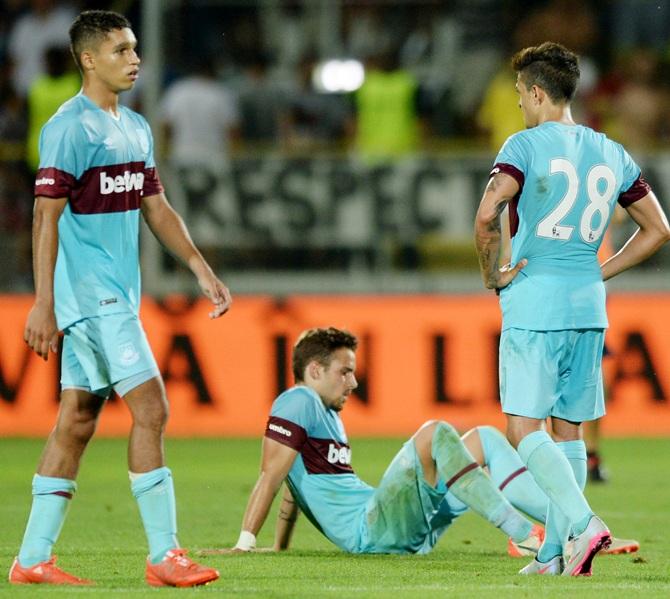 West Ham United were knocked out of the Europa League in the third qualifying round on Thursday after a 2-1 defeat at Romanian side Astra Giurgiu.
Lochte makes history risking disqualification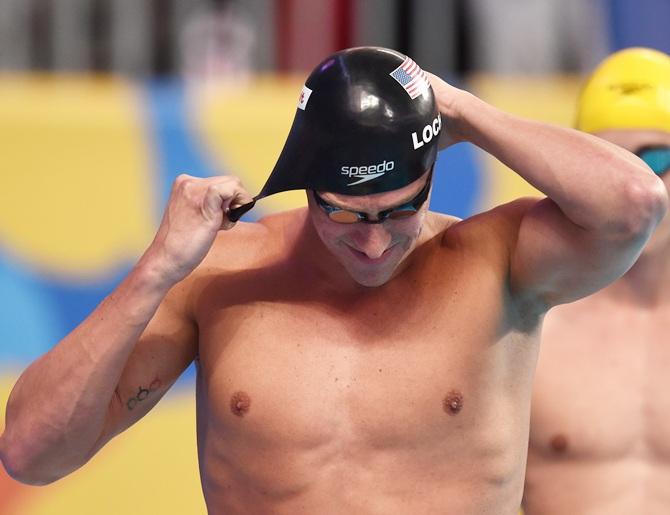 Lochte risked disqualification in 200m medley win.
Goodbye Angel; good riddance, Manchester Utd!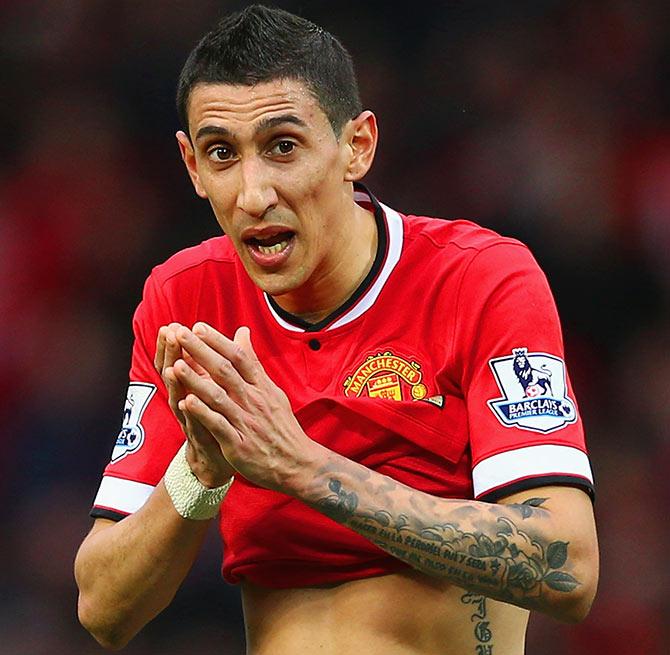 Angel di Maria's move from Real Madrid to Old Trafford was such a disaster that Manchester United was more than willing to incur losses of more than 15 million pounds on their investment. Bikash Mohapatra/Rediff.com looks at the Argentina star's nightmare year at the 'Theatre of Dreams'.
5 reasons why Pellegrini is sure City will win EPL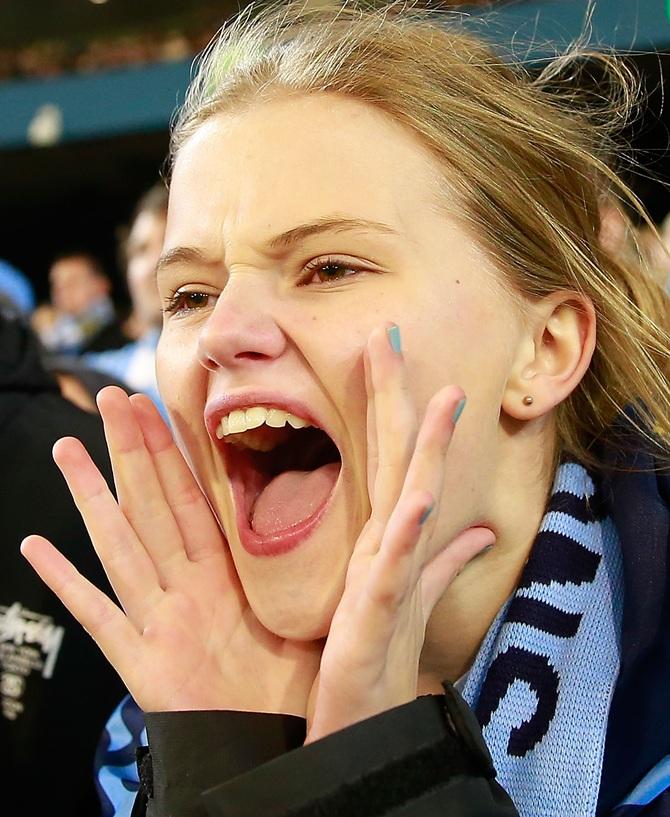 Manchester City are brimming with optimism with coach Manuel Pellegrini 'absolutely sure' of winning the Premier League title.
August 06, 2015
Di Maria joins Paris St Germain from Manchester United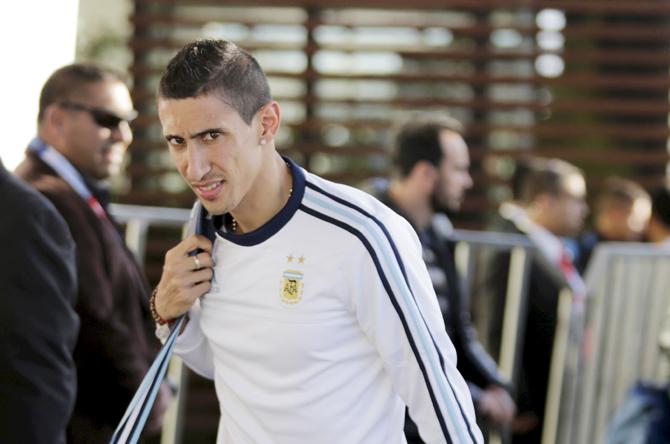 Argentina winger Angel Di Maria has joined Paris St Germain from Premier League giants Manchester United, the French club announced on twitter on Thursday.
Messi gets unfriendly in friendly!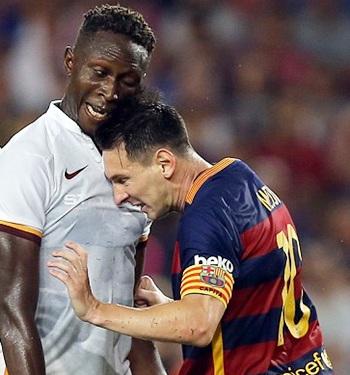 Barcelona's Lionel Messi was at the centre of a headbutting controversy.
Audi Cup: Lewandowski nets winner as Bayern beat Real Madrid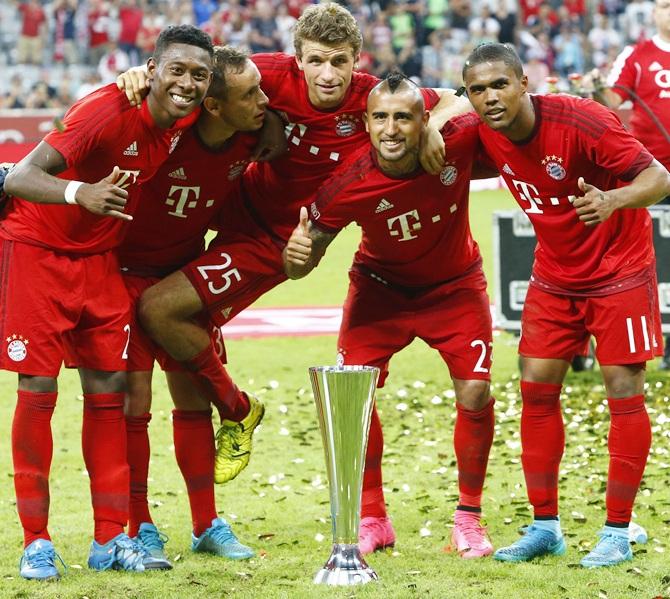 Brazilian Douglas Costa was in fine form as Bayern Munich beat Real Madrid 1-0 in a pre-season tournament.
Unseeded Gabashvili stuns top seed Murray in Washington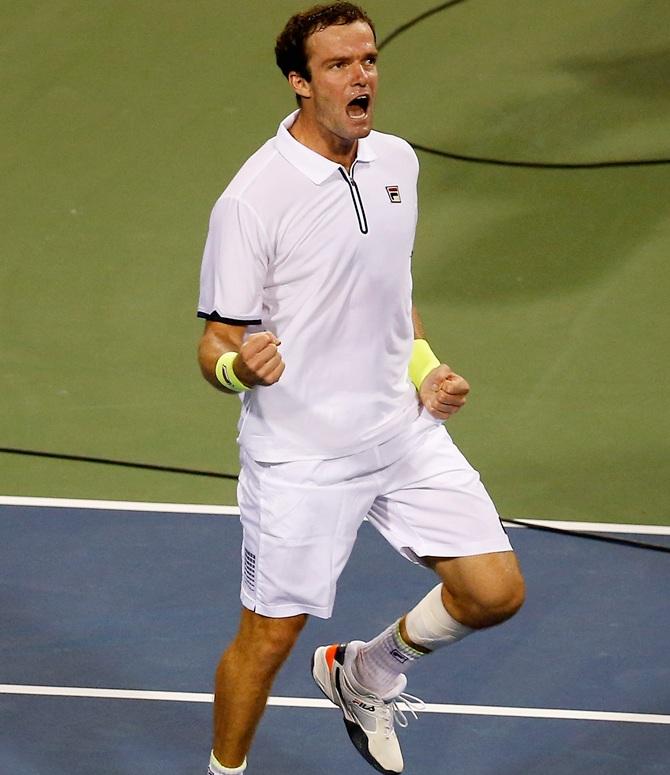 Andy Murray's preparations for the US Open got off to a poor start when the Briton suffered a stunning loss.
Meet the girl dominating world swimming championships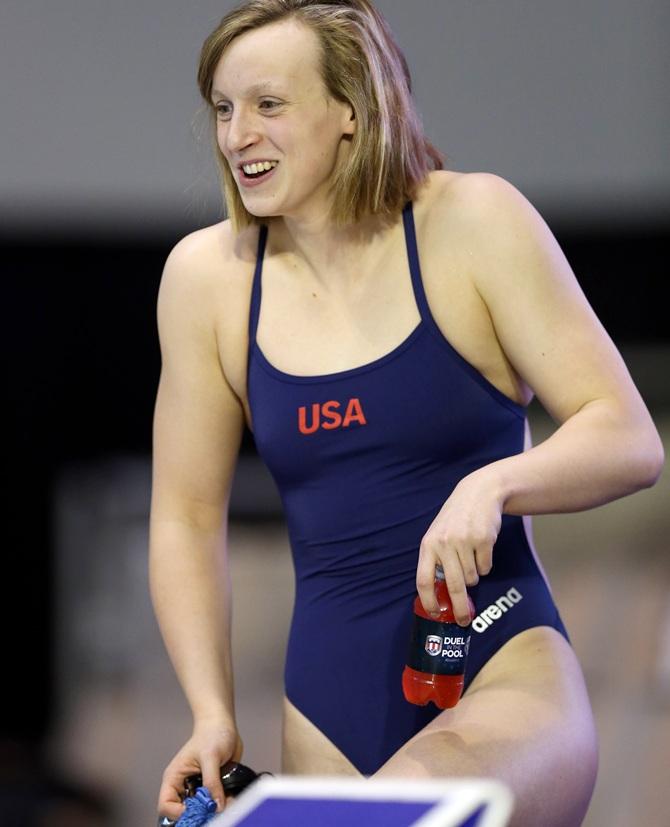 Katie Ledecky claimed a stunning gold in the women's 200 metres and also won the 1,500m freestyle gold with a world record.
IMPRESSIVE! 2 million tickets sold for 2016 Rio Games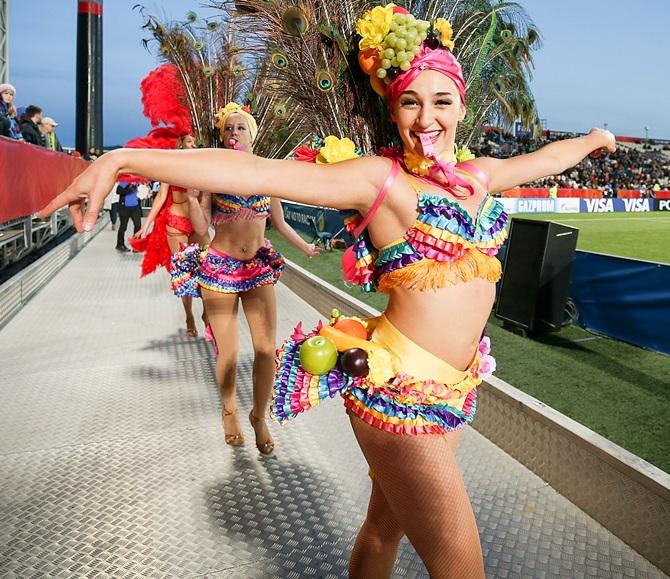 Brazilians snap up two million tickets for 2016 Rio Games.
Chelsea's Mantra: If it ain't broke, don't fix it!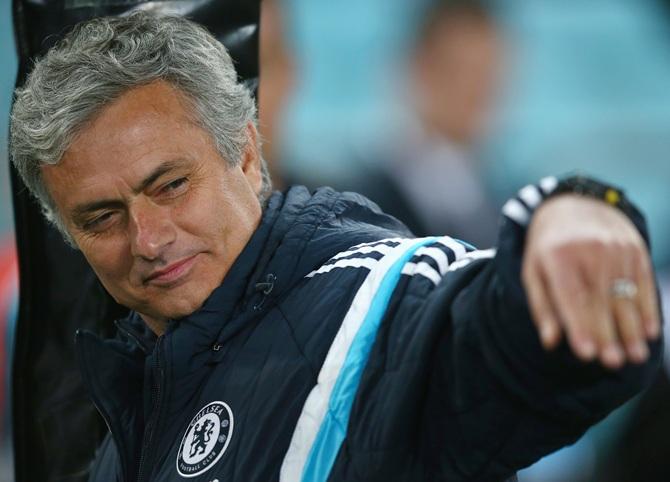 Chelsea begin their Premier League title defence against Swansea City on Saturday in the unusual position of heading into a new season having been significantly outspent by their rivals.
Neymar, Messi show in Rome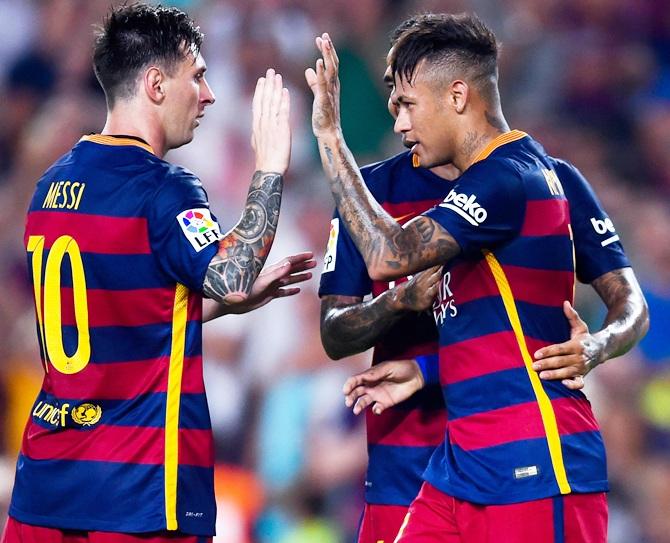 Neymar and Lionel Messi grabbed a goal each in the first half as Barcelona rolled over Roma 3-0 in the traditional Gamper Trophy pre-season match on Wednesday.
August 05, 2015
'Football is not ballet,' says Milan coach after De Jong tackle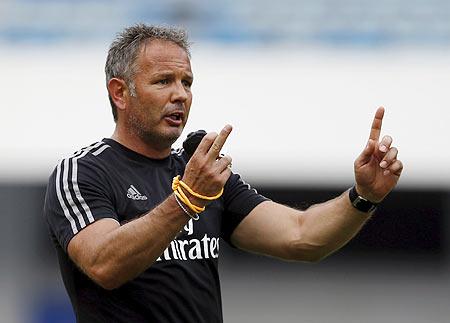 AC Milan coach Sinisa Mihajlovic has dismissed complaints about a Nigel de Jong tackle during Tuesday's friendly match against Bayern Munich by saying that "football is not ballet."
Retaining the title will be tougher for Chelsea, feels Mourinho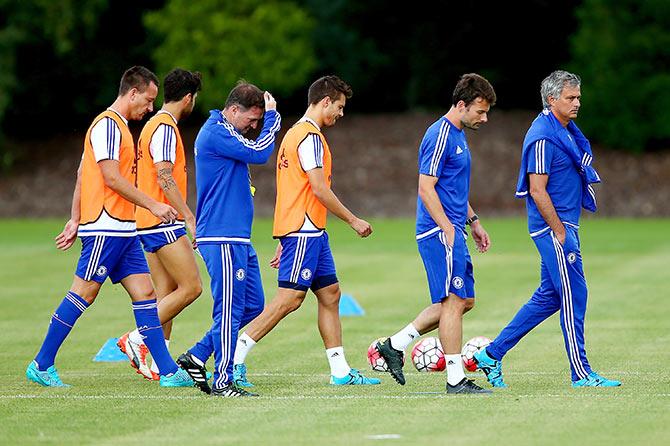 Chelsea manager Jose Mourinho feels it will be more difficult for his side to retain the Premier League title with the other contenders having made strong additions to their squads.
'AC Milan's goal is to finish inside the top three in Italy'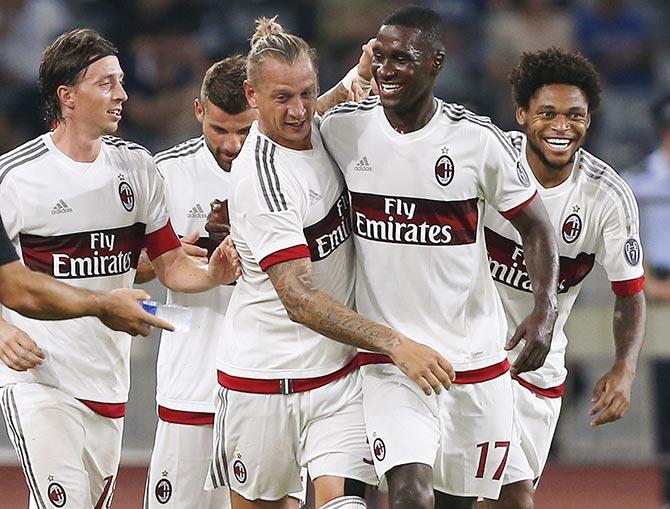 Sinisa Mihajlovic has set AC Milan a top-three finish as the target for his first season in charge of the seven-times European champions.
IAAF fights back against reports of widespread suspected doping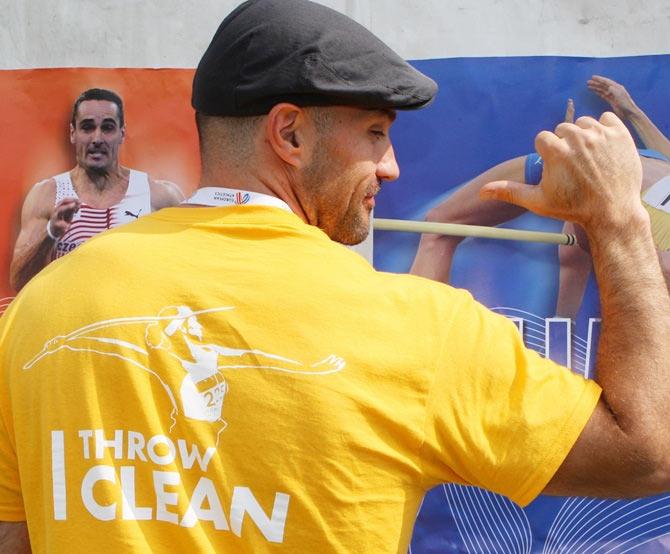 The world governing body for athletics (IAAF) fought back on Tuesday against media reports of suspected widespread doping in the sport, rejecting accusations it failed to investigate dubious drugs test results properly.
Kenya's top runners urge fans to keep faith amid doping row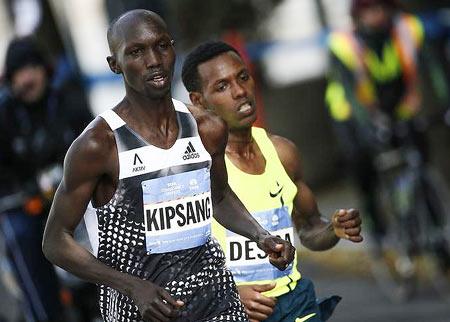 Kenya's top runners have urged athletics fans and sports enthusiasts across the world to keep faith in them, despite media allegations of widespread doping in the east African nation famed for its top-class runners.
In for the long haul, Terry's training hard and eating right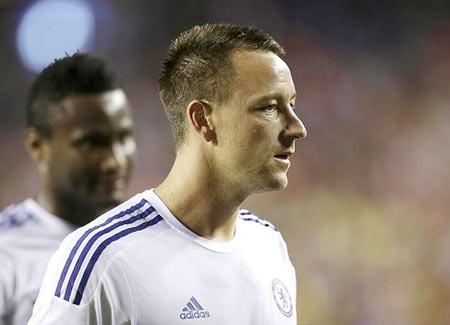 Chelsea defender John Terry has worked hard on his fitness in the last few years and wants to have a long playing career like former Manchester United midfielder Ryan Giggs, the former England captain said.
Tip Gear: Some advice for Jeremy Clarkson and the boys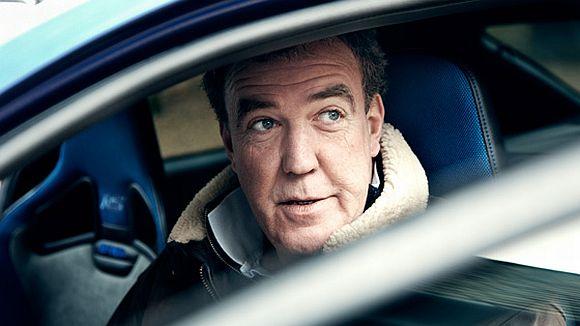 Now that Jeremy has decided to try his hand at something new, we asked Top Gear's Top Fan Anywhere, Raja Sen, to give Mr C some advice.
Brazilian senators to head to US, Switzerland, in soccer probe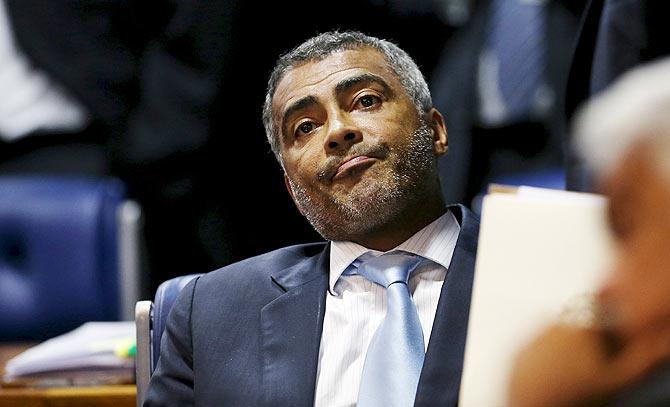 A Brazilian Senate committee investigating corruption in soccer will send three of its members to Switzerland and Miami to interview key players charged in a massive bribery scandal.
Rio confident a year before Olympics but questions remain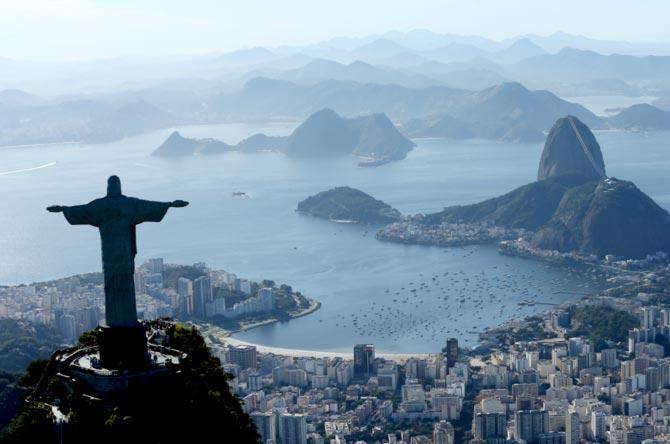 Brazil's economy is heading for recession, the President is threatened with impeachment and a huge corruption scandal has engulfed the nation but Rio de Janeiro is riding a wave of confidence in its preparations to host the Olympics next year.
Real's Bale scores to sink former club Spurs in pre-season friendly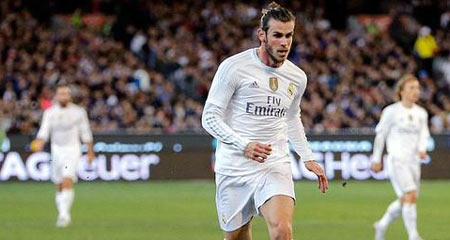 Gareth Bale scored against his former club Tottenham Hotspur as Real Madrid claimed a convincing 2-0 win over the Premier League club in a friendly at the pre-season Audi Cup in Germany.
Mayweather's got a new challenger who is 'ready to kick his ass'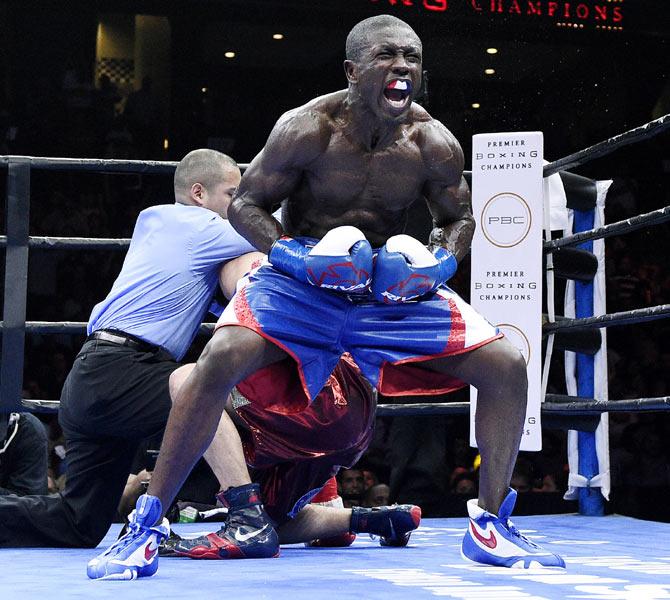 I always bring my A-game and this fight against Andre Berto is no exception, says the 38-year-old Mayweather, who will get back in the ring on September 12
Former European champions Ajax knocked out of Champions League!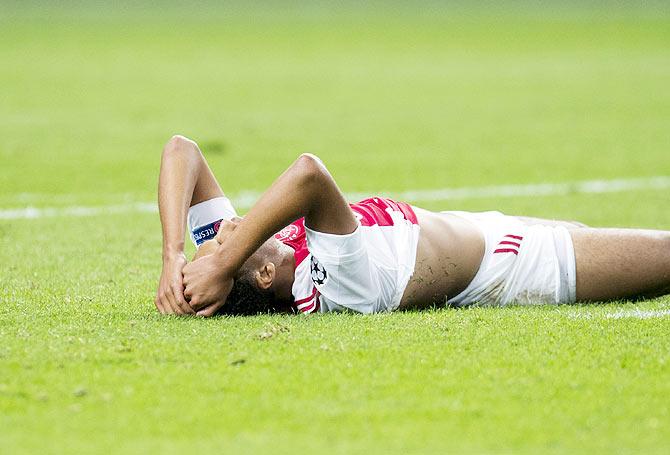 Four-time European champions Ajax Amsterdam were knocked out of the Champions League in the third qualifying round on Tuesday after a dramatic 3-2 defeat at home to unsung Rapid Vienna.
Van Gaal faces many questions as Premeir League season looms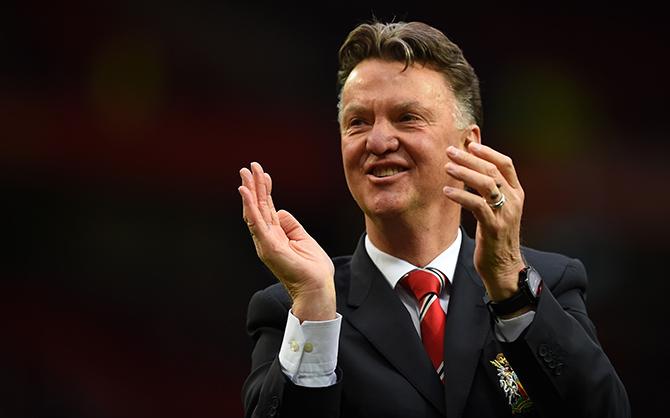 Manchester United's fourth place in last season's Premier League was regarded as a qualified success but more importantly the launch pad to return the club to former glory.
Records tumble as swimmers make a splash at Worlds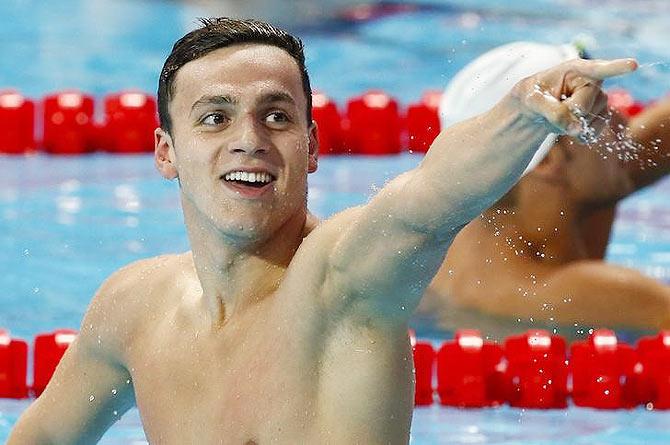 Britain's James Guy held off a host of Olympic champions to win his first world title, the men's 200m freestyle, at the world championships on Tuesday.
Di Maria 'very happy to join PSG', has medical ahead of move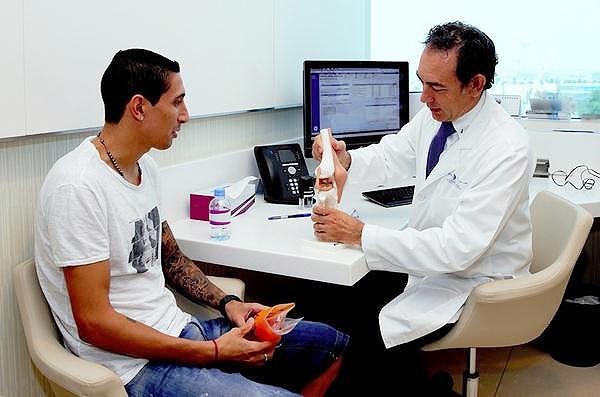 The former Real Madrid wide midfielder, whose 59.7 million pounds ($93.28 million) transfer a year ago set a British record, is preparing to join the French champions for a considerably lower fee, according to media reports.
Suarez has extra motivation, says Barca boss Enrique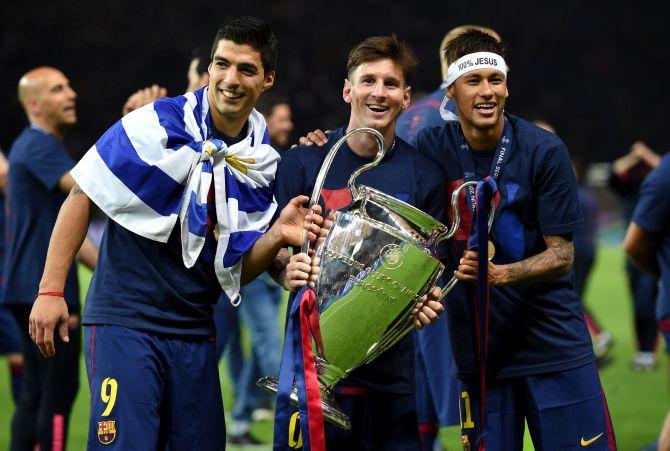 Barcelona coach Luis Enrique is expecting an even greater impact from Luis Suarez this season with the cloud of disciplinary problems no longer hanging over the Uruguay striker.
August 04, 2015
World Swimming: Ledecky breaks 1500 metres freestyle world record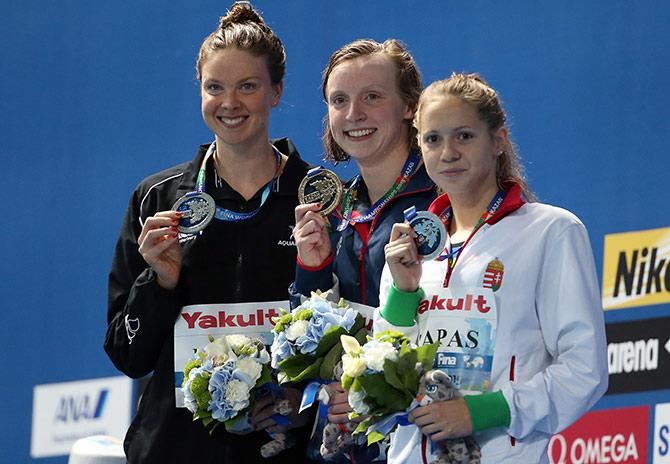 American Katie Ledecky set a world record for the women's 1500 metres freestyle at the world swimming championships on Tuesday.
Bajrang, Babita qualify for World Wrestling Championship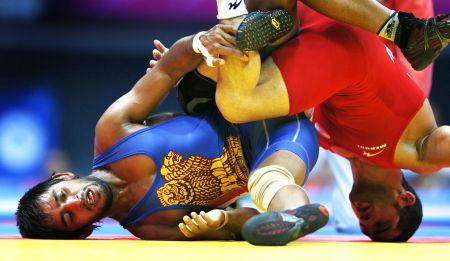 Star grapplers Bajrang and Babita Kumari qualified for next month's World Wrestling Championship after emerging victorious in their respective weight categories in the final selection trials at the SAI training centre in Sonepat.
Injured Ibrahimovic ruled out of PSG's season opener at Lille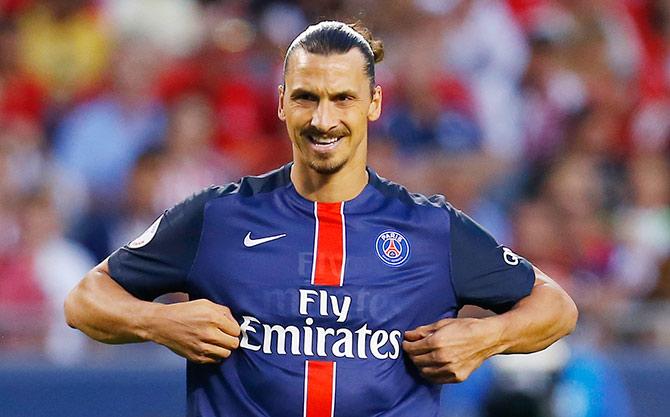 Zlatan Ibrahimovic will miss Paris St Germain's Ligue 1 season opener at Lille on Friday because of a knee injury.
No doping in athletics, declares IAAF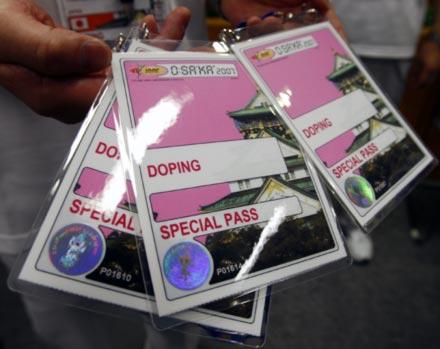 The world governing body for athletics (IAAF) released a formal statement on Tuesday, strongly denying media reports of widespread doping in the sport.
5 per cent of 'abnormal blood tests' from Indian athletes: Reports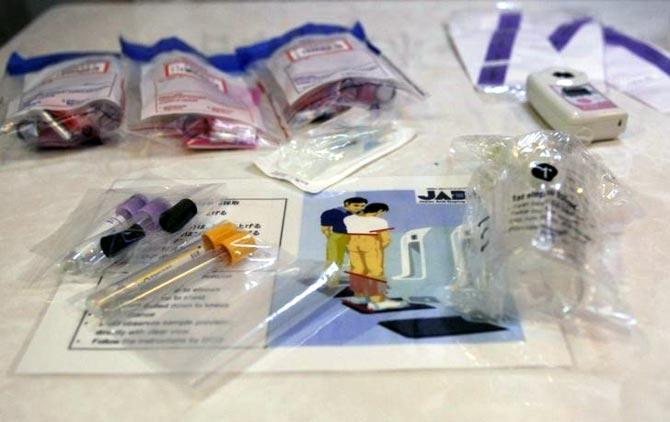 Sensational media reports of widespread blood doping in world athletics has also pointed the finger of suspicion at Indian athletes, though experts in the country are not very clear about how it could have happened.
Bopanna-Mergea down Murray-Nestor to enter Citi Open quarters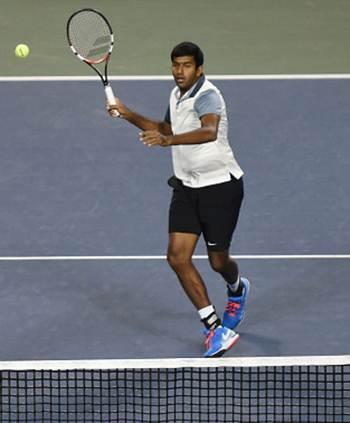 The Indian doubles specialist and his Romanian partner defeated the Scottish-Canadian team 2-6, 6-1, 10-3 in the opening round of the US $1,753,020 hard-court event.
India hockey captain Rani Rampal appointed SAI coach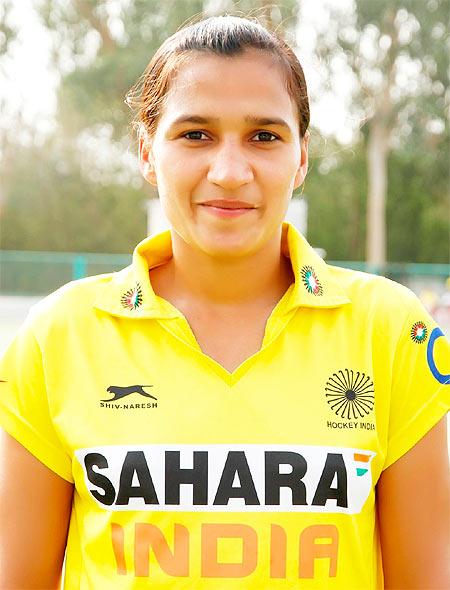 Indian women's hockey team forward Rani Rampal is set to become an assistant coach with the Sports Authority of India after SAI relaxed its recruitment norms owing to her fine brilliant record.
Bale, Benzema will stay at Real, insists coach Benitez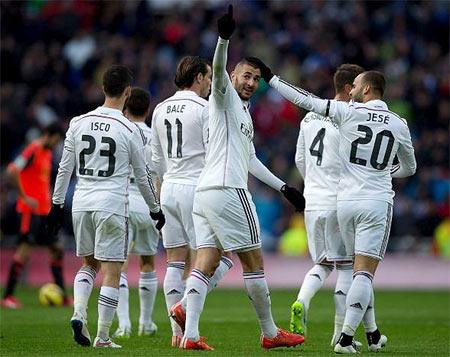 Real Madrid manager Rafael Benitez has dismissed speculations surrounding Gareth Bale and Karim Benzema's potential move to the Premier League, insisting that both key players will not be leaving the Spanish club.
Fit Costa will be key to Chelsea's campaign, reckons Redknapp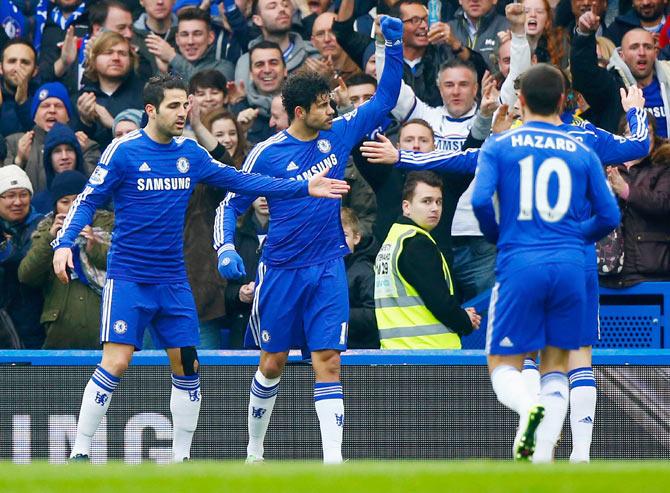 Defending champions Chelsea's season could be in trouble if striker Diego Costa is unavailable for long, former Tottenham Hotspur manager Harry Redknapp said.
Will Schweinsteiger prove a worthy buy for United? Guardiola is doubtful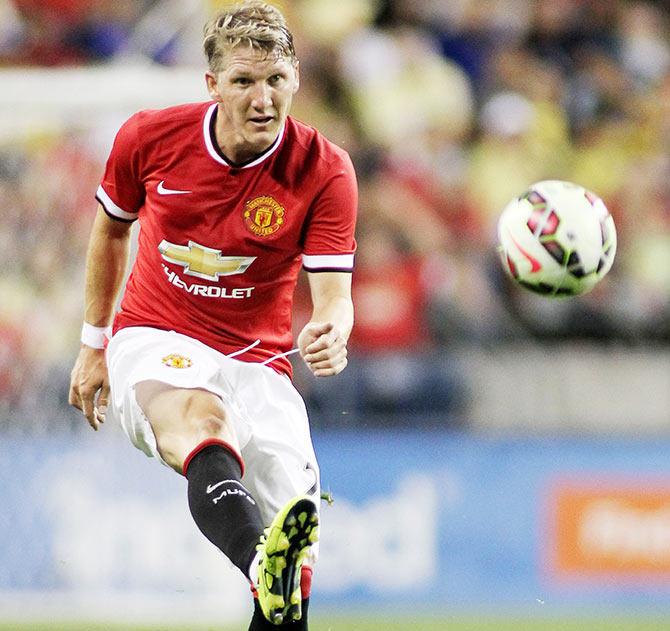 Bayern Munich manager Pep Guardiola has cast a doubt on Manchester United's new midfielder Bastian Schweinsteiger by saying his former player was never fully fit during the last three seasons.
Meet Sania, the elegant showstopper!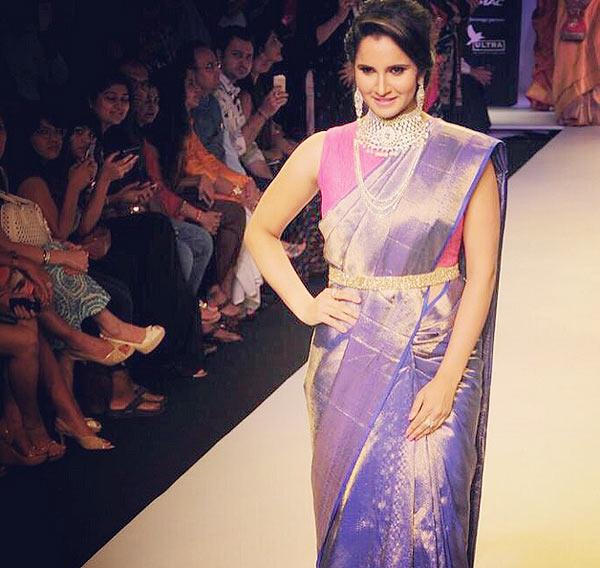 The World No 1 doubles tennis player, was adorned with ornaments designed by jewellery designer, Moni Agarwal, as she walked the ramp. She showcased Agarwal's royal and exquisite 'Zohrakshi' jewellery collection.
Speculations heat up as F1 champ Hamilton seen with Rihanna again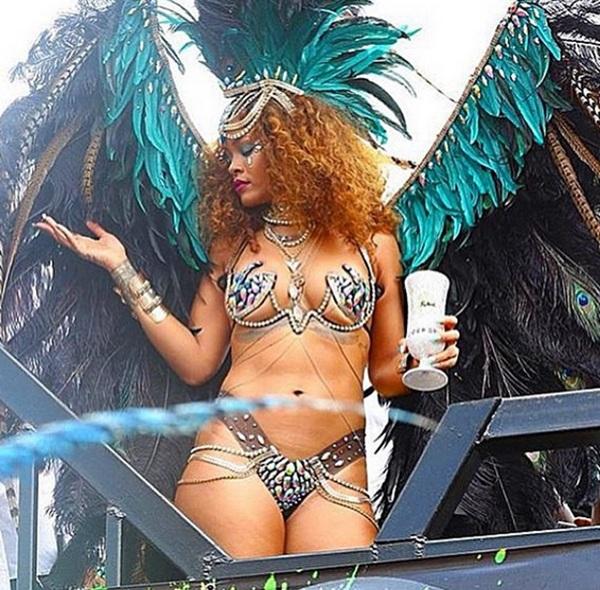 Formula One driver Lewis Hamilton has fueled speculation that he is in a romantic relationship with pop star Rihanna.
No love lost: Wenger snubs Mourinho after Community Shield win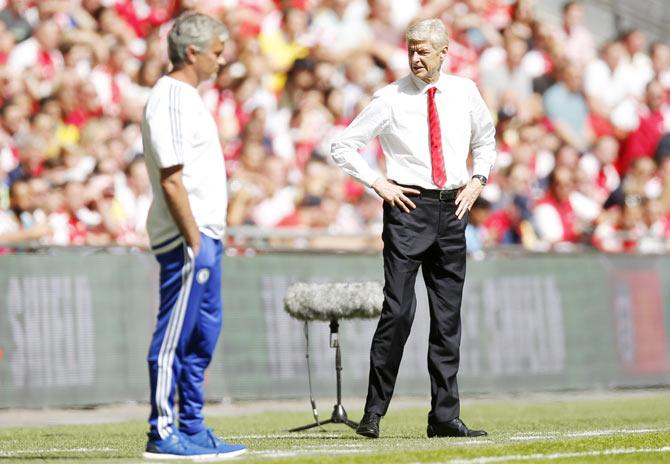 Chelsea boss Jose Mourinho has accused his rival Arsene Wenger of deliberately ignoring his potential handshake when the Arsenal boss walked down the tunnel after his team defeated Chelsea 1-0 to claim the Community Shield for a second season in a row at Wembley on Sunday.
Angel Di Maria set to leave United for PSG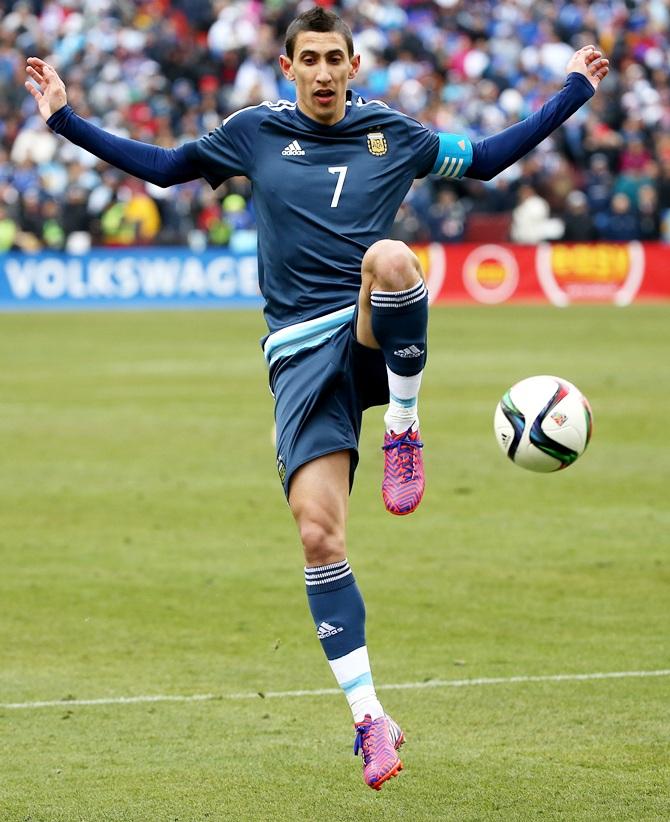 Angel Di Maria's brief career at Manchester United came to an end as the winger will join Paris Saint-Germain on a four-year deal.
1st Hockey Test: Clinical India blank France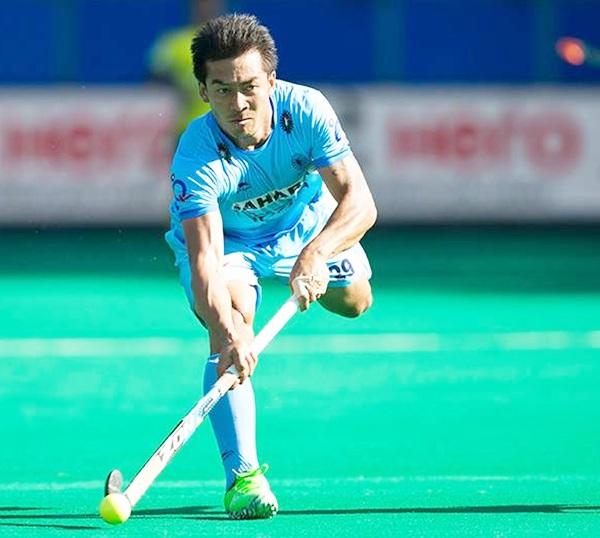 Talented Chinglensana Singh and seasoned S V Sunil scored a goal each as the Indian men's hockey team started their tour of Europe with a 2-0 victory over hosts France on Monday.
Why Stones should pick United over Chelsea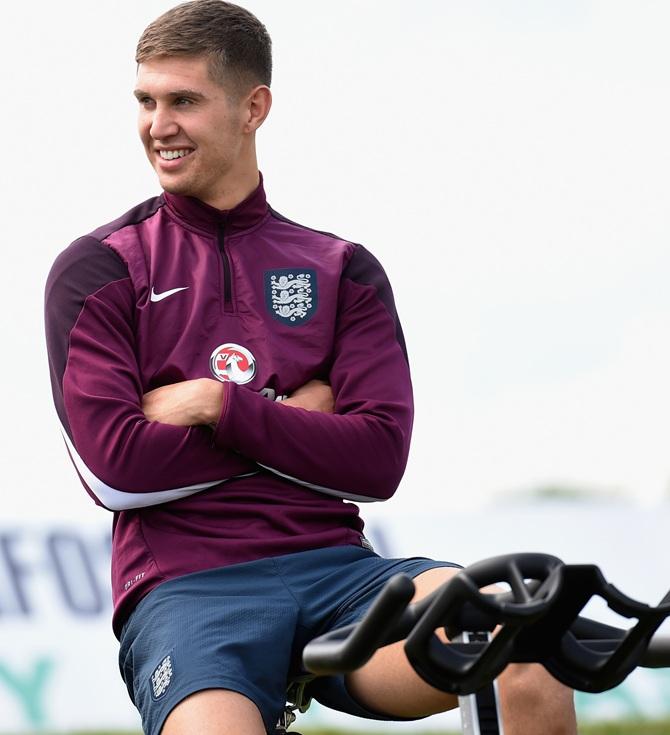 Former England international Rio Ferdinand feels Everton's John Stones should pick Manchester United over Chelsea if the defender prefers more playing time.
Doping: Money at heart of athletics cover up!
Victor Conte, the man at the centre of what was the United States's biggest doping scandal, believes the latest drug scandal to rock the sports world is all part of a cover up to protect the bottom line.
Injury Reports: Juventus's Khedira ruled out for two months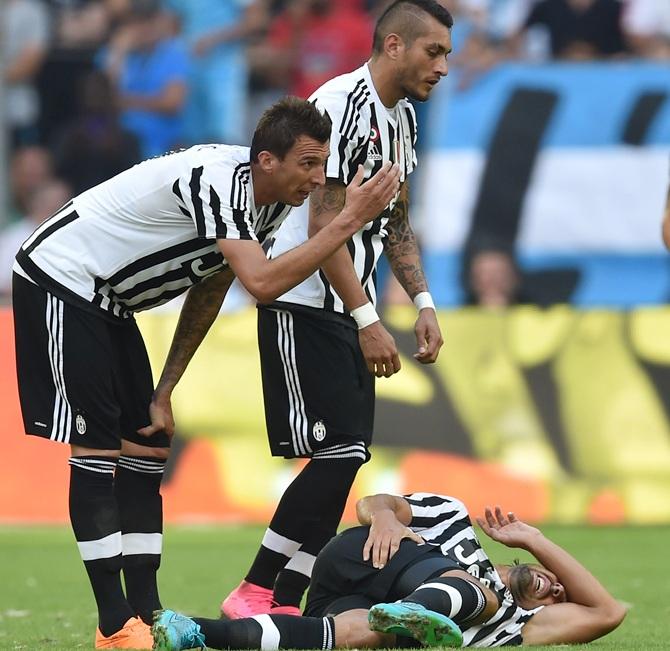 Juventus's new signing Sami Khedira will miss the first two months of the season with a thigh injury, the Serie A champions said.
Is she 'masculine'?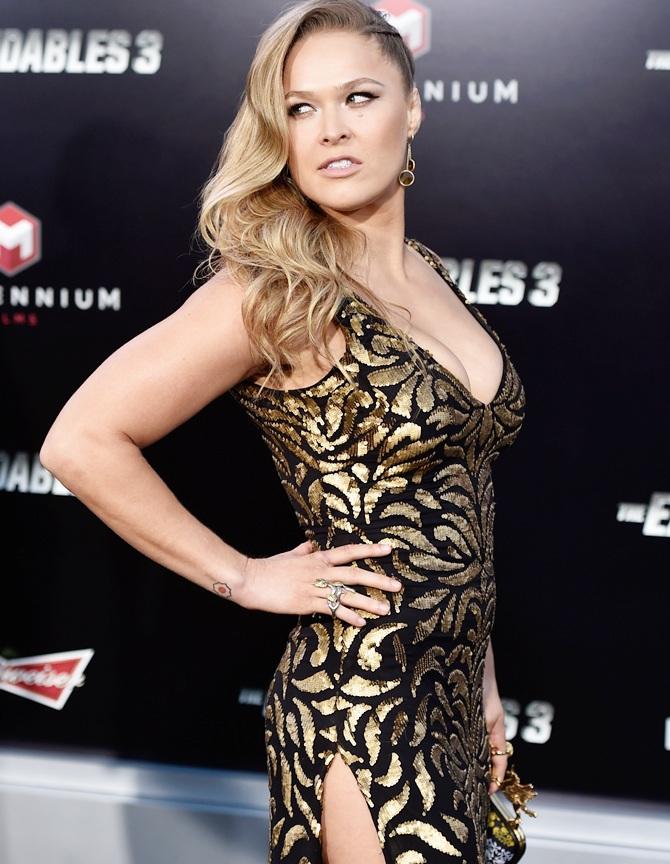 Ronda Rousey thrashes body shamers calling her 'masculine'.
Meet swimming's 'Iron Lady' who smashed world record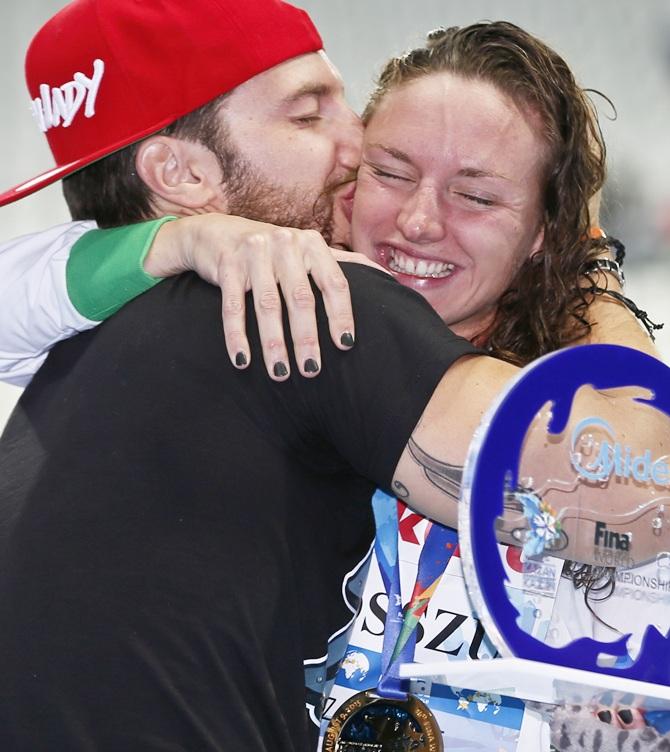 Hungary's Katinka Hosszu underlined her status as the leading all-round swimmer with a world record in the women's 200 metres individual medley at the world championships on Monday.
New findings on doping: Results show health risk in athletes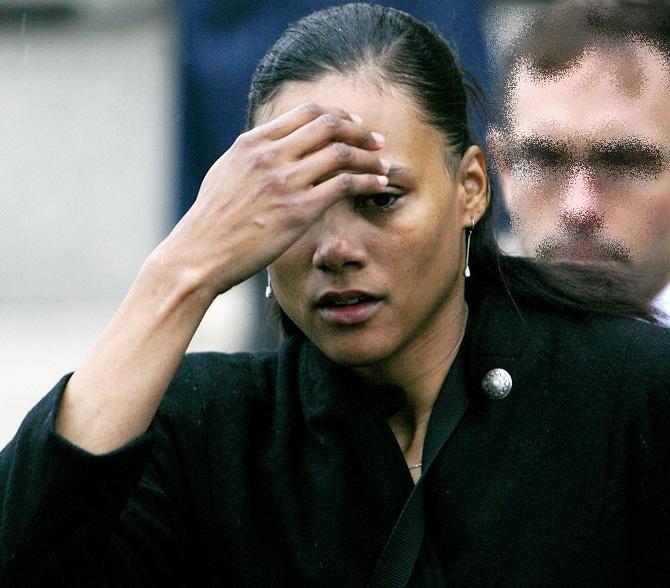 Some of the readings from athletes' blood tests leaked by a whistleblower for a report exposing suspected doping were so extreme they were 'downright dangerous', one of the experts cited in the report.
World Swimming: Sjostrom sets 100m butterfly world record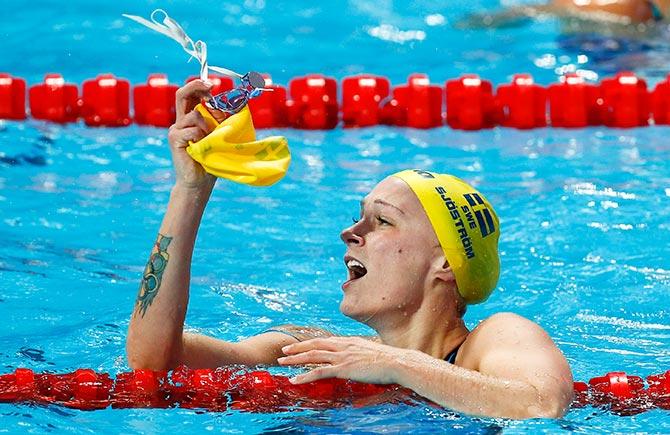 Sweden's Sarah Sjostrom set a world record for the women's 100 metres butterfly at the world swimming championships on Monday.
August 03, 2015
World Swimming Championships: Hosszu sets 200m medley world record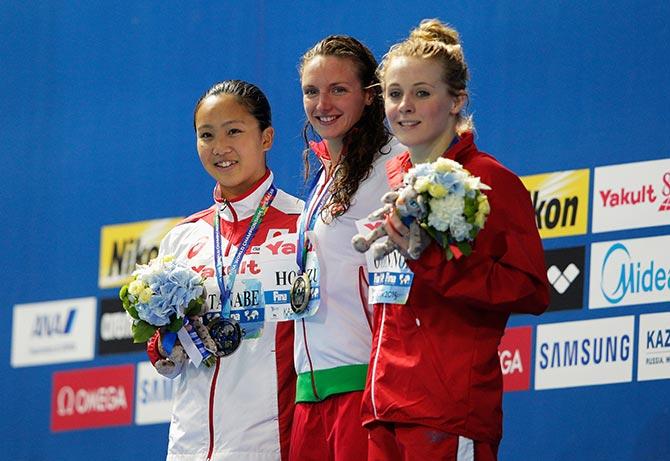 Hungary's Katinka Hosszu set a world record for the women's 200 metres individual medley at the world swimming championships on Monday.
Rafael poised to join Olympique Lyon from Manchester United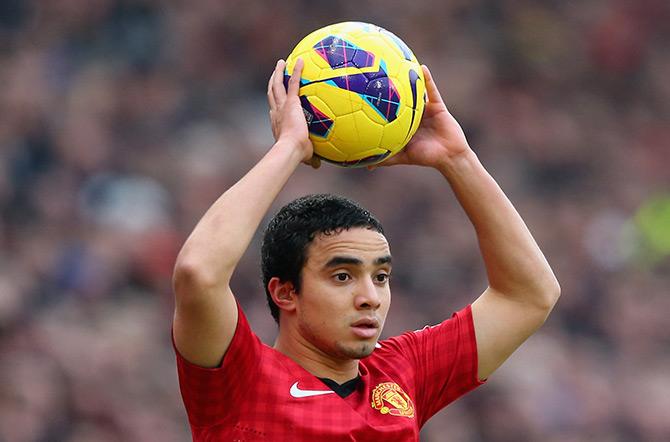 Olympique Lyonnais are on the verge of signing Brazil defender Rafael from Manchester United, the French club's president said on Monday.
World C'ships: US teen Ledecky betters own 1500m freestyle world mark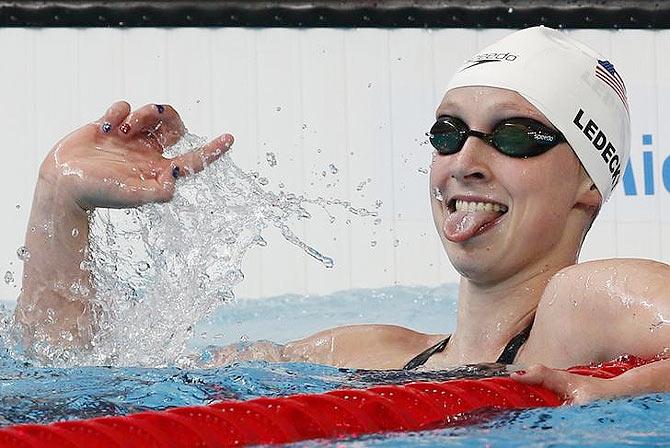 American teenager Katie Ledecky bettered her own 1500 metres freestyle world record with a superb display during the morning heats at the world championships on Monday.
Manchester City hoping Sterling proves a sound investment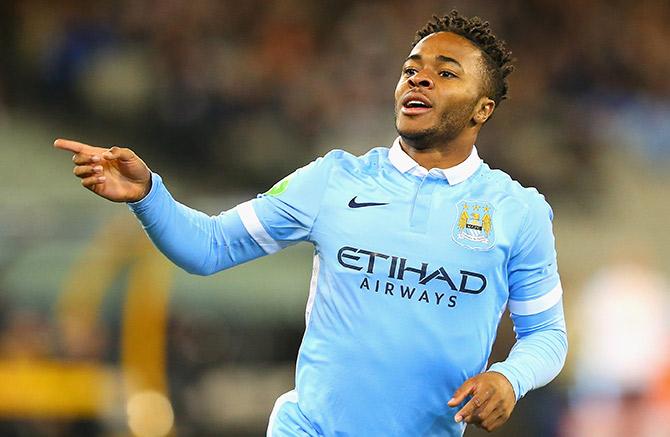 Demonised as a caricature of the highly-paid modern-day footballer whose ego dwarfs his talent, Raheem Sterling will have few fans when the Premier League begins next weekend.
Rodgers delights at promising start for Liverpool's new strike duo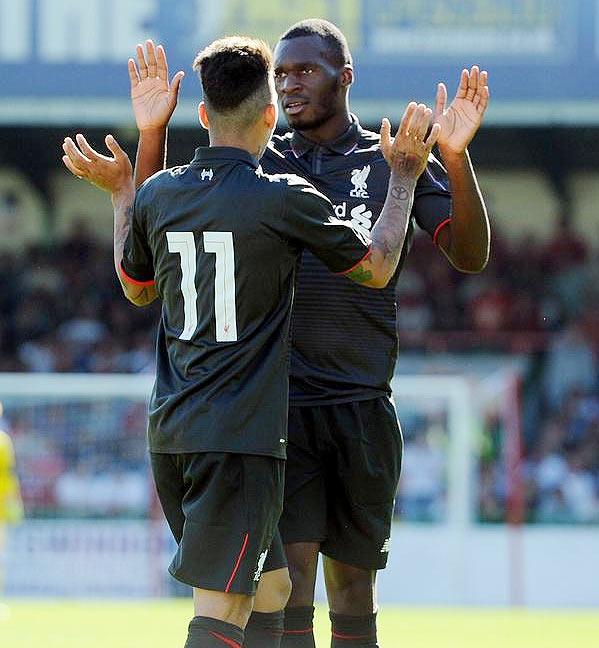 Liverpool manager Brendan Rodgers has expressed his delight with Christian Benteke and Roberto Firmino after the forwards made their first-team debuts in the club's final warm-up match before the new Premier League season.
India not taking France lightly in European Tour opener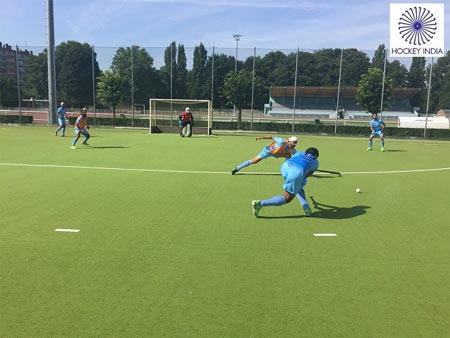 In the FIH Hockey World League Semi-Final 2012-13, the Indian team outplayed the European team by 6-2 in which young Mandeep Singh scored two back-to-back goals. In the second season of FIH Hockey World League Semi-Final, India again met France in the semi-final round in Belgium and defeated them 3-2.
Frisbee comes of age, earns Olympic recognition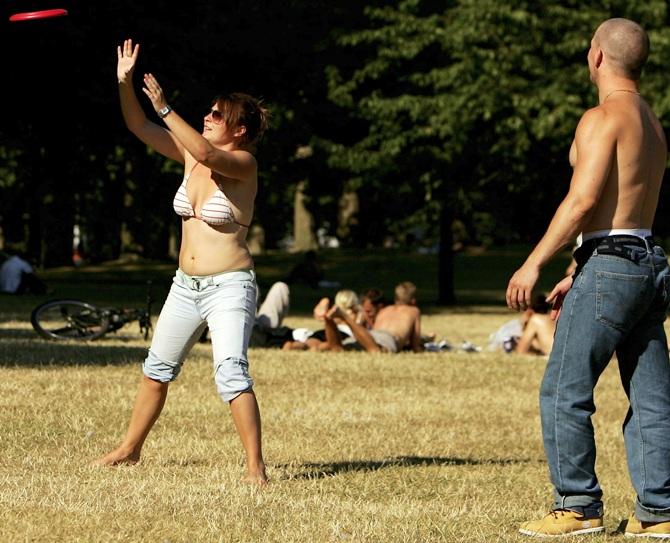 The sport of flying disc, popularly known as frisbee, has been officially recognised as an Olympic sport by the International Olympic Committee.
10 BEST Sports Photos of the Week!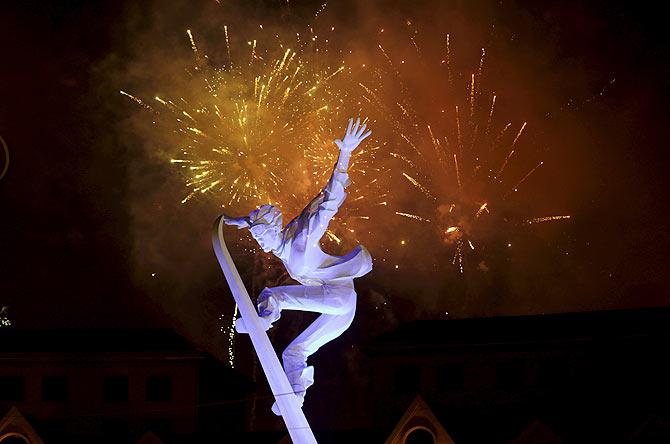 Steve Finn helped England dominate Australia in another Ashes Test at Edgbaston on Friday to take a 2-1 series lead.
American cyclist Danielson fails doping test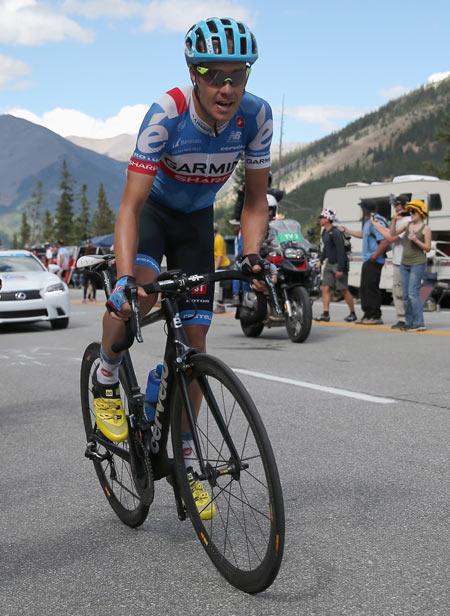 American Tom Danielson has revealed he failed a doping test for synthetic testosterone but the Cannondale-Garmin rider denies taking a banned substance.
Di Maria on verge of signing for PSG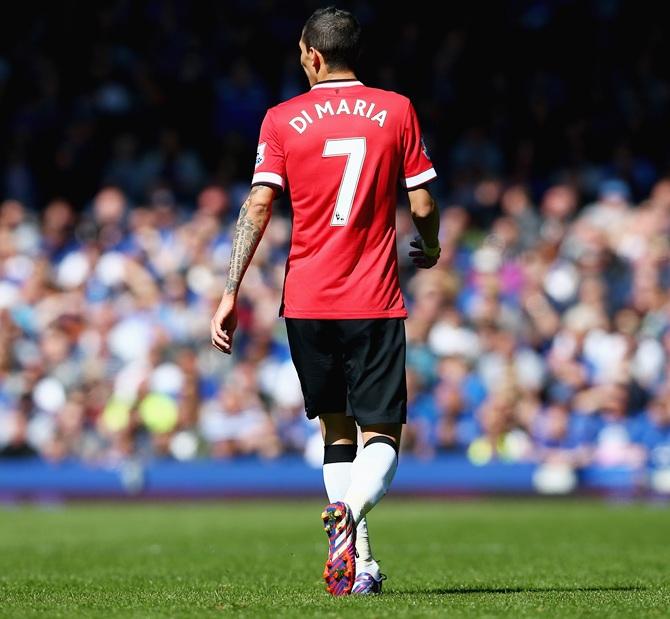 Manchester United's Argentine winger Angel Di Maria is set to have a medical ahead of a proposed transfer to French champions Paris St-Germain a year after arriving at Old Trafford for a British record transfer fee, local media reported on Sunday.
Tevez scores but Boca Juniors lose at home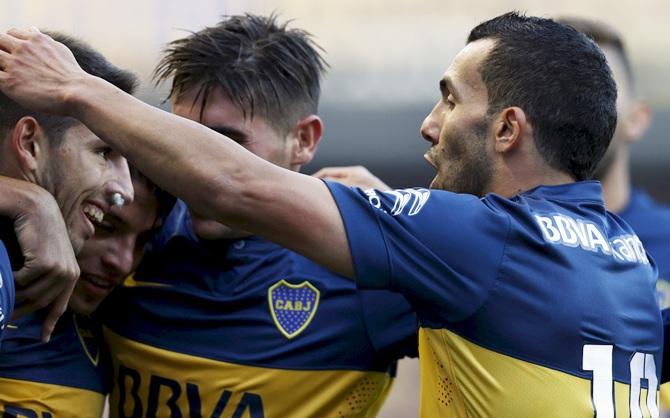 Carlos Tevez scored his first goal for Boca Juniors at La Bombonera in more than a decade but it was not enough to prevent his side from crashing to a shock 4-3 defeat to Union in the Argentine championship on Sunday.
De Jong sizzles as PSV lift Dutch Super Cup trophy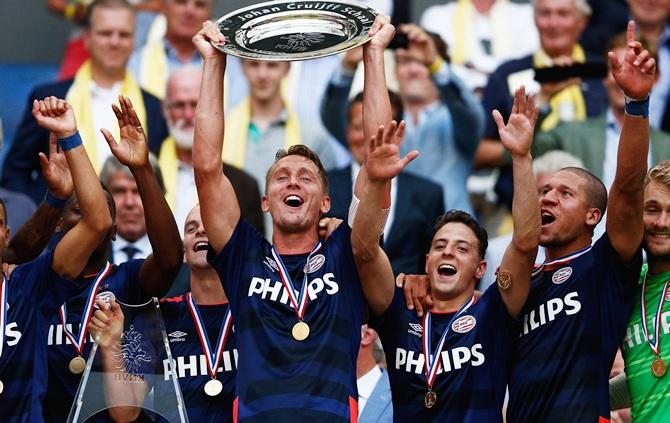 Luuk de Jong scored twice as champions PSV Eindhoven handed out a stark warning to the other Dutch league title contenders with a 3-0 win over Groningen in the Super Cup on Sunday.
4 reasons why Petr Cech could be the answer to Arsenal's problems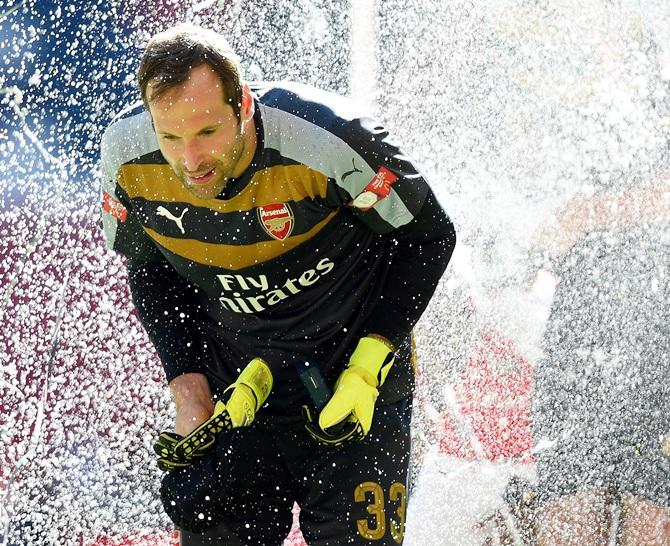 Petr Cech helped the Gunners enjoy a rare victory over Jose Mourinho's side on Sunday.
Isner beats the heat and Baghdatis to rule in Atlanta once more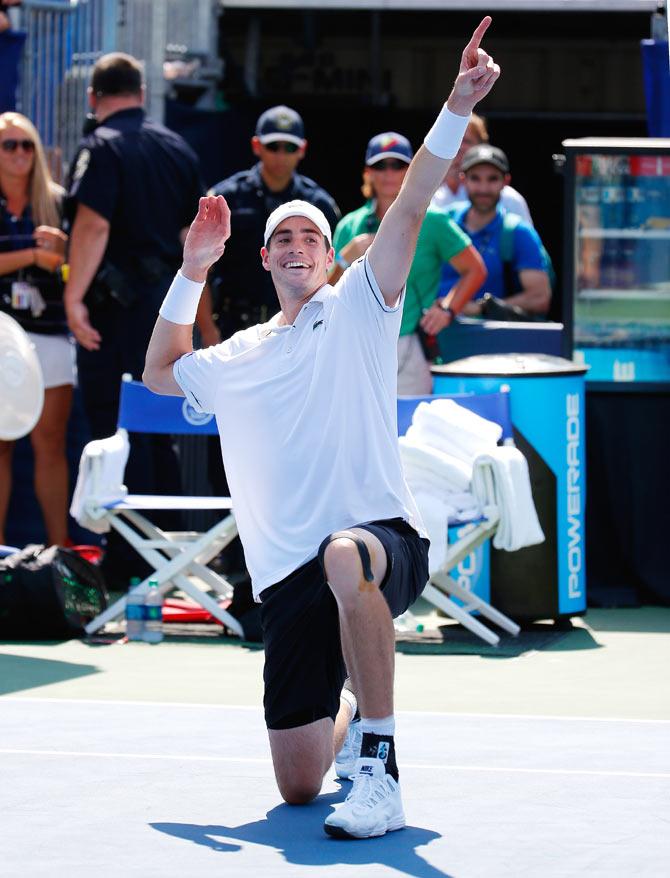 Overpowers the ailing Cypriot to win the hardcourt title for third time in succession
Athletics roiled by mass doping allegations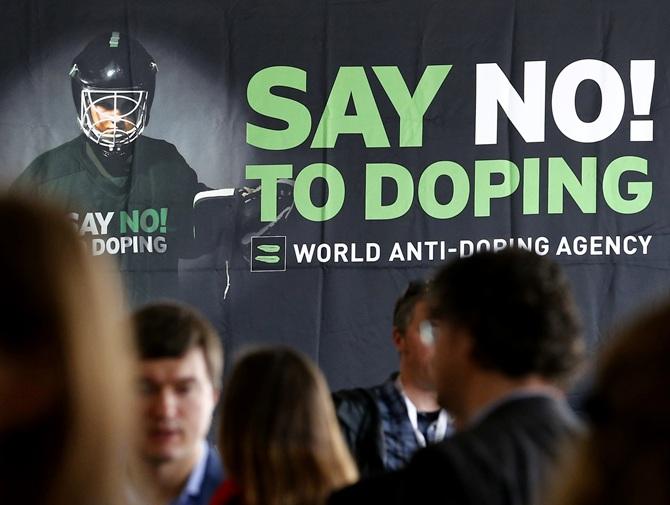 Calls grow for global athletics probe after widespread doping allegations.
Blatter gives up IOC membership as FIFA exit nears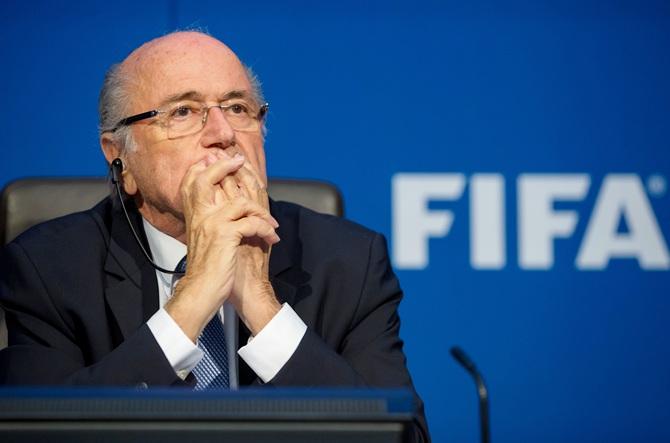 FIFA President Sepp Blatter was relieved of his International Olympic Committee ex officio membership on Monday.
Happy Birthday Sunil Chhetri! 6 reasons why he is a star striker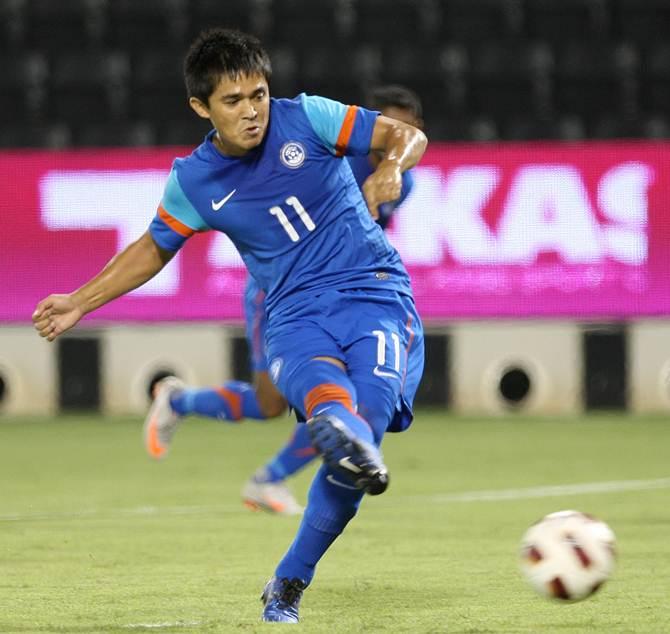 As Chhetri celebrates his 31st birthday today, here is a look at what makes him stand out.
August 02, 2015
Swede Sjostrom sets world record in 100m butterfly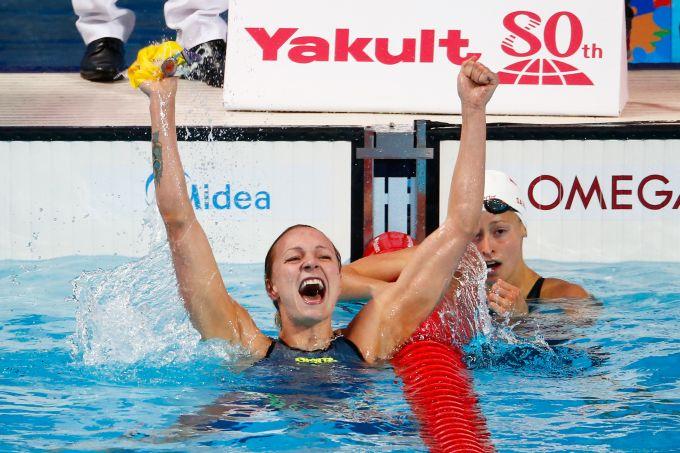 Sweden's Sarah Sjostrom set a world record for the women's 100 metres butterfly at the world championships on Sunday.
Arsenal get morale-boosting win over Chelsea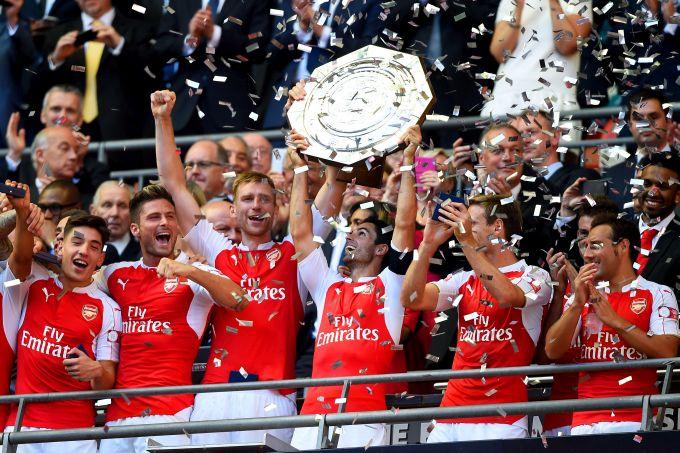 FA Cup winners Arsenal beat champions Chelsea 1-0 in England's Community Shield season curtain-raiser at Wembley on Sunday to end a long wait for victory over their London rivals.
Nadal claims 67th career title with Hamburg Open victory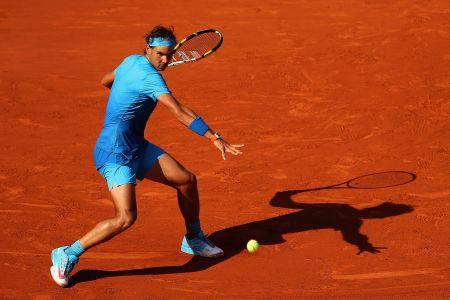 Spaniard Rafa Nadal won his 67th career title with a 7-5, 7-5 victory against dangerous Italian Fabio Fognini in the final of the Hamburg Open on Sunday.
Indian women's team bag silver at World Archery Championships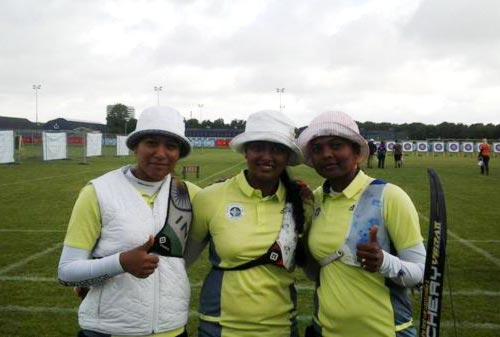 The Indian women's recurve team squandered a two-set lead and went down to top seed Russians in the shoot-off to bag a silver medal at the World Archery Championships, in the final in Copenhagen, on Sunday.
Athletics rocked by 'wild' doping allegations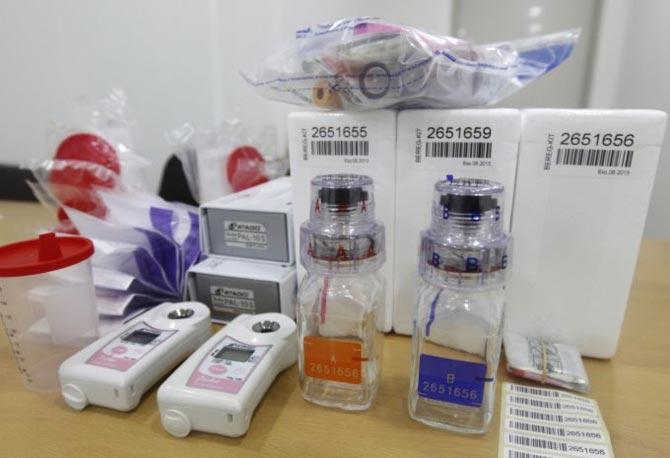 The BBC report said a third of medals in endurance events at the Olympics and world championships between 2001 and 2012 were won by athletes who have recorded "suspicious tests".
Enticing Federer vs Nadal awaits in second season of IPTL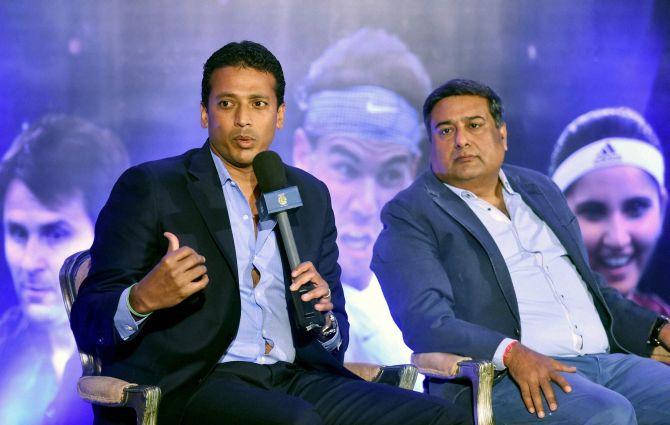 The apprehensions attached with a new tennis concept have disappeared as the top international players have embraced IPTL, feels Mahesh Bhupathi, whose league will feature a marquee match between Rafael Nadal and Roger Federer in the capital this season.
August 01, 2015
Nadal eases past Seppi to reach Hamburg final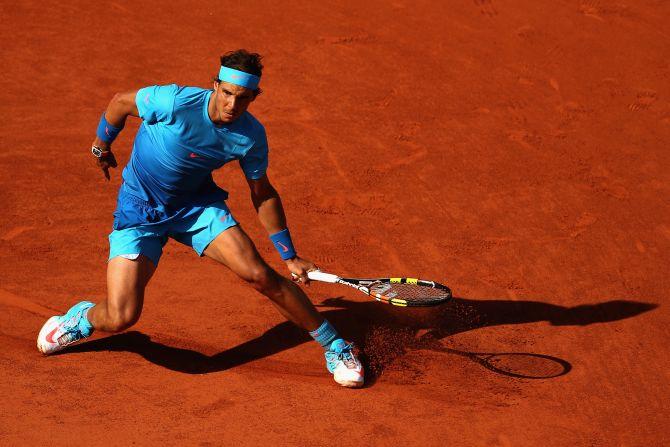 Rafa Nadal made light work of Italian Andreas Seppi to reach the final of the Hamburg Open on Saturday and will now face Fabio Fognini, who is chasing an almost unthinkable third claycourt victory over the Spaniard this season.
Almaty hints at another Olympic run after narrow loss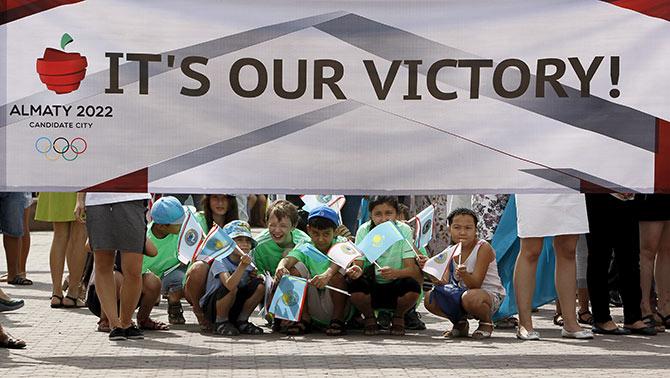 Almaty could consider another Olympic bid campaign after narrowly losing out to Beijing for the 2022 Winter Olympics, Kazakhstan's Prime Minister Karim Massimov hinted.
Sania Mirza recommended for Rajiv Gandhi Khel Ratna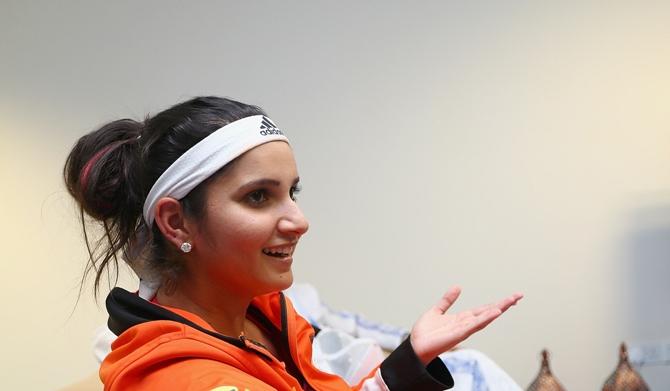 The Sports Ministry has confirmed that Wimbledon doubles champion Sania Mirza has been recommended for the Rajiv Gandhi Khel Ratna but made it clear that the final decision rests with only the Awards Committee.
Indian-American student baseball player to be honoured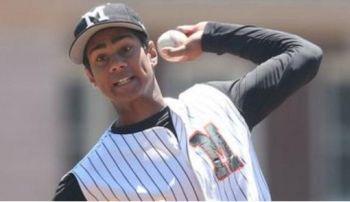 Teenage baseball sensation Kumar Nambiar from Westchester county has become the first Indian-American student athlete to be honoured with 'New York State Player of the Year', according to media reports.
Manchester United bank on Schweinsteiger for midfield mongrel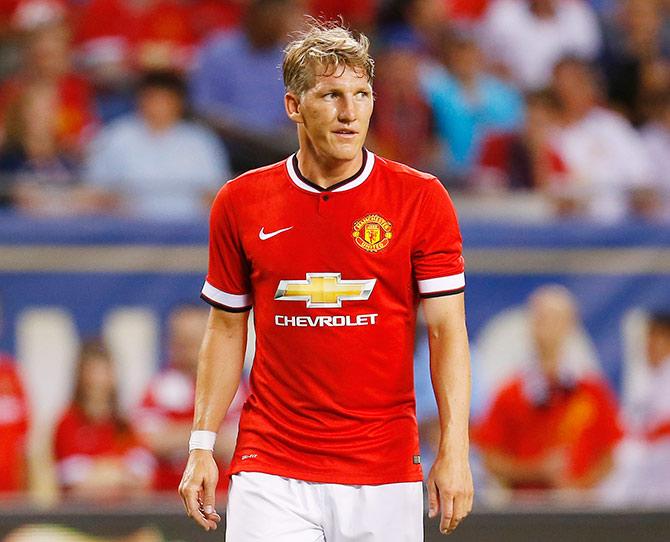 The signing of Germany captain Bastian Schweinsteiger from Bayern Munich was a massive statement of intent by Manchester United.
'Chelsea must be unpredictable because opponents know us well'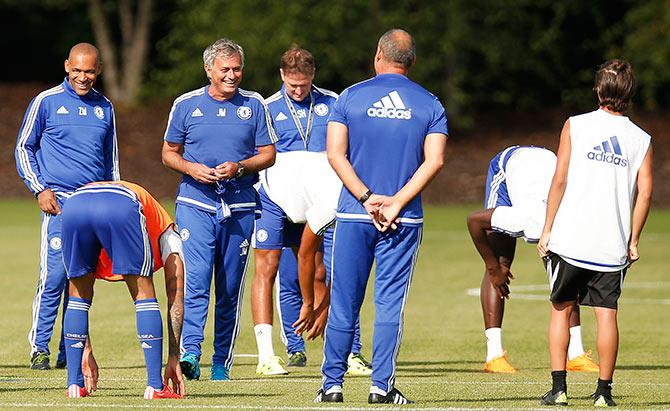 Chelsea must add a new dimension to their brand of football if the champions are to mount a strong defense of the Premier League title they won in some comfort last season, said manager Jose Mourinho.
Olympic sailors, rowers shrug off reports of Rio's polluted waters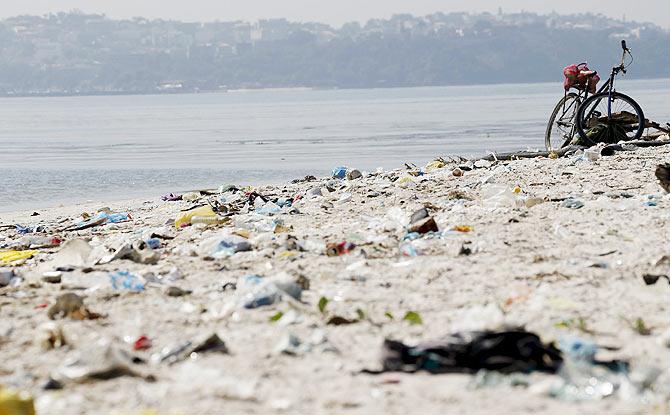 Sailors and rowers were not worried about getting sick during the Rio Olympics next year despite reports that waters to be used for events have pollution levels equivalent to raw sewage, competitors said on Thursday.
Barca's youth eager to make most of opportunities during transfer ban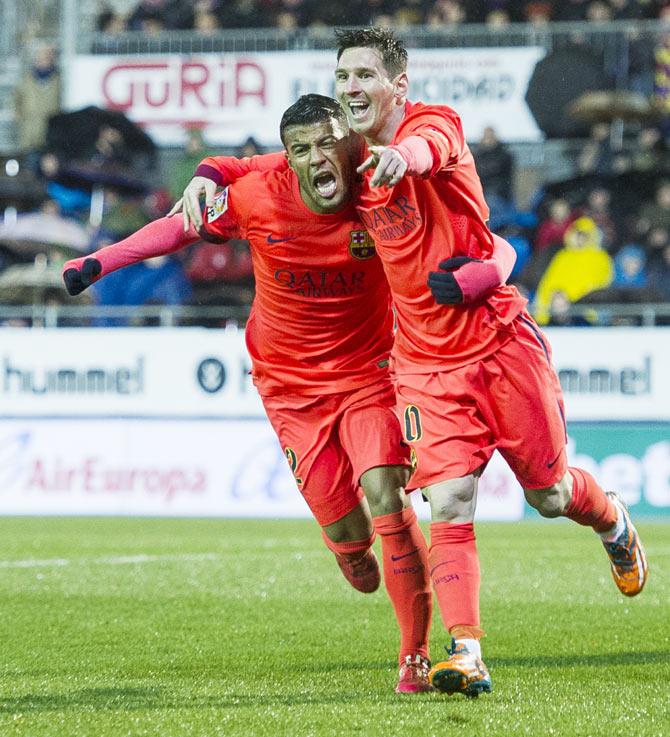 Barcelona's famed youth academy has taken a back seat to big-name signings in recent years but as a result of the FIFA transfer ban imposed on the club, promising youngsters have been given a chance to shine in Luis Enrique's side.
July 31, 2015
IOC in no mood for risks, opts for Beijing's sure bet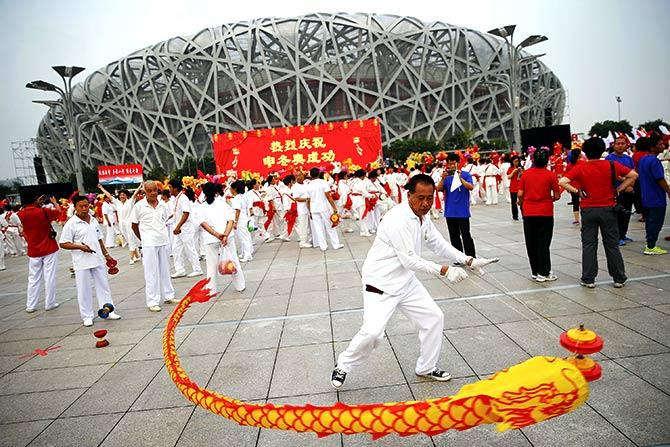 The choice of Beijing as host of the 2022 Winter Olympics over Kazakhstan's Almaty was a solid vote for the tried and tested, and the financial and organisational security of China.
Theo Walcott and Santi Cazorla sign new Arsenal contracts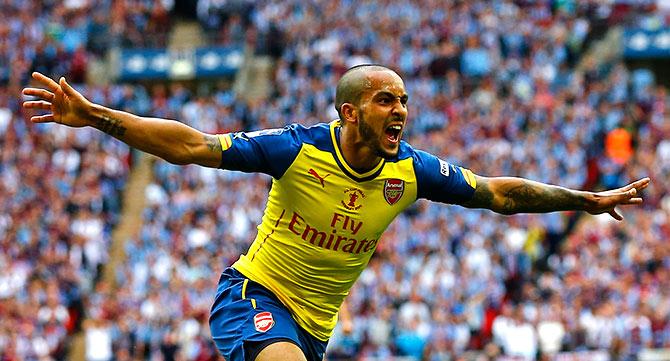 Arsenal forward Theo Walcott and Spanish midfielder Santi Cazorla have signed new contracts with the Gunners, the Premier League club said on Friday.
Beijing awarded 2022 Winter Olympics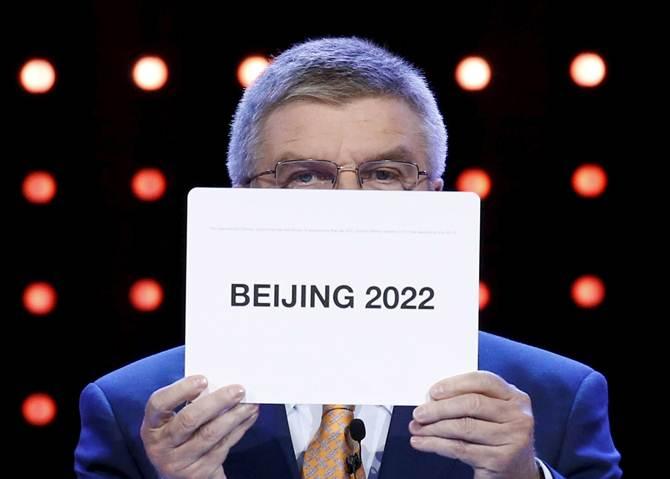 Beijing was chosen by the International Olympic Committee (IOC) to host the 2022 Winter Olympics on Friday, becoming the first city to be awarded both summer and winter Games.
US lawmakers call for allowing turbaned Sikh basketball players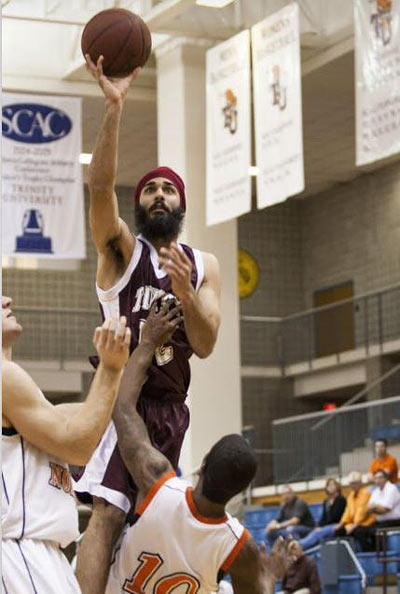 A bipartisan group of 39 influential American lawmakers has asked the International Basketball Federation to end its discrimination against Sikh players and allow them to play while wearing a turban.
Meet the potential FIFA presidential candidates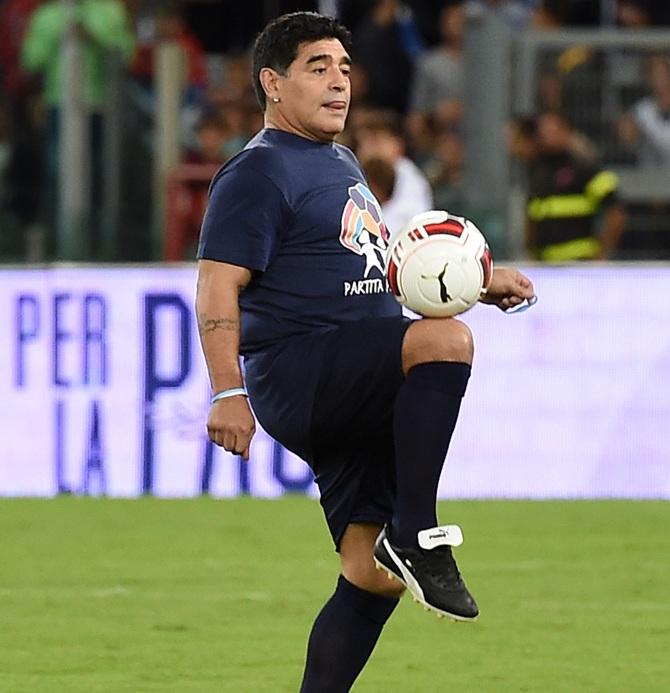 The election to replace outgoing Sepp Blatter will take place at an extraordinary congress on February 26 in Zurich.
Warne says booing fine over Goodes race row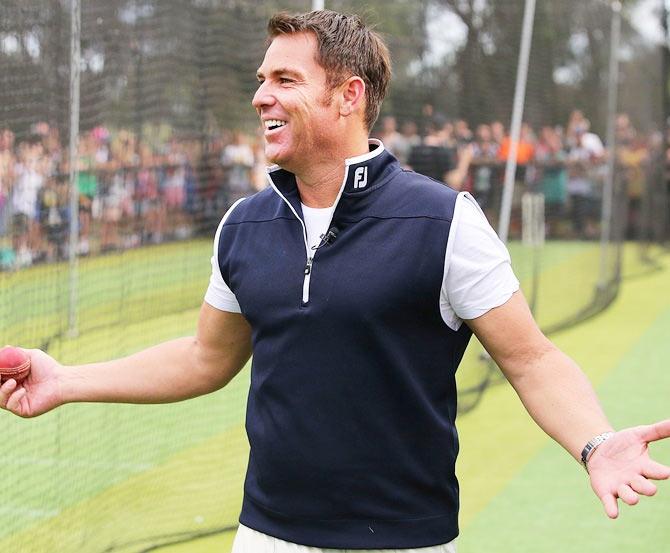 "I can understand why he's upset because no one should be subject to taunts, they particularly shouldn't be subject to racial taunts.
Diamond League: Fraser-Pryce rules the track; Oliver suffers setback
Women's 100 metres world champion and Diamond Race leader Shelly-Ann Fraser-Pryce won.
Gomez joins Besiktas on loan after injury-hit Fiore spell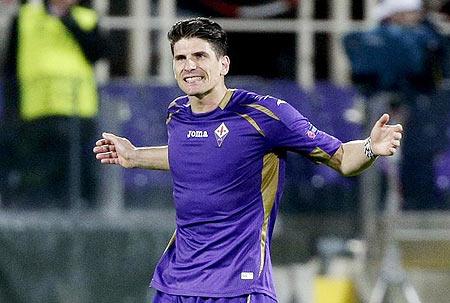 German forward Mario Gomez has joined Besiktas on loan after two unhappy, injury-plagued seasons at Fiorentina, the clubs said on Thursday.
Transferred...with a twist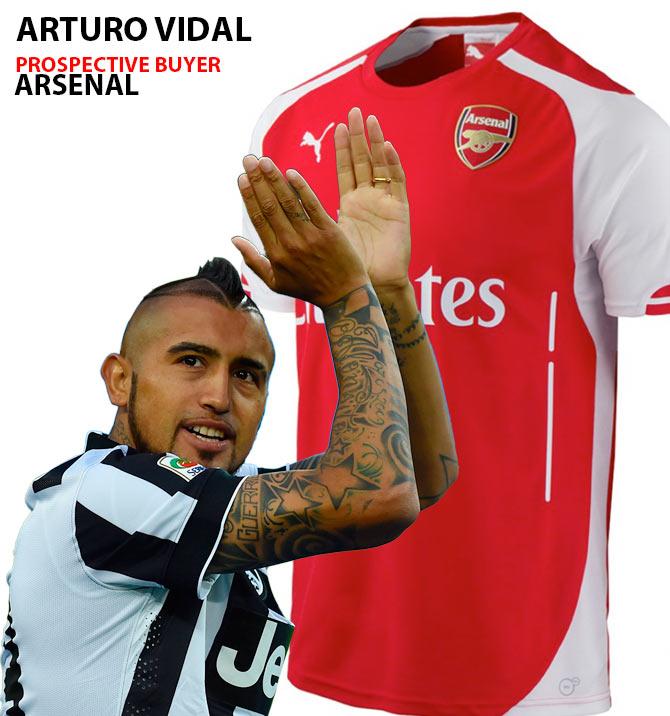 The summer transfer season in Europe has witnessed many a high-profile move, and a surprise or two. Rediff.com takes a look at a few such tales that ended not as expected.
FC Goa coach Zico's FIFA bid gets lukewarm backing from CBF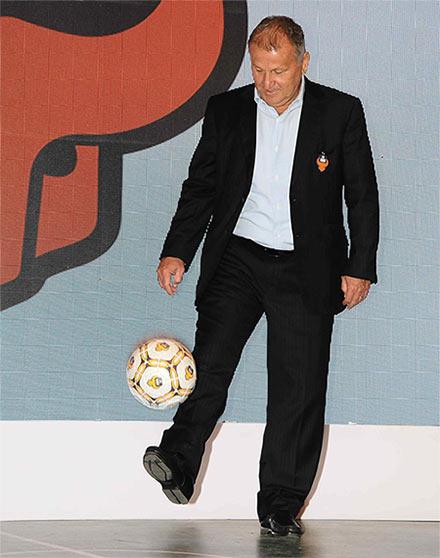 Zico has been promised the backing of the Brazilian Football Confederation (CBF) for his bid to run for the FIFA presidency if he can show he has the support of four other federations.
'Missing' Olympian wants to return, fight and train Indian boxers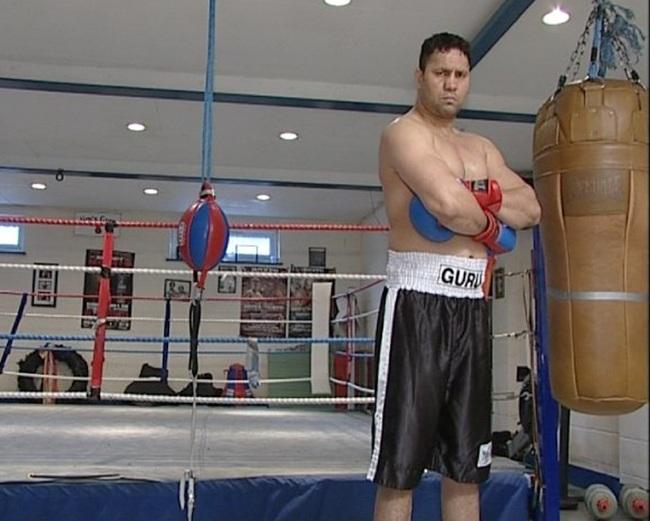 Gurcharan Singh tells Laxmi Negi/Rediff.com why he deserted the Indian team and the reason for wanting to return to the country after 15 years.
Mob Museum to display FIFA's 'rampant corruption'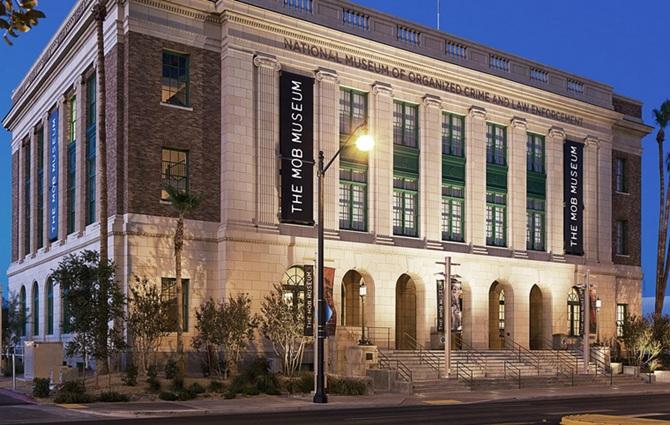 A Las Vegas museum devoted to the exploits of Tommy gun-wielding mobsters will open a permanent display that explores the "rampant corruption" of global soccer's scandal-rocked governing body, which has drawn comparisons to organized crime.
July 30, 2015
'Zhangjiakou has schools and overseas projects for winter sports'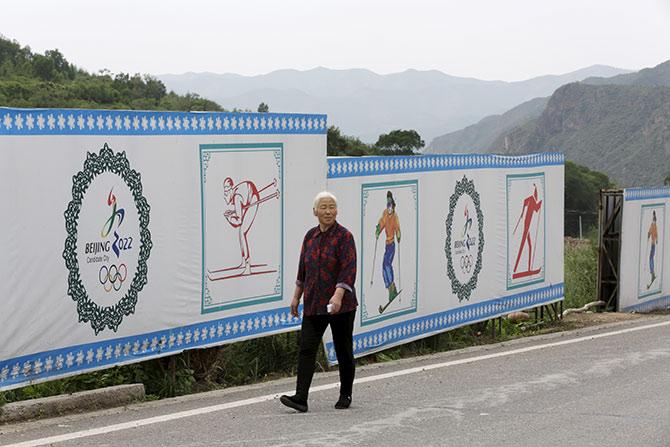 Zhangjiakou, the joint-bidding city of Beijing for 2022 Winter Olympics, is developing fast in skiing industry. Mayor Hou Liang said on Thursday that the Hebei city had been training coaches to meet the need of the rapid development.
Rajat Chauhan in gold medal race at World archery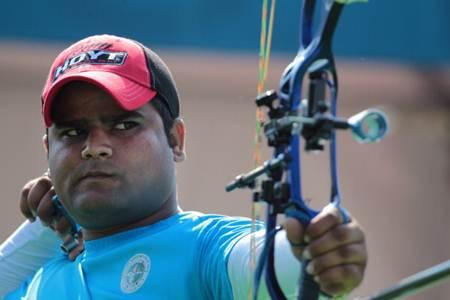 Rajat Chauhan ensured India a medal by making the final in the compound section, while Laxmirani Majhi advanced to the bronze medal play-off in the women's recurve in the World Archery Championships, in Copenhagen, on Thursday.
Constantine announces list of 28 probables for WC qualifier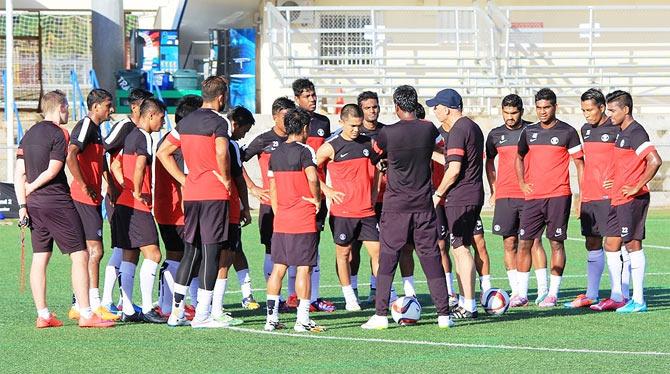 National coach Stephen Constantine announced a list of 28 probables on Thursday for India's forthcoming 2018 World Cup preliminary joint qualification match against Iran.
South Korea's Chung running for FIFA president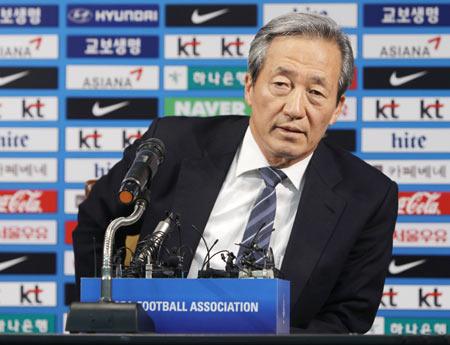 Former FIFA vice-president Chung Mong-joon, one of the most influential figures in Asian soccer, told Reuters on Thursday he is entering the race to replace Sepp Blatter as president of football's world governing body.
Why the race debate is raging in Australia?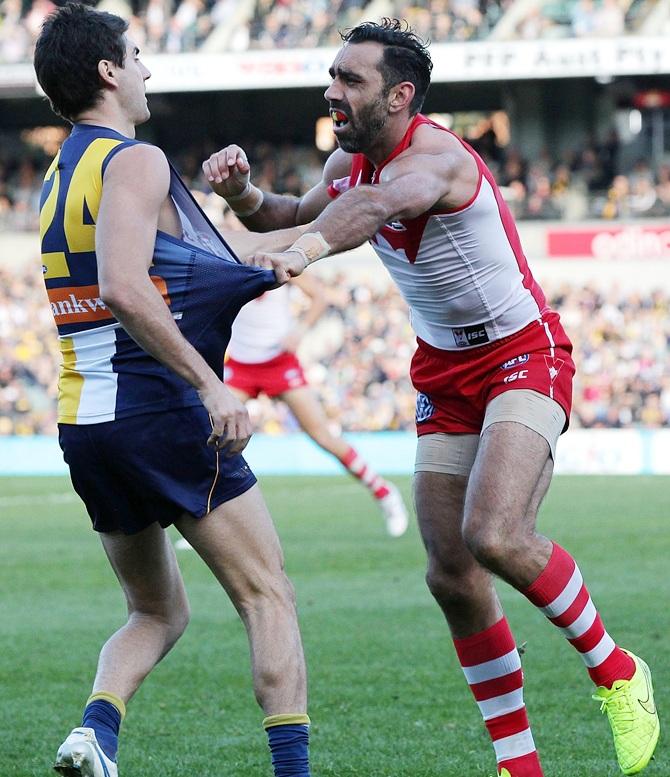 Months of relentless booing of Aboriginal football great and anti-racism campaigner Adam Goodes has ignited an
ISL: Former Chelsea player Mutu signs for FC Pune City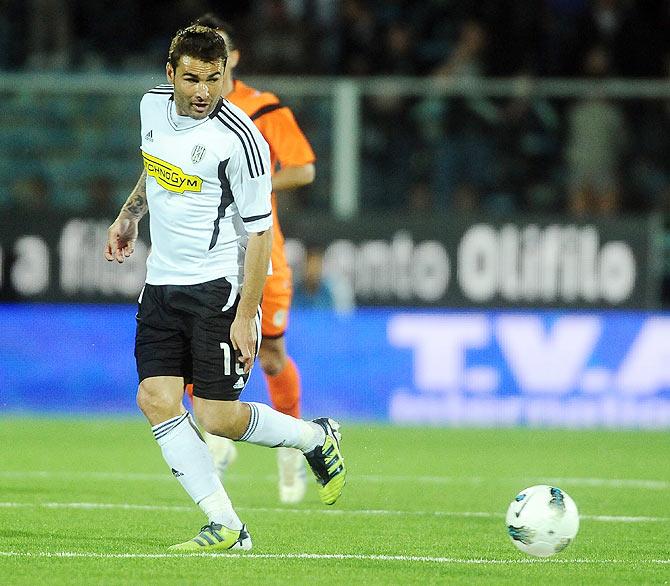 The 36-year-old player, whose career has been chequered by controversy, spent last season at Petrolul Ploiești, a top-flight Romanian club.
English FA back Platini's FIFA presidency bid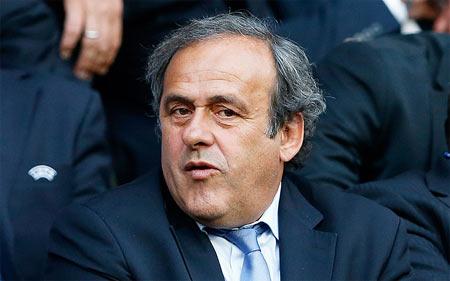 The English FA have thrown their weight behind Michel Platini's bid to succeed Sepp Blatter as FIFA president.
Felix to run 400m and relays at World Championships
Olympic 200 metres gold medallist Allyson Felix has chosen to run the 400 metres at next month's world championships, her coach told Reuters on Wednesday.
World's fastest woman sets sights on 100 and 200 metres titles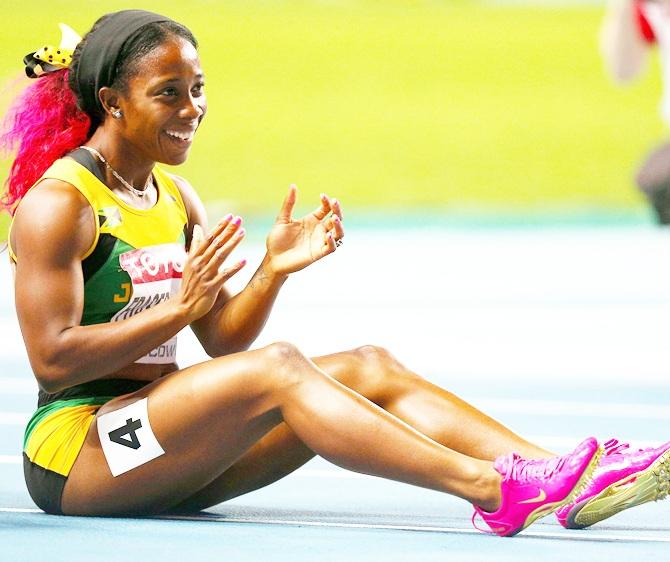 Shelly-Ann Fraser-Pryce, the world's fastest woman, may change her plans and defend both her 100 and 200 metres titles at next month's world championships in Beijing.
Kaka leads MLS All-Stars to win over Tottenham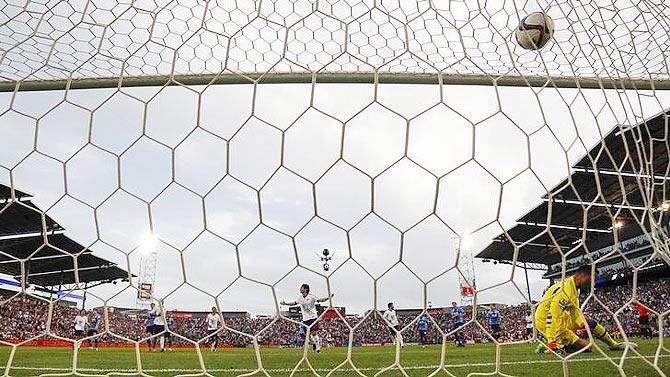 Former Brazil international Kaka made the most of his first appearance in the Major League Soccer All-Star Game as he helped lead his team past English Premier League side Tottenham Hotspur 2-1 on Wednesday.
International Champions Cup friendly: PSG beat United in Chicago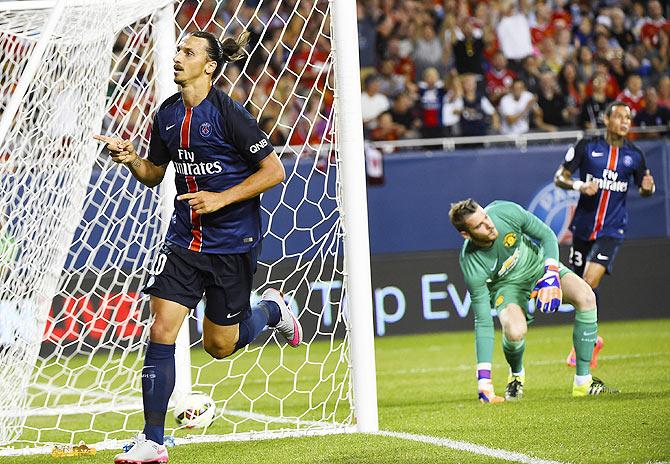 Blaise Matuidi and Zlatan Ibrahimovic scored first half goals as Paris Saint-Germain beat Manchester United 2-0 on Wednesday in their International Champions Cup clash in Chicago.
CL Qualifier: Ajax squander two-goal lead against 10-man Rapid Vienna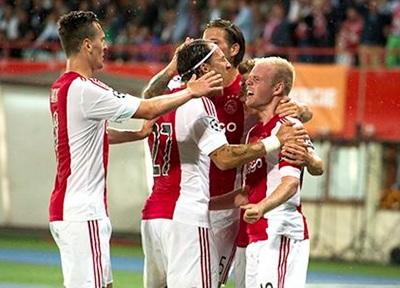 Ajax Amsterdam, returning to the stadium where they last won the Champions League 20 years ago, squandered a two-goal lead to draw 2-2 against 10-man Rapid Vienna on Wednesday.
Diamond League: German Schwanitz creates history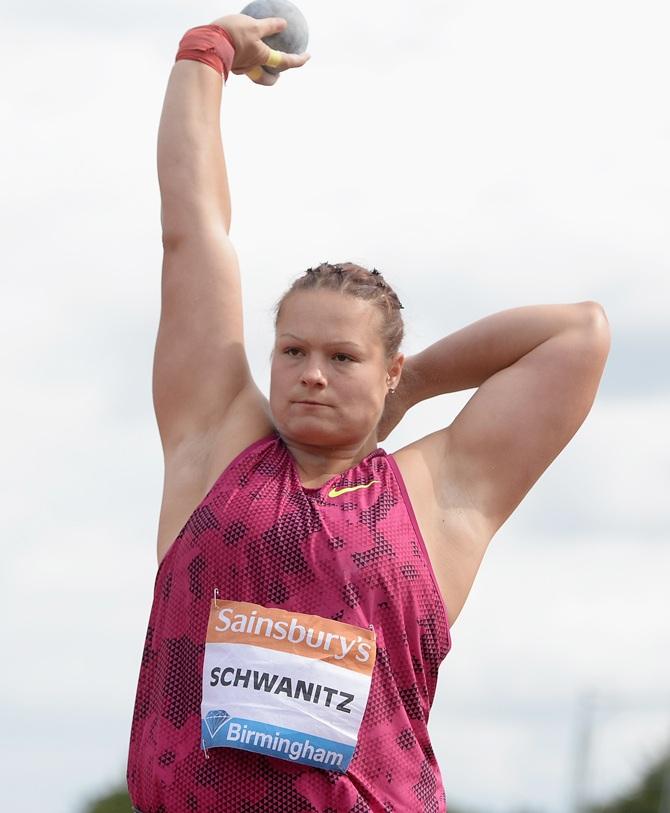 Germany's Christina Schwanitz effectively wrapped up her first Diamond Race shot put title with a winning throw of 20.13 metres on the eve of the main IAAF Diamond League meeting in Stockholm.
Federer withdraws from Rogers Cup in Montreal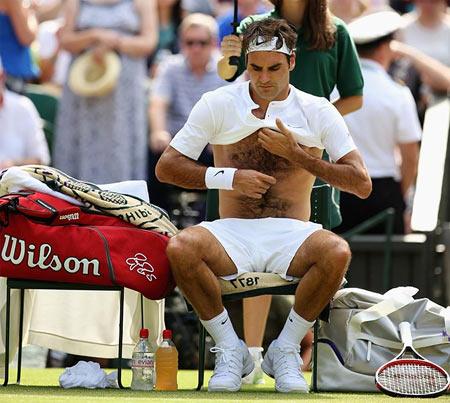 World number two Roger Federer has withdrawn from next month's Rogers Cup in Montreal, though he gave no reason for his decision in a statement released by organisers on Wednesday.
Maradona wants to fight FIFA 'mafia'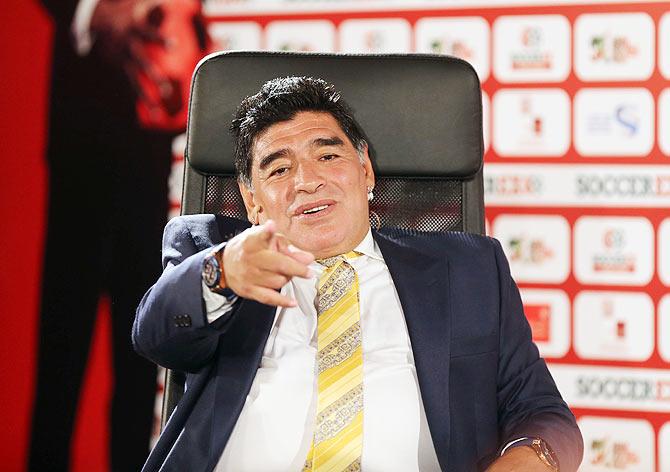 Argentine football great Diego Maradona said on Wednesday he wants to fight the "mafia" responsible for the corruption scandal that has rocked FIFA, but he stopped short of saying he wants to be the next president of global soccer's governing body.
July 29, 2015
Platini to stand for FIFA presidency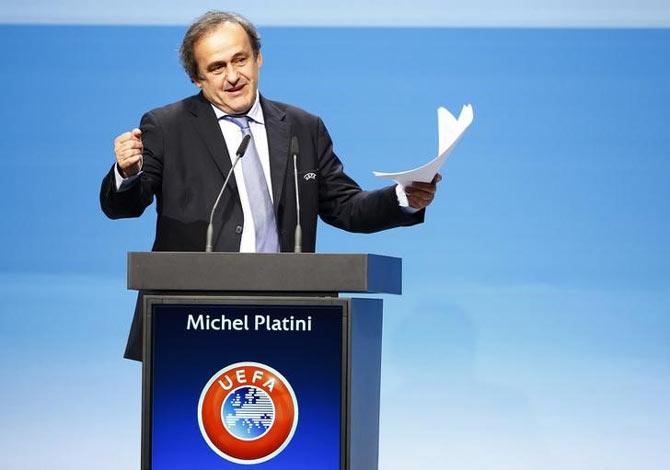 UEFA head Michel Platini announced on Wednesday his intention to stand for presidency of FIFA in place of Sepp Blatter.
Somdev beaten by American qualifier Donaldson at Atlanta Open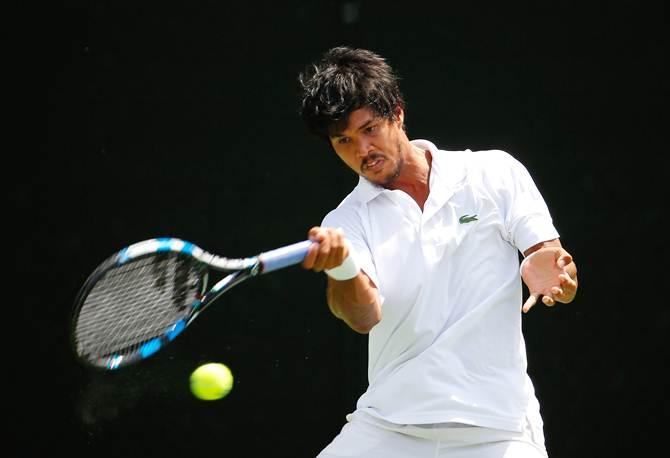 Somdev Devvarman, India's No 1 singles player, was knocked out of the ATP Atlanta Open by American qualifier Jared Donaldson on Tuesday. The 30-year-old Davis Cupper, who also entered the main draw of the event through the qualifiers, lost 1-6, 6-3, 4-6.
PHOTOS: Neymar makes the most of his holidays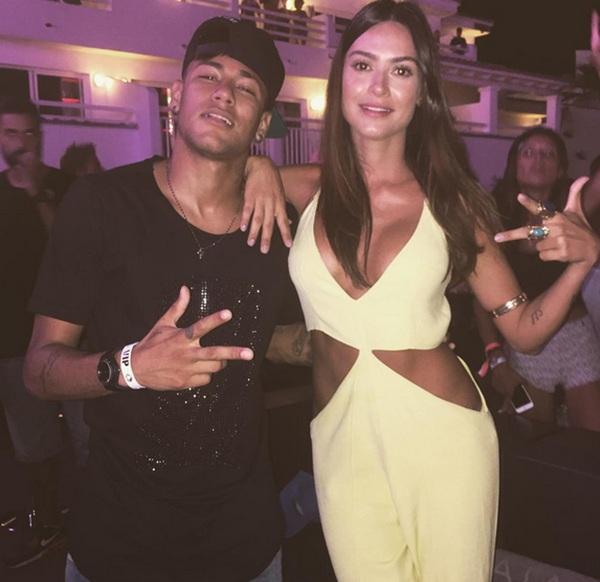 When Barcelona lost to Chelsea in pre season friendly, Neymar was busy holidaying in Ibiza, Spain.
CLeague: Shakhtar field midfielder Fred despite threat of doping ban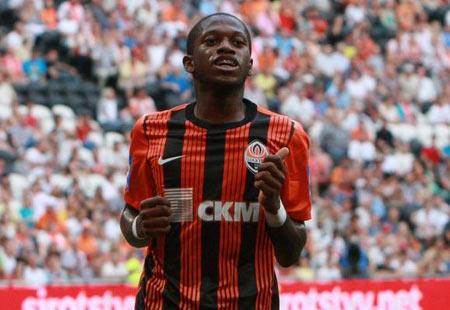 Shakhtar Donetsk coach Mircea Lucescu admitted he went against UEFA's wishes in fielding midfielder Fred in Tuesday's Champions League qualifier despite being aware of a possible doping violation hanging over the Brazilian international.
Hitler-built stadiums hosting Europe's biggest Jewish sports event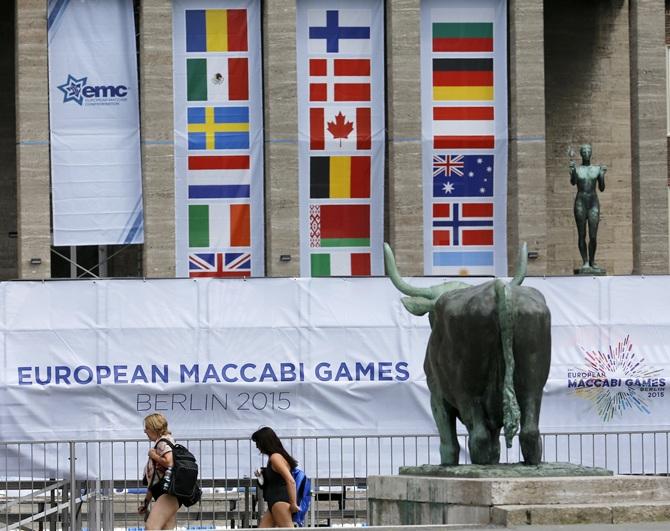 Seven decades after Adolf Hitler sought to stop Jews from competing in the 1936 Olympics in Berlin, more than 2,500 Jewish competitors will take part in the 14th European Maccabi Games from Wednesday.
Always nice to beat Barcelona, isn't it?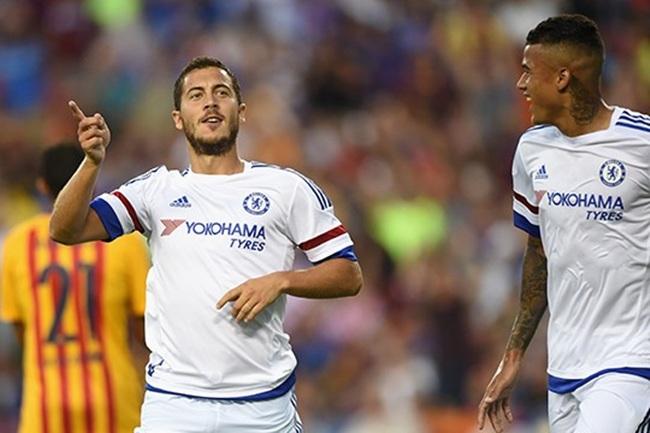 Chelsea wrapped up their pre-season tour of the United States on a high note by beating Barcelona in a shootout after their International Champions Cup match ended 2-2 on Tuesday.
Mexico fire coach Herrera after alleged punching incident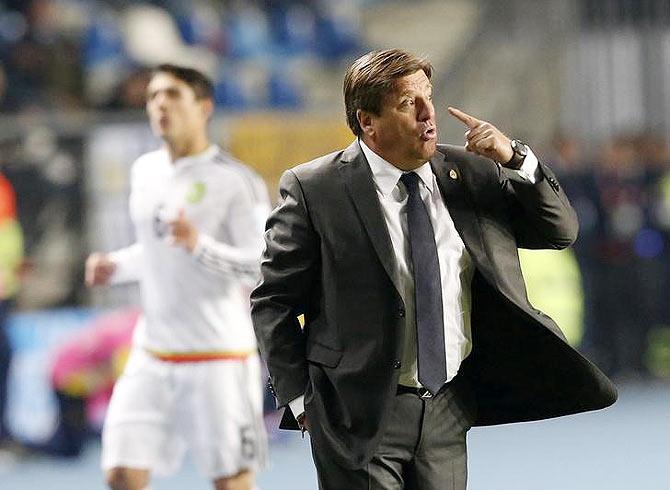 Miguel Herrera, Mexico's national soccer team coach, was fired on Tuesday, a day after he allegedly punched a reporter who had criticized his team's performance in the recent Copa America and Gold Cup tournaments.
Here is how Formula One drivers enjoy their 'summer break'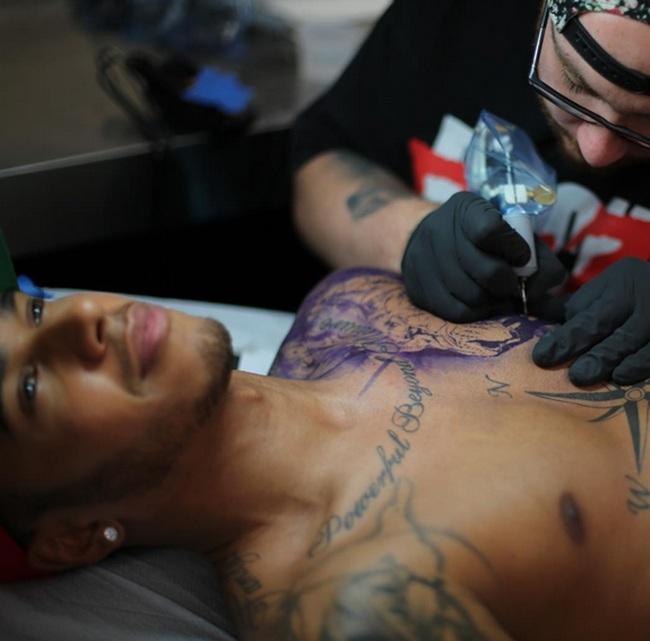 While Formula One rivals head to the sea or mountains at the start of the August break, Max Verstappen has some driving lessons on the horizon.
July 28, 2015
Transfer Buzz: Filipe Luis rejoins Atletico from Chelsea
Defender Filipe Luis has rejoined Atletico Madrid from Chelsea in a reported 16 million euro ($17.66 million) deal, the Spanish club said.
Ajax join Champions League with the minnows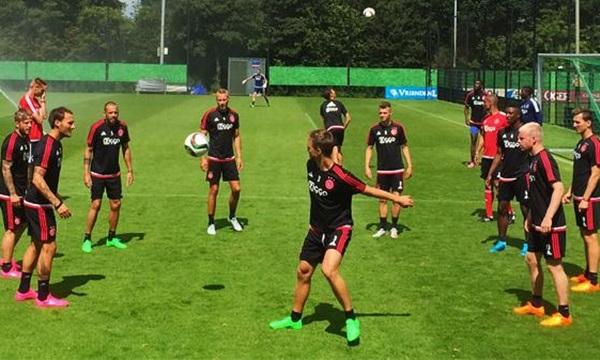 Four-time European champions Ajax Amsterdam find themselves among the pre-qualifiers for the Champions League this year as Dutch football pays the price for its declining record in continental competition.
Indian women archers qualify for Rio Olympics, men's team fail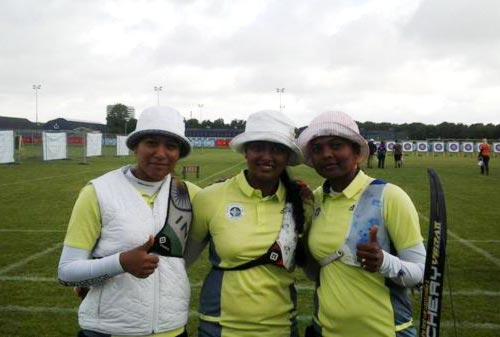 The Indian women's recurve team earned Olympic quota for the 2016 Rio Games by entering the final, while the men's trio failed to advance after giving away a handsome lead, at the Archery World Championships, in Copenhagen, on Tuesda
It's sealed! Vidal completes $44 million move to Bayern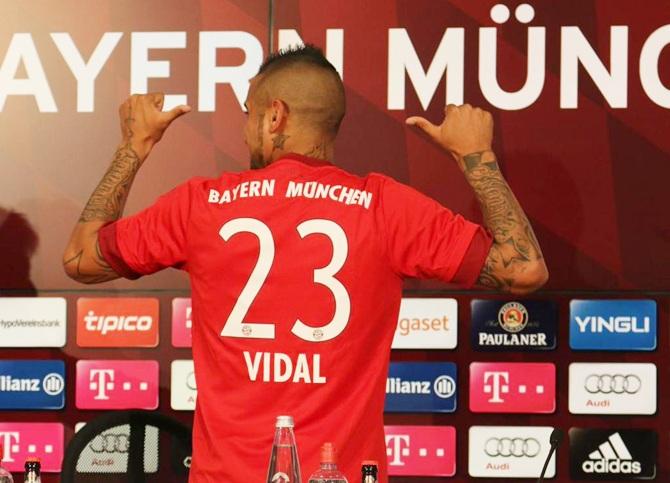 Chile midfielder Arturo Vidal has completed his transfer from Juventus to Bayern Munich by signing a four-year contract with the Bundesliga champions.
UEFA head Platini to announce FIFA presidency bid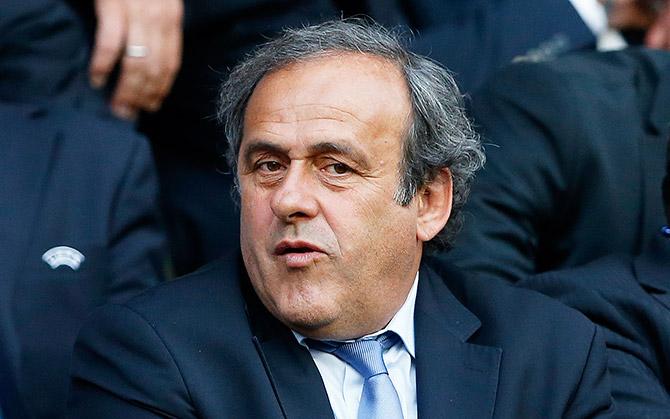 Michel Platini, the head of European soccer's governing body UEFA, is to announce in the next few days that he will stand for the presidency of FIFA, a source close to the former France international told Reuters on Tuesday.
Best Pictures from the Tour de France - Part 2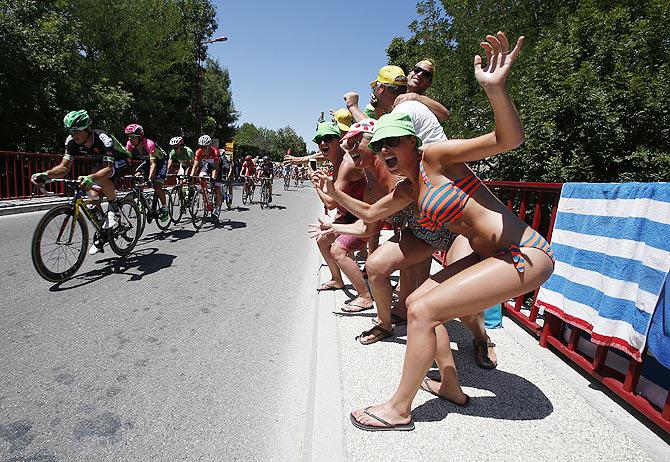 Rediff.com gives you a flashback of the beautiful moments from the Tour de France this year.
This is a great day for women sports, Sonoval on Dutee's clearance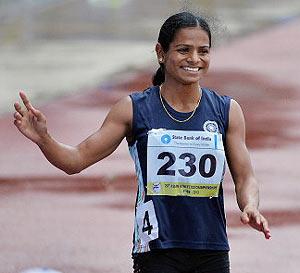 Sports Minister Sarbananda Sonowal welcomed the Court of Arbitration for Sport's decision that allowed Indian sprinter Dutee Chand to resume her career, which was brought to a halt owing to IAAF Regulation on Hyperandrogenism.
IOC expects US 2024 bid despite Boston pullout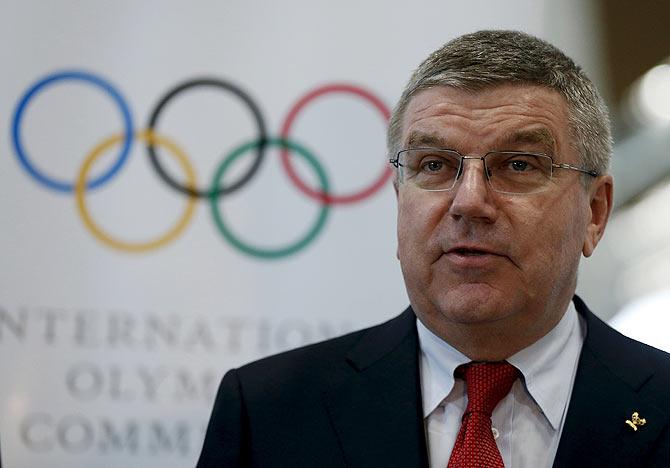 The International Olympic Committee remains confident the United States will deliver a bid to host the 2024 Summer Games despite Boston's withdrawal from the race on Monday.
India sprinter Chand cleared by CAS over gender testing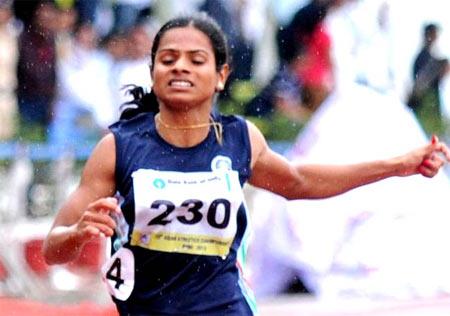 Monday's ruling cleared the way for the 19-year-old to compete again in both domestic and international events after she was forced to sit out for about a year.
Mexico football coach Herrera accused of punching journalist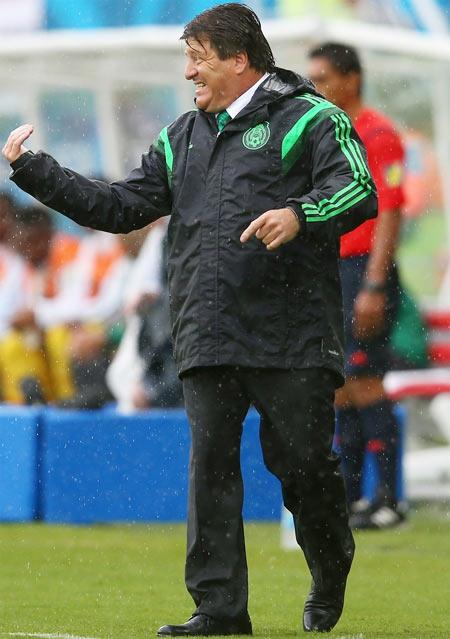 The coach of Mexico's national soccer team was accused on Monday of punching a journalist in the neck during an altercation at the Philadelphia airport, a day after Mexico's triumph in Sunday's CONCACAF Gold Cup tournament.
Barca, Bilbao face fines for politically-motivated jeers at King's Cup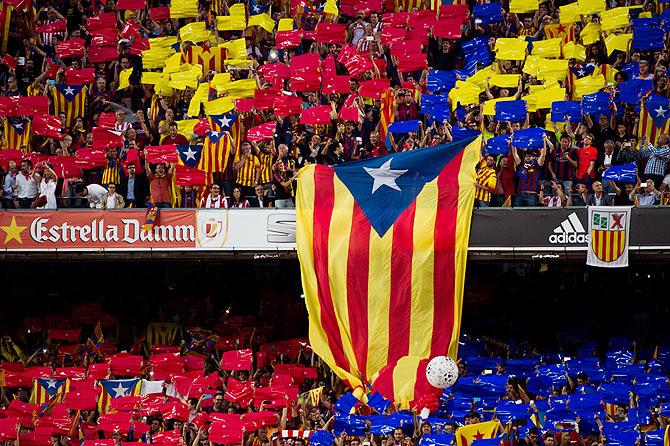 Barcelona, Athletic Bilbao and the Spanish football federation face fines over politically-motivated whistles and banners during last season's King's Cup final at the Nou Camp, the Spanish government said on Monday.
Drogba joins MLS bandwagon, signs for Montreal Impact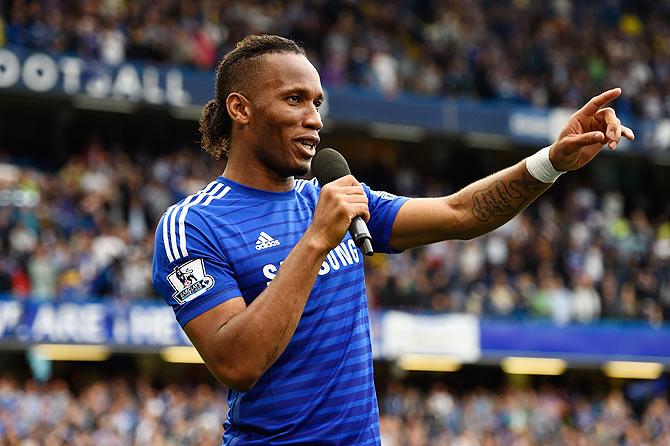 "It's an honour to welcome Didier Drogba to the Impact," said team president Joey Saputo.
People like Blatter deserve Nobel Prize, says Putin!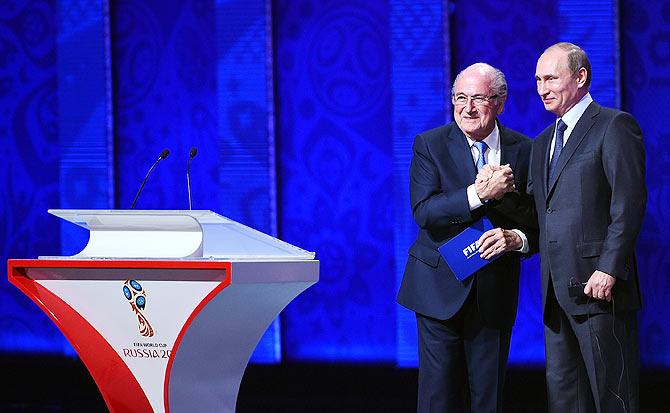 FIFA boss Sepp Blatter deserves a Nobel Prize for his stewardship of soccer's governing body, Russian President Vladimir Putin said in an interview aired by Swiss broadcaster RTS on Monday.
Van Gaal seeking galactico touch for resurgent Manchester United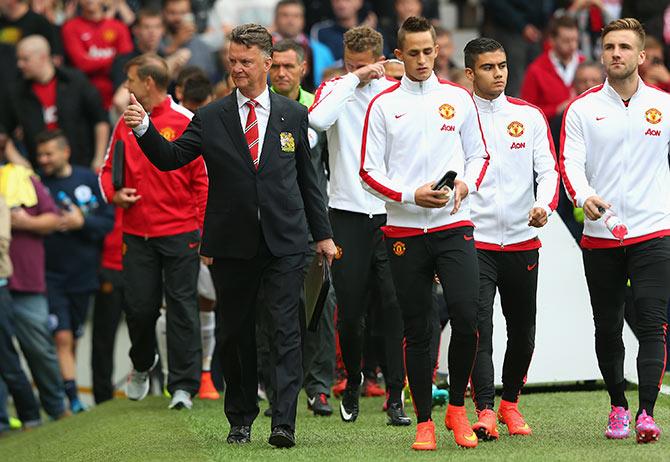 Louis van Gaal wants to recruit a new galactico match-winner for Manchester United in a bid to fulfil his ambition of bringing another Premier League title to Old Trafford before he walks away from the club in two years.
July 27, 2015
Rodriguez strike caps Real Madrid's 3-0 win over Inter Milan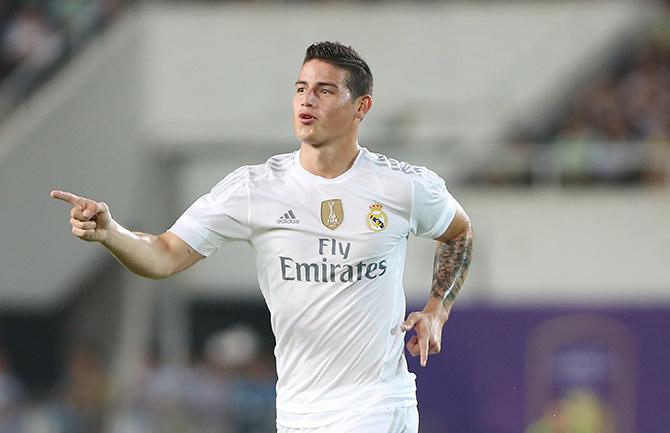 James Rodriguez curled home a superb free kick to cap Real Madrid's 3-0 win over Inter Milan in a friendly in Guangzhou on Monday.
Indian hockey team to embark on Euro tour under Oltmans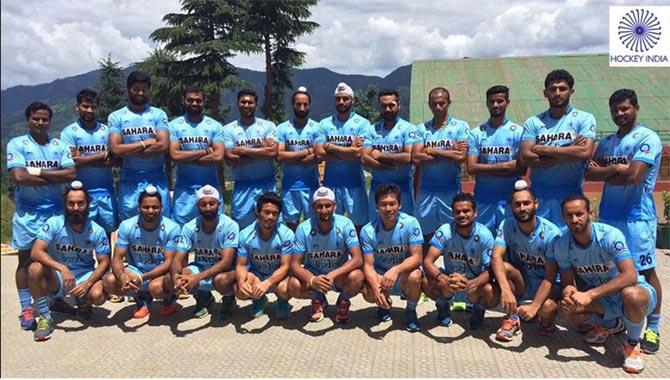 A 21-member Indian men's hockey team will embark on a 15-day tour of Europe, starting July 31. High Performance Director Roelant Oltmans will take over as the chief coach of the side following the unceremonious ouster of Paul Van Ass.
5 odds Froome fought-off to make history at Tour de France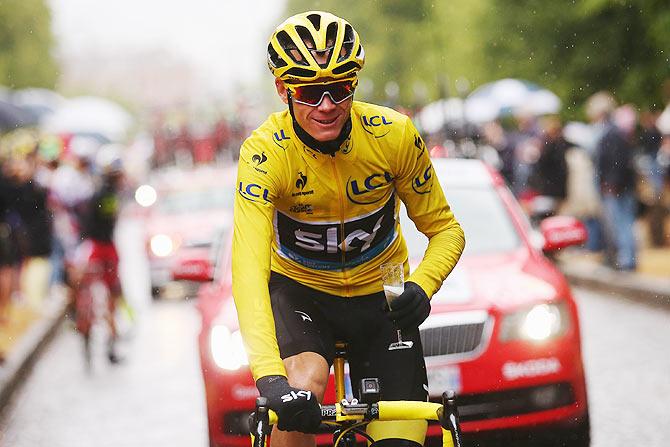 But Froome's Big Four rivals at the tour -- Alberto Contador, Vincenzo Nibali and Nairo Quintana - weren't the only hurdles in his path. There were outside influences that threatened to derail his campaign.
Australia exile Tomic wins ATP title in Bogota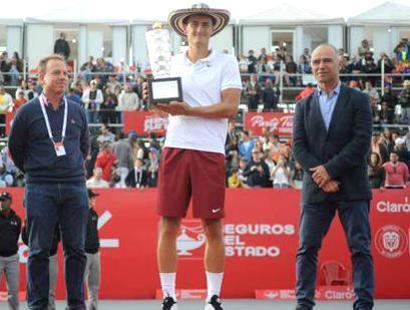 Australian bad boy Bernard Tomic has shrugged off his Miami arrest and banishment from the Davis Cup team to successfully defend his ATP title in Bogota.
Wrestling: Indian eves bag silver at Kazakhstan Presidential Cup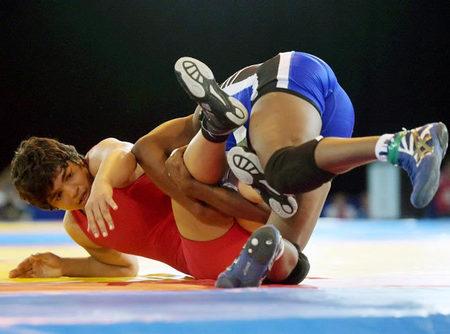 The Indian women's wrestling team had a good preparation for the upcoming World Championship as they finished second in the fifth Cup of the President of Republic of Kazakhstan on Sunday.
Froome's rivals not good enough as Tour de France disappoints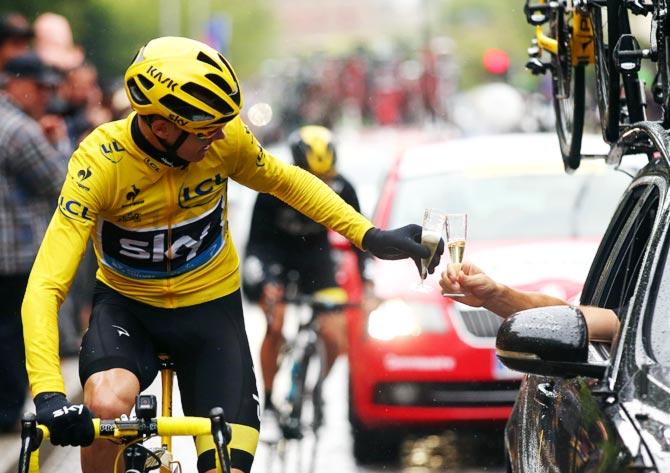 This year's Tour de France had been advertised as an exciting battle royale between four great riders yet it panned out as an underwhelming contest as Chris Froome's rivals failed to live up to expectations.
Error-prone Hamilton gets it wrong but still stretches lead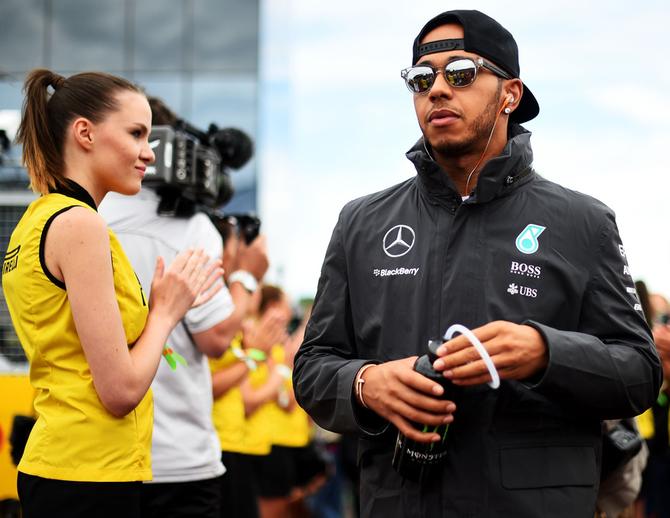 Before the start, Hamilton had spoken of Hungary fast becoming one of his favourite circuits.
Mexico beat Jamaica to claim CONCACAF Gold Cup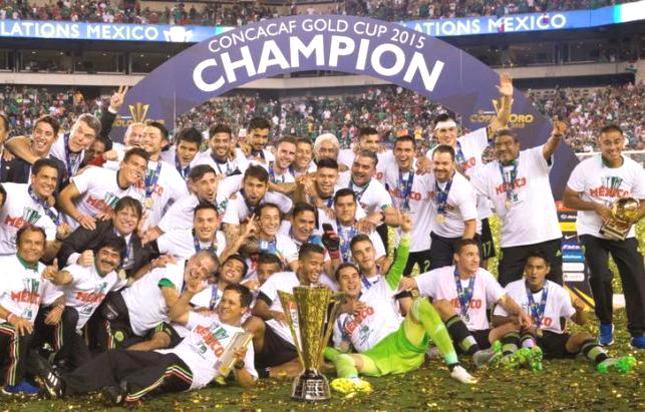 Clint Dempsey of the United States took the tournament's Golden Boot Award
Late bloomer Froome wins second Tour de France title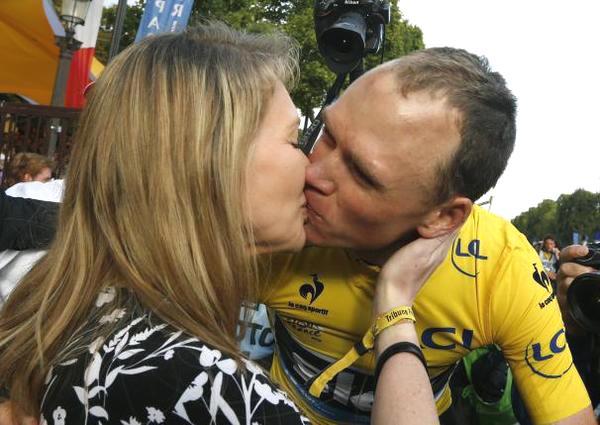 Briton Chris Froome won his second Tour de France title in three years on Sunday to enhance his growing reputation as a grand tour specialist.
Manchester United sign Argentina keeper Romero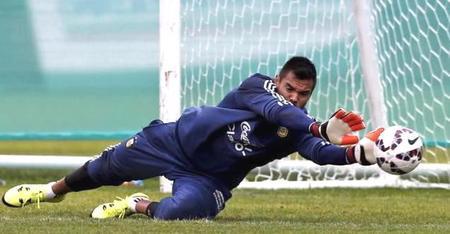 Manchester United have signed Argentina goalkeeper Sergio Romero on a three-year deal, the club said on Sunday.
July 26, 2015
Hungarian Grand Prix: Vettel wins for Ferrari and Bianchi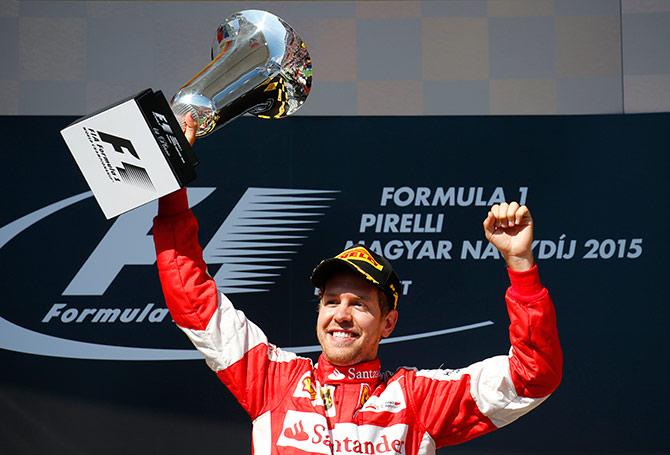 Germany's Sebastian Vettel won an emotional Hungarian Grand Prix for Ferrari and the late Jules Bianchi on Sunday after a crazy race that turned into a rare nightmare for champions Mercedes despite Lewis Hamilton increasing his overall lead.
FIFA, AIFF launch football development program in seven states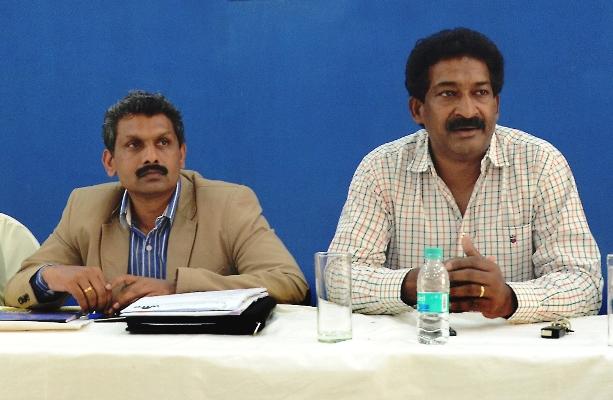 India has been termed the sleeping giant of world football by FIFA (Federation Internationale de Football Association) president Sepp Blatter and to awaken the dormant potential of the region, the international football association has launched a new program in partnership with the football association of seven Indian states.
Di Maria 'no show' adds fuel to rumours of PSG move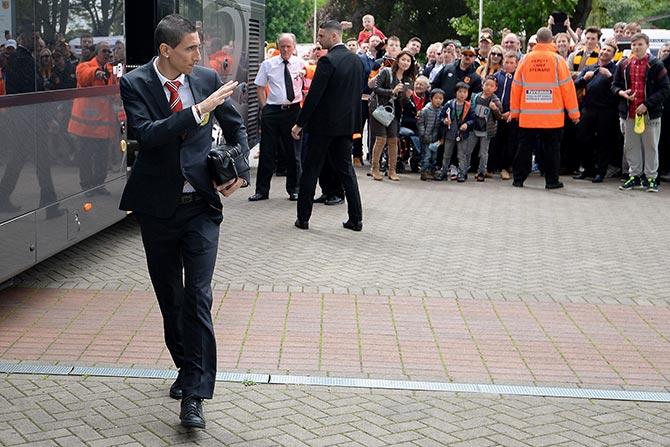 Manchester United manager Louis van Gaal "does not know why" Angel Di Maria has not joined the Premier League club's pre-season tour of the U.S following media reports the winger is close to signing for Paris St-Germain.
Coach Gopi confident of rich medal haul at Badminton World C'ships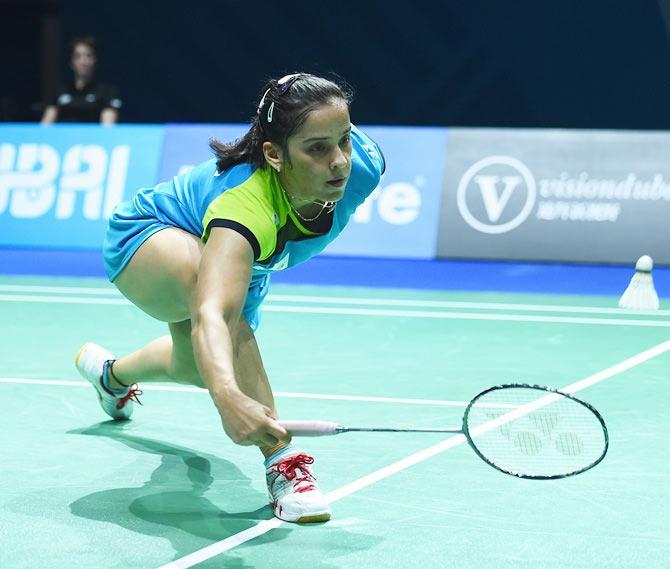 Confident about their preparation for the upcoming World Championships, India's chief badminton coach Pullela Gopichand said the home shuttlers have the best chance of winning multiple medals at the prestigious tournament next month.
Rosberg baffled by qualifying gap to Hamilton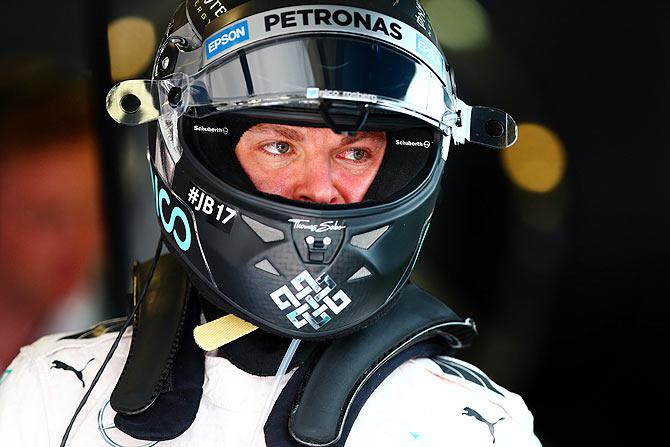 Nico Rosberg was looking for answers in Hungary on Saturday after being out-qualified by Formula One world champion teammate Lewis Hamilton for the ninth time in 10 races.
Gold Cup: Panama stun US to finish third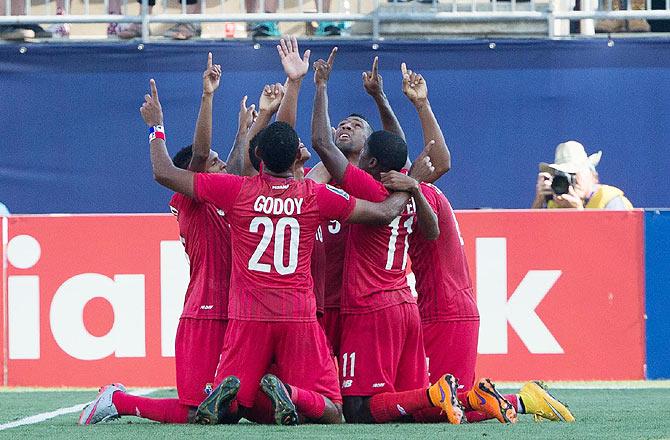 Panama goalkeeper Luis Mejia made three consecutive saves during a penalty shootout for his team to stun the United States 2-1 and secure third place at the CONCACAF Gold Cup on Saturday in Chester, Pennsylvania.
Russian Open: Shuttler Jayaram falls to Sugiarto in semi-final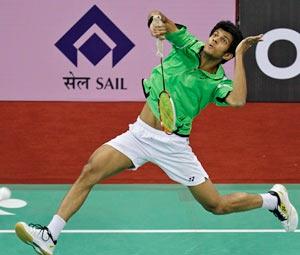 Indian shuttler Ajay Jayaram crashed out of the Russian Open on Saturday after incurring a straight-set defeat against Indonesia's Tommy Sugiarto in the semi-final of the Grand Prix badminton event in Vladivostok, Russia on Saturday.
Amos tames Rudisha in 800 metres; Thompson strikes gold in 200m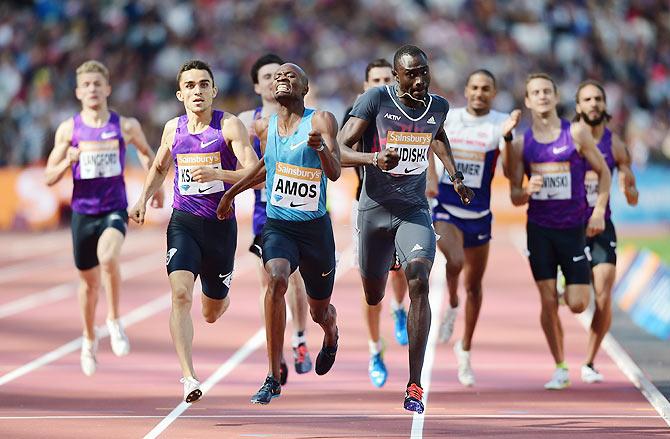 Botswana's Nijel Amos laid down a marker ahead of next month's world championships by winning a highly-anticipated 800 metres showdown with Kenyan Olympic champion David Rudisha at the Anniversary Games on Saturday.
Pre-season friendlies: United beat Barca 3-1; Arsenal thrash Lyon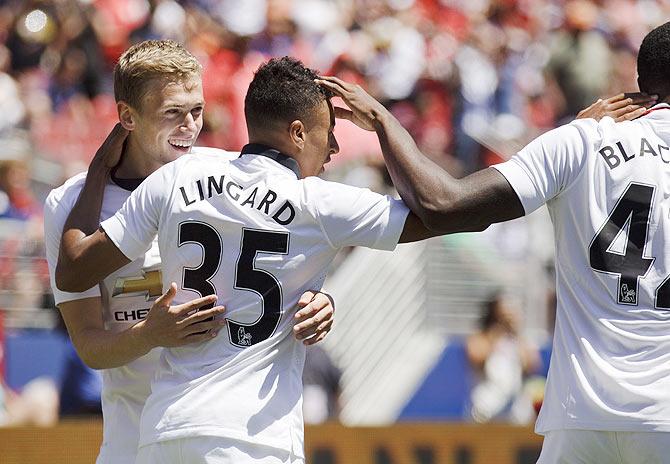 Manchester United kept up the positive momentum of their pre-season tour with a 3-1 victory over Barcelona in the International Champions Cup on Saturday in Santa Clara, California.
Spain and Italy paired in 2018 World Cup draw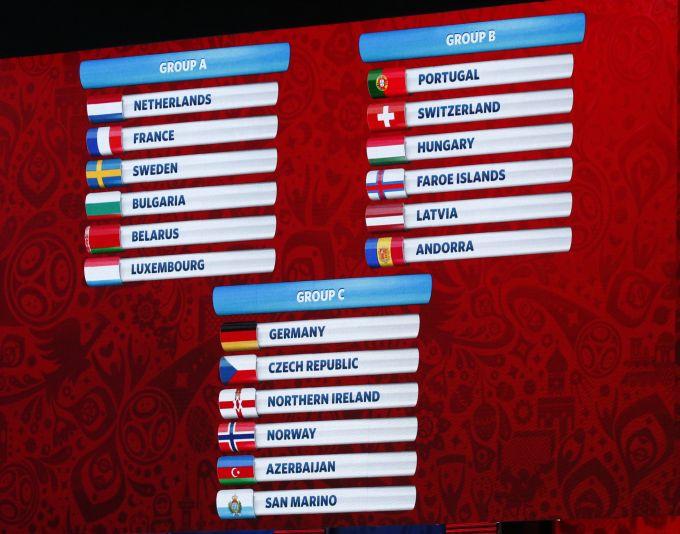 Spain and Italy were placed in the same qualifying group for the 2018 World Cup in Russia, as were the Netherlands and France, but holders Germany were handed a kinder campaign with the Czech Republic their chief rivals in the draw made on Saturday.
July 25, 2015
Pro kabaddi League: Delhi on top four after routing Bengal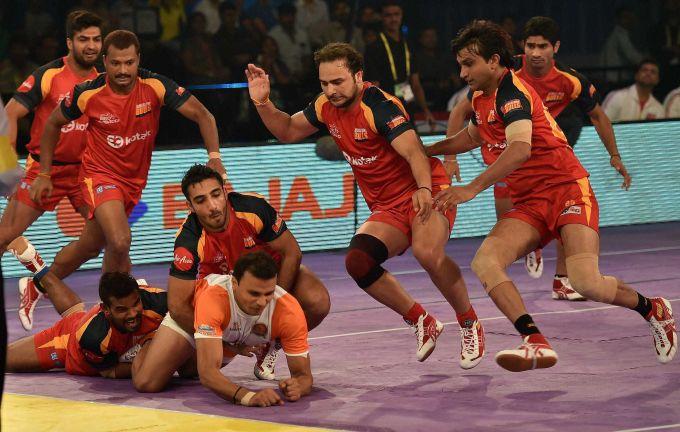 Dabang Delhi shot into top four after thrashing hosts Bengal Warriors while Bengaluru Bulls scripted a fine comeback in the second half to hand Puneri Paltan their fourth successive loss in the Pro Kabaddi League at the Netaji Indoor Stadium in Kolkata.
Froome poised to win Tour after Quintana attack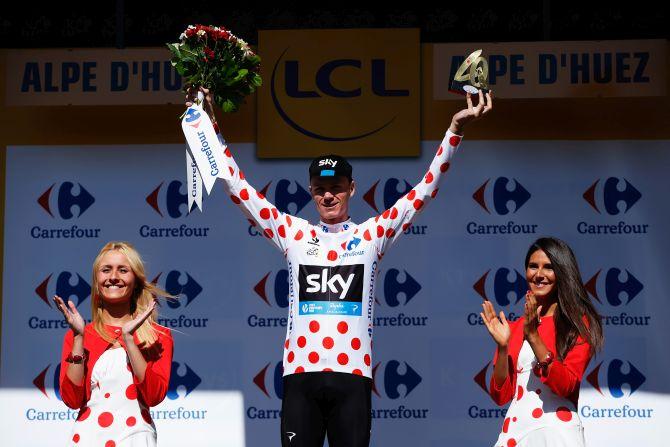 Chris Froome is poised to win a second Tour de France title after being forced to hang on desperately as Colombian Nairo Quintana attacked relentlessly in Saturday's penultimate stage up the iconic Alpe d'Huez.
Gopichand hopes doubles coach will get India more Olympic spots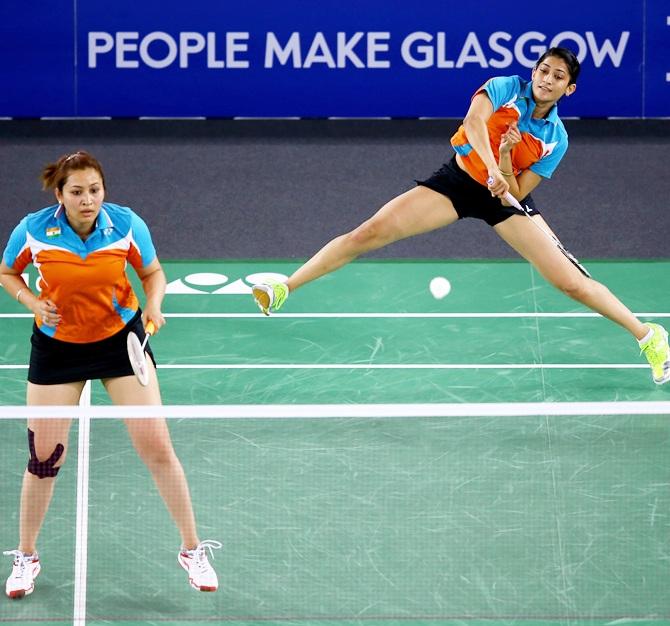 BAI has confirmed the services of Tan Kim, who will be joining the Indian team by the end of September to work with the top doubles players.
Olympic gymnast gets engaged after a sweet proposal!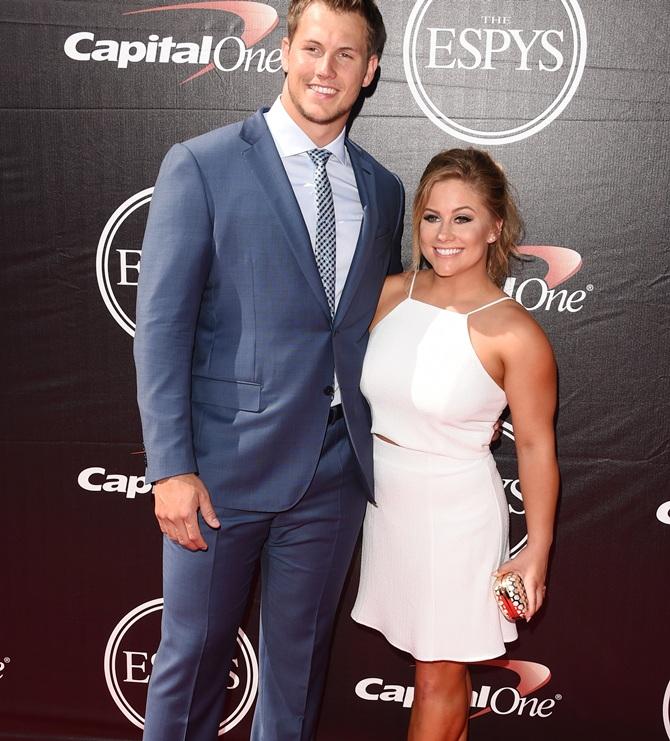 Olympic gold-medalist gymnast Shawn Johnson got engaged to Andrew East.
Robert Allenby should clean up his act!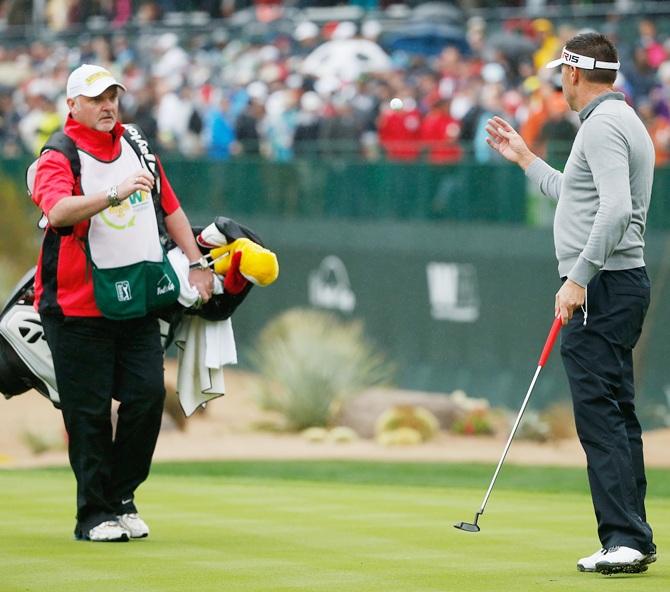 A caddie who witnessed the fiery verbal confrontation between Robert Allenby and his caddie during the Canadian Open is appalled by the way the player treated his bagman.
Five Roma players sent home from Indonesia airport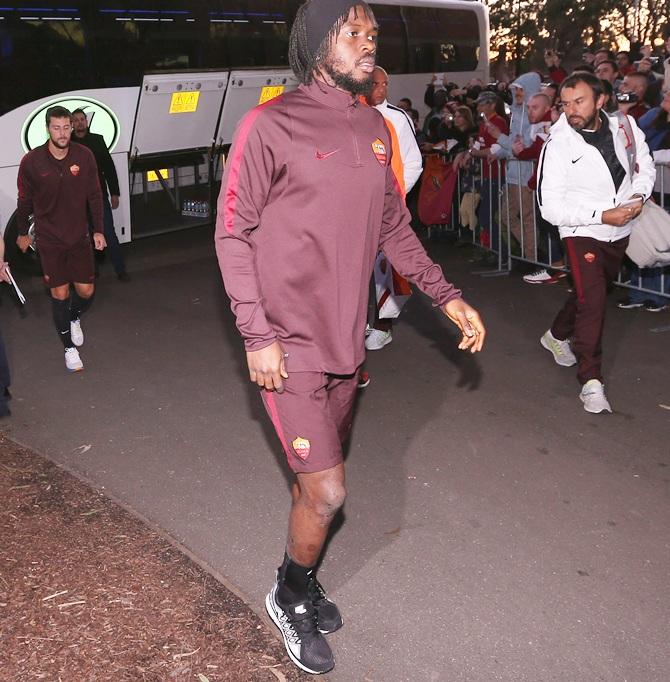 Indonesian football fans were thrilled to see Italian side AS Roma touch down in Jakarta on Friday as part of their pre-season tour.
Tour de France: Froome has lead cut; Nibali wins 19th stage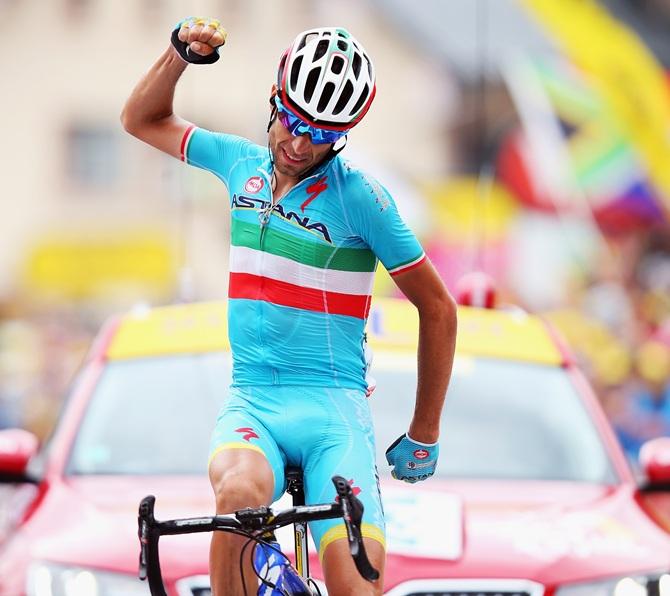 Chris Froome has one more mountainous hurdle to overcome to claim a second Tour de France title after Friday's 19th stage in which had 30 seconds chopped off his lead as Vincenzo Nibali claimed a controversial victory.
'Sepp Blatter is a victim'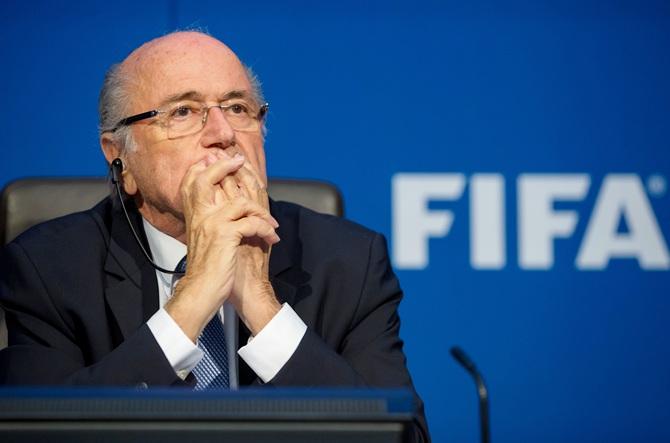 FIFA's embattled president Sepp Blatter is 'a victim' and 'a very brave person', the chief executive of the 2018 Russian World Cup organising committee said on Friday.
Bolt answers critics with season's best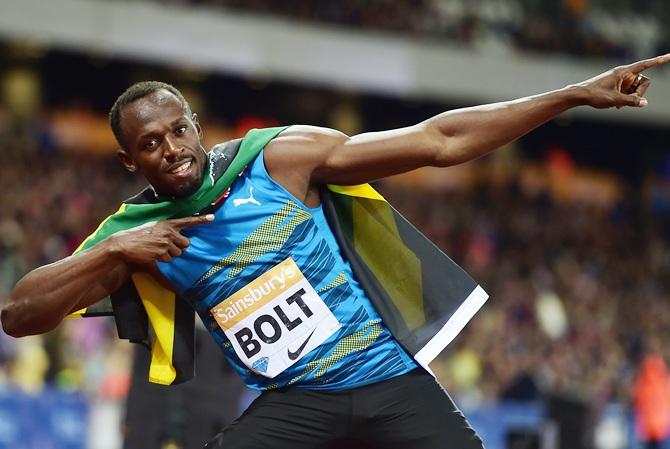 Usain Bolt answered questions over his fitness ahead of the world championships with a season's best of 9.87 seconds in the 100 metres with a workmanlike performance at the London Anniversary Games on Friday.
Hulk Hogan sorry for 'N-word'; WWE terminates his contract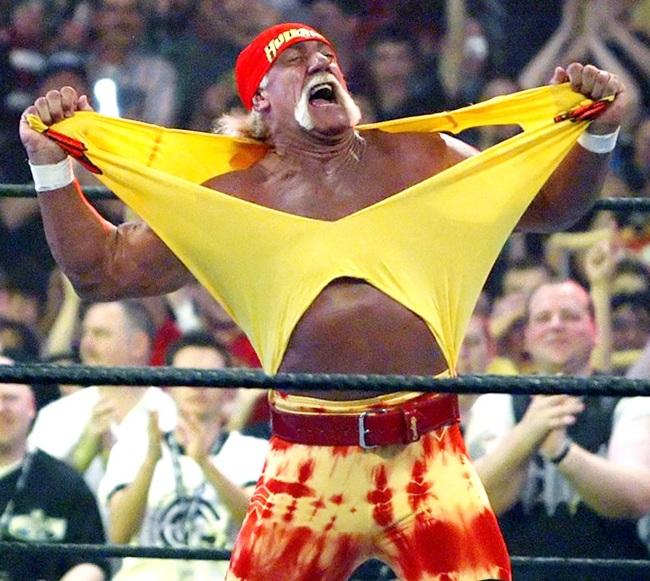 WWE, Hulk Hogan end ties after transcript of racist tirade surfaces.
July 24, 2015
Ibe shines as Liverpool held to 1-1 draw in Malaysia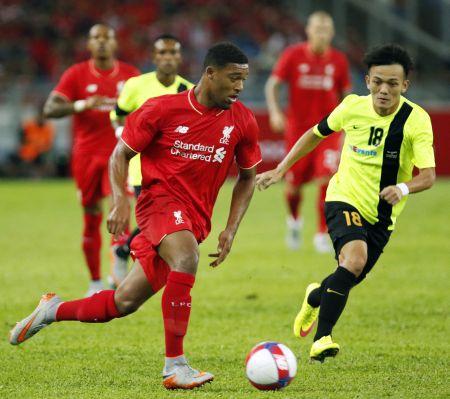 Jordon Ibe scored a superb equaliser as Liverpool's pre-season tour ended in frustration after they were held to a dull 1-1 draw by a Malaysia XI on Friday.
Pro Kabaddi League: Mumbai win fifth match on trot; Delhi open account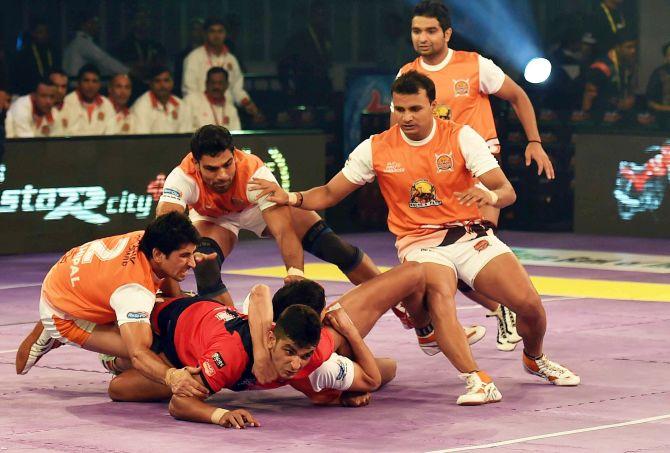 Continuing their winning streak, U Mumba downed hosts Bengal Warriors 29-25 for their fifth win on the trot, while Dabang Delhi pipped Puneri Paltan by one point to open their tally in the Pro Kabaddi League at the Netaji Indoor Stadium in Kolkata.
Perez unhurt after crash-landing upside down in Hungary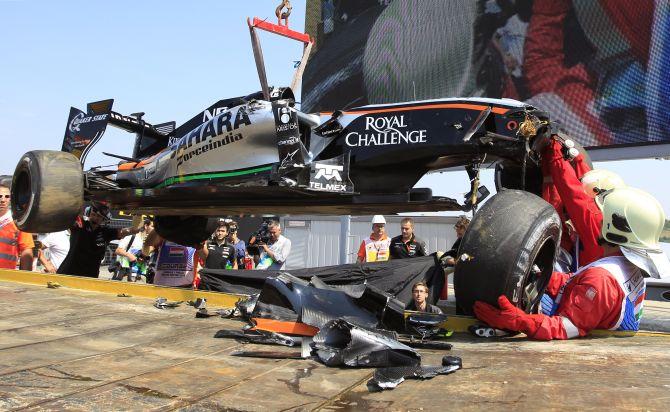 Mexican Sergio Perez scrambled free from the wreckage of a heavy crash that left his Force India upside down on the track, halting first practice for the Hungarian Formula One Grand Prix on Friday.
Real rout City in front of record Melbourne crowd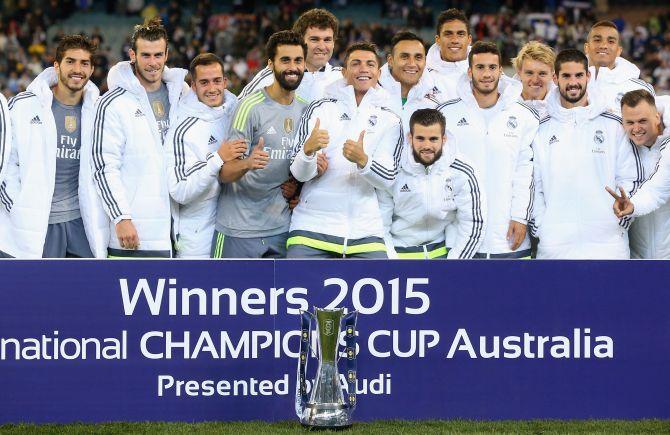 Real Madrid completed their pre-season tour of Australia with a crushing 4-1 friendly win over a depleted Manchester City in front of a record soccer crowd of 99,382 at the Melbourne Cricket Ground on Friday.
Manchester United's Di Maria set to join PSG?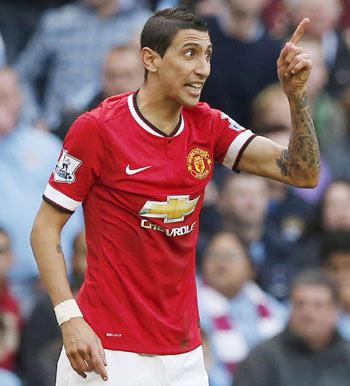 Angel Di Maria is reportedly set to join Paris Saint-Germain (PSG) from Manchester United.
Court issues fresh notice to boxer Vijender for turning pro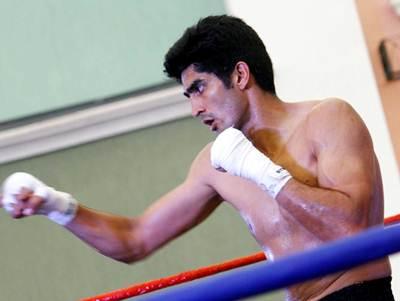 The Punjab and Haryana high court on Friday issued a fresh notice to boxer Vijender Singh on him joining professional boxing.
ISL round-up: Tendulkar's Kerala Blasters sign Barca youth product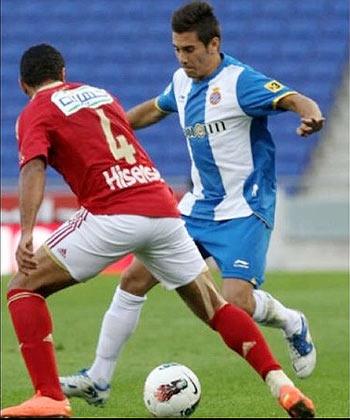 Kerala Blasters have staged a coup of sorts and signed 22-year-old Spaniard Lluis Ribera Josu Currais for the second season of the Indian Super League.
Perez unhurt after crash-landing upside down in Hungary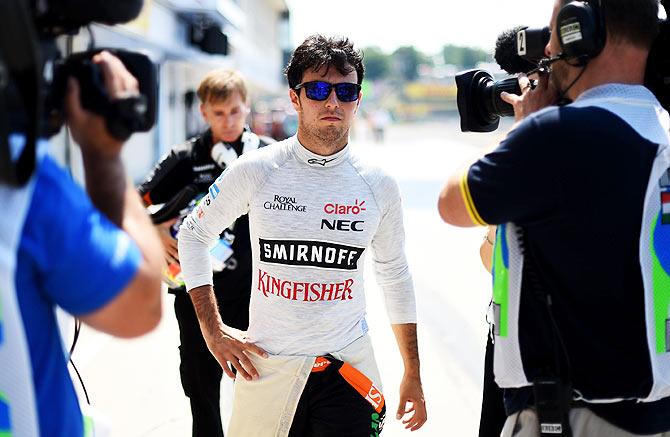 "It was a really bad accident, pretty unlucky," Perez told reporters of his crash at the Hungaroring.
FIFA secretary general Valcke all but says he's leaving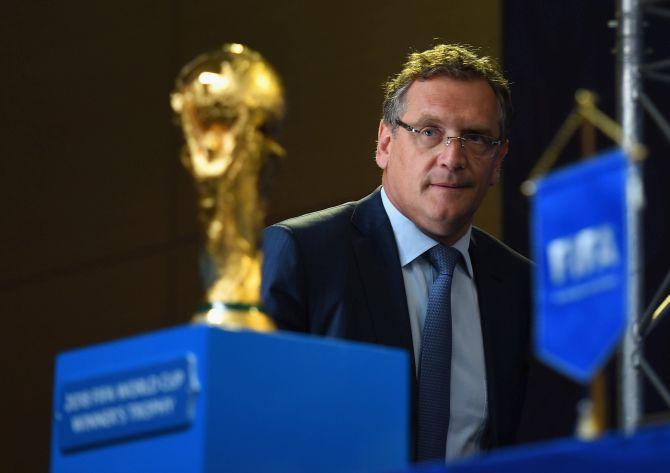 Jerome Valcke, FIFA's often-outspoken secretary general, all but confirmed on Friday that he will be leaving his job when Sepp Blatter is replaced as president of world soccer's governing body next February.
Van Ass demands apology from 'autocratic' Batra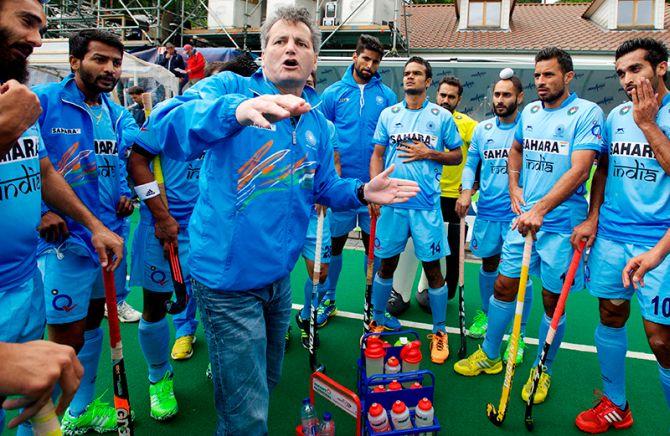 Fired India hockey coach Paul van Ass says Hockey India president Narinder Batra was just finding ways to fire him.
Was Drogba offered $1mn to play in ISL?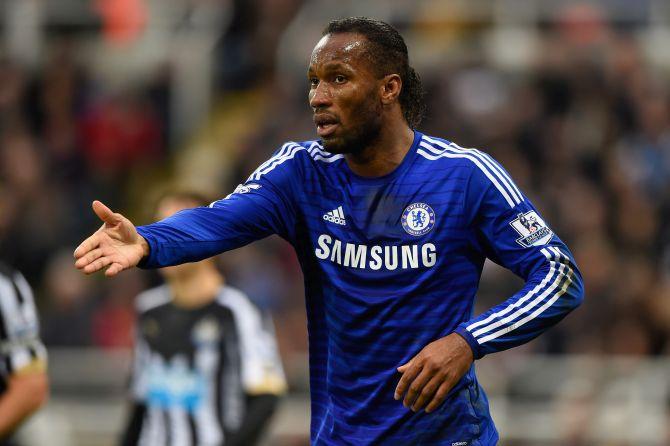 Former Chelsea and Ivory Coast striker Didier Drogba was offered a whopping $1 million by Atletico de Kolkata's co-owners to become the marquee player of the Indian Super League side though the high-profile player is yet to respond, according to a report in London.
It's break point for tennis couple Sharapova-Dimitrov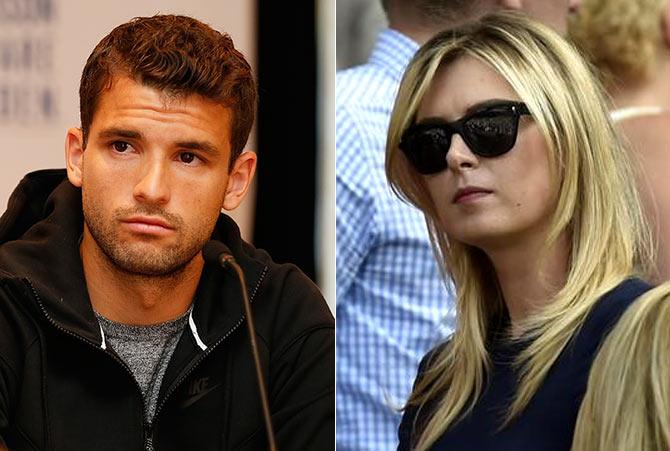 "We experienced wonderful moments together. I wish her much happiness and success in life and in tennis.
Racism victim Hulk pulls out of WC qualifying draw in Russia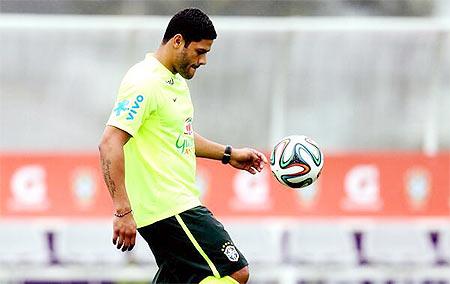 Zenit St Petersburg's Brazilian striker Hulk has pulled out of Saturday's World Cup qualifying draw, only days after complaining of "gross and ugly" racism in Russian football.
Dhoni among 10 most marketable athletes in the world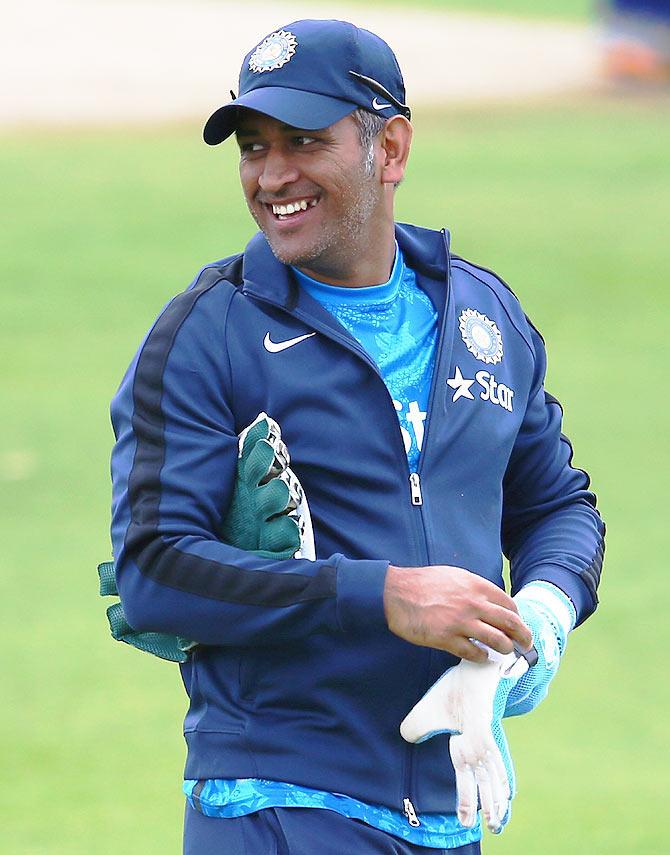 India's most successful One-Day International captain Mahendra Singh Dhoni has beaten football superstars Cristiano Ronaldo and Lionel Messi to secure ninth place in the list of the world's 'most marketable athletes', compiled by the London School of Marketing.
National fencing champ dies after allegedly pushed off train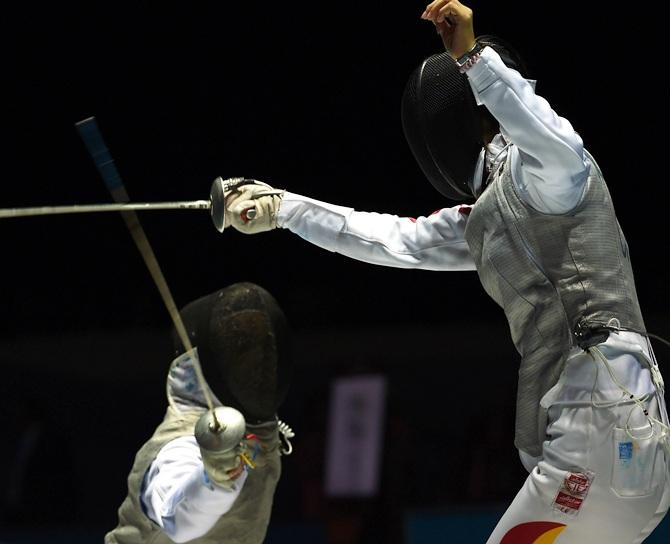 National fencing champion, Hoshiyar Singh, died on Thursday after he was allegedly thrown off a moving train by Government Railway Police (GRP) personnel in Uttar Pradesh.
Best Pictures from the Tour de France - Part 1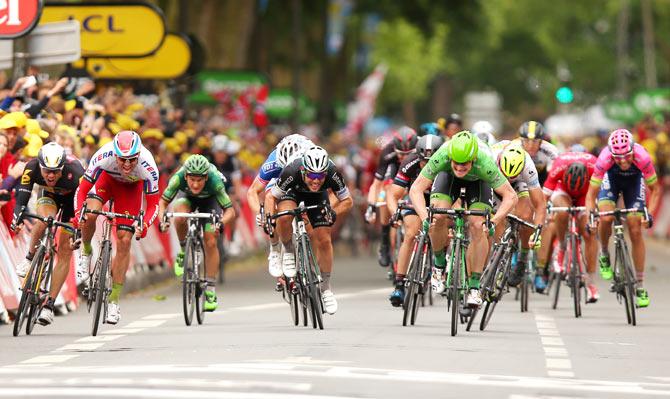 The best action from the Tour de France
Raikkonen has what Ferrari needs...SPEED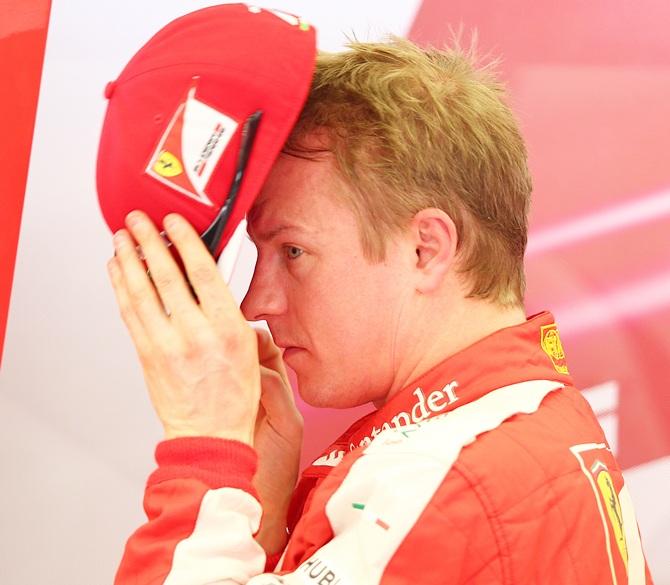 Kimi Raikkonen believes he still has the speed that Ferrari need despite reports that the Formula One team are lining up a replacement for 2016 in fellow-Finn Valtteri Bottas.
Blatter finally leaves home for... Russia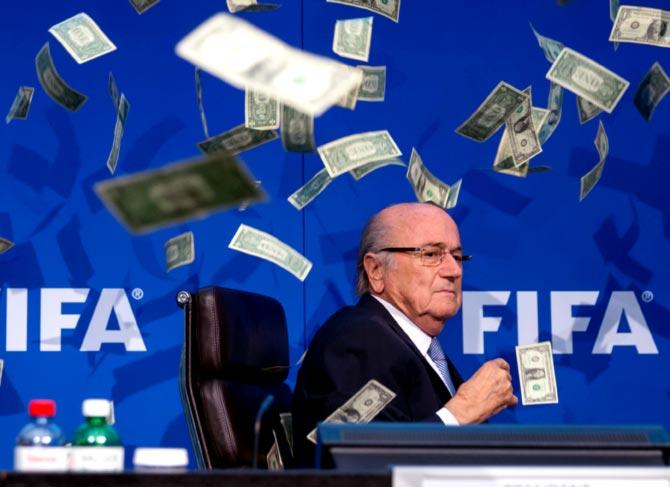 Sepp Blatter in Russia on first foreign visit since crisis.
Europa qualifying: 10-man West Ham scrape past Malta club Birkirkara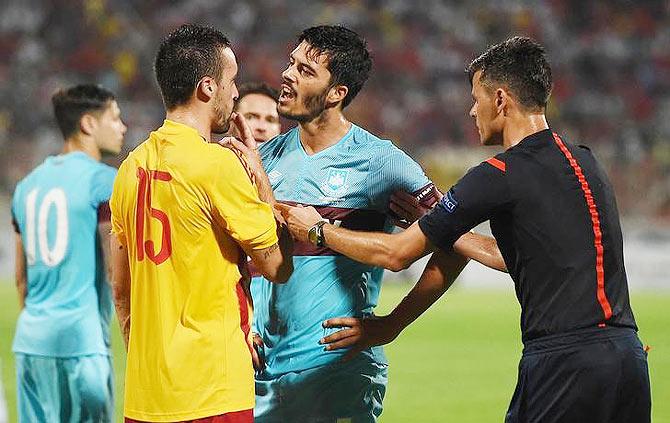 West Ham United, reduced to 10 men after defender James Tomkins was sent off in the first half, won 5-3 in a penalty shootout against Maltese Cup winners Birkirkara to scrape into the Europa League third qualifying round on Thursday.
Bizarre! Allenby, caddie split mid-round after tiff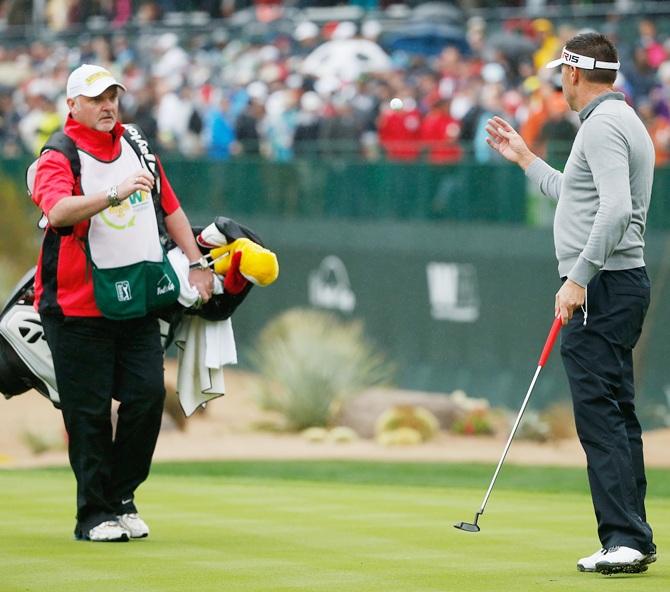 Robert Allenby's bizarre season took another strange turn when his caddie walked off the course midway through the first round of the RBC Canadian Open.
Special Olympics athletes made to sleep on the floor!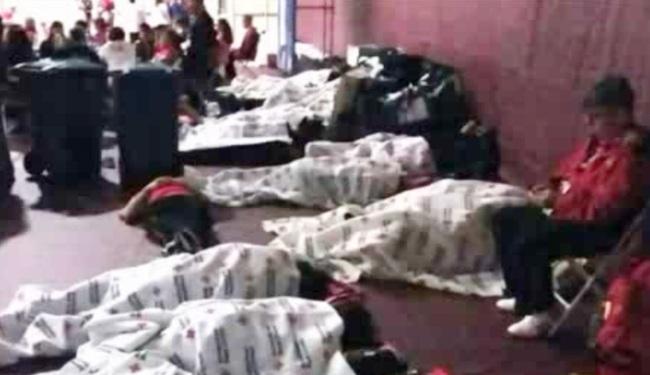 Special Olympics athletes and coaches arriving in Los Angeles were forced to sleep on a gymnasium floor.
Barca fined over pro-Catalan flags at Champions League final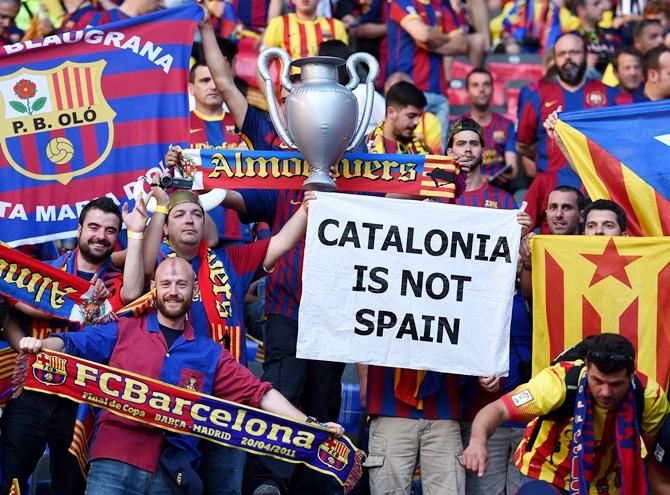 European soccer's governing body UEFA has fined Barcelona 30,000 euros ($33,006) after fans displayed pro-Catalan independence flags at last month's Champions League final in Berlin.
Tomic spurns Tennis Australia olive branch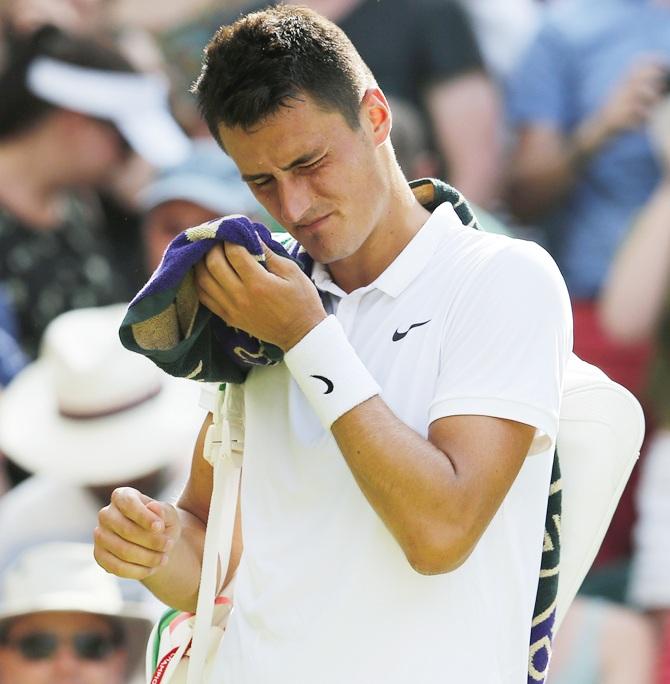 Bernard Tomic's rift with Tennis Australia looks unlikely to end any time soon after the player said he had no interest in clear-the-air talks until the governing body resumed funding of his sister, Sara.
Haryana milkman's son creates history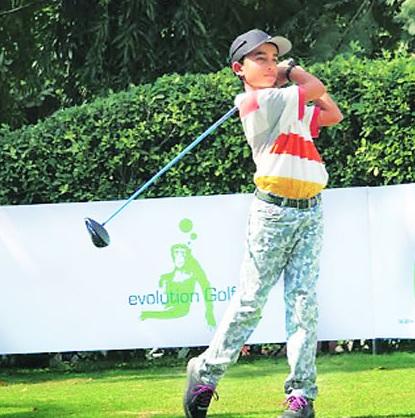 Ten-Year-Old Shubham Jaglan wins second Junior World Golf title in two weeks.
July 23, 2015
Telugu Titans down Bengal for third win on trot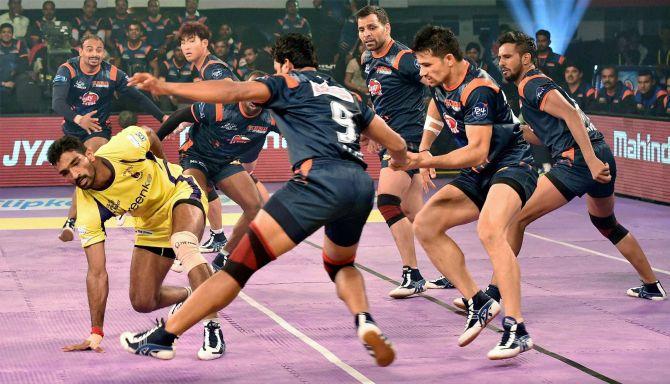 Riding on captain Rahul Chaudhari's superb last minute raid, Telugu Titans produced a spectacular recovery to snatch a victory from the jaws of defeat against Bengal Warriors for their third successive win in the Pro Kabaddi League at the Netaji Indoor Stadium.
Tour de France: Bardet wins 18th stage, Froome retains yellow jersey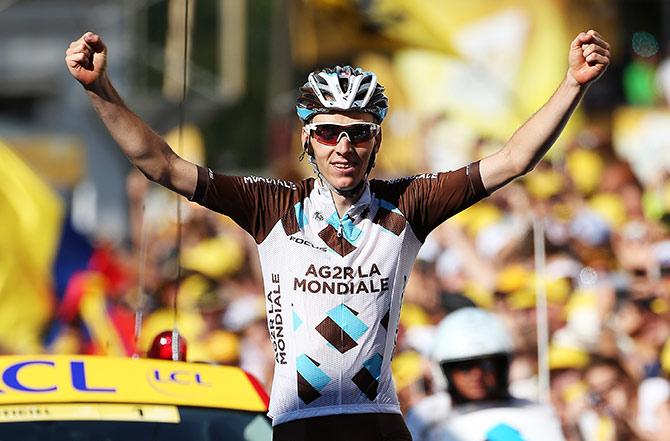 France's Romain Bardet of AG2r-La Mondiale won the 18th stage of the Tour de France, a 186.5-km trek from Gap on Thursday.
Turan, Vidal...and Barcelona transfer business is done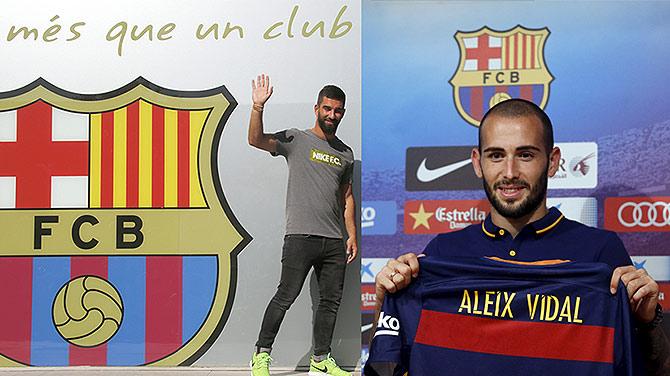 Barcelona have completed their business in the latest transfer window and the Spanish and European champions' squad is now "closed", president Josep Bartomeu said on Thursday.
PHOTOS: Jamaica to meet Mexico in CONCACAF final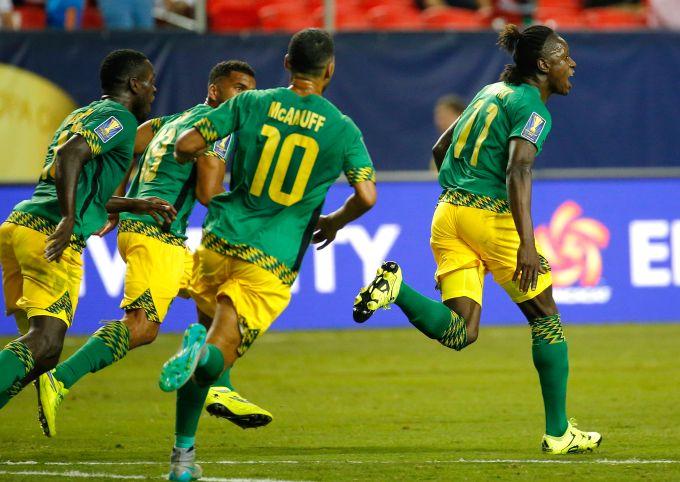 Darren Mattocks and Giles Barnes scored first-half goals to propel Jamaica to an upset 2-1 victory over the United States in the CONCACAF Gold Cup semi-finals in Atlanta on Wednesday. The victory ensured Jamaica became the first Caribbean team to reach the Gold Cup Final since its inception in 1991.
Sergio Ramos '100 percent committed' to Real, says Rafa Benitez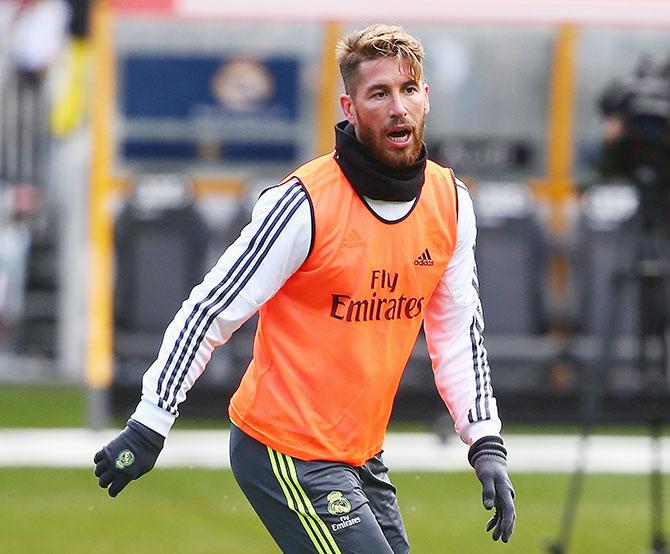 Real Madrid captain and centre back Sergio Ramos is "100 percent committed" to the club, new coach Rafa Benitez said on Thursday, amid continued speculation the Spain defender could be on his way to Manchester United.
Mourinho's excuse after Red Bull's 'B' team shocks Chelsea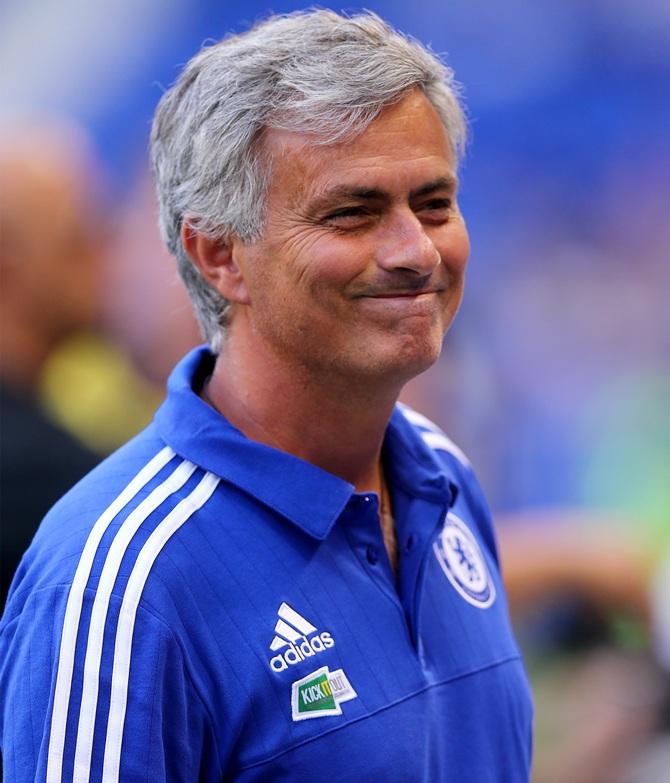 Chelsea boss Jose Mourinho sprung to the defence of new goalkeeper Asmir Begovic after the Bosnian conceded four goals against the New York Red Bulls.
Did Lahiri's inexperience cost him at British Open?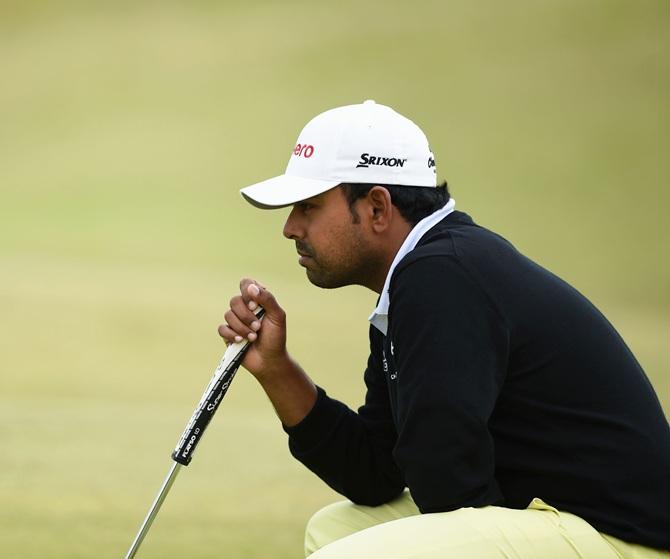 Disappointed Anirban Lahiri believes Asia on brink of major success.
Bayern confirm deal to sign Juventus midfielder Arturo Vidal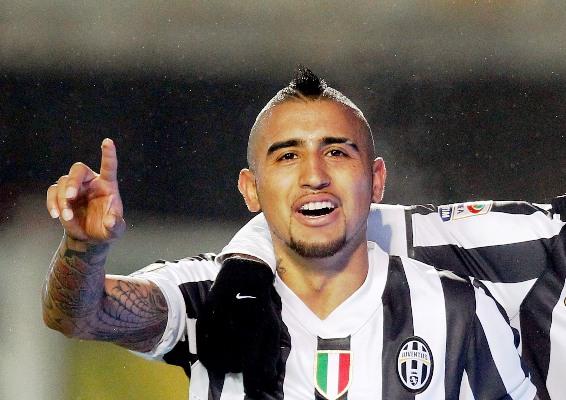 Bayern Munich have confirmed they have reached an agreement with Italy's Juventus to sign Chile international Arturo Vidal, the German club's CEO Karl Heinz Rummenigge said on Thursday.
Transfer Buzz: Liverpool sign striker Benteke from Villa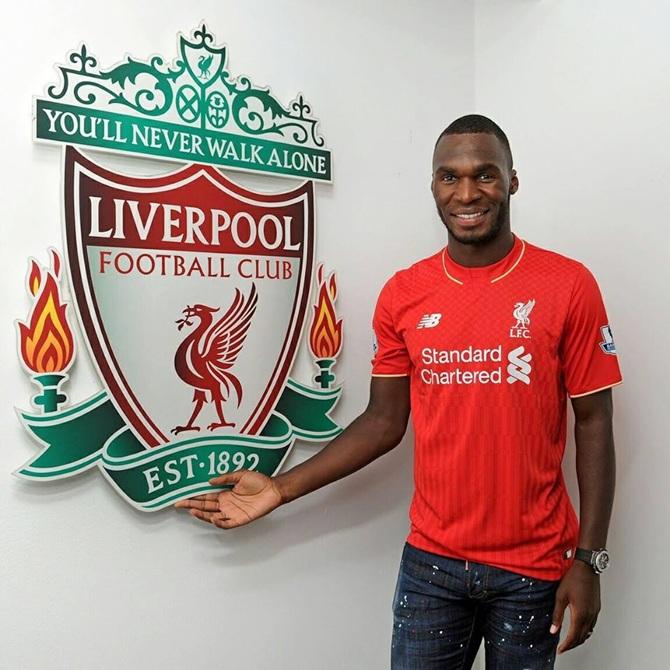 Liverpool wrapped up a deal for Christian Benteke on Wednesday, luring the targetman to Anfield on a long-term contract.
Air India almost stopped Sumit Nagal from flying to Wimbledon!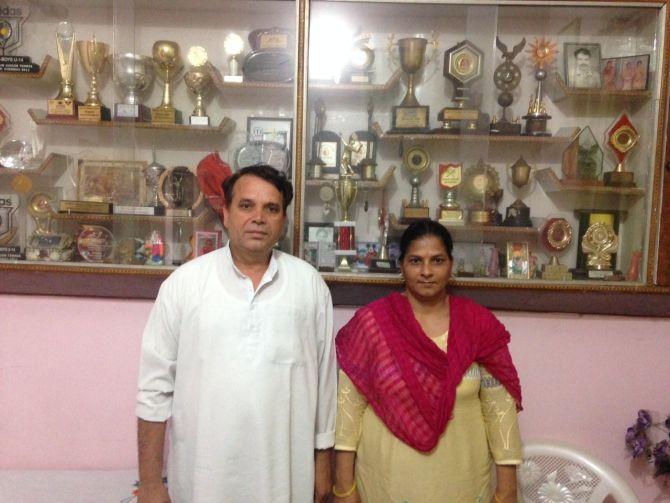 'Even if we ate our chappatis with pickle, we ensured proper food for Sumit.'
It was a crazy day at Tour de France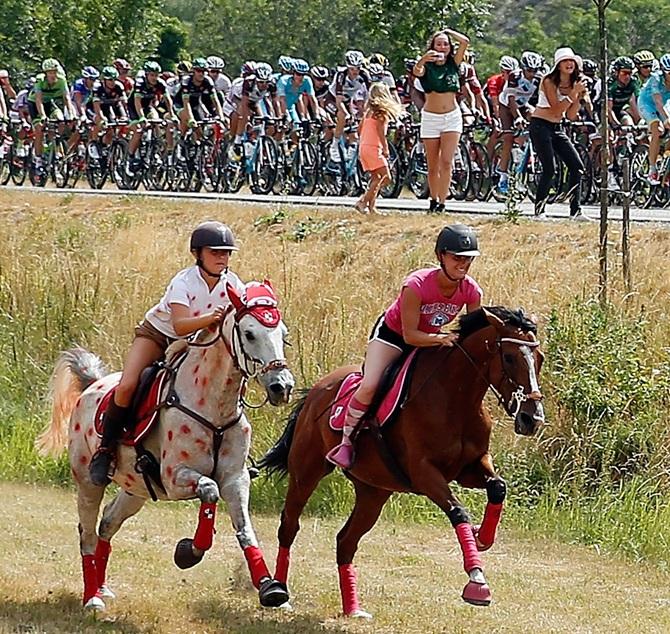 Froome in control as Contador drifts, Van Garderen out of Tour de France.
Gold Cup: Jamaica shock US in semi-finals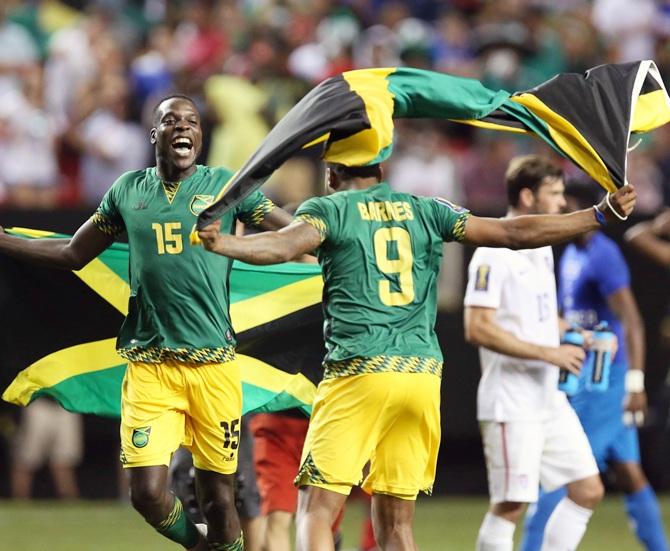 Darren Mattocks and Giles Barnes scored first-half goals to propel Jamaica to an upset 2-1 victory over the United States in the CONCACAF Gold Cup semi-finals in Atlanta on Wednesday.
Meet the big guns of US Open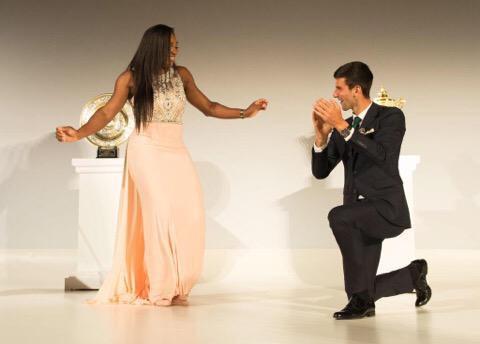 Wimbledon champions and World No 1s Novak Djokovic and Serena Williams head the field for the men's and women's events at this year's US Open.
Stay away from FIFA reform process: Prince Ali to Blatter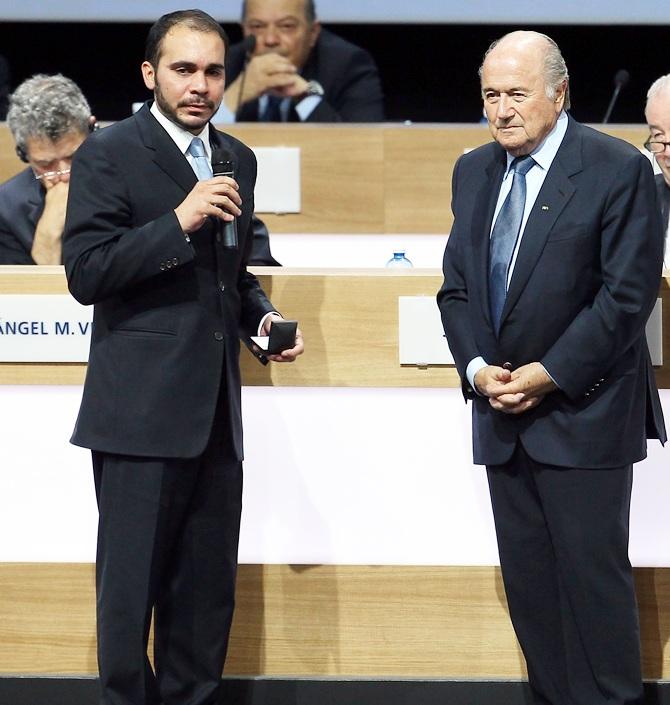 Prince Ali bin Al Hussein of Jordan, who failed in an attempt to replace Sepp Blatter as FIFA president in May, says Blatter should not be handling the reform process.
Paralympic champ 'Dancing With The Stars' pregnant!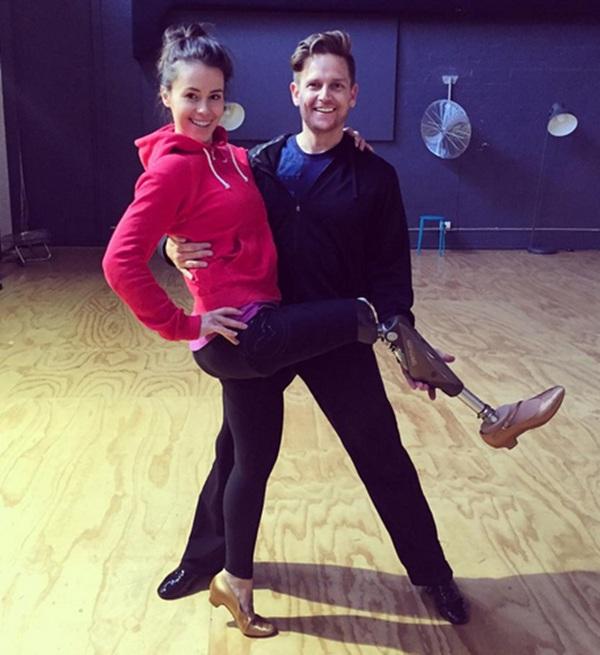 Nothing, it seems, can stop courageous amputee Kelly Cartwright, who lost her right leg to cancer at just 15, from pursuing her dreams.
Bengal Warriors, Bengaluru Bulls win in Kolkata leg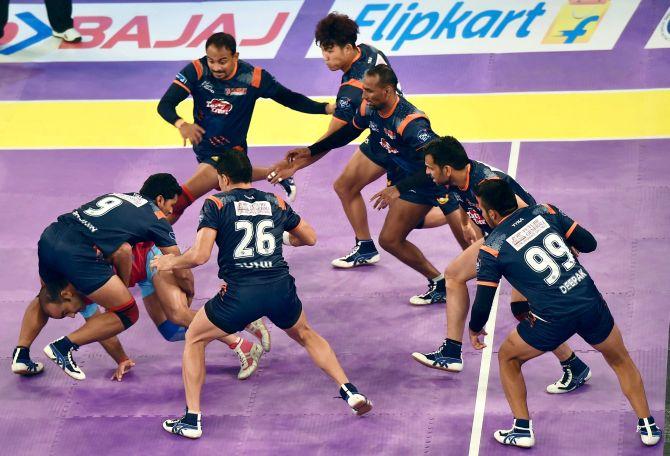 Hosts Bengal Warriors put up an amazing display to bounce back from behind and upset defending champions Jaipur Pink Panthers in a thrilling finish to open their tally, while Bengaluru Bulls defeated Patna Pirates for their second win of the Pro Kabaddi League in Kolkata.
July 22, 2015
Van Ass ready to return, but wants no interference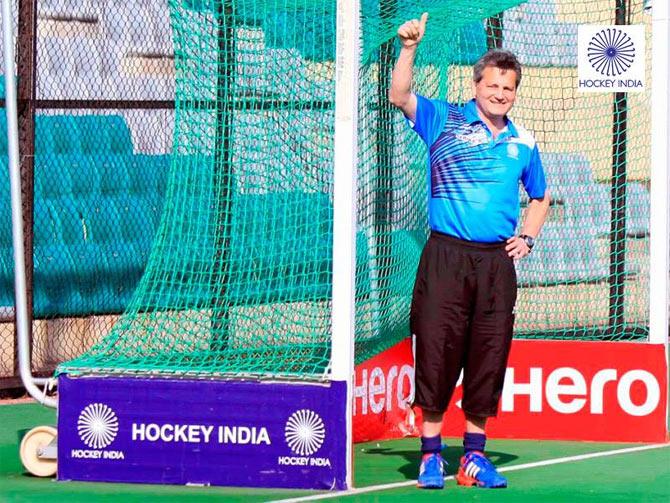 Paul van Ass, who claims he was fired as chief coach of India's men's hockey team following an altercation with Hockey India president Narinder Batra, says he is willing to resume duties provided there is no "interference" in his work.
Chelsea fans banned after racist incident on Paris Metro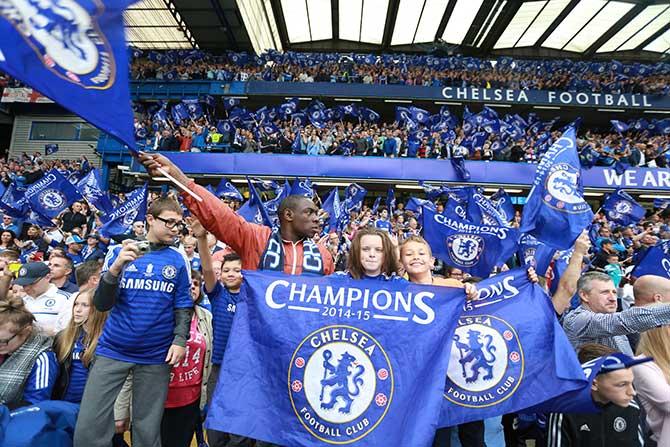 Four Chelsea fans who refused to allow a black man onto the Paris Metro were banned on Wednesday from attending football matches for between three and five years.
Dhyan Chand to be honoured in British Parliament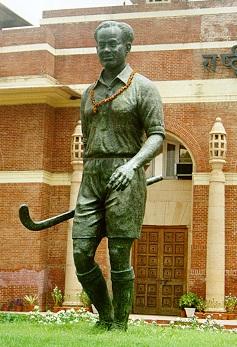 Indian hockey legend Major Dhyan Chand will be conferred with the 'Bharat Gaurav' Lifetime Achivement Award by NRI orgainsation Sanskriti Yuva Sangstha at the House of Commons inside the British Parliament of July 25.
Barca get back to work with 2-1 win over LA Galaxy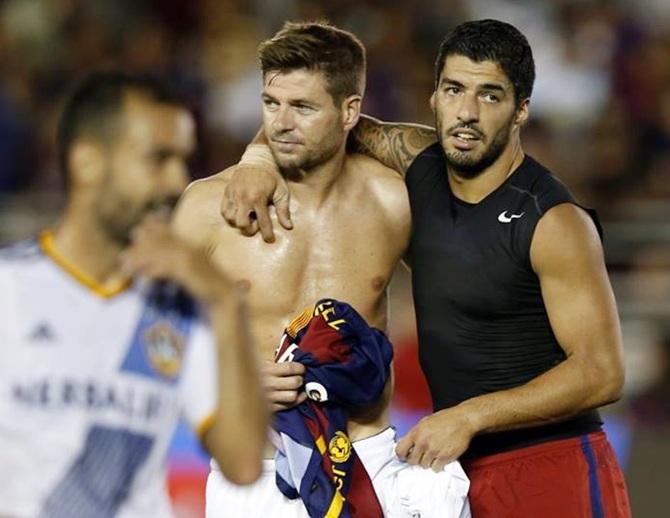 Barcelona coach Luis Enrique was pleased they got straight back into their stride with Tuesday's 2-1 friendly win over the Los Angeles Galaxy.
Schweinsteiger's performance does not cut it for Van Gaal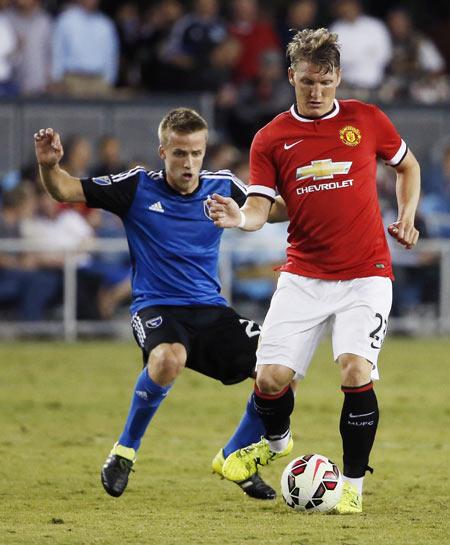 Van Gaal also said that they gave the ball away unnecessarily after half-time, insisting that their positions in midfield were not as good as in the first half.
Charity drive: Federer inaugurates 81st pre-school in Malawi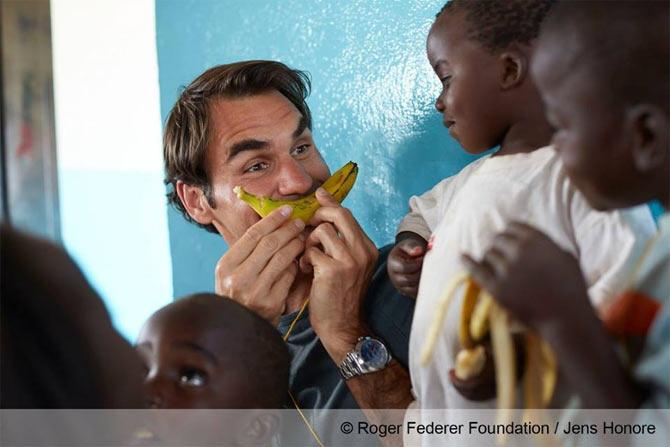 Federer's charity foundation had been working in Malawi since 2011 and has already opened 80 pre-schools across the country.
Depay helps Manchester United beat San Jose in friendly tie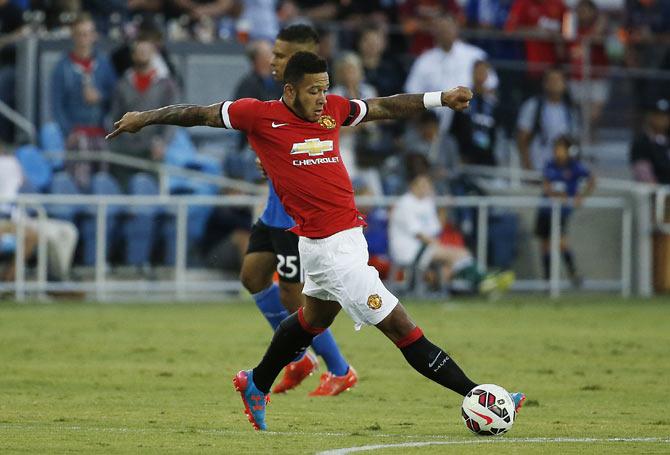 Memphis Depay netted his maiden goal for Manchester United to help the Premier League side claim a 3-1 pre-season win over Major League Soccer side San Jose Earthquakes.
Korean golfer ordered to quit PGA tour; finish military service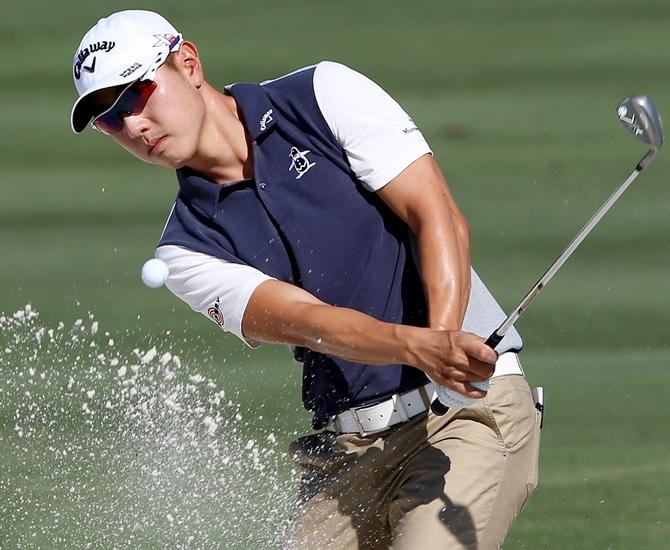 South Korean golfer Bae Sang-Moon, who has won twice on the PGA Tour, is to return home to complete his military service after losing a legal battle to defer his conscription on Wednesday.
Filipe Luis poised for Atletico return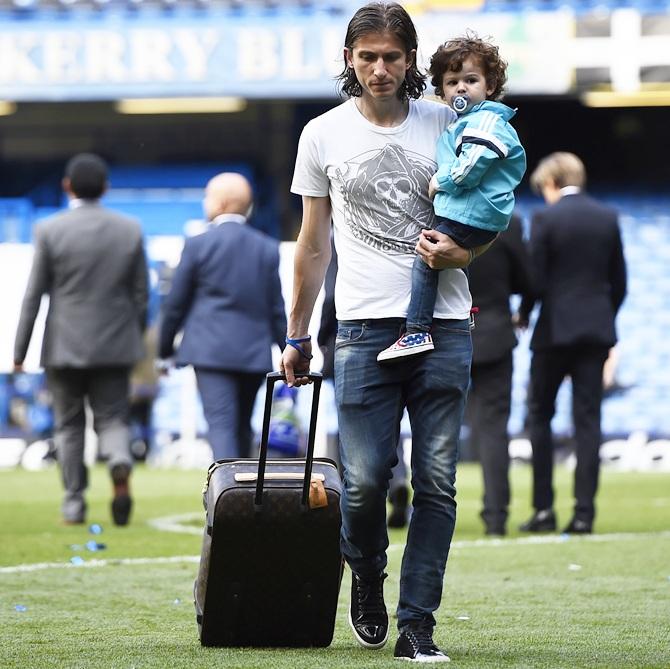 Chelsea's Brazil left back Filipe Luis is poised to return to Atletico Madrid after one season at Chelsea where he failed to hold down a regular first team place, Atletico president Enrique Cerezo said.
Blatter prankster charged by police after FIFA complaint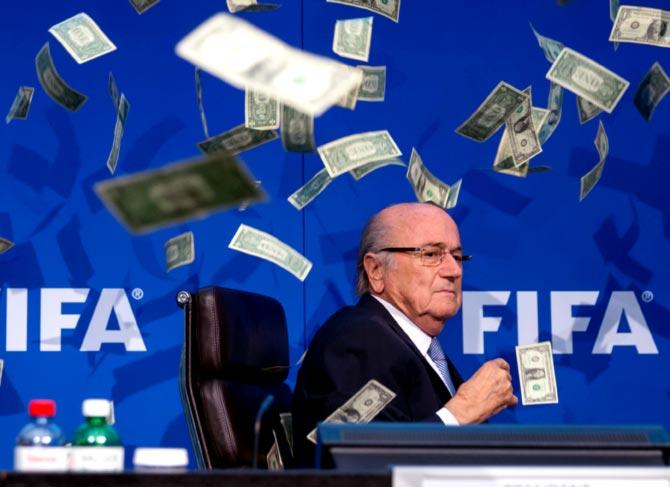 The British comedian who showered FIFA president Sepp Blatter with fake dollar bills has been charged by Swiss police after being arrested and interrogated, a police spokesman said on Tuesday.
Formula One bids farewell to Jules Bianchi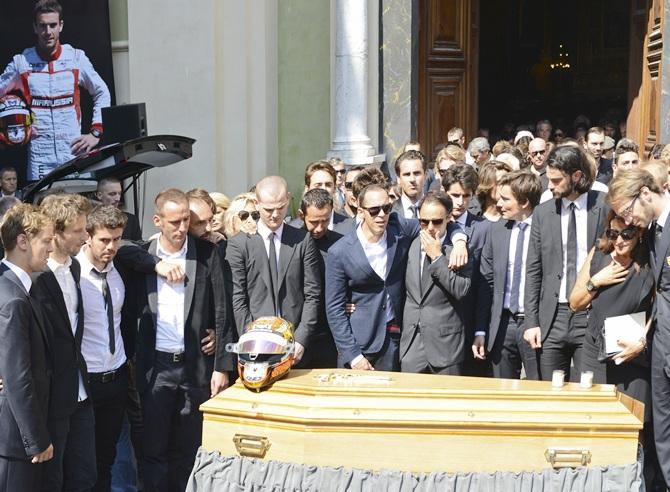 Formula One world champions past and present paid their respects to Jules Bianchi and mourned one of their own at the French driver's funeral on Tuesday.
He escapes life-threatening encounter with shark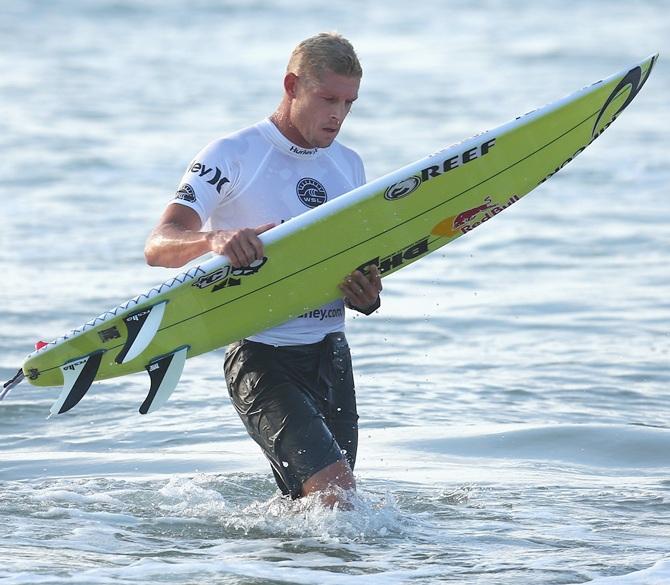 Shaken Mick Fanning is not giving up on surfing despite shark attack.
This is historic! Women stars to make debut on FIFA video game cover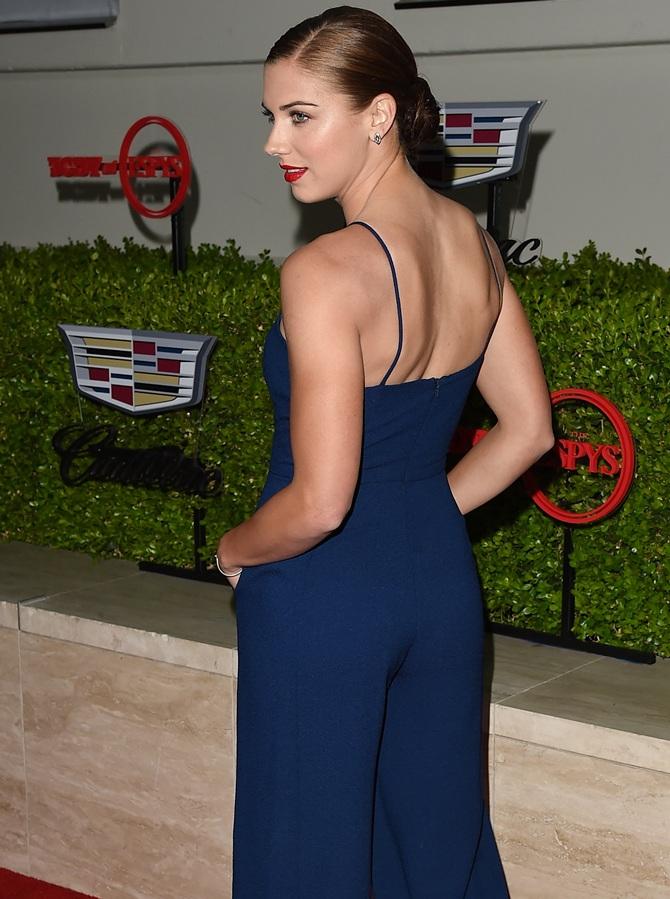 American World Cup champion Alex Morgan will be one of two women football players to score a first by featuring on the front cover of FIFA, the world's most popular football video game.
July 21, 2015
'Starting at the same pace as my team mates, it will be different'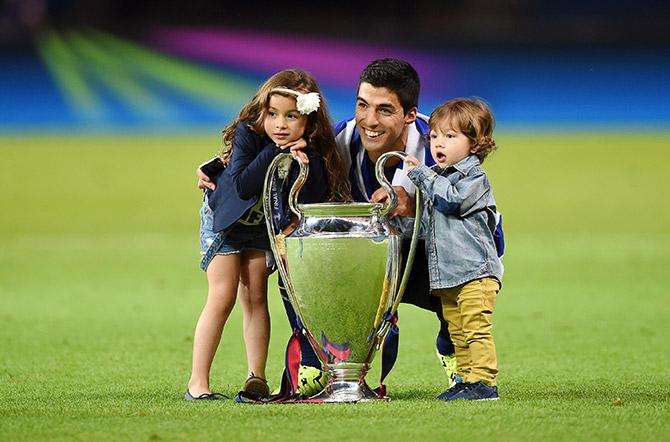 Luis Suarez struggled to get into his stride with new club Barcelona after his ban for biting an opponent expired in October and the Uruguay striker is determined to avoid the same fate when the new season starts next month.
Newcastle United sign Serbia forward Mitrovic from Anderlecht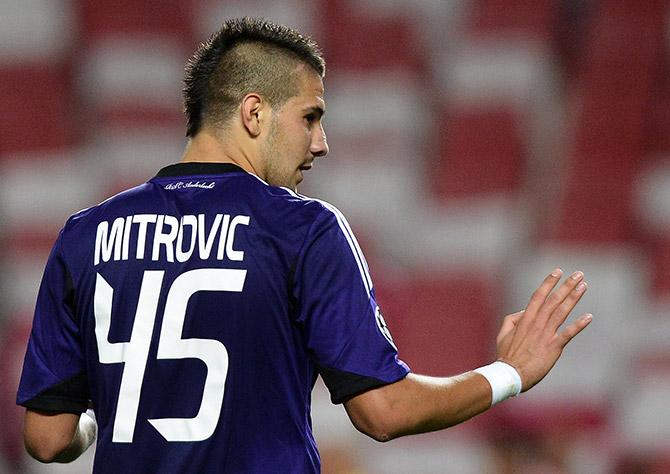 Newcastle United have signed Serbian forward Aleksandar Mitrovic from Belgian side Anderlecht, subject to a work permit, the Premier League club announced on Tuesday.
Sterling impresses on Manchester City debut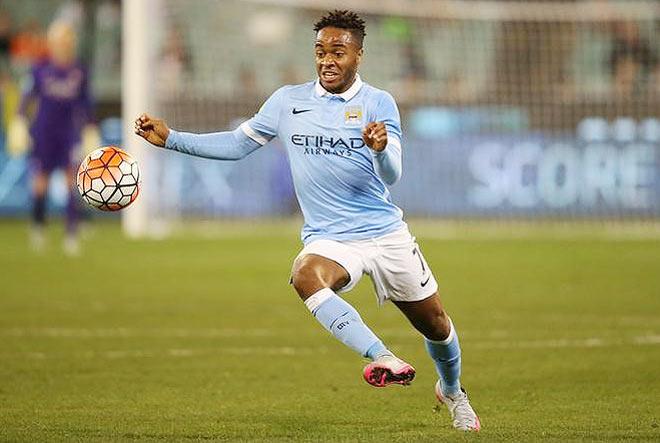 The 20-year-old was jeered at the Melbourne Cricket Ground when he tripped over the ball on one of his first touches in the area, but a minute later soaked up the acclaim after slotting home a through ball from Nigerian teenager Kelechi Iheanacho.
Davis Cup: India to host Czech Republic in World Group Play-offs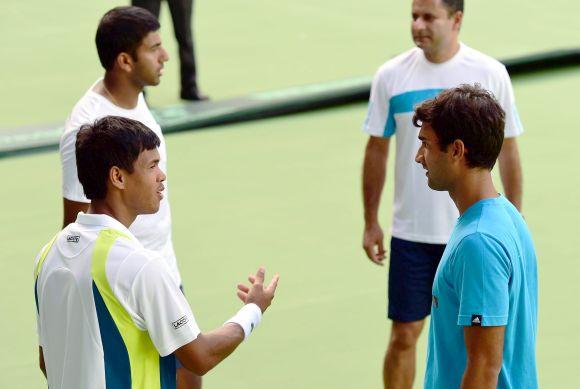 India were handed a tough Davis Cup draw, being pitted against top seeds Czech Republic in the World Group Play-offs, to be held from September 18-20 either in New Delhi or Pune.
Striker Rooney targets Bobby Charlton's scoring record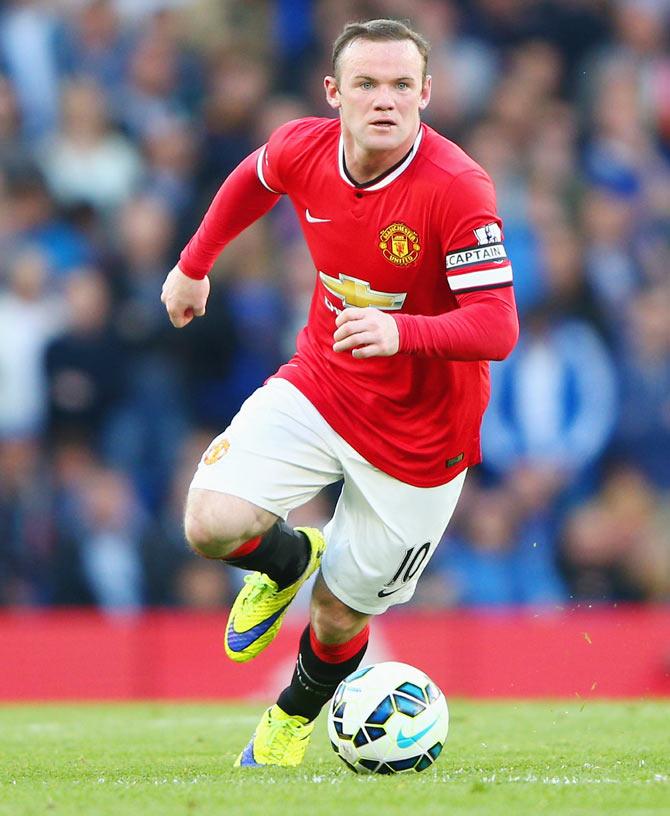 Wayne Rooney has set himself a target of 20 goals this season, which would break Bobby Charlton's long-standing record as Manchester United's highest scorer of all time.
Sania-Shoaib's after-success party has just started!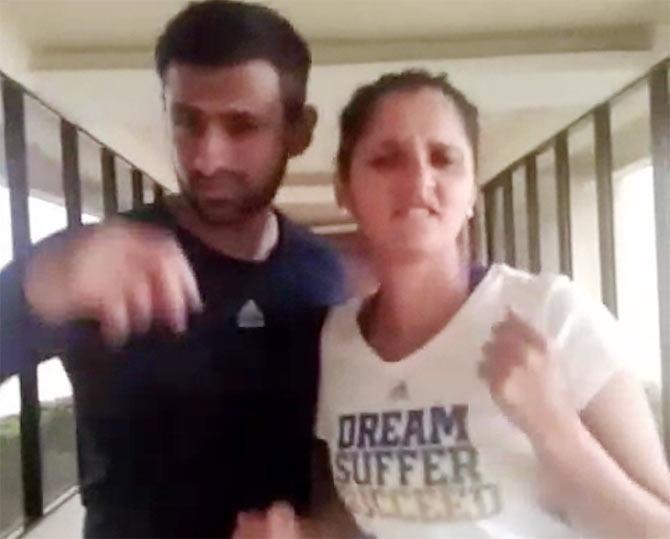 Sania Mirza and her Pakistani cricketer husband Shoaib Malik seem to have finally got the time to celebrate their respective recent victories.
Milind Soman is now the 'Ironman'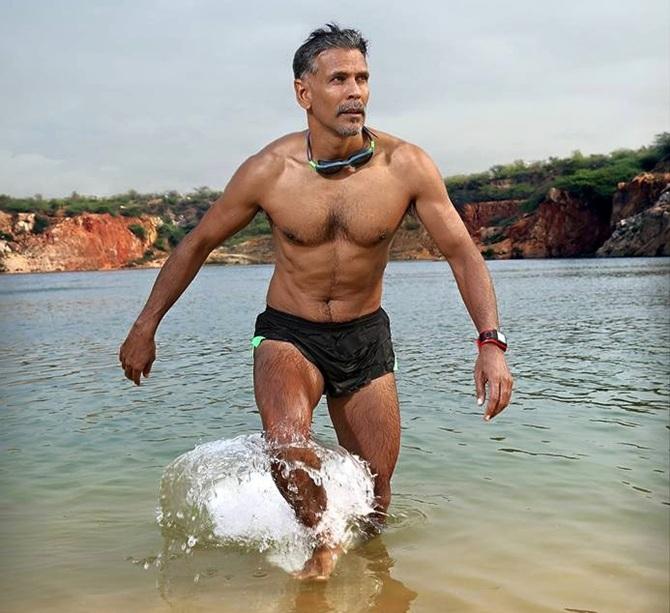 The Bollywood actor and model, Milind Soman, has just added another father to his cap.
10 Best Sports Photos of the Week!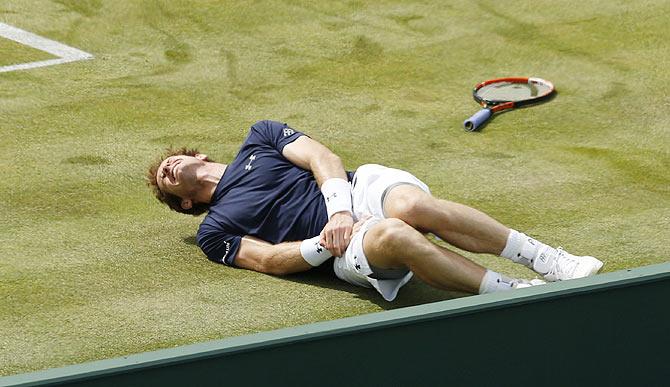 Rediff.com has the best sports images from the events in the week gone by snapped right here...
This beauty caught Ronaldo's attention!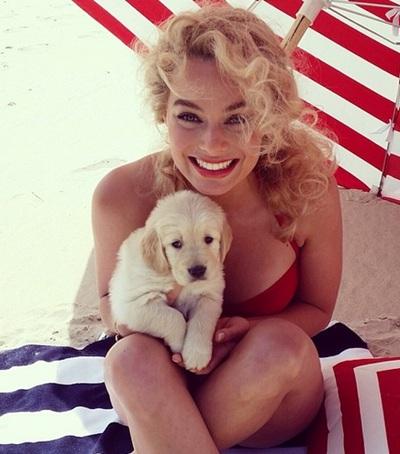 Hollywood beauty Margot Robbie has a new high-profile admirer.
Tour de France: Froome retains lead; Thomas suffers freak crash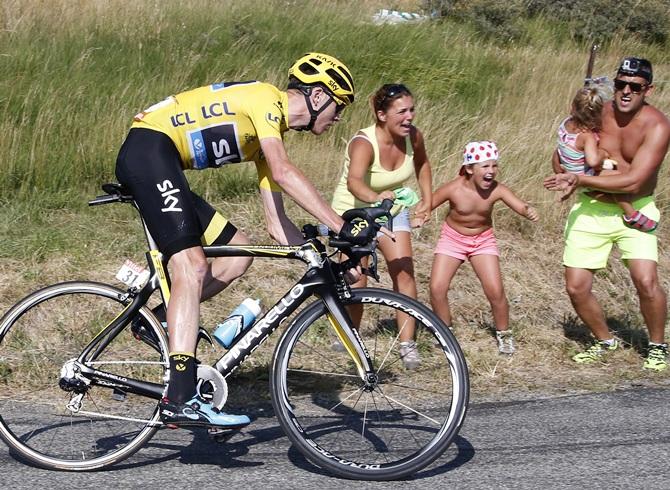 Chris Froome was reminded just how quickly the Tour de France title could slip from his grip as his Sky team mate Geraint Thomas suffered a freak crash in Monday's 16th stage.
Football great Pele leaves hospital after back surgery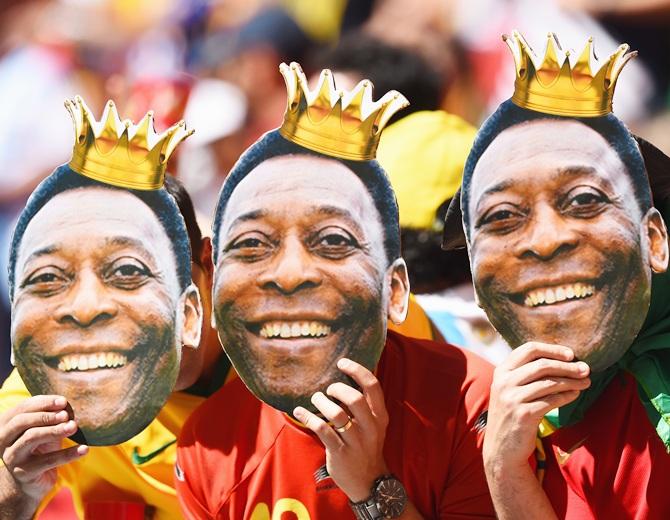 Brazilian football legend Pele left the hospital on Monday after undergoing back surgery, the latest in a series of health complications for the 74-year-old former star striker.
'Kids are my legacy not my Open win'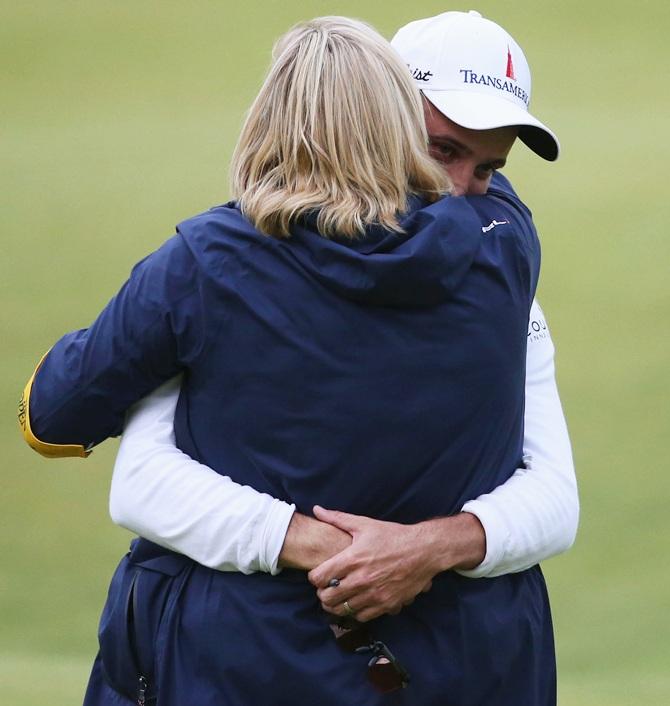 Father-of-three Zach Johnson refused to get too carried away after winning the 144th British Open.
Sepp Blatter's troubles aren't over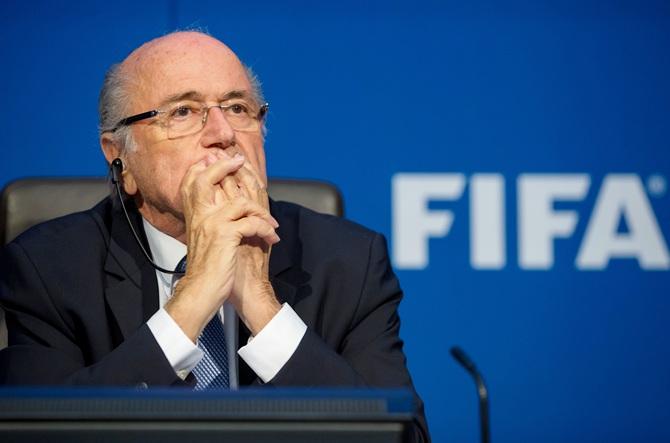 Sepp Blatter faces months of troubles before departure.
British Open: Zach attack earns Johnson victory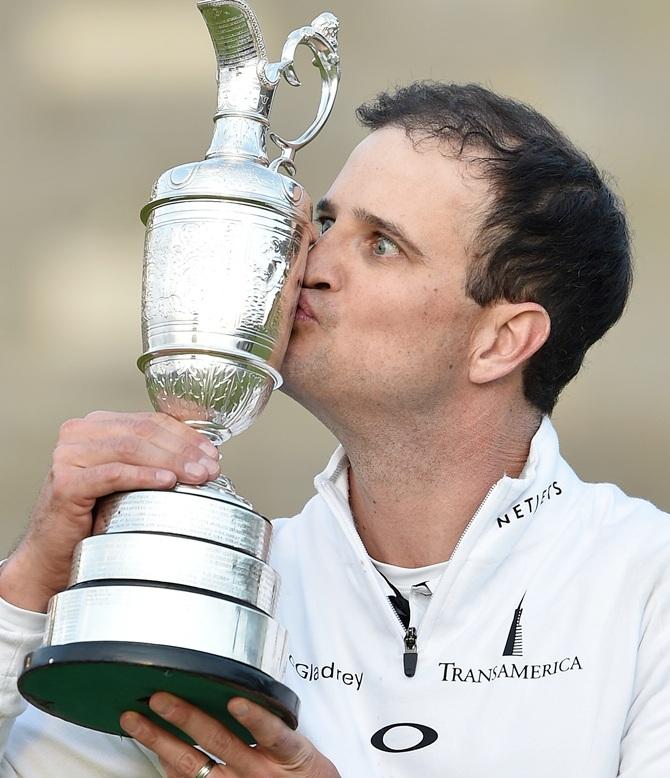 American Zach Johnson claimed the second major triumph of his career after winning a four-hole playoff at the end of a captivating, cliffhanger of a final round in the British Open on Monday.
July 20, 2015
Bianchi's race number 17 to be retired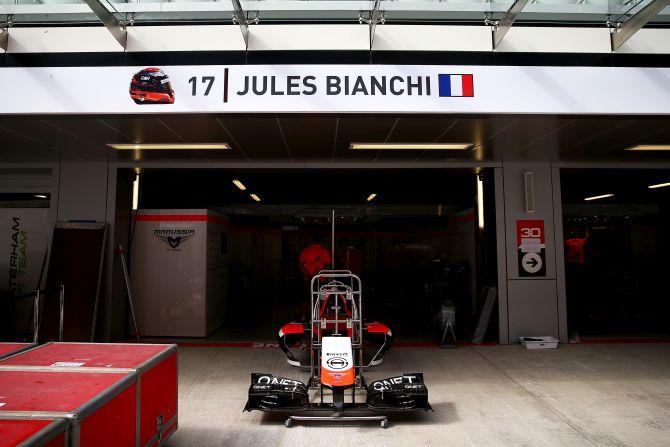 Jules Bianchi's racing number 17 has been retired from use in Formula One following the French driver's death last week, the sport's governing body announced on Monday.
Sports Ministry in dark about Van Ass's sacking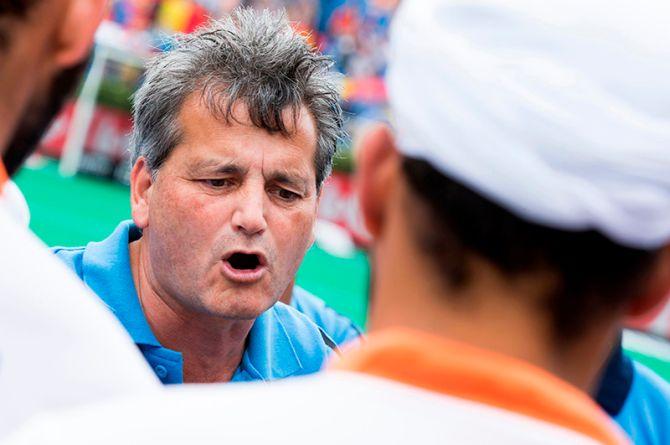 Sports Ministry officials clarified that they are yet to receive any form of communication on Indian men's hockey team coach Paul van Ass, who claims to have been sacked by Hockey India.
'FIFA presidential election to be held on Feb 26'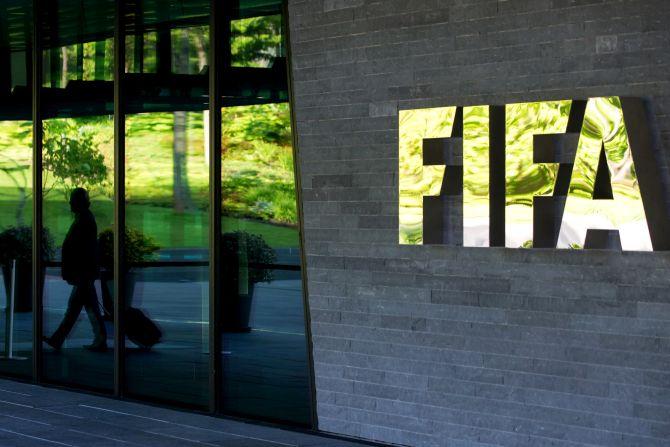 The election to select a new president of world soccer's governing body FIFA will be held on Feb. 26 in Zurich, the organisation said on its Twitter feed on Monday.
Who will take charge of FIFA? Kofi Annan or Platini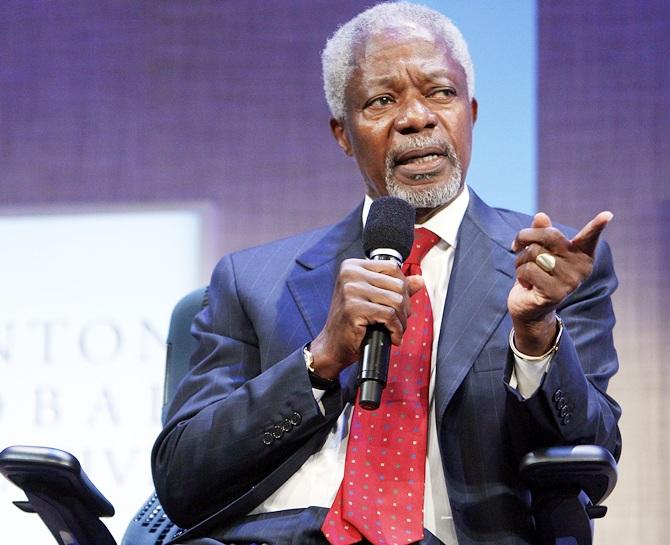 Campaigners call for Kofi Annan to take charge of FIFA reform.
Hockey coach Van Ass missing from the action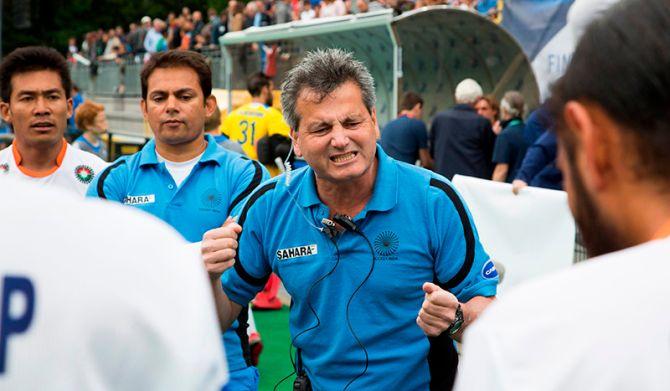 Barely five months into the job, uncertainty looms large over Paul van Ass continuing as chief coach of India's men's hockey team.
Haryana milkman's son lifts world junior golf title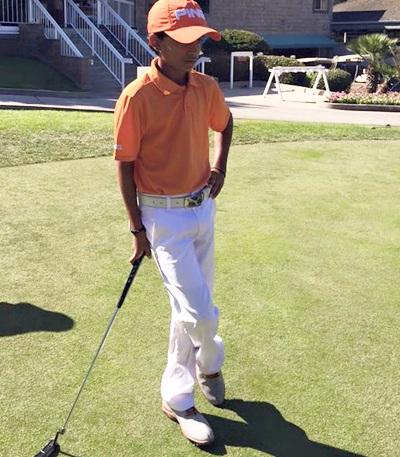 Shubham Jaglan, a ten-year-old prodigy, produced a brilliant one-stroke win at IMG Academy Junior World Golf Championships at the Welk Resort in San Diego.
Finding a replacement for Sepp Blatter...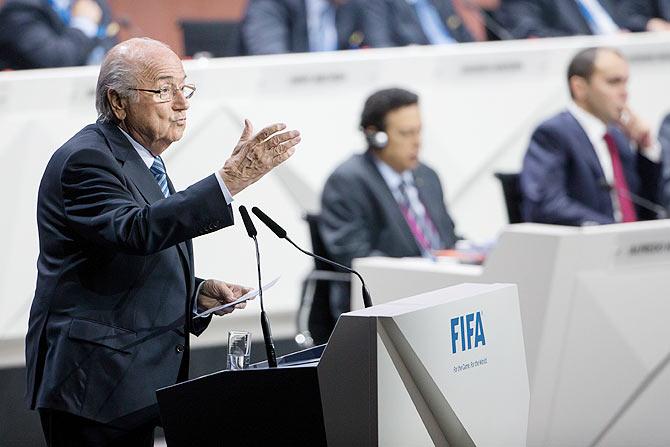 The leadership of crisis-hit world football governing body FIFA gathered at their Zurich headquarters on Monday to set a date for the vote to replace outgoing president Sepp Blatter.
Tour de France: Greipel wins 15th stage, Froome retains lead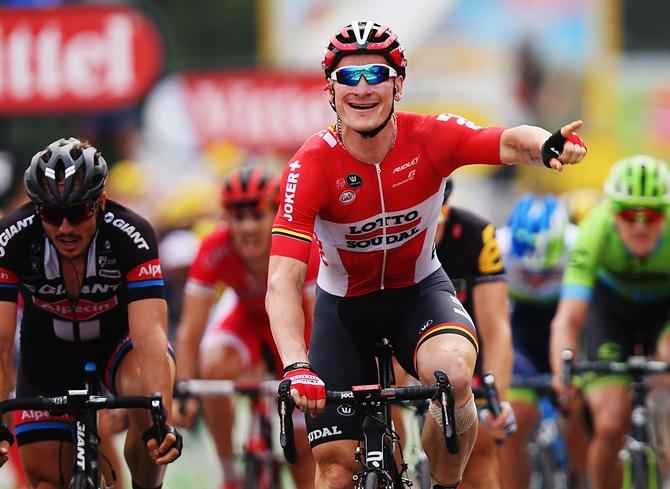 Andre Greipel confirmed he was the sprint king at this year's Tour de France when the German outpowered his rivals to win the 15th stage on Sunday.
Irish amateur Dunne proves a St Andrews sensation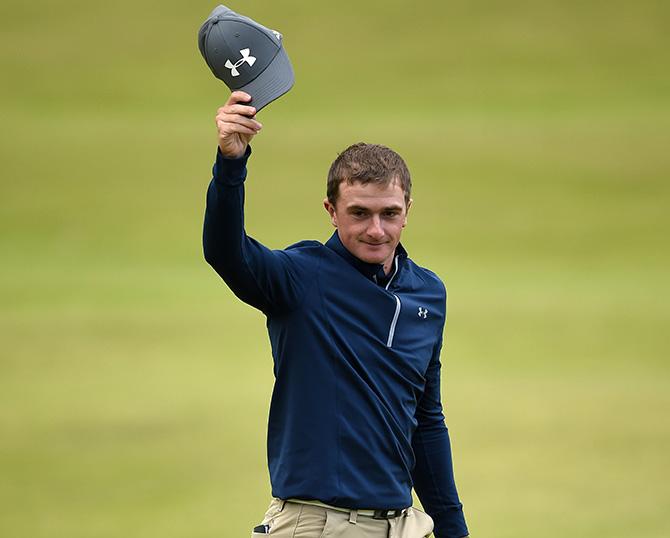 Irish amateur Paul Dunne is in contention to become the first amateur to win the British Open for 85 years after a sensational third-round display sent him rocketing into a tie for the lead on Sunday.
'F1 will always be dangerous'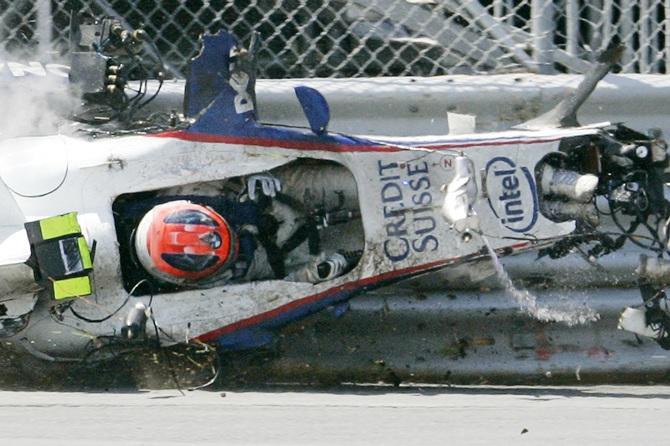 Formula One is as safe as it has ever been but danger will always be part of the sport.
July 19, 2015
Transfer Buzz: Liverpool reach deal with Villa for Benteke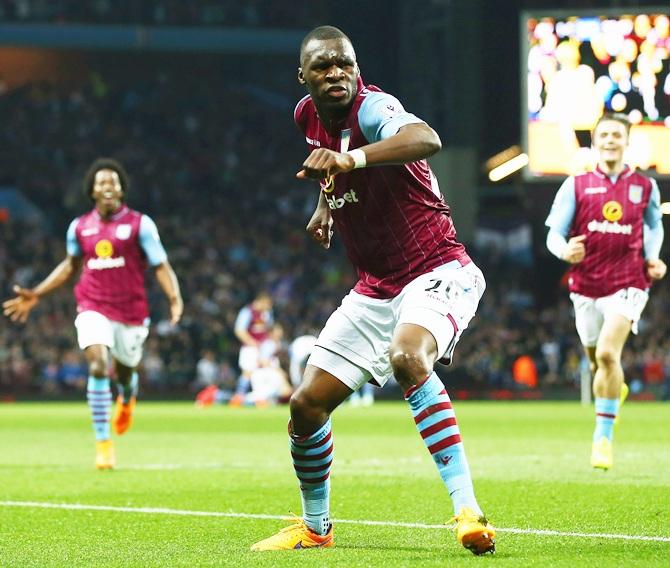 Liverpool have agreed a 32.5 million pounds deal with Aston Villa for striker Christian Benteke, British media reported on Sunday.
Sweet homecoming for Tevez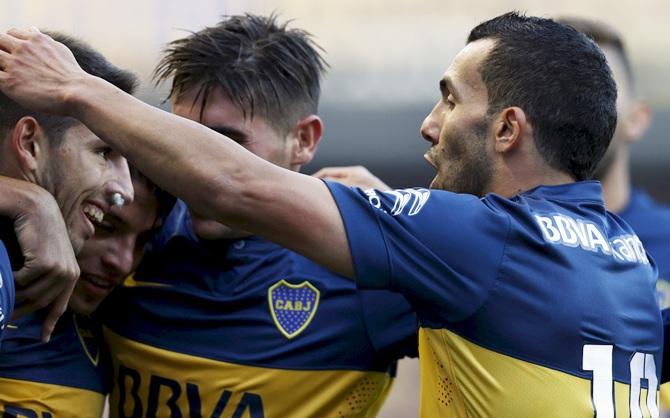 Striker Jonathan Calleri chipped a brilliant 'rabona' as Boca Juniors marked Carlos Tevez's homecoming with a 2-1 victory over Quilmes at La Bombonera to stay top of the Argentine championship.
Meet the hero of India's Davis Cup triumph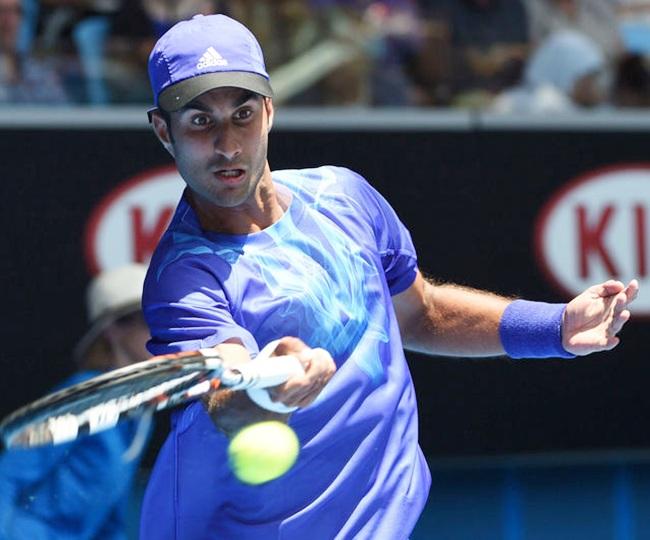 Team India lauds Yuki Bhambri, hero of match against New Zealand.
PHOTOS: Bachchans, Aamir grace Pro Kabaddi opener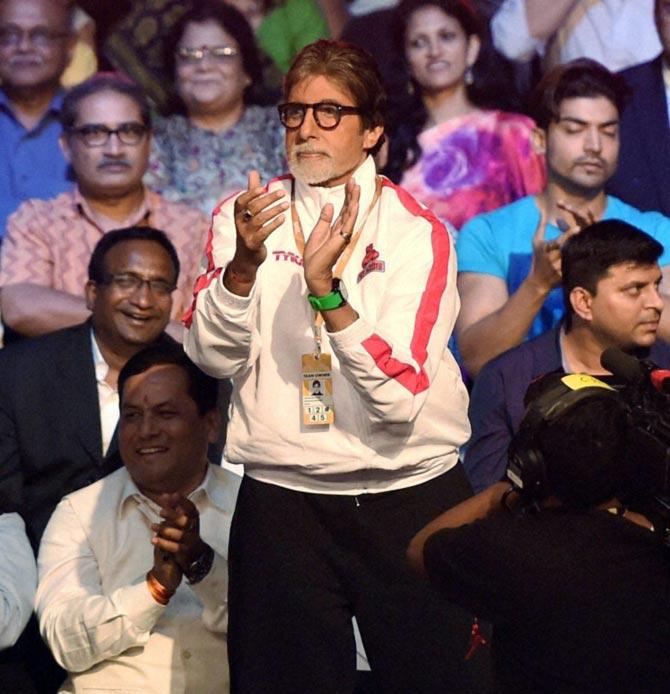 The Bachchan family were out in full force but despite even their presence could not prevent their team Jaipur Pink Panthers from going down to hosts U Mumba in the opening game of the Star Sports Pro-Kabaddi League on a rousing note at the NSCI Stadium in Mumbai, on Saturday.
This 'Pole' dances to kabaddi's beat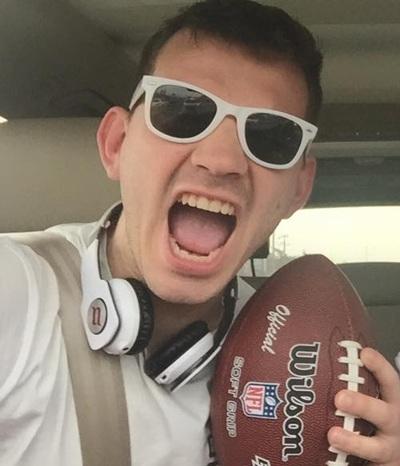 Michal Spiczko has not even stepped on the kabaddi mat is is already making waves.
British Open: Leader Johnson holds firm; Woods misses cut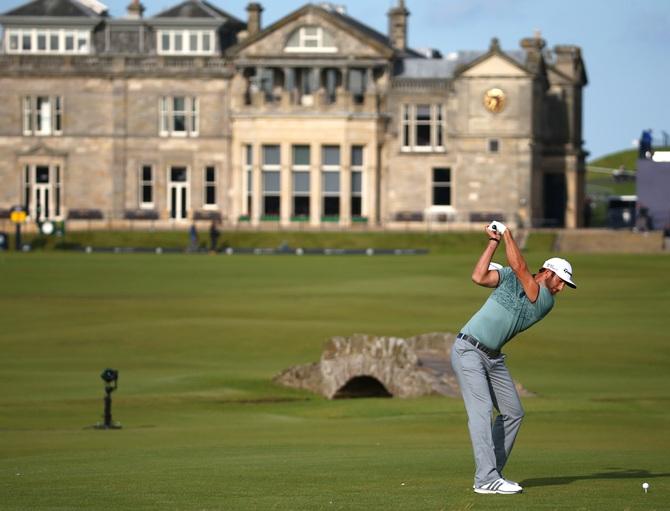 More than 24 hours after Dustin Johnson began his second round at the wind-lashed British Open he ended it still on top of the leaderboard.
Serena to rest for a week due to elbow injury
Serena Williams will rest for a week after withdrawing from the Swedish Open due to an elbow problem but is confident the injury will not derail her preparations for the US Open.
Gold Cup: Dempsey hat-trick helps US reach semis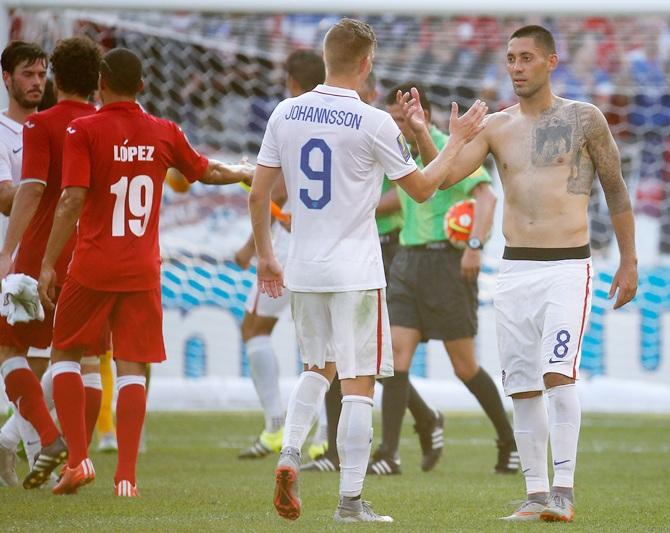 Clint Dempsey recorded his first hat-trick for the United States in a dominant 6-0 win over Cuba on Saturday that put theAmericans into a CONCACAF Gold Cup semi-final against Jamaica.
Brazil soccer great Pele undergoes back surgery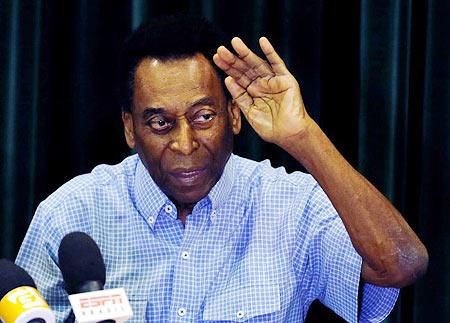 Brazilian soccer legend Pele has undergone back surgery, a close aide told Reuters on Saturday, the latest in a series of recent health problems afflicting the 74-year-old former player.
Davis Cup Roundup: Vintage Hewitt guides Australia into semis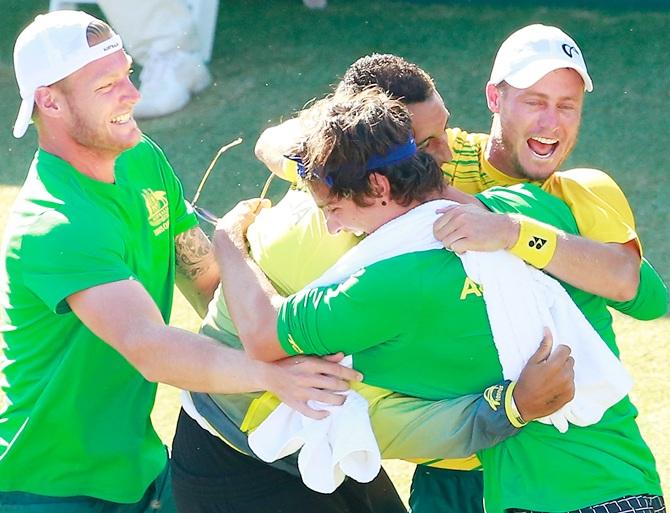 Ageing tour warrior Lleyton Hewitt ushered Australia into the Davis Cup semi-finals on Sunday, trouncing Aleksandr Nedovyesov 7-6(2), 6-2, 6-3 in the decisive singles rubber against Kazakhstan.
Davis Cup: Somdev, Yuki too strong for NZ; India advance to Play-offs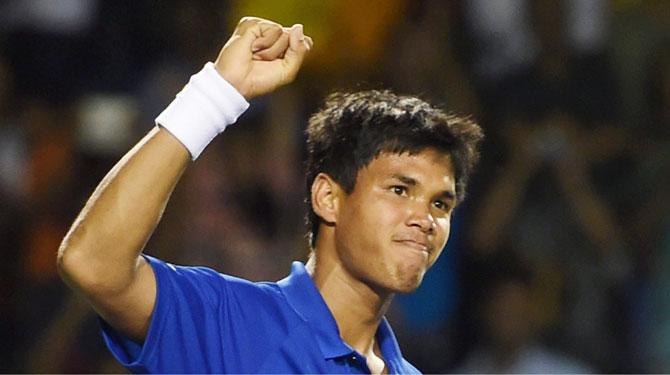 A fired up Yuki Bhambri recorded his first ever victory in a live fifth rubber after Somdev Devvarman levelled the scores as India advanced to
July 18, 2015
British Open to finish on Monday for first time since 1988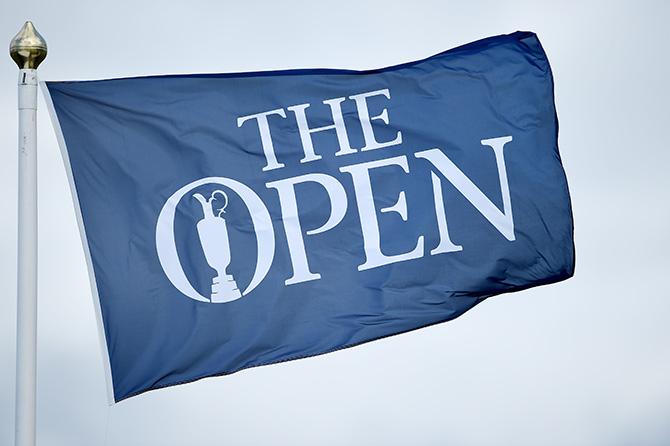 The British Open will end on a Monday for the first time since the late Seve Ballesteros won at Royal Lytham in 1988 after high winds caused havoc on Saturday.
Murray brothers carry Britain to brink of Davis Cup semi-final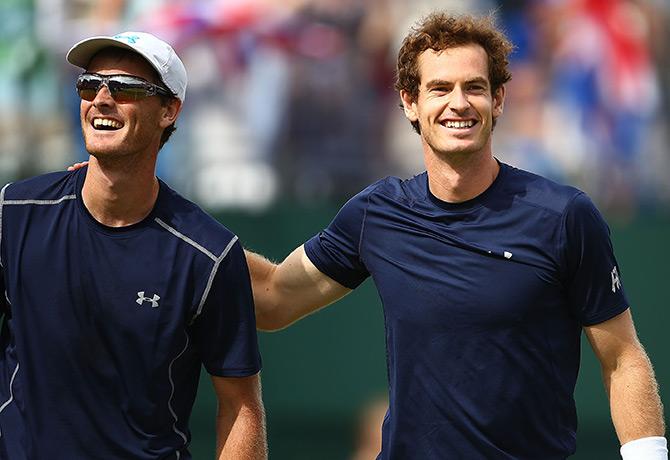 Brothers Andy and Jamie Murray carried Britain to the brink of a Davis Cup semi-final berth after they beat France in the doubles rubber to take a 2-1 lead ahead of Sunday's reverse singles.
Tour de France: Cummings wins 14th stage, Froome leads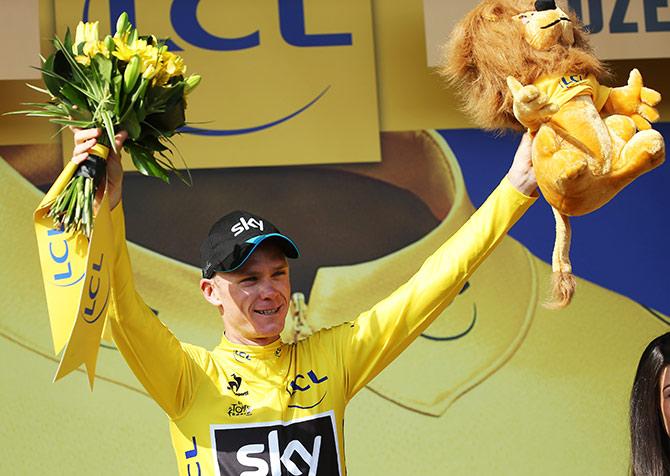 British journeyman Stephen Cummings earned South African team MTN-Qhubeka a landmark victory on Mandela Day when he spoiled a French party to take a surprise win in the 14th stage of the Tour de France on Saturday.
Asia Trophy: Full-strength Arsenal dazzle to success over Everton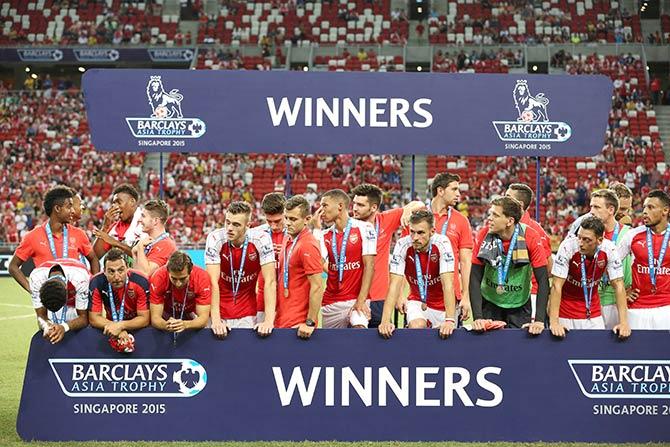 A full-strength Arsenal added another piece of silverware to their recent FA Cup success by beating Everton 3-1 in the final of the Premier League's Asia Trophy on Saturday.
Benitez suffers frustrating Real Madrid debut in Melbourne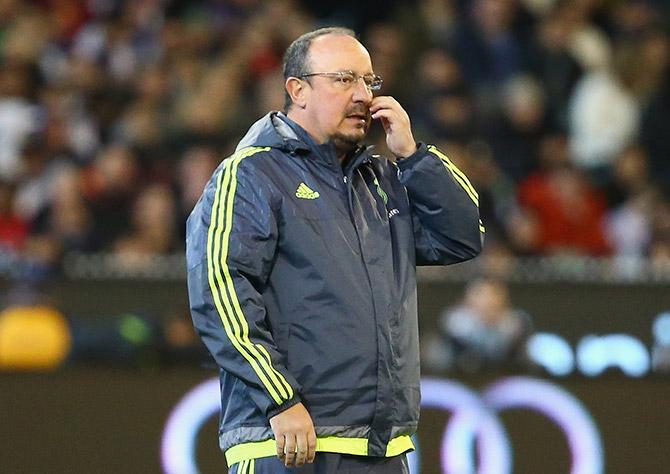 Rafa Benitez kicked off his tenure as Real Madrid boss with a frustrating 7-6 penalty shootout loss to AS Roma in a pre-season friendly on Saturday.
Major sponsors, Coca-Cola, McDonald's, demand reforms at FIFA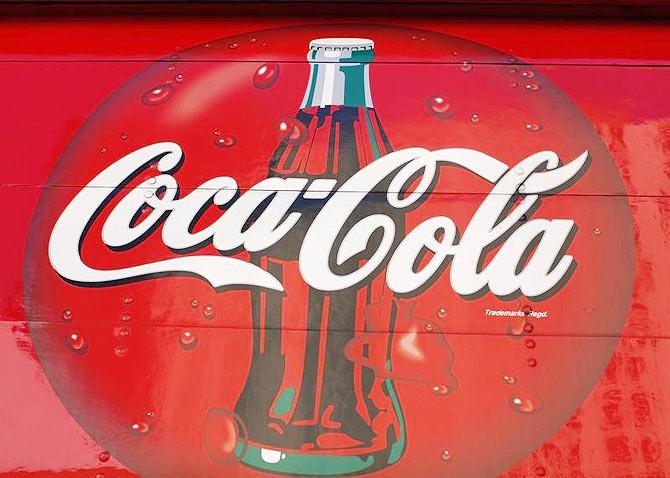 Two top sponsors of FIFA and its World Cup tournaments on Friday ratcheted up pressure on the global football body for major reforms as a corruption scandal casts a lengthening shadow over the sport.
Motorsport community reacts to Jules Bianchi's death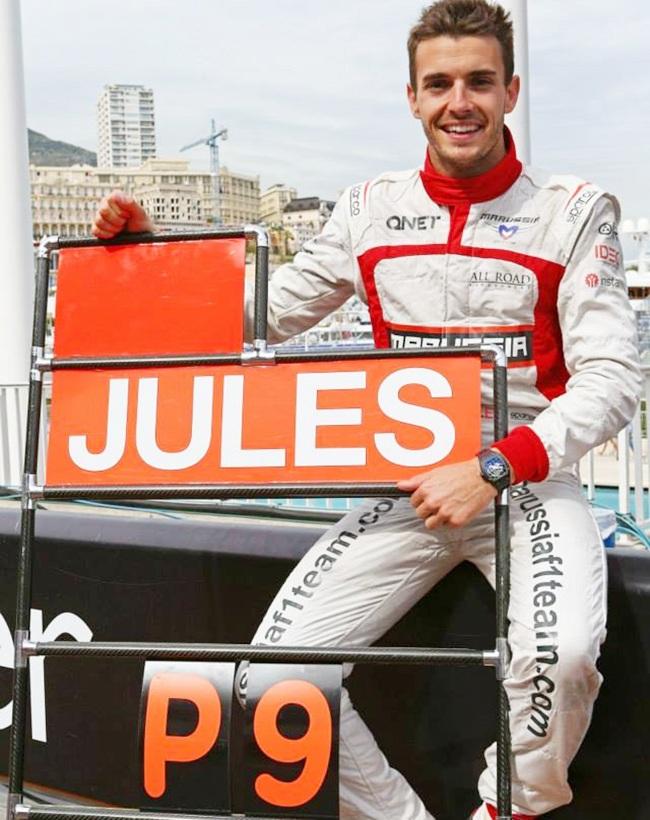 Formula One and the wider world of motorsport mourned the death of young Frenchman Jules Bianchi on Saturday.
India were done in by 'flawless' tennis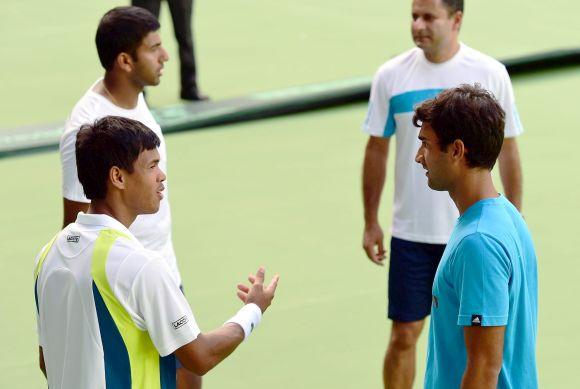 Rohan Bopanna and Saketh Myneni were done in by some 'flawless' tennis played by the Kiwi players according to India coach Zeeshan Ali.
Davis Cup: Kiwis tame Bopanna-Myneni; India trail 1-2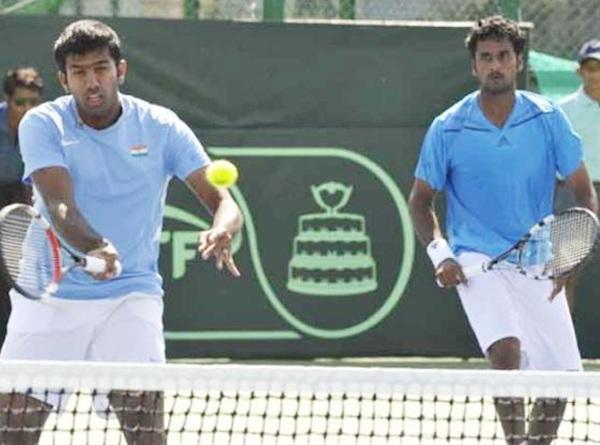 World No 10 Rohan Bopanna and Saketh Myneni suffered a shock straight set mauling at the hands of Artem Sitak and Marcus Daniell as India were left trailing 1-2 against New Zealand.
Tomic not ready to mend fences with Tennis Australia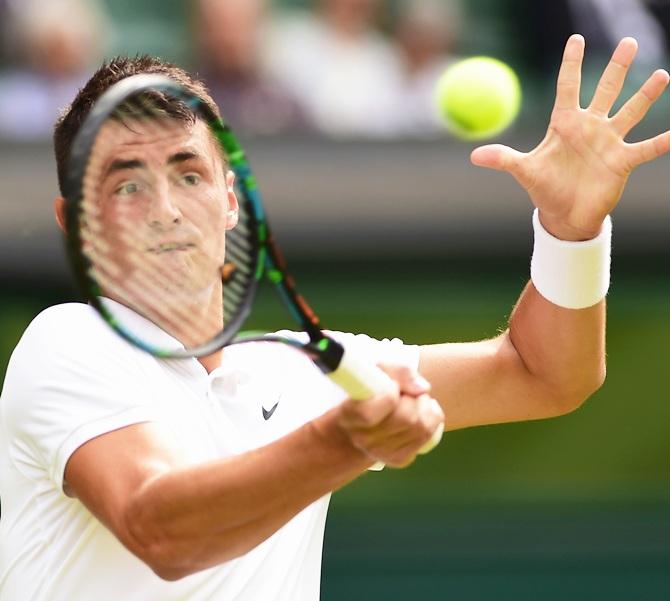 Bernard Tomic has swatted aside offers of help from Australian tennis officials following his arrest in Miami after a noisy hotel room party.
Schneiderlin sizzles on debut to give United 1-0 win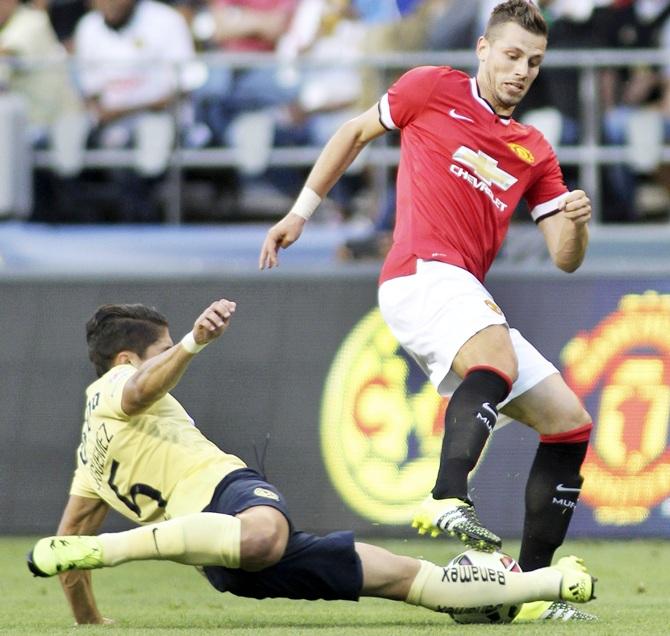 Morgan Schneiderlin took less than five minutes to score on his Manchester United debut in a 1-0 win over Mexico side Club America on Friday.
Gerrard scores on MLS debut as Galaxy beat San Jose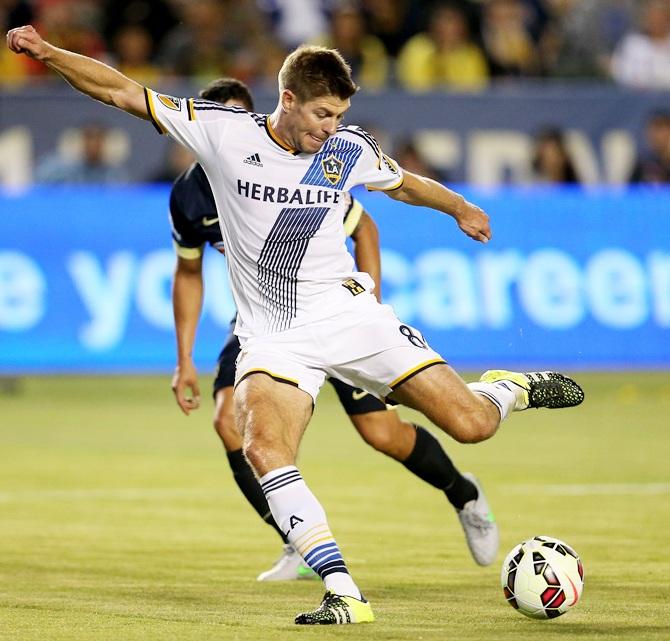 Steven Gerrard made a brilliant Major League Soccer debut for Los Angeles, scoring a goal and having a hand in two others as the Galaxy beat the San Jose Earthquake 5-2 on Friday.
Davis Cup: Hewitt, Groth keep Australia's hopes alive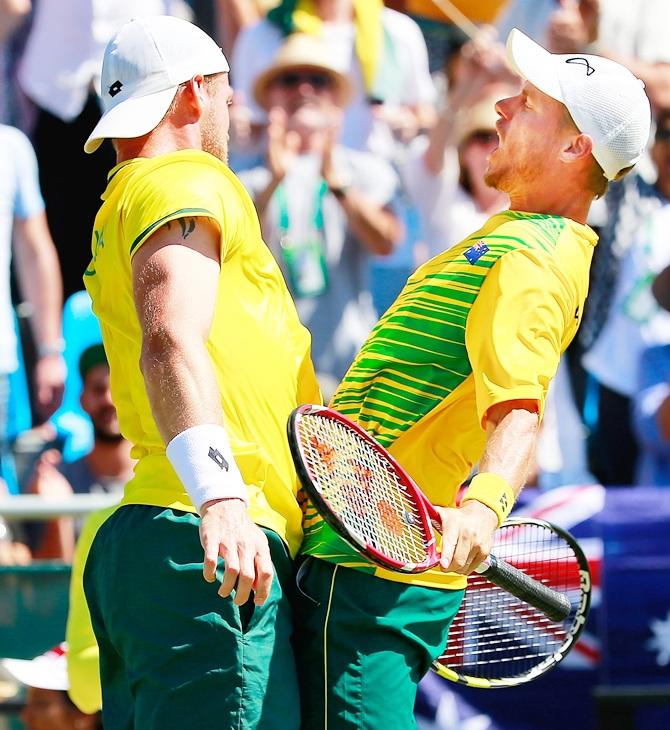 champion Lleyton Hewitt and Sam Groth combined to defeat Kazakhstan in their Davis Cup doubles tie on Saturday and keep Australia's semi-final hopes alive.
Dibaba breaks 22-year-old world record in 1,500 metres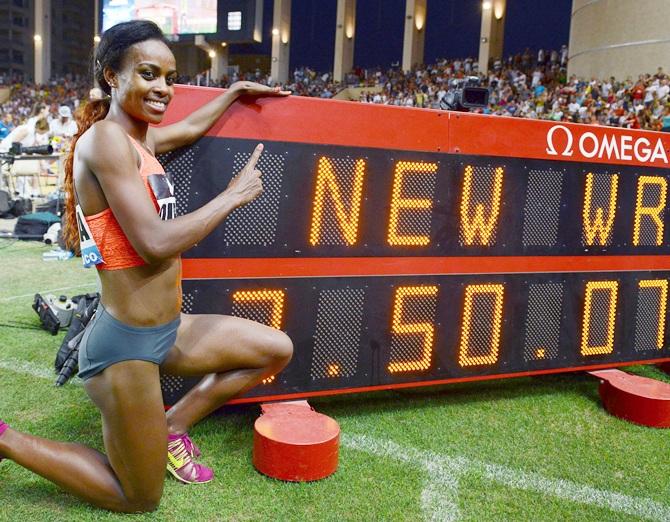 Ethiopia's world indoor champion Genzebe Dibaba broke the 22-year-old world women's 1,500 metres record on a sultry night at the Monaco Diamond League meet.
It's unfortunate that we had to fight it out: Jwala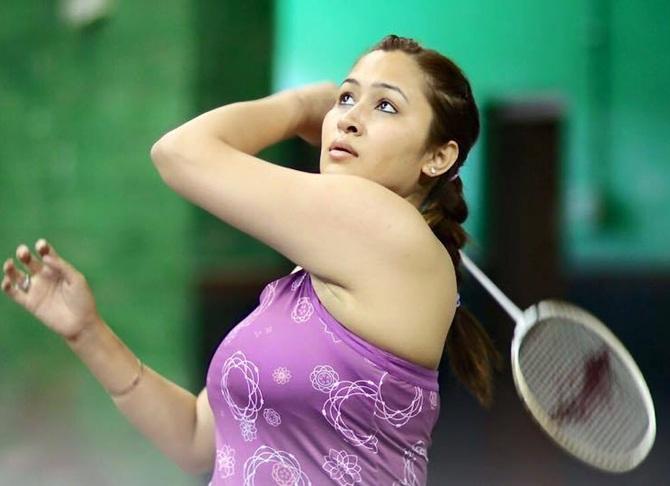 With the Sports Ministry set to include Jwala Gutta and Ashwini Ponnappa in the Target Olympic Podium Scheme.
It's normal, it's racing, he said after crash in 2009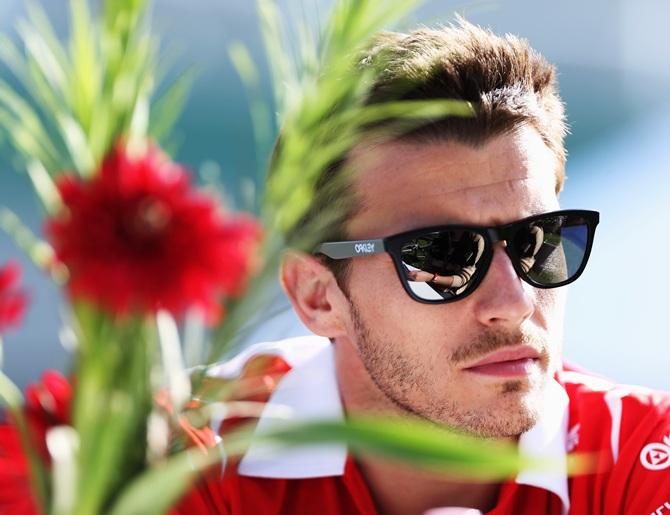 Jules Bianchi had a bright future in Formula One.
F1 driver Jules Bianchi dies nine months after crash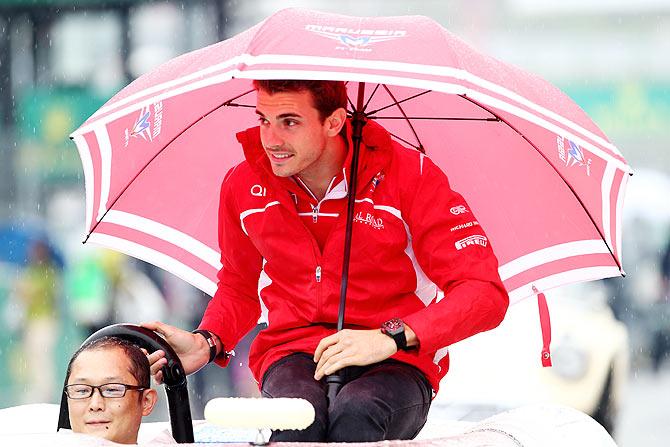 French Formula One driver Jules Bianchi has died of critical head injuries.
July 17, 2015
Tour de France: Van Avermaet clinches rare victory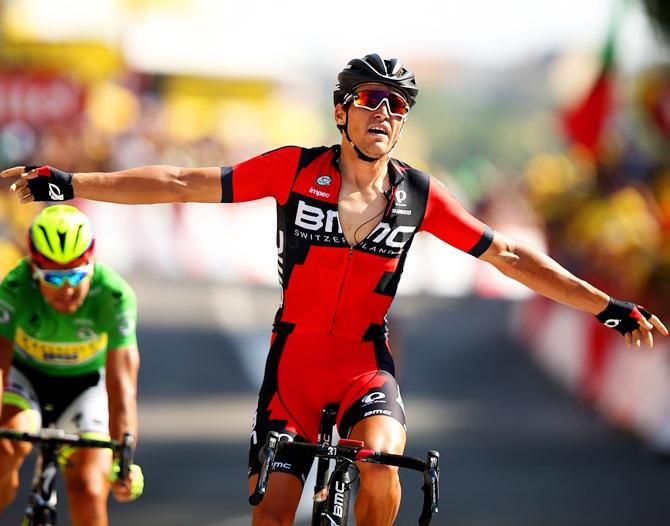 Greg van Avermaet, one of cycling's nearly men, enjoyed a rare victory when he claimed the 13th stage of the Tour de France on Friday with a late burst of speed in an uphill finale.
Formula One's 'silly season' moves into overdrive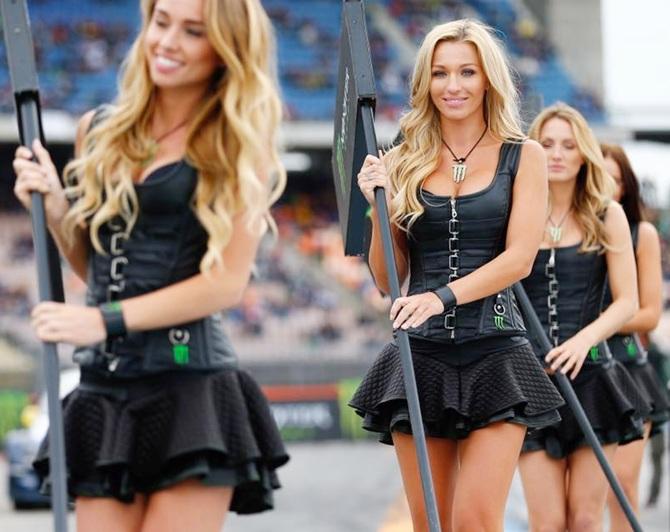 Formula One's 'silly season' of rumour and speculation is heating up.
Goalkeeper Kiko Casilla replaces Iker Casillas at Real Madrid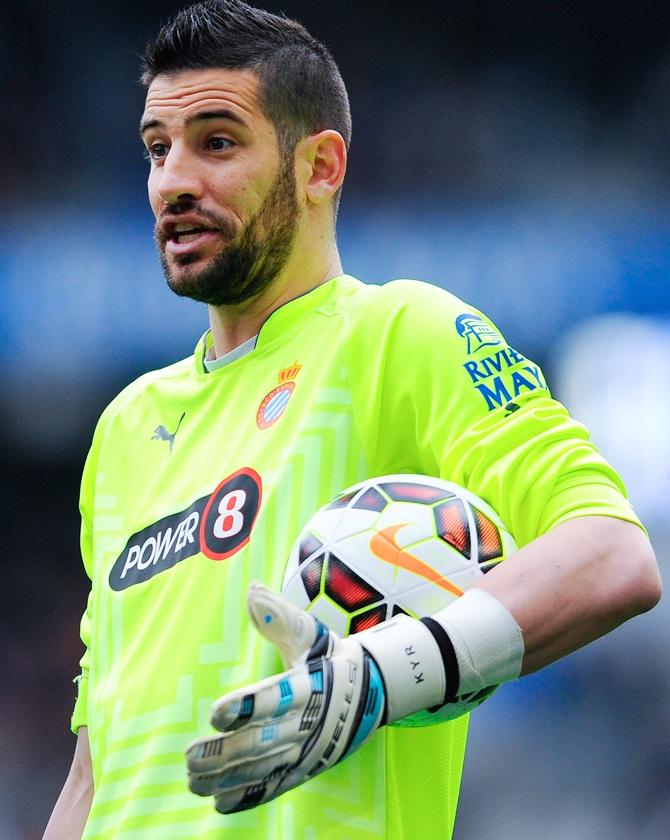 Espanyol have agreed a deal for goalkeeper Kiko Casilla to join Real Madrid, the Catalan club said on Friday.
FIFA, others defeat US lawsuit over soccer concussions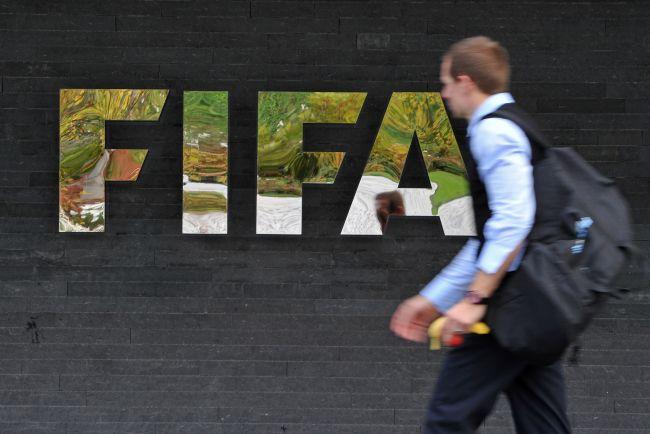 A US judge has dismissed much of a lawsuit by soccer players and parents seeking to force FIFA and other governing bodies to change the sport's rules to limit the risk of concussions and other head injuries, especially for children.
3 reasons why Arsenal can win the EPL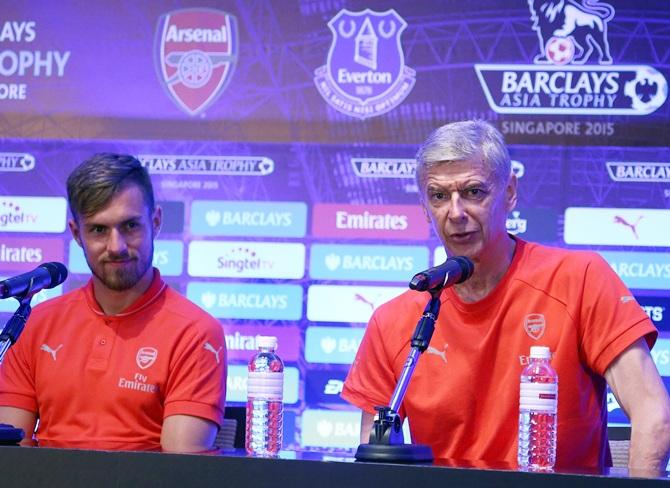 Arsenal have a strong enough squad to challenge for a first Premier League title since 2004.
Lack of football culture hurting India
Not focussing on grassroot development over the years has led to the players learning the basics only late in their career, says national coach Stephen Constantine.
Davis Cup coach Zeeshan lauds Yuki's showing, says he was flawless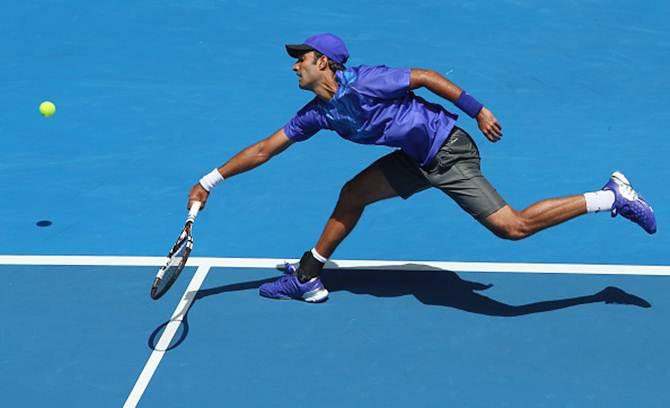 Young Yuki Bhambri brought India back in the Davis Cup match against New Zealand after Somdev Devvarman was beaten in the opening singles.
Magician Messi extols retiring Argentine sorcerer Aimar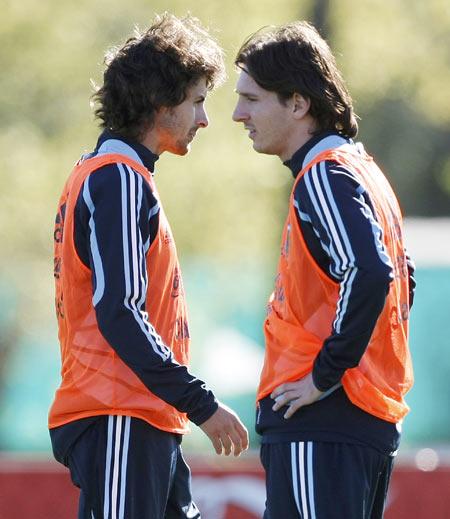 Lionel Messi assumed the rare role of fan on Thursday conveying his best wishes to his idol and Argentina great Pablo Aimar who retired on Wednesday.
'I am looking to win the world title'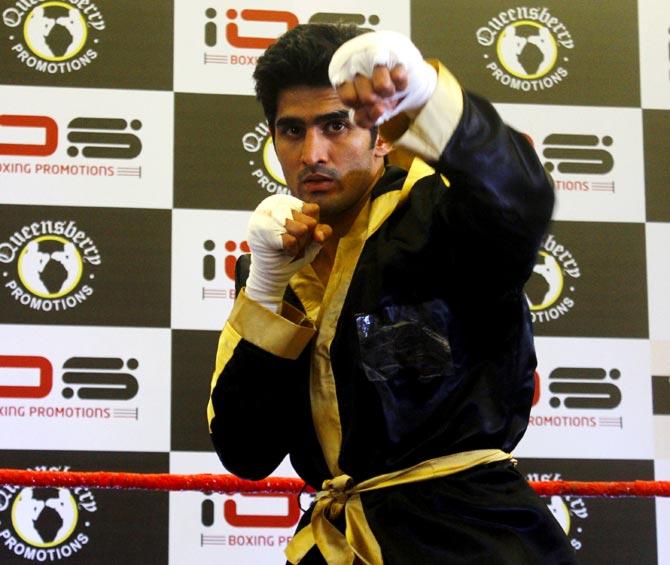 'I have boxed at the amateur level for 15, 16 years and won every medal possible at the world level. I represented India in three Olympics, for 12 years, and that is not an easy thing. I am hoping to replicate my success in pro boxing.'
Davis Cup: Yuki puts India level with Kiwis after Somdev shocked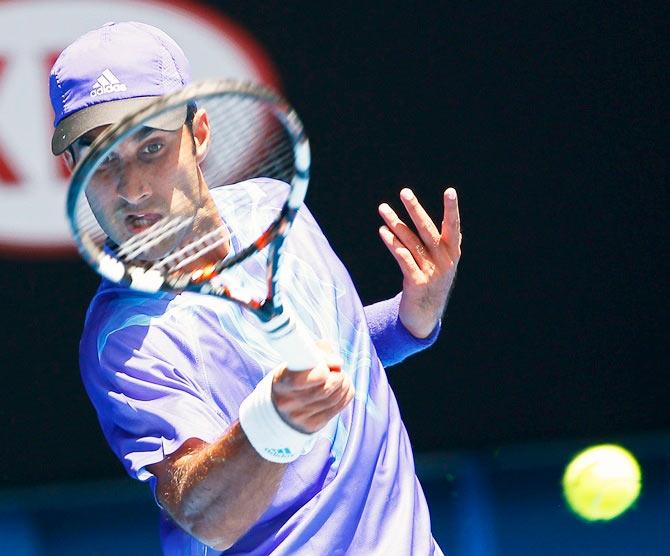 Yuki Bhambri rescued India with an impressive win following Somdev Devvarman's shock defeat, leaving the visitors locked 1-1 with New Zealand on day one of the Davis Cup Asia-Oceania Group I tie, in Christchurch on Friday.
Australian tennis player Tomic charged after noisy penthouse party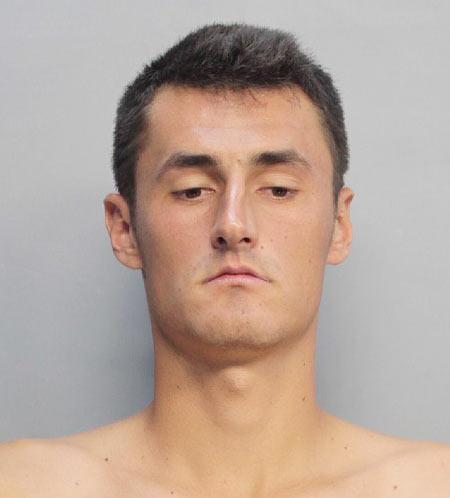 Australian tennis player Bernard Tomic has been charged with trespassing and resisting arrest following complaints over a noisy penthouse party at a Miami Beach hotel, police said on Thursday.
July 16, 2015
Valdes hits back at Van Gaal in United row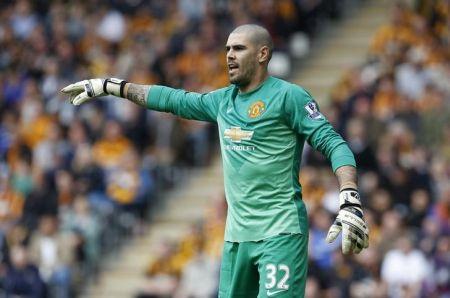 Manchester United goalkeeper Victor Valdes escalated his dispute with manager Louis Van Gaal on Thursday by posting pictures of himself with the club's Under-21 team, which Van Gaal had accused him of refusing to play for.
Pro Kabaddi League: Squad strength raised to 25 in Season 2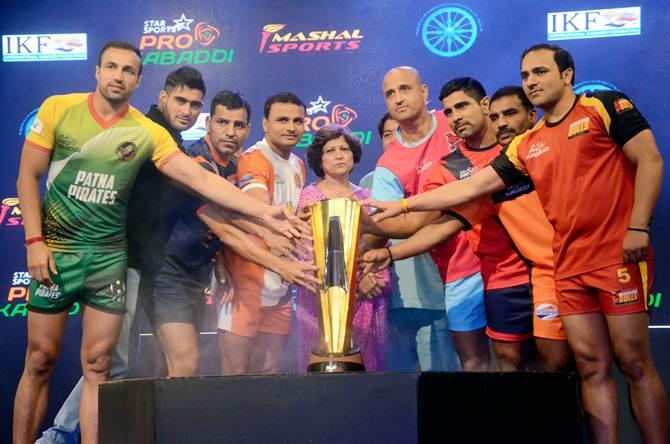 The strength of teams has been bolstered from 14 during the inaugural edition last year to 25.
Satnam scores in a thrilling win for Mavericks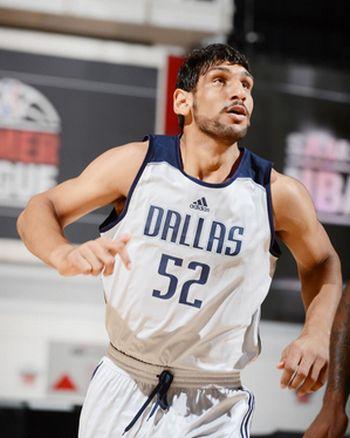 Satnam Singh got to ply his trade in a brief four-minute appearance as the Dallas Mavericks knocked off the LA Lakers 88-86 in a thrilling encounter in the elimination round of the 2015 NBA Summer League.
Lance Armstrong makes low key return to Tour as Froome leads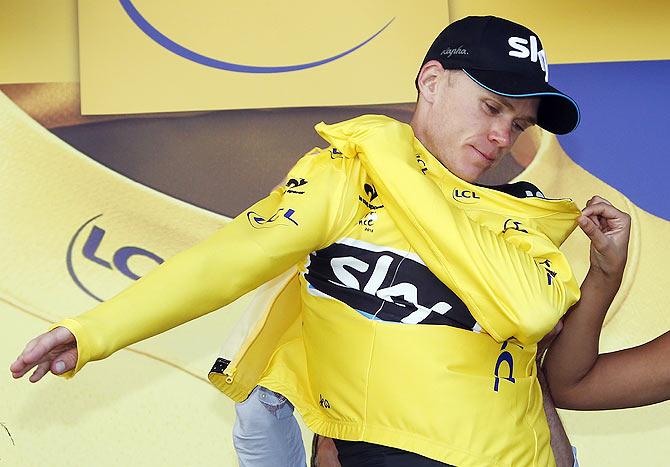 Disgraced cyclist Lance Armstrong made a low key return to the Tour de France on Thursday when the American cancer survivor set off on a charity ride that follows the route of this year's race.
PHOTOS: Hot and sexy at the ESPY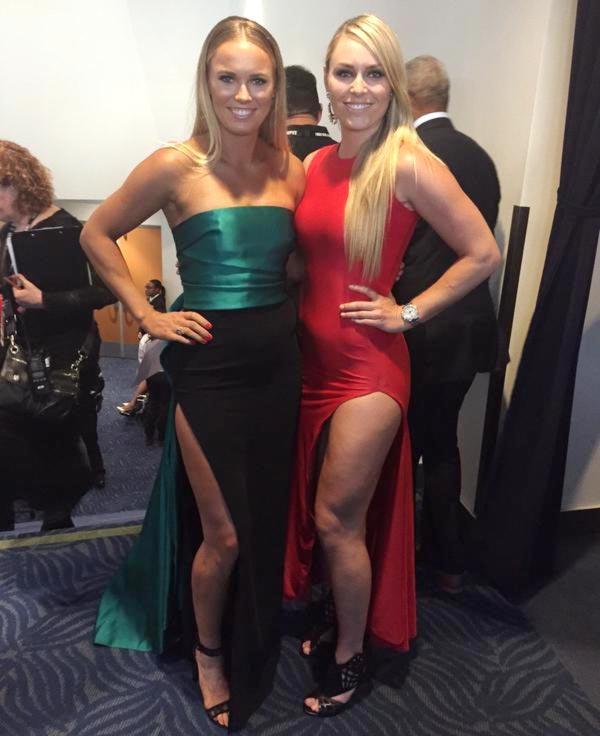 Barcelona's star footballer Lionel Messi was named the Best International Athlete award, while Serena Williams and Novak Djokovic, who recently won the Wimbledon singles titles, were named the best male and female tennis players respectively, at the 2015 ESPY Awards in California, on Wednesday night.
'Comparing FIFA to the Mafia is almost insulting to the Mafia'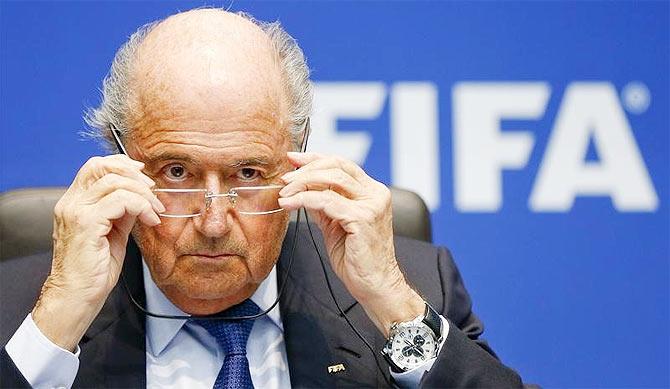 Senators call for reforms of US soccer body at FIFA corruption hearing
10 Most Valuable sports teams in the World!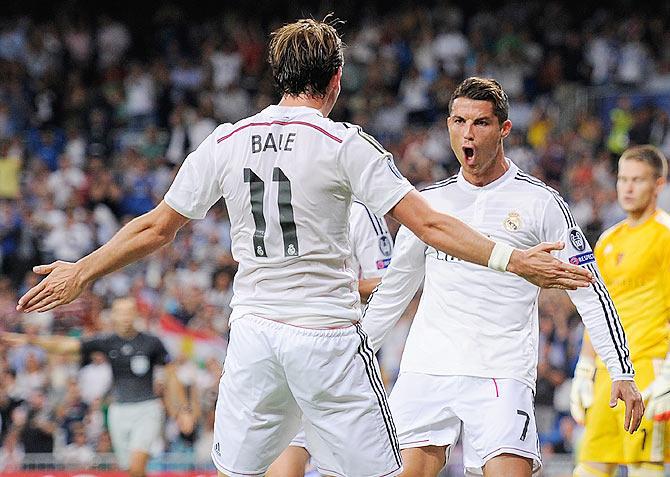 According to a Forbes poll released on Wednesday, Spanish football club Real Madrid once again leads Forbes' most valuable teams list, which mostly includes National Football League franchises.
Ooh... aah... ouch!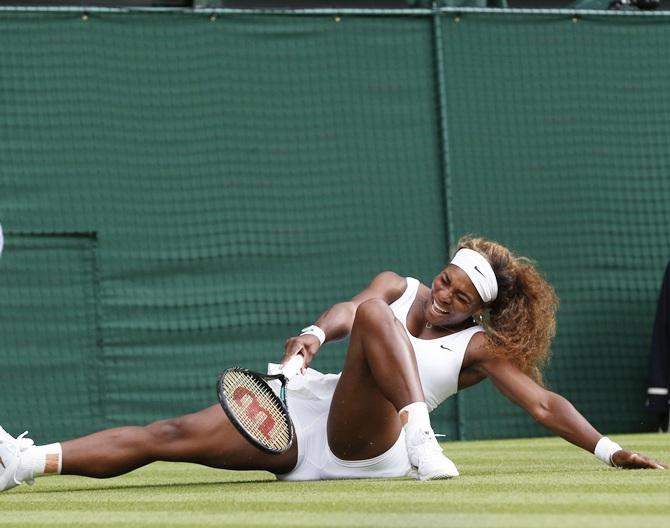 When sport stars collide, crash and fall!
July 15, 2015
Navratilova and Sania hold joint tennis Masterclass in Hyderabad!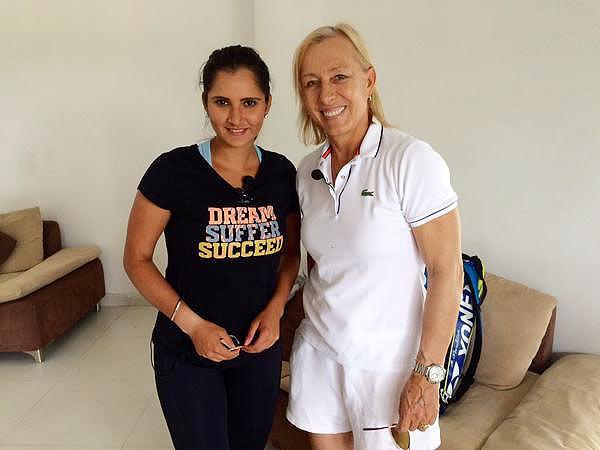 When two champions of tennis share their knowledge of the sport they most love and excel, everyone is keyed in. That is exactly what happened on Wednesday evening when Indian ace Sania Mirza hosted the legendary Martina Navratilova at a tennis 'Masterclass' in Hyderabad.
US Open prize money hits a record $42.3m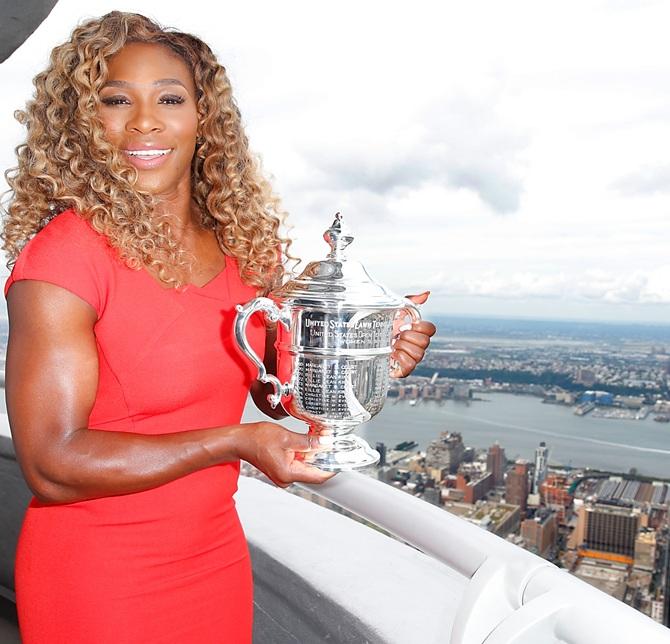 US Open aces Wimbledon for top Grand Slam prize money.
Gold Cup: Jamaica, Costa Rica advance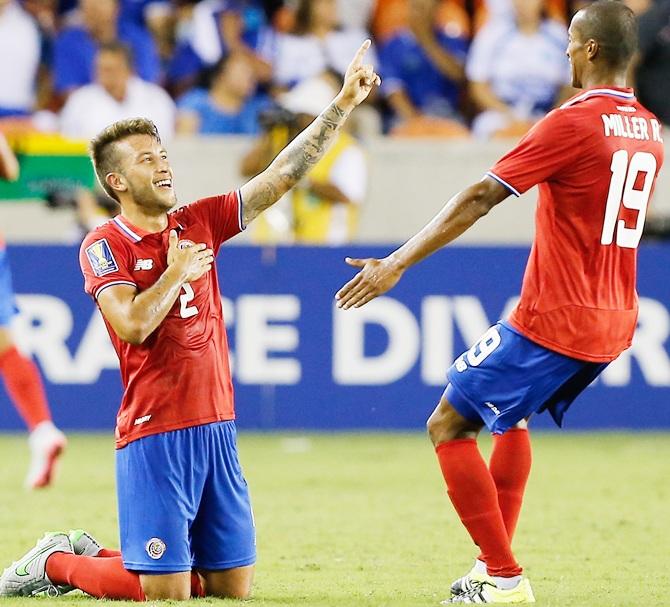 Jamaica scored a late winning goal while Costa Rica needed only a scoreless draw as both teams advanced from Group B to the quarter-finals of the CONCACAF Gold Cup.
Fenerbahce fans give Van Persie rapturous welcome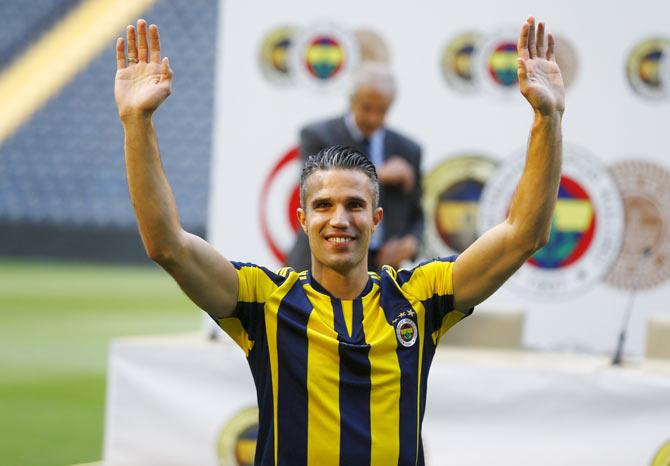 Netherlands striker Robin van Persie vowed on Tuesday to rekindle his goal-scoring prowess and help Fenerbahce win trophies as he joined the Turkish club from Manchester United on a three-year deal.
Like father, like son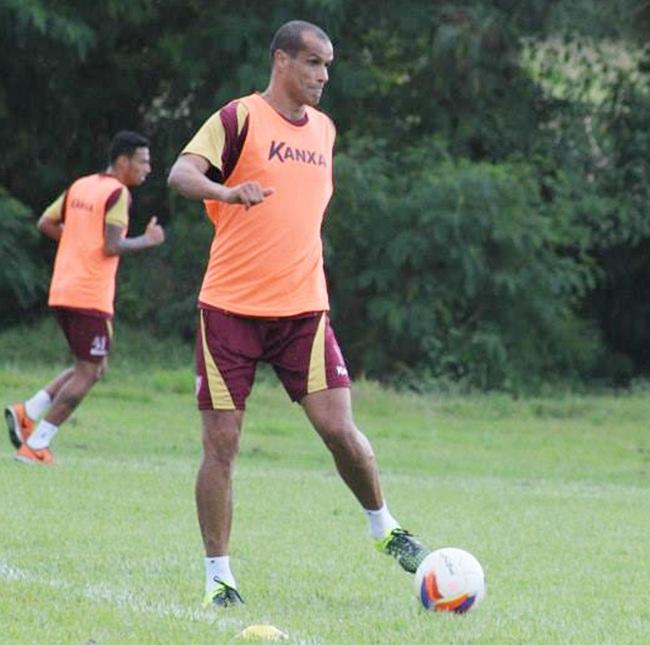 Rivaldo, son both score in Brazil's second tier.
No bitterness as Liverpool's Sterling joins City for record fee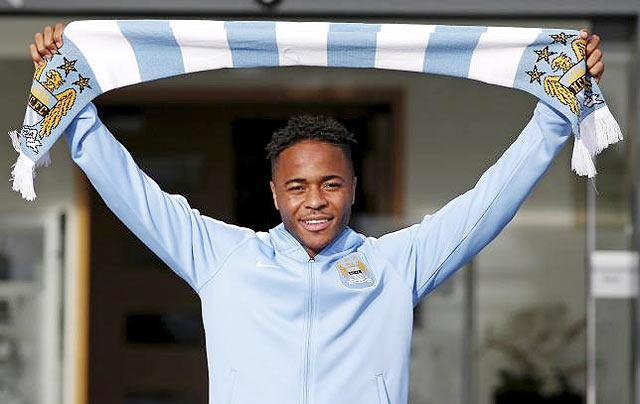 Manchester City made Raheem Sterling the most expensive English player in history when they completed a deal for the 20-year-old forward on Tuesday, rubber-stamping an acrimonious end to his Liverpool career.
Tour de France: Froome demolishes rivals on first mountain test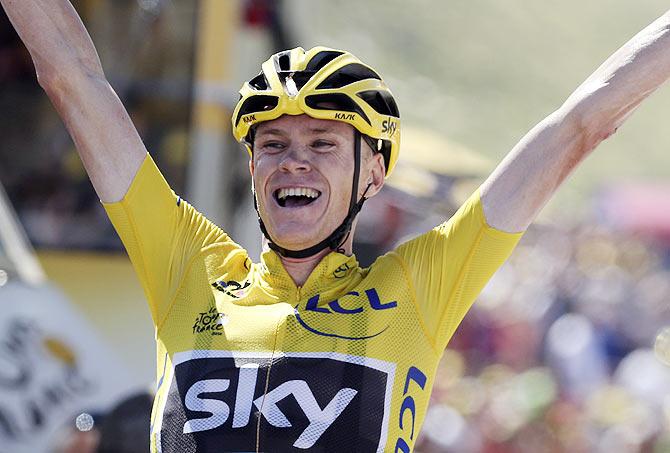 Overall leader Chris Froome put the hammer down on the Tour de France when the Briton humiliated his rivals in the first mountain test, winning the 10th stage in awe-inspiring fashion on Tuesday.
July 14, 2015
Russia dumps Capello as coach before World Cup finals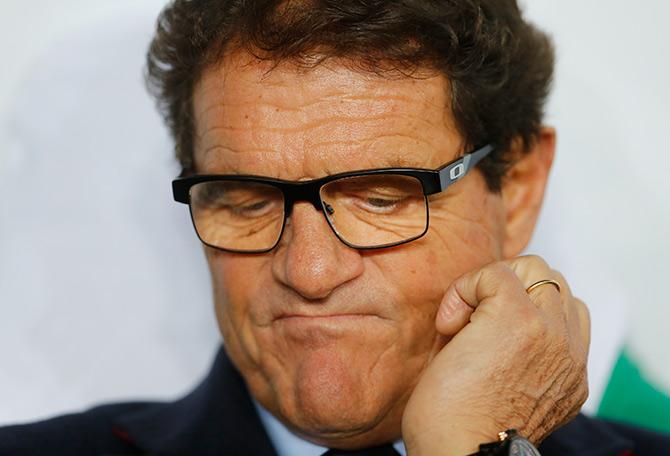 The Russian Football Union (RFU) said on Tuesday it had ended its contract with national team coach Fabio Capello, three years before the country hosts the 2018 World Cup finals.
Boca Juniors unveil returning idol Carlos Tevez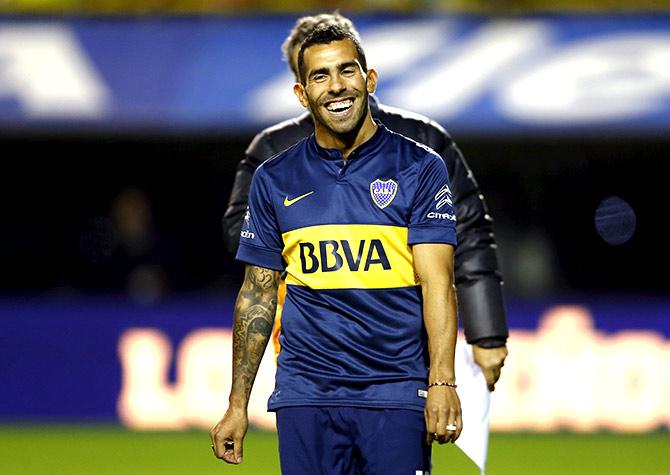 Carlos Tevez was officially unveiled as a Boca Juniors player in a 6.5 million euros ($7.15 million) transfer from Juventus.
Father 'less optimistic' about Bianchi recovering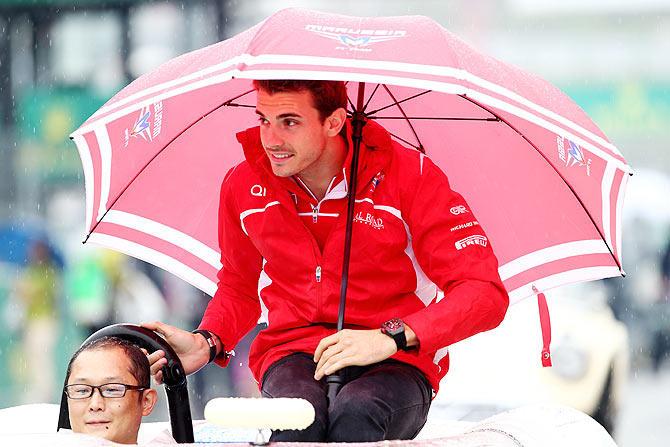 The father of French Formula One driver Jules Bianchi says he is "less optimistic" that his son will recover from the severe head injuries he suffered in a Japanese Grand Prix crash last October.
US draw with Panama in Gold Cup, Haiti through to quarters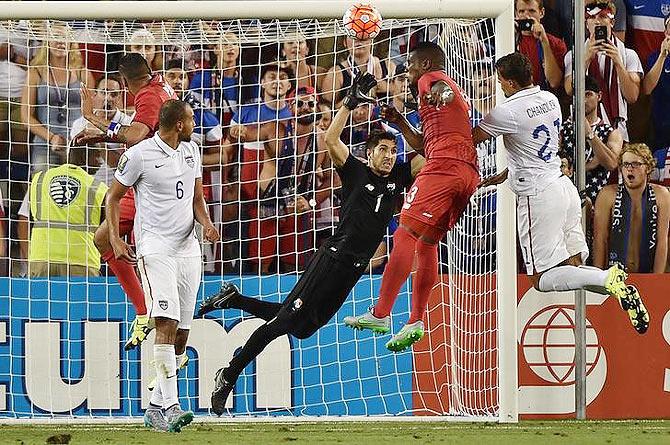 The United States recovered from a poor first half and earned a 1-1 draw against Panama on Monday that kept the Central Americans from clinching an automatic spot in the CONCACAF Gold Cup quarter-finals.
Does Casillas need to prove his greatness to Real Madrid?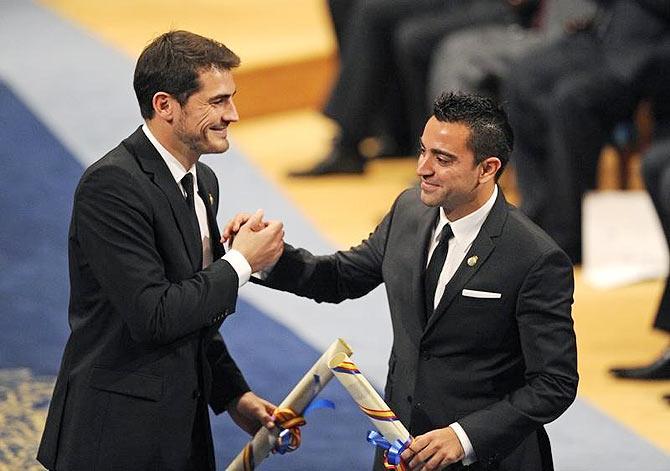 Xavi slams Real Madrid over Casillas exit
Can City-bound Sterling do justice to 49 million pound deal?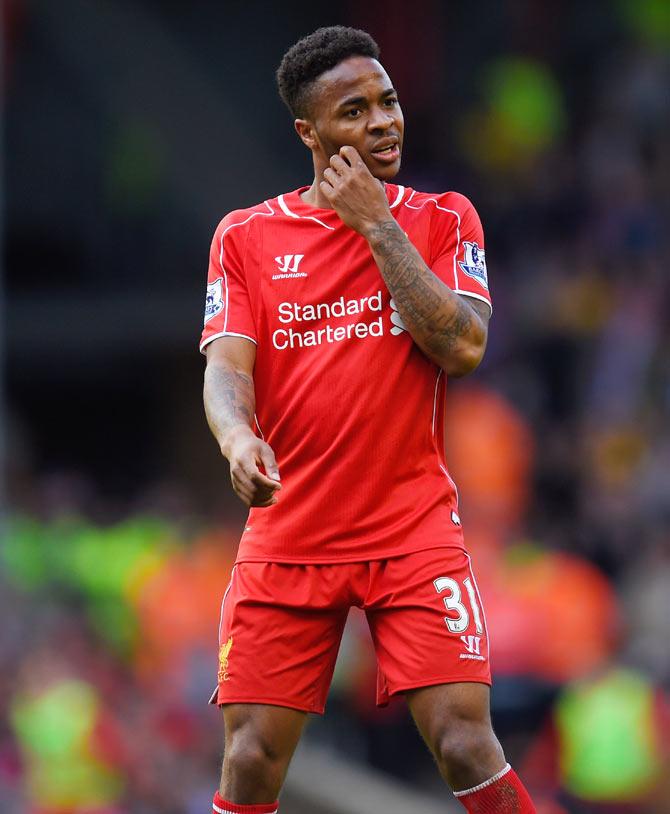 Manchester City are about to find out whether Raheem Sterling has the ability to justify his enormous price tag or is just another over-rated young English footballer motivated purely by his bank balance.
Mavericks' Satnam keen to work on shortcomings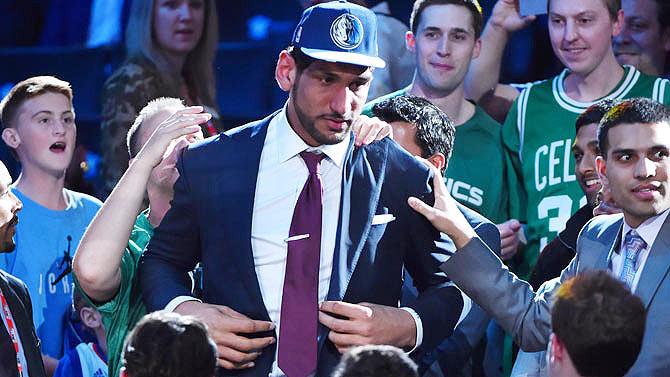 'May be, after another two years when I establish myself, I will play for India again. The main goal is to at least play 10 years in NBA league'
'It's a marvel that Leander is still playing so well'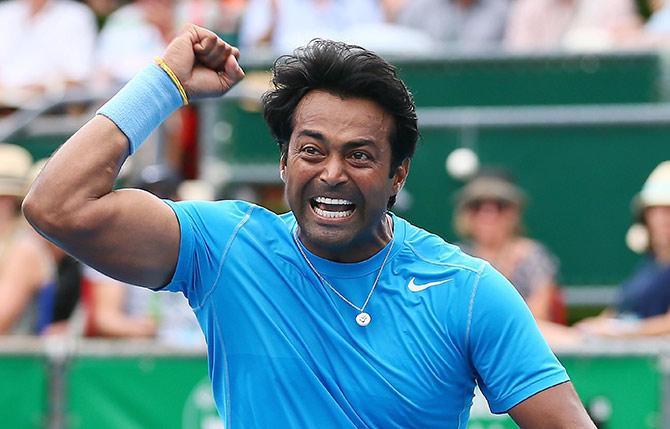 'Even at 42, Leander's ball skills, his reflexes at the net, the hand-eye coordination... nothing has diminished. In fact, he is as good as he's ever been.'
Serena extends lead in WTA rankings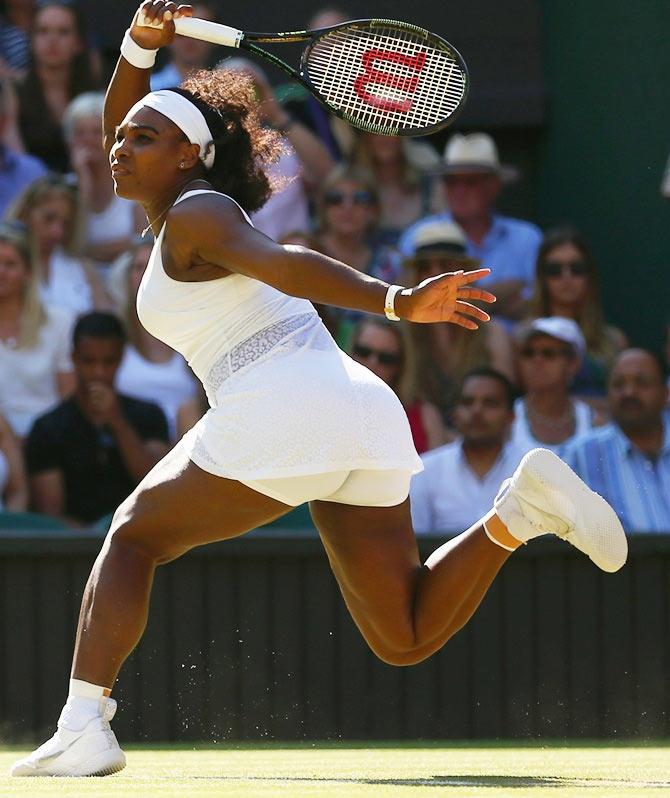 Serena Williams has extended her lead in the WTA rankings after her fourth consecutive Grand Slam title at Wimbledon, with the World No 1 now having more than twice as many points as her closest competitor Maria Sharapova.
10 lesser known facts about newly-crowned Wimbledon champ Sania Mirza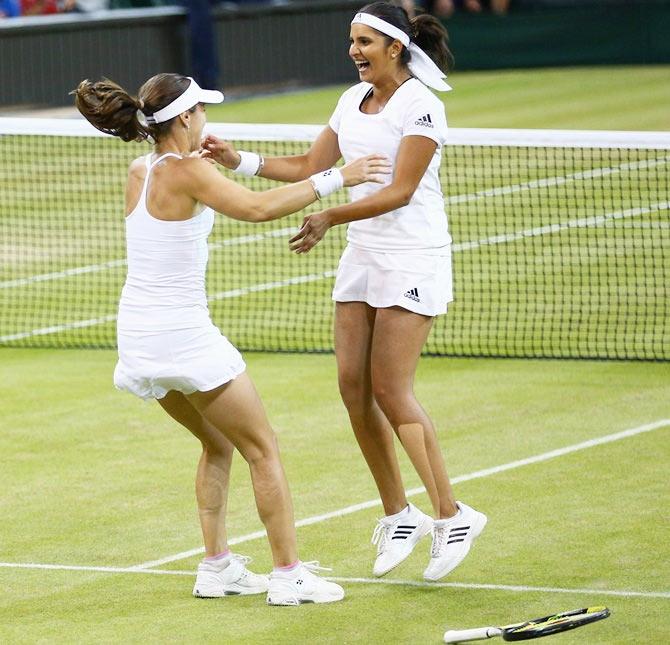 Sunita Iyer, lists the10 lesser known facts about the golden girl of Indian tennis.
July 13, 2015
De Gea named in Manchester United U.S tour squad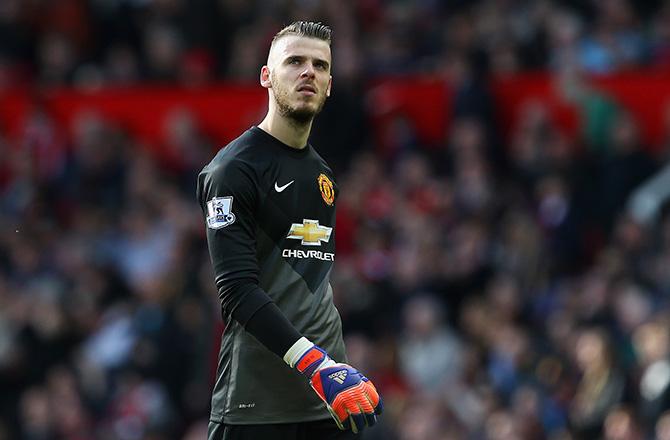 Manchester United goalkeeper David de Gea has been named in the Premier League club's squad for a pre-season tour of the United States despite reported interest from Spanish giants Real Madrid.
Mallya suffers legal setback in F1 car ad case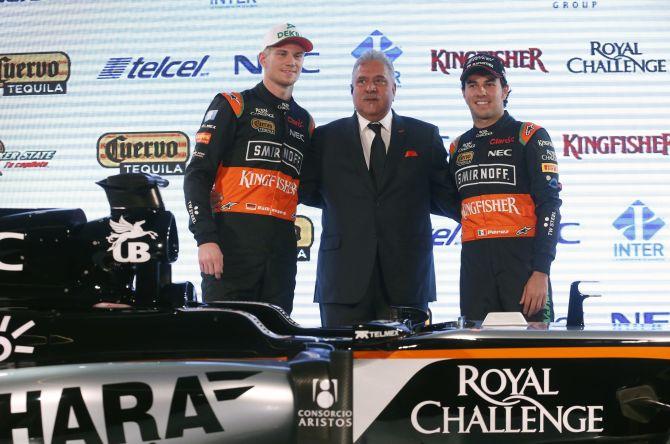 The Supreme Court has rejected an appeal by Vijay Mallya to overturn charges against him for allegedly violating foreign exchange rules, adding to the legal challenges facing one of the country's most prominent businessmen.
Satnam scores as Dallas Mavericks lose again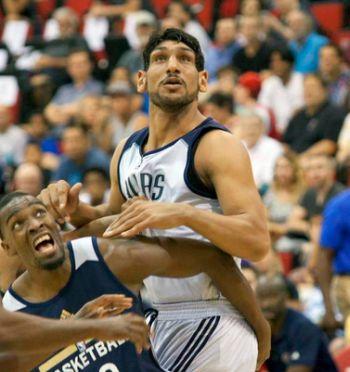 Satnam Singh made his second consecutive appearance for Dallas Mavericks as they ended up on the losing side against Portland Trail Blazers in the 2015 NBA Summer League in Las Vegas on Sunday night. Dallas Mavericks lost 80-93.
Novak Djokovic: 2011 Redux!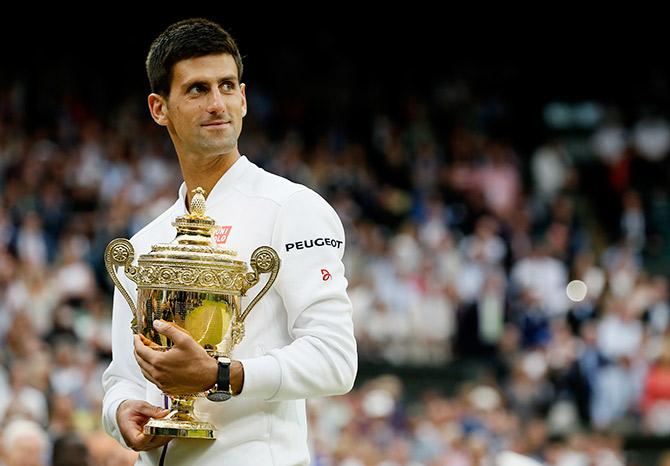 Sunday's four-set verdict over Roger Federer was the 28-year-old's 200th singles victory in a major tournament, making him only the sixth player to achieve the feat.
Italian Basso quits Tour de France due to testicular cancer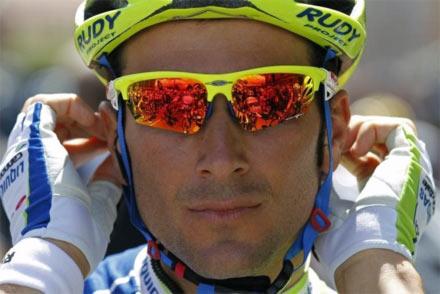 Former Giro d'Italia winner Ivan Basso withdrew from the Tour de France on Monday after revealing he has testicular cancer.
10 Best Sports Photos of the Week!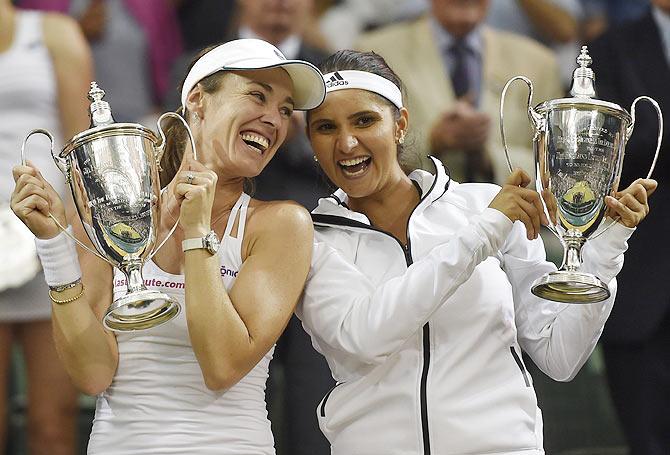 Rediff.com gives you a flashback of these events in pictures snapped right here...
When India's new tennis star Sumit Nagal had a fanboy moment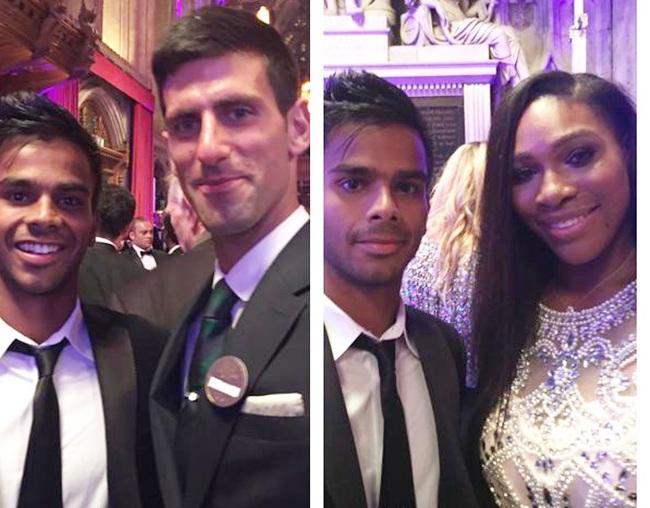 Before becoming the newest tennis sensation in India, Nagal was busy being the fanboy, posing for pictures with the 2015 Wimbledon Champions.
Liverpool manager Rodgers confirms Sterling transfer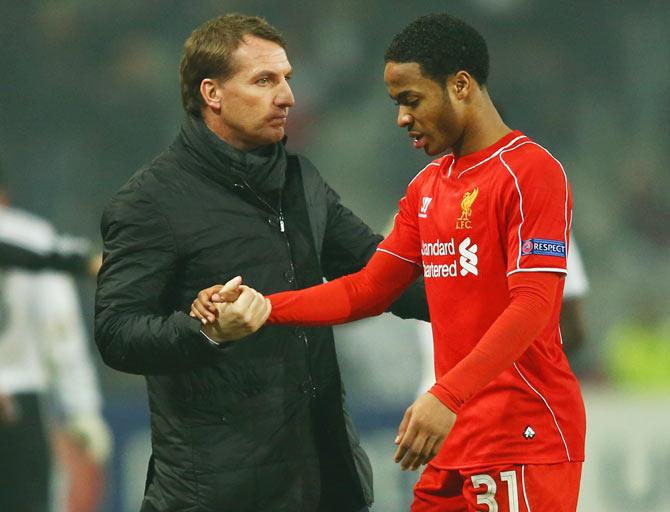 "The situation is very simple. The club has agreed with another for a deal for Raheem to be transferred and subject to medical that will go through," Rodgers said.
Real to give Casillas official send-off after all!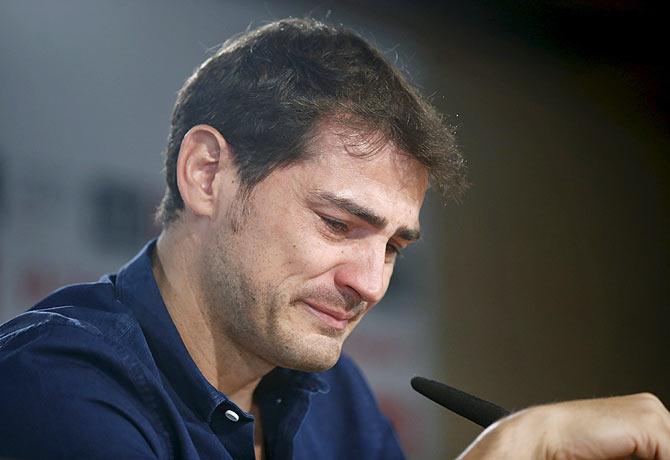 Real Madrid have decided to give departing goalkeeper and captain Iker Casillas an official send-off later on Monday following criticism over the low-key nature of his tearful farewell news conference on Sunday.
Champions Djokovic, Serena show off their footwork at Wimbledon ball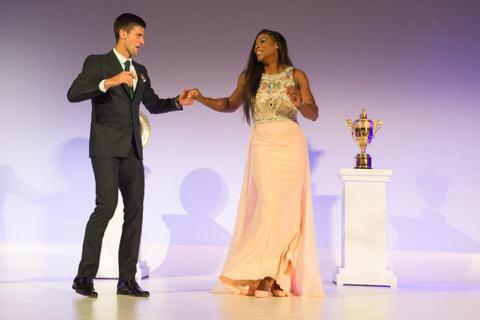 The Wimbledon dinner was an evening with an exciting mix of tradition and fun as newly crowned singles champions Novak Djokovic and Serena Williams shook a leg together, bringing a superb end to the best grand slam event of the year.
Transfer Buzz: Chelsea sign Stoke goalkeeper Begovic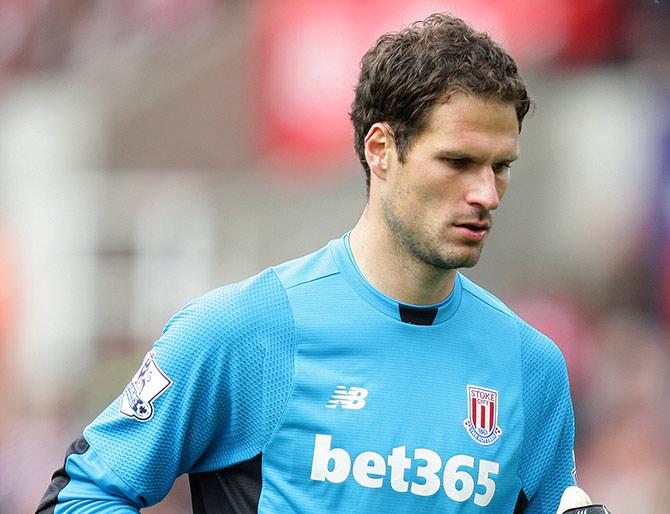 Chelsea have signed Stoke City's Bosnian international goalkeeper Asmir Begovic on a four-year contract, the Premier League champions confirmed on Monday.
'No malicious intent' for putting Tomic in 'Hall of Shame'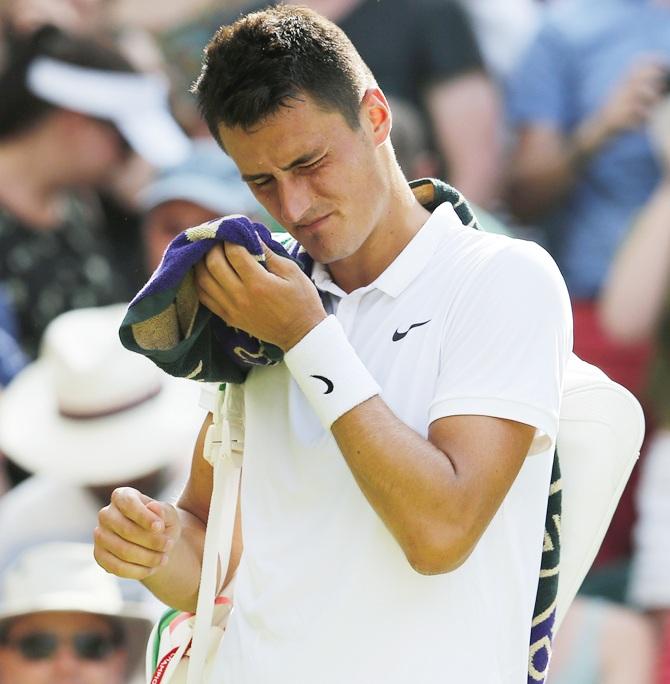 Tennis Australia has apologised for a 'clerical error' in a media release that said estranged local player Bernard Tomic was playing in a 'Hall of Shame'.
This Wimbledon title is among my most special wins: Paes
Leander Paes said lifting the Wimbledon mixed doubles title with Swiss legend Martina Hingis does rank among the most special triumphs of his career.
Your accomplishments are truly inspiring: PM Modi to Paes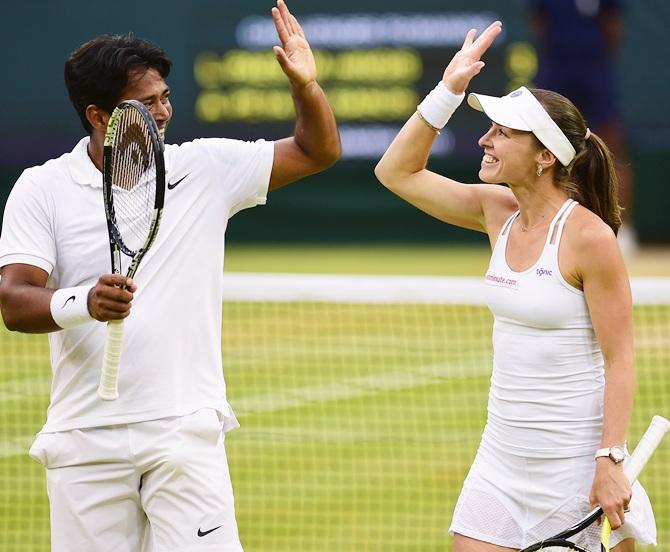 Leaders across the political spectrum took to Twitter on Monday morning to extend congratulations to Leander Paes and Sumit Nagal.
Will Roger Federer win Wimbledon again?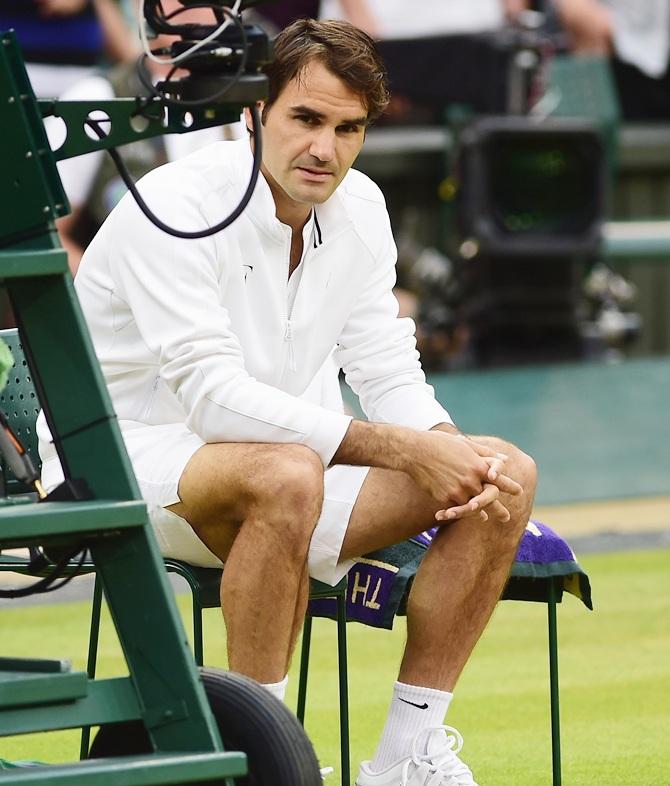 Roger Federer left wondering if he can conquer Wimbledon again.
F1 champion Hamilton refused entry to Wimbledon's Royal Box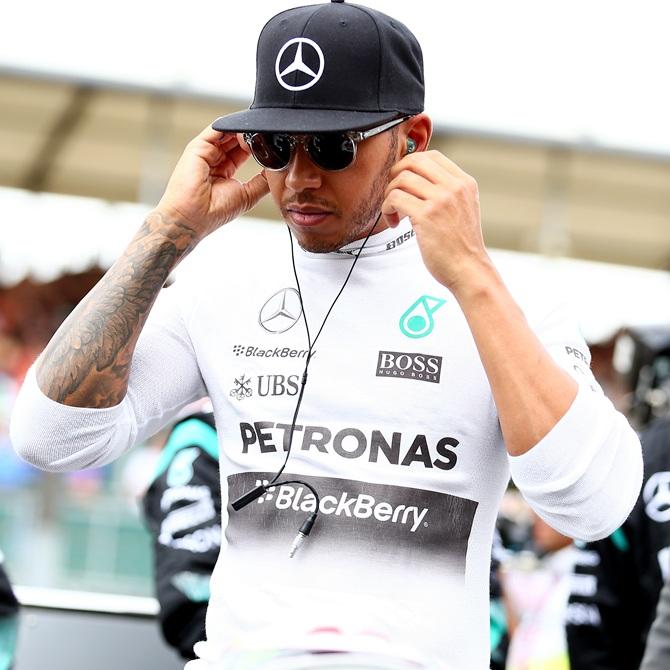 F1 champion Hamilton misses final over dress code hitch.
Steel-plated Djokovic a step too far for Federer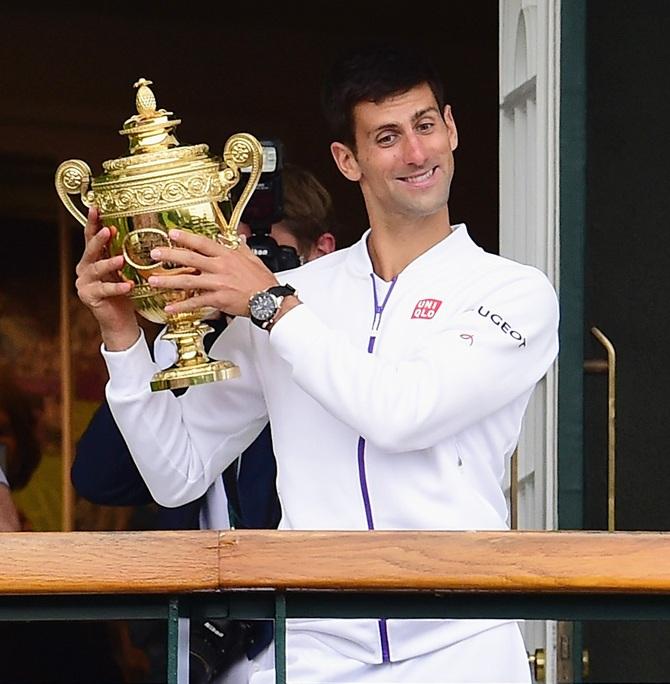 Novak Djokovic again revealed the true depth of his steely core to grind Wimbledon idol Roger Federer's hopes of a record eighth title into Centre Court's baseline dust on Sunday.
Here's why Serena Williams is trending...
It all started when JK Rowing decided to lend her support to 33-year-old Serena Williams.
'Whatever Sumit has achieved is because of Mahesh'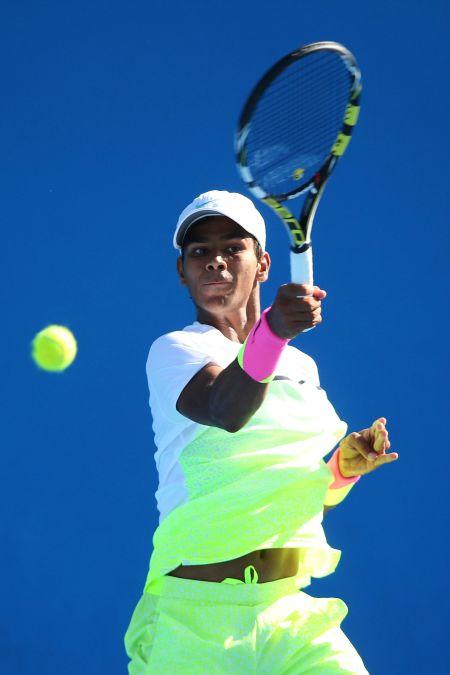 An ecstatic Suresh Nagal was finding it difficult to express his delight in words after learning his son Sumit's triumph in the final of the Wimbledon's junior boys' doubles and dedicated the success to Mahesh Bhupathi, who has been a mentor for the 17-year-old.
Barcelona star Neymar makes a splash in UFC pool party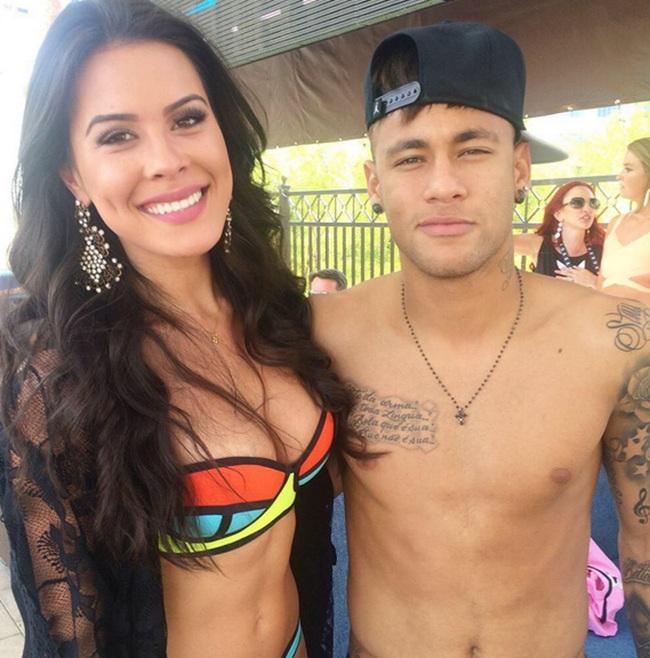 To up the glamour, the Octagon girls joined Barcelona superstar Neymar.
Paes-Hingis win mixed doubles title at Wimbledon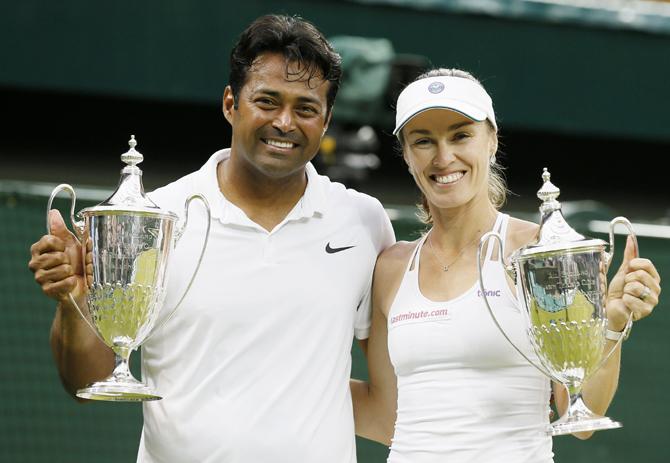 Leander Paes and Martina Hingis thrashed Austrian-Hungarian fifth seeds Alexander Peya and Timea Babos 6-1, 6-1 to win the mixed doubles title at Wimbledon.
July 12, 2015
Manchester City agree to sign Sterling from Liverpool: Reports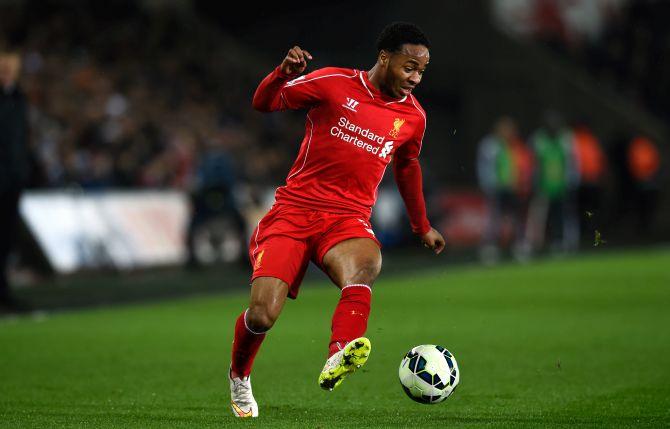 Manchester City have agreed a 49 million pounds deal to sign England winger Raheem Sterling from Premier League rivals Liverpool, British media reported on Sunday.
India's Nagal wins junior boys doubles Wimbledon title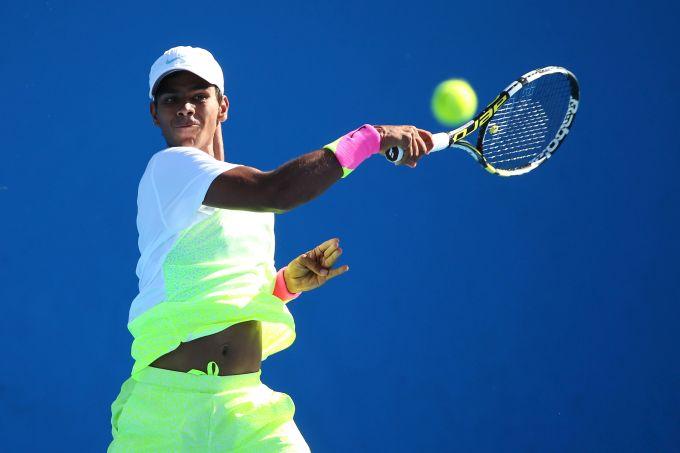 Sumit Nagal entered the history books as only sixth Indian to win a Grand Slam junior title after winning the boys doubles trophy at the Wimbledon Championships with partner Nam Hoang Ly on Sunday.
Djokovic gets the better Federer again, wins third Wimbledon title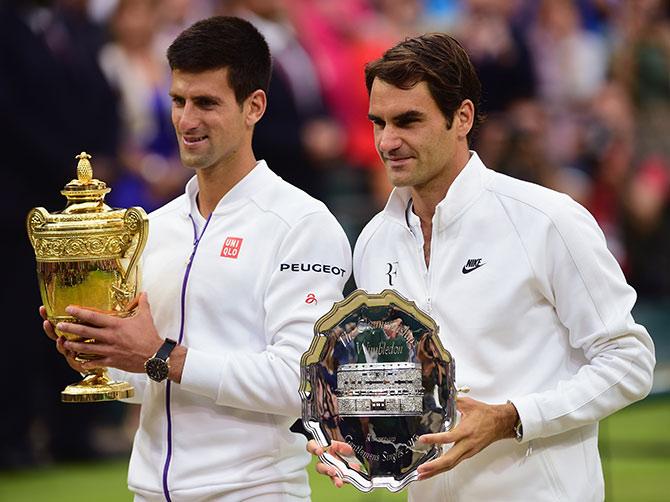 Novak Djokovic beat Roger Federer for a second year running to retain his Wimbledon title.
Motorcycling: Marquez wins in Germany, Rossi extends lead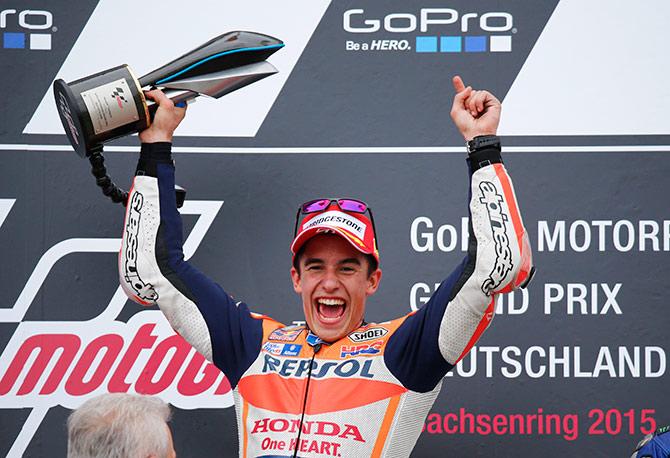 Spain's MotoGP world champion Marc Marquez won the German Grand Prix from pole position on Sunday for his sixth win in a row at the Sachsenring in a Honda one-two with compatriot Dani Pedrosa.
Bollywood stars celebrate Sania Mirza's Wimbledon victory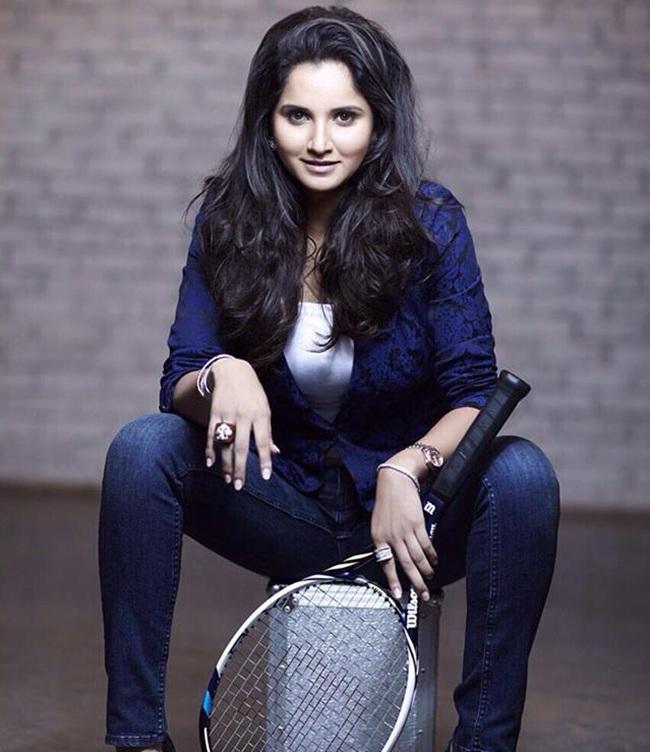 Bollywood fraternity is celebrating Sania Mirza's Wimbledon win as the celebs have flooded Twitter with their wishes.
'C'est fini', says tearful Casillas as he quits Real Madrid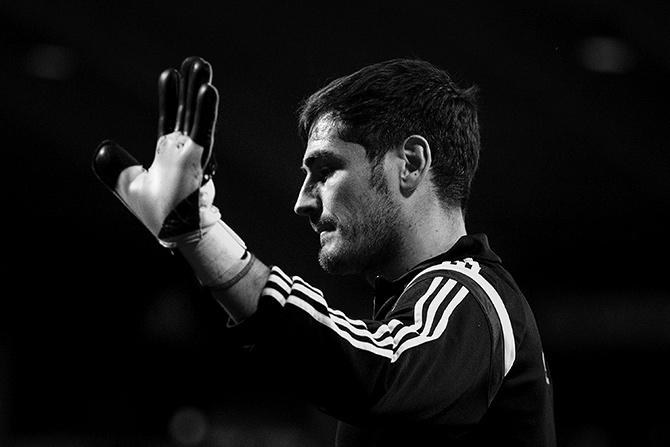 "C'est fini". With those few words in French a tearful Iker Casillas brought to an end his farewell statement on Sunday to the Real Madrid fans he has served as first-team goalkeeper and captain for 16 seasons.
Satnam makes historic NBA debut for Mavs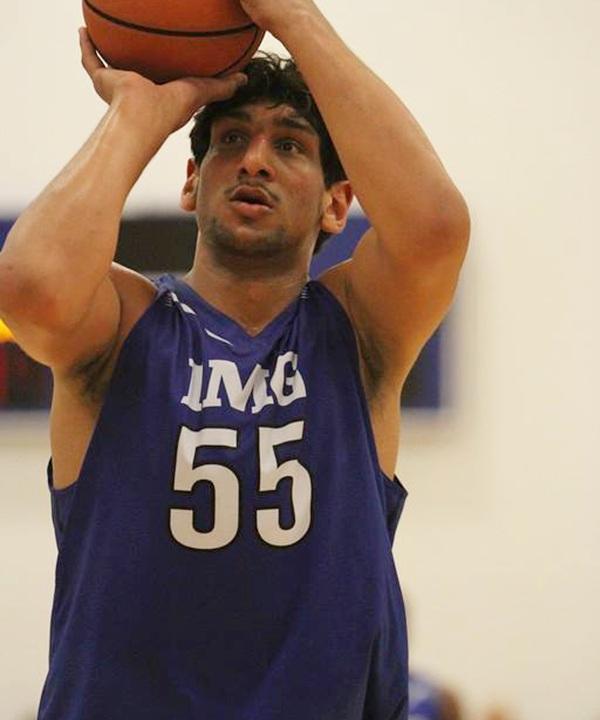 Satnam Singh Bhamara has made his 2015 NBA Summer League debut.
Man United continue to splash the cash, draft in Darmian from Torino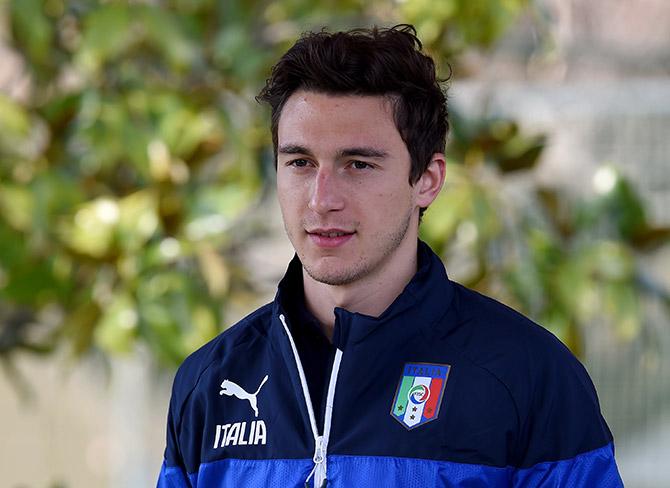 Manchester United continued to splash the cash after Torino announced that Italy full back Matteo Darmian was heading to Old Trafford.
PHOTOS: Celebrities glam up Wimbledon finals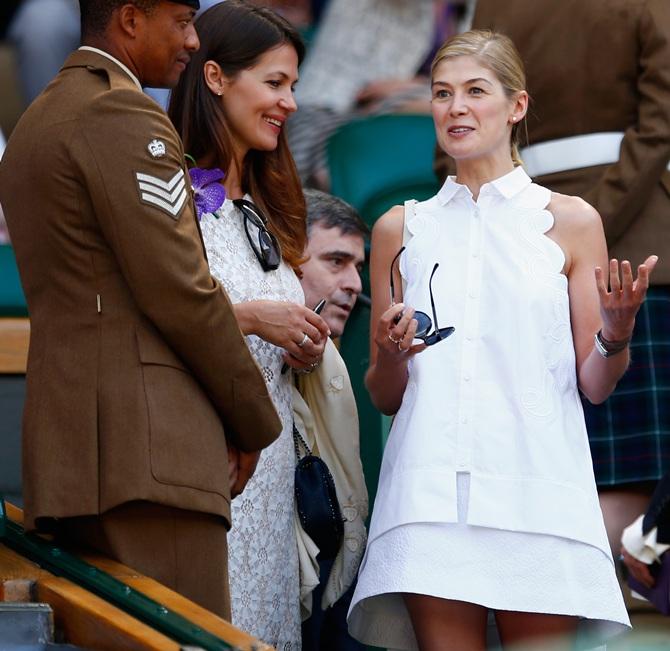 Here are some of those lucky celebrities who were invited to watch the Ladies Singles Finals.
Wimbledon winner Serena eyes fairytale in New York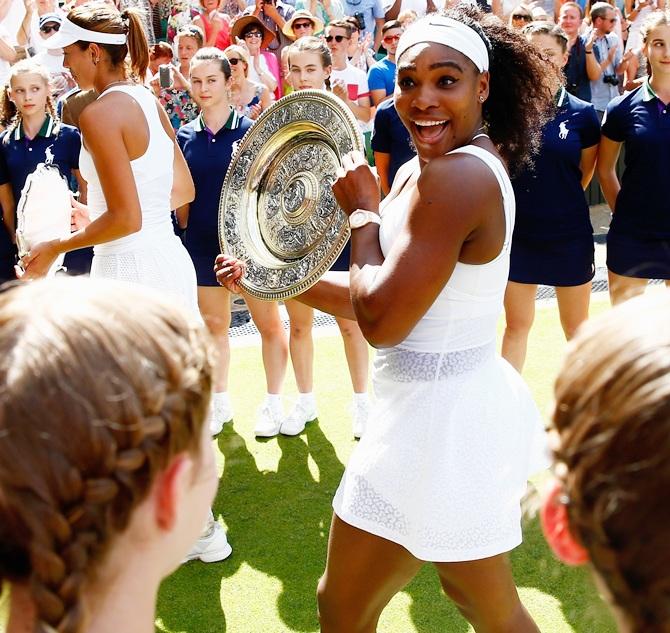 Serena Williams allowed herself a few moments to enjoy her sixth Wimbledon title before thoughts turned to New York and the elusive calendar year feat.
New Zealand kicked out of Olympic qualifying final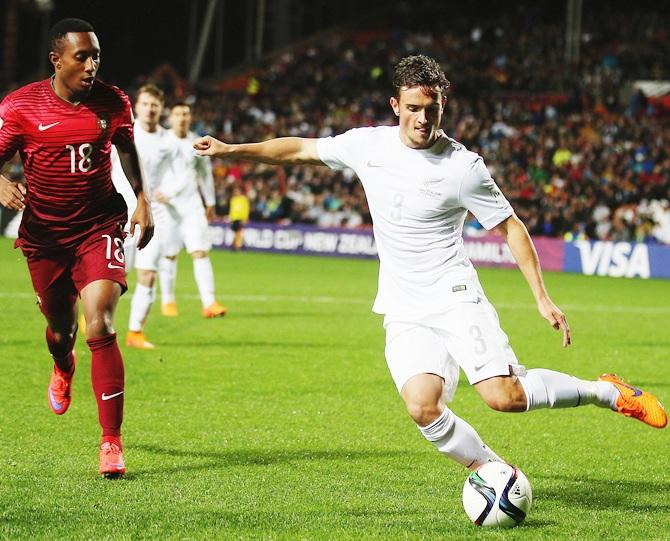 New Zealand have been excluded from the final to determine Oceania's representative at next year's Rio Olympics men's soccer tournament after defender Deklan Wynne was deemed an ineligible player, the Oceania Football Confederation has said.
'Real' reason why Iker Casillas left...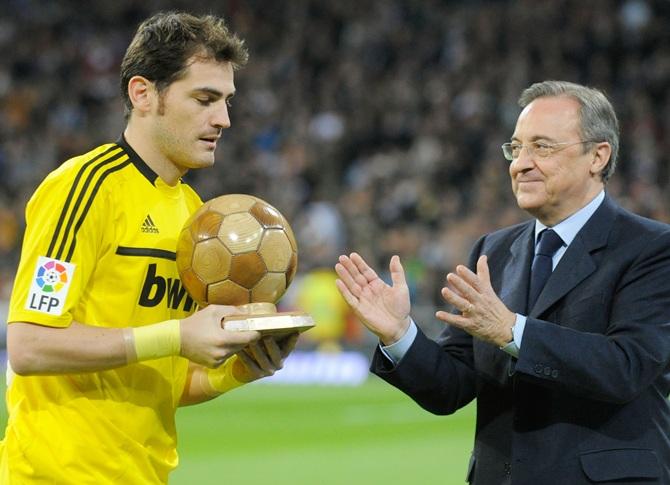 Departing Real Madrid captain and goalkeeper Iker Casillas was forced out by club president Florentino Perez and is too good to play for a 'third-tier' side like Porto, his parents were quoted as saying on Sunday.
Tour de France: Vuillermoz shines, Froome leads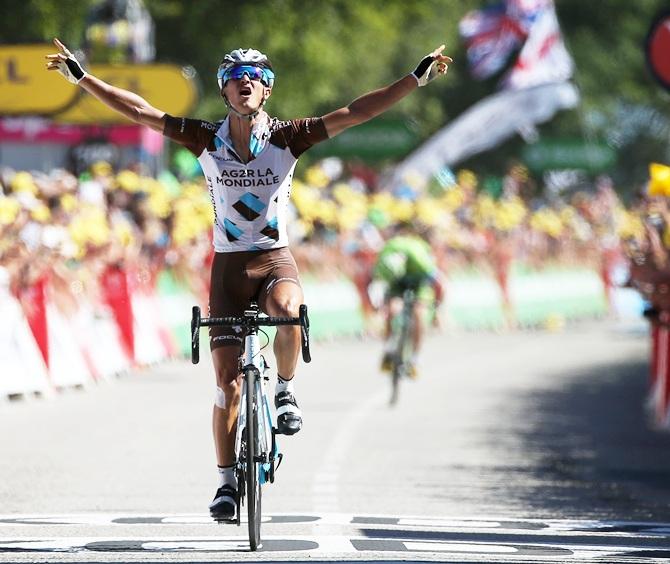 Alexis Vuillermoz earned the French their first victory on this year's Tour de France, his final kick proving too hot to handle for the big guns in the eighth stage on Saturday.
Gerrard makes quiet debut for Los Angeles Galaxy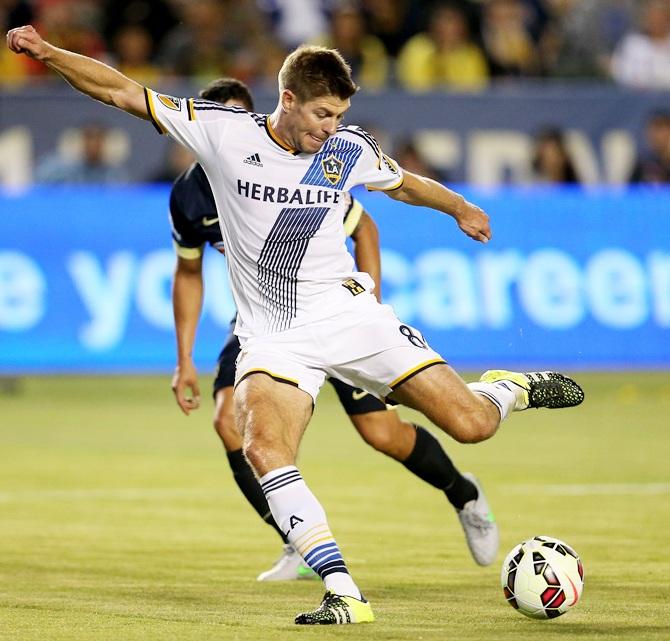 Steven Gerrard made a quiet start to his new career with the Los Angeles Galaxy in a friendly on Saturday.
We're just getting started, warns history maker Sania Mirza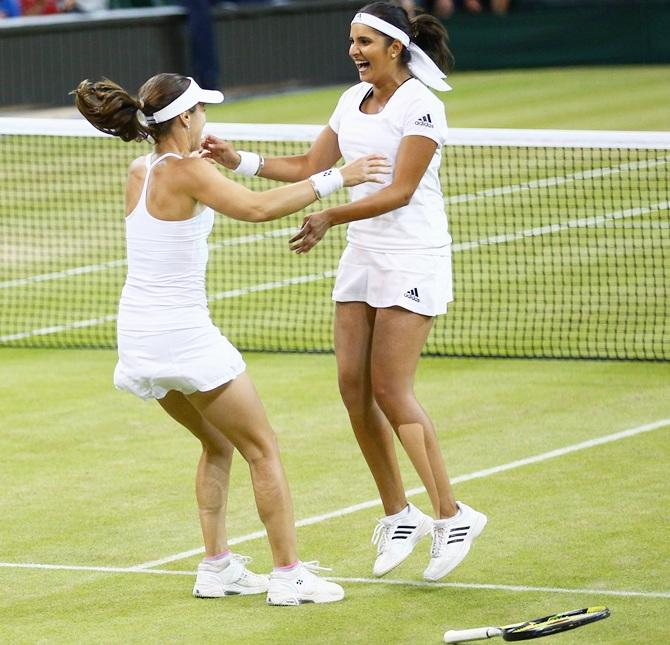 Indian tennis star Sania Mirza and her Swiss partner Martina Hingis said sheer belief pulled them through.
End of an era as Casillas leaves Real Madrid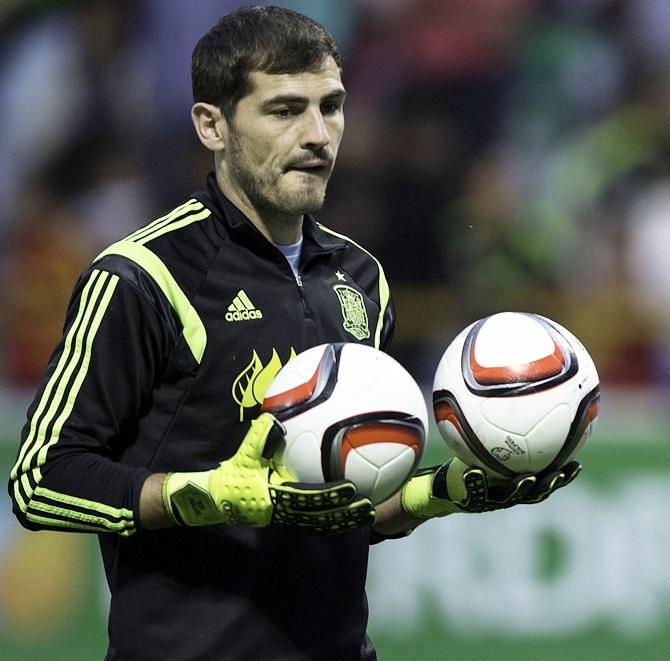 Spain goalkeeper Iker Casillas left Real Madrid on Saturday after 16 seasons as an iconic figure at the Bernabeu.
PM Modi leads the applause for Sania Mirza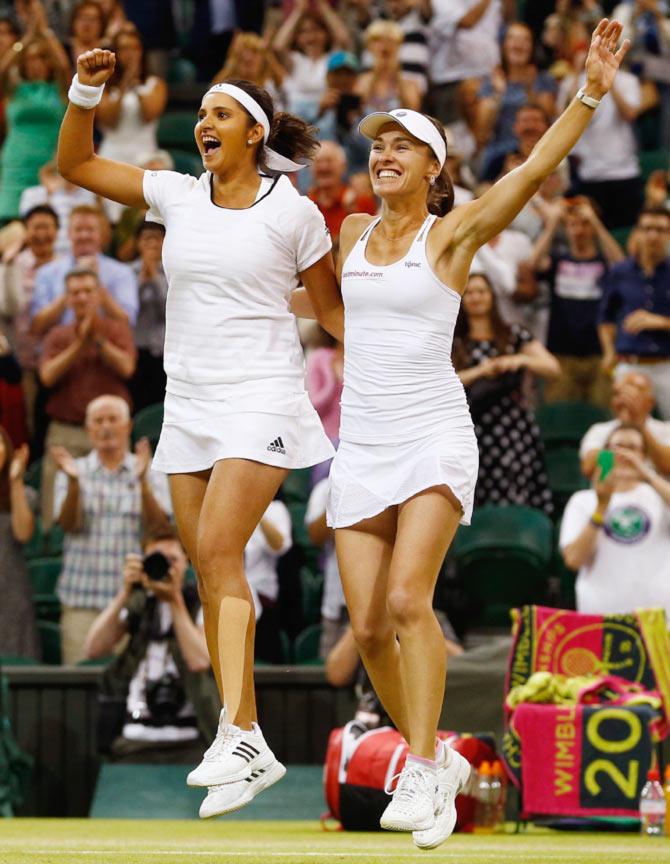 Prime Minister Narendra Modi congratulated tennis star Sania Mirza for becoming the first Indian to win the Wimbledon women's doubles title.
July 11, 2015
Federer of yore sets up prime time showdown with Djokovic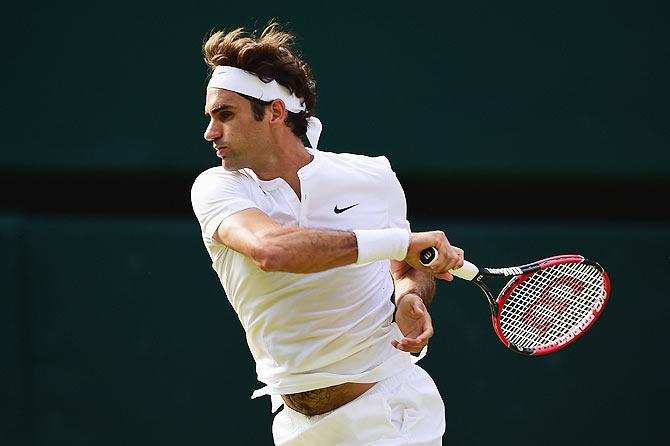 The problem with addictive TV box sets is that when the credits roll on the final episode it leaves a void.
Atletico sign winger Carrasco from Monaco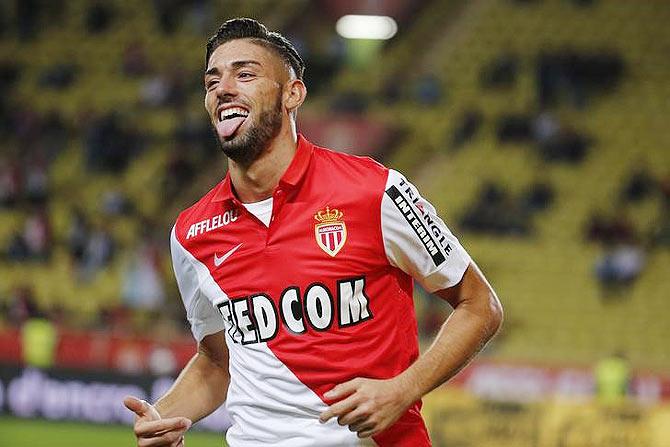 The 21-year-old is the latest youngster to join Atletico who have also brought in Argentine forward Luciano Vietto from Villarreal since the end of last season.
Gold Cup: US beat Haiti, advance to quarter-finals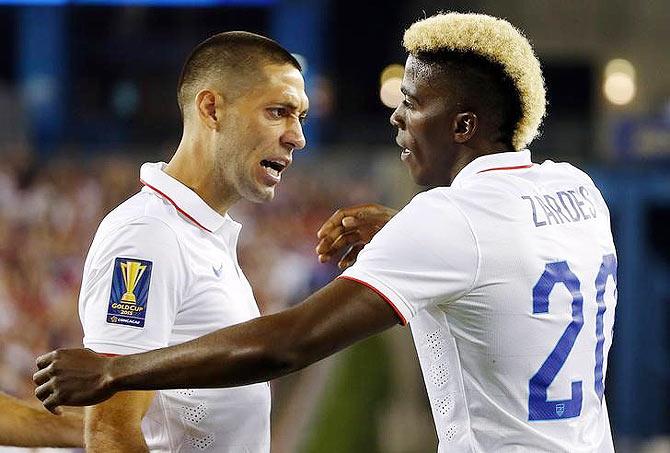 The United States secured a quarter-final spot in the CONCACAF Gold Cup when they beat Haiti 1-0 on Friday, while Panama and Honduras drew 1-1 in the other Group A match in Massachusetts.
Injury delays Lampard's MLS debut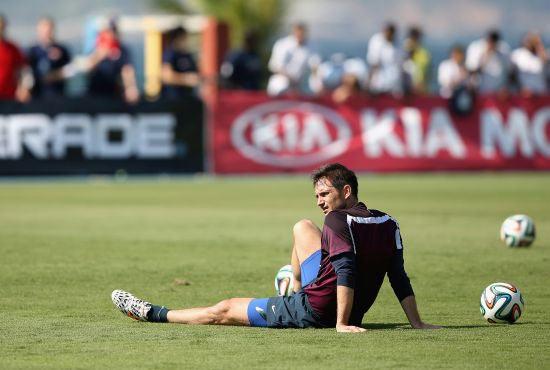 England great Frank Lampard will have to wait to make his Major League Soccer (MLS) debut after he was ruled out of New York City FC's match against Toronto FC on Sunday with a calf strain.
F1: Changes in super-licence and engine rules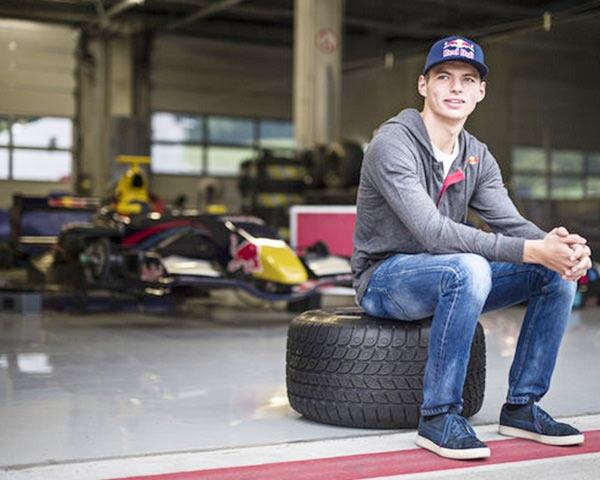 Formula One approved changes to its power unit penalty system with immediate effect on Friday and also tweaked super-licence rules for 2016 to give more drivers a chance to enter the sport from other series.
Wimbledon: Spectators' divided loyalties hardly helped home boy Murray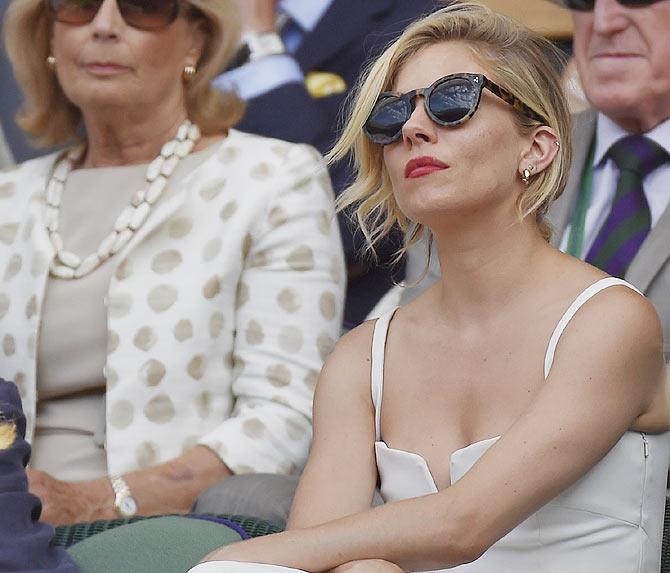 Murray was slightly vexed by a question at the post-match news conference that suggested the fans' loyalties were more divided than if he were playing anyone but Federer.
Azerbaijan to make F1 race debut in 2016
Azerbaijan will make its Formula One debut in July next year with Germany returning after a year's absence, according to a 21-race provisional calendar published by the sport's governing body on Friday.
PHOTOS: How Murray was done in by Federer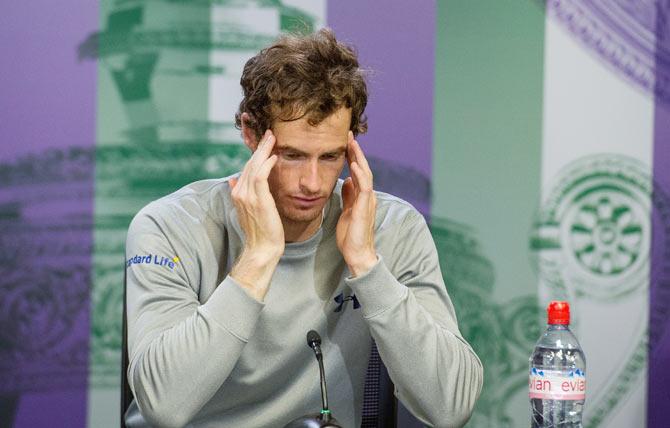 A year after Andy Murray's reign as Wimbledon champion ended lamely at the hands of a man dubbed the new Roger Federer, he got a stark reminder on Friday that the original is the real threat to his grand slam ambitions.
ISL Auction: Why John Abraham's North East Utd picked Seityasen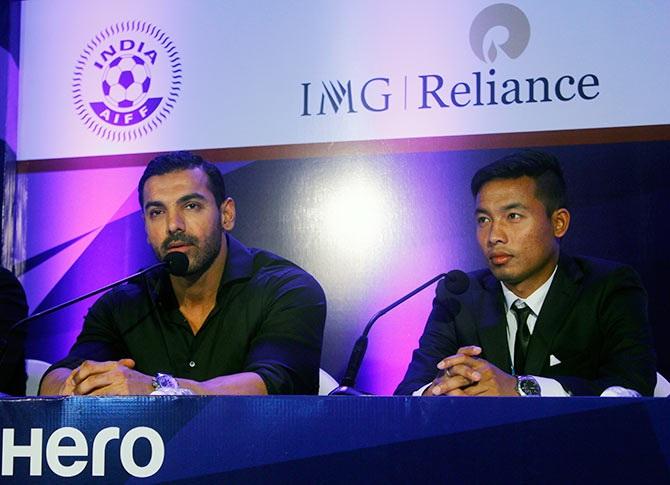 North East United FC had a pretty forgettable inaugural season, but they look to make amends in the second edition of the Indian Super League.
July 10, 2015
Djokovic to lock horns with Federer for Wimbledon title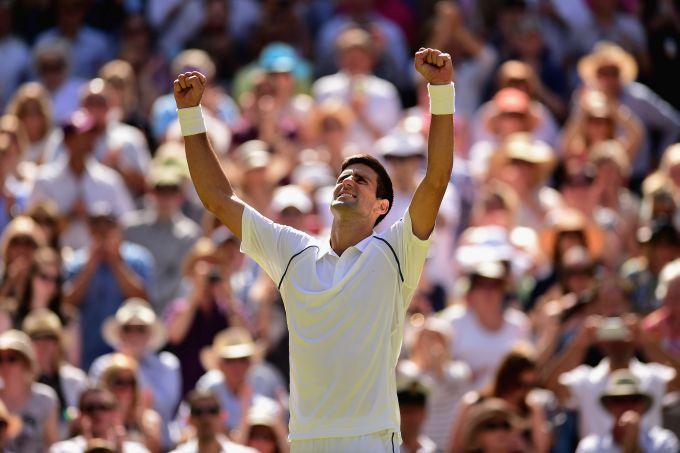 Novak Djokovic eased into Wimbledon final after beating Richard Gasquet 7-6 (7-2), 6-4, 6-4 on Centre Court to reach the Wimbledon final on Friday.
Photos: Tendulkar, Kohli enjoy English summer at Wimbledon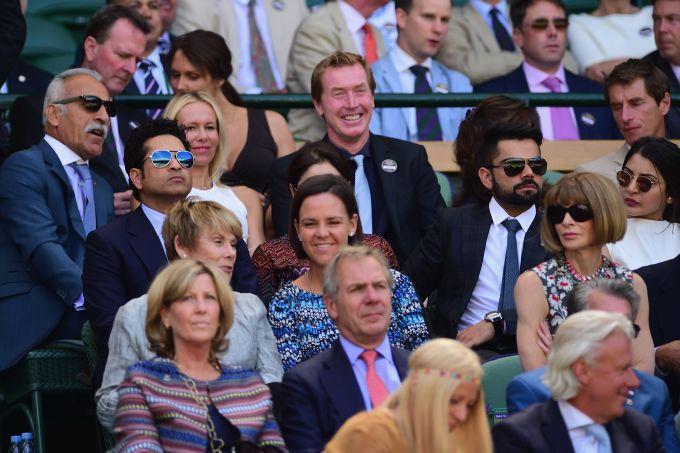 Check out who was at Wimbledon on Day 11 of The Championships
Sania enters doubles final; Paes chases mixed doubles glory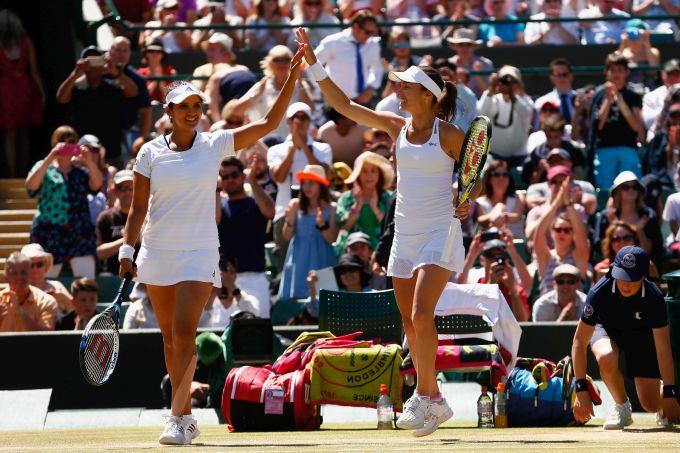 Sania Mirza set herself up for her first-ever women's doubles Grand Slam title, while seasoned pro Leander Paes is now one win away from his 16th Major trophy as the two Indians reached the Wimbledon finals with their respective partners.
PHOTOS: Ranbir, Hrithik, John hog limelight at ISL Auction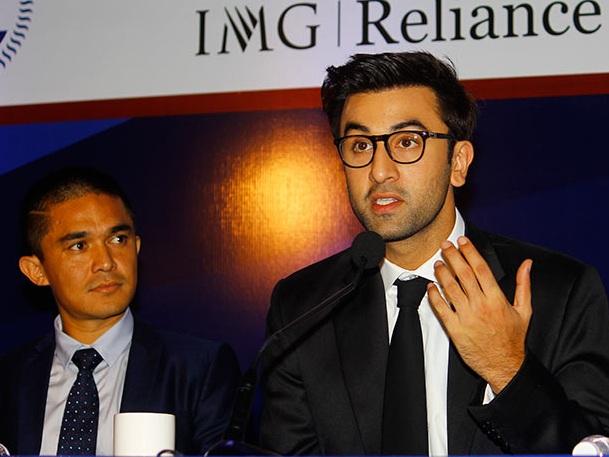 Check out the Bollywood stars' presence in the cash rich ISL.
ISL auction: Chhetri, Lyngdoh fetch a crore!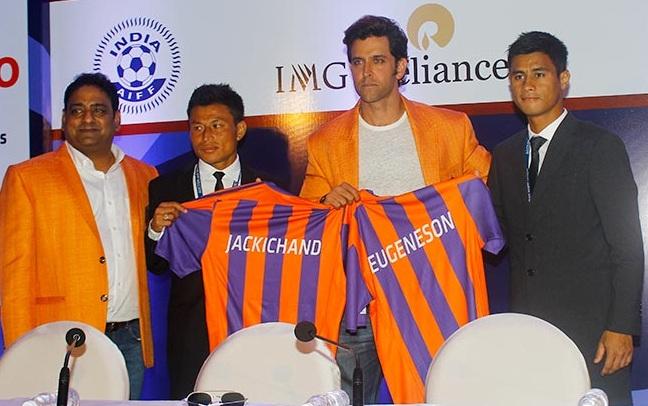 Star striker Sunil Chhetri was bought at Rs 1.20 crore at the first-ever Indian Super League's auction featuring 10 domestic football players in Mumbai, on Friday.
Serena, Wozniacki accuse Wimbledon of 'sexist scheduling'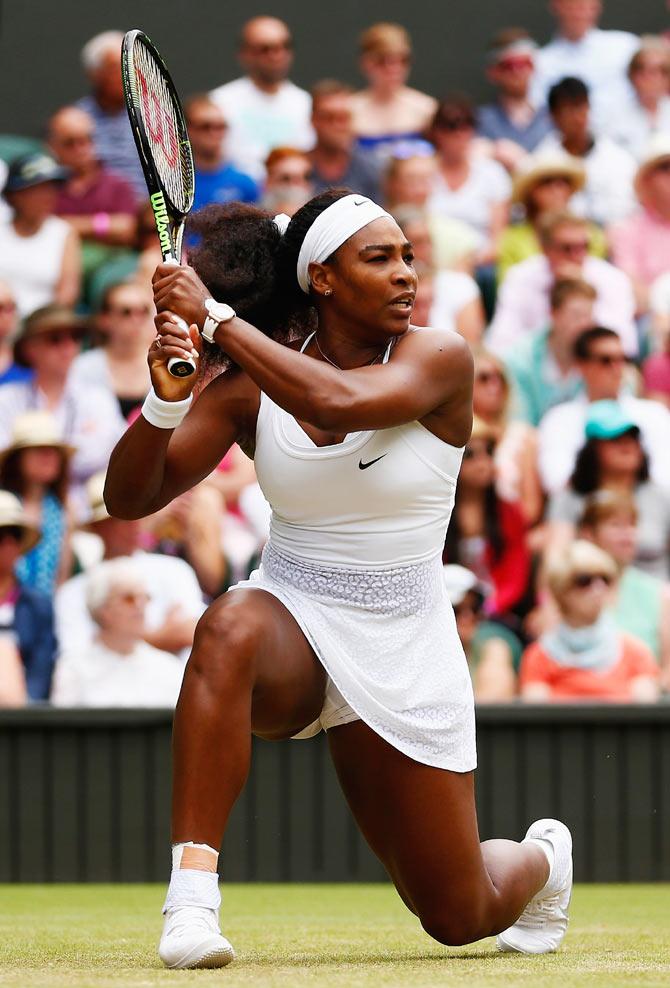 World No 1 Serena Williams has backed Danish tennis star Caroline Wozniacki's accusations of ' sexist scheduling' at the Wimbledon Championships.
Murray and Federer to resume Wimbledon rivalry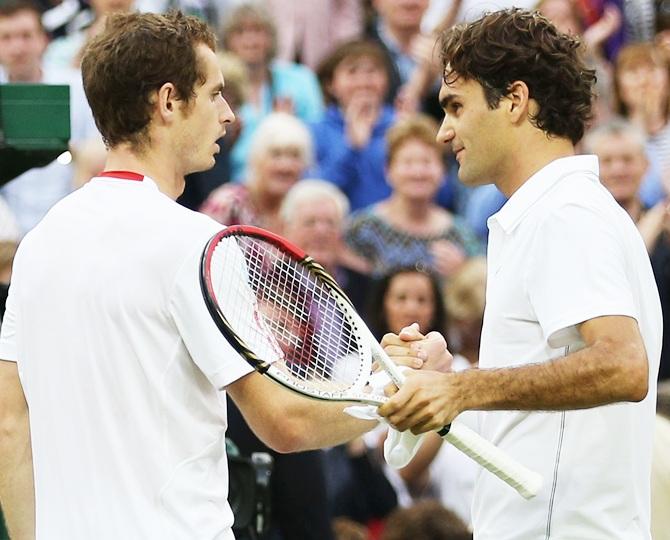 A lot has happened to Andy Murray in the three years since he choked back the tears on Centre Court after a four-set defeat that handed Roger Federer the Wimbledon trophy for a seventh time.
Tour de France: Froome takes lead; Martin crashes out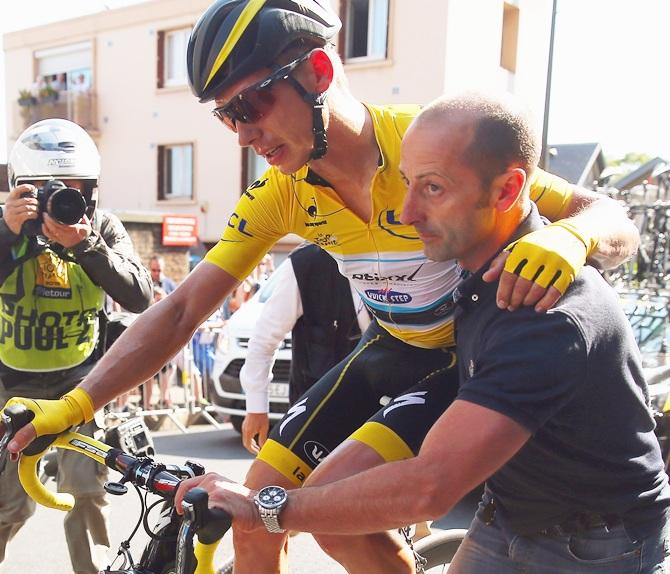 Tour de France leader Tony Martin abandoned the race on Thursday after breaking his collarbone.
Will Maria Sharapova ever beat Serena again?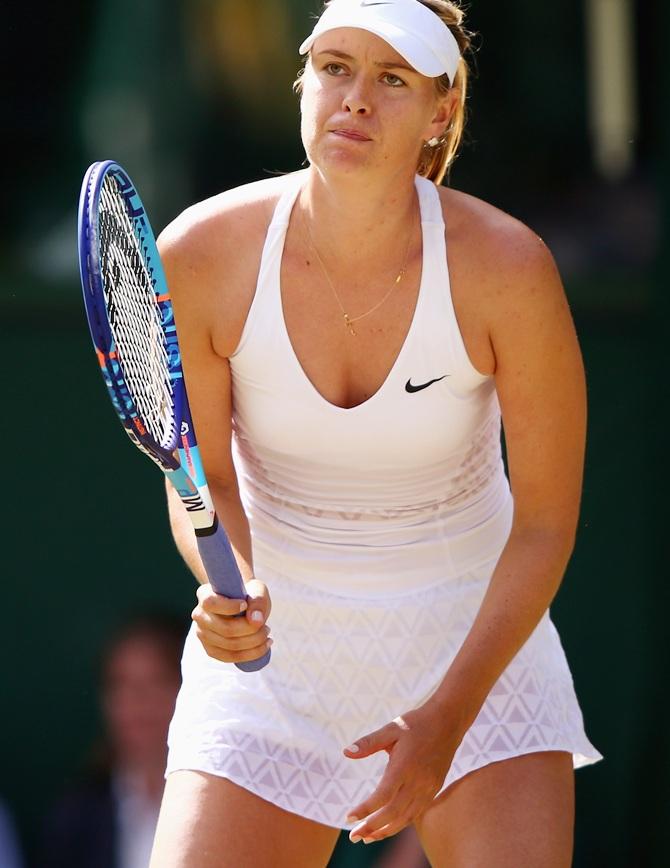 Maria Sharapova must be driving herself crazy every time she steps on court to face Serena Williams.
Is Tiger too old to regain invincibility?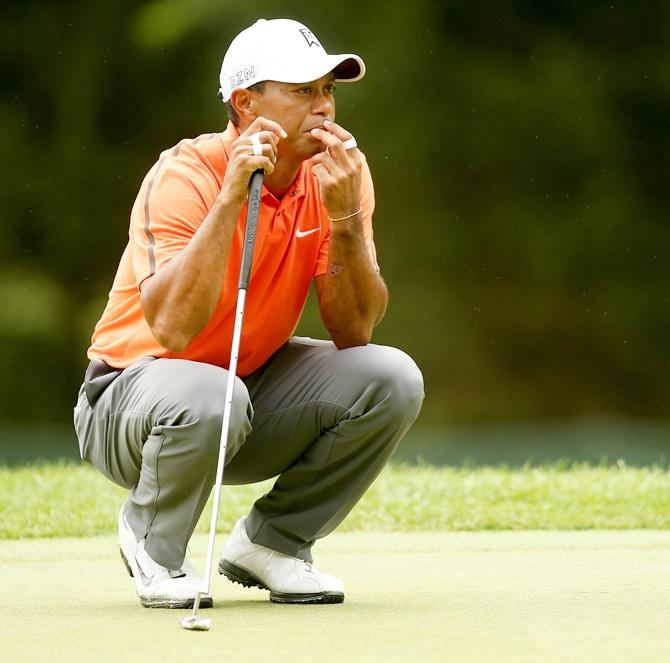 Tiger Woods is too old to ever regain the invincibility he once enjoyed but everybody in golf should be grateful for the contribution.
I don't need to win another Wimbledon: Serena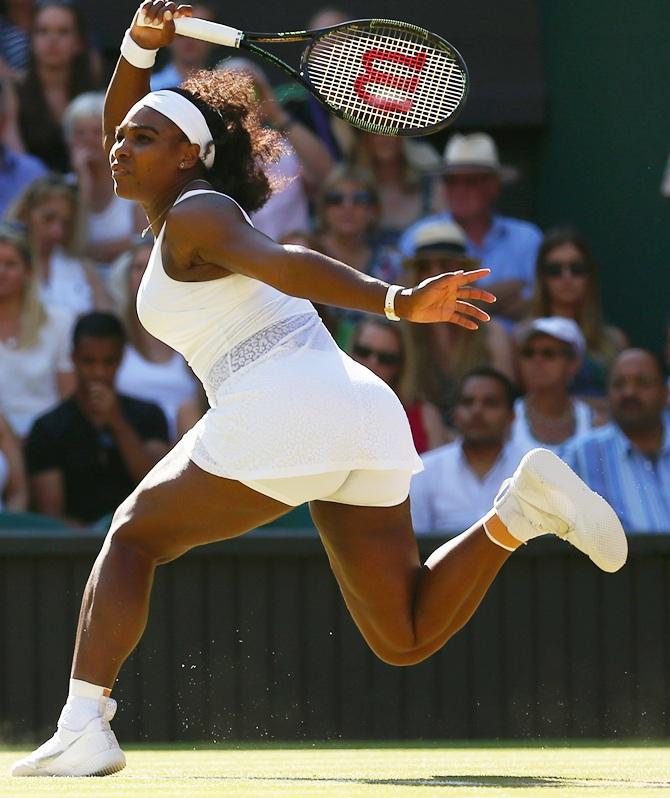 If Serena Williams wanted to sound like someone who did not really care whether she won another Wimbledon or not, telling the world she just wanted to have fun, nobody was fooled on Thursday.
Farah makes winning return; allegedly tells team-mate to 'f*** off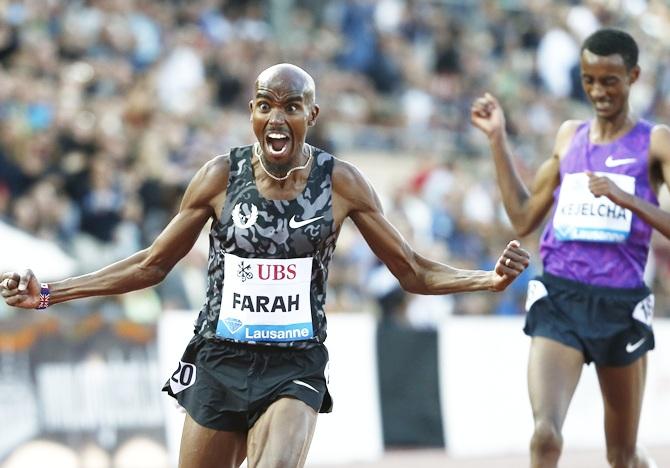 Double Olympic champion Mo Farah won the 5,000 metres at the Diamond League meeting in Lausanne.
Pallikal demands equal prize-money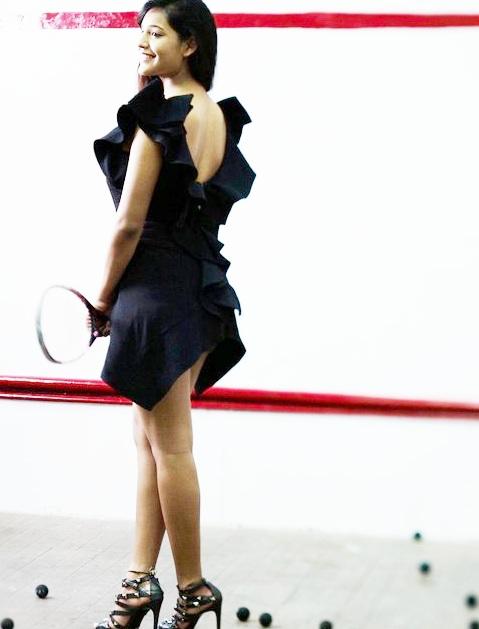 India's top-ranked player Dipika Pallikal remains firm on her stance of not being part of the premier domestic event until equal prize money is offered to male and female participants.
'When it comes to chess, multitasking works against women'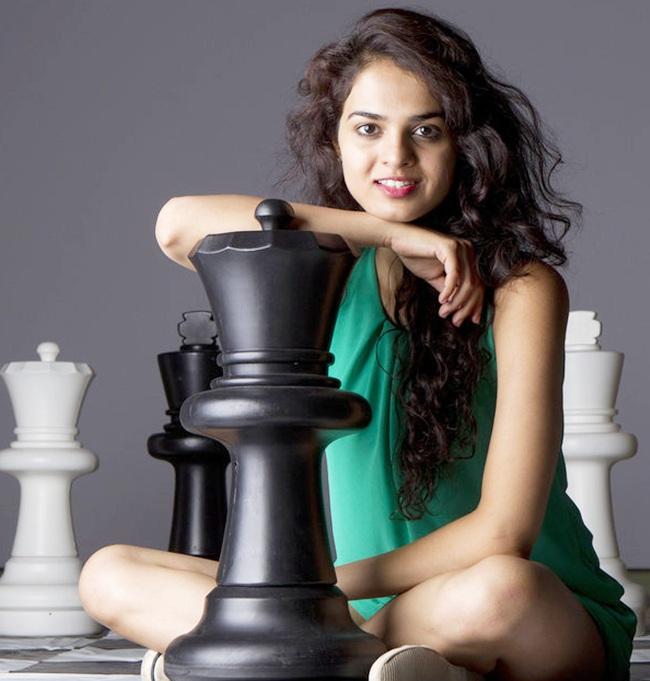 Indian chess diva Tania Sachdev holds forth on women in the sport.
Radwanska pays price for not following her instincts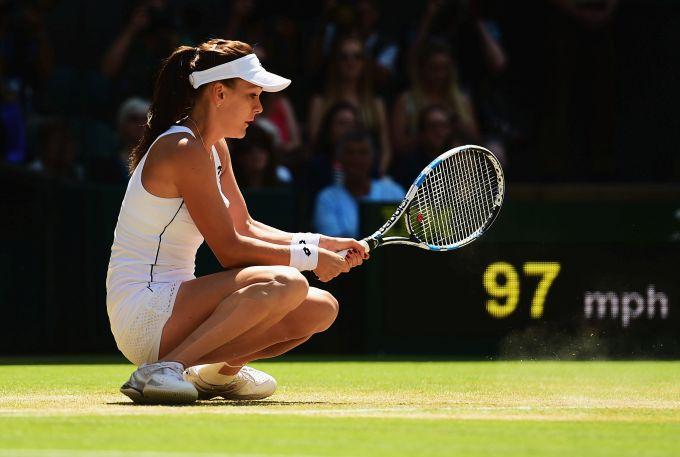 Agnieszka Radwanska paid the ultimate price for following the orders of her coaching team rather than relying on her own instincts in the final game of her Wimbledon semi-final against Garbine Muguruza on Thursday.
Spanish finalist Muguruza growing to love grass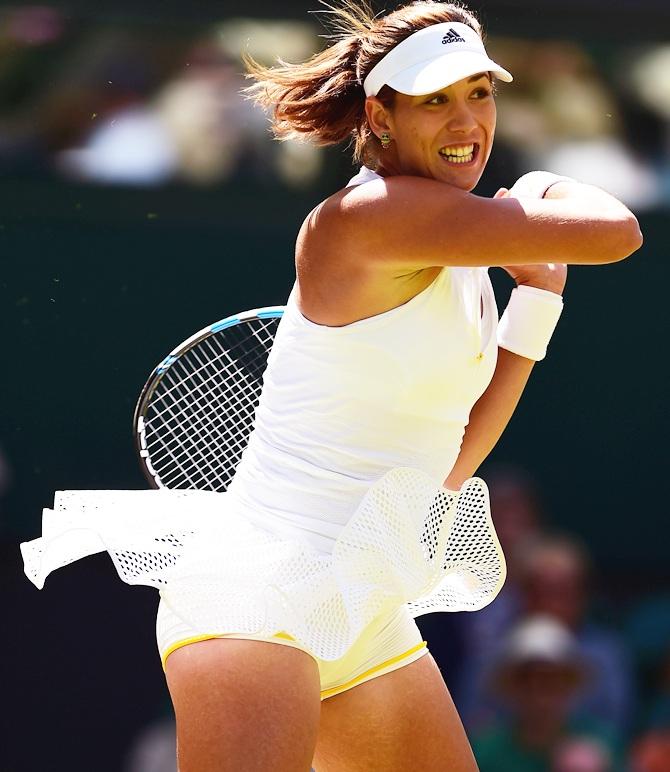 Spaniard Garbine Muguruza's relationship with grasscourt tennis has not been smooth but it has blossomed so spectacularly.
July 09, 2015
Wimbledon: Paes-Hingis through to semi-finals, Sania crashes out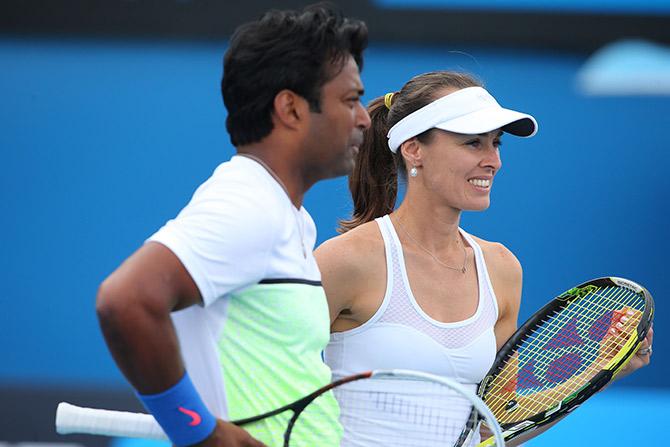 India's Leander Paes entered the semi-finals of the mixed doubles event even as Sania Mirza crashed out in the quarter-finals at the Wimbledon.
Fenerbahce start transfer talks with United's Van Persie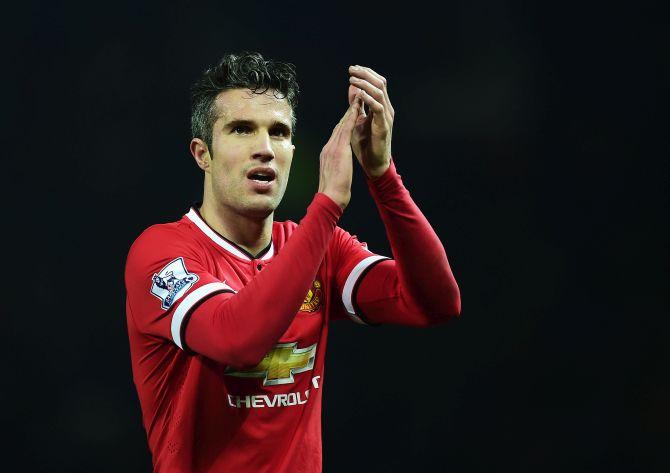 Fenerbahce have opened transfer talks with Manchester United over signing Netherlands striker Robin van Persie, the Turkish club said on Thursday.
Bopanna-Mergea lose thrilling five-setter to bow out in semis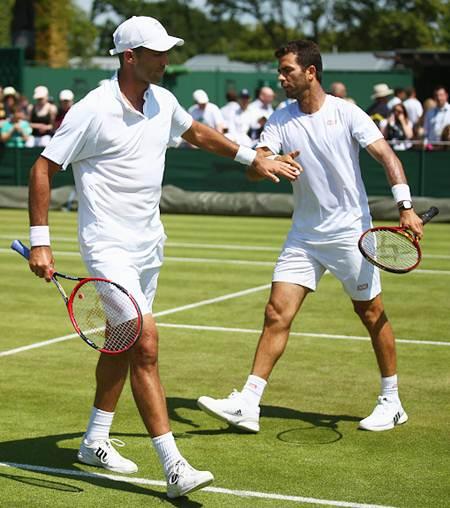 Rohan Bopanna's bid to enter his maiden Wimbledon doubles final came to a disappointing end as he, along with his Romanian partner Florin Mergea, lost a marathon five-setter against fourth seeded Dutch-Romanian pair of Jean Julien-Rojer and Horia Tecau.
Serena mauls Sharapova, to face Muguruza in Wimbledon final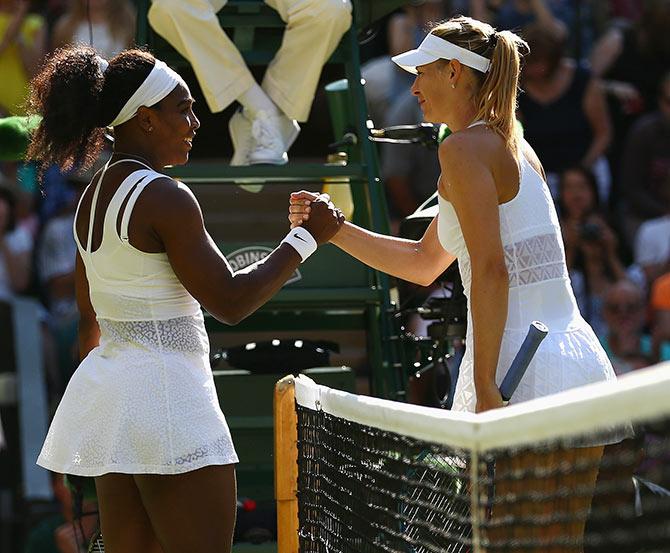 Serena Williams is now one match away from reinforcing her stranglehold on the women's game by holding all four grand slam titles at the same time, a feat she will achieve for the second occasion if she beats 20th-seeded Spaniard Garbine Muguruza in Saturday's final.
'It's the revolution in Indian football that has made me come here'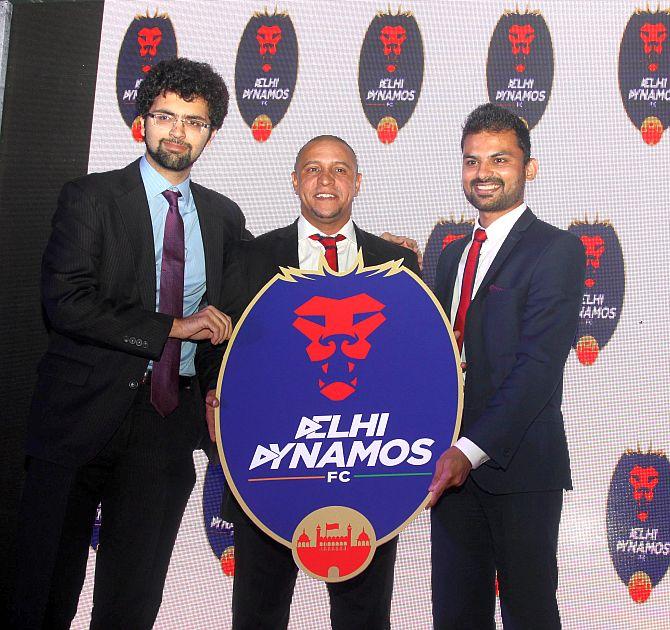 Delhi Dynamos unveiled Brazilian World Cup winner Roberto its marquee manager-cum-player for the second season of the Indian Super League. Manu Shankar/Rediff.com reports
FIFA head Blatter shifts blame to confederations in interview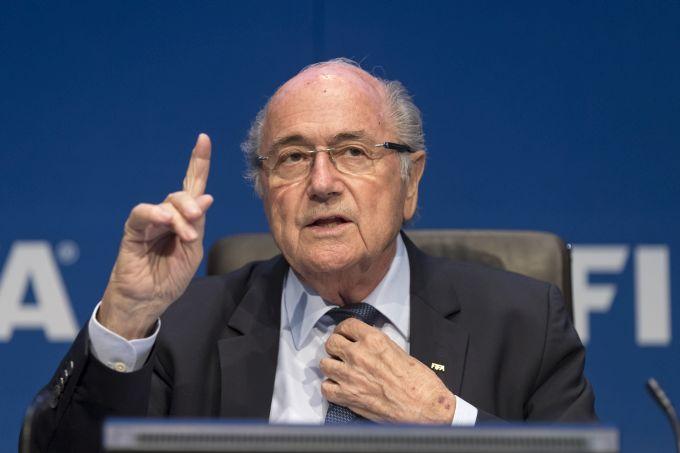 Embattled FIFA President Sepp Blatter has told a Swiss newspaper that continental confederations, rather than soccer's world governing body, were to blame for the corruption scandal engulfing the game.
First Look: Bopanna catches up with Man United trio at Wimbledon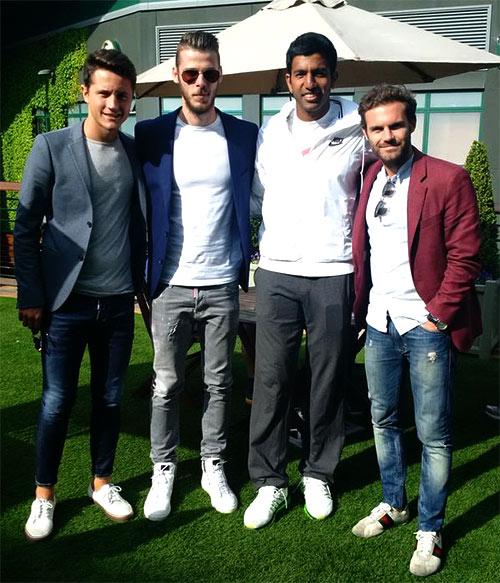 Rohan Bopanna catches up with Manchester United trio at Wimbledon.
NBA: Dallas Mavericks introduce India's Satnam Singh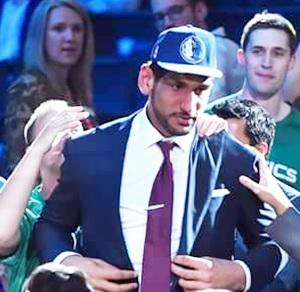 The Dallas Mavericks introduced 19-year-old Satnam Singh Bhamra as the first-ever Indian NBA draft pick.
Warning: 'Dummy' pitstops ahead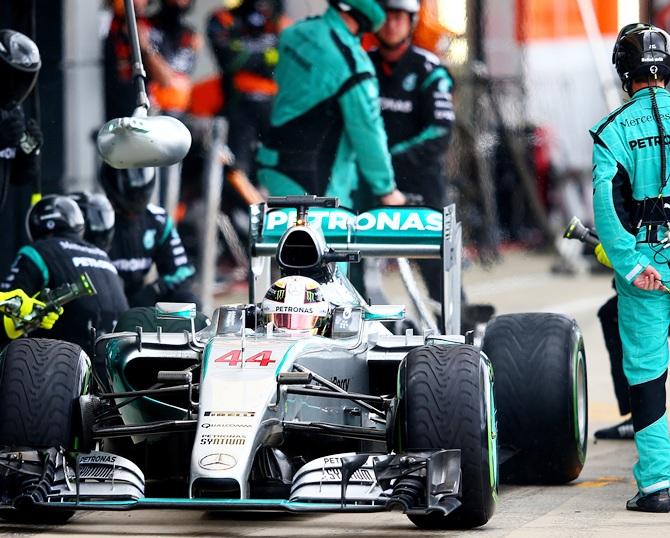 Formula One teams have been warned against making 'dummy' pitstops after Mercedes' failed attempt to fool Williams.
FIFA Rankings: Argentina top despite Copa America final loss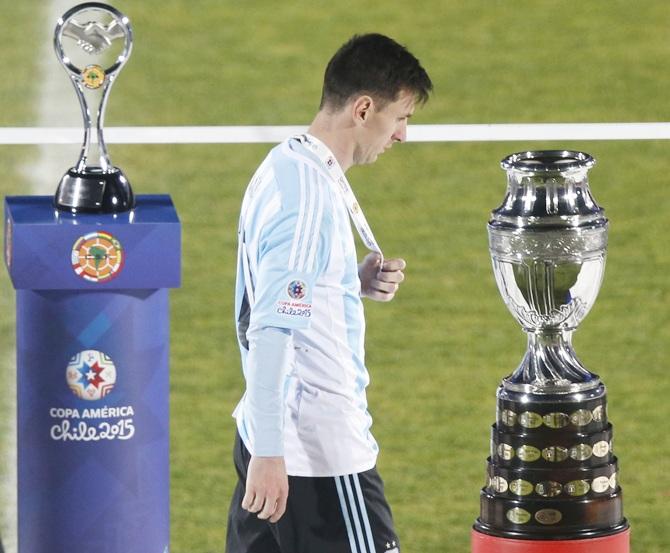 Argentina have moved to the top of the FIFA rankings for the first time in seven years despite being beaten by Chile in the Copa America final.
Wimbledon: Guess the player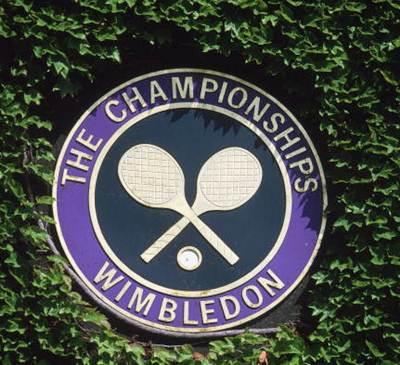 Check out the pictures below and identify the players.
FIFA bans Chuck Blazer from football for life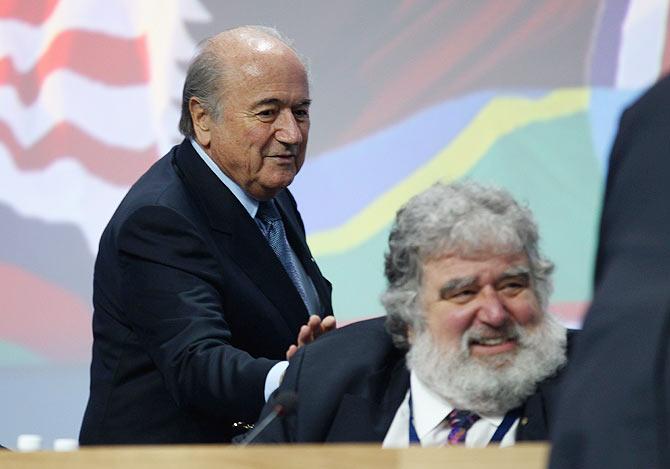 Former FIFA executive committee member Chuck Blazer was banned for life from all football activities on Thursday by the sport's governing body, which is engulfed in a scandal over alleged corruption.
Arsenal captain Arteta extends Gunners contract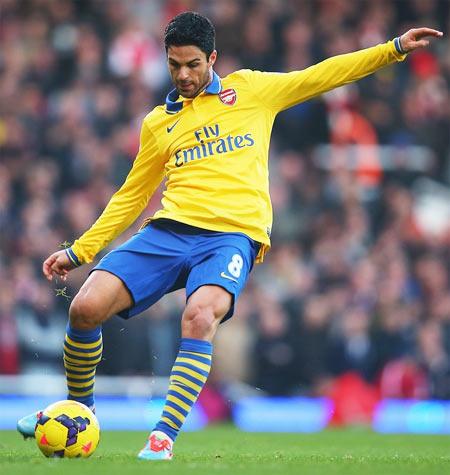 Arsenal captain Mikel Arteta has signed a one-year contract extension, the Premier League club announced on Wednesday.
PHOTOS: Murray marches forth as celebs cheer from the sidelines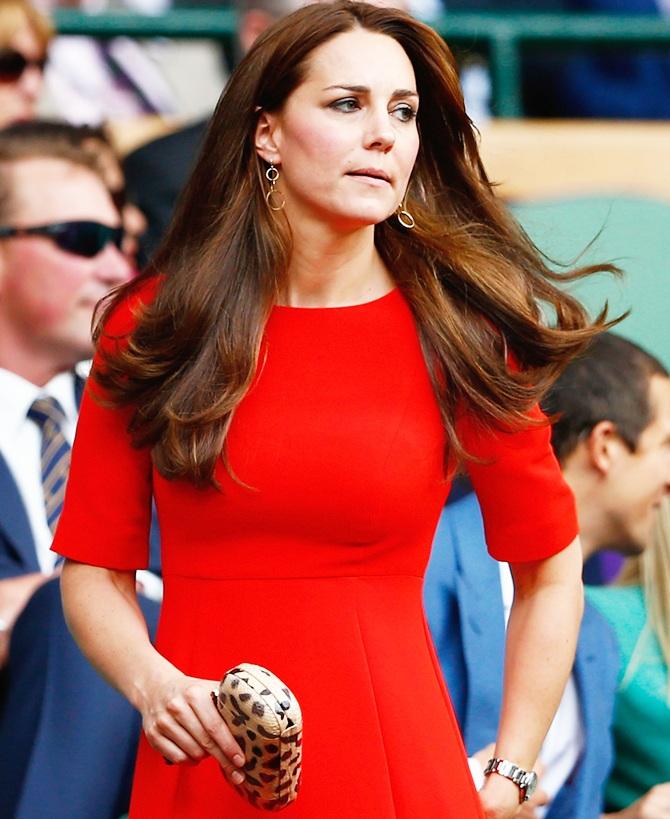 The Royal Box was packed with stars from the world of cricket, football, athletics and tennis. Take a look...
Wimbledon: Sharapova doesn't stand a chance against super Serena!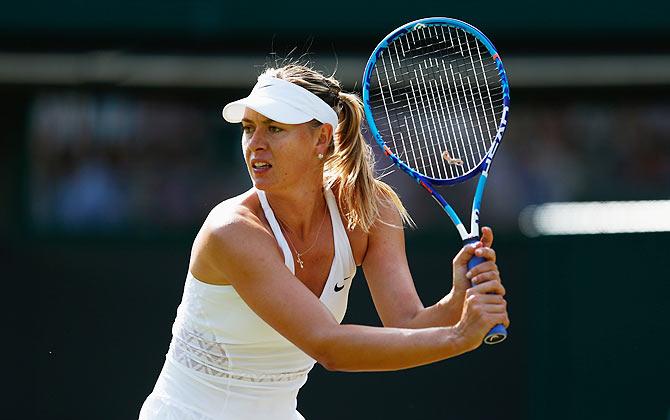 As Russian Maria Sharapova and American Serena Williams get ready to slug it out in their big-ticket semi-final, records and history tells us who has had the upper hand.
Tour de France: Greipel wins fifth stage, Martin leads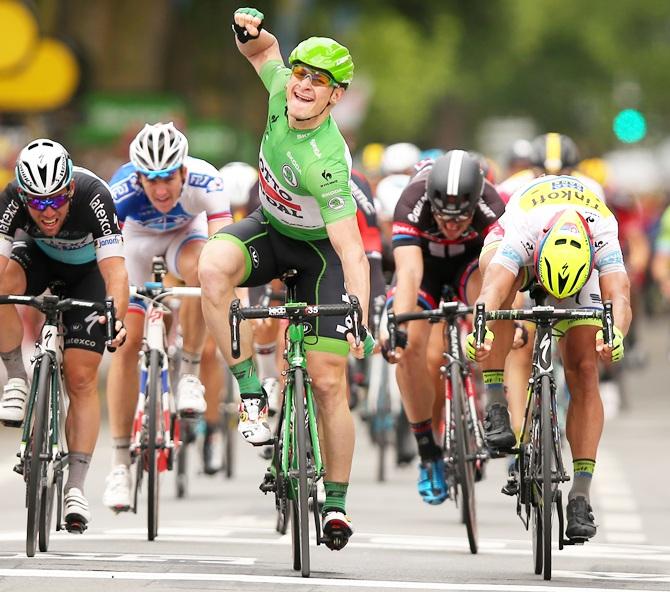 German Andre Greipel was again far too strong for the opposition as he claimed his second win in this year's Tour de France.
Real Madrid captain Casillas likely to join Porto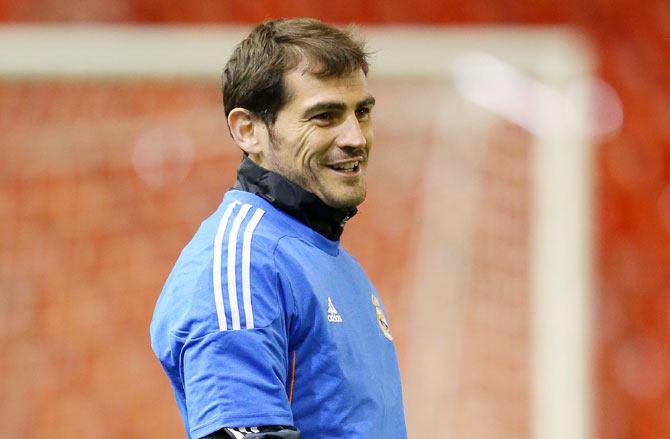 Spanish reports say a two-year-deal is set to be inked
Arsenal head to Asia with no firepower in their attack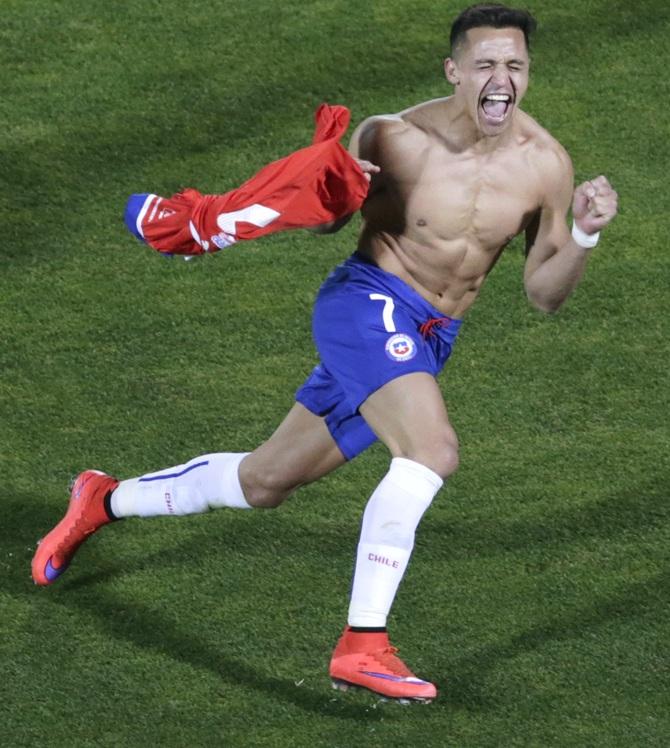 Arsenal trio Alexis Sanchez, Danny Welbeck and Tomas Rosicky will miss next week's Premier League Asia Trophy.
A winning shriek? Sorry, talent speaks loudest!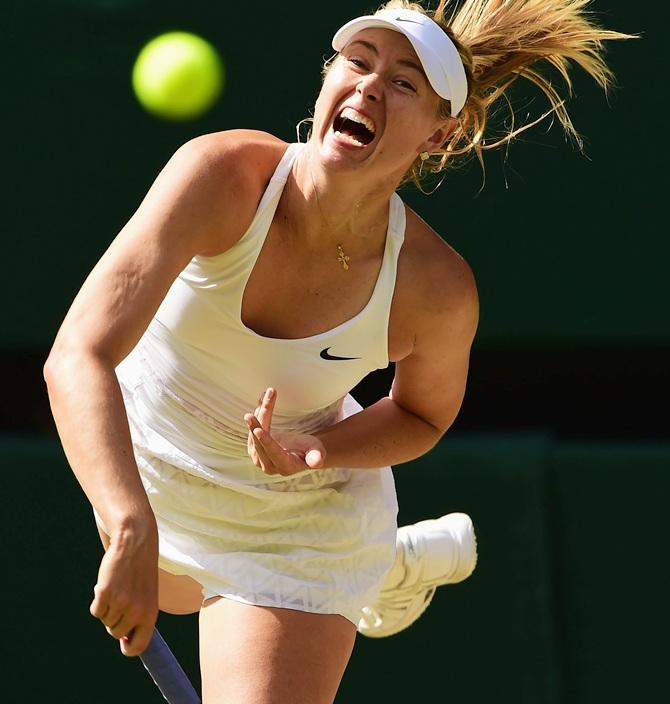 'If grunting would win titles then everybody in the world would be grunting as loud as they can be.'
When a 'wiser' Gasquet left Wawrinka and the crowd awestruck!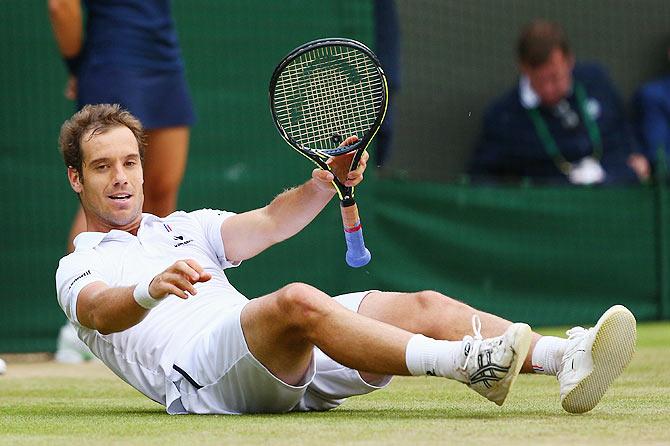 The 29-year-old Frenchman crashes 'top-four' party to set up semi-final against World No Djokovic
Smart Dealers: Europe's best-selling football clubs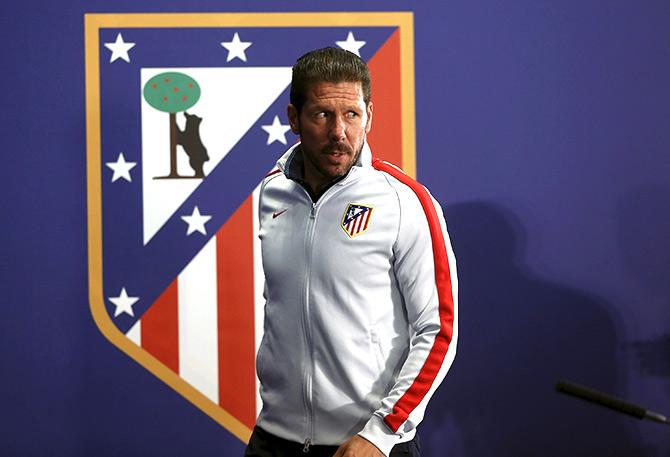 The policy of buying players cheap and selling them for a higher price a few years on is a business model that worked well for clubs like Atletico Madrid and FC Porto. With the transfer window open for the next few weeks, Rediff.com takes a look at clubs that made smart deals over the years.
Gasquet downs Wawrinka in battle of booming backhands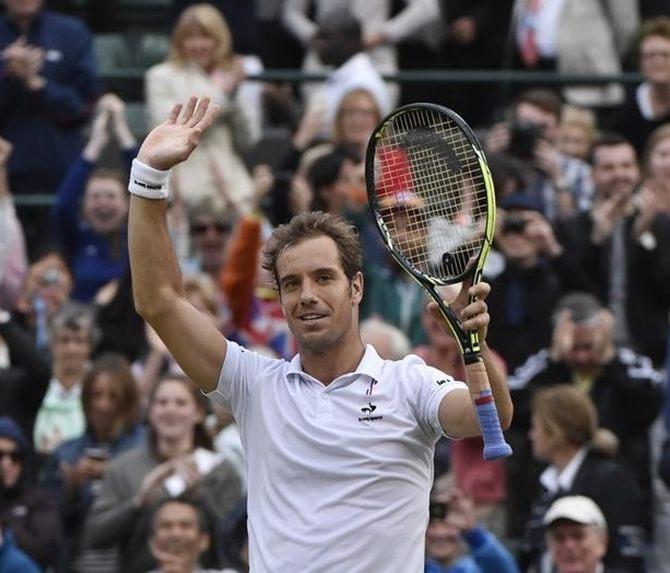 Richard Gasquet sent French Open champion Stanislas Wawrinka flying out of Wimbledon on Wednesday, winning the battle of the slingshot backhands 6-4, 4-6, 3-6, 6-4, 11-9 to reach the Wimbledon semi-finals for the second time.
Sania-Hingis storm into Wimbledon semis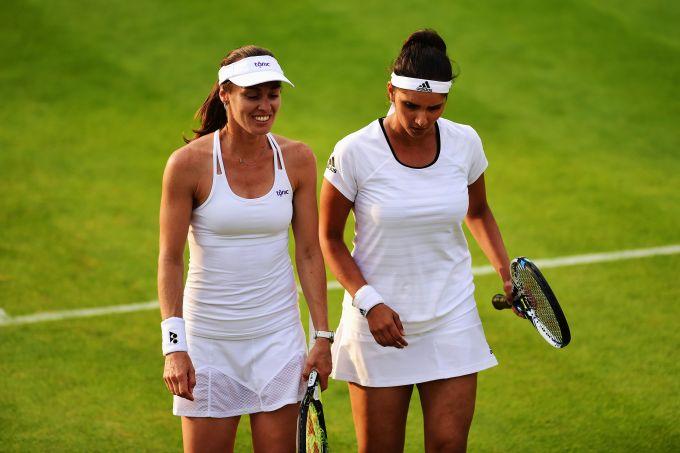 Top seeds Sania Mirza and Martina Hingis cruised to a comfortable 7-5, 6-3 win over Casey Dellacqua and Yarsolava Shvedova to book their place in the women's doubles semi-finals of Wimbledon on Wednesday.
July 08, 2015
Budapest to bid for 2024 Olympic Games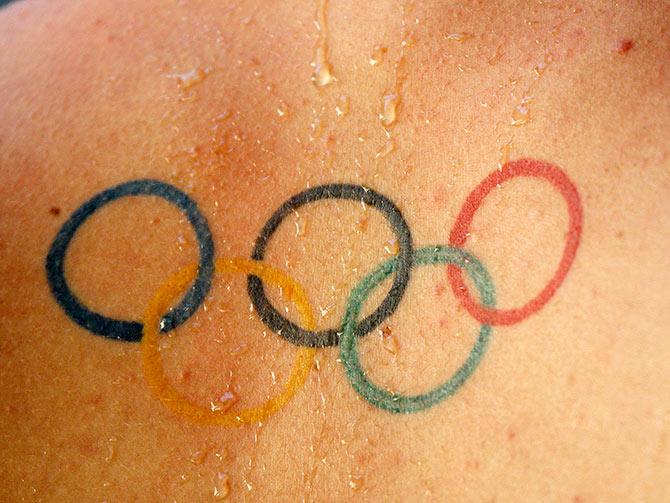 Budapest will bid to host the 2024 Summer Olympic and Paralympic Games, the President of the Hungarian Olympic Committee and the Mayor of Budapest has announced in a joint letter to the President of the International Olympic Committee (IOC).
It will be tough not playing until January: Arda Turan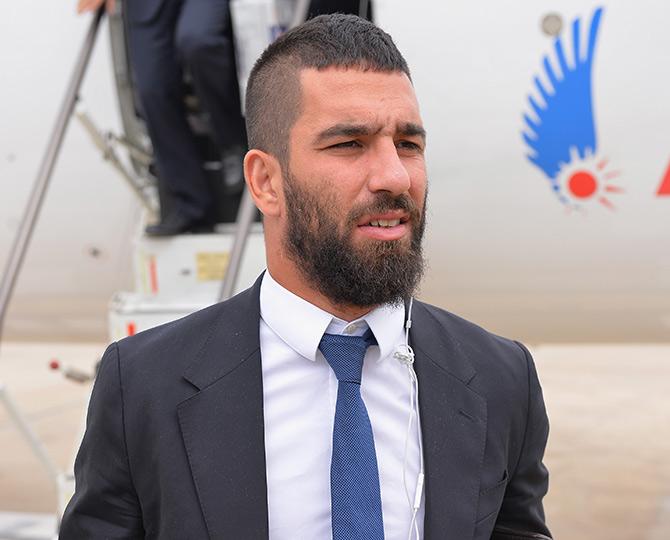 Barcelona's new midfield playmaker Arda Turan has said it will be tough for him not being able to play until January due to a ban on the club on registering players.
Injury rules holder Rory McIlroy out of British Open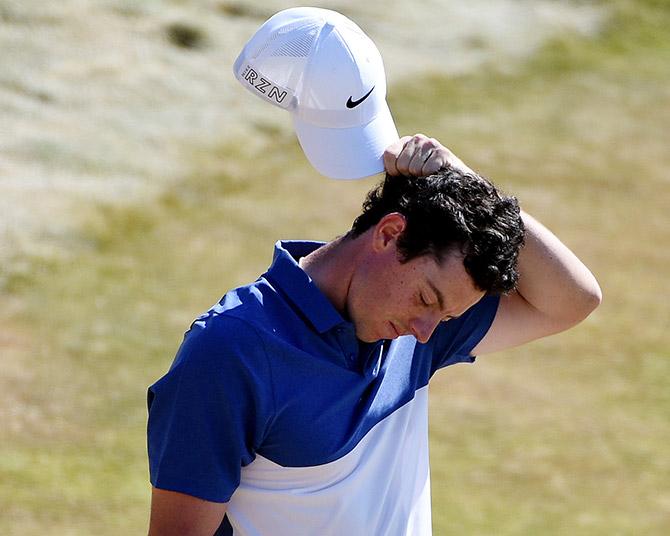 Rory McIlroy will not defend his British Open title at St Andrews next week after announcing on Wednesday he did not want to risk further damage to the ankle ligaments he ruptured playing football last weekend.
Wimbledon PHOTOS: Murray sets up semi-final showdown with Federer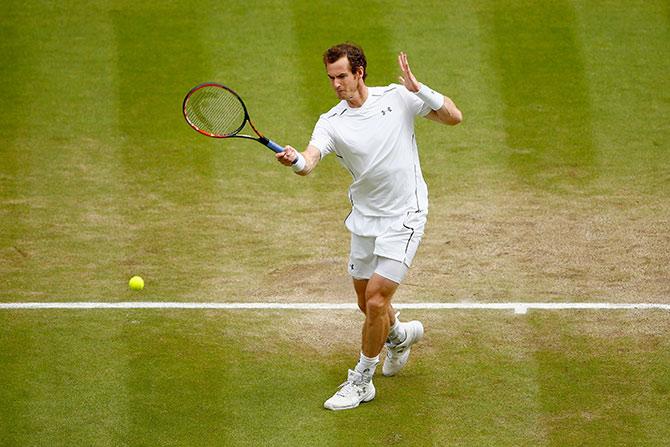 Andy Murray stayed on course for a second Wimbledon title while setting setting up a semi-final showdown with Roger Federer.
Andy Murray plays with pups in sniffer-dog video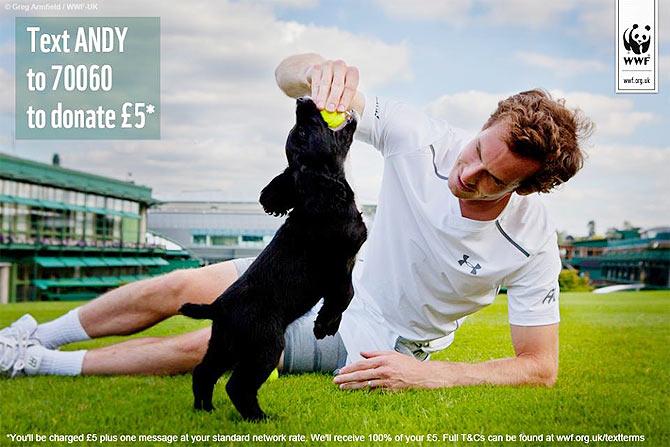 Andy Murray goes to the dogs, or more precisely the puppies, in a video released on Tuesday which shows him playing at Wimbledon with five cocker spaniels being trained to become sniffer dogs.
Bacsinszky and Keys silenced at Wimbledon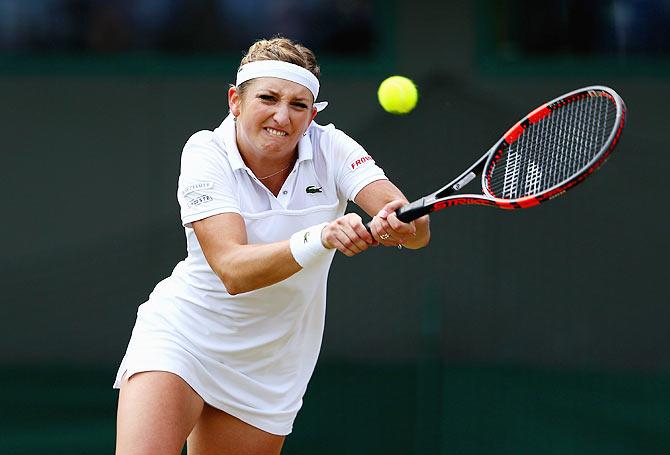 The daughter of two lawyers and a former waitress received their last orders at the Wimbledon on Tuesday when Madison Keys and Timea Bacsinszky missed out on a great opportunity to set up a semi-final date.
'Shocked' Kyrgios demands 'respect if not love' from Aussies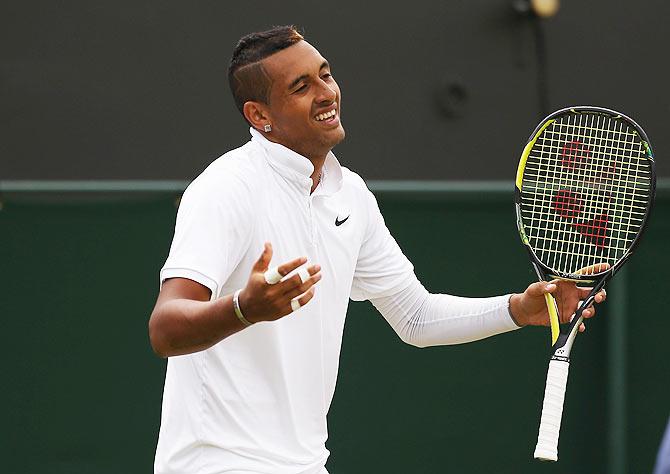 'I'm not asking everyone to love me but at least know me as a person first before you judge me'
Sharapova can't wait to duel with 'vulnerable' Serena on Centre Court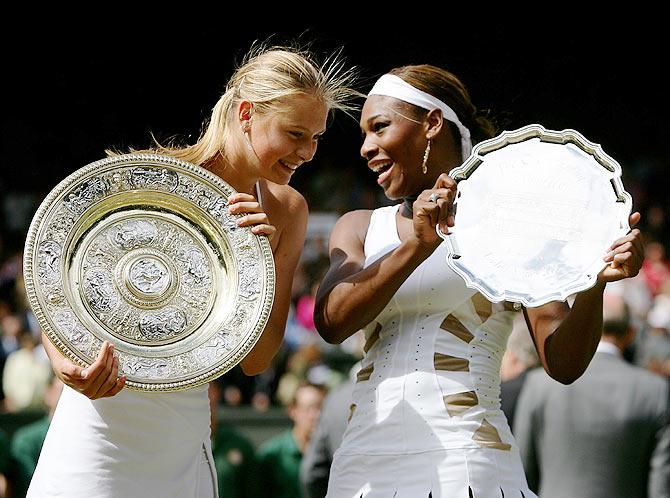 Maria Sharapova and world No 1 Serena Williams haven't played each other at the Wimbledon Championships since their Round of 16 clash in 2010.
Juventus sign forward Zaza for 18 million euros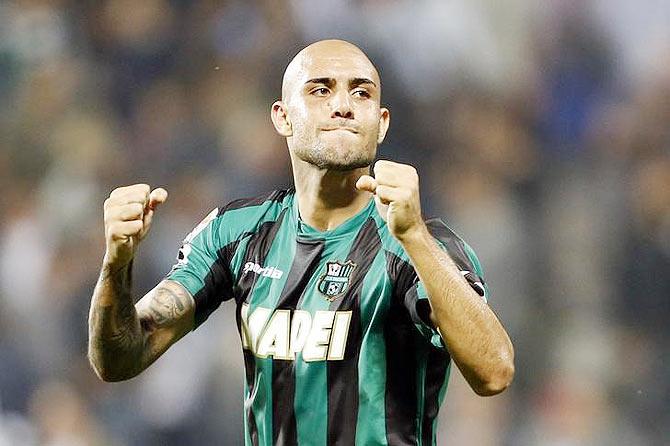 Serie A champions Juventus continued their rebuilding when they signed forward Simone Zaza from Sassuolo for 18 million euros ($19.72 million), the Turin club said on their website (www.juventus.com) on Tuesday.
I didn't want to compete against Liverpool, says LA Galaxy's Gerrard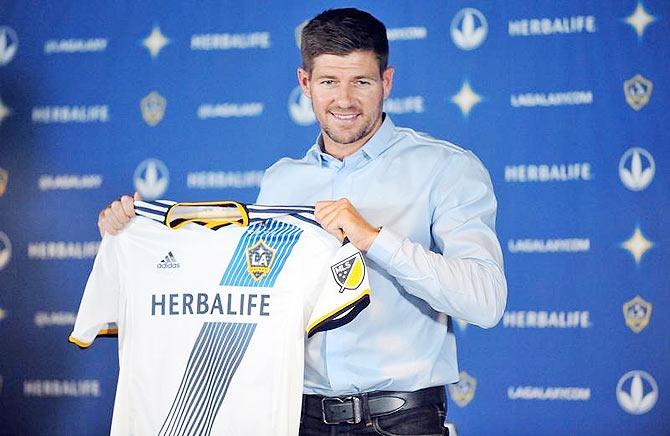 'I love Liverpool Football Club and I always will do... but I didn't want to become a squad player or a sub at the club I love'
This 'perfect player' is first Spanish woman in 18 years to make semis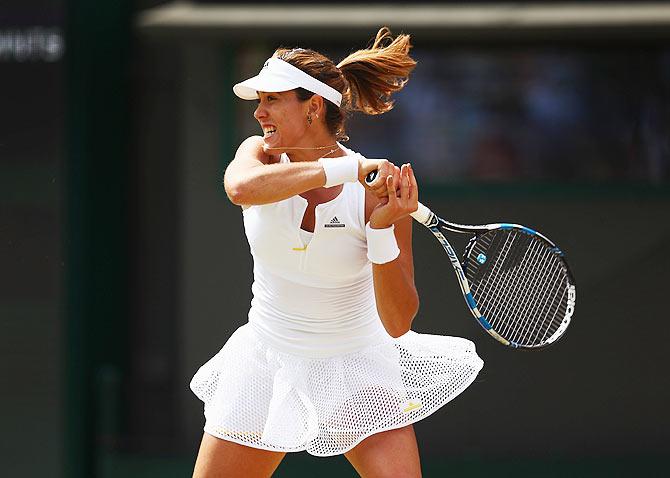 A heady mix of talent and gumption, Garbine Muguruza now in the same league as Arantxa-Sanchez Vicario
Vijender Singh: Punching above his weight?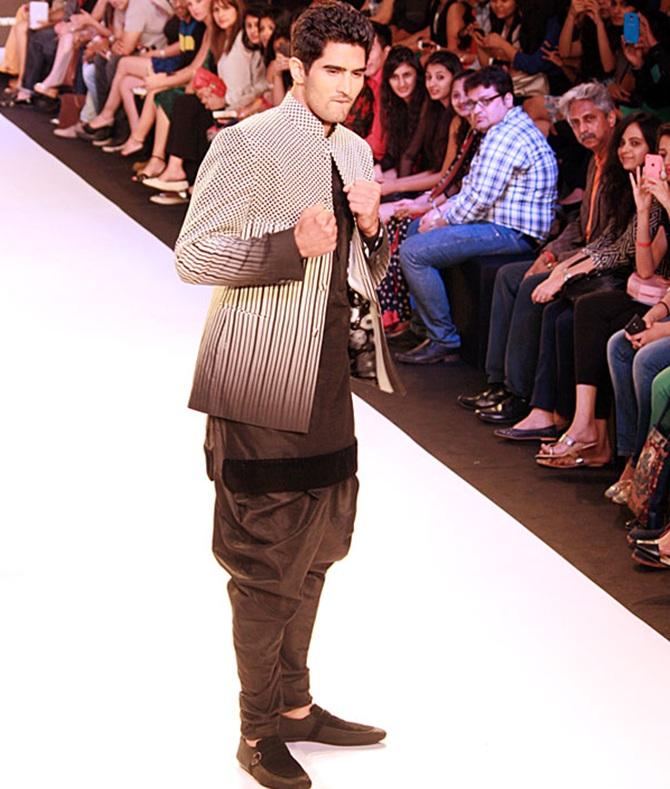 Vijender Singh gives up amateur boxing to turn full-time professional, perhaps the words ring truer than ever.
Wimbledon: Sharapova accused of unsporting behaviour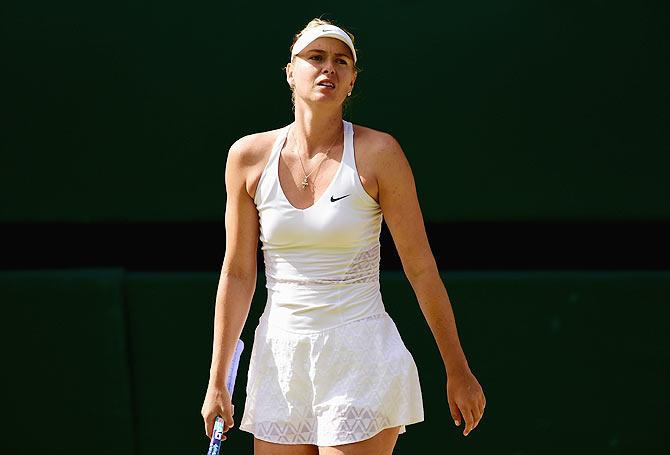 "What I experienced, what I felt from her moving around in between my serving motion was not, I don't think, sportsmanlike, in my opinion," American Coco Vandeweghe claimed after her quarter-final loss
July 07, 2015
Djokovic offers to apologise to upset Wimbledon ballgirl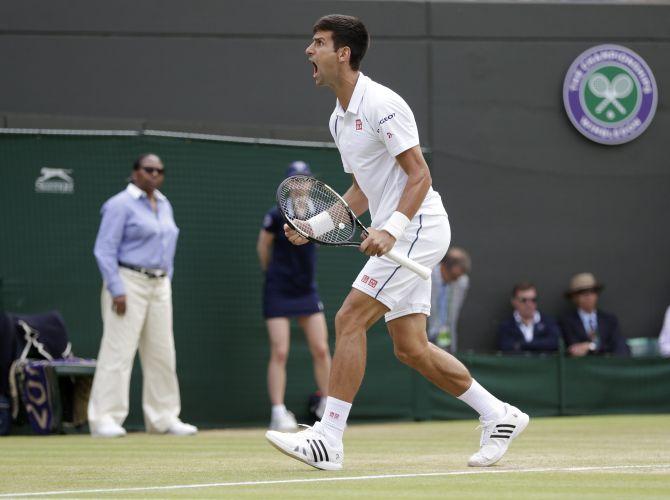 Wimbledon champion Novak Djokovic promised to apologise to a shaken ball girl for an outburst during his tough five set victory over big-serving South African Kevin Anderson on Tuesday.
Rio 2016 would be my last Olympics appearance: Sushil Kumar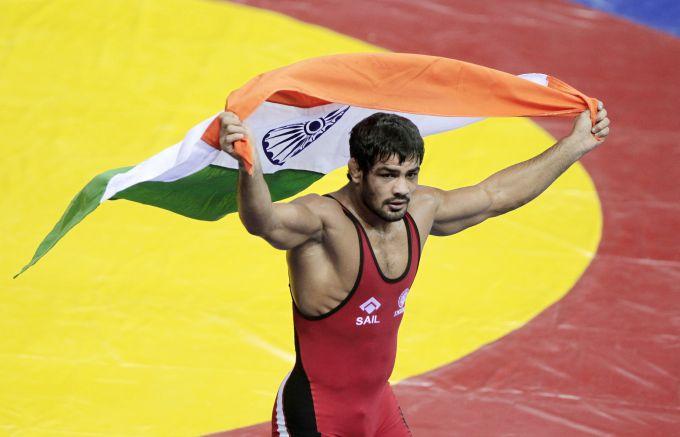 Two-time Olympic medallist Sushil Kumar said that 2016 edition in Rio de Janeiro will be his last appearance at the quadrennial extravaganza but he will take a final call on his retirement post Brazil games.
Djokovic pulls off the great escape against Anderson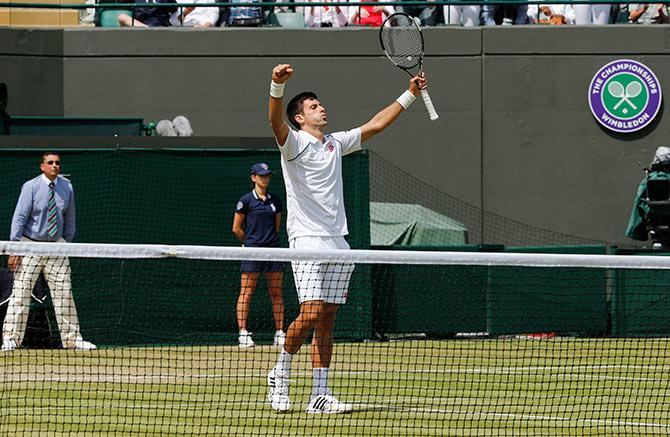 Top seed and reigning champion Novak Djokovic pulled off the great escape at Wimbledon in beating South African Kevin Anderson 6-7(6), 6-7(6), 6-1, 6-4, 7-5 to reach his 25th successive grand slam quarter-final.
In-form Yogeshwar targets elusive World Championship gold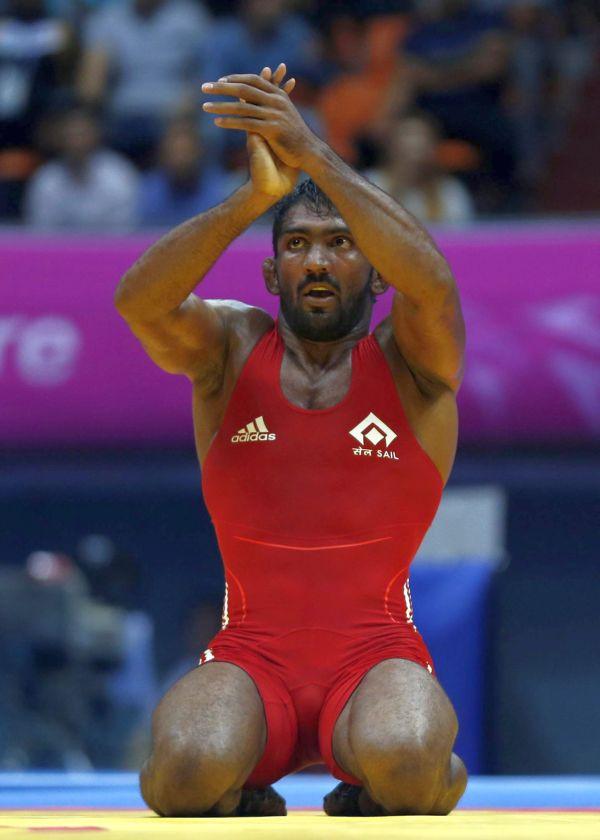 Star grappler Yogeshwar Dutt heaved a sigh of relief after clinching a spot for the World Championships by beating Amit Kumar Dhankhar, who had gone to court last year against the Olympic medallist alleging favouritism.
Paes-Hingis race into mixed doubles quarters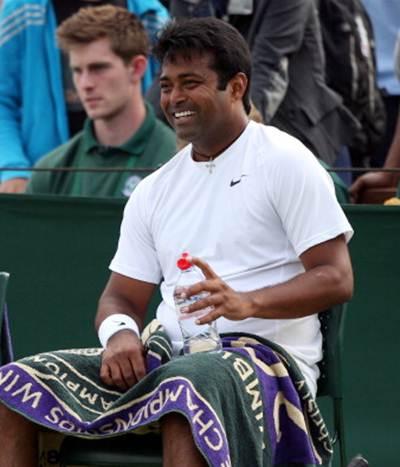 Leander Paes and Martina Hingis proved too strong for Artem Sitak and Anastasia Rodionova, beating the New Zealand-Australia pair for a berth in the mixed doubles quarter-finals at Wimbledon on Tuesday. The seventh seeded Indo-Swiss pair needed only 48 minutes for a 6-2, 6-2 victory.
Senna, that swashbuckler up in the sky, would be proud of Massa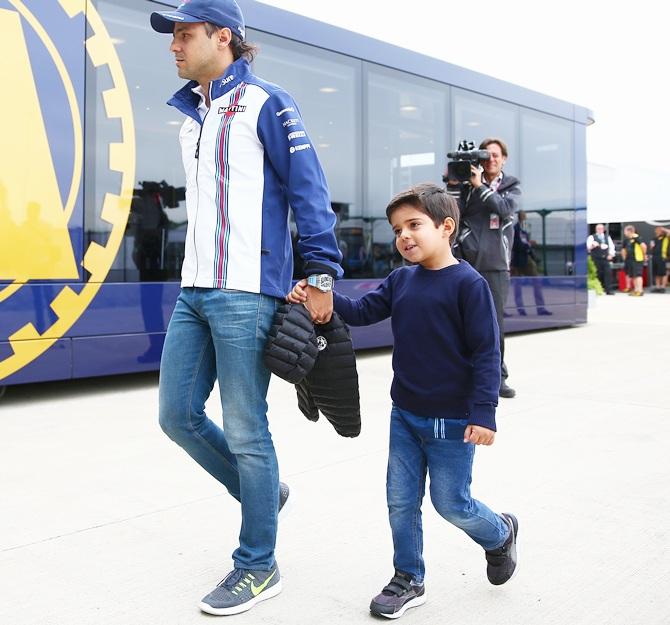 'The heart still bleeds for the Brazilian who gave us the finest, most memorable start we've seen in Formula One for many a year,' says Raja Sen.
United winger Nani moves to Fenerbahce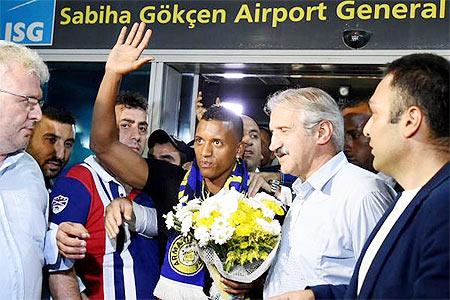 Portugal winger Nani has joined Fenerbahce from Manchester United for six million euros on a three-year deal, the Turkish league runners-up announced on Monday.
Sharapova's boyfriend Dimitrov splits from coach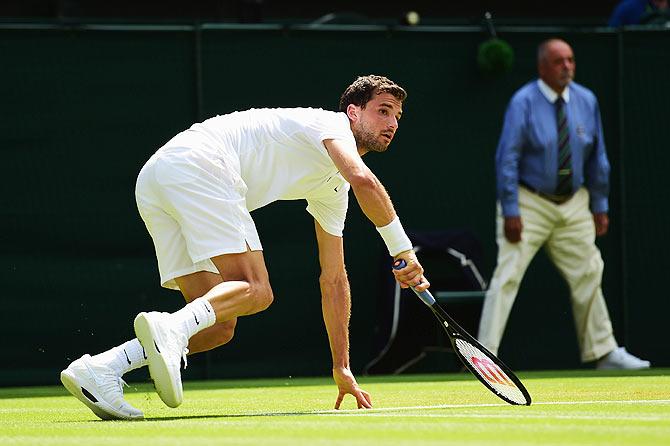 "After much thought I have decided to end my working relationship with Roger," the 24-year-old tweeted.
FIFA bans bid inspector Mayne-Nicholls for seven years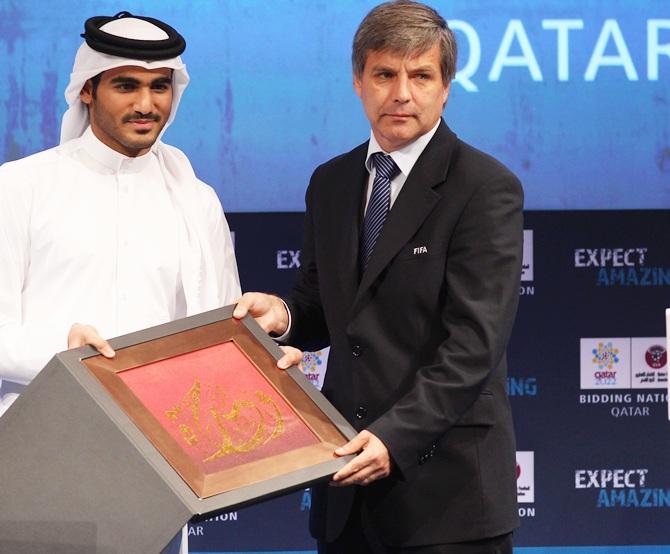 Harold Mayne-Nicholls, who led the teams which inspected bids to host the 2018 and 2022 World Cups, has been banned from all football for seven years.
Wimbledon Sidelights: When a journalist tested Berdych's patience
Reporter asks beaten Tomas Berdych how it felt to go through.
Meet America's new sweetheart...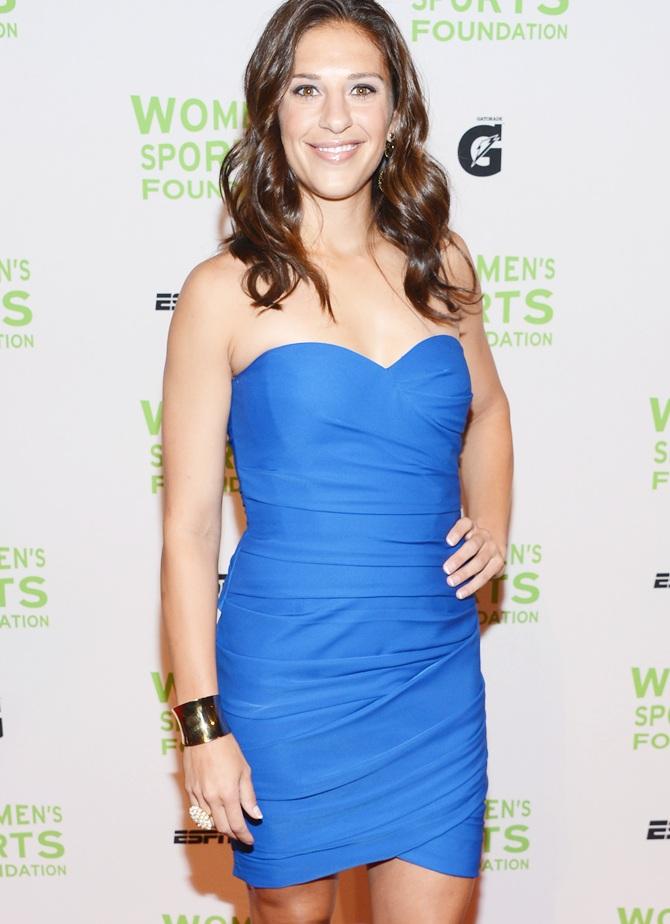 Football's Carli Lloyd seen as marketing darling, analysts say.
PHOTOS: Lindsey Vonn's most happening weekend!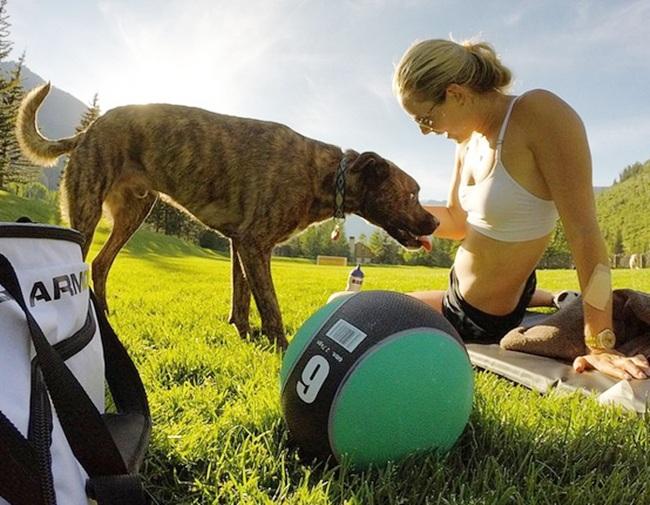 American skier Lindsey Vonn is enjoying her good life after splitting from golf legend Tiger Woods.
Kyrgios hits back at Olympic great Fraser after 'racist' slur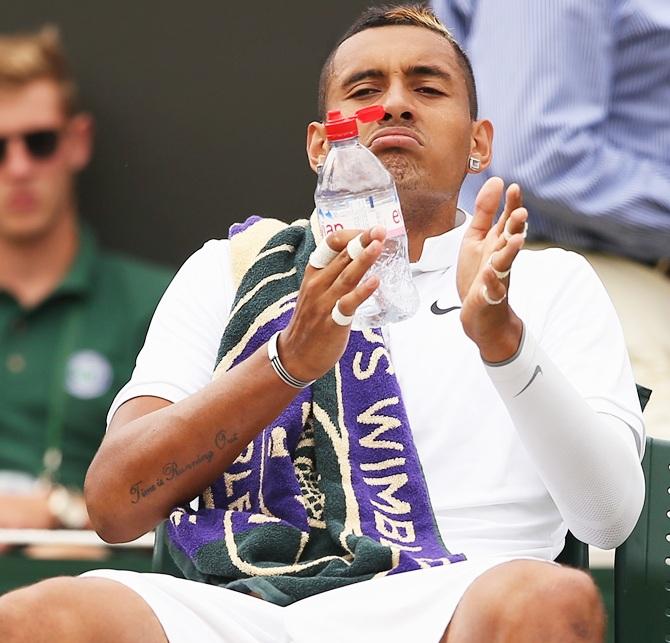 Nick Kyrgios has accused Olympic great Dawn Fraser of being a 'blatant racist'.
Tour de France: Froome in top gear in crash-marred third stage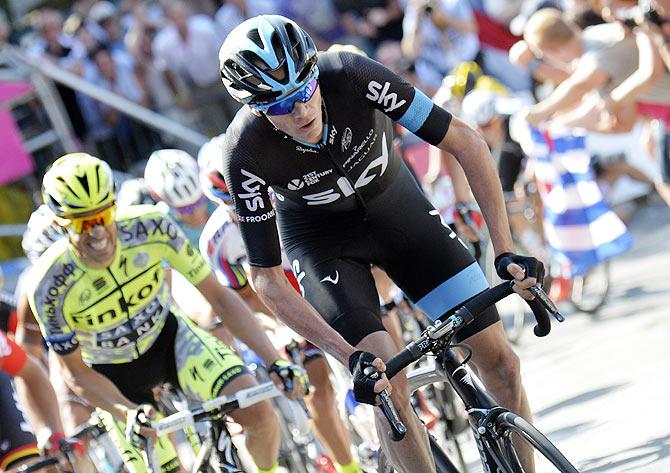 Chris Froome seized early control of the Tour de France, the 2013 champion snatching the yellow jersey after a crash-marred third stage won by Spain's Joaquim Rodriguez on Monday.
Wawrinka marches forth in bid to be in Federer's league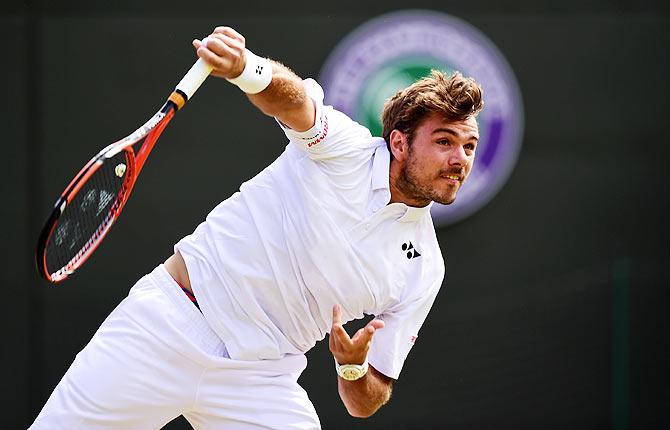 In-form Swiss man in fray to become only the fifth player in the professional era to win the French and Wimbledon back-to-back
Mayweather stripped of welterweight title he won vs Pacquiao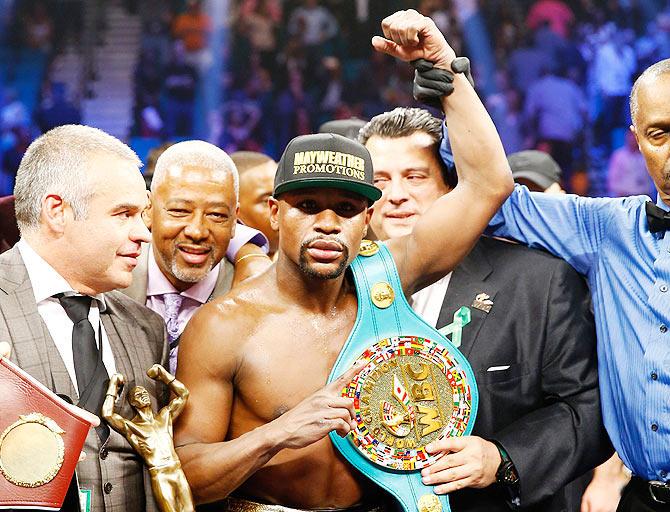 Floyd Mayweather Jr. has been stripped of the welterweight world title he won after beating Filipino Manny Pacquiao this year for failing to comply with rules, the World Boxing Organization said on Monday.
Bad light stops Djokovic after epic fightback, Federer in quarters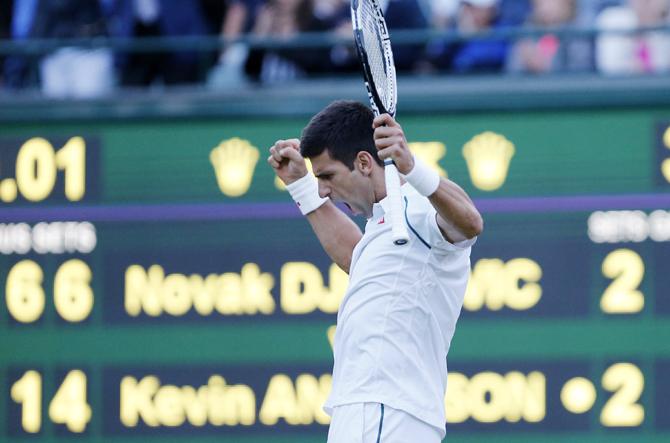 Holder and top seed Novak Djokovic suffered an almighty scare against South African giant Kevin Anderson before bad light halted play with the score tied at two sets all in their fourth round match at Wimbledon on Monday.
July 06, 2015
Wimbledon PHOTOS: Sharapova into last eight, Serena downs Venus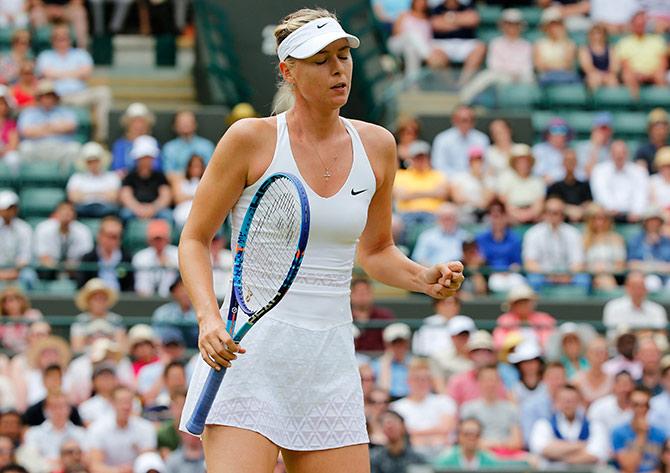 Maria Sharapova, Serena Williams and Andy Murray were the big names to win on Monday and advance to the quarter-final of the Wimbledon.
Andrea Pirlo joins New York City FC from Juventus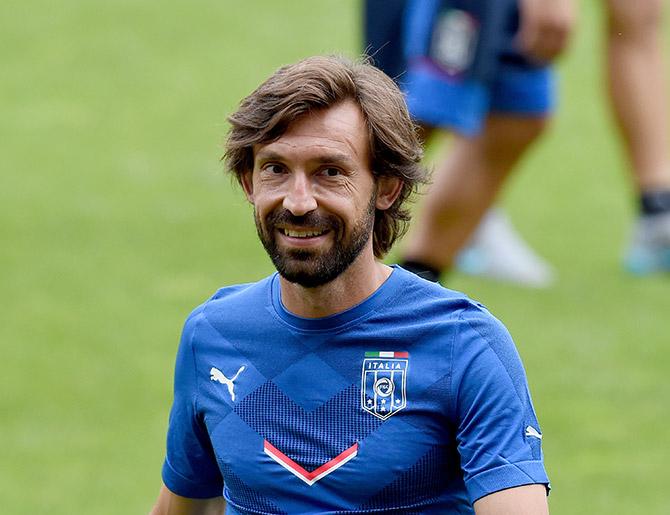 Playmaker Andrea Pirlo is joining New York City FC from Italian champions Juventus later this month, the clubs said on Monday.
Wimbledon men's doubles: Paes bows out, Bopanna advances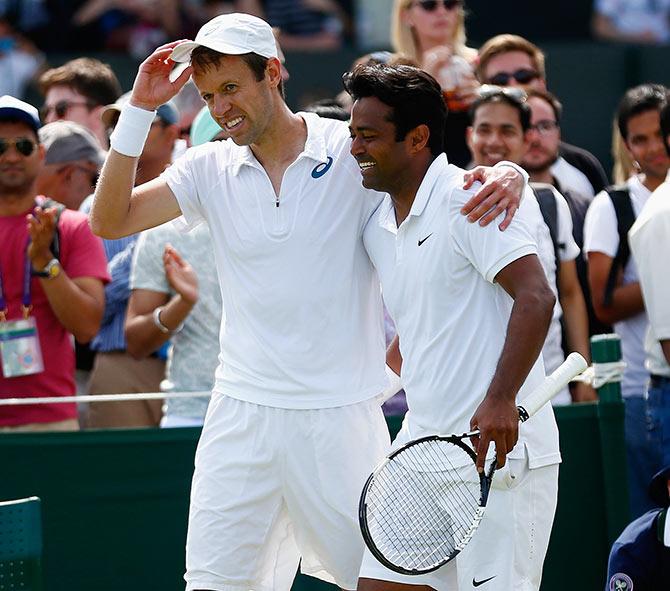 It was mixed fortunes for Leander Paes and Rohan Bopanna in the men's doubles at the Wimbledon on Monday.
Sania in QF; on track for first women's doubles Grand Slam title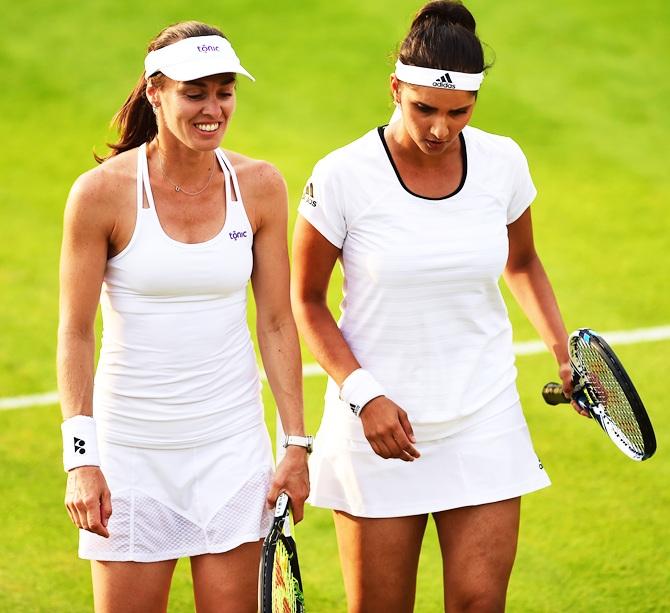 Sania Mirza and Martina Hingis got past the Spanish pair of Anabel Medina Garrigues and Arantxa Parra Santonja to move into the ladies doubles quarter-finals at Wimbledon.
10 Best Sports PHOTOS of the Week!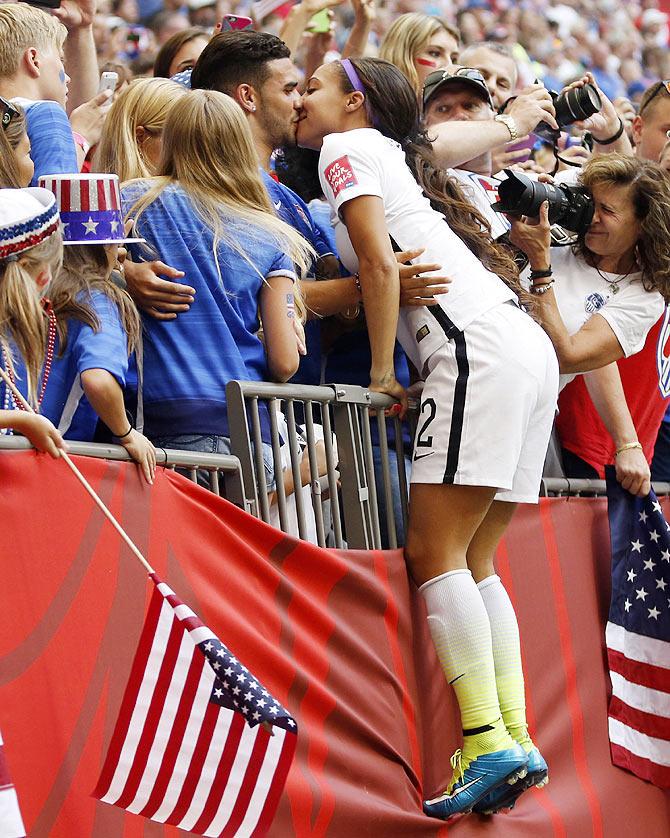 And, since, pictures speak more than words, Rediff.com brings you images from these sporting events and others that made headlines in the week gone by.
Another record for the indefatigable Serena Williams...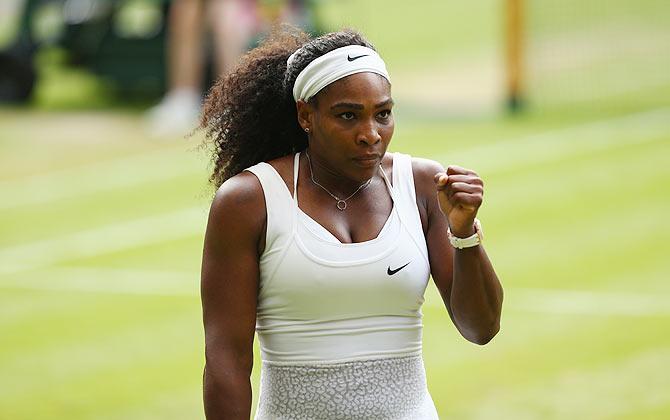 The World No 1 becomes earliest qualifier for WTA Finals
Drums, loud cheers welcome Indian women's hockey team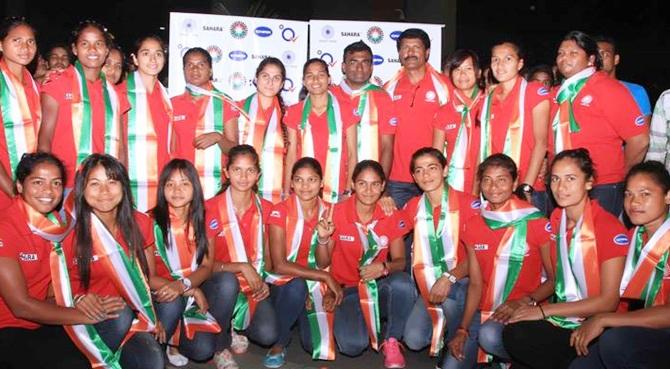 A large contingent of officials and media were present at the airport to receive the team, which finished fifth in the just-concluded Hockey World League Semi-finals in Antwerp.
Kyrgios will play Davis Cup for Australia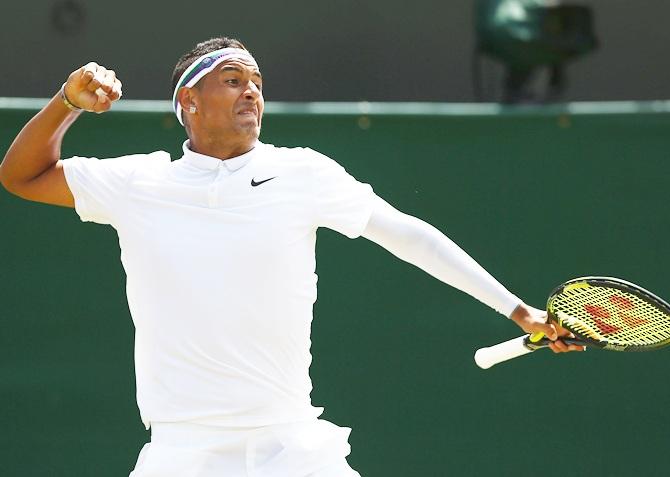 Australian world number 29 Nick Kyrgios will definitely play in the Davis Cup quarter-final against Kazakhstan in Darwin later this month, if selected.
500 beer bottles make Gerrard an instant hit at LA Galaxy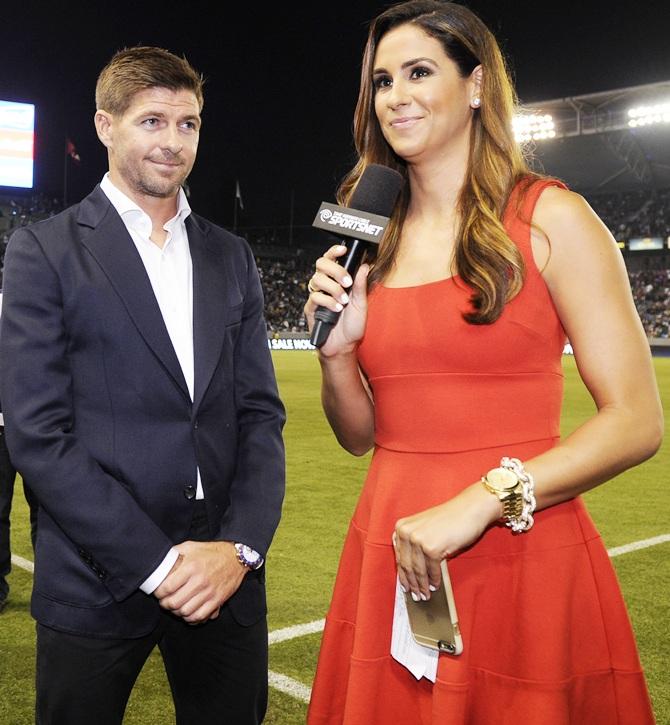 Steven Gerrard became an instant hit with LA Galaxy fans before he even kicked a ball.
Martinez to take up the reins as Spain Davis Cup captain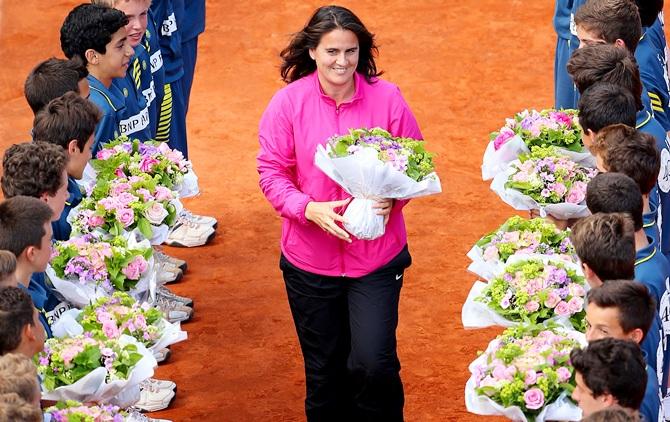 Conchita Martinez will take over as Spain's Davis Cup captain for the Group I tie away to Russia.
Tour de France: Froome, Contador back in control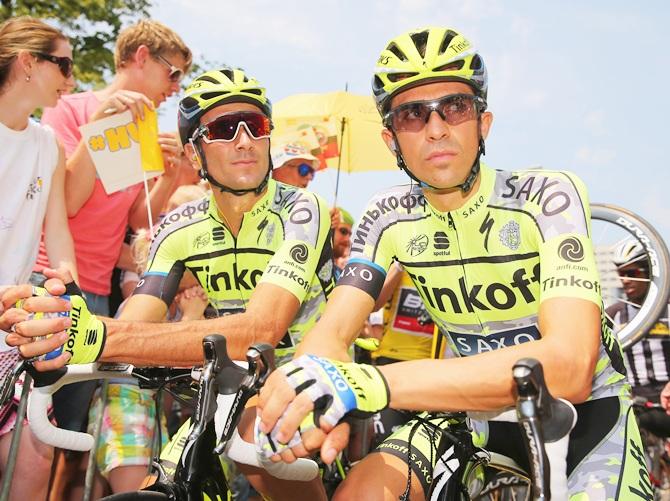 Chris Froome and Alberto Contador were back in control of the Tour de France, hurting their main rivals in a hectic second stage won by German Andre Greipel on Sunday.
India thrash Sri Lanka to retain South Asian Basketball title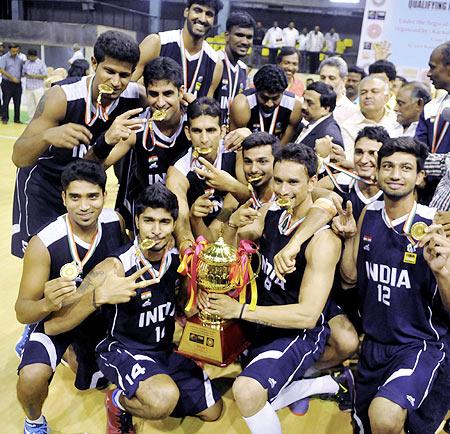 With the win, India also qualified for the FIBA Asia Championship in China in September.
Happy Hamilton is a home winner again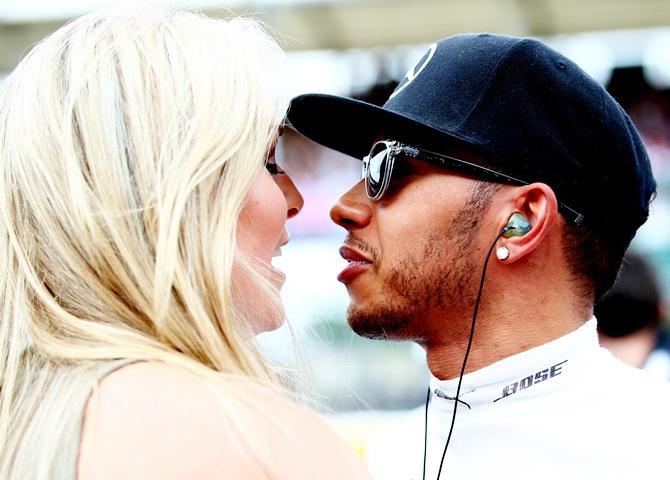 Formula One world champion Lewis Hamilton soaked up the energy of a roaring home crowd to win the British Grand Prix.
Of kisses and selfies: Family time for US players after World Cup win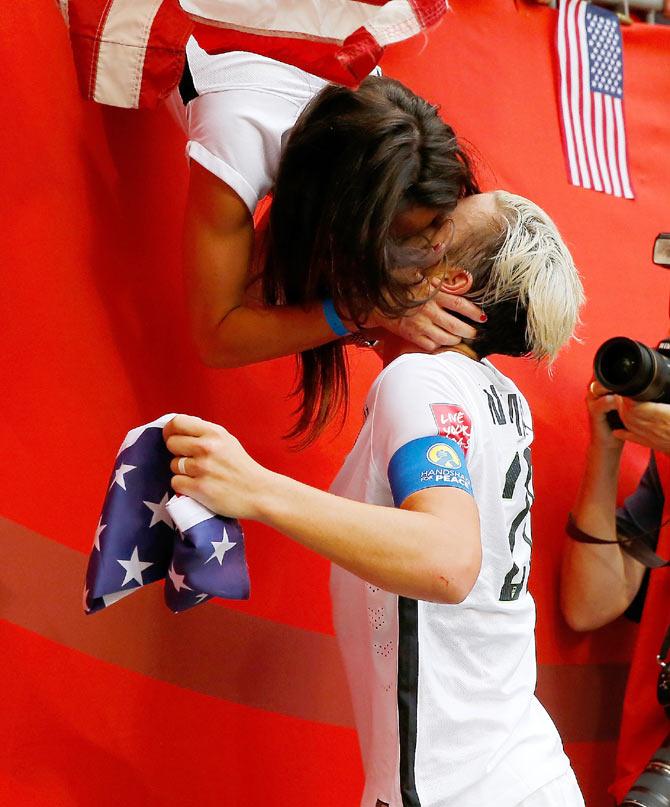 Here are precious family moments that the players stole after their historic victory...
Women's World Cup: Meet the Golden Ball winner...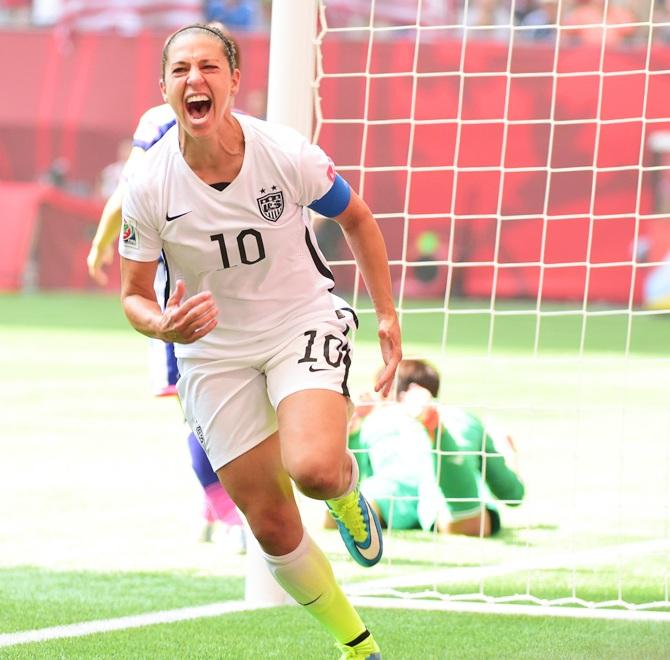 United States captain Carli Lloyd capped her incredible performance in Sunday's women's World Cup final by winning the Golden Ball as the player of the tournament.
USA parties like it's 1999 after Women's World Cup victory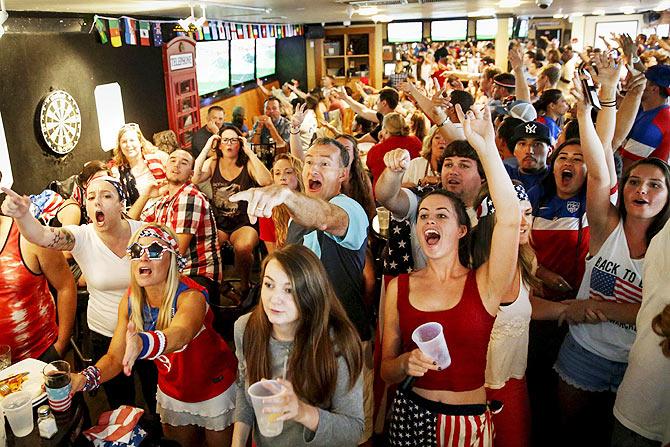 After the game, Kathy Hollins, Lloyd's future mother-in-law, said watching her son's fiancee was: "Like a high. You don't even need drugs ... She's so awesome, she just doesn't give up."
World Hockey League: Australia strike late to sink Belgium to win title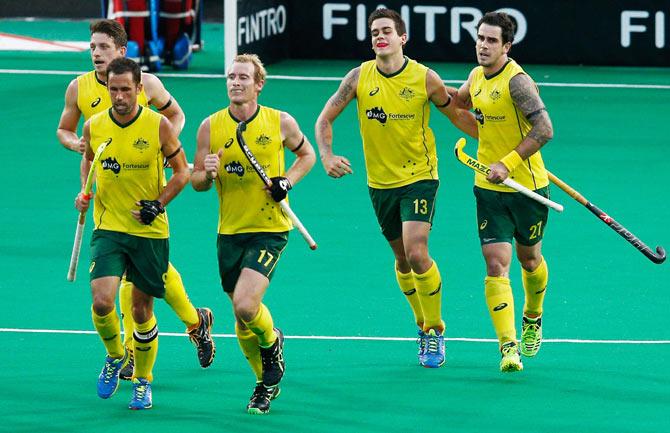 The title encounter seemed headed for the penalty shootout after Australia's two successive penalty corners in the last 25 seconds, the second of which Ciriello finally found the target by placing the shot wide of the Belgian goalkeeper's reach.
We aim to break into top 10 prior to the Olympics: Ashwini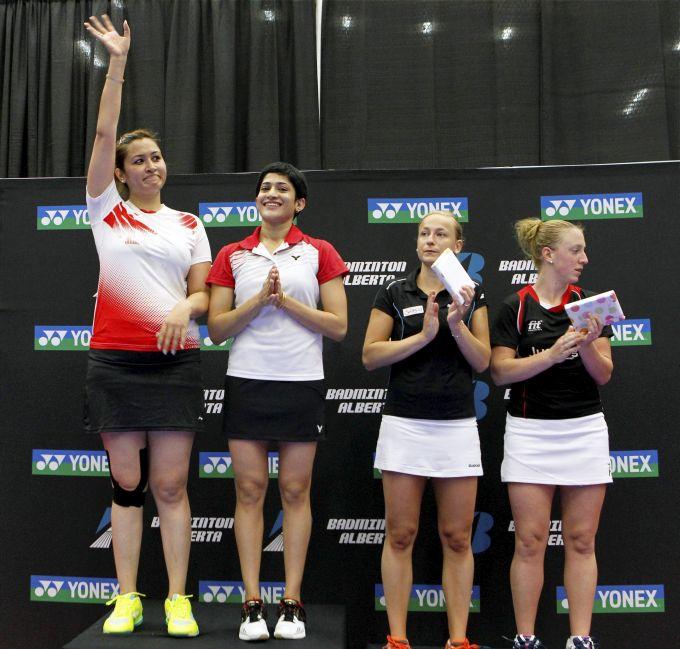 Fresh from her triumphant exploits with senior partner Jwala Gutta in the Canadian Open, shuttler Ashwini Ponnappa said the ace Indian doubles pair was now aiming to break into the top ten while qualifying for next year's Rio Olympic Games.
Dutch heatwave no sweat for Aussie Rohan Dennis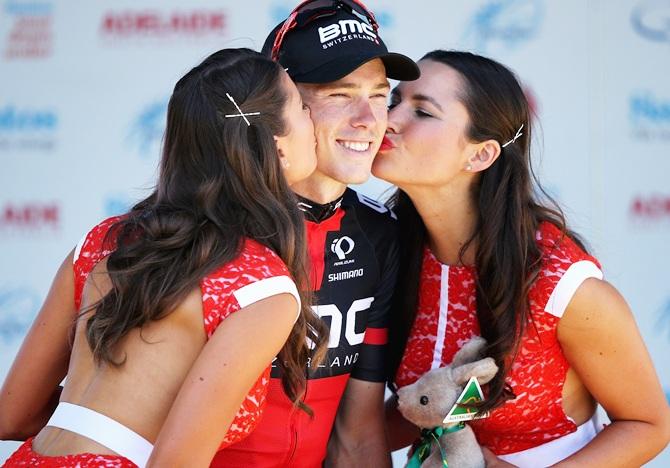 A heatwave was no sweat for Tour de France stage one winner Rohan Dennis.
Lloyd hat-trick inspires US to third Women's World Cup title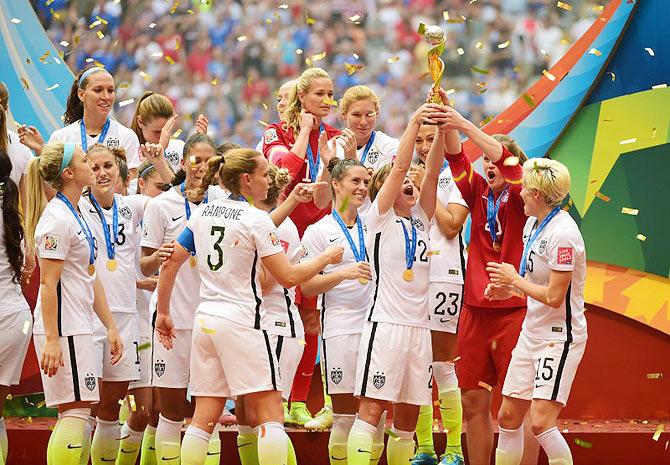 The American captain struck three times inside 16 minutes as the US stormed into an unexpected and unsurmountable 4-0 lead over their shell-shocked opponents.
July 05, 2015
India pay for defensive lapses as Britain secure bronze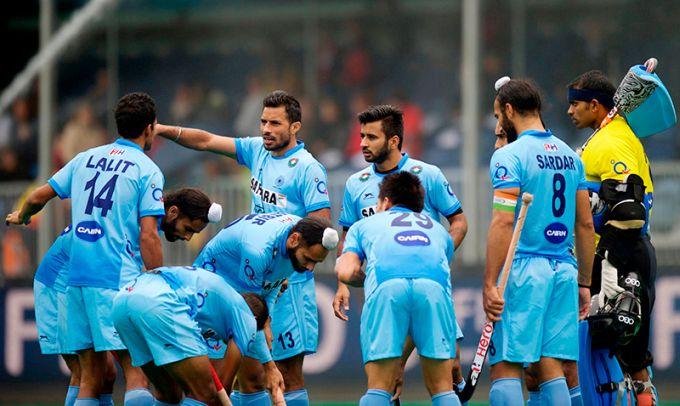 India's defence crumbled in the bronze medal playoff as they crashed to a 1-5 defeat against Great Britain for a fourth-place finish at the World League Semifinals in Antwerp.
Women's hockey team put 'one foot on the flight to Rio'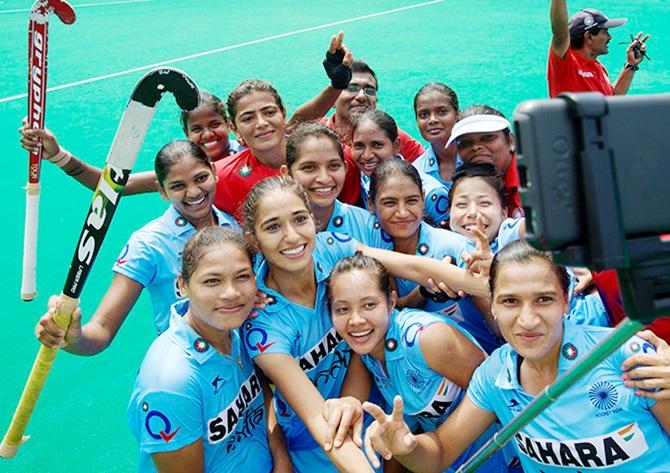 Indian women's hockey team qualified for the Rio Olympic Games .
Force India secure points at British GP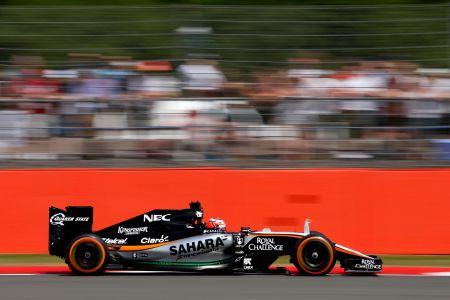 Sahara Force India enjoyed its second successive double points finish with Nico Hulkenberg finishing seventh and Sergio Perez ninth at their home race, British Grand Prix in Silverstone.
Hamilton wins British Grand Prix in Mercedes one-two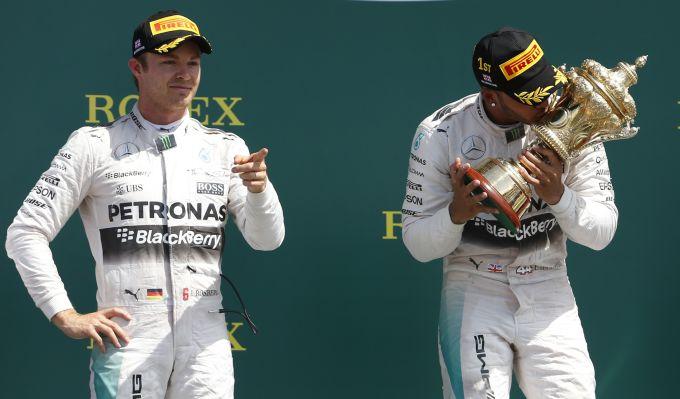 Formula One world champion Lewis Hamilton won the British Grand Prix for the second year in a row on Sunday with Mercedes team mate and title rival Nico Rosberg finishing second.
Roberto Carlos named Delhi's marquee manager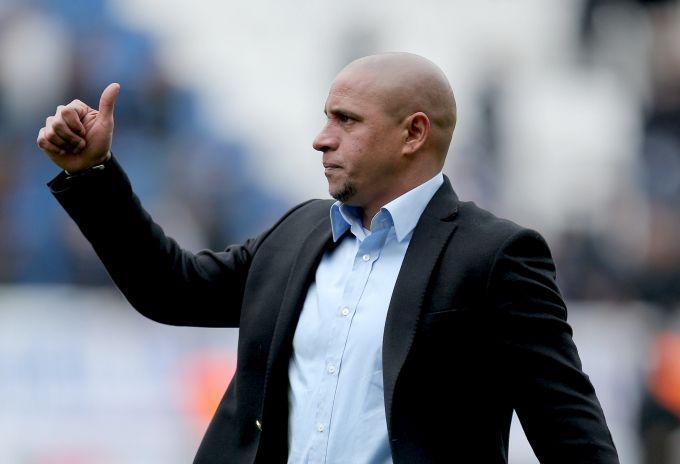 In one of season's biggest signings, former Brazilian World Cup winner Roberto Carlos was oficially appointed marquee manager of the Delhi Dynamos franchise for the second edition of Indian Super League (ISL) football.
Australia's Davis Cup team dumps Tomic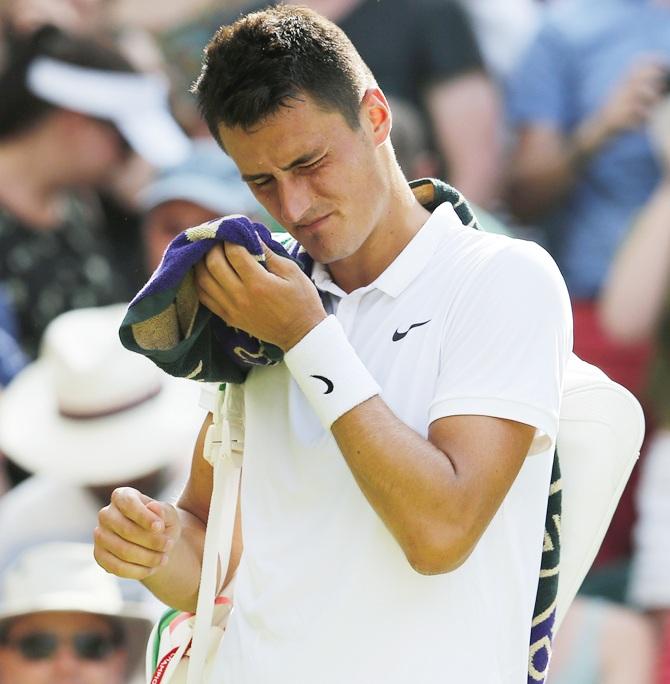 Tomic dropped from Davis Cup after blast at officials.
Paes advances in mixed doubles, Bopanna crashes out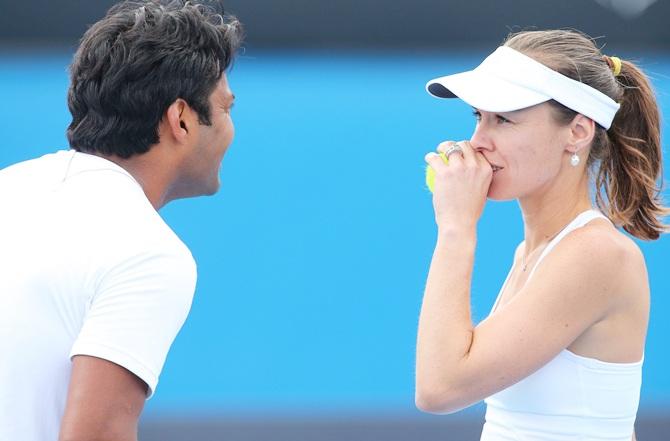 Leander Paes and Martina Hingis eased into the mixed doubles pre-quarterfinals of the Wimbledon championships but it was curtains for Rohan Bopanna and his Spanish partner Maria Jose Martinez Sanchez.
Why is Federer still not happy with Hawkeye?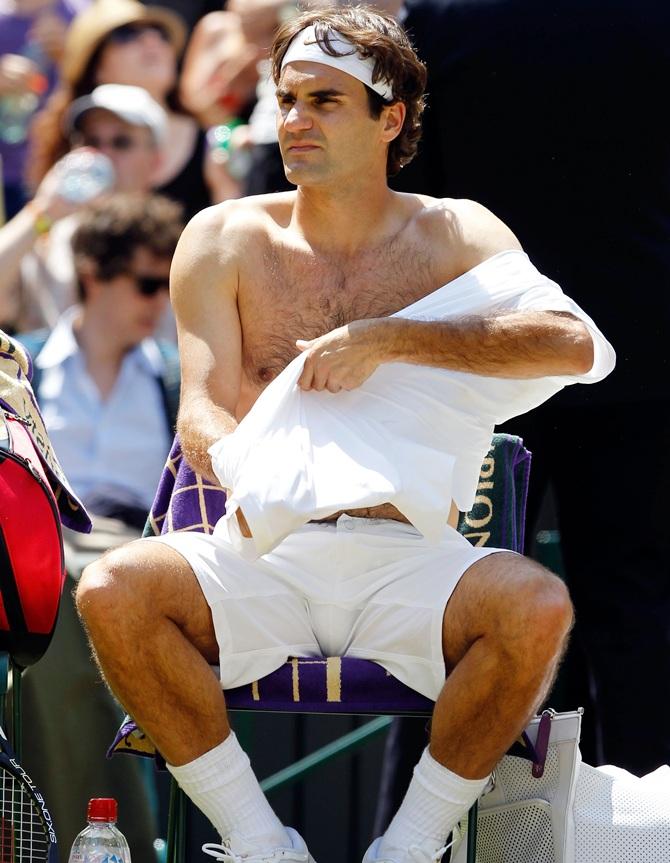 If it is so dark that Hawkeye stops working, then matches should be called off at Wimbledon, Roger Federer said.
MLS: Villa fires New York City to win over Montreal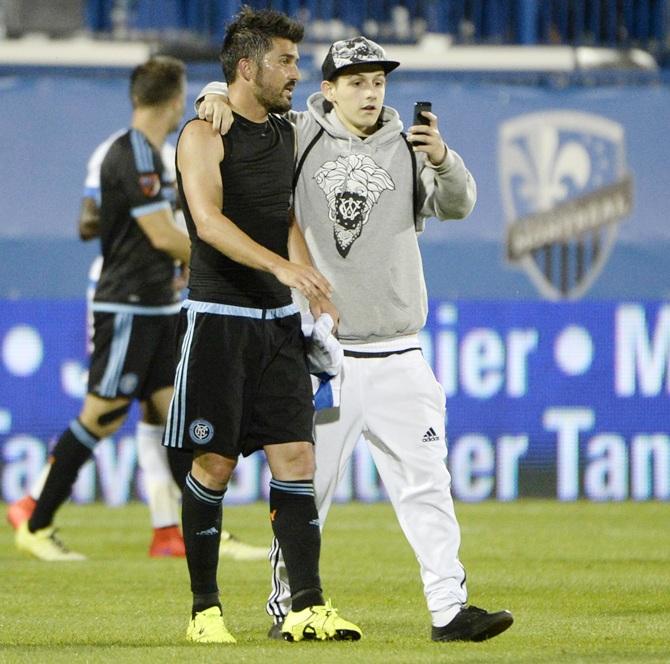 New York City continued their recent surge as Spaniard David Villa notched two classy goals, including the late winner, in a 2-1 away win.
Women's World Cup: Williams sizzles as England take third place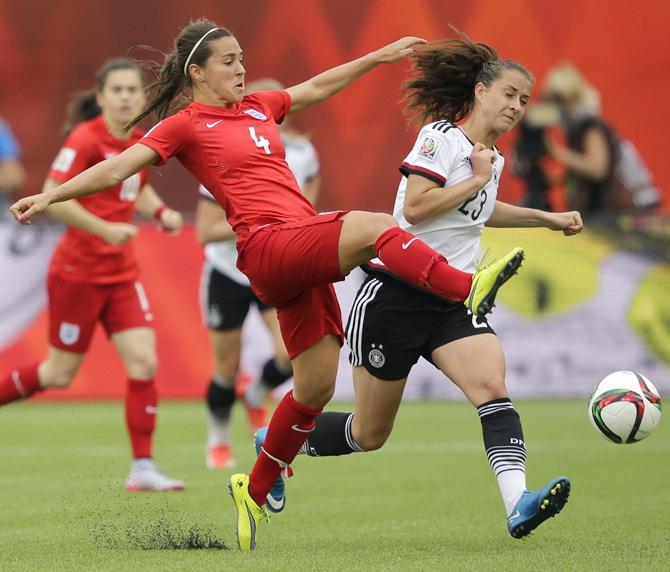 Fara Williams struck an extra-time winner from the penalty spot as England defeated Germany 1-0 to claim third place in the Women's World Cup.
'Losing another final with Argentina is torture'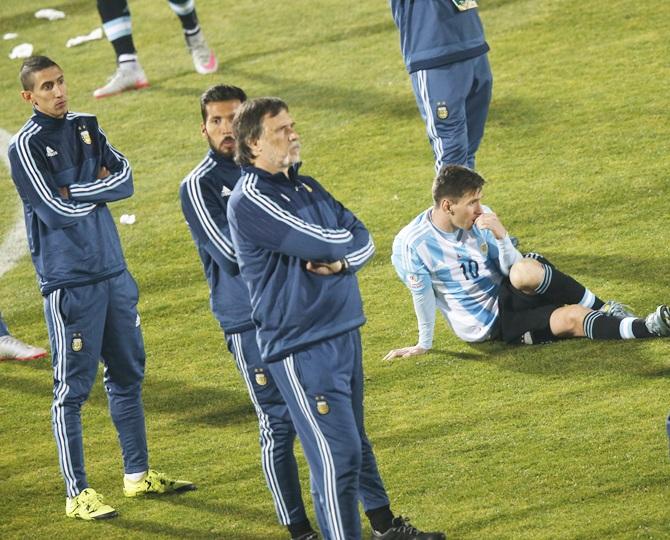 Losing a second major final in a year was absolute torture for Argentina, midfield general Javier Mascherano said after Chile beat them on penalties to win the Copa America.
Cheeky Sanchez penalty clinches Chile's first Copa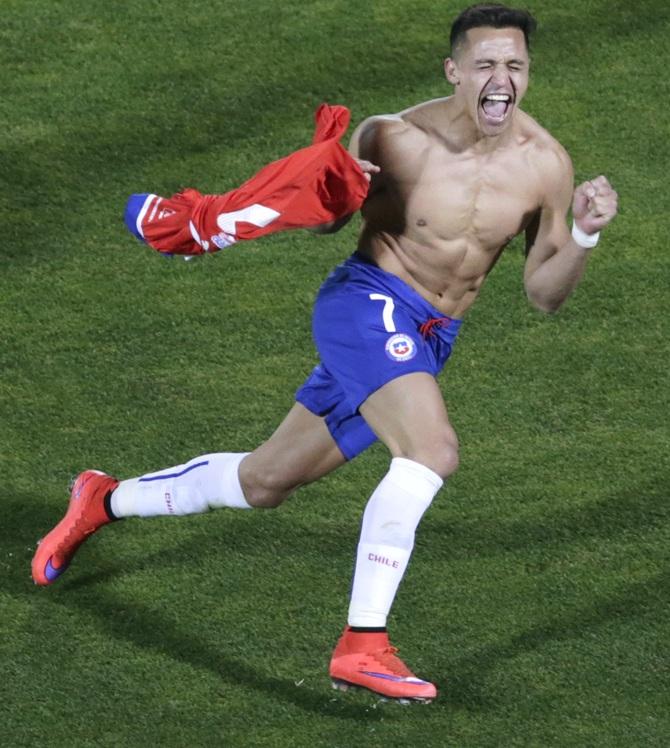 Chile won the Copa America for the first time on Saturday.
Wimbledon: Massaged Murray bites back to reach last 16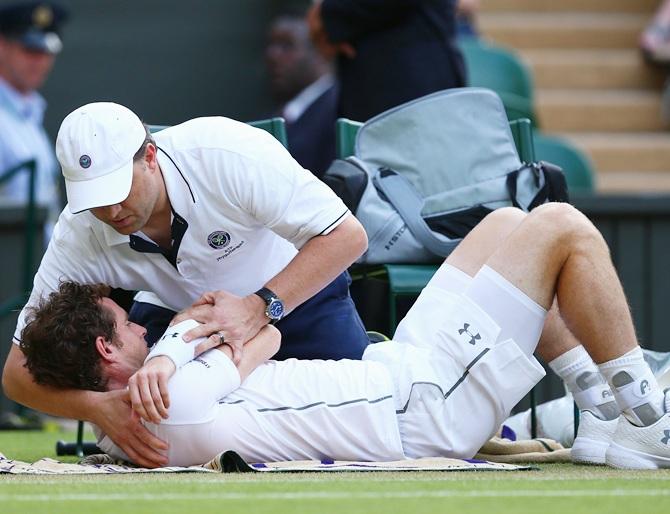 Andy Murray reprised his familiar role of being the last British singles player heading into Wimbledon's second week.
Dreadlocked Brown's Wimbledon exit disappoints fans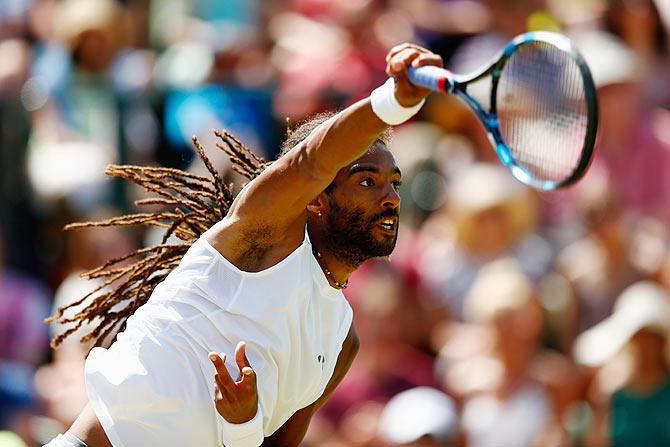 Wimbledon lost one of its biggest crowd pleasers on Saturday when dreadlocked German Dustin Brown, who toppled twice champion Rafael Nadal, lost to Serb Victor Troicki before a court filled with fans willing him to victory.
Tour de France: Dennis takes yellow jersey after first stage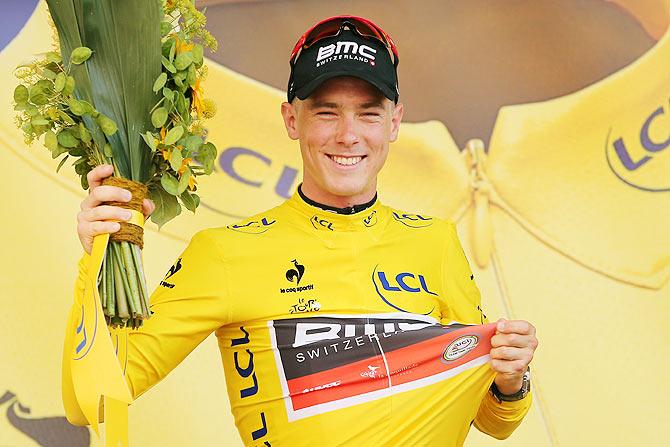 Often cited by defending champion Vincenzo Nibali as a rider to watch on the Tour de France, Thibaut Pinot made an early impact by beating all the pre-race favourites in the opening time trial on Saturday.
Podolski signs for Galatasaray from Arsenal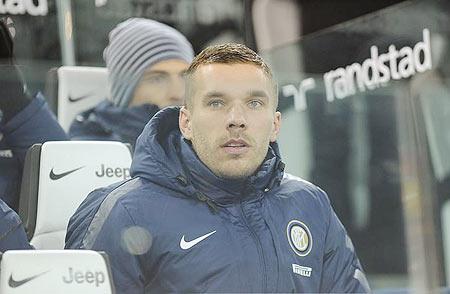 Lukas Podolski completed his transfer from Arsenal to Galatasaray on Saturday after the Turkish club agreed a fee of around 2.85 million pounds ($4.45 million) to finally land their man at the fourth attempt.
July 04, 2015
Wimbledon: How an inspired Jankovic stunned holder Kvitova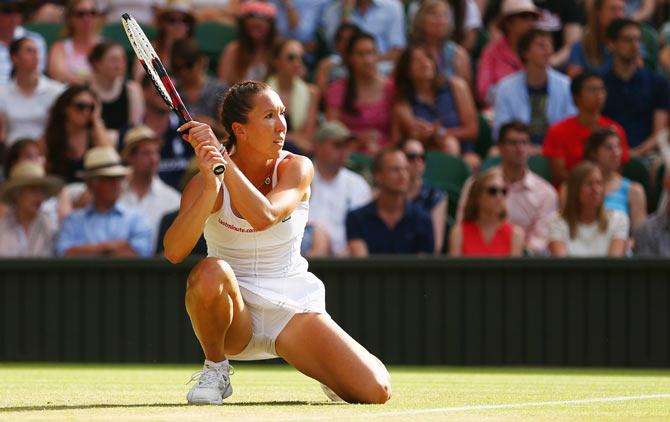 Holder Petra Kvitova suffered a shock 3-6, 7-5, 6-4 defeat by Serbia's former World No 1 Jelena Jankovic who produced an inspired display in the Wimbledon third round on Saturday.
Wimbledon: Paes-Nestor fight back to advance; Sania-Soares cruise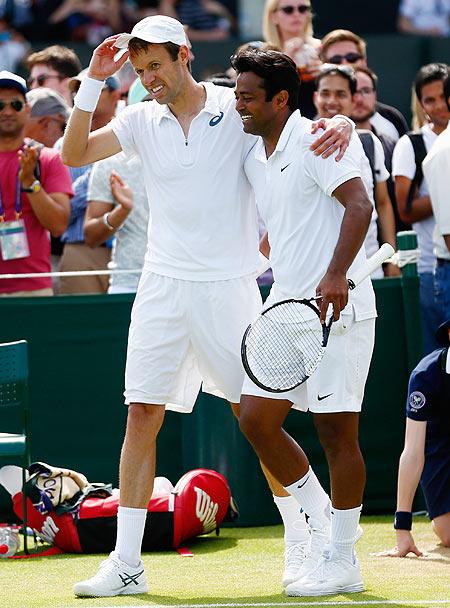 India's Leander Paes and his doubles partner Canada's Daniel Nestor entered the third round of the Wimbledon doubles after defeating the Russian-Chinese Taipei duo of Teymuraz Gabashvili and Yen-Hsun Lu 5-7, 7-6 (3), 7-6 (4), 7-5 on Saturday.
Wimbledon: Pranjala advances to 2nd round in girls singles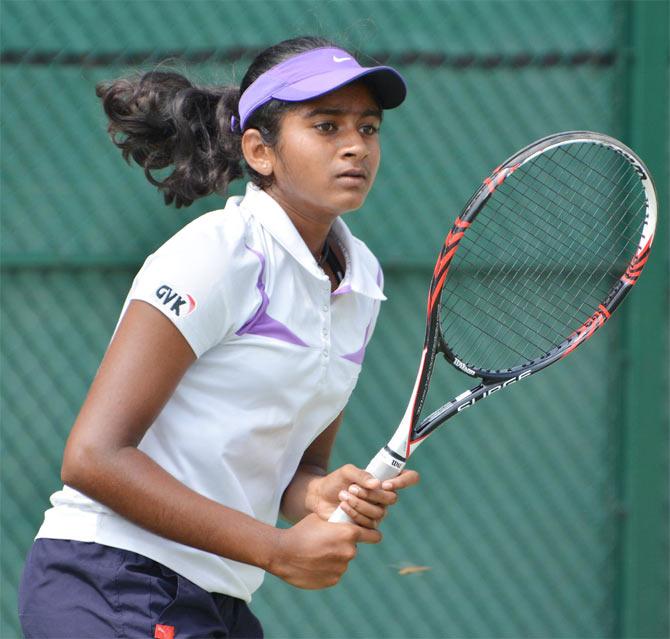 Indian youngster Pranjala Yadlapalli made a confident start to her junior Wimbledon campaign with a straight set win over Colombia's Maria Fernanda Herazo Gonzalez in her girls singles opening round, at Wimbledon on Saturday.
Wimbledon PHOTOS: Defending champ Kvitova knocked out; Federer wins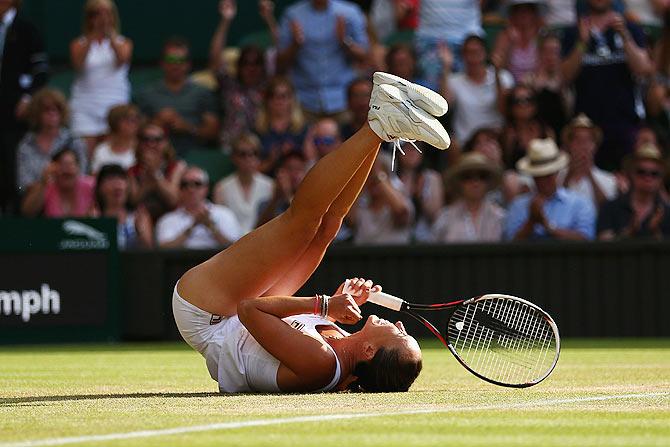 Photos from the Wimbledon matches played on Saturday.
British Grand Prix: Hamilton on pole at Silverstone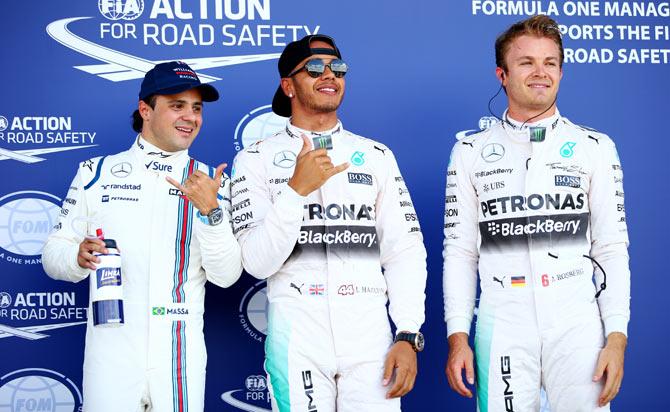 The pole was Hamilton's eighth in nine races this season and the 46th of his career for the championship leader, who won at Silverstone last year and has a 10 point advantage over the German.
McEnroe urges Nadal to 'get a new damn coach'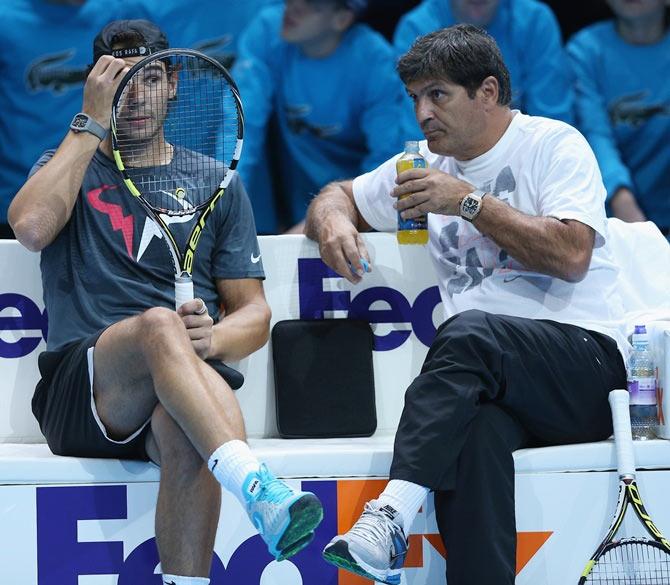 Three-time Wimbledon champion John McEnroe has advised Rafael Nadal to sack his long-term coach, uncle Toni and 'get a new damn coach' to get back to top form.
The Vijender effect! Mandatory for athletes to play for 6 yrs?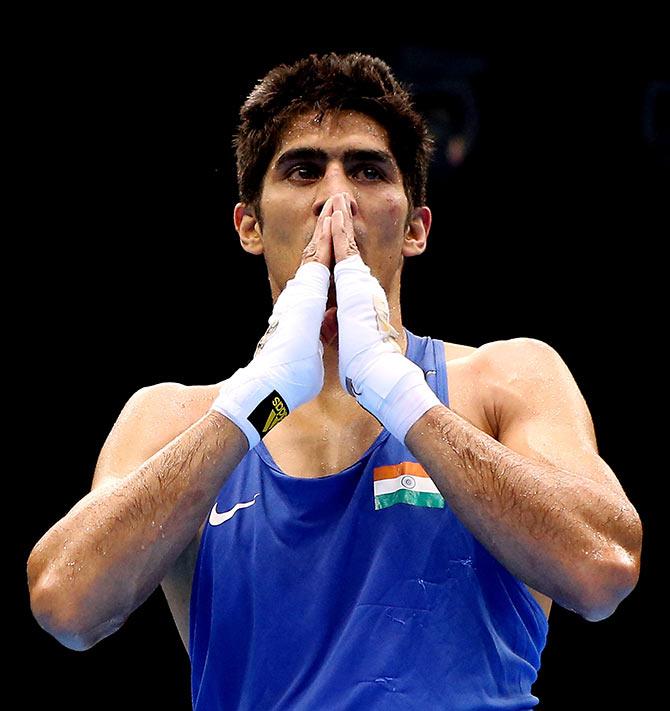 Haryana government on Saturday said it is considering making it mandatory for a sportsman to compete for at least six years.
From boxing champ to drain cleaner, Krishna Rout seeks life of dignity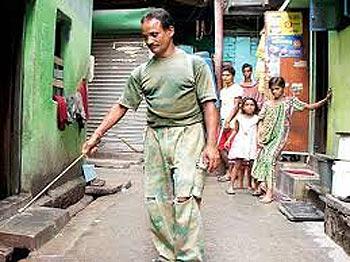 With a temporary job at the Howrah Municipal Corporation for the last 15 years, and earnings of merely 200 a day, Rout has decided to appeal to West Bengal Chief Minister, Mamata Banerjee, to give him a permanent government job.
PHOTOS: Women's World Cup will have its share of parties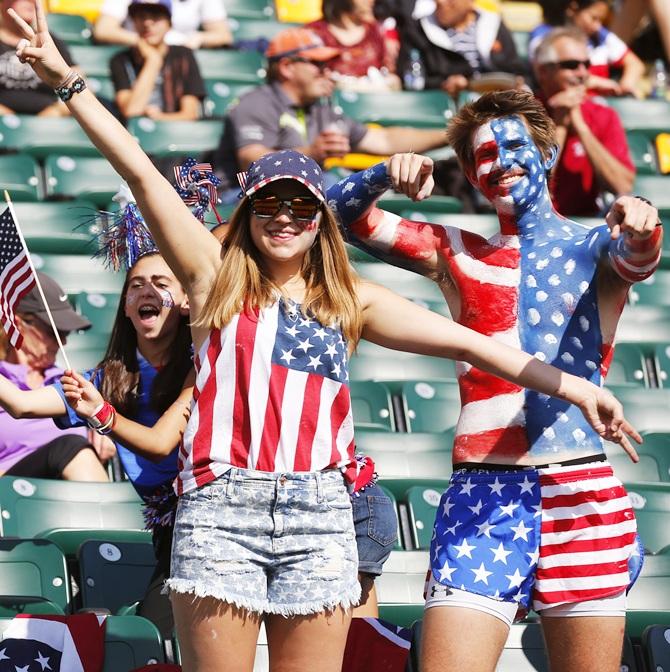 The women's World Cup final between the United States and Japan on Sunday may not rival the Super Bowl, but soccer fans, wild with excitement.
'What's going on? Where is the support?'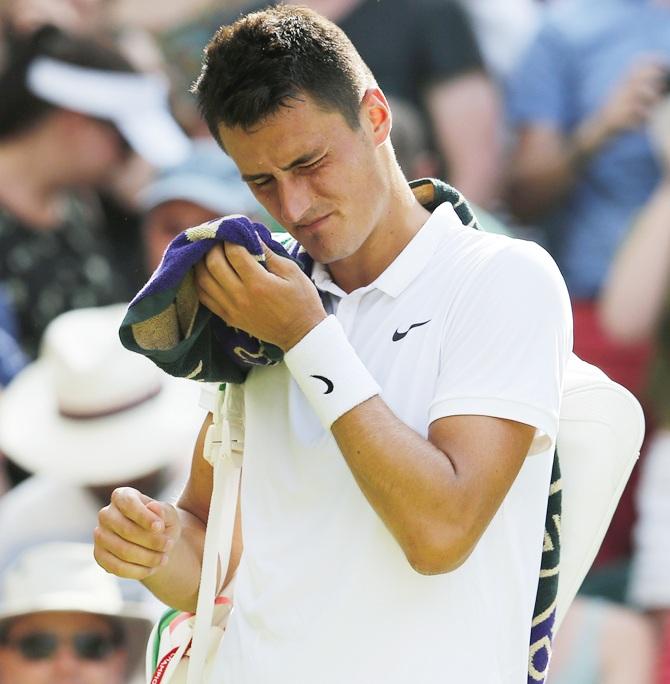 Tomic slams 'disrespectful' Tennis Australia.
This Argentina side is one of the best... But will they win?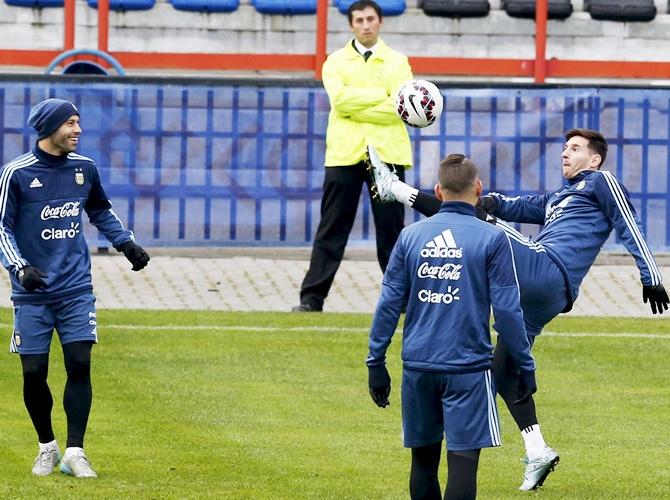 The current generation of Argentina players is one of the best ever even though the team have not won a major trophy in 22 years, coach Gerardo Martino said on Friday.
Union slams FIFA and demands player involvement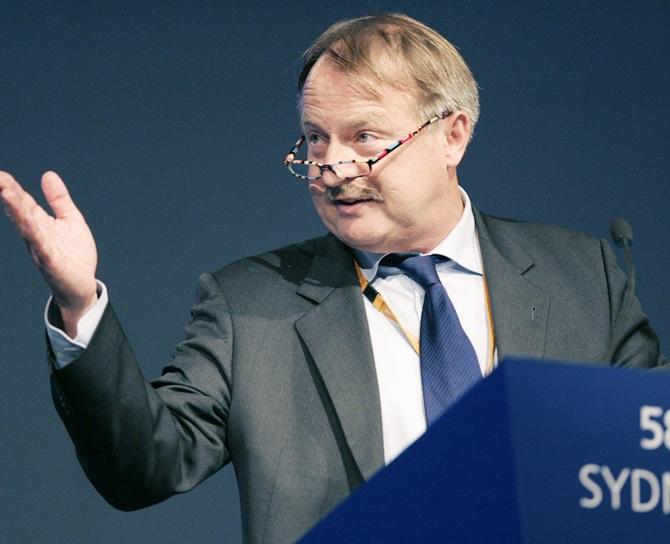 The general secretary of the world players' union FIFPro has blasted FIFA.
Wimbledon: Sania Mirza-Martina Hingis ease into 3rd round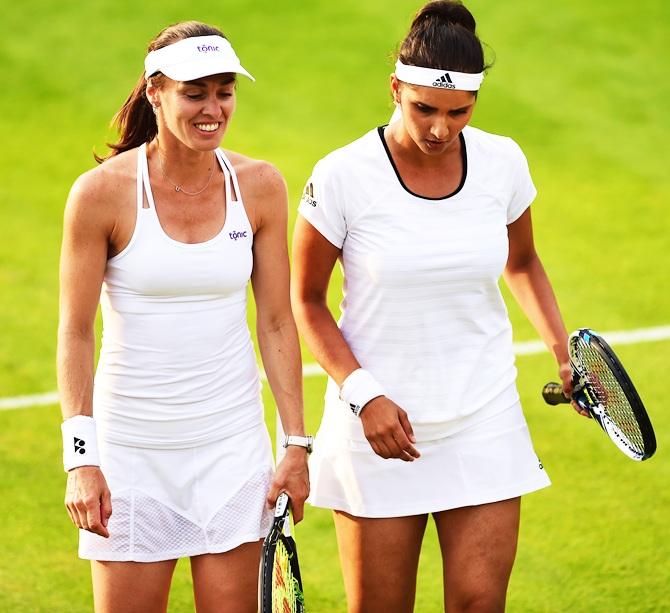 India's Sania Mirza and Switzerland's Martina Hingis entered the women's doubles third round.
It's going to get messier! Spain fires Davis Cup captain Gala Leon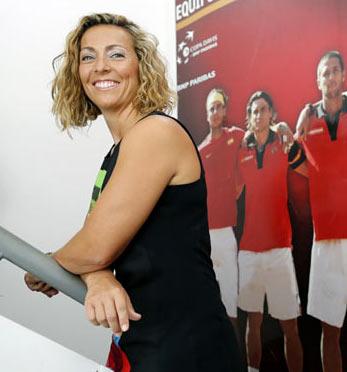 The new president of the Spanish tennis federation (RFET) has fired the nation's first female Davis Cup captain, Gala Leon, two weeks before the Group I second-round tie away to Russia.
Once an idol, now an enemy...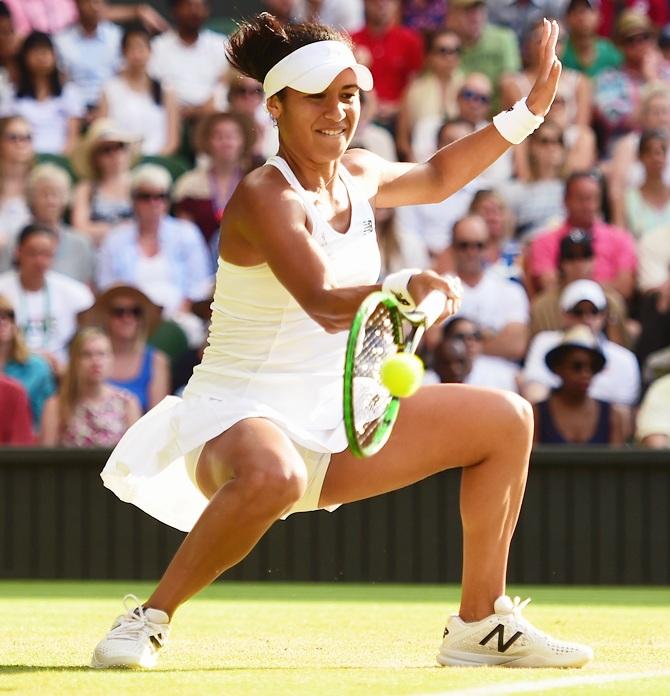 Serena Williams once featured among Heather Watson's bedroom posters but after the Briton almost ran her idol out of Wimbledon.
Copa America PHOTOS: Peru clinch third place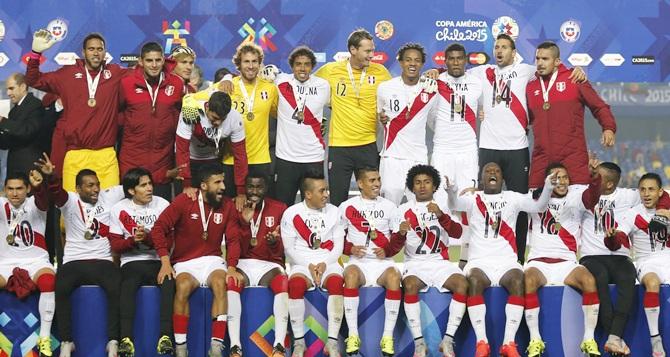 Peru beat Paraguay 2-0 at the Copa America on Friday to ensure they finished in third place.
July 03, 2015
Hockey World League: Belgium thrash India to enter final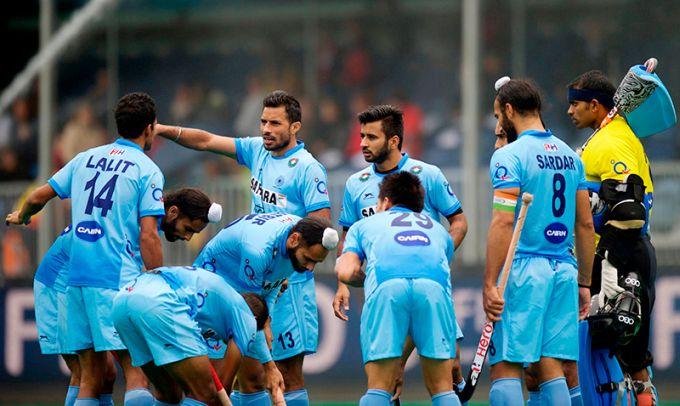 India were outclassed 0-4 by hosts Belgium in a lop-sided last-four clash, with Florent Van Aubel's fine hat-trick playing a pivotal role in the side's passage to the final of the FIH Hockey World League semi-finals in Antwerp.
Djokovic, Sharapova restore order at Wimbledon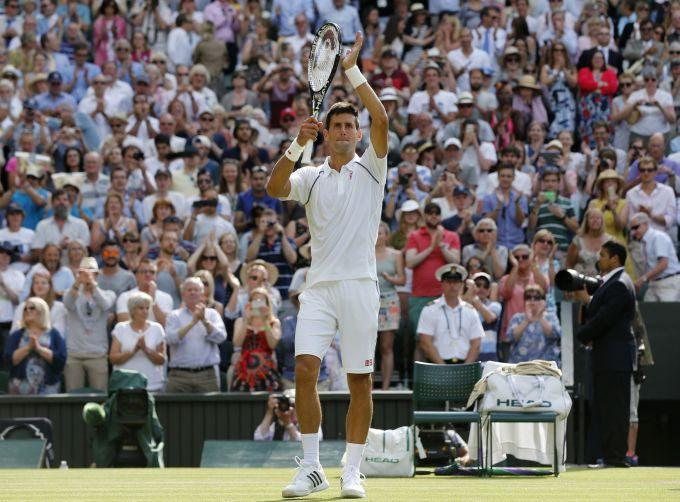 It was job well done for Novak Djokovic as he silenced Bernard Tomic and his Australian Fanatics with an emphatic 6-3, 6-3, 6-3 victory in the Wimbledon third round on Friday.
Shameful! Shocking! Sad day for Pakistan hockey!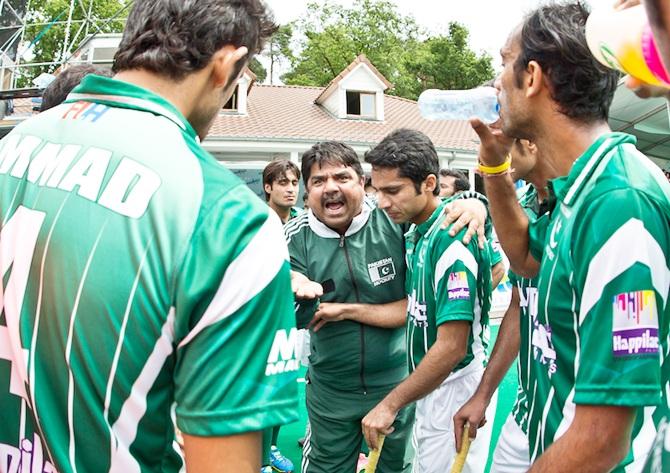 A pall of gloom shrouded the Pakistan hockey community after the national team failed to qualify for the Olympics.
Wimbledon still abuzz over dread-locked Brown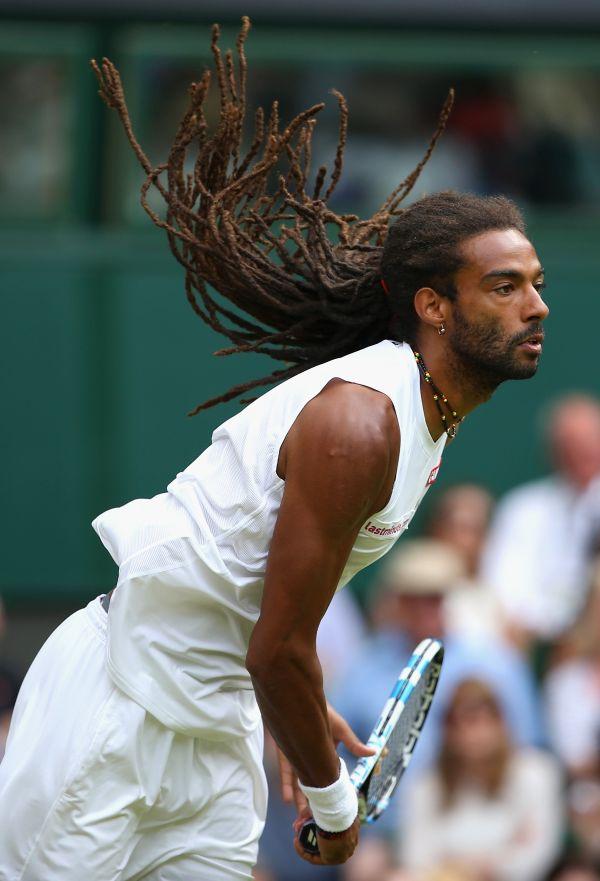 Dread-locked German Dustin Brown was nowhere to be seen at Wimbledon on Friday, at least into the early afternoon, but his shock upset of Rafa Nadal the night before remained the talk of the tournament.
Pakistan lose to Ireland; out of Rio Olympic race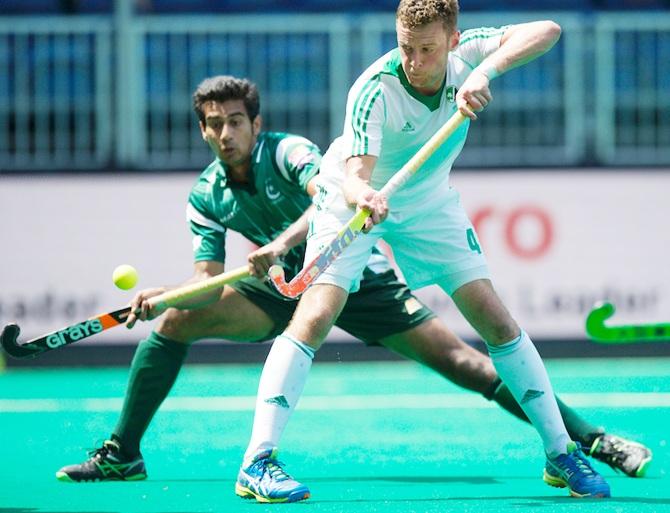 Pakistan men's team slumped to a new low as it failed to qualify for next year's Rio Olympics.
These players have a superior record over Nadal...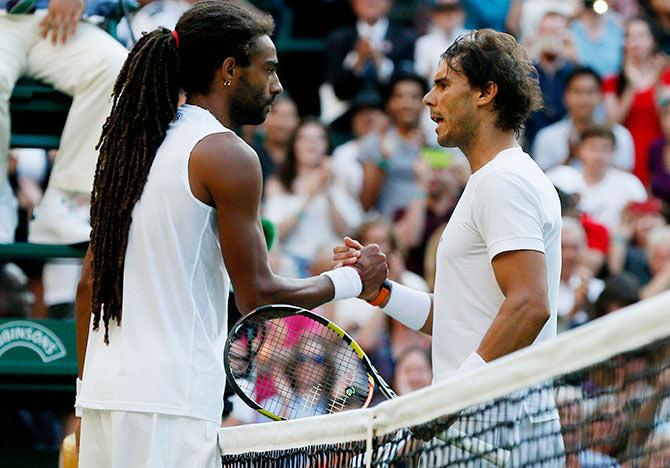 Nadal, is known to have a superior win-loss record over most top players (including Andy Murray and Novak Djokovic), but believe it or not, there are players on the circuit who have an edge over Nadal.
Bopanna, Mergea make it to Wimbledon pre-quarters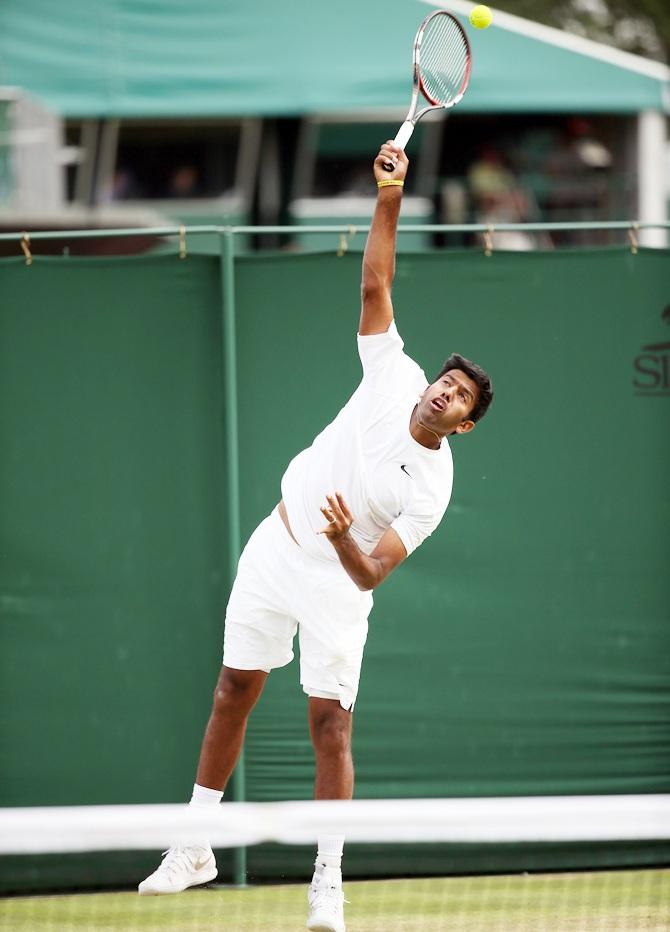 India's Rohan Bopanna and Florin Mergea battled past Thomas Bellucci and Guillermo Duran in straight sets to progress to the pre-quarterfinals of the Wimbledon men's doubles event, in London on Friday.
F1 ditches plan to bring back refuelling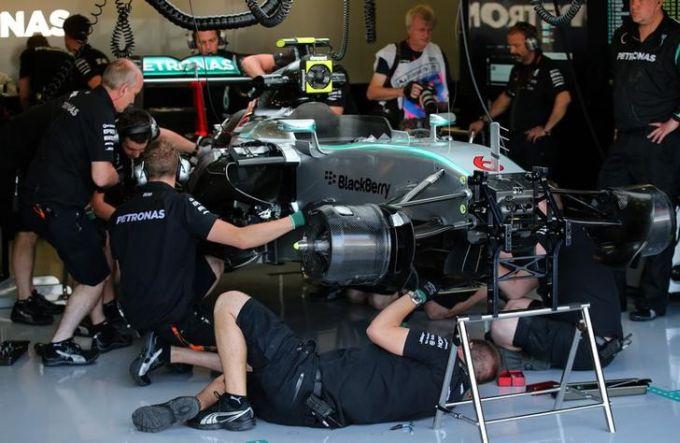 Formula One has abandoned controversial plans to reintroduce refuelling from 2017 after teams decided it would not be a good move, Force India deputy principal Bob Fernley said on Friday.
Chelsea sign Falcao on one-year loan from Monaco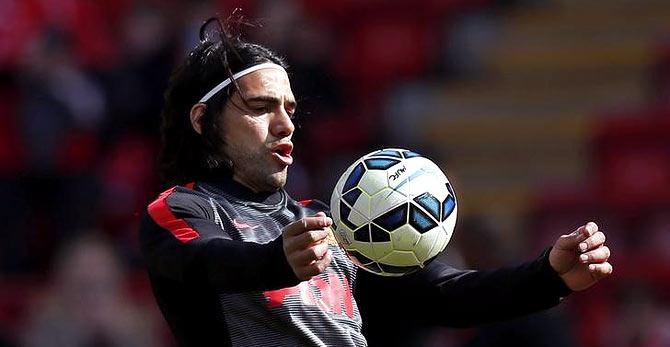 Chelsea have signed Colombia striker Radamel Falcao on a season-long loan from Monaco, the Premier League champions said on Friday.
And the spotlight is on...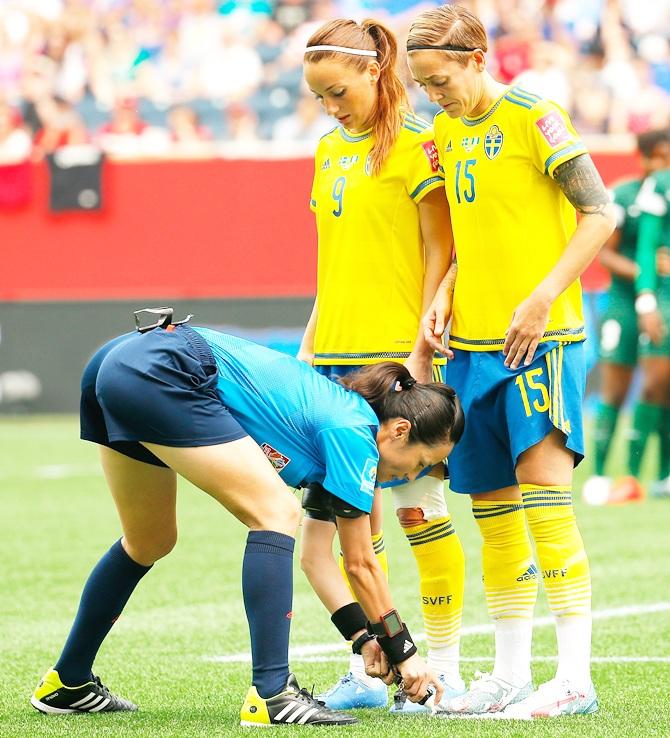 Referees in unwanted spotlight ahead of FIFA Women's World Cup final.
PHOTOS: Celebrities glamour-up Wimbledon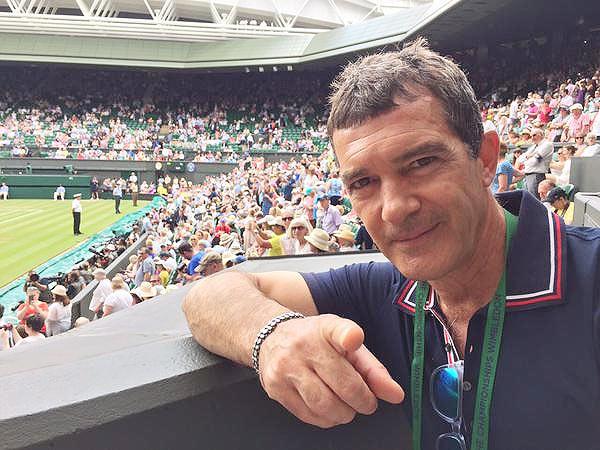 As the stars of tennis sweat it out in pursuit of the Wimbledon Championship crown at the resplendent All England Lawn Tennis and Croquet Club, stars of another planet descend on venue and watch their favourites in action.
Who will win the Women's World Cup final?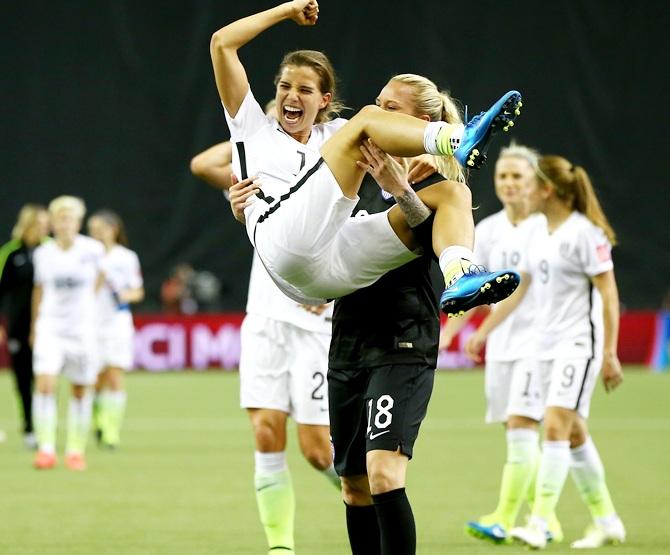 Japan, US have revenge on their minds.
ISL: Anelka returns to Mumbai team, this time as player-manager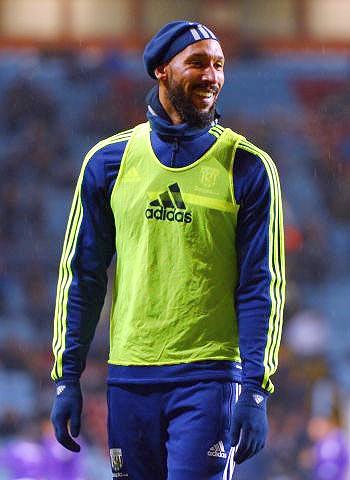 Former France and Chelsea striker Nicolas Anelka will return to Mumbai City FC as the team's marquee player-manager for the second season of the Indian Super League (ISL), the club announced on Friday.
Slumping Nadal set for first slam-less year since 2005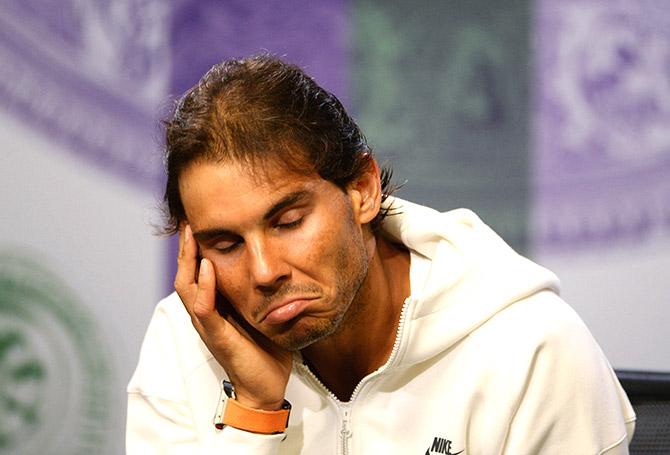 Rafael Nadal is likely to end the year without a grand slam singles title for the first time since his debut French Open crown in 2005 following his shock Wimbledon exit on Thursday, his uncle and coach Toni has conceded.
Dustin Brown, who?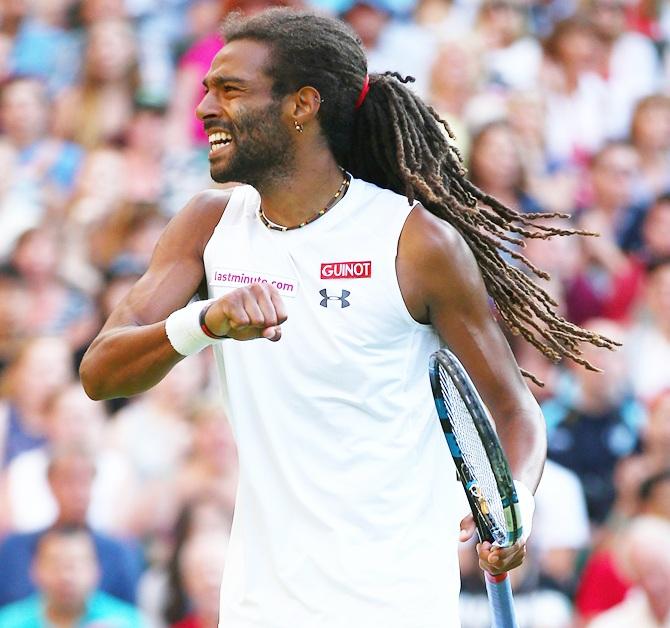 Dustin Brown stole the show at Wimbledon with a sensational upset win over Rafael Nadal. Find out more about this German journeyman...
Wimbledon 'all-white' clothing rule is quite extreme: Federer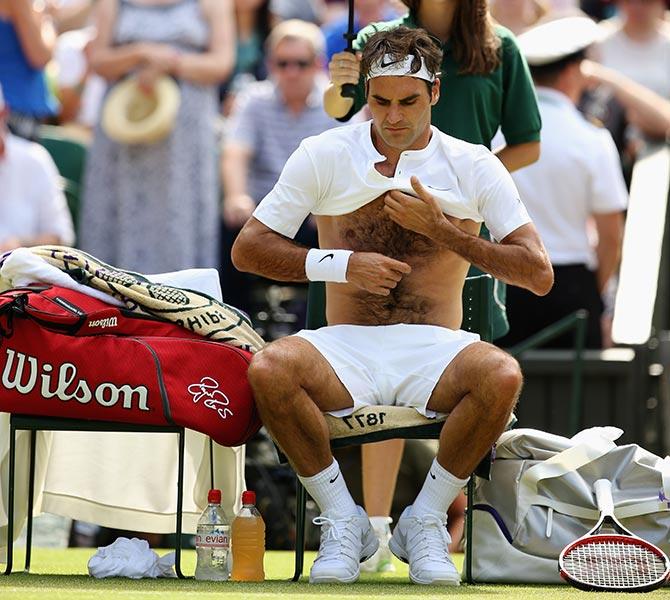 Players' efforts over the years to get Wimbledon's "all-white" clothing rule relaxed got a boost when Roger Federer said he thought the policy as it stood was "quite extreme".
Argentina odds-on favourites to lift Copa America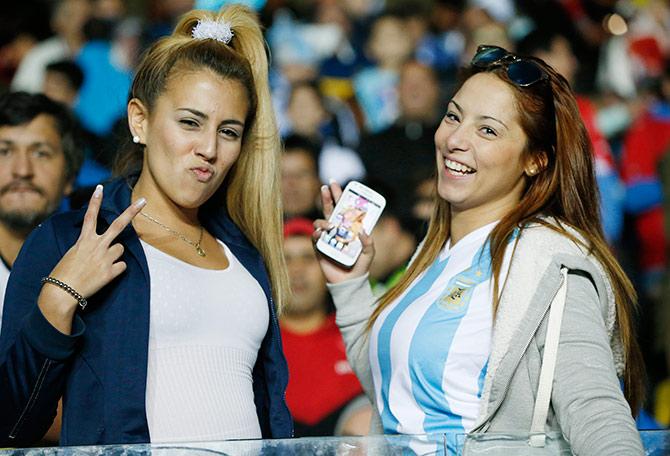 Argentina are odds-on favourites to win the Copa America for the first time since 1993 by beating Chile in Saturday's final.
'My motivation is to be back to that level but I don't know if I can'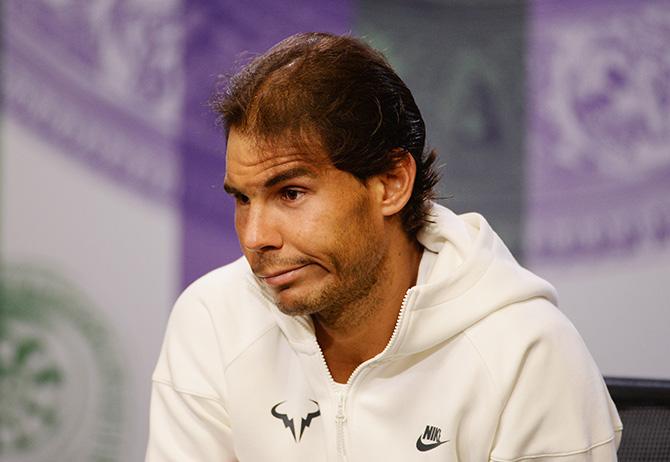 It was a clearly deflated Rafa Nadal who admitted he has no idea whether he can ever reproduce the form that helped him win two Wimbledon titles after maverick Dustin Brown inflicted a fourth successive embarrassment.
Rome 2024 Olympic Games bid endorsed by Italy's CONI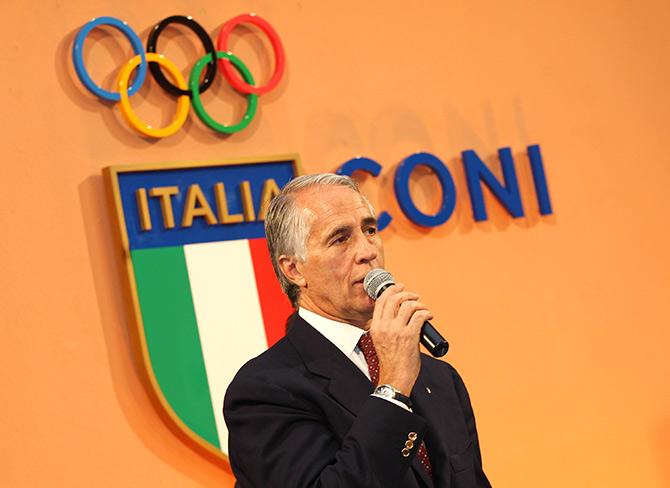 Rome's bid to host the 2024 Olympic Games was unanimously endorsed by the Italian Olympic Committee (CONI) in what bid president Luca di Montezemolo described as an important signal of support.
Hernandez has collarbone surgery, to be out for four weeks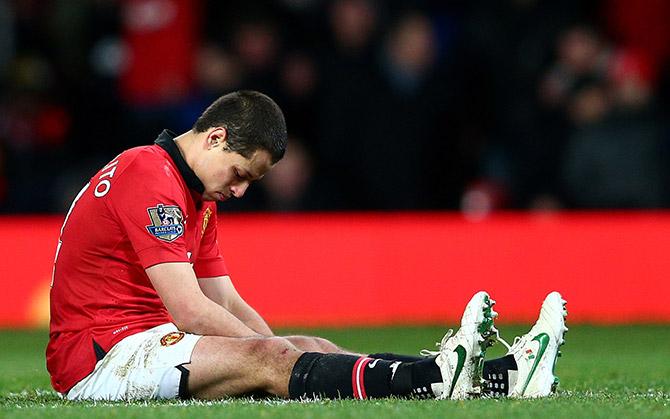 Mexico striker Javier Hernandez had surgery on a fractured collarbone and will be out for four weeks missing the Gold Cup, the Mexican Football Federation (FMF) said.
Superman Dustin sends Nadal to the dustbin again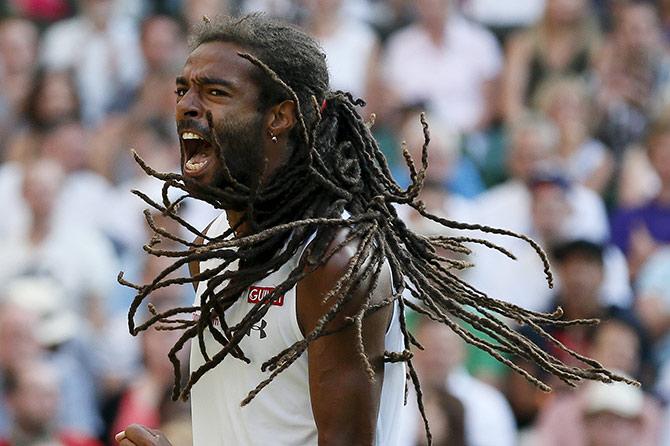 A 30-year-old German journeyman who once travelled around Europe's Challenger Circuit in a camper van joined a list of Wimbledon luminaries who go by the names of Lukas Rosol, Steve Darcis and Nick Kyrgios.
'If F1 continues on its current path, it is headed for a major crisis'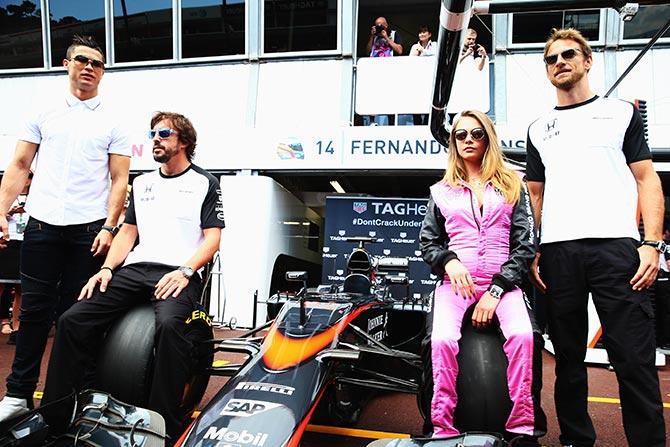 Former FIA president Max Mosley has warned that Formula One risks serious difficulties unless it changes direction and cuts costs.
Shakhtar Donetsk sell record scorer Luiz Adriano to AC Milan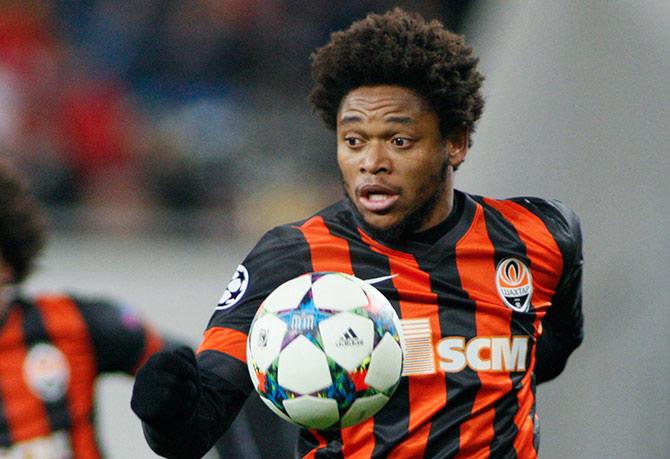 Shakhtar Donetsk have sold their all-time leading scorer Luiz Adriano to AC Milan for eight million euros (6 million pounds), the Ukrainian club announced.
Duchess of Cornwall is proud owner of a Murray souvenir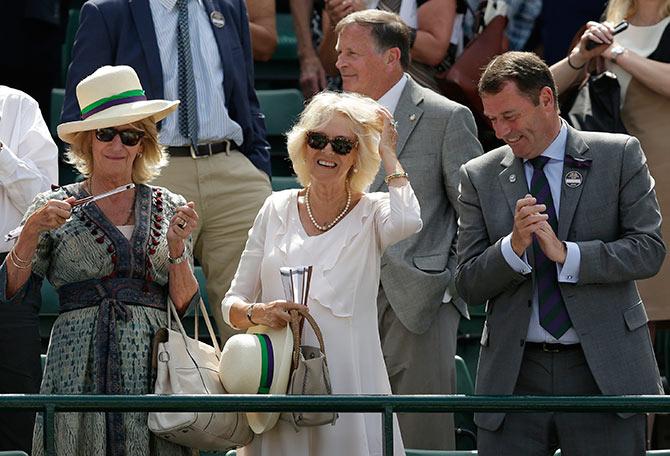 Every fan visiting Wimbledon hopes to be lucky enough to walk out of the All England Club with more than just a memory of watching a tennis hero -- and Britain's royal family is no different.
Portugal winger Nani to have Fenerbahce medical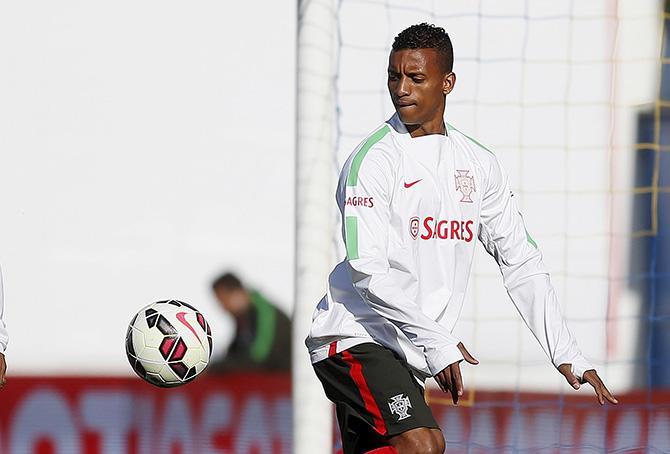 Portugal winger Nani is set to join Fenerbahce from Manchester United with the Turkish club saying negotiations were underway and he will be in Istanbul on Sunday for a medical.
Nadal loss sends shockwaves round Wimbledon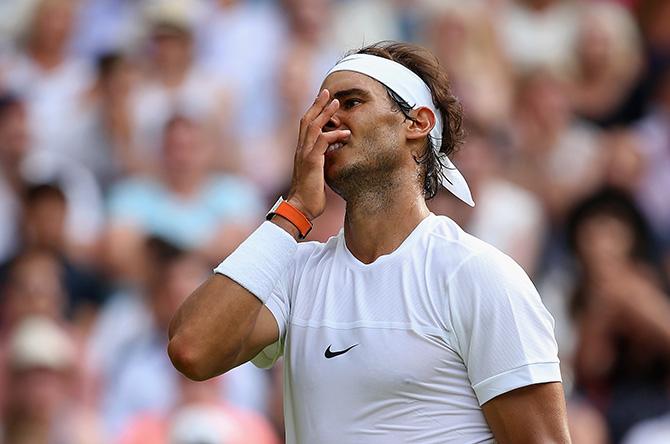 The untroubled advance of the heavy hitters at Wimbledon was spectacularly halted on Thursday when twice champion Rafa Nadal was bundled out by German qualifier Dustin Brown who played the match of his life.
July 02, 2015
Hockey World League: India beat Italy, keep Olympic dreams alive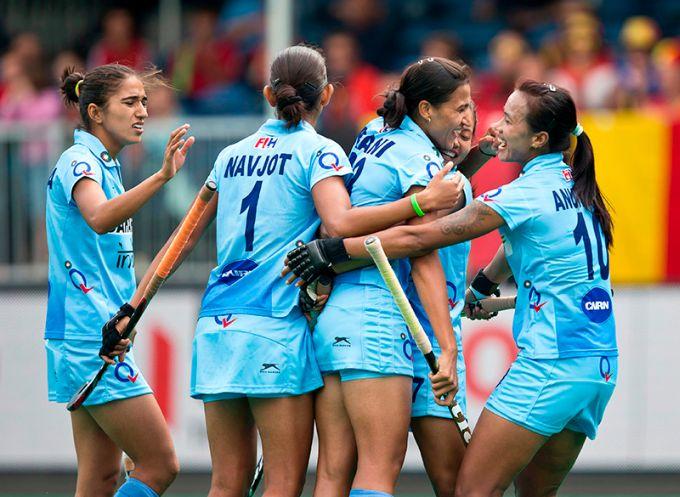 India kept their Olympic qualification dreams alive by beating lower-ranked Italy in the shoot-out in a classification match of the women's Hockey World League semi-finals at the KHC Dragons Stadium in Antwerp.
United States asks Swiss to extradite 7 in FIFA inquiry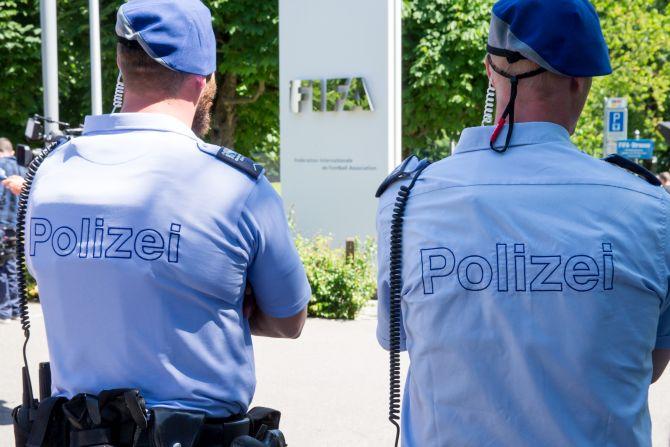 The United States has asked Switzerland to extradite seven FIFA officials arrested in an investigation into a global bribery scandal at soccer's governing body, the Swiss Federal Office of Justice (FOJ) said on Thursday.
Sushil opts out of World Championships with shoulder injury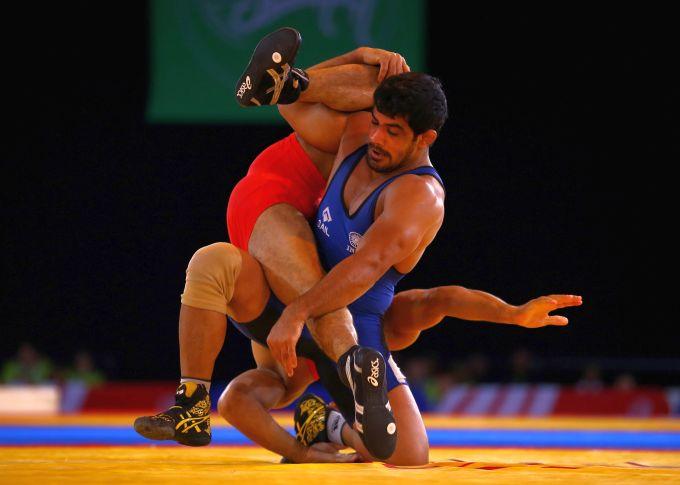 Two-time Olympic-medallist Sushil Kumar has opted out of the World Championships after sustaining a shoulder injury, thereby taking the sheen out of the upcoming selection trials, slated for July 6-7 in New Delhi.
Nicol David's reign extends to 9th year...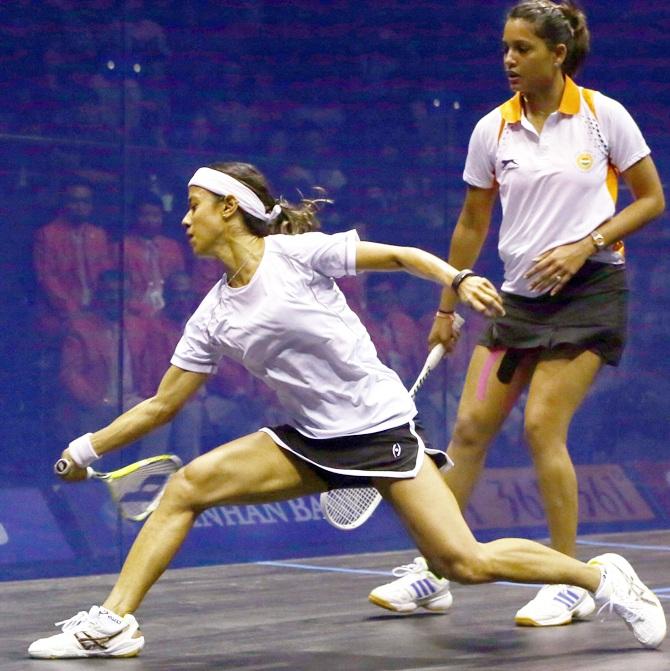 Malaysia's Nicol David celebrates her ninth year as world squash No 1 this week.
Serena wastes no time putting Babos behind her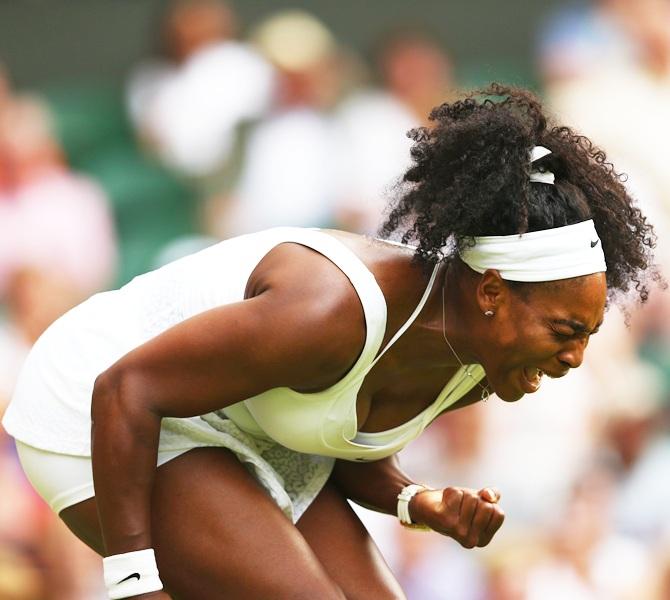 Serena Williams wasted no time in sweeping aside big-serving Hungarian Timea Babos.
England's Laura Bassett will head home a hero...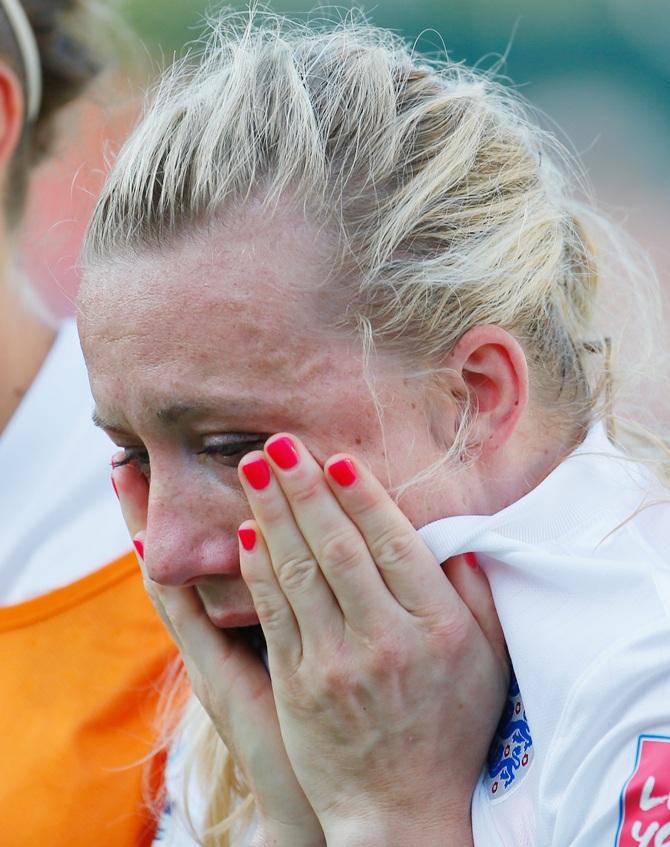 England coach Mark Sampson said defender Laura Bassett would head home as a hero.
With eyes on ISL's domestic draft, Zico to arrive in Goa on Monday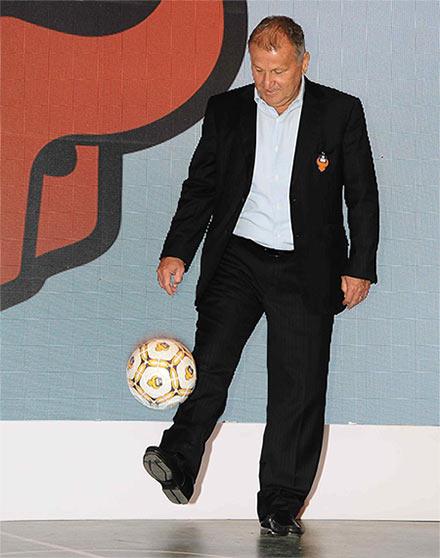 FC Goa's chief coach Zico will arrive in the state on July 6 to take stock of all new signings.
Wimbledon: Sania-Hingis advance to second round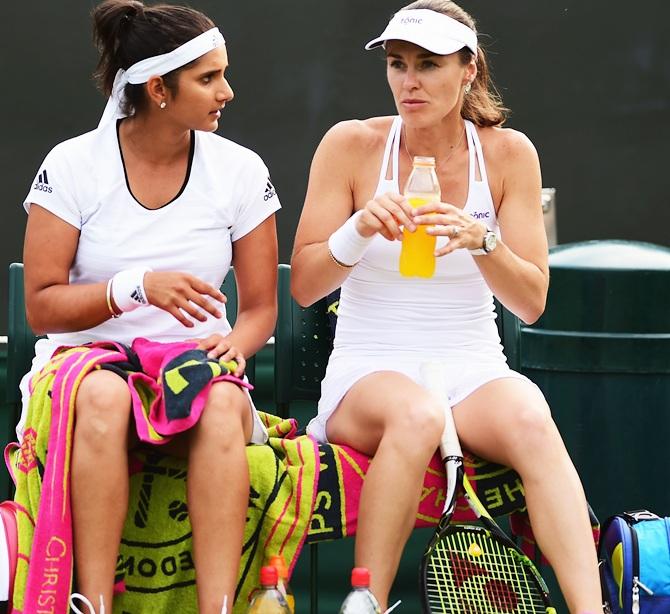 Sania Mirza and Martina Hingis advanced to the second round of the Wimbledon Championships, defeating the duo of Saisai Zheng and Zarina Diyas in the opening round on Wednesday night. The top seeded Indo-Swiss pair defeated the Chinese-Kazakh team 6-2, 6-2.
Avian star 'Rufus' patrols the skies during Wimbledon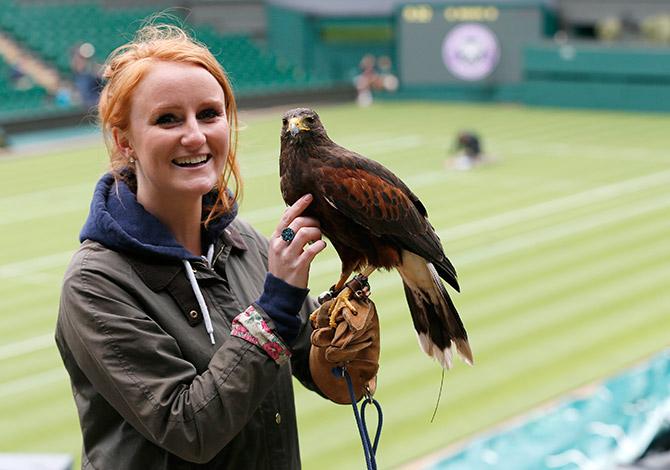 Male tennis players from the United States are almost as rare as hen's teeth at Wimbledon this year, but a hawk native to North and South America definitely rules the roost when it comes to clearing the championship courts of pigeons.
Woods 'began dating' Amanda while he was with Lindsey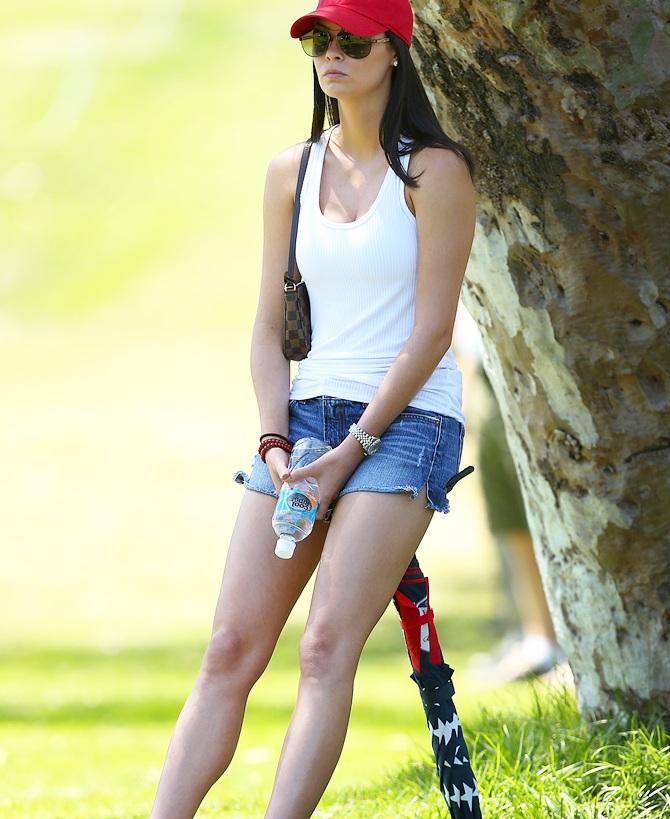 Tiger Woods has been accused of having an affair with Amanda Boyd, the ex-wife of his fellow golfing professional Jason Dufner.
Who will win this year's Tour de France? Meet the top contenders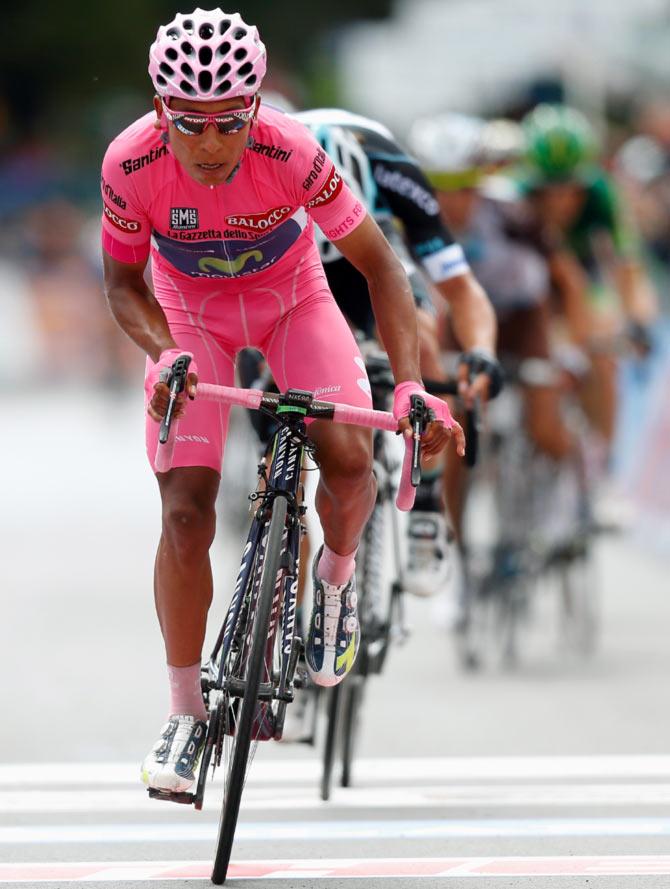 Check out the main contenders for this year's Tour de France, which starts on Saturday in Utrecht, Netherlands.
There will be life a