May 22, 2013
CAS reject Murofushi appeal against IOC election block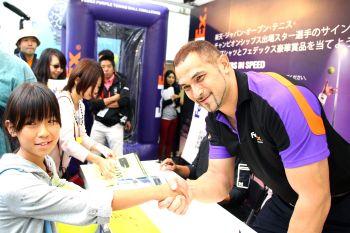 The Court of Arbitration for Sport have rejected Japanese hammer thrower Koji Murofushi's appeal against the blocking of his election to the International Olympic Committee's Athletes Commission, CAS said on Wednesday.
Tomic will play French Open despite troubles: Woodbridge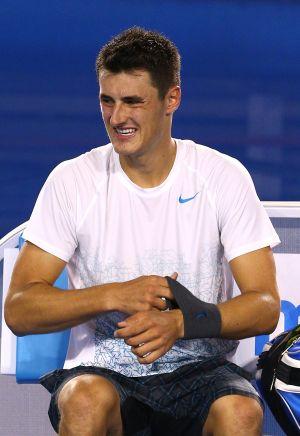 Bernard Tomic will play at next week's French Open despite his off-court troubles if only to keep some momentum going for the grasscourt season ahead, Tennis Australia's Todd Woodbridge said on Wednesday.
Dortmund's Goetze out of Champions League final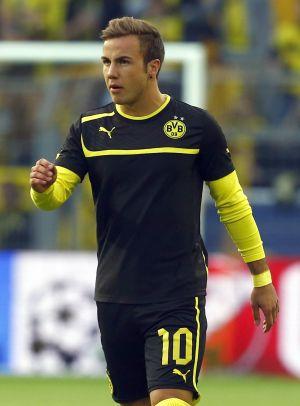 Borussia Dortmund midfielder Mario Goetze will miss Saturday's Champions League final against Bayern Munich due to a thigh muscle injury, the Bundesliga club said on Wednesday.
Malaysia FA, Police to investigate match-fixing claims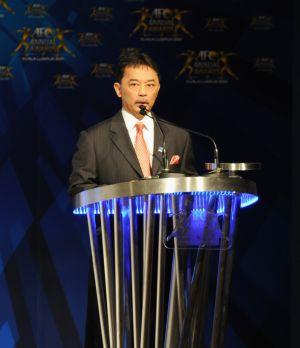 Claims of match-fixing in a Malaysian league fixture will be investigated by the country's Football Association (FAM) and sports minister on Thursday, local media reported, with the police urged to protect players from bookmakers.
Pallikal in British Open squash pre-quarters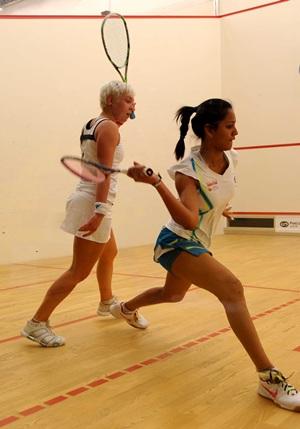 India's Dipika Pallikal defeated Denmark's Line Hansen in what was the longest match of the tournament so far. The world No 15 had to dig deep for 76 minutes to get the better of her Danish opponent 13-11, 14-16, 11-6, 8-11, 11-4, at Ponterfact.
Garcia's fried chicken jibe 'hurtful', says Woods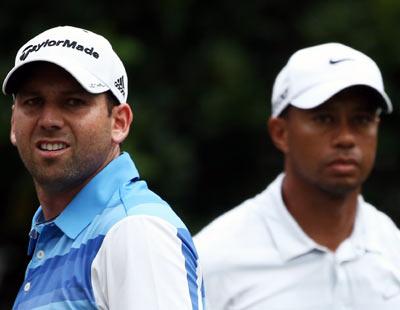 The feud between world number one Tiger Woods and Sergio Garcia deepened when Woods described the Spaniard's "fried chicken" jibe as "wrong, hurtful and inappropriate" on Wednesday.
'India has great potential as a table tennis nation'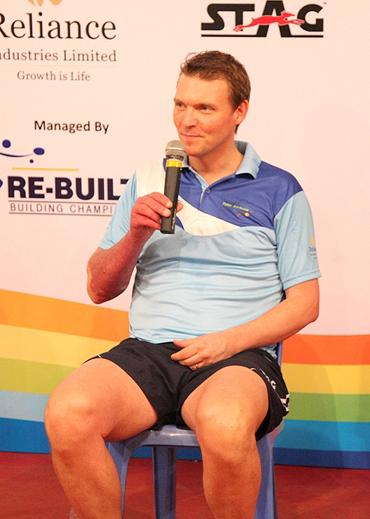 Former World champion Peter Karlsson said that India has the potential to be a top nation in table tennis and the next 10-15 years will augur well for the sport in the country.
Garcia apologises for 'fried chicken' jibe at Woods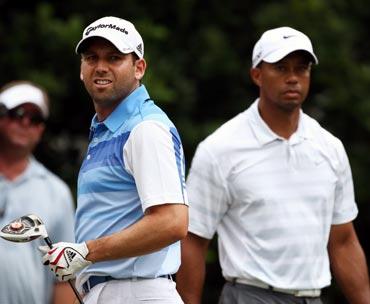 Spaniard Sergio Garcia has apologised after a "fried chicken" jibe aimed at world number one Tiger Woods during a European Tour awards dinner on Tuesday.
Malaga have European ban lifted by UEFA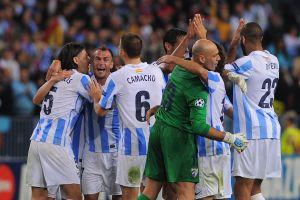 Malaga will be free to compete in the Europa League next season after UEFA announced on Wednesday that the European ban imposed on the Spanish club had been lifted.
I-League: Bhowmick quits Churchill Brothers
Churchill Brothers Technical Director Subhash Bhowmick, who was not happy with the club management interfering with the team's affairs, has stepped down from his post.
I-League: Milan Singh joins Shillong Lajong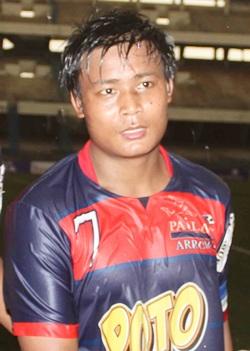 Pailan Arrows skipper Milan Singh ended his successful three-season stint with the team and has signed a contract with Shillong Lajong FC for two years.
Police quiz Pistorius's friend in murder case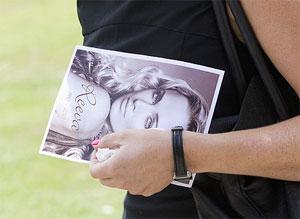 A blonde socialite has been questioned by detectives over her relationship with Paralympic star Oscar Pistorius, who has been accused of murder.
India stumble in Women's Asian Cup Qualifiers opener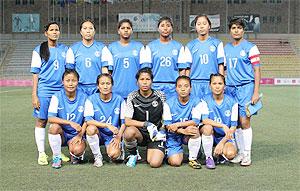 The Indian women's football team failed to overturn a two-goal deficit and went down 0-2 to Myanmar in their first group D encounter of the AFC Women's Asian Cup (Qualifiers) in Ramallah, West Bank.
Injured Murray to skip French Open
World No 2 Andy Murray is set to miss the French Open with the back injury. The injury became severe at the Rome Masters, and, after meeting with medical specialists Murray has decided to skip the second Grand Slam of the year.
May 21, 2013
Arunima is first woman amputee to conquer Mt. Everest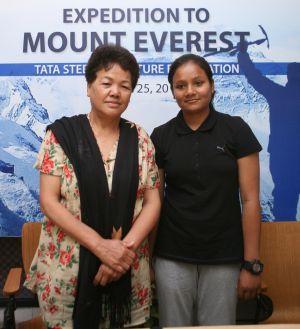 In a show of indomitable spirit, zeal and grit, Arunima Sinha became the first woman in the world to conquer Mt. Everest in prosthetic legs.
Manchester United top table for Premier League TV earnings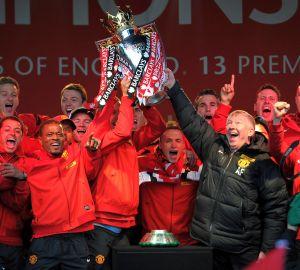 Champions Manchester United topped the table for English Premier League television income in 2012-13, raking in almost 61 million in the final year of the current three-year contract, the League said on Tuesday.
Former sprinter Shetty dies in road accident
Former international sprinter Anand Shetty, who met with a road accident, succumbed to his injuries at a hospital in Mangalore.
Ferguson named England's Manager of the Year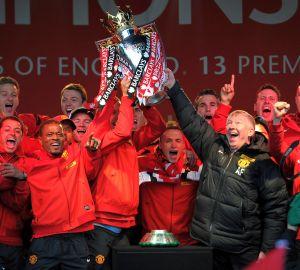 Manchester United manager Alex Ferguson capped his final season in charge of the English Premier League champions by clinching the League Managers' Association Manager of the Year award for the fourth time on Monday.
Racism incidents continue to rise in Italian football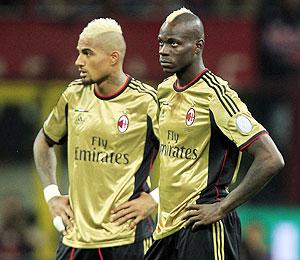 AS Roma and Inter Milan have been fined 50,000 euros after fans chanted racist abuse on the final day of Serie A on Sunday, hours before Fiorentina supporters heckled AC Milan's black striker Mario Balotelli.
Pistorius unlikely to make track return this year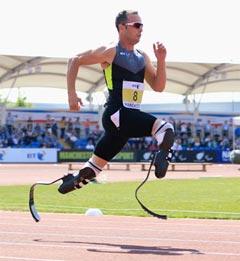 South African Paralympic champion Oscar Pistorius, who is charged with murdering his girlfriend, will not compete in any events this year, local media reported on Monday.
May 20, 2013
Nanao, Dilbagh win silver in Russia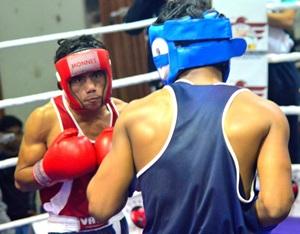 Thokchom Nanao Singh (49kg) and Dilbagh Singh (69kg) had to be content with silver medals after losing their final bouts at the Khabarovsk International competition in Khabarovsk, Russia, on Monday, even as Indian pugilists finished with five medals.
Sudirman Cup: India lose to Indonesia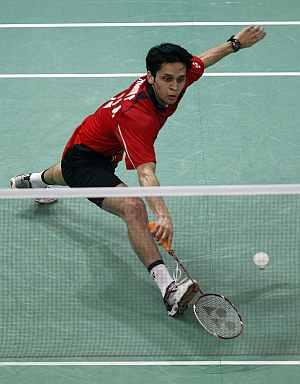 India failed to make the quarter-finals of the Sudirman Cup mixed team badminton championship after suffering a 1-4 thrashing at the hands of Indonesia in their second group match in Kuala Lumpur on Monday.
May 19, 2013
Archery World Cup: Deepika bags two silver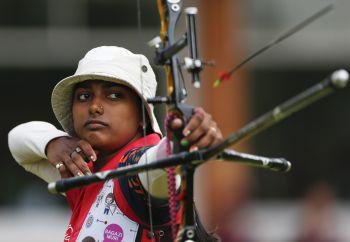 Promising Deepika Kumari was done in by some sheer class of more experienced opponents as she settled for two silver medals, including one with Jayanta Talukdar, to help India finish fourth in the Archery World Cup Stage 1 that concluded in Shanghai on Sunday.
India suffer 0-5 thrashing to China in Sudirman Cup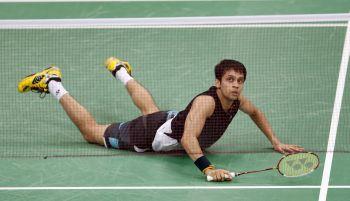 India suffered a 0-5 thrashing at the hands of formidable China in their opening group match of the Sudirman Cup mixed team badminton championship in Kuala Lumpur.
Jharkhand climber conquers highest peak in the world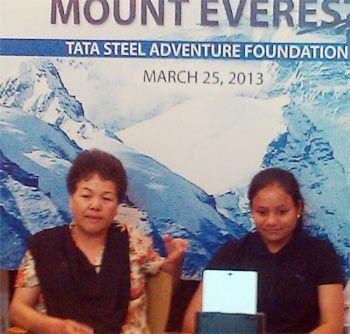 Susen Mahato, a rural youth from Jharkhand, climbed the Mt Everest this morning to become the fourth person from the state to conquer the highest peak in the world.
Wrestling makes drastic changes to please IOC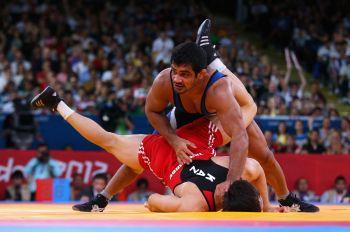 Wrestling has introduced drastic changes designed to keep the ancient sport in the Olympic programme, the newly-elected president of the world governing body (FILA) said on Saturday.
Beckham captains PSG in final home game of the season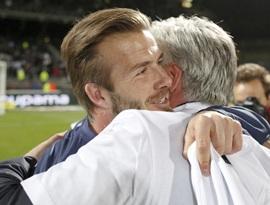 Former England captain David Beckham, who will retire at the end of the season, will skipper French champions Paris St Germain in their final home game, the Ligue 1 club said on Saturday.
Barcelona coach Vilanova needs more cancer treatment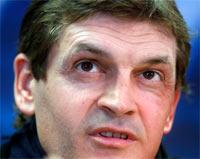 Barcelona coach Tito Vilanova will return to New York next week for more treatment for throat cancer, the La Liga champions said on Saturday.
Samina becomes first Pakistani woman to scale Mt Everest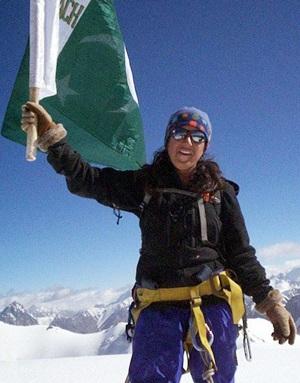 Mountaineer Samina Baig has become the first Pakistani woman to scale Mount Everest, the world's highest mountain peak at 8,848 metres.
May 18, 2013
Wrestling makes drastic changes to please IOC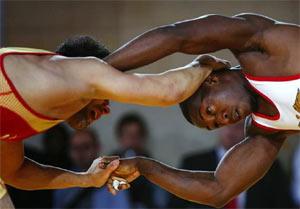 Wrestling has introduced drastic changes designed to keep the ancient sport in the Olympic programme, the newly-elected president of the world governing body (FILA) said on Saturday.
Anand loses to Hao, finishes fourth in Norway Chess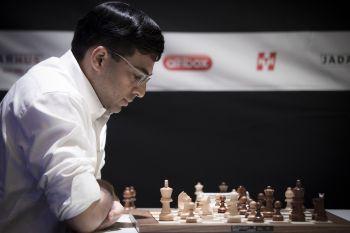 Going all out for a win to clinch the title, world champion Vishwanathan Anand suffered a heart-breaking loss at the hands of Wang Hao of China in the final round to finish a disappointing fourth in the Norway Super Chess tournament in Sandnes.
Gowda, Luka disappoint in Shanghai Diamond League Meeting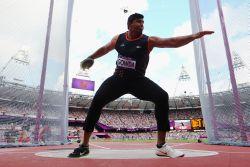 Ace Indian discus thrower Vikas Gowda finished sixth while Tintu Luka ended ninth in 800m race in the second leg of the prestigious Diamond League Meetings series in Shanghai.
India women win bronze in archery World Cup in Shanghai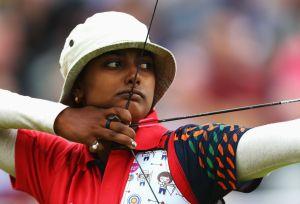 India won a first-ever archery World Cup medal in the compound women section when Trisha Deb, Gagandeep Kaur and Lily Chanu P beat their Italian opponents in the bronze medal play-off in Shanghai on Saturday.
Nanao, Dilbag enter medal rounds of Russian boxing event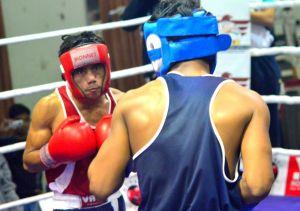 Thokhom Nanao Singh (49kg) and Dilbag Singh (69kg) gave a flying start to India's campaign by entering the semi-finals to assure themselves of medals at the Khabarovsk International Boxing Tournament in Khabarovsk, Russia.
Berdych stuns Djokovic to enter Rome Masters semis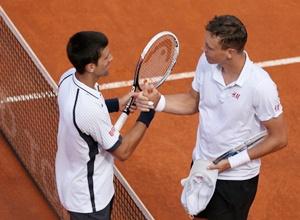 Czech Tomas Berdych snapped a run of 11 consecutive defeats by world number one Novak Djokovic to reach the semi-finals of the Rome Masters before Rafael Nadal was stretched to the limit against David Ferrer on Friday.
May 17, 2013
Indian challenge ends at World TT championship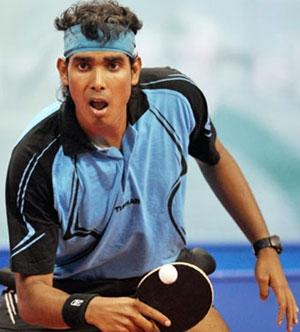 Ace Indian paddler Achantha Sharath Kamal lost to Germany's Timo Boll 1-4 in the second round to crash out of the World Table Tennis Championships in Paris.
May 15, 2013
Hope IOC assists India to return to Olympic fold: Jitendra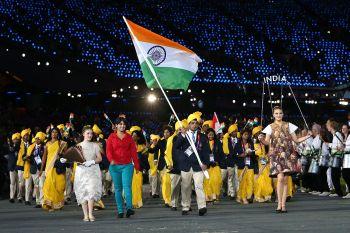 Sports Minister Jitendra Singh asked the International Olympic Committee to "assist" in bringing India back into the Olympic fold and said that the country is at "crossroads" as far as sports administration was concerned.
Roadmap being drawn for India's return to Olympic fold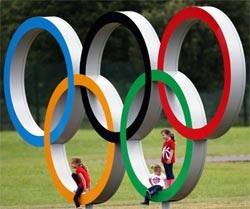 The crucial joint-meeting between Indian officials and the International Olympic Committee in Lausanne agreed in principle on a roadmap to bring India back to the Olympic fold.
Soumyajit makes the cut at World TT Championships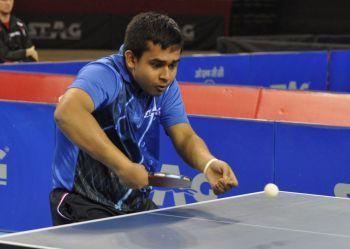 India's Mouma Das, K Shamini and Madhurika Patkar have entered the main draw of the women's singles event while Soumyajit Ghosh too made the cut in the men's competition at the World Table Tennis Championships in Paris.
Unlikely allies Iran, Russia, U.S. unite to save wrestling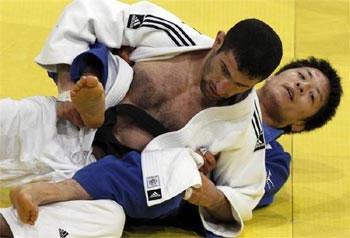 The United States, Iran and Russia may be at odds over issues including Syria's civil war and Tehran's nuclear ambitions, but on Tuesday their wrestling teams formed an unlikely coalition at the United Nations to keep their sport in the Olympics.
May 14, 2013
Boxers suffer as IBF upsets AIBA again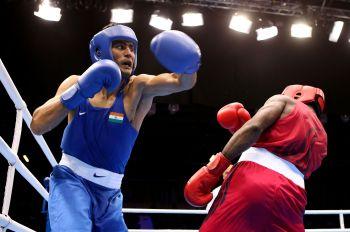 The suspended Indian Boxing Federation has infuriated the International Boxing Association (AIBA) yet again and it is the pugilists who are paying the price for their refusal to act according to the world body's diktat.
Bayern's Heynckes to end Bundesliga coaching career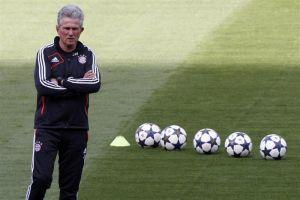 Bayern Munich coach Jupp Heynckes will sit on the coaching bench for a Bundesliga game for the last time when the champions meet his former club Borussia Moenchengladbach in the season finale on Saturday, and hinted on Monday that he might retire.
Singapore's Ng Ser Miang set to make IOC presidency bid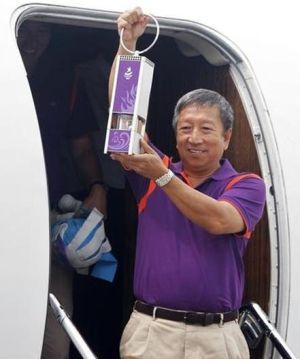 Singapore's Ng Ser Miang is expected to announce a bid for the International Olympic Committee (IOC) presidency on Wednesday, a source close to the Olympic movement told Reuters on Tuesday.
OCA urges IOC to meet only Sports Ministry delegation
The Olympic Council of Asia has thrown its weight behind IOA's disgruntled acting-President V K Malhotra and Secretary General Randhir Singh and has urged the IOC against meeting officials from the suspended IOA during Wednesday's crucial joint meet to end India's Olympic suspension.
May 13, 2013
Robson thrashes Venus to meet Serena next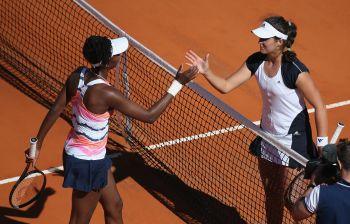 A rusty Venus Williams was blown away 6-3, 6-2 by rising British left-hander Laura Robson at the Rome Masters tennis on Monday.
Tomic father's Madrid hearing suspended until October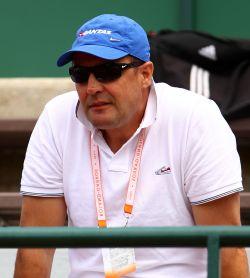 The hearing in Madrid on Tuesday at which John Tomic, father and coach of Australian world tennis number 52 Bernard Tomic, was due to answer a charge of causing criminal injury has been postponed until October, court authorities said on Monday.
Bayern cannot just brush past us, says Dortmund's Klopp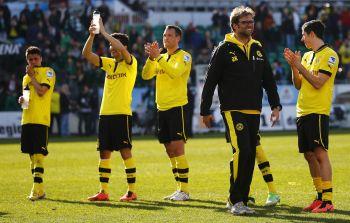 Bayern Munich crushed European heavyweights Barcelona and Juventus en route to the Champions League final but they should not expect the same to happen against Borussia Dortmund, Dortmund coach Juergen Klopp said on Monday.
Russia drops visa requirements for major sporting events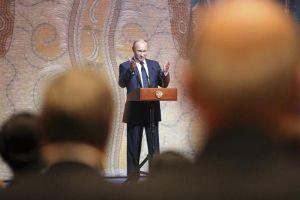 President Vladimir Putin has signed a decree waiving visa requirements for athletes and officials attending international sporting events in Russia, the Kremlin announced on Monday.
Abhinav Bindra recommended for Bharat Ratna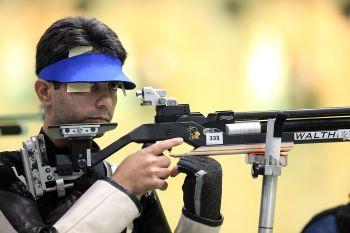 The only Indian to win an individual gold medal in Olympics, shooter Abhinav Bindra, has been recommended for the Bharat Ratna -- the country's highest civilian honour -- by the National Rifle Association of India (NRAI).
IOA delegates gear up for crucial IOC joint meeting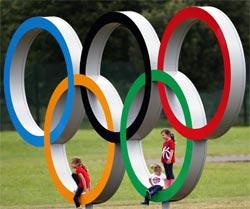 The top Indian Olympic Association (IOA) delegates were busy giving finishing touches to their action plan as they geared up for the crucial meeting with the International Olympic Committee in Lausanne to draw a roadmap for India's return to the Olympic fold.
May 12, 2013
Asian GP: Indian athletes clinch 12 medals in 3rd leg
Indian athletes ended their campaign in the three-leg Asian Grand Prix with an impressive 12-medal haul -- including five gold -- in the final meet, in Colombo on Sunday.
Distracted Garcia fumes at Woods after losing lead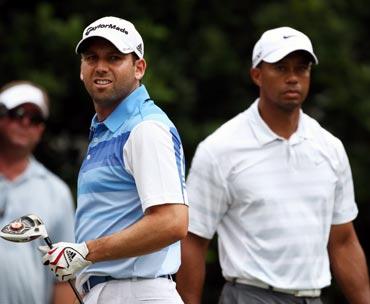 Sergio Garcia blamed a roar from the crowd watching Tiger Woods for an errant shot that saw him lose the lead at the Players Championship on Saturday.
Referees feared Ferguson, says Redknapp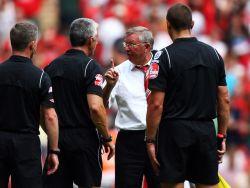 Queens Park Rangers manager Harry Redknapp has revealed that officials and referees always feared upsetting Manchester United manager Alex Ferguson, who is due to retire at end of the current English football season after being at helm for 26 years.
Turkish Open: Nicollet slips to 38th after 3rd round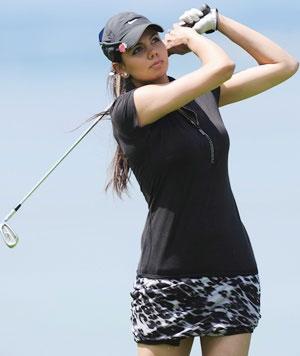 Sharmila Nicollet dropped two late bogeys on 16th and 18th holes to finish with a third round card of three-over 76 and slip to tied 38th at the Turkish Airlines Ladies Open.
WFI withdraws 6 medallists from jr C'ship suspecting dope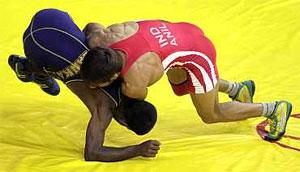 Taking a tough stand against suspected dope offenders, the Wrestling Federation of India has withdrawn the names of at least six medal winners at the just concluded Junior National Wrestling Championship after they failed to provide samples for tests.
May 11, 2013
Massa and Gutierrez handed grid penalties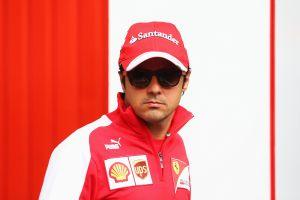 Ferrari's Felipe Massa and Sauber's Mexican rookie Esteban Gutierrez were handed three-place grid penalties at the Spanish Grand Prix on Saturday for impeding rivals in qualifying.
Two-goal Lampard breaks record as Chelsea win at Villa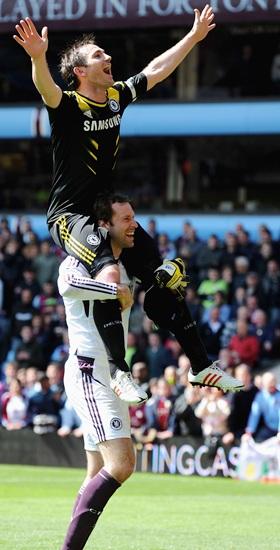 Frank Lampard broke Chelsea's all-time scoring record with two goals as the European champions all but secured a top-four finish in the Premier League with a 2-1 win in an incident-packed game at Aston Villa on Saturday.
Shrestha wins Surya Nepal Masters after Abhijit falters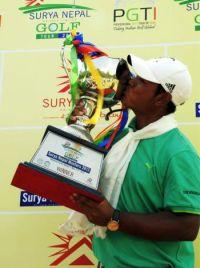 Defending champion Abhijit Singh Chadha faltered in the play-off as local favourite Shivaram Shrestha lifted the 20th Surya Nepal Masters golf tournament at the Gokarna Forest Golf Resort in Kathmandu on Saturday.
Randhir, Malhotra remain adamant on pullout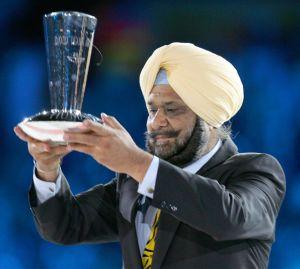 With four days to go for the crucial meeting between Indian officials and the International Olympic Committee, efforts to persuade acting IOA President VK Malhotra and IOC member in India Randhir Singh to reconsider their decision to pull out have not borne fruit with both insisting on staying away.
Anand crushes Topalov, moves to joint second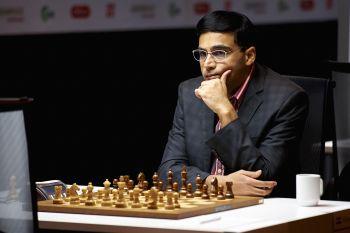 World champion Viswanathan Anand crushed his former challenger Veselin Topalov of Bulgaria in the third round to jump to the joint second spot in the Norway Chess 2013 super tournament in Sandnes.
Bhupathi-Bopanna lose at Madrid Masters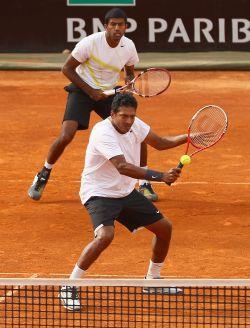 Indian Challenge ended at the Madrid Open with the straight set defeat of Mahesh Bhupathi and Rohan Bopanna at the hands of unseeded team of Jeremy Chardy and Lukas Kubot in Madrid.
Divij, Purav bow out of Kunming Challenger
Divij Sharan and Purav Raja overcame a wobbly start to put up a good fight but eventually lost the semifinals of the $125,000 ATP Challenger tournament to Samuel Groth and John-Patrick Smith in Kunming.
May 10, 2013
Commonwealth TT: India finish with 2 silver, 7 bronze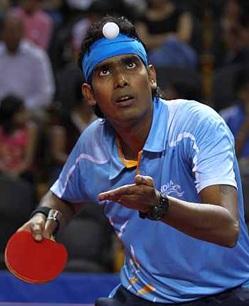 Achantha Sharath Kamal and Mouma Das suffered contrasting semi-final defeats in the singles as India rounded up its Commonwealth Table Tennis Championships campaign without a gold medal, in Delhi, on Friday.
Everton warn media: Don't ask Moyes about United job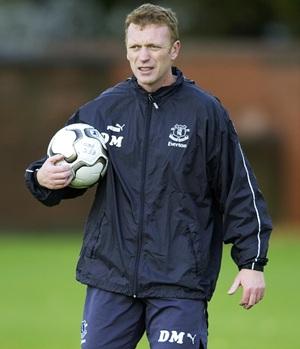 Everton manager David Moyes will not answer questions about his new appointment at Manchester United when he speaks to journalists at his regular Friday news briefing, the club said.
Mourinho return would be great for Chelsea, says Lampard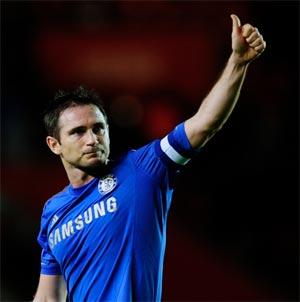 Frank Lampard would love to see Jose Mourinho return for a second stint as coach of Chelsea, the England midfielder said on Thursday.
Brit sailing champ dies as boat capsizes in US at training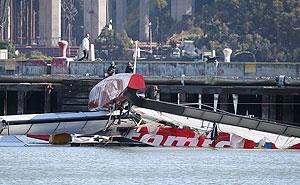 British yacht-racing champion Andrew 'Bart' Simpson, who won a gold medal at the 2008 Summer Olympics in Beijing, was killed on Thursday when his vessel capsized in San Francisco Bay during training for the America's Cup, his team said.
May 09, 2013
CWG TT: Indians shine; Mouma bags mixed doubles silver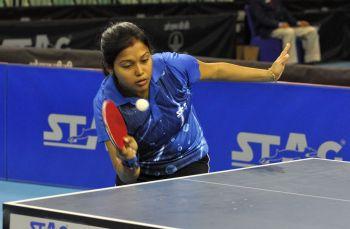 India's Mouma Das bagged a silver medal in the mixed doubles event while entering the semi-finals of the singles and doubles competition, to round off a sparkling day for the hosts at the 19th Commonwealth Table Tennis Championships in New Delhi.
Relaxed Serena through to last eight in Madrid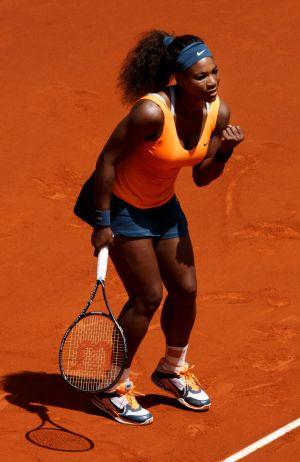 A laid-back Serena Williams breezed into the Madrid Open quarter-finals on Thursday when she barely broke sweat in a 6-3, 6-1 drubbing of Maria Kirilenko.
China's Lin Dan awarded World Championship wild card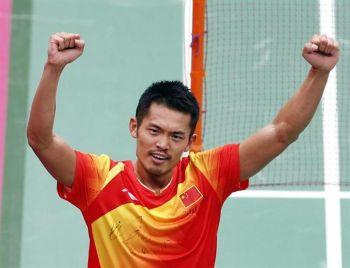 Double Olympic champion Lin Dan of China will defend his World Championships title in August after receiving a wild card for the Guangzhou event, the Badminton World Federation (BWF) said on Thursday.
'Malhotra's presence does not matter too much'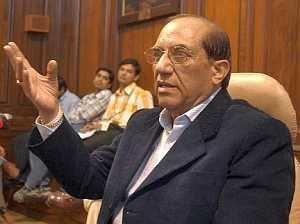 Sports Ministry termed Vijay Kumar Malhotra's decision to stay away from the May 15 meeting with the International Olympic Committee in Lausanne as "disappointing" but said that the Indian Olympic Association acting chief's presence would not have in any case mattered too much.
Malhotra, Randhir pull out of IOC meet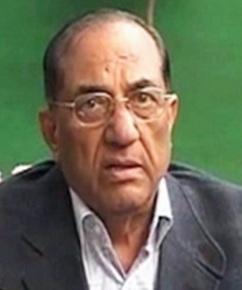 The Indian Olympic Association's acting president V K Malhotra and IOC member in India Randhir Singh are apparently miffed with the world body's changed stance.
Golfer Singh sues PGA Tour over doping case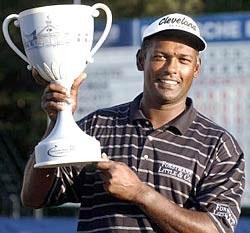 Former World No 1 Vijay Singh sued the PGA Tour on Wednesday, a week after golf's premier tour dropped a doping a case against the three-times major winner.
May 08, 2013
Indian men settle for Commonwealth TT silver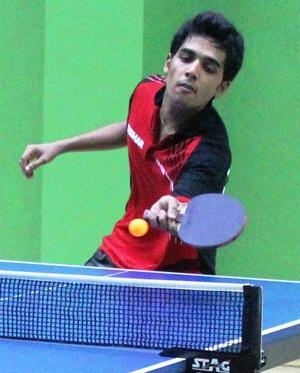 The Indian men's team suffered a 0-3 thrashing from a much superior Singapore and had to settle for the silver medal at the 19th Commonwealth Table Tennis Championships, in New Delhi, on Wednesday.
Punjab cops' plea to test Vijender dismissed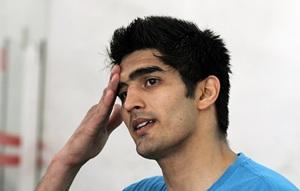 Punjab Police's attempt to "bring out the truth" behind the alleged use of heroin by Beijing Olympics boxing bronze medallist Vijender Singh was nipped in the bud after a local court dismissed its application seeking directions to procure his hair and fingernail samples for testing in the heroin haul case.
NBA: Knicks beat Pacers to level series at 1-1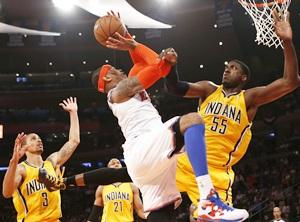 Carmelo Anthony scored 32 points, including 20 in the second half, as the New York Knicks turned on the razzle to thrash the Indiana Pacers 105-79 on Tuesday and level their best-of-seven NBA playoff series at 1-1.
Is Sir Alex Ferguson poised to call it quits?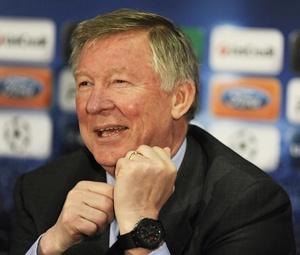 Manchester United boss Sir Alex Ferguson's future seems to be in doubt. There are ripe suggestions that the 71-year old Scot is considering drawing his nearly 27-year reign as manager to an end.
May 07, 2013
Raghunath, Sunil score in India's win over Netherlands
Indian team began its preparations for the FIH Men's Hockey World League semi-finals with a 2-0 win over hosts Netherlands on Tuesday.
Badminton players to get two challenges per match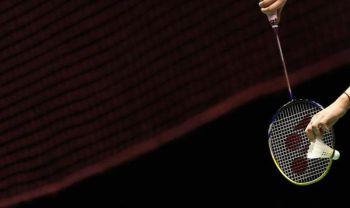 Shuttlers will be allowed two challenges when badminton uses technology to rule on contentious decisions for the first time at next month's Indonesia Open, the governing body of the sport said.
Serena makes serene progress into Madrid third round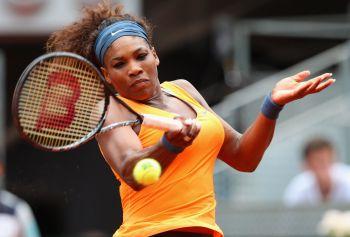 World number one and defending champion Serena Williams continued her serene progress at the Madrid Open tennis when she eased past Spanish wild card Lourdes Dominguez Lino 6-2, 7-5 in the second round on Tuesday.
Commonwealth TT: Indian men in final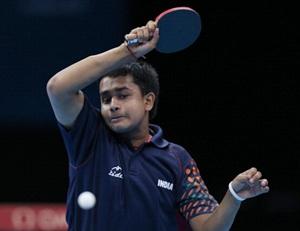 India's men paddlers entered the final of the team championship at the 19th Commonwealth Championships, beating England, while the women went down fighting to the same opponents, in the semi-finals, in Delhi, on Tuesday. While the men prevailed 3-2, the women's team lost 2-3 and had to settle for the bronze medal.
Pacquiao returns to the ring to take on Rios in Macau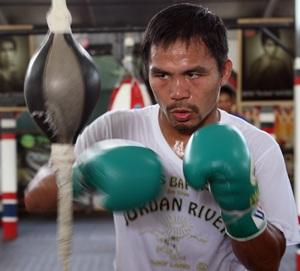 Manny Pacquiao will return to the ring to fight American Brandon Rios in a 12-round welterweight clash in Macau on November 24, the Filipino's publicist said.
O'Shea rescues point to ease Sunderland relegation fears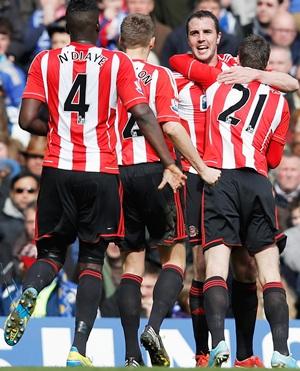 John O'Shea scored a second-half equaliser as 10-man Sunderland rescued a 1-1 draw at home to StokeCity on Monday that moved them three points clear of the Premier League relegation zone.
May 06, 2013
India assured of two medals at Commonwealth TT Ch'ship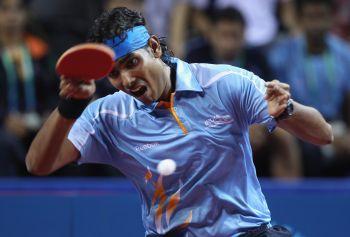 Indian paddlers continued to impress as both men's and women's teams assured themselves of at least two bronze medals by progressing to the semi-finals of the 19th Commonwealth Table Tennis Championships in New Delhi.
It feels good to be back in form: Neha Aggarwal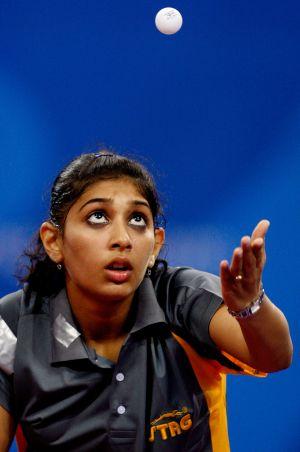 Neha Aggarwal, who was touted as one of the most promising talents in table tennis when she earned a berth in the 2008 Beijing Olympics, could not quite lived up to the expectations but the Delhi girl said that she was slowly getting her rhythm back.
Tomic's father to appear in court after attack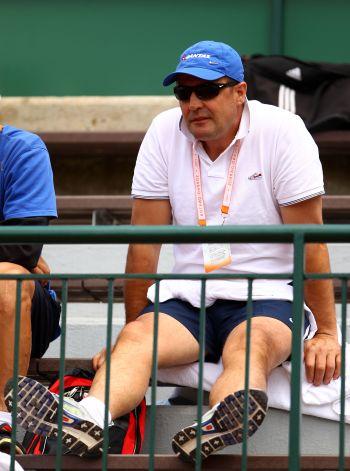 Bernard Tomic's father and coach John is due to appear in a Madrid court later on Monday after he attacked one of his son's coaching team on a street in the Spanish capital at the weekend, local police sources said.
Indian shooting coach denied US visa
India's pistol shooters competing in the ISSF World Cup in Fort Benning, USA, will be without the services of coach Sayed Wajid Ali, as he has been denied a visa to travel for the May 4-13 tournament. The National Rifle Association of India (NRAI) said the US embassy is yet to give a reason for denying the government core-group coach visa.
NBA: LeBron James named Most Valuable Player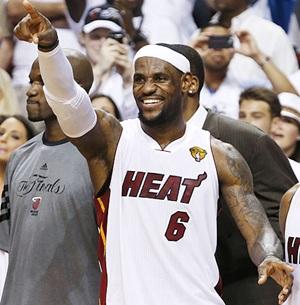 Miami Heat forward LeBron James was named the National Basketball Association's Most Valuable Player for the 2012-13 season on Sunday.
Juve win title, Klose scores five for Lazio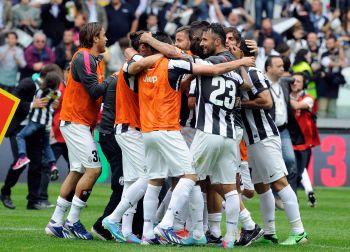 Juventus clinched their second successive Serie A title with three games to spare by beating Palermo 1-0 on Sunday while Miroslav Klose hit five goals in Lazio's 6-0 demolition of hapless Bologna.
May 05, 2013
Everton's European hopes fade after Liverpool draw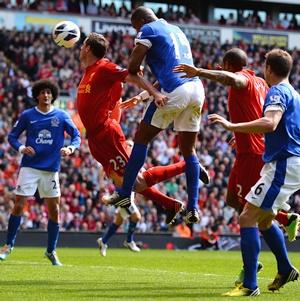 Everton's hopes of playing European football next season receded after they drew 0-0 at city rivals Liverpool on Sunday.
Indian paddlers enter Rd 2 of Commonwealth TT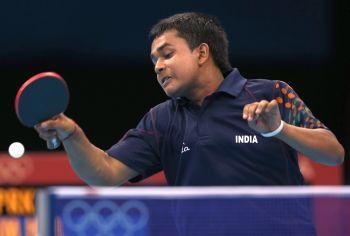 It was a good beginning for the Indian paddlers in the Commonwealth Table Tennis Championships, as both the women's and men's team advanced to the second round of the tournament with minimum fuss in New Delhi.
Mayweather cruises to points win on ring return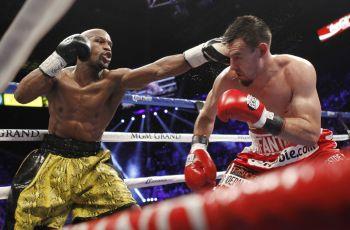 Floyd Mayweather showed little sign of ring-rust after a year out of the sport as he used sublime defense and a steady parade of right hands to dominate fellow American Robert Guerrero and retain his WBC welterweight championship on Saturday.
Evert hurt by Connors' revelations of 'private matter'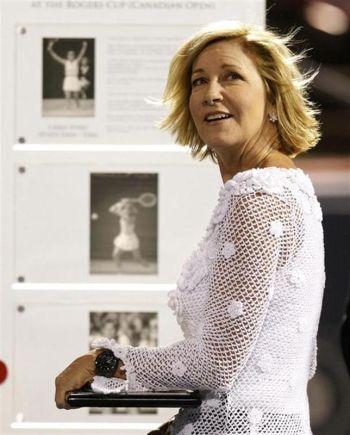 Tennis great Chris Evert has hit out at her former fiance Jimmy Connors for hinting that their relationship ended in the 1970s after she had an abortion against his wishes.
May 04, 2013
Dempo hold East Bengal to a 2-2 draw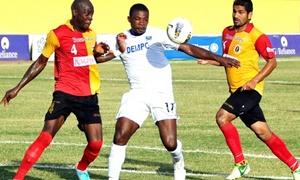 East Bengal's chance to stay in contention for the title race ended after they were held to a 2-2 draw by Dempo FC in the 25th round of the I-League played at Tilak Maidan Stadium in Vasco on Saturday.
Bale strikes to boost Spurs' Champions League bid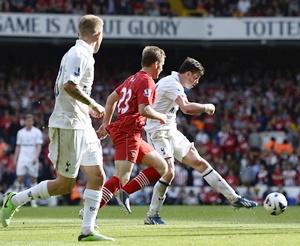 English player of the year Gareth Bale scored a spectacular late winner to boost Tottenham Hotspur's Champions League hopes with a 1-0 victory over Southampton in the Premier League on Saturday.
HI recommends Sardar for Rajiv Gandhi Khel Ratna award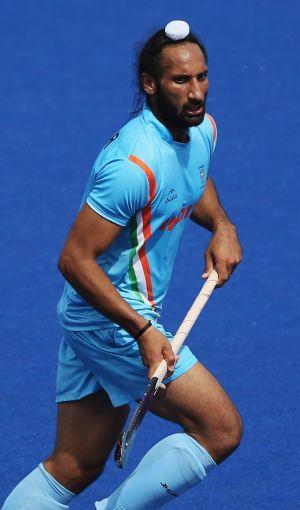 India captain Sardar Singh has been nominated by the Hockey India for the prestigious Rajiv Gandhi Khel Ratna Award.
Divij-Raja end runners-up in Johannesburg Challenger
Divij Sharan and Purav Raja had to be content with yet another runners-up finish after losing the title clash of the ATP Soweto Open to Prakash Amritraj and Rajeev Ram in Johannesburg.
May 03, 2013
ATP chief Drewett dies aged 54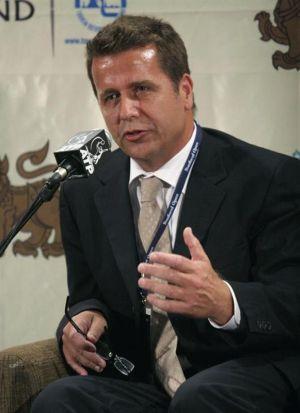 Brad Drewett, executive chairman and president of the men's ATP Tour since 2012, died aged 54 on Friday from Motor Neurone Disease, the ATP said in a statement.
'Govt won't go to IOC meet unless there's consensus'
The Sports Ministry said unless there is consensus in the IOA, the government will not be going for the meeting with the International Olympic Committee scheduled to be held in Lausanne on May 15 to find a way for India's return to the Olympic movement.
Jeev, Bhullar make cut in China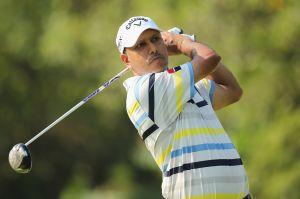 Jeev Milkha Singh comfortably made the cut while Gaganjeet Bhullar had to dig deep with three birdies in last four holes to join him for the weekend rounds at the European Tour event Volvo China Open.
Sindhu enters final of Malaysia Grand Prix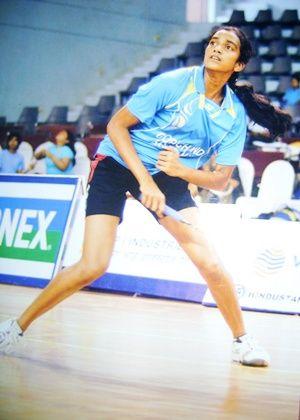 Top seed P V Sindhu stormed into the final of the women's singles event at the Malaysia Grand Prix Gold badminton tournament with a straight-game win over Sapsiree Taerattanachai of Thailand in Kuala Lumpur.
Promising archer commits suicide at training camp
In a shocking incident, Pratima Boro, an international archer from Assam, committed suicide at the Army Sports Training Centre in Pune where she has been participating in the national camp.
Del Potro ruled out of Madrid Open with virus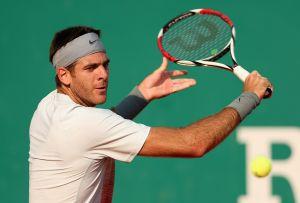 World number seven Juan Martin del Potro has withdrawn from next week's Madrid Open because of a viral infection, organisers said on Friday.
IOA finalises four-member delegation for IOC meeting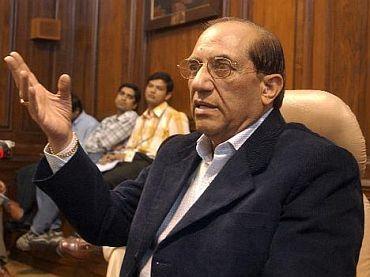 The Indian Olympic Association (IOA) finalised a four-member delegation, which will accompany Sports Ministry officials, for a meeting with the International Olympic Committee in Lausanne on May 15 to find a way for India's return to the Olympic movement.
India denies visa to Pakistan paddlers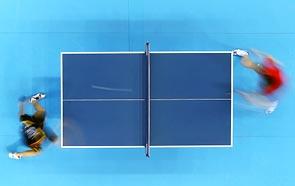 Paddlers from across the border will not be participating in the upcoming Commonwealth Table Tennis Championships in New Delhi, as the Indian authorities have not granted visas to the Pakistani squad for the tournament, starting on May 5.
Ronaldinho sparks Atletico Libertadores comeback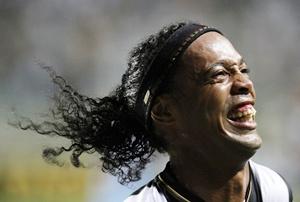 Libertadores Cup favourites Atletico Mineiro took a big step towards the quarter-finals with a 2-1 away win over 10-man Sao Paulo in the first leg of their last 16 tie on Thursday.
Derrick joins Salgaocar FC as coach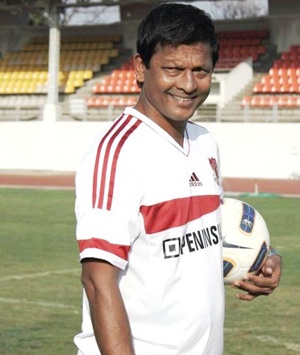 Pune FC coach Derrick Pereira is finally back with Salgaocar FC after he signed a deal his former club, according to club secretary Raj Gomes.
NBA: What next for Lakers after tumultuous season?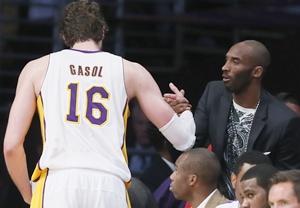 After enduring a roller-coaster season described by Hall of Famer Earvin 'Magic' Johnson as "one of the worst" in franchise history, Los Angeles Lakers fans are scratching their heads over what may happen next.
McIlroy among seven tied for Wells Fargo lead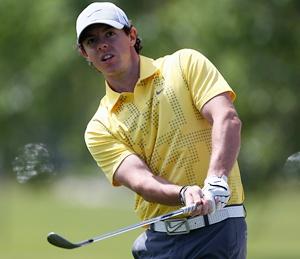 World No 2 Rory McIlroy, back at the scene of his first PGA Tour win, fired a five-under 67 at Quail Hollow on Thursday for a seven-way share of the first-round lead in the Wells Fargo Championship in Charlotte, North Carolina.
Chelsea rollercoaster ride heading for more glory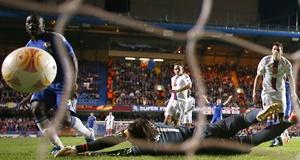 Chelsea's rollercoaster of a season could yet end with another night of European glory after they knocked FC Basel out of the semi-finals on Thursday to set up a Europa League final against Benfica.
Blatter drops hint he plans to stay on as FIFA president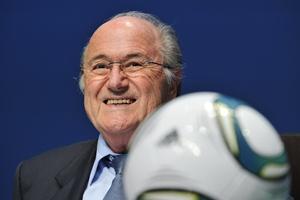 FIFA president Sepp Blatter dropped a hint he plans to stand again for another four year term as the head of world soccer's governing body during a speech to AFC delegates in Malaysia on Friday.
Europa League: Cardozo fires Benfica into final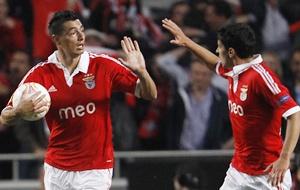 Paraguay striker Oscar Cardozo's well-taken double fired Benfica into a Europa League final with Chelsea after they beat Fenerbahce 3-1 in Lisbon to win their semi-final 3-2 on aggregate.
May 02, 2013
Sindhu in Malaysia GP semis, Gurusaidutt out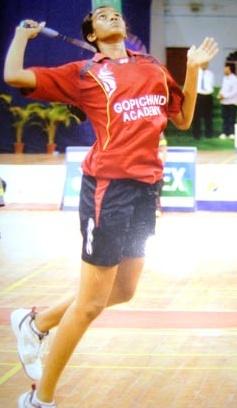 Top seed P V Sindhu stormed into the semi-finals of the women's singles at the Malaysia Grand Prix Gold badminton tournament with a straight-games win over Hera Desi of Indonesia in Kuala Lumpur on Thursday.
NBA: Proud Celtics making stand against Knicks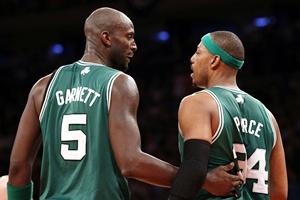 It might be the last Celtics stand for the tandem of Paul Pierce and Kevin Garnett but they showed their class and determination as Boston humbled the New York Knicks at Madison Square Garden on Wednesday.
Mayweather calm in face of 'woman beater' taunts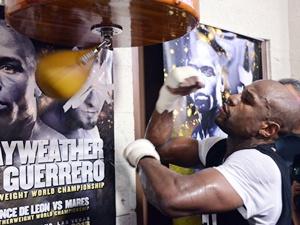 Eight-time World champion Floyd Mayweather refused to be drawn into a war of words at the final news conference for his WBC welterweight title clash with Robert Guerrero on Wednesday, despite being labelled a "woman beater" by his opponent's father.
World bodies back Augusta ruling not to disqualify Woods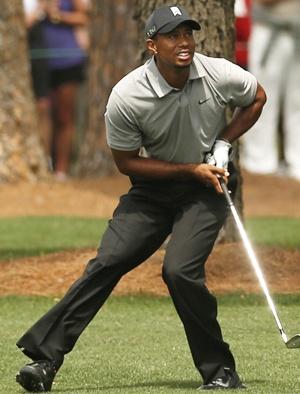 Golf's governing bodies ruled on Wednesday that Augusta National officials made the correct call not to disqualify world number one Tiger Woods for an improper ball drop at the Masters.
Sheikh Salman wins AFC presidential election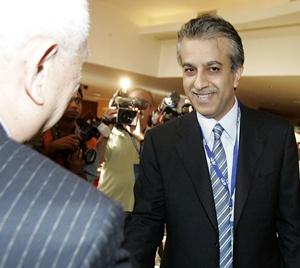 Sheikh Salman Bin Ebrahim Al Khalifa will run Asian football for the next two years after the Bahraini won a three-way election for the presidency of the Asian Football Confederation (AFC) on Thursday.
Bayern spurred by final defeat to Chelsea: Heynckes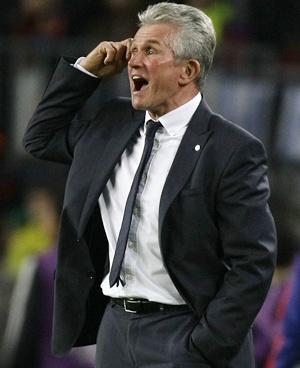 Bayern Munich began to lay the foundations for this season's impressive run to the Champions League final immediately after their defeat to Chelsea in last year's showpiece, coach Jupp Heynckes said on Wednesday.
May 01, 2013
Sindhu, Gurusaidutt advance at Malaysian GP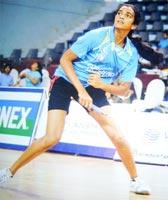 Top seed P V Sindhu advanced to the second round of the Malaysia Grand Prix Gold badminton tournament after recording a win over Singapore's Chena Jiayuan.
WADA disappointed with Puerto verdict, considers appeal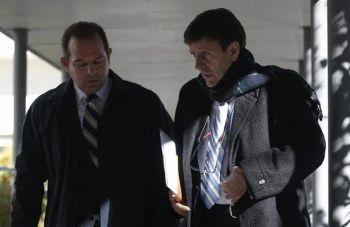 The World Anti-Doping Agency (WADA) has voiced its disappointment with Tuesday's decision by the judge in Spain's "Operation Puerto" doping trial to destroy all the evidence from the case instead of making it available to other sports bodies and said it is considering an appeal.
Poonia to take part in Doha leg of Diamond League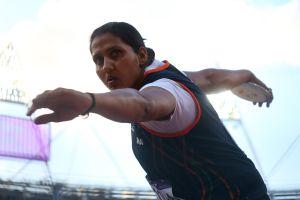 Ace Indian discus thrower Krishna Poonia will be participating in the opening leg of the prestigious Diamond League Meetings series in Doha on May 10, which will give her a launchpad for her preparations for the Asian and World Championships later this year.
Vijay Singh cleared of doping charges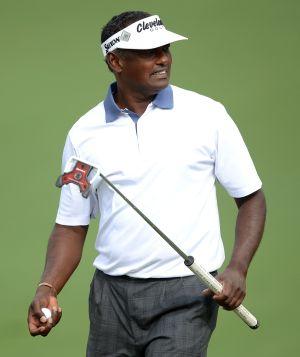 Vijay Singh has been cleared of doping by the PGA Tour despite admitting that he used a spray containing elements of a banned substance.
NRAI files appeal in Delhi High Court
The National Rifle Association of India (NRAI) filed an appeal in the Delhi High Court exactly nine days after the court declared the shooting body's April 6 elections as null and void.
April 30, 2013
Indian shuttlers have mixed day at Malaysia GP
It was a mixed day for Indian shuttlers at the Malaysia Grand Prix Gold badminton tournament, as R M V Gurusaidutt, K Srikanth and c won their respective first round matches while others crashed out of the men's singles, in Kuala Lumpur, on Tuesday.
Tokyo governor apologises for remarks on Muslims, Istanbul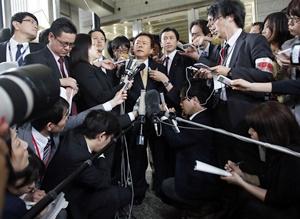 Tokyo's outspoken governor, Naoki Inose, who heads the city's bid for the 2020 Olympics, apologised on Tuesday for "inappropriate" comments he made about rival candidate Istanbul and Islamic countries.
Benteke treble leads Villa rout of Sunderland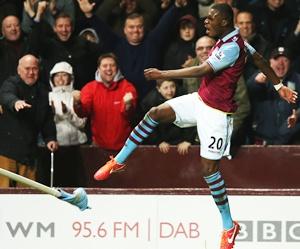 Aston Villa striker Christian Benteke scored a hat-trick to lead his side to a crushing 6-1 win over Sunderland on Monday that gave them a massive lift in their battle for Premier League survival.
Collins comes out as first gay player in US sports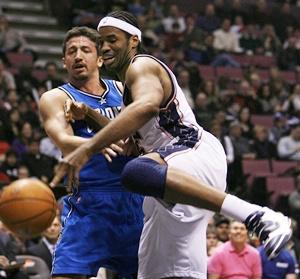 Veteran basketball player Jason Collins announced on Monday that he was gay, smashing through one of the final frontiers in US sports with a frank personal statement and winning warm praise as a groundbreaker.
April 29, 2013
Sindhu to spearhead Indian challenge at Malaysia GP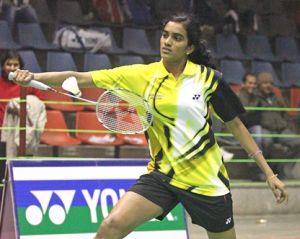 Entering the tournament as the top seed in the women's singles, rising shuttler P V Sindhu will spearhead the Indian challenge at the Malaysia Grand Prix Gold 2013, starting in Kuala Lumpur on Tuesday.
Jwala likely to have a new mixed doubles partner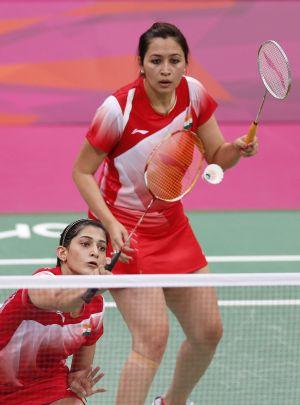 Ace India shuttler Jwala Gutta said that she is likely to have a new mixed doubles partner in Manu Atri from the next tournament.
Birmingham City owner pleads not guilty to money laundering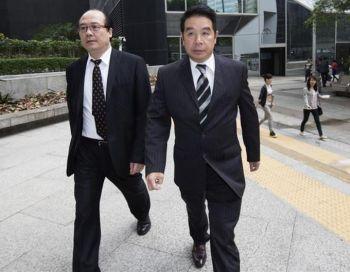 Birmingham City football club owner Carson Yeung pleaded not guilty to charges of laundering more than HK$720 million and his defence team sought to have the case thrown out, saying some related documents were no longer available.
Anand settles for an easy draw against Kramnik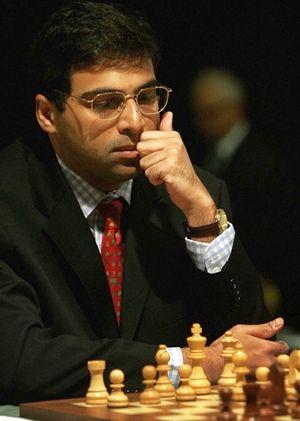 World Champion Viswanathan Anand got off to a good start in the second leg of Alekhine Memorial Chess Tournament by holding Vladimir Kramnik for an easy draw in the sixth round that concluded in St Petersburg.
Chowrasia back in top-20 of Asian Tour Order of Merit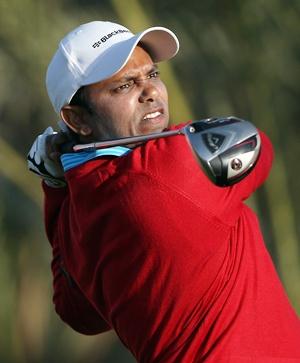 Indian golfer SSP Chowrasia on Monday broke back into the top-20 of the Asian Tour Order of Merit, moving up to 18th after a strong showing at last week's Ballantine's Championship in Korea.
Tottenham's Bale named English PFA player of the year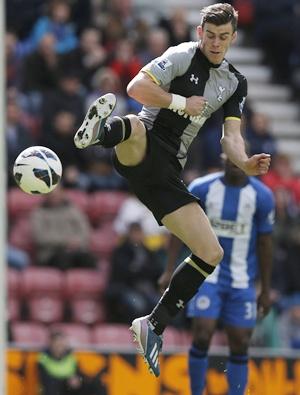 Tottenham Hotspur midfielder Gareth Bale became only the third man to be named the English Professional Footballers' Association (PFA) player of the year and young player of the year in the same season on Sunday.
April 28, 2013
Wei, Intanon are India Open badminton champions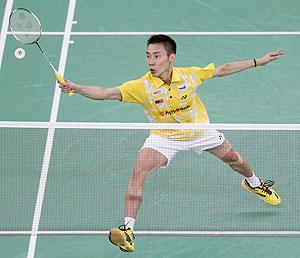 World No 1 Lee Chong Wei faced a stiff challenge but eventually stamped his class to prevail over Kenichi Tago of Japan and claim the men's singles title at India Open Super Series badminton tournament in New Delhi on Sunday.
BAI amends constitution to fall in line with Sports Code
The Badminton Association of India (BAI) has amended its constitution to align itself in accordance with the Government's Sports Code by fixing the age and tenure limitation of its office bearers.
Sania-Bethanie enter final of Stuttgart WTA event
Sania Mirza and Bethanie Mattek-Sands earned themselves a shot at their third title of the season by reaching the final of the WTA Porsche Tennis Grand Prix in Stuttgart.
April 27, 2013
Sindhu top seed at Malaysia GP Gold Badminton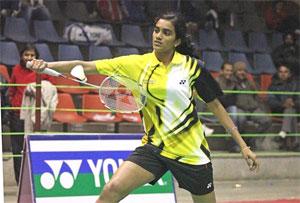 Rising shuttler P V Sindhu has been given the top billing in the women's singles event at the Malaysia Grand Prix Gold 2013 starting in Kuala Lumpur from April 30.
Curtains drawn on India's campaign at India Open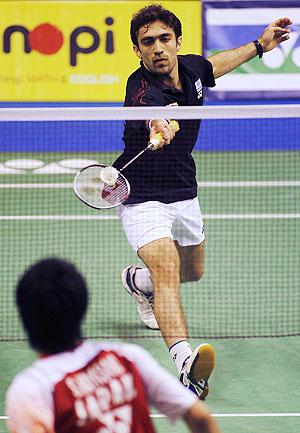 India's campaign at the India Open Super Series badminton tournament ended after P V Sindhu and Anand Pawar lost their respective women's and men's semi-final matches in straight games in New Delhi on Saturday.
April 26, 2013
India to host Thomas, Uber Cup finals in 2014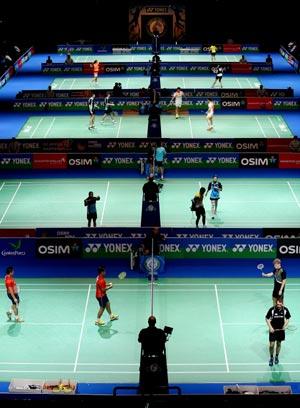 For the first time India will play host to the final rounds of the prestigious Thomas and Uber Cup championship next year after the Badminton World Federation (BWF) officially awarded the hosting rights to the country.
Sindhu, Pawar make it to last four in India Open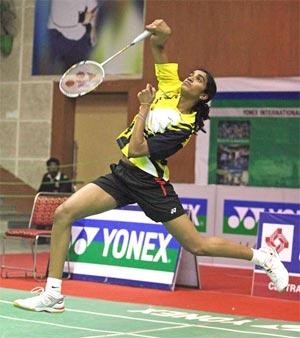 P V Sindhu and Anand Pawar kept India's hopes alive by making it to the semi-finals of the women's and men's singles event of the India Open Super Series Badminton Championship.
UCI go on the attack after latest accusations by USADA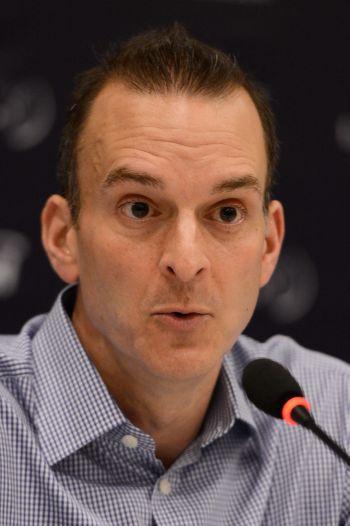 Cycling's world governing body hit back at the US Anti-Doping Agency on Friday after being accused by USADA president Travis Tygart of failing to deal with the consequences of the Lance Armstrong doping scandal.
April 25, 2013
Vijender welcome to join camp: SAI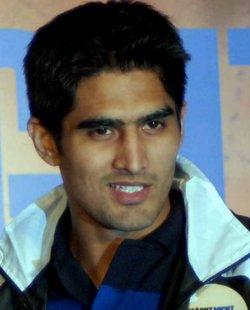 The Sports Authority of India (SAI) said it has no issues on Olympic bronze medallist boxer Vijender Singh joining the camp in Patiala as he has got clearance from the NADA.
Saina crashes out in controversial circumstances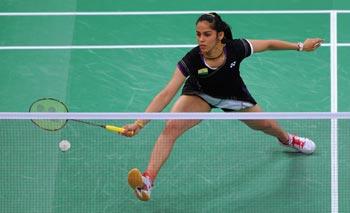 Title favourite and world number two Saina Mirza suffered a shock defeat at the hands of unseeded Yui Hashimoto of Japan in controversial circumstances to crash out of the Yonex Sunrise India Open Super Series in New Delhi.
India Open: Prannoy stuns Hidayat; Sindhu rallies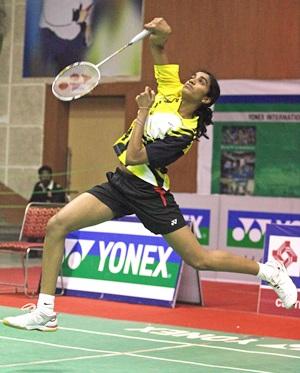 India's H S Prannoy caused the biggest upset of the Yonex Sunrise India Open Super Series, beating former world No 1 Taufik Hidayat in straight games to enter the third round of the men's singles, in New Delhi, on Thursday.
Brazil booed by own fans in 2-2 draw with Chile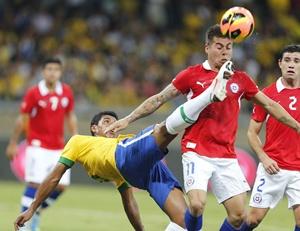 Brazil were booed by their own fans after stumbling to a 2-2 draw with Chile in their first friendly at a 2014 World Cup stadium on Wednesday.
Mourinho aghast over Real's handling of Lewandowski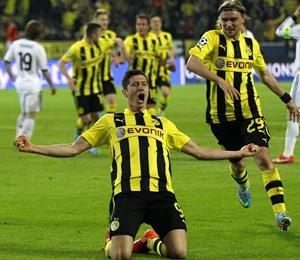 Real Madrid coach Jose Mourinho could not understand how his well-drilled side let Robert Lewandowski score four goals in Borussia Dortmund's 4-1 win on Wednesday but vowed that his team could still reach the Champions League final.
We are not favourites despite big win, says Klopp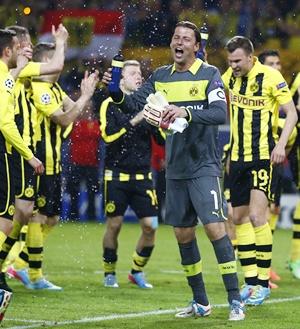 A rampant Borussia Dortmund are by no means favourites to reach the Champions League final despite their crushing 4-1 win against nine-times winners Real Madrid, coach Juergen Klopp said on Wednesday.
April 24, 2013
India Open: Kashyap loses in first round, Saina advances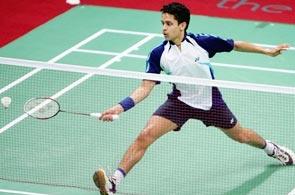 Parupalli Kashyap went down fighting to former World No. 1 Taufik Hidayat of Indonesia in the first round of the men's singles event in what turned out to be a mixed day for the Indians at the Yonex Sunrise India Open in New Delhi.
NBA: Smothering defense carries Knicks past Celtics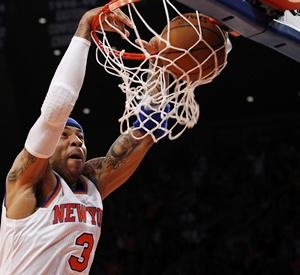 The New York Knicks turned up the defensive pressure in the second half once again to shut down the Boston Celtics and take a 2-0 lead in their best-of-seven first-round playoff series on Tuesday.
Armstrong sued by US government over sponsor money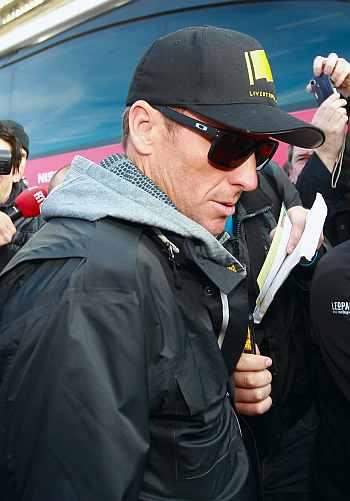 The US government filed court documents Tuesday laying out its case against cyclist Lance Armstrong, who is accused of defrauding the Postal Service by taking millions of dollars in sponsorship money while flouting professional cycling rules by doping.
Torres mask can't slip in Chelsea's Europa pursuit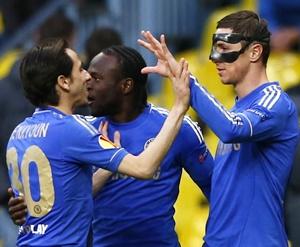 Chelsea are in the last chance saloon as far as a trophy goes and Fernando Torres, complete with his 'Mask of Zorro', must continue his recent improvement in swashbuckling style in Thursday's Europa League semi-finals.
Two goals should have been ruled out: Barca's Roura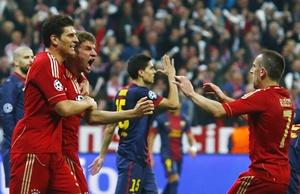 Bayern Munich's 4-0 rout of Barcelona in a Champions League semi-final first leg on Tuesday was partly down to two goals that should have been chalked off, said assistant coach Jordi Roura.
April 22, 2013
Virgin Money to sponsor London Marathon to 2017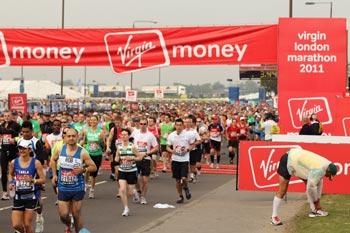 Richard Branson's Virgin Money has extended its sponsorship of the London Marathon until at least 2017, the banking group said on Monday after this weekend's race brought big crowds on to the city's streets.
Chauhan wins Asian Junior Boxing event in Kazakhstan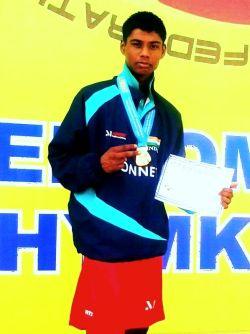 Indian teenager Prayag Chauhan beat local boy Azat Ilyubayev in the lightweight category (60kg) final at the ASBC Asian Confederation Junior Boxing Championships in Kazakhstan.
The Germans do not always win anymore: Pique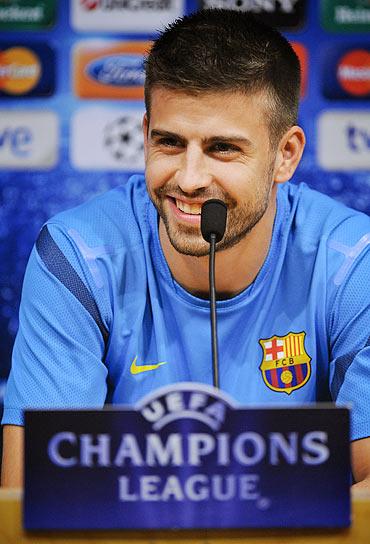 The era when German teams always came out on top is over and Spain have replaced them as the dominant force in the world game, according to Barcelona defender Gerard Pique.
Olympic silver medalist Vijay Kumar gets Padma Shri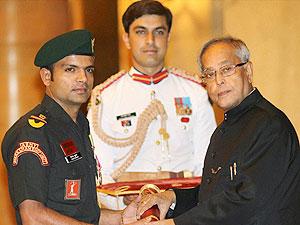 London Olympics silver medalist Vijay Kumar was conferred the Padma Shri by the President in a prestigious ceremony at the Rashtrapati Bhawan, on Saturday.
Marquez becomes youngest MotoGP winner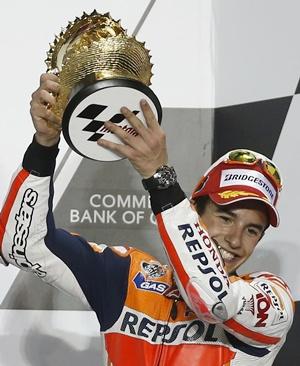 Spanish rookie Marc Marquez out-duelled Repsol Honda team mate Dani Pedrosa to win the Grand Prix of the Americas in Austin, Texas on Sunday and become the youngest ever winner in the MotoGP premier class.
Atletico beat Sevilla to keep pace with Real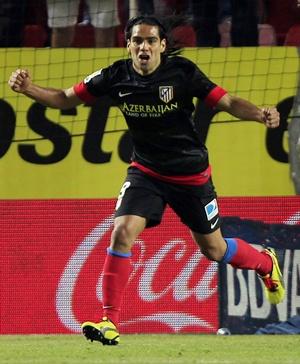 Atletico Madrid stayed hot on the heels of second-placed city neighbours Real Madrid when Radamel Falcao netted his 25th goal of the La Liga campaign in a scrappy 1-0 win at mid-table Sevilla on Sunday.
April 21, 2013
Indian grapplers impress in Asian wrestling championships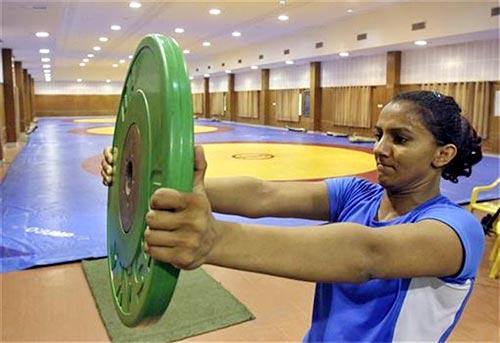 It was a good day in office for Indian grapplers as they bagged one silver and three bronze medals in the Senior Asian Wrestling Championship in New Delhi on Sunday.
Title gone but Man Utd not better than City: Mancini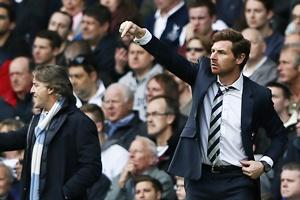 ManchesterCity manager Roberto Mancini says his side are not inferior to Manchester United despite a 3-1 defeat at Tottenham Hotspur on Sunday giving their rivals the chance to clinch their 20th league title with four games to spare.
Malaga owner criticises team for 'playing without heart'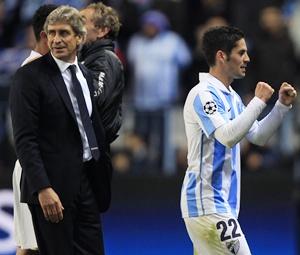 Malaga's outspoken Qatari owner Abdullah Al Thani hit out at the La Liga club's players on Sunday after their hopes of qualifying for the Champions League were dealt a blow in Saturday's 5-1 defeat at Valencia.
Abidal return gives Barca options in central defence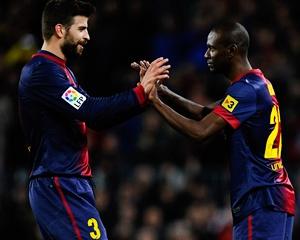 As well as putting Barcelona a step closer to winning La Liga, Saturday's 1-0 home win over Levante showed that defender Eric Abidal is fit enough to play a full match after making a remarkable recovery from a liver transplant.
Late Fabregas goal moves Barca closer to title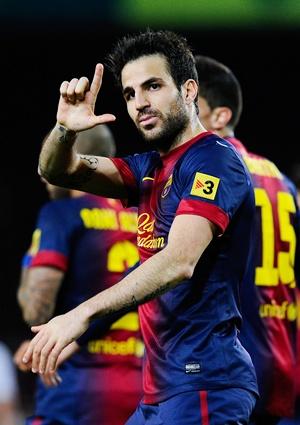 Midfielder Cesc Fabregas moved Barcelona a step closer to the La Liga title with a late strike in a laboured 1-0 victory at home to mid-table Levante on Saturday.
Arsenal win strengthens Champions League hopes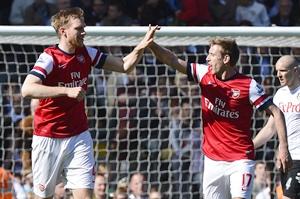 Arsenal displayed their typical end-of-season resilience without even playing that well to win 1-0 at Fulham in the Premier League on Saturday and strengthen their chances of a Champions League spot next season.
April 20, 2013
Asian Wrestling C'ship: Amit wins gold
Amit Kumar clinched gold in men's 55kg category while three other grapplers bagged a bronze each to end two days of disappointment for India in the Senior Asian Wrestling Championship in New Delhi.
London increase 40 per cent more police for marathon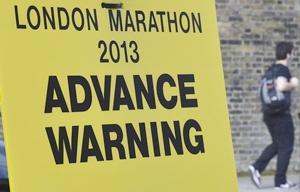 Britain is increasing police numbers by 40 per cent for Sunday's London marathon as part of an effort to reassure competitors and spectators after bombs devastated the Boston race on Monday.
April 19, 2013
Man United's Young ruled out for rest of season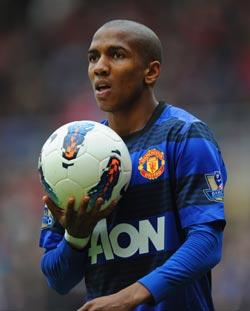 Manchester United winger Ashley Young will miss the rest of the season with an ankle injury, manager Alex Ferguson said on Friday.
Mourinho to decide Real Madrid future at end of season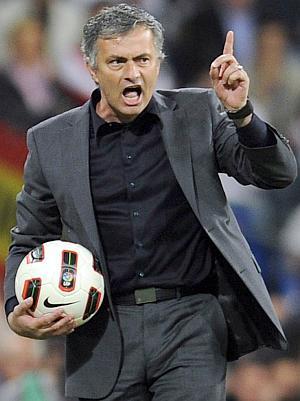 Real Madrid coach Jose Mourinho refrained from committing to remaining at the club beyond the end of this season on Friday and said a decision on his future would be taken at the end of the current campaign.
Badminton: Sindhu knocked out of Asia C'ships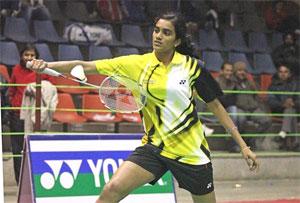 India's campaign at the Badminton Asia Championships ended after P V Sindhu lost her women's singles quarter-final against Eriko Hirose of Japan in a hard-fought contest in Taipei on Friday.
Cavaliers, Pistons fire coaches, Collins resigns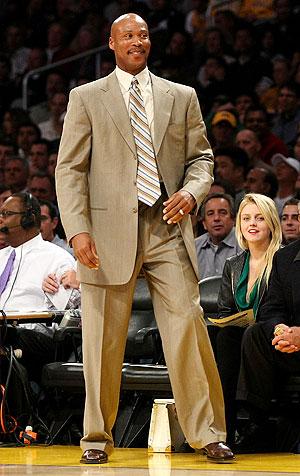 Pistons head coach Lawrence Frank joined Cleveland Cavaliers' Byron Scott and Philadelphia 76ers' Doug Collins on the unemployment line on Thursday, as heads continued to roll just hours after the NBA regular season concluded.
April 18, 2013
Paes-Melzer in quarter-finals of Monte Carlo
Leander Paes and his Austrian partner Jurgen Melzer outplayed Indian duo of Mahesh Bhupathi and Rohan Bopanna to enter the quarter-finals of the men's doubles event of the Monte Carlo Masters.
Rana, Sharma miss medals in Asian wrestling
The Indian grapplers returned empty-handed after the opening day's proceedings in the Senior Asian Wrestling Championship came to an end as Sunil Kumar Rana and Gaurav Sharma lost their respective bronze medal bouts in the Greco-Roman category.
Britain's most successful Olympian Hoy retires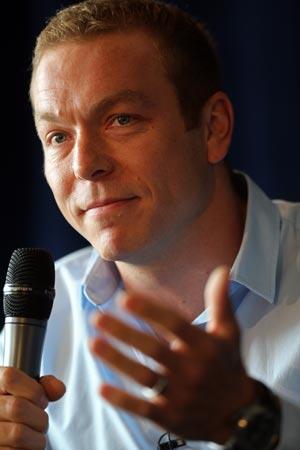 Britain's most successful Olympian Chris Hoy, who won two golds at the 2012 London Games to add to three from Beijing four years earlier and his first in Athens in 2004, said the time was right to quit the saddle having exhausted 'every last ounce of effort and energy'.
Sindhu upsets former world No 1 Shixian in Taipei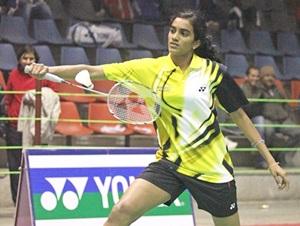 Rising Indian shuttler P V Sindhu pulled off an upset over former world No 1 Shixian Wang of China to storm into the women's singles quarter-finals at the Badminton Asia Championships in Taipei. The world No 16, the lone Indian woman in the fray in the absence of star compatriot Saina Nehwal, rallied from a game down to win a tense contest 15-21, 21-14, 22-20.
Veteran Wallace announces retirement from NBA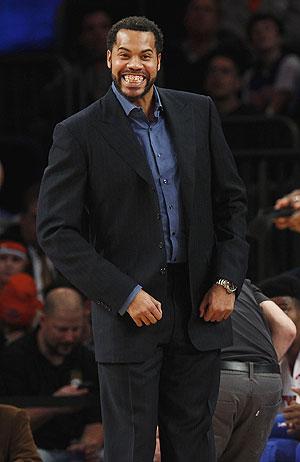 New York Knicks forward Rasheed Wallace announced his retirement from the National Basketball Association (NBA) on Wednesday after injuries ruled him out of this season's playoffs.
Murray loses in Monte Carlo, Nadal through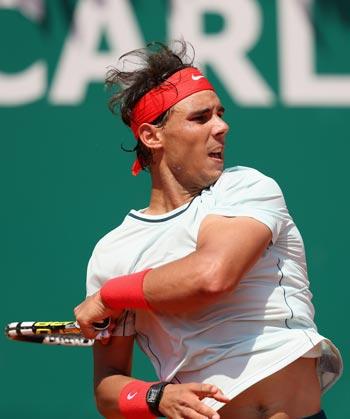 Rafael Nadal calmly continued his bid for a ninth consecutive crown at the Monte Carlo Masters with a 6-2, 6-4 third-round victory over Philipp Kohlschreiber of Germany on Thursday.
'Armstrong's samples had traces of steroids in 1999'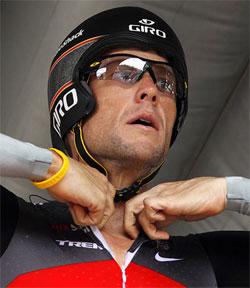 Lance Armstrong returned four samples with traces of banned corticosteroids in the 1999 Tour de France, the International Cycling Union (UCI) said on Wednesday, although the governing body added it did not handle them as positive tests.
April 17, 2013
I-League: Churchill rally to hold Dempo to 2-2 draw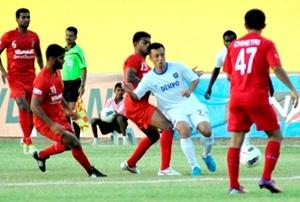 Sunil Chhetri scored twice to help Churchill Brothers come from behind and hold Dempo SC to a 2-2 draw in a 24th round match of the I-League football championship at Tilak Maidan Stadium in Vasco on Wednesday.
India's joint meeting with IOC postponed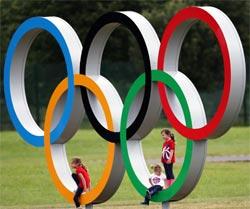 The much-anticipated joint meeting between representatives of the suspended Indian Olympic Association, the Sports Ministry and the International Olympic Committee, to find a way in resolving the issues that led to India's ban from the Olympics, has been postponed from May 7 to May 15.
Kashyap, Sindhu in 2nd round of Badminton Asia Championship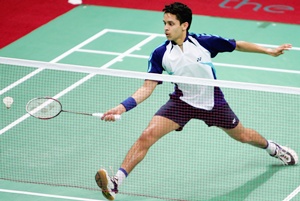 London Olympics quarter-finalist Parupalli Kashyap and rising Indian woman shuttler P V Sindhu won their respective first round matches in the men's and women's singles event in the Badminton Asia Championship in Taipei on Wednesday.
Bolt to head cast at London's 'anniversary games'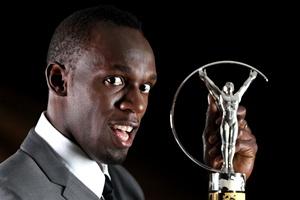 Usain Bolt will return to London to compete in the IAAF Diamond League meeting at the Olympic Stadium in which he achieved a clean sweep of gold medals last year.
Boston Marathon will return in 2014, say organisers
The organisers of the Boston Marathon said on Tuesday they planned to hold the 118th edition of the race next year, vowing to continue in the wake of a bombing attack that killed three and injured 176 at the finish line on Monday.
April 16, 2013
Asia C'ship: Sayali fails to qualify for main draw
India's Sayali Gokhale failed to qualify for the main draw of women's singles event in the Badminton Asia Championships after losing her second and final round qualifier in Taipei.
Boxer Vijender's dope test negative: Sports ministry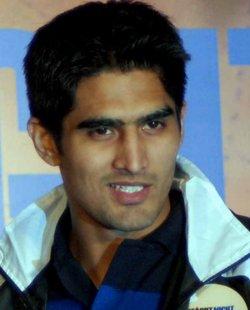 Olympic bronze-medallist Vijender Singh had tested negative for any banned substances conducted by the National Anti-Doping Agency.
Juve charge 11 points clear by beating Lazio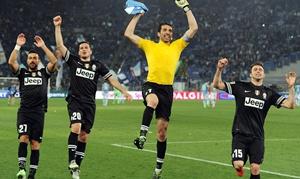 Juventus's pursuit of the Serie A title gathered pace on Monday as they opened up an 11-point lead at the top of the table after Arturo Vidal scored twice in a 2-0 win at Lazio.
Boston games postponed after blasts
The National Hockey League has postponed Monday's game between the Boston Bruins and Ottawa Senators due to the deadly explosions that hit the Boston Marathon earlier in the day, while the NBA has called off a Boston Celtics game.
April 15, 2013
Masters champion Scott leaps to third in rankings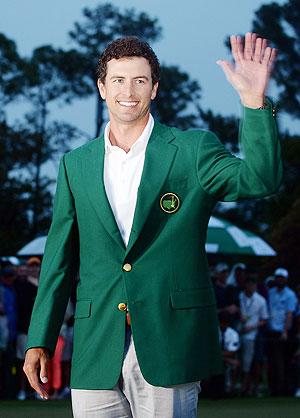 Adam Scott has climbed to a joint career-high number three in the world rankings following his dramatic Masters victory on Sunday.
French Open prize money gets $4 million boost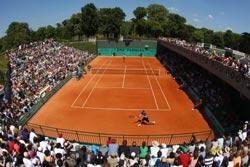 The French Open's total prize money for 2013 has been increased by more than three million euros to 22 million euros, organisers said on Monday.
Sushil, Yogeshwar to skip Asian championship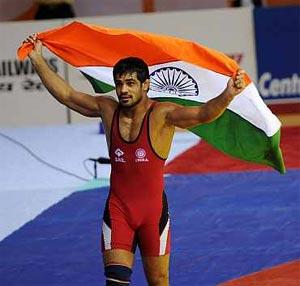 Indian fans would be deprived of watching their Olympic medal winning grapplers Sushil Kumar and Yogeshwar Dutt in action at the upcoming Senior Asian Wrestling Championship as the two have not yet recovered from their respective injuries.
Former tennis player Srichaphan wants to take up golf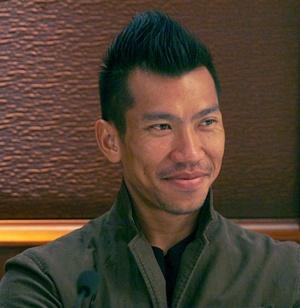 Having traded his racquet for a set of clubs, former World No. 9 tennis player Paradorn Srichaphan is planning on moving into the ranks of professional golf despite the Thai only taking up the sport two years ago.
Second consecutive win thrills Mahi Racing's co-owners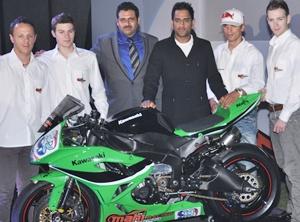 Mahi Racing Team India co-owners actor Nagarjuna and Nandish Domlur are thrilled by their side's second win in a row in the FIM Supersport Championship.
Two fans shot dead as World Cup stadium is put to test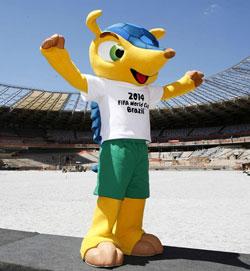 Two soccer fans were shot dead on their way to a match at the Arena Castelao World Cup stadium in the northeastern Brazilian city of Fortaleza on Sunday, media reported.
Inspired Mandanda saves Marseille as PSG move clear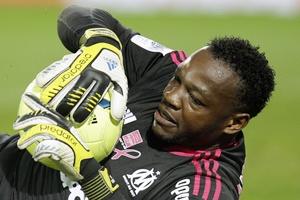 Goalkeeper Steve Mandanda produced a superb performance to help Olympique Marseille grab a 0-0 draw at Lille on Sunday, leaving Ligue 1 leaders Paris St Germain nine points clear with six games left.
Milan scorer Flamini sent off in draw, Inter lose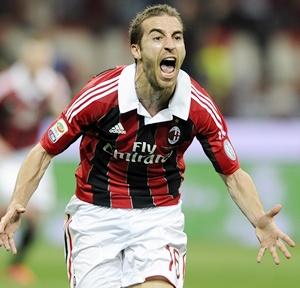 Mathieu Flamini scored and was sent off as AC Milan were held 1-1 by Napoli in a third-versus-second battle in Serie A on Sunday while Inter Milan were on the wrong end of another controversial penalty in a 2-0 loss at Cagliari.
Ronaldo powers Real to victory, Barca also win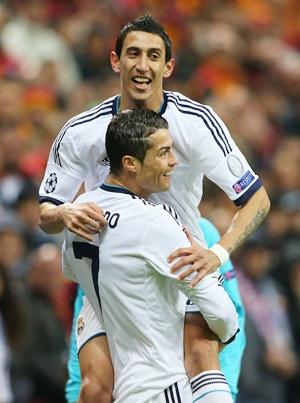 Cristiano Ronaldo proved too powerful for Athletic Bilbao as he scored with a fizzing free kick and a towering header in Real Madrid's bruising 3-0 victory at San Mames in La Liga on Sunday.
Scott will win more Majors than any Australian: Norman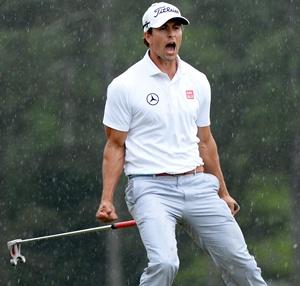 Newly-crowned Masters champion Adam Scott will win more majors than any other Australian, according to compatriot Greg Norman, who famously missed out on the famed green jacket three times.
April 14, 2013
Another victory for Dhoni's Mahi Racing team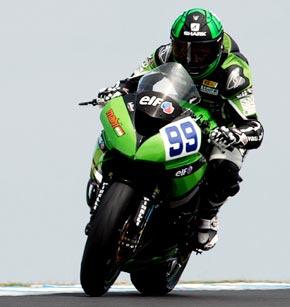 Fabien Foret sealed Mahi Racing's second consecutive win at the FIM World Supersport Championship by clinching the second race of the season at Aragon in Spain on Sunday.
Baseball, softball merge to seek Games return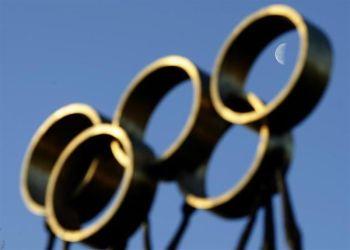 The governing bodies of baseball and softball have merged in a bid to win back their spot on the Olympic programme, the heads of the federations said on Sunday.
Baptista late show brings cheer back to Malaga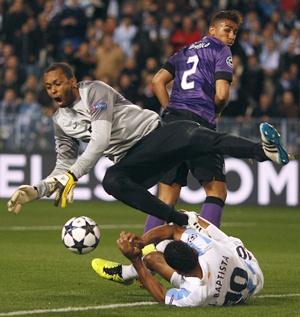 Julio Baptista scored in added time to lift Malaga to a 1-0 home win over Osasuna in La Liga on Saturday, helping the club shake off some of the disappointment from their midweek Champions League exit.
Dortmund hit six and Bayern four in easy wins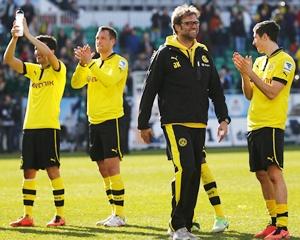 Germany's Champions League semi-finalists went on scoring sprees in the Bundesliga on Saturday with Borussia Dortmund blasting five first-half goals in a 6-1 win at Greuther Fuerth and champions Bayern Munich beating Nuremberg 4-0.
Augusta Masters: Snedeker, Cabrera share lead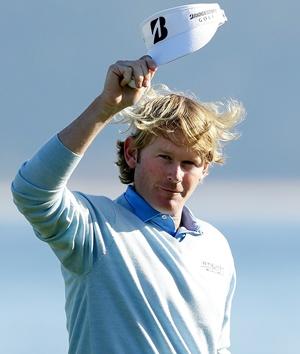 American Brandt Snedeker and Angel Cabrera of Argentina survived a drama-packed day at the Masters on Saturday to share the lead after the third round, nosing themselves ahead of a congested leaderboard that included the imposing figure of Tiger Woods.
NBA: Season over for Bryant after achilles surgery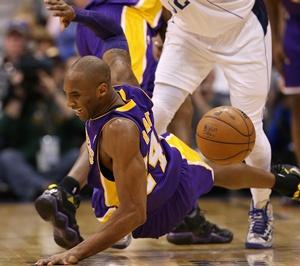 Kobe Bryant has undergone surgery on an injured Achilles tendon and could be sidelined for up to nine months, the Los Angeles Lakers said on Saturday.
Eleven arrests in Millwall end as violence mars FA Cup semis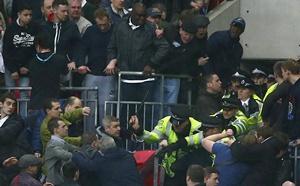 Eleven people were arrested in the Millwall supporters' section of Wembley Stadium on Saturday and four police officers suffered minor injuries after violence marred the London club's FA Cup semi-final defeat by Wigan Athletic.
FA Cup: Wigan reach final as Millwall fans fight themselves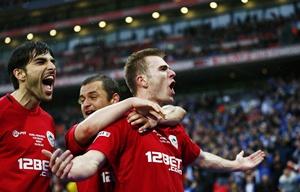 Wigan Athletic reached the FA Cup final for the first time in their history when they beat Championship side Millwall 2-0 at a soggy Wembley in a match overshadowed by violence which broke out when Millwall supporters began fighting each other.
April 13, 2013
'We want agreement with IOA, NSFs before meeting'
The government wants an agreement with the Indian Olympic Association and National Sports Federations on the contentious Sports Code before having a joint meeting with the International Olympic Committee next month, Sports Secretary P K Deb said on Saturday.
Masters: Woods gets two-shot penalty for improper drop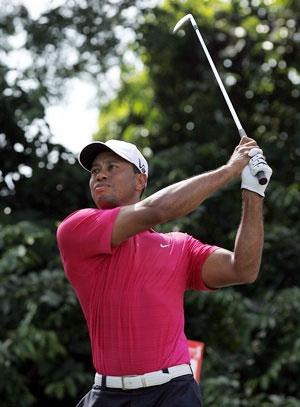 Tiger Woods avoided possible disqualification from the Masters on Saturday when he was assessed a two-stroke penalty for taking an improper drop during Friday's second round.
'IOA mulls amending constitution in line with Sports Code'
The suspended Indian Olympic Association is willing to amend its constitution in line with age and tenure guidelines of the controversial Sports Code of the government, a top IOA official said on Saturday.
Sharath, Shamini bow out of Asian Cup TT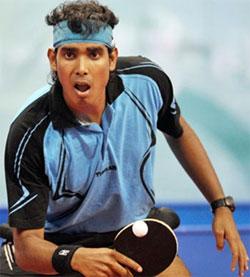 Indian paddlers Achanta Sharath Kamal and K Shamini have failed to qualify for the knockout stages of the 26th Table Tennis Asian Cup, being played at the Queen Elizabeth Stadium in Hong Kong.
IOA officials question IOC's move to write to Ministry
The International Olympic Committee's decision to write a letter directly to the Sports Minister for a joint meeting has come as a surprise to suspended IOA officials.
Ba and Bertrand should be back for Chelsea's Wembley trip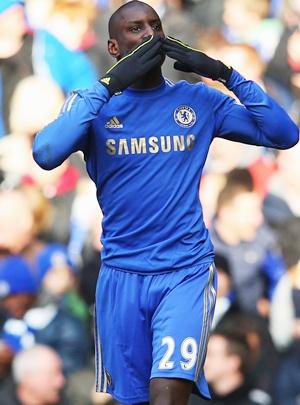 Holders Chelsea should have striker Demba Ba and defender Ryan Bertrand available for Sunday's FA Cup semi-final against ManchesterCity at Wembley.
Day seizes one-shot lead, China prodigy makes cut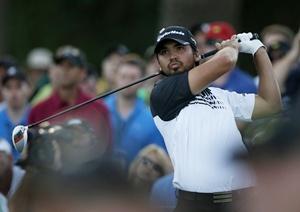 Jason Day put himself in prime position once again to end Australia's Masters jinx when he fired a four-under-par 68 to seize the lead at the halfway mark of the year's first major championship on Friday.
Betis battle back to draw 3-3 against 10-man Sevilla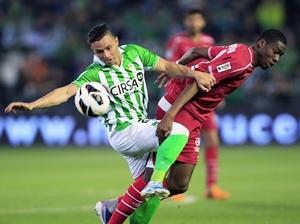 Real Betis stormed back from three goals down to draw 3-3 at home to 10-man Sevilla thanks to a late goal from Emmanuel Nosa Igiebor in a typically fraught La Liga derby between the Andalusian city neighbours on Friday.
April 12, 2013
Indian shuttlers' campaign at New Zealand Open over
India's campaign at the New Zealand badminton Open ended after Ajay Jayaram and Arvind Bhat lost in the quarter-finals of the men's singles, in Auckland, on Friday.
Disgraced cyclist Armstrong sells Austin home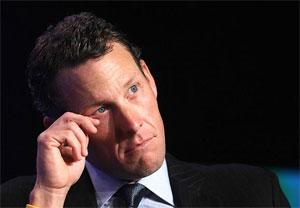 Disgraced former cycling champion Lance Armstrong has sold his sprawling home in the hills of Austin, Texas, his spokesman said on Thursday.
April 11, 2013
Jayaram, Bhat in third round at Auckland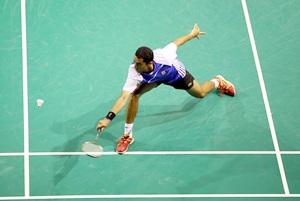 Ajay Jayaram and Arvind Bhat were the only bright spots on an otherwise disappointing day for Indian shuttlers at the New Zealand Badminton Open on Thursday.
England can't win World Cup: Charlton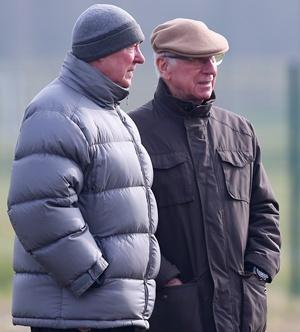 England are unlikely to become world champions again because the country's Premier League is now flooded with foreign players, 1966 World Cup winner Bobby Charlton said on Wednesday.
Tiger and Rory set for Masters title bid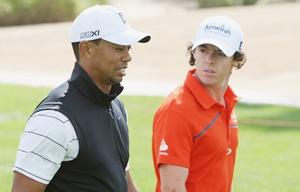 With a resurgent Tiger Woods once again on the prowl and Rory McIlroy seemingly back in form, golf fans eagerly await the start of the 77th Masters which is now only hours away at Augusta National.
Aisam wants to play in Bhupathi's ITPL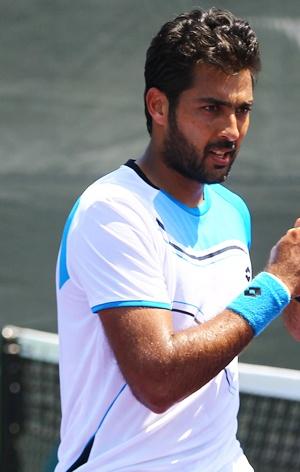 Pakistan's top player Aisam-ul-Haq Qureshi says he will compete in the inaugural International Tennis Premier League, which is to be launched by Indian star Mahesh Bhupathi by the end of this year.
United refocus on title assault after City blip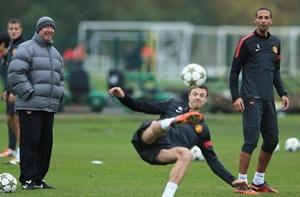 A chastening home defeat to Manchester City has given Premier League leaders Manchester United all the incentive they need to win against Stoke City on Sunday and move closer to sealing a 20th English league title.
April 10, 2013
AAI suspension affecting Railways archers' careers
The derecognition of the Archery Association of India has jeopardised the careers of archers employed with the Railways as they have been asked not to take part in any tournament conducted by the AAI.
Controversial sports code delays India's IOC return
India appears no closer to a return to the Olympic fold as officials from the country's Olympic association and sports ministry bicker over a controversial government sports code.
Balotelli banned for three matches after insulting official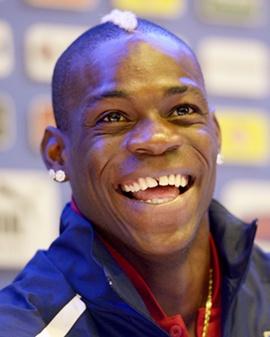 Maverick forward Mario Balotelli was given a three-match ban on Tuesday for insulting the fourth official at the end of AC Milan's 2-2 draw at Fiorentina at the weekend.
Saina gets top billing at Indian Open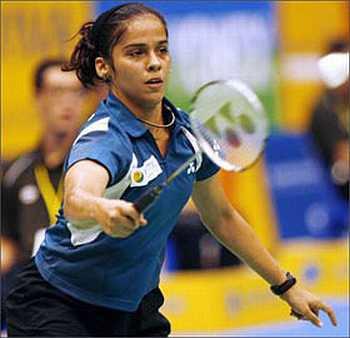 In the absence of top Chinese shuttlers, Indian ace Saina Nehwal has been seeded number one and handed a relatively easy draw in the upcoming Yonex Sunrise Indian Open badminton tournament, scheduled to be held in New Delhi from April 23-28.
April 09, 2013
CL Preview: Juve's Conte cannot afford another selection mishap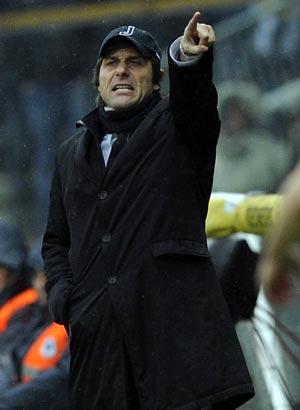 Antonio Conte made an uncharacteristic hash of his team selection against Bayern Munich last week and the Juventus coach cannot afford to get it wrong again as his side chase a two-goal deficit on Wednesday.
Malaga coach Pellegrini back for Dortmund quarter-finals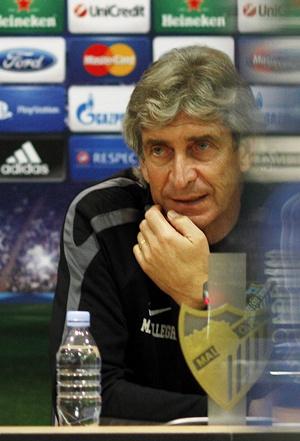 Malaga coach Manuel Pellegrini will arrive in Germany in time for the Champions League quarter-final against Borussia Dortmund on Tuesday after returning to Chile for the funeral of his father.
April 08, 2013
Sushil, Yogeshwar doubtful for Asian Championship
Recuperating from their shoulder and knee injuries, star Indian grapplers Sushil Kumar and Yogeshwar Dutt remain doubtful starters for the Senior Asian Wrestling Championship to be held from April 18 to 22.
Businessman charged in referee's sexual bribes case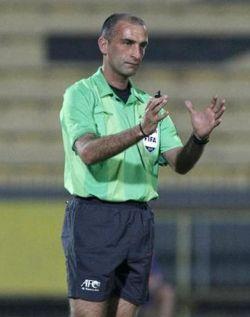 Businessman Eric Ding Si Yang has been charged with three counts of corruption relating to the sexual bribes case involving three Lebanese soccer match officials, Singapore's Corrupt Practices Investigation Bureau said on Monday.
Armstrong team mate Kjaersgaard avoids doping sanctions
Steffen Kjaersgaard, a team-mate of Lance Armstrong's at US Postal from 2000-03, will not face sanctions, despite admitting to using performance-enhancing drugs, Norwegian anti-doping authorities said on Monday.
We are better force now: Mallya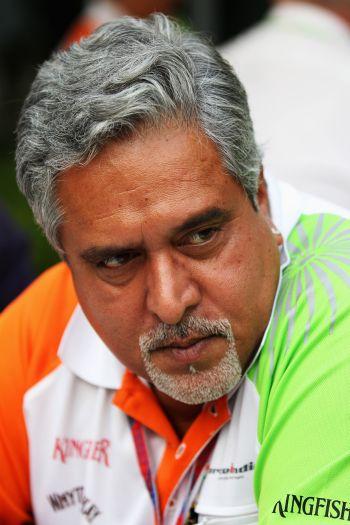 Sahara Force India do not depend now just on wet weather conditions to upset the big teams as the car is competitive enough in all conditions, team principal Vijay Mallya asserted on Monday.
No medal for Olympics silver medallist Vijay in World Cup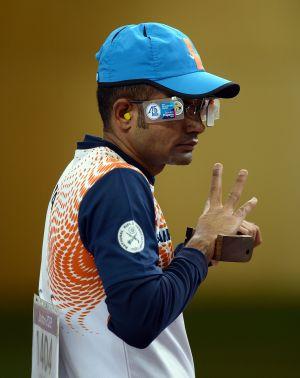 London Olympics silver medallist Vijay Kumar could not live up to the billing as he failed to qualify for the finals of the 25-metre rapid fire pistol event at the ISSF World Cup in Changwon, Korea on Monday.
Atletico pair sent off in draw at Getafe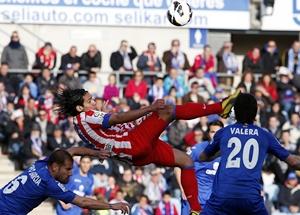 Atletico Madrid slipped three points behind second-placed Real Madrid after having two players sent off in a 0-0 draw at Getafe in La Liga on Sunday.
Serie A: Denis 12-minute hat-trick floors Inter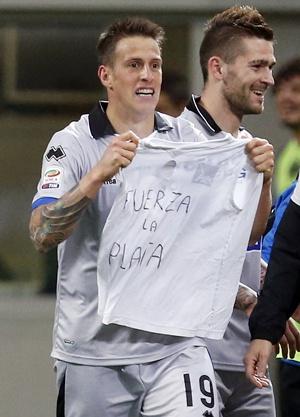 Fiorentina, two goals down and reduced to 10 men, converted two quickfire penalties to draw 2-2 with AC Milan in Serie A on Sunday while a 12-minute hat-trick by German Denis gave Atalanta a 4-3 win at a stunned Inter Milan after they had trailed 3-1.
April 07, 2013
Rupesh crowned Asian Billiards champion
Reigning world champion Rupesh Shah added another feather in his cap by clinching the 12th Asian Billiards championship with win over compatriot Alok Kumar in the fiercely fought final, in Indore on Sunday.
Australia's Ormsby holds nerve for maiden win, Kapur 4th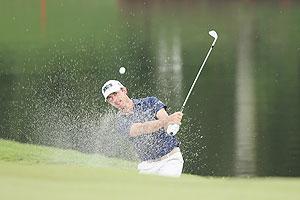 Shiv Kapur had the best performance among Indian golfers as he finished fourth at the Panasonic Open India which concluded at the Delhi Golf Club in New Delhi on Sunday.
Balotelli fined for smoking in train toilet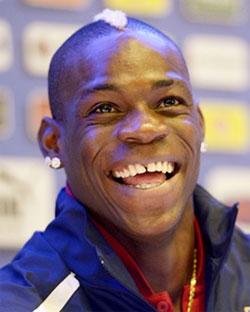 AC Milan's maverick forward Mario Balotelli was caught smoking in the toilet on the train during the team's journey to Florence and will be fined, chief executive Adriano Galliani said on Sunday.
Jaideep appointed as president of ITPA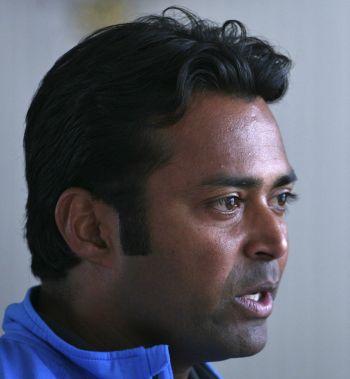 Former Davis Cupper Jaideep Mukherjea was appointed president of the newly-formed Indian Tennis Players Association (ITPA) while Leander Paes was surprisingly named as one of three vice presidents.
Divij-Purav end runners-up at Leon Challenger
Divij Sharan and Purav Raja had to be content with a runners-up finish at the ATP Challenger event in Leon as they lost the summit clash in straight sets to Chris Guccione and Matt Reid.
Russian Serebryakov suspended after positive EPO test
Euskaltel-Euskadi's Russian rider Alexander Serebryakov has been suspended after traces of the blood booster EPO were found in his urine, the International Cycling Union (UCI) said on their website.
April 06, 2013
Kapur tied 3rd; Ormsby keeps lead to stay ahead of Lam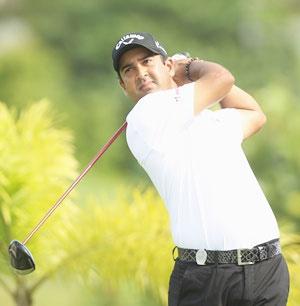 Shiv Kapur braved tough conditions to manage an even par 72 to be tied third while Jyoti Randhawa fired a flawless five-under 67 to jump to sole fifth after the third round of the Panasonic Open India, in New Delhi on Saturday.
Nanjappa wins bronze in men's 10m air pistol at World Cup
India's Prakash Nanjappa won a bronze medal in the men's 10m air pistol event at the ISSF World Cup at Changwon, Korea on Saturday.
Raninder gets second term in charge as NRAI chief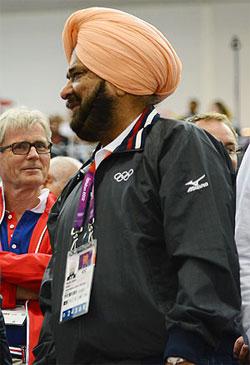 Raninder Singh was on Saturday re-elected unopposed as president of the National Rifle Association of India (NRAI) for a four-year term.
Vijender dropped from Indian boxing squad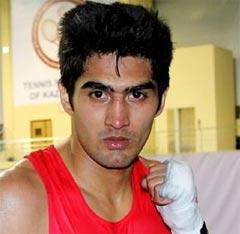 Top boxer Vijender Singh, who finds himself at the centre of a drug scandal, will not be considered for selection for two upcoming international events for missing the trials.
April 05, 2013
Prez to honour Tomy for circumnavigation feat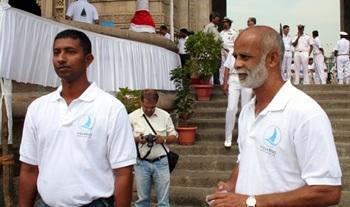 It will be a dream come true for Lt Commander Abhilash Tomy when President Pranab Mukherjee felicitates him in Mumbai on Saturday for completing a non-stop solo circumnavigation of the globe under sails in 150 days.
Hearing postponed for referees in sexual bribes case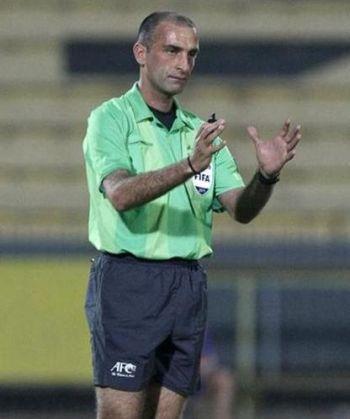 Three Lebanese soccer officials accused of receiving sexual bribes in return for fixing a match in Singapore involving East Bengal had their bail hearing postponed by a judge in the city state on Friday.
Shooter Sarnobat scripts history; wins World Cup gold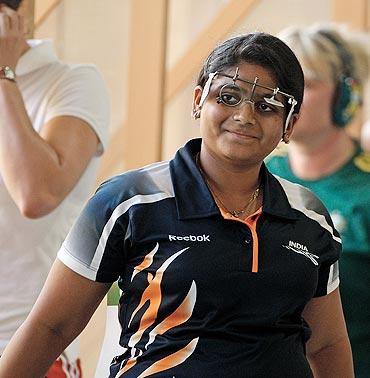 Rahi Sarnobat scripted history on Friday, becoming the first Indian pistol shooter to clinch a gold medal in the ISSF World Cup, when she pipped local hope Kyeongae Kim 8-6 in the final of the 25m sports pistol event in Changwon, Korea.
Murray signs with Bhupathi's agency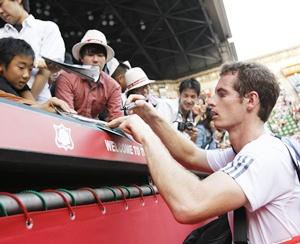 US Open and Olympic champion Andy Murray has signed on as the first client of a new partnership between his management company and Indian doubles star Mahesh Bhupathi's GloboSport.
Armstrong ineligible for Austin swim event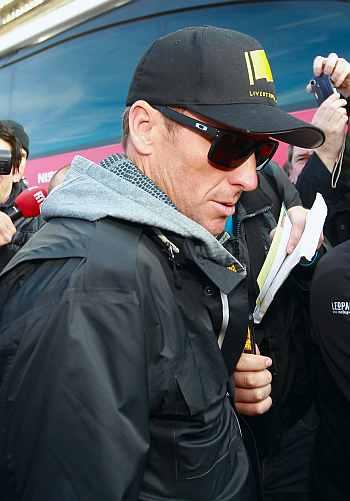 American cyclist Lance Armstrong, who was stripped of his seven Tour de France titles for doping, is ineligible for a masters swimming competition in Texas, the event's sanctioning body said on Thursday.
April 04, 2013
Pistorius family deny 'Blade Runner' back in training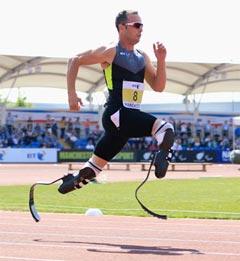 Oscar Pistorius's family issued a statement on Thursday denying the Olympic and Paralympic 'Blade Runner' was back in training for the first time since he was charged with murdering his girlfriend.
Four Indians in Asian billiards QF
Rupesh Shah, Alok Kumar, B Bhaskar and K Venkatesham advanced to the knock-out stage after winning their respective matches at the Indore Tennis Club.
Gurusaidutt goes down fighting to No 1 Wei
India's campaign at the Australian Open Grand Prix Gold badminton tournament ended on Thursday after R M V Gurusaidutt and Anand Pawar lost their respective third round matches in the men's singles, in Sydney.
OM apologise on behalf of Barton after 'ladyboy' tweets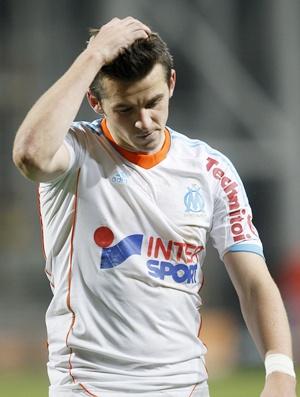 Olympique Marseille and Joey Barton have apologised to Thiago Silva and Paris St Germain after the English midfielder called the Brazilian an "overweight ladyboy".
PSG threaten action against Barton for 'ladyboy' tweets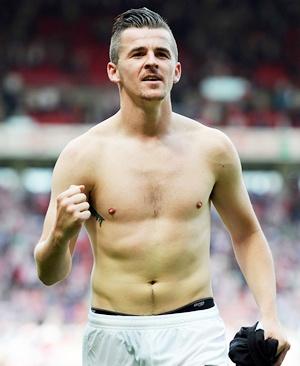 Paris St German threatened action against Joey Barton on Wednesday after the Olympique Marseille midfielder likened Brazilian defender Thiago Silva to a transsexual and called him an 'overweight ladyboy'.
Messi's hamstring injury not as bad as feared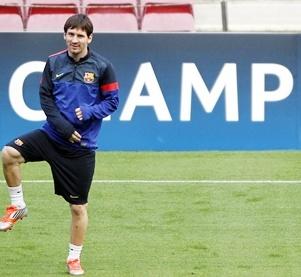 Lionel Messi will miss this weekend's La Liga match at home to Real Mallorca with a right hamstring injury and will then return to action depending on the speed of his recovery, Barcelona said after tests on Wednesday.
Guilty Tevez handed community service, ban and fine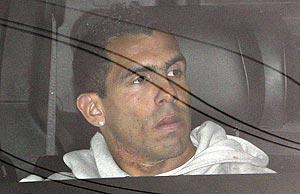 ManchesterCity striker Carlos Tevez was handed 250 hours of community service, banned from driving for six months and fined 1,000 pounds for driving offences, the Press Association reported.
April 03, 2013
Vijender undergoes out-of-competition dope test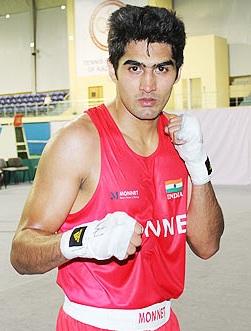 India's Olympic hero Vijender Singh, who finds himself at the centre of a drug scandal, made himself available on Wednesday for an out-of-competition dope test by NADA officials, apparently under pressure from the Sports Ministry.
CSI accuses Malhotra of deliberately delaying the process
Clean Sports India (CSI), a movement for corrruption-free sports in the country, accused Indian Olympic Association's acting president, V K Malhotra of deliberately delaying the process of getting India's ban from the Olympics lifted by the IOC for his "vested interest".
Indonesia expects miracle to beat India in Davis Cup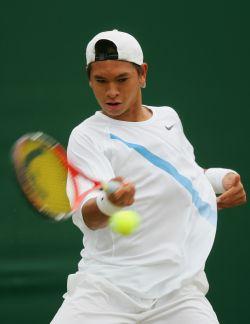 Indonesian team is expecting a miracle to pull off a victory against a full-strength India in the Davis Cup Asia/Oceania Group I relegation tie to be played under lights from April 5 to 7 at KSLTA Stadium in Bangalore.
SAI yet to approve Vijender Singh's leave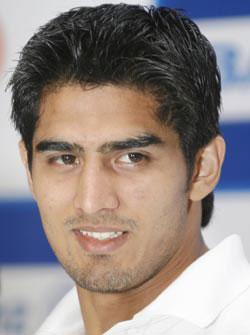 India's star boxer Vijender Singh, who is being investigated in a sensational drug haul case, is on leave from the NIS but his application for an extension is yet to be approved by the Sports Authority of India.
IOA-IOC meet postponed as differences persist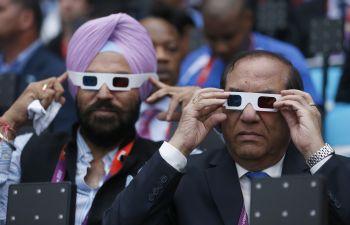 The joint meeting between the representatives of the suspended Indian Olympic Association, the Sports Ministry and the International Olympic Committee (IOC), to find a way in resolving the issue that led to India's ban from the Olympics, is likely to get postponed for the second time in two months.
Australian Open Grand Prix: Gurusaidutt enters 3rd round
Shuttler R M V Gurusaidutt was the lone bright spot in an otherwise disappointing day for the Indians at the Australian Open Grand Prix Gold in Sydney.
Chinese table tennis players to partner rivals at Korea Open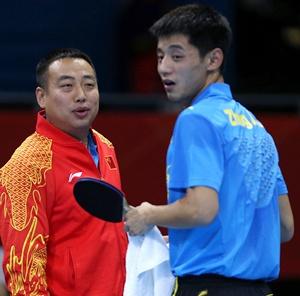 Chinese table tennis players will pair up with international rivals for the first time at this week's Korea Open in a bid to improve competition and boost the sport's global growth.
NBA: Anthony's 50 points fires playoff warning shot to Heat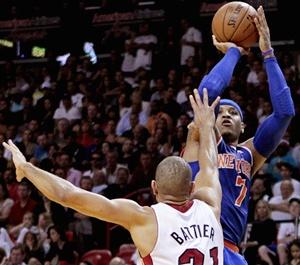 Carmelo Anthony's stunning 50-point performance led the New York Knicks to a 102-90 win over defending NBA champions Miami on Tuesday, extending their winning streak to nine games.
Kuzenkova and Krivelyova get two-year bans for doping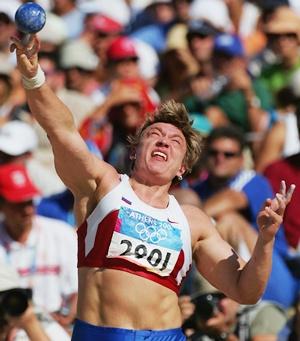 Former world and Olympic champions Svetlana Krivelyova and Olga Kuzenkova have been banned for two years each for failing drugs tests after their samples were re-examined, the Russian athletics federation (VFLA) said on Tuesday.
Greek athletics federation wants wrestling kept in Games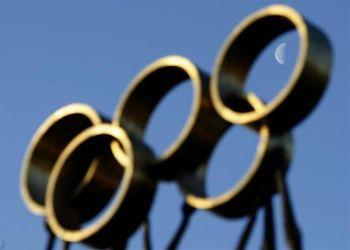 The Greek athletics federation (SEGAS) joined on Tuesday the chorus of opposition to an International Olympic Committee (IOC) executive board recommendation to drop wrestling from the Olympic Games.
Ronaldinho, Pato recalled to experimental Brazil squad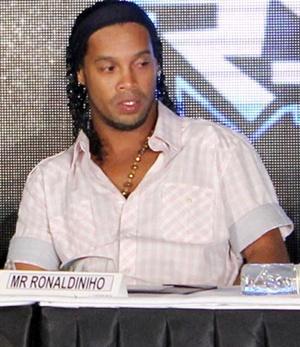 Ronaldinho and Pato have been recalled to Brazil's squad for Saturday's friendly away to Bolivia in aid of the family of a young fan killed by a flare at a Libertadores Cup match last month.
Mourinho defends decision to leave Casillas out again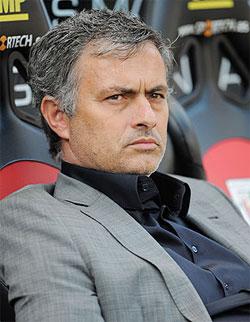 Real Madrid coach Jose Mourinho has defended his decision to leave 2010 World Cup-winning captain Iker Casillas out of his squad again for Wednesday's Champions League quarter-final first leg with Galatasaray.
Messi, Mascherano add to Barca injury woes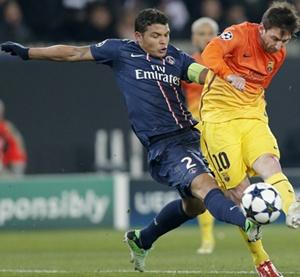 Barcelona forward Lionel Messi injured his hamstring and defender Javier Mascherano sustained a more serious knee problem in Tuesday's 2-2 Champions League quarter-final first leg draw at Paris St Germain.
April 02, 2013
Ministry in a fix as NADA refuses to test Vijender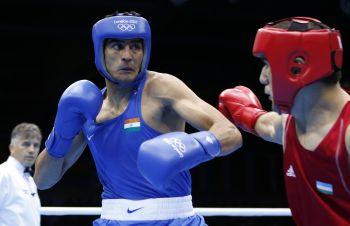 The National Anti-Doping Agency's refusal to test star boxer Vijender Singh for heroin has leftthe Sports Ministry flummoxed and it will wait for a written response from NADA before deciding its next move.
Powell withdraws from Melbourne meet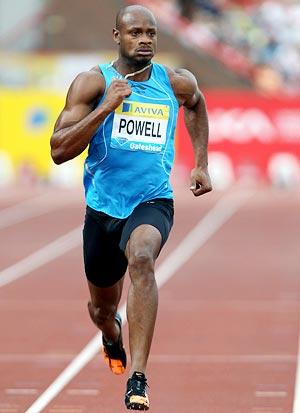 Former 100 metres World record holder Asafa Powell has been forced to withdraw from his first meeting since last year's Olympic final because of a hamstring injury, Athletics Australia said on Tuesday.
China's Sun back on track after coaching clouds clear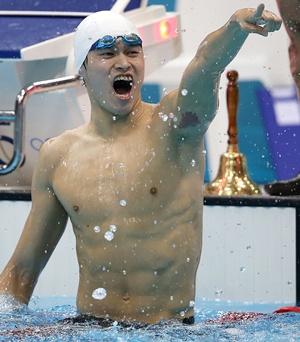 China's double Olympic gold medallist Sun Yang has mended fences with his coach and laid down a marker ahead of this year's World Championships by winning the 400m freestyle at the National Swimming Championships, local media reported.
Barcelona coach Vilanova back on bench in Paris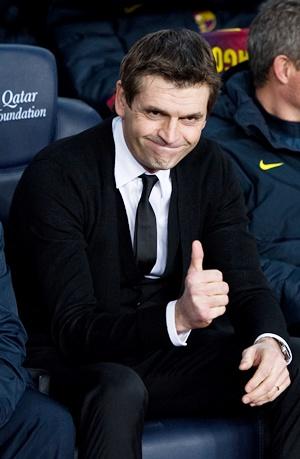 Coach Tito Vilanova, back after undergoing cancer treatment, will return to the bench for Barcelona's Champions League quarter-final first leg at Paris St Germain on Tuesday.
Cole and Cahill to miss Chelsea fixture pile-up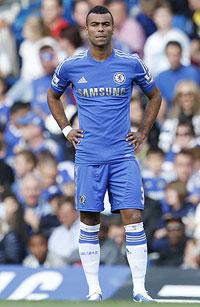 European champions Chelsea will be without England defenders Ashley Cole and Gary Cahill for their gruelling programme of five matches in 13 days.
'Cops planted Vijender's car outside drug peddler's flat'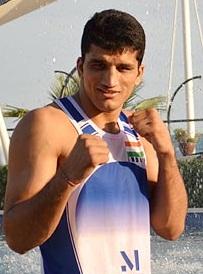 The drug scandal implicating Vijender Singh took a new twist on Tuesday with fellow-boxer and Asian Games silver medallist Dinesh Kumar claiming that the Punjab police planted the star pugilist's car outside the flat from where heroin worth Rs 130 crore was recovered last month.
QPR move closer to the drop after Fulham defeat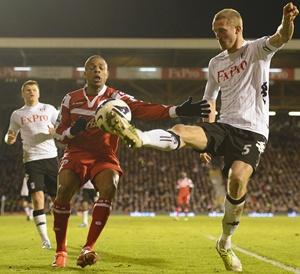 Fulham withstood a fierce fightback from Queens Park Rangers to beat their London rivals 3-2 and push Harry Redknapp's side closer towards Premier League relegation on Monday.
April 01, 2013
Sports Ministry asks NADA to test Vijender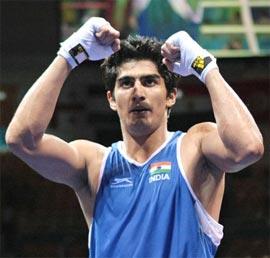 In a bid to put an end to the drug controversy, the Sports Ministry on Monday directed the National Anti-Doping Agency (NADA) to immediately carry out dope tests on star boxer Vijender Singh, who has been accused of consuming heroin by the Punjab police.
Vijender took heroin 12 times: Punjab Police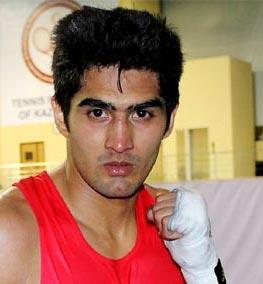 In fresh trouble for Olympic bronze medallist Vijender Singh, Punjab Police said the boxer had consumed heroin 12 times after procuring it from alleged drug smugglers including NRI Anoop Singh Kahlon.
Archives
May 2010 - March 2013
|
February - April 2010