Here's why Rajeev Srinivasan believes there will be nothing particularly positive about the prime minister's US visit.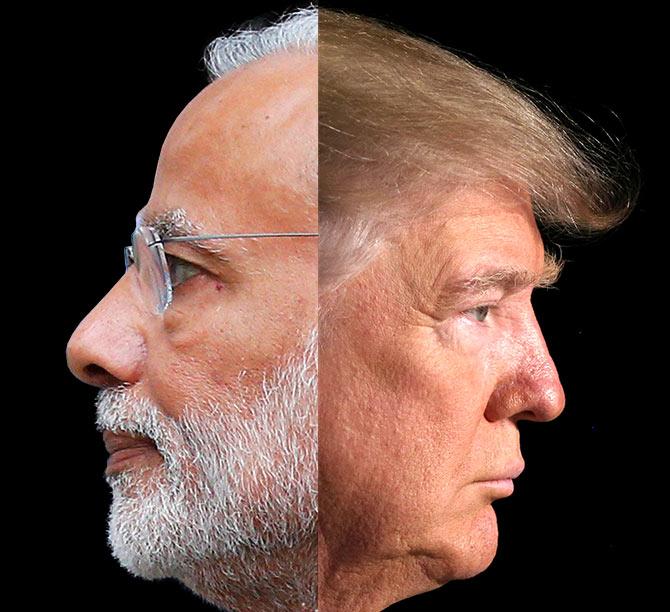 IMAGE: The fact that it has taken this long for the US to extend an invitation to Narendra Modi suggests that India is not on Donald Trump's event horizon.
Photographs: Peter Nicholls/Getty Images and Carlos Barria/Reuters
Prime Minister Narendra Modi is not naive, so he is surely approaching his fifth visit to the United States, and his first meeting with US President Donald Trump with careful preparation.
He is also deliberately creating low expectations.
Unlike the hoopla of his previous Madison Square Gardens and SAP Center outings, this time his meetings with Indian Americans will be in a small ballroom.
I was sceptical of the PM's earlier visit to meet then US president Barack Obama.
In fact, I was always suspicious about Obama, and I was vindicated by the viciousness of his Deep State underlings such as secretary of state Hillary Clinton in humiliating Modi with a visa denial.
No doubt Modi was aware of this, and he probably despised Obama, but he put on his marketing hat, and enthused about 'Barack'.
However, not a great deal changed in India-US relations as a result.
I will be watching closely for the body language on this visit between the Indian and the American, who will both be in sales mode.
I wonder if there will be bear hugs and back-slapping and 'Donald' and 'Narendra' thrown around freely. I suspect not.
I emphasise low expectations: there will be nothing particularly positive about this visit either.
For one thing, note how much time has lapsed since Trump came to power: Something like nine months. The fact that it has taken this long for the US to extend an invitation to Modi suggests that India is not on Trump's event horizon.
This visit, then, is like Manmohan Singh's 'first State Dinner' thrown by Obama that was allegedly a big honour (but, in fact, meant nothing).
Of interest is also the fact that despite early overtures, Democratic Congresswoman Tulsi Gabbard, the first Hindu in the US House of Representatives, was not chosen for any position of significance like the US ambassador to India, which was unfilled until this week -- and she is one of the strongest supporters of Indian and Hindu interests.
During his campaign, I too supported Trump, but that was entirely because Clinton was such an awful prospect that he looked better in comparison. Now that he's President -- in fact a seriously hobbled president who's being hammered by his foes based on the alleged Russia factor -- I think he looks less and less like someone who'll do India any good.
IMAGE: Rajeev Srinivasan likens Modi's meeting with Trump to then US president Barack Obama's first State dinner in honour of then Indian prime minister Manmohan Singh -- a gesture Srinivasan feels meant nothing in real terms.
Photograph: Jason Reed/Reuters
Besides, Trump is a pure deal-maker, who looks at short-term interests rather than long-term strategic issues.
Notice how all his rhetoric about Islamic terrorism vanished on his very first overseas visit, to Saudi Arabia, presumably in exchange for a $350 billion arms purchase.
Similarly, even after denouncing Qatar, he was happy to sell them $7.5 billion worth of planes.
So, India will have to make some deals with him. And what are those deals?
In the wake of Trump's election, I wrote about Trump's hot buttons. I think the list should be trimmed to:
Economy and trade
Foreign policy
National security, terrorism and defense
Climate change
Immigration
Modi will have to do a selling job to get Trump's attention.
The best area is trade.
The biggest area of Trump's rhetoric (and he may even mean it) is the bit about 'Making America Great Again' and bringing back jobs to the US.
He may even believe that well-paying jobs can be brought back by bullying trade partners, although those jobs have been lost to automation, and are not coming back. Ever.
What Modi has to dangle in front Trump is the prospect of India becoming a huge market, and a major consumer of American goods, thus helping generate US jobs and prosperity.
There is a fair chance that India will rapidly increase its nominal GDP to become the third largest economy by 2030 (in real, not PPP terms). This is a market the Americans cannot afford to miss.
There have been Special 301 trade sanctions imposed on India, quite possibly under the aegis of Big Pharma, which is rankled by intellectual property laws that prevent them from exploiting the Indian consumer.
Special 301 and other sanctions prevent aerospace and defence collaborations, but Americans are keen on selling India arms, while Indians are equally keen on technology transfers and licenses and local production.
A recent report that F-16s were to be manufactured in India by the Tatas under license is a double-edged sword.
On the one hand, it means weapons are made in India. On the other hand, F-16s are pretty much obsolete technology, far from the state-of-the-art. But it's a start.
The US will want to sell India its excess shale gas, as Liquefied Natural Gas. This would also serve the purpose of reducing Indian coal production, which was explicitly slammed by Trump in his anti-Paris summit tirade.
There is also the possibility of more nuclear reactor buys by India, but that would be foolish, given that Westinghouse has just about bankrupted its parent Toshiba on cost overruns in new reactor construction, and there are similar troubles at GE-Hitachi.
---
What the Pundits Say
---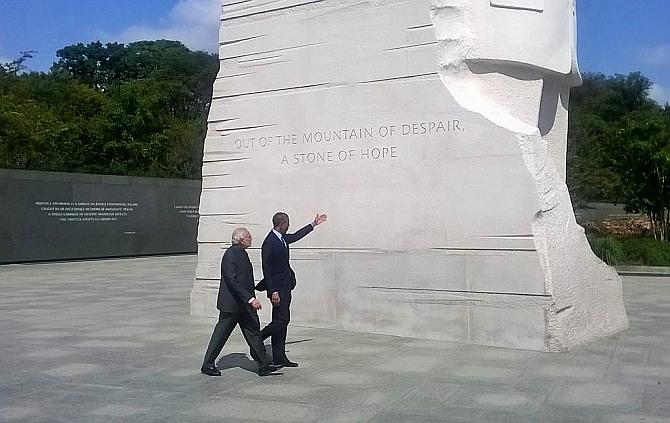 IMAGE: Rajeev Srinivasan believes Modi 'probably despised Obama, but he put on his marketing hat, and enthused about "Barack".'
'However, not a great deal changed in India-US relations as a result.'
In foreign policy, Trump is adrift in Asia.
Despite initial bold promises against China, he seems to have caved in to Xi Jinping during his Mar Lago conclave with the Chinese strongman, and most recently, the US navy reported that it is downplaying activities in the South China Sea. So much for Freedom of Navigation.
In effect, Trump, with his exit from the Trans-Pacific Partnership, is now ceding the role of containing China to its Asian neighbours.
In a sense, unlike Europe where the US continues to bear the burden of NATO costs, in Asia, it will be up to India, Japan, Vietnam and Australia, plus ASEAN, to contain China.
In Afghanistan, US policy is in disarray, and Secretary of Defense James Mattis recently admitted that the US is not winning.
The fall of Afghanistan to the Taliban, and the Chinese takeover of Pakistan (otherwise known as the China Pakistan Economic Corridor), are not going to be of help to the US in the region.
It is now more or less beyond doubt that an indebted Pakistan will be forced to allow Chinese military bases, for example in Balochistan's Gwadar, which will imperil shipping from the Straits of Hormuz.
It is likely that Trump will want Indian troops in Afghanistan fighting his wars.
Is this a good deal for India? Probably not, but that will be on the table as well.
Would he want to work with India to isolate Pakistan's dangerous ISI? I am not sure, but probably not.
Then there are the relatively minor issues of climate change and immigration.
The two nations can probably agree to some face-saving compromises on both, partly because the Paris Agreement had no teeth anyway, and American bosses want high-quality Indian talent moving to America anyway.
Expect some hyped-up announcements on these two topics and the F-16 deal.
Other than this, I fail to see how Modi's trip to the US is going to bring great benefits to India.
So long as the US Deep State refuses to consider India as a major power, and so long as India continues to act like small fry (the Kindleberger Trap, according to Joseph Nye), the status quo ante will remain.
---
Modi's American journey
---