Prime Minister Narendra Modi sells his India dream to the Diaspora at a packed Madison Square Garden in New York on Sunday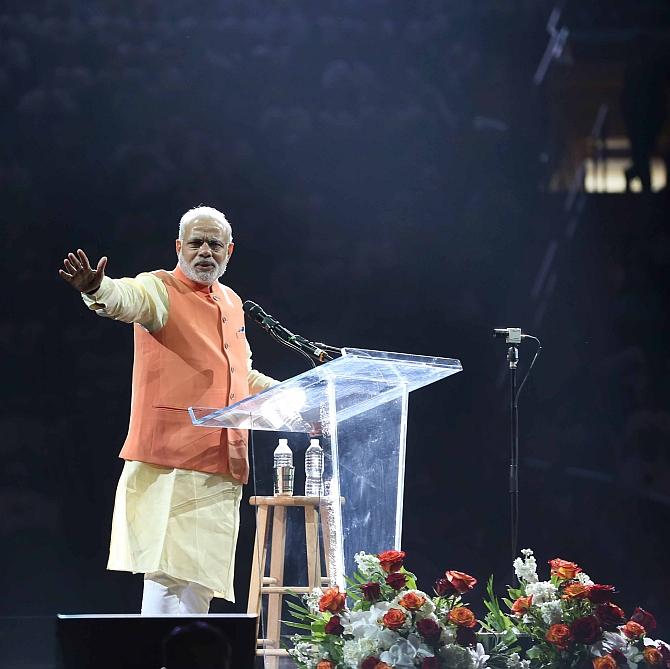 'I thank you,' said Prime Minister Narendra Modi as he addressed Indian-Americans in an hour-long speech at Madison Square Garden, New York. Photograph: Paresh Gandhi/Rediff.com
Addressing a rapturous crowd of non-resident Indians in New York, Prime Minister Narendra Modi affirmed on Sunday that India will move ahead at a rapid pace and lead the 21st century world.
At a unique event at the Madison Square Garden in the heart of Manhattan at which some 20,000 cheering NRIs were present, Modi said that his big win in the Lok Sabha elections had come with a big responsibility for him which he would fulfill.
Listing out India's advantages, the prime minister said that its three strengths were democracy, demographic dividend in which 65 per cent of its population was under 35 years, and the demand for India because it was a huge market.
Chants of 'Modi, Modi' resounded at MSG. Photograph: Paresh Gandhi/Rediff.com

Clearly with an eye on the younger generation, Modi said, "We will not do anything which will let you down."
"My government will be 100 per cent successful in fulfilling the aspirations of the people," he said, as the crowd repeatedly chanted 'Modi-Modi'.
Attired in a saffron Nehru jacket and yellow kurta, the prime minister held the packed indoor stadium spellbound, asserting that "Our attempt is to make development a peoples' movement."
I want to make development a movement, said the PM. Photograph: Paresh Gandhi/Rediff.com
In his over hour-long speech in Hindi which he began with 'Bharat Mata Ki Jai' while extending greetings for Navratri festival, Modi promised good governance saying after a gap of 30 years India has got a government at the Centre with a clear majority.
He also took a jibe at poll predictions in the run up to the Lok Sabha elections. "No political pundit or opinion makers could fathom such a verdict," he said.
Winning elections brought with it a big responsibility, he said. "Ever since I took up this task (as prime minister), I have not taken even a 15-minute vacation," he said.
Modi said there was no need for any disillusionment. "India is going to march ahead at a very fast pace."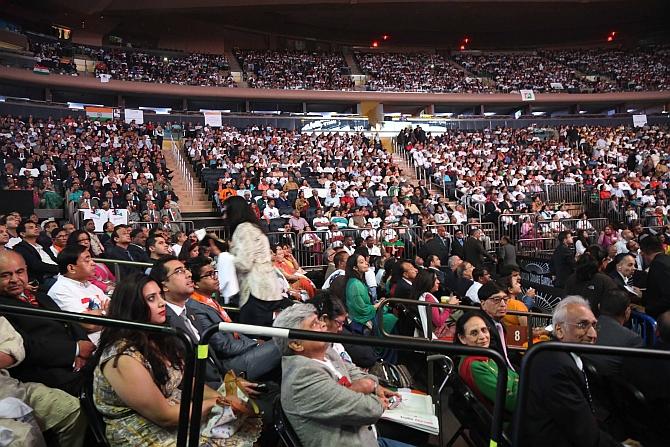 It was a full house at Madison Square Garden. Photograph: Paresh Gandhi/Reuters
"The 21st Century will be that of India. By 2020, only India will be in a position to provide work force to the world," he said, while citing examples of growing global demand for nurses and teacher."
He also said Americans nationals wanting to visit India for tourism purposes will get long-term visa. "My effort is to make development a mass movement. I am confident is that we will succeed. This country is going to make rapid progress."
"There are many expectations from the new government. This government will be 100 per cent successful in fulfilling the aspirations of people," he said amid loud cheers by the around 20,000 people. "My dream is to see every Indian family has a home by 2022," he said.
Crowds enjoy a colorful cultural performance at MSG. Photograph: Paresh Gandhi