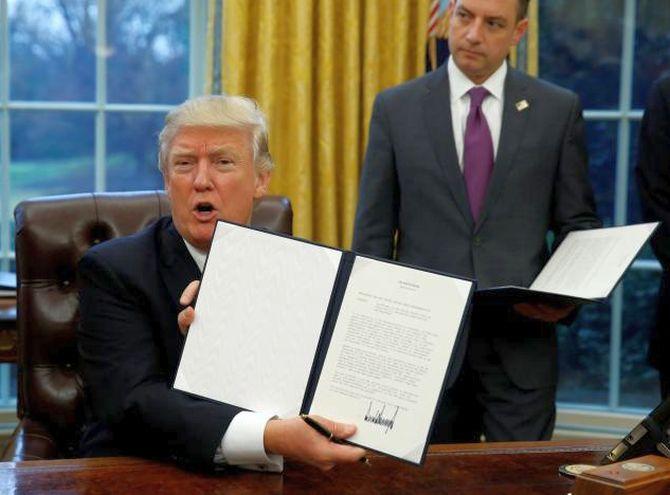 United States President Donald Trump has fulfilled a campaign pledge by signing an executive order to withdraw from the Trans-Pacific Partnership.
The trade deal, a linchpin of ex-President Barack Obama's Asia policy, was signed by 12 nations.
"Great thing for the American worker what we just did," said Trump as he dumped the pact with a stroke of a pen.
He also cut funding for international groups that provide abortions, and froze hiring of some federal workers.
The TPP was negotiated under former President Barack Obama, but never ratified by Congress, so withdrawing from it will not have an immediate, real effect on US economic policies, although it does signal a new and very different US outlook on trade under Trump.
The Trans-Pacific Partnership brought together the United States and 11 other nations along the Pacific Rim, including Canada, Mexico, Japan, Vietnam, Malaysia and Australia, creating a free-trade zone for about 40 percent of the world's economy.
It was intended to lower tariffs while setting rules for resolving trade disputes, setting patents and protecting intellectual property.
Image: US President Donald Trump holds up the executive order on withdrawal from the Trans Pacific Partnership after signing it. Photograph: Kevin Lamarque/Reuters