The fantastic notions regarding the 'defining partnership' that accrued during the Obama years are withering away.
We see none of the euphoric build-up customary to India's encounter with US presidents in recent times.
These give Modi wriggle room to work on the much-needed reset of India-US ties, says Ambassador M K Bhadrakumar.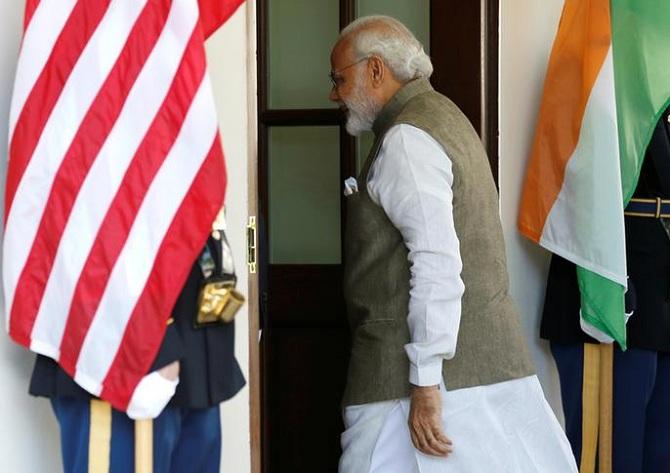 IMAGE: Prime Minister Narendra Modi at the White House in June 2016.
Just before Modi is ushered into the Oval Office on June 26, Donald Trump will have received two top Chinese officials. This meeting conveys to Modi beforehand that Trump is not interested in the pivot strategy in Asia.
Photograph: Jonathan Ernst/Reuters
The scheduling of diplomatic events draws attention for its timing and sequencing.
The first session of the upgraded Comprehensive Dialogue between the United States and China began in Washington on June 21.
This Sino-American platform was constituted during the visit by Chinese President Xi Jinping to the US in April by mutual agreement 'to elevate existing bilateral talks to reflect the importance of making progress on issues', according to the White House.
A novel feature is that the two heads of State will have an institutional role in overseeing the deliberations.
Just before Prime Minister Narendra Modi is ushered into the Oval Office on June 26, the Trump administration has given a new impetus to the budding US-China détente.
Initial reports, especially the joint press conference by US Secretary of State Rex Tillerson and US Defence Secretary James Mattis, suggest that the US proposes to proceed full steam ahead on relations with China.
The Trump administration's order of foreign-policy priorities signals that China has a crucial role to play in the realization of the 'America First' doctrine and in addressing the North Korea problem, which is a top priority in US foreign policies.
We cannot afford to miss the salience: Trump seeks transactional relationships.
His predecessor was not particularly different, except that Obamaspeak could make any transaction look value-based.
Trump, a non-professional politician, is blasé about profit.
In a fundamental sense, Trump's meeting with Yang and Fang on June 22 conveys to Modi beforehand that he is not interested in the pivot strategy in Asia. This base line means that Trump doesn't need India as a 'lynch pin', either.
Looking back, Modi got for India hardly anything out of all the effort he personally put into the India-US relationship so far.
Obama kept making nice speeches, but delivered nothing. Logically, Modi shouldn't hesitate to put across to Trump what India expects out of the 'defining relationship'.
However, the likelihood is that Modi's aides won't advise him against 'muscular diplomacy'. Trump's explosive temper problems are legion, and they worry how he might react to Modi on topics like visa and immigration. They will advise Modi to play safe.
The likelihood is that Modi will try to humour Trump instead with some lucrative arms deals.
Coincidence or not, the F-16 aircraft project has suddenly popped up on the radar.
Will the tactic to 'soften up' Trump work?
It might. But then, there is also flip side to it.
Trump's appetite is gargantuan, and he may keep demanding more weapon purchases by the Modi government.
Military modernisation is necessary for India. But how can India keep spending billions of dollars and buys weapons from American vendors with an eye on Trump?
What will we do with all these 200-300 obsolete F-16 jets?
Trump has a well-deserved reputation to be a bully.
His unwarranted reference to India while announcing the US' retreat from the Paris Accord underscored that he already harbours an image of India being a milch cow.
We may expect that from Trump's perspective, the centre stage of the US-Indian relations will be trade and investment issues -- not terrorism, as our security tsars might hope for.
The bottom line here is that Trump is disinterested in Make in India, while Modi lacks the wherewithal to make himself useful for America First, either.
When it comes to terrorism, India figures in Trump's calculus only peripherally.
Trump takes the problem of terrorism seriously, but in South Asia its epicentre is AfPak, which demands dealing with Pakistan more effectively than before.
Even if Trump were to seek India's helping hand to pile pressure on Pakistan, which is unlikely, it will be exceedingly foolish and short-sighted on our part to get entangled in such an enterprise.
Trump's team is sold out on the great game in Afghanistan. And India has no reason to be a protagonist in the looming struggle, which could only complicate our relations with the major regional powers -- Russia, Iran, Pakistan and China.
The US is not on the right side of history in Afghanistan. Let Trump's generals figure out the exit strategy.
---
What the Pundits Say
---
All in all, Modi's visit to the White House may turn out to be a PR event.
Foreign Secretary S Jaishankar's four visits to the US to kickstart a conversation with the Trump administration failed to fructify.
Wisely, the government rejected the proposal from Sangh Parivar activists that Modi might undertake a road show in Houston similar to what he did in Madison Square Garden. It was a bizarre idea.
Just think of the incongruity of the PM being wildly cheered by Indian immigrants not too far from the wall that Trump plans to erect facing Mexico.
One Indian newspaper suggested helpfully that Modi might hope 'to break ice over dinner' with Trump. Frankly, it betrays a complete lack of understanding of the intellectual challenge ahead.
Trump's recent visit to Saudi Arabia has been an eye-opener. Despite his famous Islamophobia, he picked Riyadh for his first visit abroad as president.
In Riyadh, his sword dance with King Salman took the observers' breath away; however, hardly three weeks later, Trump sold 'beautiful weapons' worth $12 billion to Qatar, which is the bête noir of the House of Saud, while at the same time insisting that Qatar is a State sponsoring terrorism.
That is quintessential Trump. Do not try to overreach -- ice or no ice. Or else, it could turn out to be perilous.
Then, finally, there is this civil war going on in the Washington Beltway.
If only to get a feel of the vicious undercurrents, before taking the weekend flight to Washington, Modi should read up the visceral essay by the well-known San Francisco writer, historian and activist Rebecca Solnit, The Loneliness of Donald Trump.
The good part is that the fantastic notions regarding the 'defining partnership' that accrued during the Obama years are withering away. A sombre note has crept in.
We see none of that euphoric build-up customary to India's encounter with American presidents in recent times.
But will it lead to a sense of realism in Delhi about India's relations with the US -- and prompt a much-needed reset in India-US ties? It remains an open question.
The foreign-policy mandarins might prefer to hunker down and wait for the bad dream to pass by 2020 -- if not earlier -- and for happy days to return. And, unfortunately, Modi has so far allowed them largely to set the compass for his performance.