For almost 60-minutes, Prime Minister Narendra Modi spoke extempore at the SAP Center in San Jose and he left a crowd of 18,500 in awe.

But there were a few hiccups with the subtitles disappearing in the middle of the speech and also, the Sikh Diaspora was not quite impressed. Ritu Jha/Rediff.com reports from California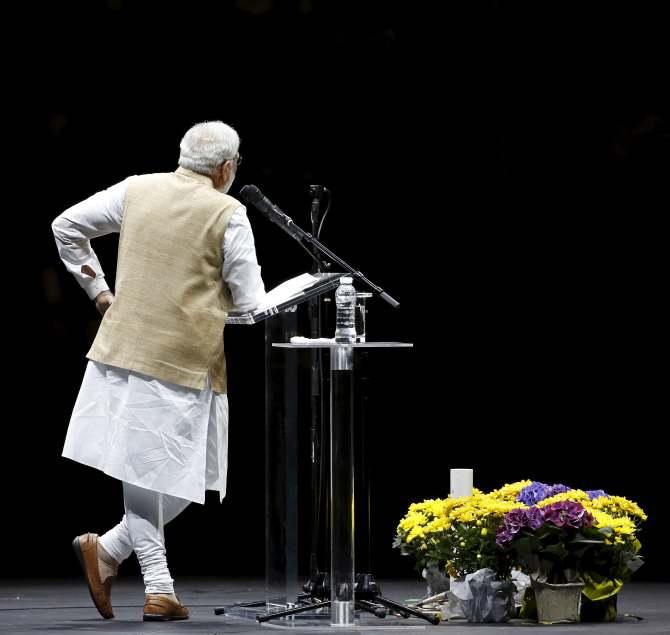 PM Narendra Modi got a rock star welcome at SAP Center in San Jose, California. Photograph: Stephen Lam/Reuters

'Modi, Modi' cheered a crowd of 18,500 people, as the prime minister began his historic speech at the SAP Center in San Jose, California. The mood was festive.
After queuing up outside the stadium from 2 pm, people were delighted, as Modi took centre-stage and began his address at 7 pm.
For almost 60 minutes, the PM spoke extempore and SAP Center was in awe.
"Modi's speech was excellent, as usual," Chandru Bhambhra, co-chair, Indo American Community West Coast, USA told rediff.com.
The PM spoke about improving the system, curb on money laundering and more.
"I liked the way he gave a strong message to the United Nations about terrorism. He said that in last so many years the United Nations had not been able to properly define terrorism," recalled Bhambhra.

PM said there is nothing "like good and bad terrorism". All the countries in favour of world peace have started to build pressure on United Nations and the time has come that it should now quickly define terrorism, Modi added.

"So, I think it is a very strong and appropriate message," said Bhambhra

Khanderao Kand, director Indo-American Community of West Coast, simply said, "He came, he spoke and he won."

Modi fans were elated, as he announced a direct flight between San Jose and New Delhi. Until now, the residents of San Francisco Bay Area took 21 to 24 hours to reach Delhi with a layover in between. "I really welcome this (new flight)," Sushmita Prasad said. "It's time saving and convenient for North Indians. Now we can plan more trips more often. Hope the tickets are not very expensive."

"Modi started good and I liked that he talked about Digital India. Where there is so much corruption, he is trying to neutralise things," said Satya Narayan, who travelled Sacramento to San Jose.
Archana Kalavendi is positive that Modi will change India. Photograph: Ritu Jha/Rediff.com

Another ardent admirer Archana Kalavendi came with her 10 month-old baby, only to see Modi and hear him speak. "I like him; he is a genuine leader who wants to develop India," Kalavendi said. "Next time, when I visit India, I hope to see a clean India …swachh Bharat."

Raj Munaim, one of the leaders of the Dawoodi Bohra community, and a member of IACWC, was quite excited to "have Modiji visiting". "Earlier, he came to the Madison Square Garden and that was a great event and this is great as well."

On supporting Modi, he added, "I think he has done a really good job for India, making it a lot more positive. He is giving attention to some basic things that are needed in India like sanitation and women's rights to uplift the country and make it more prosperous."
Lopa Manoj felt he was lucky to get a ticket and be at the SAP. "Arrangements were up to mark, lots of food options and well planned security. I loved the anchors…happy to see Ashwini Bhave." According to him, everything was fine, but the translation.
The PM spoke in Hindi and the subtitles stopped appearing on screen in the middle of the speech. There was technical problem. And this upset quite a few.
Vlad Khaykin of the Anti-Defamation League left in the middle of Modi's speech. "The translation is the key and I don't speak Hindi. Now, maybe that's the next language I will learn," he mused.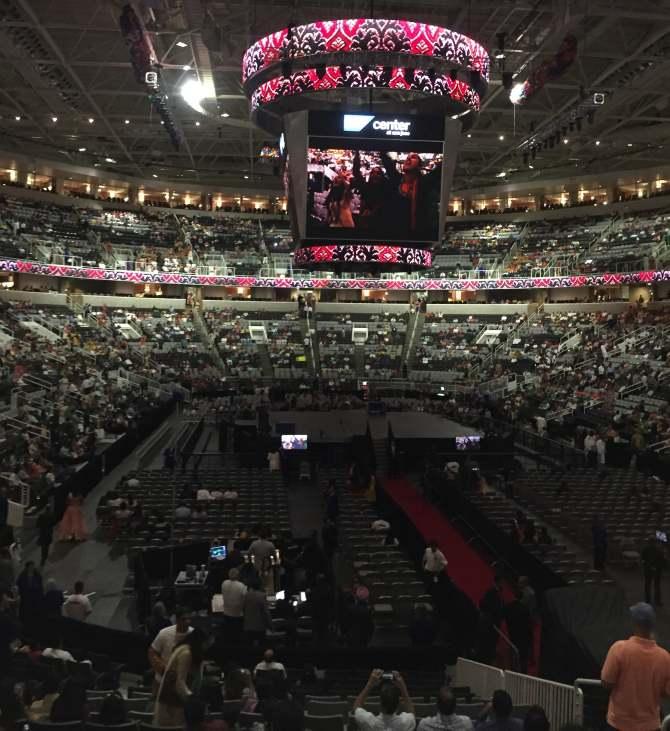 The mood was festive at the community reception at SAP Center in San Jose, California. Photograph: Ritu Jha/Rediff.com

Satnam Singh Chahal, executive director of North American Punjabi Association, was disappointed that the PM did not announce a direct flight from San Francisco to Amritsar. The announcement of three direct flights from San Jose to New Delhi will not serve any purpose and it will not benefit to the community at all, he believed. "Now, Modi has lost the confidence of the Punjabi Diaspora."
The Sikh Diaspora was expecting Modi to make announcement on 1984 Sikh riots, but were again dejected.
At the SAP Center, Congresswoman Tulsi Gabbard met the PM along with other members of Congress to discuss plans to build US-India relations and promote technology partnerships. "This visit has been focused on technology and innovation and how they can be leveraged to empower people in both of our countries," Gabbard said in her statement through a press note.