In a rare disclosure, Federal Bureau of Investigation Director James Comey on Monday confirmed that the agency was probing Russia's meddling in last year's presidential polls, including possible links between the Trump campaign and Moscow.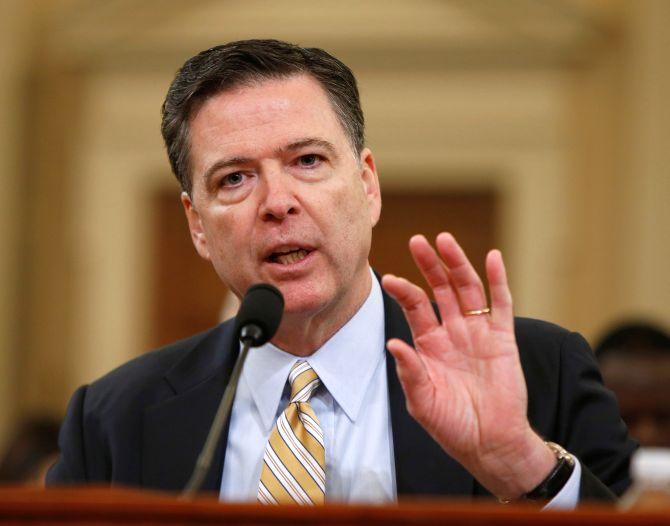 The FBI chief also trashed President Donald Trump's allegation that his Trump Tower was wiretapped on the orders of his predecessor Barack Obama in the run up to the November 8 presidential election.
Testifying before the powerful House Permanent Select Committee on Intelligence, the Federal Bureau of Investigation chief said that the decision to confirm the ongoing investigation is rare as the agency as a matter of policy does not confirm any ongoing investigation.
However, the Department of Justice in larger public interest has given its consent to do so in this case, he said.
"I have been authorised by the Department of Justice to confirm that the FBI, as part of our counter-intelligence mission, is investigating the Russian government's efforts to interfere in the 2016 presidential election," Comey said.
"That includes investigating the nature of any links between individuals associated with the Trump campaign and the Russian government, and whether there was any coordination between the campaign and Russia's efforts," he said.
Comey, however, refused to divulge any details of the ongoing probe.
On wiretapping allegations, Comey said, "With respect to the president's tweets about alleged wiretapping directed at him by the prior administration, I have no information that supports those tweets, and we have looked carefully inside the FBI."
Responding to a question from the members on Trump's allegation, he said the Justice Department had also looked for evidence to support Trump's allegation that his Trump Tower in New York -- the headquarters of his presidential campaign -- was wiretapped but could not find any.
"The Department of Justice has asked me to share with you that the answer is the same for the Department of Justice and all its components, the department has no information that supports those tweets," Comey said, noting that no US president can unilaterally order a wiretap.
Acknowledging that the probe on Trum-Russia link was very complex, the FBI Director said that there is no timeline to complete this investigation.
"I can promise you we will follow the facts wherever they lead," he said.
"As you know, our practice is not to confirm the existence of ongoing investigations, especially those investigations that involve classified matters. But in unusual circumstances, where it is in the public interest, it may be appropriate to do so. This is one of those circumstances," he said.
In his opening remarks, Congressman David Nunes, Chairman of the House Permanent Select Committee on Intelligence alleged that the Putin regime has a long history of aggressive actions against other countries, including the outright invasion of two of its neighbours in recent years as well as its brutal military action in Syria to defend the Assad regime.
But its hostile acts take many forms aside from direct military assaults, he said.
Nunes alleged Russia has a long history of meddling in other countries' election systems and launching cyber attacks on a wide range of countries and industries.
The Baltics and other Russian neighbours have long decried these attacks, but their warnings went unheeded in far too many nations' capitals, including our own.
"The fact that Russia hacked US election-related databases comes as no shock to this Committee, which has been closely monitoring Russia's aggression for years," Nunes said.
Joining Nunes, the Ranking Member Congressman Adam Schiff said last summer at the height of a bitterly contested and hugely consequential presidential campaign, Russia, a foreign adversarial power, intervened in an effort to weaken US democracy and to influence the outcome for one candidate and against the other.
The direction in this regard was issued by "its autocratic ruler Vladimir Putin, in order to help Donald J Trump become the 45th president of the United States," Schiff alleged.
"The Russians successfully meddled in our democracy and our intelligence agencies have concluded they will do so again. Ours is not the first democracy to be attacked by the Russians in this way. Russian intelligence has been similarly interfering in the internal and political affairs of our European and other allies for decades," Schiff said.
Soon after Comey's Congressional hearing, Democrats demanded that Trump apologise to Obama.
"President Trump owes the American people and President Obama more than just an explanation, but an apology. He should admit he was wrong, stop the outlandish Tweets, and get to work on behalf of this country," said Senate majority leader Charles Schumer.
"The FBI director has now confirmed what members from both parties in both the House and the Senate have said: 'President Obama did not order a wiretap on Trump Tower'. No matter what else happened, there are no ifs, ands, or buts about it -- President Obama wiretapping Trump Tower did not happen," he said.
"By tweeting this claim and attempting to put unproven theories from the fringes of the American media into the mainstream, President Trump has severely damaged his credibility, which is essential to being president. He needs to retract his claim immediately," Schumer alleged.
FBI Director James Comey testifies before the House Intelligence Committee. Photograph: Joshua Roberts/Reuters