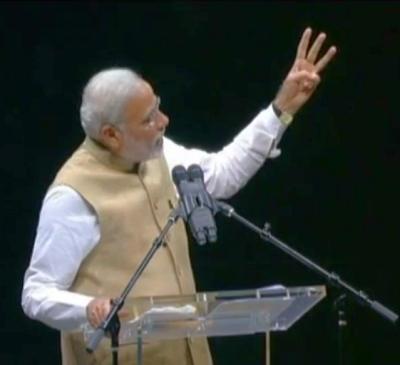 Prime Minister Narendra Modi on Monday morning addressed over 18,000 Indian Americans at the SAP Centre in San Jose.
Here are highlights of his speech.
* It is asked all around, who does 21st century belong to? Everyone agrees its Asia's. For the first time, people are saying that 21st century is India's century; the world has started believing in this today. Who brought this change? This change was not brought by 'Modi Modi', but 125 crore Indians.
* Nothing's hidden today. A news breaks and you get it on your phone immediately. You know what Modi has done, what he has said, what he is saying. I had said I won't compromise on hard work. 16 months later, today, I need your certificate. Am I working? Am I working for nation? Am I fulfilling promises? (crowd roars)
* The son made Rs 250 crore, daughter made Rs 500 crore, son-in-law made Rs 1,000 crore... are you not tired of listening to such stuff? Today I stand in front of you, do I have any allegations of corruption against me?
* People ask me where do I get my confidence from? How I am so sure that my nation will progress? I am confident that it will, as my nation is young. 65% of our population is under the age of 35.
* Be it the World Bank, Moody's or any other research agency, everyone is saying India is the fastest growing economy of the World.
* India is only nation which succeeded in its 'Mars orbiter mission' in just one attempt; look at the commitment & capability of our nation.
* The way technology has given a new strength and direction to the entire World, we have also initiated 'Digital India' acknowledging that.
* We are moving ahead with 'JAM of all'; 'J' stands for Jandhan account, 'A' stands for 'Aadhaar card' & 'M' stands for 'Mobile governance'.
* Once I requested people of the nation to give up their LPG subsidy for the poor. I feel proud in saying that 30 lakh people have surrendered their subsidy.
* There are two major challenges before the World today -- terrorism and global warming. The United Nations still has not been able to define terrorism. If it will take so much time to define terrorism, how will we tackle it? You cannot protect humanity with 'good terrorism' or 'bad terrorism'... Terrorism is terrorism, that's it! The UN has a responsibility. It must have a clear roadmap on who it sees as terrorist and who stands with humanity.