'The world does not care about the tension on our border.'
'India has to emerge as a strong economic power.'
'Respect comes when the world sees a country with a direction and leadership that has a vision,' points out Ramesh Menon.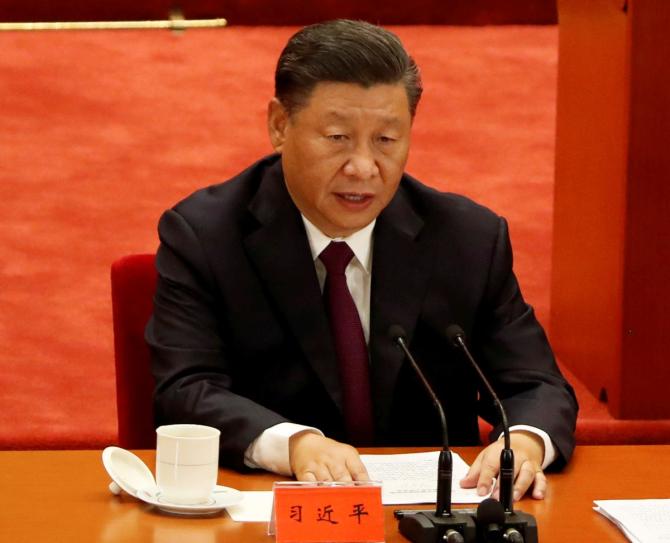 The India-China border is simmering with tension as thousands of Chinese and Indian troops have been mobilised to keep vigil over each other.
Heavy military equipment and supplies flow in indicating that is going to be a long-drawn affair.
It is going to be a busy eight-month long winter for both armies along the Line of Actual Control that has an ill-defined disputed border of around 3,440 kilometres. It contains mountains, rivers, lakes, and generally rough terrain.
Mercury can plunge to -30 degrees Celsius and there can be frequent snowstorms. It is not going to be easy for either of the armies.
This is China's way of bleeding an economically ravaged India after the pandemic struck. This is going to cost India thousands of crores of rupees.
Numerous rounds of talks between the two Asian giants have been inconclusive as China refuses to move back to its earlier positions continuing to occupy nearly 1,000 square kilometers of Indian territory usurped in the last few months.
V Muraleedharan, the minister of state for external affairs, conceded in a statement to Parliament that 38,000 square kilometres of Ladakh have been under Chinese occupation in the last two decades.
Mike Pompeo, the United States secretary of state, says India is presently facing a 60,000 Chinese troop build-up in eastern Ladakh.
Robert O' Brien, the US national security advisor says the time had come to confront China over its aggressive actions as dialogue and agreements would not persuade the Communist nation to change its ways.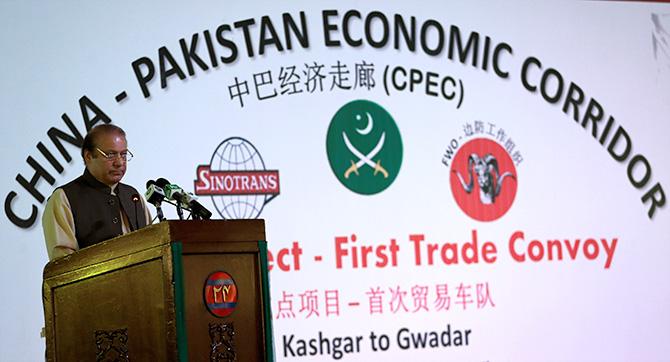 India is contemplating buying American drones for three billion dollars to boost its surveillance at the Indo-China border.
It has also inked a deal of Rs. 59,000 crore with France to buy 36 Rafale jets. The first few that have arrived have already been deployed near the border.
The United States is hoping that the crisis on the border will drive India into American arms. It is quite apparent that the US wants to stop Chinese growth plans and its hunger for territorial gains in Asia.
The USS Nimitz, the American nuclear-powered aircraft carrier, swished into the Bay of Bengal when border tensions flared up between China and India. Ostensibly, it was only there to carry out an exercise with the Indian Navy in mid-July.
It was also a subtle warning to China that wants to flex its might in the Indian Ocean.
China has not taken kindly to overtures by India to the United States and some aggressive moves it has made like standing with Bhutan in the Doklam crisis.
The crisis may also give a new impetus to the Quadrilateral Security Dialogue, commonly referred to as QUAD.
This is a regional partnership between four democracies: The US, Japan, Australia, Japan, and India. At a recent meeting, apprehensions of how China was moving was expressed and the need to contain it.
China will continue to be in the news for a long time to come.
It is now unstoppable as it races to the top of the world.
It will do everything to make that happen even if it means isolating the world or threatening countries.
Or trying to control the economy of continents like Africa after pitching tent there after offering attractive loans for building infrastructure.
India is a major competitor and needs to be put out of the way. Border skirmishes and ridiculous claims on Indian land is one way to keep it on a Chinese leash.
How ridiculous is it to claim that Arunachal Pradesh is a part of China? A government has been functioning there for decades and people have elected different political entities down the years.
Two people from Arunachal Pradesh who reportedly wanted to go to China and applied for a visa, were asked why they wanted a visa to go to their own country.
The Chinese presence continues at Doklam that saw a major standoff with India. Now, China sits at a vantage point that overlooks the crucial Siliguri corridor that connects India to the north east.
China is repeatedly showing that it is going to interpret the India-China border in the way it wants.
China has encircled India in a devious way.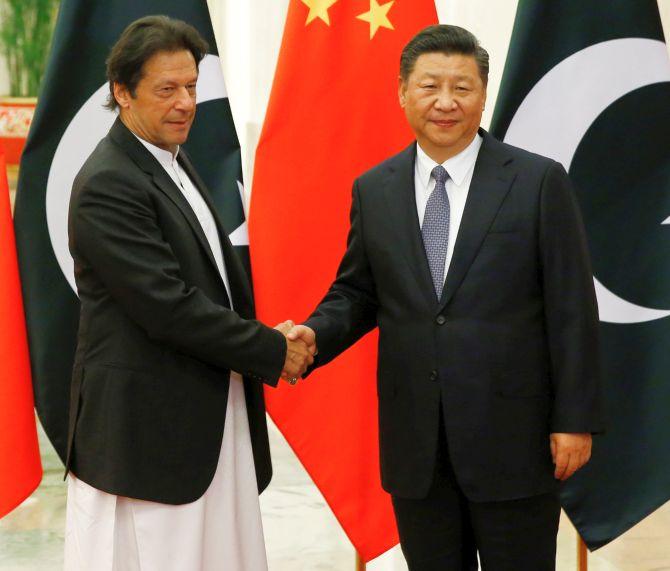 It is active in Pakistan sinking in billions of dollars to build infrastructure.
The China-Pakistan Economic Corridor is a collection of infrastructure projects that are under construction throughout Pakistan since 2013. Originally valued at $46 billion, the value of CPEC projects is worth $87 billion as of 2020.
Hussain Haqqani, director for South and Central Asia at the Hudson Institute and a former ambassador of Pakistan to the United Nations says China is not in Pakistan to help its people, but rather as a predatory actor.
It has dug deep into Nepal offering generous sums of money for various projects. It is also building a strategic road from China to Nepal that has security implications for India.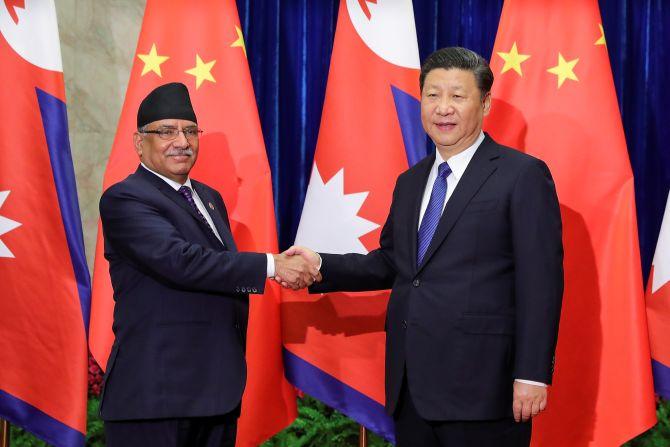 As much as 90 percent of Nepal's Foreign Direct Investment comes from China alone. China has invested over $88 million last year as compared to $1.76 million by India in the Himalayan kingdom. No wonder it is tilting towards China in recent times.
Ironically, India and Nepal had close historic ties. Nepalis are free to cross over to India through an open border without a visa or passport. They are free to also work in India.
Millions of them have lived in India for decades. However, rising Chinese investments and grants to Nepal have made the politicians turn belligerent towards India. And this is unlikely to now change.
China is the biggest FDI investor in Sri Lanka today: around $1159 million.
In 2002, Sri Lanka decided to build a new port in at Hambantota hoping to rein in global revenue.
China offered $1.1 billion in loans and also offered contractors to build a massive port. When it got ready in 2010, Sri Lanka could not even pay the interest on the loan.
In 2017, China took over the port on a 99-year lease as Sri Lanka defaulted on repayments.
China has bankrolled many such projects all over the world subtly taking control.
Its Belt and Road Initiative will in the next few years show how it will control global trade and commerce that will insure Chinese interests.
Despite the raging COVID-19 pandemic, India's Foreign Secretary Harsh Vardhan Shringla dashed to Dacca in August as Bangladesh was asking China for financial help of around $6.4 billion to set up infrastructure projects.
In 2017, India had offered a loan of $5 billion to Bangladesh hoping to wean it away from China that had already offered a loan of $24 billion!
China is doling out to India's neighbours that cannot be matched.
In June this year, Myanmar's auditor general cautioned the government about the dangers of relying on Chinese loans that had a high rate of interest as it can push the country into a debt trap as it has happened in Africa and Sri Lanka.
Out of Myanmar's national debt of $10 billion, as much as $4 billion is owed to China. Presently, the country is struggling to annually repay $500 million to China as a part of the loans it has taken.
A few weeks ago, India signed a deal with the Maldives granting it $100 million and a line of credit of $400 million to counter China's growing influence in the island nation. China has been investing in taking over islands raising security concerns in India.
The Maldives currently owns over $600 million to China. For a country with a population of just 4 lakh, this is a huge sum.
As China is trying to draw the Maldives into helping it build a base there, the US has signed a defence agreement clearly to neutralise Chinese deployment and involvement with the island nation.
Xi Jinping wants to be seen by history as the greatest Chinese leader overshadowing even Mao, who laid the foundations of modern China.
He clearly wants China to emerge as the most dominant power in the world with its economic and military teeth.
The Belt and Road Initiative is a grand Chinese plan to achieve global dominance in trade. It stretches from South-East Asia to Eastern Europe and Africa touching 71 countries through road and maritime routes. It is estimated to cost around $ 1 trillion.
Most of the construction is being done by China while the countries pay for it. Chinese companies have netted over $340 billion in construction contracts already.
India has refused to be a part of it.
With the Belt and Road Initiative, many of the poorer countries are now worried about the debt trap with China that they are sliding into.
Those who are not joining the Initiative have been roughly handled. This list includes India, Taiwan, Malaysia, South Korea, Japan, Australia, Brunei, Indonesia, and the Philippines.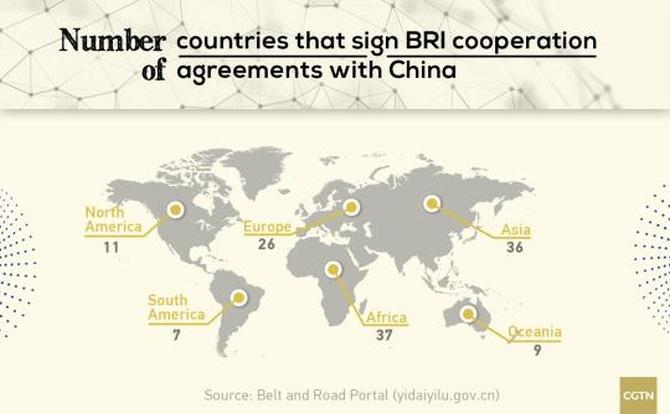 In April this year, India tweaked its FDI laws in a bid to prevent any hostile Chinese takeover of Indian companies that had slipped into a crisis due to the pandemic.
The laws pertain to all neighbours, but the idea was to get China to now go through the government route to make any further investments in India.
There are over 800 Chinese companies functioning in India's domestic market.
For the first time at least there are voices in India that are saying that it is time to get out of dependence on China for various products.
Since the last twenty years, the amount of Chinese products entering India has jumped 45 times. Sounds impossible? Count the number of Chinese goods in your home.
All these goods in the market are mostly from China: Smartphones, electrical appliances, telecom equipment, pharmaceutical ingredients, chemicals, plastics, auto parts, steel products, health infrastructure equipment, zero rail coaches, power plant machinery. The list is very long.
India banning Chinese apps means nothing to the Chinese as the loss is so minute in what it earns from global trade.
It is not easy to find solutions to the continuing drift in India-China relations.
War is hardly a solution.
It will only help countries that are selling arms to India.
India has to emerge as a strong economic power.
Respect comes when the world sees a country with a direction and leadership that has a vision.
China may be very unpopular in most parts of the world as a recent study of the Pew Research Centre has shown.
But the world does not care about the tension on our border.
We have to sort it out using diplomacy and tact. Not by banning Chinese apps.
Ramesh Menon is an author, journalist, documentary film-maker, corporate trainer and editor of The Leaflet.
Feature Presentation: Rajesh Alva/Rediff.com