Did Xi deliver a message to Modi at Mamallapuram, which though couched in a velvet glove was time-bound?
What was that message?
It is clear Indian/Israeli/US spy satellites would not have missed detecting Chinese troop movements towards the Ladakh-Tibet frontier.
Then why did some important functionaries in the Government of India choose to only ask the Russians about this in April 2020?
Was Russian reassurance of Chinese troop movements being part of a routine exercise the reason that the Leh-based XIV Corps did not mobilise itself for its annual summer exercises near the LAC?
A fascinating excerpt from Iqbal Chand Malhotra's new book Red Fear: The China Threat.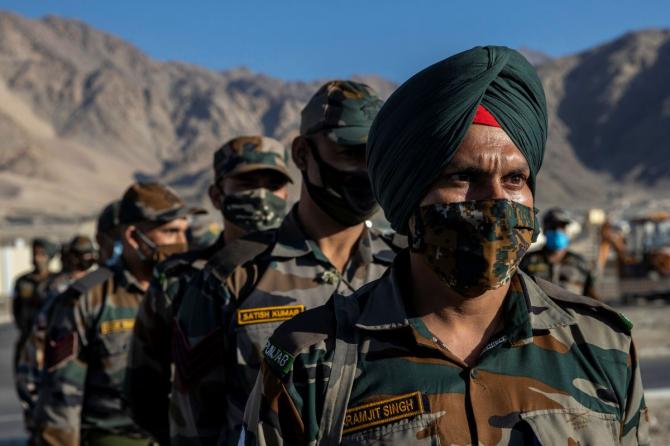 The concept of the Line of Actual Control in Ladakh came into being in September 1993 when (then Indian and Chinese prime ministers) Narasimha Rao and Li Peng signed the BPTA (Border Peace and Tranquillity Agreement ).
Thereafter, this folly of 1993 was successively repeated and a continuous stream of deeply flawed agreements were signed in November 1996, April 2005 and October 2013.
All of these agreements were a strategic illusion.
In fact, this should have become abundantly clear when in 2003, then foreign secretary Kanwal Sibal met with Wang Yi (now China's foreign minister), the head of the Chinese delegation, in New Delhi.
It was logically proposed that both sides would exchange maps to an agreed scale on each side's perceptions of the location of the LAC in Ladakh.
Mind you, here they were willingly discussing constantly shifting Chinese perceptions of how much more Indian territory the Chinese intended claiming.
The intention was to superimpose the two sets of maps to assess the convergence and divergence of perceptions.
Both sides exchanged maps. The story goes that Wang opened the Indian map, took a long and detailed look at it, folded it and returned it to Sibal.
He provided no explanation and the substance of the meeting ended there and then. By disregarding the Indian map, Wang freed China by being bound to it and by extension also freed China from India's perception of the LAC.
This action of Wang Yi is the basis for the fact that the PLA does not need to limit or temper its freedom of military action in Ladakh.
Even then, Prime Minister Vajpayee never got the message and nor did his successor Manmohan Singh.
Narendra Modi, who succeeded Manmohan Singh, first got a taste of the Chinese medicine when, in September 2014, he was perched on a swing with Xi at the banks of the Sabarmati river.
News came in that substantial numbers of PLA troops had intruded into the Chumar area in Ladakh. This was perhaps the lowest form of crude disrespect that Xi could hand Modi at the start of their relationship.
Hard bargaining resulted in the PLA withdrawing from their intrusions a few days later. To his credit, Modi paid a return visit to China in 2015 and floated a proposal to clarify the LAC. This was rejected by the Chinese.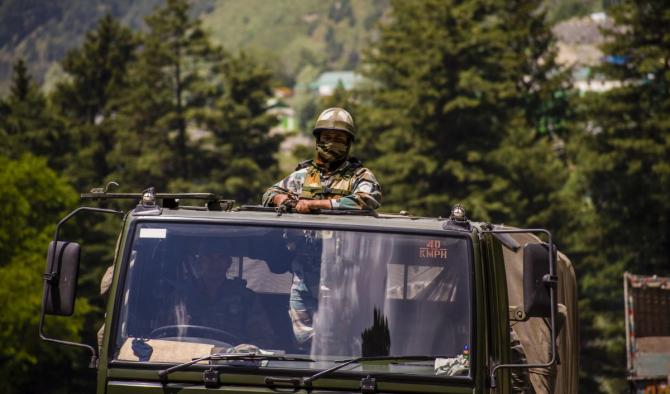 Despite Modi and Xi's post Doklam summit meetings in Wuhan in April 2018 and in Mamallapuram in October 2019, it appears that China not only wishes India to acquiesce to vacating more territory in Ladakh but it also wants India to sit down with both China and Pakistan in a trilateral setting and resolve the issue of Jammu and Kashmir to their advantage and satisfaction.
In fact, the joint statement issued after the Mamallapuram summit relegated the border issues to paragraph 16 of the 17-paragraph long joint statement.
Ironically, both Xi and Modi designated the year 2020 as the year of people to people as well as cultural exchanges.
Did Xi deliver a message to Modi at Mamallapuram, which though couched in a velvet glove was time-bound? What was that message?
Did Modi reject that message by not going forward to fulfil it?
It is now being speculated that Chinese troop movements towards the Tibet-Ladakh frontier started in February 2020, somewhere after the formal declaration of the COVID-19 pandemic by WHO and around President Trump's visit to India later that month.
Was the Trump visit and Modi's lack of response to Xi's mysterious message interpreted by Xi as a rejection of his proposition contained in that message?
Did Modi remain silent because he interpreted COVID-19 as a 'weapon of opportunity' as much against India as it was against the rest of China's opponents?
It is clear beyond a reasonable doubt that Indian or Israeli or US spy satellites would not have missed detecting Chinese troop movements in Tibet towards the Ladakh-Tibet frontier.
Then why did some important functionaries in the Government of India choose to only ask the Russians about this in April 2020 as is being speculated?
Was this Russian reassurance of Chinese troop movements only being part of a routine exercise, the reason that Leh-based XIV Corps remained in its barracks on the official grounds that there was a pandemic on and, therefore, it did not mobilise itself for its annual summer exercises near the LAC?
These are very important questions that need honest and authentic answers.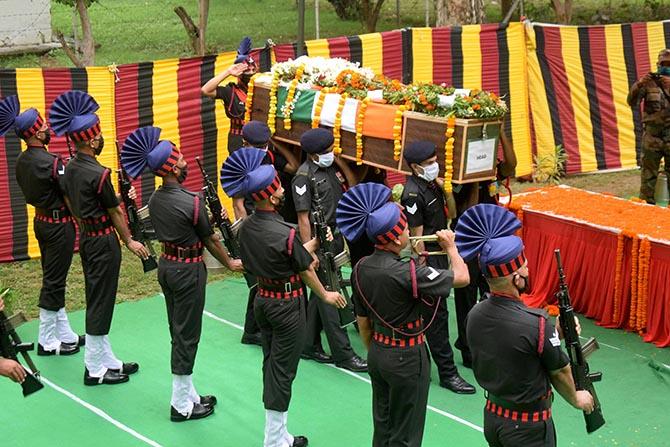 Following the PLA's violent physical clashes against Indian troops at the northern banks of Lake Pangong Tso on 5–6 May 2020 and 9 May 2020 in far away Sikkim where there is a settled border, tensions built up again in Ladakh; and on 19 May 2020, the Chinese foreign ministry accused Indian soldiers of trespassing across the LAC in Pangong Tso, the Galwan Valley and the Hot Springs areas.
Modi's riposte to the Sino-Indian face-off of the summer of 2020 was to sign a landmark deal with Australian Prime Minister Scott Morrison on 4 June 2020, just two days before Sino-Indian talks were to take place between Lieutenant General Harinder Singh from the Indian Army and Major General Lin Liu of the PLA at the Border Personnel Meeting Point at Maldo in Ladakh.
These talks were intended to wind down the face-off if possible. The outcome was inconclusive despite the spin given to it by official spokespersons.
The agreement signed with Australia, now an implacable foe of China, is on allowing access to the militaries of both countries to each other's military bases for logistics support.
The ministry of external affairs said that this deal was part of the total seven agreements that have been signed between India and Australia following the first-ever virtual summit between the leaders of the two countries.
Under the Mutual Logistics Support Agreement, the two countries' militaries can use each other's bases to carry out repair and replenishment of supplies besides allowing for scaling up of overall defence ties. India already has similar agreements with the US, France and Singapore.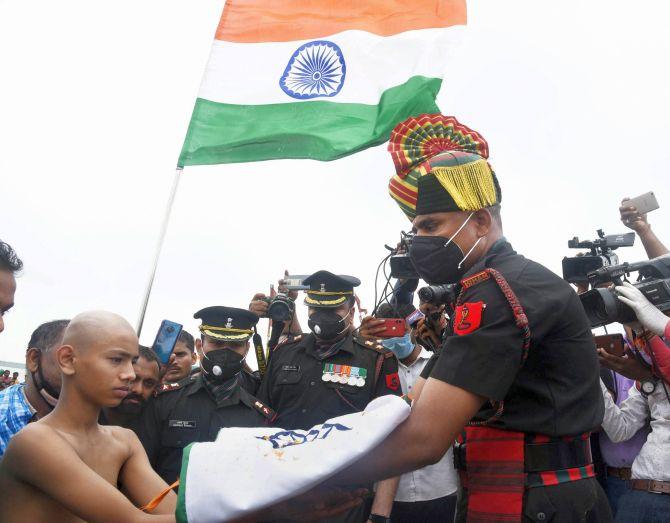 However, on 15 June 2020, an unarmed Indian verification patrol that discovered some newly erected PLA structures on Indian territory was ambushed by the PLA.
The commanding officer, who led the verification patrol, and his men were brutally murdered by the PLA using primitive clubs and other medieval-era weapons.
Twenty Indian soldiers from the 16 Bihar Regiment -- including their commanding officer, a Colonel -- were brutally murdered.
Thereafter, Indian troops retaliated in a frenzy of vengeance and similarly finished off anywhere between 34 to 105 PLA troops. The Chinese foreign ministry has not disclosed the number of Chinese killed.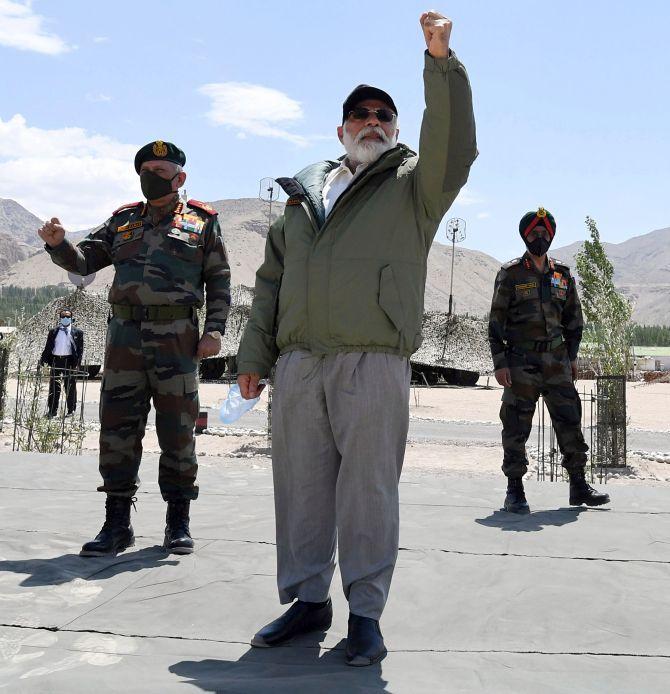 Prime Minister Modi flew to Ladakh on 3 July 2020 and addressed the troops of the XIV Corps where he condemned territorial expansionism without ever mentioning the Chinese.
It appears in hindsight that his unequivocally strong words were designed to create domestic political space for disengagement to be then followed by de-escalation.
On 7 July 2020, it was reported in the media that India's National Security Advisor Ajit Doval and China's Minister of Foreign Affairs Wang Yi had thrashed out a combined disengagement and de-escalation deal.
While Chinese troops withdrew 2 kilometre from Patrolling Point 14 (PP14) in the Galwan heights, which was the site of the clashes on 15 June 2020, Indian troops also had to withdraw 2 kilometreinto their own territory onto the river-valley floor. The PLA remain on the heights.
This gives the PLA a tremendous tactical advantage as they can drive up to PP14 in a matter of minutes. Indian soldiers will take much, much longer to climb the mountainside on foot.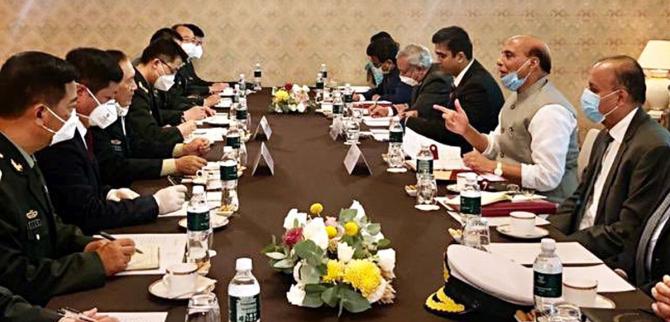 India shied away from imposing either military costs or trade sanctions against China, which is clearly the aggressor.
India's mild retaliatory steps of banning fifty-nine Chinese mobile apps and announcing an intent to restrict Chinese investments in India and debarring Chinese participation in infrastructure projects appear to be an eyewash to assuage the domestic anger at the brutal killing of Indian troops.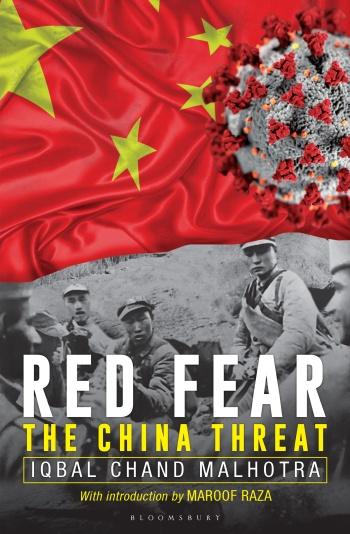 It seemed that a nuclear triad armed India had again caved in to the aggressor. Was this because of the powerful relationships that had been built by the Chinese companies with corporate India and by extension with the political establishment across parties and ideologies?
However, something happened thereafter that suddenly provided the Government of India with the necessary political will to stand up to this new phase of activist Chinese expansionism.
Perhaps it was a realisation that a resurgent and predominantly Hindu India could not afford to appear weak before such blatantly obnoxious Chinese behaviour?
Perhaps it was the US's pressure to stand up to the Chinese?
Perhaps it was a combination of both?
Whatever the push from behind, the Indian Army took an unusually proactive stance on the night of 29/30 August 2020 and pre-empted the PLA from occupying the heights near the Spanggur Gap in the Chushul Sector.
The PLA formations on the valley floor were suddenly very vulnerable to the Indian Army. The tables had been turned.
This was followed days later by the ban of further 118 Chinese apps in India.
This new-found assertiveness worried the Chinese no end as did the tough unyielding stance of Defence Minister Raj Nath Singh in his Moscow talks with Chinese Defence Minister Wei Fenghe on the sidelines of the Shanghai Cooperation Organisation summit. The talks were inconclusive.
As this book goes to print, India and China are poised for the next round. How will the cookie crumble, one wonders.
Excerpted from Red Fear: The China Threat by Iqbal Chand Malhotra, with the kind permission of the publishers, Bloomsbury India.
Feature Presentation: Rajesh Alva/Rediff.com