The deal which is worth €7.87-billion (Rs 58,363 crore) comes with a saving of nearly €750 million (Rs 5,611 crore).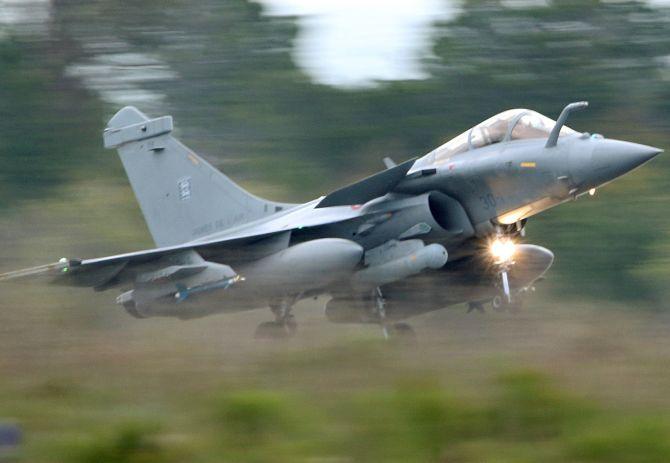 IMAGE: A Rafale fighter jet takes off in the Mediterranean island of Corsica. Photograph: Charles Platiau/File Photo/Reuters
India on Friday inked a 7.87 billion euro (approx Rs 59,000) deal with France for purchase of 36 Rafale fighter jets capable of carrying nuclear weapons and equipped with latest missiles that will give the Indian Air Force greater "potency" over arch rival Pakistan.
The Rafale combat aircraft to be manufactured by French aviation company Dassault will come with various India-specific modifications including Israeli helmet mounted displays, radar warning receivers, low band jammers, 10 hour flight data recording, infra-red search and tracking, towed decoy systems among others.
The Inter Governmental Agreement was signed by Defence Minister Manohar Parrikar and his visiting French counterpart Jean Yves Le Drian 16-months after Prime Minister Narendra Modi announced India's plans to buy 36 Rafale fighter aircraft in fly away condition during his trip to France.
The contracts for the deal were also signed.
The 'vanilla price' (just the aircraft alone) will cost about 91.7 million euros each for a single seater and about 94 million Euros for a two-seater trainer aircraft.
"Pleased to inform that India has signed an agreement for procurement of 36 Rafale aircraft with weapon systems, five years complete spares and maintenance, performance based logistics, India specific special provisions. This is an achievement which will give the IAF the required potency in terms of penetration and capability," Parrikar told reporters at the South Block.
The deal, first fighter plane contract in 20 years, comes with an immediate saving of 328 million Euros over the one struck during the previous United Progressive Alliance government, which was scrapped by the Narendra Modi government, besides a 50 per cent offset clause.
The 50 per cent offset clause means that Indian businesses, both big and small, will gain work to the tune of over three billion euros.
With the Rafale deal clinched, Dassault Aviation Chief Executive Officer Eric Tappier said the French company is ready to be part of 'Make in India' initiative and open to manufacturing the fighters in India if the plane is shortlisted for a bigger order.
These combat aircraft, delivery of which will start in 36 months and will be completed in 67 months from the date the contract is inked, comes equipped with state-of-the-art missiles weaponry that will give IAF a capability that had been sorely missing in its arsenal.
The features that make the Rafale a strategic weapon in the hands of the IAF, which is currently down to 34 squadrons as against a sanctioned strength of 44, includes its Beyond Visual Range (BVR) Meteor air-to-air missile with a range of 150 km.
Its integration on the Rafale jets will mean the IAF can hit targets inside both Pakistan and across the northern and eastern borders while staying within India's territorial boundary. The Rafales will be stationed at two bases -- Sarsawa in Haryana and Hasimara in West Bengal.
Pakistan at present has only a BVR with 80 km range. During the Kargil war, India had used a BVR of 50 km range while Pakistan had none. However, Pakistan later acquired 80- km-range BVR.
Defence experts said that with 'Meteor' the balance of power in the air has again tilted in India's favour.
'Scalp', a long-range air-to-ground cruise missile with a range in excess of 550 km, also gives the IAF an edge over its adversaries. Both missiles have a 2 metres precision which means that a target can be hit with high precision.
The defence ministry sources said the Rafale, which has a range of 780 to 1055 km, depending on mission role, as compared to 400-450 of the Su30, will be better than what even the French uses as it will have numerous India specific additions.
Moreover, the Rafale wil have one and half times greater loitering capability than the Su-30, sources said.
They added that Rafale would be able to do five missions per day as compared to three for other aircraft because of high turnaround time.
For example, the engine of the Rafale can be replaced in 30 minutes as compared to 8 hours for the Su30.
The "vanilla price" or the bare bone price of the 36 aircraft is about 3.42 billion Euros. The armaments cost about 710 million Euros while Indian specific changes, including integration of Israeli helmet-mounted displays, will cost 1,700 million euros.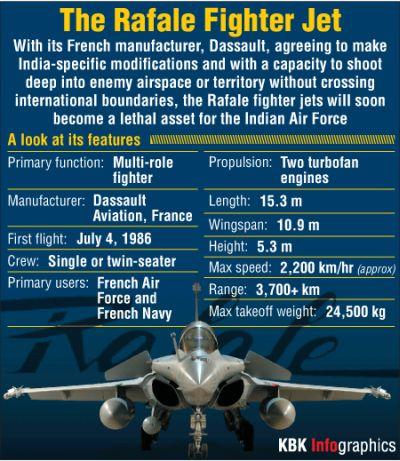 Associate supplies for the 36 fighter jets will cost about 1,800 million Euros while performance based logistics will cost about 353 million euros.
Rafale is a multi-role fighter aircraft capable of undertaking all types of missions with a capability to simultaneously perform both air defence and ground attack role in a single mission.
The tough negotiations by the MoD-IAF team extracted many concessions and discounts from the French before arriving at a price that is almost 750 million Euros less than what was being quoted by the French side in January 2016.
This was when the commercial negotiations gathered pace. The French side had quoted a price of 8.6 billion euros in January following which India refused to sign the contract.
This forced both the countries to just sign an MoU in January, when French President Francois Hollande came, announcing their intention to sign an IGA.
To bring down the cost, the Indian side asked French officials to calculate the deal on actual cost (Price as on today) plus European Inflation Indices.
The defence ministry has capped the European Inflation Indices to maximum 3.5 per cent a year. In other words, if inflation indices goes down, India will have to pay less. Even if it goes up India will not pay more than 3.5 per cent increase, sources said.
After Dassault Aviation, makers of the Rafales, emerged as winners, the UPA government had agreed with French officials to calculate the price on the fixed cost formula that allowed the company to include additional price of 3.9 per cent inflation indices from day one of the deal.
So, had the deal gone ahead, India would have ended up paying additional cost of inflation Indices (at 3.9 per cent) which was already added at the initial negotiation itself.
Moreover, there was confusion on the calculation of the basic price itself.
In the original MMRCA proposal, 18 planes were to be manufactured in France and 108 in India in collaboration with the HAL.
It was later discovered that the cost of 108 fighters would go up by about Rs 150 crore per plane since the labour man hours in India were 2.7 times higher than in France, raising questions about the French firm being the lowest bidder.
Interestingly, the then Defence Minister A K Antony had put down on file a remark that the negotiating team must come back to him before finalising the contract, creating more confusion for the negotiators, sources said.
However, the new deal comes with several discounts.
For instance, Dassault will have to ensure that at least 75 per cent of the entire fleet remains operational at any given time. This warranty is signed for the first five years.
Despite several steps taken by the defence ministry over the last three years, 55 per cent of India's frontline fighters, the Sukhoi-30 fleet, remains operational at any given time, up from the dismal 46 per cent earlier, sources said.
Three other concessions include free training for 10 IAF personnel, including three pilots besides additional guarantee for 60 hours of usage of training aircraft for Indian pilots and six months of free weapons storage without charge (in case the Indian infrastructure is not ready for storing the weapons).
Sources said the timeline for the delivery of Rafale jets was five months earlier compared to the MMRCA deal.
They added that while effort was to make the starting date of delivery closer than the 36 months, it could not be done because the India specific modifications will take time.
Also, the logistics and spares (Industrial) support from France can be negotiated for a period of 50 years.
Read more: