'Xi's emphasis on enhancing conventional military deterrence capabilities, joint operations and power projection are likely to increase friction points with India as with other nations,' points out China expert Srikanth Kondapalli.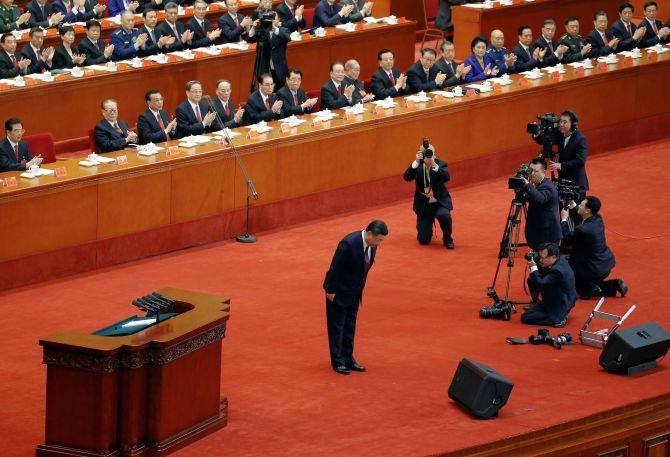 President Xi Jinping delivered a more than three hour-long speech at the beginning of the 19th Communist Party Congress at Beijing on Wednesday, October 18.
As with previous congresses, the primary focus of this gathering as well is to direct ways to further the Communist party's political ideology as well as to enhance the people's welfare.
Nevertheless, it also has significant view on the foreign policy direction that China takes in the next five years, but also for the foreseeable future.
By providing a long-term view of a 'new era' till roughly 2050, China's leadership has assured the foreign policy establishment to brace for the long haul and prepare appropriate initiatives to further China's interests.
Being realistic and aware of challenges that the country will face, the political leadership has signaled that reform of global governance structures shall be the focus for the foreseeable future.
After it became the 2nd largest economy in 2010, China, along with other countries like India, have nudged the International Monetary Fund to enhance the voting rights successfully.
Such efforts are likely to be further intensified by China in the future -- nudging the envelope further and suggest a long-term contest with the dominant power, the United States.
International and regional levers of power are likely to be contested actively by China, either unilaterally or in conjunction with like-minded parties. Specific mention by Xi in his speech about multipolarity signify towards this direction.
'Community of common destiny' was reiterated at the outset of the guidelines to the foreign policy section.
Proposed initially by Zheng Bijian -- the architect of the China Rise thesis in 2002 -- the new concept of 'community of common destiny' includes a set of norms and guidelines in foreign policy such as peaceful co-existence, dialogue process, win-win outcomes, economic development, multipolarity, economic liberalisation, cultural diversification and opposing hegemony.
Xi also called for building a 'new type of international relations'.
While implementing these could pose several problems for Chinese diplomats -- specifically at times when China's rise in the neighbourhood is seen brushing aside sensitivities in the region -- a long-term norm building could posit China against an increasingly self-centered United States.
Thus, China is bracing for this 'soft contest' with the US for the short to medium term.
China's Communist party reiterated the 'five pillars' foreign policy strategy evolved over a decade ago -- that is emphasising on major powers, neighbours, developing countries, multilateral arrangements and soft power projection.
This suggest a hierarchical, power-based working mechanism prioritising some countries over the others in pursuing diplomatic goals.
Despite at times implicit animosity towards the US, China's leadership is signaling that relations with Washington would be crucial for Beijing.
For countries like India, this approach suggests benign neglect unless New Delhi enhances its comprehensive national power.
Xi reiterated his pet project that of One Belt One Road, first mentioned in September 2013 and enhanced with the participation of 29 countries leaders at the May 2017 summit meeting in Beijing.
In terms of foreign policy, the OBOR provides an opportunity for China to expand in Europe, Asia and Africa by stressing developmental issues, exporting capital and excess industrial capacities although many of these areas are prone to terrorism and sovereignty claims suggesting to many challenges to tackle.
At the economic diplomacy level, by signaling that China henceforth will promote mergers and acquisitions of its State-owned enterprises into global conglomerates, and creating brand names in future, Xi is expanding the work of the foreign policy establishment.
Also, their security abroad will also become gradually the responsibility of China's foreign and military establishments.
With terrorist threats increasing in recent times, targeting scores of Chinese businesses and personnel in Pakistan, Afghanistan, West Asia, Africa and other regions, protecting Chinese abroad has already emerged as a major task for Chinese missions abroad.
Foreign Minister Wang Yi is likely to replace State Councilor Yang Jiechi although in the Chinese decision-making structures, the foreign minister is not a Politburo member nor of that of the Standing Committee of the Politburo except in the 1950s by Zhou Enlai.
With the Politburo Standing Committee deciding China's foreign policy strategy, the foreign minister is left to implement the decisions taken by this body.
This has resulted in the relatively weak position of the foreign minister with major pronouncements made by Xi or Premier Li Keqiang in recent times.
As part of the capacity build-up of foreign policy, China plans to raise over a hundred huge think-tanks to provide timely advice to the party-State.
Taking a cue from Xi's address at the 19th party congress to prevent and be prepared to address crises situations, the demands on both the foreign ministry as well as the think- tanks is expected to grow substantially in the coming decades.
While no specific mention of India appeared in the 19th party congress work report, the road map for China's future trajectory suggests an increasing assertiveness in disputed border areas, balancing China's role in South Asia and the Indian Ocean regions, cooperation between China and India in the multipolar world.
Xi's emphasis on enhancing conventional military deterrence capabilities, joint operations and power projection are likely to increase friction points with India as with other nations.
Srikanth Kondapalli is Professor in Chinese Studies at Jawaharlal Nehru University.
IMAGE: Chinese President Xi Jinping acknowledges the applause at the Chinese Communist Party's 19th party congress in Beijing, October 18, 2017. Photograph: Thomas Peter/Reuters