'It is mind-boggling that a party can be in rigor mortis even after numerous electoral defeats,' observes Ramesh Menon.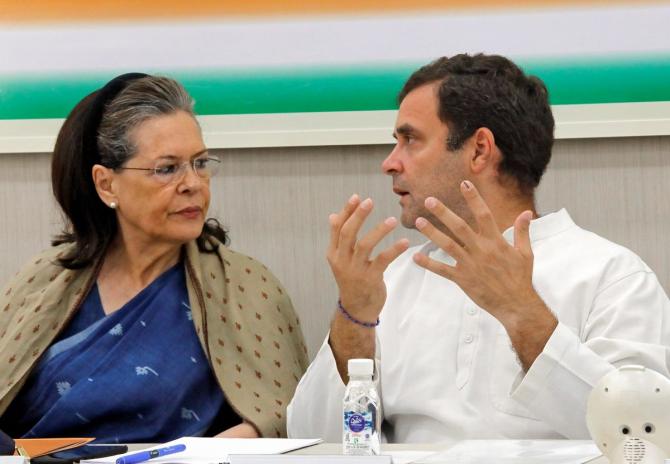 No one was surprised when the first rebellion against the Indian National Congress leadership in many years tapered off into silence.
As if it does not need to introspect. Or look into the mirror.
When 23 senior leaders of the Congress Party shot off a letter to interim party President Sonia Gandhi demanding a change of leadership and elections at all levels to revitalise the party, what did they think it would trigger?
If they expected an echo of what they wanted, they probably did not know the mindset of the Gandhis. Nor did they figure out that there would be enough sycophants who would rally around to prop up a crumbling leader.
If Sonia wanted to leave the leadership to someone else when the moribund party was going downhill for so many years, she would have done it long ago.
For over a year now, she has been an interim president. That is such an anachronism.
For many days, there was no reaction. Predictable.
But suddenly, Sonia Gandhi whipped up some action before she flew abroad for an overdue health checkup. She has been unwell since 2011.
As her son Rahul Gandhi would accompany her for a couple of weeks, she probably thought it best to quell the rebellion by some sundry appointments where she would send the message that she and her son are in charge.
One of them was reconstituting the Congress Working Committee, retaining her trusted aides and including close associates of her son.
Clearly, it was a cosmetic move to buy time and ensure nothing happens when she is away.
The interim president who logically should not make changes in the party did just that. She adroitly meandered away from the crucial demands the group of 23 leaders had made.
It was another sign that she does not seriously intend to make drastic changes or even step down or let her son let go of the reins.
The dissenters had asked for elections, not appointments.
New faces who have been given more power include Randeep Surjewala and Ajay Maken who are seen to be close to Rahul.
Loyalists K C Venugopal and Jitendra Singh have become office bearers.
Other appointees are Pawan Bansal and Tariq Anwar at the cost of dissidents like Manish Tewari and Ghulam Nabi Azad.
Other members to advise Sonia are Ahmed Patel, A K Antony, Ambika Soni and Mukul Wasnik.
The new conglomeration is likely to be in charge till the first quarter of 2021.
So, say goodbye to change. And inter-party reforms.
Sonia has even reconstituted the party's Central Election Authority. Its convenor is Madhusudan Mistry who has been close to the Gandhis for many years.
Others on the CEA are all loyalists: Rajesh Mishra, Krishna Byre Gowda, S Jothimani and Arvinder Singh Lovely.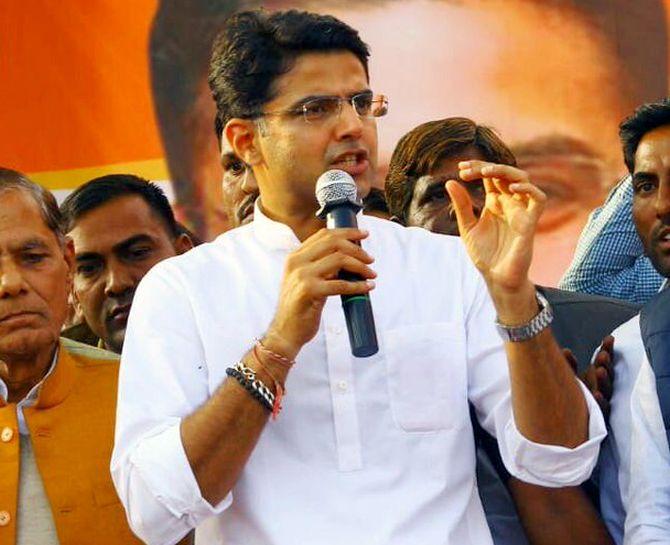 It was hardly surprising to see that Sachin Pilot, who is a promising leader, was not even mentioned. The message was clear: Raise your voice and you will become persona non grata.
The party has been going downhill for years.
In 1952, the Congress won 364 seats out of 401 in the Lok Sabha.
In 1971, it won 362 seats out of 518.
In 1991, it won 244 out of 543.
In 2014, it won 44 out of 543.
In 2019, it won 52 out of 542.
It is anybody's guess what 2024 is going to be like if the present stalemate, drift and self-destructive factors continue in the party.
It does not require a political scientist to figure out that there needs to be a change in leadership and strategy if the Congress has to win in 2024.
Rahul even lost the Amethi seat which for years was held by the Gandhi family.
It was so predictable when the 23 dissenters -- who included former chief ministers, former Union ministers and regional satraps -- were instead attacked and made to look at they were not loyal and were treacherous as they had questioned the leadership.
The rebellion was crushed by the old guard who rallied around Sonia and her son as if there were no other leaders who could take on the mantle of rebuilding the party.
How predictable was that!
Sonia has been at the helm of the party for 19 years. Her late husband Rajiv Gandhi, she and her children have been in control of the Congress for 35 years.
If there is an election, it is unlikely a Gandhi would win now. So, there is no talk of an election.
The dissenters's letter clearly wanted Sonia to step down to allow a new leadership to chart the party's revival.
It also points out that a revival is imperative for the Congress as the country faces grave political, economic, and social challenges.
When UPA-2 under Dr Manmohan Singh was being challenged, Sonia did little to get the party to fight back with facts and figures and action to ensure that the propaganda around lack of governance and corruption charges were neutralised.
Actually, the drift started much before the party lost the 2014 election.
How natural is it for a national party, which fancies itself as an alternative to the Narendra Damodardas Modi government, to have an interim president for a year as it cannot decide on who should step in and take charge?
Whenever the next All India Congress Committee meets, there will be weak leaders who will call upon a reluctant Rahul to once again become the president though he has not shown any inclination or interest in the post.
These sycophants have no following and would be rudderless with the blessings of Sonia. Or Rahul. Some of the leaders in the newly constituted CWC had lost their deposit in the last Lok Sabha election.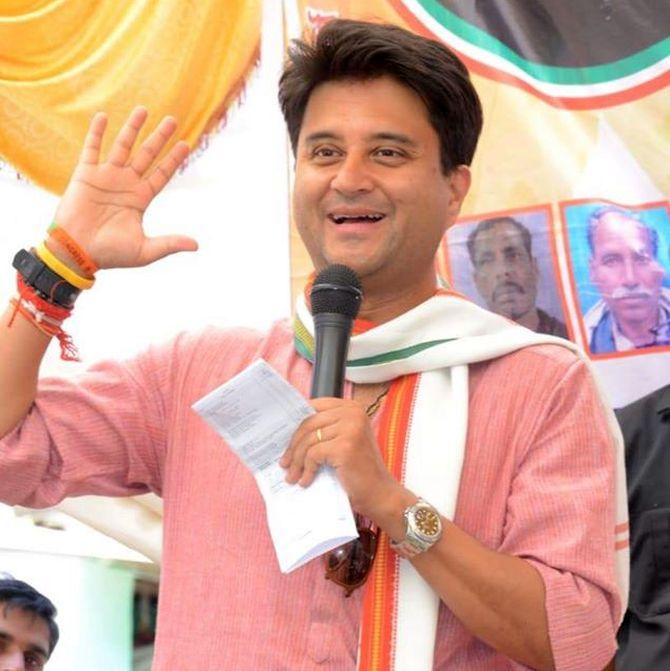 Rahul has not been able to bring in reforms or changes.
Sources say he clearly wanted Jyotiraditya Scindia to become the chief minister in Madhya Pradesh and for Sachin Pilot to take the reins in Rajasthan.
The old guard triumphed again. Kamal Nath is 73 and Ashok Gehlot is 69.
What is the message the party is sending out?
If there is no space for young leaders to grow, why should they be hanging around with the party?
After so many years in the party in powerful positions, Scindia chose to quit and it should have been a red flag, but the party did not see it or even try to stop him or listen to him.
That error cost the party one of the biggest states in India.
Rahul may be forced to take up the party presidency again. But, he is a reluctant leader. Most of the time, the feeling that Rahul sends out is that he wants to be liberated from the toxic world of politics.
The letter from the desperate leaders who were were worried about the party's future was actually a great opportunity for the leadership to look into the mirror.
It was an opportunity to set things right, to make the cadres feel that there is hope and could revitalise the grassroots into becoming active again.
But it was lost.
It is mind-boggling that a party can be in rigor mortis like this even after numerous electoral defeats.
Why did it not learn any lessons when it was routed in the 2014 parliamentary election?
Could the leadership not see the fault lines in the party?
Ironically, it was encouraging the organisational drift.
We saw that in Karnataka, Madhya Pradesh, and now, recently, in Rajasthan.
It was just immune to electoral defeats and organisational fallacies.
There was no attempt to stem the drift of the party once it lost in 2014.
There was no move to build strong regional leaders as the high command in Delhi wanted a say in everything.
The party was not even able to even grab the opportunity of being a strong Opposition where there are issues galore to focus on and take on the government.
Look at the issues it could have focussed on and put pressure on the government to perform.
In election after election, the BJP campaign was scientifically designed and unleashed on the electorate.
In 1984, the BJP has just two MPs. Today, it has 303.
With its grassroots support that is constantly being strengthened, the BJP is getting stronger as it is actively helped by a weak Opposition that does not seem to have any vision other than winning elections.
The electorate cannot see the Congress as an alternative and the Congress is no more seen to be capable of leading the Opposition.
The Congress has not jumped at the golden opportunity of questioning various flaws in the governance of the present government. They actually have a galore of issues to eloquently speak about but the voices are few and feeble.
Licking wounds from electoral battles will not help the Congress come back to power.
States that were bastions of the Congress have all crumbled.
Uttar Pradesh. Maharashtra. Karnataka. Madhya Pradesh. Odisha. Haryana. Delhi and many others.
In Delhi, it does not have even a single MLA.
Think of how many years Sheila Dikshit was the unchallenged chief minister in Delhi.
Over a period of time, the Congress high command ensured that that regional leaders were not nurtured as it wanted complete control.
See why Y S Jagan Mohan Reddy quit the Congress to form a regional party. He is today the chief minister of Andhra Pradesh.
Look at how the high command has refused to see the potential of someone like Shashi Tharoor. He should have been a natural choice to be appointed the party leader in the Lok Sabha given his eloquence and intellect, but the Congress high command chose Ahir Ranjan Chowdhury instead. It surprised many in the Congress itself!
Instead of giving an ear to the brave signatories who have raised the flag of rebellion, the dissenters are being sidelined.
The first sign was the appointment of Gaurav Gogoi as the deputy leader in the Lok Sabha, ignoring senior well-entrenched leaders who have a better standing and reputation.
Ravneet Bittu was made chief whip. Have you heard of him?
Pretending that all is well will not revive the party. There has to be a complete overhaul.
If this does not happen, many will soon cross over to the BJP. Others who are uncomfortable with the saffron ideology will move to regional parties.
Both Sonia and Rahul do not have the charm or the gravitas to woo back those who left to create breakaway regional parties like the Trinamool Congress, YSR Congress and the Nationalist Congress Party to once again become a pan-Indian party that can take on the BJP that with its financial clout and muscle power towers over all other parties.
To get back to featuring in the political narrative in India, the Congress needs to reinvent itself. In the present circumstances, it seems unlikely.
It also needs to tell the electorate that it has the wherewithal to emerge as a challenger to Modi and his party.
It has just four years to do that. Time flies.
As of now, it has no strategy.
Ramesh Menon is an author, journalist, documentary film-maker, corporate trainer and editor of The Leaflet.
Feature Production: Rajesh Alva/Rediff.com