'The party in the present form cannot pose a challenge to the BJP and Modi.'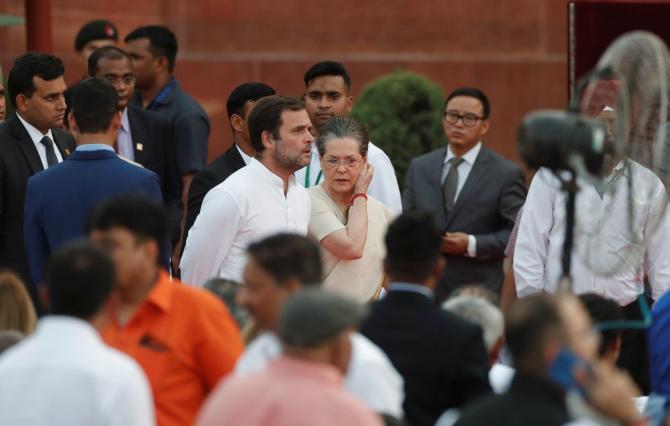 "The Congress realistically needs to decide what does revival mean for it. They have been sliding since the 1990s. There has not been a single election where their vote share has improved," Dr Rahul Verma, Fellow at the Centre for Policy Research (CPR), points out in the concluding segment of his interview with Rediff.com's Archana Masih.
How has the absence of a full-time leadership proved detrimental for the Congress party?
Sonia Gandhi tried to pass the baton to Rahul Gandhi. The leadership transition did not happen fully.
A complete leadership transition means the old leader retires from politics and the new leader makes a transition -- sometimes this exercise is a bit ruthless and is done by basically purging people who were part of the old order.
Rahul Gandhi had that moment around 2017-2018 when the Congress performed better in the Gujarat election and won Chhattisgarh, Madhya Pradesh and Rajasthan.
Transition also happens from a position of strength and that was the moment when Rahul Gandhi could have completed that transition, but he failed.
What has been the impact of Priyanka Gandhi's entry into the party?
This comparison between Rahul and Priyanka comes time and again. For me Priyanka Gandhi is untested in politics.
People compare her looks to her grandmother Indira Gandhi and perhaps she also gels better with ordinary people compared to Rahul. These are the two attributes that have been talked about, but that is not enough to make a successful political entry.
Rahul Gandhi has been in active politics for the last 15 years. He is a three-time MP, has held the post of the party's general secretary and president, has led campaigns for the party in various states and in the 2019 Lok Sabha election and is politically more experienced.
Priyanka Gandhi restricted herself to Amethi and Rae Bareli before 2019.
Before the 2019 election, she was appointed general secretary in charge of Eastern UP, but the party didn't do well.
She remains untested, and frankly, even the most charismatic people without an organisation, resources and ideological thrust make get media attention before an election, but they hardly make any difference to the outcome.
Basically, an ammunition that doesn't have fire power.
I'm not being dismissive of her, but given the track record, pinning hopes on the revival of the party on Priyanka Gandhi is burdening her with responsibility which I don't know whether she can deliver.
What are the possibilities for a Congress revival?
A short-term revival is a mirage. It can happen if some magic happens, but as a leader, you can't wait for the magic.
The Congress realistically needs to decide what does revival mean for it. They have been sliding since the 1990s.
There has not been a single election where their vote share has improved. Even in 2009 their seats improved, but not the vote share.
Presently, their vote share is below 20%. They have to decide whether revival is at 23-% to 4% or beyond 30%.
I think an increase of 20% to 23% can happen with some hard work on the ground, but a 10% to 15% jump in the party's base is a very, very, hard task. They will have to set their expectations and play to their strengths.
The Congress does not have a significant national presence now, they are a national party only on paper.
They have been losing ground in almost all states.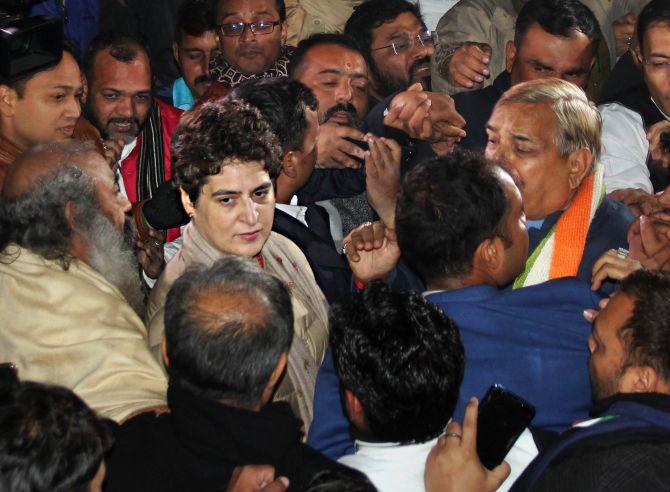 If the Congress has to take on the BJP, they have to be a cohesive unit with a cohesive strategy, hasn't that become doubly difficult with the pulls and tugs taking place within the party?
I will use a military parallel to answer this question. The first problem is not strategy, it is vision. In military terms, there are three layers -- vision, strategy and tactics.
Even in this letter, one of the major points is that the party should align with like-minded parties. This is a tactical decision. In a state like UP, the party can't do without aligning with other parties.
So firstly, the party needs a clear vision. Once that is clear, it becomes easier to mobilise people who share a common vision together.
You can either mobilise via a vision or you can share power, but since the Congress is out of power nationally and in most states, power is not the reason why people will come to them.
They will only come if they think that the Congress has a vision for India, which stands in contrast to the vision of India propagated by the BJP.
The party needs to be clear in its vision and then devise strategy. The strategy could be whether that is going to be achieved through a charismatic leader or through organisational building or through some other means.
The third stage would be tactics to fulfil the goal of winning seats -- alone or aligning with a person or community.
All three levels need to be carefully thought out before going into the battle again, otherwise they will only lose the battle.
Where do you see the party going?
The Congress as a concept is integral to Indian politics and Indian democracy, but as a party, the Congress faces an existential crisis. Like Yogendra Yadav wrote that it calls for some sort of creative destruction and the concept could be carried by another vehicle.
I feel the party in the present form cannot pose a challenge to the BJP and Modi.
The medium-term revival of the Congress is very difficult. They don't have governments in most states and in the last five, six years, they have become number the number three or number four party in many states.
The history of the Congress tells us that if it slides to number three or four, it never makes a comeback.
In no state, except Haryana in 2019, where the Congress slid to number three it came back to number two later on.
The Congress does not know the route to revival.
Feature Presentation: Aslam Hunani/Rediff.com