'If you believe the Congress will win in 2024 because Modi is blundering from one monumental disaster to another, that means you are living in a fool's paradise.'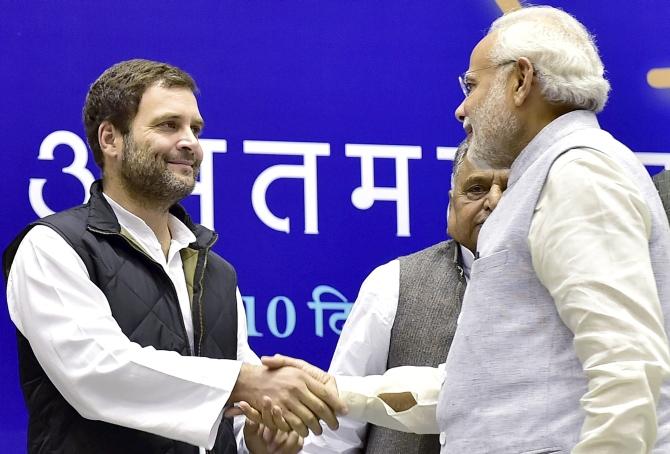 When the Congress party recently removed Sanjay Jha as its national spokesperson following a couple of articles he wrote in a national newspaper about the party's internal affairs, it seemed to buttress the popular perception that the erstwhile ruling party would not stomach criticism of its leadership.
After all, Jha had been the most visible face of the party on television, defending it through thick and thin as it saw a series of its governments get formed and fall.
Only recently, Madhya Pradesh became the latest state to slip out of the Congress's grasp when Jyotiraditya Scindia walked out with his followers to the Bharatiya Janata Party camp.
What ails the Congress party under Sonia Gandhi and her children Rahul and Priyanka Gandhi?
"The party has to completely change and become less of a bureaucratic labyrinth," Jha, below, tells Rediff.com's Syed Firdaus Ashraf in the first of a two-part interview:
The articles you wrote should have led to a debate in the Congress, but instead the party ousted you as spokesperson.
And yet you continue to say you are a committed, fearless, ideological soldier of the Indian National Congress.
The party took its decision and it is the party's prerogative.
The party has its own viewpoints and I as a Congress party member have my own.
In both my articles in March and June I expressed the angst and anguish of a genuine Congressman who was feeling dismayed at the manner in which the Congress party had allowed a mindless drift to happen.
It was meandering to the point where I think we were becoming moribund.
And the fact this was at a time when India is facing such a huge crisis in governance, specially the way the pandemic situation has been handled by the current government.
The health crisis, migrant crisis, was totally devastating.
It was a humanitarian crisis. The economy is in virtual doldrums and has gone completely down south.
Do you feel the Congress did not play an active role in these times to highlight the Modi government's failures and build public opinion against it?
That may be tactical, but the problem is the Congress party needs a drastic and dramatic overhaul.
You can react in an episodic manner and react sporadically. You can possibly respond tactically, but these things are not going to change the fortunes of the Congress.
For example, we managed to form a government in Jharkhand (along with the Jharkhand Mukti Morcha) and it was good news, but we got wiped out in the Delhi election.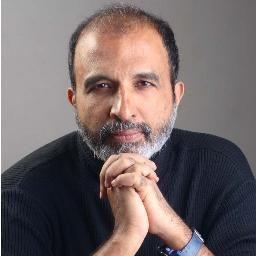 The reality is the party has to stop thinking that you are going to revive yourself only by contesting one election to another.
The party has a fundamental fault line.
The party has to completely change its structure and it needs to become less of a bureaucratic labyrinth that it has become.
It needs to decentralise power.
It needs greater transparency in its inner working.
It requires elections for the Congress Working Committee and for the post of Congress president.
It eventually needs to become a robust party, a well-oiled and energised unit for its cadres to take on the BJP.
If we are not even going to debate and discuss why we are losing since 2014, it clearly tells you that there is a serious inability to grapple with the reality it faces.
This was said about the Congress party during the Vajpayee era when Sonia Gandhi was party president. And suddenly in 2004, the Congress won and ruled for the next 10 years.
In politics you have to control best what you can do.
The Congress party cannot control the BJP's either superlative performance or disastrous show.
And clearly the Modi government is struggling big time now with regards to China.
They (Modi and his Bharatiya Janata Party) have a serious problem, but to believe that you will win on anti-incumbency is what the party did in 2014 when they thought Modi will never win because of his chequered political past. He managed to overcome that.
In May 2019, the economy was in a terrible mess, farmers were in distress, joblessness was at a record high and the economy was in recession, but still Modi won.
If you believe the Congress will win in 2024 because Modi is blundering from one monumental disaster to another, that means you are living in a fool's paradise.
You have got to win elections with a proactive agenda.
The only way people will vote for you is that people want you and not Modi.
And the only way you can win in 2024 is when you have a narrative, agenda and a clearly defined leadership and cadres on the ground.
You must have a decentralised structure and multiple leaders.
Uttar Pradesh is the only state where one saw a Congress leader, Ajay Kumar Lallu, protesting and arranging buses for migrants and going to jail.
In the rest of India Congress workers and leaders were missing.
One wonders whether the Congress has any ground-level workers anymore.
The Congress's ground level workers work 100 times harder than the leaders who sit in Delhi.
The Congress has become like a Delhi-centric party. They have suddenly discovered the power of social media power on Twitter.
Once upon a time we were conspicuous by our absence and now we have become extraordinarily obsessed, but that is not the answer.
Social media is an important vehicle and nobody can deny that. But ultimately India lives in nukkads, villages, chawls and streets of urban cities.
India does not live in Lutyens (Delhi) or Malabar Hill (south Mumbai).
We have to recognise that if we are not able to galvanise people, they will keep on supporting the BJP despite the fact that they are performing in an abysmal fashion.
I wrote because I was appalled as the BJP still seems to have popular support despite its dismal performance, despite devastating our economy, fracturing our society and playing communal politics and the Congress is still not looked upon as an alternative.