'This is a fascinating side to Sonia Gandhi, the way she disarms her opponents.'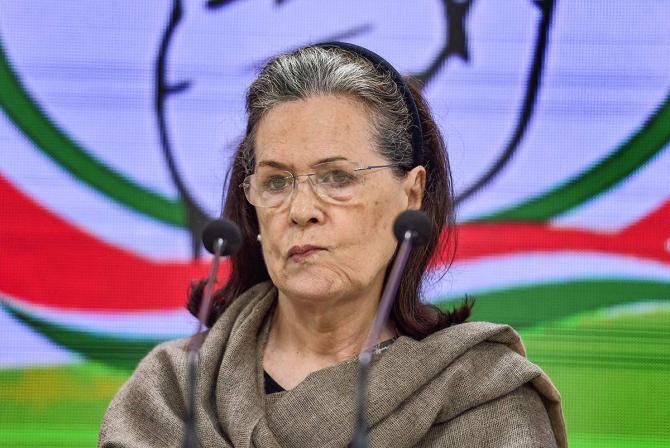 "To be inside a political party and raise issues is not an easy thing to do, and therefore there is a lack of inner-party democracy in any regional party or national party," veteran Congress watcher Rasheed Kidwai -- a Visiting Fellow at the Observer Research Foundation and the author of two books on the Congress party, 24 Akbar Road and Sonia -- A Biography -- tells Syed Firdaus Ashraf/Rediff.com in the concluding segment of a fascinating two-part interview.
What can leaders like Digvijaya Singh bring to the table for the Congress? He lost to a political novice like Sadhavi Pragya by more than 3 lakh votes in 2019.
How can he be an asset to the Congress, since he has been given an important post in this reshuffle?
I told you in my last interview that if you take a train from Gorakhpur in Uttar Pradesh to Chhatrapati Shivaji Terminus in Mumbai, then you will not come across a single Congress member of Parliament's constituency.
In such a situation you cannot have a criterion of talent in terms of ability to win elections.
The party needs three types of people.
A. Who can win elections.
B. People having cerebral brains and bring sharpness, like Dr Manmohan Singh or Jairam Ramesh.
C. Man-management like people who are good in inter-personal management.
Digvijaya Singh, I understand, has a chequered past in terms of electoral history, but the fact is that the party needs managers.
Tariq Anwar quit the Congress quoting Sonia Gandhi's foreign origin in 1999. Now he is back and has got an important position in the party.
How has he managed to get back in the good books of Sonia Gandhi?
This is a fascinating side to Sonia Gandhi, the way she disarms her opponents.
If you recall, Sharad Pawar quit the Congress party on the foreign origin issue in May 1999.
In September 1999, the election result from the Maharashtra assembly election was hung.
The breakaway group of the Nationalist Congress Party and the Congress came together and formed a government.
This happened in spite of the bad blood between both parties during the elections.
Sonia Gandhi is one of the finest students of the university of life.
Tariq Anwar has been brought back as he is a potential threat to Ghulam Nabi Azad and to some extent even Ahmed Patel.
Tariq is an efficient party manager.
In Sitaram Kesri's Congress he had the same stature as that of Ahmed Patel today.
In politics, everyone has a right to live and learn.
Congress spokesperson Randeep Singh Surjewala cannot even win an MLA's seat and surprisingly, he gets so much importance in the party which is very surprising. He came third in the recent Delhi election.
All political parties need lightweight politicians.
You can take the example of Narendra Modi, Amit Shah (who are heavyweights) and J P Nadda (a lightweight) who is president of the BJP now.
A lightweight is always suitable when the power centre is elsewhere.
You need such people who are flexible and can convey the desires and wishes of the central party leadership or high command.
It does not justify but explains the rise and rise of Surjewala and (K C) Venugopal.
Which is the most surprising comeback name for you in this reshuffle?
I find very intriguing the inclusion of Mukul Wasnik at all levels in the party hierarchy.
He is in the six-member panel of the party which will run Congress affairs in Sonia Gandhi's absence.
A K Antony, Ahmed Patel, Ambika Soni are there and from Rahul's side there are Surjewala and Venugopal.
The sixth person is Wasnik and that is surprising because he was one of the 23 dissenters.
He is now in charge of Madhya Pradesh.
He is also the AICC general secretary and is also in the CWC.
Now those dissenters must be thinking, what was Mukul up to really?
The dissenters need to introspect over why they lacked cohesiveness.
Why cannot the Gandhis do without Ahmed Patel?
The Congress earlier had R K Dhawan, M L Fotedar, Vincent George, Yashpal Kapoor at various points of time.
These people understand the dynamics of the party like a chess player sitting on a chess board.
They have the ability to manoeuvre or take caution or know the defence mechanism of the party.
Such people are an invaluable wealth to the party.
You cannot get them at a price.
He (Ahmed Patel) is also fiercely loyal.
He won the elections in 1977 when a large number of the Congress party leaders lost.
He also won in the 1989 Lok Sabha elections.
But Ahmed Patel has lost his home state Gujarat for the last 25 years.
Gujarat unfortunately has seen communal polarisation.
He was known as Babubhai and was very popular in Bharuch cutting across religious lines.
The VHP (Vishwa Hindu Parishad) ran a campaign against him and made him Ahmedbhai from Babubhai.
The Sangh Parivar over-emphasised his religion.
As long as he was Babubhai, he was winning elections.
Ahmed Patel is a very affable person.
He provides continuity to the party from Indira Gandhi, Sanjay Gandhi, Rajiv Gandhi, Sonia Gandhi to Rahul Gandhi.
He has the ability to reach out to any state and any party level leader.
He was also one of the three parliamentary secretaries that Rajiv Gandhi appointed and they were called Amar, Akbar and Anthony.
The other two being Oscar Fernandes and Arun Singh.
How can the Congress sideline leaders like Shashi Tharoor and Manish Tewari who are so well read and popular among the public and they also win Lok Sabha elections?
If you are an alternate power centre in any party, then that path is very difficult and challenging.
To be inside a political party and raise issues is not an easy thing to do, and therefore there is a lack of inner-party democracy in any regional party or national party.
If Manish Tewari and Shashi Tharoor chose that path, then there is bound to be hardships.
My own view is that they are also partially to be blamed as when there was an election for Congress leader in Parliament, they should have contested which they did not and asked Sonia Gandhi to take a call. (Adhir Ranjan Chowdhury was appointed as the Congress leader in Lok Sabha).
Now Adhir Ranjan Chowdhury has become Bengal Congress president.
Shashi Tharoor or Manish Tewari can raise objections as there is one man, one post policy, and ask for new leadership in the house.
Feature Presentation: Aslam Hunani/Rediff.com