'The Ladakh Scouts are a fantastic mountain troops suited to this terrain.'
'Other troops have to first get acclimatised, but these men are tough mountain people.'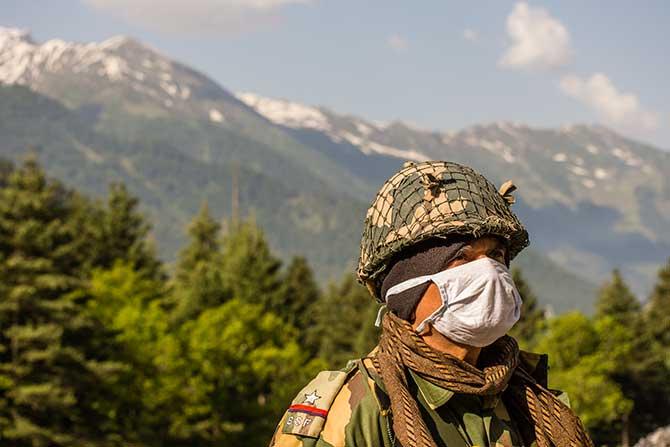 Colonel Sonam Wangchuk, Ladakh's most famous soldier, was awarded the Mahavir Chakra, India's second highest honour for gallantry in war, for wresting the first victory of the Kargil War in 1999.
Leading 40 men, his unit evicted 135 Pakistani troops in a three-day battle fought in two feet of snow and minus 6 degrees temperatures.
Twenty-one years ago, at this time, the Kargil War was being fought, where Indian soldiers won back Indian territory from Pakistani intruders by paying in blood.
After the annulment of Article 370, Kargil is now part of the Union territory of Ladakh.
Every year, Colonel Wangchuk, who retired from the Indian Army in 2018, is invited for the Vijay Diwas ceremony in Drass to commemorate the Kargil victory.
He is also invited to army training institutions and schools to interact and share his experiences of fighting the Battle of Chorbat-La at 18,000 feet. Six other soldiers who fought alongside him won gallantry awards.
The war hero, who speaks with a very gentle voice, runs a Vipasana centre outside Leh and routinely does 1 to 2 hours of meditation every day.
"I don't see any place in India which can compare to the strategic importance of Leh, both China and Pakistan borders are contiguous," The Lion of Ladakh tells Rediff.com's Archana Masih.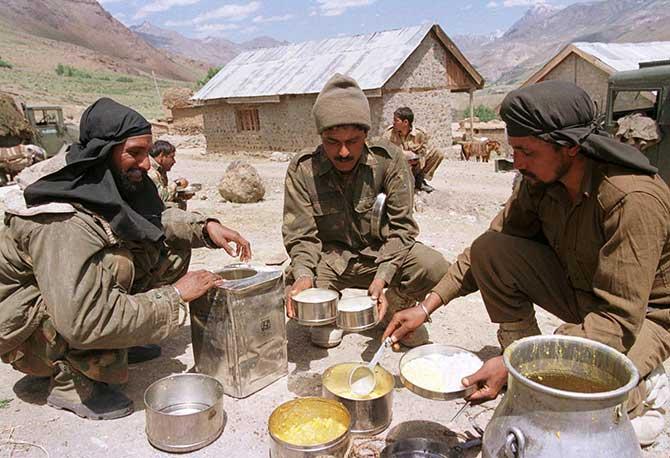 For someone who has fought at those heights during the Kargil War, what is it to operate at 14,000 feet when senses are diminished because of lack of oxygen?
When you climb those features you don't carry heavy stuff on you and those things have to be reached to you. You need basic requirements to survive in those terrains. Reinforcements and logistics play a vital role.
If requirements are not provided, then there are weather casualties in sub-zero temperatures. You need food, shelter, maintenance plans and how to make it possible quickest.
We have roads leading up to the battle fronts and I am sure stocking has been done for any eventuality.
The Indian Army is always prepared.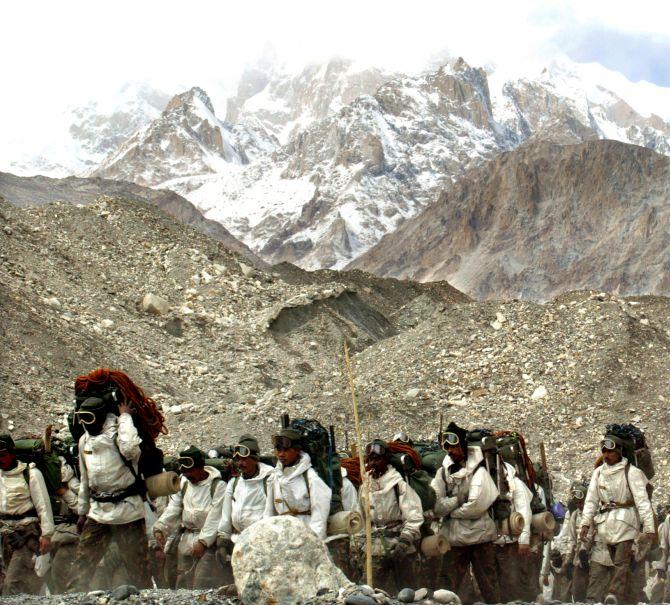 You have said before that more troops of the Ladakh Scouts should be inducted and deployed in this terrain.
The Ladakh Scouts are a fantastic mountain troops suited to this terrain. Other troops have to first get acclimatised, but these men are tough mountain people.
The training regimen of the Ladakh Scouts is very challenging. We should induct more troops and raise more battalions of the Ladakh Scouts because they are familiar with this terrain and weather.
What is the reaction of Ladakhis on the ground to the confrontation at the border?
Leh is around 75% of territory of J&K. The people of Leh and Ladakh are not worried at the moment, but over all we need to have long term plans.
I don't see any place in India which can compare to the strategic importance of Leh, both China and Pakistan borders are contiguous. The Chinese Army has always been deployed near the LAC and I think the strength is going to increase now.
The mood is patriotic as the situation impacts Ladakhis directly. It concerns us being a border area and we think about the nation.
As a fauji, I want maximum people to join the army. Ladakh is very strategic and this problem is not going to go away too soon in the near future.
Tourism has brought in money in the past few years which impacts the younger generation. Materialism has resulted in them getting alienated from their roots.
But I have been getting calls to address young students, and many want to join the army and want information.
How different an enemy is the Chinese compared to the Pakistanis?
China is a global power.
Pakistan is in shambles surviving on dole-outs. They are a terrorism hub. The ISI and army have a larger say in Pakistan's affairs.
The Kargil War showed us that Pakistani army officers don't lead from the front. Their officers were in the rear and had put their men ahead, whereas Indian Army officers led from the front.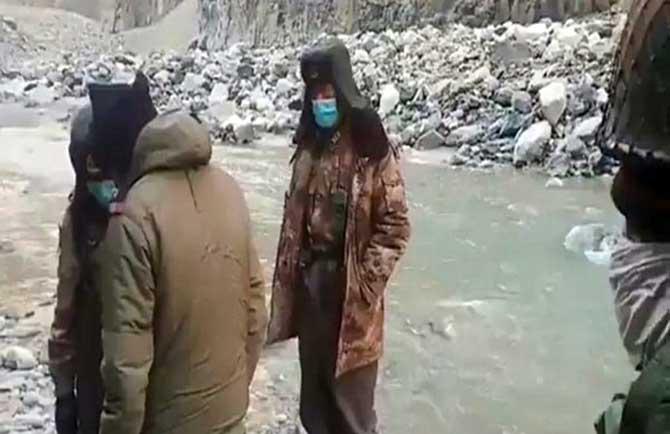 As a Ladakhi living in Leh and a former soldier, how serious do you feel is the situation on the India-China border?
The Chinese have ambitious and long-term plans. They are a global power and are following policies which they believe are in their self-interest. These policies are impacting China's relationships internationally with individual countries.
What we are seeing on the India-China border is a fallout of that.
China sees India as a threat and that perception is not going to change very soon.
As a result, a massive deployment has taken place along the border and the Chinese army is threatening us strategically.
They are threatened by the road we are building at Daulat Beg Oldi which leads to Karakoram. China also feel that India could hit them economically over there because the Karakoram highway joins Pakistan with China and is a trade route for China.
There is no doubt that China is an economic powerhouse and they are reinforcing their position.
India's proximity to USA is also posing an irritant to China.
Chinese policy has been to isolate India. China sees India as a rival. India is an emerging economic power and there are countries keen to align with India.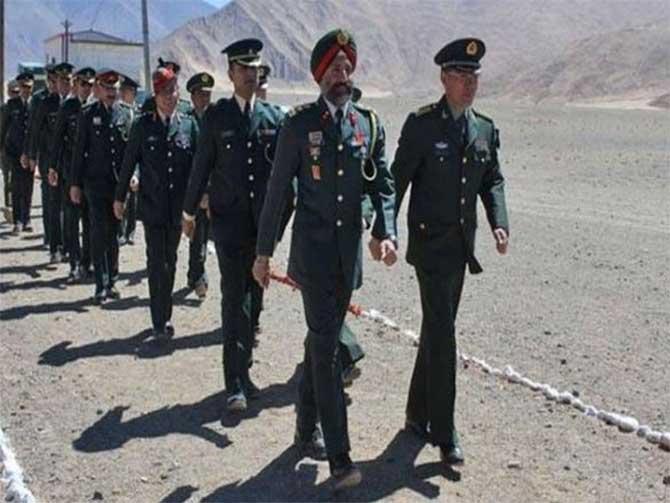 What should India's response be?
China's aggressive stance and bullying tactics has the danger of escalation if one takes into account the massive build-up on the Himalayan border.
It has to be tackled with maturity and lot of understanding.
We cannot go in for a military option. War is not the answer right now in the given circumstances.
So war is unlikely?
I don't think it will come to that. We are reacting to the Chinese. Our build-up is a counter-measure to safeguard our national interest.
I am sure the Chinese have a well-thought out plan. If they see any hindrance to their plans, they want to convey the message that they have the wherewithal and military strength despite the covid pandemic.
They want to convey this message to the US, Western bloc and all countries that matter to them in our neighbourhood where China is interfering.
China wants to convey a strong message that it is strong enough to take care of its ambitions and interests.
What would be India's military options?
We are evenly matched. Their infrastructure is better in the Eastern Ladakh sector. They have wide roads and would be prepared for contingencies.
The Chinese can deploy very fast because of their infrastructure as compared to us, but they have their weak areas also.
Feature Production: Ashish Narsale/Rediff.com