'And this mirror imaging is the most dangerous thing because it leads to tremendous misunderstandings.'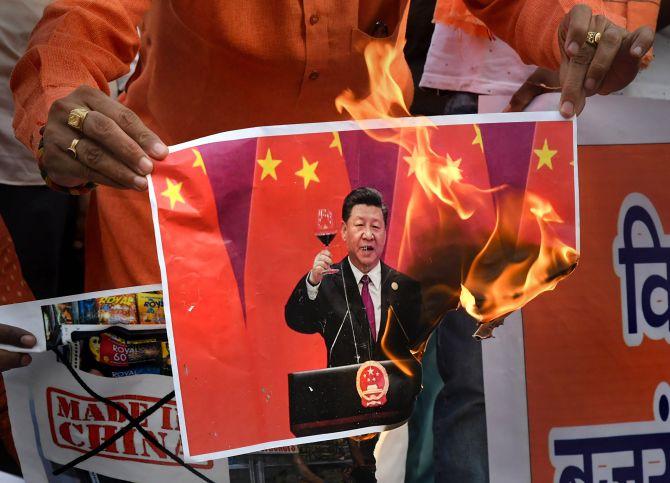 "China has a pattern of risk taking behaviour at times of domestic crisis," Shivshankar Menon, former national security adviser, former foreign secretary and former Indian ambassador to China, tells Rediff.com Senior Contributor Sheela Bhatt in the first part of an exclusive interview:
Did India read the border situation little incorrectly in early May?
Frankly, we cannot say what the reading was and what the actual situation is. We do not know enough about the situation because there are many stories, many leaks, many inspired stories, lots of guess work, the same satellite pictures are interpreted in opposite ways by different people.
So, I think we need to accept that there is a whole area here that we don't know about. We will probably find out in time, but today if you ask what is the actual situation on the boundary, it's very hard to say.
I don't think anyone outside official circles can give you the answer. Even in official circles very few people can give you an honest answer. So, once that (the factual ground situation) is established only then is it possible to say whether we misread the situation.
If you don't know the situation, how can you read or misread? I can only say that we have worked ourselves into a position -- both sides have -- and from the outside it looks to me like this because of what China has chosen to do which is different from what she did before.
We have worked ourselves into a position where there is certainly a crisis in the relationship.
But your experienced eyes can read between the lines of the interviews of Chinese Ambassador Sun Weidong and India's Ambassador in China, Vikram Misri.
My experience applies to what I know in the past. Today, you have contradictory statements. What I mean is, that you have areas where certainly there are different suggestions where the Chinese are now saying that the entire Galwan Valley is theirs. (It is) Not the truth because we have been there.
Secondly, what we know is that we are being prevented from patrolling certain areas which we have always patrolled in the past, in Galwan and in other places also.
Thirdly, we know that China did it first and then India built up forces all along the Line (Line of Actual Control) and not only in the Western sector, also in other places.
That, I think nobody has denied. Neither government has denied and it seems to be a fact. So, we have a crisis. That's why I say we have a crisis, not because of just one spot or another.
Frankly, unless you are looking at the intelligence and dealing with it on a day to day basis, I will not guess. Whatever I might have known in the past is not necessarily relevant today, because the whole point is that it seems to me that the Chinese behaviour has changed on the border because this is now happening across the Line in several places.
It is not just one intrusion in one place, not just a five or ten day event. It is not like the intrusion in Depsang as we had in 2013. This is something much bigger than what we faced in Doklam in 2017.
I'd be very careful about drawing big conclusions on the basis of what little we know. In these things it is best to go by the facts.
Right.
It is best to be very careful about what we say about this. You know there are lives involved here and we have already lost 20 lives on our side.
This is serious and you know it would be irresponsible for people to go on talking about this. This is not some game, this is a serious business between two serious countries with very large armies.
And so, I am very careful, therefore, in jumping to big conclusions and saying things about the situation on the ground.
We can talk about what the two countries think, what they should do, why are we in this position, all that is fine, but the actual situation on the ground, I think, there is far too much speculation and most of it is based on no knowledge whatsoever.
Why now? Is it because China sees India as a weak country fighting an economic downturn and a pandemic?
My own sense is that, you know, the pandemic has diminished all of us. China included. China will not admit it. It is not in their nature to say so, but the fact is it started there, it has hit them as well, their economy also is suffering and this is true of all the powers.
Some might come out of it quicker; some might be less, but the fact is that it has diminished all of us.
In that situation what we are seeing is an assertive China across the board. It is not only vis a vis India. It is tough on Hong Kong where despite the previous agreements, China has chosen to pass the national security law herself without consulting the Hong Kong institutions which gives her security control and presence within Hong Kong. This is diminishing Hong Kong's autonomy which she was permitted to maintain for fifty years.
China is flying military aircraft in Taiwanese air space, she is also sending submarine ships near Senkaku in the East China Sea which is disputed with Japan.
There is a pattern of Chinese behaviour of assertiveness in the last few months which, I think, is across the board. Therefore, I think what we are seeing is part of a larger pattern.
When China itself is deep in problems, why now? People tend to talk aggressively from a position of strength.
If you look at China's behaviour traditionally, it is an interesting thing. When China had a massive revolt in Tibet from 1959 onwards and a famine, when she was having a dispute with both the Soviet Union and the USA, that's when she went to war with India in 1962.
When you look at China's response to a crisis, she has been willing to take risks abroad. At times she was willing to enter Korea in the Korean War in 1950 when she had still not consolidated even the People's Republic of China, when she had internal enemies, when China was facing the most powerful country on earth.
So, China has a pattern of risk taking behaviour at times of domestic crisis.
I think the leadership probably finds it a useful device to unite people around it, and they have made use of this before.
In 1979 when they attacked Vietnam, it was when (Deng Xiaoping's economic) reform had barely started in December 1978. They attacked Vietnam in February 1979.
It is not necessary that we should judge Chinese behaviour by their actions and to make assumptions that 'Oh, the domestic economy might be in trouble, therefore they want to do this' and so on, I think that is not correct.
This is part of the problem. When we look at China, we expect China to behave the way we would.
China looks at us and expects us to behave the way China would!
And this mirror imaging is the most dangerous thing because it leads to tremendous misunderstandings.