'To deal with a bully, you have to deal from a position of strength, not a position of weakness.'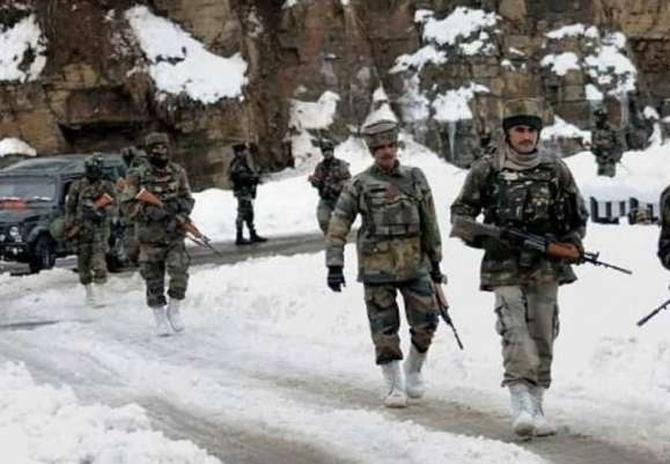 "They have used spikes, knuckle dusters etc, which has aggravated the situation to another level," former Ladakh Corps Commander Lieutenant General Rakesh Sharma (retd) tells Rediff.com's Archana Masih in the first part of the interview.
As a corps commander who knows the area intimately, what was your reaction when you first heard about the incident that took place on Monday night?
There was anguish and sorrow for a commanding officer and men who died. It is of immense pain to see such loss of lives.
In my opinion, the situation was on the boil. It had been pent up for 6-7 years. We have seen transgressions happening in 2012, 2013, 2014, 2017.
The protocols and architecture decided after talks with China had been failing over a period of time. The systems were not responding.
In a face-off when troops are supposed to disengage, disengagements were not taking place. It was resulting in fist-cuffs and the situation getting out of hand.
In the later day events of the last 40 days, they have used spikes, knuckle dusters etc, which has aggravated the situation to another level.
The apprehension was that a systemic failure was looming large.
I was anguished to hear of the loss of lives. I feel we should do something from a position of strength.
What are the systemic failures when the procedures and systems are well laid down and passed down the chain of command?
We are veterans and not aware of the full sequence of affairs on the ground. I will not venture into speculation. The serving establishment knows best.
The situation that I handled in 2013-2014 cannot be replicated in 2020. The situation is different now with new infrastructure, increased force levels and more discussions have taken place between India and China.
The action and reaction taken at that time was relevant to that period. What is being done now is what commanders on the ground feel is the right thing to be done and we must respect their views.
At this juncture, the Chinese have shown immense aggression, not only against India, but against many other peripheral neighbours like Vietnam, Malaysia, the Philippines, Indonesia, Taiwan. India also falls among the peripheral nations.
This orchestrated aggression against such a large number of countries could not have happened without the blessings of the Central Military Commission headed by President Xi Jinping, who is also the commander in chief of the PLA (People's Liberation Arny)
The Chinese aggression has been forthcoming because of various reasons like the criticism faced over the COVID-19 outbreak and the trade war with America.
China's GDP is falling and unemployment is on the rise. These could also be reasons to drum up ultra-nationalism by displaying aggression on the India-China border.
Has the building of infrastructure by India on its side of the LAC upset the Chinese?
People say it is the road and bridge construction that irks them, but we have been using the Daulat Beg Oldi road for the past 15 odd years.
We used the road to go across in the winter months when the river was frozen. Five-six years ago, we made a motorised trolley to move things up and down.
I do not personally think the construction of the road and bridge would have irked them so much because they knew it was coming up.
The bridge was being constructed for the last three years. They must have watched its progress by satellite and drones etc.
It is the feeder roads from this larger highway leading to Galwan or other areas which would be irking them much more.
Our infrastructure is now reaching close to the LAC and we are doing the last mile connectivity.
It is this last mile connectivity that must be causing them maximum anxiety and that is what has forced them to come down.
In future times, there will be more and more anxieties at more and more places and that may become the new normal.
What do the Chinese actually want, what is their intention?
The Chinese believe they have reached a status globally where they can act like a big bully.
When you deal with a bully, you have to look him in the eye.
To deal with a bully, you have to deal from a position of strength, not a position of weakness.
This Chinese aggression comes from the belief that they have attained the status of a superpower economically and militarily.
Galwan and Pangong Tso are manifestations of China displaying that they have reached a competence level.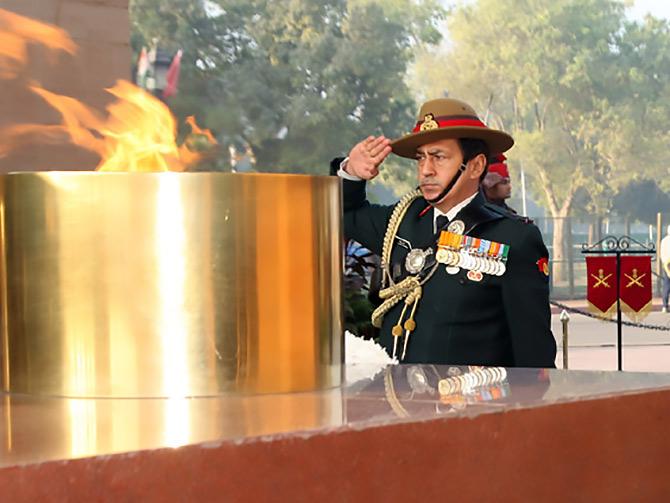 What will it take for the Chinese to move back to their previous position?
We have been having talks with the Chinese from 1981 onwards.
After Rajiv Gandhi's visit (to Beijing) in 1988, we had joint working groups that have met 15 times.
After Atal Bihari Vajpayee's visit we started the special representatives talks that have met 22 times.
In the last ten years, thousands of border personnel meetings must have taken place.
In the last 40 days, we have met 15 times, if not more.
China does not want to talk about the Line of Actual Control.
If they tell us what do they consider as their line, we are willing to debate it, but they never tell you that because the nebulous nature of the line suits them.
It is a tool for it to apply geo-political pressure on India.
China wants India under pressure in many ways than one.
I do not know what negotiations have taken place for China to go back to its previous position. The methodology or quid pro quo can only be conjecture and it will be rhetorical in nature.