'China would rather tie us down and bleed us as much as it can so that we aren't able to lift our heads to face them.'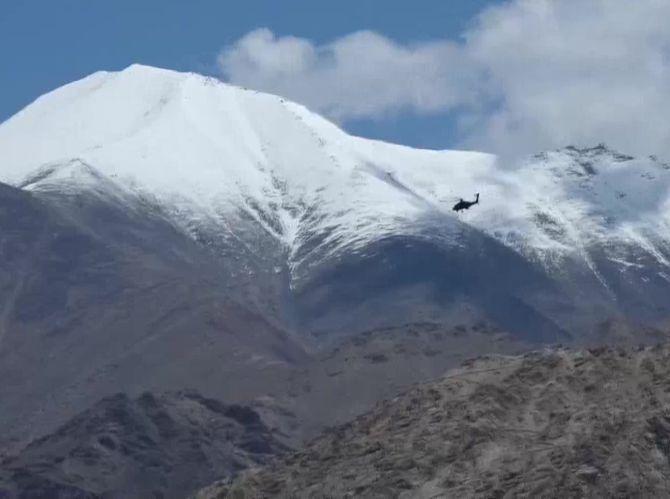 Air Marshal Pranab Kumar Barbora retired as the Indian Air Force's vice-chief in December 2010 after having served the IAF and the nation for 40 years.
Commissioned in the IAF just before the 1971 War, he was twice awarded the Chief's Commendation as well as the Vayu Sena Medal and the Param Vishisht Seva Medal.
The air marshal is well known in the air force as an intelligent and no nonsense commander with exceptional man management and leadership skills.
He was also known for his quick decision making abilities and has been in the news after his revelation earlier this month about how he took the decision to land an An-32 aircraft at Daulat Beg Oldi, India and the world's highest advanced landing ground.
Air Marshal Barbora, who also served as Commander in Chief of the the IAF's Western Air Command, discusses the situation in Eastern Ladakh with Air Commodore Nitin Sathe (retd).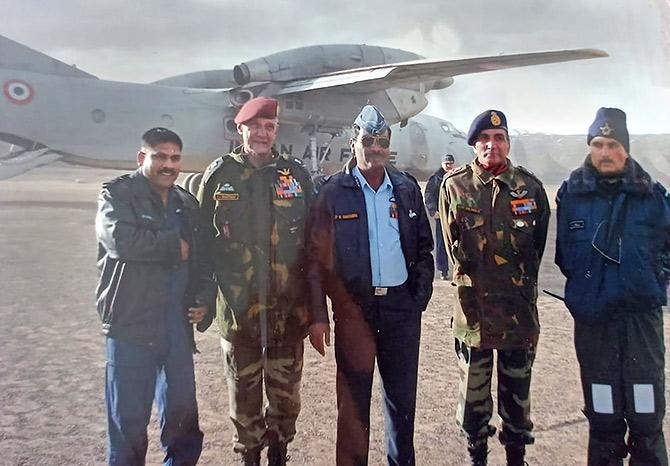 Why land an An-32 at Daulat Beg Oldi when helicopters can do the job?
I had to use helicopters because there was no other option till then. As you are aware, helicopters are costly machines to operate, they carry lesser load and while coming back from DBO, they could hardly get back anything.
The An-32, if landed, could easily take 4 tons in and come back with 2 tons if the temperatures were sub zero. That gave us a huge advantage by operating these machines.
Also, one had to accept a large volume of losses if the loads were para-dropped as was being done then.
You are a helicopter man with so much experience. You know it best! So we were losing as a nation in every way by not landing.
Secondly is the criticality of the location of the DBO ALG.
If for any reason we were to lose this area to the Chinese or the Pakistanis -- and I am not saying that they are going to do it! -- it would place us in a tremendously disadvantageous position.
We won't know what to do if it happens.
Therefore, it is important that we keep troops there and keep their morale high by giving them all the air support that they require.
And in this time of heightened tensions, it would be so much faster to replenish troops and required weapons should the need arise, isn't it?
You very well know the difference in terrain imperatives on both sides of the Himalayan divide.
On our side we have hilly terrain and on theirs, it is almost flat plateau land.
There isn't any decent operating Chinese air base close to DBO and therefore, to protect the area, I decided to move the fighters including the SU-30s to Leh.
I briefed the boys that they should fly within the laid down limits of the border and also do sorties by night in that area.
You see, it is the sound that carries far in these areas. When a fighter aircraft flies here (in Ladakh), it sends across a clear message to the other side. I did the same when I was in the East (when he served as Commander in Chief, Eastern Air Command) too.
I actually made them fly in the Arunachal hills by night. This is not only to keep their professionalism at the highest level, but it also made them confident that it can be done as a routine.
In fact, the helicopters did me proud when they carried out the first casualty evacuation by night from the hills of Anini during my tenure!
I am so proud of the boys I led in the IAF. They showed me that they could achieve the seemingly impossible with ease and professionalism.
Operations like these not only show off our capabilities to the other side, but also make us stronger to take on the enemy with the same assets that we have in hand.
So with the aspects of own morale and perception management at the border, our professional and operational potential was growing by doing such things as landing at DBO.
When you decided to go ahead with the planning and execution of the DBO mission, how did the Indian Army and paramilitary respond to the huge ask?
We had a very short time window available to us. I had just taken over (as Commander in Chief, Western Air Command) on January 1, 2008, and I wanted to accomplish the mission by May.
You see the sortie had to be done when the weather was clear and the temperatures were under zero degrees.
There was a lot of physical work involved to get the airstrip fit for our landing. So, without wasting any time I got in touch with my army counterparts -- the 14 Corps Commander at Leh, and the Northern Army Commander at Udhampur, Lieutenant General P C Bhardwaj.
They were so highly professional and positive in their approach that my fears were immediately put to rest after the meetings.
They saw the reason that I was going ahead in the tight timeframe and assured me of full support.
They had no worthwhile equipment to do the task at DBO at that time and I assured them that Mi-26 support to move men and heavy equipment would be given when asked for.
And what a job these boys did!
They had the best of leaders at all levels. Bhardwaj was a very well decorated general and went on to become the vice chief like me later.
I got much more support than what I had envisioned due to his personal indulgence and involvement.
Braving the weather and the fact that they had to work with their bare hands, the army did an exceptional job in making the airfield fit for operation in a very short time.
The biggest task that they had was to fill up the crevice that had been made across the runway due to an earthquake.
Actually, I don't buy the story of the earthquake; I think it was gradual eating away of the surface by snow and ice over 43 years of weathering.
In any case, I have no reason to crib at all. It was a job so professionally accomplished. All kudos to those brave 40, 50 men who did the hard work at that altitude.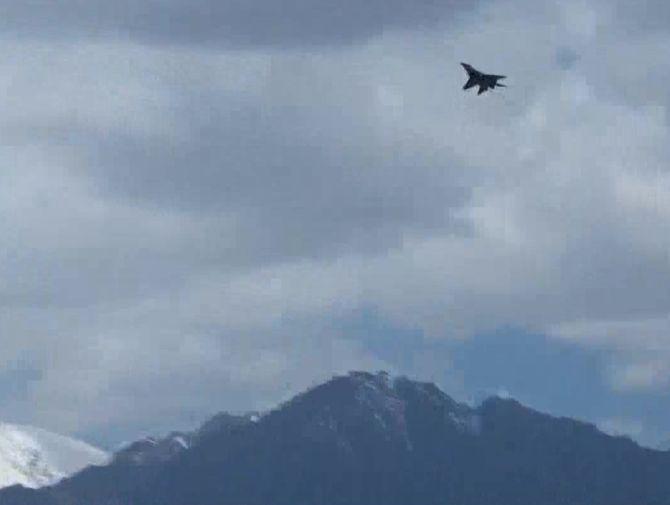 Why keep the mission a secret?
It wasn't a secret really. All those who had to know of it were told. The lesser number of people who knew, it would be better, isn't it? My contention of need to know was because somehow down the line things leak and lead to unpleasant things.
We were already in the midst of planning something big with the involvement of the rest of the air force and I felt we should not make too much noise and do it as a matter of fact rather than an exception.
Leaks take place everywhere, and I needed to be extra careful. So I gave nothing in writing.
There was another reason for this. You see when the first presentation was given to me in Delhi at the Western Air Command Headquarters, everybody was trying to tell me how the mission was a no go.
I then told them to arrange for another presentation to tell me how it can be done.
This got them under some kind of pressure, I think, and they now worked towards the goals that I had set for them.
I wanted to be dead sure myself that the mission was going through before we got people to hear or talk about it.
In those circumstances, it was best to just work quietly and move towards the goal without making too much noise.
I, willy-nilly, took charge of things .
I told my SASO (Senior Air Staff Officer), 'Fighter flying toh chalta rehta hai, you take care of that, leave this mission to me'.
I delegated authority to all in the chain.
It would have been easy for me to bypass everyone in this chain and talk to Chafekar (then Group Captain Suryakant Chafekar, commander of the 48 Squadron, who flew the historic flight; you can read about the flight in the links below this paragraph) directly, but then it wouldn't have been in the correct scheme of things and not in the correct traditions of our service.
Everyone in this chain knew what they were supposed to do and I didn't have to interfere at all.
If there was help required, anyone could ask and it would be made available due to this clearly defined chain of command.
Things moved fast, plans were made and Chafekar definitely had some plans already made.
I directed Chafekar and his team that they shouldn't spend too much time practising their landing procedures at DBO during their drop sorties since it would stir up the Chinese.
They were to make some concessions and simulate those conditions here at Chandigarh while they trained; and train hard they did.
The DBO airfield had to be made operational within a month, month-and -a-half. It then had to be checked by the pilots and declared fit before the flight.
How much manpower was required for the same? How much equipment was pushed into DBO to hasten things?
Look, that wasn't my problem, was it? I had the reassurance from the army that things will be done and they were fully capable of doing the task.
In terms of support, we gave them the helicopter trips that they required. As far as I was concerned, my pilots had to be happy with the work.
If they weren't, there was no way I would be forcing it down their throats. After all, they were to undertake the mission.
On our part we had to worry about contingencies should they occur at DBO. If there was a tyre to be changed with the engines running, well, it had to be practised.
The search and rescue teams had to be placed at vantage points so that in the event of a bad landing or crash, the survivors were lifted to safety in the shortest possible time.
All this technical and operational nitty-gritties were worked between the Command Staff and Chandigarh (where the IAF's 48 Squadron was based) to the last detail, leaving nothing to chance.
My SASO and his operations staff were masters at this and did what they were supposed to do.
All I could do as a Commander was to give them the space to think and plan and guide them based on my experience and nothing else.
One thing that worried me was what if the engine switches off at DBO? With the Auxillary Power Unit unable to operate at that altitude, what was to be done?
I told my engineering guys to think about novel and out of the box ideas of starting the engine like jump starting your car!
I left it to them completely to think of the technical contingencies and find solutions, at the same time we kept our fingers crossed that nothing should happen!
In your opinion, was it just a one-time operation or did you want it to continue? How did you manage thereafter to train more pilots and how long did these landings continue?
Like I said, I believe in delegating responsibility. Once we had achieved the mission and proved that it was possible, I left it to the operations branch to take it forward.
As far as figures are concerned, I won't be able to tell you how many pilots were trained to land there, but I can assure you that they were adequate in number.
The army also had to tell us if they had any meaningful load to be delivered at DBO.
If it was just 500 kg or something, there was no point in doing so much for so little isn't it? So I left it to the army to give us the task, and based on the same, we ensured that we had the pilots and the machines available.
Did you plan for infrastructure development at DBO as also posting IAF manpower for furthering operations at DBO?
No, not at all. There was no such plan then. We had moved in the requisite manpower to accomplish the mission and we had plans in place to do so again should the requirement arise at a later date.
You know, we had managed to train those ITBP (Indo Tibetan Border Police) and Army boys to give us the weather and they were good at it!
The rest of the administrative support was managed by the army and hence there was no requirement to create separate infrastructure at DBO at all. At that point in time, we didn't fly too often to DBO.
So it was basically a show of capability, show of strength. To tell the Chinese that we can operate when we want to.
The Chinese know all that. We have been doing this day in and out in the north east, haven't we? The hidden agenda is as clear as day to both sides.
How do you compare the two air forces along the northern border? What progress has our air force made in projection of air power along this border in your career in the IAF?
What exactly does China want?
With these border skirmishes increasing over time, how serious are the designs of the Chinese?
Is it a show of force or belligerence?
Or do the Chinese mean more?
Firstly, our progress has been perfect. Our plans are well thought of and cater to all our requirements over time.
Plans being what they are, the only constraint is the money.
Although the current government has given adequate impetus to our growth, there is a lot of scope for improvement.
But you know, our other development plans also have to be given the push too. Eradication of poverty is one of them.
So when we ask for 126 Rafales, we get 36, because the government can only give us this much.
We need to optimally utilise what we have and plan well for what we are going to get so as to get maximum bang for the buck.
The IAF needs to make full use of its multi-role aircraft with boosted ranges by mid-air refuelling so that forces can be swung from one theatre to another or operate inter theatre in future conflicts.
And by the way, I am in no way advocating theatre commands as yet, since we are not 'ready' for them at the moment.
As far as air power is concerned, we have adequate to deal with the situation, and I am sure that plans are afoot to keep it that way.
We have to keep projecting the entire National Power to our adversaries to prevent conflict, and I think we are doing so quite well, especially in the recent past.
In my opinion, China doesn't want war, and actually, all of us could do without it especially in this pandemic scenario.
War, will, as such, be the last resort.
China would rather tie us down; and bleed us as much as it can so that we aren't able to lift our heads to face them.
That is their strategy. And they do it slowly and steadily.
We need to study them, and study them hard to find new and innovative solutions in the soft and hard power domains to contain them and keep them within their borders.
---
Air Commodore Nitin Sathe retired from the Indian Air Force in February 2020 after 35 distinguished years of service in the IAF.
A helicopter pilot, he served as the station commander at the IAF's Jammu station between 2010 and 2012.
Production: Rajesh Alva/Rediff.com