In Maqbool, Vishal Bhardwaj did a Godfather; in that he took something that was pulpy and fast and gripping, and made out of it something timeless and grand, feels Sreehari Nair.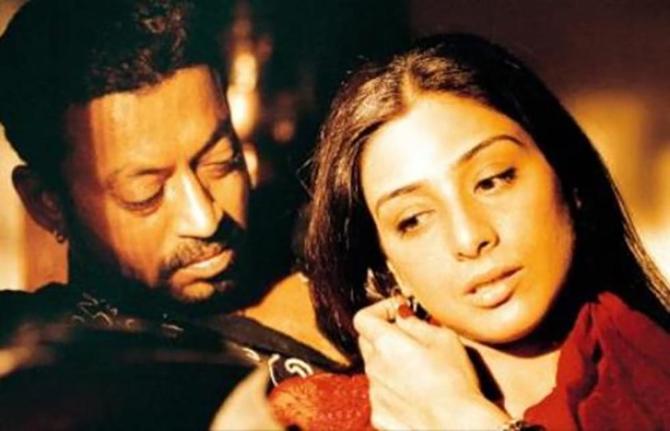 Sometime in 2004, when Vishal Bhardwaj's Maqbool was generating minor shock waves at home, as well as becoming a festival favourite abroad, its Director of Photography Hemant Chaturvedi was busy spreading the news that it was he, not Bhardwaj, who had directed the film.
Quite understandably, when this patter reached Vishal Bhardwaj's proud ears, he was miffed and swore that no more would he collaborate with his erstwhile friend, now the Brutus of Gorakhpur, and the cinematographer of his first two films.
Looking back after all these years, it's interesting to note that while Hemant Chaturvedi may indeed have been a fantasist, Vishal Bhardwaj never made a film better than Maqbool.
The imageries in Maqbool had a 'charge' that he could never again quite reach; never again were his visual details so perfectly arranged to complement his characteristic curvy dialogues.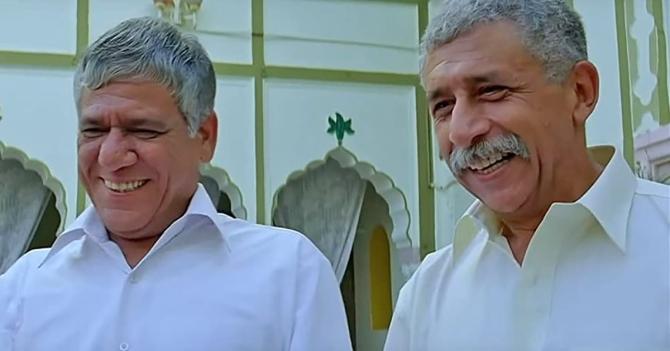 On the rear windshield of a police van, a diagram comes into view, supposedly meant to represent Mumbai's astrological chart. It trembles and gleams with potential before being splashed with blood.
Om Puri's guttural voice, rises to a pitch of irritation, and offers the supreme counterpoint: 'Poori Mumbai khoon main bhar di.'
In another instance, a blabbering swine of a politician is turned into his spirit animal, when his mouth is forcibly stuffed with paan, and then lectured on the virtues of restraining one's tongue.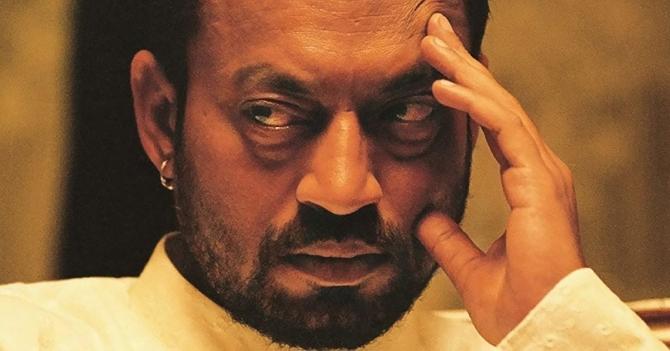 Then there's Pankaj Kapur's pious yet dangerous bodyguard whose loyalty it seems has lobotomised him (The similarly pious, dangerous, unthinking bodyguard of Mirzapur is called Maqbool -- in all likelihood, a hat-tip).
The metaphors in the film were emitted like punchlines but the set-ups were imageries that had about them a certain mythic quality.
These imageries could touch that divine area between your shoulder blades; that part of the body that Nabokov referred to as 'the seat of your artistic delight'.
VB still writes delicious, curvy lines.
But in Maqbool, his lines mating with the depth in his actors' faces, the cob-webbed atmosphere, and the tone of bloody Sufiyana, suggested the creation of a new world.
How did he do it? I say, by trusting the ability of sensationalistic literature to expand in meaning when merged with thoughts that give you a steady tingle.
In Maqbool, Bhardwaj did a Godfather; in that he took something that was pulpy and fast and gripping, and made out of it something timeless and grand.
Pulpy? Fast? Gripping? Are we still discussing Macbeth, Maqbool's theoretical source?
Yes, the adjectives mentioned above are befitting of the abridged, simplified version of Macbeth that Bhardwaj has confessed as being the inspiration for his movie. He never read the original text, and one must add, thankfully.
When critics drool over 'Bhard doing the Bard' they turn Shakespeare into a mere plot-meister, forgetting conveniently that Shakespeare wasn't just a creator of moments but also a tireless explorer of the English language's vertiginous possibilities.
Shakespeare's plays can be faithfully rendered only through the spit-filled recitation of his speeches (Kenneth Branagh showers his co-actors every time he speaks in Henry V).
And yet, when you start taking Shakespeare's plots and characters apart, such as Macbeth with all its pulpy elements -- Witches, Ambition, Brotherhood, Deceit, Revenge -- and add to them the best aspects of your taste, your finest observations, and your most evolved ideas about art, you create your own literature.
Pankaj Kapur's Abbaji, one mustn't forget, reprises King Duncan's immediately appealing yet never-once emphasized quality: His penchant for terrible punishments come out of his capacity for enormous love ('Panaah di…toh di,' says Abbaji, in defense of a rebel he has forgiven).
But Bhardwaj goes further in the film; in his search for original literature, he also dives deep into the pool of pop. And the overused cultural totems that he comes up with, he very systematically de-banalises.
For example, he gives to Abbaji, Brando's thrusting jaw from The Godfather but establishes, moreover, the links between such physical quirks and the echoes they produce.
When Vito Corleone smiles out of his jaws at Sollozzo's offer, the smile is a half-smirk, a signature of the man's wisdom, and when Vishal Bhardwaj recreates this scene with Abbaji, he deploys the smile for the exact same purpose that Coppola did.
It is pulp, you see, but offered the modulation of unforgettable poetry.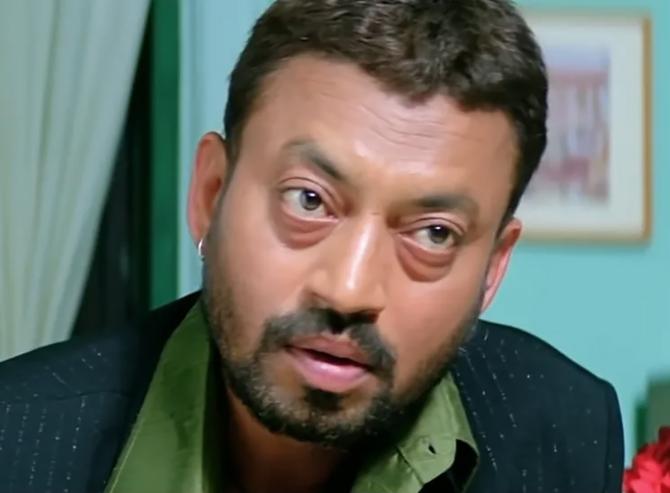 I have always believed that VB's biggest strength, and his weakness, is that he happens to be a poet at heart.
The difference, then, between his best film and his half-masterpieces was that in Maqbool, Bhardwaj found the perfect vessel in which to deposit his epiphanies. It's like Robert Lowell finding in his prison experience just the right visions of 'dread within the mundane', and using these visions to compose his greatest ballad, Memories of West Street and Lepke.
Such happy accidents are rare, but when they do occur, a poet doesn't have to strain for effects, the effects simply manifest themselves.
Shakespeare and The Godfather, in concert, readied for Vishal Bhardwaj a world filled with people donning opposing parts: Protector and Destroyer; Brother and Murderer; Lover and Soldier. And into this world, Bhardwaj dipped Maqbool, a man forever searching for equanimity (his first shot in the film shows him meditating), and who then willfully destroys all possibilities for equanimity.
The pulpy version of Macbeth stirred up Vishal Bhardwaj's imagination in other interesting ways; the most interesting of which resulted in his decision to foreground the Crime of Passion aspect of the play.
In a sense it was Shakespeare, our first great psychotherapist, who had dissected the sexual tensions that come about when a man and a woman team up to commit an act of crime. Macbeth's childlessness and Lady Macbeth's literal stage-managing of Duncan's murder through her relentless taunting of her husband's manhood: in Macbeth, there silently flows a rivulet connecting the two districts of Sex and Power.
VB -- and I think of this as a masterly deviation -- brings this underlying wink in Macbeth to the absolute surface. His Maqbool (played by Irrfan) is a both a victim of greed and a victim of romantic folly.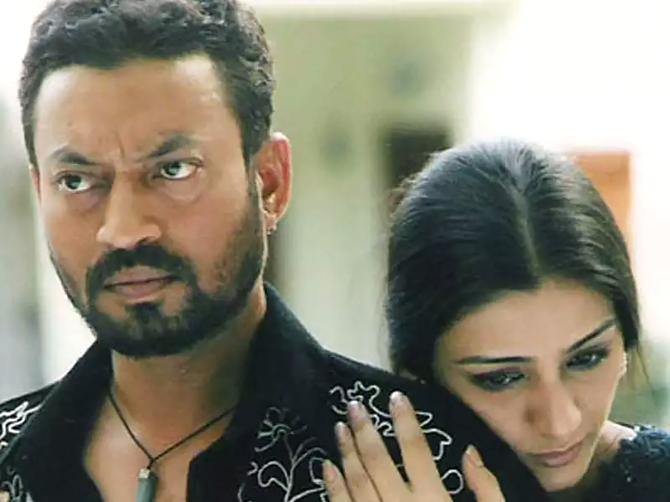 Lady Macbeth's taunts, as a wife, are subtle, brisk, and functional.
In the film, however, Nimmi, the Lady Macbeth character (paraphrased by Tabu), is as much Abbaji's property as his throne, and so there's a desperation about her pleas for murder, and the stakes are much higher for our gangster-usurper.
And even more than Macbeth, is Maqbool weak before his lady's commands -- for all he can do is cock a mechanical pistol, but what she clasps in her nicely manicured hands is his lonely gonads.
In Macbeth, Shakespeare balanced his vicious couple's mental stamina as if on a seesaw (When he's down she's up, and vice-versa).
In Bhardwaj's interpretation, Maqbool and Nimmi are creatures of infinite melancholy, and they sail up and go down almost together.
The greatness of Tabu's and Irrfan's performances derives from their ability to persistently hint at the origins of the doomed romance.
One can read in her glances, and his catching of them from across a room, the tale of the weary Queen who fell for the General, a General who is shy yet full of ambitious seed.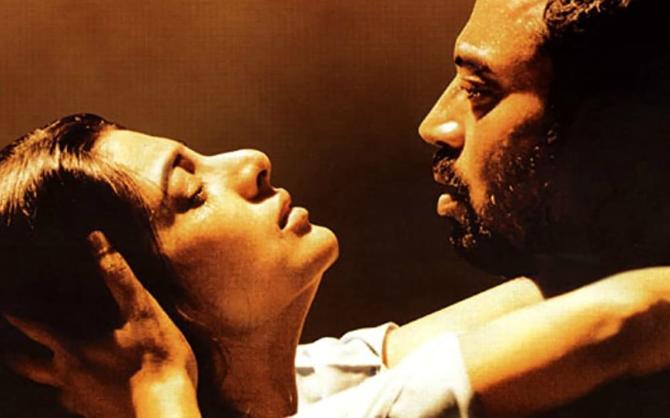 Their passion makes sense only as Forbidden Passion and it starts losing air when they erase from their paths the biggest hindrance to their union. What the resultant guilt kills, and kills most visibly, is the grace in their little sadomasochistic dance.
Tabu's turn as Nimmi is Shakespearean in crime and Flaubertian in repentance.
In her baying for Abbaji's blood, she is Lady Macbeth; in her despair and boredom following the murder, she is Madame Bovary.
For all its inventions and poetry, Maqbool, I confess, is a hard sell; especially at a time when 'arguing for pleasure' is in danger of becoming an outmoded form of art criticism.
People these days are wont to giving you a quizzical look when a piece of art you recommend has no obvious utilitarian value attached to it.
In this age of everybody speaking out of a righteous megaphone, an artist hardly gets asked the question: 'What is the Obsession you are trying to tackle?'
All one wants to know is this: 'What is the Cause you are trying to champion?' (Is it women empowerment; is it racial justice; is it gay liberation?).
It's precisely to counter this prevailing mood that I would goad you into watching Maqbool: 'A perfectly useless work of art, but one that I would term 'the sexiest film this country has ever produced.'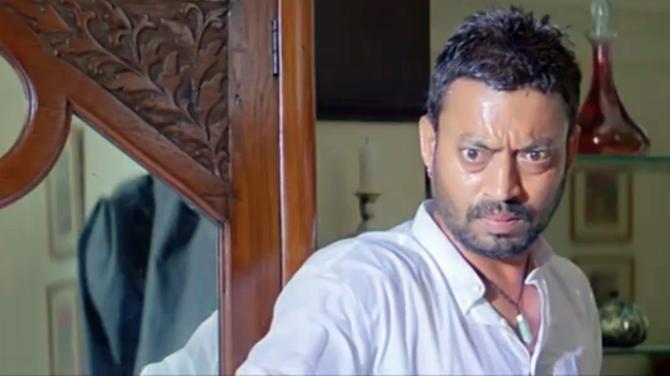 To Indian cinema, which, typically when discussing sex and sensuality, could never think beyond a rain-drenched sari or a rape scene (Rape was entertainment too, once upon a time!), Vishal Bhardwaj's feverish adaptation gave a set of freshly baked idioms for sexiness.
The innocent, lovelorn mistakes in Maqbool are sexy, and so are the rhythms of the ill-timed grumblings in it.
The figure of a young naked woman waiting to be taken by a portly old wolf is sexy; sexy also is the old lover's use of a toothpick to suggest post-coital satisfaction.
Sexy is the image of a man supplicating before the barrel of a gun, and sexy is his killer's final sunlit comeuppance.
Maqbool streams on Disney + Hostar.
---
Cinema entertains, exhilarates and enlightens.
Its ability to relate and inform the viewer through universal, timeless emotions are what contributes to its legacy, now available more easily than ever, for generations to follow.
Some films are a product of its time.
Some telling of man's reluctance for change and making the same mistakes over and over again.
Some films grow glorious with every passing viewing.
Some are overlooked gems in search of an appreciative audience.
Discover our series designed to acquaint our young, enthusiastic cinephile to the wonders of Indian film-making.
We revisit and recommend some of our most beloved, undiscovered or under-rated favourites that should be seen and savoured:
---