Cinema entertains, exhilarates and enlightens.
Its ability to relate and inform the viewer through universal, timeless emotions are what contributes to its legacy, now available more easily than ever, for generations to follow.
Some films are a product of its time.
Some telling of man's reluctance for change and making the same mistakes over and over again.
Some films grow glorious with every passing viewing. Some are overlooked gems in search of an appreciative audience.
In a new series designed to acquaint our young, enthusiastic cinephile to the wonders of Indian filmmaking, we revisit and recommend some of our most beloved, undiscovered or under-rated favourites that should be seen and savoured.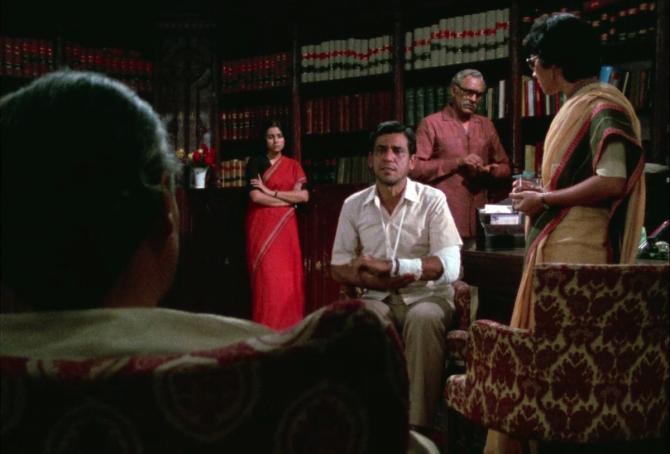 The 1980s are an unnecessarily maligned decade.
Perhaps the overbearing stench and onslaught of mindless mainstream masala burdened the years more than usual but the same decennium witnessed the rise of the fiercest flagbearers of parallel cinema making it the most mesmerising chapter of contrasts and coexistence.
One of this era's brightest luminary is cinematographer-turned-director Govind Nihalani.
The auteur delivered some of his most potent work back then, which began with 1980's hard-hitting Aakrosh but went almost unnoticed in the 1984 ensemble masterpiece Party until its re-emergence and restoration in the digital age.
Opening scenes often set the tone in most Nihalani creations -- the nightmares in Vijeta and Drohkaal, the gruesome execution of a pig in Tamas, the simmering funeral of Aakrosh or the meet-cute party of Ardh Satya and the irony of Om Puri's casual sarcasm, 'Yeh partiyan aisi hi hoti hain. Na peene wale ki maut.'
It certainly holds true for Party, whose impactful first scene is marked by the sound of Naseeruddin Shah's ferocious leftist monologue and Deepa Sahi's inspirited eyes as she assimilates the rebellion in his words from the privacy of her comfortable room in a sprawling colonial-style South Mumbai bungalow.
The latter becomes the venue for highlighting this very chasm between discussions and deeds at a soirée hosted by her mum, played by Vijaya Mehta.
A sense of unrest beleaguering his characters is a recurring theme in Govind Nihalani's work. In Party, it looms above a revelry like an invisible, incessant force.
Even before the guests have arrived, the hostess admits to a feeling of impending doom. Maybe it's pre-party jitters or she is worried about her daughter's unwed mother status attracting undue rumourmongering. Keeping up appearances is everything. Wear a sari, 'something quiet and sober', she instructs her upset but complying beti.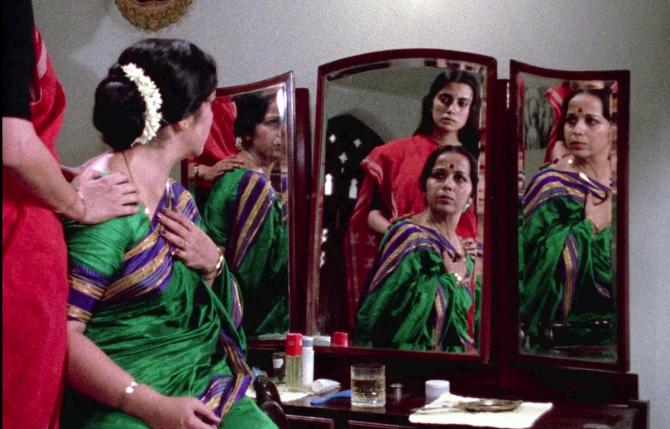 Family friend Amrish Puri takes a break from reading A Bend in the River by V S Naipaul to soothe Mehta's ruffled nerves.
She needs a sedative to survive the party, he'll take one afterwards because he survived it. Going by the ensuing cries of Am I drunk/I am drunk/There is nothing like liquor/One orange scotch please, getting sloshed is the norm.
Glimpses of the guests in their professional and personal capacity gives us a better understanding of their background, struggles and a unanimous love for Khayyam (a strain of Umrao Jaan, a whiff of Razia Sultan).
At the centre of this 'quiet and exclusive' do is Manohar Singh's literary giant whom Mehta is honouring by having a get-together of the who's who in art, culture, media, theatre and music.
Singh's loveless marriage is addressed early on and unravels unpleasantly through the course of the evening in his sloshed, sulking spouse's (Rohini Hattangadi in a National Award- winning turn) hysterical outbursts and scorn.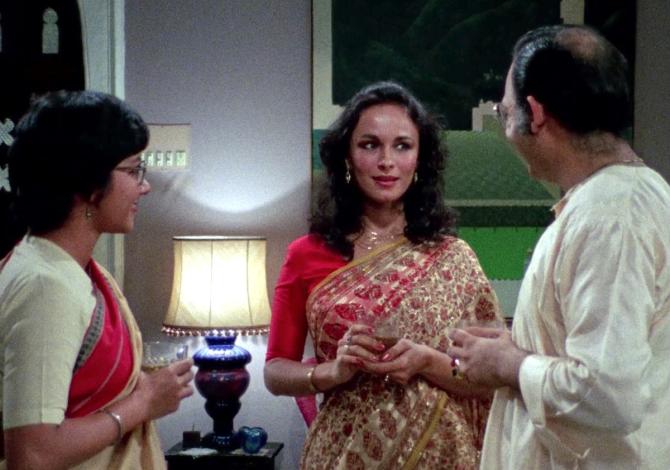 There's the firebrand Malabar Hill resident (Gulan Kriplani, it is a pity she didn't act in more films) waxing eloquent on the ideals of Marxism while looking down on creators (Akash Khurana) and consumers of mainstream as vulgar schmaltz.
A theatre thespian (Shafi Inamdar) juggles between 'creative menopause' and existential crisis.
An upcoming poet (K K Raina) downplays his bourgeois reality by trying too hard to fit in.
A bored model (Soni Razdan) and her sleepyhead husband (Mohan Bhandari) self-invite while inquisitive magazine editor (Pearl Padamsee) escorted by her toy boy ensure wouldn't miss it for the world.
A string of familiar faces from 1980s television and theatre -- Ila Arun, Ravi Jhankal, Vijay Kashyap, Benjamin Gilani, Jayant Kriplani, Savita Prabhune -- register a fleeting but fond presence.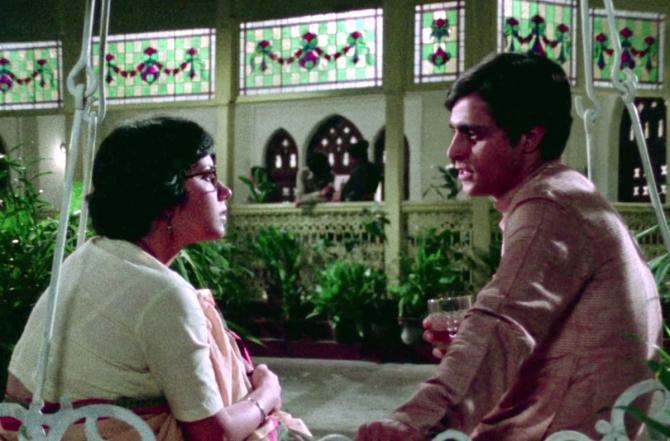 Between raised toasts and observed niceties, pitting Naipaul against Rushdie, 'brown sahib legacy' versus 'vernacular snobbery', objecting on male perspective of female suffering, of building contacts and climbing the social ladder at such culturally enriching events, dismissing activism as a romantic notion and inflated ideas of achievement and existence, the room's diverse occupants bare all their hypocrisy and pretensions, insecurities and despair, crudeness and conceit.
Amidst their hollow intellectualism, Party builds a charismatic curiosity around a poet turned political activist called Amrit (Naseer) fighting for the cause of tribals in the jungles of Andhra. Without actually showing him (until the violent final frame), Party establishes him as the most significant presence through conversations, letters and fandom.
Classism, sexism, ageism, elitism, marital woes, adultery, exploitation, layers and layers are peeled off in this deliciously verbose adaptation of Mahesh Elkunchwar's play.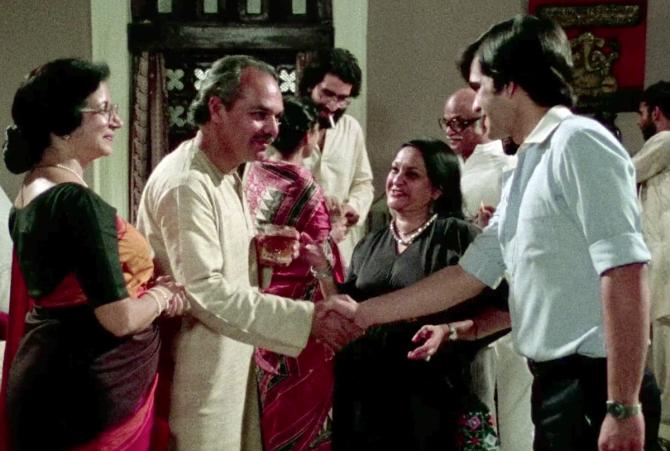 Penned by Elkunchwar and Vasant Dev (additional dialogues), Hindi at its robust, purest best lends itself to Party's spirited discourse and lively candour, which includes some moving poetry by Anil Rakeshi, Satyadev Dubey and HK.
What's incredible how organic the energy and camaraderie feels for such a large group of terrific actors inhabiting art director Nitish Roy's gorgeously designed space.
Polite seeming people engage in a battle of ideologies while the mask of propriety thinly veils one's pride and another's patronising.
Nihalani's cinematic eye captures every move of their complex banter with the keenness of a hawk.
Where one set of youngsters is indifferent to the nation's problems and dances away to Daryl Hall & John Oates' pop hits, another's criticism of the ongoing crisis is responded with a 'make a movie about it.'
Pat comes the reply -- will the government allow it?
What's changed? Party reminds you: Nothing.
The so-called momentousness in the air is disrupted by Om Puri's arrival, Amrit's journalist friend who says it as it is.
If Amrish Puri is the voice of reason in Party, Om Puri acts as an eye opener.
His actual experiences -- not at all different from the current political climate, especially when you hear tear gas, lathi charge, cops beating up peaceful protestors, government favouring industrialists uttered in the same breath -- embolden him to question the contribution of creative folks theorising over the same.
Party takes a strong stand. You cannot separate art from politics, if an artist isn't politically committed, his art isn't relevant.
But it doesn't vilify the ineffectuality of those preoccupied in philosophising and living in a bubble of delusion as reality passes them by.
Rather than judge them harshly, Party listens (perhaps even feel sorry) to their intimate, soul baring admissions, haunted as they shall be for the rest of their lives.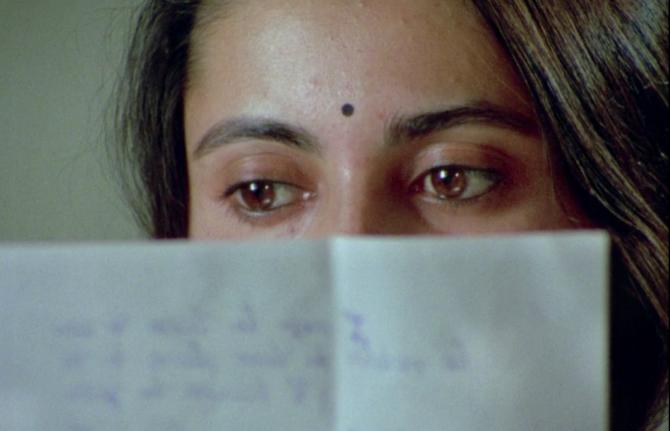 Party has no plot whatsoever.
It is many stories rolled into one, neither linear nor finished, revealed through chit chat and character studies.
They ramble, digress, small talk, second guess, argue, confess, embarrass themselves, delude too -- all of it signifying so much and absolutely nothing, in its own words -- asafal logon ka khokhla dard.
By throwing them all under one roof and tuning into the chaos, Nihalani crafts a microcosm that reflects the unchanging nature of human behaviour in ways that is as relevant now as it was back then.
Every day a Party unfolds on social media where armchair activists, politically charged influencers, trend pundits, gyaan givers and troll armies change the world in their heads but remain clueless about the nation's grassroots reality.
Party is available to stream on Mubi India.