Cinema entertains, exhilarates and enlightens.
Its ability to relate and inform the viewer through universal, timeless emotions are what contributes to its legacy, now available more easily than ever, for generations to follow.
Some films are a product of its time.
Some telling of man's reluctance for change and making the same mistakes over and over again.
Some films grow glorious with every passing viewing. Some are overlooked gems in search of an appreciative audience.
Continuing our series designed to acquaint our young, enthusiastic cinephile to the wonders of Indian film-making, we revisit and recommend some of our most beloved, undiscovered or under-rated favourites that should be seen and savoured.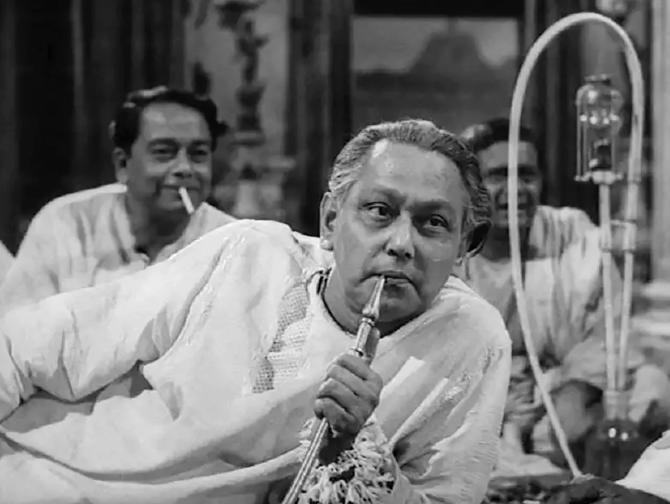 It's dusk.
The zamindar of the Kirtipur Raj Estate, Biswambhar Roy, looks out of the window into the vast expanses of his barren riverine estate.
A gust of wind topples an ivory figurine of a bajra (a large-ish boat with sleeping quarters favoured by zamindars).
He sets it upright and walks into the jalshaghar (jalsa ghar or music room) in his vast, colonnaded palace.
It is this grand music room that is the leitmotif of Satyajit Ray's 1958 film Jalsaghar, where the hauntingly simple story, of a man's refusal to adjust to his changing fortunes, is told.
When the bajra figurine keels over, you know that the zamindar's wife and young son will die in a boat accident.
His sumptuous wealth, stables that once held many a steed and elephants too, will dwindle into nothingness, like the untilled lands he owns, stretched mile upon dusty mile.
You know you are watching a man ride relentlessly to his doom, astride his pride.
You yearn to reach out and stop him when he gives away a small pouch of gold mohurs, his very last, to a nautch girl as inaam (Kathak doyen Roshan Kumari mesmerises).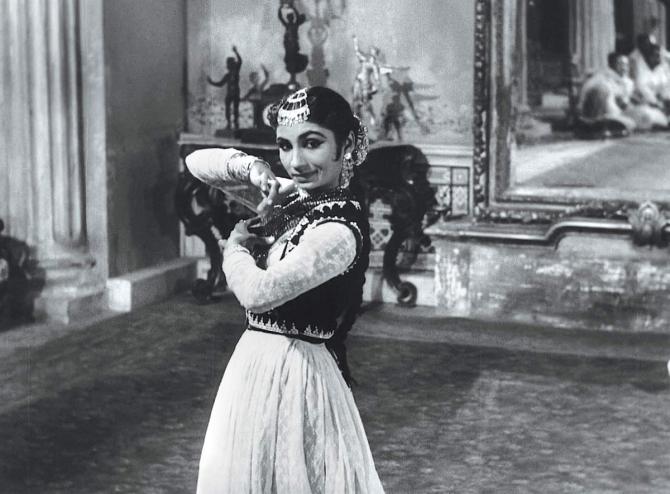 Yet, you cannot look away from the horror of the zamindar's self-inflicted downfall.
The film is hypnotic and though set in the early part of the last century is timeless and holds you spellbound. Each time you revisit the film, you stumble upon personal nostalgia -- a marble drinking glass for sherbets, here, or portraits of ancestors, there, in crumbling, once-stately homes in Kolkata.
Jalsaghar is melancholic, the direction measured; human frailty cannot be rushed.
When the manager tells him his coffers are empty, the zamindar lying on an chaise lounge, drawing from his hookah, says, alluding to the deaths of his family, 'It emptied long ago. Shob shesh hoye gachhe. It's all over.'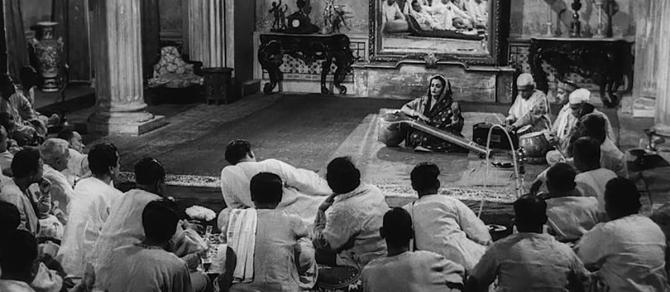 Jalsaghar is based on a short story by Sahitya Akademi award-winning novelist Tarasankar Bandyopadhyay.
It is the first film ever to use classical Indian music and dance as a centrepiece to a story.
The music, austere and sombre, is by Ustad Vilayat Khan and has stellar performances by Begum Akhtar, Roshan Kumari, Ustad Waheed Khan and Ustad Bismillah Khan.
Ray's story is of a man whose way of life has vanished with the abolishment of the zamindari system (1951) and a devastating flood, but obsessed with holding on to the last vestiges of grandeur and aristocracy.
His raison d'etre is his music room where he holds opulent classical music and dance soirees.
The centrepiece of the magnificent alsaghar is a Belgian handmade chandelier, which Ray uses at varied times in the film to reflect the zamindar's impending doom.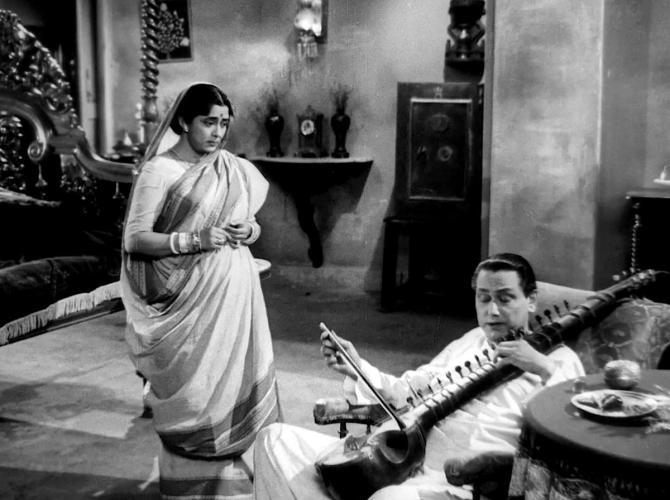 Alone with a few family retainers (the masterly Kali Sarkar as his man servant), the estate is exhausted of all its former riches.
He pawns his wife's jewellery to pay their wages and holds a grand thread ceremony for his only son, inviting hundreds to a grand banquet.
After his wife and son's deaths, he loses whatever vestiges of will he has to tend to the estate.
When his upstart neighbour, who has money but no breeding, holds a jalsa, the zamindar refuses to be outdone.
Listening to the strains the classical piece wafting in from his neighbour's house miles away, he unconsciously taps his cane with his forefinger to the music, raises an eyebrow and asks for his jalsaghar to be reopened.
The weary man bent with age and mourning his son's loss, once again has a spring to his step at the prospect of the room being reopened.
When the jalsa ends, he tells his family retainer, with unabashed glee, 'Paareni! (they could not!)' (take away his honour) and raising a toast to the portraits of his ancestors that grace the stately room, says, 'To you my noble ancestors, to you.'
Satyajit Ray is at once kind to the zamindar, who, when floods ravaged his estate, sheltered over a thousand of his people in his palace, and pitiless, as he clings to his illusion of faded aristocracy.
The film rests on the able shoulders of Ray with his mastery of telling a tale with bare-boned dialogue; protagonist Chhabi Biswas with his career-best, magnificent performance, and the sutradhar of the film -- the camerawork by Subrata Mitra.
Exquisitely shot, with shadows and light capturing the hypnotic mood of the film, Jalsaghar is a viewing treat you owe yourself.