Like all the great love stories, says Subhash K Jha, Annayum Rasoolam has a tragic end.
But not before we are transported into a world of furtive glances and hurried touches.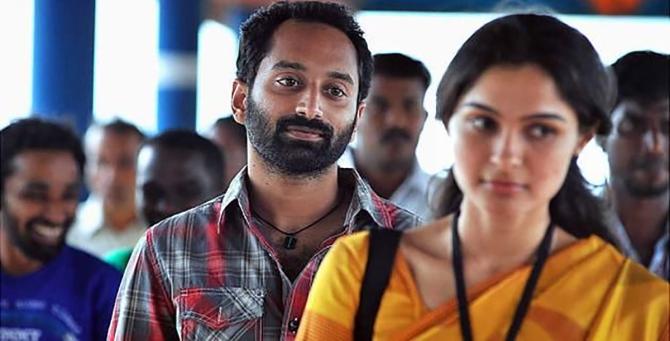 Some films are born great.
Others have greatness thrust upon them.
Were it not for the wonderful Fahadh Faasil, what would Annayum Rasoolam be?
The kind of implosive energy that the actor brings to his role of an obsessive, unrelenting lover (if the film was made today, he would be called a stalker) transports the sneaky romance to the stratosphere of extra-specialness.
This extraordinary level of commitment, seen in the film's hero Rasool, is fluently transposed to the narrative, which never falters even as Rasool's passion gathers momentum.
This is a man in love, who ferries every single day from Kochi, so that he can be on the boat with the girl of his dreams Anna (Andreah Jeremiah), as she travels home.
The ritual becomes so rigid that the other passengers on the boat begin to recognise Rasool.
'Don't you have a job?' an elderly lady asks.
Rasool is not embarrassed. He is, after all, in love.
The narrative unfolds through the voice of Rasool's friend Ashley (Sunny Wayne).
The characterisation of Rasool's friends is in a league of their own.
They are committed, quirky and querulous.
They gave Rasool sound advice: 'Why do you want to fall in love with a girl, whom you follow every day on a boat and who doesn't even look at you?'
Fahadh Faasil, that magician of an actor, expresses Rasool's earnest feelings of love with a blend of rhapsody and reality.
He knows he is on slippery ground, especially because of their differing religious beliefs.
But he also knows that if loses Anna, he loses his chance to be happy in love. He would rather take the chance.
Like all the great love stories, Annayum Rasoolam has a tragic end. But not before we are transported into a world of furtive glances and hurried touches.
Director Rajeev Ravi gives a languorous feel to those moments between Rasool and Anna as he catches her in her workplace (a sari shop), on the boat, in the church and at home.
By the time Rasol's romantic dreams have had their fill, the film is so suffused with the aura of love and 'foreverness' that you pray it won't take the tragic route.
Alas, what is a good love story without a tragic finale?
And what is a routine romance without Fahaad Faasil to uplift its mood from the mundane to the meditative and melancholic?
Rajeev Ravi, who is a first-rate cinematographer, leaves the luminous lensing to Madhu Neelakandan, who captures the working class rhythm of romance with the same fluency and anxiety as Mani Ratnam's Alai Payudhe.
It's a dream-like world inhabited by sweaty commuters and idlers, who pick fights because they have nothing better to do.
Annayum Rasoolam is streaming on Disney + Hostar.
---
Cinema entertains, exhilarates and enlightens.
Its ability to relate and inform the viewer through universal, timeless emotions are what contributes to its legacy, now available more easily than ever, for generations to follow.
Some films are a product of its time.
Some telling of man's reluctance for change and making the same mistakes over and over again.
Some films grow glorious with every passing viewing.
Some are overlooked gems in search of an appreciative audience.
Discover our series designed to acquaint our young, enthusiastic cinephile to the wonders of Indian film-making.
We revisit and recommend some of our most beloved, undiscovered or under-rated favourites that should be seen and savoured:
---