Cinema entertains, exhilarates and enlightens.
Its ability to relate and inform the viewer through universal, timeless emotions are what contributes to its legacy, now available more easily than ever, for generations to follow.
Some films are a product of its time.
Some telling of man's reluctance for change and making the same mistakes over and over again.
Some films grow glorious with every passing viewing. Some are overlooked gems in search of an appreciative audience.
Continuing our series designed to acquaint our young, enthusiastic cinephile to the wonders of Indian filmmaking, we revisit and recommend some of our most beloved, undiscovered or under-rated favourites that should be seen and savoured.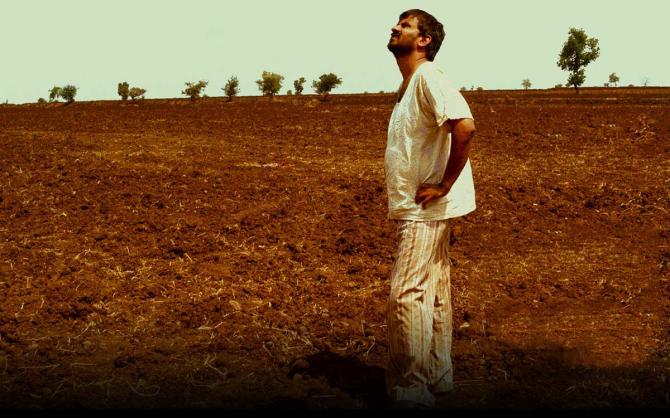 In the 2010 documentary film Nero's Guests, P Sainath, the greatest chronicler of IndiA's agrarian crisis, tells the story of Kasi Visvesvara Rao, who won the 'progressive farmer of the year' award.
Rao often got angry over his fellow farmers who talked about suicide or leaving farming, says Sainath.
He encouraged them to work harder, not to take their own lives.
In 2004, Rao died by suicide.
Writer-Director Satish Manwar's 2009 film Gabhricha Paus (The Damned Rain) is the story of a farmer just like Rao.
His village in Vidarbha is rocked by farmer suicides, including one of his best friend.
Every family is indebted.
The yield is not enough even to pay the moneylender's interest.
There is no money to sow next season's crop.
Still, Kisna -- played by Girish Kulkarni -- is determined not to give up, though he's genuinely worried.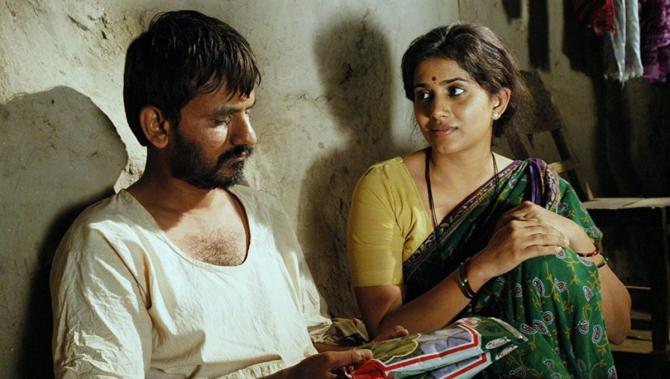 On the other hand, his family of three -- his wife, mother, and a minor son -- is convinced that Kisna is contemplating suicide.
They try every trick in the book to stop him from doing so.
Kisna, who has no time for his family's concerns about him, is frustrated at their changed behaviour, as if the mountain of problems on his head wasn't enough.
Nonetheless, everyone goes along.
Kisna does all he could to sow a new crop and expect a good yield to get his family out of the mounting debt.
He has failed every time by the 'damned rain'. Or so he believes.
But the movie shows us that he is failed more by the system and society surrounding him -- from his village to the government.
Most of us who don't know much about agriculture think that the agrarian crisis is only about a bad monsoon or poor irrigation.
However, in the movie, Manwar has tried to picture the policy failures too that have led to this largely manufactured agrarian crisis, something what Sainath calls 'predatory commercialisation of the countryside'.
At a time when thousands of our farmers are sitting on the roads in bitterly cold December nights, protesting another policy measure that 'tightens the noose around their neck', ironically sold as 'beneficial' for them, it becomes all the more necessary for us to watch Gabhricha Paus to understand their problems better.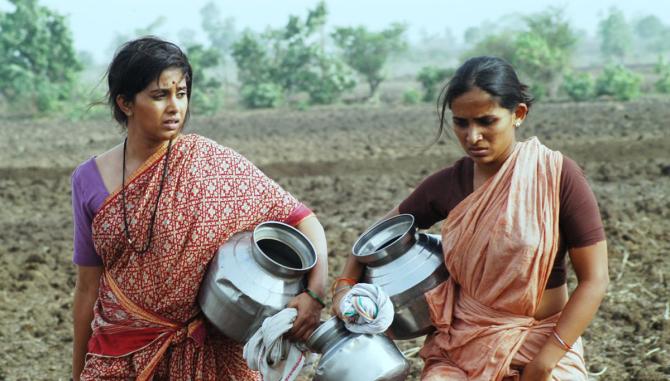 Coming back to the film's plot, it begins with the suicide of Kisna's friend and next-door neighbour.
His wife laments to Kisna's wife Alka, played by Sonali Kulkarni (there simply couldn't have been a better choice), that if only she spent more time with her now deceased husband and tried to understand his problems and keep him happy, he might not have taken the extreme step.
This rings a bell in Alka's head, that her husband is also behaving in the same way of late, and she better take control of the situation right now.
She shares her concerns with her mother-in-law.
And the women decide to ensure that Kisna is never too distressed or lonely.
Kisna is irritated by the change in their behaviour and finds it quirky.
However, he has other, more important things to worry about.
Lack of rain is undoubtedly the biggest hurdle in getting a good crop. But other problems are no less burgeoning.
No money for seeds, no money to facilitate sowing of new crop, a moneylender ready to claim his yield, no way to irrigate the fields. Kisna needs almost everything except an indomitable optimism.
Through Kisna's struggles, Manwar teaches us the day-to-day challenges of farming.
It's not just a good or bad monsoon, or getting a good price of the crop. A farmer's life depends on a lot of other factors.
That's a lesson we all need, especially those who think farmers should be taxed or that they get too many freebies or subsidies.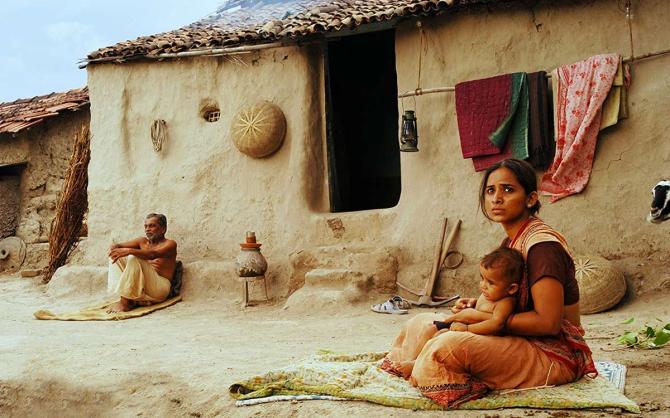 Two stories run parallelly in Gabhricha Paus -- one of Kisna who faces tough challenges but is not ready to give up, and the other of his friend who took his life in despair.
While the first story introduces the predators that are ready to kill a farmer, the second introduces the scavengers that are ready to feast on his flesh.
The parallel story is a lesson for those who believe farmers kill themselves so that their families may get compensation and get rid of the debt.
Though Gabhricha Paus is a story of hope, it ends in despair.
Why?
Maybe because a happy ending would have reassured us viewers that in the end, everything will be fine. The movie certainly does not want to do that.
It intends to shake our conscience, if we are left with any.
It wants to make us realise that there seems to be no way out of this giant agrarian crisis right now.
That in all likelihood, it is poised to end in disaster.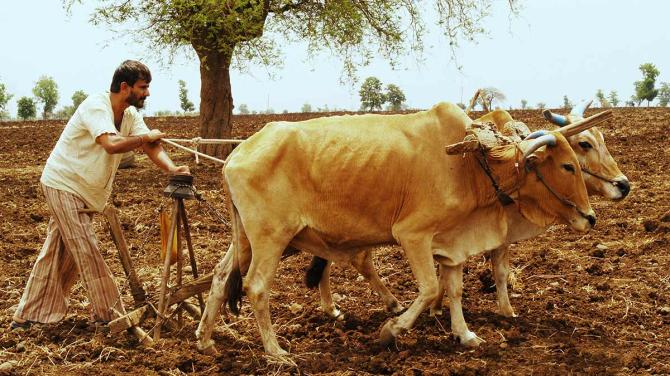 Gabhricha Paus begins with a few lines of the late farmer poet Krishna Kalamb, who is also featured posthumously in Nero' Guests, describing the life and death of a farmer.
In another poem, recited in Nero's Guests, Kalamb compares farmers to calves and oxen.
The calves remain hungry while others feed on their mother's milk.
The oxen till the land with their sweat and blood while others reap the crop.
Will the picture ever change? It depends on how we react to the problem.
We may differ on how to best address it but if we want to stop pushing 'progressive farmers' like Kasi Visvesara Rao to suicide, we must agree that there is a gigantic problem that needs solution right now.
Watching Gabhricha Paus could be a first step in that direction.
Gabhricha Paus is streaming on Amazon Prime Video.