Kumbalangi Nights is one of those movies that will put you in a good mood every time you watch it, promises Anita Aikara.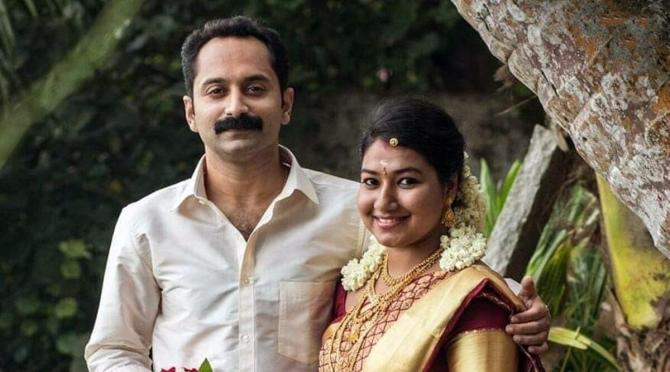 2019's biggest hit in Malayalam, Kumbalangi Nights is full of heart.
Set in the island village of Kumbalangi in the outskirts of Kochi, the film narrates the story of four dysfunctional brothers -- Saji (Soubin Shahir), Bonny (Sreenath Bhasi), Bobby (Shane Nigam) and Franky (Mathew Thomas) -- who have a complicated and strained relationship with each other.
Saji and Bobby can't tolerate each other, and Bonny is tired of their fights.
Franky has a scholarship waiting for him but is caught up with the toxicity of his brothers.
Written by Syam Pushkaran and directed by Madhu Narayanan, the film also features an iconic performance by Fahadh Faasil (Shammi), who smashes it as a typical Malayalee alpha male.
Anita Aikara presents 8 solid reasons to watch the movie, which currently streams on Amazon Prime Video.
#1 Brilliant cinematography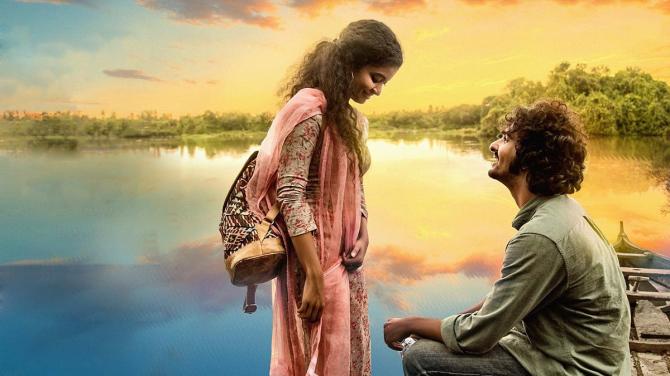 There is something magical about Kumbalangi, especially if you see it from Cinematographer Shyju Khalid's lens.
Raise your hand if you want to visit the island that Bobby and Baby Mol (Anna Ben) frequent just to watch the magical glow in the waters outside the brother's house.
Be it their run-down house, Tamil-speaking Murugan's tiny home adorned with beautiful flowers or just the beauty of the backwaters, the smart camera angles and the drone shots bring out the natural beauty of Kumbalangi while letting you explore the lush beauty of the fishing hamlet from your screen.
#2 No one is a hero here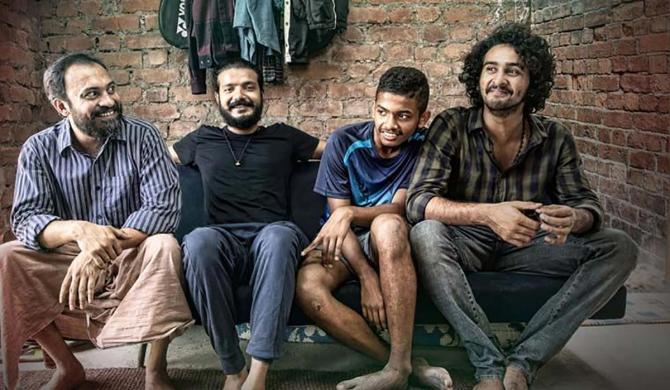 Saji, Bonny, Bobby and Franky's characters are complicated yet so real. Their fights are painfully relatable at times.
The portrayal of these characters are way more than one dimensional.
Each character has a storyline and no one is there just to progress the film.
Just like you and me, these characters have flaws. That's what makes them so likeable.
Bonny is cut off from his family. He is a slacker who doesn't want to work.
Saji is a drunk, who mooches of his best friend's hard-earned money.
The unapologetic Shammi doesn't mind living with his wife Simmi's (Grace Anthony) family.
Baby Mol too will surprise you with her independent, strong, views.
Each character is brought to life with humour and sensitivity.
Often, movies have flawless God-like protagonists who live by ideals that mortals would not be able to live up to. Expect nothing like that from Kumbalangi Nights.
#3 Subtle humour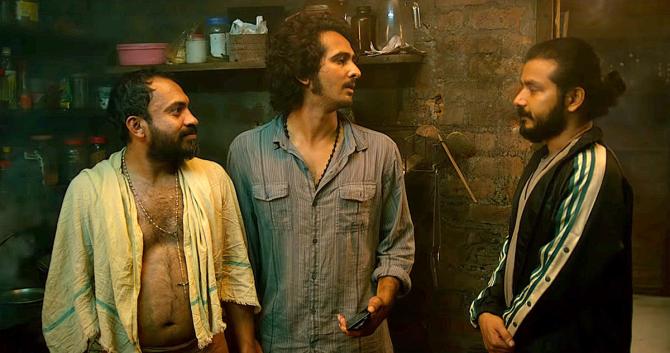 Like most other things in the movie, the humour has been handled extremely delicately.
It's isn't loud and in-your-face but witty and subtle.
Like Bobby telling Prasanth's girlfriend whom he is meeting for the first time: 'You don't seem to be the sort who cares about external beauty' as he looks at his friend with a straight face.
Or the hilarious scene when Bobby is forced to ask Saji for help in fixing his marriage.
Saji makes Bobby call him 'chetta (big brother)', and then looks away as he soaks in the moment before bursting out laughing.
#4 Stellar performances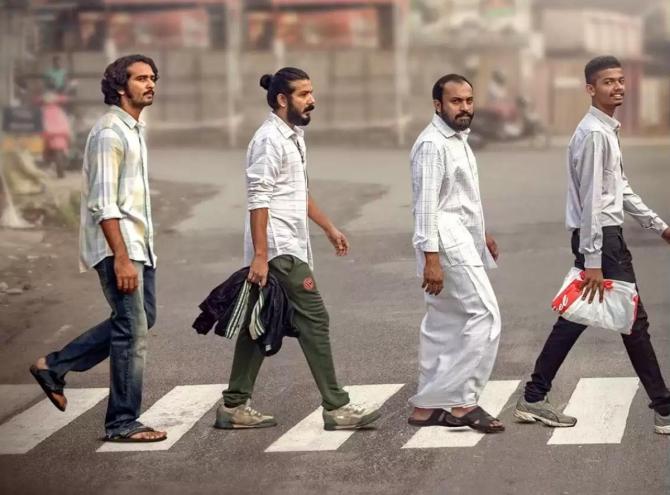 The actors hold the film together.
Everyone has done a fabulous job but watch the film for Shammi and Saji.
Shammi has a smile pasted on his face but you'll begin to fear him as his character takes an unforgettable turn in the climax.
Saji has so many issues buried deep within himself but his emotional meltdown after his best friend's death will make you sympathise with him.
Funny yet moving, Soubin's character provides bursts of unexpected warmth.
#5 Not too preachy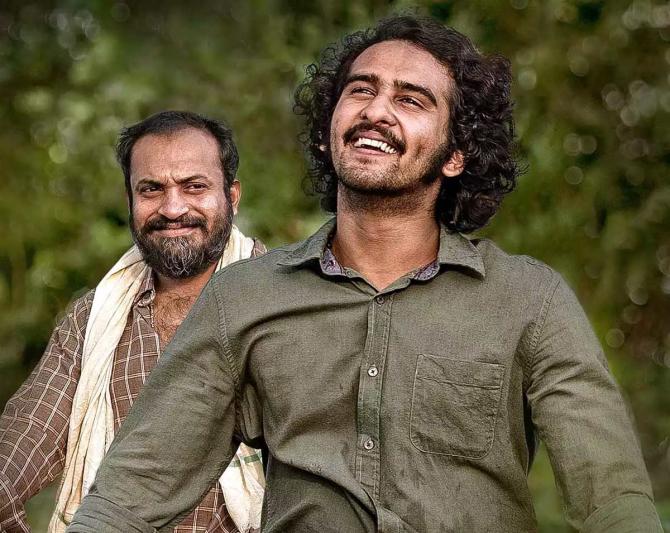 No flashbacks, no skewed time lines.
The film's simple story tugs at your heartstrings.
Kumbalangi Nights doesn't get preachy about how society needs to treat women.
It simply shows us a mirror and lets us reflect.
Take the case when Bobby walks out of the theatre yelling, 'I'm a man!' (implying he has needs and urges that must be met) when Baby Mol refuses to be kissed by him.
Or Shammi assuming the role of the head of his wife's family without resistance from any of the women, including the much senior mother.
#6 The soundtrack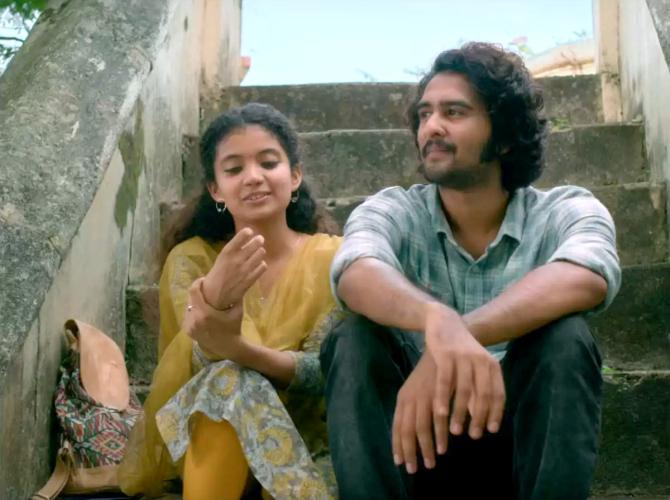 Peppered with English songs and Malayalam melodies, Sushin Shyam's memorable soundtrack hits all the right notes.
The background score compliments the feel of Kumbalangi.
It is relaxed and calm, but at the same time provides an air of gravitas.
#7 Plot twist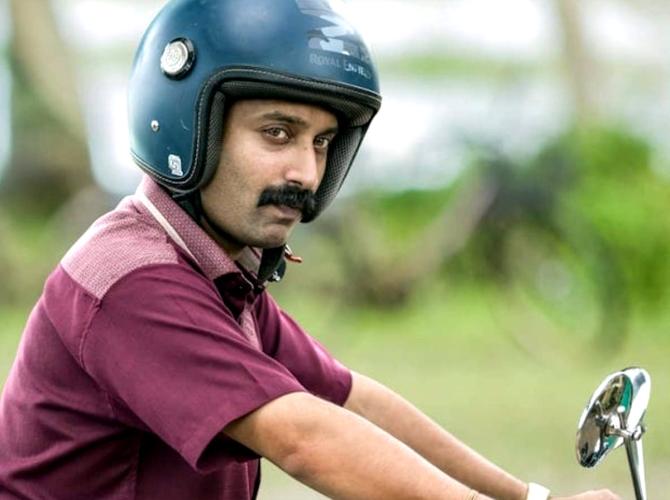 Shammi is shown as overtly dominating; a self-proclaimed alpha male, so you do expect him to be a formidable antagonist who will ensure Bobby doesn't end up with Baby Mol.
However, him turning out to be a complete loon was something few would have expected.
Fahadh with his brilliant performance is freaky to put it mildly. Very few could have been as convincing as he was.
#8 It's very easy to love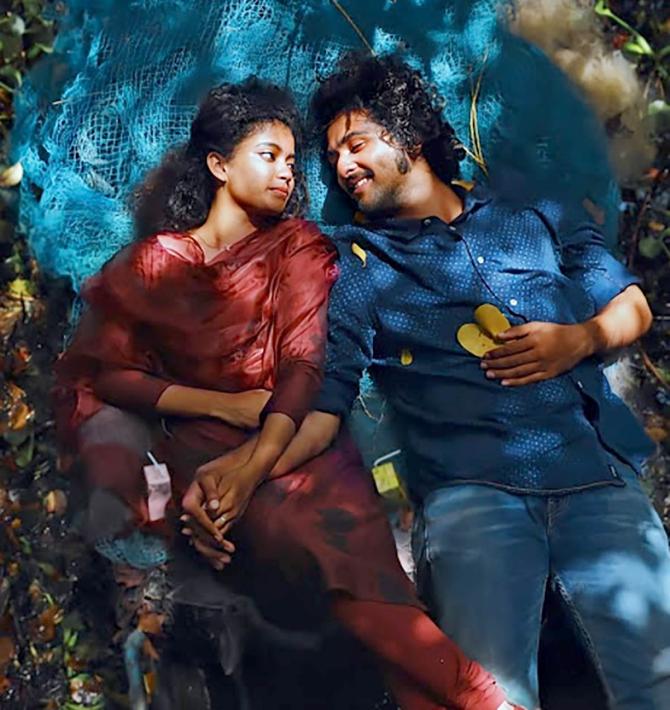 Kumbalangi Nights is one of those movies that will put you in a good mood every time you watch it.
And when you watch it, you will want to watch it till the end.
You might just end up discovering something new the next time you watch the film.
Kumbalangi Nights streams on Amazon Prime Video.
---
Cinema entertains, exhilarates and enlightens.
Its ability to relate and inform the viewer through universal, timeless emotions are what contributes to its legacy, now available more easily than ever, for generations to follow.
Some films are a product of its time.
Some telling of man's reluctance for change and making the same mistakes over and over again.
Some films grow glorious with every passing viewing.
Some are overlooked gems in search of an appreciative audience.
In our series designed to acquaint our young, enthusiastic cinephile to the wonders of Indian film-making, we revisit and recommend some of our most beloved, undiscovered or under-rated favourites that should be seen and savoured.
---