Cinema entertains, exhilarates and enlightens.
Its ability to relate and inform the viewer through universal, timeless emotions are what contributes to its legacy, now available more easily than ever, for generations to follow.
Some films are a product of its time.
Some telling of man's reluctance for change and making the same mistakes over and over again.
Some films grow glorious with every passing viewing. Some are overlooked gems in search of an appreciative audience.
Continuing our series designed to acquaint our young, enthusiastic cinephile to the wonders of Indian filmmaking, we revisit and recommend some of our most beloved, undiscovered or under-rated favourites that should be seen and savoured.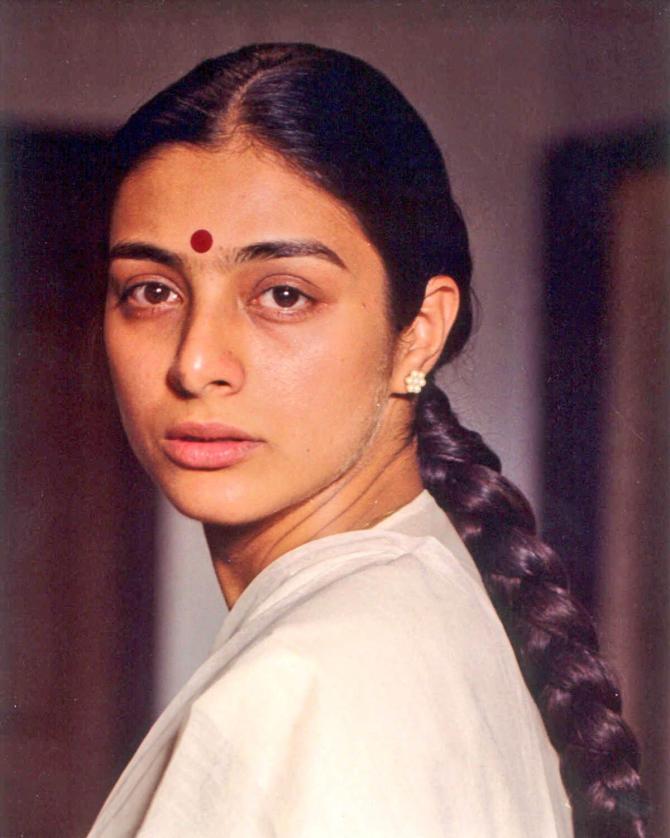 'I feel so alone, Shree.'
The desperate statement comes out of the depths of Aditi Pandit's (played by a magnificent Tabu) struggle to fit into her relatively new role as wife to Shreekant Pandit (Sachin Khedekar), a go-getter who globe-trots because that's what his career demands... and, though it is not spelt out, because his ego needs him to feel he is the best employee at his firm.
It is approximately two years into the Pandit marriage and Shreekant believes he is doing the right thing -- setting up the foundation for his own company even as he brings, as he believes the man in the relationship should, money home.
The struggles and challenges his wife is facing, as he focuses single-mindedly on this goal, are not part of his larger picture.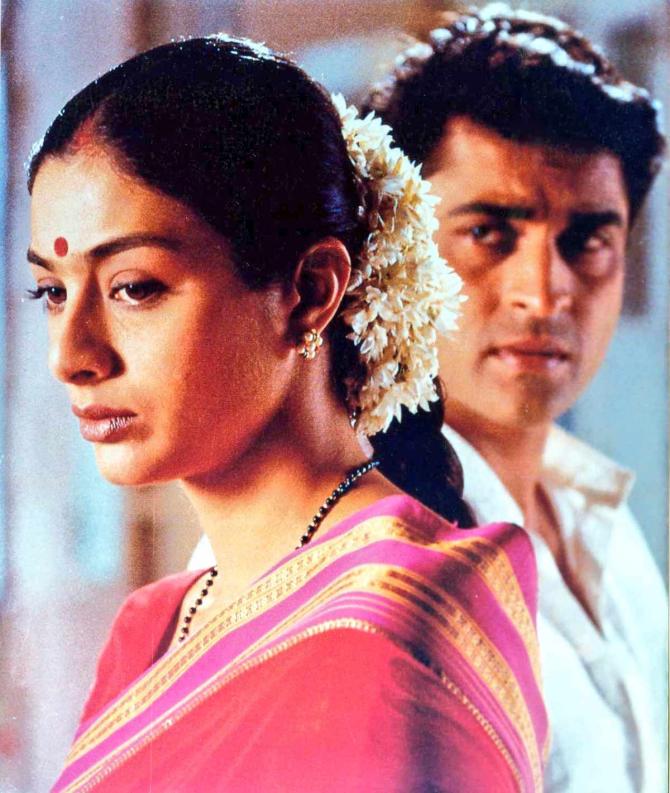 Aditi wants something, anything to alleviate her loneliness... a baby, a job...
Shreekant nixes both, the first one gently, the second one angrily.
The Pandits will have a baby when he has his own home and own company. Mrs Pandit will not work because no woman in Mr Pandit's 'gharaana' ever has; he is man enough to 'run his own home' without 'his wife's income'.
He suggests his wife take up singing, a 'hobby' she had given up since they got married. And when you hear her sing, you realise this is no ordinary talent, as does her teacher, Malhar Kamat (Mohnish Bahl).
Malhar wants his student to sing professionally; for Shreekant, singing -- as far as his wife is concerned -- can be a way to pass the time, nothing more.
It is a telling scene, in multiple ways.
Shreekant is the man his parents and society have brought him up to be; he is the provider, a hardworking professional, the head of family, the person who takes every decision in his home, but is, because the blush hasn't still faded from the marriage bloom, willing to make 'small concessions' for his wife to keep her 'happy'.
In short, 'an ideal catch' and a 'good husband'.
And also the person around whom his marriage, his home, will revolve.
Aditi is the woman her parents have brought her up to be; she is clearly educated and talented. And, possibly unknowingly initially at least, subservient.
She hesitantly tests the waters once, when she asks Shreekant for permission to work, but hastily pulls back her toe at her husband's angry reaction to the suggestion.
By the time this scene plays out on screen, you've already seen what Time has done to the Pandits. The foundation laid in this scene has resulted in a beautiful Pune bungalow, with a large, lush lawn where the Pandit family lives.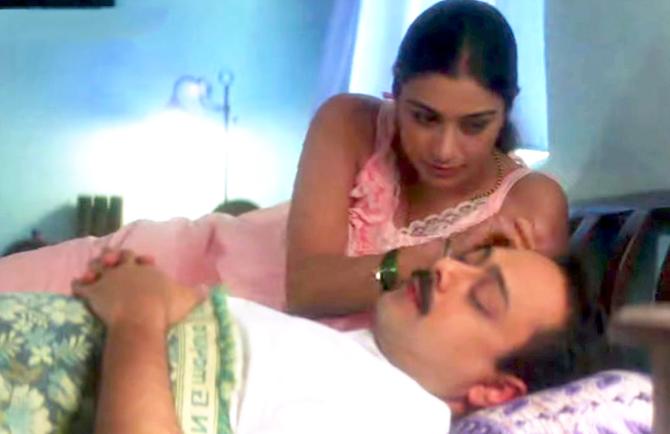 The home revolves around Shreekant, his needs (like his tie, which his wife hands over), his desires (instantly dropping an important day at work for which he was impatiently preparing and, in the process, throwing the whole house into turmoil, because his friend is in town).
Aditi has faded into the paint of the house.
She is the familiar wall, the everyday furniture, the oil that keeps the wheels running smoothly, always around but never really seen.
Her existence has been submersed into ensuring the lives of her husband and son run comfortably, cocooning them in her love.
And that's probably how their lives would have continued, if not for a bombshell that unexpectedly erupts, a bombshell whose fuse was lit by a lonely Aditi and a self-centred Shreekant decades ago, a bombshell that shatters the 'happy family' facade carefully built by the Pandits over the years.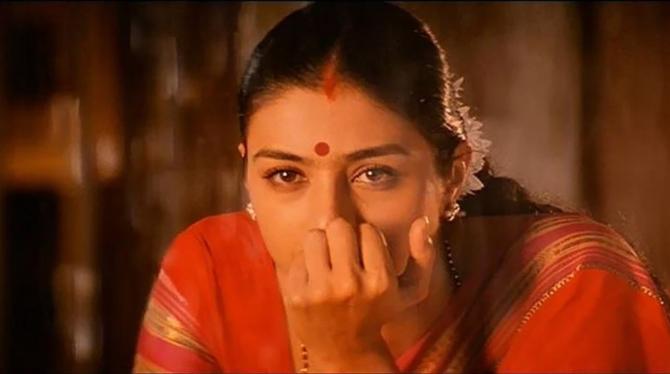 I won't spoil it for those for you who are yet to see the film.
If not for any other reason, watch it for a masterful Tabu... who once again quietly proves what a gift she is to the world of movies.
I first saw Astitva when it released 20 years ago in Hindi and again, a couple of days ago, in Marathi.
It is available on Amazon Prime Video in Marathi, but the language you choose to see this film in does not matter.
But I must warn you, Astitva is, in many ways, is one-dimensional.
The way certain characters have been portrayed is less than impressive.
And there is one actor who is completely disappointing.
The dialogues can, at times, sound bit forced.
The director wants to send a message and the script pounds it in.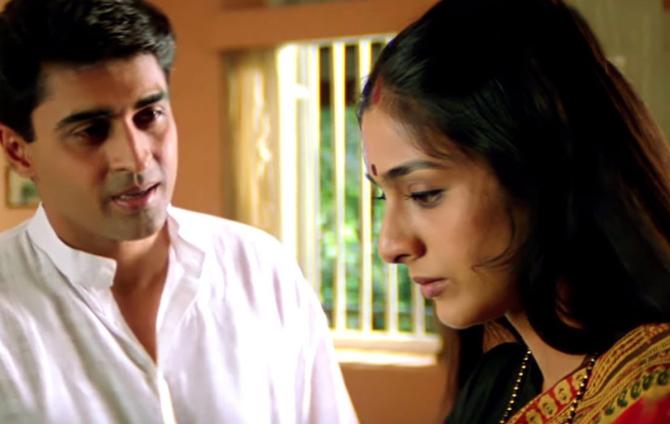 But don't let any of these reasons stop you from seeing the movie.
For Astitva is worth watching.
It will make you uncomfortable because you will have seen bits of this story -- or most of it -- many times, in your home or in the homes of your loved ones. And you've probably watch it pan out silently.
The questions it raises require answers, even today.
Twenty years later, has the man-woman dynamic changed in India?
Do women, even those who consider themselves free of gender shackles, subsume themselves to keep the family unit intact?
Do women have the courage to express their sexual desires?
To what extent does marital rape still take place in India's bedrooms?
Was Aditi right in the decisions she took?
Should she have been more honest?
What was her role in shaping Shreekant into the man he had become?
How many people around you, especially women, feel Shreekant is the wronged person in this marriage? And that his reactions are understandable, even warranted?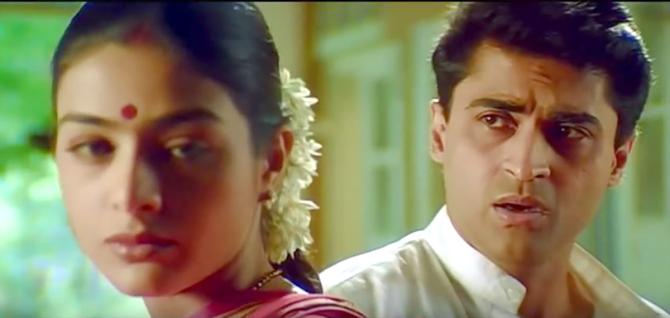 Was Malhar Kamat's final decision before he died right?
Was Aditi's decision about him right?
How many Shreekant Pandits have you met in your life?
And would this story have been different if Aditi Pandit had given birth to a girl instead of a boy?
Do share your thoughts below in the comments section below.