'My Nani passed away in January 2016 and the house belonged to her and my Nana.'
'After they passed away, the family decided to sell the house.'
'My mother's immediate response was that we have to make a film in this house before it was sold.'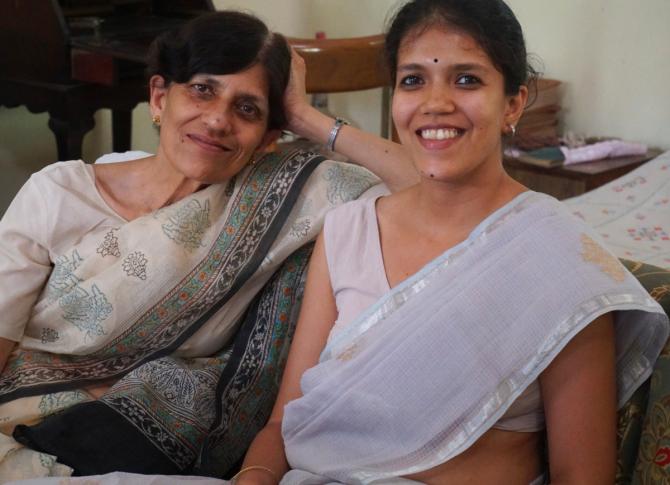 Revisiting childhood memories is a familiar theme that film-makers like to explore for the screen.
But it is not always easy to represent nostalgia with warmth, honesty and innocence of the time period, especially without an added dose of melodrama.
Irfana Majumdar's Shankar's Fairies captures the childhood memories of the director's mother, Nita Kumar, who wrote the script and produced the film.
It is a beautifully moving film, handled with much gentleness.
It is somewhat similar in tone and mood to the 2019 Maithili language film Gamak Ghar -- a quiet story about Director Achal Mishra's ancestral house in Jharkhand.
But Shankar's Fairies has more layers and universal themes: The stories a domestic help Shankar shares with the kids of his employers; the larger narrative of domestic workers who leave their children in villages so they can take care of wealthy people's homes and their offspring; parents who are busy with professional and social engagements and find little time to focus on their children; and the rhythm of life in a medium level Indian city in the early 1960s.
Majumdar also acts in the film, playing the role of her grandmother.
Theatre artist Gaurav Saini, who is married to the director, steps in as film's associate director as well as Majumdar's character's husband -- a senior police officer whose house is packed with a retinue of gardeners and other workers, including the film's protagonist, Shankar.
Majumdar recently traveled to Switzerland for the film's world premiere at the Locarno International Film Festival.
The film was well received and Majumdar was stopped on the streets by local people who told the director how much they had loved the film.
"I think it was a great collaboration because we have distinct skills and areas of expertise. I don't think I could have done it on my own," Majumdar tells long-time Rediff.com Contributor Aseem Chhabra by phone.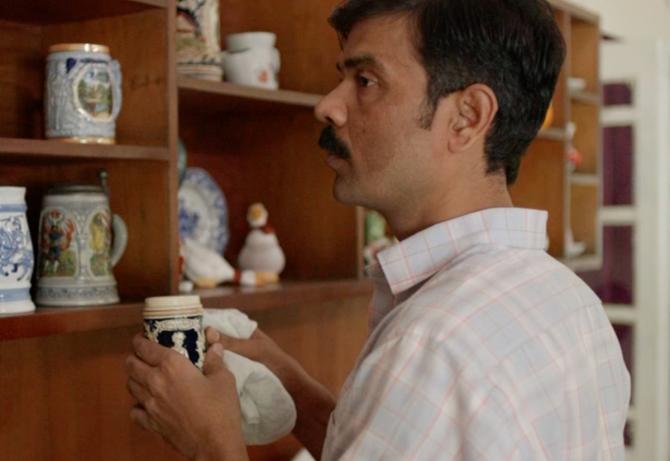 Irfana, are you based in Mumbai?
No, I live just outside Benaras in a village called Betawar.
We have an organisation for arts, education and environment that my parents started in 1990. It's called Nirman.
We have a theatre studio where we do projects.
Many years ago, I had a theatre group, but now we do our research and training.
There is a school, the first major project that began in 1990.
It's a regular CBSE school but based on arts and ideas of the environment. I studied there between Class 5 and 10.
Then we have a research centre which had a study abroad programme.
Earlier, foreign students would come to attend lectures and seminars.
We have art studios.
I am mostly involved in theatre and film there, but I have taught in the school. I am still involved with the vision committee.
Your mother produced Shankar's Fairies. I read that she was teaching in California. Was she based there?
She just retired from the Claremont McKenna College in California.
Her heart has always been in India but she has taught in the US for 30 plus years.
She would come twice a year to India and spend about five months.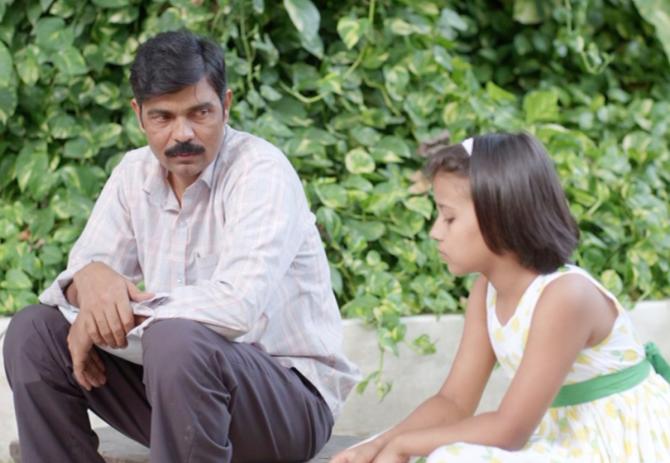 What I find interesting is that you worked with your mother and husband to make this film. You and your husband acted in the film, while it was your mother's story.
Creatively, how did you guys work together and how many times would you argue in a day?
Well, we have collaborated in the past as well. My husband is also in theatre so we have similar roles. He is a director and teacher.
We have different areas of interest in theatre, but we have experience with each other's working style.
My mother and I have collaborated in the operation of Nirman.
Creatively, this was our first major project, so it was new in that way. We enjoyed it.
I think it was a great collaboration because we have distinct skills and areas of expertise. I don't think I could have done it on my own.
We would argue a lot. All of us have strong opinions.
During the four-five months of pre-production, we would have meetings all day where we would discuss the script.
My mother had written a draft of the screenplay and she also wrote a prose story.
The story was not set in stone in terms of the sequence of events.
She had all the different anecdotes and they could have gone in any direction.
If she liked a particular anecdote, we would go in depth into the themes behind it, how it connects to other things, the characters...
We would dissect each scene in figuring out what we were saying in the film.
That's the time we perhaps had the most arguments, although I don't even remember what they were about.
But would you have the final creative control since you were the director of the film?
That way, everyone was clear. During the shoot, I was the only one figuring out the scenes.
My mother stepped back and Gaurav was acting in the film.
It was a very low budget project so they did a lot of production related work during the shoot.
After that, during the post-production, I was the only one working on the film.
They watched the edits and gave feedback. But only I sat with the editor and worked it all out.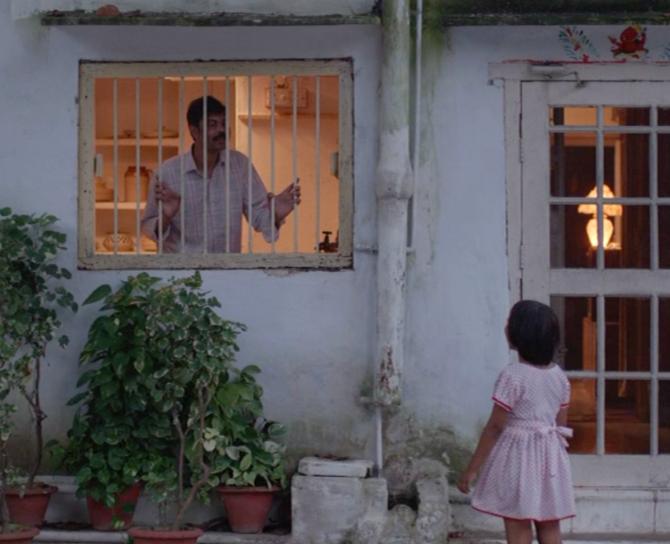 At what stage did your mother say that she had this idea for a film and script? Would she narrate her childhood memories to you?
It happened in a slightly different way. My Nani (maternal grandmother) passed away in January 2016 and the house belonged to her and my Nana.
It was his grandfather's house and jointly owned by my Nana and his four brothers. But only my grandparents lived there.
After they passed away, the family decided to sell the house.
My mother's immediate response was that we have to make a film in this house before it was sold.
It was the feeling of preserving an entire lifestyle and so many memories of her childhood.
Her way of life and our way of life is different. It was an important part of her.
It felt like it was coming to an end.
Making a film was a way to save that memory, freeze that time.
Where did Shankar's stories come from? Does your mother remember these stories from her childhood?
The stories are ones we chose, not the actual ones from my mother's childhood.
While he was staying with us, we asked the actor, who played Shankar (Jaihind Kumar), to read collections of folk tales.
He would re-tell them to us in the evenings, both to practice narrating stories and so that we could chose the ones we liked.
The djinn story was contributed by (journalist) Mehru Jaffer, who lives in Lucknow and writes about the city. It's a story her father used to tell her.
Where is this house where the film was shot?
Lucknow. My mother didn't grow up there since she was a daughter of a police officer and her father was posted to different locations, many different towns of UP. They moved to this place only after my grandfather retired.
All these houses had a similar feel. In a way, this was the house I grew up in because I spent so many summer vacations and other times there.
So it was an interesting mix of my memories of this house and my mother's memories of her childhood.
Did you add anything to the house? That jhoola which features so prominently in the film, was it always there or you added it for the film?
There was a jhoola in my childhood. It was a common thing in those houses.
But the tree and the jhoola became a symbol for the film.
I see you have the jhoola in your DP in your WhatsApp account. It was just lovely hearing the story Shankar narrates about the fairies sitting on the jhoola and suddenly the camera takes us to the jhoola as is it gently moving. It is one of the most magical moments in the film.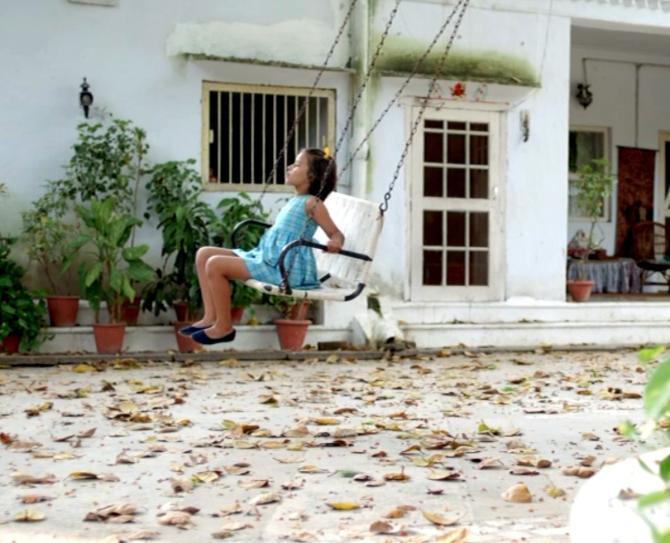 Irfana, you had made a few documentaries. But as a first-time feature film-maker, how did you capture the essence of a quiet home?
The opening scenes of the sun rising, the workers are sweeping the grounds around the house, the house slowly waking up. I understand a lot of that quiet tone comes through editing.
But how did you get it cinematically?
You can write memories in books but to bring them in cinema requires a different skill set.
For us, the house was the essential element of the film. The physical feel was always very important.
It was all part of my memories -- waking up, seeing the light streaming in from the ventilators, the high ceilings, days when time stretched on, being outside and inside, all those feelings.
So when I was trying to think of how the look of the house should be, all these memories were at the forefront of my decision making.
The characters are placed in that context. I always wanted that visual layer.
Since you know the feeling you are going for, you keep adjusting the elements to get to that.
You cannot plan it in advance but you fine-tune and make minor adjustments during the shoot.
I know theatre is a very different medium but my training in theatre and my experience in different arts and other aesthetics -- all of that contributed to the feel and the mood of the film.
We worked so much with the space, what the audience should experience.
Besides you and your husband, how did you cast the three main actors: The man who played Shankar and the young girl and boy?
Jaihind Kumar is an actor in Mumbai. He has played minor roles so far.
He is a friend of my husband from his film and theatre days in Mumbai. He came for the audition.
My husband was very sure about him. We spent quite a lot of time working with him.
He came to Lucknow and stayed with us in the house for three months.
Initially, we didn't tell anyone that he's the lead actor, so he worked as the servant of the house and stayed in Shankar's room which you see in the film.
We don't always follow such a method, but with him, we thought he should experience the character more intensely.
Every day, the three of us would do some acting exercises for a couple of hours.
He had to be familiar with everything he had to do.
The essence of Shankar is that he is very skilled as a domestic help.
So the poor thing, he played the lead role and he couldn't stay in a five-star hotel.
Ya (laughs).
When I read that Gaurav and you are married, I began to believe that those two kids are your children.
(Laughs) Many people have thought that. We did workshops in a few schools in Lucknow.
My husband works a lot with children in theatre, age three onwards, and so he conducted them mostly.
The girls we liked, we would invite them, play and interact with them.
The moment we chose this young girl (Shreeja Mishra) was when Gaurav was telling them a story about fairies and she was listening.
You could see it in her eyes that she half believed it.
We just wanted this child to be at the cusp, still believing in fairies, not losing the innocence.
Some of the other girls were good. but they were past that innocence stage.
We worked a lot with her. She would come over almost every day after school.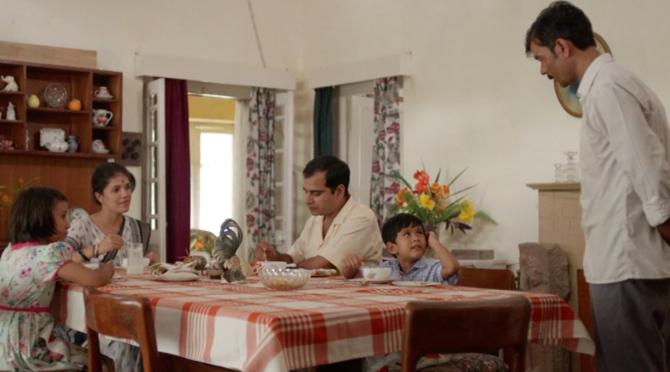 How old was she when you were shooting?
She was nine years old.
The relationship and comfort she had with Shankar, even though she knew she was acting, seemed so natural. You start to believe that she and the little boy have known this man in real life. I guess you did a lot of workshops with the three of them.
Yes. The little boy (Adwik Mathur) was only four at that time.
He was more reserved.
We wanted them both to develop a relationship with Shankar and us.
Shreeja is very talented. Even I am blown away by the expressions in her eyes.
I am so impressed with how much you achieved so much in such a low budget. There is something so unique in the narrative. I was reminded of Kabuliwala. Did you think of stories like that?
In the beginning, I didn't think of the influences.
We were wrapped in the project and the enormity of it.
It was the first narrative film I was working on.
Later I realised that there were many sources to pull from.
Of course, there is the training in film-making, but all your experiences and reading also influence your thought.
It's better not to be too concrete about things you are drawing from and allow for it to go through your less conscious intuitions.
I saw the video of the making of the film. You shot it in 2016. I saw the work-in-progress cut of the film at NFDC's Film Bazaar in 2019 and then the pandemic ruined everyone's lives. But you have been with this film for a very long time.
We cheated a little bit. The idea of the film suddenly came to us, but we had other plans and projects as well.
Right after the film was shot, we went off on a theatre tour.
Then my husband and I had a baby.
So I got back to the film in the beginning of 2019. That's when I worked on the edit.
Our German editor left last year because of the pandemic, even though it was going very well.
So I made another edit for last year's Cannes market. I worked with Tanushree Das (Eeb Allay Ooo) to edit the final cut.
It was a lot of getting into the film and then leaving it a few times. In a way, that helped me.
We had scripted the film, but it wasn't plot driven and set in stone.
It allowed me the time to think about what we were trying to do.
You dedicate the film to Shankar. Was that the real person's name? Is he still alive?
Shankar's is the only name we didn't change, so yes, there was a real Shankar. He passed away in 1988.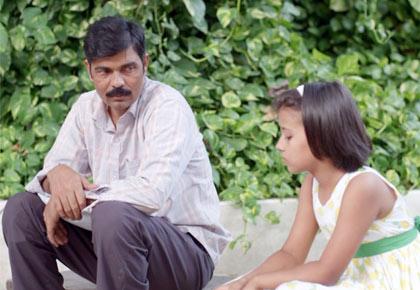 Feature Presentation: Rajesh Alva/Rediff.com