Rediff reader Amarendra Mulye from Mumbai shares this interesting 'Gulab Halwa' recipe with us.
Gulab Halwa is the traditional Gajar ka Halwa served with a twist, says Amarendra Mulye who calls himself an 'experimental cook'.
This is how he discovered the recipe for 'Gulab Halwa':
Once, while I was making Gajar ka Halwa, I found some rose petals in my refrigerator.
To give a twist, I caramelised it and added it to the halwa along with rose water and essence.
And to my surprise, it tasted good.
The next time, I added Beetroot to it to enhance the colour and this recipe was born.
Here's the recipe: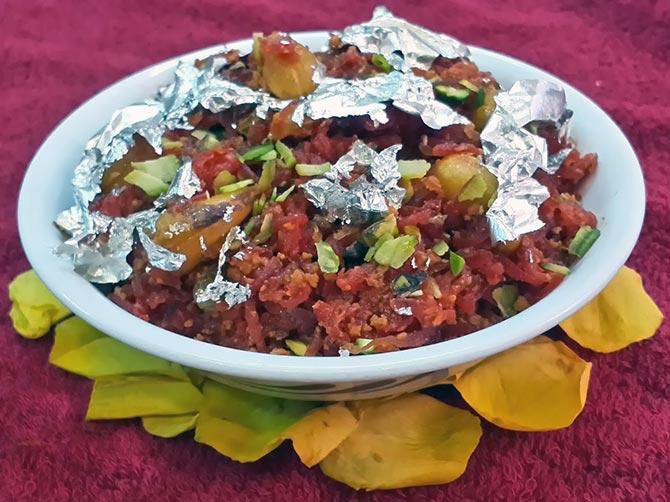 Cooking time: 45 minutes
Serves 6
Ingredients
750 gm grated carrot
1 medium sized grated beetroot
1 tbspn ghee
400 gm condensed milk
1/4 cup cashews
1/4 cup raisins
2 tbspn gulkand
For garnishing
1 tbspn ghee
Pistachio flakes
Silver varak
Method
Take one tablespoon of ghee in a large non-stick pan and heat it.
Once it melts, add grated carrot and beetroot to it and saute for about 2 to 3 minutes.
Turn the flame to medium, add condensed milk and keep stirring the mixture at regular intervals.
Cook till the condensed milk is absorbed.
After 10 to 15 minutes, when the mixture is completely cooked, add cashews and raisins.
After it thickens, add gulkand and mix well.
Turn off the flame and add a tbsp of ghee to give it a nice aroma.
Garnish with pistachio flakes or nuts of your choice.
Serve hot or cold.
Expert tip: In absence of gulkand, you may add rose essence or rose water to the halwa. You may also caramalise edible rose petals and add it to the Halwa before serving.
Image Courtesy: Amarendra Mulye
ALSO SEE