Rediff reader Usha Mani sent us this amazing recipe of Mohanthal.
What's your favourite Diwali recipe? Tell us!
The popular Indian sweet made from sweetened gram flour and ghee almost melts in your mouth.
This festive season, treat your loved ones to Mohanthal and savour the compliments.
Here's the recipe: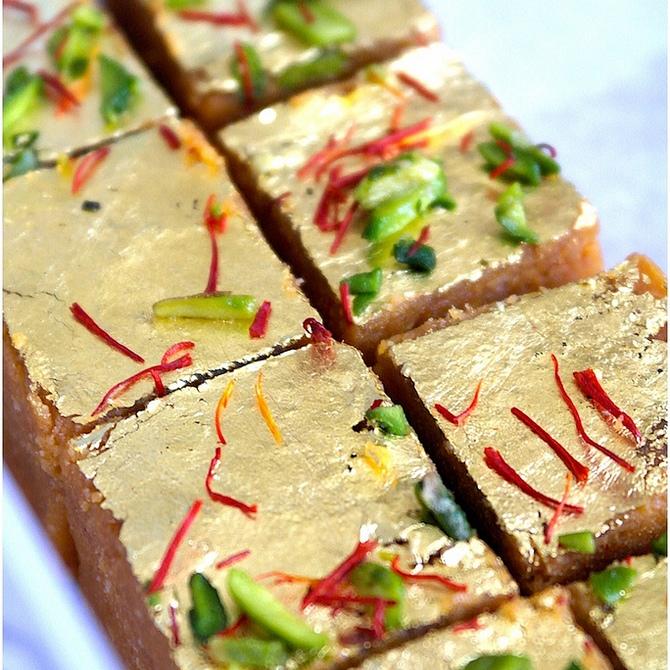 Ingredients
1 cup channa dal flour
2 cup sugar
1 cup milk powder or 1/2 cup sugarless khoya
2 cup ghee
1 tsp nutmeg powder
A few drops of vanilla essence
Method
Melt the ghee in a kadai.
Add the flour little by little and blend it by stirring continuously on low fire. It will froth first.
Keep stirring till you get a lovely aroma.
Allow the ghee and besan to turn golden. Remove from fire and cool.
Add khoya or milk powder gradually, taking care not to allow lumps to be formed.
Add nutmeg powder and few drops of vanilla and stir well. Keep aside.
Take one and a half cups of water in a thick kadai or pressure cooker and add sugar.
If you are using milk powder instead of khoya, add only one and a half cup sugar.
Boil it and remove the dirt by adding a few spoons of milk.
The dirt would float on the surface and can be easily scooped out.
Boil enough to form a syrup of two-strings consistency.
Switch off the stove and add the flour and ghee mixture and keep stirring.
When it becomes thick and starts leaving the sides of the vessel, pour on a greased plate.
Using a clean sharp knife, make squares and cut into pieces after it cools.
After transferring it on to the plate, spread a layer of silver foil and garnish with finely chopped cashew nuts or pistachios and serve.
Image courtesy: Chirag Desai/Creative Commons
ALSO SEE
Reader Invite
Do you have an interesting Diwali recipe that you'd like to share with us?
Simply write in to getahead@rediff.co.in (subject line: 'Diwali recipes') with your name, home-town and any interesting details about the origin of the recipe, along with a photograph, if possible.
We will publish the best ones right here on Rediff.com.
Click here for interesting food recipes and features!