Rediff reader and food blogger Shailja Tomar sent us this mouth-watering Doda Barfi recipe. What's your favourite Diwali recipe? Tell us!
Doda -- made from milk, dalia and assorted nuts -- traces its origins to Punjab and is a Diwali sweet treat.
Here's the recipe: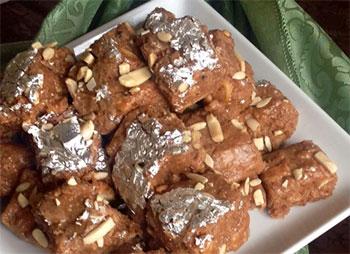 Ingredients

4 cup milk
1 1/2 cup heavy cream
1 1/2 cup sugar
3 tbsp dalia
3 tbsp clarified butter or ghee
1 cup crushed cashews
1 cup crushed almonds
2 tsp cocoa powder (this adds colour, not flavour)
2 tbsp sliced pistachios for the garnish

Method
In a small pan or wok roast the cracked wheat in two tbsp of the ghee over medium heat, till it turns brown. Set aside.
In a heavy-bottomed pan, over medium high heat the milk, and heavy cream.
Boil till mixture thickens (takes about 40 minutes), stir occasionally and scrape the milky residue that accumulates on the sides.
Add roasted cracked wheat and sugar. Mix well.
Keep cooking for about 20 more minutes, stirring occasionally, scraping the sides.
Add cocoa powder. Mix well.
Add 1 tbsp ghee, cashews and almonds.
Stir continuously till mixtures has become like soft dough and start leaving the sides of the pan and oozes fat. This should take about 15 to 20 minutes.
Transfer the Doda mixture to a 12-inch plate, shaping it into circle or square, 1/2 inch thick.
Sprinkle pistachios over Doda and lightly press them in.
While Doda is still warm, cut them in about one inch square.
This sweet will stay good for about a week if you store it at room temperature and will stay fresh for two to three months if you refrigerate it.
Image courtesy: Shailja Tomar
ALSO SEE
Reader Invite
Do you have an interesting Diwali recipe that you'd like to share with us?
Simply write in to getahead@rediff.co.in (subject line: 'Diwali recipes') with your name, home-town and any interesting details about the origin of the recipe, along with a photograph, if possible.
We will publish the best ones right here on Rediff.com.