US-based Rediff reader and food blogger Sonal Gupta sent us this recipe.
Do you have a healthy recipe to share? E-mail it to us!
The Tofu Salad is a very healthy, refreshing and super light dish which can be eaten as salad or as a light meal.
Packed with proteins and fewer carbs, it is spicy, hot and crunchy!
Here's the recipe: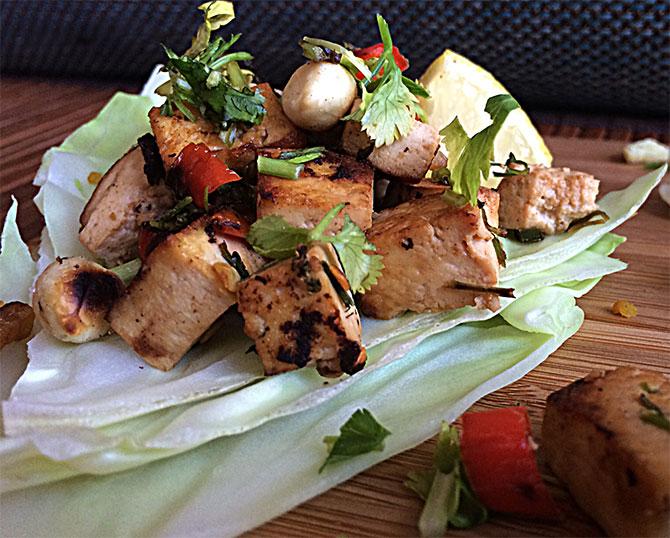 Serves: Two
Ingredients

1/2 tsp oil
1 cup tofu, extra firm chopped in small 1/2 inch cubes
3 tbsp cilantro leaves
2 tbsp red bell peppers finely chopped
2 tbsp ginger minced
1 small garlic clove minced
1/2 tbsp soy sauce
1 green chilli finely chopped
1 tbsp peanuts dry roasted and unsalted
Salt to taste
2-3 cabbage leaves cut evenly in broad triangles or circular shape.
1 tsbp lemon juice
Method
Heat the oil in pan. Add 1 tbsp ginger, garlic and chilli to it. Saute for 30 to 45 seconds on low flame.
Add red bell peppers and 2 and 1/2 tbsp cilantro leaves. Saute for a minute on medium flame.
Add cubed extra firm tofu and toss well. Pour the soy sauce and salt and toss the dish again.
Lower the flame and let it pan grill for 3 to 4 minutes. It will make tofu crispy on couple of sides and add more texture. Switch off the flame.
Lay the cabbage sheets on a microwavable plate and microwave for 30 to 45 seconds to make them slightly soft but not limp. Take them out and pat them dry with kitchen towel paper.
Place the cabbage leaves in 2-3 layers on the serving platter.
Scoop some tofu filling and place in the centre.
Garnish with the remaining cilantro leaves, dry roasted peanuts and some ginger.
Serve warm! It's absolutely delicious :)
Notes
You may eat the tofu filling as a salad without any cabbage leaves.
You may use paneer instead of tofu.
You may substitute cabbage with lettuce.
You may also serve the tofu filling in baked wonton sheets.
Photo: simplyvegetarian777.wordpress.com
Love food? More recipes and food features here!
Also See
Reader Invite
Do you have an healthy food recipe that you'd like to share with us?
Simply write in to getahead@rediff.co.in (subject line: 'Healthy recipes') with your name and home-town, along with a photograph of the dish.
We will publish the best ones right here on Rediff.com and India Abroad.