New-Delhi based Rediff reader Sonal Kalra Mascarenhas sent us this interesting recipe.
Do you have a healthy recipe to share? E-mail it to us!
A bowl of oats is a healthy way to start a day.
Filled with dietary fibre, it also helps lower your cholesterol if consumed regularly.
For those who have a sweet tooth, here's an interesting recipe of Oats Ice Cream you can try at home.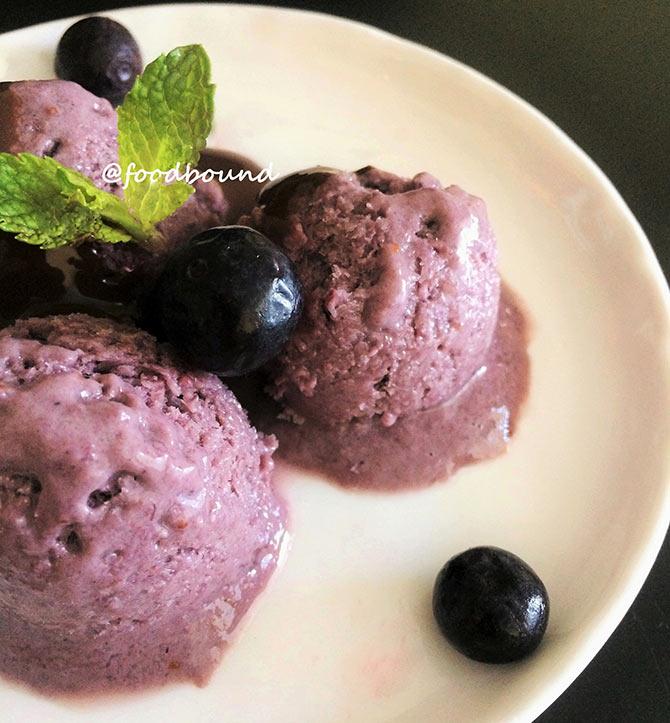 Ingredients
3 tbsp oats
1/4 cup fruits of your choice (fresh or frozen)
Sugar to taste
1/2 cup hot water or milk as required
Chopped fruits to garnish
Method
In a bowl, take oats and add boiling water. The water should be just enough to cover the oats. Don't add too much.
Mix well and set aside until it cools to room temperature and the water is completely absorbed.
In a blender, add oats and 1/4 cup fruits of your choice.
Add sugar, if needed and blend to get a smooth paste.
Shift the paste to an air tight container and freeze until the paste it set.
Scoop, garnish and enjoy the ice cream!
Variations
Once blended, add nuts, finely chopped fruits, dates or even chocolate chips .
Don't want to freeze it completely? No worries, freeze for an hour or two and enjoy like frozen yogurt.
Try flavoured oats for double the flavour -- apple cinnamon , strawberry , banana etc.
Add a teaspoon or 2 of Greek yogurt for a creamier texture.
Add flax seeds, chia seeds (sabja) at the time of blending for that healthy kick.
Experiment with maple syrup, honey and agave nectar!
Tips
Do not add too much water or else it will be hard to set the oats ice cream.
The quantity of fruit to be added will vary depending on how juicy the fruit is.
If freezing overnight, thaw slightly in the refrigerator or at room temperature before serving.
Make sure the oats are blended well for a smooth texture.
Photo: Sonal Kalra Mascarenhas
Also See
Reader Invite
Do you have an healthy food recipe that you'd like to share with us?
Simply write in to getahead@rediff.co.in (subject line: 'Healthy recipes') with your name and home-town, along with a photograph of the dish.
We will publish the best ones right here on Rediff.com and India Abroad.