Rediff reader and food blogger Sonal Gupta sent us this low carb high fibre recipe.
Do you have a healthy recipe to share? Email it to us!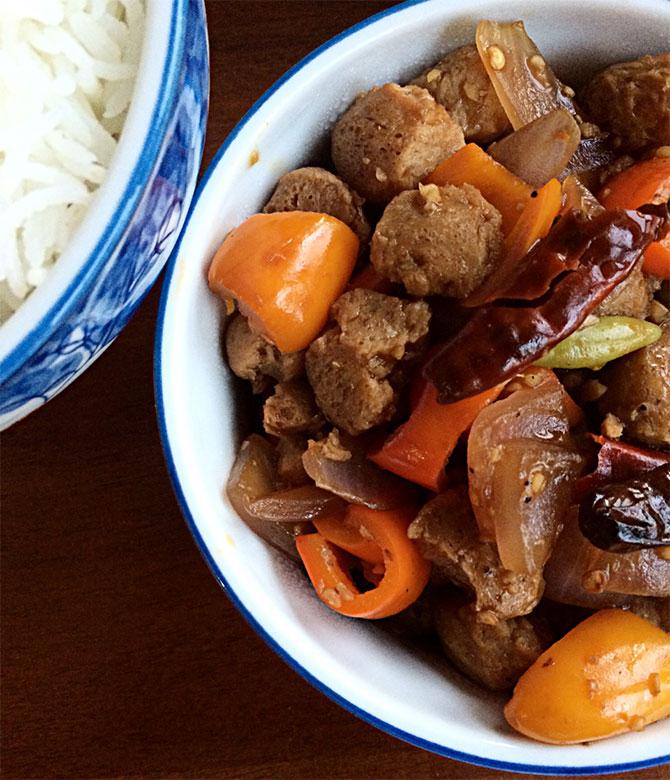 Soy Nuggets in Garlic Brown Sauce can be eaten as is or served with brown rice. A protein packed dish which is low in carbs but good in fibre helps you lose weight and maintain it," says Sonal.
Here's the recipe:
Serves: 2 to 3
Ingredients
1 cup soy nuggets, uncooked
1/2 cup bell peppers /capsicum, chopped in 1 inch squares
1/2 cup Onion, chopped in 1 inch square
1 tbsp finely minced garlic
1 tsp finely minced ginger
1 tsp oil
2-4 dry red chillies. Use broken if you like it hot or use whole if just need a smoky flavour.
3/4 tsp sugar or honey
1&1/2 tbsp soy sauce
1 tsp corn flour, dissolved in 2 tbsp water. This gives a light sauce sand not very thick in consistency. If you like thicker sauce then use 1 tbsp dissolved in 3 tbsp water.
1/2 tsp salt or as per taste
1/4 tsp black pepper or as per taste
1/2 tsp distilled vinegar
4 cups + 1 cup water
Method
Prepping the soy nuggets
Boil 4 cups of water in a saucepan.
Add 1 cup of uncooked soy nuggets and switch off the gas stove.
Cover the sauce pan and let the nuggets soak in hot water for 15 minutes. They will swell double in size.
Remove the lid. Strain them through the sieve/strainer.
Wash under cold running water and then gently squeeze all the water out.
Set them aside.
Making the garlic brown sauce with ready nuggets:
Heat the oil in sauté pan. Once the oil is hot, reduce the flame to lower medium. Add dry red chillies, garlic and ginger. Sauté on lowest flame till garlic turns golden. Don't burn it.
Now add chopped bell pepper and onion squares to the pan. Sauté on medium flame for 3-4 minutes. Add soy nuggets and sauté for another minute.
Add soy sauce, vinegar and sugar to the diluted corn flour mix and mix well.
Pour this mixture to the sauté pan. Keep the flame low at this point.
Add 1 cup of water and salt and black pepper to it. Bring it to a boil and then some me for 2 to 3 minutes while covered with a lid.
Your delicious semi dry side dish is ready.
You may serve it as a starter too by making a thicker sauce. Or serve it with Steamed Brown Rice and enjoy a wholesome meal.
Image courtesy: Sonal Gupta
Also See
Reader Invite
Do you have an healthy food recipe that you'd like to share with us?
Simply write in to getahead@rediff.co.in (subject line: 'Healthy recipes') with your name and home-town, along with a photograph of the dish.
We will publish the best ones right here on Rediff.com.