Tokyo based Rediff reader Lopamudra Tripathy sent us this recipe.
Do you have a healthy recipe to share? E-mail it to us!
Couscous was traditionally the staple food in North African countries, but has now become very popular in America and Asian countries too, due to its high nutrient value.
It is made from durum wheat and traditionally served with meat or vegetable stew, says Rediff reader Lopamudra Tripathy who currently lives in Tokyo, Japan.
"As my husband prefers to take salad as dinner at least three times a week, I have found couscous really helpful in planning a good healthy and quick dinner," adds Tripathy.
Here's the recipe for Couscous Salad: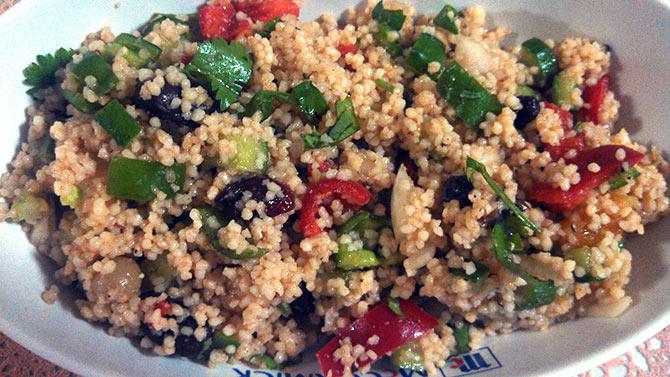 Ingredients
1 cup couscous
1 1/2 cup of chicken stock/vegetable stock
1 tsp of roasted cumin powder
A pinch of chilli powder
1 tsp of tomato ketchup
A handful of boiled chickpeas
1 tsp of lemon juice
1 cucumber chopped
1/2 onion chopped
1 red paprika chopped
1 green capsicum chopped
2 tsp olive oil
1 tbsp chopped coriander
2 tbsp walnuts broken
1 tbsp dried cranberries
1 tbsp raisin
Salt as per taste
Method
Take one cup of couscous in a big bowl. Add salt, cumin powder and chili powder. Mix well.
Boil the chicken or vegetable stock and pour over the couscous-spice mix.
Stir and cover with a tight lid. Leave for at least 30 minutes.
After 30 minutes open the lid. The couscous will look fluffy after the liquid has been absorbed.
Transfer it to a bigger bowl and add the tomato ketchup to it. It gives a beautiful pinkish colour to the couscous.
Add boiled chickpeas and remaining vegetables. Mix properly.
Add lemon juice, olive oil, and salt as per taste.
Add walnut, dried cranberries and raisins.
Mix well with a fork and serve.
Photo: Lopamudra Tripathy
Love food? More recipes and food features here!
Also See
Reader Invite
Do you have an healthy food recipe that you'd like to share with us?
Simply write in to getahead@rediff.co.in (subject line: 'Healthy recipes') with your name and home-town, along with a photograph of the dish.
We will publish the best ones right here on Rediff.com and India Abroad.