One of the most commonly used phrases in context of our movies is 'dancing around trees.'
To the world they provide fresh air, fruits, shade and shelter, all this and more but in Bollywood, their role extends beyond the usual -- sometimes as spectators of romance, sometimes a shoulder to cry on.
After looking at how the terrace, chandelier, jhoola and balloons added to the silver screen imagery, Sukanya Verma lists the memorable use of trees in Hindi movies.
Dilwale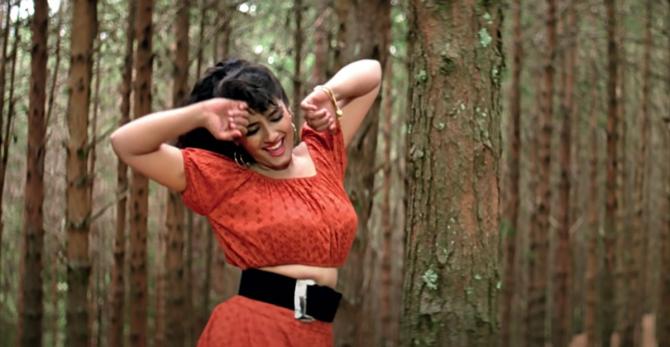 Raveena Tandon doing the classic 'dancing around trees' routine for a romantic song of one of the biggest hits of her career.
Kabhi Kabhie, Silsila, Lamhe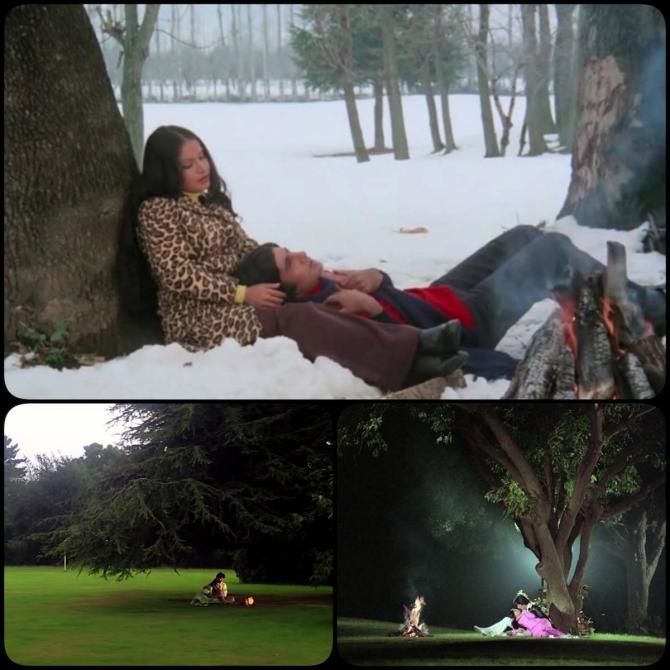 Lovebirds snuggling over a campfire under a large tree in scenic Switzerland or Kashmir is signature Yash Chopra romance.
Qayamat Se Qayamat Tak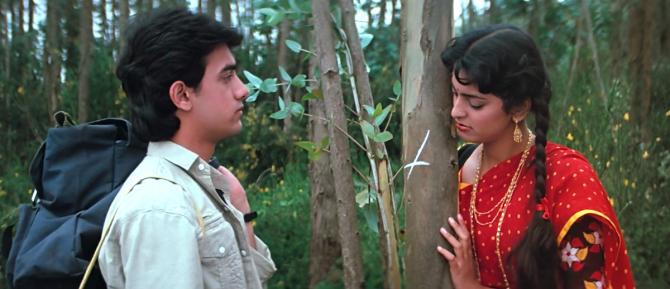 Aamir Khan and Juhi Chawla's Hansel and Gretel-like attempts to find their way home through a thick forest leads to much fun and flirtations.
Rangeela, Main Khiladi Tu Anari, Gupt
Sometimes you dance around them, sometimes you dance on them -- as demonstrated by Aamir Khan (Rangeela), Akshay Kumar (Main Khiladi Tu Anari) and Manisha Koirala (Gupt).
Dil, Beta, Raja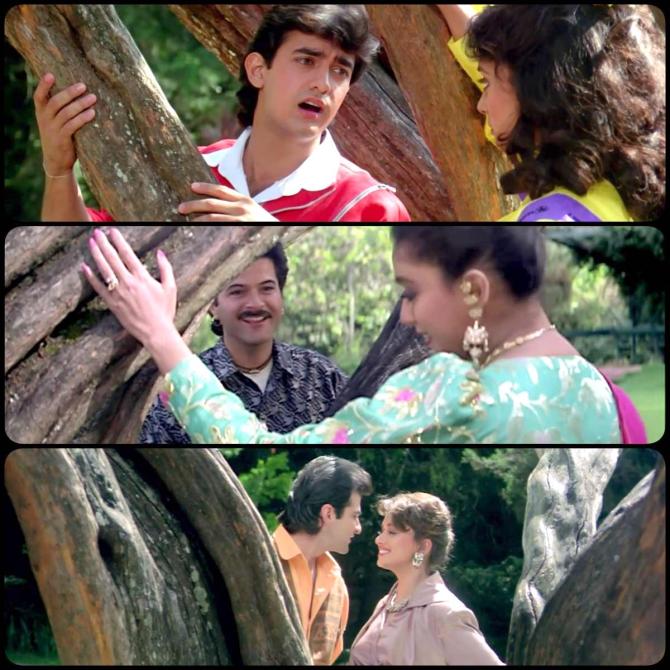 While on the subject of trees, can Inder Kumar's lucky tree be far behind? Every time he shot Madhuri Dixit romancing her hero around this blessed tree in films like Dil, Beta and Raja, it bore sweet fruits at the box office.
Phillauri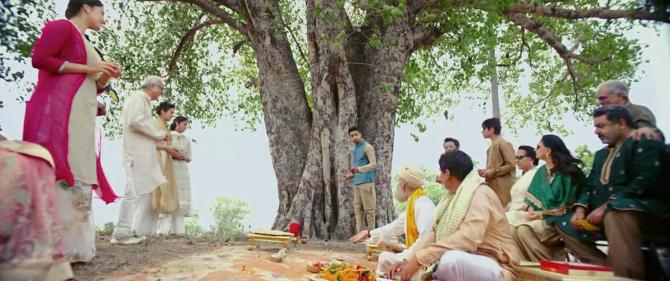 If you can't marry the girl, marry the tree?
Astrological beliefs weigh heavy on Suraj Sharma in Phillauri after his manglik status compels him to tie the knot to a tree before he weds his childhood sweetheart.
Except the tree, which is chopped off after the deed, happens to be haunted by the happy-go-lucky spirit of Anushka Sharma.
Jawaani Jaaneman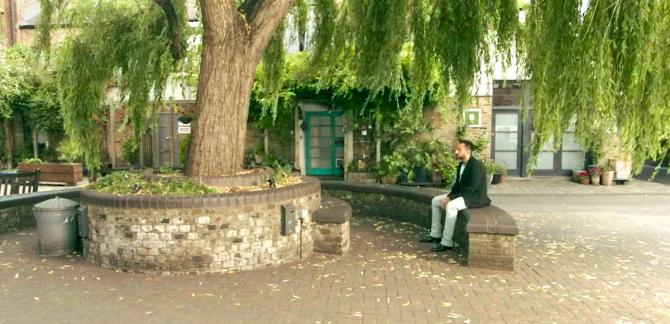 Save the tree is an unlikely sub-plot in Saif Ali Khan's Jawaani Jaaneman where he plays an estate broker swindling a woman's property by giving her false hopes of retaining her beloved willow tree. But you already know he will keep the tree and his conscience, don't you?
Devdas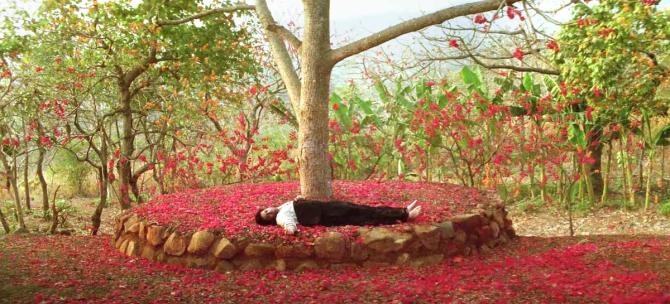 The striking red tree outside Paro's palatial house in Sanjay Leela Bhansali's Devdas perfectly captures the film-maker's love for red. It also becomes the spot where Shah Rukh Khan's titular character breathes his last.
Lakshya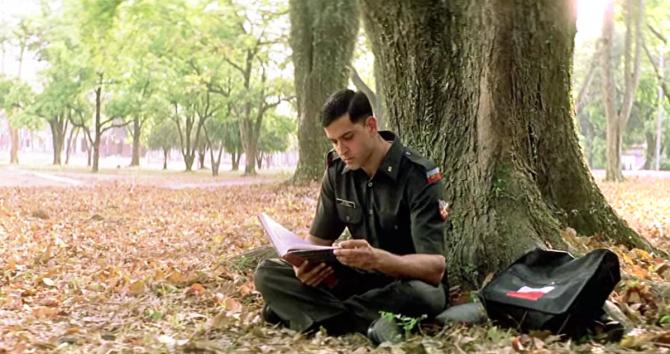 Hrithik Roshan's coming-of-age in Lakshya is full of stunning visuals. Like this serene, studious pose of his cadet reading in solitude on a bed of golden leaves. Tree of enlightenment? You bet.
October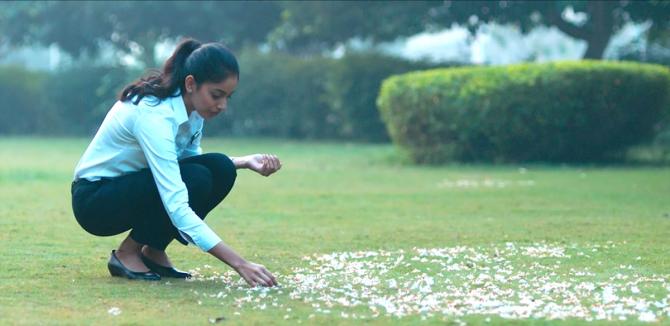 Shoojit Sircar's soulful story of love and loss finds a symbolic motif in the shuili (night jasmine) tree. Be it in the name of the character (Banita Sandhu) it centres on or her fondness for its fragrant flowers, which gradually bloom into unconditional love in her colleague's heart.
Lootera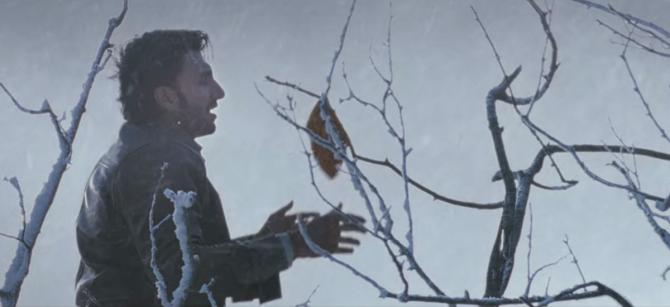 In Vikramaditya Motwane's loose adaptation of O Henry's short story, The Last Leaf, an ailing Sonakshi Sinha is obsessed with the tree outside her window. She keenly believes she'll die the day the last leaf falls.
As the man who did her wrong, Ranveer Singh atones by tying a fake one to the branch while encouraging her to not give up on life.
Jo Jeeta Wohi Sikander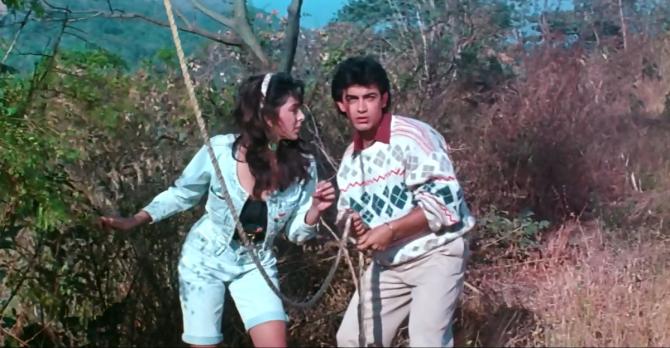 Remember the time Pooja Bedi decided to teach two-timing Deepak Tijori a lesson under 'Peele phoolon wala pedh' along with partner-in-crime Aamir Khan by releasing buckets of cow poo tied up to the top of a tree.
Love Story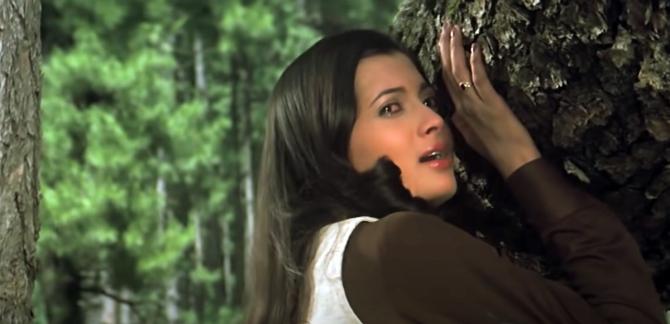 That bit about a shoulder to cry on we mentioned earlier on? Vijayta Pandit shows how it's done in her debut, Love Story.
Paheli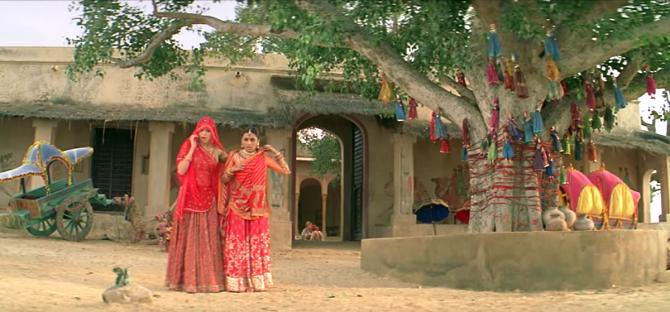 Supernatural activities occur around an enchanted tree sporting curious puppets and spirits acting as narrator and catalysts in Shah Rukh Khan and Rani Mukerji's tale of fantasy and emancipation.
Vaastu Shastra
When instead of birds or broken kites, you discover knee high ghosts perched on the branch of a creepy tree in front of your home, brace yourself for the horrors of house warming in Vaastu Shastra.
Mausam
Who needs photo albums when you can revisit old memories from behind a tree like Sanjeev Kumar's reminiscing about 'fursat ke raat din' in Mausam?
Saudagar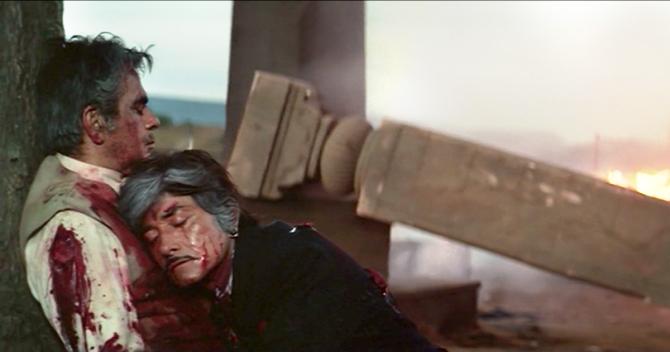 Keeping with Subhash Ghai's idea of dramatic visuals, the two 'Imli ka boota beri ka ped' chanting best friends Dilip Kumar and Raaj Kumar rest in peace as well under one.
Sangam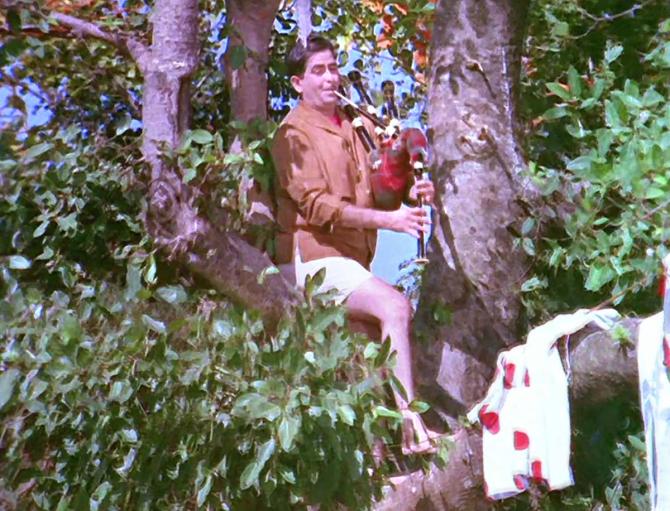 Who can forget a roly-poly Raj Kapoor playing a bagpiper on the branch while proposing to his dear Radha and rudely interrupting her private swimming session in Sangam?
Agneepath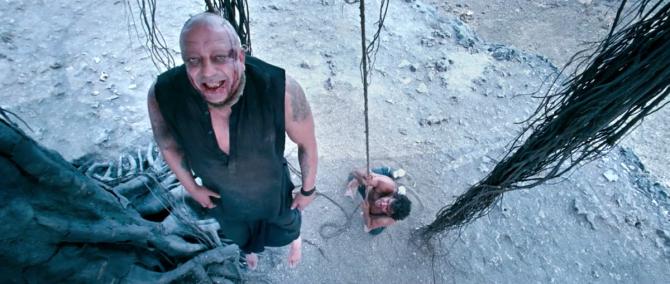 Hrithik Roshan turns the tables around Sanjay Dutt's antagonist tied up to a noose on the same tree his father was executed while reciting Agneepath, Agneepath, Agneepath.
Revenge at its most sensational, this.
Sholay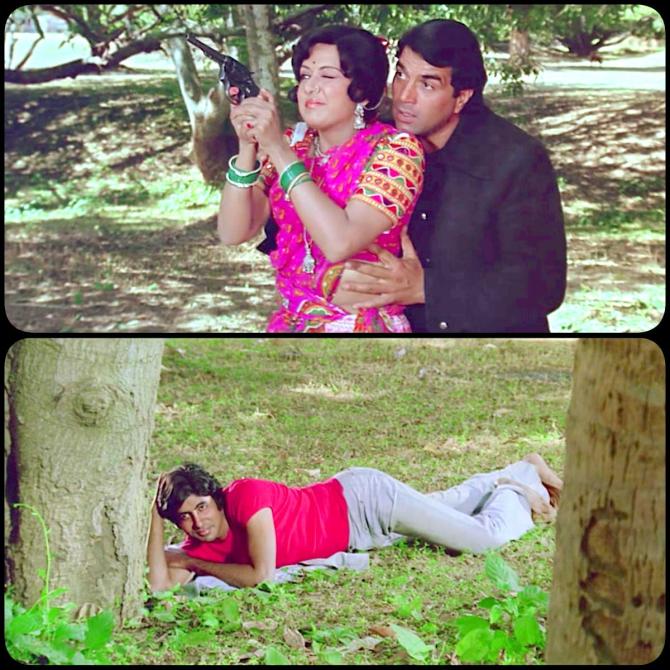 Everybody loves mangoes. Dharmendra takes advantage of Hema Malini's craving for some under the pretext of teaching her how to take an aim while an amused Amitabh Bachchan watches in Sholay's amusing tree moment.
Dilwale Dulhania Le Jayenge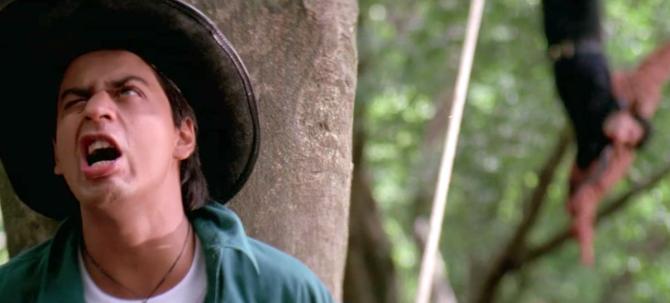 Shah Rukh Khan lays out a tree trap and does his best roaring voice to scare the living daylights out of Parmeet Sethi to sabotage his Dulhania's wedding in Aditya Chopra's directorial debut.
Isi Ka Naam Zindagi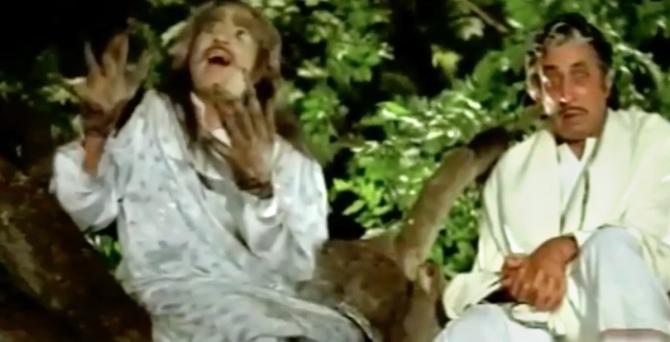 In this forgettable flop starring Aamir Khan, Shakti Kapoor enjoys the meatiest part in the double role of father-son whose greed results in hilariously haunting the same damned tree.
Jagruti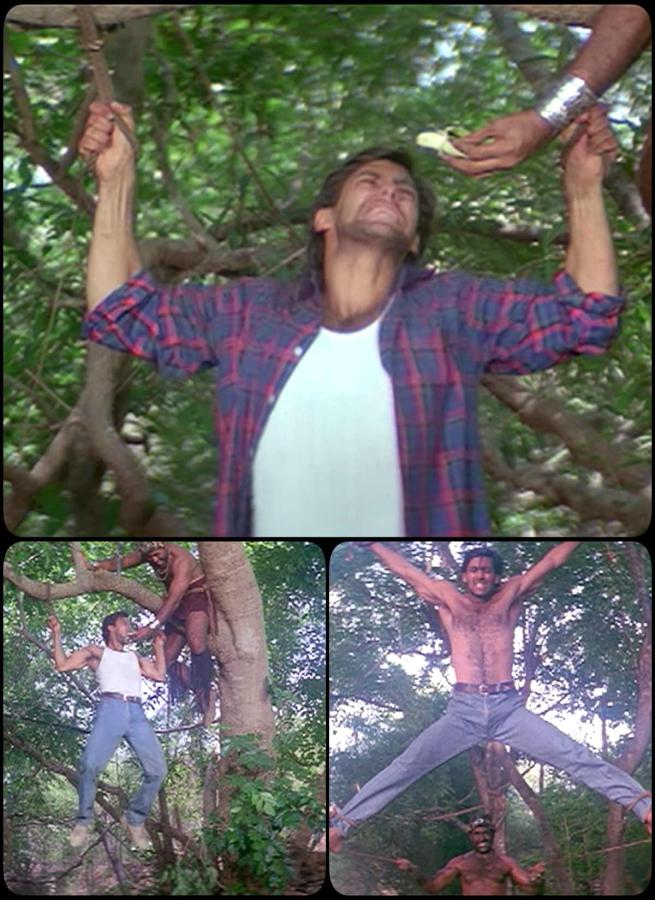 Look who beat Kung Fu Panda's idea of Master Shifu teasing Po with dumplings as part of his kung fu training? The secret of Salman Khan's scrawny to brawny turn in Jagruti under banana-offering trainer Puneet Issar's watchful eye is all kinds of entertaining.
Ek Duuje Ke Liye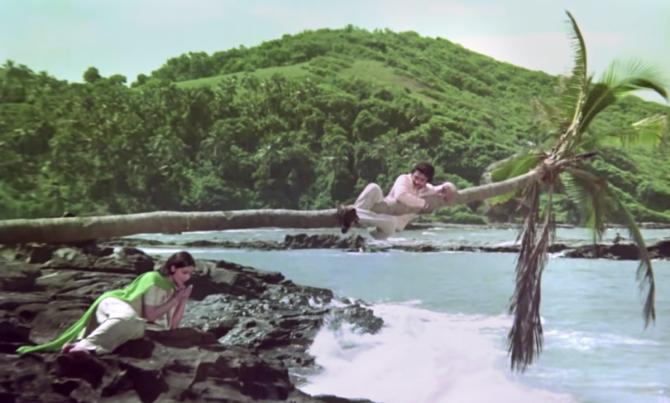 Musical rendezvous in a lift, switching the room lights on and off, doodling one's name on all the walls of a room, Kamal Haasan and Rati Agnihotri's romance in Ek Duuje Ke Liye is high on madcap visuals. Here's one featuring a tree.
The Wishing Tree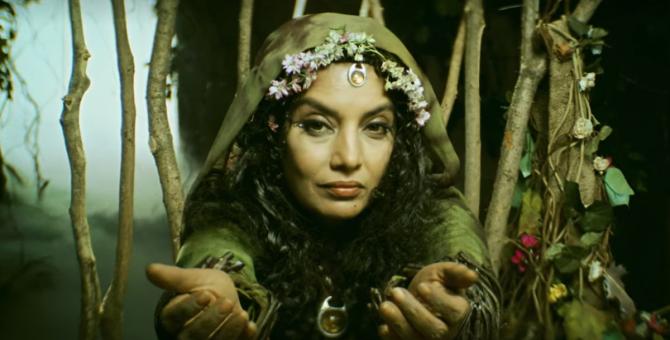 She's played a woman of substance. She's played a witch. And she's played a wishing tree. Is there anything Shabana Azmi cannot do?
Baahubali: The Conclusion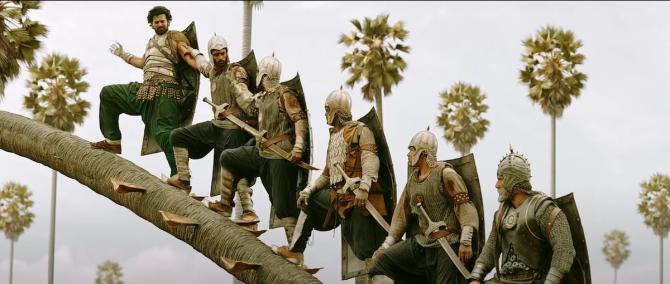 Technically it's not Bollywood, but Baahubali is much too beloved and imaginative in how it uses a palm tree like a catapult to toss warriors inside enemy space to ignore.