A chandelier is a room's beaming smile, its greatest jewel and all the glamour and grandeur a movie needs.
Production designers swear by its might.
Few props are a source of affluence or old world charm like it is.
Sukanya Verma celebrates chandeliers on celluloid and their most memorable moments in Hindi films.
Good Newwz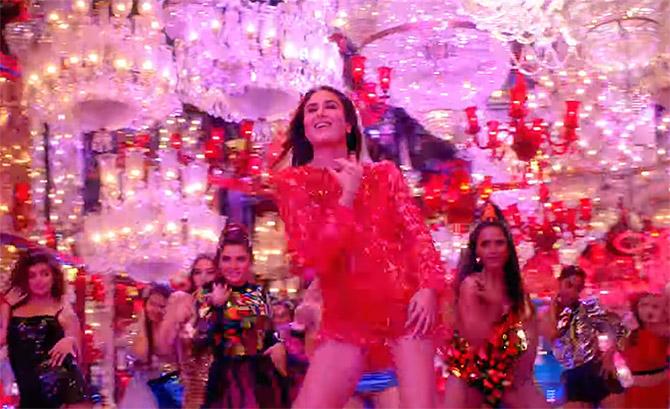 Good Newwz takes Bollywood's chandelier love to another level.
You'll see a jaw-dropping number of those forming a colourful backdrop to stars like Akshay Kumar, Kareena Kapoor Khan, Diljit Dosanjh and Kiara Advani as they harp something about buying home in Chandigarh.
Directed by Raj Mehta, the Karan Johar production revolves around a pair of couples conceiving through IVF and the comic confusion that ensues owing to identical surnames.
Mughal-E-Azam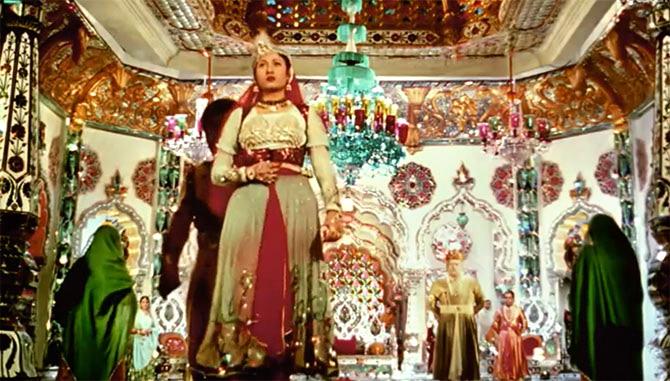 Filmmaker K Asif spared no expense to turn his epic historical an extravaganza for the ages. It requires multiple viewings to soak in its brilliant performances and breathtaking sets.
Mughal-E-Azam is an exercise in opulence and those gorgeous chandeliers -- especially the one under which Madhubala defiantly declares Pyar kiya toh darna kya -- are part of its lifelong attractions.
Paakezah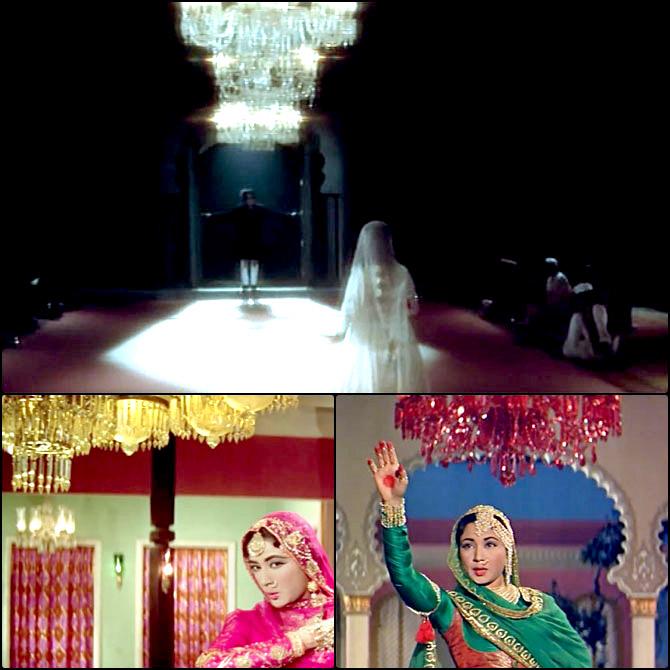 Kamal Amrohi's poetic, long-in-the-making Paakezah is a masterclass in splendour.
It begins with the sight of Meena Kumari dancing under a glowing chandelier and unravels the majestic interiors of Gulabi Mahal, which has quite a few luminous ones of its own.
Mahal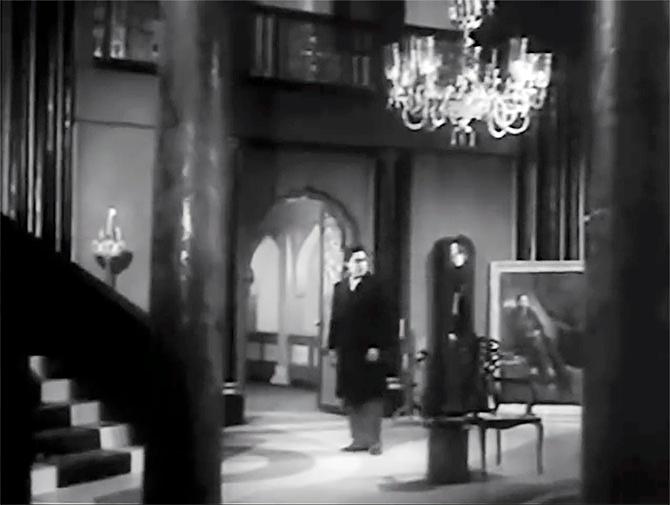 Long before Paakezah, filmmaker Kamal Amrohi revealed his talent for production design in Mahal.
The movie begins inside a spooky, desolate palace against the sound of the whooshing wind and an old caretaker recounting the tragic love story of its original inhabitants to its new resident, while setting up the lights of a huge chandelier.
Ashok Kumar couldn't have asked for a creepier introduction scene.
Sangam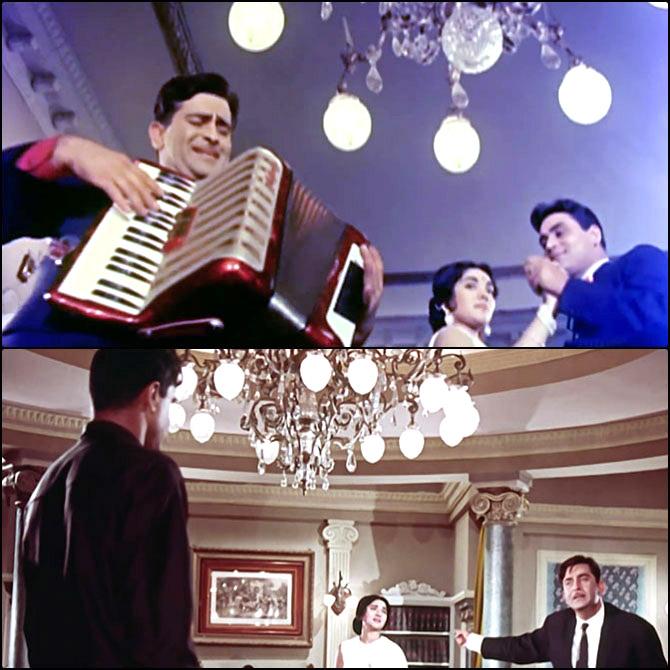 It's a pity Rajendra Kumar doesn't get the girl or live happily ever after despite owning such a luxurious mansion in Raj Kapoor's love triangle Sangam, co-starring Vyjayanthimala.
The dazzling chandelier in his living room is not only worthy of 'neighbour's envy, owner's pride' but also a witness to a lot of dance, drama and eventually, his death.
Madhumati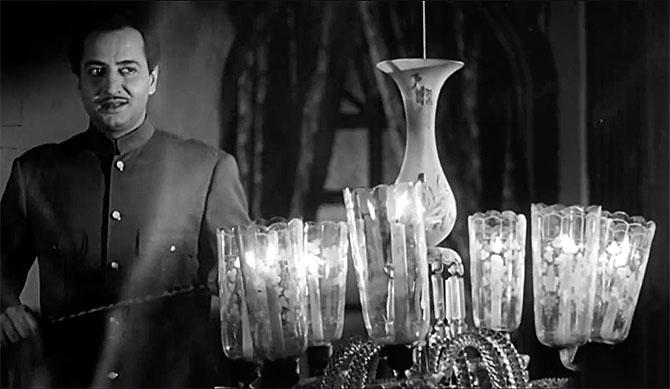 The classic chandelier in Pran's palatial home in Madhumati is both a reminder of a previous life and an eerie prop to introduce elements of danger and intrigue to its proceedings.
Om Shanti Om
Madhumati's influences loom over Farah Khan's musical masala, as she pays tributes to films and filmmakers of a bygone era in Om Shanti Om.
When Arjun Rampal proposes marriage to Deepika Padukone on the sets of a movie he plans to convert into a wedding venue only to burn it all down to kill her and when Deepika's ghostly avatar uses its force to crash down upon him in the climax, the chandelier is both witness and weapon.
Umrao Jaan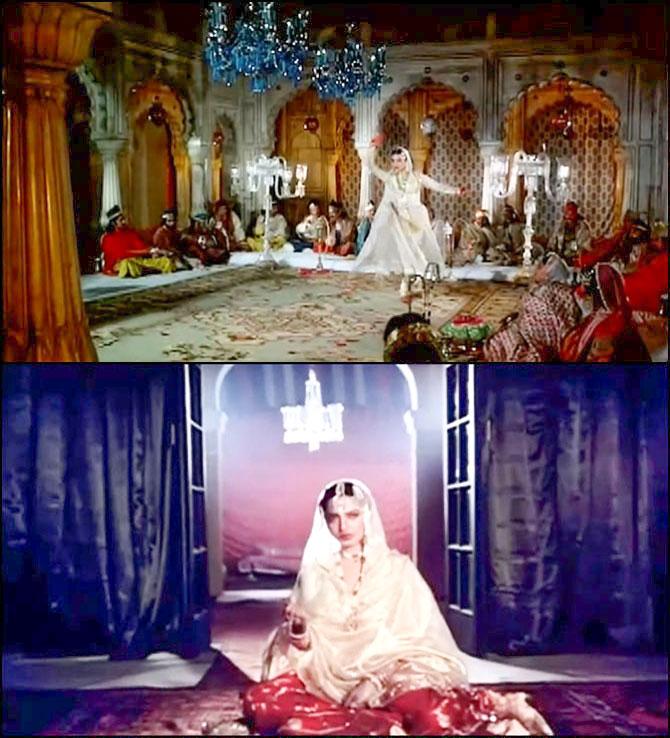 Poet, painter, fashion designer, filmmaker and royalty, Muzaffar Ali's fine aesthetics in recreating the luxury of 19th century Lucknow add to the visual allure of Umrao Jaan.
The heady combination of those exquisite chandeliers and a glossy Rekha is a vision we keep returning to.
Purab Aur Paschim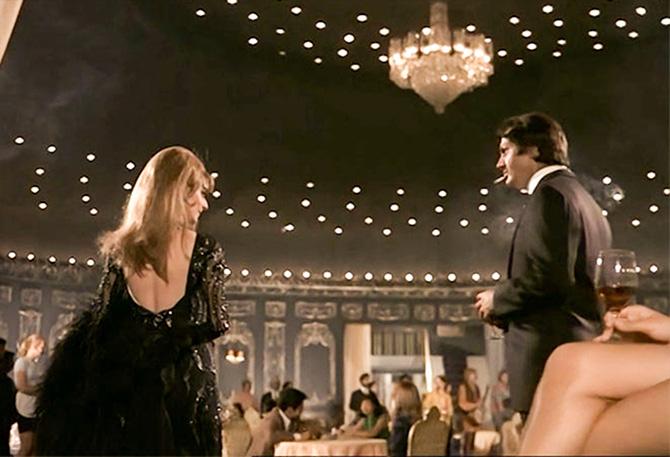 The revolving tables restaurant in London where actor-director Manoj Kumar spouts most of his desh prem wouldn't have its sheen in the absence of the imposing chandelier.
Kranti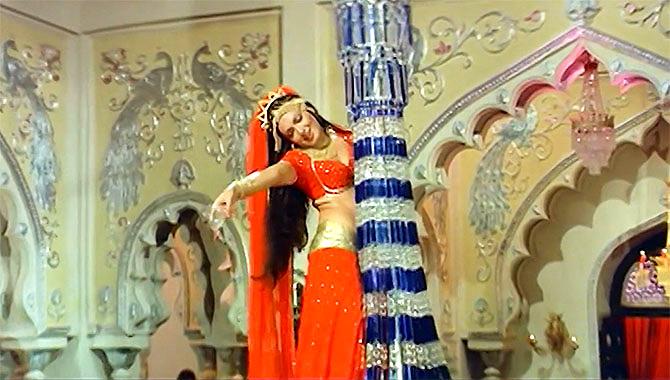 A massive chandelier pops up again in Bharat Kumar's jingoistic multistarrer when a sloshed Parveen Babi somersaults on top of it and shakes a leg to Mara thumka.
The films of Nasir Hussain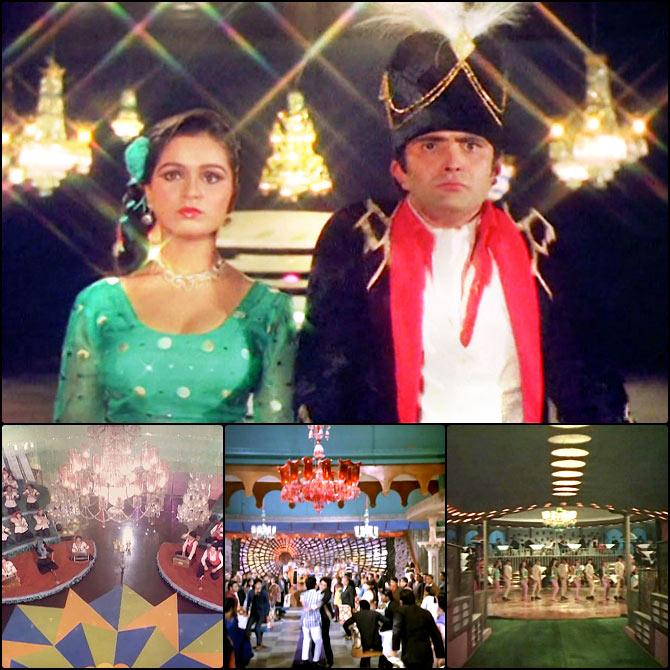 Pomp and show marked the heartbeat of Nasir Hussain's musicals. The cool, colourful, extravagant chandeliers in movies like Teesri Manzil, Yaadon Ki Baarat, Hum Kisise Kum Nahin and Zamane Ko Dikhana Hai contributed significantly to moments of reunions and rock 'n' roll.
The films of Yash Chopra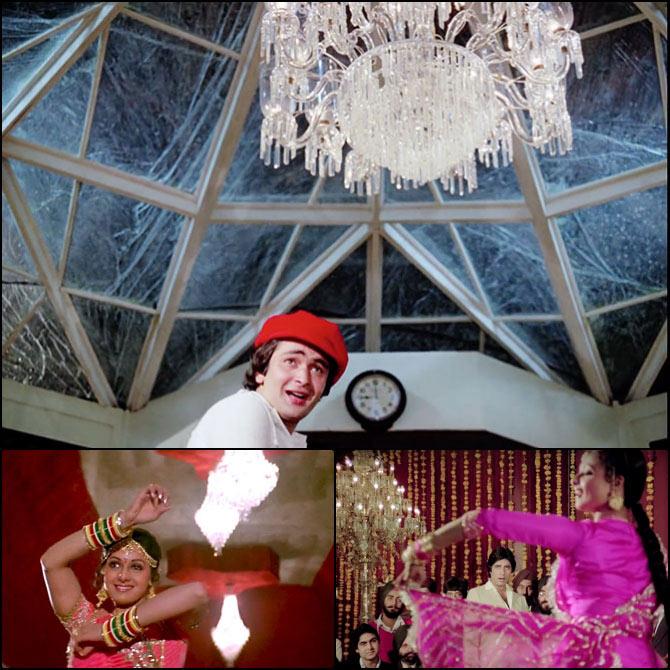 Yash Chopra's love for good-looking romances paved the way for dreaming against Swiss Alps and flirting over cheerful wedding songs or party numbers under a sparkly chandelier.
The films of Subhash Ghai (Ram Lakhan, Khal Nayak, Karma)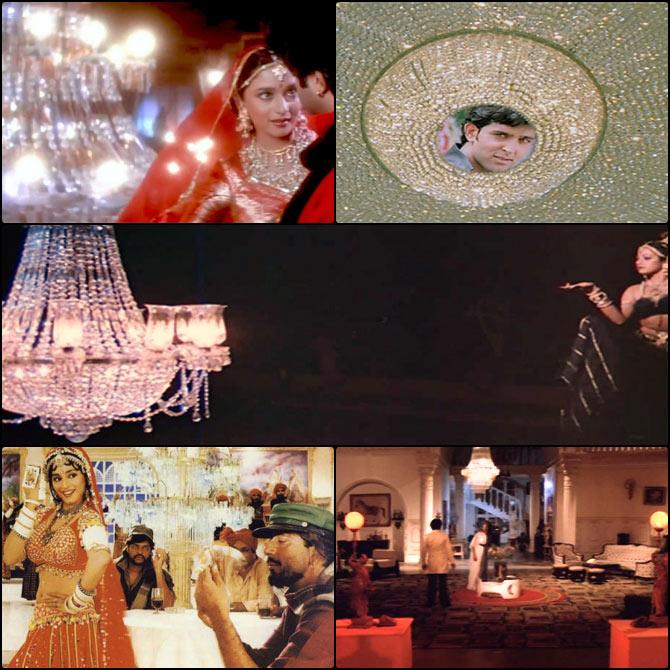 Once we made a list of Subhash Ghai's signature style and traits in all the big-budget entertainers he's known for till date.
Needless to say, in films like Karz, Karma or Khalnayak, a giant chandelier is up there among his go-to props.
Saajan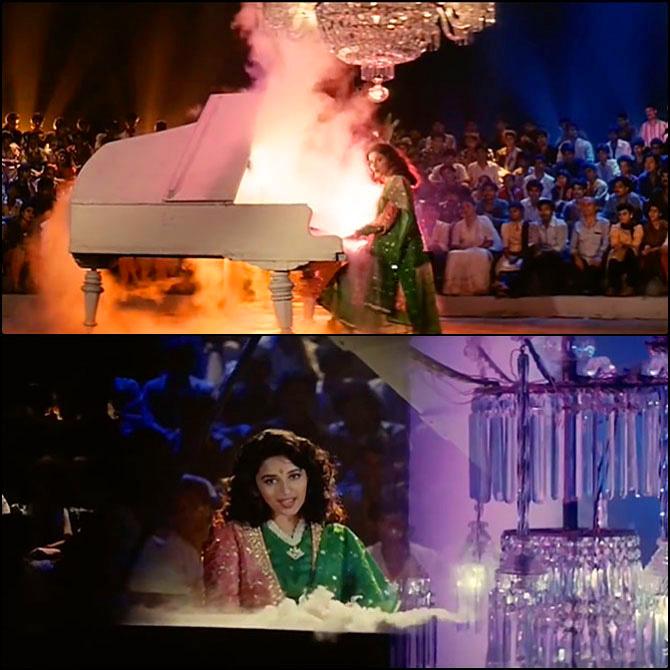 A really big chandelier competes with Madhuri Dixit and her million-watt smile, as she pretends to play Saajan's superhit song, Bahut pyar karte hain tumko sanam on a piano.
Hum Aapke Hain Koun..!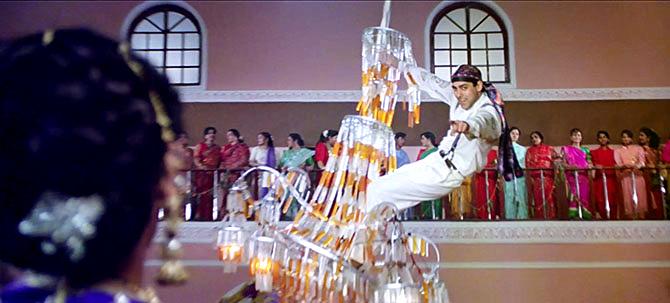 Sooraj Barjatya's blockbuster is a romance blossoming between family functions, and one of them involves Salman Khan sneaking into a ladies-only sangeet, only to get caught. Madhuri then ribs him by singing Didi tera deewana.
He dives on to the grand chandelier and admits to his mistake, playfully adding, 'Kudiyon ka hai zamana.'
Prem Ratan Dhan Payo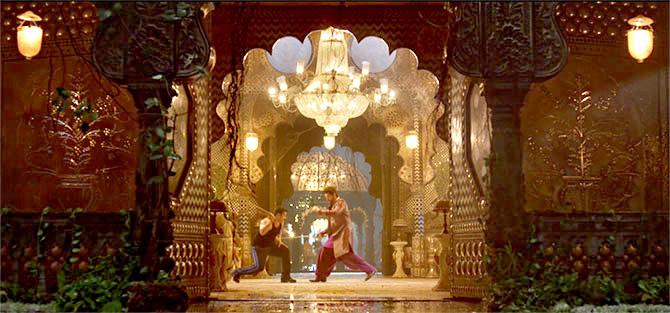 Set around an estranged royal family baying for each other's blood and money, Sooraj Barjatya's Prem Ratan Dhan Payo isn't in the same league as HAHK. Yet, he goes all out to give it a ritzy look.
There's a good chance its Sheesh Mahal-inspired sets and a shiny chandelier are your only takeaway from this done-to-death drama.
Hum Dil De Chuke Sanam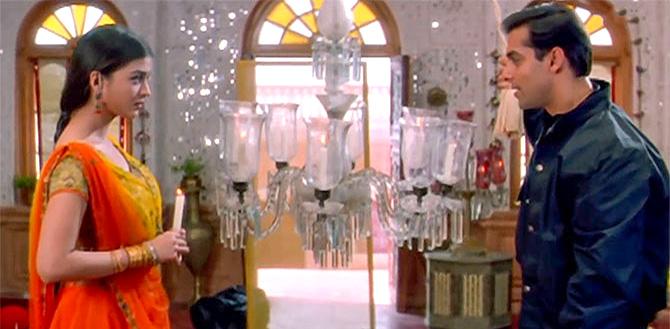 The brightly lit jhoomar surveys silently, slyly, almost gasping for dear life as Aishwarya Rai and Salman Khan first meet and engage in a game of who blinks first, in this cute scene in Sanjay Leela Bhansali's Hum Dil De Chuke Sanam.
Devdas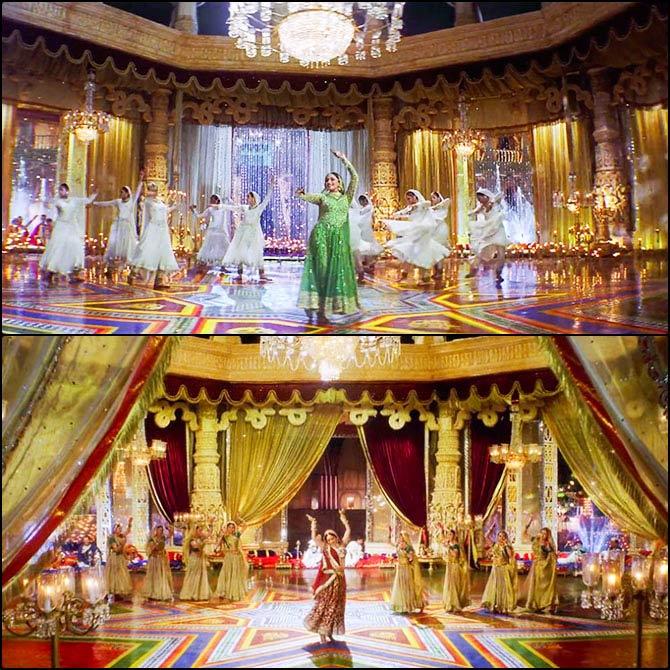 But it's only when Bhansali adapted Sarat Chandra Chattopadhyay's Devdas for the silver screen that one realised the degree of opulence he's capable of.
Every frame of his version is a work of ornate artistry.
The gleaming chandeliers under which Madhuri Dixit performs some brilliant dance moves, as Chandramukhi, amply highlight this quality.
Kabhi Khushi Kabhie Gham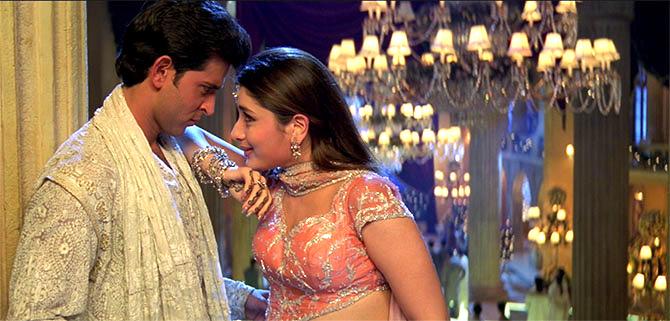 Karan Johar ropes in all the major stars for his sentimental family drama, K3G, and makes them dance in true filmi style under a couple of magnificent chandeliers in the richly choreographed Bole churiyan.
His ability to dole out grandeur has only gotten bigger and better since.
Kalank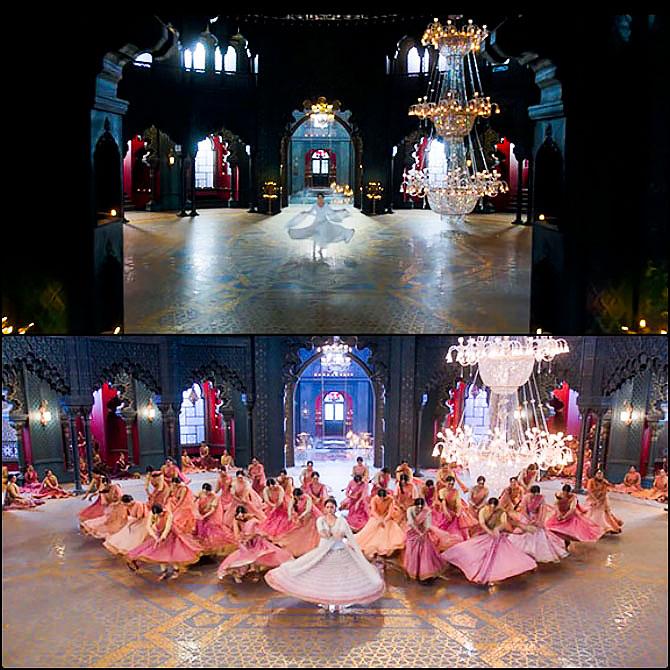 No matter what one thinks of the movie or its visual overkill, the chandeliers and lotus pond of Kalank are too wow a presence to be dismissed because the movie didn't work.
---
Sukanya Verma is the Principal Movie Reviewer for Rediff.com.
One of the most perceptive observers of Hindi cinema, Sukanya has a dazzling portfolio of features that have engaged Rediff.com readers for 20 years.
She can be contacted at mailto_sukanyaverma@rediffmail.com
---