Kareena Kapoor has a chandelier-like effect on silver screen. Every time she's there, the energy of a scene changes.
Some of the best cinematographers in the country have shot her luminous face and expressive eyes in all its moods and glory.
And the upshot is always the same -- a treat for sore eyes.
In a career spanning two decades, it didn't make any difference if it was AS terrific film or outright trash, the camera's affection for Kareena's sparkling presence is as obvious as the day.
From the innocence she exuded in her debut Refugee to the tenacity she displays in Good Newwz, it's been an undeniably photogenic journey.
And so on the star's 40th birthday on September 21, Sukanya Verma handpicks 25 of her most stunning frames from various movies to highlight how she draws our attention in big and small ways.

Asoka
Director of Photography: Santosh Sivan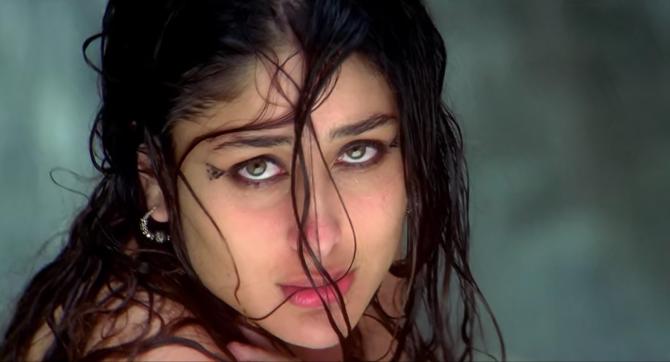 Few have captured her as fiercely and passionately as Sivan who also directed the Shah Rukh Khan spearheaded historical. Her warrior princess Kaurwaki is so remarkably uninhibited and striking in aura, I could compile an entire feature about it.
1. Sporting body art and kohl-heavy eyes, Kareena is literally dripping with sensuality.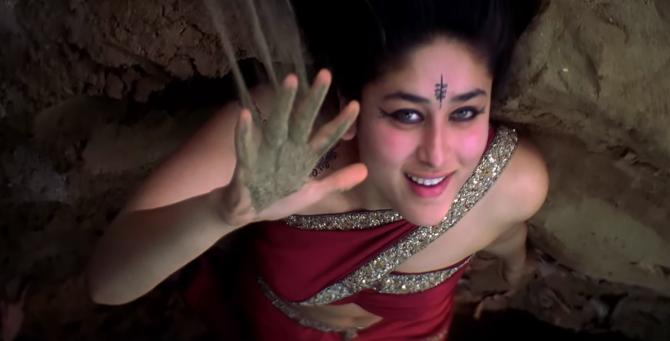 2. The irony of this splendid image fascinates me -- sand is slipping off her palms while our eyes are transfixed by her beauty.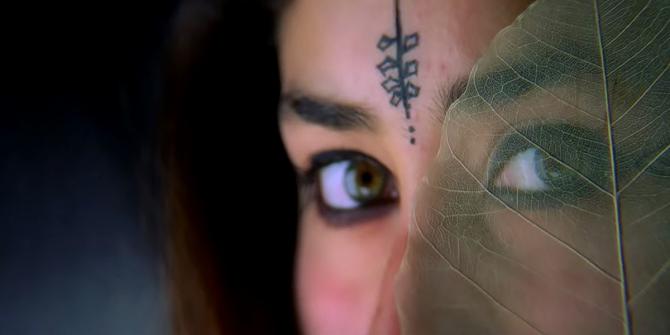 3. Sivan writes poetry on screen. We can't take our eyes off her eyes. Can you?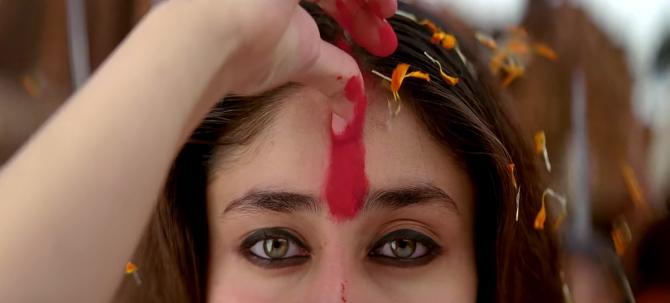 4. Swords, smoky eyes and scarlet tilaks -- why wouldn't one root for Kareena's one-woman army?
Omkara
Director of Photography: Tassaduq Hussain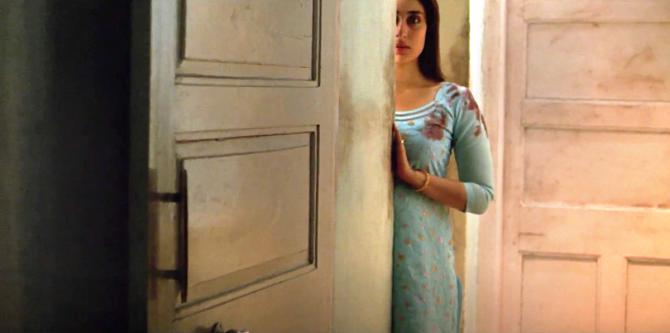 This brilliantly composed shot from Vishal Bhardwaj's adaptation of Shakespeare's Othello reflects a feeling of suspicion.
Is sweet-faced Dolly really as blameless as she appears?
Or is the spot of blood on her an indication of a betrayal she has in mind.
Point is, even the simplest of sights can acquire a dangerous duality once the seeds of distrust are sown into the mind.
Yuva
Director of Photography: Ravi K Chandran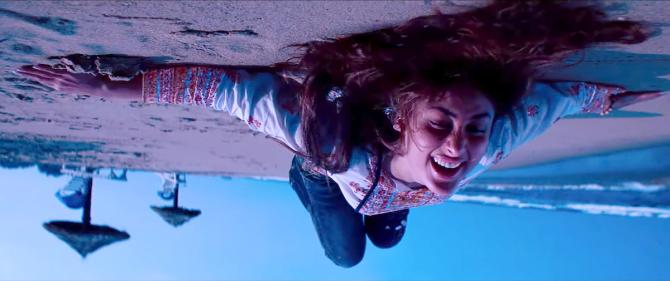 Of the three parallel storylines in Mani Ratnam's Yuva, Kareena and Vivek Oberoi's gives off the most youthful, flirtatious vibe.
Chandran's delightful use of blue to symbolise the same and Kareena's sheer joy in succumbing to the moment stands out in this giddy frame on the beach.
Chameli
Director of Photography: Aseem Bajaj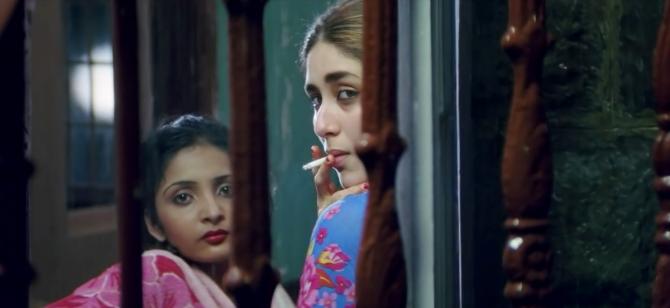 When the actress starred as a streetwalker in Sudhir Mishra's Chameli, many wondered if the Kapoor scion can pull off the crudeness required to play the part.
Authentic or not, there's a certain rawness about her portrayal that makes you feel empathetic towards her at all times.
Kudos to DoP Aseem Bajaj for recognising this softness even when Kareena is at her most unflattering.
Dev
Director of Photography: Govind Nihalani
This pristine image of Kareena praying inside a dargah mirrors the purity of soul she stands for in Govind Nihalani's commentary of communal discord.
Jab We Met
Director of Photography: Natarajan Subramaniam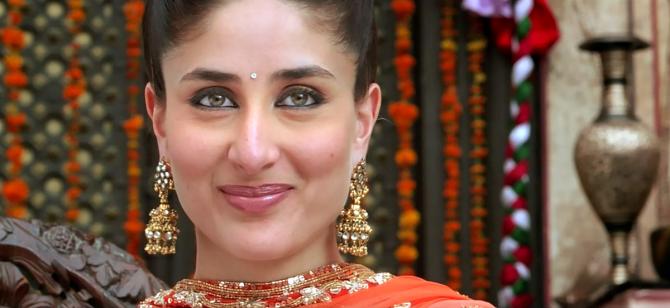 Imtiaz Ali's Jab We Met is a milestone in Kareena Kapoor's career. Her character looks magnificent and says some of the zaniest lines while experiencing a rollercoaster of a coming-of-age. But her shift from spunky to subdued needs to be celebrated a tad more.
Her joie de vivre as the adventuresome chatterbox Geet Dhillon endeared everyone from Bengaluru to Bhatinda, one glimpse of the sizzling Sikhni and it's easy to see why.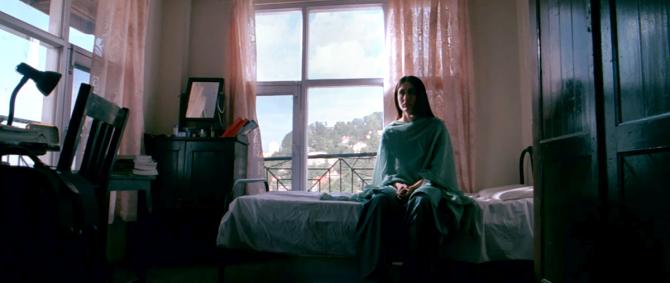 Now here's another frame from Jab We Met I really like. When the vivacious ones go silent, it hits hard.
Like a bottle of soda sans any fizz, under self-imposed isolation, wearing a long face, the contrast is extreme but Kareena's transformation feels real and heartfelt.
Tashan
Director of Photography: Ayananka Bose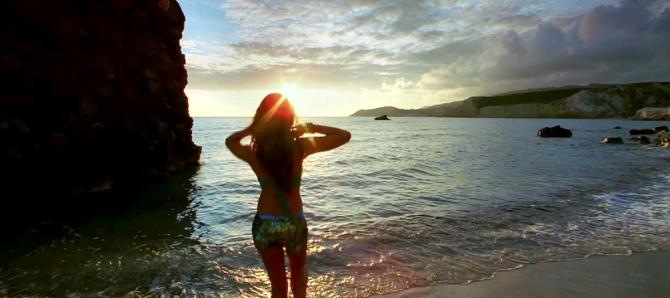 She makes heads turn even when she's not looking into the camera, how Tashan is that?
Not to mention how her size zero burgeoned into a fitness fad, lifestyle goal, style statement, media catchword, dietician mantra, yadda, yadda.
Truth be told, few remember the con caper for anything else.
Kabhi Khushi Kabhie Gham
Director of Photography: Kiran Deohans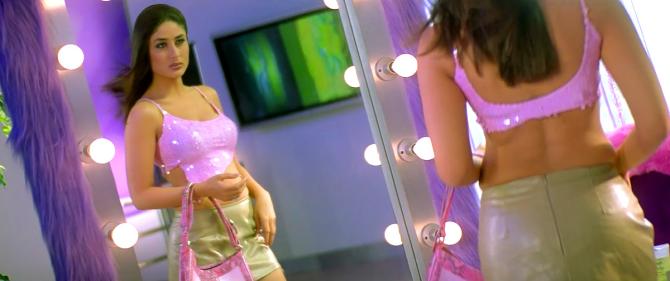 As someone whose criteria for anything is purely based on good looks, good looks, good looks -- Poo is, hands down, Bollywood's most unapologetically vain airhead.
And her introduction scene in Karan Johar's soppy family drama not only applauds it wholeheartedly but also offers a welcome break from all the glycerin overload.
3 Idiots
Director of Photography: C K Muraleedharan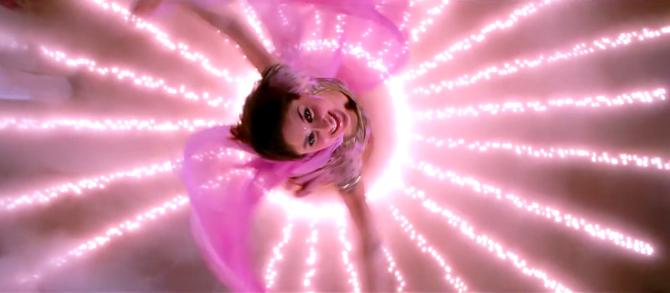 In this predominantly all-boys show, Bebo's sunny charms come in short but steady supply. Speaking of sun, here's one in pink.
Heroine
Director of Photography: Mahesh Limaye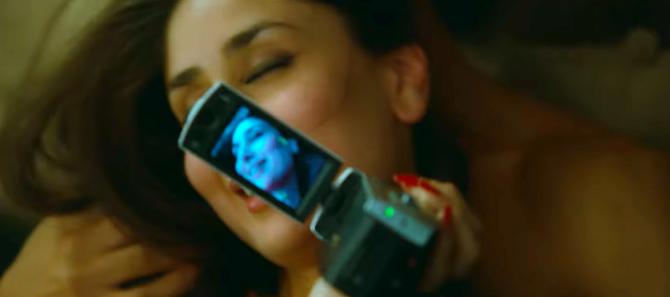 Real and reel face off in Madhur Bhandarkar's in-your-face cinema. And Kareena's enthusiasm as the leading lady of his yet another rise-and-fall saga, on screen and off it, plays nicely on the dichotomy. As do the insinuations of this sensational image.
Talaash
Director of Photography: K U Mohanan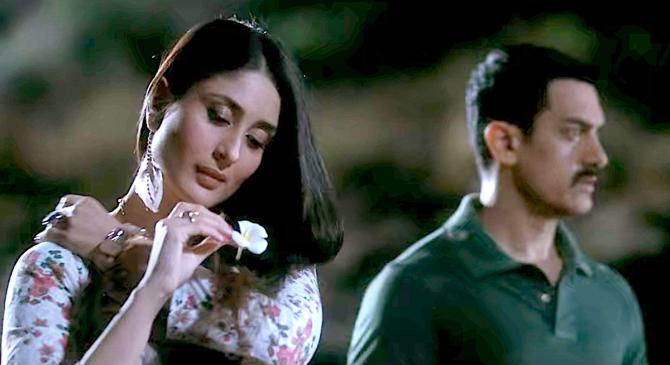 Almost all other images I've picked are solo in nature but what makes this one from Talaash attractive is how riveting Kareena's ghost appears while the human in the picture is blurred out.
The enigmatic quality enveloping her character, the quietness she imbues it with leads to haunting moments in this fine film about loss.
Fida
Director of Photography: Amit Roy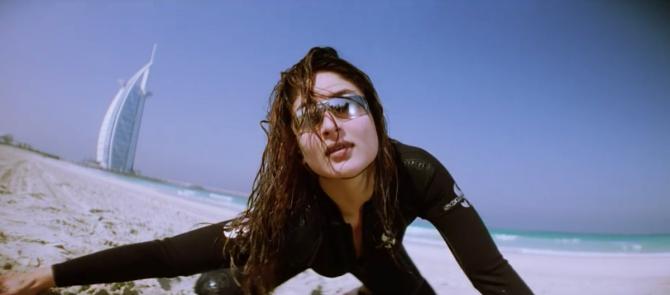 Quite early on, Kareena proved she's game for anything, including playing deceptive, unlikable femme fatales like the one in Fida.
Though the movie itself is no great shakes, her remorseless gold-digger is on point.
Ek Main Aur Ekk Tu
Director of Photography: David MacDonald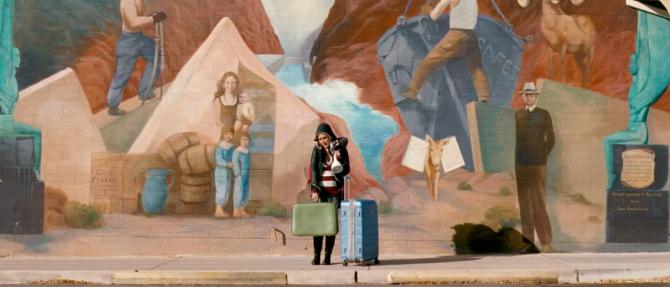 A perfectly artistic frame of Las Vegas street art forms a cool backdrop to Kareena's disorganised, meandering, free spirit while she springs life into the quintessential manic pixie dream girl of Shakun Batra's directorial debut.
Udta Punjab
Director of Photography: Rajeev Ravi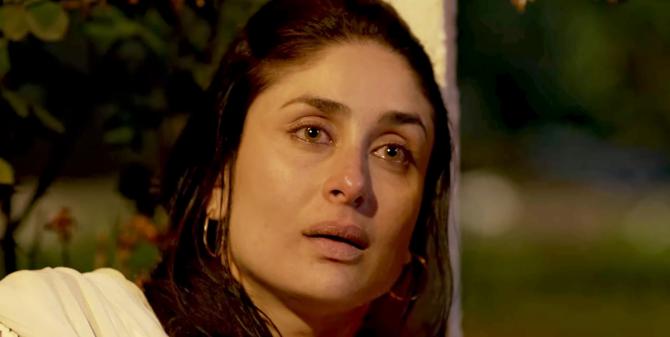 This horrific moment in Udta Punjab comes as a shock to both -- us and her.
The mix of disbelief and disappointment in Kareena's anguished expressions has the enormity of a Shakespearean tragedy.
Clearly, a brilliant actress doesn't need a lengthy role to linger in the audience's mind.
Kambakkht Ishq
Director of Photography: Vikas Sivaraman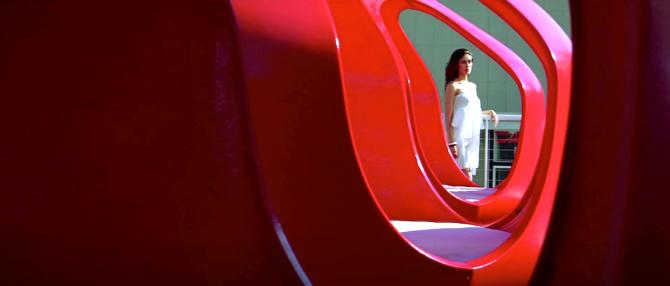 Godawful movie, but this shot of Kareena -- a pop of white in a stream of red -- is a nice touch.
Ki & Ka
Director of Photography: P C Sreeram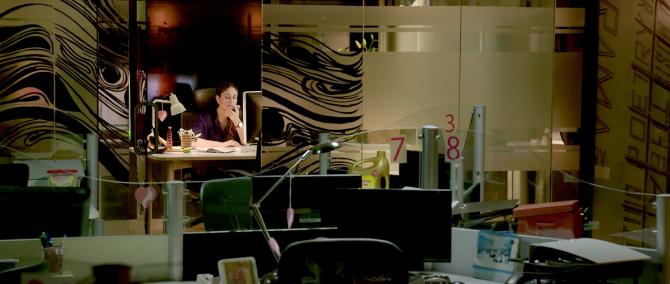 Phrases like 'uneasy lies the head that wears the crown' or 'it's lonely at the top' find a modern-day interpretation in P C Sreeram's exquisite, aesthetic reinforcing of Kareena's working woman prowess as the lone wolf in her cabin.
Kurbaan
Director of Photography: Hemant Chaturvedi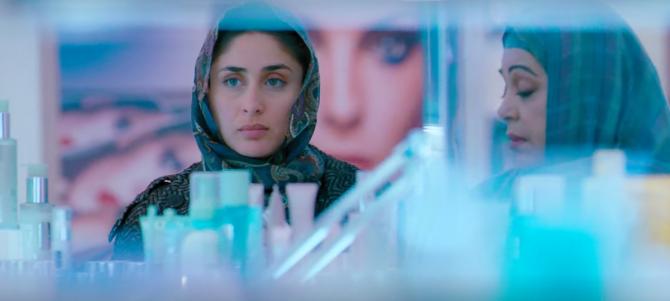 Kurbaan tries to examine the workings of terrorism though it is a whole lot better as an old-fashioned thriller.
As the woman caught between a war of religious identities and duplicitous relationships, Kareena valiantly confronts paranoia with presence of mind.
There's a whole lot of symbol at play in this telling frame of her in a cosmetics shop.
Ra.One
Director of Photography: Nicola Pecorini, V Manikandan (Additional Photography)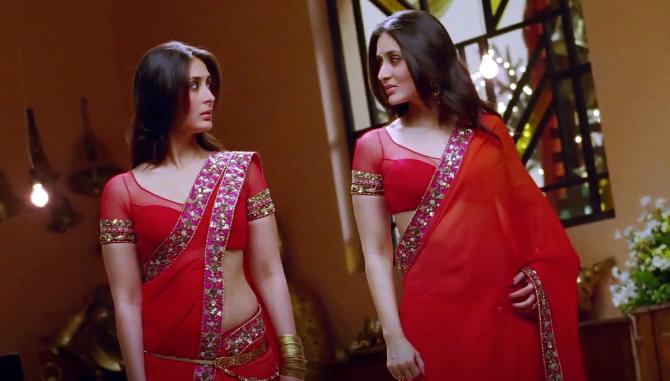 Will the real Chamak Challo please stand up?
Ra.One is all about SRK's expensive VFX and Kareena in that blazing red sari.
Just when you think she's purely eye candy, the titular antagonist possesses her and the actress advances into someone deadly.
And even if it's for a few fleeting seconds, Kareena has a ball running a shiver down our spine.
Agent Vinod
Director of Photography: C K Muraleedharan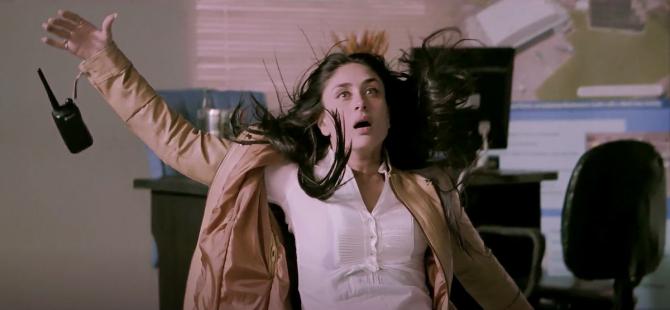 Trust Sriram Raghvan to use slow motion to its true potential. Kareena's drop dead moment makes for a staggering visual in the middling espionage thriller.
Mujhe Kucch Kehna Hai
Director of Photography: Johny Lal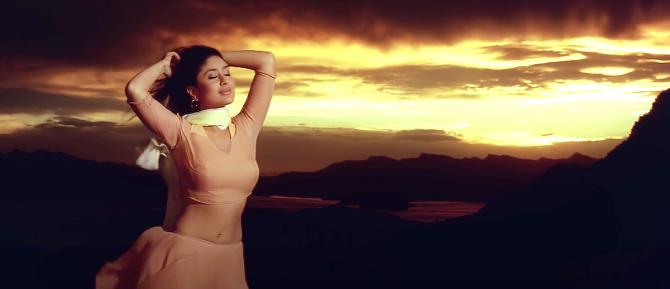 One cannot go wrong with golden sunsets and golden girls of Bollywood. One doesn't.
Refugee
Director of Photography: Basheer Ali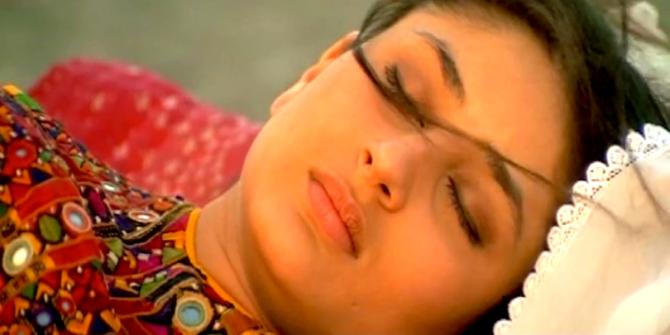 Proving to be a chip off the old block, Kareena made a glorious first impression in J P Dutta's Refugee.
As the simple Bangladeshi refugee engaged in a cross border romance, her fresh-faced charms and natural grace illuminate the screen even when she's deep in sleep.