Action, romance, drama, comedy, celebration, horror -- the terrace is a setting for a zillion scenarios in Hindi movies.
After drawing your attention to the wonders a chandelier, a jhoola or a bunch of balloons can make to a scene, Sukanya Verma looks at Bollywood's various terrace moments.
Baazigar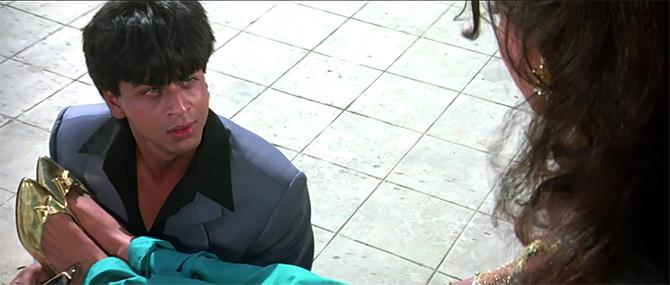 The moment that changed everything -- Shah Rukh Khan shoving Shilpa Shetty down a high-rise in Baazigar, as part of his brutal vendetta against her father Madan Chopra, continues to give us the chills.
Darr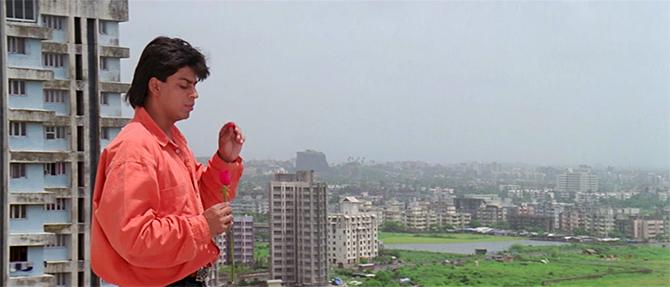 SRK's negative streak continues in Darr where he essays a deranged stalker engaged in a game of 'she loves me she loves me not' on the parapet of a tall building.
Dilwale Dulhania Le Jayenge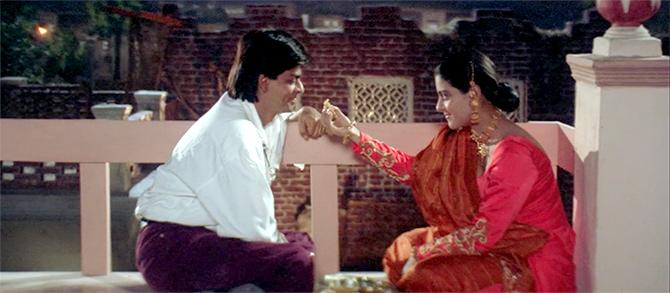 Considering how iconic the above imagery is, it's remarkable how smoothly SRK broke out of the bad guy mould to play the quintessential hero in Dilwale Dulhania Le Jayenge.
His extraordinary chemistry with Kajol is what catches our eye as they sneak up on the terrace to celebrate karva chauth on the sly in one of the biggest blockbusters of his career.
A Wednesday!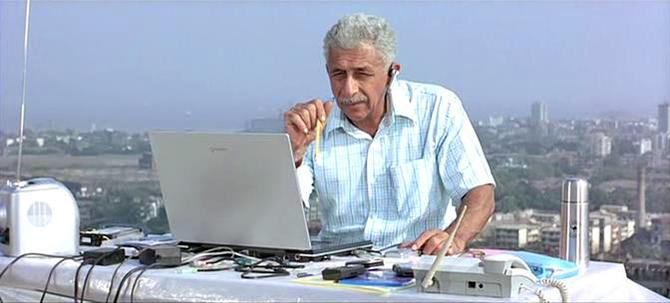 A techno-savvy Naseeruddin Shah perches himself on the rooftop of a building threatening to blow up the city unless his demand to release four militants is agreed to by the police in the nail-biting A Wednesday.
Sonchiriya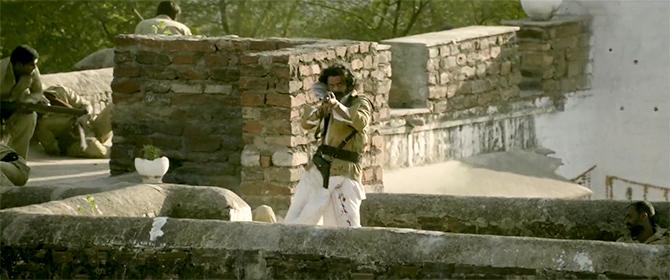 An early shootout sequence between bandits and cops, while Manoj Bajpayee battles the onslaught of sarkari goli from atop a village terrace is all kinds of thrilling.
Delhi 6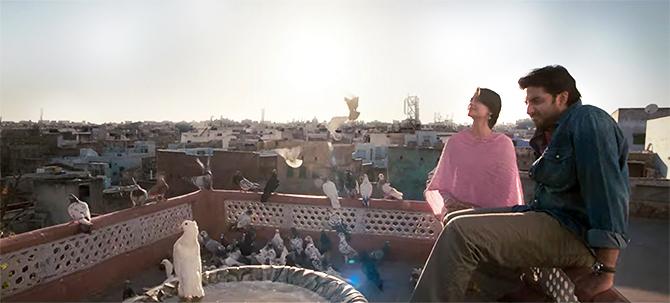 The open-air terraces of Chandni Chowk's bustling homes and their vibrant interactions and winged visitors inspire the songs and stories of Rakesh Omprakash Mehra's 2009 drama.
Aankhon Dekhi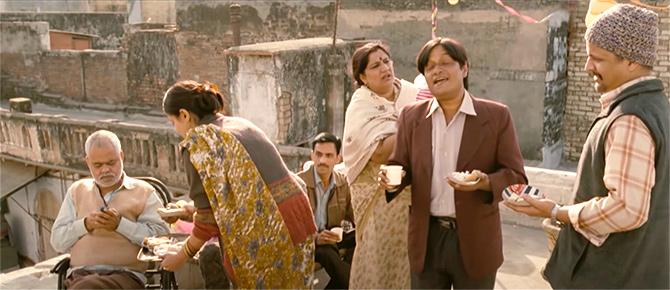 Old Delhi finds a more accurate expression against the ups and down of Aankhon Dekhi's joint family setup as they bond and banter atop the ramshackle terrace.
Ek Tha Tiger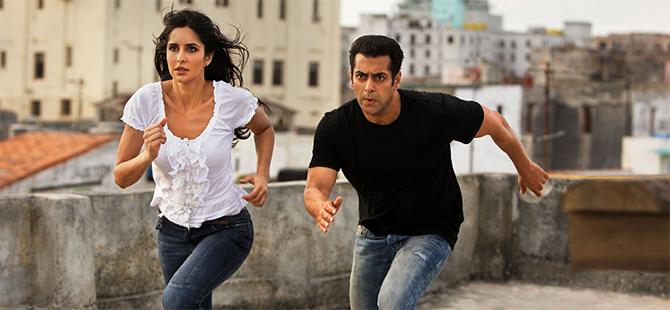 Among its many action set pieces and chases, one of them unfolds on the roofs as Salman Khan and Katrina Kaif kick some serious ass while out and about in Cuba.
Dabangg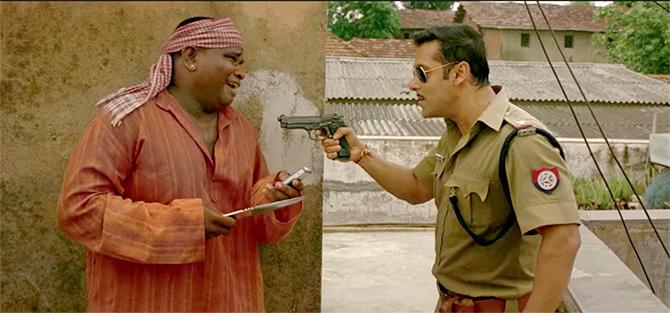 The terrace is where maverick cop Chulbul Pandey takes a break from an action-packed tussle to shake a leg on a goon's dhinchak mobile ring tone from his earlier money-spinner, Wanted.
Bluffmaster!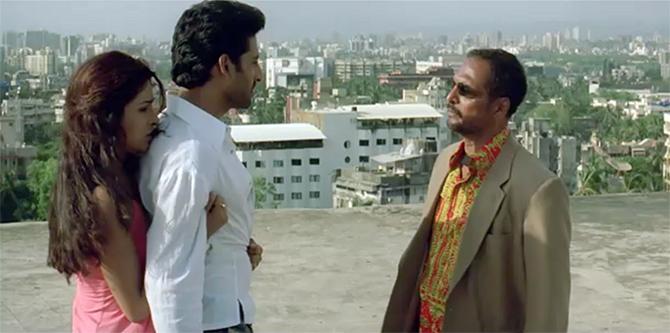 In Rohan Sippy's well shot Bluffmaster, Abhishek Bachchan gets a befitting taste of his own medicine in an elaborately staged con whose grand climax unfolds on the terrace of a building.
Aakhree Raasta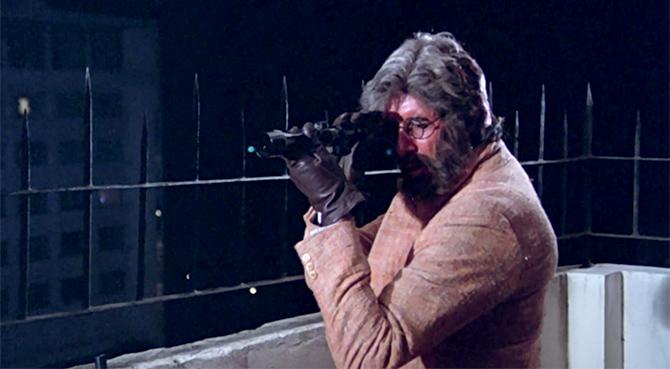 To avenge his wife's death, Amitabh Bachchan goes on an assassination spree undeterred by his police officer son's best efforts to stop him.
One of the executions involves AB marking his target from the opposite building's terrace followed by a daredevil episode of catch me if you can.
Happy New Year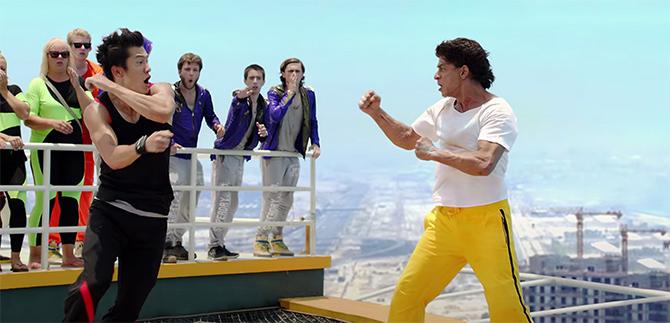 SRK turns into a feisty Bruce Lee meets Tom Cruise figure to take on a Korean rival on top of a Dubai skyscraper in a fight sequence of Farah Khan's dance cum heist drama.
Dum Lagake Haisha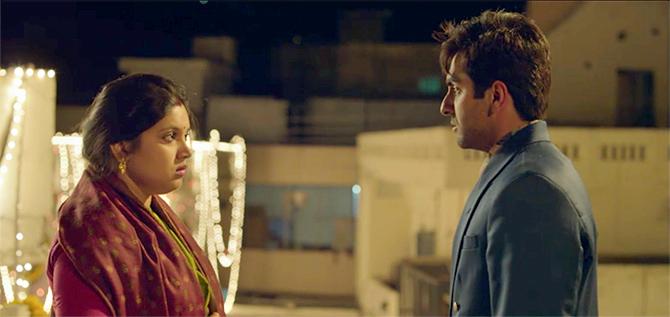 Bollywood's small-town stories make it a point to include the terrace in all its strategic scenes.
Like the ugly confrontation and subsequent falling out between Ayushmann Khurrana and Bhumi Pednekar at his friend's wedding function.
October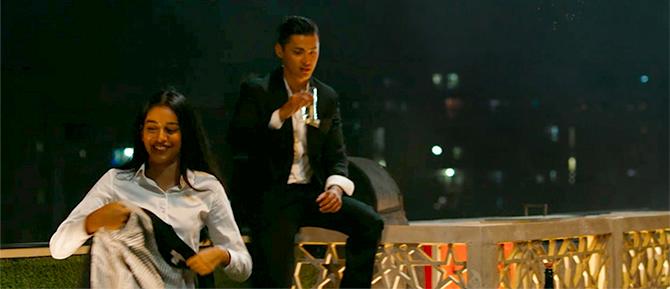 A young hotel intern tragically trips from the terrace during a New Year Eve's celebration bringing about a dramatic change in the lives of her near and dear ones as well as a colleague in Shoojit Sircar's soulful October.
Manmarziyaan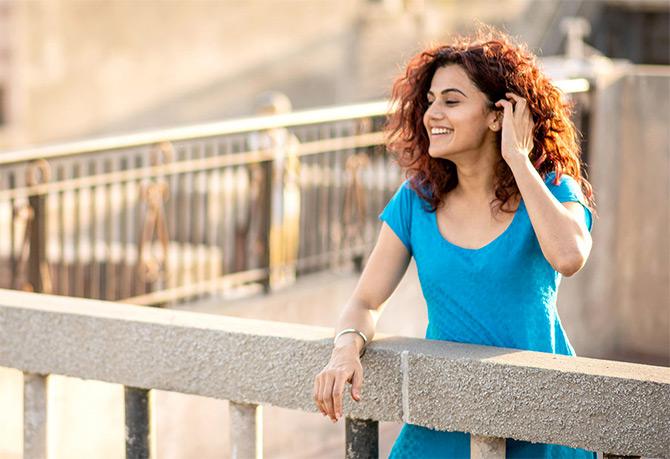 The man she ardently loves as well as the one she consents to marry share one thing in common: Unforgettable Rumi (Taapsee) moments on the house terrace.
English Vinglish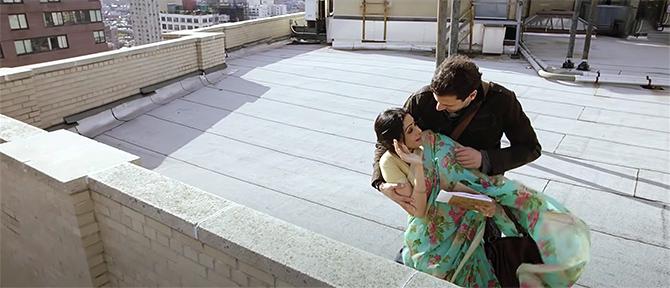 Sridevi has a bit of a 'top of the world' moment around her handsome French classmate as they behold New York City from a high rise leading to some gentle, Gustakh Dil realisations.
Udta Punjab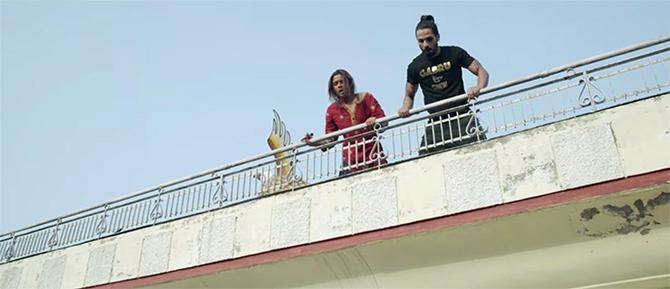 Shahid Kapoor comes to Alia Bhatt's rescue most memorably on a terrace top in the hostile struggle and triumph of Udta Punjab's final few scenes.
Wake Up Sid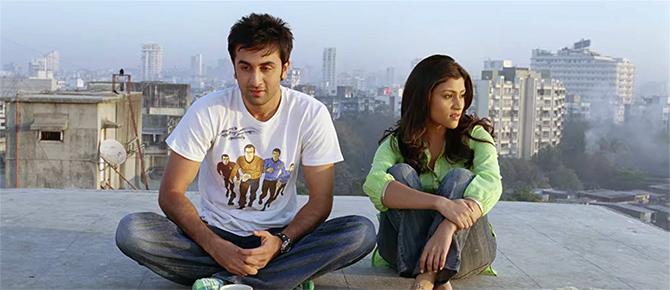 One gets regular glimpses of Konkona Sen Sharma and Ranbir Kapoor's vulnerability every time they have their heart-to-heart sessions on top of the building terrace.
Mard Ko Dard Nahi Hota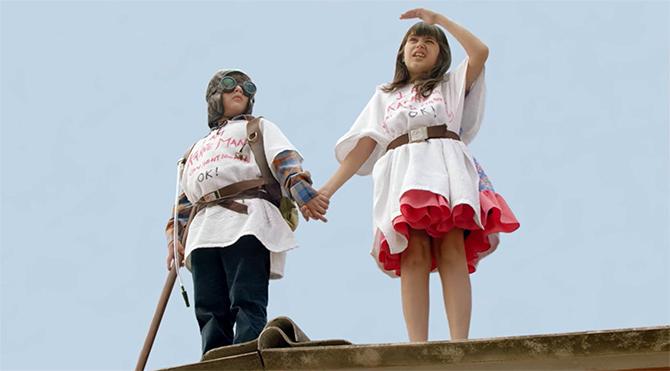 Both good and bad things happen on top of the residential terrace in Mard Ko Dard Nahi Hota.
A perfectly innocent exercise in courage takes an ill-fated turn forcing Surya and Supri to part ways.
Years later, the same spot becomes their refuge and inspires a romantic reunion.
Vicky Donor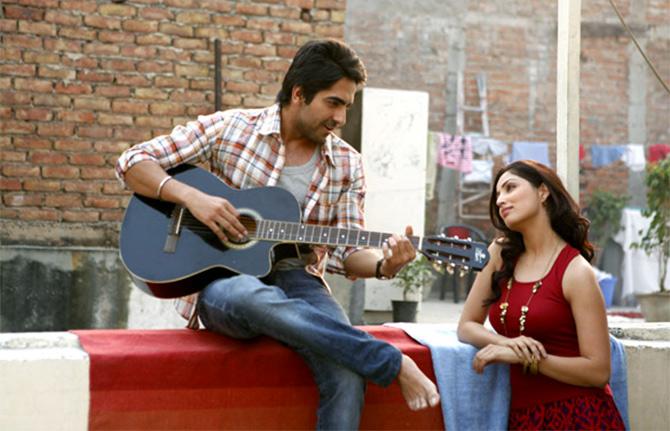 Ayushmann strumming the guitar and singing Pani Da Rang to Yami Gautam in his super pleasant voice is the best possible use a man can make of his chords and chatth.
Talvar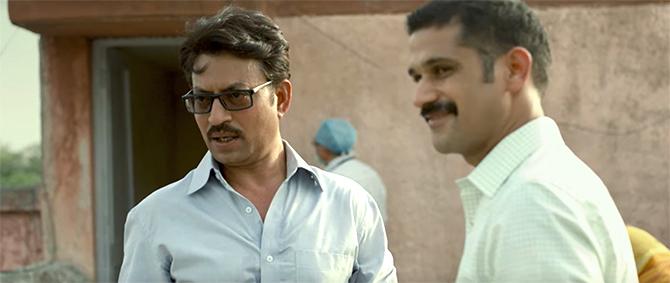 The terrace is a crucial presence in Talvar's taut procedural drama.
It forms a scene of crime as well as tampering of evidence in its scheme of curiouser and curiouser.
Omkara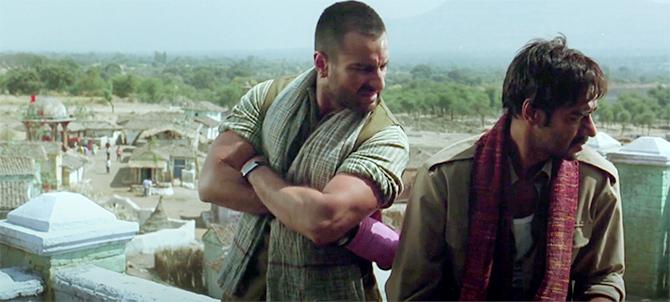 It's the terrace where mischief-maker Langda Tyagi (Saif Ali Khan) sows the seeds of suspicion in Omkara's (Ajay Devgn) mind in Vishal Bhardwaj's masterly adaptation of William Shakespeare's Othello.
Hum Dil De Chuke Sanam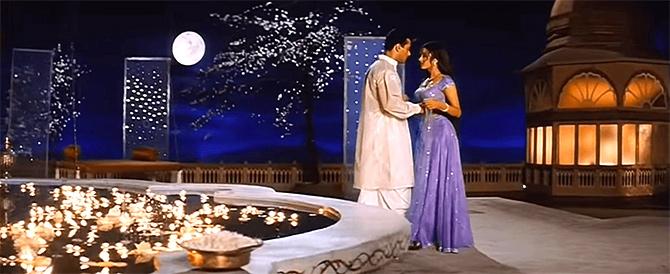 Whether to fly kites, gaze at stars or wax lyrically about the moon, many of Sameer (Salman) and Nandini's (Aishwarya Rai) clandestine meetings happen on the resplendent rooftop of Sanjay Leela Bhansali's Hum Dil De Chuke Sanam.
Kai Po Che!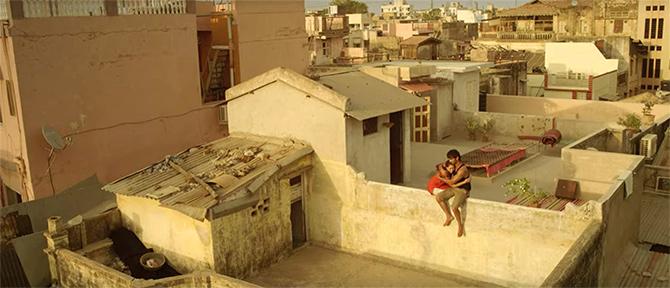 The title may get its inspiration from a kite flying phrase in Gujarati.
But the terrace features most poignantly to witness a tender moment between squabbling siblings Sushant Singh Rajput and Amrita Puri.
1947: Earth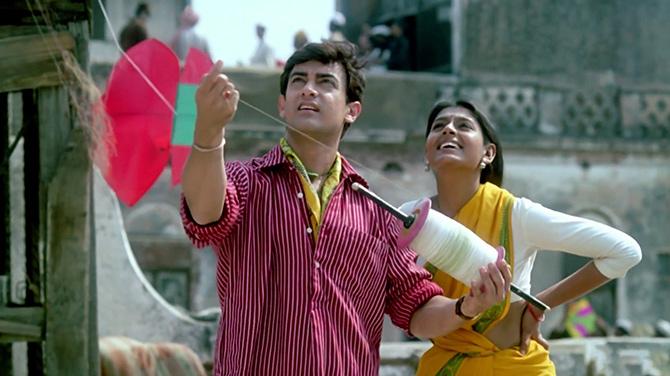 While on the subject of kite flying, easy to picture Aamir Khan and Nandita Das on the terrace celebrating the season of cheer in Ruth Aa Gayi Re.
Taare Zameen Par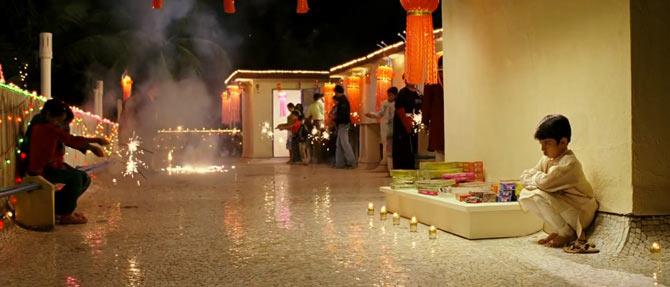 Young Darsheel Safary sulking in the corner of the terrace, about his impending hostel admission, while all the other building kids burst Diwali fireworks is just one of the many scenes that tugged our heartstrings in Taare Zameen Par.
Race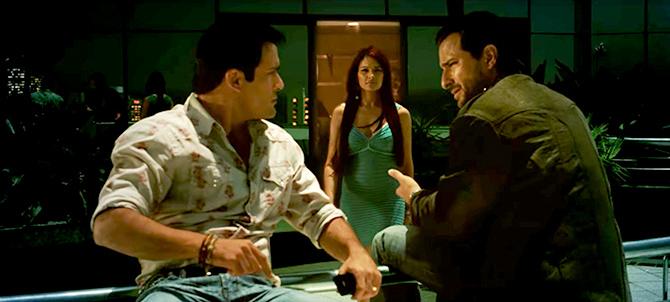 Bipasha Basu pushing Saif Ali Khan down the terrace and showing allegiance to his brother Akshaye Khanna marks the interval point of Abbas-Mustan's twist heavy madness.
Ishq
Aamir Khan attempting to rescue Ajay Devgn by walking on a pole connecting two terraces while his chants of Rama Rama hilariously change to Mara Mara is easily the best part of an otherwise over-the-top entertainer.
Biwi No 1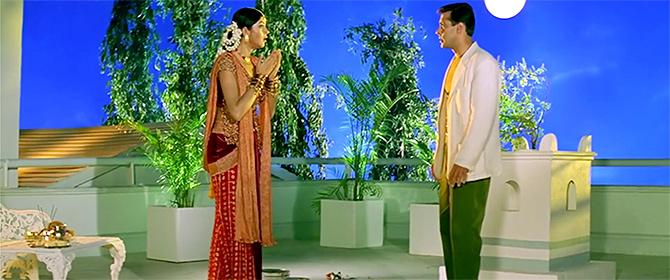 Most Bollywood karva chauth sequences are filmed on the top of a building.
Except in David Dhawan's Biwi No 1, it's the patni catching her pati red-handed, breaking the fast with his woh, which leads to all hell breaking loose.
Mohra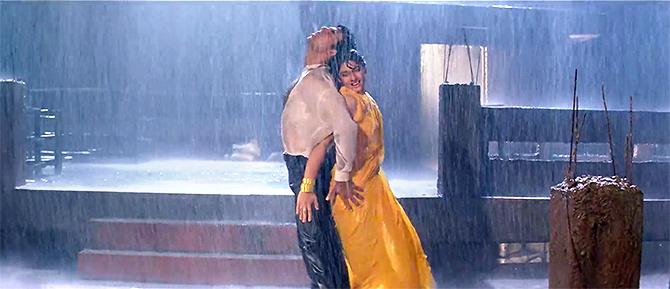 Inviting Akshay Kumar to investigate a non-existence case at an under-construction building's terrace turns out to be Raveena Tandon's ultimate act of seduction.
The upshot is little Tip Tip and loads of thunder.
Maine Pyar Kiya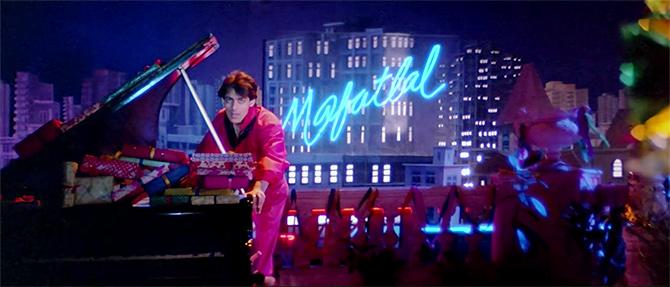 Salman Khan's private birthday party for Bhagyashree goes exactly as planned.
Not a soul gets a whiff of their midnight shenanigans or how they burned down the terrace floor dancing to Mere Rang Mein.
Chandni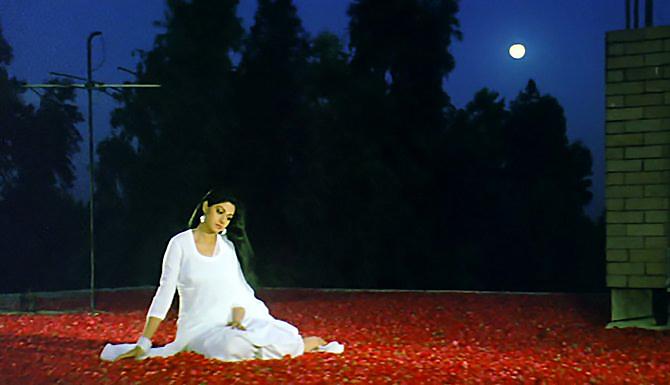 Reckless romantic gestures can be a really bad idea.
Chandni finds out the hard way after her beau's act of showering her terrace in rose petals from a helicopter lands him on a wheelchair.
Tezaab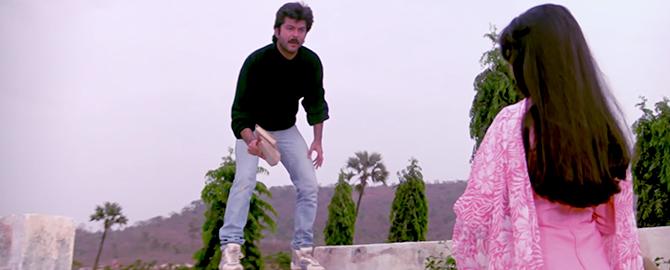 Anil Kapoor threatening to jump off the building if Madhuri Dixit doesn't accept his apology is the ultimate in Bollywood guilt tripping.
As is surviving it with just a few fractures and scratches.
Main Azaad Hoon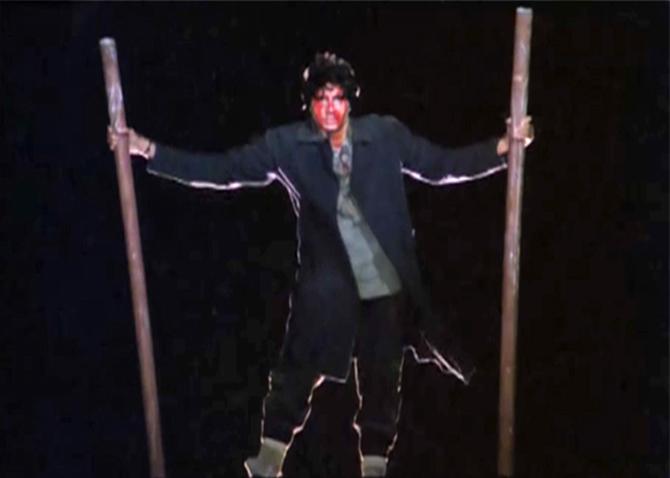 Tinnu Anand's remake of Meet John Doe shows Amitabh Bachchan dramatically leap off a building to prove a point about the systematic oppression of the underprivileged by the people in power.
Coolie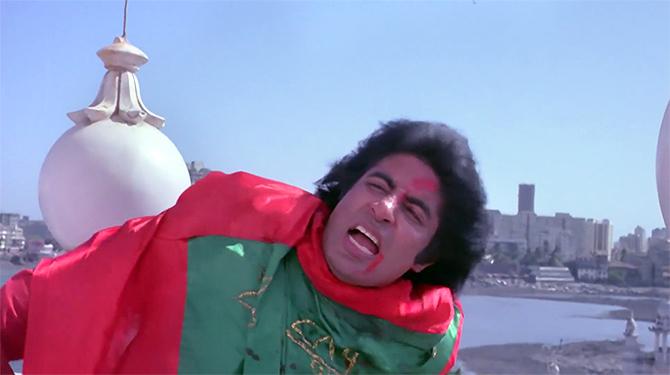 On the other hand, in Manmohan Desai's Coolie, the Big B famously survives a whole bunch of bullets in the final good versus bad face off atop the dargah roof.
Ek Duuje Ke Liye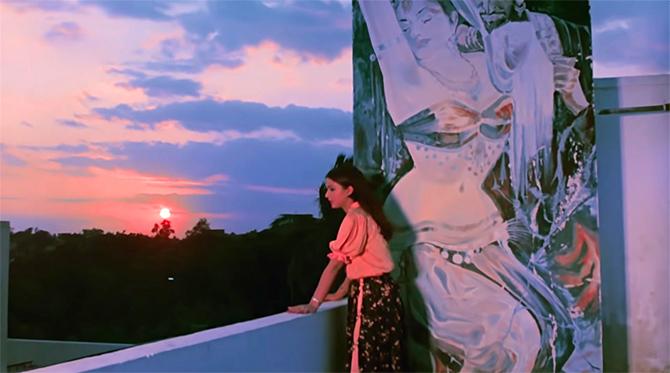 Rati Agnihotri's sea-facing terrace quietly watches her constant fascination, obsession and anticipation for next-door neighbour Kamal Haasan in K Balachander's potent romance.
Khoobsurat, Mili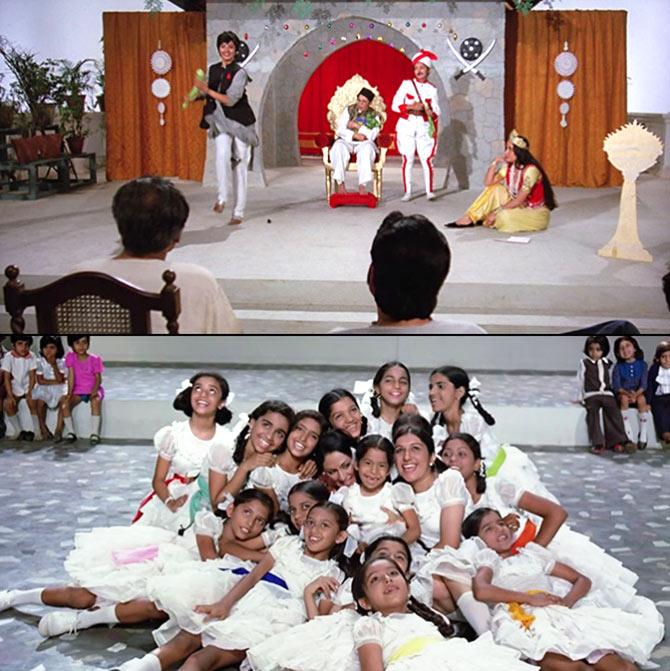 The terrace is almost a supporting character in Hrishikesh Mukerji's scheme of nirmal anand.
Where in Khoobsurat, it's the site of Rekha's secret rebellion to do fun things without catching the attention of disciplinarian Dina Pathak, in Mili it acts a bone of contention between a residential building's haughty occupant and his playful neighbour.
In both circumstances, it culminates into a creative song and dance performance.
Ajnabee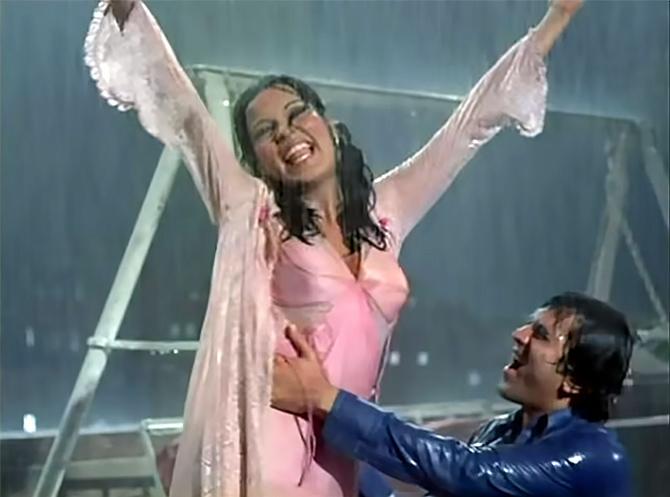 Rajesh Khanna and Zeenat Aman savour their rain-soaked 'chatth pe akele mein' rendezvous to the beats of R D Burman's sizzling Bheegi Bheegi Raaton Mein in Ajnabee.
Jab Jab Phool Khile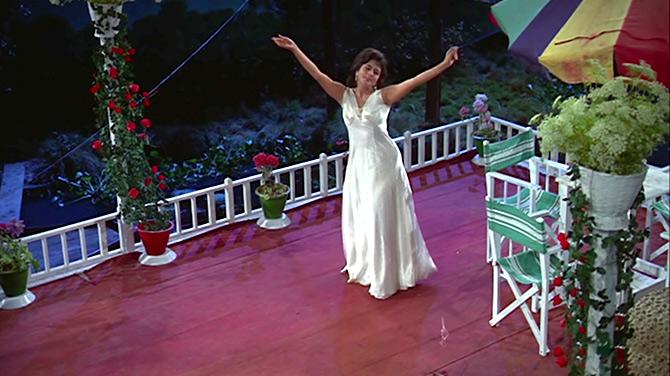 A hidden from sight Shashi Kapoor happily enjoys Nanda sway to Kashmir's scenic 'sama' and breezy romance of an open-air terrace in Jab Jab Phool Khile.
Asli Naqli
Who can forget Sadhana humming Tera Mera Pyar Amar in the privacy of her sprawling terrace in Asli Naqli?
Madhumati, Woh Kaun Thi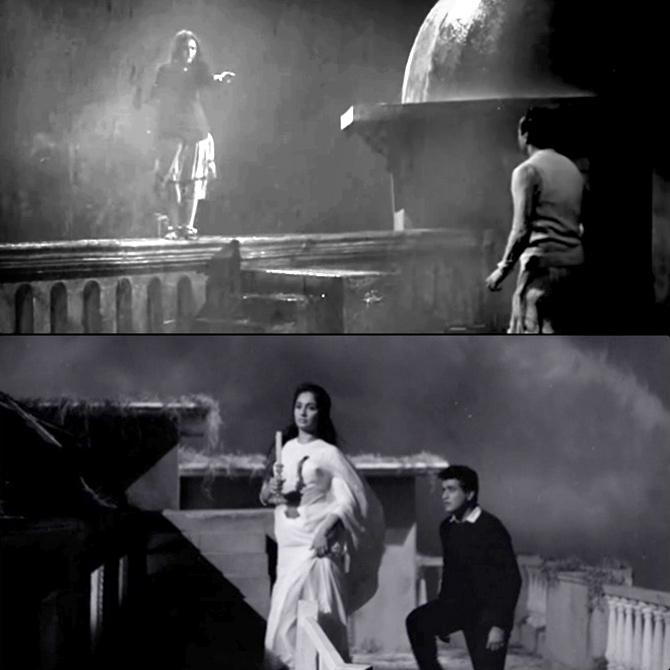 Suspense and spooky genres rely on the dizzying heights and potential hazards a terrace can provide as witnessed in Madhumati's leap of death and Woh Kaun Thi's spine-chilling pursuit for truth.
Awaara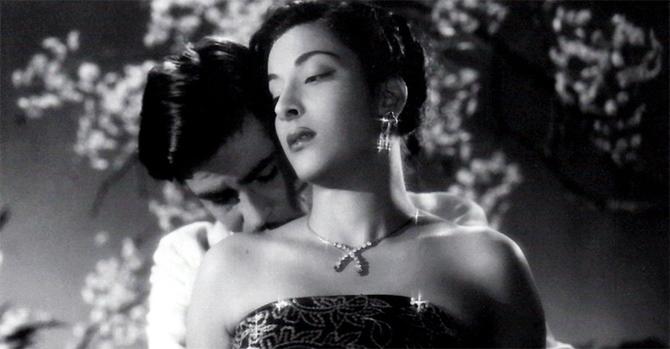 The famous terrace scene between Raj Kapoor and Nargis when the latter receives a necklace, he has stolen from her father, as a birthday gift, inspired the poster of the 1951 classic.
Feature Production: Aslam Hunani/Rediff.com