You'll never look at a red balloon the same way after watching the screen adaptation of Stephen King's acclaimed novel, IT.
Its sequel IT Chapter 2 marks the return of horrific clown Pennywise and his ominous red balloon.
In our movies though, they're mostly a symbol of joy, freedom and carefree childhood.
Sukanya Verma looks at some memorable balloon moments of Bollywood.
Anand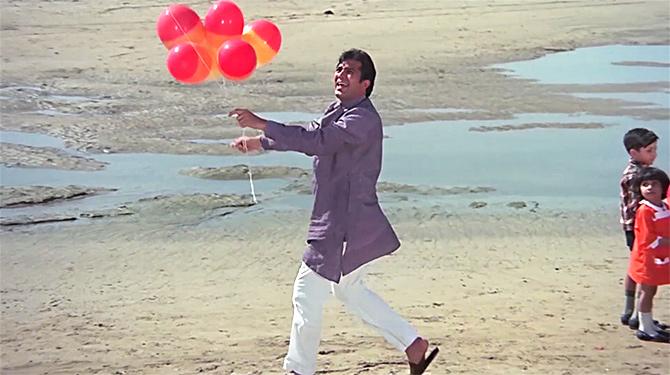 Rajesh Khanna's joie de vivre as the terminally ill Anand inspires the soul of his most cherished beliefs: Zindagi badi honi chahiye, lambi nahi.
During one of its most iconic scenes on a Mumbai beach, right before he bursts into Zindagi kaisi yeh paheli, the actor buys a bunch of balloons and releases them in the sky.
Letting go was never this simple or poetic.
Hum Kisise Kum Naheen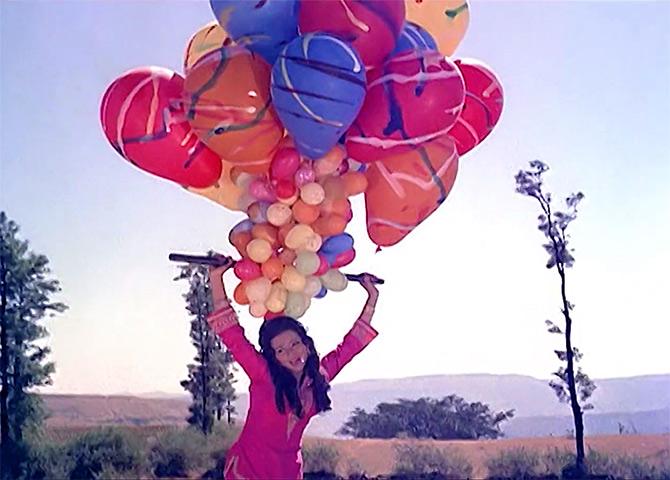 A lot of people wondered if they too could fly in the sky after watching Kajal Kiran take flight grabbing on to a bunch of balloons whilst pursuing Tariq in the middle of Yeh ladka hai allah in Hum Kisise Kum Naheen.
Dil To Pagal Hai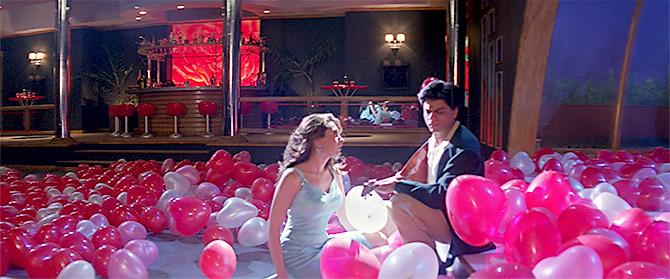 Shah Rukh Khan and Karisma Kapoor's fancy Valentine's Day celebrations in Dil To Pagal Hai always bring to mind a room filled with red and white heart shaped balloons. Filled with hope and dreams until SRK, quite literally, bursts her balloon.
Khiladi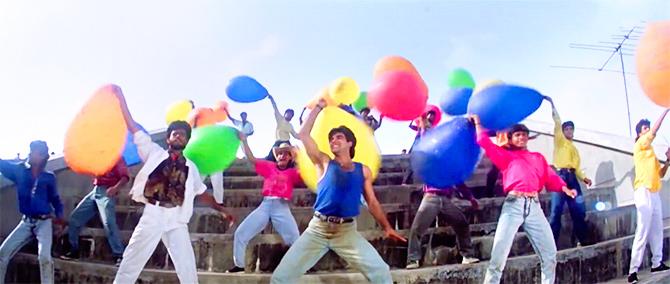 All kinds of strange props pop up in Khiladi's chartbuster campus song, Khud ko kya samajhti hai. Eggs, flour and the sight of Akshay Kumar and Co dirty dancing with giant balloons.
Dushman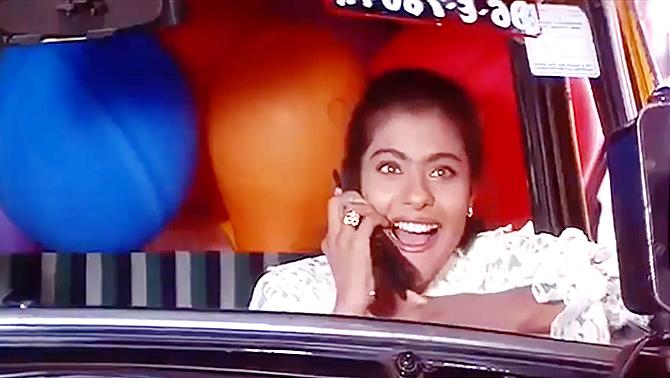 Balloons convey cheer but they're fragile and easily destroyed.
The scene shifts from excited to traumatic within seconds after Kajol's -- perched inside a cab filled with birthday balloons for her kid sister -- telephonic conversation with her twin is interrupted by a violent attacker.
Masaan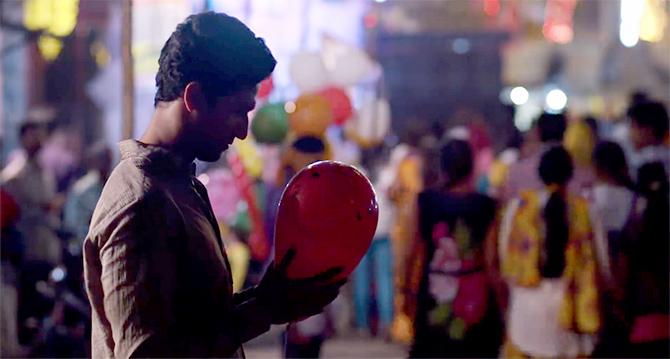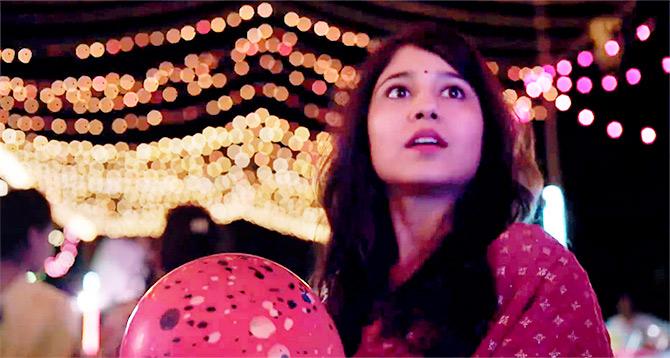 If you love someone, set a red balloon free. If they love you back, they will too.
Okay, that's not always true but makes for a rather sweet exchange of feelings in one of Masaan's most tender scenes where Vicky Kaushal and Shweta Tripathi speak volumes without uttering a single word.
Ek Villain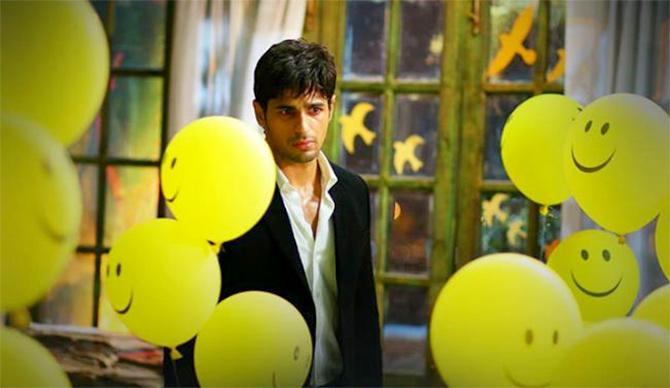 A room full of yellow smiley-faced balloons are witness to Shraddha Kapoor's mysterious assailant in the opening scene of Ek Villain. The sequence is revisited later again in the movie to disclose the attacker's identity amidst the aforementioned smiley balloons to rub in the irony.
Kapoor & Sons
Rishi Kapoor's birthday party is at the centre of Kapoor & Sons' narrative progress. And the imagery of this dysfunctional family celebration, memorable as it turns out to be for both the right and wrong reasons, is strewn in tons of blue, white and yellow balloons.
Agneepath
Hrithik Roshan's hardened character depicts a rare vulnerability on reuniting with his baby sister against the backdrop of the serene melody, Abhi mujh mein kahin baaki thodi si hai zindagi. What better than a bunch of colourful balloons and an outing on the beach to underscore this new lease of life?
Yaadein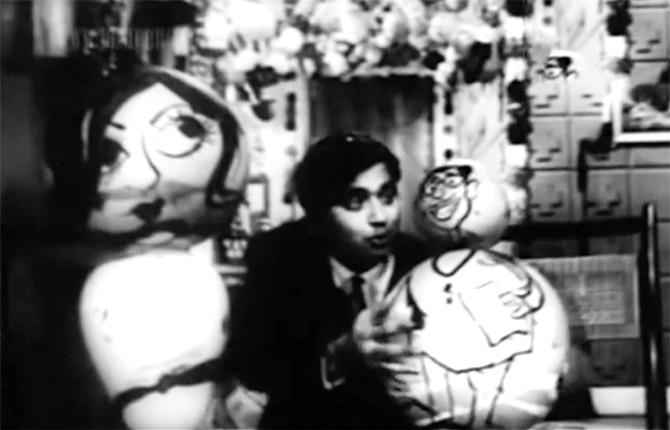 Illustrations and balloons stand in for real people in Sunil Dutt's one-actor experiment.
It's a distinctive touch and lends an unprecedented tone to its storytelling.
As our retrospective review of Yaadein notes, 'painted balloons at the party represent people who are all gas, little substance.'
Queen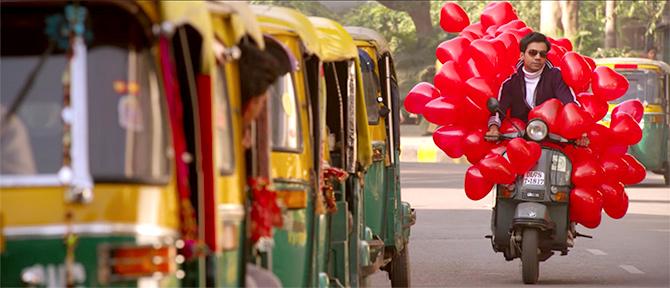 Before he shows his real schmuck face and dumps his bride-to-be a day before the wedding, Rajkummar Rao appears on a bike full of red heart-shaped balloons and romantically proposes to his ladylove Kangana Ranaut.
Dus Kahaniyaan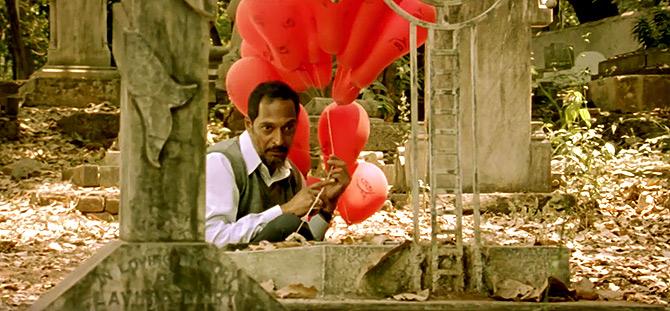 Nana Patekar appears in a segment titled Gubbare of the Dus Kahaniyaan anthology as the 11-red-smiley-balloons-gifting husband to pacify his wife. Except she's long dead and he visits her grave regularly with a bunch of balloons and an apology card.
'Gubbare jab aise aate hain toh aisa lagta hai tu lappet rahi hai mujhe,' he smiles.
The Balloons of World Cinema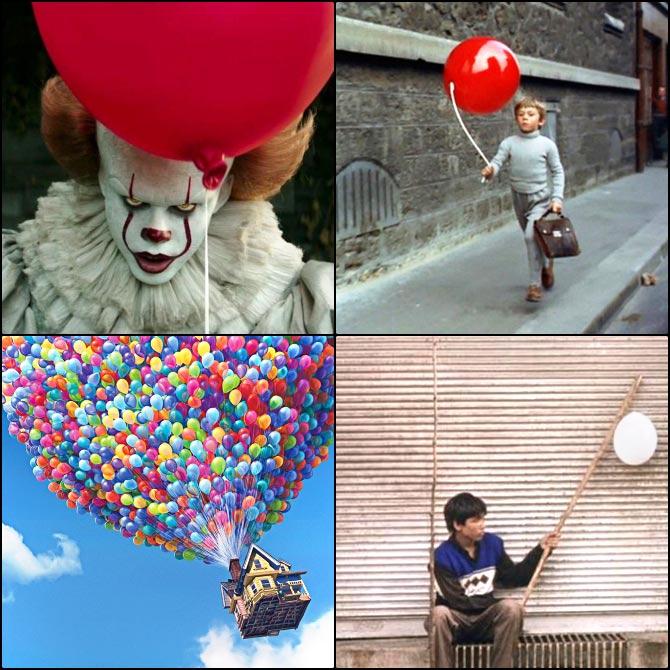 On the international scene, movies like Hollywood's IT, Pixar's Oscar-winning animation Up, French short classic, Le Ballon Rouge and Jafar Panahi's Iranian gem The White Balloon have ingeniously employed the balloon to memorable effect.