'We are facing the most critical military situation with China in the last 50 years.'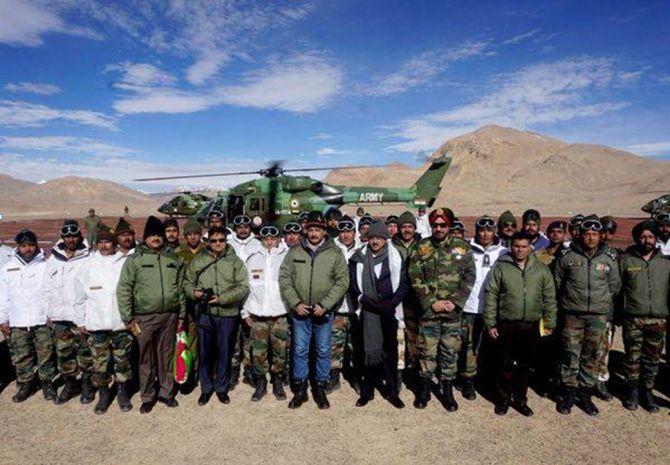 "The Indian Army is more experienced in high altitude warfare: we have fought in Kargil and been in active combat in the Siachen Glacier. The stature, equipment, readiness, motivation and hardiness of our troops is of a very high order."
Lieutenant General P J S Pannu (retired), former commander of the Leh-based XIV Corps, served several tenures on the Line of Actual Control during his four decades of service in the Indian Army. The general also commanded a brigade at Uri on the Line of Control.
In the concluding segment of the general's interview to Rediff.com's Archana Masih, he explains the reasons behind the Chinese belligerence and what sets the Indian soldier apart.
As an officer who served several tenures on LAC, how serious is the situation on the India-China border? How does it compare to what we have faced in the past?
We are facing the most critical military situation with China in the last 50 years.
After 1967 when there was an exchange of fire, the next benchmark was Dokalam.
(88 Indian soldiers lost their lives in the clash in Nathu La in Sikkim in 1967. More than 300 Chinese troops were killed.)
In the Dokalam stand-off, the two militaries were eyeball-to-eyeball.
As someone who has dealt with the PLA what do you see as the way forward?
China respects strength, and I think they need a little demonstration of our strength.
When they clashed with the Indian military in Galwan, they would have realised the capability of the Indian Army.
The news reports in the last few days about the graves of nearly 50 Chinese soldiers killed in the Galwan clash must have caused great embarrassment to the Chinese. The Chinese wanted to conceal that fact, but now it is out in the open.
This might lead to some perception management by them to demonstrate to the public that PLA and the Chinese are strong.
Maybe they will try to take some proactive action to prove this to their own people because that is how they get respect.
China is taking a risky path even in the South China Sea by challenging the US in open navigable international waters.
I think they are trying to prove a point to the world that they are strong to cover up the mistakes of COVID-19.
The Chinese are making repeated mistakes to prove their own strengths. I would not rule out the possibility of future action on the Line of Actual Control. It might happen.
So you are saying that we cannot rule out a war?
Today's description of war is different from what it was decades back.
Today, an all-out war is not only about two armies, air forces and navies fighting it out.
In present times, the non-contact arena has grown bigger, which includes a cyber war, missile positioning and exploring the dimension of nuclear sabre-rattling as war deterrence.
Alliances will be made with other countries to strengthen our position. I think the dimension is very, very, complicated and can have global ramifications.
If the Chinese get cautious about the global ramifications where most countries agree to disagree with China, they might try to mend their ways politically.
But if President Xi Jinping is ill advised by the PLA and Communist Party, he might continue to make mistakes, and the consequences would be devastating for the entire globe.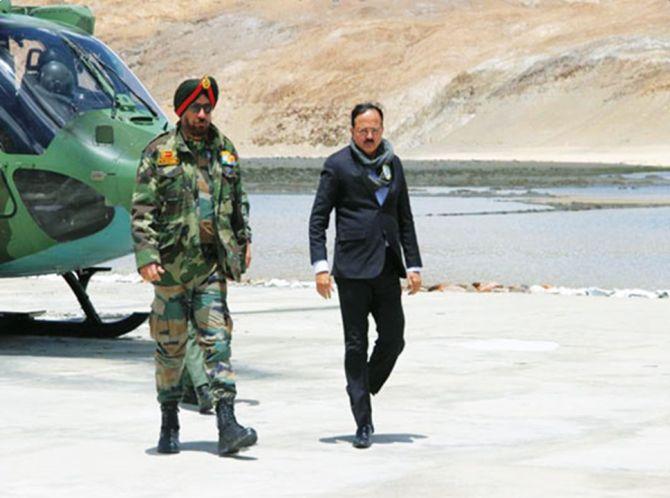 Would it have been prudent for the Indian Army to counter Chinese action by intruding into Chinese territory where India had a military advantage? Would that have provided some bargaining leverage with the Chinese?
I would not rule it out. It may have already happened. Nobody is saying that it didn't happen.
Maybe this is already a bargaining leverage that we have.
Since I'm not there, I cannot speak for certain that it has happened, but my logic would say that this would be part and parcel of our overall military strategy.
As a soldier who served in that area, could you tell me what is the life of a soldier on the LAC?
I come from a traditional military family and so does my wife. Soldiers think very differently. It is a matter of honour for us to be engaged in combat because that is what soldiers are trained for.
The morale automatically goes up when there is a possibility of military engagement. If he does not get the opportunity in his lifetime to fight a war, a soldier feels dissatisfied.
After all, he trained himself to fight and win wars.
If he hears a shot being fired or that some soldiers have already gone into action, he gets goose bumps.
He wants to honour the naam, namak, nishan of his unit. He wants to say 'Paltan ki jai, Bharat Mata ki jai' and go into battle.
Soldiers belong to a very different corps of humanity.
How has the Indian Army matched up to the Chinese over the years?
We are no longer the army of 1962. We have grown manifold, we are equipped, trained, motivated, have built infrastructure and are dominating the area.
The Chinese have no war experience, whereas the Indian Army has been facing a bloody proxy war on the Line of Control with Pakistan and confrontation even on the Line of Actual Control.
The Indian Army is much more experienced in high altitude warfare: we have fought in Kargil and have been in active combat in the Siachen Glacier.
The stature, equipment, readiness, motivation and hardiness of our troops is of a very high order.
The Chinese troops may have better equipment and gear because China is a manufacturing and hardware hub, but how good is that equipment has not been put to test as yet.
Ladakh is a region where India faces a two-front threat. How can Pakistan be prevented from exploiting the situation?
Pakistan has become a mercenary force. One that will do anything for anybody for a fee. They have maintained a division for Saudi Arabia for which they are paid by the Saudis.
They have also raised two divisions for protection of the China-Pakistan Economic Corridor and China has paid for it.
There were also reports that they are supplying bullet-proof vests and equipment to the terrorists in PoK.
Given money and motivation, the Pakistan army would go on to help jihadi groups.
They might be tempted to use proxies initially, but I don't think the Pakistan army would want to get involved in Ladakh because it will get decimated.
The Chinese would actually encourage the Pakistan army to get decimated first and use them as cannon fodder in high altitude warfare where the Chinese are not really trained and motivated to fight.
So if Pakistan has matured enough, they would understand this Chinese game plan. The Pakistan army and polity might just play into the Chinese hands and get decimated at the hands of the Indian Army.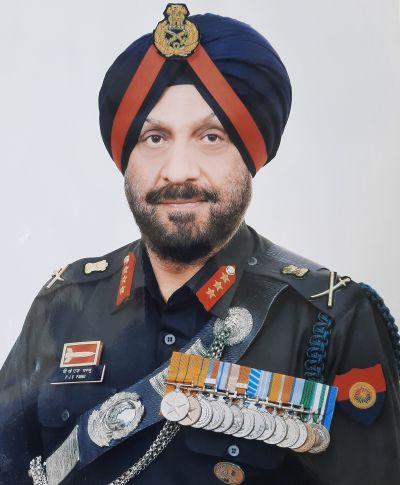 Do you remember your first posting at the LAC?
It was four decades back when I was first posted to the McMahon Line (the border between India and Tibet) in NEFA (later, Arunachal Pradesh).
We did a lot of patrolling in that area.
It was 20 years since the 1962 war and there were no Chinese troops over there, and we often talked about what happened in 1962.
We had lost Tawang in 1962, but the Chinese had to vacate it because they did not have the wherewithal to stay there in the winters. They had come 1,800 kilometres through disturbed Tibet. They had to recoil because of lack of logistics and the absence of support from the Tibetans.
Around 1982-1984, the Chinese again started making certain statements and started building a perception on the claims on certain areas. That was the time when a forward posture was adopted by the Indian Army and we started taking up defences in Tawang.
I was posted out after that, but in 1986 the Chinese crossed the LAC and occupied Sumdorong Chu in Tawang district which they haven't left yet. There has been a hardening of position by the Indian Army since then and I saw that happening as a young officer.
In 2014, I went back as divisional commander in that area and saw that there were an increased number of Chinese units close to our positions. They patrolled aggressively and claimed areas more aggressively. It was much different from what I had encountered as a young officer in 1982 when you hardly saw any Chinese troops.
There were many face-offs in the Tawang area too. Similarly, there have been issues in Chumar, Depsang and Dokalam.
In the last 40 years, the Chinese have only grown more belligerent. They have set up more military units and logistics bases. They have developed infrastructure in Tibet -- railway lines, huge highways that can enable quick movement and better sustenance.
They have also built more airfields.
If they don't withdraw to their bases on LAC, it will result in an eyeball-to-eyeball situation, similar to what exists on the Line of Control with Pakistan.
Feature Presentation: Aslam Hunani/Rediff.com