'The Chinese -- up to the highest leadership -- will avoid a conflict because they know they will be badly licked.'
'The reputation they have painstakingly built over the last two-three decades of being a global power will be destroyed.'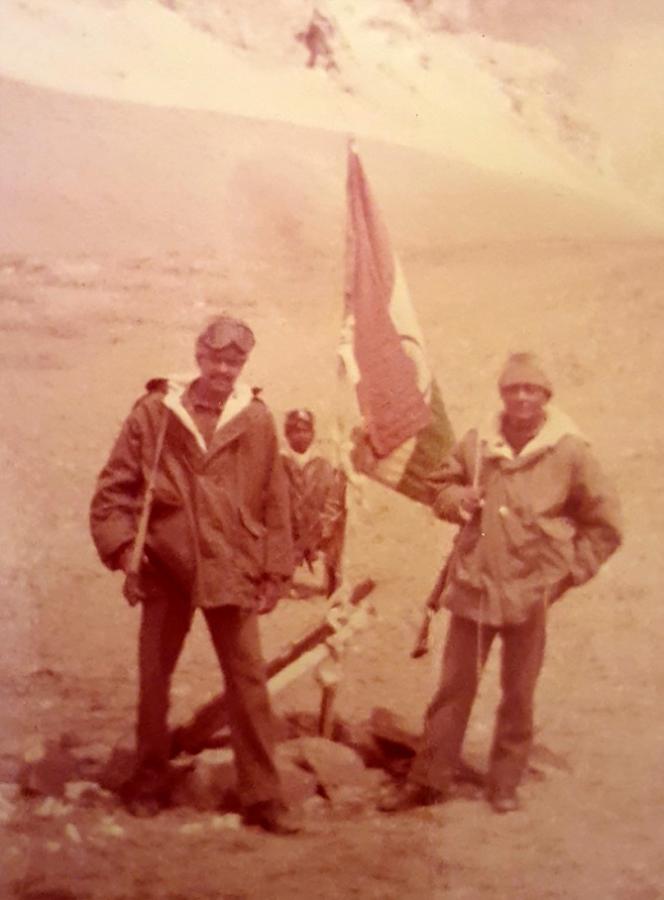 Major General Somnath Jha (retd) encountered Chinese troops for the first time as a young lieutenant on a patrol to the Karakoram Pass in 1984.
The PLA troops were kitted with superior winter gear to battle the extreme conditions at 18,000 feet, while the Indian troops wore ordinary boots and jute balaclavas in those days.
But what set the Indian troops apart was their physical and mental fortitude.
"The Chinese had come to the base of the mountain slope in a vehicle while we had trekked for 5 days," remembers General Jha who served three tenures -- 1984-1985, 1997-1999, 2008-2009 --in Ladakh during his 37 years of service in the Indian Army.
After retirement, the general cycled through India for six months in honour of every martyr who has sacrificed his life in the line of duty.
Just before COVID-19 forced the country into a lockdown in March, the army veteran moved to a patch of land outside Nagpur to begin another chapter in life. This time as a farmer.
Perched under a tree, he spoke to Rediff.com's Archana Masih. The concluding segment of a two-part interview about the new challenges at the LAC and how best to confront them.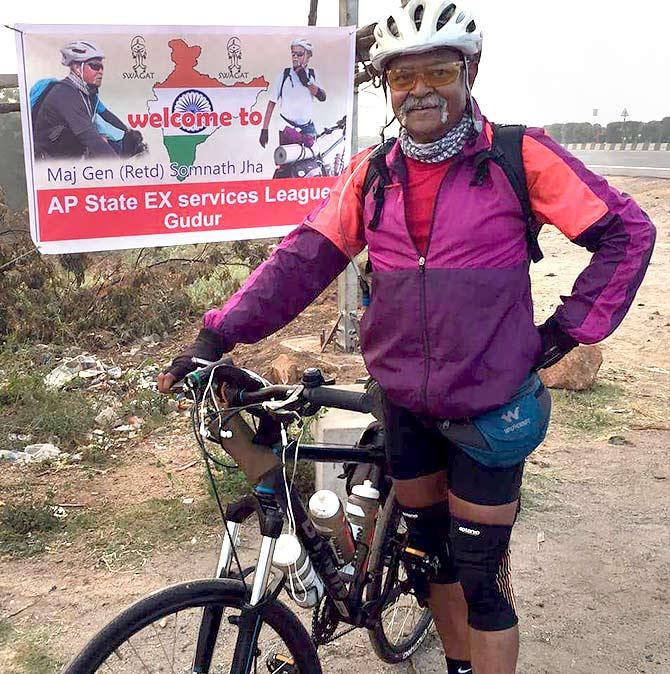 As a soldier who has served both on the Pakistan and China borders, what is the difference between Pakistani soldiers and troops of China's People's Liberation Army?
The Indian Army is far superior to the Chinese. Their troops are no match. The PLA troops are poor soldiers.
As a private citizen with 37 years in uniform and having served in that area I wanted a limited war (after the sacrifice of 20 Indian soldiers on June 15). But the Chinese -- up to the highest leadership -- will avoid a conflict because they know they will be badly licked.
The reputation they have painstakingly built over the last two-three decades of being a global power will be destroyed.
They are an economic power and show off their military on various occasions, but in a real conflict -- whether in the South China Sea or in Eastern Ladakh -- they will get a whipping. The Chinese will avoid that.
Do you remember your first encounter with PLA soldiers?
The first time I saw Chinese soldiers from very close was in 1984.
I was a young officer in charge of sub-sector north and used to patrol the entire Galwan Valley and Depsang plains.
We were on a patrol to the Karakoram Pass along with the Ladakh Scouts.
The Scouts are exceptional soldiers. They are not soldiers, they are warriors.
They are the bravest troops I have had the honour to serve with.
As we climbed the slope of the path, two Scouts ahead of me spotted Chinese troops on the other side. 'Sahab, udhar Chinese hai,' they told me. I got very excited and started scrambling up.
I looked down and saw the Chinese patrol coming up. I signalled to the rest of my patrol and they came up quickly.
The Chinese saw us and we waved our hankies at each other.
Their patrol leader walked up and we shook hands right on the Karakoram Pass which was located on the International Border. At least in those days it was not part of the LAC.
We were deployed at heights of 18,000 feet and in those days the Indian Army's clothing was pathetic.
The Chinese had nice jackets and full headgear with fur inside their caps, while we had ordinary boots and balaclavas made of jute!
In spite of their fancy clothing, most of them were white in the face. They looked cold and miserable.
At the foot of their slope I spotted a vehicle. They had come to the base of the Karakoram Pass in a jeep while we had walked for 5 days to reach there!
Our standard drill once we got to the top of the pass and after doing whatever we had to do was to make tea for ourselves before we headed back.
The Ladakhi boys used to carry some wood chips and light a fire. Only they could light a matchbox in those strong winds. The flames would slant sideways, parallel to the snow and wouldn't rise up because of the wind.
Tea was made with condensed milk and chai patti mixed in a tin which would be held at the edge of the flame.
We gave the Chinese some tea and I remember they were grateful.
The one thing everybody is getting agitated about is that the LAC has been pushed inside, towards our side at certain places of friction.
Those lines depicting the LAC have been drawn by some retired generals after an evening drink and happy media people (laughs]).
And that buffer zones have been created in these places which cannot be patrolled by either side now.
There was always a buffer zone.
Like I said earlier, unlike the LoC, where we are eyeball-to-eyeball and under observation and fire from both sides -- the LAC is patrolled from encampments well in the rear.
There was always a buffer zone between their area and ours in any given sector.
No one called it the 'buffer zone' earlier, this word has come up in the last month or so.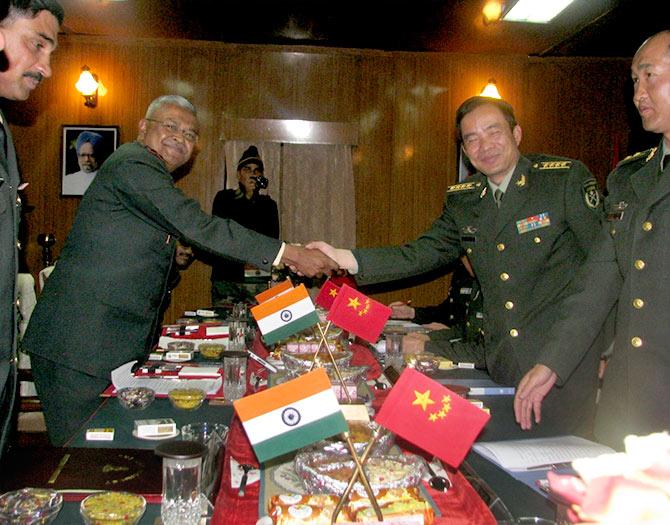 There are reports that we have lost territory and that the PLA has 'salami sliced' some of our territory.
Every dispute of the past has involved them coming inside our perceived area and returning to their encampments after some time.
We would patrol up to a point and they would do the same.
In the Finger area, both countries have observation posts. There no OPs in the Galwan Valley.
Let's say a patrol of ours would go up to Finger 8 or the Karakoram Pass.
As per our protocol, we would leave litter like food cans, used cigarette packets, sometimes sealed cigarette packets and sealed canned food.
These were tell-tale signs for the Chinese that the Indians had come up to this point and left these gifts behind.
When I was commander, I told the troops not to leave litter, but canned food, cigarettes and match boxes.
This way we would leave evidence that we are patrolling up to this place. That was the modus operandi.
That is how it was and this system will have to be resolved.
Now that the border seems to have been taken over by Beijing instead of the local Chinese brigade commander, Delhi and Beijing will have to sort this out. It has gone beyond the level of the local commander.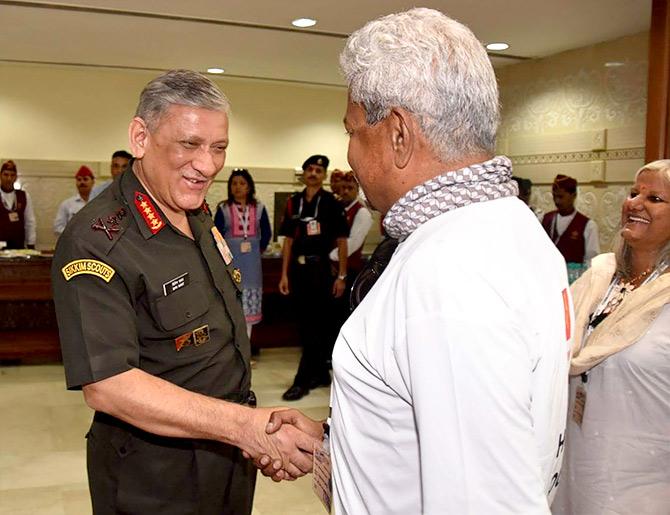 You have explained very well how local commanders handled the situation on the ground. There was a way things were done on the ground all these years. Don't you think that will change now?
It will depend on how the Chinese have altered the agreements between us.
When I was posted there (2009), I was adhering to the agreements which spelt out very clearly as to how our patrols would behave and what was and wasn't allowed.
If we had to make a permanent construction, how far would it be from a particular area. Or if we had to build a temporary construction, we had to ensure if it was allowed and if it was -- how long could it stay up.
Those guidelines were very clearly given, they were being followed until now.
This time, the Chinese stopped following these guidelines and got physical. This is not permitted as per the agreement between the two countries.
Our patrols will now have to be more cautious. Maybe we will have to draw new rules of engagement which clearly lay down the circumstances under which our troops can pull out their weapons from behind them and put them to use.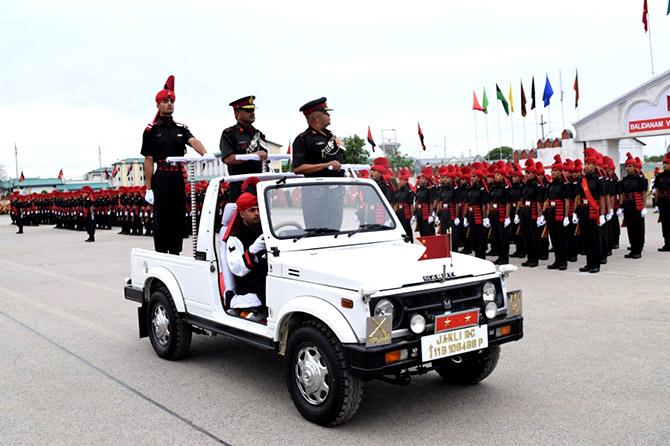 Do you think the Indian Army will have to forego patrolling rights in certain areas that it patrolled before?
We will not forego our patrolling rights!
The Indian Army will still launch patrols to areas we think lie in our limits exactly like it has in the past.
Face-offs will happen like they have been happening in the past. Whether every face-off in the future will also turn violent or not is anybody's guess.
Maybe, like I said, our patrols will be in greater frequency and numbers.
Yes, some patrols will be prevented by Chinese action to go up to the point peacefully and some patrols will be successful with the Chinese not even getting a whiff of it.
I remember in the Finger area in my time, we knew that the Chinese had a claim up to Finger 2, so our patrol would start at Finger 1 at night and by the time day broke, we were already at Finger six or seven.
By the time the Chinese observation post spotted our patrol and warned its garrison, our patrol had already reached, left our little gifts, taken pictures, done whatever they were tasked to do and started back.
Many a times our patrols would encounter them by accident and come face to face, but they would disengage. They did not get physical.
The patrol would radio back and take instructions from the commanding officer and accordingly follow orders.
I was very clear that my job as a commander in Eastern Ladakh was to maintain peace and tranquillity.
My job was not to draw lines, but that may have changed. The Chinese have changed it definitely this time.
The rules of engagement are mentioned in the three agreements between the two countries and we may now need a new agreement.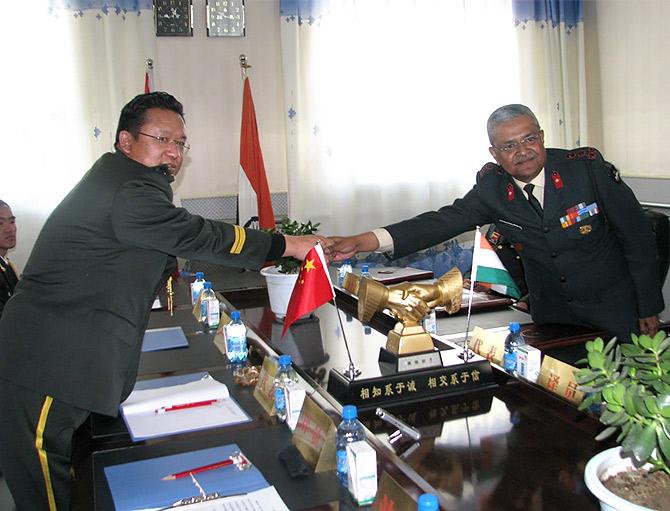 What does it entail to guard India's borders?
The Indian nation raised a few forces to police its borders. The BSF is responsible for the International Border between Pakistan and as well as between India and Bangladesh.
The Sashastra Seema Bal polices the Nepal-Bhutan border.
The Assam Rifles polices the border between India and Myanmar.
The ITBP was raised to police the border between India and China.
The international border between India and Pakistan or India and Bangladesh is not disputed. On the LoC in J&K, the army is in charge and deployed. They do not police, but guard the border.
Police forces are primarily for anti-smuggling activities, and keeping a watch over illegal crossings.
The LAC is disputed and a flashpoint where future wars can take place.
In the earlier days, except for Arunachal and Ladakh and some pockets of Himachal Pradesh and Uttarakhand, there was no dispute with China.
There was no dispute in Sikkim on the alignment of the border between India and Tibet.
Both ITBP and Indian Army are deployed in Ladakh. ITBP also patrols a few routes.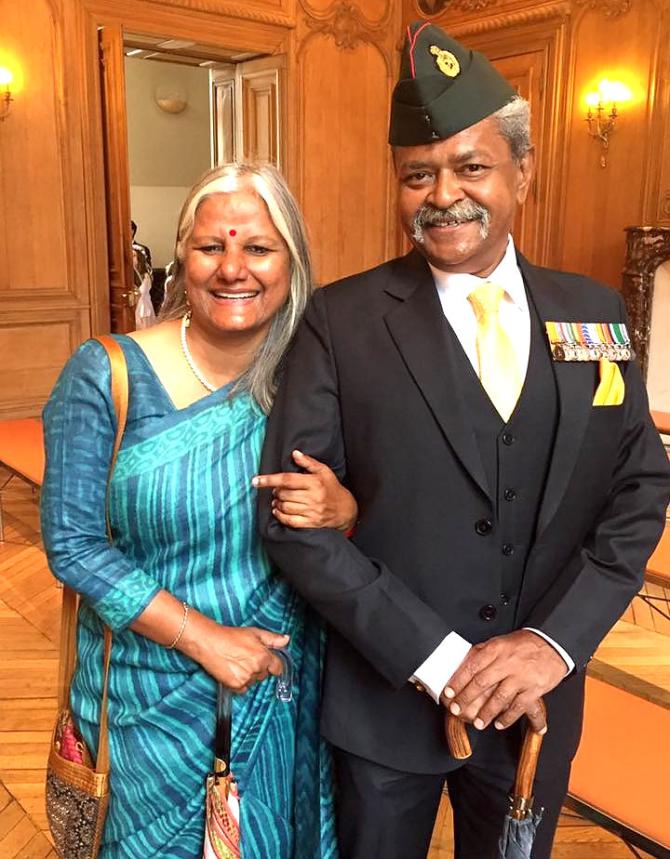 There is a joint responsibility, but when it comes to talking to the Chinese counterpart, the army does it all.
This system doesn't work out very well and needs to be resolved. Either the entire border area of Ladakh should be handed over to the ITBP and the army withdraws into their encampments ready to move in case there is incident -- or it must be very specifically laid down who is the lead organisation.
If the army is in charge and the ITBP is deployed on the same line as the army, then the ITBP should train and take orders from the army and vice versa.
This needs to be sorted out.
Feature Production: Aslam Hunani/Rediff.com