How China's all powerful Communist party bungled the response to the coronavirus crisis.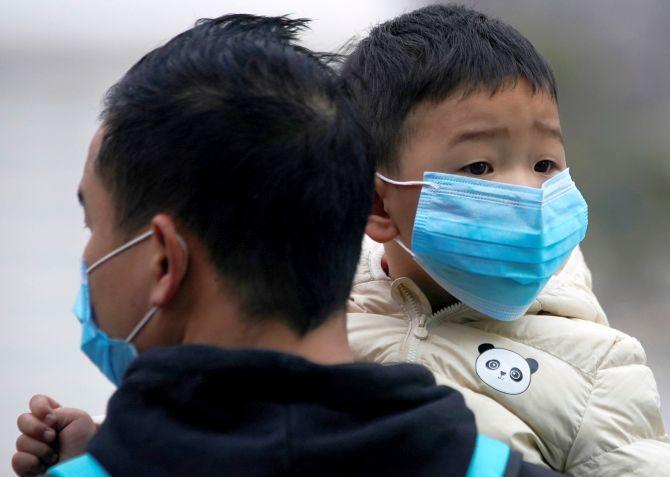 Srikanth Kondapalli is the professor in Chinese studies at Jawaharlal Nehru University.
One of India's leading experts on China, Professor Kondapalli explains China's response to the coronavirus, which first erupted in a seafood market in Wuhan, to Sheela Bhatt. The first of a two-part interview:
What are the lessons India should learn from China?
China's political leadership's argument, despite Dr Li Wenliang and others's suggestions, was that this is a new virus whose characteristics are not known and hence pleaded time to assess from November to January 23rd.
In the interregnum, it is estimated that over 5 million left Hubei province during the spring festival break.
China ordered everyone to be confined to their homes. It built huge hospitals for treatment to treat COViD-19.
The 'model' that soon began to unfold included A complete ban on any visits, a blanket ban on information sharing (with whistleblower journalists arrested or vanished), dismissal of the local leadership, sending over 40,000 well-trained medical personnel from other provinces.
While China says that over 3,000 people were killed, other estimates put it as a lakh or more.
The truth may not be never known given the lack of information.
In this model, once Wuhan was shut down, infections in other parts of China have been relatively contained.
Also, the (Communist) party-State integration led to a cohesive response after January 23rd, although it was a highly top down approach.
A second 'model' of addressing COvID-19 is that of the responses of South Korea, Japan and Taiwan although each of these had a slightly different flavour.
Overall, when the virus spread, mainly from Chinese visitors, all the three nations swung into action, tracked intensely the trail of these infected persons and selectively quarantined the affected.
The rest of the population is free without any curbs except those who recently arrived from abroad.
All these three had relatively a smaller number of casualties and prompt medical attention.
All the three nations also had regular medical education disseminated in schools and educational institutions and as such their cultural and social conditions are conducive to address such outbreaks.
Their medical progress has also been higher as they invested heavily in this sector. The State intervention here, if any, has been discreet with no collateral damages unlike in China.
A third 'model' is that of Western countries like Italy, Spain, Germany, France, the UK or the US.
The medical health status here has achieved substantial progress and their investments in this sector per capita is considered to be one of the highest in the world.
Of course, they have also been prone to influenza, foot and mouth disease and other pandemics.
The largest number of casualties are unfortunately reported from these countries as the contagion spread.
Various reasons were mentioned in the local press including the influx of Chinese labourers, tourists, settlers as a part of the Belt and Road Initiative of China, direct flights to Wuhan and the rest of China, lax social habits in the light of the contagion and others.
A fourth 'model' in the making is that of India. While the numbers of infections are low at around 2,000 and 35 deaths, the first measure that India took is to ban flights to and from China, evacuated over 700 Indians from Wuhan, provided 15 tonnes of medical support to China, quarantine the evacuees in ITBP centres.
However, most of the infections came from unexpected quarters -- infected travellers from Europe and West Asia.
India's efforts are a one-day Janata Curfew and later a 21-day lockdown. India announced direct cash and food provisions to the needy, allowed the media to report freely, restrict other activities to essential services.
Regular and live telecast of the respective ministries's press conferences are made. As the per capita investment in India on medical health is low, many suggested to millions of casualties.
There was a speculation raised about the mounting infections among migrants, but none so far have been reported by the press.
India also had extended $10 million in aid to the SAARC countries for coping up with the virus spread.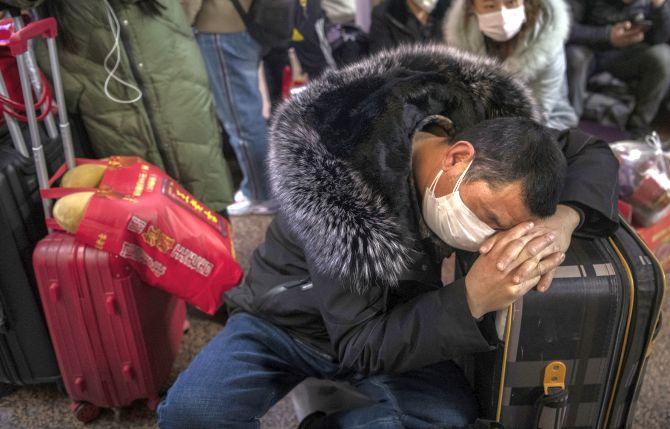 Coming to the ongoing controversy about the origin of the coronavirus, is there any authentic and specific information emerging on how the coronavirus emerged? How did it spread?
While the first reports about the detection of COVID-19 came as early as December 8, 2019 (some reports suggest as early as November 2019) from the Huanan seafood market in Wuhan, it was closed only on January 1, 2020 a day after a local doctor, Li Wenliang, alerted about a new virus in circulation.
He was silenced, but became a victim of the virus eventually on February 6. Over 500 million netizens viewed his story and the party was forced later to acknowledge his contributions.
The Wuhan health commission was in denial mode or obfuscating the extent of viral infections as early January coincided with the 'two sessions' of Hubei province.
This was the time when the first cases outside China -- in Thailand and Japan -- were reported.
President Xi Jinping was conspicuous in not mentioning COVID-19 during his spring festival eve speech on December 31, 2019 at Beijing, giving legitimacy perhaps for lower level cadres at Wuhan to participate in the mass celebrations, thus spreading the virus.
Soon after information broke out, a small leading group was established to address the coronavirus issue with Premier Li Keqiang as the chair.
A quarantine on Wuhan and Hubei province with over 56 million people was announced with restrictions on the movements of people.
A one billion yuan (about $140 million) outlay was made to build two major hospitals at Wuhan and for other medical purposes. 4,000 medical personnel from the armed forces were despatched to Wuhan in three batches.
In addition, 2,600 personnel were despatched as the confirmed cases mounted in the second week of February.
In the top down political system of China, it is natural for officials to take cue from the central leadership's announcements.
The grave situation resulted in an unprecedented four meetings of the top politburo standing committee (PBSC).
The fourth meeting was held on March 27. Xi issued instructions on the epidemic on January 20.
The PBSC meeting on January 25 -- two days after the quarantine on Wuhan city was implemented -- with Xi chairing the session on epidemic prevention work.
Another PBSC meeting was held on February 3 that called for 'telling the moving stories of how those on the front line are preventing and fighting the virus' and showcasing China's unity.
It also directed the propaganda department to 'guide public opinion and strengthen information control'.
Xi alluded to the negative effects of restrictions on economic progress. Vice Premier Hu Chunhua, taking a cue from Xi, stressed in a teleconference that stable employment opportunities should be created for resuming production.
Hu, belonging to the tuanpai (Communist Youth League), and now head of the small leading group on poverty alleviation and development, had on February 5 held a teleconference to stress ensuring supply of agricultural products across the country and unblocking supply chains while preventing the virus epidemic.
On February 10, Xi -- termed by the official media as the 'commander of the people's war gainst the epidemic' -- for the first time appeared in public and inspected a local epidemic prevention and control centre where he praised the morale, spirit and determination of health workers.
On March 10, for the first time, Xi visited the epicentre of the COVID-19 announcing victory. Earlier, in an unusual criticism, he said China should fight 'devils'.
The official narrative has been that at the provincial level the local Wuhan government mishandled the situation by cover-up of the outbreak of COVID-19, possibly not to disturb the celebrations for the 'two sessions' (Provincial People's Congress and the advisory body meetings) and the public feasting of over 40,000 people on the spring festival eve, thus aggravating human-to-human transmission of the virus to spread further.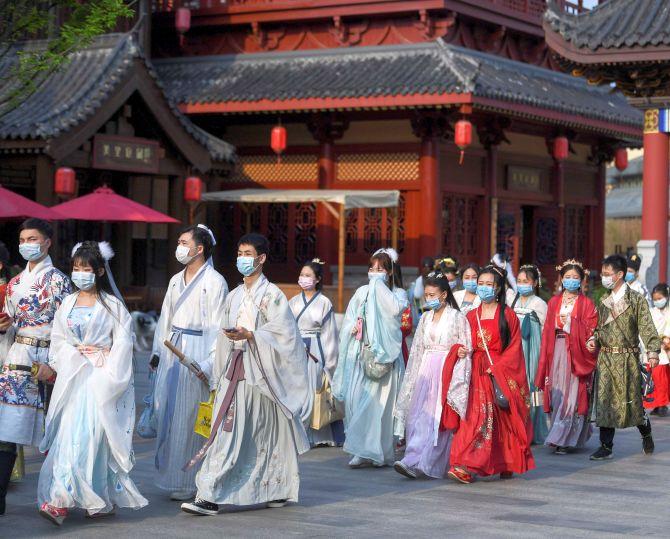 Wuhan Mayor Zhao Xianwang justified by stating that the health commission's notices did not indicate any looming danger.
Moreover, another spring festival gala celebration were held on January 21 with participation provincial party chief Jiang Chaoliang and governor Wang Xiaodong in attendance.
On January 23, the city was locked down even as over 5 million people fanned out for the spring festival holidays.
The central leadership by all counts followed the beaten track -- that is deflecting blame on local officials and mobilising massive resources to counter the virus.
On February 10, the Hubei party committee removed Zhang Jin and Liu Yingzi, party chief and director of the provincial health commission, replaced by Wang Heshang.
Local officials like Wang Baoquan, party chief of the Huajiahe township -- the epicentre in Wuhan -- and Peng Zhihong, deputy party chief were dismissed.
More officials are being 'investigated' including Wuhan deputy mayor Chen Xiexing and two district chiefs, Lin Wenshu and Yu Song.
On February 13, Jiang Chaoliang, who mainly headed several banking institutions before heading the top Hubei party position in 2017, was replaced by Shanghai Mayor Ying Yong. Wuhan party secretary Ma Guoqiang was replaced by Shandong's Jinan city party secretary Wang Zhonglin.
Ying Yong worked with Xi before and is said to part of the new Zhijiang army faction. Ying's appointment at this crucial juncture is to send signals of Xi's personal involvement to counter COVID-19, restore order and restore economic growth rates.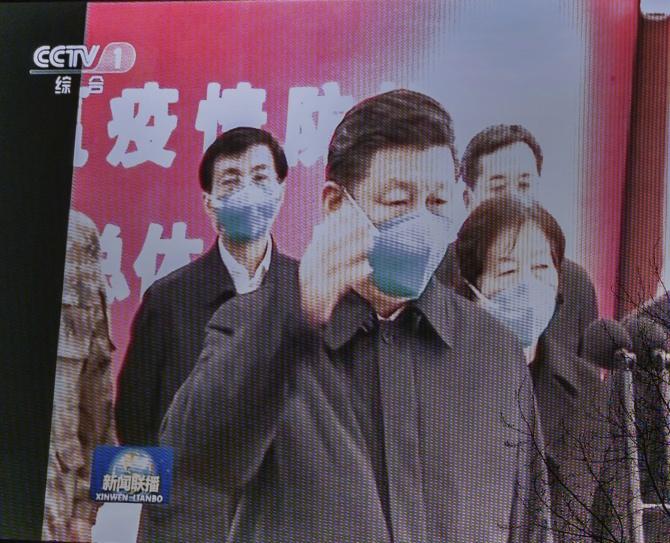 How did the Chinese media and its social media cover the COVID-19 crisis?
China's media is governed by the Communist party's central committee's propaganda (recently renamed as publicity) department's directives.
All journalists in China -- print and electronic -- need to obey the guiding principles provided by this department.
There is a rigorous evaluation method to assess the reports of the media in China.
In general, while media counterparts abroad insist on acting as ombudsman by insisting on the accountability of the powers that be, China's media has to abide by handouts from the powers that be with rare exceptions.
In general, while there is freedom to choose topics of interest and to speak, all written reports have to be vetted by the party committees, including in the media.
As sorting out the millions of reports is a humongous task, those articles written by journalists which are 'deviating' from the party line are singled out for punishment.
In the case of Wuhan and Hubei province lockdown, while China's media reported the handouts of the local provincial leadership, it is queer that despite the looming crisis there were hardly any investigative journalists at work.
The rare exception is the Caixin Daily and a few voluntary whistleblower journalists who reported the actual events unfolding.
Chen Qiushi, a citizen lawyer and journalist reporting on Wuhan, has disappeared since February 6. It was reported by the Financial Times that Chen's case attracted 180 million netizens on Weibo in just a few hours before it was removed by censors.
Another journalist Fang Bin disappeared from February 9 after he posted videos of the situation in the hospitals.
Dr Jiang Yanyong, a military doctor who criticised the government's handling of the SARS crisis in 2003, was reportedly put in house detention.
Some intellectuals like Professor Xu Zhangrun from Qinghua University, Professor Zhao Shilin from Nationalities University, Professor Xu Zhiyong and others have been critical of China's leadership's responses.
They demanded transparency and instituting of democracy. However, many of these are put under house arrest or other restrictions.