Sreehari Nair presents his Top 20 movies of the decade.
The story of Indian Cinema in this decade pivots around the Nirbhaya Case of 2012.
The sheer brutality of that incident coupled with the sensationalistic nature of its coverage had a profound effect on the Indian psyche and, by extension, on the Indian film director.
As the decade turns, it has become clear that the best Indian film-makers are those who swallowed that ghastly incident whole, complete with the reactions it generated.
These film-makers escaped the immediate, journalistic, anxiety and used the case to investigate in depth the Indian Character, to widen the Human Scale in their films, and to pose in its boldest form that Holy Question: Why we are, what we are.
The Nirbhaya Case also made it possible for excessive sentimentality (which retains its status as our national disease) to find its way into another set of films.
These films, with no real aesthetic merit in them, were nonetheless deemed 'important' because they talked about women's safety or because they took the deification route to empowering women (conveniently forgetting that deification is just yet another form of enslavement).
Among the glorified nothings were such names as PINK, Lipstick Under My Burkha, Soni, and that odd little Tamil film, 96, whose primary virtue, for many appreciators, was that it celebrated asexuality.
Another trend visible in our notable movies this decade was Details, even Inanimate Details, acquiring almost a consciousness of their own.
In the best films to come out of states such as Kerala, the bristliness of a moustache or the wall colour in some character's room, began to give writers and directors a better idea of how to develop those characters.
Our frames became denser and details, which were traditionally used to aid storytelling, now became the stuff out of which stories grew.
This decade also saw the emergence of a new kind of Indian film director, someone who was a tale teller as well as a mischief-maker who made you acutely aware of your reactions to the tale he was telling.
The two best films of Sriram Raghavan were intentionally located inside well-defined genres, whose boundaries which he then exploded, so that you, the audience member, was brought into the stories, and made to examine your own allegiances and your own distastes, and how fickle your positions actually were.
While Raghavan purified our movie watching experience thus, Tamil Cinema spent these last 10 years passing off exploitation films as high art.
No other industry has churned out so many movies that have used everything from a character's sexual orientation to her caste to merely turn up the volume on brutality and sadism, while offering us no understanding of the malefactor (basic Cops and Robbers stuff made ultra-violent).
There are no Tamil film-makers around with deft touches, and for that reason, there's not a single Tamil film on this list.
With so many important changes dotting our cinema landscape, the role of the Indian film critic changed also.
The ambitious critic had to write about Indian films with an intention of rescuing cinema discussions from banality (rhetoric such as, 'this film is great because it delivers exactly what a neo-noir is supposed to').
And so, with that credo pasted on my forehead, I present my list of the 20 Indian films from this decade that I believe fulfilled the Ezra Pound slogan of Make it New.
20. Sairat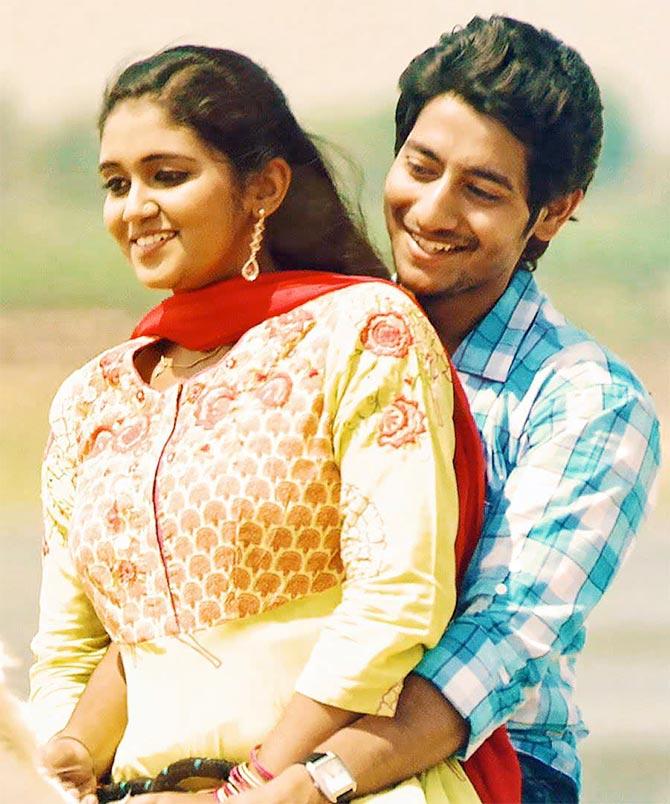 He nurtured two gorgeous flowers into existence, made them endure a season of rough weather, and just as we were admiring them in their full bloom, Nagraj Manjule created a diversion, and returned us to the sight of the two flowers, on the ground, plucked and withered.
Sairat continues to be so wonderfully effective because it handles its tough issues with a soft hand, and knocks us down when we begin to grow too cuddly.
19. Hunterrr
Mandar Ponkshe -- a name that at once evokes tenderness and evasiveness -- offers a grand entry into Harshavardhan Kulkarni's consistently inventive comedy about the escapades of a man who isn't so much a sex addict as he's a man who observes a matter-of-fact perspective on sex.
Ponkshe radiates good sense and good will throughout the movie.
In a Post-Metoo world, one can commit the folly of overlooking the character's innate dignity -- not once does he force himself on women or attempt to curb their freedom.
Living always in the grand present, Ponkshe lacks emotional memory. But when the women suffer for his deficiency, Hunterrr is careful about not hiding from us their hurt (For evidence, keep an eye on the wonderfully lightweight Chori Chori Teri Meri set to a musical ping-pong of affection and heartbreak).
18. Thanneer Mathan Dinangal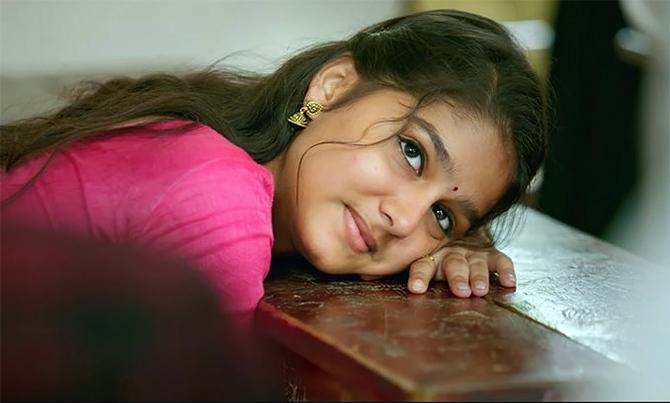 I want to deliberately avoid saying the term 'coming-of-age' because this one's defiantly not a coming-of-age tale.
In fact, it's quite the opposite. It's a plea for letting kids stay their age.
The story concerns one year in the life of 16-year-old Jason who suddenly finds the world crowding in on him.
The adults are too rambling to focus on Jason's problems; his new friends can see through the 'image' that he wants to project of himself; and the moustachioed 16-year-old girl he loves does not love him back.
The movie is an unruly collage of lines overheard and scenes of behaviour (A boy suddenly removing his T-shirt and asking his mother to check if he has chickenpox).
But it all comes together as a poetic celebration of children and their resilience.
17. Annayum Rasoolum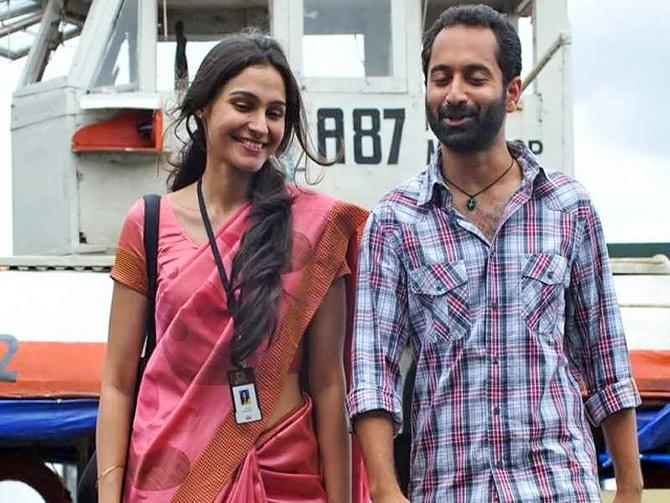 Rajeev Ravi's film was the true precursor to this present wave of New Malayalam Cinema.
But the sphere of influence that Ravi exerted had less to do with the formal aesthetics of Annayum Rasoolum and owed more to an elegance achieved through his intuitive way of making the picture.
Rajeev Ravi's Kochi was Kochi as he experienced it on a day of shooting: The final image of the port city was hence a kaleidoscope; by turns dreamy, sad, and feverish.
He was forever searching for a truth beyond the page, and the culmination of this restless search was a film that neither looked nor sounded like anything that came before it (its rhythms were unpredictable, and this made it Curiously Romantic).
In his readiness to break and mould his own vision, Rajeev Ravi, in effect, crafted a film situated outside all bureaucratic apparatuses, and the freedom he brought off, set an entire generation of Malayalam film-makers free.
16. Gurgaon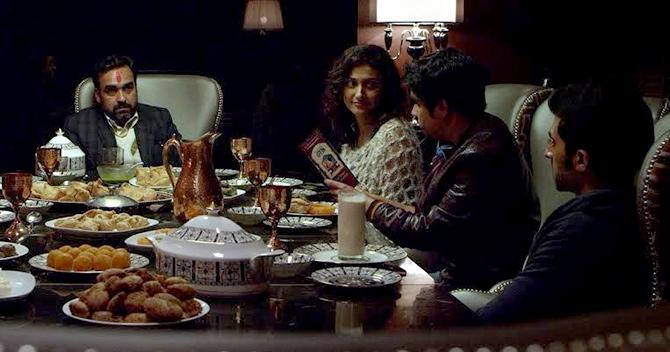 A shot out of hell.
Director Shankar Raman tries for something that only the top-tier artists have attempted in the past: He narrates to us the story of a city, using the story of a family that the city has spawned.
Though the approach has resonances in past works, the effects that Raman achieves, are all his.
It's as if the city has aged prematurely, it's as if it considers violence an inescapable part of the quest for power, it's as if it worships darkness.
And yet, would you believe me if I told you that the final, overpowering effect, is not one of morbidity but that of healing?
15. Ee Ma Yau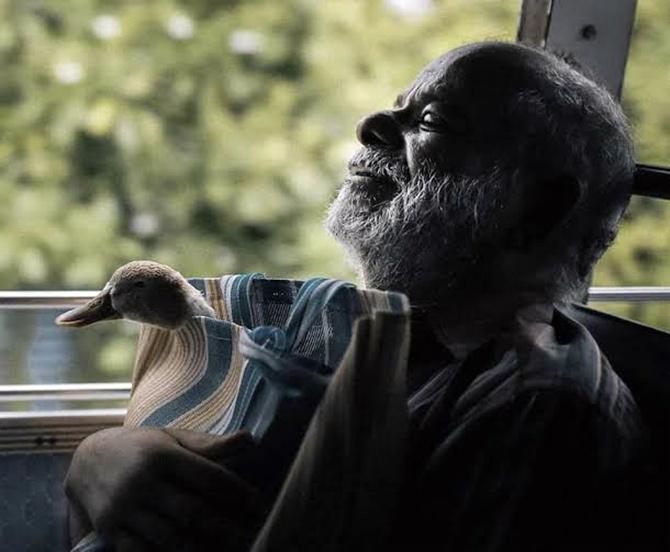 Lijo Jose Pellissery's funeral comedy is a showcase for his biggest strengths and also some of his worst tendencies.
God is an invisible character here, and part of the slights and jokes seem to be directed at Him.
This God is an outgrowth of Pellissery's own religious upbringing, and he's mining the material as much out of the religious hypocrisies that formed his childhood, as from P F Mathews's screenplay.
It's a brilliant film when the director keeps the story anchored in the relationship between his artist-God and scampering earthlings.
But there's also a final descent into metaphysics, into obvious spirituality, into conscious artistry, when Pellissery turns as solemn as the clerics he had set out to deride.
14. Delhi Belly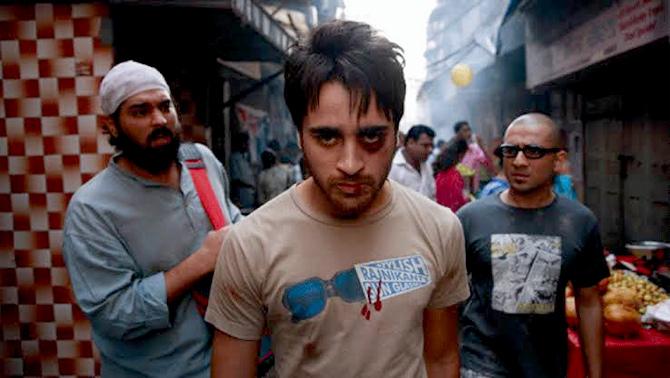 Like his poet-thug from Dedh Ishqiya, Vijay Raaz's Somayajulu from Delhi Belly is one of this decade's great displaced spirits.
Raaz's character is not at home in the comic world of the movie.
And yet, Delhi Belly needs Somayajulu because in a Feast of Fools, only the truly sane deserves to go hungry.
There are subtle ironies and parallels galore in this refreshingly foul-mouthed movie, about a bunch of incompetent smugglers and basic strugglers.
For a film that has its share of intestinal humour, the visual tone also seems assembled out of disembowelled interiors, and domestic entrails in a state of frenzy.
A masterpiece of chaos, it was one of the first Indian movies (if not the first) to get the post-millennial smirk bang-on.
13. Omerta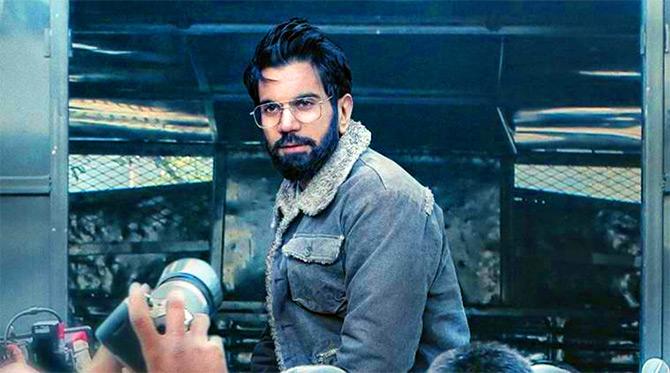 Where are we on the question of the terrorist -- of representing him in a work of art? Do we portray him as an enemy of humanity or do we humanise him?
Hansal Mehta, in his finest film, works through these questions by making his central character, Ahmed Omar Saeed -- the world's most reptilian terrorist -- as banal as he is extraordinary.
In the process, he reveals to us the true lineaments of evil.
Mehta leads us so deep into the disquiets of Omar Saeed's world that even the whistling of a cooker feels like the opening of a pressure valve.
Rajkummar Rao is never anything more than the matrix of the character he self-designs; constantly undercutting Omar Saeed's charisma, he brings us closer to his anxieties.
In a scene of Rao ruminating inside a tent, after having seen a jihadi jump off a cliff, you can picture Omar Saeed between those two eternities, of doubt and faith.
To the great bane of the world, he chooses the latter.
12. Kai Po Che!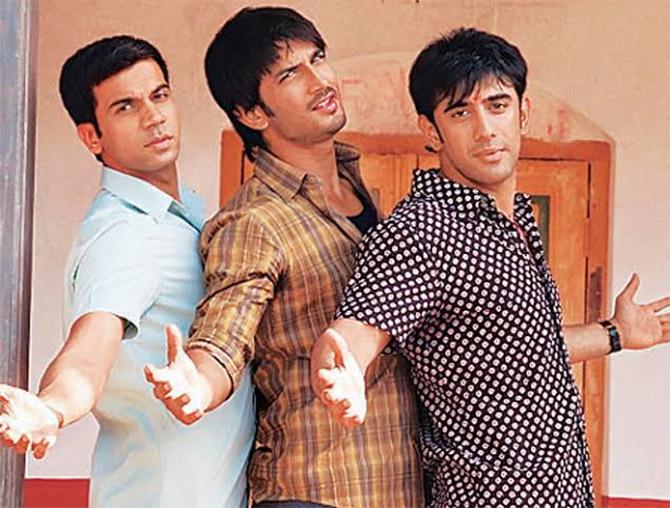 Next to a great short story, a page turner or a gripping pot-boiler are perhaps the best choices for adaptation into a motion picture of dignity and movement.
In Kai Po Che!, Abhishek Kapoor uses the outpouring of incidents provided by Chetan Bhagat's bestseller and like any movie-maker with a vision, he transforms these incidents into some of the most silently potent nuggets about certain Indian realities of this day and age.
A sequence that has stayed with me is one of Manav Kaul (in the role of a Hindu nationalist) smouldering inside a car after his defeat in an election, and Asif Basra, leading a gang of Muslims who are celebrating the election results, bidding Kaul's car to make haste.
It's a frightening image of two worlds, which can scarcely see or hear one another, growing apart amid the rigours of everyday life.
If such achievements weren't enough, the movie also brings to the surface what most Indian kids of the 1990s have secretly believed: that Suneeta Rao's confessional Pari Hoon Main is a hotbed of sin and sensuality.
11. October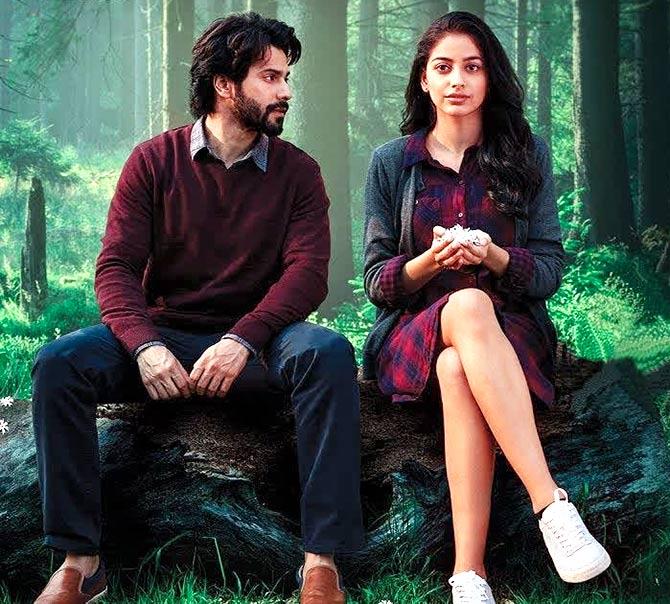 Shoojit Sircar and Juhi Chaturvedi make an interesting team because he is verbally inchoate while she has the most elemental thoughts.
She is physical, digestive, circulatory, and sexual in her writing; while he can feel deeply an experience, but cannot express it in words.
The central puzzle of October of why Dan wastes himself on a comatose Shuili, who, by the way, Dan hardly knows, is born out of a tension arising from Sircar's inchoate rendering of a personal experience and Chaturvedi's ability for breaking it down into small, executive, bread-and-butter details.
Because of its unsolved central emotional puzzle, there can be as many readings of this film as there are people watching it.
Just try doing better than statements such as: It's a muted attempt at putting together an eternal love story.
10. Andhadhun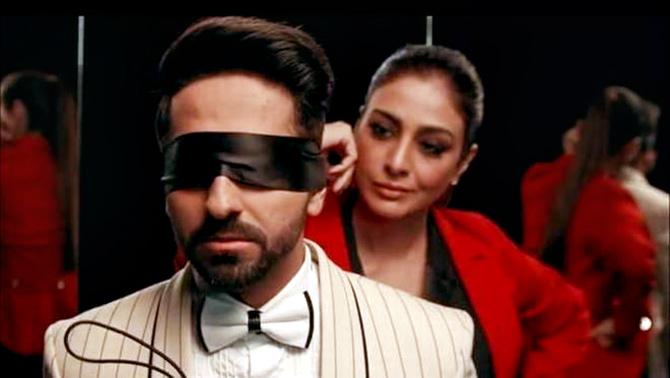 As with all artists who work in a personal vein, one may be tempted to find out who is the Sriram Raghavan character in a Sriram Raghavan film.
Though ostensibly absent from his films, the Sriram Raghavan character is not a person but a playful dialogue in a high-stakes situation, an inspired casting decision, a pop culture reference thrown in the face of death or the stark evidence of real life in what was, two frames back, just a movie.
In Andhadhun, a set of useless movie trivia come together to form the lead character.
And just as we get ready to applaud this character (who we identify with, because he's a resident of the same mainstream Hindi movie landscape that we too inhabit), and his story of surviving against all odds, he declares himself unreliable.
9. Gangs of Wasseypur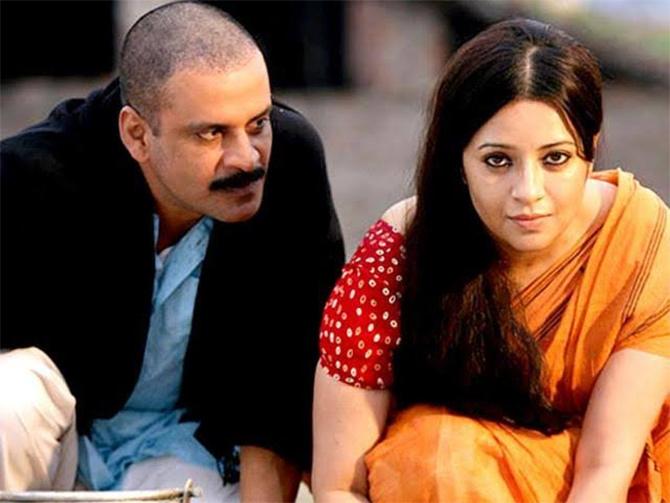 Before he sacrificed some of his exuberance on the altar of definitiveness and decency, Anurag Kashyap made this film that, in its own way, celebrated individual brilliance.
You can make a case against almost every character in this two-part saga, about how someone is a misogynist, a racist, a casteist, or a two-dollar theory-man.
Regardless of his characters's liberal taxonomies, Kashyap was most interested in showing how colourful and lively they all were, and his generosity for the people in the movie, granted the actors the liberty to go anywhere, say anything, and hit 'states' they hadn't hit before.
The result is a story written in blood, but presented as a study of manners.
8. Mayaanadhi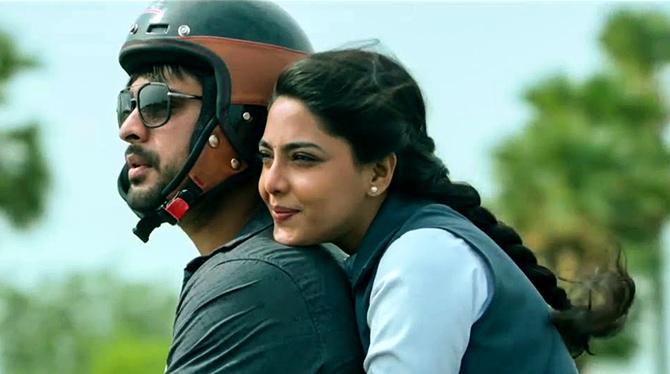 Mayaanadhi took for its subject two lowly lovers, Mathan and Apu, and so enlarged the scope of their shape-shifting romance -- one that's marked by desperation and corrosiveness -- that it became a love story to set beside the most legendary ones.
It's probably the best-photographed and the best-edited Indian film of this decade (how many tiny stars are exploding inside that sullen-faced chap, Saiju Sreedharan).
Everything has the texture of a nightly caress.
We feel this caress in each character; and seen through each of these eyes, the story would make perfect and equal sense.
The character who made the strongest impression on me was the hero's mentor, referred to as Master, a Polonius-like figure, in whose stoic lines, we can anticipate the fate that awaits Apu and Mathan.
7. Angamaly Diaries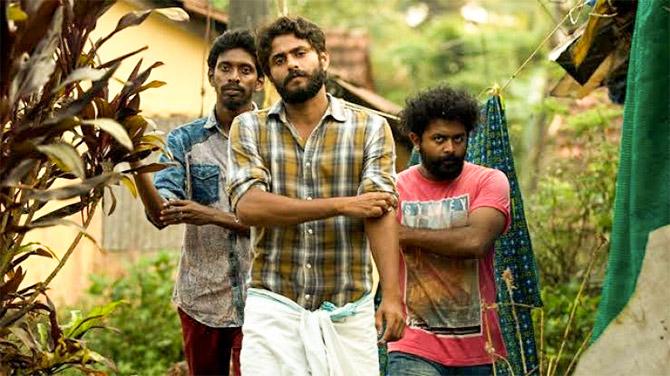 How casually sits Pepe at the end of Angamaly Diaries, reminiscing about a life and a time responsible for, among other things, the death of three people.
And yet, it's precisely this courage, for keeping all questions of easy morality aside and immersing us in the energy, of a dangerous way of living, that's at the centre of Lijo Jose Pellissery's art and his craft here.
Pepe does not feel the carnage he has caused, as intensely as we the viewers do.
We realise he hasn't received his comeuppance but he himself is free from this realisation.
Only a fourth-rate critic (of the kind who wants toxic behaviour to be explained using disclaimers) would fail to see that in making us wrestle with his charismatic protagonist, Pellissery is strengthening our will and taking us away from violence.
6. Badlapur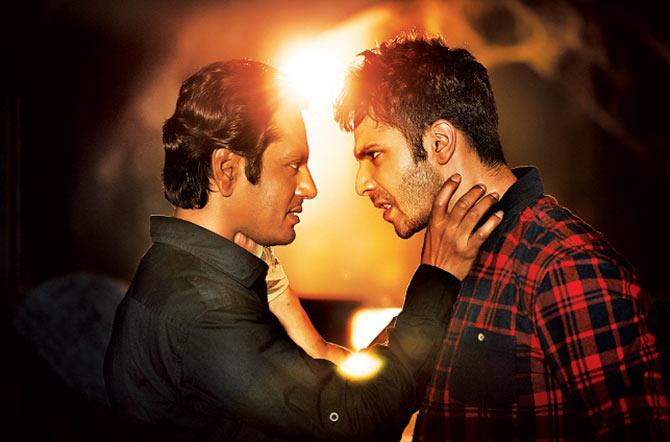 I cannot remember another revenge drama (made here or elsewhere) that contained so many sequences of extraordinary beauty.
The whole stretch where you meet Varun Dhawan after a gap of 15 years: Him trundling through the rain, with a Marathi Bhavgeet playing in the background or post Nawazuddin Siddiqui getting out of jail, where you sense his delight in slipping back into the swirl of life.
The Huma Qureshi-Nawazuddin love story, where you essentially see a killer deliberating about the whims of human nature.
Try slotting these and other sequences into your academic theories about what elements constitute a Revenge Drama.
Badlapur proves that cinema often begins where genre studies end.
5. Village Rockstars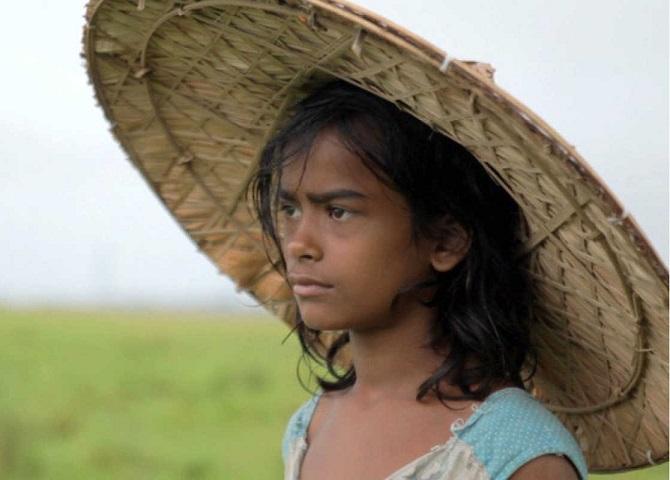 If Multiculturalism in Indian movies meant Rima Das -- and not, Vetrimaaran or Pa. Ranjith -- then who would have possibly complained?
Das' movie is, in a sense, more political than those made by the two Tamil film-makers mentioned above.
But Das is not a pamphleteer, like Vetrimaaran or Ranjith; through her protagonist here, the free-spirited 10-year-old girl Dhunu, Das unassumingly talks about the need to protect the individual mind from groupthink and shared psychosis.
The whole film feels not constructed, but as if it had made itself.
Village Rockstars fills you with a sense of idolatry and awe.
I know it's a dubious statement to make in this time of religion getting bad press; but then, in the company of great art, one does turn religious willy-nilly.
4. Maheshinte Prathikaram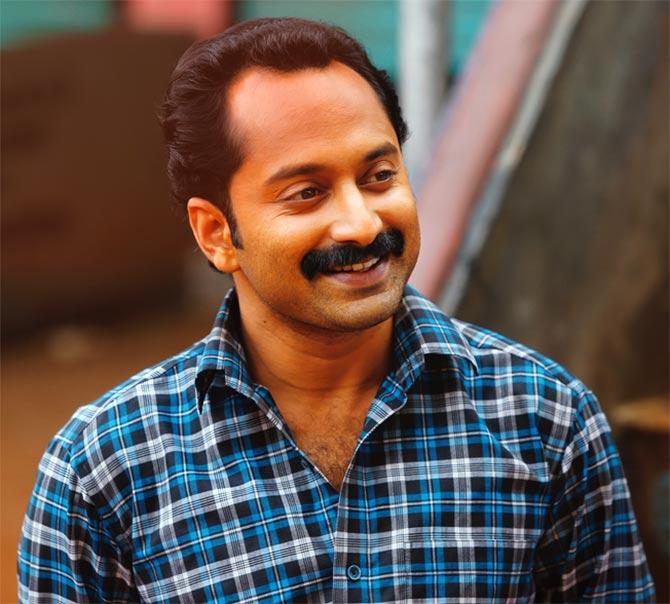 Walking into office on a Monday morning four years ago, I immediately rushed for the editor's desk.
'Saw something over the weekend,' I said, 'Something exquisite yet explosive; a Malayalam film that has the potential to drag in a whole new cinema culture behind it.'
I have written about Dileesh Pothan's debut film many times since that Monday of 2016. (Read it here)
Just as the magic of Maheshinte Prathikaram's narrative boils down to the fact that the smallest vibration happening in its world could have the deepest implication on its protagonist's fate, the film too is momentous for the giant footprints it left behind (Among other things, it gave Lijo Jose Pellisserry the courage to take on Angamaly Diaries).
If I were to, on present form, mark out the country's finest actor, the finest director, the finest screenwriter, the finest cinematographer (Shyju Khalid), and the finest editor (Saiju Sreedharan), this one would stand out as the film where they all earned their first ribbons.
3. Court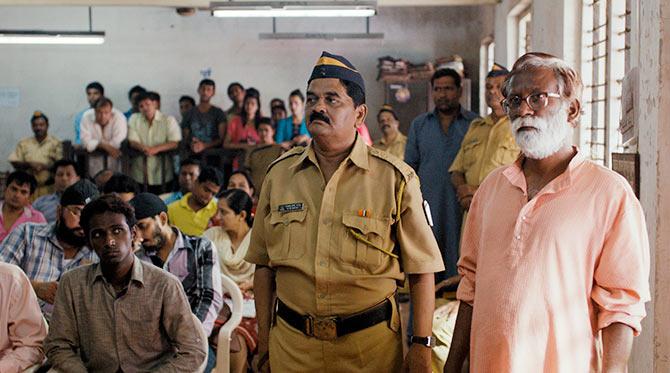 It's easy making a film that asks of its protagonist to heroically pin up a copy of our Constitution.
It takes a work of art to show us why upholding ideas, such as Democracy, Secularism, and our Constitutional Values, requires all of us to become smarter than yesterday, tougher, more nuanced in our thinking, and more capable of apprehending otherness.
In Chaitanya Tamhane's film, seemingly regular faces, such as a protest singer with a Socrates-like disposition, and the curious-eyed widow of a deceased manhole worker, take to the witness stand and bare their mumbling hearts.
And we walk out of the film, not so much cursing our judiciary, as feeling overwhelmed by the complexity of every democratic body we feel so passionately protective about.
2. Thithi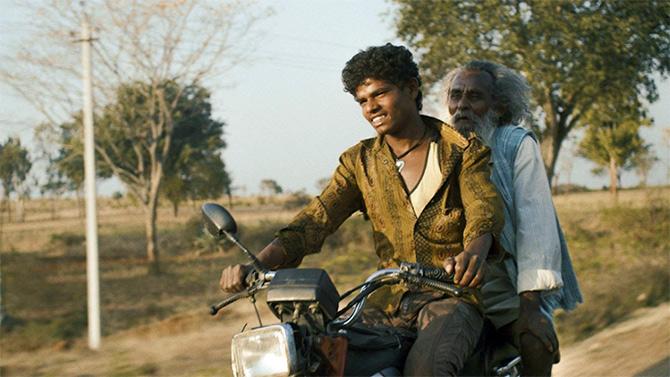 A comedy centred on the funeral of a 101-year-old man, who falls down dead after he has uttered the last of his obscenities.
The freest movie of this decade, it features the choicest curses, uttered by drifters most aimless, who possess ambitions most trivial, and played by faces as uncinematic as they come.
Yet, what poetry!
And like the best poems, you don't try to lord over Thithi; you allow it to work on you.
1. Thondimuthalum Driksakshiyum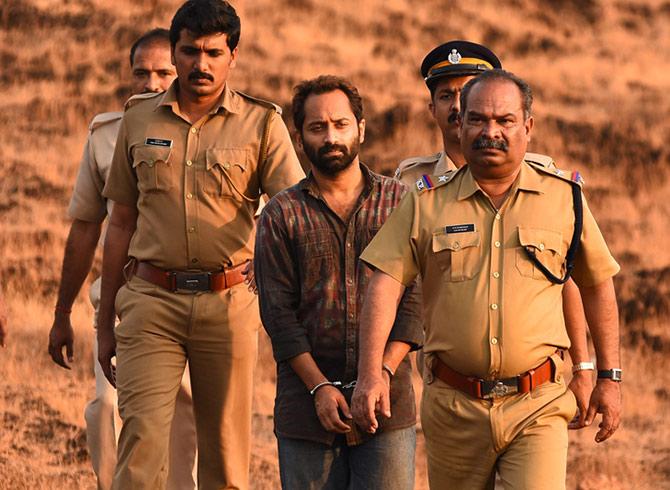 The police case at the centre of this Dileesh Pothan masterwork may be petty, but goodness, what eternal truths are laid bare!
By the end of its running time, Thondimuthalum Driksakshiyum thinks its way to the three vices of the Indian character: An overwhelming desire to be Virtuous, Self-righteousness, and Paranoia.
The film gently hints at these vices, but never admonishes even one of its characters for having them.
And Fahadh Faasil, playing a nameless thief, with great pride in his craft, watches it all.
An unforgettable creation, Faasil's thief displays a consciousness as wide as some of literature's greatest figures: Ahab of Moby Dick, The Grand Inquisitor of The Brothers Karamazov, and Judge Holden of Blood Meridian.
This is a miracle movie in every sense of the term. To use Ben Jonson's famous pronouncement, 'It's not of an age, but for all time.'
---
Sreehari Nair wishes to write about that which is in the cultural air but absent from trending lists. He can be reached at sreeharin@rediff-inc.com
---