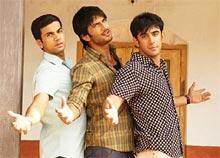 Abhishek Kapoor's clarity of vision makes Kai Po Che -- the adaptation of a mediocre novel -- so irresistible, writes Sukanya Verma.

'Main Ambani ban jaata hoon. Omi ko CM bana denge. Chal, pehle rickshaw pakadte hain.'

Though spoken in jest, these words reveal a shrewd oxymoron of ambition and reality that characterises the zeal and anxiety of the youth. And to me, this stunning clarity and ease in director Abhishek Kapoor's voice is what makes this adaptation of a mediocre novel so irresistible.

I wouldn't call Kai Po Che an exact retelling of Chetan Bhagat's The 3 Mistakes of My Life. Kapoor clearly recognises the strengths (and limitations) of this story as a motion picture and labours to compound an emotionality worth rooting for even if it means significant departure from the source. It's a beautiful risk. And it totally works.

Along with Pubali Chaudhari, Supratik Sen and Bhagat, he alters the book's populous contents to create a solid focal point and tell a cohesive tale of remarkable friendship set in Gujarat's largest city, Ahmedabad, marked by three real-life events -- a propitious cricket match between India and Australia, a natural calamity and communal riots.

How these experiences test their relationships and mould their conscience is documented through the vibrant highs and consuming lows of Kai Po Che.

Unaffected and free-flowing, the bond between Govind (Raj Kumar Yadav), Ishaan (Sushant Singh Rajput) and Omi (Amit Sadh) has such a 'lived-in' quality to it, there's no problem buying the film's 'brothers for life' tag line in a heartbeat. They talk very fast when communicating with each other, but this breathless incoherence (indicating informality and comfort) adds to their appeal.

Govind is the enterprising, cautious but reticent leader of the group. Omi, unlike the bright orange he sports, is subdued, susceptible and yet to come into his own. Though hotheaded and impulsive, Ishaan wins everyone over with his infectious smile and dynamism.
His overpowering desire to coach extraordinarily gifted local kid Ali (Digvijay Deshmukh) into a full-fledged batsman, Omi's political affiliations with his maternal uncle (a compelling Manav Kaul) and Govind's clandestine affair with Ishaan's impish kid sister, Vidya (a super cute Amrita Puri) advance steadily to converge into Kai Po Che's culminating point.
Because of the varying motives of these individuals, the screen is continuously buzzing with disparate moods. But Kapoor, like vehicle suspension, provides a stability and homogeny to these activities so as to identify with, not overwhelmed by this interconnect.
Govind, Omi and Ishaan are no Jai-Veeru in magnitude but the sincerity of their can-lay-my-life-for-you ardor is noteworthy. They jiggle to Chaalbaaz's Aaj Sunday hai toh daaru peene ka din hai, fool around shirtless at the picturesque Diu fort like those Rang De Basanti lads, enjoy the carefree breeze by climbing on top of a moving bus and --embrace and abuse both, without hesitation.
Quoting from Bollywood, impromptu excursions and taking each other for granted without guilt is the prerogative of buddy-dom and this wholehearted demonstration is radiantly captured in cinematographer Anay Goswamy's sun-soaked compositions. The combination of Swanand Kirkire's breathtaking lyricism and Amit Trivedi's exquisite melodies reiterates the troika's exuberance and idealism.
As typical to this genre, any celebration of brotherhood must be put on trial whether it's Dil Chahta Hai's Akash and Sid, Rock On!!'s Aditya and Joe, Middleearth's Frodo and Sam or, heck, even Shrek and Donkey. Kapoor doesn't have a novel situation in hand but his approach to it is.
The vibe of Kai Po Che is decidedly more down-to-earth and so he treats the truce with endearing spontaneity that is familiar to most hysterical cricket enthusiasts (that makes a LOT of us). Such a glorious moment! A heartfelt smile is the only immediate compliment I could offer.
Unlike most films that go overboard reminding us which region they are set in, Kapoor, thankfully, steers clear from the dhokla/fafda clichés (okay, so there's a passing mention of thepla/khakhra).
His characters, Govind in particular, speak with a slight, acceptable accent while the gorgeous Dandiya sequence plays on the opinion that a huge percentage of young couples get sexually active in the garb of festivities.
But the real task is not to offend sensibilities while filming a sensitive subject, like the Gujarat earthquake or riots and the terrible damage of life and property it resulted in. Kapoor depicts it powerfully (background score by Hitesh Sonik delivers here its best) but realises intelligently that any more drama would borderline on exploitation.
There's no attempt to make any political statements and most of the religion-driven hostility is implied not outright. Thought the pre-climax of this crisply-edited (Deepa Bhatia) drama does underscore the futility of blind blood thirst and aggression.
Turning a far-fetched plot into a probable one is laudable but Kai Po Che (It's a Gujarati phrase exclaimed by the one who succeeds in cutting off the competitor's kite) wouldn't achieve half of this without its dead-on casting (Bravo, Mukesh Chhabra).
The few films old Raj Kumar Yadav gets the tone of a soft-spoken go-getter, who's nervous around girls and diplomatic around clients just right. It's not a showy part. Playing reasonable seldom is. But Yadav's restraint does a marvelous job of balancing the trio's chemistry.
Amit Sadh shows his mettle through his metamorphosis from a secondary opinion to a furious figure. Often, the camera settles on his glimmering eyes to reveal a sensitive, complicated guy filled with a deep sense of guilt.
Finally, there's Sushant Singh Rajput as a 20-something father-figure to a boy he probably sees as a reflection of himself and wants to provide all the resources and support he never had. None of this subtext is ever mentioned. Like a seasoned actor, Rajput conveys it on his own. The young man has incredible energy but instead of blasting it out from all quarters, he patiently times it. The upshot is as graceful as Ali's sixers.
Rediff Rating: