Sreehari Nair could not put up with turgid and self-serious ones like Super Deluxe and Gully Boy. His list of favourite Indian movies of 2019 contains just five names.
Before you read any further, here's a caveat: I am someone who believes that the mock-historical section of Housefull 4 was written and acted with a spirit that was missing in many of the celebrated Indian movies of 2019.
I thought Akshay Kumar's performance as the gleefully amoral prince was his loosest and most charming in years (at one point, he paused to imitate Parikshit Sahni on a dime, and it sounded like a gurgle from heaven -- sheer joy).
I just wish the rest of the film was as inventively nuts, but there we are.
Now that you have some idea of the kind of critic you are dealing with, let me add: I haven't watched as many films this year, as I should have.
Among the films that I did watch, I just couldn't put up with turgid and self-serious ones like Super Deluxe and Gully Boy.
So this list of my favourite Indian movies of 2019 contains just five names.
Somehow, I seemed to prefer films that were immediately ingratiating and light, or in many cases, I much preferred the playful touches in a film over its heavier beats.
As always, I have tried to keep a film's aesthetic value above its morality or politics.
5. Article 15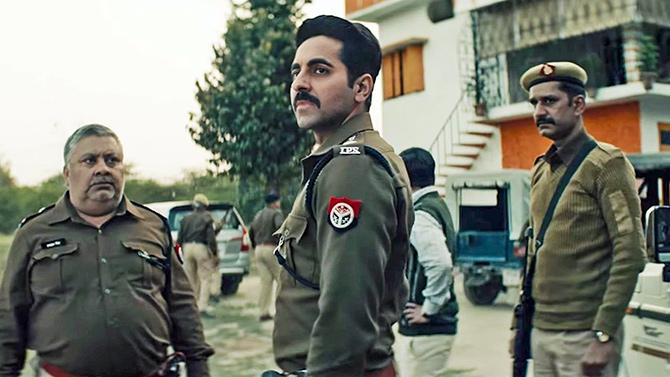 Article 15 is an improvement on Anubhav Sinha's last movie.
I say this, not because Article 15 is starker than Mulk (they are both top-heavy movies), but because it is lighter at the right places.
Article 15'0s protagonist IPS officer Ayan Ranjan (Ayushmann Khurrana) heads a police procedural -- concerning the rape and murder of two Dalit girls -- but he spends as much time brooding about his role in the story, as he does solving the case at hand.
In one of the year's great sequences, Ranjan sneakily approaches a scary-looking hovel in the middle of a godforsaken field, hoping to find a dead human inside it. But it turns out to be a dumping ground for slaughtered animals.
In another sequence, when Ranjan commands his team of policemen to 'round up the suspects', he seems to be speaking as himself while also channelling Captain Renault from Casablanca.
Ayan Ranjan is, in many ways, a character to set beside Rajkummar Rao's Nutan Kumar in Newton -- a liberal, sophisticated, idealistic fellow, who receives his spiritual education in the course of the narrative he has been slotted into, one that he thinks he can easily dominate.
And, much like Newton, Article 15 also goes down better as a Bildungsroman than, say, a work of great social significance.
Given how Ayushmann is now charting his career, with an intention of taking on one conservative Indian ideology after another, Article 15 may well turn out to be the actor's last non-assembly-line performance (his formula has already begun to show signs of fatigue).
The best personages in the film -- ones played by Kumud Mishra and Manoj Pahwa are almost Miltonian in how they burn and inflame others -- and the wonderfully droll dialogues, gain power when analysed in the context of Khurrana's character and his process of discovering his true self.
Anubhav Sinha, I believe, has already jumped into his next big socio-political project.
But he will do better with the awareness that the true dignity of a film like Article 15 is not in the societal problems it highlights, but in its characters, who are as colourful as they are damned.
4. The 3 shorts from Shuruaat Ka Twist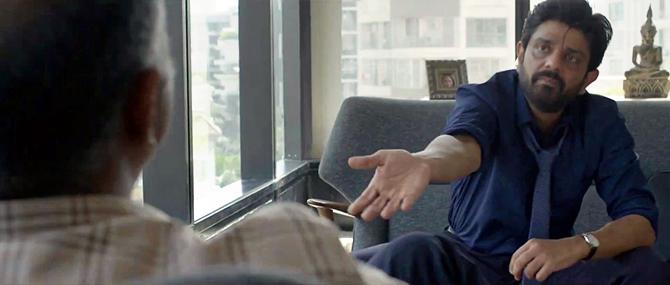 Is there a sweeter tonic for movie critics than filmmakers whose works promise to bring some fresh feeling to the medium?
I found three such works in the anthology Shuruaat Ka Twist.
Hanish Kalia's Khauff is an interesting study of paranoia, in which our utterly familiar urban artefacts are presented as our biggest adversaries.
Kalia seems to be a gagster-horrorist, and he creates a whirring sense of dread out of the most humdrum elements: The triangle of light that peeks in through a half-open door, the grains on a television screen, and the hissing sound of a welding torch.
In one sense, Kaalia's expertly mounted short is an uprising against that wasteful genre they call 'gore movies'.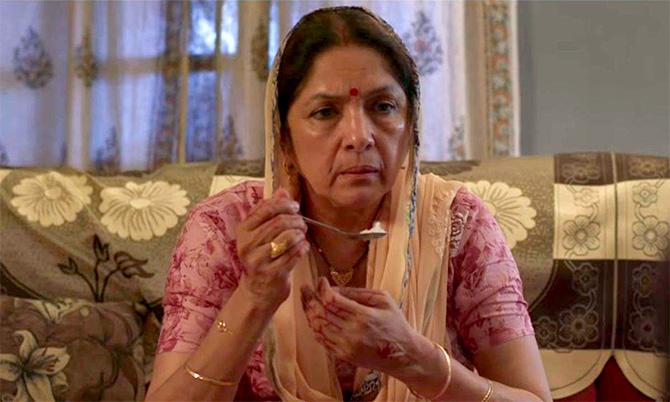 Heena D'Souza's Adi Sonal feels like the movie equivalent of a John Updike story, in which small, seemingly useless details cling on to each other to deliver the final epiphany.
D'Souza is so smooth with her camera placements and in her use of actors that the themes of regeneration and moving on are not hammered into our heads, but we come to them freely, willingly.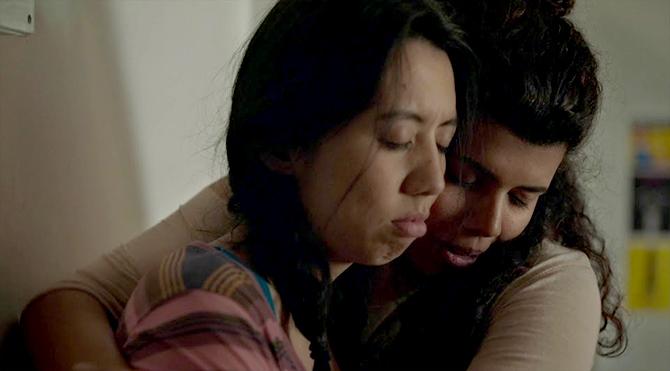 In her short, Gutthi, Avalokita Dutt gives her story of betrayal an unhinged, unbounded, and an almost festive tone.
Dutt uses space intelligently, to convey the contrasting personalities of her two protagonists as well as their changing dynamics.
Plus, her backgrounds and the geometry of her shots add more dimension to the casual back-and-forth between the two girls.
Dutt's film, like Auden once said of poetry, 'makes nothing happen' but it communicates nonetheless 'a way of happening'.
There's one quality that binds the above mentioned three shorts: They all take modest, regular faces and end up giving them real personality.
This shows a commitment to something larger than a political program or a philosophy.
It shows that these makers are interested in people.
We can only hope that Dutt, D'Souza and Kalia don't turn into ideologues, that they stay as they are: fluid, curious.
3. Mard Ko Dard Nahi Hota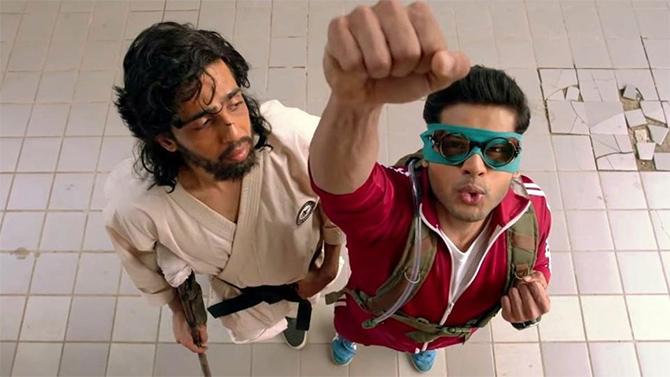 Sure it's 'a love letter to the movies', but also something more -- an act of looking back, with eyes just a little wet.
Some one hour into Vasan Bala's film, about a movie-struck lad who is constantly overhearing himself, there comes a visit to a housing society.
It is the housing society that the lad had grown up in, has fond memories of, and it is now desolate and, perhaps, on the verge of being redeveloped.
This is a crucial scene in the movie, and suggests a sadness that pervades the frothy central story about the search for a lucky locket.
The always-present sadness is further mirrored in how the hero's congenital insensitivity to pain coupled with his chronic love for action movies keep him blissfully unaware of when movies end and life begins.
And this very sadness differently afflicts characters such as Radhika Madan's Supri, a girl who acts out her movie-soaked fantasies in streets and alleys, but who, when she retires into life, finds herself powerless. (Supri's character is not inconsistent, as many have pointed out: it's perfectly consistent with the film's unuttered poetry.)
MKDNH's achievement is may be that it keeps its sadness simmering below an endlessly joyous surface; a surface lorded over by Gulshan Devaiah, playing twins, one of whom is cocky but fatalistic, and the other who thrusts out his crotch every time he wants to make a grand statement.
The tireless referencing of a gazillion action movies is an all too evident feature but what truly gave me a kick is Bala's populating of the film with visual extracts and sound bites from his childhood, things you never thought would go so well together (Not many could have possibly imagined Hema, Rekha, Jaya, and Sushma creating gulaal-filled ripples in a discotheque air).
If there's anything like a Pop Epic for our times, expect Vasan Bala to get to it, before any other contemporary Indian director.
2. Kumbalangi Nights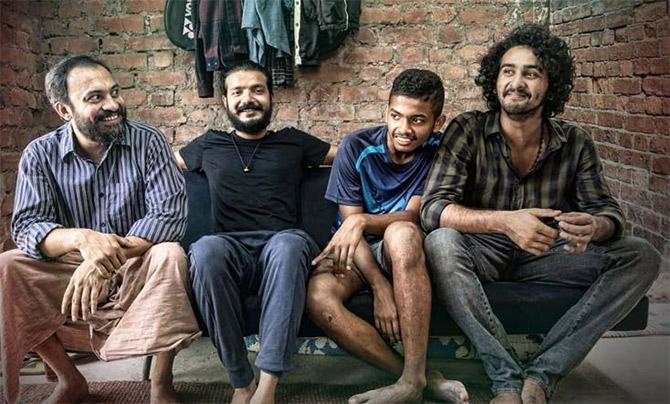 Over the last eight years, Syam Pushkaran has been methodically taking apart a set of artless dialogues that had become staples of Malayalam movies in the 1990s and the 2000s.
The revolution that Pushkaran and others like him have crafted for Malayalam cinema in this decade is, in a way, an attack on casually phrased prejudices.
In Kumbalangi Nights, it is the 'pride of belonging to a good Tharavad (ancestral home), a sentiment echoed throughout films from Kerala, in the two decades prior to this one, that Syam Pushkaran investigates and pronounces shallow.
By bestowing grace upon a family of misfits, upon souls who may have wandered from different shores and gathered inside a derelict home in picturesque Kumbalangi, Pushkaran and Director Madhu C Narayanan question the concept of 'cultural purity'.
The film, thus, is the story of one family that can also be viewed as the story of a country and of the world at this present point in time (To what station will this protectionism business and this process of weeding out miscreants lead us?)
You can anchor the film in the above theory or in a dozen others, relating to masculinity and whatnot and yet, all theories aside, it's the joy of making Kumbalangi Nights, evident in its each frame that holds the film together.
I'll cite a passing scene from the movie to make my case: Two kids are playing chess. One kid makes his move, and the other tries to guess the strategy behind the move by studying the facial reaction of his opponent. In the film, this scene happens over a long shot, with no noise being made to emphasise the attention paid to such a small behavioural pattern that we all unconsciously exhibit.
And yet, it's this kind of love for the most (I use the term again) seemingly useless details, and not any commitment to dethroning patriarchy or some other drivel you hear Mumbai-based critics constantly bellowing, that makes films like Kumbalangi Nights so memorable.
1. Thanneer Mathan Dinangal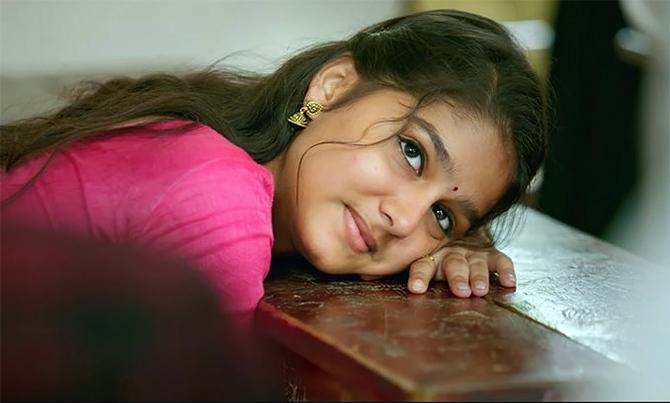 Most Indian movies turn kids into precocious things speaking lines meant for adults.
Or they turn them into innocent no-goods (the whole 'Bache mann ke sache' nonsense).
Only occasionally do our films (I count Rima Das's Village Rockstars and Satyajit Ray's Postmaster as examples) allow kids their toughness, smartness and their crookedness.
This is that rare film.
Director Girish A D and writer Dinoy Poulose have put together a film that is essentially a plea for giving kids the chance to commit their mistakes, for not reining them in, for letting them find their own resilience.
And the writer-director team has mounted their plea upon a series of stunningly original observations.
For instance, leading lady Keerthi is a 16-year-old girl, who is not denied her beauty. She has a heart-stopping frown, a frown capable of inspiring Lewis Carroll and Vladimir Nabokov to take to their pens.
Jason, the 16-year-old boy who loves Keerthi, cannot wait to tell his friends an exciting detail he has just observed: Keerthi has a moustache.
Jason's friends don't really egg him on but try to feed him other details about this girl: she picks her nose, spits out water, and wasn't really this beautiful till about a few years ago.
These are snapshots and conversations from post-pubescent life that I have never seen tackled in an Indian film thus far.
None of the kids have dirty thoughts, just improper thoughts coated with bad taste -- and it would have taken an incredibly generous film to not judge them.
Free from judgement, the child actors in Thanneer Mathan Dinangal don't seem as if they are stepping into moments written for them; they come off as co-creators of their characters.
You never once get the feeling that they are speaking lines or offering reactions that once existed in some writer's head.
Their each utterance, the random movement of their eyeballs, the craning of their necks, their mimicking of Jasprit Bumraj's bowling action -- there is an unrehearsed quality to everything the kids say and do.
Not all is tip-top, however.
An arc involving Vineet Sreenivasan is filled with tonal deficiencies and editing problems.
But that whole arc is redeemed by its insistence on mocking the do-gooder type that Sreenivasan has made a career out of playing.
This is not a perfect movie, but a true original; a major work churned out of minor, fleeting rhythms.
---
Sreehari Nair wishes to write about that which is in the cultural air but absent from trending lists. He can be reached at sreeharin@rediff-inc.com
---