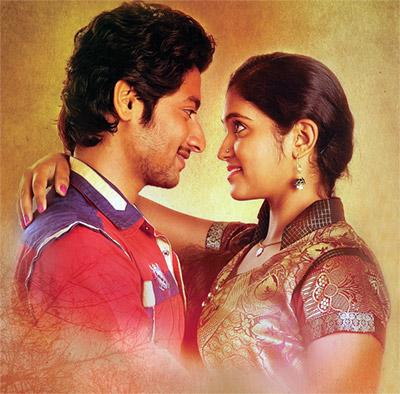 Marathi film Sairat will stay with you for a really long time, raves Divya Nair.
It's been less than 24 hours since I watched Sairat and I just cannot stop raving about it.
Where do I start? What do I say that has not already been written or discussed yet?
First things first, if Sairat is playing at a theatre near you, getting a ticket will not be easy.
I went to watch this film without much expectations, and boy, it hit me like a wave.
They say there is nothing much you can expect in a love story. Yet, films like Ek Duje Ke Liye, Sadma and the much recent Bajirao Mastani have become classics in their own right.
Sairat is one such film that will stay with you for a really long time.
The story is set in Bittergaon, a village in Maharashtra, where casteism is rife.
The film opens to a rib-tickling cricket match between Bittergaon and Bad Boys which pretty much sets the premise for the love story.
The characters are introduced in gradual succession, giving us a window view of the wide palette of personalities that will eventually change the course of the film. We have a fisherman's son Prashant aka Parshya (Akash Thosar) who is head-over-heels in love with the local politician-cum-goon's daughter Archana aka Archie (Rinku Rajguru).
The politician's son Prince Dada Patil, hailed as the future of Maharashtra, is a rich spoilt brat, who only speaks the language of violence.
Parshya's loyal and gutka-lover friends, Pradeep and Salim, leave no stone unturned in playing cupid to the lovebirds who incidentally study in the same college.
There is enough build-up in the plot to convince us why the boy deserves the girl. It will bring back memories of good ol' love letters, making eyes at your crush, the friendly jibs, awkward situations and all that harmless flirting you may have experienced in your salad days.
I must admit this film has enough seemingly honest situations that will make you blush like the onscreen couple.
The first time the characters come face to face with each other (inside a well!), the first time the girl confesses her feelings (in a sugarcane farm) and everything else that brings the two of them together is raw, cute and mushy -- the stuff of romance we don't get to see in Hindi cinema any more.
The film has its nail-biting sequences as well, when the couple elopes, struggles, gets caught and punished. Just when you think it's over, the film surprises you with the cliff-hanger moment.
Beautiful, fascinating, intelligent -- all adjectives fall short of describing what this kind of cinema does to your senses.
Then there is music by Ajay-Atul that will transport you to the Illayaraja era -- when it was hard to decide if the melody was better than the lyrics or vice versa.
It's hard to believe that the lead characters -- Rinku Rajguru and Akash Thosar -- are making their debut with this film.
This is the first time I watched a love story with my parents, and I must admit they loved it and could relate to every part of it.
Kudos to the entire team of Sairat!