We had invited you, dear readers, to share your love stories.
Here, Meena Kumari Pathak tells us how she first met her husband and how they fell in love.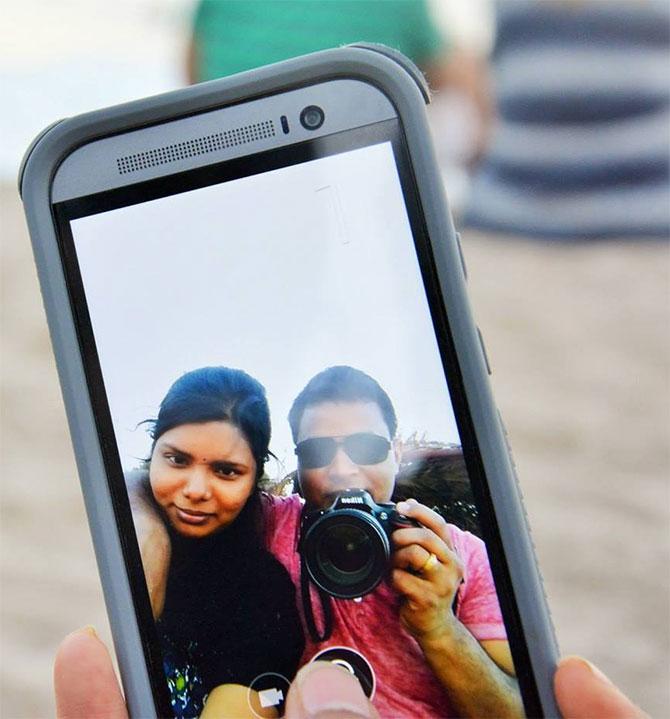 I was working in an IT company in Hyderabad after graduation, and within six months my parents started looking for a suitable groom.
I was not interested in getting married so soon as I wanted to concentrate on my career.
However, one day my mom called to tell me they have found a match. They had even visited the prospective groom's house and were quite impressed with him.
They asked me to visit home (Vizag) so I could meet him.
Initially, I was hesitant as I was not ready yet but then I decided to give it a try.
On March 22, 2008, he came to my place with his parents and relatives.
Everyone from his family liked me and my family liked him too.
We barely talked to each other as we were both feeling shy.
I was confused, and being a a daddy's girl I asked my parents to make a decision.
But they told me to think about it and decide as it was my life.
The following evening, I was leaving for Hyderabad.
He called my parents requesting them if we could meet one more time.
This time, he brought a few more relatives with him and we met at the railway station.
We sat inside the train and my parents and relatives stepped out to give us some privacy.
I still can't recollect the entire conversation we had, but we were talking about our interests and life for more than 30 minutes and everything just clicked between us.
Maybe we just know when we meet the right person.
He was also working in Hyderabad, so we started meeting, speaking over the phone for long hours and hanging out with each other.
It was an arranged match but we fell in love with each other.
Six months later, on October 11, 2008, we got married.
We have a five-year old son.
We have had our ups and downs, fights and memorable moments too.
I have realised that love grows as we get older and none of us are perfect.
We accepted each other and I am proud and happy to say that we are more in love with each other today than we were when we first met.
ALSO SEE
Jab We Met: It was love at first browse
Jab We Met: My arranged love story
Jab We Met: I drove from Vizag to Kolkata to see her
Jab We Met: I did not have her photograph
Jab We Met: He was my project partner
Jab We Met: My so-called arrogance disappeared
Jab We Met: She was my friend's younger sister
Jab We Met: 'We sat on adjacent benches but never spoke'
Jab We Met: 'I could never forget her'
Jab We Met: An arranged 'happily-ever-after'
Jab We Met: She's 9 years younger than me
Jab We Met: I called her up at the stroke of midnight
Jab We Met: It was love at first sight
Jab We Met: I was ten and I knew she was the one!
Jab We Met: Our friendship blossomed into love
Jab We Met: It started in a chat room