We invited you, dear readers, to share your love stories this Valentine's Day.
Rediff reader Major Punjab Singh tells us how he met his love.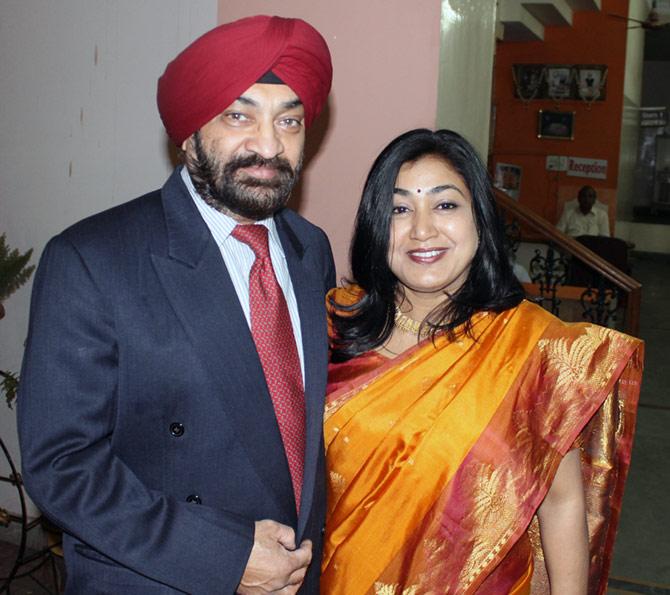 It was the year 1986... the romantic rainy month of August when I got posted as an instructor at the Military College of Telecom Engineering in Mhow near Indore.
Mhow is home to various defence training institutes and a few of my batchmates were also posted in the station.
One day I went to meet a friend who was my squadron mate at the National Defence Academy and also at Indian Military Academy.
I knocked and the door opened.
Standing before me was a girl with the most sparkling and expressive eyes I had ever seen.
I was impressed. She was my friend's younger sister Shakti.
That evening we had planned to watch a movie and Shakti rode pillion on my bike.
As we left, we met another batchmate enroute who mistook Shakti for my wife and greeted her as "Mrs Singh".
What a providence! She was to be my wife later.
I cannot forget her face turning crimson before I could explain.
After a few months she came back to stay with her brother at Mhow to pursue her studies in Indore.
As a bachelor I would often spend weekends with married colleagues and after a few meetings, Shakti and I grew fond of each other. One day when I told her that I was proceeding on annual leave, she asked if I would write letters to her... instantly I knew she was in love.
We exchanged a couple of letters in the two agonisingly long months, longing to meet each other.
When I returned, Shakti was waiting for me at Indore railway station.
We were in love! And I proposed.
There was quite an opposition from the family. It was difficult for me to make my parents and also her father to agree on the inter-religion alliance between a Sardar and Bengali. But eventually everyone relented. We got married in 1988...23 May.
Her grandparents had migrated from East Pakistan and mine from West Pakistan, and we got married in the centre of India -- in Madhya Pradesh.
She blended in our family's tradition and culture so well that it is hard for some to believe she is a Bengali.
My parents love her.
She has learnt to read and write Gurumukhi and speaks fluent Punjabi.
She also recites the Gurbani with ease while I could only pick one sentence -- Ami tomake bhaalo bhaashi -- meaning 'I love you' in Bengali.
I appreciate her interest in classical dance as well as enjoy Bengali dishes, my favourite being the Begun Bhaaja and aloo shudho bhaat.
An adventurous streak, love and respect for each other is our key to happiness.
Click HERE to check out our Valentine's Day Special!
Surprise your loved one with an awesome Valentine's Gift from Rediff!
ALSO SEE
Jab We Met: 'We sat on adjacent benches but never spoke'
Jab We Met: 'I could never forget her'
Jab We Met: An arranged 'happily-ever-after'
Jab We Met: She's 9 years younger than me
Jab We Met: I called her up at the stroke of midnight
Jab We Met: It was love at first sight
Jab We Met: I was ten and I knew she was the one!
Jab We Met: Our friendship blossomed into love
Jab We Met: It started in a chat room
Click here to read more Jab We Met stories
Dear readers, do you have an interesting love story that you want to share?
Tell us where you first met your partner and how the two of you fell in love.
Write in to us at getahead@rediff.co.in (subject line: 'Jab We Met').
You can also include a photograph of you and your partner and we'll publish the best entries right here on rediff.com.