We had invited you, dear readers, to share your love stories
Here, Puja Kapoor tells us how her project partner went on to become her life partner.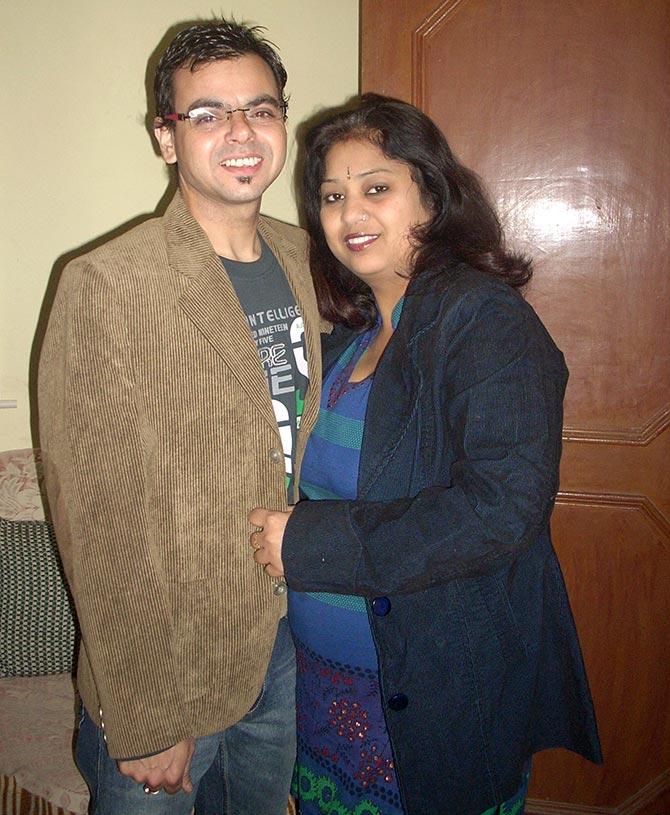 It was a beautiful evening of April 1993.
As usual I entered my computer class, took a seat and the session began.
Soon, I realised someone was noticing me.
I was slightly nervous.
After the class I went back home, but I could still feel that two deep eyes were after me.
Next day, a handsome guy walked up to me and said; "I am Rohit."
I reciprocated and introduced myself.
Everyone in the class has a suspicious smile on their face.
I was surprised too and began to wonder whether it was a prank.
At the end of the session, I realised that I had lost my floppy disk.
Besides the penalty that I would require to pay, what scared me more was that the original project file was stored in that disk.
Just then, one of my classmates asked me what would I do if someone were to find the disk for me.
I said I would treat the person who would help me.
The following day, I found the disk on my table.
Rohit has stolen it from the co-ordinator's desk.
Now it was my turn to treat him.
We went to a nearby café Burger Inn.
I was confident that he was in love with me.
I could see love, sincerity and passion in his deep brown eyes.
I too loved him from the first day our eyes met.
"I love you Puja!!" he said those magical words in my ears.
I was swept away, but at the same time I wanted him to prove that it was not infatuation. So I denied and left him alone in the café and came back home.
Since it was the last day of class, we did not meet again.
I thought he must have forgotten me but at the same time I was hoping he'd call and waiting for him.
Since he did not have my number, I used to tell myself that the story is over.
Suddenly the phone rang and I heard his voice.
He had managed to get my phone number from MTNL's telephone operator.
When we met, I was seeing him after so many days. He had a winning smile on his face. Soon, we became project partners and good friends.
He would often tell me -- You will fall in love with me soon.
One day it was raining and he offered me a ride home on his bike.
He said, "Puja you are my life, I will do everything for you...will keep you like a pearl always, please be mine. You are my confidence, I find my bestest best friend in you."
This time, I replied, "I love you too"
My voice was too low and he could barely hear me but he realised my feelings.
However, the challenge was to get married.
I was from Punjab and he belonged to Lucknow.
There was a huge mismatch in our traditions.
Trying to get our parents together was a huge task.
Eventually, we won and got married in November 1997.
We have two kids.
We blended really well in each other's families.
He can speak Punjabi and loves Punjabi cuisine.
He always tells me -- Your happiness is the motto of my life.
He has fulfilled all the promises he's made to me. I love him from the bottom of my heart.
My project partner became my life partner and soul mate.
Click HERE to check out our Valentine's Day Special!
Surprise your loved one with an awesome Valentine's Gift from Rediff!
ALSO SEE
Jab We Met: My so-called arrogance disappeared
Jab We Met: She was my friend's younger sister
Jab We Met: 'We sat on adjacent benches but never spoke'
Jab We Met: 'I could never forget her'
Jab We Met: An arranged 'happily-ever-after'
Jab We Met: She's 9 years younger than me
Jab We Met: I called her up at the stroke of midnight
Jab We Met: It was love at first sight
Jab We Met: I was ten and I knew she was the one!
Jab We Met: Our friendship blossomed into love
Jab We Met: It started in a chat room
Click here to read more Jab We Met stories
Dear readers, do you have an interesting love story that you want to share?
Tell us where you first met your partner and how the two of you fell in love.
Write in to us at getahead@rediff.co.in (subject line: 'Jab We Met').
You can also include a photograph of you and your partner and we'll publish the best entries right here on rediff.com.